The Parasol & Swing Company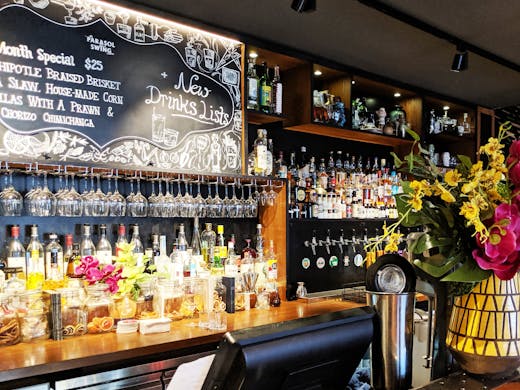 Parasol & Swing is hands-down one of the best bars in town, combining mind-blowing cocktails with an enviable, rooftop position in Auckland's Viaduct.
These guys are experts in innovation, serving up fun and flavour-packed drinks that you won't find anywhere else (we certainly don't know of another spot that does a banana-miso sour, how 'bout you?). This kind of creativity means that the menu is constantly changing, with the current version offering organic wine-based cocktails and even a cherry mulled wine (yum!).
It may come as a surprise to know that Parasol & Swing also make some pretty epic food. From their life-changing 'smash burger' (one of the first of its kind in Auckland) through to a miso-roasted eggplant with all the trimmings, their California-meets-Singapore style cuisine is about as far from typical bar food as you can imagine and we, for one, are hella impressed.
Parasol & Swing, you've sure made a fan out of us.
Image credit: Supplied
---
You May Also Like
Bars & Pubs
Danny Doolans has a sleek new younger brother bar joining the Viaduct Harbour…
Bars & Pubs
Get a lesson in London pub culture over at Viaduct newbie, The Fox. Decked out with…