UBX Training Ormiston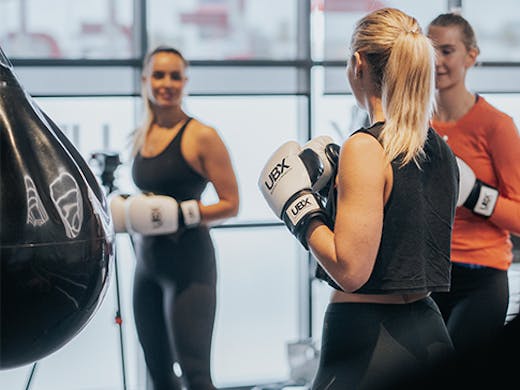 Prepare to get your endorphins fired up in a blood pumping and strengthening sweat session that will get you hooked after the first try.
Sweat it out at UBX (pronounced You-Box') training Ormiston, a new boxing gym that sure packs a punch. After a successful launch in Mt Maunganui, Tauranga in 2019, UBX has launched in Auckland bringing the action to the big smoke, with more locations launching NZ wide in 2021.
This workout will undoubtedly get your heart rate pumping right off the bat. It's not just boxing, it's a dynamic workout filled with a plethora of fun and challenging exercises. If your usual workout has you stuck in a rut, why not inject a UBX workout into your routine?
There are no set class times which means you don't have to worry about dashing out the door in a rush for a class. A new round starts every 3 minutes, so simply pull up and start at whatever station you fancy.
The exhilarating 45-minute workout replicates the physical demands of a 12 round championship bout. You'll do 12 x 3-minute rounds and 30 seconds rest in between. The training is scientifically backed by programs that are written by an in-house team of sports scientists. UBX allows people to train like a professional boxer without having to be one.
It's suitable for all levels so don't stress if the world of boxing is unfamiliar. The experienced performance coaches will push and guide you to feel your best. Your technique will improve the more you practice!
There is a brilliant team culture at UBX training Ormiston. There's A hint of friendly competition that will inspire you to give it your best shot when you're surrounded by the best people.
In addition, Korey Gibson, a well-known player in the NZ fitness industry has jumped on board as the CEO of UBX Training NZ. He's a former 1 x NZ Lightweight MMA champion and 2 x Lightweight Australian MMA champion.
If you've always wanted to give boxing a crack, now is the perfect time. There's nothing better than sweating it out with a calorie-busting sesh.
---
You May Also Like
Health & Beauty
There's something sensational about businesses popping up in unexpected places…
Fitness
Grey Lynn, Auckland
Want to up your fitness game? Head to the heart of Ponsonby where you'll find…