You know you've hit the holiday jackpot when your chosen destination is worth visiting for the food alone, and that's Singapore in a nutshell.
Yes, the shopping is great, the jungle-meets-city vibes are next level and there's plenty of late-night fun to be had, but there's no denying that it's Singapore's globally-hyped cuisine that makes it one of the most unforgettable travel destinations.
Whether you're slurping down laksa in a bustling hawker centre or devouring a degustation among the clouds, the place packs in more acclaimed restaurants and chefs than seems feasible for such a small island.
Here are 11 incredible culinary sensations to check out next time you're in Singapore.
Hill Street Tai Hwa
It wouldn't be a visit to Singapore without stopping by one of the many hawker centres to smear your cheeks with Singapore's sauciest eats on the cheap. And the best of the bunch is Hill Street Tai Hwa, which was awarded a Michelin Star in 2016 and has maintained its status ever since. Revered for its iconic pork noodle dish, Tai Hwa was opened back in 1932 by Mr Tang Joon Teo and is believed to be the oldest bak chor mee stall in Singapore. Today, it's still a thriving family business adored for its use of fresh ingredients and steaming noodles cooked to order. Just be prepared to queue for a while but rest assured, it's certainly worth the wait.
Odette
From hawker centres to fine dining and every experience in between, when it comes to food, Singapore has got it all. Having sat at the top of Asia's 50 Best Restaurants list for several years, Odette represents French contemporary fine dining at its very best. One of three spots in Singapore with three Michelin Stars, think exquisitely plated food in even more stunning surrounds. Named after Chef Julien Royer's grandmother, Odette is housed in the National Gallery Singapore, and its light and airy design pays homage to the historic location. As for the tasting menu, Chef Royer doesn't give too much away, but we do know it's served in six or eight "acts" and you can expect a whole lot of gastronomic flair alongside perfectly paired wine. As you would have guessed, you'll need to book at least a month ahead for the experience.
Candlenut
Found inside COMO Dempsey, Candlenut is the world's first Michelin Starred restaurant serving Peranakan cuisine—born from a time when foreign traders (mostly Chinese) married local women (of Malay/Indonesian heritage) and settled in Southeast Asia including Singapore. Don't even think about passing on the Taste of Candlenut menu, especially if you're visiting with a group. Exploding with Peranakan flavours the menu is updated each month, but you can expect enough curries, soups, sambals and satays to keep you full for at least a day. Unique desserts like Buah Keluak (a nut native to Southeast Asia) Ice Cream and Kueh Salat (a dessert of blue pea-coloured glutinous rice with pandan custard) are the icing on the already burgeoning Candlenut cake.
Koma
Cue the drama, Koma is labelled as a multi-sensory dining experience, and we would have to agree. You'll find this incredible Japanese restaurant and sushi bar inside The Shoppes at Marina Bay Sands. Once you enter through the 20-metre passage reminiscent of Kyoto's Fushimi Inari Shrine you'll want to make a beeline for the intimate lounge for a pre-dinner sake before allowing the main dining room to knock your socks off with its moody lighting, hanging lanterns, Japanese footbridge and 2.5-metre bell that towers over diners. The menu is designed to share and we highly recommend allowing the staff to guide your experience which will no doubt include the Salmon Pillow with roasted jalapeños and smoked avocado and D.I.Y. Spicy Tuna with crispy rice, sweet soy and chives. Don't skimp on the cocktails, this is an experience you can expect to roll back to your hotel from.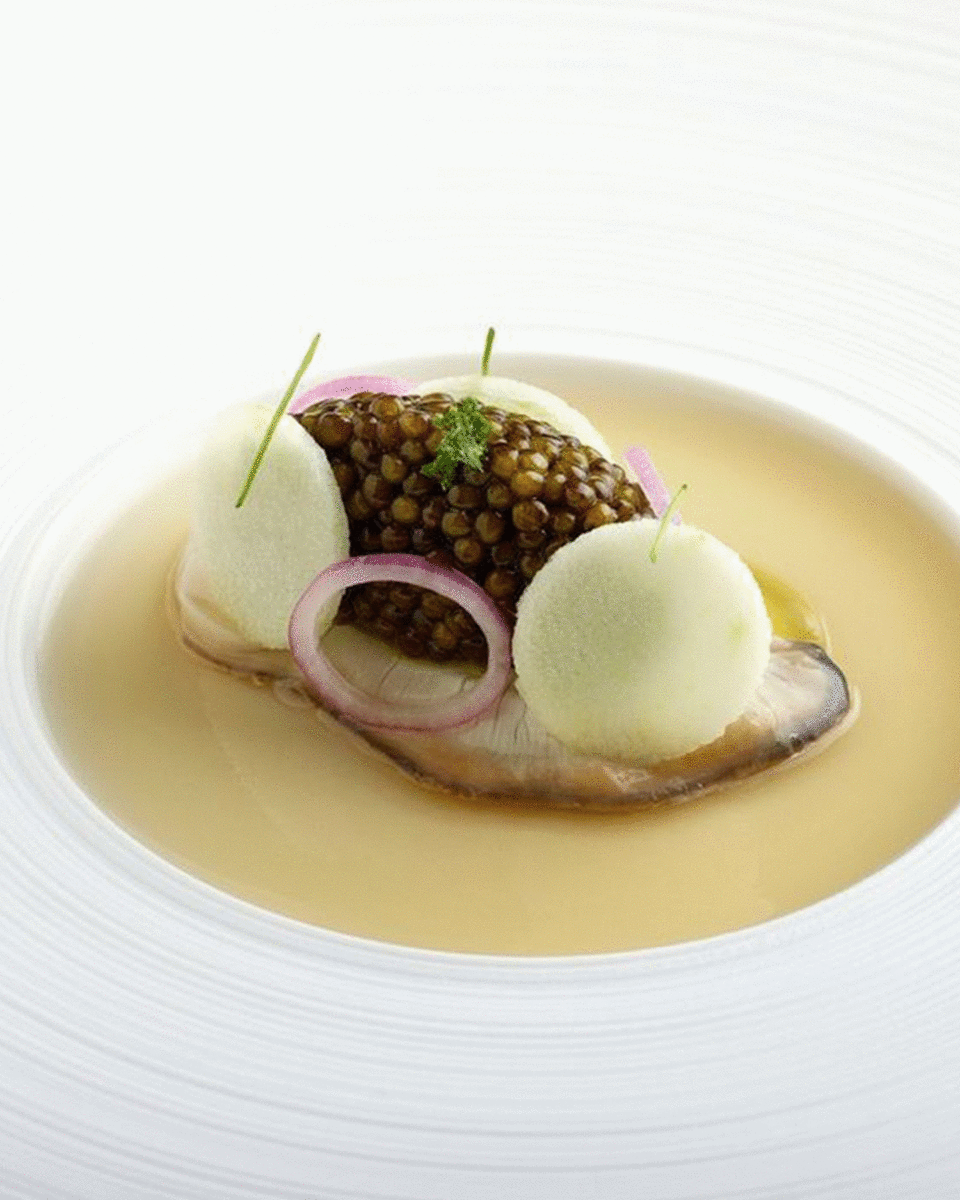 (Image sources: Candlenut, 2am:dessertbar and Odette Instagram).
2am:dessertbar
If you've been looking for an excuse to skip dinner and go straight to dessert, 2am:dessertbar is it. Helmed by Janice Wong, a multi-award winning chef, this Holland Village haunt is where art meets sugar. On the menu you'll find mind-blowing creations like the Twix, made with burnt caramel bavarois, dark chocolate sorbet and peanut crumble, and the Helian On Fire, a combination of torched meringue, figs, coffee sponge and Jerusalem artichoke ice cream. All designed to be paired with cocktails or wine, Chef Wong shakes things up pretty often with new high tea experiences, and you definitely won't want to leave without a small bounty of almost too pretty to eat chocolate bonbons.
Zi Char
Found in alfresco eateries across the island, zi char (meaning 'cook and fry') is a unique dining experience that offers a menu of over 100 dishes, with each eatery famous for their own signature dishes designed to be shared. Let your taste buds travel like a local and head to New Ubin Seafood to devour the best of zi char dishes including black pepper crab and curry fish head—it's a reputable seafood chain but for good reason. Keng Eng Kee Seafood is another beloved zi char hot spot boasting more than five decades of experience. The family-run business takes a laid-back and authentic approach to home-style cooking. A must-try for Singapore first-time travellers.
51 Old Airport Road Food Centre
It would be wrong to visit Singapore and only focus on the fine dining experiences when there's so much tastiness to be had at the humble food centres. A little further from the action, but totally worth the cab ride, 51 Old Airport Road is packed with hawker delights, and some of them have made the Michelin Guide list. Here you'll find authentic food without the hordes of tourists. There are over 160 stalls to choose from, but we recommend hitting up To-Rico's Guo Shi for some kway chap (pig offal and flat rice noodles), grabbing a $5 bowl of Hokkien-style lor mee noodles from Xin Mei Xiang Zheng Zong Lor Mee and ordering the $4 wanton mee (dumpling noodles) from fourth-generation hawkers Hua Kee Hougang Famous Wan Ton Mee. Heck, with prices that cheap, go nuts on anything else you fancy and make a real feast of it.
Nouri
True food lovers will have a field day at Nouri. The innovative restaurant has its own research arm dubbed Appetite—a culmination of thinking by a team of chefs, anthropologists, historians, journalists, designers and artists—and you can thank them for the inspiration behind the incredible menu that blends cultures across time. The chef's tasting menu kicks off with "Bread and Broth", a fresh take on bread and butter featuring rye sourdough, silken cheese and vegetable broth. The five courses that follow will blow your taste buds away, especially when paired with wine, sake or spirits. Definitely book ahead for this highly original dining experience.
Labyrinth
With a multitude of awards ranging from Michelin Stars to sustainability credentials, Labyrinth is the creation of Chef LG Han, who wanted to honour his Singaporean lineage with a new take on local flavours and age-old recipes. With a focus on locavore—that is food that has been created with locally sourced ingredients—the dark and moody restaurant still manages to have fun, you only need to glance at the tasting menu for evidence. Diners are welcomed with Chilli Crab Ice Cream, before being delighted with gastronomic takes on Singapore staples, like the Ang Moh Chicken Rice. To finish, enjoy the Kaya, Teh Tarik & Eggs with Russian hybrid caviar and authentic Hainanese kaya (coconut jam).
Burnt Ends
For food even hotter than the humid climes of Singapore, head to Burnt Ends. A BBQ restaurant that's a little more high brow than your standard steakhouse, this Michelin Starred spot is owned by the bearded Aussie Chef Dave Pynt who has a penchant for cooking with wood—go figure. Dine on sumptuous meats and charred seafood while overlooking the open kitchen with its four-tonne oven and elevation grills. Each day brings a new menu and hordes of foodies, but it all adds to the experience.
Ya Kun
While breakfast isn't the most important meal of the day in Singapore, we'd hate for you to leave the island city without locking your lips around a traditional brekky of kaya toast and soft boiled eggs. And while you won't find any evidence of Michelin Stars, you will find a mouthwatering kaya-infused breakfast at Ya Kun. Ya Kun, which first flung open its doors in 1944, is now synonymous with kopi (coffee) and toast. With around 70 locations all over the city, the humble and nostalgic coffee house might be a chain, but that doesn't mean it's not good. Order the traditional kaya toast set and expect thick slices of butter sandwiched between white toast with a side of half-boiled eggs and steaming hot black kopi—a remarkably simple meal that was originally created to give you energy, protein and a caffeine boost. You'll soon discover there is no better way to start your day.
Dreaming of a drool-worthy overseas adventure? Singapore's globally-revered and diverse culinary scene is not to be missed. Join Singapore actress Fiona Xie—famous for her role as Kitty Pong in the Hollywood blockbuster Crazy Rich Asians, as she explores Singapore with Aussie and Kiwi expatriates, in the three-part video series SingapoRevealed. Dive into 7 Things You Didn't Know About Singapore's Food Scene, for a gastronomic adventure, with a historian, an entrepreneur and a professional MMA fighter. Also, check out the Singapore-The Garden City and Singapore's Best Kept Secrets videos, as well as top tips from Fiona here.
Editor's note: This article is sponsored by Singapore Tourism and proudly endorsed by Urban List. Thank you for supporting the sponsors who make Urban List possible. Click here for more information on our editorial policy.