Singapore might be a relatively small island metropolis, but that doesn't mean it hasn't packed away a whole slew of hidden gems ripe for exploring.
From incredible jungle escapes and restaurants floating at sea to quirky workouts and decadent high teas, we've got the low down on Singapore's lesser-known haunts for when you've done the shopping malls to death.
Cue the wanderlust, here are eight hidden gems to uncover the next time you're in Singapore.
Crack Into Fresh Crab At A Floating Restaurant
If you've got a penchant for fresh-as can be seafood, Singapore's Smith Marine floating restaurant is well worth hunting down. Take the ten-minute ferry ride from Changi Village to the restaurant drifting near Pulau Ubin and make the most of the experience by choosing one of the set menus that includes transport fees. Think chilli crab, cereal prawns, sambal mussels and deep-fried lobster. You can even try your hand at catching your own fish which the chefs will cook up for you how you like it. You can make a lunchtime booking, but who'd pass up the chance to watch the sun go down from a restaurant floating in the middle of the sea? Bookings are a must.
Sneak Into A Speakeasy
Singapore is awash with ritzy bars and restaurants, but if you're looking for something that's lesser-known to your tourist counterparts head to Bitters & Love. Not too far from Raffles Place, this specialty cocktail bar is the perfect spot to kick back in after a busy day of bustling through the city. Head straight for the bartender and throw out a few describing words (robust, sour, sweet, playful… you get the drift) and watch them work their magic behind the bar as they craft up a bespoke cocktail that'll have your tongue wagging for more. Paired with some triple-cooked hand-cut truffle potatoes and Rangers Valley wagyu and you have yourself an evening that'll tantalise the tastebuds.
Discover The Kooky Side Of Singapore
Set to reopen in July 2021, Haw Par Villa is a must for lovers of art, culture and eccentrics. The brainchild of millionaire philanthropist and inventor of Tiger Balm, Aw Boon Haw, the park originally opened in 1937 as Tiger Balm Garden and boasts a history as colourful as its attractions. Bulging at the seams with myths and legends from Taoism, Buddhism and Chinese history, you can expect statues and dioramas that span from the morbid (in Hell's Museum) to the downright strange and everything in between. Entry is free, but we recommend the $10 tour for the added knowledge dump. There's a handy MRT station a minute's walk away from the park's entrance.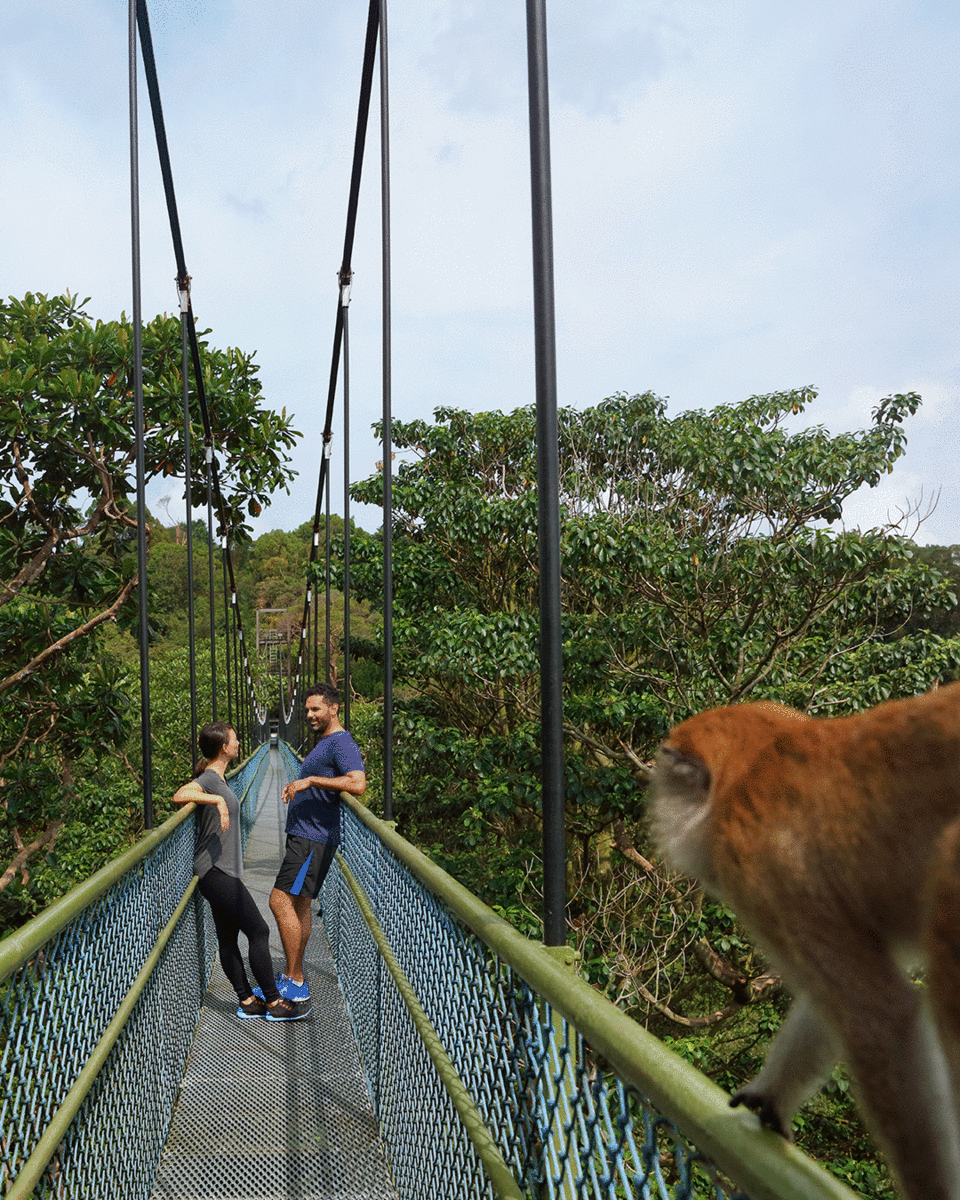 (Images: Bitters & Love, The Fragment Room and Fort Canning Park).
Brush Up Your Jedi Skills At SaberFit
Aside from smashing your daily steps goal, we wouldn't normally recommend doing a workout while on holidays, but that was until we discovered Singapore's antidote to boring fitness classes—SaberFit. Grab hold of your glowing saber and get ready to burn around 600 calories as you strike and sweat your way through the one hour class combining plyometrics, cardio and core exercises. While it might take you a few goes before you resemble Rey, you'll be too focussed on all the glowing sabers around you to notice. Be sure to book.
Indulge In A Midnight Dessert Extravaganza
Hidden away from tourists (but not savvy locals) 2am:dessertbar in Holland Village is well worth saving room in your stomach for. The mouthwatering menu seamlessly mixes flavour with art—if dessert wizardry exists, it's here. Described as 'interactive, edible art', you can expect moreish desserts pairings like the Helian On Fire made with torched meringue, figs, coffee sponge, Jerusalem artichoke ice cream, fig jam, chocolate hazelnut, and parsnip chips, washed down with a Fernet Boutique made with fresh bergamot juice, Fernet Branca, gin, elderflower, lemon, and soda—heaven. There are also a few drool-worthy savoury snacks like the 2am Mac & Cheese oozing with crispy smoked paprika pork and truffle. A tasty nightcap paired with a theatrical late-night dessert? Seriously, sign us up. You'll definitely want to reserve ahead for this one.
Track Down The Hidden Tree Tunnel
It's easy to be distracted by the glitzy shopping malls of Orchard Central, the restaurant-lined walkways of Clarke Quay and the stunning CHIJMES building which surround it, but next time you're Singapore bound set your sights on Fort Canning Park, where history and nature combine. Meander through nine historical gardens and do some forest bathing to offset all the pavement peddling you've been busy with. Bonus points if you can track down the hidden tree tunnel which resembles something out of a post-apocalyptic movie (and makes for a winning photograph).
Smash Some Sh!t Up
Let's face it, it's been a hard year for us all, it's no wonder if you're feeling a little frustrated. Well, the good news for you is that Singapore's very own rage room is on standby to help you get that pent up 2020 aggression out of your system. The Fragment Room will kit you out in coveralls, cut-proof gloves, safety helmets, goggles and boots, before handing over weapons like baseball bats and crowbars so you can work out that tension in your dedicated smash room on a lousy old printer or some chipped up plates. Plus, you don't have to feel bad because everything was headed to the tip anyway. You're free to bring your own tunes that they'll play for you as loudly as you want… we're thinking 'Break' Stuff by Limp Bizkit.
Get Sweaty On A Jungle Adventure
With everything from kayaking and treetop walks to turtle spotting and tower climbs, it's well worth making the trek to MacRitchie Reservoir for a day of jungle fun. There are loads of different trails to take depending on your stamina, ranging from 3km to 11km, but you definitely won't want to miss the treetop walk, even if you have to white knuckle it the whole way through. Keep your eyes peeled for monitor lizards, turtles, monkeys and other native animals while you're in the park. And if you feel like working off all the cocktails, desserts and hawker food (read: punishing yourself), you can climb the eight storeys to the top of Jelutong Tower for a glorious treetop view.
Dreaming of an overseas adventure? Singapore's hidden gems are just waiting to be uncovered. Join Singapore actress Fiona Xie—famous for her role as Kitty Pong in the Hollywood blockbuster Crazy Rich Asians, as she explores Singapore with Aussie and Kiwi expatriates, in the three-part video series SingapoRevealed. Dive into Singapore's Best Kept Secrets, for more off-the-beaten-track adventures, with a professional MMA fighter, an entrepreneur, and a marine consultant. Also, check out the Singapore-The Garden City and 7 Things You Didn't Know About Singapore's Food Scene videos, as well as top tips from Fiona here.
Editor's note: This article is sponsored by Singapore Tourism and proudly endorsed by Urban List. Thank you for supporting the sponsors who make Urban List possible. Click here for more information on our editorial policy.