As far as breathtaking holidays go, Tasmania has the sweeping views, fresh air, and gourmet dining experiences that make it your ideal destination. Whether you're looking for a romantic weekend away, friends trip, or family holiday, there is enough wine, food, and wilderness available to help even the most stressed of us unwind and recharge.
From lodges overlooking thousands of lakes to coastal hideaways nestled amongst the trees, here are the very best Tasmanian retreats that give new meaning to the word relax.
Ship Inn Stanley
Stanley
A getaway to Ship Inn Stanley will make you feel like you've stepped back in time. Established in 1849, this gorgeous inn is steeped in history and holds within its walls centuries worth of secrets. Each of the seven luxurious suites and a chic new two-bedroom apartment tells a story rooted in local history, of shipwrecks, battles and salty characters of the region. Across all of the elegant suites and new two-bedroom apartment, you'll find a mix of bespoke interiors like linen, wallpapers, antiques, and contemporary furniture that's the ideal backdrop to your next holiday 'gram. Together they create the perfect environment for you to fully relax and breathe in the fresh sea air.
Thousand Lakes Lodge
Central Highlands
Picture yourself with a crisp glass of wine in hand and taking in the bright sunset over one of the thousand lakes that surround you. This is what you'll find at Thousand Lakes Lodge. Hidden away in the Central Highlands of Tasmania, this cosy and luxurious lodge offers a glorious safe haven from your rugged surrounds. Spend your days exploring the Western Lakes, fishing for wild brown trout, and learning about the local history and wilderness that make this lodge so impressive.
Domescapes
Tamar Valley Wine TRAIL
Imagine waking up to panoramic views of winding orchards and lush forests just mere steps away. Domescapes has made this picturesque fantasy a reality, bringing a truly impressive glamping experience to the Tamar Valley Wine Trail. That's right, not only will you wake and go to sleep with the wine country's rolling hills on your doorstep, you will also be welcomed with platters and wines from the friendly folks at Swinging Gate Vineyard. To sum up, it's a glamping dome with breathtaking views, its own ensuite, and a steady supply of wine and cheese. Oh, and to top it all off, the accommodation is entirely eco-friendly. Book now, thank us later.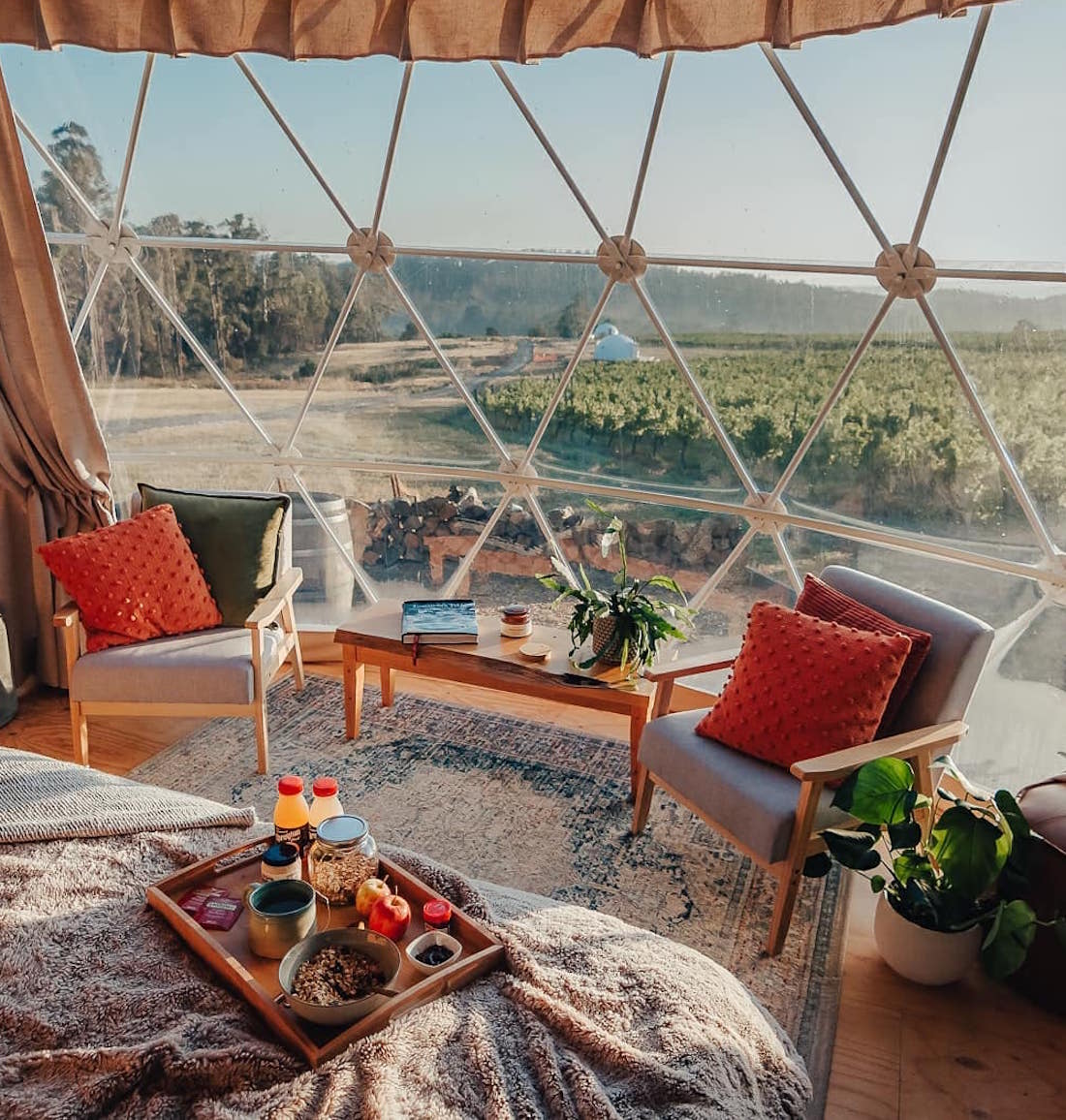 Corinna Wilderness Experience
Corinna
Nestled on the western coast of Tasmania overlooking the Pieman River is where you'll discover the Corinna Wilderness Experience. This historic mining town is as close as you can get to the vast and mysterious Tarkine wilderness, harbouring rare cool-climate rainforest and ancient Huon pines. It's way off-grid, so don't expect any wifi here, only the welcomed chance to unplug and truly switch off with a digital detox. For those looking to truly immerse themselves in their secluded surroundings and find a home away from home in the wilderness, we recommend the eco-lodges that back directly onto the Tarkine rainforest. For those looking to experience the history of this time-forgotten town, there are the renovated miners cottages and the old pub. Spend your days trekking through raw nature on the Huon Pine Walk, Savage River Walk, and the Whyte River Walk or cruise down Pieman River to Lovers Falls that can only be accessed by kayak. If you're looking for a once in a lifetime experience, well, this is definitely it.
Freycinet Lodge Coastal Pavilions
Coles Bay
When treating yourself to a weekend away, ultimate comfort is a must. Freycinet Lodge's Coastal Pavilions effortlessly blends the natural surrounds with luxuriously comfortable interiors, keeping things simple and elegant to match the impressive landscape. The lodge is literally nestled amongst the trees with floor to ceiling windows overlooking the coastal bushland of Freycinet National Park and Great Oyster Bay. Enjoy an a la carte breakfast at The Bay restaurant or a hamper delivered to your pavilion and spend your days discovering nearby Wineglass Bay — lounging on the hammocks with a book in hand or soaking in your private outdoor tub with a glass of champagne.
Adventure Bay Retreat
Bruny Island
Hidden away on the far side of Bruny Island you'll find one of Tasmania's most luxurious retreats, Adventure Bay Retreat. Getting to this beautiful Tasmanian isle is easy and totally worth the trip. Simply drive 35 minutes from Hobart to Kettering, a small coastal town, and catch the 20-minute ferry across. The island is best known for being home to some of Tasmania's most beautifully preserved natural environments, native wildlife, and incredible oysters and cheese. Not to mention, you may have seen The Neck grace your feed once or twice before—it's an isthmus of land connecting north and south Bruny Island and a total 'gram-worthy moment that needs to be seen to be believed. Now, as for your accommodation at Adventure Bay Retreat, you can choose from a range of self-contained properties that each do luxury differently, from The Lodge's spacious, family-friendly escape to The Cottage's intimate, romantic setting. For all you foodies out there, we recommend booking the Gourmet Experience Package.
Looking to fill your Tasmania itinerary? Check out the best places to eat in Hobart.
Image credit: Jason Charles Hill (hero image of Freycinet Lodge Coastal Pavilions), Domescapes