From toasty indoor fires in off-grid cabins to roaring firepits at secluded farm stays, NSW has plenty of cosy Airbnb properties to book for a well-deserved winter escape.
And while searching for the best Airbnbs with fireplaces in NSW is definitely on the time-consuming side of things, we've done the hard yards for you and found the absolute best rentals in NSW perfect for cosying up with a book and a glass of red by the fire. Here are the best Airbnbs with fireplaces—and outdoor firepits—in NSW.
Hilltop Cabin
Mt Kanimbla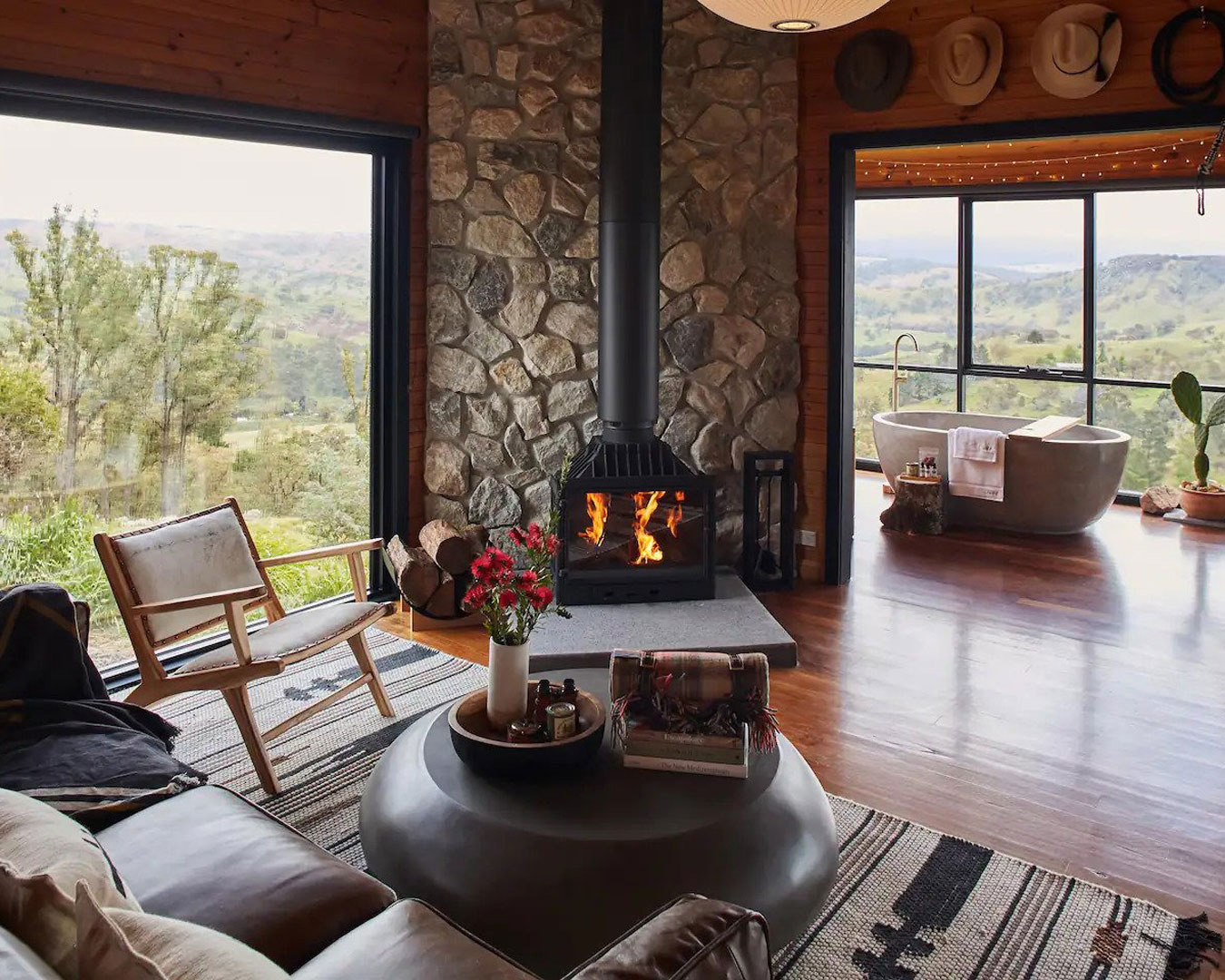 Located at the highest point of Kanimbla Valley, Hilltop Cabin offers sweeping views of the Blue Mountains. Of course, this means it gets pretty chilly in winter, but never fear—because this scenic stay for two has one cracking open fireplace to keep you toasty. There's also a standalone tub that overlooks the escapement and a king bed for those frosty mornings. This luxe wilderness retreat also has a plunge pool with epic views for those warmer days. Book here.
Nashdale Lane Glamping Cabins
Orange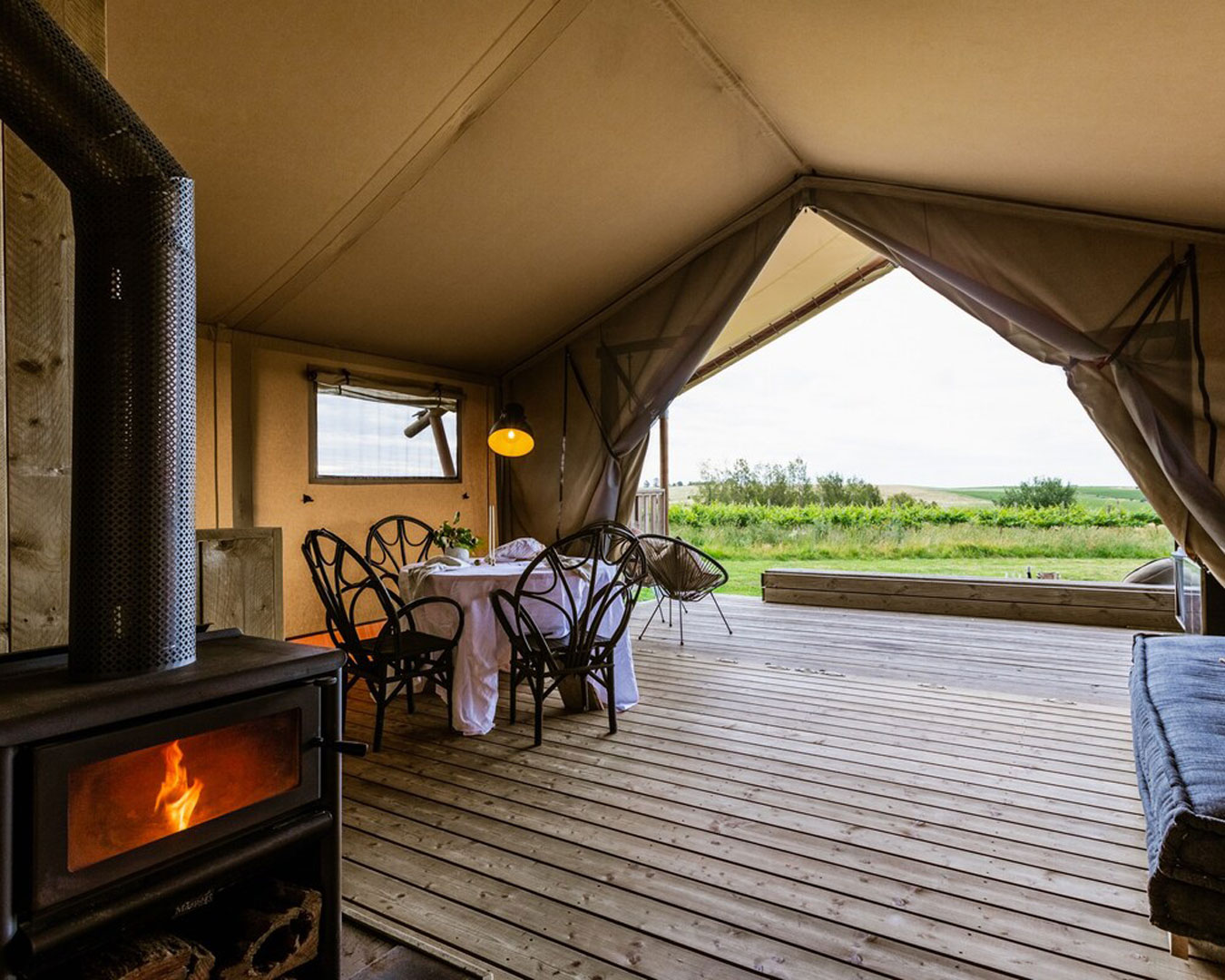 You can sleep among the vines at one of Nashdale Lane's luxe glamping tents. The renowned Orange winery has two spacious tents to pick from—both with spectacular vineyard views, queen beds, kitchenettes, outdoor patios, barbecues and, of course, indoor fireplaces. You're right by the cellar door, meaning you can easily fit in a snooze after a few too many vino samples. Plus, it's just a cruisy ten-minute drive into Orange if you're keen to explore. Book here.
Milkwood Barn
Broughton Vale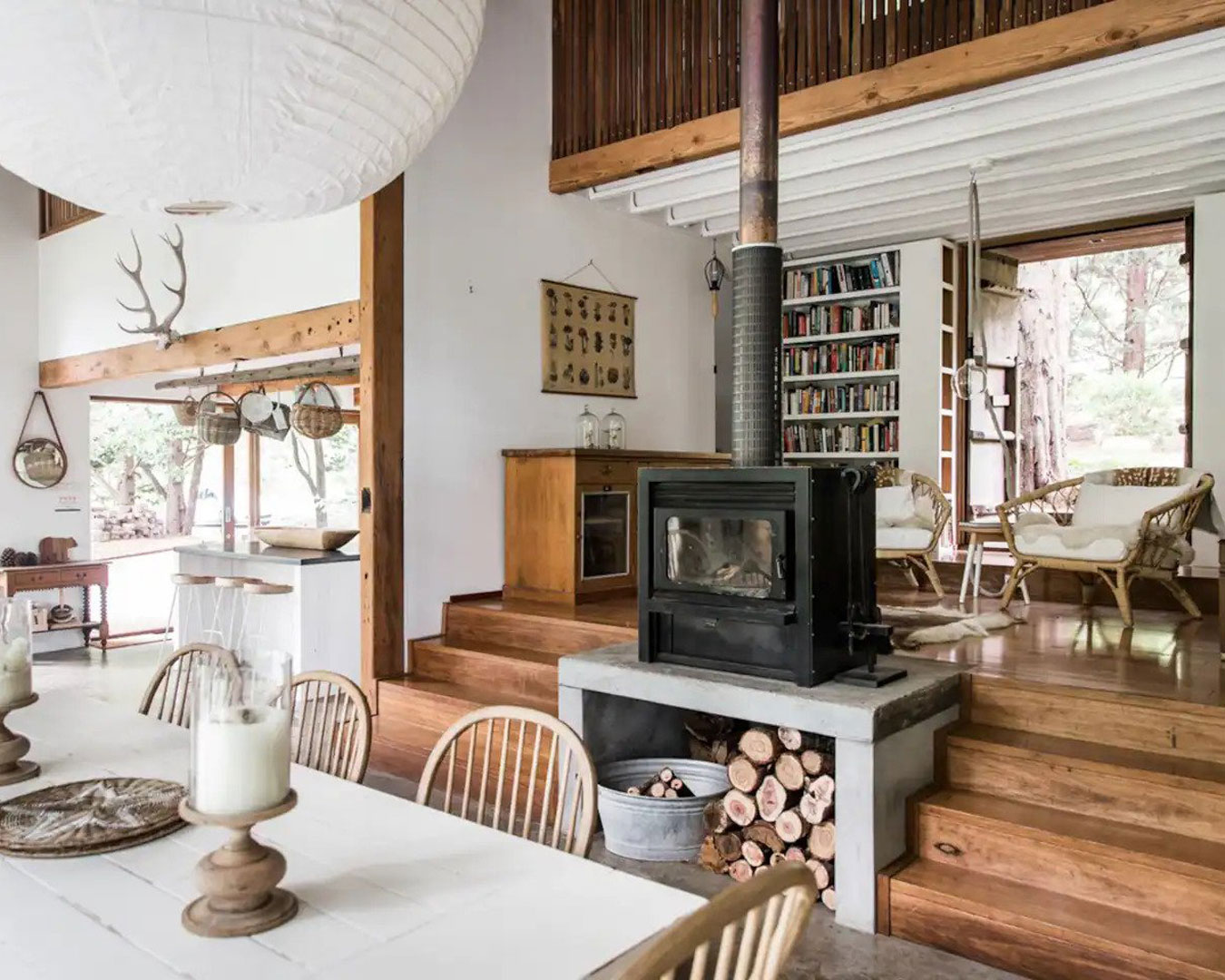 Nothing says cosy like a central wood-burner. And that's exactly what you'll find at Milkwood Barn. Located near the historic town of Berry, this luxe barn-style house sleeps seven people and, more importantly, is dog-friendly! It boasts three bedrooms, five bathrooms, three living room areas, a wide timber deck, and a cosy slow-combustion wood heater. On the surrounding property, you'll find a veggie patch, chicken coup, sprawling swimming pool, treehouse, creek, and outdoor firepit. Because two fireplaces are better than one. Book here.
The Machinery Shed
Blackheath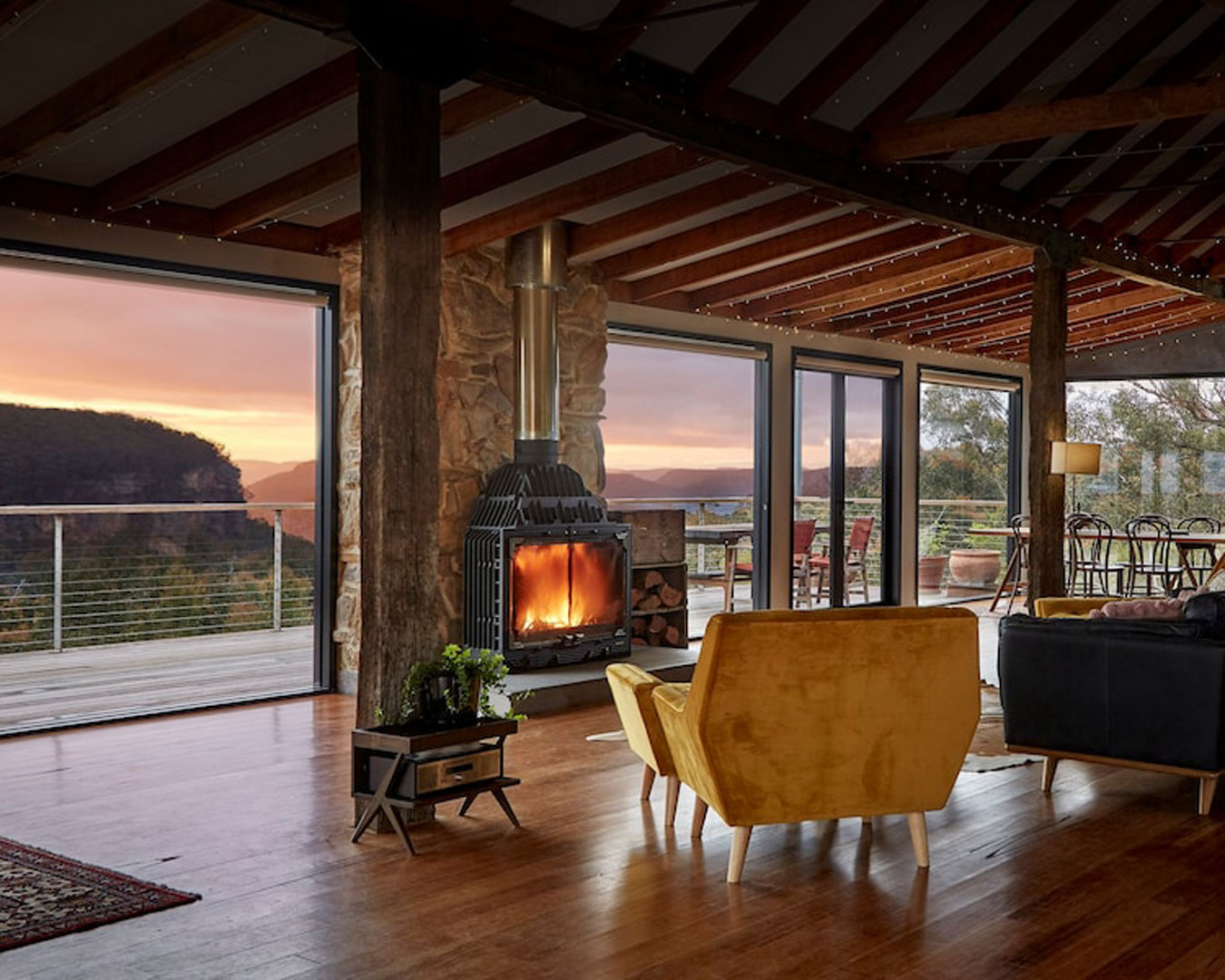 The Blue Mountains may have a heap of dreamy stays—particularly when it comes to the cooler seasons—but we doubt there are many better than Logan Brae Retreats' Machinery Shed. For one, its outdoor bath situation is lush AF. Secondly, it's set on a picturesque apple orchard and has its own secret lookout. The shed was built way back in 1919 (don't worry it's had a facelift since then) and faces the impressive cliffs and looks over the Kanimbla Valley. If you're looking to get cosy with your partner in crime, this place is hard to beat. Book here.
Kumbogie Cabin
Daruka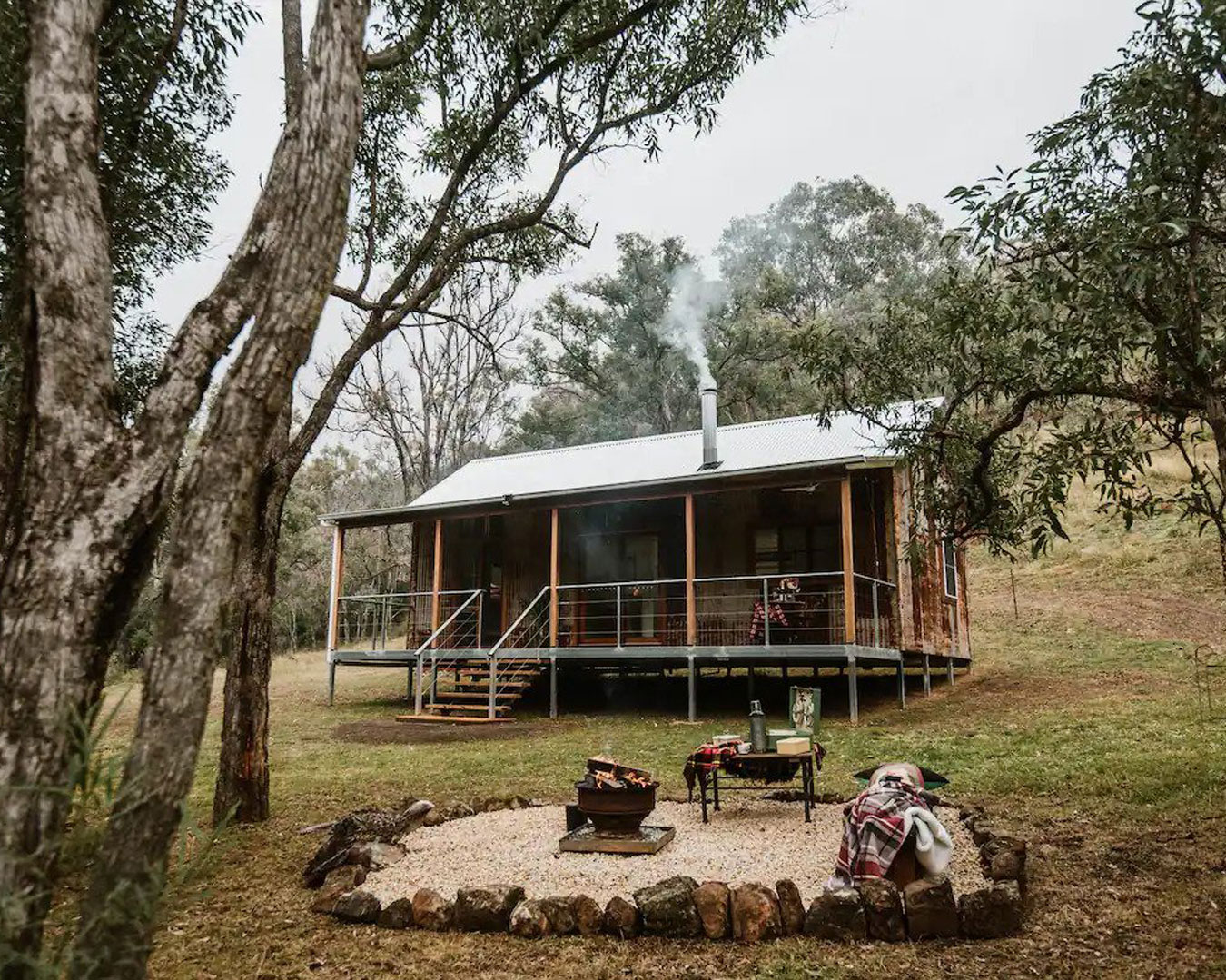 Kumbogie is an eco-friendly cabin on a working sheep farm out near Tamworth. It runs off solar and battery power and is the ultimate retreat for when you want to switch off. You and your partner in crime will be surrounded by bushland (and the odd sheep) and you'll be almost a kilometre away from anyone else. Bliss. As for staying toasty, there is a cosy indoor fireplace and an outdoor firepit mere metres from the cabin. BYO marshmallows. Book here.
Fox Run Cottage
Apple Tree Flat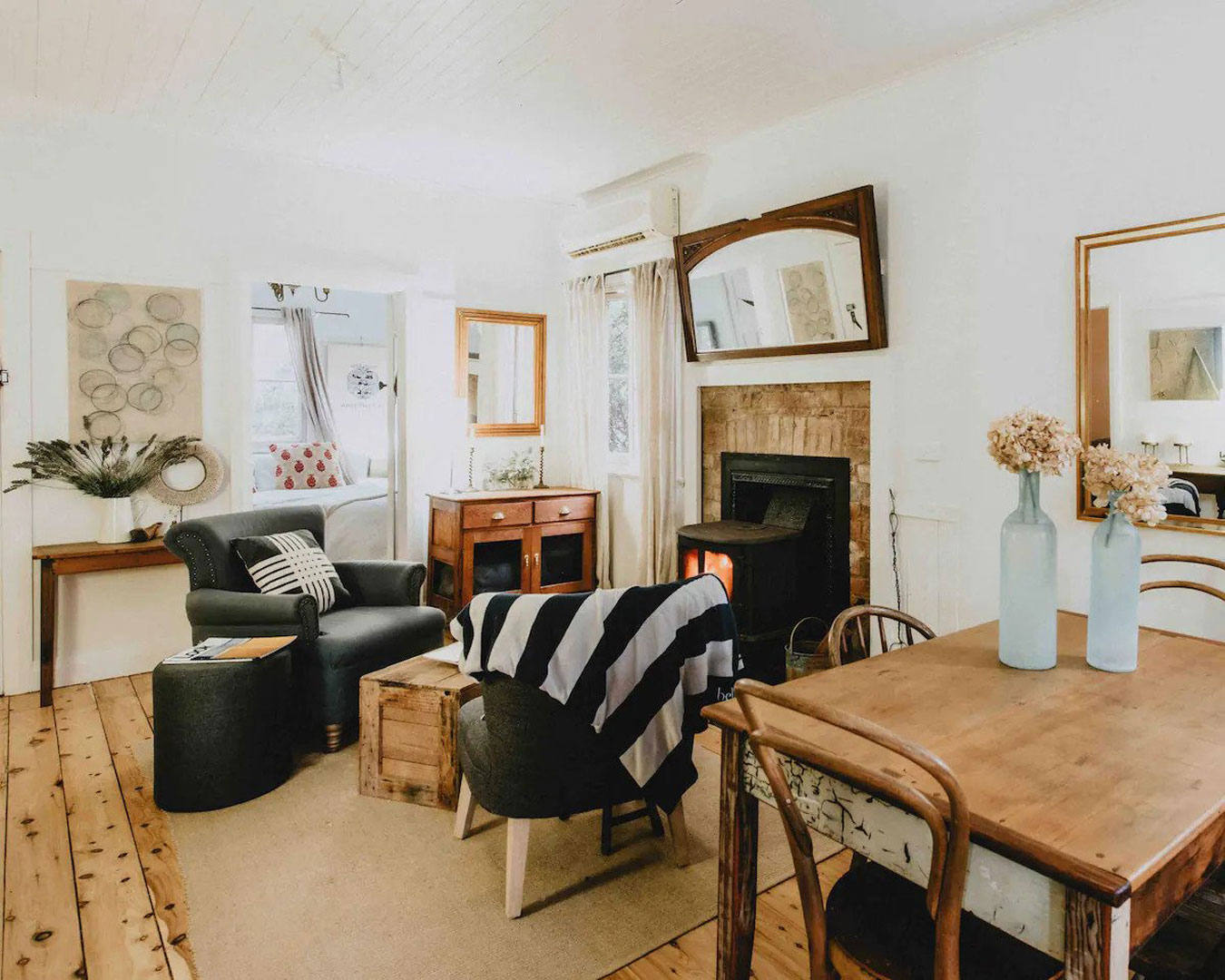 This cosy self-contained cottage is perfect for two couples or four mates looking for a relaxing stay in the countryside. Or, as it's just ten minutes from Mudgee, for a wine-fuelled weekender. Either way, this two-bedroom stay will keep you warm with its wood-burning fire. It also allows pets, which is a huge win, and it is located right by a golf course. WIne, golf, doggos, and fires—what more could you want? Book here.
Worrowing Cottage
Worrowing Heights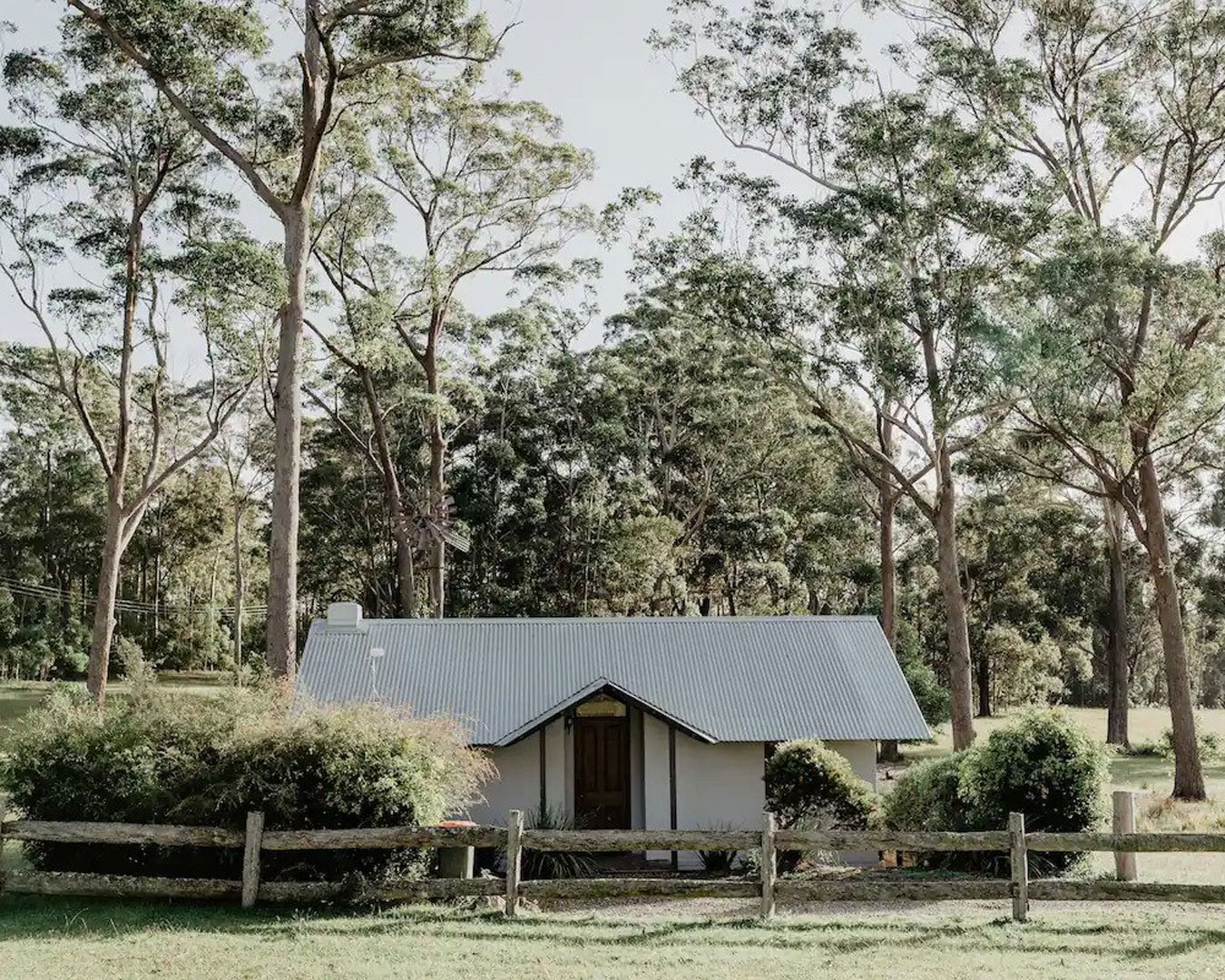 This charming farm cottage is right by Jervis Bay, making it a great summer vacay spot. But, if you're keen on a coastal jaunt in the depths of winter, you'll be snug AF here thanks to its large fireplace. Plus, it's a small cottage so it warms up nice and quickly. If you're keen to go on a trip with mates, there's another cottage just 100m away run by the same people, which you can check out here. While the other one has an outdoor tub, we just couldn't go past this one's rustic charm. Book here.
Buru
Pebbly Beach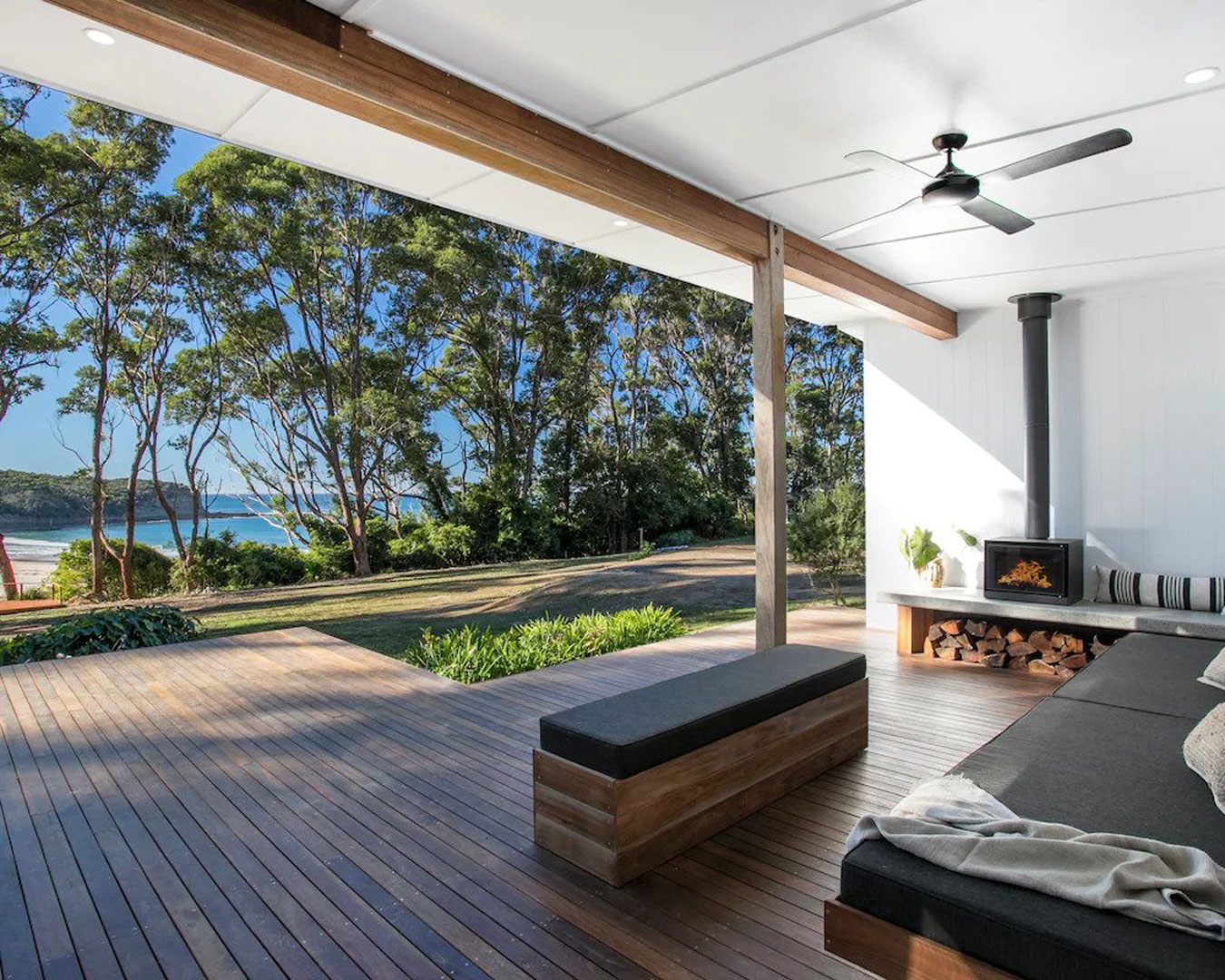 Located on three acres of pristine beachfront land, Buru has to be one of the top coastal getaways in the state. We mean, come on—look at those ocean views! This renovated 1960s beach house has three bedrooms, two modern bathrooms and a sleek kitchen, plus a stone fireplace in the living room for when the temperature drops. But the main drawcard is the expansive covered patio complete with a daybed and massive outdoor fireplace, so you can take in those panoramic beach views while staying nice and warm. Book here.
Gawthorne's Hut
Buckeroo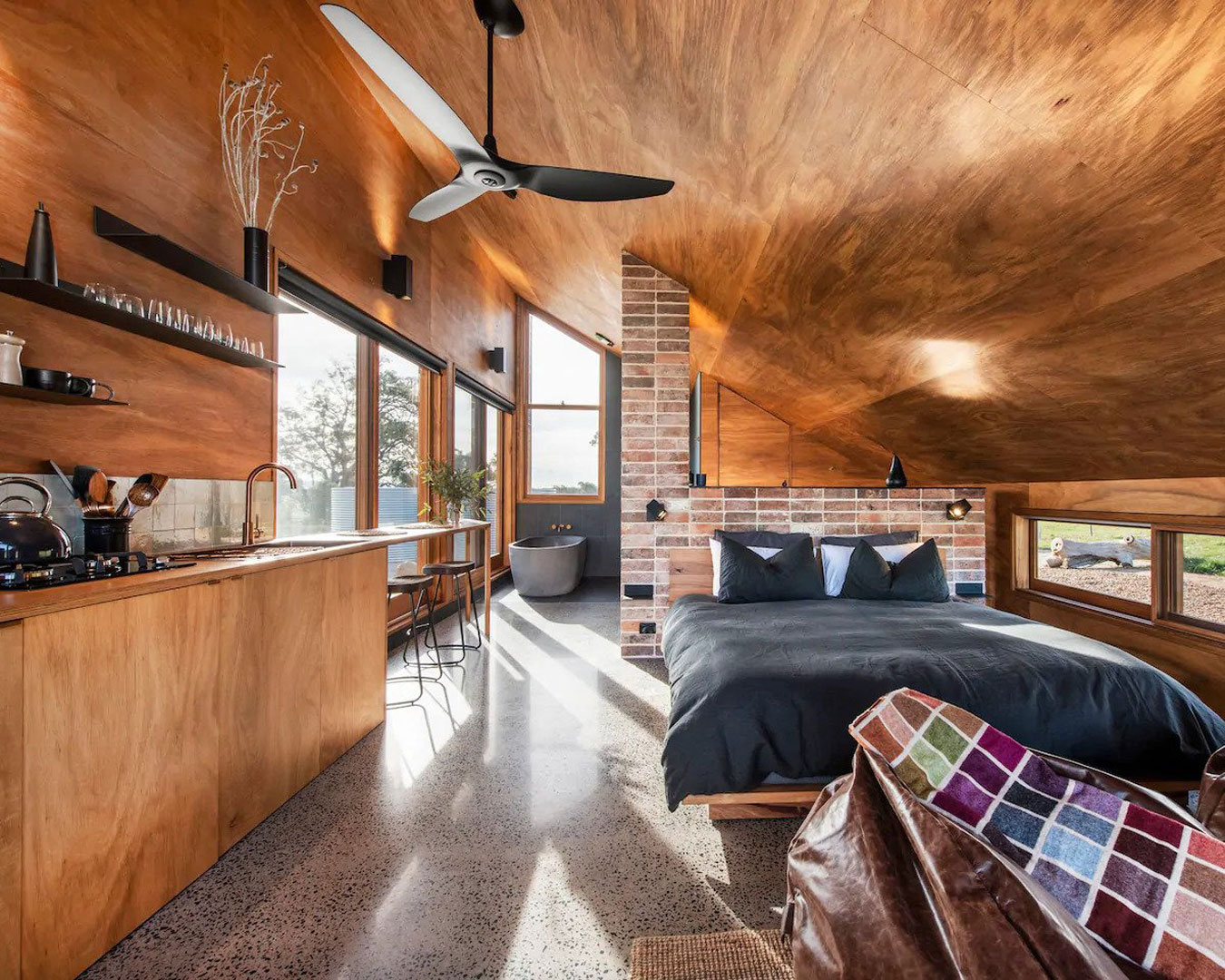 This architectural marvel is one of the most unique cabins in NSW—in fact, it was named the Best Unique Stay at the 2021 Airbnb Host Awards. If you're into slick design, pared-back modern comforts, and scenic countryside, then this is the place for you. The eco-cabin sleeps just two people and comes with a luxurious stone tub, comfy bed, kitchenette, a breakfast bar, and, of course, a toasty flicker for the cooler months. There's also a massive firepit outside, so gather the kindling and cosy up by the fire while looking at the stars. Book here.
The Cottage
North Narooma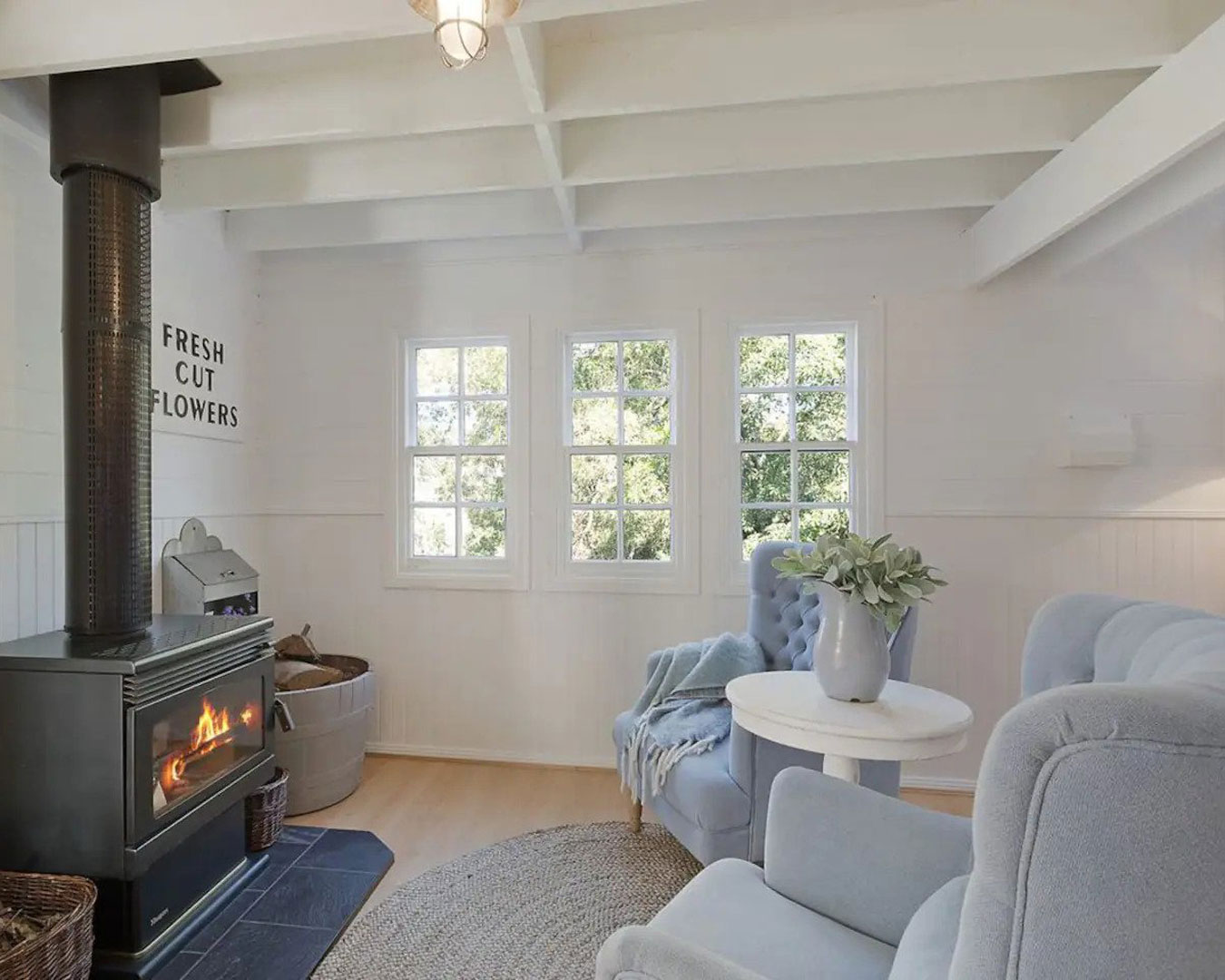 Narooma has become quite the holiday destination in recent years. And it's easy to see why—stunning coastline, beautiful produce, and top-notch restaurants and bars. Not to mention all the cosy stays, including this pretty-as-a-picture cottage on the north side of town. It's on six acres and is surrounded by lush rainforest, which is pretty dreamy—and it's only a three-minute drive into town. There's plenty of wildlife around, including wallabies, frogs, yellow belly sugar gliders, echidnas, wombats, and lyrebirds, so be mindful of these cute critters while you're there. And for the colder seasons, fire up the indoor wood-burner and get cosy. Book here.
Eagle's Nest Cottage
Bawley Point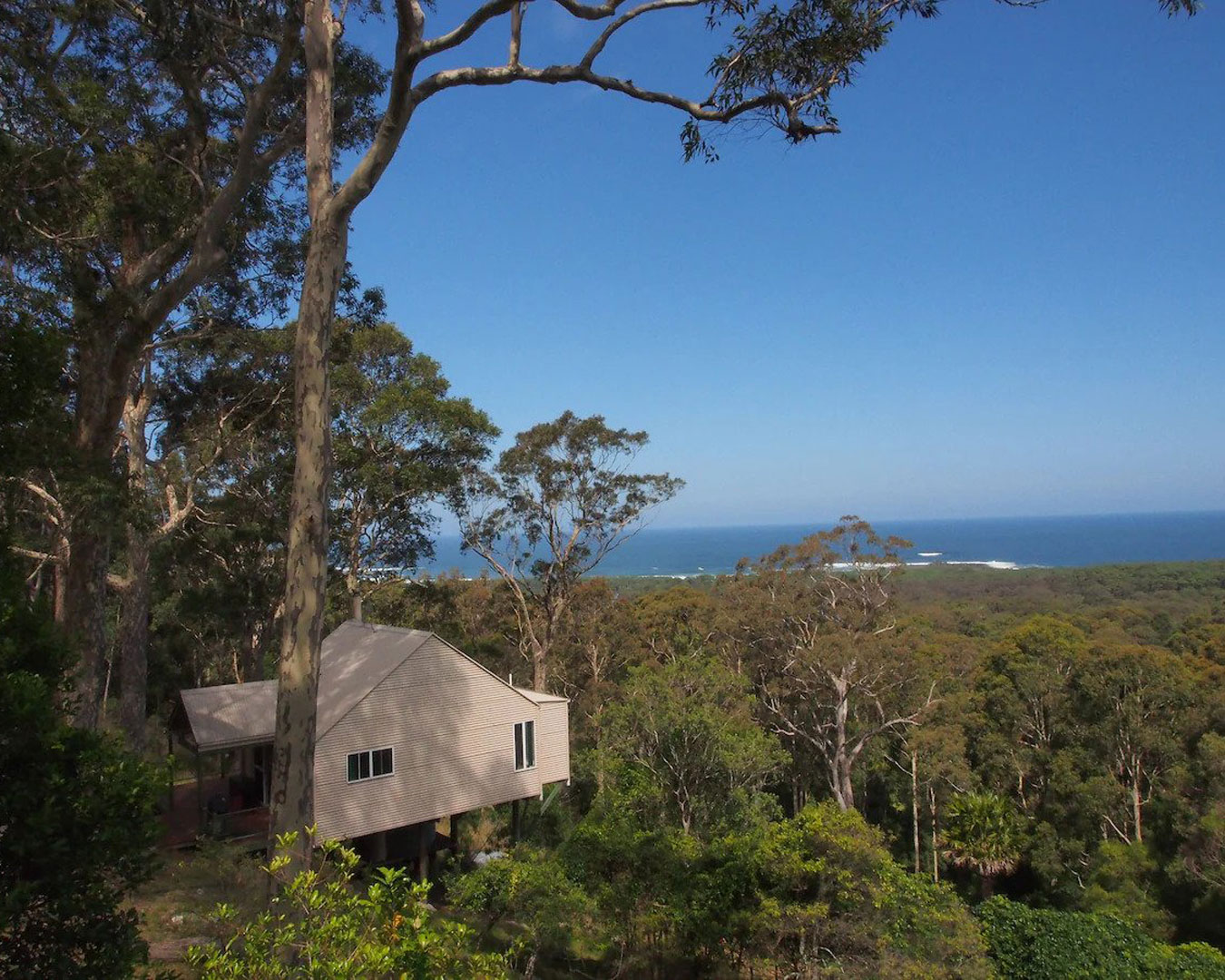 This stunning treehouse is perched above the canopy and overlooks the sparkling coastline. Here, the only sounds you'll hear are from the bush and the ocean. Yep, this is peak tranquillity, guys. The walls are painted a sunny yellow and the fireplace is centrally located for max warmth. No doubt you'll fall in love with this spot—and lucky for you they allow long-term stays, too. Book here.
The Gate House
Mudgee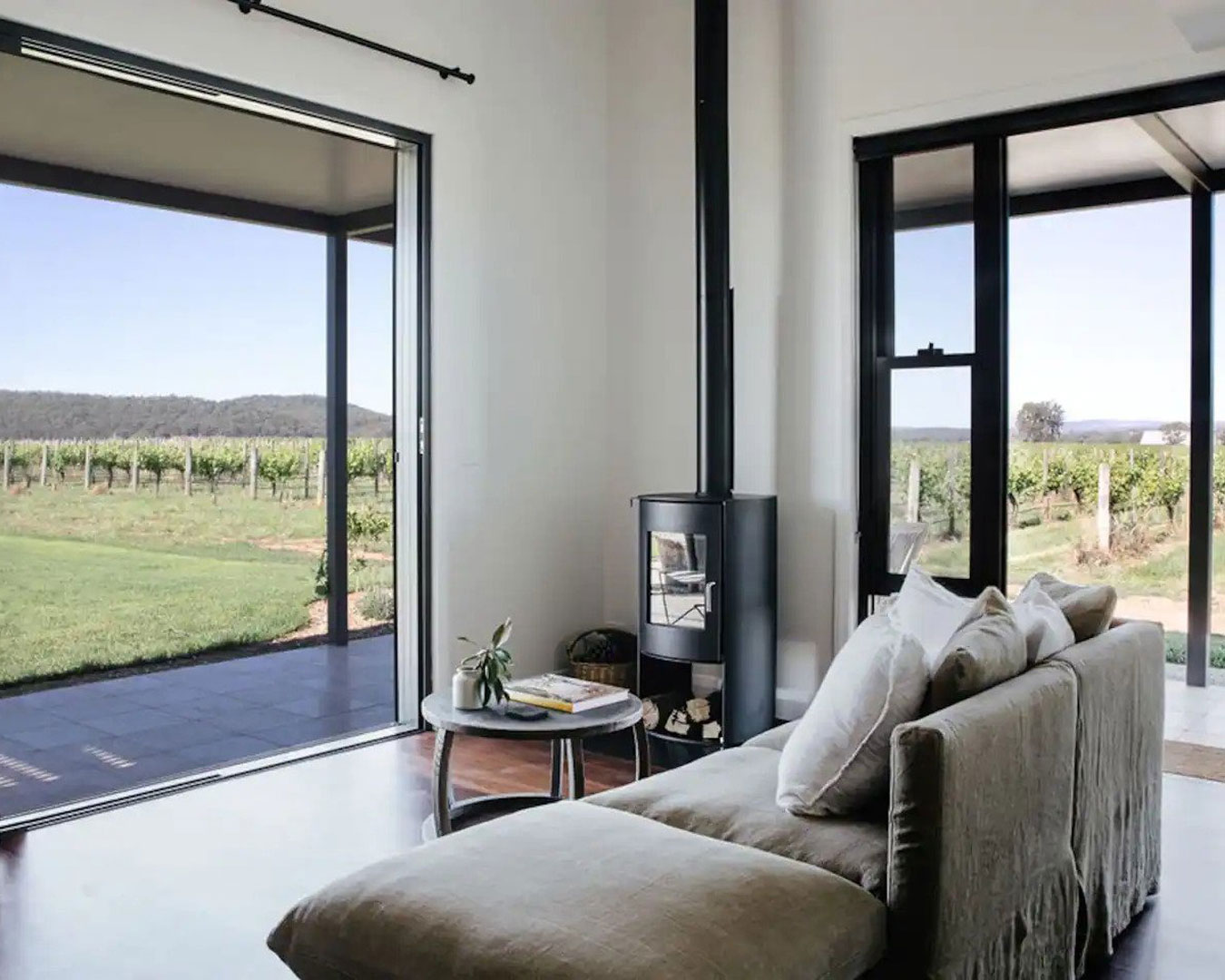 The Gate House is another vineyard stay and it's perfect for a relaxing winter getaway. Located in Mudgee wine country, this split-level property is right beside the Yeates Wines cellar door, making wine sipping and subsequent snoozing a breeze. Expect luxurious touches like dreamy linens, a TV, a barbecue, and a coffee machine. Of course, it can get mighty cold in Mudgee, so the space is fitted out with a slow-combustion woodfire to keep you snug as a bug. Book here.
Lake House
Wallis Lake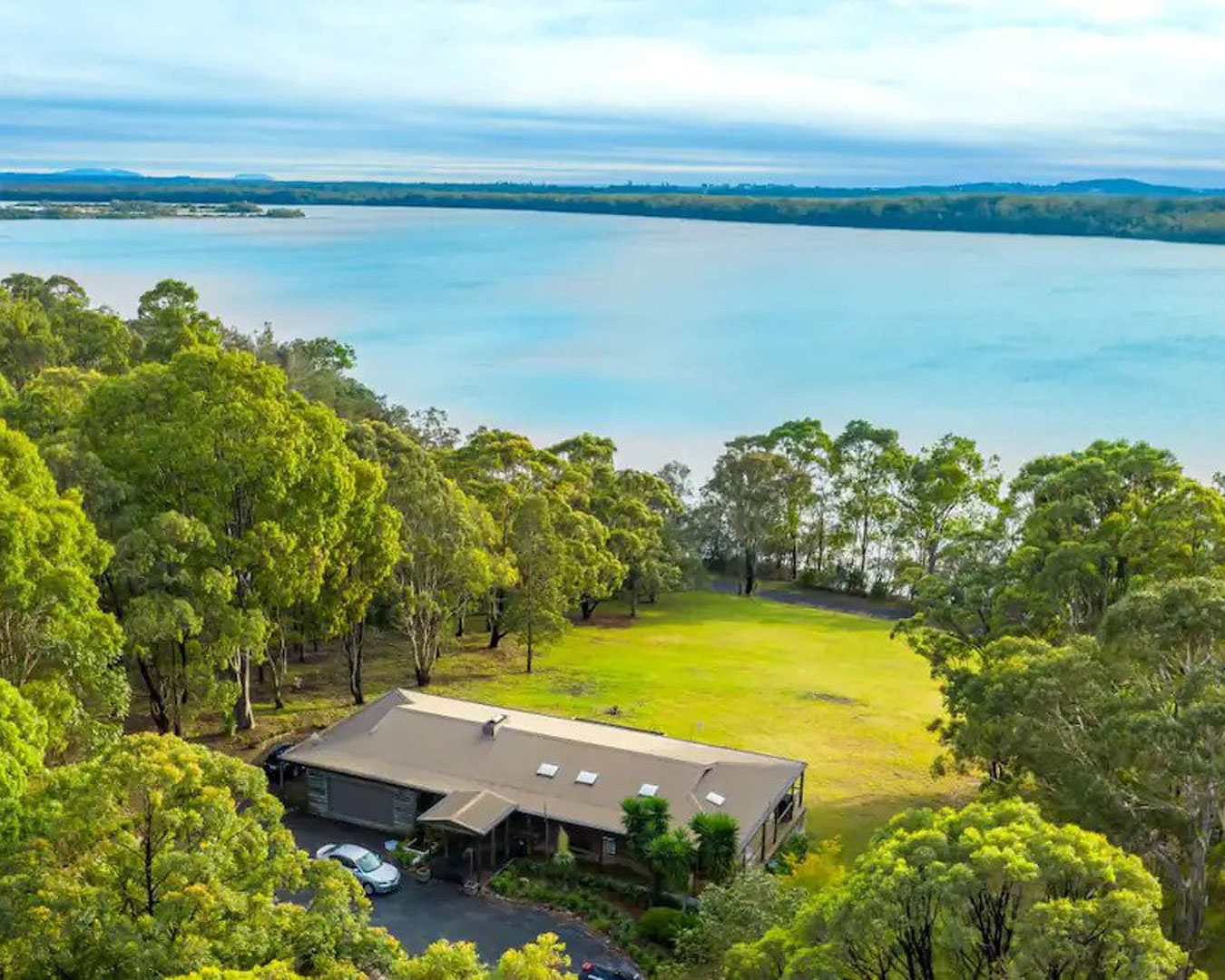 A quaint log cabin overlooking the picturesque Wallis Lake? Yes please! Throw in a roaring fireplace, hot tub, smart TV, coffee machine, and a piano and you'll have everything you could ever need. The aptly named Lake House is situated on five acres and has unobstructed lake views, as well as lake access for you water sports enthusiasts. The property has kayaks and mountain bikes you can borrow, and it's dog-friendly so you can bring your woofer along. It sleeps seven people, so round up the crew for a chill weekend away. Book here.
Holman Estate
Pokolbin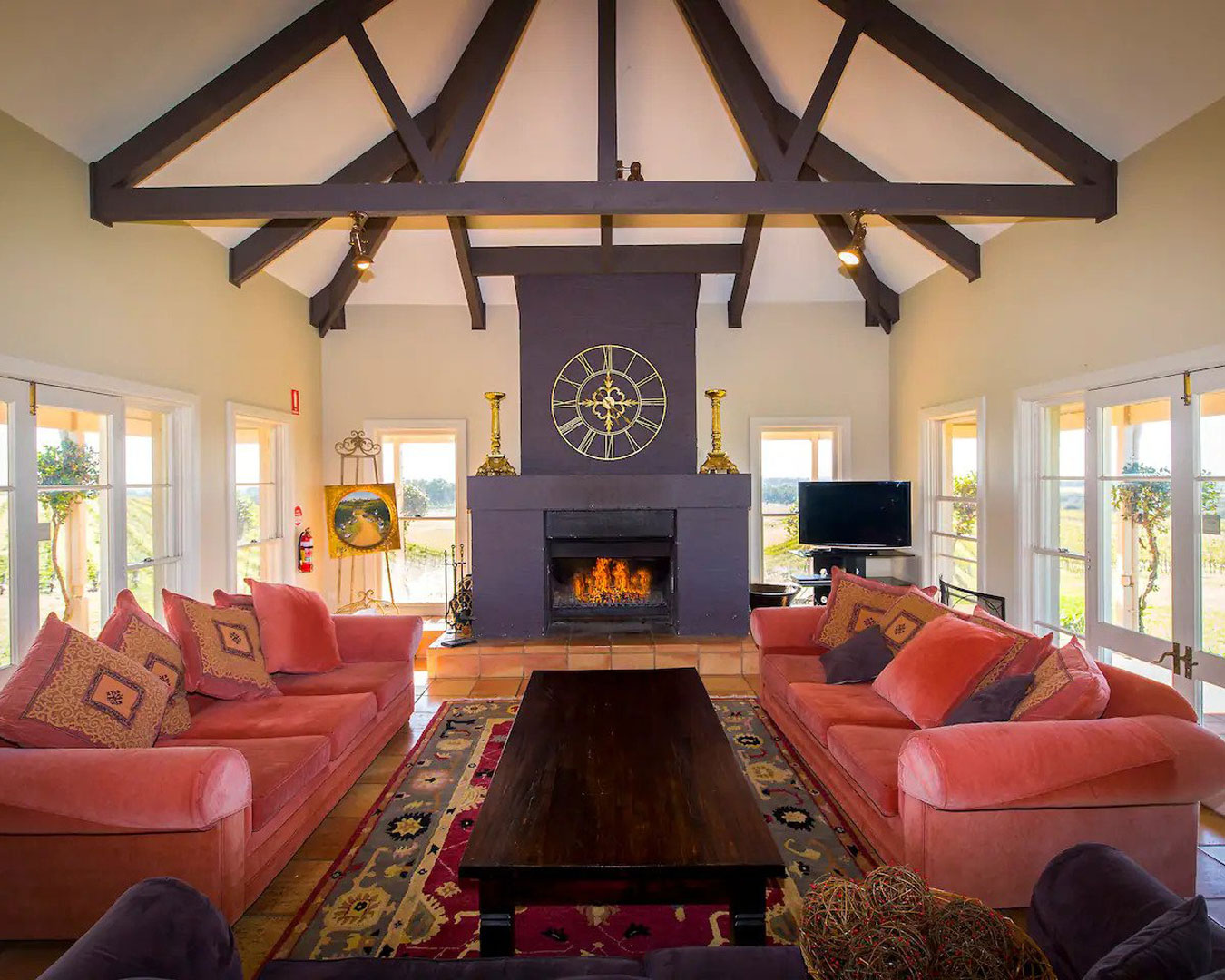 Holman Estate is massive. Located right below the Broken Back Range in Pokolbin, this sprawling homestead is great for a wine trip with your mates. It sleeps a whopping 12 people in its four bedrooms, although sleeps eight more comfortably. The wrap-around verandah overlooks Hunter Valley Gardens and out to the mountain range, and the huge fireplace can be used from April through to September. Did we mention it has a pool table? Book here.
Maggie's
Wollombi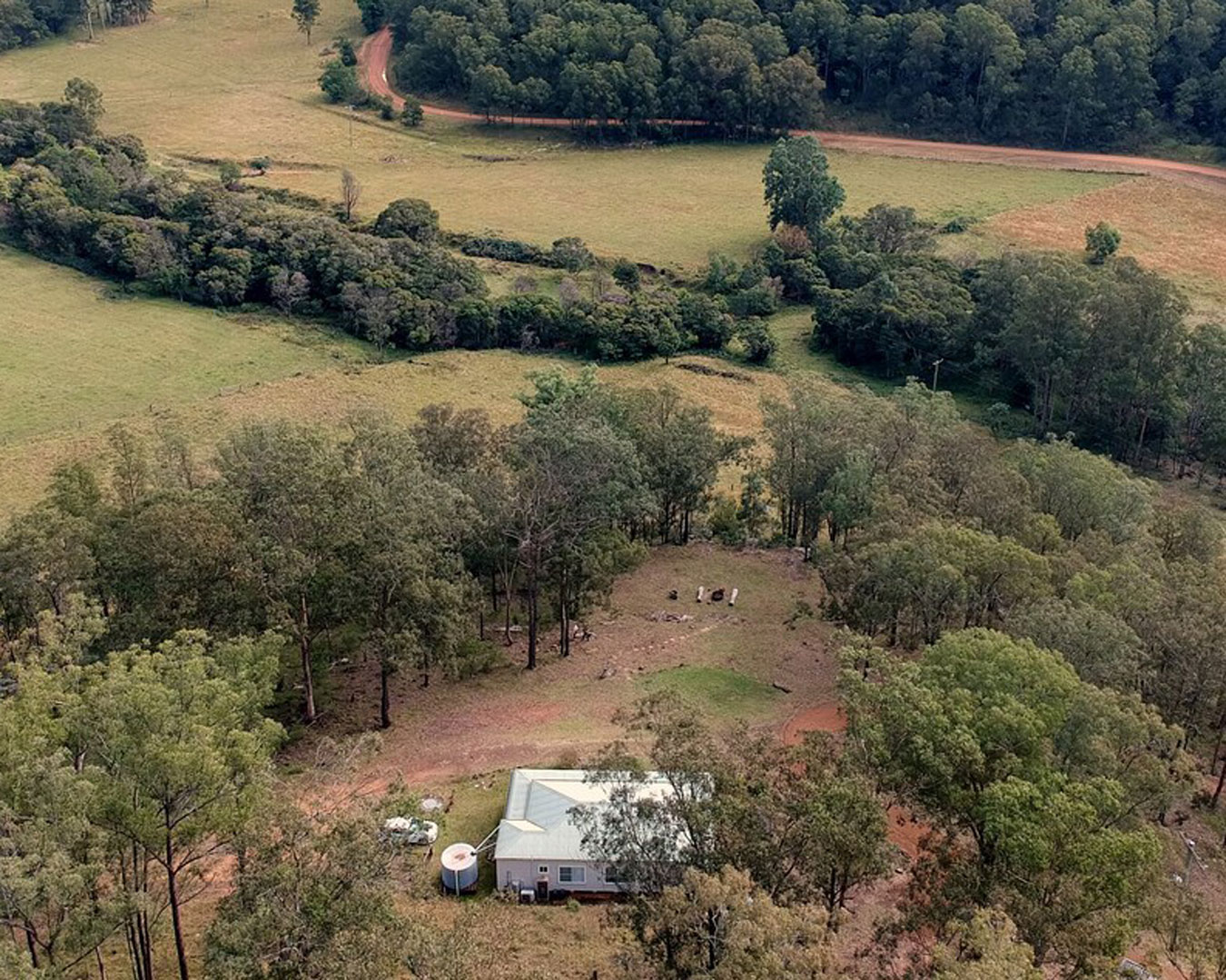 If you're looking for a stay in the countryside without having to drive for hours and hours, then consider Maggie's. This charming cottage is on 100 acres in quiet ol' Wollombi—meaning you get all the peace and quiet you want AND you can take a short drive to the Hunter Valley for some wine sampling. Perfect for a weekend away with the crew or family, Maggie's sleeps 6 adults and comes complete with an indoor wood burner, modern kitchen, three bedrooms, a barbecue, an outdoor fire pit, trampoline, and a wrap-around verandah so you can soak up the sun and crisp autumn air come morning and arvo. Plus, there are all those acres to explore—and no internet and very limited reception, so you can truly switch off. Book here.
Linden Hall
Robertson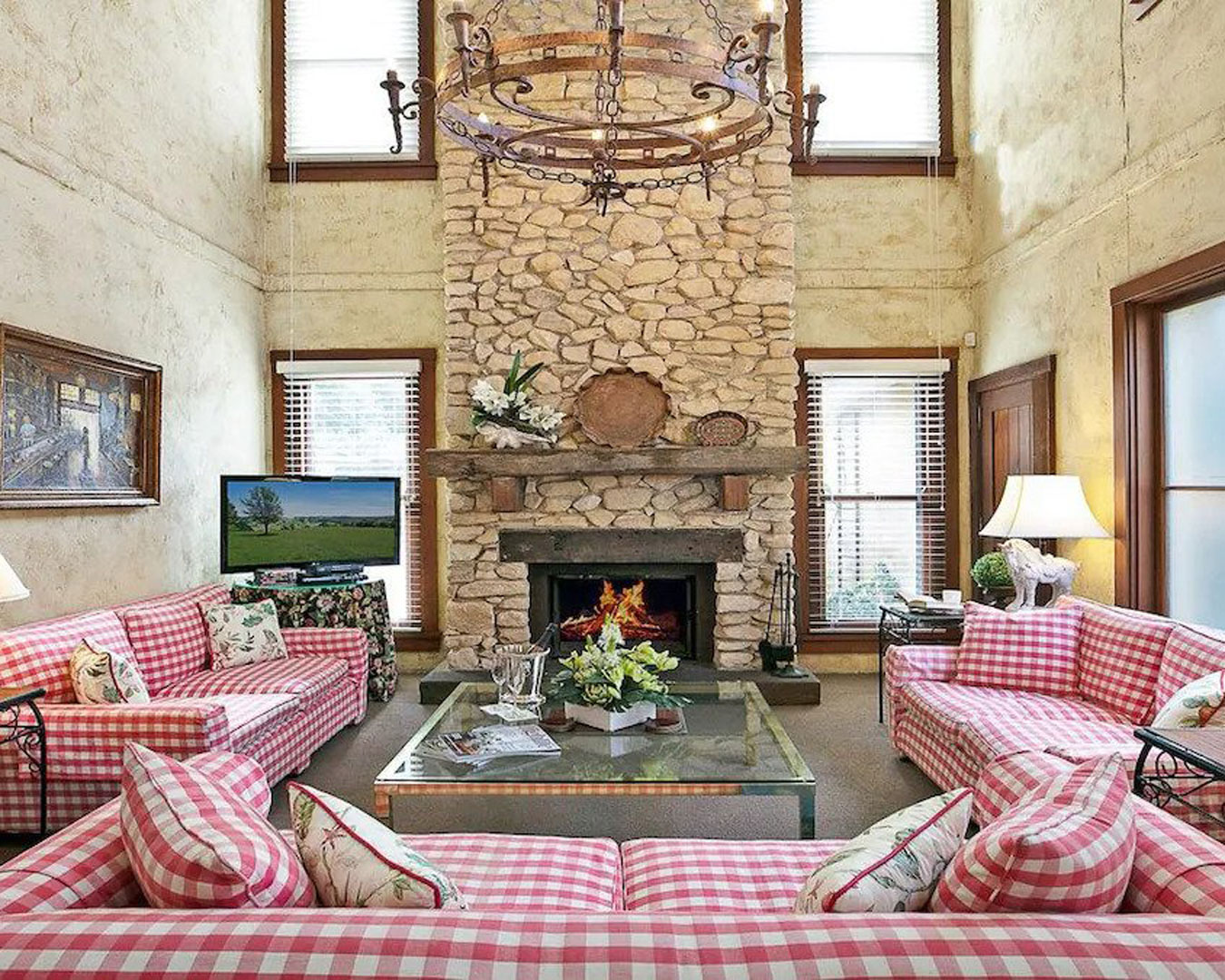 It's not every day you get to shack up in a stunning country estate that looks like Kim Kardashian's Hollywood Hills mansion. As one of the best Airbnbs in NSW (and by far one of the most Instagrammable), Linden Hall defies all expectations. Here, it's all about maximum seclusion with surrounding views of rolling hills, manicured grounds and gardens, and one of the best al fresco situations in Australia (we're calling it). Think sun lounges, a European-inspired swimming pool (if it's warm enough) with stone columns and pillars, and a cosy fireplace. Book here.
Secluded Magical Rainforest Retreat
Main Arm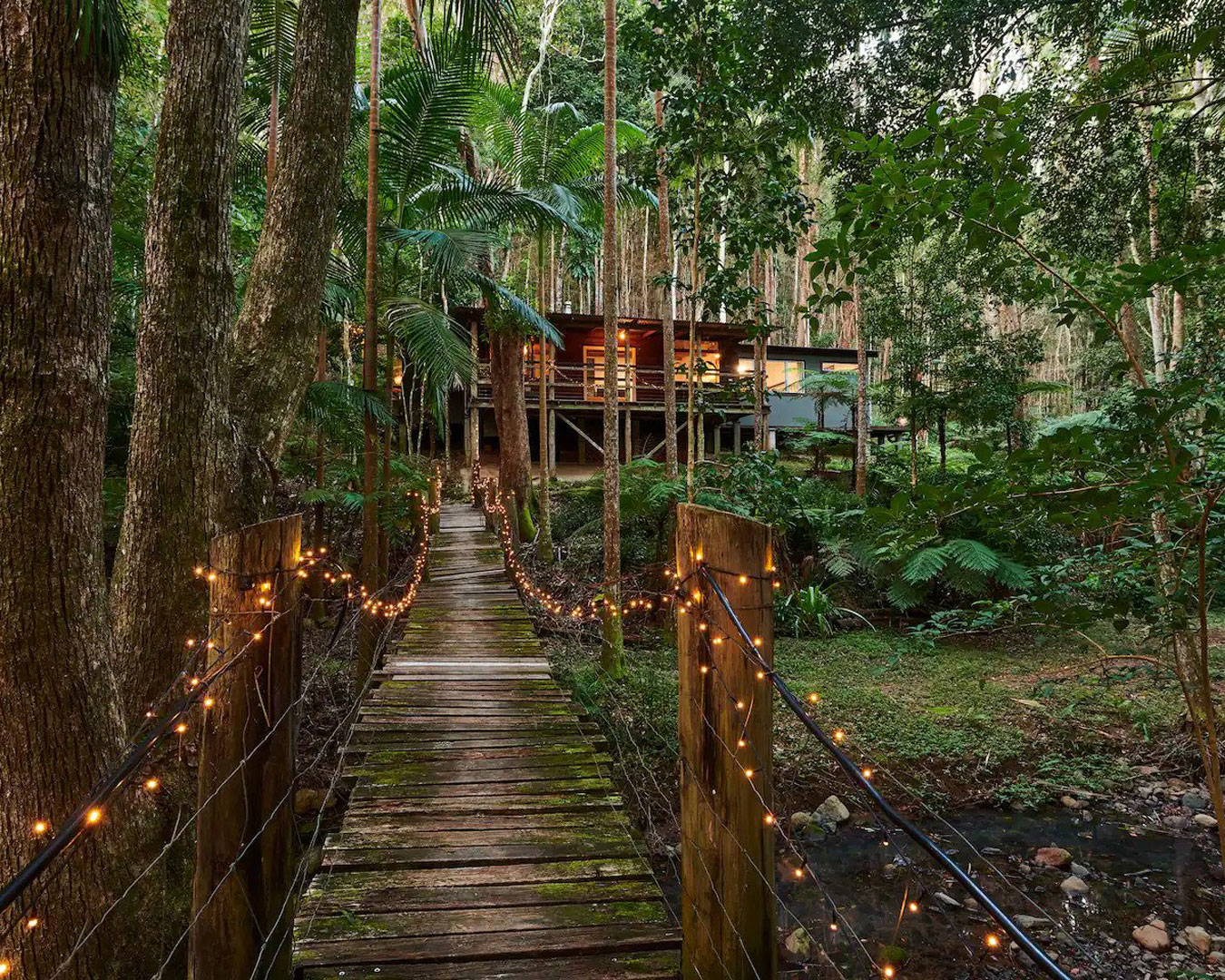 No, it's not the deep, dark Cloud Forest of Monteverde—although it sure does look like it. This secluded magical rainforest retreat is unlike any other Airbnb in NSW. While most properties require you to find the key at the front door, the entrance to this treetop paradise features a wooden bridge decorated with hundreds of fairy lights. Inspired by Balinese villas, the cabin is situated on 24-acres of rainforest, which is home to an abundance of wildlife like feathertail gliders, glow worms, possums, and koalas. Make sure you head down to the creek, scope out the large double swing suspended over the water, and rug up with a book in front of the fire. Book here.
The Shed
Kangaroo Valley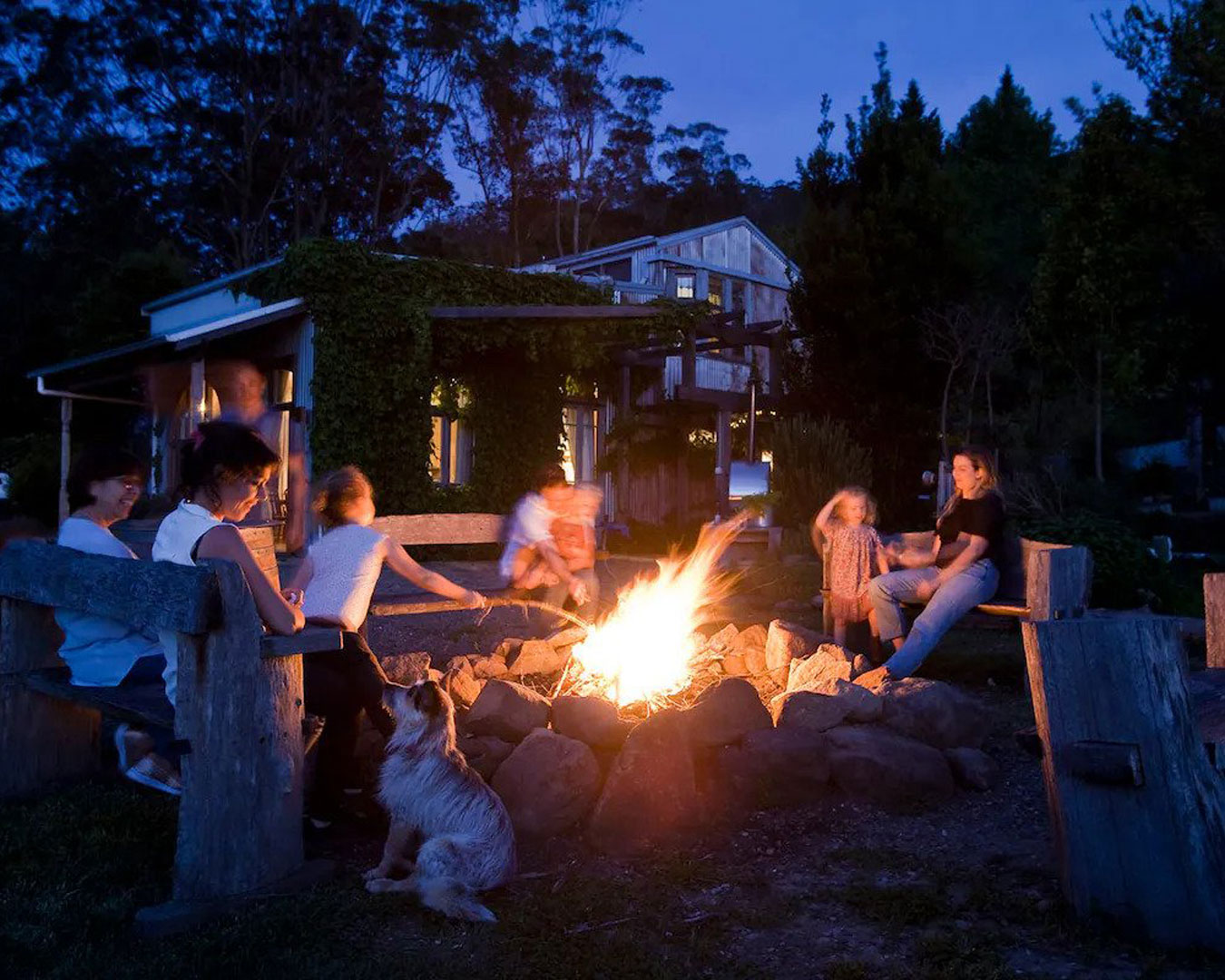 When there's a quiet country road that leads you all the way to a stunning farmyard property, you know you've hit the jackpot. The Shed is a converted farm shed that has been transformed using a heap of recycled materials and it's by far one of the most beautiful Airbnbs in NSW. Here, you're more than welcome to bring any animal friends along and you'll find spacious living areas, a wood fire, an outdoor fire, and a pizza oven that makes even the worst cooks somewhat impressive. And not to mention, it's set on the Kangaroo River (so yes, spontaneous dips during the warmer months are necessary). Book here.
​​Ocean Farm
Gerringong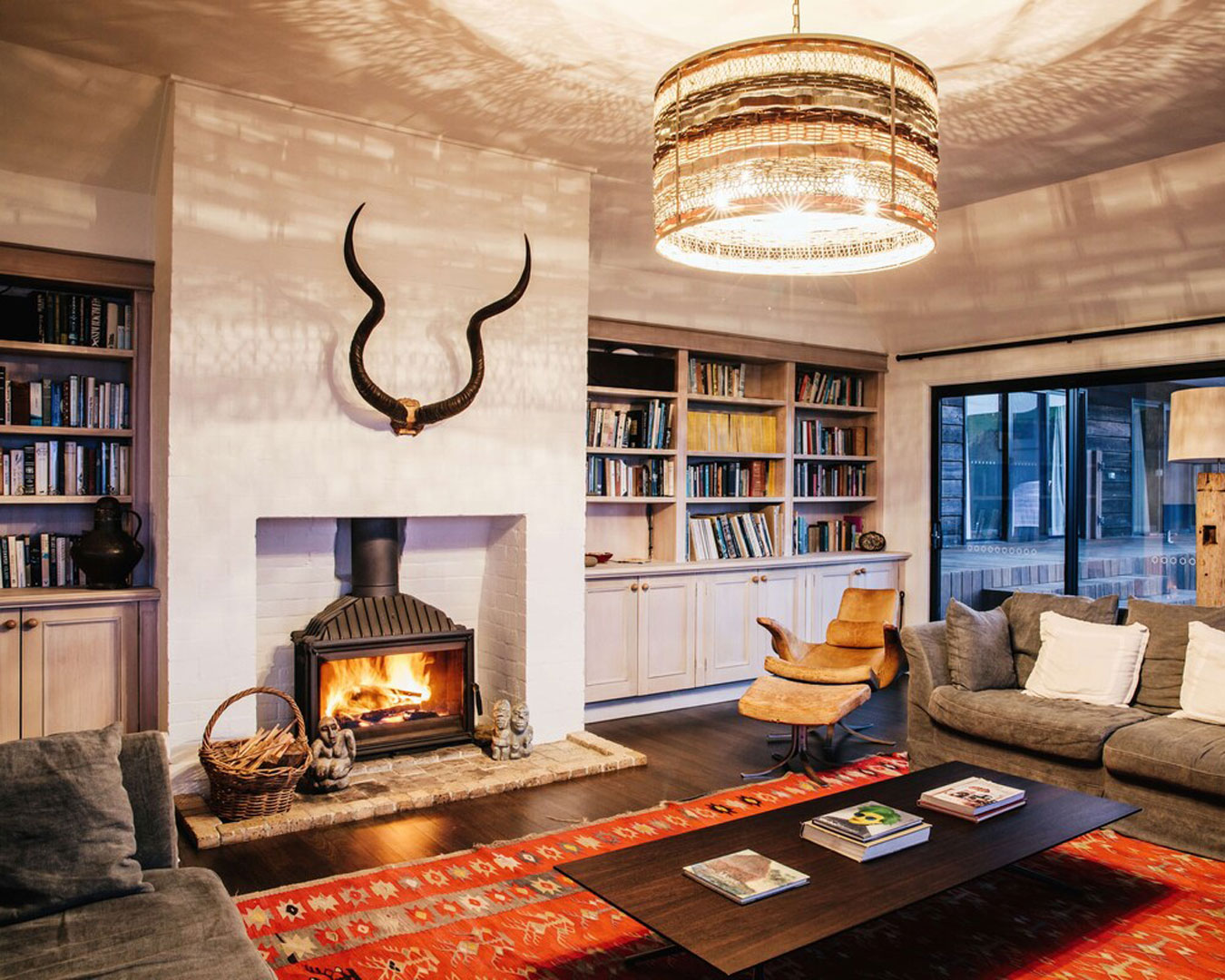 We mean, it has an infinity pool overlooking the ocean—so it's pretty obvious why Ocean Farm is one of the best coastal Airbnbs in NSW. From fireplaces to on-site trails and rainforests, all the way through to outdoor decks with panoramic views and projector screens to watch movies on, this luxury property is great for bigger groups. You'll even have a dedicated pathway to the famous Werri Beach, a must-visit for watching the sunrise or a cheeky dip or surf before your day starts. Along with all this, Ocean Farm stocks a wine fridge and game room with a foosball and ping pong table. Book here.
The Little Black Shack
Mackerel Beach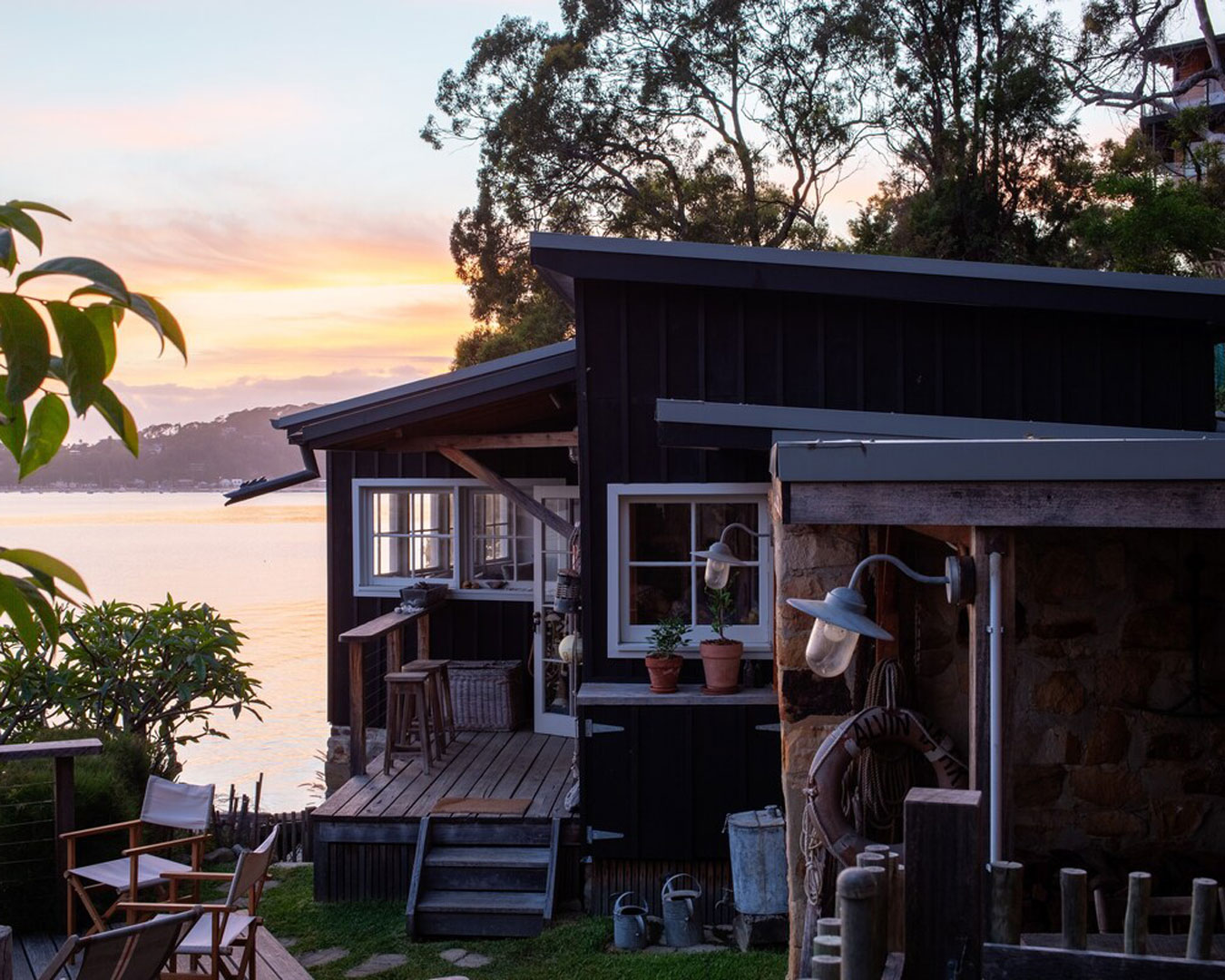 Pittwater is an absolute goldmine when it comes to scoring rustic beach shacks with pretty water views for days. The Little Black Shack is one of the best coastal Airbnbs near Sydney—once an old fisherman's shack, it has now been transformed into a private eco-retreat. If it's no roads, no cars and no shops you're after, this beauty is perfect. Surrounded by bush, it's a mecca of relaxation. A weekend away at this cabin means you'll get to soak up the bubbles in a giant stone bath, read a good book on the window box couch, warm up in front of the fireplace, crack some oysters and down champagne at the sandstone terrace, go kayaking, bushwalk to Resolute Beach and even go fishing on the shoreline. Book here.
Now, check out the best Airbnbs with stunning pools in NSW.
Image credit: Airbnb
Editor's note: Urban List editors independently select and write about stuff we love and think you'll like too. Urban List has affiliate partnerships, so we get revenue from your purchases.