From cosy indoor fireplaces and secluded farm stays to treehouses, beach shacks, and rainforest retreats, NSW is not short of amazing Airbnb properties to book for a well-deserved escape.
And while searching for the best Airbnb in NSW is definitely on the time-consuming side of things, we've done the hard yards for you and found the absolute best rentals in NSW perfect for any getaway. And with autumn now in full, it's time to get cosy.
So, without further ado, check out the best Airbnb in NSW.
The Best Airbnbs In NSW With A Fireplace
Maggie's
Wollombi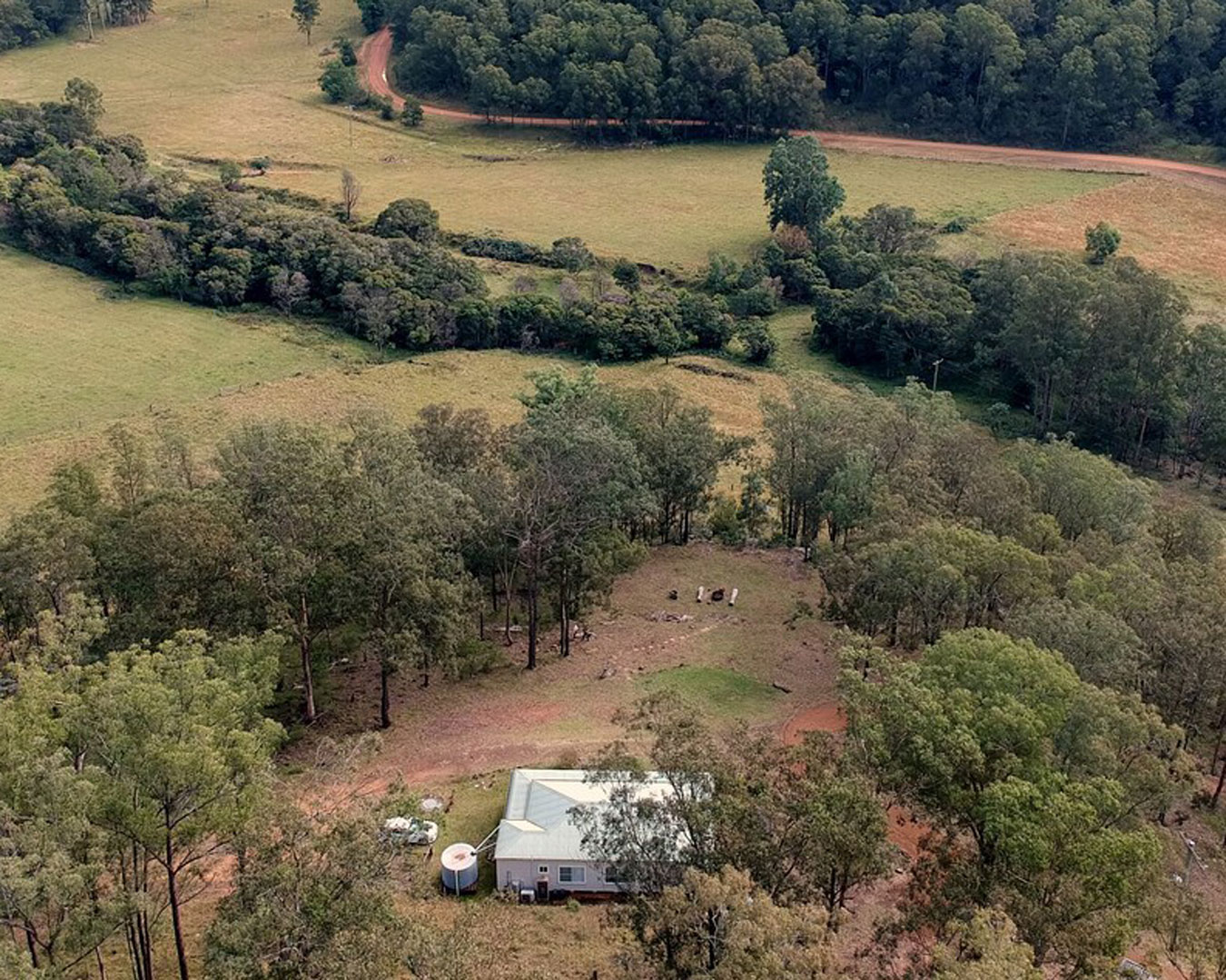 If you're looking for a stay in the countryside without having to drive for hours and hours, then consider Maggie's. This charming cottage is on 100 acres in quiet ol' Wollombi—meaning you get all the peace and quiet you want AND you can take a short drive to the Hunter Valley for some wine sampling. Perfect for a weekend away with the crew or family, Maggie's sleeps 6 adults and comes complete with an indoor wood burner, modern kitchen, three bedrooms, a barbecue, an outdoor fire pit, trampoline, and q wrap-around verandah so you can soak up the sun and crisp autumn air come morning and arvo. Plus, there are all those acres to explore—and no internet and very limited reception, so you can truly switch off. Book here.
Linden Hall
Robertson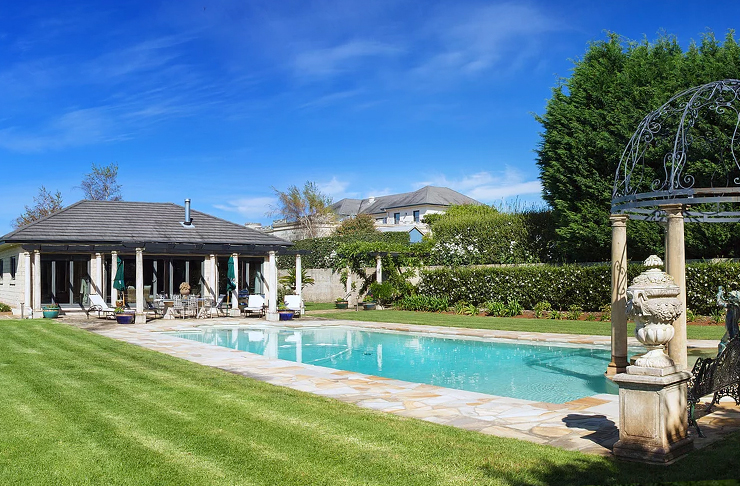 It's not every day you get shack up in a stunning country estate that looks like Kim Kardashian's Hollywood Hills mansion. As one of the best Airbnb's in NSW (and by far one of the most Instagrammable), Linden Hall defies all expectations. Here, it's all about maximum seclusion with surrounding views of rolling hills, manicured grounds and gardens, and one of the best al fresco situations in Australia (we're calling it). Think sun lounges, a European-inspired swimming pool (if it's warm enough) with stone columns and pillars, and a cosy fireplace. Book here.
Secluded Magical Rainforest Retreat
Main Arm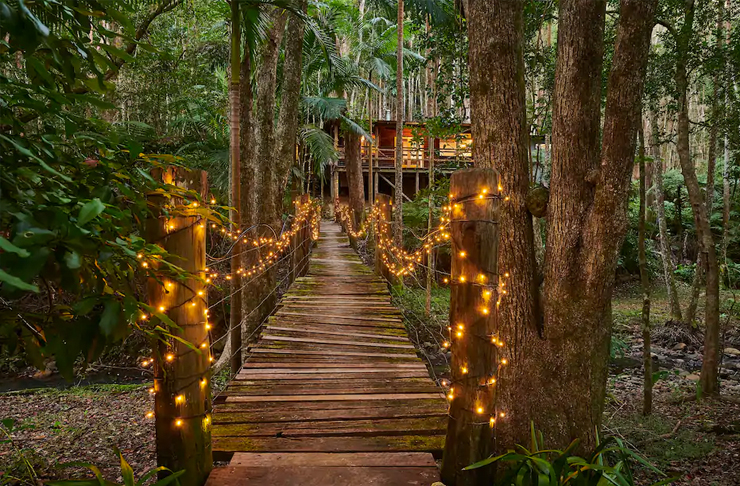 No, it's not the deep, dark Cloud Forest of Monteverde—although it sure does look like it. This secluded magical rainforest retreat is unlike any other Airbnb in NSW. While most properties require you to find the key at the front door, the entrance to this treetop paradise features a wooden bridge decorated with hundreds of fairy lights. Inspired by Balinese villas, the cabin is situated on 24-acres of rainforest, which is home to an abundance of wildlife like feathertail gliders, glow worms, possums, and koalas. Make sure you head down to the creek, scope out the large double swing suspended over the water, and rug up with a book in front of the fire. Book here.
The Best Farmstay Airbnbs In NSW
Historic Timber Barn
Mullumbimby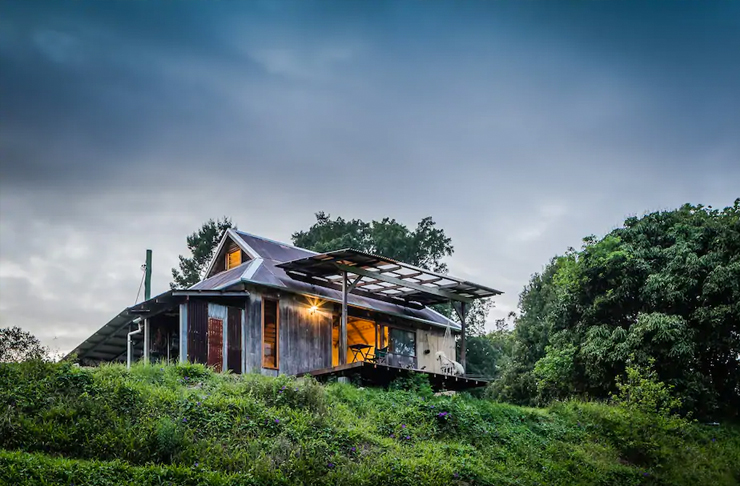 This farm-style Airbnb stay is an absolute dream. While you won't really find any official windows or doors, you will find decent power, Wi-Fi, and heating to make your stay a cruisy one. Hit Wandana Brewery and Brunswick Heads Beach, go fishing on the Bruns River, go kayaking, or even take a sneaky hike to Minyon Falls. Book here.
The Shed
Kangaroo Valley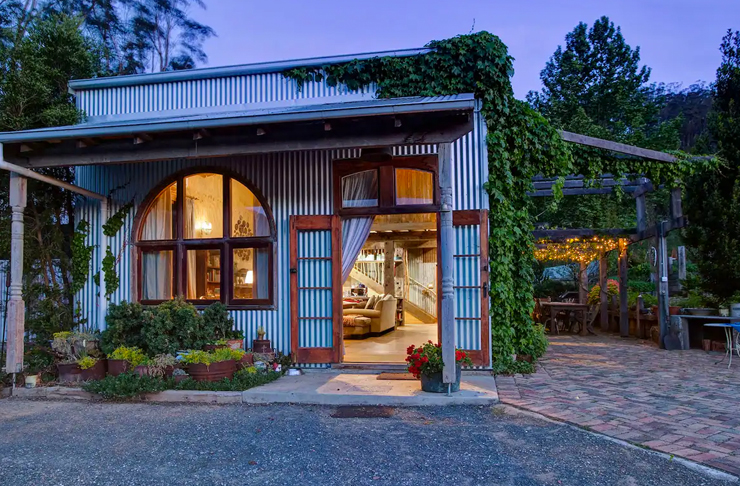 When there's a quiet country road that leads you all the way to a stunning farmyard property, you know you've hit the jackpot. The Shed is a converted farm shed that has been transformed using a heap of recycled materials and it's by far one of the most beautiful Airbnbs in NSW. Here, you're more than welcome to bring any animal friends along and you'll find spacious living areas, a wood fire, and a pizza oven that makes even the worst cooks somewhat impressive. And not to mention, it's set on the Kangaroo River (so yes, spontaneous dips during the warmer months are necessary). Book here.
River Ranch
Mudgee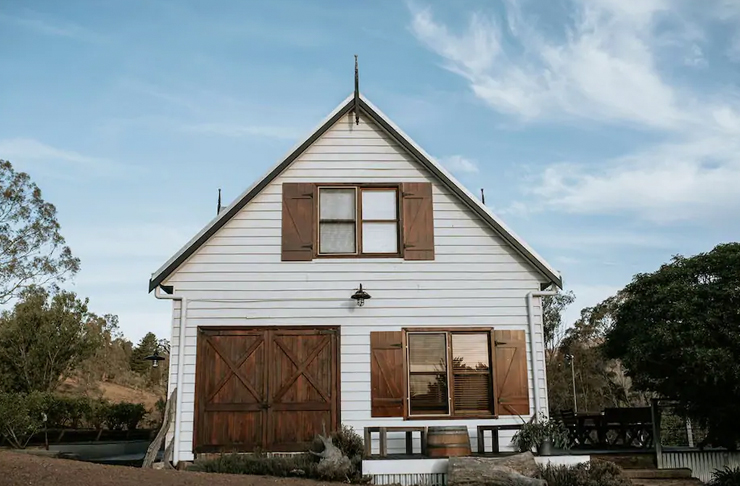 Here's the thing, Mudgee is always a good idea. And one of our favourite places to visit in the area, and easily one of the best farm stay-style on Airbnb has to be River Ranch. It's the ultimate place for a digital detox as this luxe barn-like property doesn't spare a thing. Apart from its mighty architecture, which packs an open-plan living area, fireplace, 360-degree veranda that overlooks the Riverlea Valley, and a clawfoot bathtub, you'll also be in complete awe of your surroundings. There are alpacas, horses, and a river you can hike on down to with a rope swing, tire swing, and nearby fire pit. Book here.
Jerrymara Farm
Willow Vale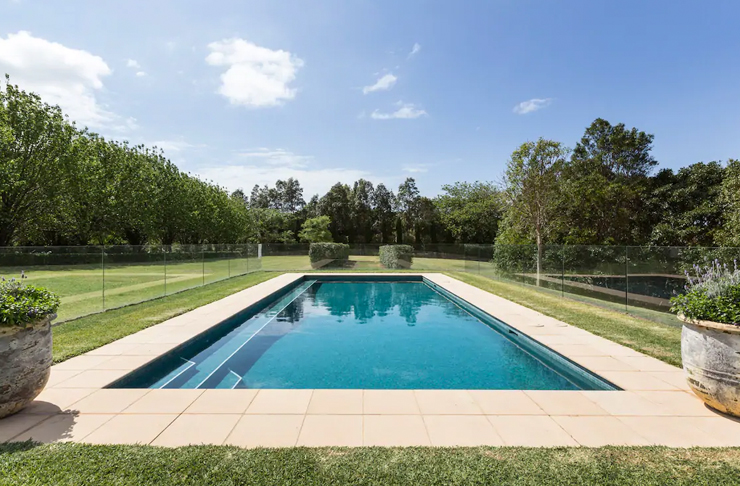 Jerrymara Farm is a beautiful rural estate like no other with not one, but two modern farmhouses (which means it can hold up to 14 guests). Jerrymara Farm looks over Gerringong Village, the Pacific Ocean and of course, its grounds are blessed with terraced walkways, a miniature lake, a tennis court, and naturally, a saltwater pool. With a sprawling 4-acre country garden and then another 52 acres of coastal farmland to explore beyond the garden gate, we're pretty sure you'll be set for some serious memories when you shack up here. Book here.
The Best Airbnbs In NSW With A Hot Tub
The Enchanted Cave
Bilpin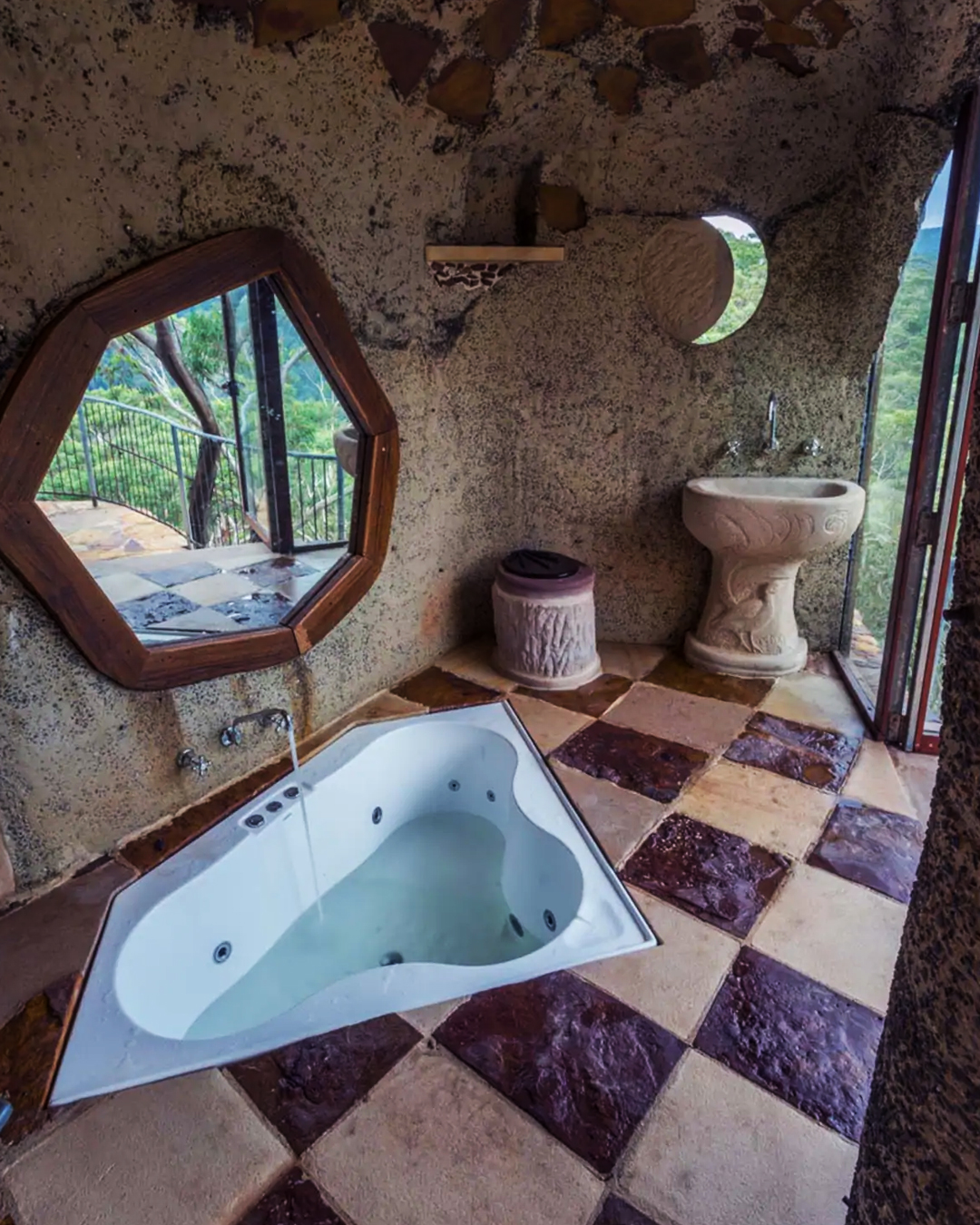 For a romantic getaway in NSW like no other, you'll want to make your way to Bilpin (Blue Mountains way) for what has to be one of NSW's most special retreats. This clifftop property is built into a natural rock platform and has a small front door opening (Hobbit-style), which means you'll score front seats to the best damn view anyone could ever lay eyes on and a pretty nifty in-ground hot tub too (not to mention the view is *chef's kiss*). Book here.
AFrame
Barrengarry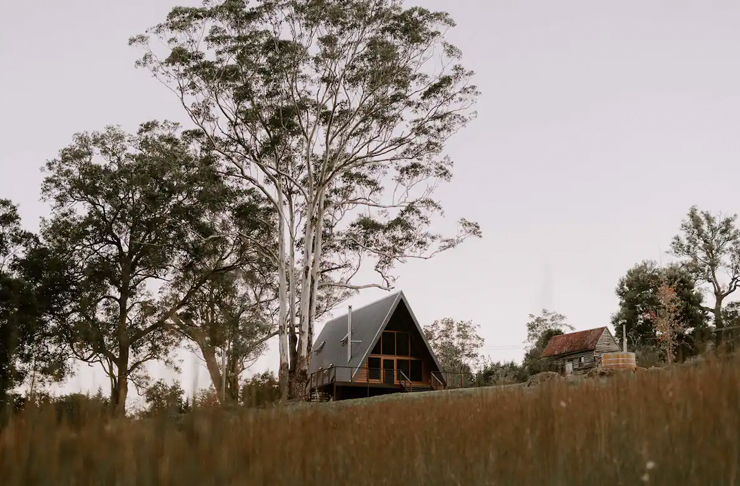 This architectural beauty has been designed to meet all your relaxation needs. Located about 10 minutes outside of Kangaroo Valley, AFrame has been made largely from locally sourced, sustainable, and recyclable materials. This stunning Airbnb sits on 16 epic acres and you'll have a sling of adventures at your fingertips—like hikes and private creeks to swim in. We recommend watching the sunset on the front porch, or (the real reason you're here) take a steamy bath in the wood-fired hot tub. Just note that no kids or pets are allowed at this property. Book here.
Stevie
Pumpenbil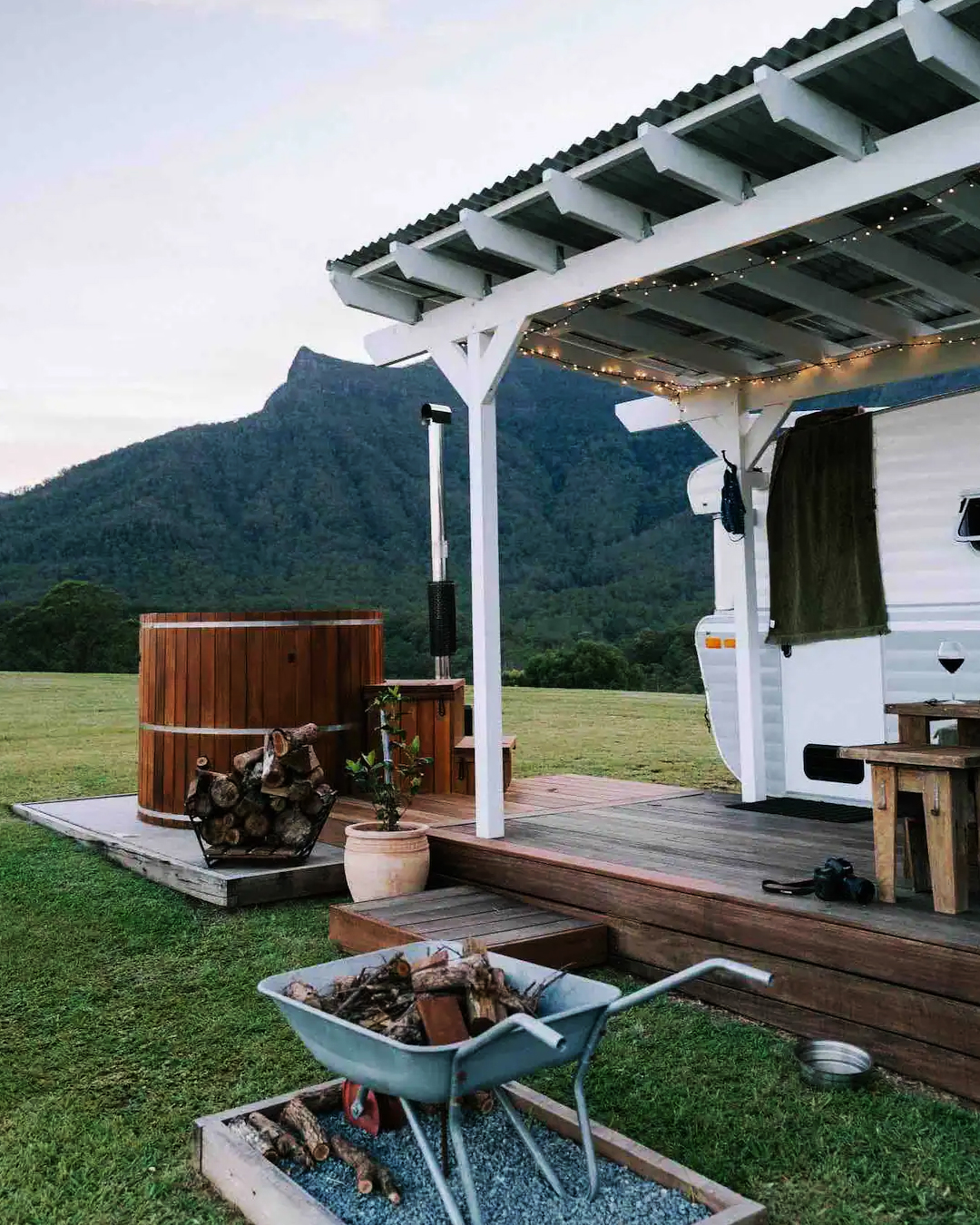 If you're keen to fill your days with bushwalks, bike riding, and dipping your entire being into a glorious hot tub, look no further than lil' Stevie. A lovingly restored van that has set up shop at the base of Mount Warning and the Border Ranges National Park, this retro girl is all about lapping up the great outdoors in style. And we know we don't need to tell you that nothing, we repeat, nothing beats chilling in the hot tub as you watch the sun sink behind the mountain ranges. Book here.
The Best Airbnbs In NSW On The Coast
​​Grounds Of Cabarita
Cabarita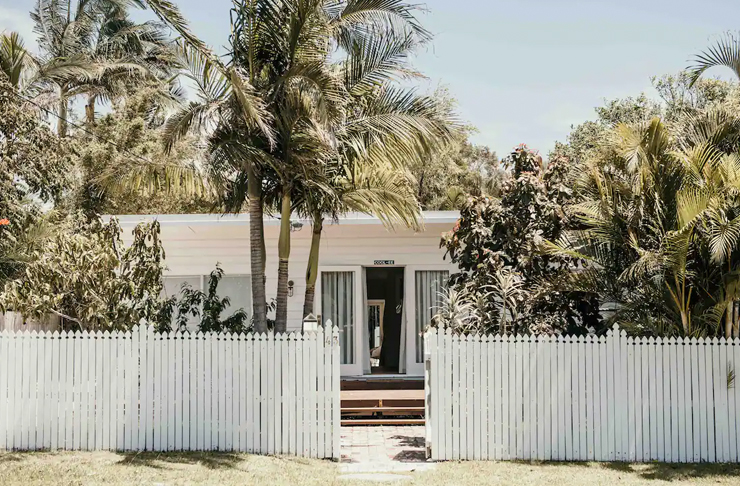 It'd be impossible to cram more boho vibes into one house if you tried. Say hello to a beautifully renovated 1960s bungalow on Cabarita beach that looks like it's been time-warped direct from your mid-century daydreams. We're talking six bedrooms for you and your mates, a dreamy pastel lap pool, an outdoor fire pit, swaying palm trees, and squishy king-sized beds. This one's a bit of a hoof from Sydney (about eight hours in the car, plus or minus 30-minutes to pick up Doritos and slurpies) but who cares? Pick a long weekend and five of your closest buds and set off on an epic coastal road trip. Book here.
​​Ocean Farm
Gerringong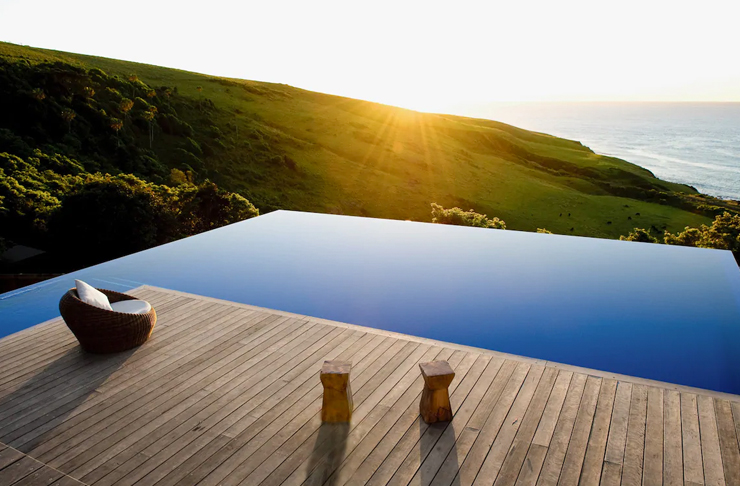 We mean, it has an infinity pool overlooking the ocean—so it's pretty obvious why Ocean Farm is one of the best coastal Airbnb's in NSW. From fireplaces to on-site trails and rainforests, all the way through to outdoor decks with panoramic views and projector screens to watch movies on, this luxury property is great for bigger groups. You'll even have a dedicated pathway all the way to the famous Werri Beach, a must-visit for watching the sunrise or a cheeky dip or surf before your day starts. Along with all this, Ocean Farm stocks a wine fridge and game room with a foosball and ping pong table. Book here.
The Little Black Shack
Mackerel Beach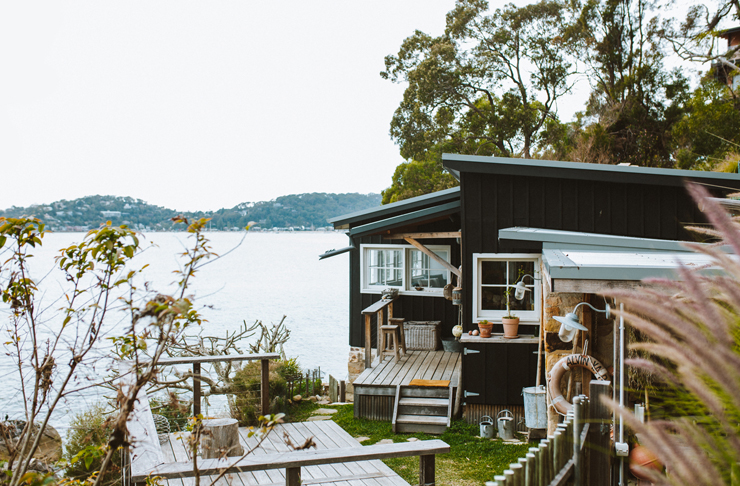 Pittwater is an absolute goldmine when it comes to scoring rustic beach shacks with pretty water views for days. The Little Black Shack is one of the best coastal Airbnbs near Sydney—once an old fisherman's shack, it has now been transformed into a private eco-retreat. If it's no roads, no cars and no shops you're after, this beauty is perfect. Surrounded by bush, it's a mecca of relaxation. A weekend away at this cabin means you'll get to soak up the bubbles in a giant stone bath, read a good book on the window box couch, warm up in front of the fireplace, crack some oysters and down champagne at the sandstone terrace, go kayaking, bushwalk to Resolute Beach and even go fishing on the shoreline. Book here.
​​Gwell Moor
Palm Beach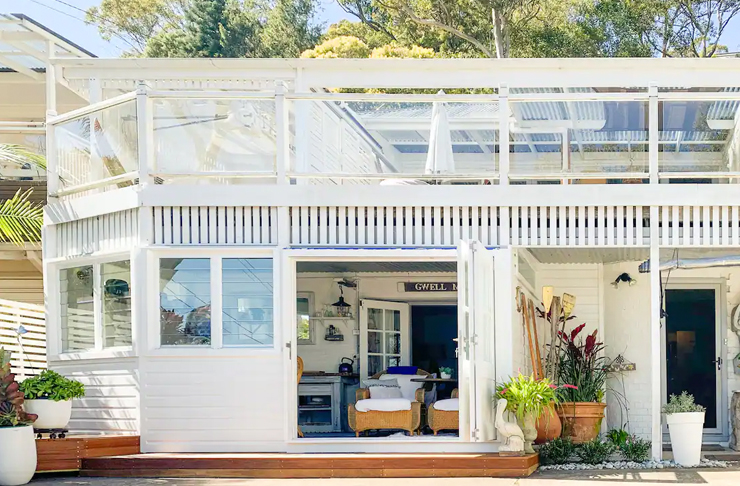 Make all your seaside fisherman dreams come true and put Gwell Moor at the top of your next getaway. This self-contained studio is another winner overlooking Pittwater and features the most perfect outdoor patio to watch boats sail by as you eat breakfast (or sip wine). On that note, the kitchen here also comes complete with milk, bread, butter, jam, and yoghurt, which you can dig into during your stay. Here, the big factor is the amount of sunshine you'll be lapping up—the property bags a whole lot of beautiful rays to soak up during your stay for a romantic weekend getaway. Book here.
The Best Airbnbs In NSW With An Outdoor Bath
The Machinery Shed
Blackheath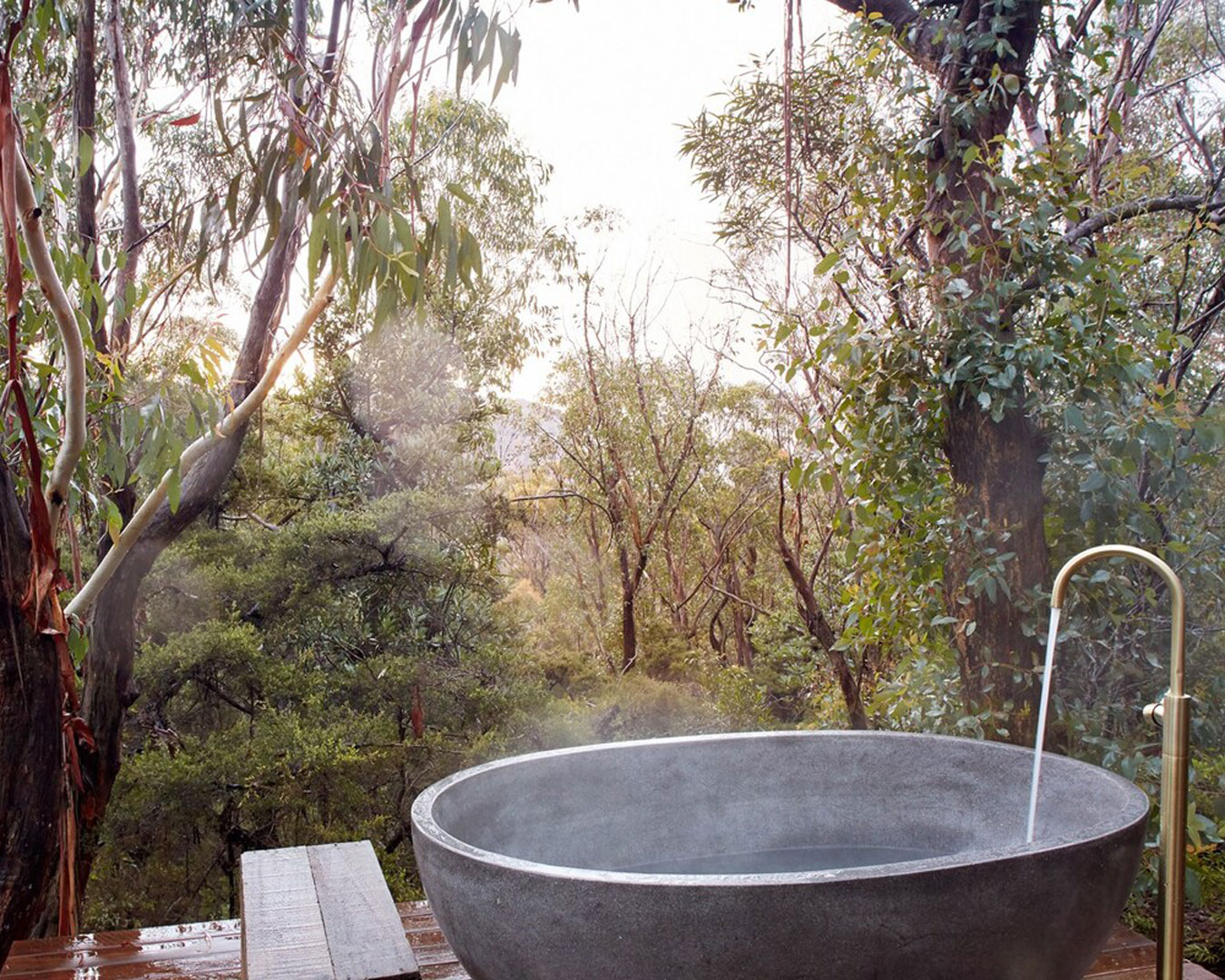 The Blue Mountains may have a heap of dreamy stays—particularly when it comes to the cooler seasons—but we doubt there are many better than Logan Brae Retreats' Machinery Shed. For one, its outdoor bath situation is lush AF. Secondly, it's set on a picturesque apple orchard and has its own secret lookout. The shed was built way back in 1919 (don't worry it's had a facelift since then) and faces the impressive cliffs and looks over the Kanimbla Valley. If you're looking to get cosy with your partner in crime, this place is hard to beat. Book here.
Arabella
Kangaroo Valley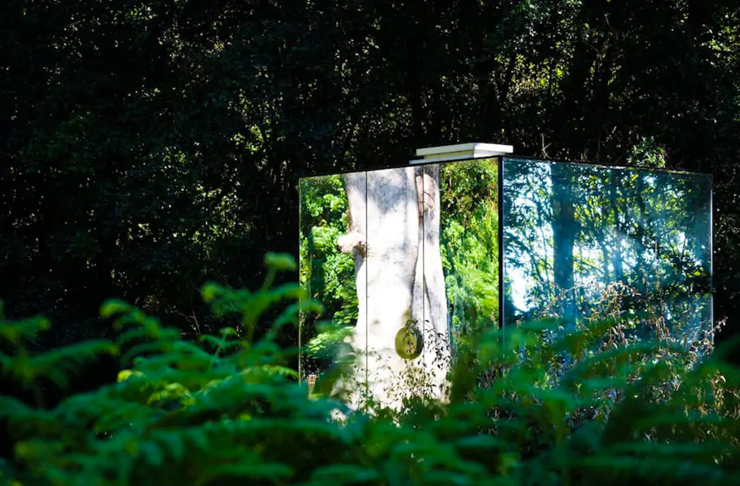 There's no denying we love a good tiny house. Arabella, one of the best dog-friendly Airbnb's in NSW, fits a maximum of four people and features a full kitchen and outdoor gas BBQ, making it a great spot for those that love to cook. There's also a combustion heater inside for chilly evenings and air-con for those scorcher-worthy summer nights. Located on a 140-acre property, this escape is surrounded by tall, dense bushland that's home to Kangaroo Valley's precious wildlife. Will you see wombats, kookaburras, and kangaroos in one day? Yes. While your furry friend is out chewing twigs, you can keep a close eye on your pooch from the sanctuary of Arabella's outdoor bathtub fully enclosed in a giant, glass cube. Book here.
Rosewood Farmstay
Binda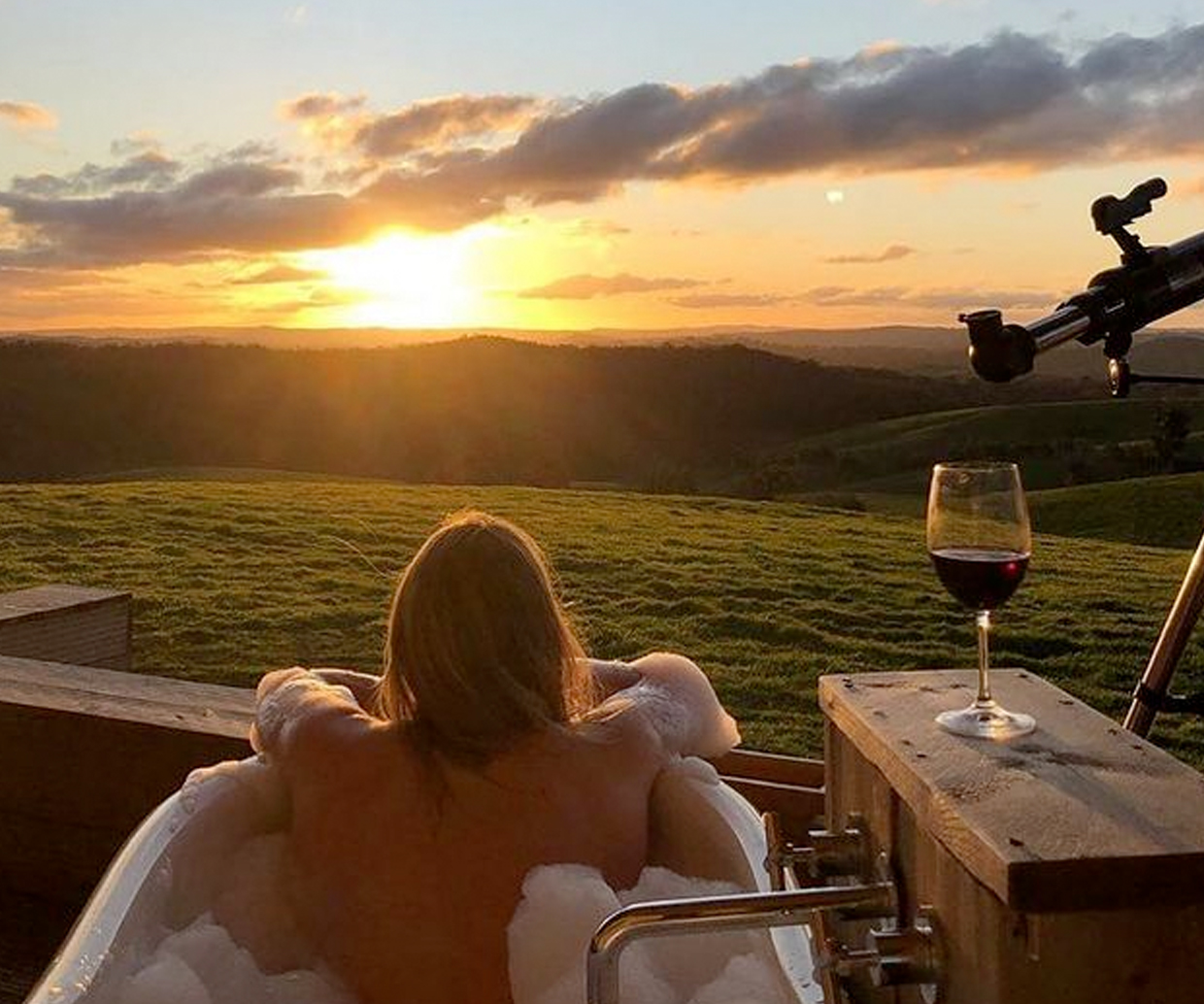 Picture this: an outdoor tub with a view of rolling green hills and a picture-perfect sunset. Rosewood Farmstay is a secluded spot stay in the Southern Tablelands hailing in hard with maximum glamping vibes. This luxury tent occupies the high grounds with endless and glorious views of Binda. Comfort is key here so you'll have everything from a four-post bed cocooned in 1000-thread-count Egyptian cotton to a seriously perfect outdoor deck bath, which more or less will be where you spend most of your time here. Book here.
Now, go check out the most romantic getaways in NSW.
Image credit: Airbnb