With the mercury already hitting 30 degrees plus, we're well and truly ready to start our summer vacay. And what better way to kick off the start of summer than with a trip to the Noosa? Lovingly dubbed Queensland's answer to Byron Bay, this Sunshine Coast city is home to some of the state's best beaches, most exclusive shops and some of the best Airbnbs on the market. Slay your staycay this holiday season with a trip to the best Airbnbs in Noosa.
Sparkling Pool Oasis
Noosaville | Sleeps 2
If you're looking for a getaway with your special someone then look no further than this picture-perfect guest suite in the heart of Noosa. The two bedroom guest suite offers not just a stunning outdoor bath tub where you can relax under the stars, but a full private pool and outdoor shower. There are plenty of hammocks and day beds to soak up the sun and leave all the stress of work behind for the weekend. We're about two seconds away from booking it out for the next three months so you better hurry if you want to beat us to it. Book here.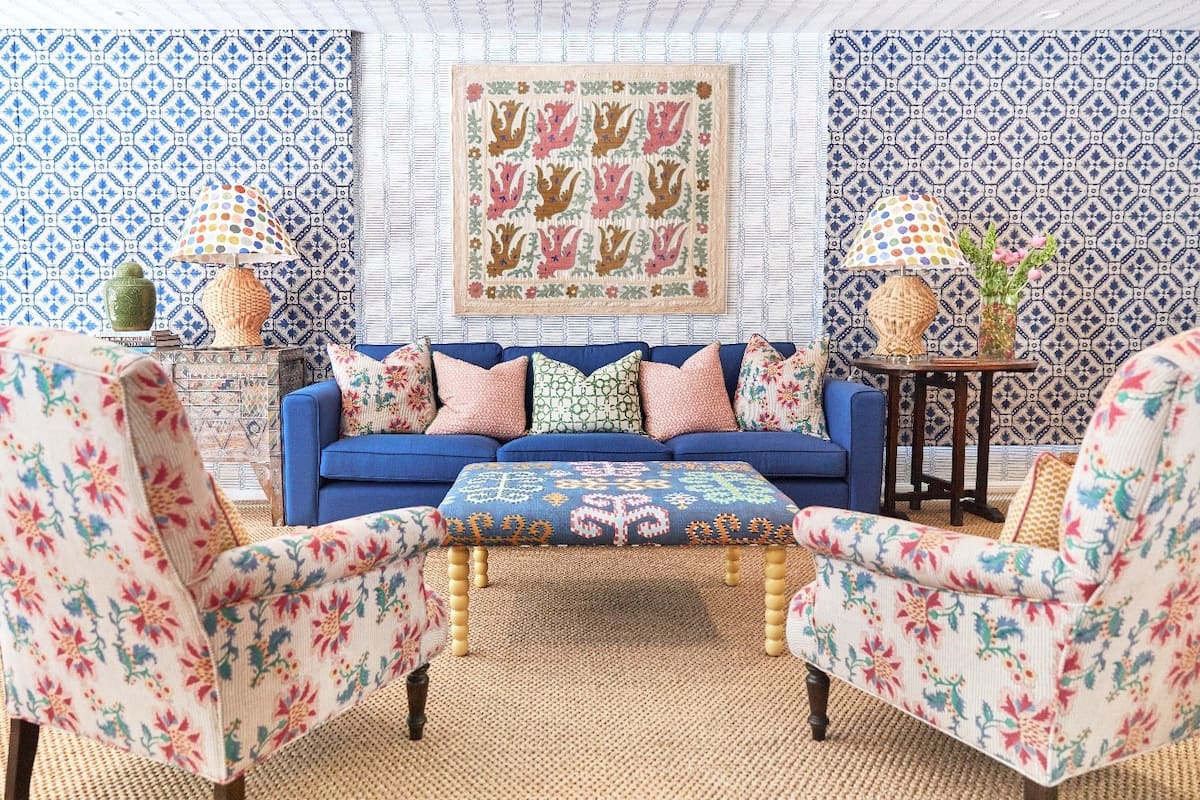 Babar House
Noosa Heads | Sleeps 6
Featuring stunning Grecian mosaics and a glam outdoor pool, Noosa's Babar House is the next must-stay on your Airbnb bucket list. The boutique-style accommodation has everything you need for the perfect summer vacay, with interiors designed by none other than iconic interior designer Anna Spiro—so you know it will look good on the 'gram. We recommend swinging by Hastings Street to pick up a good book, and spending your days lounging by the pool for some much needed rest and relaxation. Book here.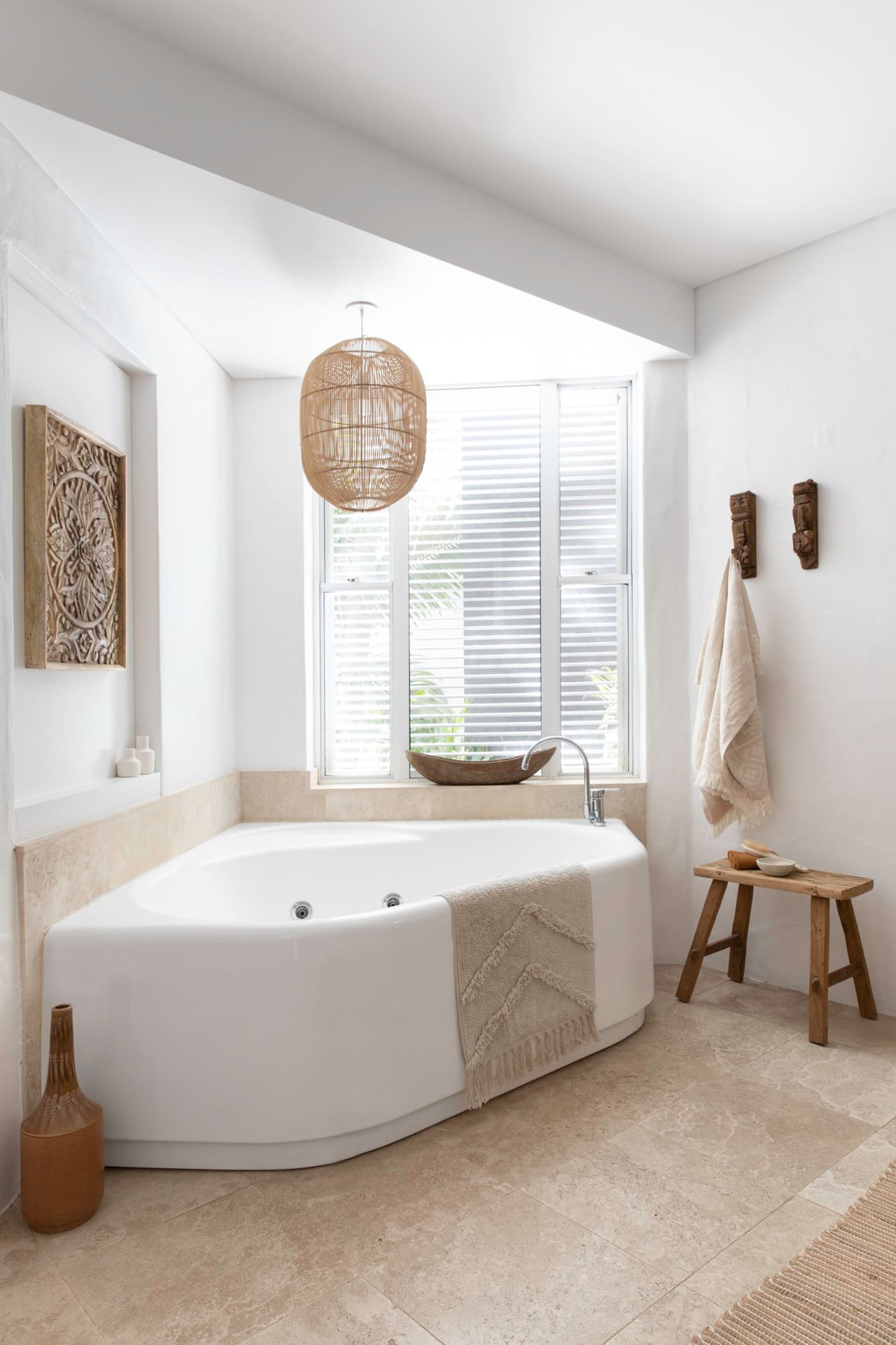 Sabi Suite
Noosa Heads | Sleeps 2
Searching for the perfect place for your next couples retreat? Look no further—Sabi Suite is a winner. The newly-renovated coastal getaway combines sandy, neutral tones with modern design touches, plus plenty of windows to make the most of the home's natural light. If you dare drag yourself away from the suite's stunning interiors, make the most of it with a five-minute walk to Hastings Street and a quick dip at Noosa's Main Beach. With hundreds of five-star reviews, the only question left is: when can we check in? Book here.
Eh Frame
Sunshine Beach | Sleeps 4
Can't wait for those borders to reopen? Neither can we—which is why Eh Frame caught our eye. The mid-century style A-frame draws on Canadian inspiration (Eh Frame—makes sense now?) to immerse guests in a secluded retreat in the heart of the rainforest. Complete with exposed timber beams, a steamy outdoor shower and a cozy sleeping loft, one night at Eh Frame and you'll be packing your bags for the Great White North. Book here.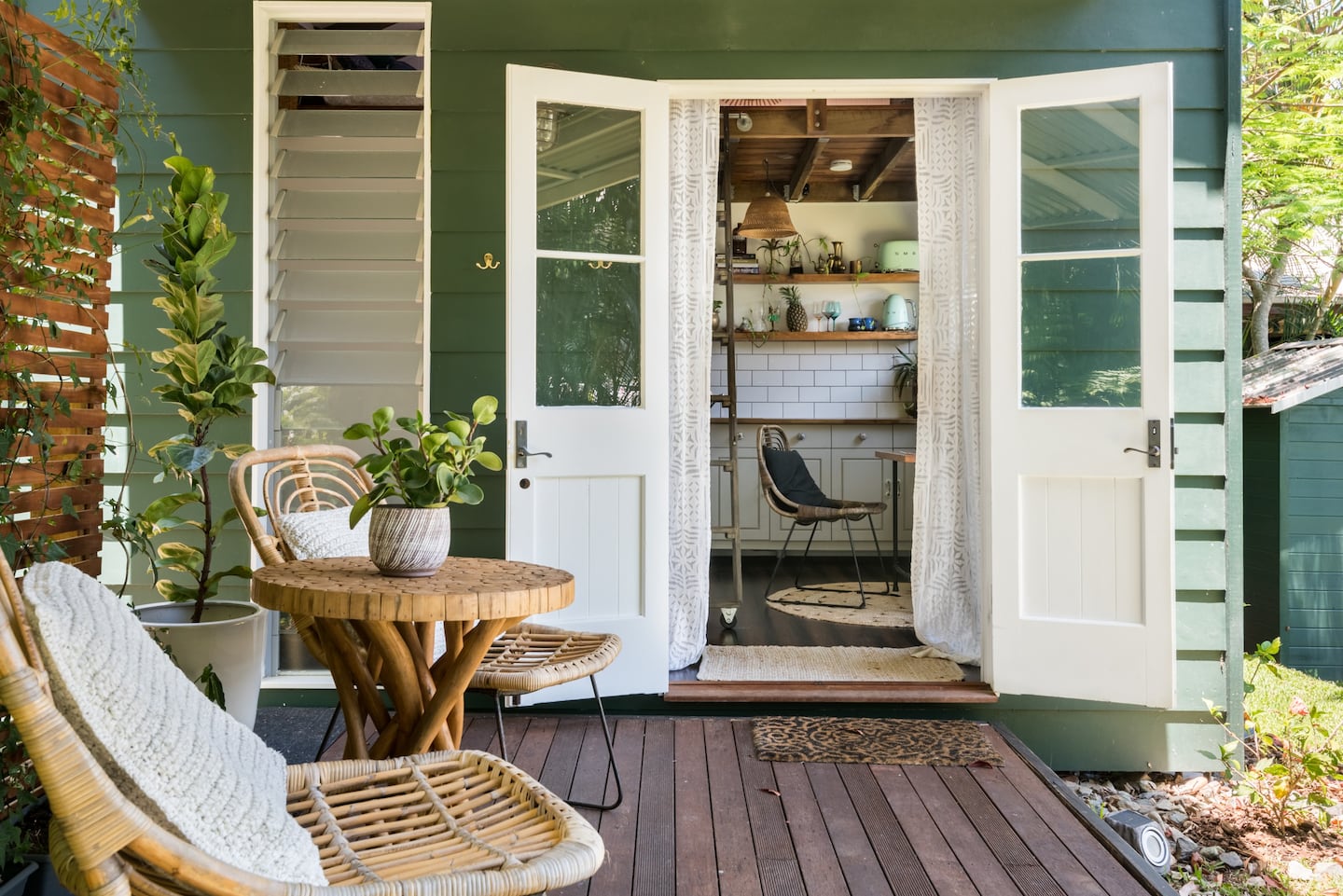 Hale Douglas
Sunshine Beach | Sleeps 2
Tiny houses are all the rage right now, and thanks to Hale Douglas, it's no wonder why. The home has a retro Hawaiian surf theme, so prepare for plenty of pineapples, surfboards and hula skirts. Highlights include a well-placed skylight, adorable kitchen (seriously—it puts ours to shame) and plenty of modern appliances to match the green colour theme. Trust us, a stay at Hale Douglas is just what the doctor ordered—provided they're prescribing a mid-week vacay in a tranquil summer oasis. That's what's on our scripts, anyway. Book here.
Little Red Barn
Doonan | Sleeps 7
Breathe in a lungful of fresh country air with a stay at the Little Red Barn in Noosa's Hinterland. The home comes complete with towering A-frame ceilings, a heated swimming pool, and a luxurious cast iron outdoor bathtub. Featuring fantastic views out over the surrounding countryside, the Little Red Barn is the perfect way to get a taste of the Sunny Coast's inland offerings, all from the comfort of a rustic holiday home. Book here.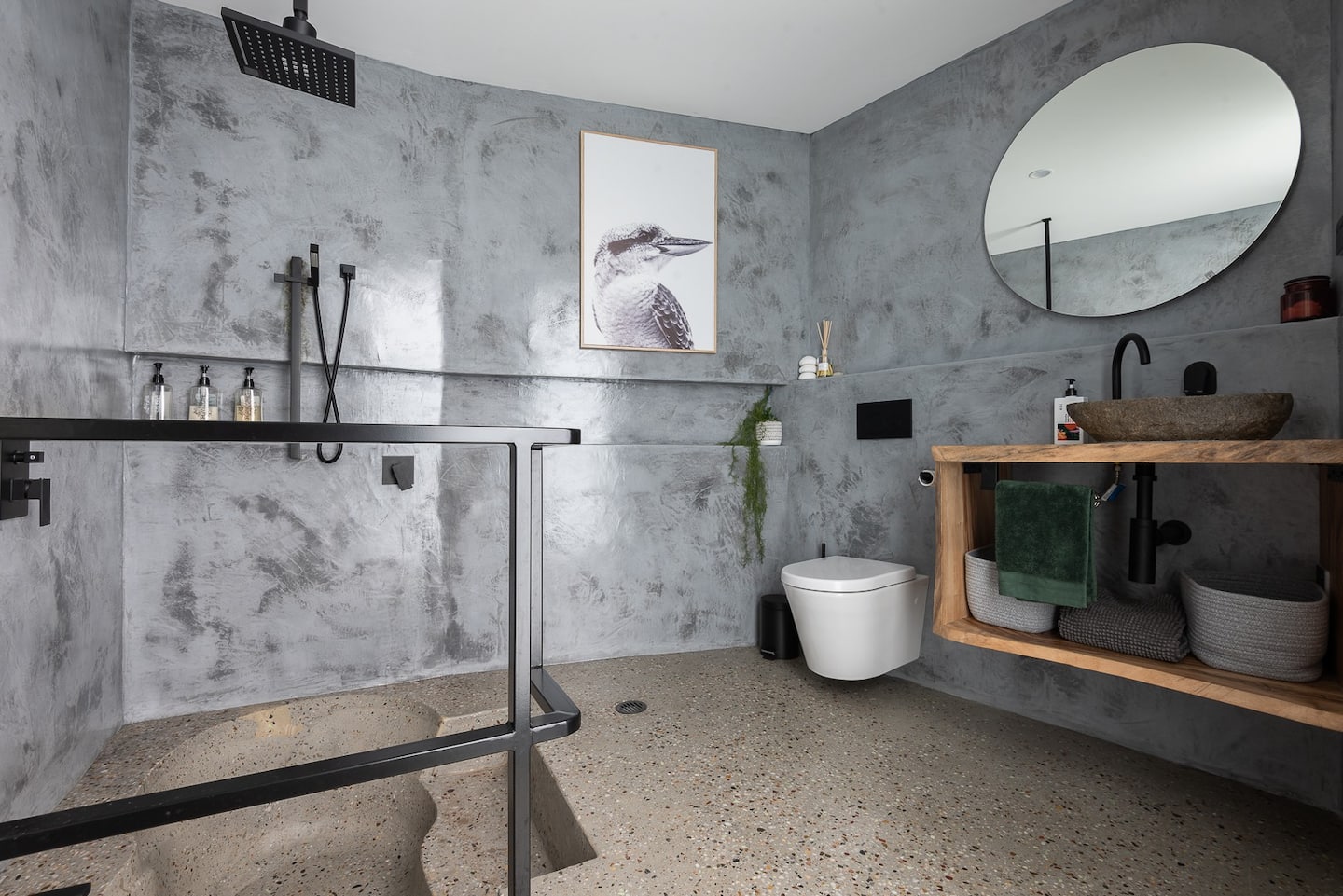 Central Dream Pad
Noosa Heads | Sleeps 2
Those seeking a more modern getaway will delight in a stay at Noosa's Central Dream Pad. The accom combines plant-life with industrial-style concrete designs, for an edgy, contemporary take on your typical guesthouse. Take a dip in the star-studded pool (we're talking actual stars, not celebs) before drying off with a drink beneath the gumtrees—aka, the ultimate Aussie vacay. Book here.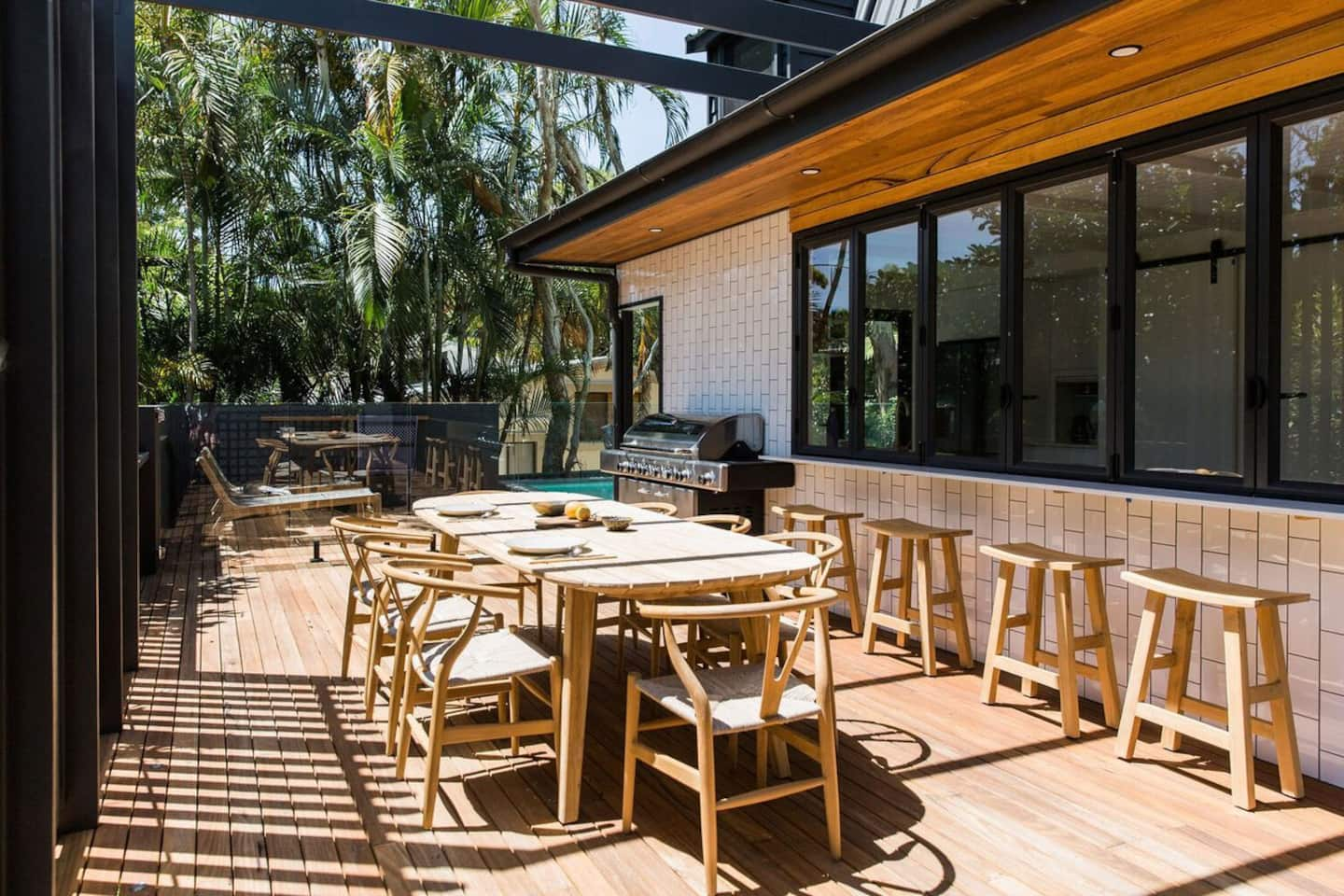 The Sunshine Bungalow
Sunshine Beach | Sleeps 2
Tucked away in the heart of Sunshine Beach, The Sunshine Bungalow is nothing short of the ultimate summer oasis. Home to an incredible outdoor patio, luxe designer furnishings and a stunning outdoor pool, you'll have everything you need to switch off from the work week and soak up those summer rays. And when it comes time for the sun to go down, turn on the outdoor lights and keep the party going with a poolside BBQ out on the deck. Soon enough, you too will be singing about those magical summer nights. Book here.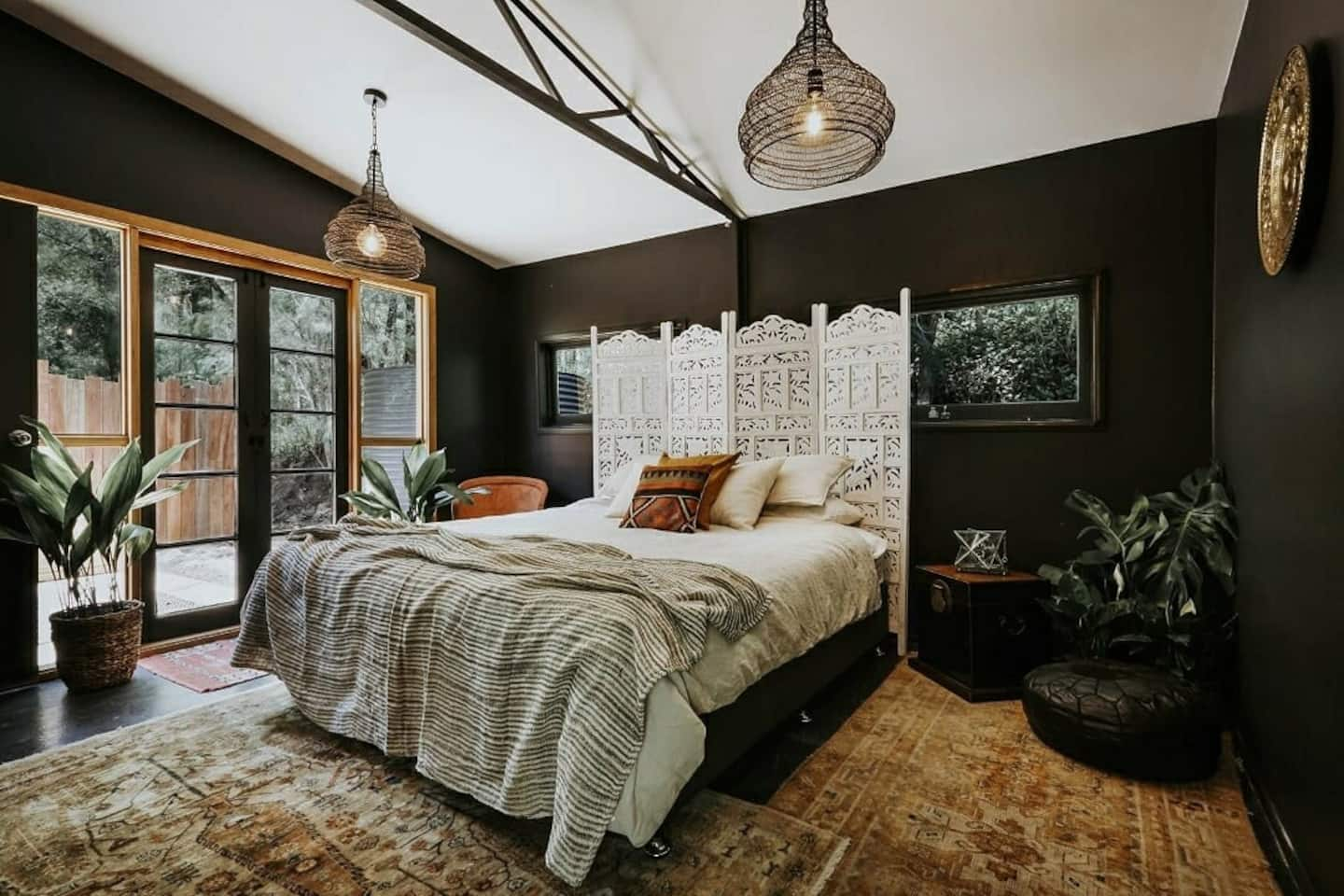 ​​Dark Moon Cottage
Yandina Creek | Sleeps 2
Book yourself in for more luxury and more relaxation at Noosa's ​​Dark Moon Cottage. Nestled in the midst of the northern Sunshine Coast, the cottage was designed with couples in mind, so expect plenty of romantic touches to really set the mood. Enjoy a good night's sleep on a sprawling king size bed, not to mention a black Marrakesh ensuite complete with custom steampunk fittings for some of that luxe after-dark aesthetic. Of course, our sights are set on the outdoor bath, surrounded by pot plants and wood grain so you can score yourself some well-deserved Insta envy. BRB, just have to make a quick booking. Book here.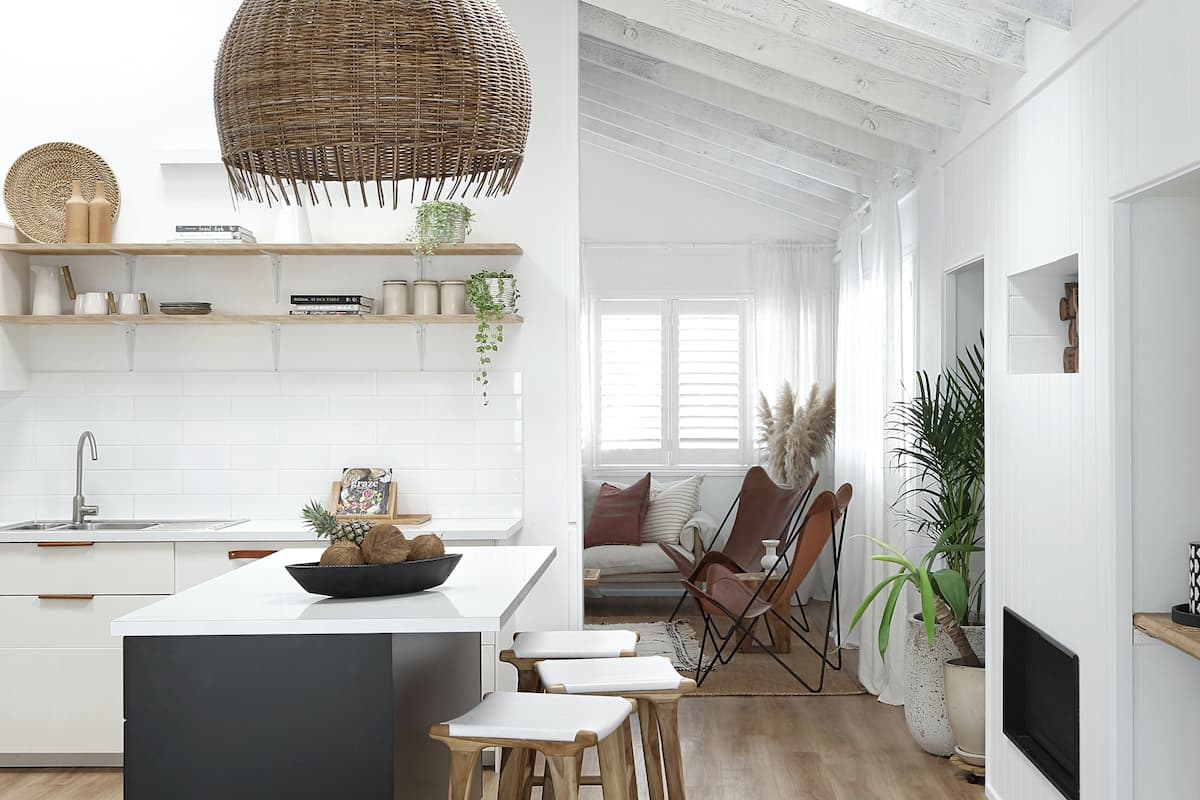 The Lodge
Noosa Heads | Sleeps 6
For classic coastal vibes coupled with a modern, minimalistic aesthetic, look no further than The Lodge, our go-to pick in the lovely Noosa Heads. The home's beachy decor, luxurious bedding and filtered natural light make it the perfect stay for beach bunnies looking to make the most of their stay. The laid-back beach house is regularly listed as one of the best beach shacks in Australia, so be sure to snap plenty of shots of your new (temporary) digs while you kick back by the pool, or snuggle up next to the indoor fireplace. Book here.
The Woods
Sunshine Beach | Sleeps 4
Treat yourself to a luxurious rainforest retreat courtesy of The Woods, a dog-friendly holiday home on the edge of the Noosa National Park. Spend your days curled up in the reading nook or exploring the nearby walking trails, before stretching out for a nap in the comfy king size bed. Since the home is surrounded by plenty of plant-life, be sure to say hi to the koalas and kangaroos that come for a visit during your stay—just keep the doggos away for their own safety. Book here.
The Lake Shack
Wyeba Downs | Sleeps 2
Trade in sandy shores for lakeside adventures with a stay in this cosy fisherman's cottage just south of Noosa Shire. The Lake Shack is an ode to whimsical Australiana, featuring hardwood floors, an old-school cooktop and sweeping views of the surrounding wildlife. Push open the huge handcrafted doors and wander out onto the poolside deck, pull up a stool and enjoy a cuppa as you watch the setting sun set the bush aglow. Book here.
The Beach Bungalow
Sunshine Beach | Sleeps 4
A freshly renovated unit planted in the heart of Sunshine Beach, The Beach Bungalow is the perfect base for a laid-back beach holiday. The stylish Airbnb combines thoughtful touches with artful design, resulting in a welcoming getaway that feels just like home. Rinse off in an outdoor shower on your way home from the beach, before toasting over homemade margs on the back patio. Take a walk along the pristine sands of Sunshine Beach and enjoy a taste of life in paradise. Book here.
Palm Bungalow Oasis
Sunrise Beach | Sleeps 2
Fan yourself with palm friends as you knock back bottles of bubbly at this boho studio in Sunrise Beach. A newly built home fitted with all those must-have creature comforts, Palm Bungalow Oasis promises a taste of the luxe life without the exxy price tag. The bungalow is just a stone's throw from the local shops, with a bottle-o and bakery just around the corner. Designed with open-plan living in mind, this is one vacay you'll want to take with your S.O. (or a friend you aren't afraid to get naked with). Book here.
Looking for more summer vacay inspo? You'll find Queensland's best Airbnbs here.
Image credit: Airbnb
Editor's note: Urban List editors independently select and write about stuff we love and think you'll like too. Urban List has affiliate partnerships, so we get revenue from your purchase.