It's always a good idea to organise a romantic getaway. And, with wintery temperatures in full swing, we're sure you are dreaming of that time post-lockdown when we'll be able to skip town, stoke the fire, and get cosy with your significant other.
NSW is decked out with some stellar romantic escapes featuring outdoor hot tubs, Tuscan-style courtyards, in-house wine cellars, private pontoons, and spa treatments. With the dreamy getaways listed below, we guarantee you'll still earn those brownie points whichever date you choose (because every day is Valentine's Day, right?!).
Here are 16 of the best romantic getaways in NSW.
Tawillah Milton Luxury Retreat
Milton
We mean, if locations could talk they would say Tawillah Milton Luxury Retreat has it all figured out. This absolutely stunning Airbnb which, unsurprisingly, is perfect for couples—rocks out in prime real estate between Milton and Mollymook (each just a short drive away). This beautiful property is made for absolute seclusion so you won't hear anything other than buzzing cicadas in summer and the morning calls of magpies in spring. The bungalow has everything you need for a romantic reset, from a wide-open deck to take in all the beauty of the Shoalhaven to a deep standalone hot bath. Along with this, Tawillah also sports a handy outdoor shower plus an outdoor fire pit with all the cosy seating.
Wilga Station Farmers Hut
Orange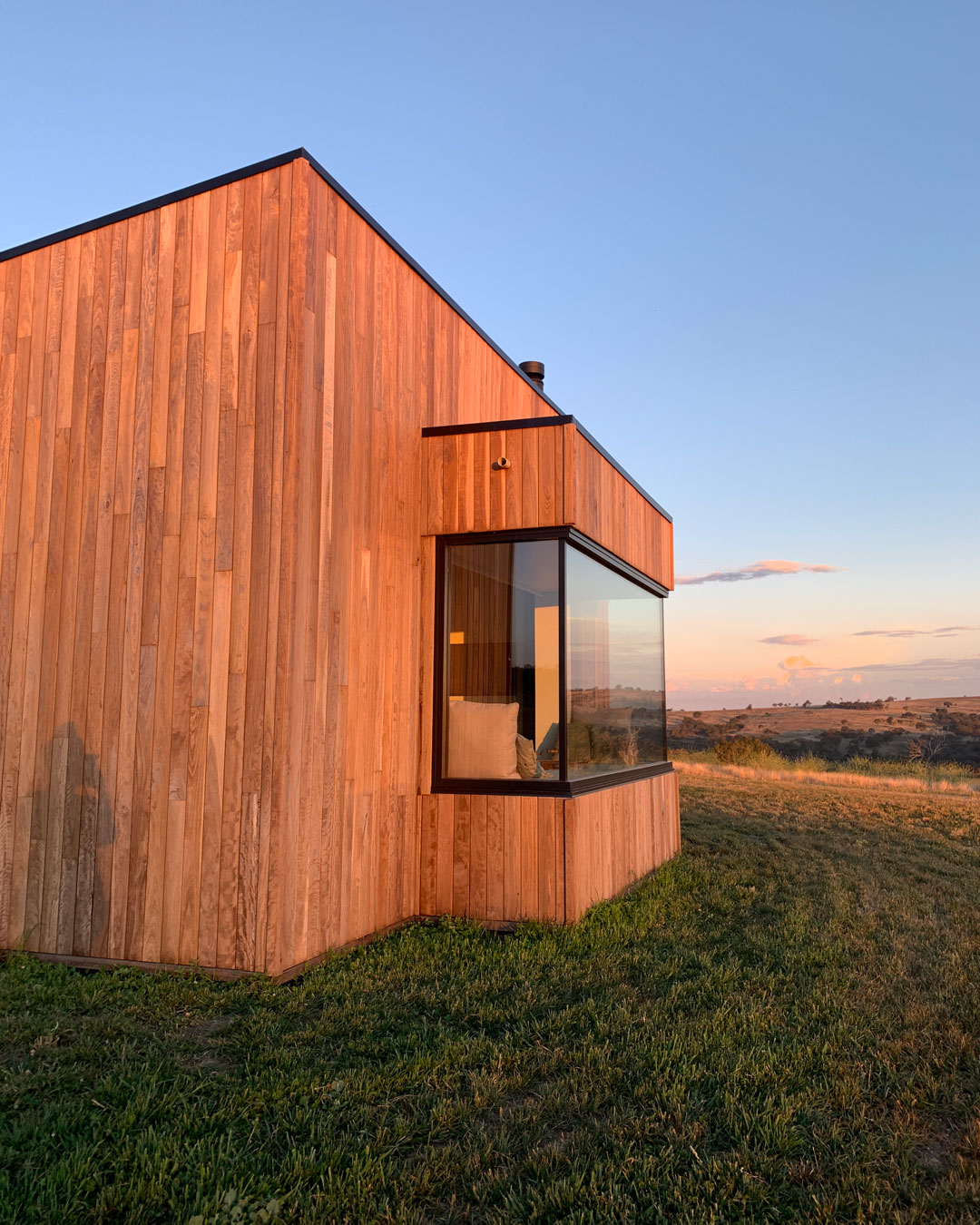 If your ideal romantic getaway includes a little luxury with a side of country air, quiet solitude, good wine, and sweeping pink sunsets, Wilga Station should be top of your list. Nestled within the rolling green hills of a 260-acre working sheep station about 10 minutes outside of Bathurst and 40 minutes from Orange, the highlight of this recently opened farm is its stunning off-grid eco hut for two.
As well its eye-catching grass roof, The Farmer's Hut at Wilga Station is packed out with luxury fittings and features, like a designer bathroom, Hunter Lab amenities, your own BBQ, king-size bed, and a complimentary hamper of local cheese and wine. This eco-hut has also been designed to maintain a comfortable temperature of 16 - 24 degrees all year round, making it perfect any time of year. And, we can confirm, this is one of the most magical spots to watch the sun set in all of NSW.
Dam It Getaway
Bowman Farm
Brought to you by the fantastic Tiny Away team, Dam It Getaway is set on 78 acres of farmland in rural NSW. You'll be within driving distance from the World Heritage-listed Barrington Tops National Park (because all romantic getaways need a little adventure) and the tiny house features an outdoor pool to cool off in and a spa that overlooks the valley. You'll also have an extra swimming spot down at the river where you can set up for the day when it gets super hot.
Kookawood
Blue Mountains
First of all, there's a free-standing bath in the garden, overlooking the misty Blue Mountains National Park. If that doesn't spell the most romantic weekend away we don't know what does.
Kookawood is reminiscent of a bygone era, filled with a collection of rich antique furniture, rustic bits, and pieces, recycled timber beams, reclaimed windows, a fireplace, and an open plan dining and living area. Tucked away at the top of a 1km-long driveway off a quiet country road, you'll be in the perfect territory for a private city escape. At the same time, there's a Japanese bathhouse down the road if you're keen to treat yourself; Jannai Goats Cheese Dairy is nearby for all your romantic cheese platter needs, and the epic Rydal Pub about five minutes away too.
La Riveraine
Hawkesbury River
For Australian bush escape meets Euro-summer vibes, your riverside dream will be brought to life at La Riveraine. This classic 1950s cottage is packed with all the charm and tranquillity you could need for a dreamy romantic escape not too far from Sydney. It is beautifully restored and contains a crystal clear plunge pool for summer, multiple terraces, a private jetty, ample views of the Hawkesbury, and a pontoon.
Crystal Creek Rainforest Retreat
Crystal Creek
Crystal Creek Rainforest Retreat is located in Tweed Valley, just south of the New South Wales and Queensland border. It's at the end of a valley and surrounded on three sides by the world heritage-listed Numinbah Nature Reserve and Springbrook National Park, so you can expect max rainforest vibes.
Here, there's a number of bungalows, cabins, and lodges to choose from, but for an anniversary or birthday treat, you'll want to go for the "Rainforest Canopy Bungalows". These split level cabins come with a fireplace (for winter), high oak-lined sweeping ceilings and, the pièce de résistance—the large sunken spa bath with 180-degrees of lush green rainforest views.
Cedar Cabin
Thredbo
If you're after a super stylish escape—The Eastern at Thredbo Village is your dream getaway. Located in NSW's glorious Snowy Mountains region, The Eastern is the brainchild of Sydney-based photographer, Monique Easton.
The Eastern includes two beautiful Scandinavian-style one-room cabins, but our pick for a romantic escape would have to be the Cedar Cabin. This guy is positioned on the banks of the Thredbo River with uninterrupted views of Mount Kosciusko (just casually). This loft-style hideaway is small, but what it lacks in space it makes up for in design kudos. Designed by juggernaut designer Nicholas Gurney, you can expect vaulted ceilings, exposed timber and, wait for it—your own private Japanese-inspired onsen. Add to this furniture pieces from Hay, charcoal linen from IN BED, Aesop amenities, and fresh coffee beans from Coffee Supreme.
Thought all there was to do in the Snowy Mountains was ski during winter? Think again. There's a long line-up of bike rides and hikes to do plus Wildbrumby Distilerry is an absolute must. Check out our full guide to the Snowy Mountains sans snow here.
Hideout
Moss Vale
Not much beats balmy summer mornings with your significant other and the glorious natural sounds of the Southern Highlands. Overlooking a calm dam, Hideout has been designed with chill Scandinavian minimalism in mind making this tiny home the ultimate place to unwind and steal some quality time, whether it be roasting marshmallows on the fire pit at night or stargazing until you fall asleep. Attention to detail is a part of the package at Hideout, with little luxuries like IN THE SAC bed linen, complimentary toiletries from Ashley & Co, plush Sheridan towels, and heated bathroom floors.
CasaBelle
Bellingen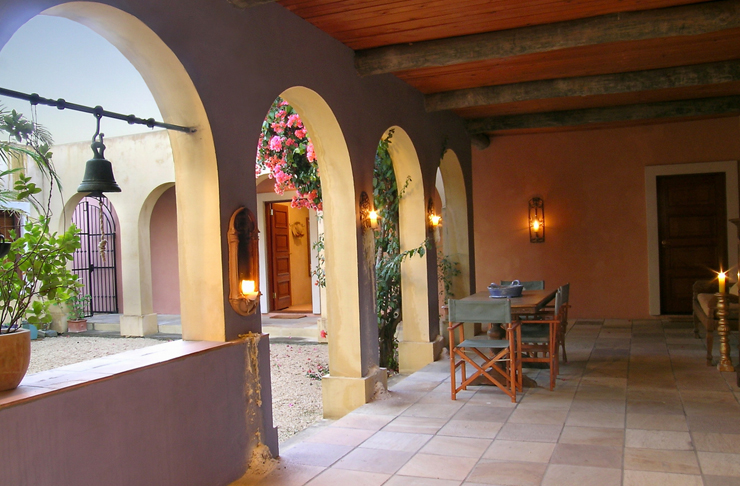 Think Under The Tuscan Sun and you're pretty much spot on with this one. CasaBelle brings one of the best parts of Italy to just outside Sydney, making it one the most brilliant romantic getaways in NSW (especially if 2020 cancelled your Euro summer plans).
This bed-and-breakfast is set amid 13-acres of landscaped gardens. There are three spacious guest suites set around an Italian-style courtyard (complete with vaulted arches and rich ochre-coloured walls), French doors leading to private terraces, L'Occitane luxury toiletries, fresh fruit, chocolates, croissants, homemade marmalade, baked fruits with ricotta cheese, and yes—this is romance.
Amelie's
Pokolbin
This self-contained cottage means you'll get to soak up a particularly stunning view of the Hunter Valley vineyards all day long. Perched on Pokolbin Mountain, the cottage is private and secluded, yet still just five minutes to top-notch Hunter Valley wineries and restaurants. It's all about self-care here with a mega-large bathroom featuring a spa bath overlooking the valley too.
The Enchanted Cave
Bilpin
For a romantic getaway in NSW like no other, you'll want to make your way to Bilpin (Blue Mountains way) for what has to be one of NSW's most special retreats. This clifftop property is built into a natural rock platform and has a small front door opening (Hobbit-style), which means you'll score front seats to the best damn view anyone could ever lay eyes on and a pretty nifty spa.
Bellingen Tree House
Bellingen
When you're keen to pull away from the big smoke, Bellingen Tree House is the perfect sanctuary to sneak away to. This 13-hectare property has been regenerated right in the middle of a rainforest and along the Never Never River, which, of course, looks as enchanted and magical as it sounds (and there's a pontoon to relax on). You'll be able to open up your bedroom wall and lap up all the intimate sounds of the surrounding rainforest plus swim in the property's freshwater front yard.
Tree House Blue Mountains
Bilpin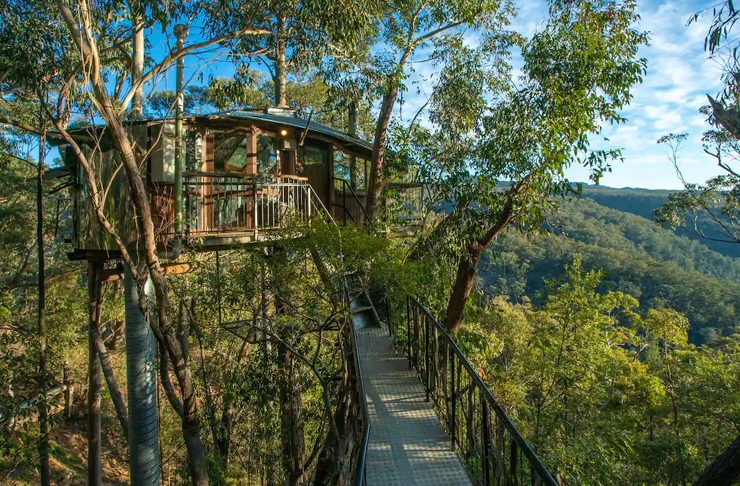 No doubt you'll end up completely speechless when you see what this Blue Mountains Tree House has in store for you. This property is pretty damn phenomenal and we guarantee time spent here will be the most peaceful and romantic time of your life. To reiterate, this is an actual treehouse, built into the branches of a beautiful living, breathing tree with a vantage point so perfect you'll feel like you're one with the beautiful natural surrounds of the bush.
The Shed
Kangaroo Valley
When there's a quiet country road that leads you all the way to a stunning farmyard property, you know you've hit the jackpot. The Shed is a converted farm shed that has been transformed using a heap of recycled materials. Here, you're more than welcome to bring any animal friends along and you'll find spacious living areas, a wood fire, and a pizza oven that makes even the worst cooks somewhat impressive. And not to mention, it's set on the Kangaroo River (so yes, spontaneous dips during the warmer months are necessary).
Blackbird
Mullumbimby
If you've got a special someone in your life who deserves a next-level weekend getaway, then this romantic spot in the beautiful Byron Bay hinterland is your best bet. The sprawling property, beautifully framed in acres of lush rainforest, features three private pavilions, perfect for a romantic retreat. Each is thoughtfully fitted out with the latest environmentally sustainable energy-saving 20kW solar system as well as modern luxuries, designed to ensure you unwind and zen out. Wake up with a dip in the 10-metre mineral magnesium infinity pool, then warm up in the sauna. At sunset, it's time to sip a glass of red while taking in the incredible view of the Byron coastline. Say it with us: brownie points.
Paperbark Camp
Jervis Bay
Located two-and-a-half hours south of Sydney, Paperbark Camp is the glorious, eco-friendly glamping set up in the heart of idyllic Jervis Bay. Peppered across 100 hectares of beautiful bushland, there's a number of safari-meets-glamping-style tents to choose from, but if you're going full steam ahead on the romantic front, it's the "King Deluxe" safari tent you need to book. It sports two king beds, outdoor lounges, an indoor ensuite with a double vanity and sunken bath, and a separate outdoor bush shower. If total relaxation is what you're after, Paperbark also throws down some of the best massages and beauty treatments around.
Need more ideas? Here are the best regional hotels in NSW.
Image credit: Hideout, Tawillah Milton Luxury Retreat, Sammy Preston, The Love Shack, Dam It Getaway, Kookawood, La Riveraine, Crystal Creek Rainforest Retreat, Cedar Cabin, Hideout, CasaBelle, Amelie's, The Enchanted Cave, Bellingen Treehouse, TreeHouse Bilpin, The Shed, Blackbird, Paperbark Camp
Editor's note: Urban List editors independently select and write about stuff we love and think you'll like too. Urban List has affiliate partnerships, so we get revenue from your purchases.