If there's one place in the world that honestly does not come in at less than the hype, it's Bali.
If you're keen for a getaway that absolutely throttles you in humidity so that pool dips every hour are a must and where hospitality reigns supreme, the hotels of Bali offer up nothing but the best. The island is straddled with innovative clifftop venues bearing glass pools and private cinemas and sustainably-focused creative villages you can actually stay in (privy to hosting Boiler Room). It's fair to say, it's all happening in Bali.
Read on for the best hotels in Bali.
Mulia
Nusa Dua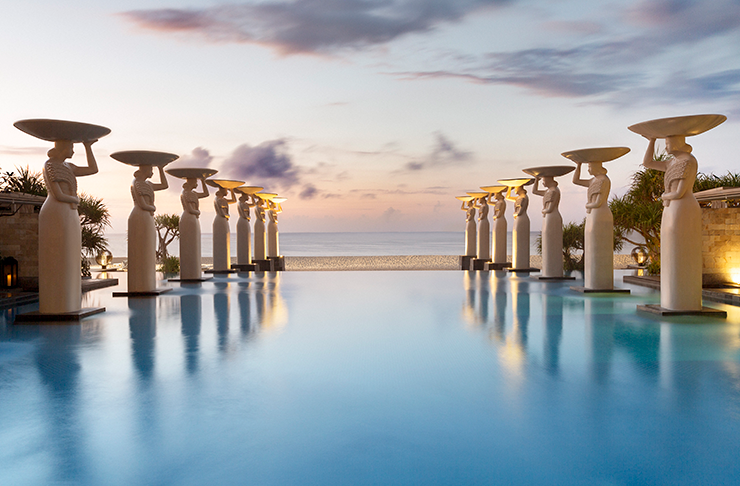 Situated along a secluded 1km stretch of serene beachfront, Mulia is a true jewel of Bali's Nusa Dua region. Luxury is at the forefront of this serene property across its three accommodation options—first up are the Mulia villas, each with its own 40sqm hydrotherapy lap pool, day beds and private terrace. Meanwhile, Mulia Resort comprises of suites up to 140sqm, each with breezy balconies overlooking the white-sand beach; or opt for a room in The Mulia, the property's opulent hotel that provides a lesson in luxury with a personalised butler service and jacuzzi.
Across Mulia's stretching grounds are nine award-winning restaurants, bars and lounges, exploring local and intercontinental cuisines, pools which encapsulate the truest sense of breathtaking, and a focus on wellness and relaxation. Yoga, one of Bali's largest gyms and a spa menu you could indulge in for as long as your annual leave allows for.
Potato Head Studios
Seminyak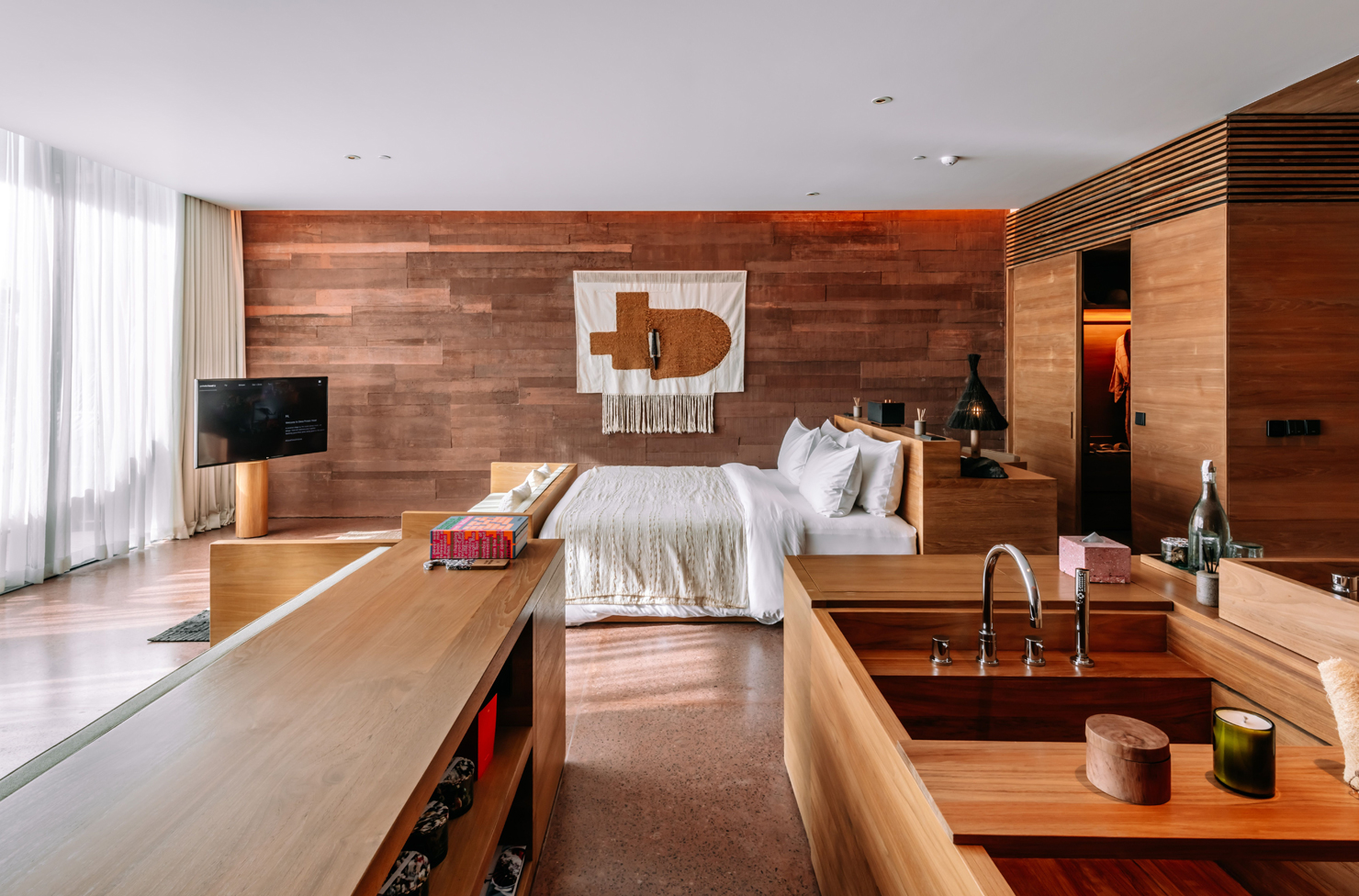 Potato Head Studios is basically the beating heart of Desa Potato Head's creative and eco village, simultaneously made up of Potato Head Suites and the ever-iconic beach club on the immaculate shoreline of Petitenget Beach. As the latest installment at Desa Potato Head, the studios have been designed in partnership with David Gianotten at OMA—responsible for the Off-White flagship in Paris and The Reefline, an underwater public sculpture park, snorkel trail and artificial reef located just off Miami Beach. If that should tell you anything about the design-scape of Potato Head Studios, it should be that no detail has been left unturned. Of the 168 rooms, you'll find a mix of oceanfront studios with expansive windows and courtyard rooms if you're vibing for more privacy.
Each room has been fitted out with furnishings inspired by renowned designer Max Lamb, think recycled plastic desk accessories, volcanic glassware and bamboo chairs—and while you might be impressed with the focus on sustainability already, we've hardly scratched the surface. Guests also receive a zero-waste kit (filled with a reusable water bottle, RPET tote bag and bamboo cutlery), refillable essentials like sunscreen and sanitiser and fully biodegradable slippers and cotton robes to flaunt too. Around this the grounds are privy to not only Potato Head's carbon-neutral mission (which we love) but a music studio, gallery, spa, sustainability workshops, library and co-working space and six different restaurants. Dare we mention the daily top-up of cookies and chocolates you get in your room too? Absolutely living.
Meliá
Nusa Dua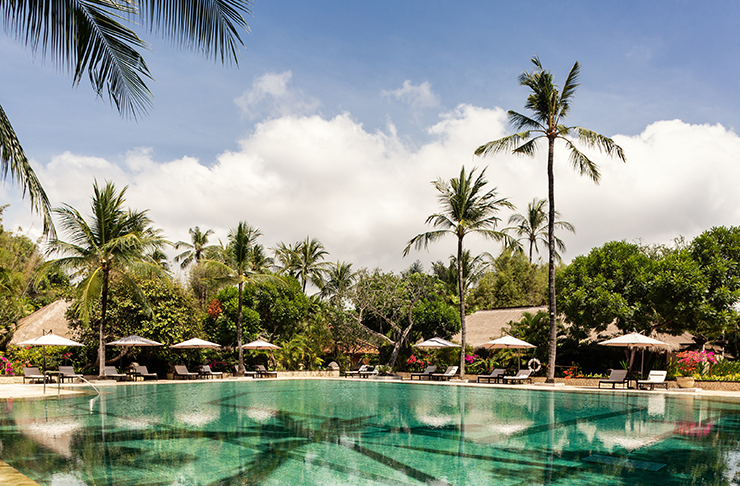 Meliá in Nusa Dua truly sets a new standard for resort-style getaways. The five-star beachside locale ticks off all the boxes one could want, where you'll find the essentials and plenty, plenty more: get started in one of the several pools dotted across the sprawling oasis before meandering into YHI Spa for the likes of a Balinese massage, reflexology treatments, or luxury pedicures and manicures. There are several restaurants on-site that you should explore to their fullest, though for a true Balinese dining experience you can't go past Lotus, a heritage-style pavilion with a thatched alang-alang roof. Work your way through the Pan-Asian menu and if you're there on the right evening, enjoy a traditional Balinese dance while you dine, too.
There's plenty to see and do around the Nusa Dua area, but once you arrive at Meliá you won't feel the need to leave. Those who really want to lean into the locale can tap into The Level, a premium service giving guests access to a private pool, exclusive dining areas, discounts on YHI spa treatments and a private beach—it's a true VIP experience. There are plenty of room options, all stunning and fit out with the essential modern sensibilities in their own right, but the lagoon room which comes as part of The Level experience should be top priority. Direct access to Meiiá's lagoon is a real drawcard, though the private terrace overlooking the calm and pristine pool says it all, really.
W Bali
Seminyak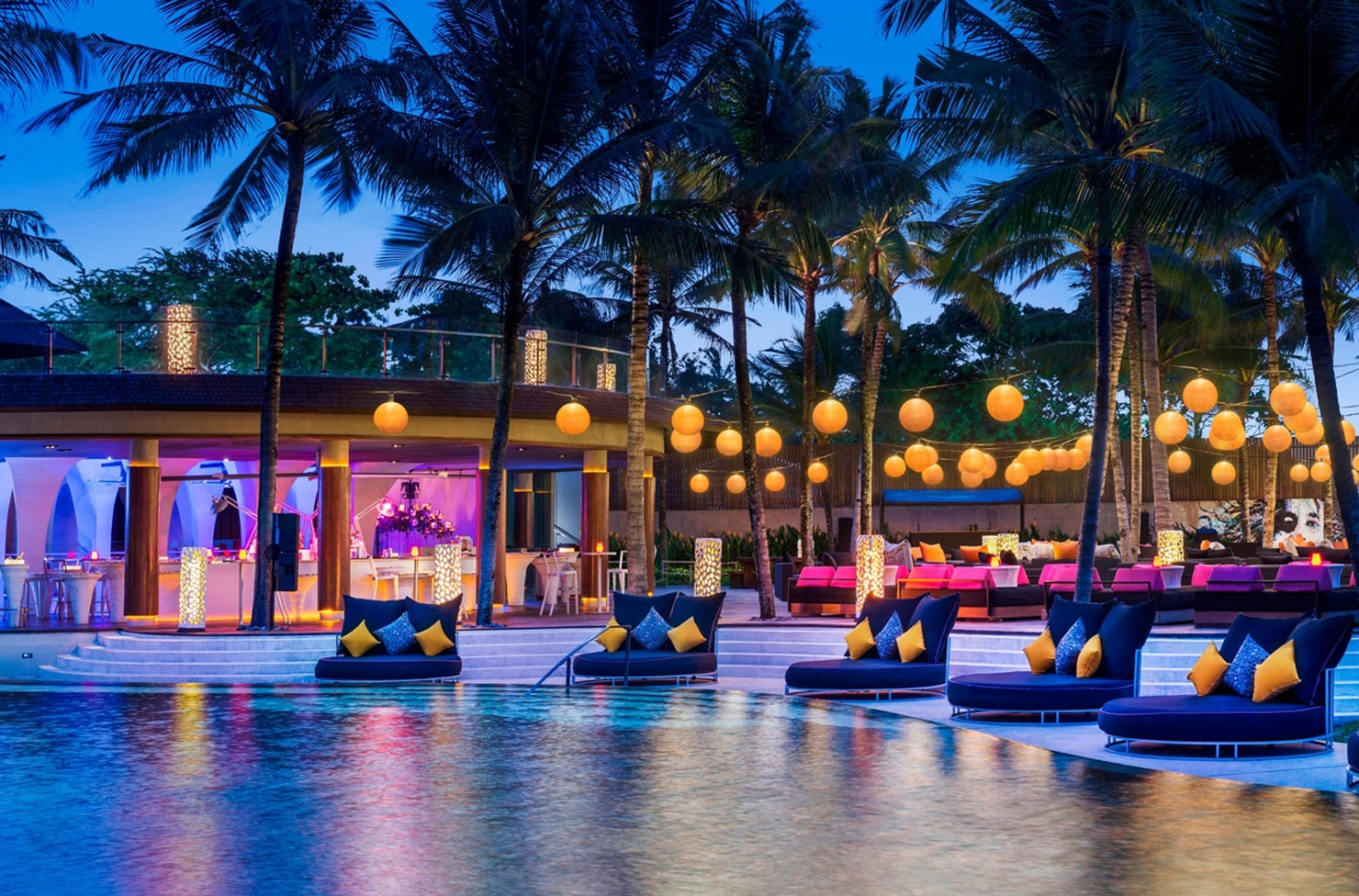 This five-star hotel is pretty much everything you could ask for and then some more. The hotel-equivalent of an adult theme park, W Bali throws a whole heap of everything your way and you basically get to choose what you're keen to get around. There's a 24-hour spa and gym, Woobar Bali is where you sling a few martinis to watch the sun go down, Starfish Bloo offers up a Sunday brunch with oysters, toasties, smoked pork ribs and even a sushi station and then W Lounge is your go-to for neon pink lights and chill post-dinner drinks.
COMO Uma
Canggu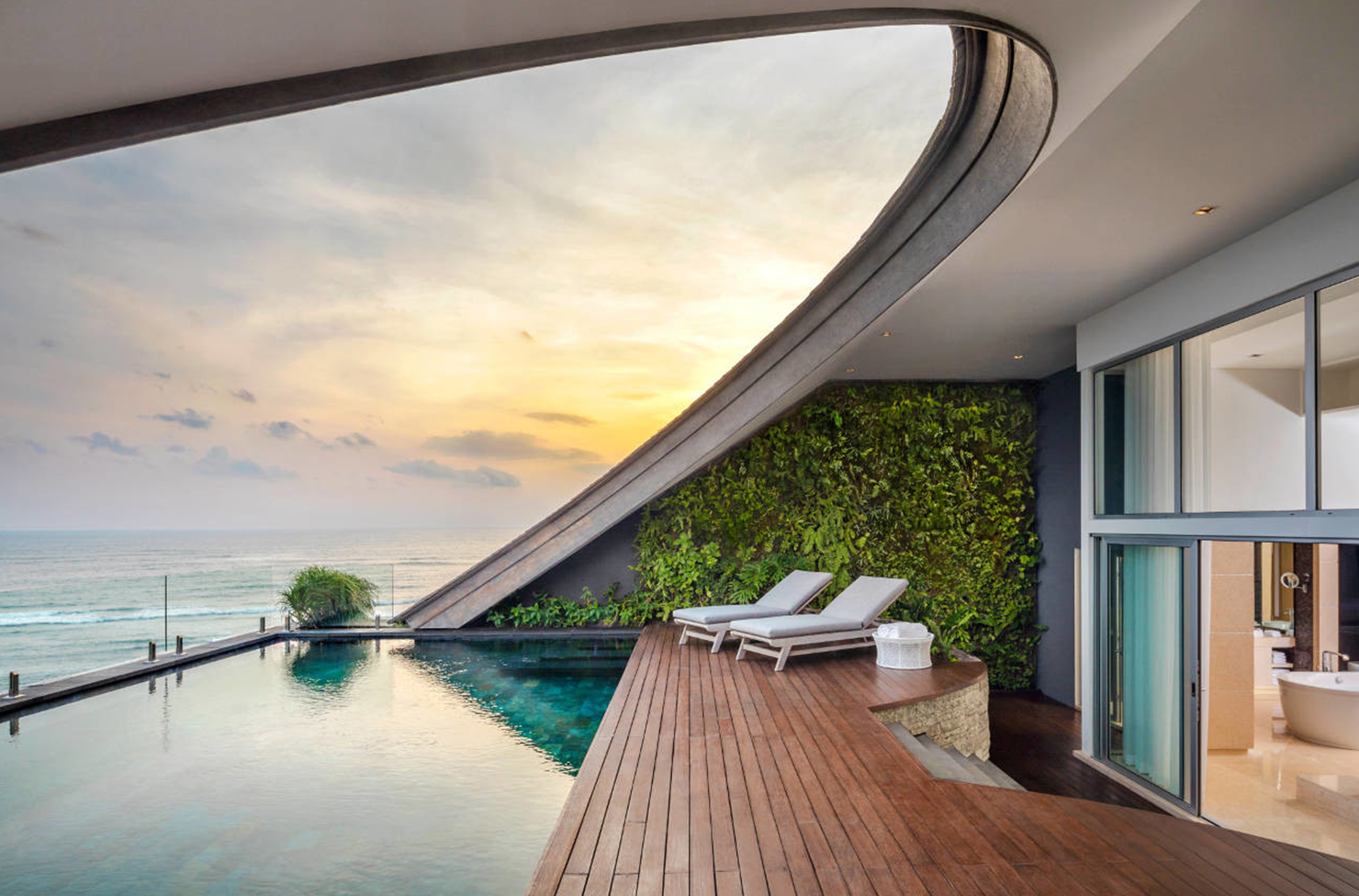 For the ultimate laidback vibes, treat yourself to this mesmerising luxury hotel in Bali. Located on the south coast, this hotel's jam is less about the beach club scene and more about making little moments for yourself—cue the onsite yoga rooms, the pilates studios, the COMO Shambhala Retreat and even a dedicated Jungle Sports studio. In terms of the actual accommodation, brace yourself for 107 rooms and suites that ooze seclusion and 12 duplex COMO Penthouses.
The Edge Bali
Uluwatu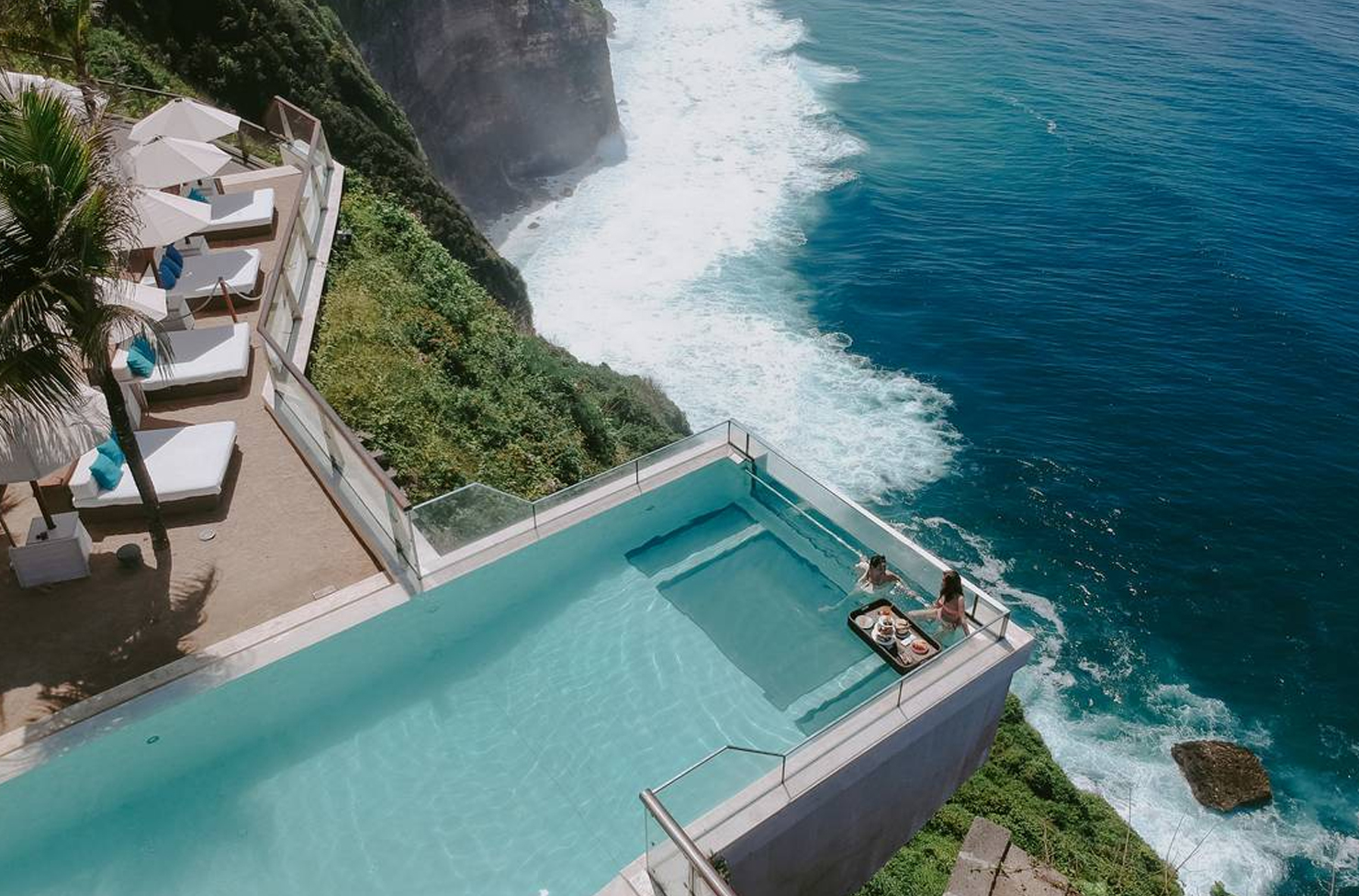 We mean, if there's a hotel in Bali you've seen on your Instagram feed, it's been this one. The Edge Bali is a clifftop stay that will probably bring tears to your eyes, that's how absolutely stunning it is. There's only eight rooms so you can expect to be forking out a few payslips for this one but we mean, who can put a price on plunge pools, a 24-hour butler service, private gardens, endless views of the Indian Ocean, a bowling alley, karaoke room and rooftop tennis? It's disgustingly perfect. On the food and beverage side of things, you're also spoilt for choice too (how unfortunate)—One Eighty is a day club with a glass-bottom sky pool; The Cliff Bar is a cocktail haven with a equally frightening and fantastic glass floor; The Club Bar is a sophisticated nook to sip on fancy bottles of wine; and finally, The Cave is a 22-seat subterranean restaurant located in an ancient cave. Ridiculous.
Andaz Bali
Sanur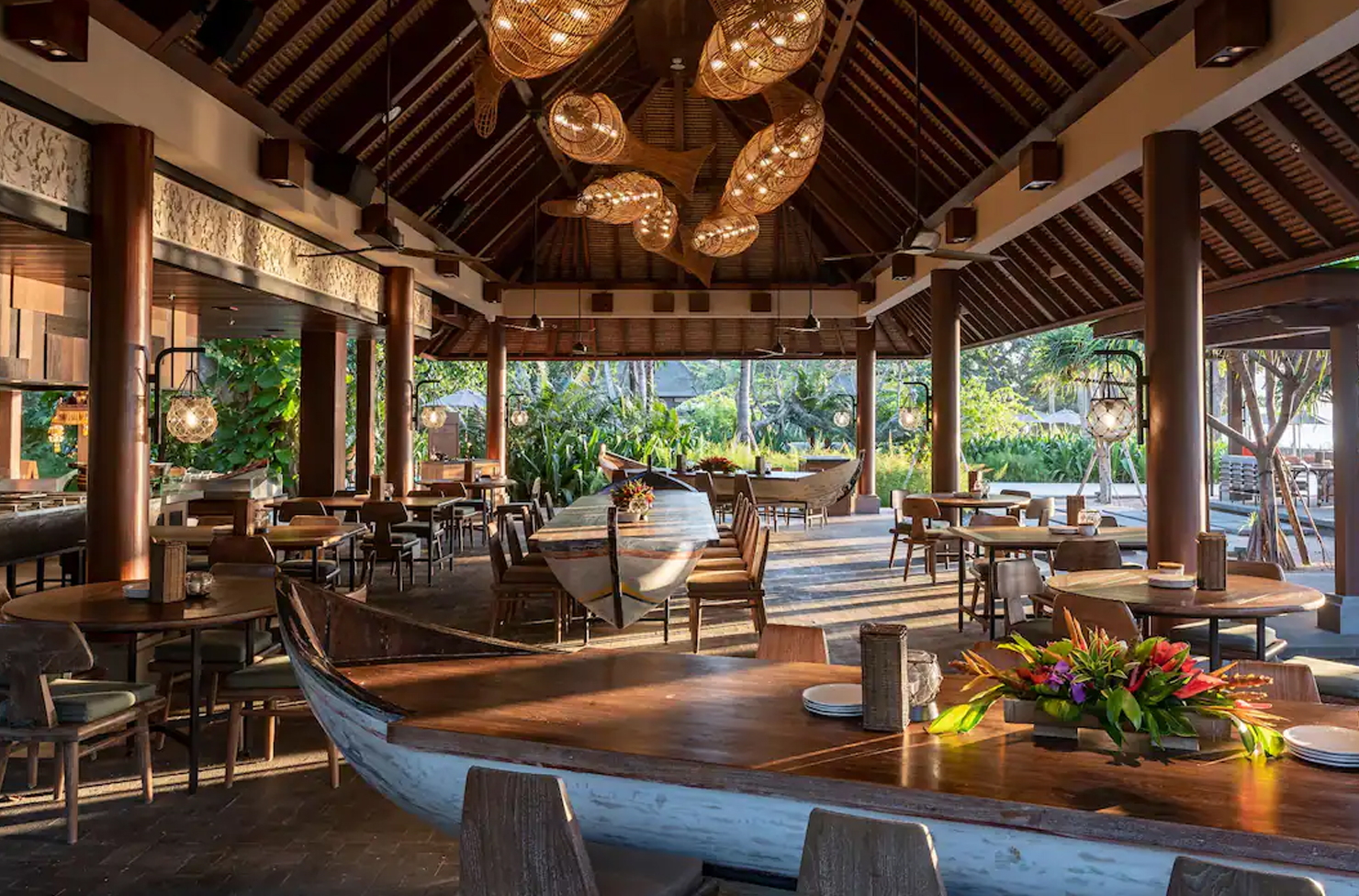 While ocean views are nice and all, sometimes the best stays feel a little more lush and hidden. Take Andaz Bali for example, quite literally modeled after a Balinese village to bring you all the wholesome and comforting vibes. The rooms here are spread around small clusters of courtyards and sprawl out onto private lagoons decorated with tropical vines. One of our favourite places to hit here has to be the dedicated deli and bakery which serves up cakes, homemade ice creams, freshly brewed coffees (with beans carefully sourced from local Indonesian producers) and Korean shaved ice Bingsu. The Fisherman's Club is also a win for daily beachfront feasting with fresh seafood grilled on coconut husks.
Buahan: A Banyan Tree Escape
Payangan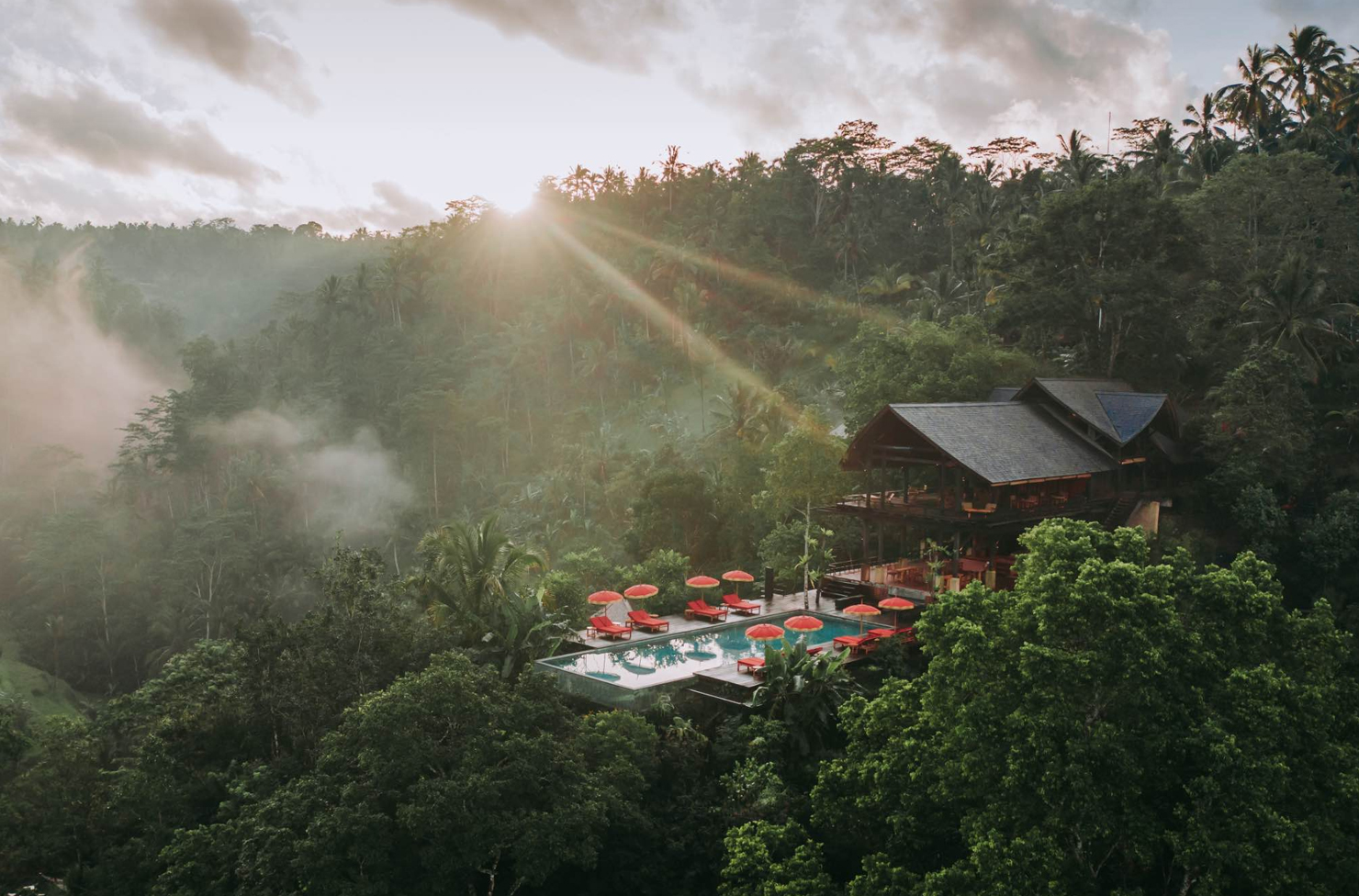 We mean, it's an adults-only hotel—what could be better than that? While Buahan: A Banyan Tree Escape might not be the kind of Bali hotel for any old getaway, it's definitely a place worth shacking up at least once in your life. Tucked into glorious jungle next to the small Buahan village, this hotel boasts something called 'the naked experience' but before your mind heads straight into the gutter, it means something slightly different. Instead, the hotel sports a no-walls and no-doors design which makes it feel like you're really staying in the treetops. As well as this, you'll have a myriad of activities right at your fingertips which includes moon and aerial silk yoga, guided hikes, foraging sessions and heritage cooking classes.
Alila
Ubud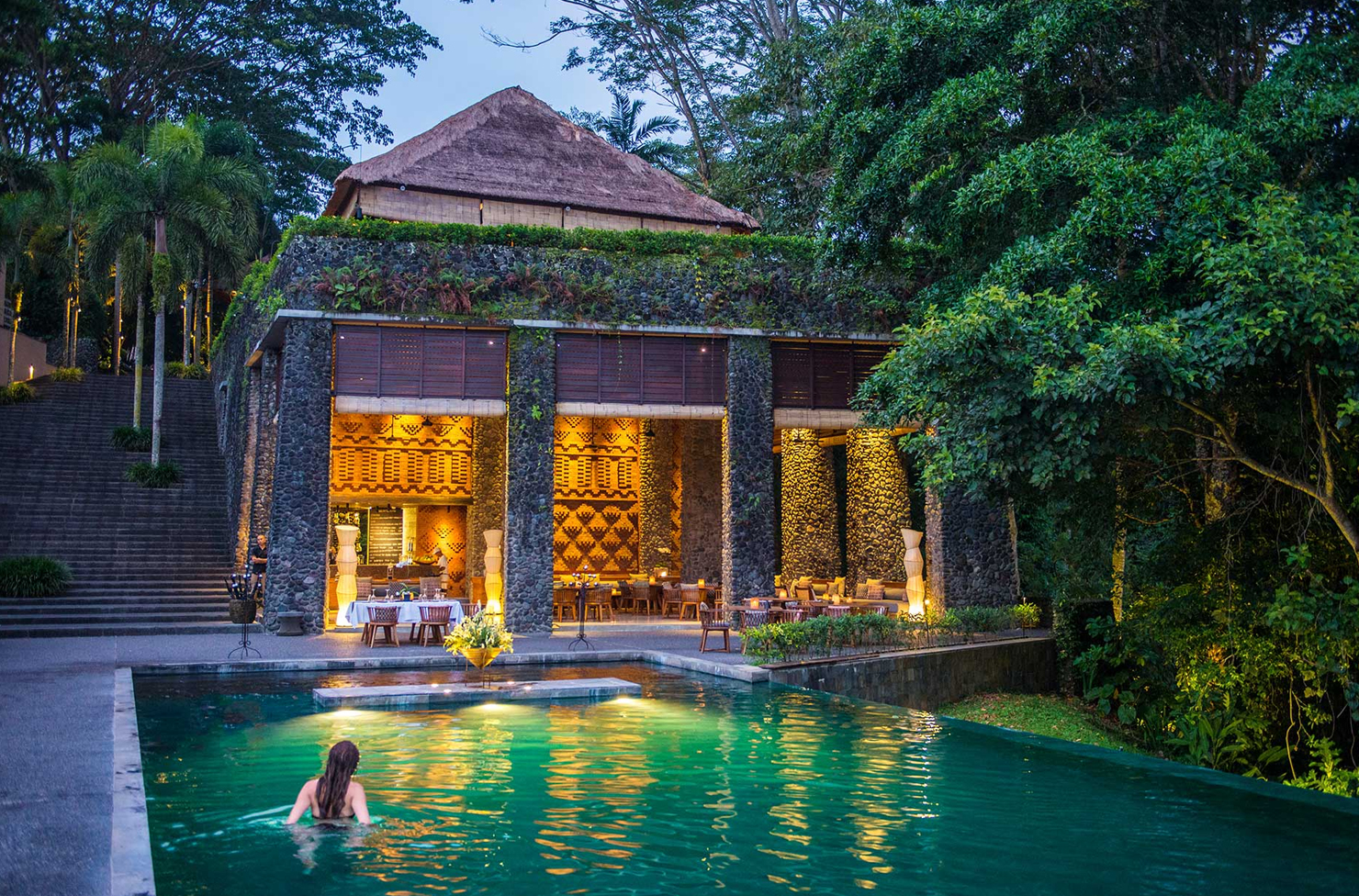 Find Alila about 15 minutes outside of Ubud and when you do, thank us for directing you to heaven on earth. This rainforest hotel in Bali is set high above the Ayung River and has been laid out as a Balinese hillside village complete with its very own community centre and pedestrian lanes. The rooms here are decked out with king beds and day beds, valley views and open air bathtubs and showers—the scenes are endless. You can also get around a VW retro safari which traverses the Ubud villages, soak up some reflexology at the Rainforest SPA and load up on crispy suckling pig and locally inspired cocktails a the weekly Spice Market which goes hard from 7pm every Wednesday.
Potato Head Suites
Seminyak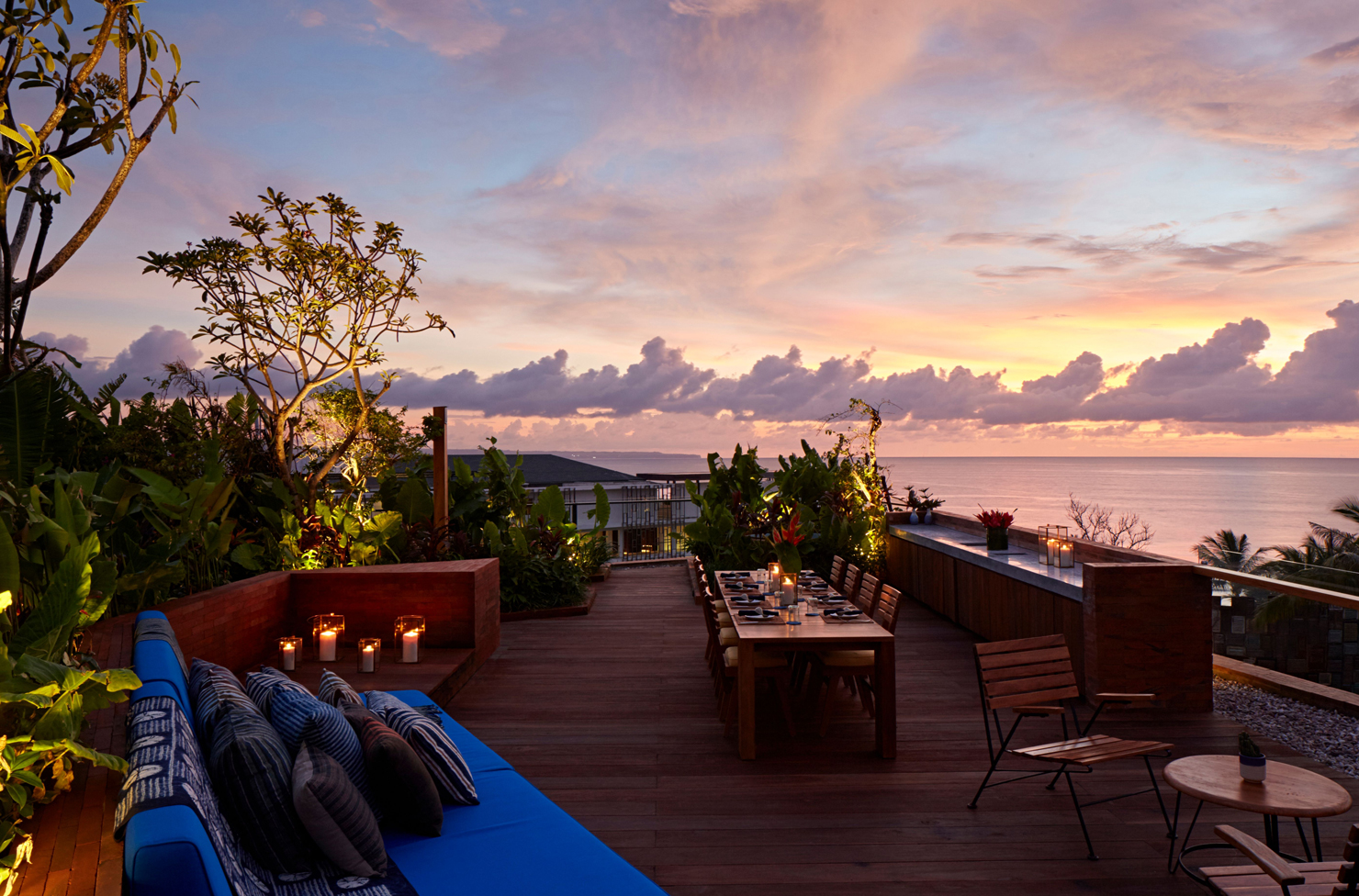 You might recall the immaculate and aforementioned Potato Head Studios, enter its sister Potato Head Suites. If Potato Head Studios is Potato Head's heart, the suites are its enduring soul and ode to ancient craftsmanship. Formerly known as Katamama Suites, this Bali hotel features 58 rooms (ideal for anyone keen to sink their time in all the peace and quiet), the most notable being its pool suite—a 140 sqm expanse with a garden view, pool, bathtub, shower and spacious living area. Of course, Potato Head's zero-waste kit and refillable essentials make another cameo here but along with this, you'll also find a strong design anchor in bespoke organic textiles like the Anjat beach set; a backpack and hate woven in Borneo by its Indigenous Dayak people and botanically tinted and handwoven linens and tapestries from Bali's natural-dye house Tarum.
For special occasions, the OG Katamama suite also has our hearts featuring two bedrooms and a private sea-facing rooftop garden equipped with a jacuzzi and lounge area. A top spot to watch the sun go down sans the bustling crowds at Potato Head.
Read on for the best things to do in Bali.
Image credit: Meliá Bali, Supplied, Supplied, W Bali, COMO Uma, The Edge, Andaz Bali, Buahan, Alila, Supplied
Editor's note: Urban List editors independently select and write about stuff we love and think you'll like too. Urban List has affiliate partnerships, so we get revenue from your purchase.