Tiny houses: the perfect way to escape the big smoke for a weekend. Typically remote and off-grid, what tiny homes lack in space they make up for in ample sweet country air and the sort of headspace that only a digital detox can provide.
These days, NSW is peppered with stacks of tiny homes. Ranging from bushland retreats to vineyard hideaways, farm stays and luxe tiny homes with outdoor tubs—the tiny houses on this list have been thoughtfully designed to pack a punch despite their size, and each will totally grant you the respite you deserve. If it's an impromptu city escape you need, look no further.
Here are 18 of our favourite tiny houses near Sydney and all around NSW.
Maggie's Farmstay | Howes Valley
Travel time from Sydney: 2 hours 45 minutes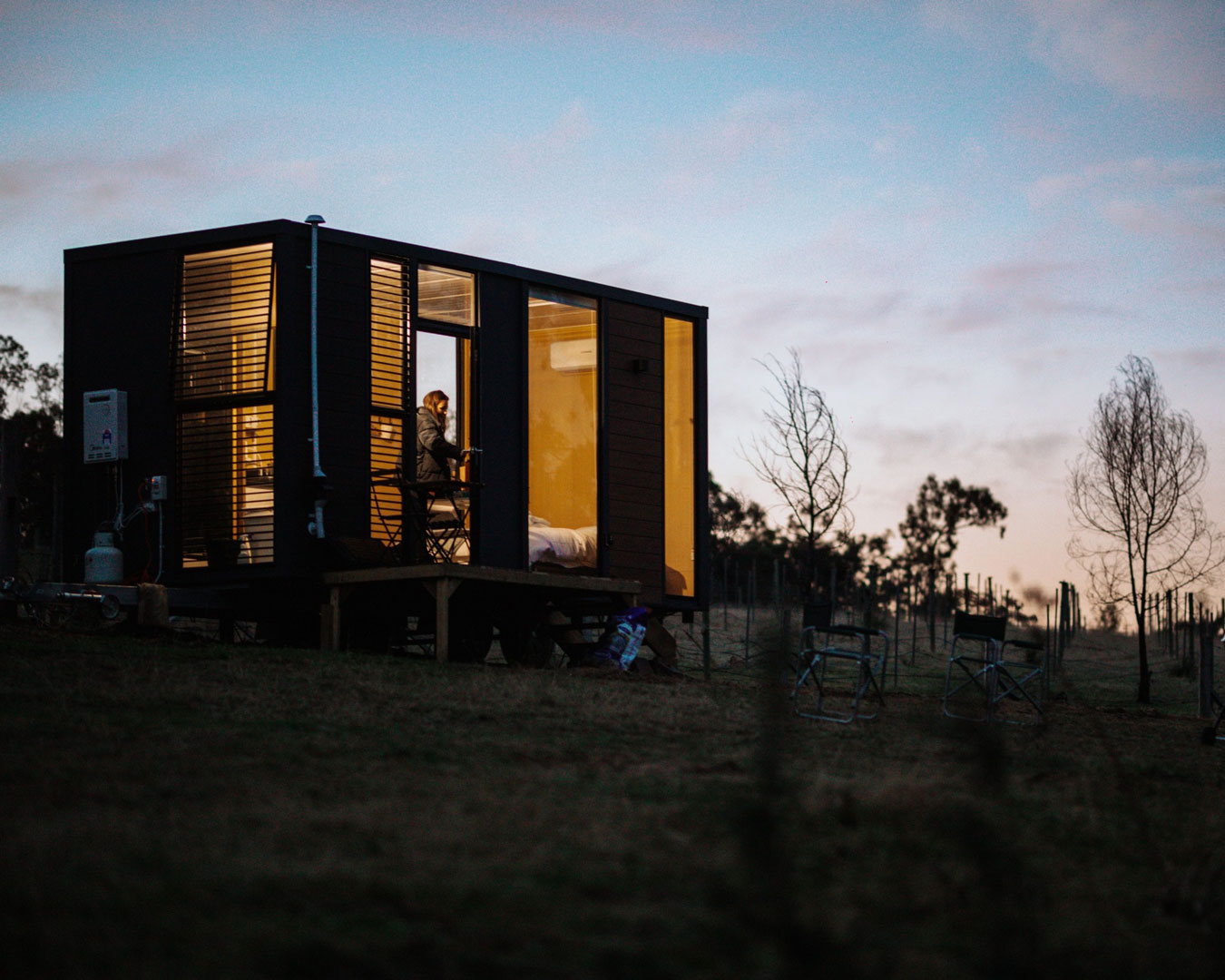 If you're looking for wholesome vibes, Maggie's Farmstay has them in spades. Situated on a working farm in Howes Valley, this teeny tiny house is surrounded by mountains, a small vineyard, lagoons, and grazing alpacas. For maxo relaxo times, cosy up by the outdoor fire pit, go for a bushwalk into nearby Yengo National Park, and swim in the lagoon when the weather's warm enough. Those who'd prefer to explore the area will be pleased to know that Hunter Valley wineries aren't all too far away. Or you can book a horse riding session just 16 minutes down the road. As for the facilities, the 155sqft space has a comfy queen bed, a kitchenette, aircon and heating, and an internal bathroom with an eco-friendly compost toilet. There's no wifi or mobile reception, so can truly switch off here. Best of all, you can bring your dog along (just inform the hosts beforehand).
Book your stay here.
Creekside Tiny House | Foxground
Travel time from Sydney: 2 hours 15 minutes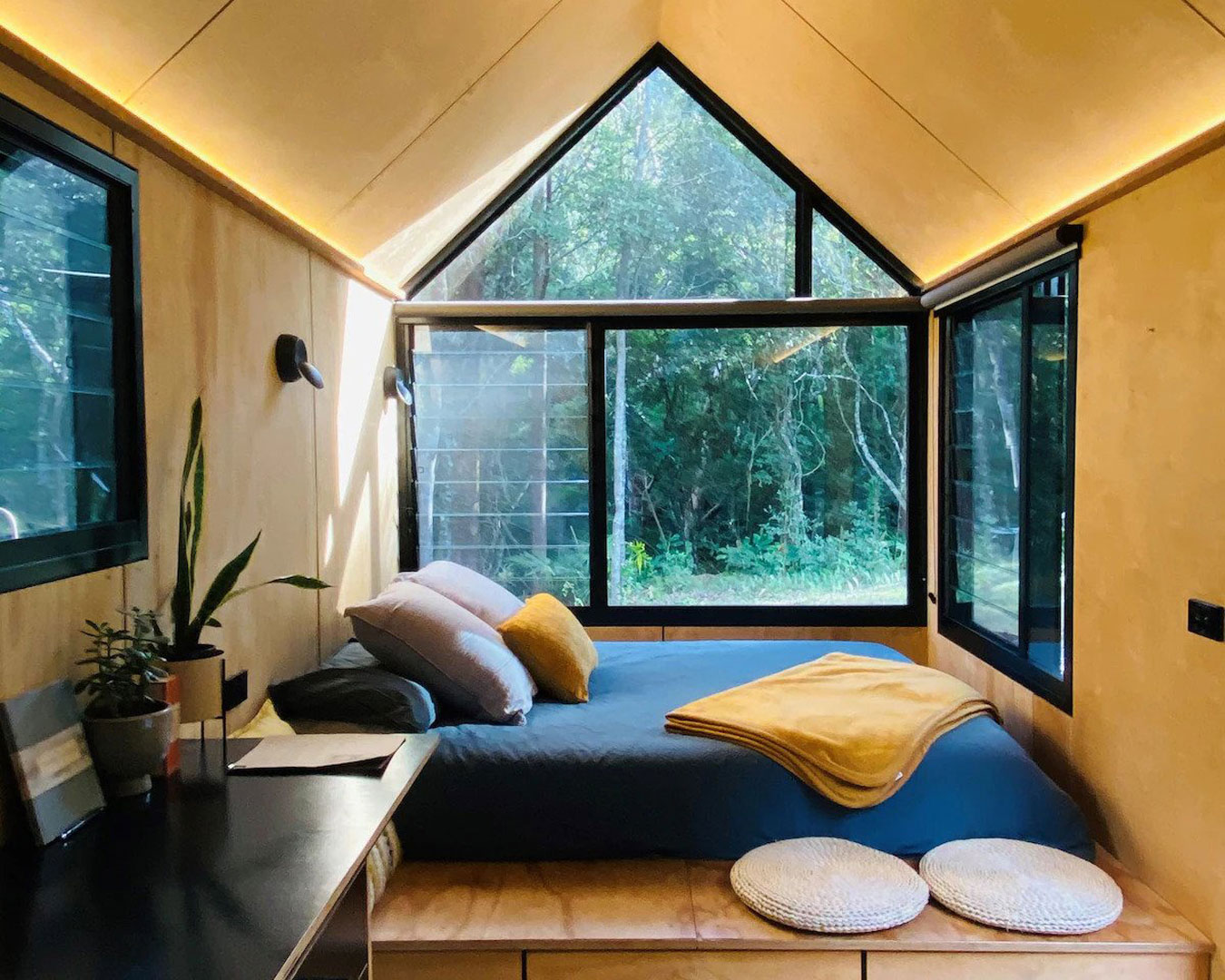 Surrounded by rainforest, this self-described "Eco Pod" feels far away from the rest of the world despite its proximity to shops, beaches, and cafes. The South Coast escape comes equipped with a small kitchen, bathroom, and cosy bed set up by two massive windows. But the real selling point is the swish hanging fireplace that'll keep you nice and toasty during a winter stay. There's also a hot outdoor shower, barbecue, and a fire pit area. Heaven.
Book your stay here.
Hideout Cabin | Moss Vale
Travel time from Sydney: 2 hours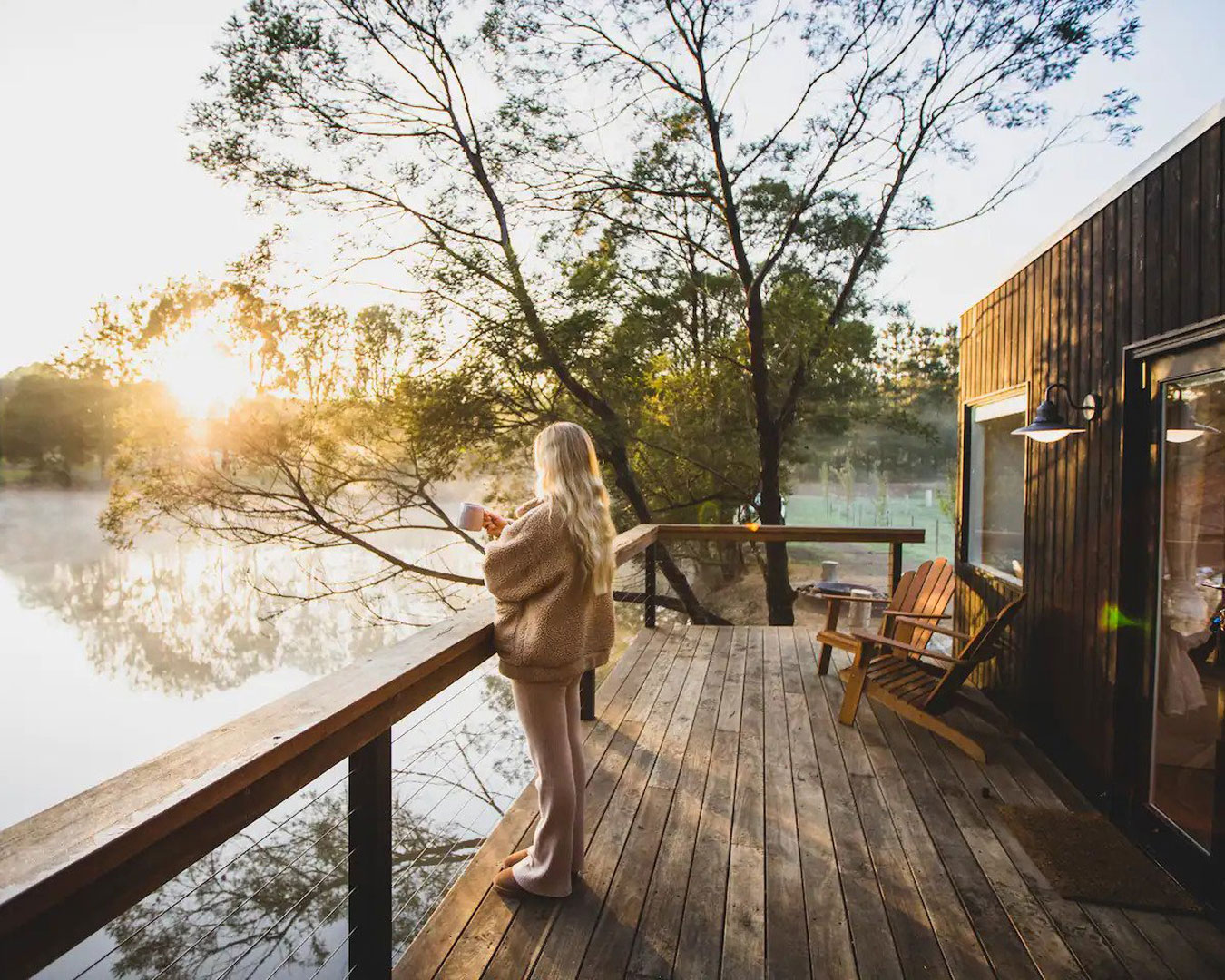 ​Ah, the serenity. This pint-sized cabin is perched right by a dam and we can't think of a better way to escape the city hustle than with a cup of tea and a good read while sitting out on the deck. While it is on an idyllic farm, this hideout is anything but provincial. It's decked out with designer finishes, luxe ben linens, Egyptian cotton towels, and a plush queen-sized bed. You can also opt to go on a horse ride around the farm if you want to soak up that fresh country air. At night, get the fire pit roaring and gaze up at the stars.
Book your stay here.
Tiny Georgie | Picton
Travel time from Sydney: 1 hour 15 minutes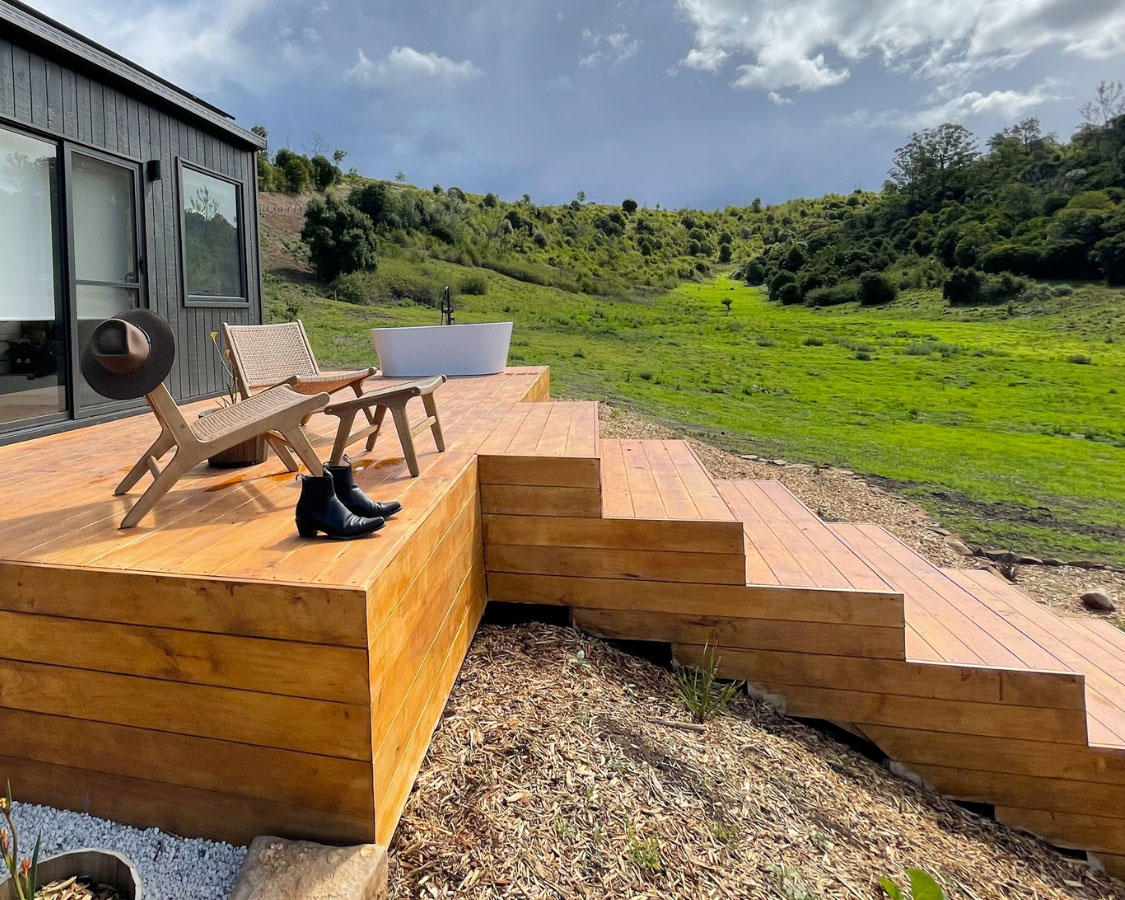 Located in Picton, only an hour and 15 minutes out of Sydney, Tiny Georgie is the boujee tiny escape you know you deserve. This private nook takes full advantage of its beautiful bush surroundings. Almost as if the focus of a secluded amphitheatre, this tiny house sits on a gorgeous wooden deck, with stairs descending to a pretty luxe firepit and sitting area. If that's not enough, how about the outdoor bathtub to really take in the view in your purest form? Or enjoy the scenery from the comfort of the French linen-clad bed, with giant windows allowing just that.
Book your stay here.
Willow Tree Bend | Kanimbla
Travel time from Sydney: 2 hours 15 minutes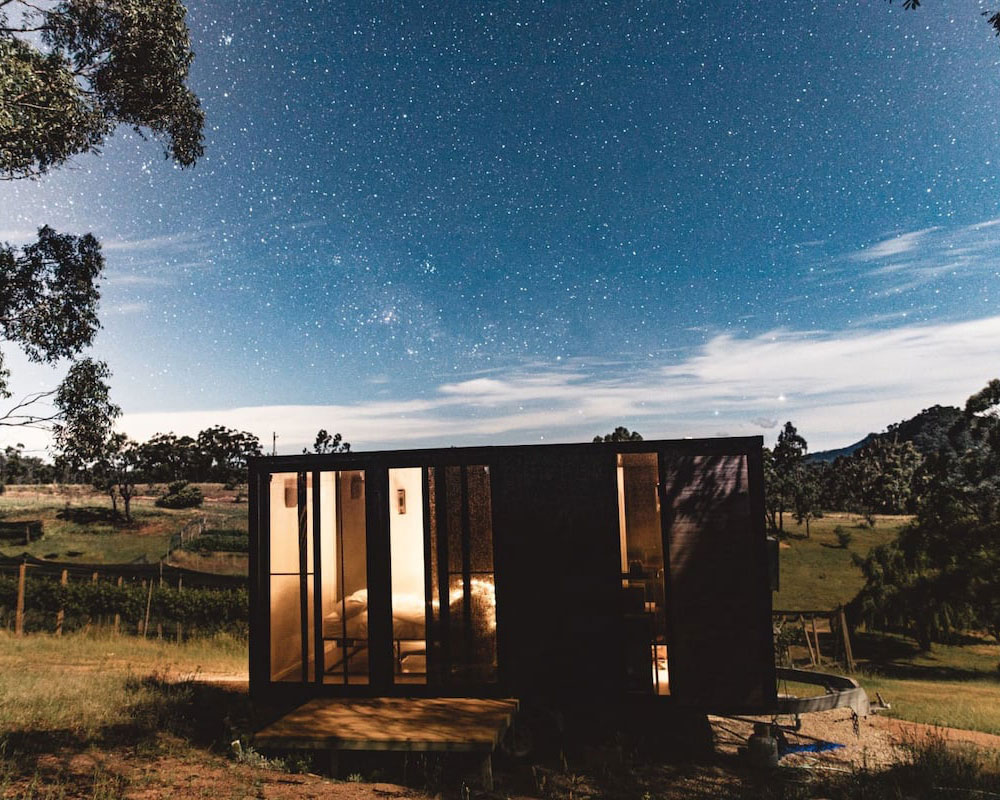 A part of the Tiny Away family of tiny homes, this Kanimbla Valley gem screams one thing rather loudly: fresh air. Located on a small vineyard (yes, that does mean you can score yourself some homemade wines), Willow Tree Bend boasts some of that much-desired crisp country air and those spectacular Blue Mountains views to match. The house itself comes fully equipped with a kitchenette and portable cooker, microwave, minifridge, eco-toilet, shower, nearby firepit and BBQ, and, best of all, a good size balcony from which to take in the surrounds and spot local wildlife. Keep an eye out for Ringo, the Rhodesian Ridgeback that lives on the property.
Book your stay here.
Dinny | Majura
Travel Time: 3 hours 15 mins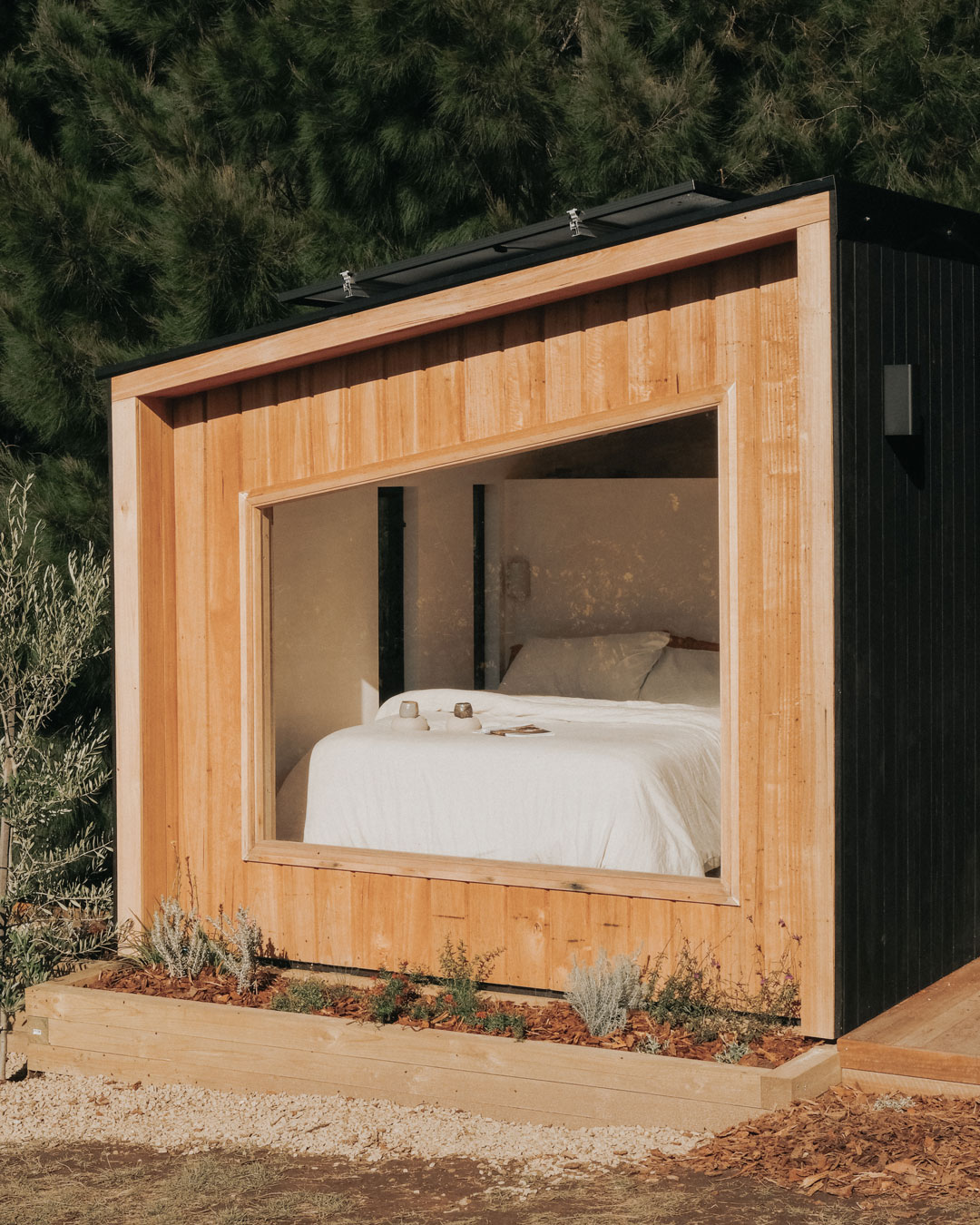 This tiny home might technically be located interstate—but it's also set beside the vines at the rustic Mount Majura Vineyard, so we simply had to include it here. Named after the vineyard's original owner Dinny Killen and nestled beside a block of Reisling grapes, Dinny is tricked out with luxury linen from In Bed and Bed Threads, an enormous window out onto the vines, a shower, compostable toilet, glassware, crockery and other knick-knacks to make your stay a breeze. Best part? You're a stone's throw from the cellar door and there's no minimum stay.
Book your stay here.
Piccolino | Wolgan Valley
Travel time from Sydney: 2 hours 45 minutes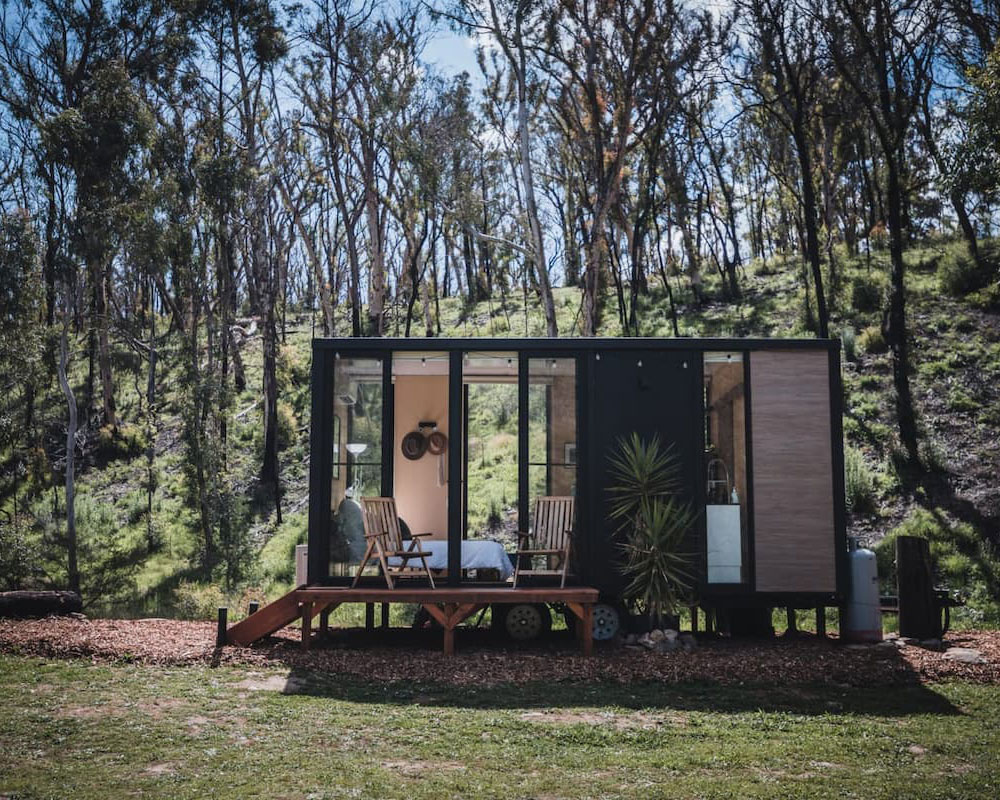 Twenty-five minutes north of Lithgow, Piccolino is a self-catered tiny house and the ideal option for total privacy and to disconnect from everything else. This eco-friendly getaway has no wifi or mobile reception, giving you the perfect opportunity to be undisturbed and to take in the surrounding World Heritage-listed Wollemi National Park—you couldn't ask for a better Australian landscape background. Floor-to-ceiling window walls let you take in the views properly, with an inside-outside vibe perfect for any season and air conditioning to keep you comfortable too. The sounds of trickling river water nearby also provide a natural soundtrack to your relaxing days.
Book your stay here.
Chardonnay Tiny House | Windeyer
Travel time from Sydney: 3 hours 45 minutes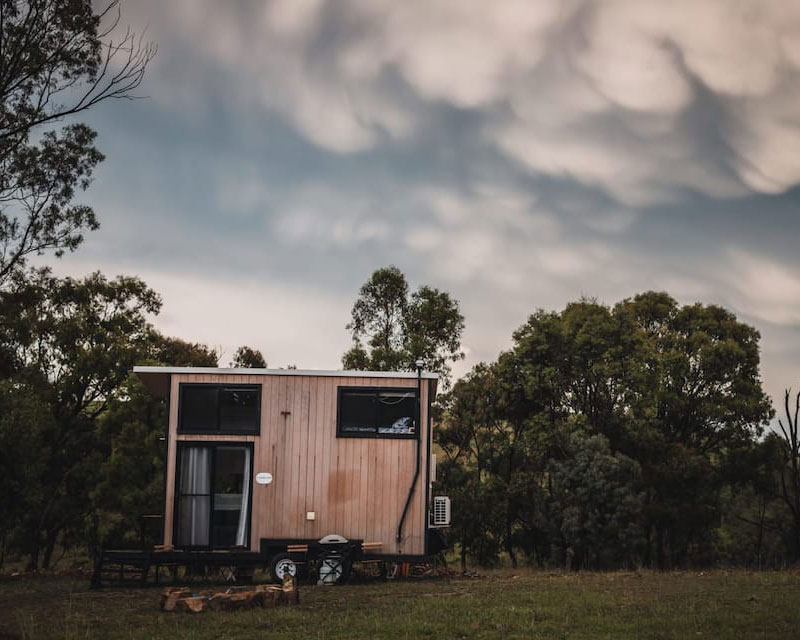 Located 30 minutes south of Mudgee in regional NSW, this beautiful wooden tiny house is an easy sell. It sits on an alpaca farm, and we reckon that's enough said. Unwind on the 300-acre working alpaca farm and take advantage of the surrounding mountain biking trails and ideal bushwalking hikes. You'll find no wifi or phone reception here, but you can pre-order yourself a farm-fresh hot big brekky, cheese plate or honey made on the property. Finally, the farm (which you can book to tour in advance) actually sits on top of an old gold mine, so bring your fossicking equipment if you happen to own any and try your luck around the farm. Nothing like bringing a bit of gold home from a holiday.
Book your stay here.
Odyssean Tiny House | Cessnock
Travel time from Sydney: 1 hour 45 minutes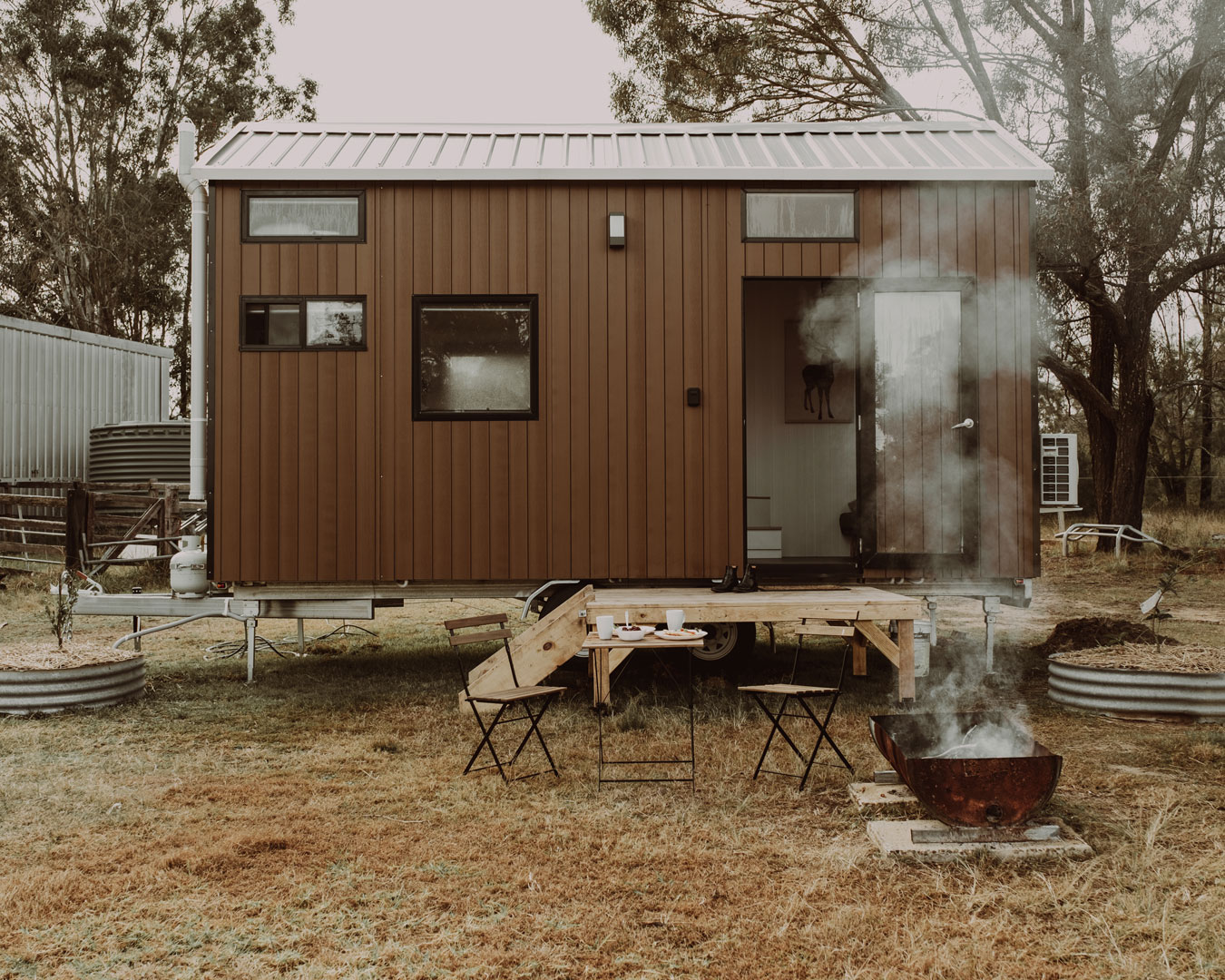 Less than two hours outside of Sydney, this Cessnock tiny house is just a couple of minutes out of Cessnock but surrounded by horse paddocks, bushland, and walking tracks. With a beautiful white wooden interior, the house has everything you need for a romantic and relaxing getaway, with a kitchenette, heating, cooling and a queen-sized bed above in a loft. And to help take a load off, you can pre-order a breakfast hamper for your mornings and a cheese platter, chocolates and wine for your evening. And, of course, being in the Hunter Region, you're never too far away from a few winery options if you're looking to explore vineyards and sample local vino.
Book your stay here.
Minima Domum | Kangaroo Valley
Travel time from Sydney: 2 hours 15 minutes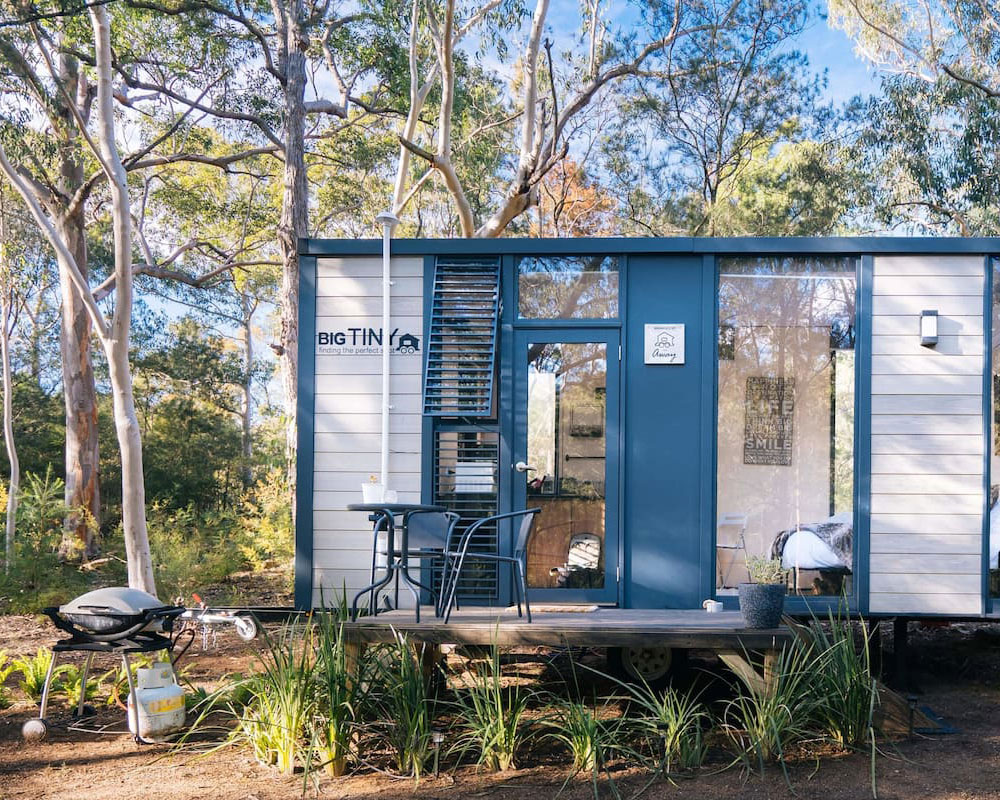 Another ideal secluded experience, this Kangaroo Valley tiny house sits on a 13-acre property surrounded by gum trees, casuarinas, paperbark trees, bushland creeks and plenty of walking tracks to explore it all. Out for a walk? Keep your eyes peeled for wildlife like wombats, kangaroos, wallabies and glossy black cockatoos. Just a five-minute drive from Kangaroo Valley village, the house is equipped with everything you'll need, from air-con and heating to a firepit and outdoor BBQ. Best of all, the owner and host, who lives elsewhere on the property, offers pre-booked massages if you're looking to take your relaxing getaway to the next level.
Book your stay here.
Tiny Inja | Kurrajong
Travel time from Sydney: 1 hour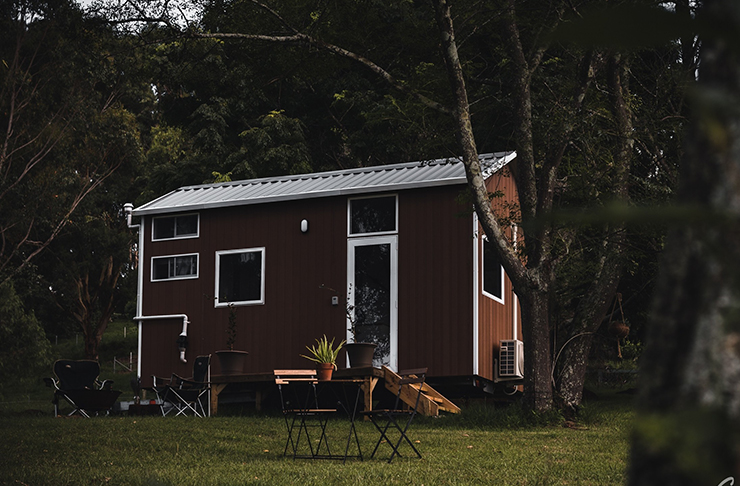 For moody vibes, rolling hills, bike tracks and bushwalks at your doorstep, Tiny Inja is the place for you. Located in a paddock that sits on five acres of farmland (close to the historic towns of Windsor and Richmond), this cosy place is easily one of the best tiny homes in NSW.
Here, you'll have a wealth of adventures right at your doorstep, including the Bilpin Cider Co cellar door for daily picnics, cider and live music on Sundays and the iconic gardens of Mount Tomah. You can also expect a whole heap of roaming farm animals on the property including the resident peacocks. Tiny Inja sports a queen-sized bed up in the loft and a sofa bed on the ground floor, which can be converted to a single bed size if you're keen to squeeze a third wheel in.
Book your stay here.
Little Magic | Coolangatta
Travel time from Sydney: 2 hours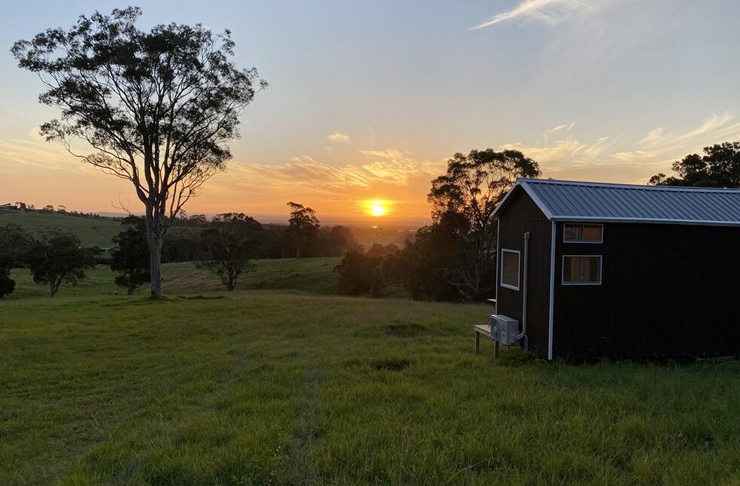 On the South Coast, it really doesn't get any better than Little Magic. With sweeping views of the Shoalhaven area and Shoalhaven River, this spot really does ooze a lot of whimsical air—especially at sunset. Featuring a kitchenette with pretty much everything you need to cook, including a portable cooker, cookware and even a mini-fridge, you can get your chef on, but if you're not up to the task, you can always opt-in for a breakfast hamper or a take-home veggie basket. When you're not filling up your time by taking in the stunning surrounds, hit a wine tasting tour at Two Figs Winery or relax to the max at Husky Face & Body Studio.
Book your stay here.
Big Yard Escapes | Moonbah
Travel Time From Sydney: 5 hours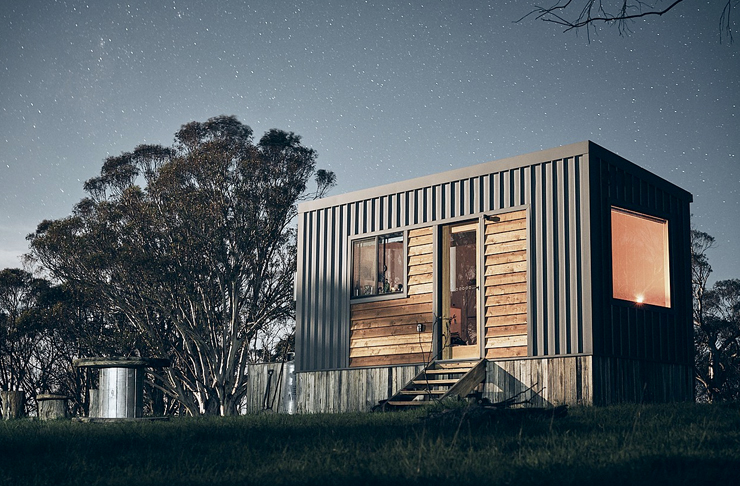 Further down south, you'll find the tiny house accommodation of Big Yard Escapes. This beauty is set on 63 acres of absolutely serene bushland, close to Jindabyne. Surrounded by huge gum trees and the Mowamba River, this winter escape is the perfect romantic getaway during the winter months. The off-grid tiny home is fully equipped with a bathroom, kitchen and reverse-cycle heating and cooling. Here, it's all about rolling out of bed or for breakfast in outdoor deck chairs or heading straight to the log fire pit with a steaming hot cup of joe in hand.
Book your stay here.
Malniri Park | Freeman's Reach
Travel time from Sydney: 1 hour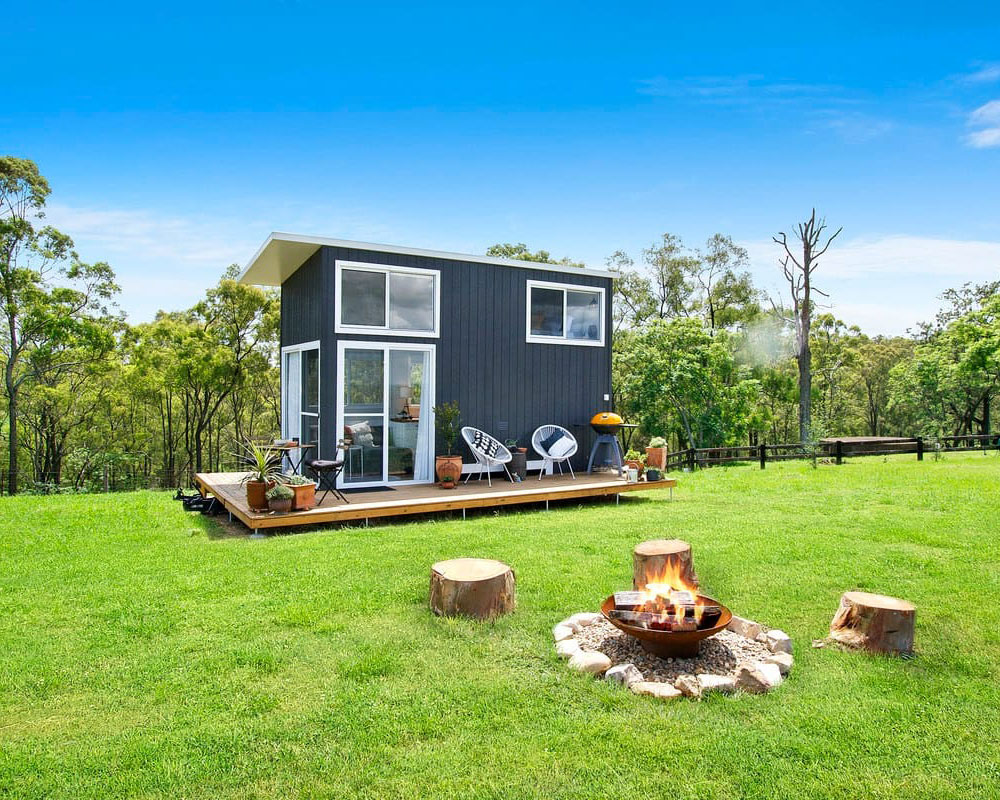 This is the tiny house escape to book if you don't have time to travel far—which probably means you need a getaway more than most. Just an hour outside the Sydney CBD, Malniri Park is a quaint little cabin located on an equine working farm overlooking the lowlands of the Hawkesbury River, surrounded by plenty of other farms and general tranquillity. The house comes with a fully equipped kitchenette, a flush toilet, air-conditioning and heating, a queen-sized bed in the above loft and a double-sized pull-out sofa bed if necessary. Sit outside by the fire pit, grab a chair on the tiny deck or have a lazy morning in bed–this little getaway is meant for relaxing.
Book your stay here.
Tallarook Tiny Home | Mogood
Travel time from Sydney: 4 hours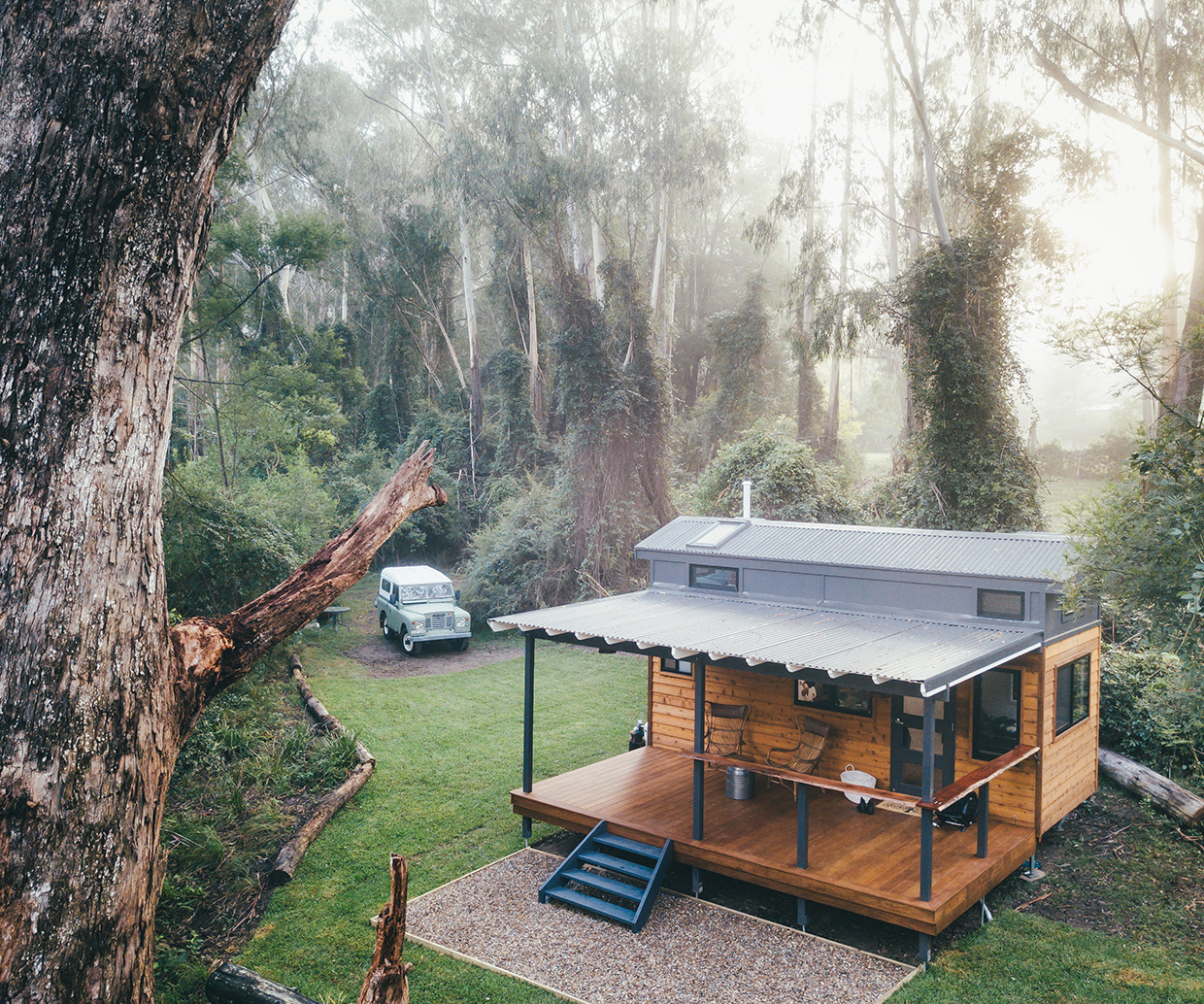 We mean, when tiny homes and personalised massage services come together—it'd be rude not to book a stay. Tallarook Tiny Home sits on 50 acres of well, fairytale bushland. Within a kilometre from the Clyde River, this actual gem mixes off-grid living with a touch of luxury and you might just want to move in permanently. Featuring an epic outdoor deck (perfect for your sundowner session), a Weber BBQ, a steaming hot shower and a breakfast bar that overlooks the outdoors, you'll be hard-pressed to find a tiny home in NSW that hits the same.
If you're keen to go exploring (and you will be), you can head for a walk down the river, hit the local bakery for a selection of jams, fresh farm eggs and bread or grab a paddle and go for a kayak. To wind down even more, Tallarook also offers up full-body relaxation massages using essential oils and body butter, which can all be done on the outside deck so you can lap up all the sounds of nature too.
Book your stay here.
Robinson | Wyee
Travel time from Sydney: 1 hour 30 mins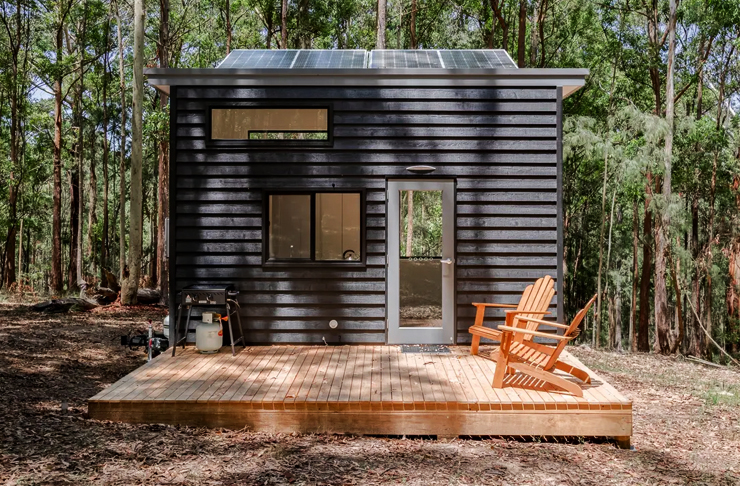 For a beautiful forest location, you can't go wrong with this eco-friendly tiny house located near Lake Macquarie. Named after Robinson Crusoe, it's all about adventure here. Bring your own food and drinks and the hosts will have everything else provided. And yes, this is completely off-the-grid, with no Wi-Fi and only one USB charger available.
Book your stay here.
Kimo Eco-Huts | Nangus
Travel time from Sydney: 4 hours 30 mins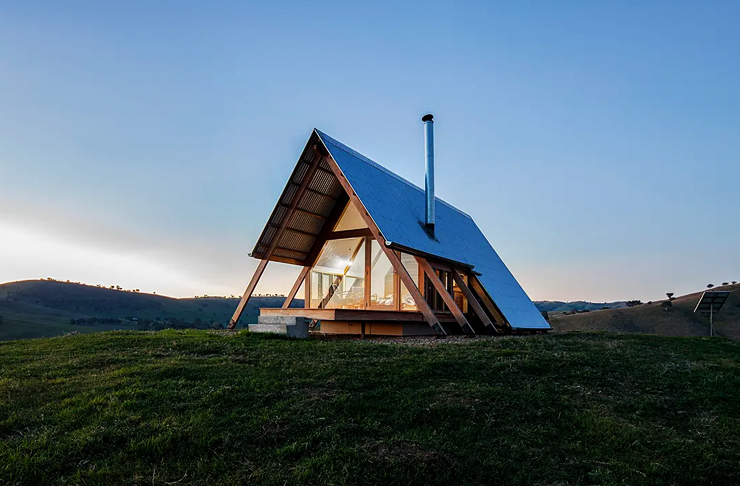 Trust us—this one is worth the drive. Located on a scenic hill with 360-degree views of the Murrumbidgee River flats and the Kimo Valley just 10 minutes outside of Gundagai, expect no neighbours around you and crystal clear skies. Kimo Eco-Huts are located on Kimo Estate—a 7000-acre working sheep and cattle farm, and the oldest farm in the region.
There are three A-frame huts to choose from and each one is totally secluded with a stunning shower, a one killer view and, yes, breakfast is included.
Book your stay here.
6Sixteen The Banks | Agnes Banks
Travel time from Sydney: 1 hour 15 mins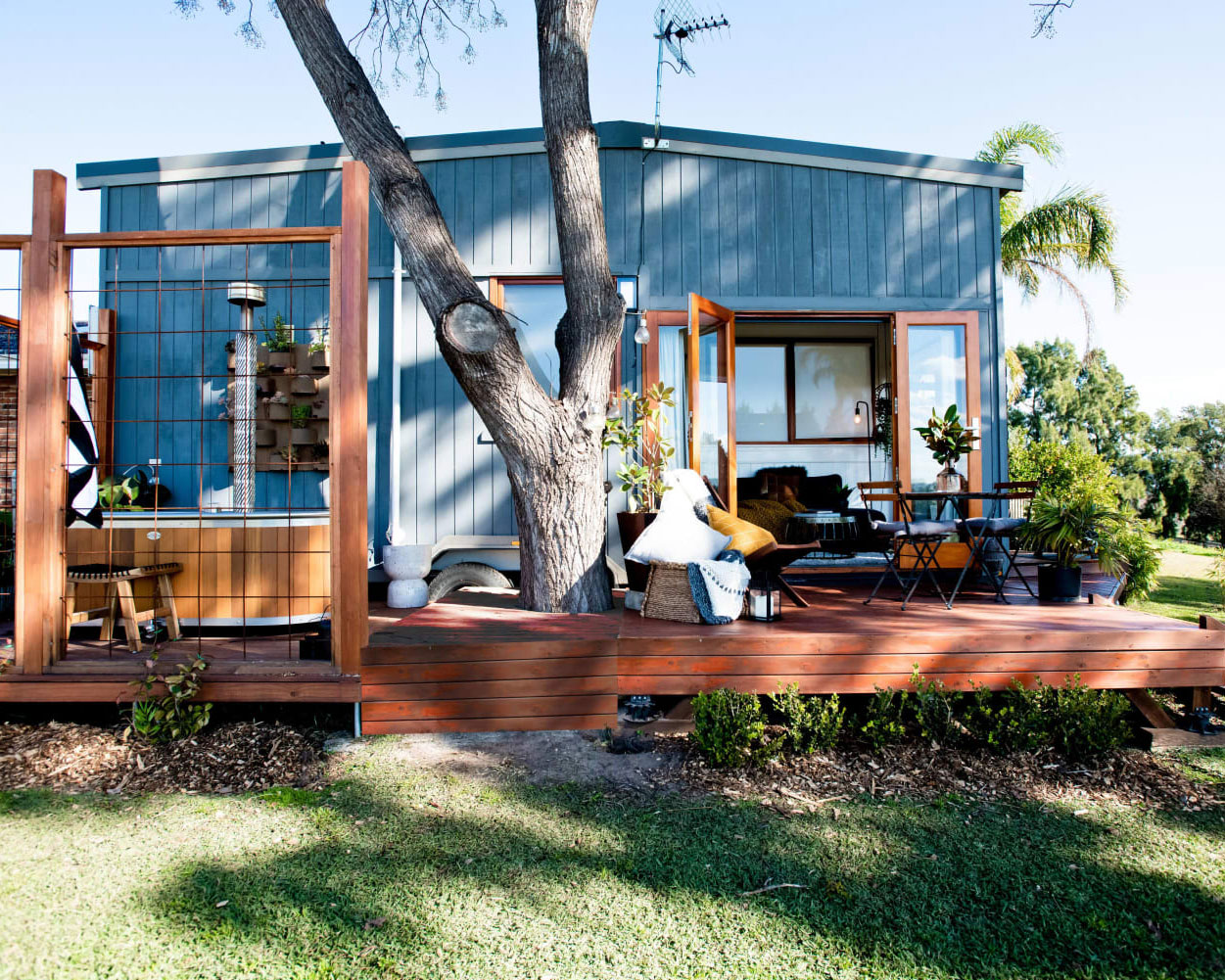 Ready yourself for an open fire pit to roast your marshmallows at night. You'll be sitting under the stars with a spectacular view of the surrounding areas. 6Sixteen The Banks is a loft-style gem planted on five acres with the Blue Mountains as its backdrop. And, big bonus, if you're feeling peckish in the afternoon, just ask for a cheese platter and wine and it shall appear.
Book your stay here.
Kindled | Oberon
Travel time from Sydney: 2 hours 45 mins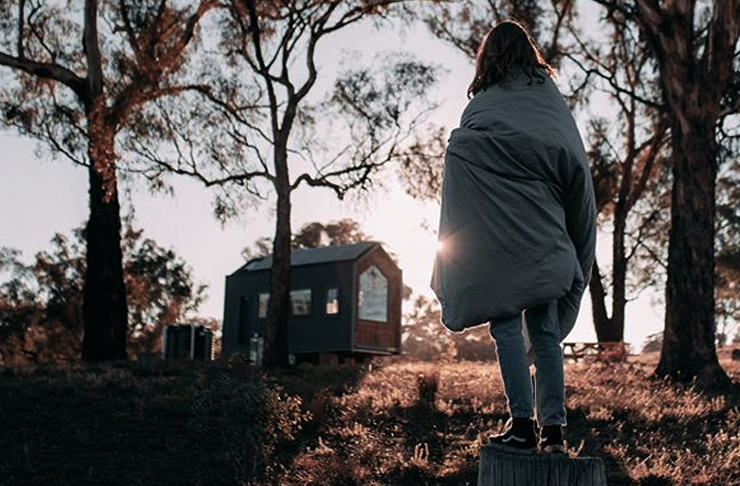 This tiny house is located within a pristine off-grid location in the Oberon Shire, beyond the beautiful Kanangra Boyd National Park. Waking up to the tranquil sounds of nature, this is your ultimate escape from the city. Kindled overlooks a large river and 250 acres of gum-tree conservation. You'll spot some kangaroos, wombats and native birds just outside of your retreat.
Book your stay here.
Coralie | Southern Highlands
Travel time from Sydney: 2 hours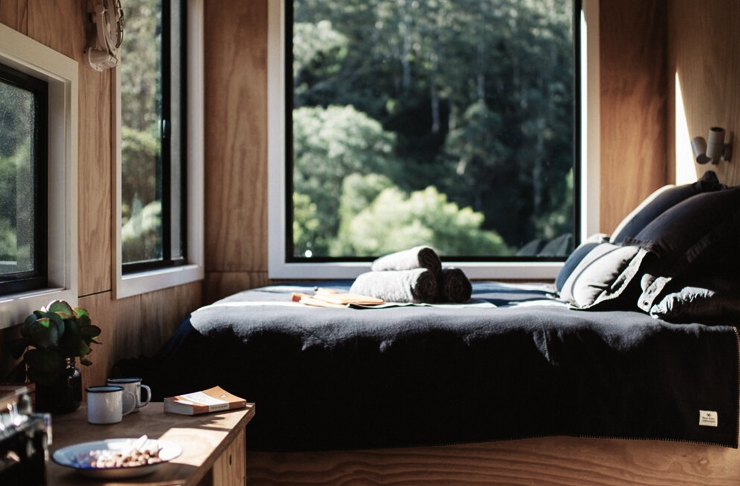 Brought to us by the Grant twins, Coralie is just one of many tiny houses part of the Unyoked clan. This gem is tucked at the bottom of its own private valley facing an epic forested mountain. Watch out for wandering wombats. Their Coralie cabin includes bedding, towels, a picnic table, hot shower, composting toilet, gas stove, bar fridge and solar power.
Book your stay here.
Need more ideas? Check out the best Airbnbs in NSW for all your last-minute summertime getaways.
Image credit: Airbnb, Tiny Away, Airbnb, Airbnb, Tiny Away, Tiny Away, Naked Cubby Co, Tiny Away, Tiny Away, Tiny Away, Tiny Away, Tiny Inja, Little Magic, Big Yard Escapes, Tiny Away, Tullarook, In2thewild, In2thewild, Kimo Estate, Big Tiny, Kindled, Unyoked
Editor's note: Urban List editors independently select and write about stuff we love and think you'll like too. Urban List has affiliate partnerships, so we get revenue from your purchases.