Although there are plenty out there, few reign supreme, perhaps it's the uniqueness, or possibly the location and the stunning vistas they provide, whatever it may be these are the ones that shine above the rest.
Before you think about locking in that next getaway, take a look at some of the best Airbnbs in Victoria for 2023:
Beekeepers Cape Liptrap
TARWIN LOWER
Looking like something straight out of a Bond film, Beekeepers is majestically positioned amongst the hills on its own 640-hectare private national park and looks out over the coast of Cape Liptrap. The house is immaculate and right up there for the best Airbnb in Victoria, it has a wide lounge dining area with wooden floors, as well as a pool that provides a massive panoramic view out onto the beach below. This is a truly unique stay, the property has a three-kilometre driveway through beautiful bushland and even has its own private stretch of beach. It's also literally off-the-grid, operating purely off solar power.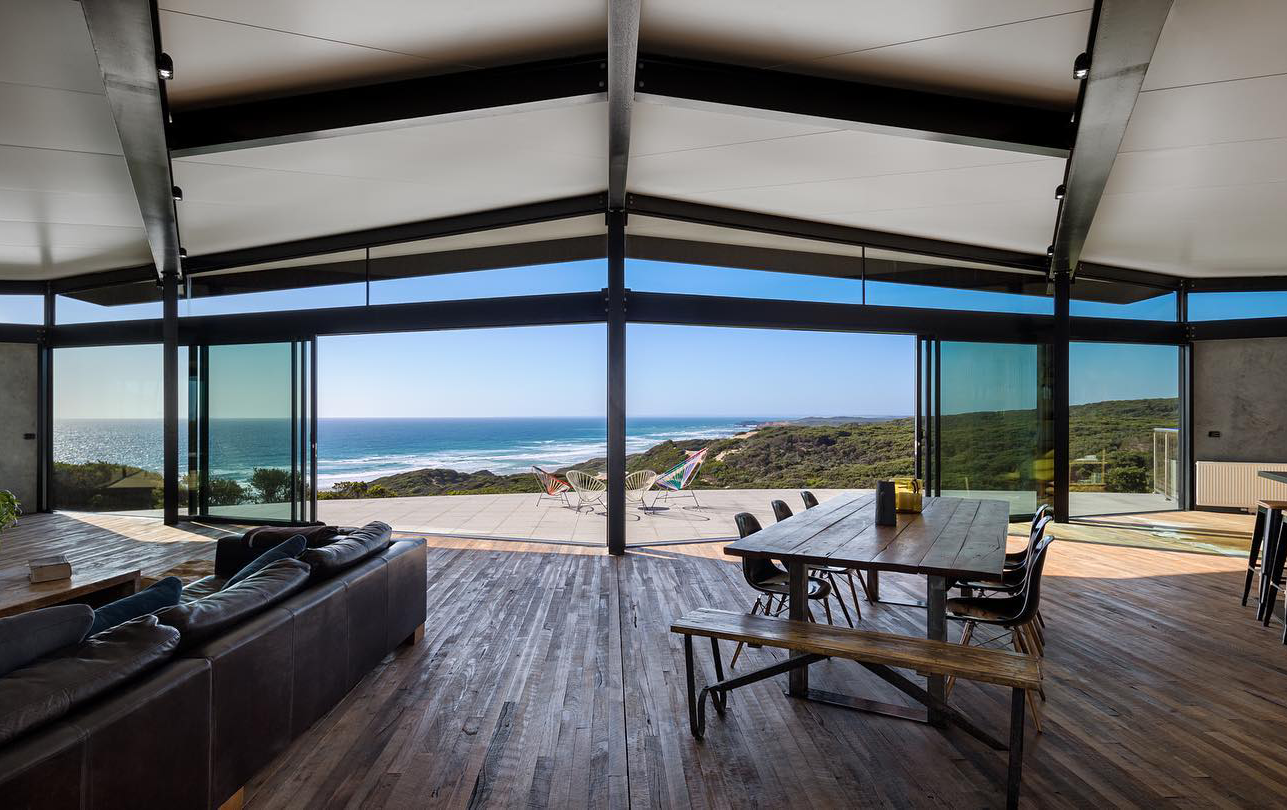 Sea For Miles
RYE
The perfect mix of a converted artist studio and Aussie beach culture, Sea For Miles is an open-plan stay that you just have experience. With the sun beaming in through the floor-to-ceiling windows that wrap around the space it has a seriously laid-back and slow feel to it. Located down in Rye on the southern end of the Mornington Peninsula, Sea For Miles provides plenty of comforts with chic modern design touches like mid-century furniture, ceiling lamp fittings, and exposed steel beams. Idyllic as an escape for two with a free-standing bath, spectacular garden views through the French doors, and daybeds throughout.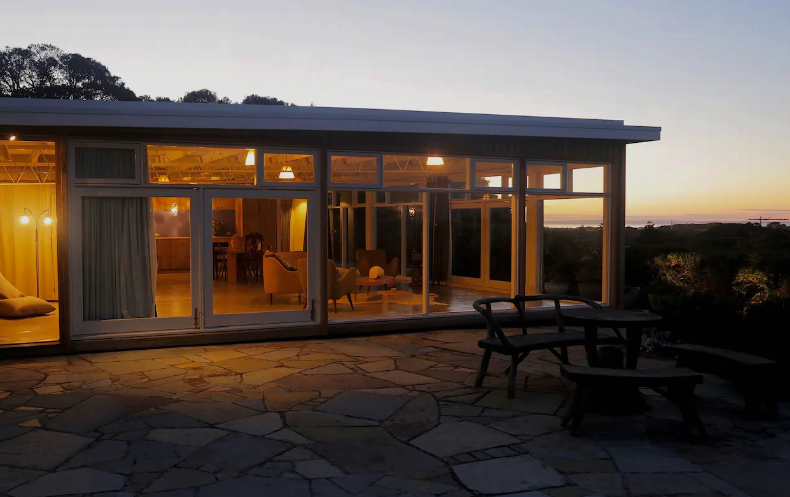 Yarra Valley Homestead
HODDLES CREEK
Nestled among the bushland reserve of Hoddles Creek lies this dreamy hidden cabin. Secluded, serene and an outdoor spa; it definitely ticks all the boxes. The a-framed house is lined with ceiling-to-floor windows, making the most of the scenic Yarra Valley views. For an even better glimpse, step outside onto the outstretched timber deck and spend a night curled up by the fire pit. Dip your toes in the spa built into the deck and relax to the sound of the native Australian bush that surrounds the property.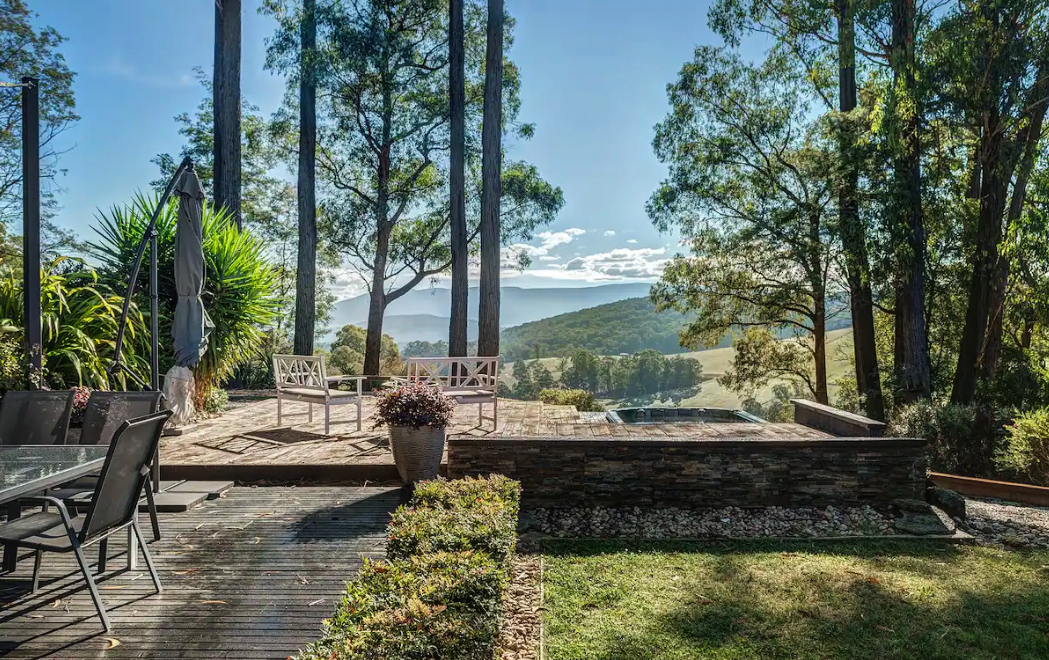 Sky Pod
CAPE OTWAY
The Sky Pod is maybe the most picturesque romantic getaway in Victoria. The off-grid pod has floor-to-ceiling windows surrounding the queen size bed for you and your significant other to catch the sunset over the ocean and stargaze throughout the night. Here you can take movie night to the next level with the 100-inch projector that you can enjoy from the warmth of your bed. This secluded hideaway means you can appreciate each other's company from the privacy of your pod while being just a stroll away from the Great Ocean Walk, Beach Station and Rainbow Falls.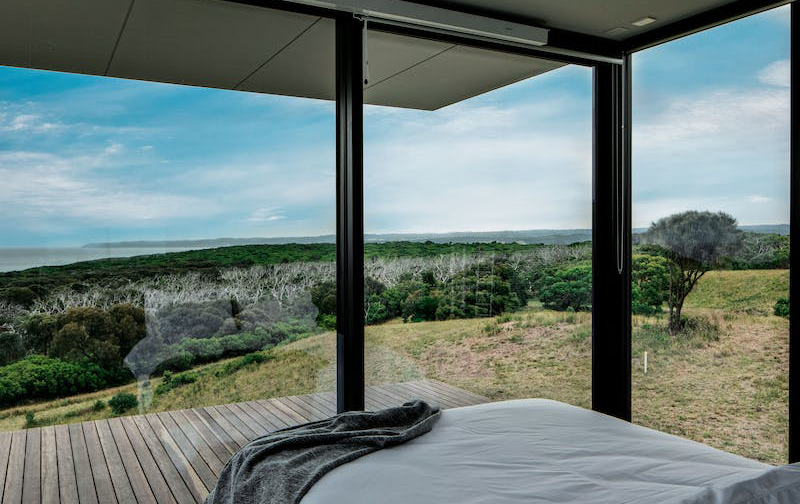 Lakehouse Estate
NEWHAVEN
How often can you and 14 of your closest pals secure your own private lake? Well, this Phillip Island located stay will give you just that. Set on a three-acre property Lakehouse Estate is a remarkable stay and a contender for the best Airbnb Victoria has on the go, it's even equipped with its own basketball court, trampoline, and gym. The house is only a short drive from Phillip Island's main drag but has everything you'd need to stay parked up including a lengthy dining table, fireplace, and front bedrooms that look out onto your own secluded body of water.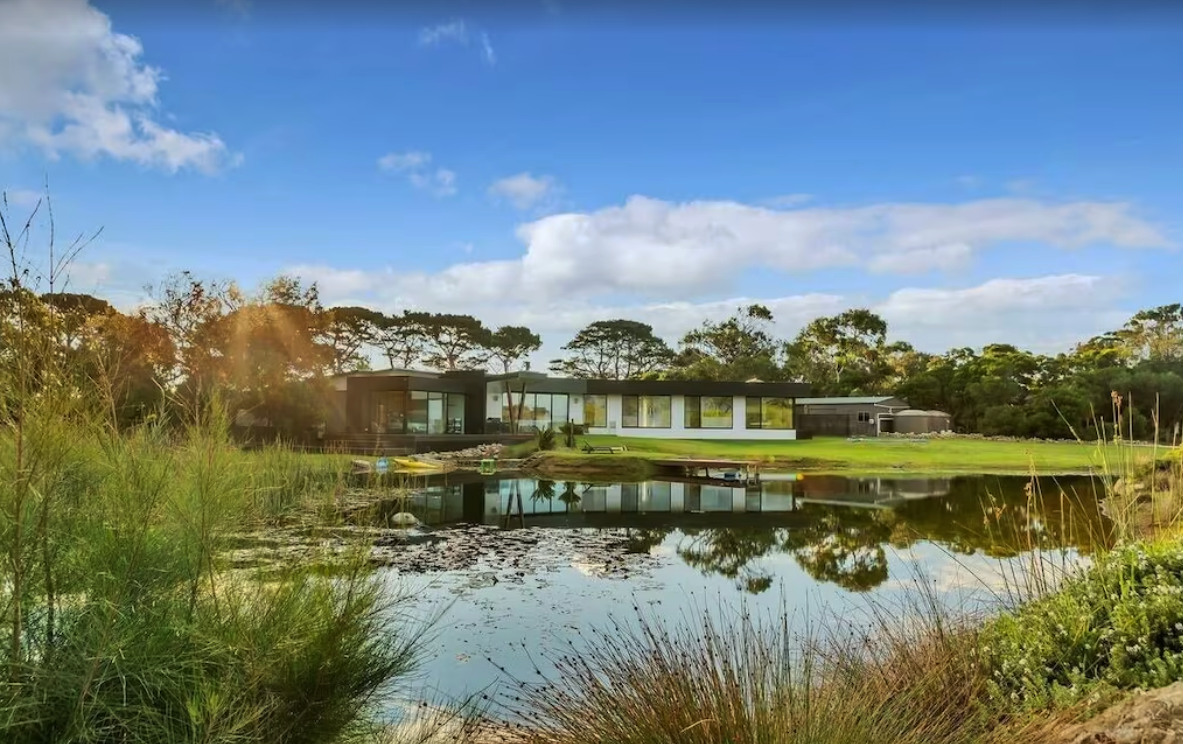 Billabong Falls
OLINDA
You know what makes this one of the best Airbnbs in Victoria? Your own billabong and waterfall just a few feet away from your bedroom. Now, this might sound a little lofty but hang tight, just under an hour out of town in the lush bush surroundings of Olinda you'll find Billabong Falls, quite possibly one of the best Airbnbs in Victoria. Surrounded by the breezy ferns of the Dandenong Ranges, Billabong Falls gets its name from the resident natural billabong and waterfall that circle the property. The tranquil body of water has been expertly landscaped with curving boardwalks and rock walls highlighting the views of the sunlit valley below. And yes you can swim in it.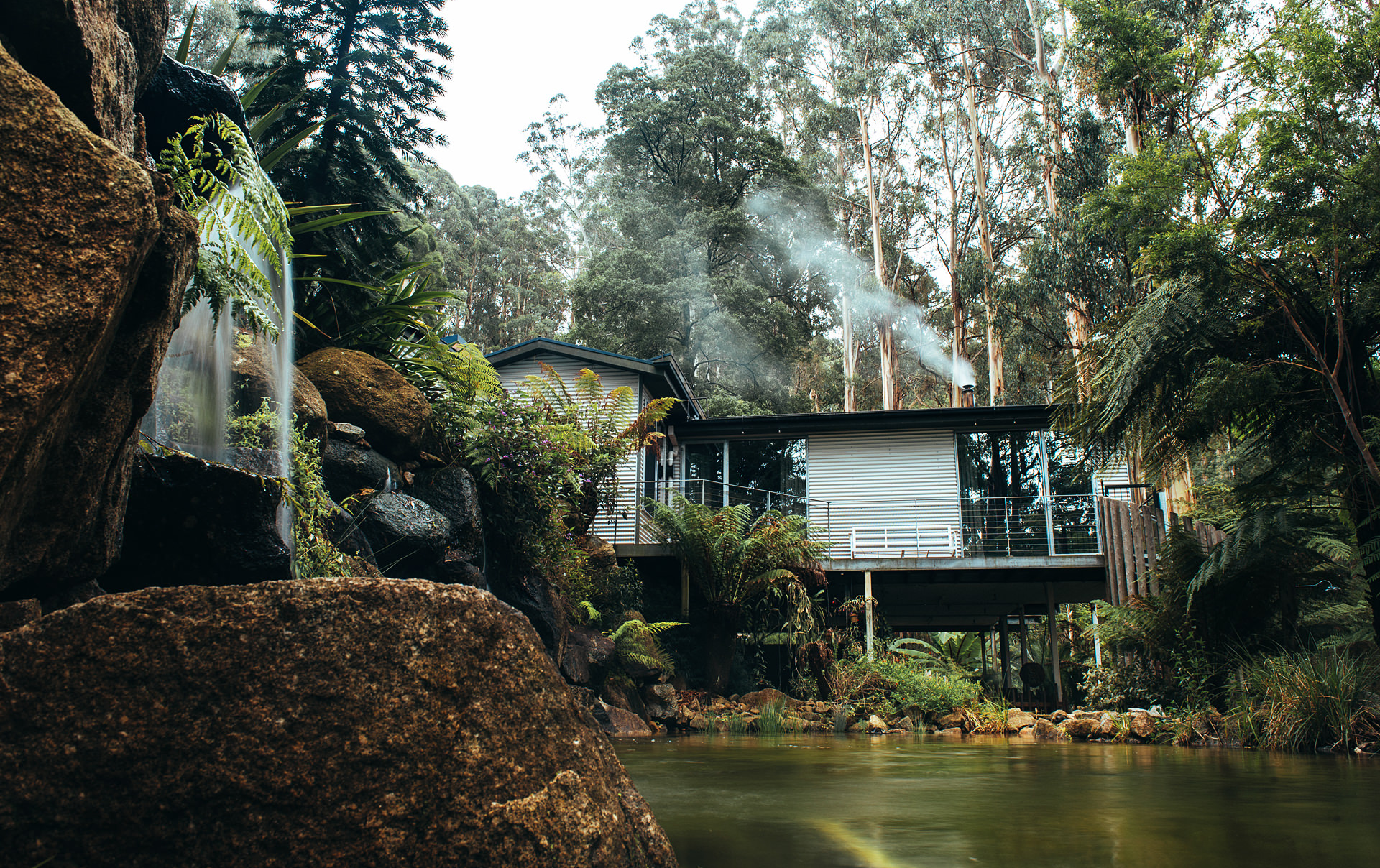 The Bach
ST ANDREWS
If you're after the best Airbnb in Victoria, this pool stay that's also just a stone's throw away from the beach, look no further than The Bach. You can laze around the impeccably aesthetic heated swimming pool or head down to St Andrews or Rye beach for an ocean dive. The home comes complete with a sun-soaked alfresco deck featuring poolside chairs, a hammock amongst the trees and an outdoor fireplace, making it the ultimate summer oasis. The Bach can accommodate a crew of up to 6 book your pool and oceanside stay here.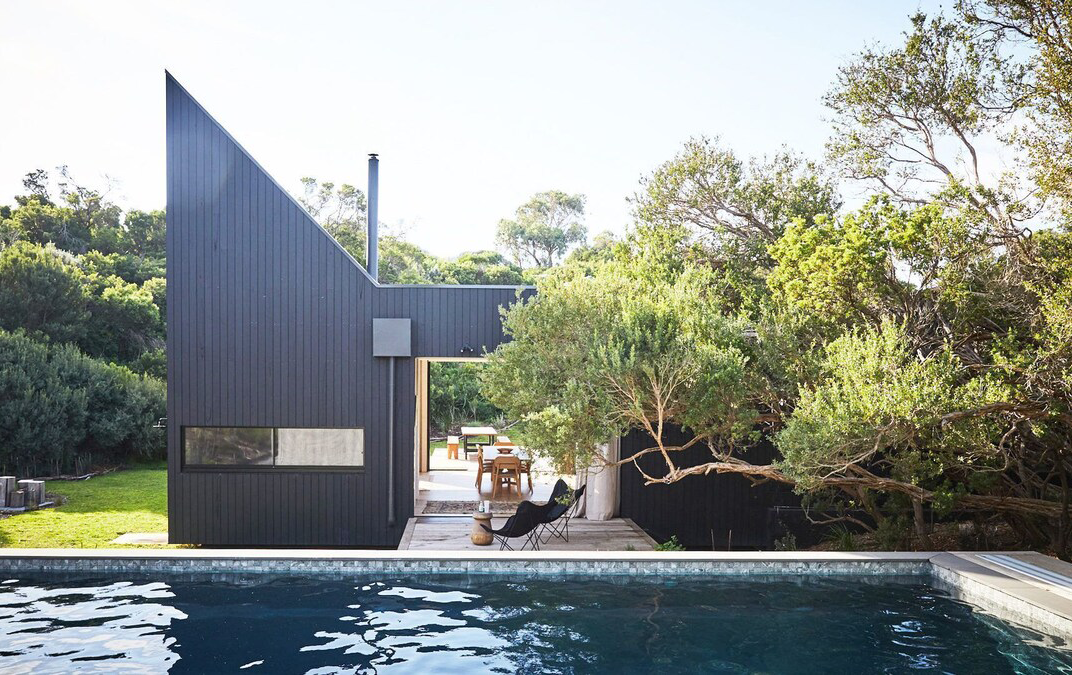 Liptrap Loft
WALKERVILLE
Liptrap Loft is the quintessential Victorian getaway, set amongst the leafy surroundings of South Gippsland just thirty minutes from the stunning Wilsons Promontory, this house has been crafted with recycled tin and timber, and keeps you comfy and cosy against those wintery elements. It has retro features like a 1960's style oven and stove but its crown jewel is the outdoor Japanese bathhouse with a tiled tub with exposed pipes and views of the surrounding valley. The entire house has an elevated sense of design, with second-hand materials and furniture it's a place to escape with plenty of soul.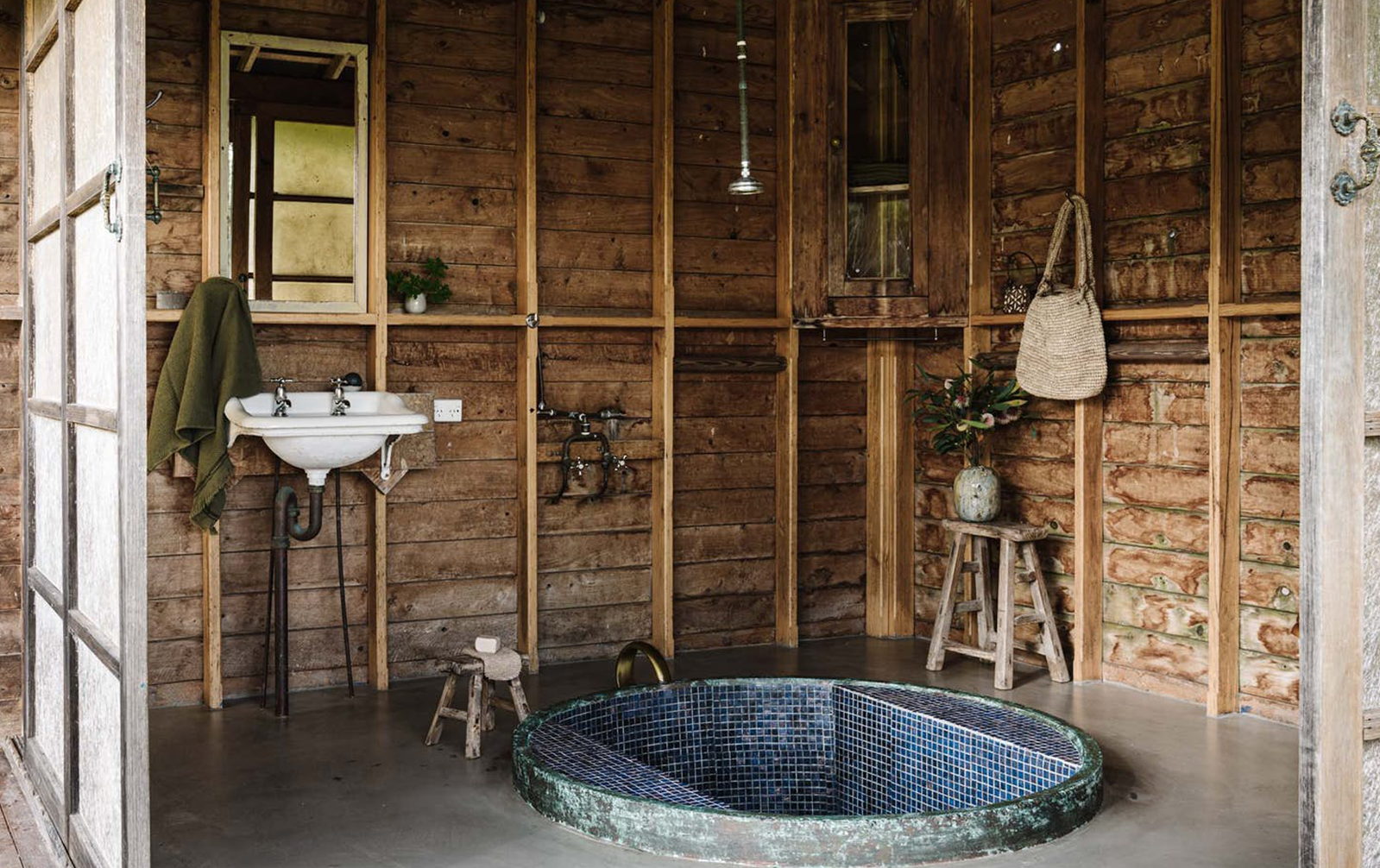 Yarra Valley Vineyard Cottage
GRUYERE
This Yarra Valley Cottage in the town of Gruyere (yes just like the cheese) is a ripper getaway for those looking for some R&R as well as a little grapevine action. The perfect retreat after a hard day of wine tastings this rustic farmhouse with weathered timber is ideal for taking things slow. A big outdoor antique tub with copper taps sits on the wooden deck and looks out onto green hills in the distance.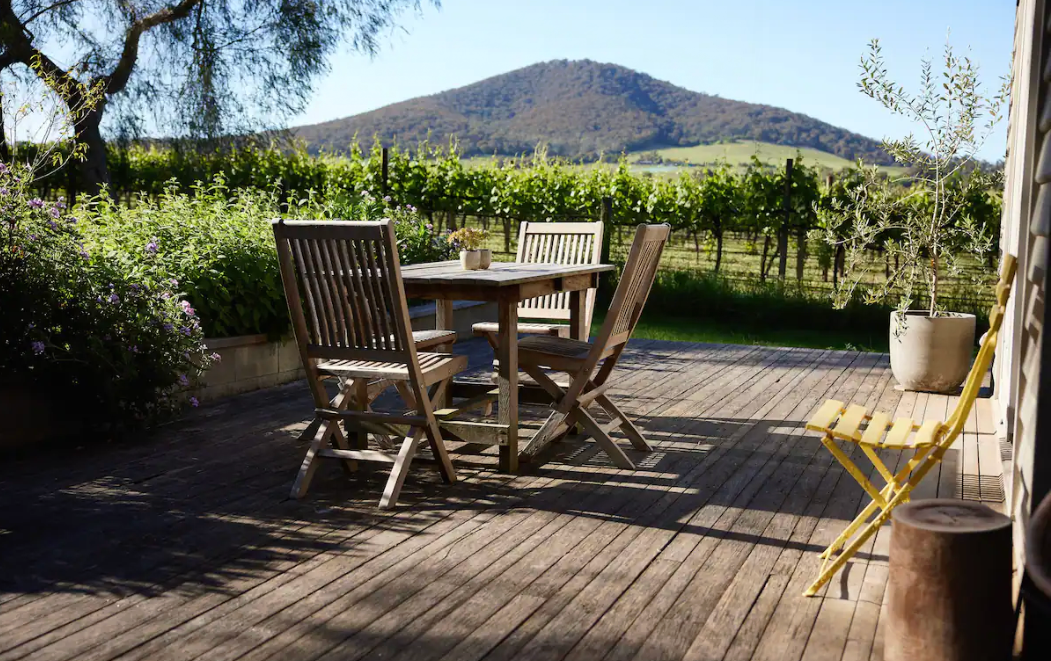 Check out more of the best in Victoria here:

Best Beach Houses
Best Romantic Stays
Best Stays With Outdoor Baths and Hot Tubs
Best Tiny Home Stays
Best Airbnbs Melbourne
Editor's note: Urban List editors independently select and write about stuff we love and think you'll like too. Urban List has affiliate partnerships, so we get revenue from your purchase.
Image credit:
Cape Schank | Tasha Tylee
Beekeepers | Roger Thompson
Billabong Falls | Jaccob McKay