Nothing beats ditching the big smoke in the summertime for a stint down the coast. Packing up the car and heading south is an integral part of Australian culture; recharging the batteries and getting some much-needed sun and rest. Victoria has a rich coastline with some of the most unique beaches and bays in the world; from the long-stretching Great Ocean Road to the crystal blue waters of Mornington Peninsula, and the remote stretches of Shipwreck Coast.
To experience the ocean to the fullest there's no better way than pulling up stumps at a beachside shack and taking all in that sea air. Here are some of the best beach houses in Victoria for 2021:
The Good Place
BALNARRING
There's plenty to like here. The Good Place is located on the Mornington Peninsula's less travelled Western Port Bay side in Balnarring. This dreamy little weatherboard shack is the perfect retreat, surrounded by the lush native bushlands, you've got the coast with a sprinkling of country-feel just an hour away from town. Adorned in serious 70s charm with beach umbrellas, plants, pink cushioned cane furniture, and a motley arrangement of framed artwork throughout; The Good Place is for the discerning beach enthusiast who prefers their stay with a little charisma.
Retro Beach Vibes
LORNE
A real haven for Melburnians over every holiday period, Lorne is typically flooded over the summer months. There's no surprise as to why with its beautiful bay that wraps into the point with the looming bushlands above. Retro Beach Vibes is set right in town but is far away enough to escape the hustle. Its chic worn-timber exterior has serious beach-shack energy and is decked out with mid-century furniture and quaint decorations like vintage glassware and artwork. Views are primo from the deck as well as the master bedroom; you can wake up with the ocean just a glimpse away.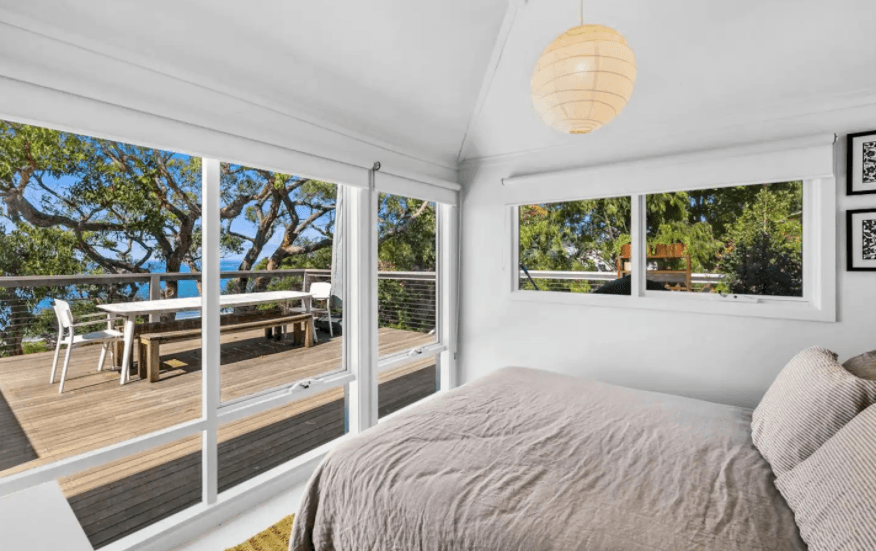 Seaspray
PHILLIP ISLAND
Cape Woolamai on Phillip Island is a true diamond in the rough, typically the lesser-populated stretch of the Island's coast due to its rugged ocean beach. This raw and purely Victorian pocket of Australia is filled with natural beauty and is a paradise for any surfing enthusiast with typically quiet lineups. This double-storey haven, just a stone's throw from the water is one of the best beach houses in Victoria. Seaspray has that real rustic beach feel that you want from your accommodation, it doesn't feel forced. The organic collection of bohemian-style furniture amongst the wooden panelled and white-washed walls has a real recharging aurora. There's even a hammock on the deck perfect for an afternoon kip.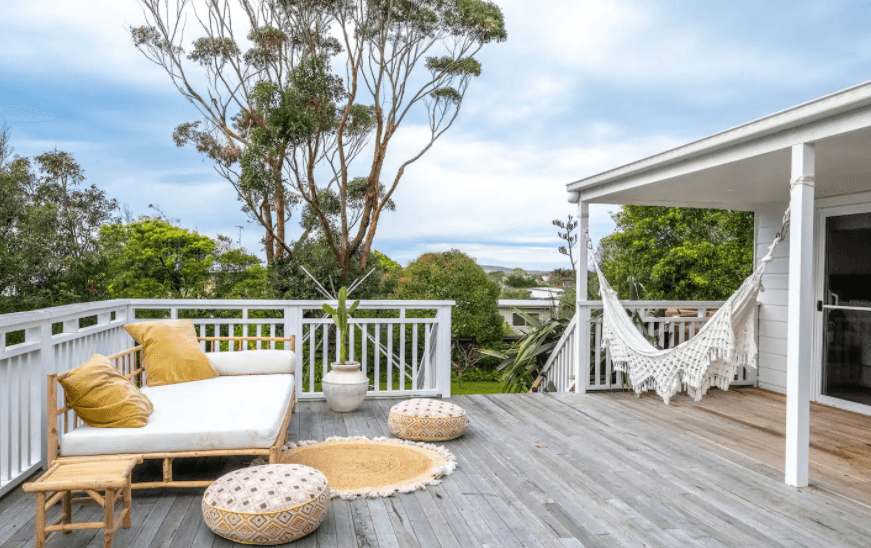 Sea For Miles
RYE
The perfect mix of a converted artist studio and Aussie beach culture, Sea For Miles is an open-plan stay that you just have experience. With the sun beaming in through the floor-to-ceiling windows that wrap around the space it has a seriously laid-back and slow feel to it. Located down in Rye on the southern end of the Mornington Peninsula, Sea For Miles provides plenty of comforts with chic modern design touches like mid-century furniture, ceiling lamp fittings, and exposed steel beams. Idyllic as an escape for two with a free-standing bath, spectacular garden views through the French doors, and daybeds throughout.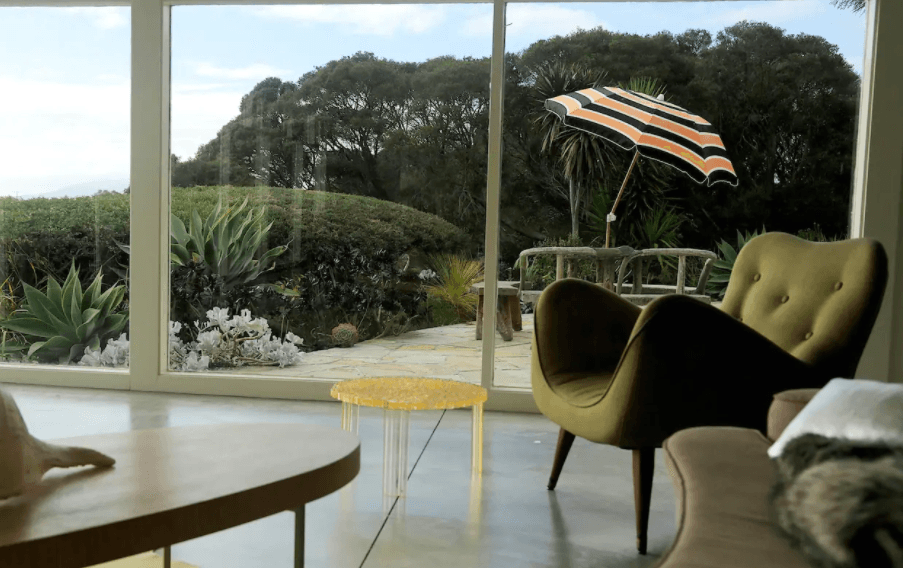 Tulum
BALNARRING
You've surely come across the incredibly aesthetic Tulum in your searches for a getaway. The pristinely curated stay has been architecturally designed and is the very definition of beach-chic. Located in Ballnarring on the Mornington Peninsula, Tulum provides an escape like few others; nestled conveniently in one of Victoria's best wine regions you're only a short drive to award-winning wineries and cellar doors. The black-painted exterior opens up into a light-filled white-washed oasis, where each feature has been cleverly considered; crafting a perfect contrast of balanced shades and colours to keep you at ease.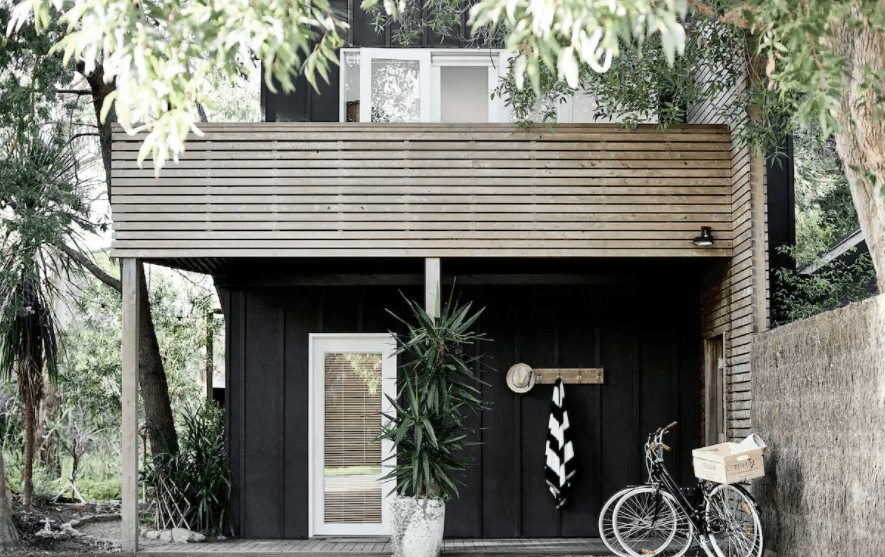 Longmeadow Estate
TYrENDARRA
Coming in hot with serious Hampton-esque style, Longmeadow Estate is a sprawling property located in Tyendarra. This stunner of a listing is smack bang in the middle of Shipwreck Coast, situated between two of Victoria's most iconic coastal towns; Port Fairy and Portland. The ten-acre property is full of sprawling green grass and the house accommodates up to 14 guests, with long couches, dining rooms and even a fireplace for those frosty nights. Longmeadow is a complete retreat and provides the perfect backdrop for reconnecting with nature. And the best part? Here, you're only 300 metres walk from the beach via a private track. Is it the best beach house in Victoria? We'll let you decide.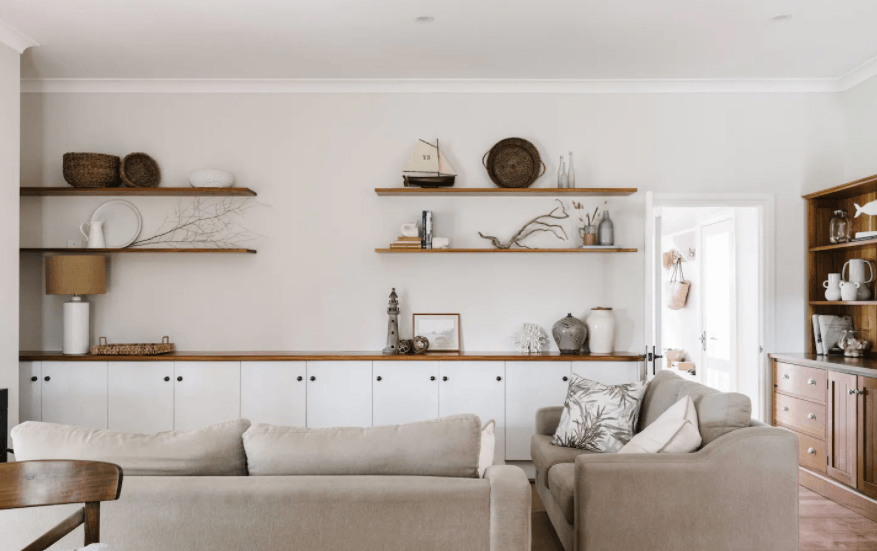 Know where to find the best beach house in Victoria? Let us know.
Did you see you can stay in this 100-year-old French castle in Victoria's wine country?
Image credit: supplied (Airbnb)