There is a range of different ways to get out of the city and into Victoria's amazing regional areas. You can hit up some cottages and cabins to get away from it all, you can go camping, you can find an Airbnb that's up your alley—but better yet, why not stay in a tiny house, one that is probably off-grid.
Tiny Houses are dotted throughout Victoria's regions and can be found via platforms like Unyoked, Shacky, Riparide, and, of course, Airbnb.
Here are some of the best tiny houses Victoria has to offer in 2022:
Stella The Stargazer
GIPPSLAND, GREAT OCEAN ROAD, GRAMPIANS
Now, this is one with some serious oomph behind it, Stella The Stargazer is a limited-edition tiny home getaway touring the state. The stunning off-the-grid stay has been designed by Ample and features a roll-out sleeping platform so you can vistas of the night sky, a glass louvres shower, a chic woodfire-centric kitchen and even a private deck with a firepit for those long evenings. Inside there's a curated hamper and wine pack that centres around local products and native ingredients, hand-selected by chef Alejandro Saravia (Victoria, Farmers Daughters). Stella will be pulling up stumps at three premium Victorian destinations in Gippsland, Great Ocean Road and the Grampians from early October until May next year. Head over here to book in now.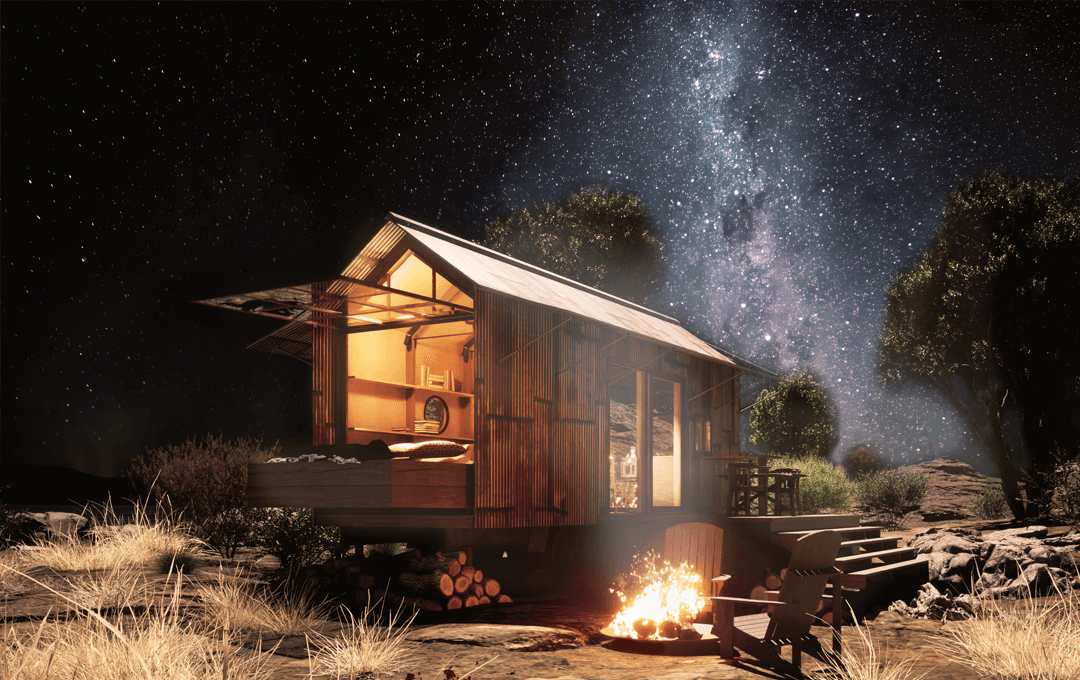 Yogie
PYRENEES MOUNTAINS
Unyoked have a huge range of tiny houses all over Victoria (and NSW), and their Yogie cabin is one of the best. The house faces a mountain range and sits on the border of a national park. As with all Unyoked spots, Yogie has bedding, towels, solar power, a picnic table, fire pit and more included to make sure your stay is as good as it can be. There are some great wineries to check out in the region such as Blue Pyrenees Estate, Mount Avoca Winery, and more. Book Yogie here.
Alkira Eco-Glamping Hut
EMERALD
Looking like something straight out of a fairytale, this dreamy hut called Alkira is located on a sprawling 40-acre property in the Dandenong Ranges. Just an hour's drive from Melbourne, this secluded paradise will see you soaking up the natural surroundings with the hut's outdoor kitchen and ample seating areas perfect for kicking up your feet and diving into a classic book. And while it's tempting to spend all day in the straw-bale yurt, the property is on the doorstep of loads of must-see places like nearby Emerald Lake and the Kokoda Track Memorial Walk. Book your next vacay here.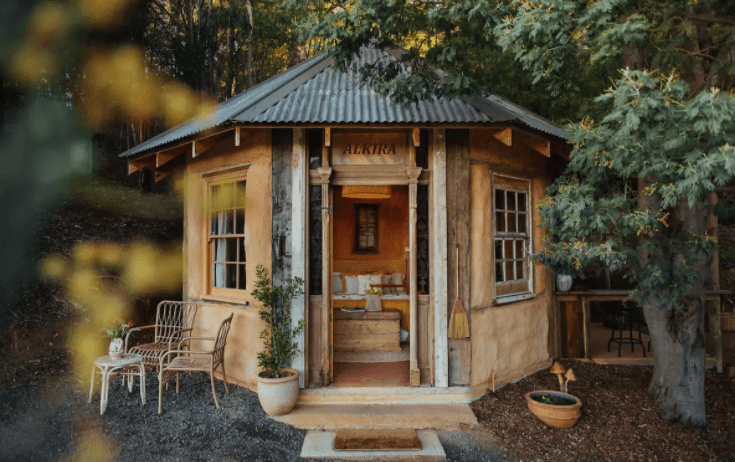 The Olive Grove
HIGH COUNTRY
Victoria's High Country should be on everyone's must-visit list come autumn and winter. The lush area transforms throughout the seasons turning from green to orange to brown before doing it all over again. The Olive Grove by Shacky is set unsurprisingly in an olive grove. The shack has room for two people, but unfortunately, no dogs are allowed on the property. The shack is completely off-grid but does have gas available to run the two-burner cooktop and inbuilt shower. Book The Olive Grove here.
If you're heading up to the High Country, check out our tips on things to do in Bright.
Mornington Peninsula Tiny House
RED HILL
A tiny house and a tiny drive considering the bush surroundings. This quaint little stay is an hour away from the city; although the farm-style surroundings of Red Hill are set to help you feel like you're really getting off the grid. With one of Victoria's premier food and wine regions at your doorstep, this stay is worth its weight in gold; a homely refuge after several wine tastings and sitting through a degustation at any of the premium cellar doors in the area. Set on a sprawling property there are spectacular views of native bush and the stay is loaded with everything you could need including a hammock for that afternoon sun siesta. Book it here.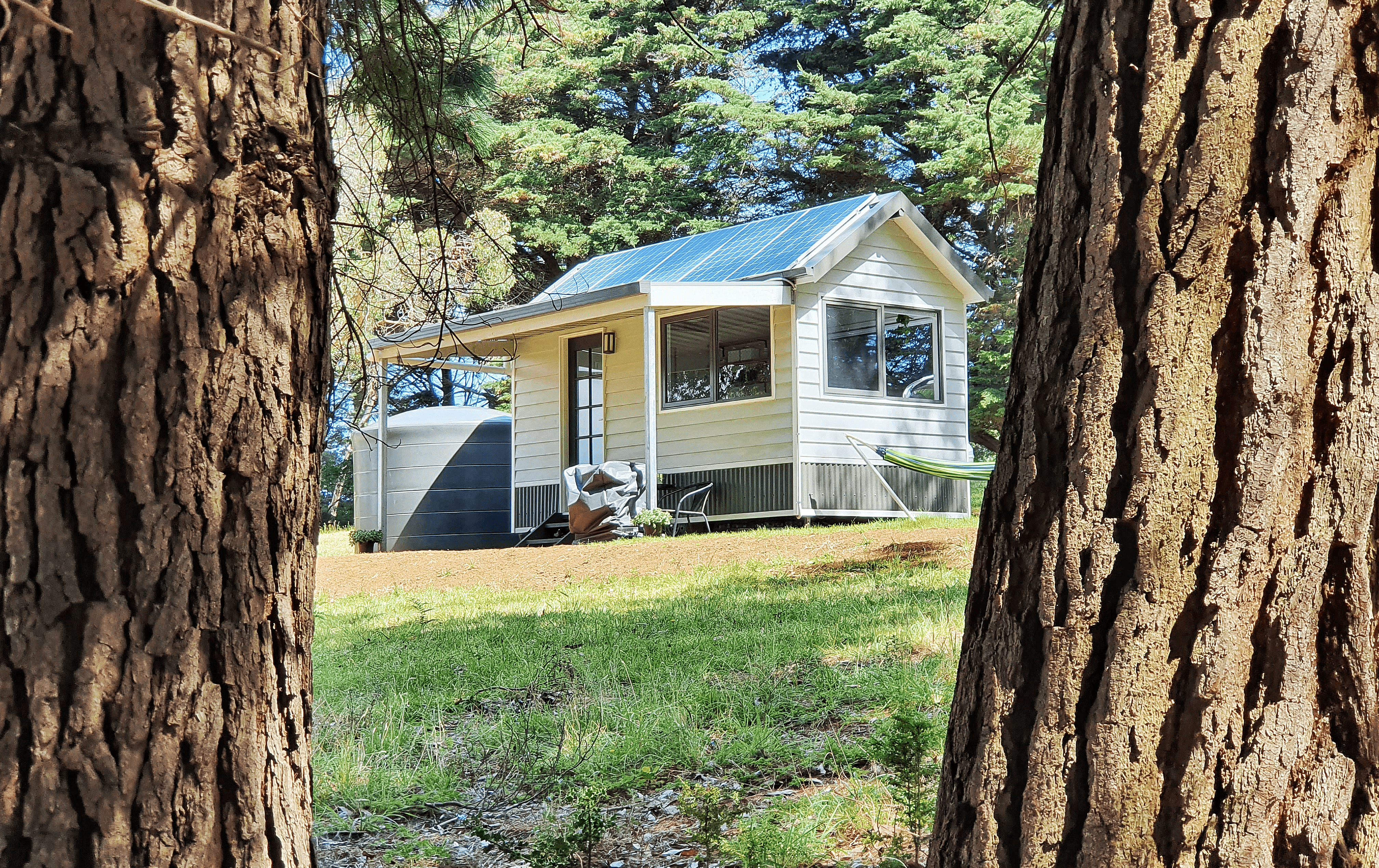 Harper
MACEDON RANGES
Take in everything the Macedon Ranges has to offer while basing yourself in this tiny house called Harper. This stay is bigger than the other tiny houses in Victoria we've profiled so far, sleeping four people comfortably. This tiny house comes with everything you'd expect, from bedding to a stovetop, a BBQ, fire pit, and more. The house has amazing views of the rolling hills of the region and has easy access to the abundance of wineries, cafes, and breweries in the Macedon Ranges region. Book Harper here.
Yarra Valley Tiny House
CHUM CREEK
Just five minutes drive from Healesville this incredibly idyllic stay in the Yarra Valley is one to lock in for that special getaway. Set on its own private property enjoy the lush native bush and ranges that encompass the eco-friendly stay. Easily one of the best tiny houses in Victoria the inside is full of charm with rustic white-washed walls and polished timber features; The queen-sized bed is nestled under the window so each morning you can fling them open and take in the morning breeze. Lock in your stay here.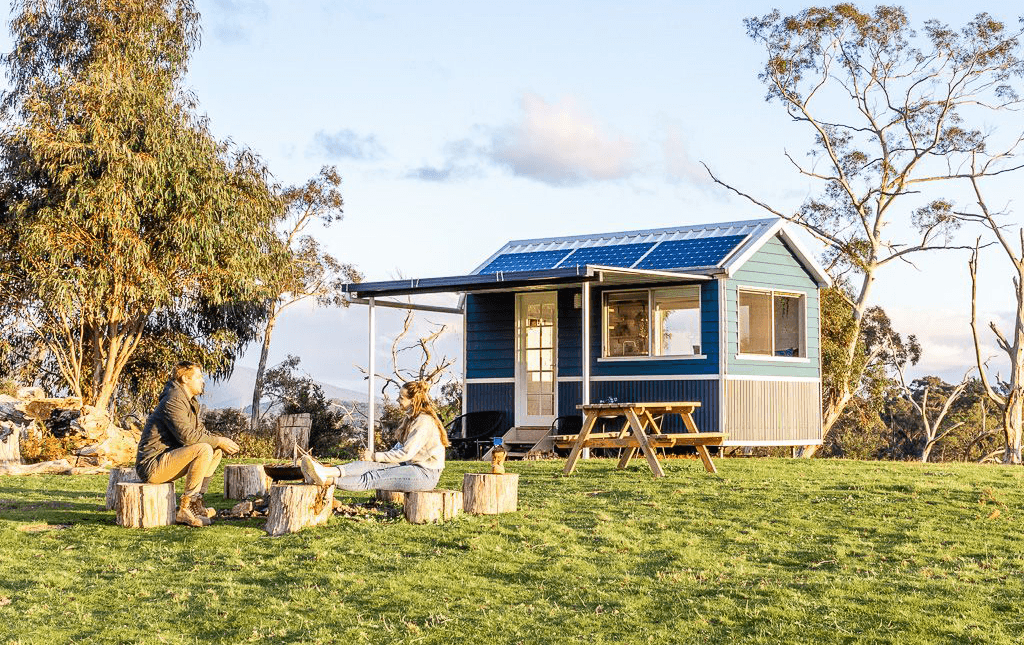 The Forest
THE GRAMPIANS
The Forest is one of the best tiny houses in Victoria, set on a large property you've got plenty of space and tranquillity. When staying here you can take advantage of the natural assets of the area such as the large areas of bush, rock formations, and forest paths to trek along. The location is near the Grampians National Park which has an endless amount of trails to explore during the day. The Grampians Peaks Trail is a highlight for sure, read more about it here. The Forest has room for two, no dogs are allowed, unfortunately. Book The Forest here.
Mountain Tiny House
WARBURTON
Located up in the Yarra Ranges, the Mountain Tiny House is tucked next to the Redwood Forrest. Set on a 2.5-hectare property this off-the-grid gem runs on solar; it's brimming with all the creature comforts including a large outdoor wooden deck with mountain views, fireplace, leather couch, and a TV for settling in for a late-night movie. This mezzanine bedroom is also another charming feature; giving off big wood cabin vibes. Surrounded by natural wildlife there's even resident kookaburras, wallabies and wombats that pass through, it's bloody magical. Book it here.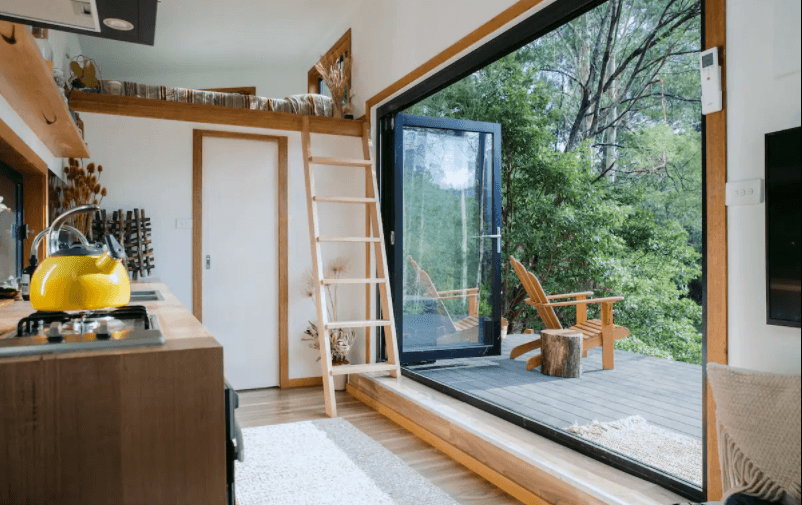 Feel like heading out for a spot of camping instead? Here are the best free camping spots around Victoria.
Image credit: Unyoked
Editor's note: Urban List editors independently select and write about stuff we love and think you'll like too. Urban List has affiliate partnerships, so we get revenue from your purchase.