The thing about pizza is that it's always there for you. It's comfortable, easy-going, and familiar. No matter what else you've got going on, you can always rest your weary head on a steaming hot slice of pizza and munch your troubles away.
The other thing about pizza is that everyone is an expert. Friendships have no doubt ended in arguments over how much crunch a Siciliana base ought to have. Sydney has a pretty diverse pizza landscape, drawing in Neapolitan-Approved AVPN pizza, deep-dish pizza, traditional and trendy pies, and more.
Hungry? Here's where to get the best pizza in Sydney.
Bella Brutta
Newtown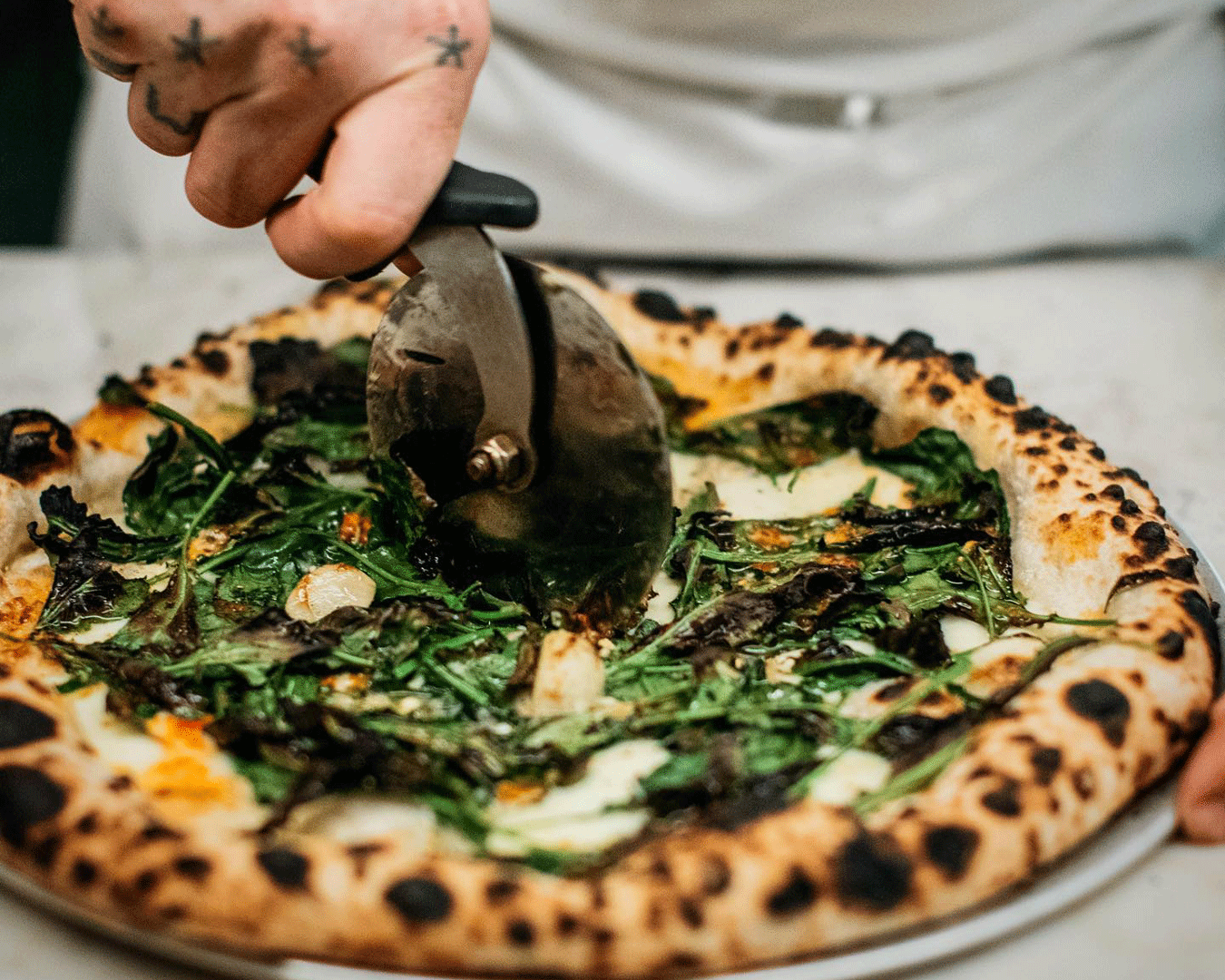 At the point where King Street really starts to get into its stride sits Bella Brutta (or "beautiful ugly"). Run by a crew of seasoned hospitality pros, Bella Brutta isn't about the authentic Italian experience, but that doesn't mean it's not good. In fact, it slings some of the top slices in town.
The breezy open entrance is perfect for sipping an Aperol spritz and watching the world go by while perched on the white marble benches. Deeper inside this bare industrial strip you'll find longer benches and smaller dimly lit tables that run out into a lovely courtyard perfect for catching the last of the summer sun.
The main attraction is, of course, the pizza. It's made right in front of you and comes out pillowy, crispy, and pocked with splotches of bubbling char. The mortadella and the pepperoni are certainly crowdpleasers, but the big draw here is the clam pizza. Yes, with clams. It's an off-the-wall choice, sure, but if you haven't tried it we suggest you run—don't walk—to Bella Brutta and order it ASAP.
La Coppola
Redfern
Situated smack-bang in the bustle of Redfern Street lies La Cappola, a little trattoria dominated by the roaring woodfire oven where owner Stefano Scopelliti has been impressing locals with his pizzas (and moustache) for years.
With three decades of experience under his belt and five other restaurants in Sydney, Scopelliti brings an expert Sicilian flair to the pizza game. This means a crisper base than the dripping Neapolitan, but not thick and chewy like the Romana. He's not one to stand still either, as the dishes here tend to bend the rules a little bit away from the traditionalist lean of many on this list. Check out the Melanzana with fried eggplant and Parmigiano, or the Scopello that's loaded with meats, herbs, and spices. There's also the Zafferia with a knot of burrata on top. Damn good stuff. Oh, and La Coppola also makes its own gluten-free dough if you're going with a gluten-intolerant mate.
Vacanza
Surry Hills and Bronte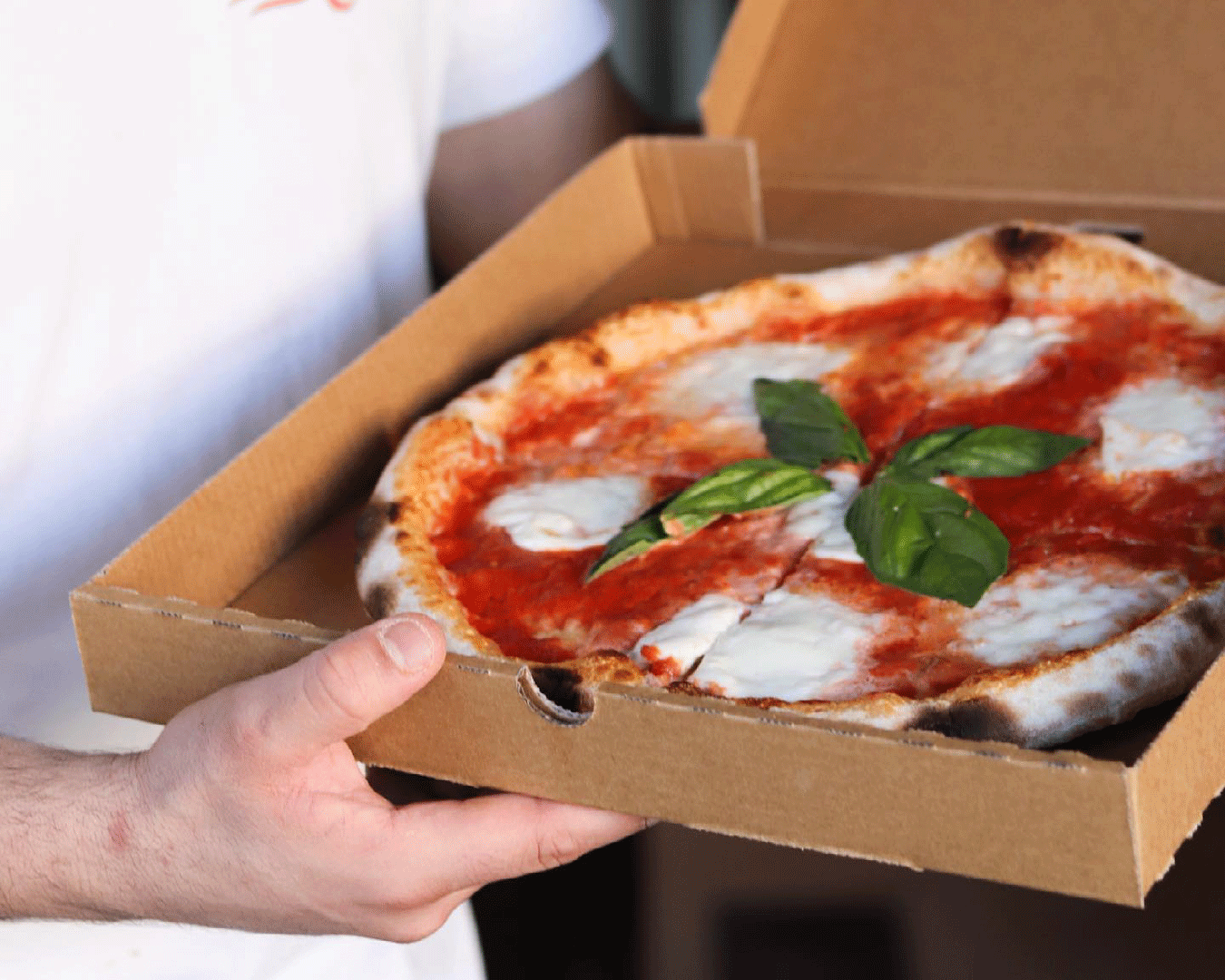 You can hardly walk through Surry Hills without being bewitched by the smell of some seriously tasty pizza, but Vacanza has managed to hold its own against stiff competition for several years now and shows no signs of slowing down. Originating in Bronte in 2010, Vacanza—which translates to 'holiday'—was founded by Nick Gilbert, a self-confessed pizza fanatic who learned the art of the pie in Southern Italy and brought his well-honed skills back home.
Its Surry Hills location serves up just eight pizzas—six red and two white—fully committing itself to the Italian belief that when it comes to toppings, less is more. That being said, it does have a mozzarella bar where you can order a degustation of imported Italian cheese which is, you know, a lot—but not in a bad way. A favourite around these parts is the Diavola but, for the traditionalists, margherita is what Vacanza does best.
Westwood Pizza
Newtown
One of the newer kids on the block, Newtown's Westwood has made a name for itself in Sydney's woodfire pizza game. Owner Mitchell Westwood (whose Sydney resume includes other top-billing pizza joints on this list like Queen Margherita of Savoy and Bella Brutta) prides himself on simplicity and using the highest quality, sustainably sourced Aussie ingredients. After opening in December 2020, the small pizza shop soon found itself with a well-deserved reputation and a line of hungry customers waiting on Australia Street.
As for what you should try from the flavour-packed, minimalist menu? Anyone who's had the pleasure will immediately point you in the direction of Westwood's garlic-honey pizza made with confit garlic oil, fermented garlic honey, fior di latte cheese, and sheep's milk pecorino. Dreamy.
Pizzeria Da Alfredo
Glebe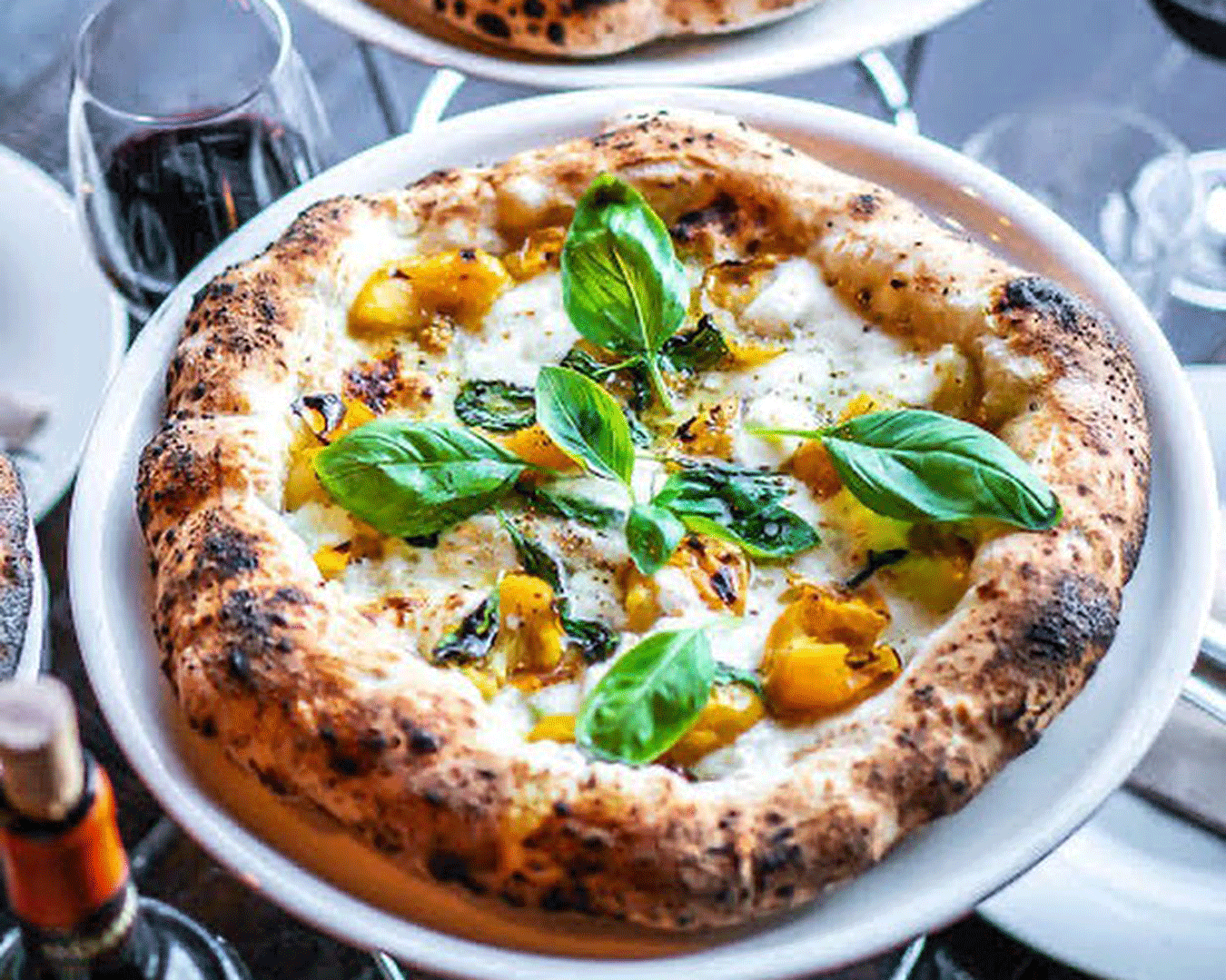 Pizzeria Da Alfredo is the vision of Alfredo Repole who came to Sydney from Naples to start a pizza shop. He had a two and a half tonne oven shipped over in one piece and can still be found every night behind the counter spinning dough into glistening artworks. "I don't have a pizza chef to do pizza for me. I need the pizza to be authentic," he says. These guys are purists. "You're on the other side of the world but it's just like home", restaurant manager Nino Di Donato quips to us as we sit down.
Here, they really have a dedication to the craft and a refusal to compromise on anything but the best. While you can order antipasti, pastas, and salads, the real attraction is the pizza—think a gooey mozzarella-topped margherita, a salty number with anchovies, olives and capers, and the classic fried Neopolitan street food, calzone fritta. Simply said, Pizzeria Da Alfredo is a must for any Sydney-based pizza pilgrim.
Johnny Gio's Pizza
Bondi, Waterloo, Coogee, and Newtown
Jonathan Faro has earned himself a rep for giving Sydney some pretty epic pizzas. First up was Society Pizza—a Bondi neighbourhood favourite, sporting Faro family recipes and Neapolitan classics. Now it's Johhny Gio's, Faro's fast-paced pizza joint with platefuls of character. And, it's got four locations, making it convenient for many a Sydneysider.
It has the vibe of a New York City-style takeaway joint, but Faro assures us all the best parts and pieces of proper Italian pizza. Expect crispy bases and big flavours. "For some people, pizza is all about the dough, for others, it's about the toppings. Johnny Gio's brings loads of both," he says. "The subtle smokiness of the woodfired oven brings out big flavours like guanciale and caciocavallo cheese."
While Johhny Gio's is primed for takeaway and home delivery (thanks to that crispy base), you can hang out in any of its restaurants, too.
Pizza Madre
Marrickville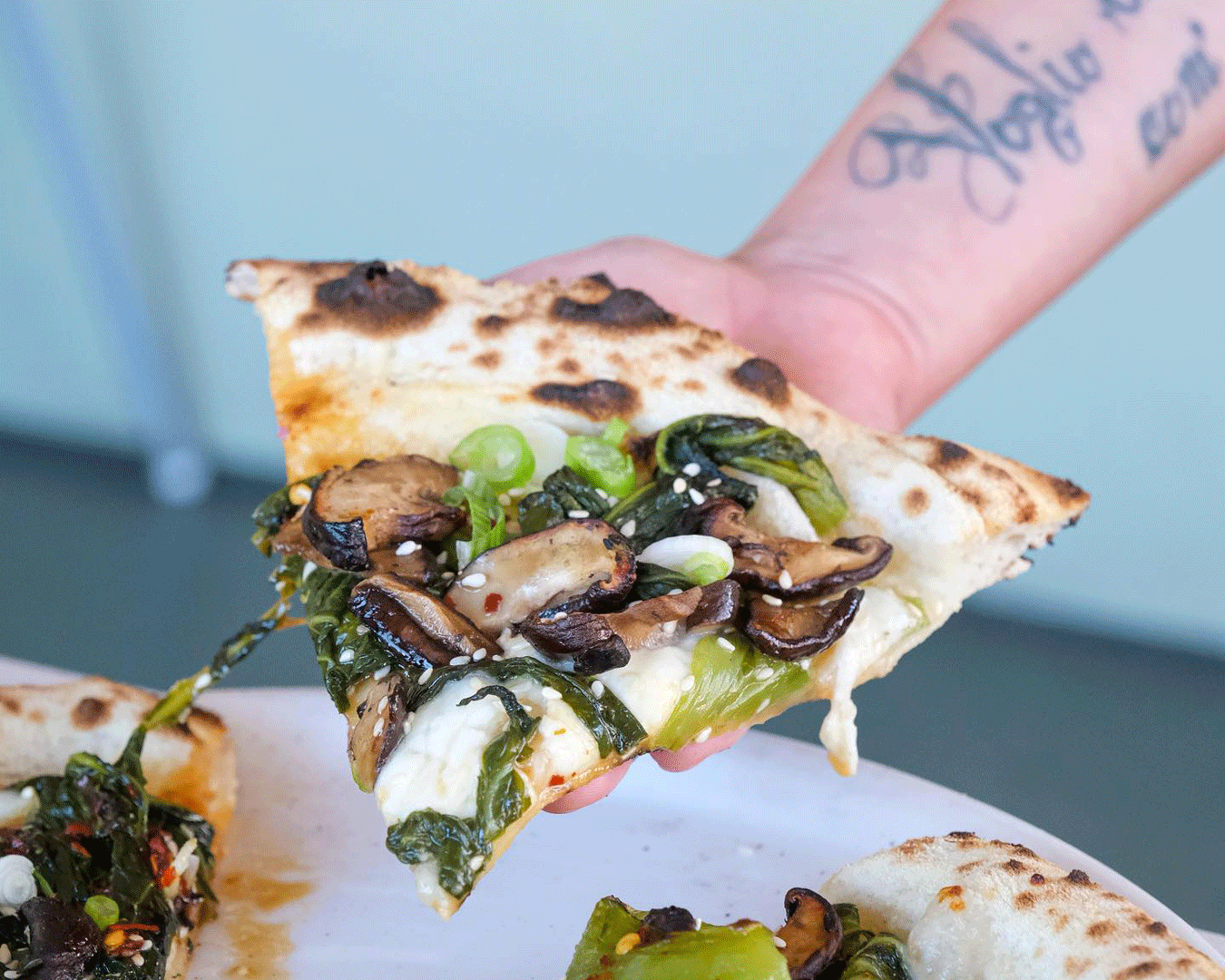 Pizza Madre is a little 35-seater from the guys behind that other vegan-leaning Marrickville institution, Two Chaps. Here they've constructed a pizza joint based on the same principles of using seasonally available local ingredients, small-batch Aussie drink producers, and sustainability. Nothing here has meat on it but let us say that you really won't miss it when you take a bite.
That's not all they do differently, either. All the rules are chucked out when it comes to pizza dough, which is made with a blend of three kinds of flour and undergoes a three-day fermentation process with native yeasts for a subtle sourdough tartness. It's a wild ride.
Everything is kept very simple with a concise menu and a tiny selection of drinks. All of the decisions up until you sit down have already been made by the experts.
Rosso Pomodoro
Balmain and Bondi Junction
Balmain's much-loved Italian bolthole, Rosso Pomodoro, also deserves a nod. At the Darling Street restaurant, you'll find all the classics—Margherita, prosciutto, capricciosa—made with the best Italian cheeses, fresh tomato, and cured meats. The Della Casa, topped with fior di latte, Italian sausage, hot salami, spinach, and parmesan, is a particular highlight. And it slings four vegan pizzas, too, if you're that way inclined.
If you're not a pizza lover there are also excellent pastas (the lasagna is homemade with a special ragu alla Bolognese and besciamella), salads, and antipasti.
Don't live in the inner west? Rosso Pomodoro also has a restaurant in Bondi Junction, so you can get your fix closer to the coastline.
Gigi Pizzeria
Enmore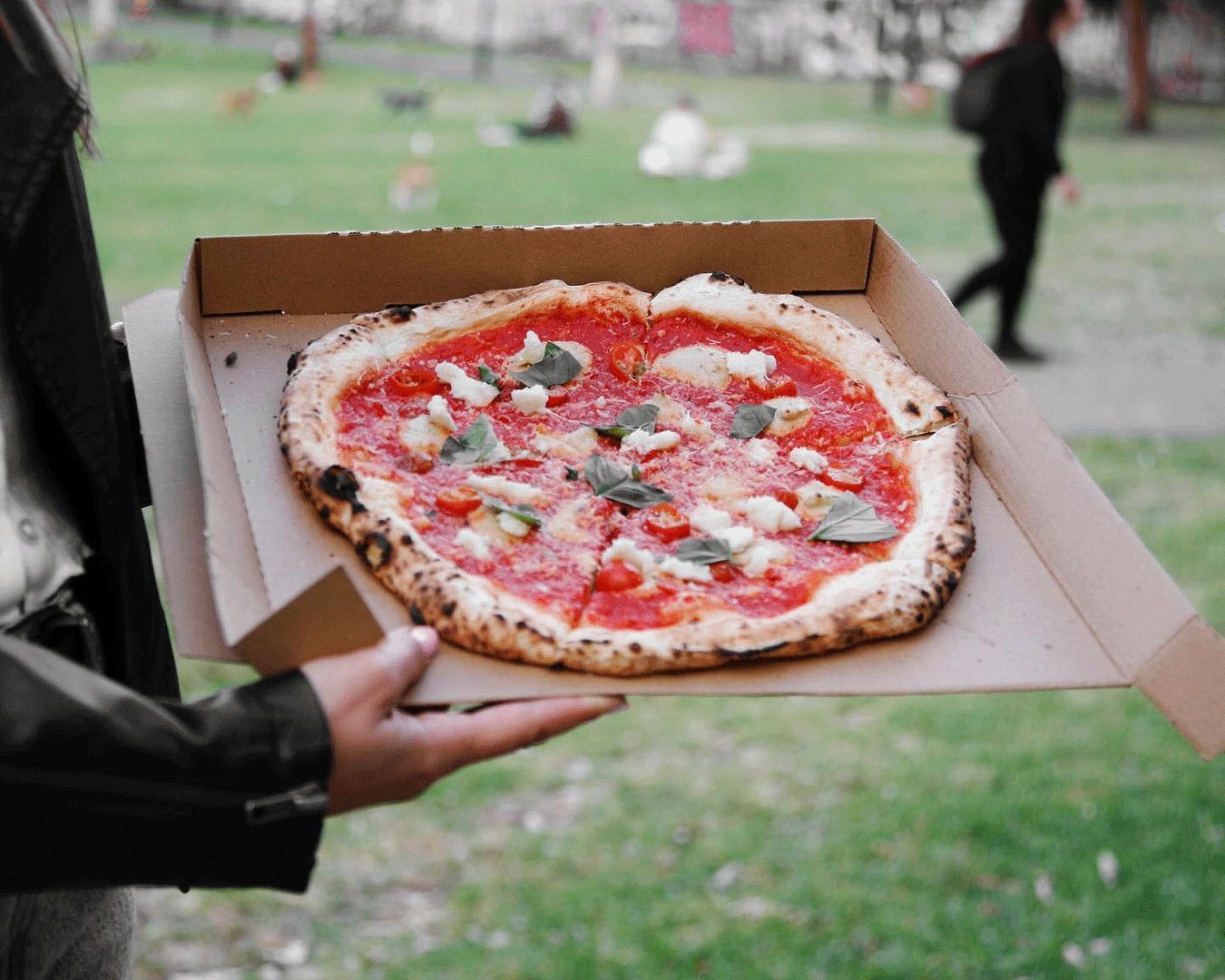 No-nonsense Italian fare is the name of the game at Gigi Pizzeria. A long-time Newtown favourite, Gigi's serves both traditional and gourmet pizzas, cooked up in their giant woodfire oven. Oh, and did we mention it's 100% vegan? Yep, Gigi's was one of the early ones to jump on the plant-based pizza train.
Gigi's bases are made in the traditional Neapolitan method, which are then stone roasted in the roaring oven. As for the 'cheese', Gigi's makes its own house-made dairy-free cheeses like a tree nut ricotta, mozzarisella, and dairy-free blue cheese. So, if you're vegan and you love pizza, you'd be hard-pressed to find a better joint than Gigi's.
On the menu, winning pizzas include the Salsiccia e Broccoli with Beyond sausage, garlic and chilli sautéed broccoli, tree nut ricotta, mozzarisella, and green vie parmesan; the Cavolo of cauliflower puree, cauliflower, artichokes, pinenuts, capers, currants, garlic, and parsley; and the Peperone Rosso that's topped with San Marzano tomato, red capsicum, capers, chilli, olive tapenade, and oregano. It also has a few gluten-free options, plus starters, sides, and desserts.
Rosso Antico
Newtown
Veteran restaurateur Ricardo Tedesco puts pizza at the heart of everything—literally. He took the doors off of the empty concrete space on Enmore Road to fit a three and a half tonne Italian-built pizza oven in, around which everything else in his Inner West restaurant Rosso Antico is built.
Pizza is in his blood. His 73-year-old mother owned restaurants around Sydney and still pumps out five kilos of gnocchi each morning by hand for Tedesco. "I grew up in the heydey of [Italian] restaurants in Sydney", he says. "When everything was done properly. Then I saw a lot of people starting places that steered away from what I consider traditional. When I opened, I wanted to strip it all back and make it as traditional as possible."
And he does. All ingredients except the perishables come from Italy. For the fresh stuff, Tedesco goes down to a store in Stanmore every morning and handpicks what he wants. The passion here is real, and it makes for darn good pizza. There are 17 doughy delights to pick from—we recommend the Tartufo with fior di latte, Italian sausage, porcini and truffle paste. Yes, truffles.
Dimitri's Pizzeria
Darlinghurst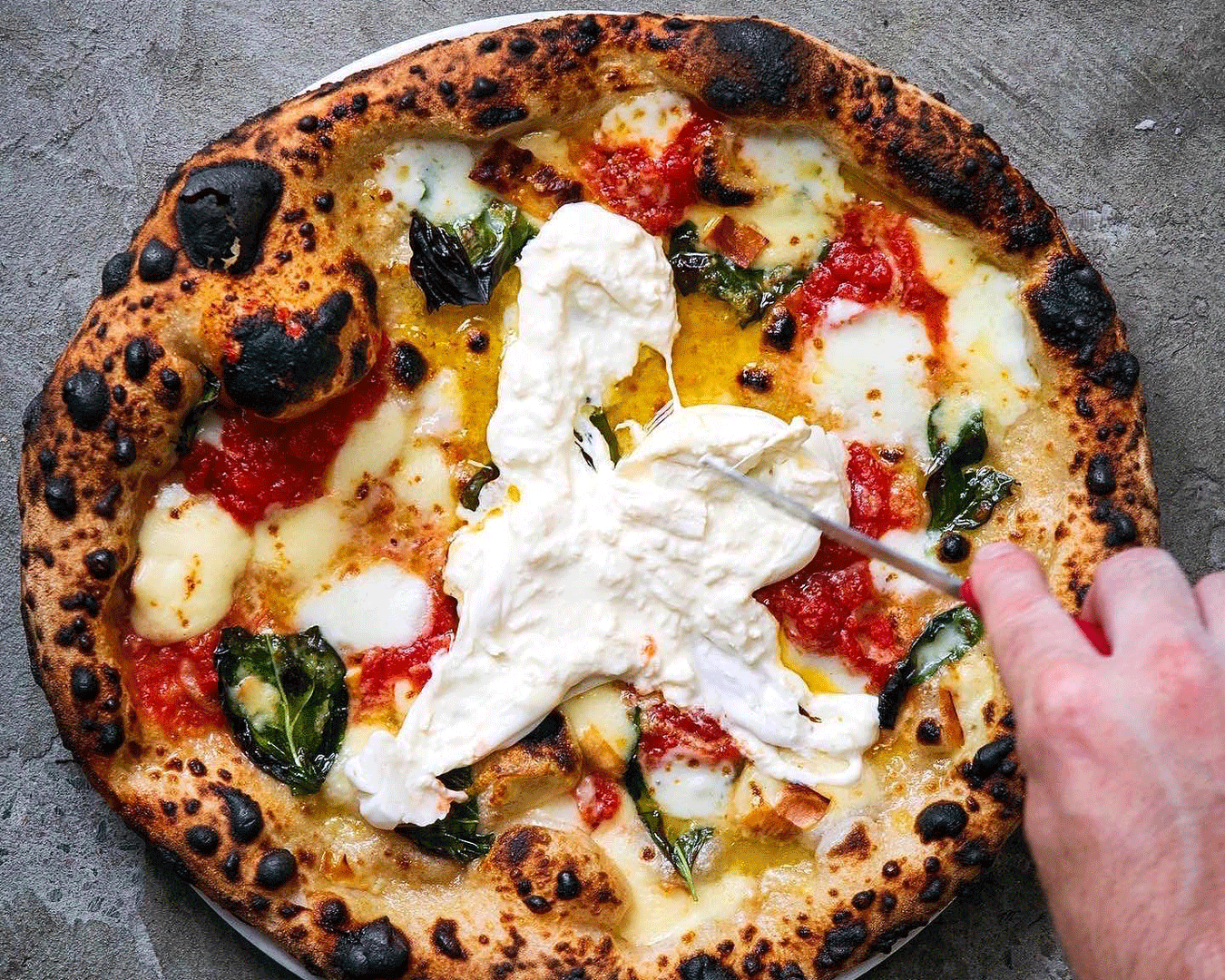 After moving their beloved business a few hundred metres down the road to Oxford Street, owners Ken Williams and Drew Huston now have the space they've always wanted for a proper Italian-made woodfire oven and a more appropriate kitchen space. These days, it's all about the 100% sourdough bases, with Dimitri's further solidifying its legendary status with locals.
Dimitri's is an inherently unique pizza joint, one that loves to showcase a mix of traditional combinations as well as its own spin on the classic dish. There, you can find something a little quirky and different such as the Devo Is Real with spuds, caramelised onion, house mozzarella, rosemary, herbed ricotta, and pancetta, or The Bogan Rosa with marinated onion, rosemary, macadamia, and Parmigiano-Reggiano. But our pick has to be the Brussel Crowe, with wood-roasted brussels and onions, herbed ricotta, mozzarella, pancetta, and parmesan.
It's also got a fun wine list packed with minimal-intervention drops, as well as local craft brews.
Lucio Pizzeria
Darlinghurst and Zetland
Born and raised in Naples, Lucio De Falco isn't messing around when it comes to bringing truly authentic Italian flavours to Sydney. Now a Sydney resident for the past 15 years and opening his first Darlinghurst restaurant Lucio Pizzeria in 2008, De Falco has established himself as one of the best pizza makers in Sydney. If there's any hesitation about De Falco's qualifications, he's currently the vice president Australasia of the Associazione Verace Pizza Napoletana, the ruling body that awards authentic status to Naples-style pizzerias worldwide. Yep, he's a big deal.
Like any traditional Neapolitan menu, you'll find pasta, antipasti, and Italian desserts alongside the hero pizzas. Make sure you order the margherita, which won De Falco first place in Australia at the 2018 Campionato Mondiale Della Pizza in Parma, Italy.
La Bufala
Mascot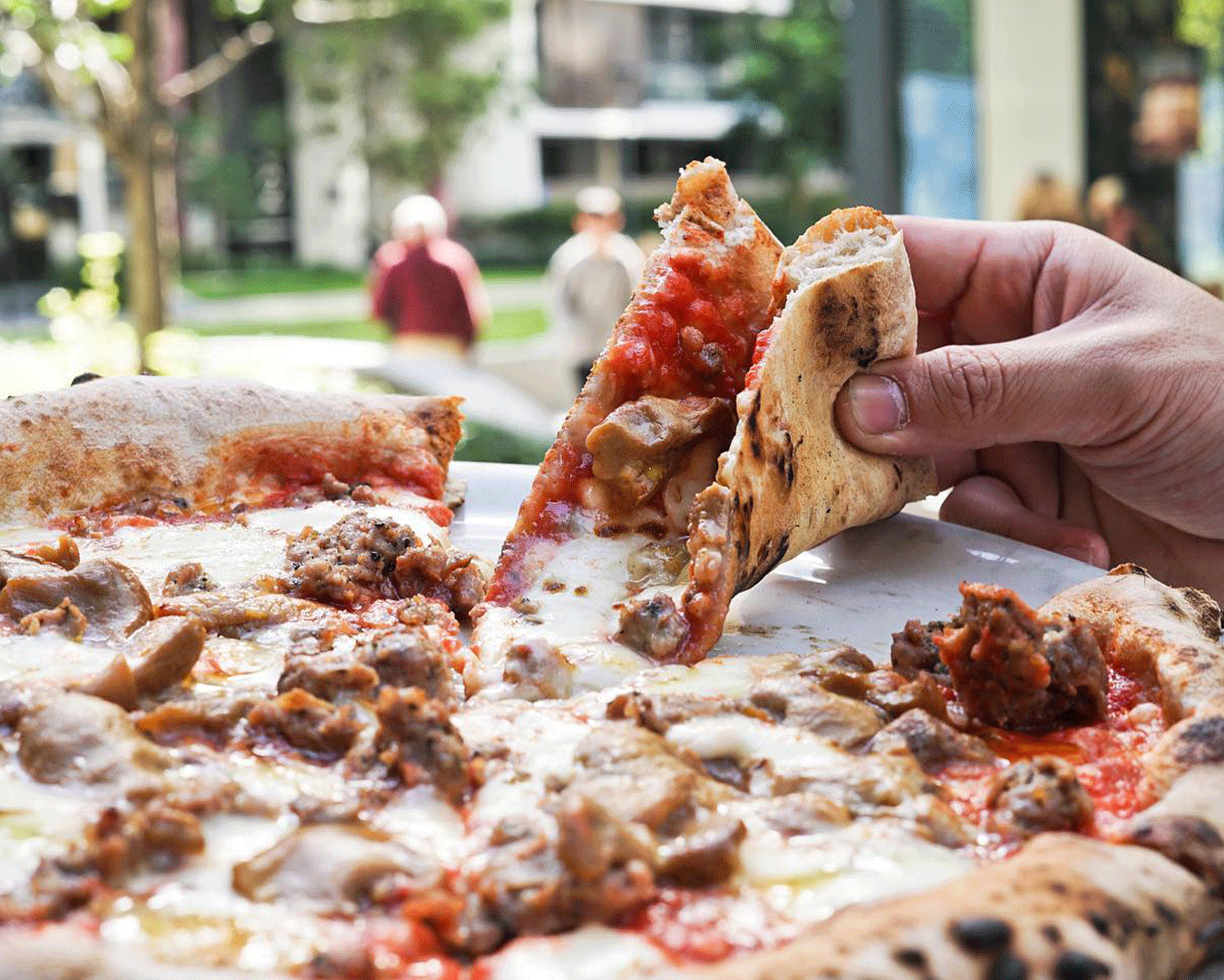 Deciding which pizza to order from this legit list of restaurants can be a little overwhelming. But each of them has its own unique brand or style, making it special. For Mascot's La Bufala, it's all in the process of making its pizza dough, which is naturally risen for 48 hours. The pizzeria uses Type 1 stone-ground flour which retains the natural element of the wheat husk, making it higher in fibre and easier to digest—something all our stomachs are collectively cheering about right now.
The Neapolitan restaurant boasts an impressively extensive menu of pizzas with every option your hungry heart desires. Let's just say it'll take you a few visits to get through it, but planning many returns is a welcome option. La Bufala also offers a food truck for hire with bottomless pizza packages, should you need a no-fuss caterer for your next big bash.
Ria Pizza + Wine
Potts Point
We know it technically doesn't matter because pizzas tend to be gobbled up quickly and decisively as soon as they come out, but Ria Pizza + Wine's pies might be the prettiest pizzas on this list. But Brent Savage's Potts Point restaurant doesn't get a shout out here because of its pizza's good looks—they're bloody tasty as well.
The Aussie eatery combines casual sourdough-based pizza dining with a carefully selected range of killer vinos thanks to sommelier Nick Hildebrand. Offering a unique perspective on how to finish off a pizza, Ria's menu includes a selection of crust dips, literally intended as dips for your pizza crusts. Sadly, Ria is currently closed and is set to reopen for dine-in and takeaway come the end of March. But, it's definitely worth bookmarking for later.
Mutz
Neutral Bay
If you've ever visited Chicago and returned home, you've probably wondered why Sydney has never properly adopted what is a genuinely incredible style of pizza. And yes, New York-style is excellent too—it's not a competition. If you've got some loud opinion about Chicago-style deep-dish pizza not being a 'real pizza', leave it at the door and let the rest of us enjoy it in all its stomach-warming glory.
So, as it turns out, deep-dish is almost impossible to find in Sydney—almost. For the beautifully saucy and extremely cheesy pizza, head to Neutral Bay's Mutz Pizza. There you'll find the piping hot Illinois creation filled with flavours like pepperoni, chilli, spicy sausage, mac 'n' cheese, and plenty more. As the saying goes, good things come to those who wait. So, when you visit, keep in mind that deep-dish pizzas take about 30 minutes to prepare. And don't worry if you're not yet ready for the full-blown Chicago experience, because Mutz also offers a huge range of thin-crust pizzas.
Queen Margherita Of Savoy
Cronulla
A short stroll from Cronulla Beach sits one of the best pizza restaurants in all of Sydney, Queen Margherita of Savoy. The authentic Neapolitan pizzeria from owner Lee Carroll has three very simple rules its patrons must follow in exchange for wonderful pizza: one size only, no pineapple, and no half-half. Seems like a fair deal. The bases are meticulously hand-stretched then cooked in a wood-burning oven directly on stone, with a charred crust and base to accentuate its flavours as a chargrill would.
As you can tell, making pizza is taken seriously at Queen Margherita. This is why the restaurant is one of the few venues in Sydney to be certified by the Associazione Verace Pizza Napoletana. On the menu, you'll find an amazing range of Pizze Rosse with crushed san Marzano tomatoes, and fior di latte and Pizze Bianche with for di latte and no tomato base. There are three vegan option pizzas, too.
That's Amore
Haberfield
Does it get any better than a restaurant with a name that makes you want to belt out Dean Martin's classic tune? Yep, if it's located in Haberfield—AKA Sydney's Little Italy—it sure does. In short, That's Amore is worth a stop in.
Run by self-claimed 'crazy, funny Italians', That's Amore slings Naples-style pizzas, with a whopping 24 pies on the menu. Feeding a large crew? Opt for its popular metre-long pizzas to make sure no one goes hungry. If we had to choose, we reckon the Pizza e Mortazza with mortadella and pistachio one is a winner, as is the Sofia Loren, topped with porcini mushroom, truffle, prosciutto crudo, bocconcini mozzarella, cherry tomatoes, ricotta and parmesan.
Angry Tony's
Darlington and Mascot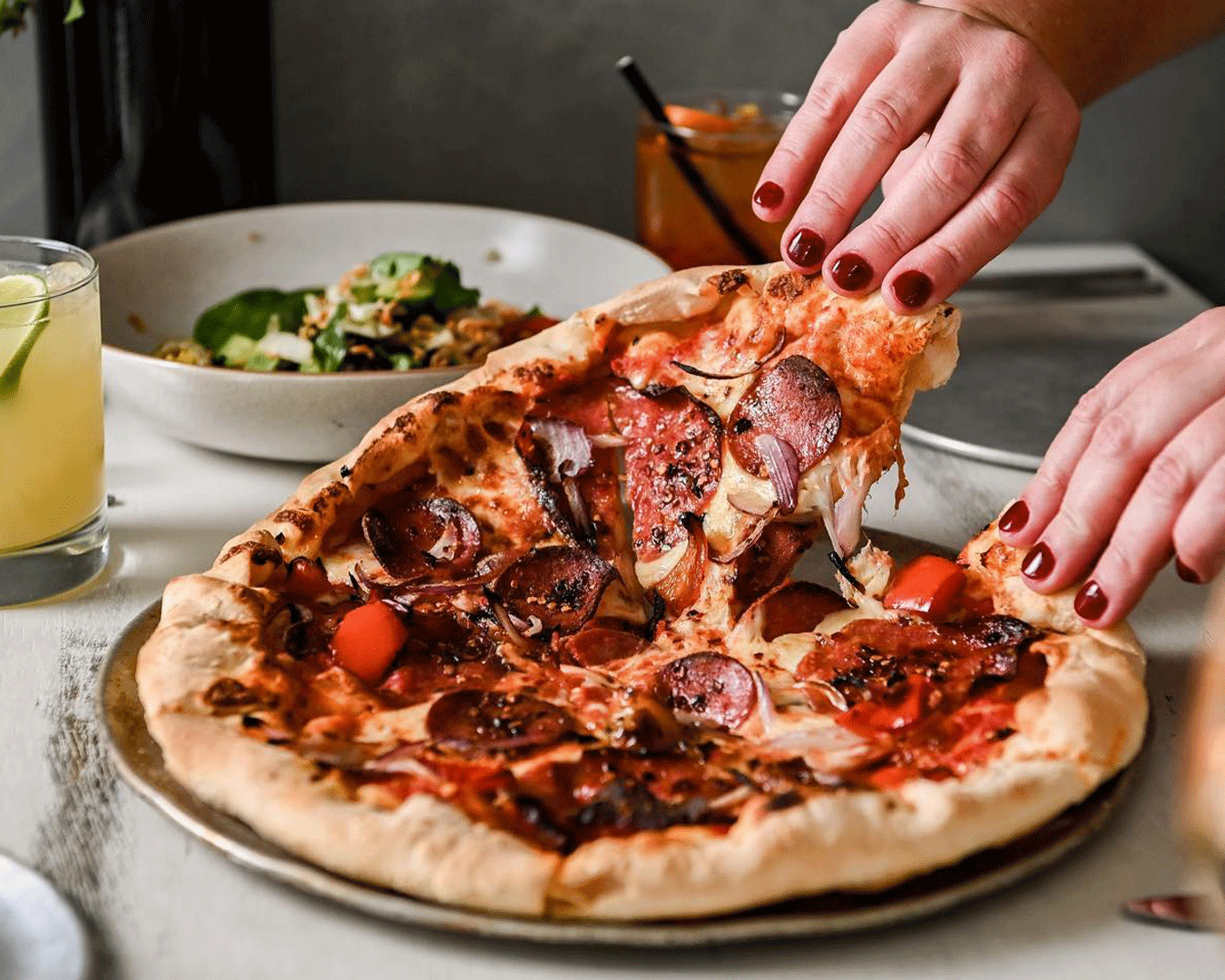 Now, great pizza doesn't have to be traditional. We've had downright delicious pizza that the Napoli Pizza Association (yes that's a real thing) wouldn't even look at. Angry Tony's is just that pizza; sloppy down-and-dirty goodness that is the perfect accompaniment to any boozy evening. That being said, they take quality seriously here and all produce is locally sourced.
Its main push is takeaway—and it'll even sling you a six-pack of Young Henrys or VB if you get in before 11pm—but the pizza always arrives crisp and hot enough to burn your mouth on.
Go for the signature Angry Tony which is a total firework of flavour, or our personal favourite, the Big Cheese which comes with so much cheese you're going to turn to your friends and say "wow, that's a lot of cheese". The garlic bread is also just another pizza with a cheese base and lots of garlic. Get it. Eat it. Love it.
Al Taglio
Surry Hills
Staying with the wild cards for a minute, we have another Surry Hills heavyweight that hasn't been around quite as long as some, but still packs a punch when it comes to the crunch. The pizza at Al Taglio is beautifully crisp with a playful take on toppings, flavour and style.
Head Chef and owner Enrico Sgarbossa learned his trade at the famous Compagnia Della Pizza restaurant on the east coast of Italy. Having worked in Italian restaurants all over Sydney, he's now the guy that others go to learn how to make pizza.
In spite of this, Enrico is not a traditionalist. He uses type 1 flour, where most others use type 00, giving the pizza a fuller, rougher texture. He tops his bases with things like basil paste, stir-fried leeks, Japanese mayo, and is even a whizz with the vegan cheese, too. We probably don't need to tell you that the results are excellent but you should get involved and discover this for yourself.
Verace Pizzeria
Macquarie Park
If the Pizza World Championships Australia are anything to go by, one of the best pizzas in the entire world can be found in Macquarie Park. This accolade isn't a fluke either. Verace Pizzeria owner Stefano Cirene has put together a world-class team of chefs (and pizza acrobats) from Italy who add more trinkets to the trophy cabinet each year and, look, the proof is in the pizza.
They're not ones to cling to tradition either, offering up specials with eggplant-cream bases or stacked with black truffle. The all-important Margherita is the main attraction, but Verace also offers an excellent potato pizza and a prosciutto one, which is a firm local fave. And if you're not local, you won't regret the trek once you taste what it's serving up.
Society Pizzeria
Bondi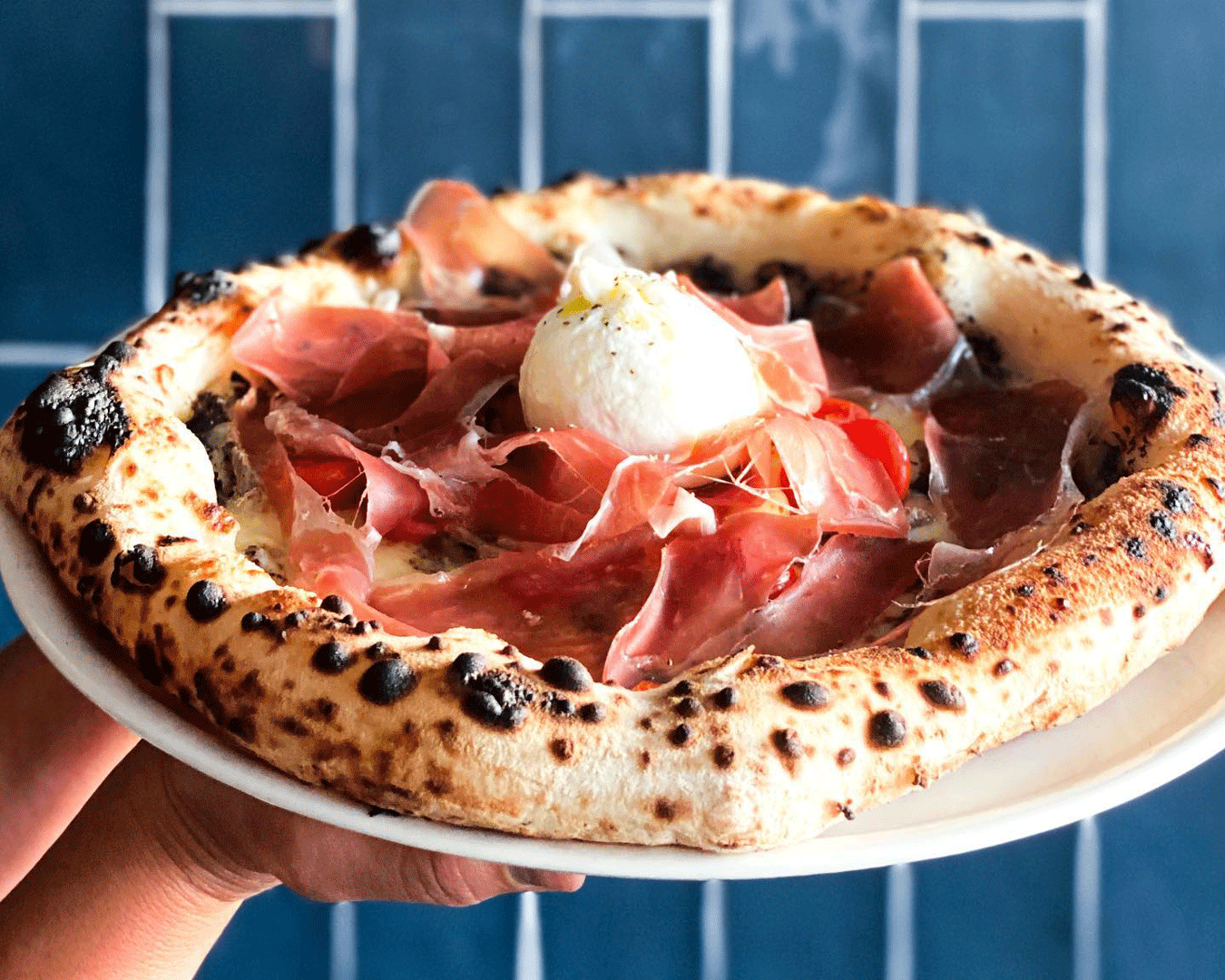 Sicilian brother-and-sister team—Jonathan Faro and Vittoria Wynne—can usually be found cracking jokes with the restaurant's regulars, advising newcomers on what to eat, and of course, serving pizza. That's what makes Society so great.
The room here is smallish with a large amount of the space being taken up by the massive woodfire oven in the corner, so it can be a struggle to get a table (even though it is situated far from the madding crowds of Bondi Beach).
Food-wise, expect Sicilian-style pizza with a seafood emphasis, like the prawn and chilli Gamberi pizza. Society has a sizable menu too, which gives you the perfect excuse to keep coming back.
Frankie's Pizza
CBD
Frankie's Pizza is what a pizza place would look like in a punk version of Blade Runner but with more pinball and less murderous androids. This is where you come when you don't want the night to end and are convinced that if you get a couple of slices of pie in you, you could easily go a few more rounds. Sadly, this much-loved Sydney dive bar and pizzeria is closing its doors this year—so even more reason to get a late-night slice ASAP.
To be honest, Frankie's is less about the pizza and more about the booze—but because late nights and pizza go together like beer and rock 'n' roll, Frankie's gets a spot on this list. Founded by the guys behind the world-class speakeasies of Baxter Inn and Shady Pines, this Sydney icon is one of the original late-night spots from the pre-lockout era that managed to pull through those dark days, and that should tell you all you need to know about the place.
You won't impress many traditionalists here as these guys will throw ham, pineapple, or whatever on top of their chewy base and you'll love it. Once there, you'll find one of the most extensive whiskey selections in the city, too.
It ain't pretty, but no matter who you are or what state you're in, Frankie's will welcome you with open arms and shove a $6 slice of greasy deliciousness right in your face.
Prefer your pizza Neapolitan-approved? Here's our guide to Sydney's only AVPN pizzas.
Image credit: Pizzeria Da Alfredo, Bella Brutta, Vacanza Pizzeria, Pizza Madre, Gigi Pizzeria, Dimitri's, La Bufala, Angry Tony's, Society Pizzeria