Pocket Pizza Brookvale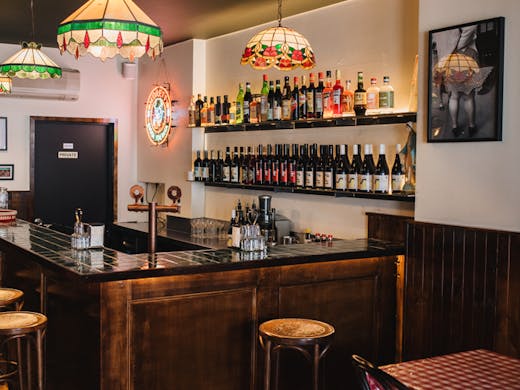 Manly favourite Pocket Pizza has officially expanded its footprint, opening up a second location in Brookvale. The new outpost joins Brookvale's growing lineup of breweries, cafes, and nightlife—giving the once pretty desolate industrial suburb a well-deserved makeover.
At Pocket Pizza Brookvale, you can expect the same red-and-white-check tablecloths and vintage neon signage, designed as a salute to NYC's Little Italy. There are vintage arcade games, a cosy retro-style bar, walls plastered with photographs, and stained-glass lampshades. It's a perfect spot for a casual date night or a catch up with mates.
You'll also find standouts from the OG menu like the lightly spiced "Netflix and Chill" pizza, with fior di latte, Ndjua, ricotta, salami, chilli, and honey. The Margherita pizza with vodka sauce also makes an appearance, as does the truffle mushroom "Funghitown" and the Big Mac-inspired "Return of the Mac".
Round out your meal with Pocket Pizza's OG garlic bread, made using milk bun, parmesan, and garlic butter, burrata served with crunchy bread, or even a side of fried chicken.
To drink, cocktails follow the Italian theme with a Limoncello spritz and grapefruit Americano in the mix; there's a house Pocket Pizza draught, and a selection of Aussie wines by the bottle and glass.
For dessert, the team has dreamt up a banoffee banana split topped with whipped cream, biscuit, and caramel, or you can try Pocket Pizza's famous deep-fried Nutella ice cream.
For an added bonus, Pocket Pizza is allergy and vegan-friendly, with GF pizza bases available and a vegan cheese substitute on the menu too.
Image credit: Pocket Pizza
---
You May Also Like
Restaurants
Sydney, NSW
Joining the brotherhood of Pellegrino 2000 and Bistrot 916, Clam Bar…
Bars & Pubs
Sydney, NSW
Eau de Vie is one of Sydney's most-awarded cocktail bars. Once a secluded…