Bar Totti's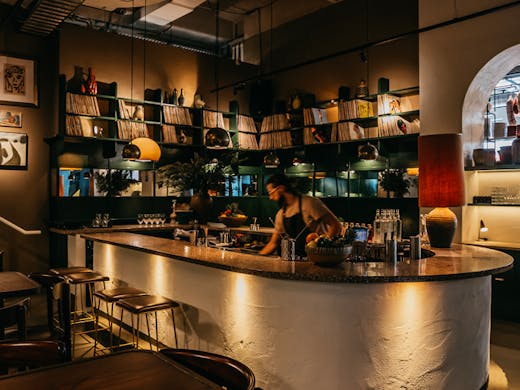 Just in time for Sydney's post-lockout world, Merivale has dropped a brand new bar, smack-bang in the heart of the city.
Bar Totti's is being heroed as the younger, more high-energy brother to Totti's—Bondi's dreamy courtyard Italian led by chef Mike Eggart and Kahn Danis that's lined with olive trees and loved for its flatbread and Neapolitan ice cream sandwiches. Bar Totti's is also the next step in Merivale's overhaul and revitalisation of the ivy precinct, that's so far included Little Felix and will soon also intro Jimmy's Felafel.
For Bar Totti's, Eggart has buddied up with chef Jake Ahrens (Ash St. Cellar, Uccello) to plate up the kind of old school trattoria vibes Totti's has earned a rep for. There's an expanded antipasti menu covering off scallop crudo, 'nudja, burrata, baked tomino and marinated peppers.
Then, there are grilled snacks like scampi with garlic and seaweed butter, halloumi with nectarine and basil, pork jowl and squid with chilli, and grilled garfish. The guys have also carried over Totti's desserts (yes, the ice cream sandwich and the tiramisu).
To drink, you'll be in for minimal intervention Italian wines, alongside a broader menu of spritzs and after-dinner style cocktails.
There's a "Garden Spritz" with dill, Rinomato, Lillet Blanc and prosecco, and a "Summer Spritz" with Beefeater Pink, pink grapefruit and prosecco.
If you're extra thirsty you can order Negroni by the litre, or if you're skipping the booze order a "No-groni", an alcohol-free spin on the classic cocktail that's made with Seedlip Spice, Monin bitters and Palermo Rouge.
The venue is divided into two distinct spaces—the first features high tables and a horseshoe-shaped bar and emerald shelving lined with vinyl. It's here you'll get DJs spinning tunes Wednesday through Sunday. The second space is light, bright and airy, with big windows that open out onto George St.
Bar Totti's is a chill spot for after-work drinks and a vibing space to kick off a big night out on the town.
Bar Totti's is slated to open Wednesday 15 January, 2020.
Image credit: Nikki To
---