D.O.C Sydney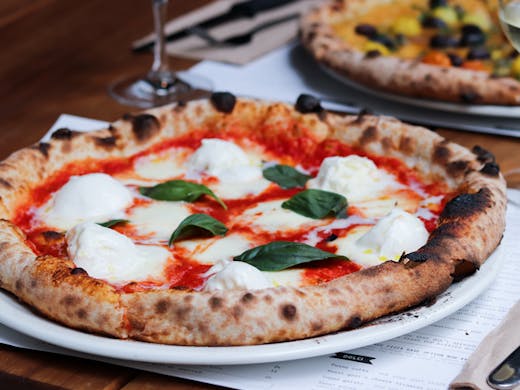 The Verdict
Two things we know are bound to spark controversy: whether Sydney is, in fact, a better city than Melbourne and, separately, who makes the best pizza in Sydney. Here to fire up a bit of debate on both topics is D.O.C Pizza, a famous pizza institution from our rival city that has just flung open the door of it's first-ever Sydney location.
D.O.C is a mecca of all things mozzarella (shipped directly from Italy) and doughy pizza bases. With pizzas that have been evolving since the late 60s, D.O.C 's approach to pizza is centred on simplicity and authenticity, as well as crispy and springy pizza bases, and simple topping combinations that don't overload the crust.
Located on Campbell Street in Surry Hills, D.O.C's Sydney menu will feature Melbourne favourites, like the "Pizza Ai Porcini", which is smothered in wild mushrooms, truffle oil and mozzarella in bianco with grated DOP pecorino, and the "Pizza San Daniele", with San Azano tomato, DOP buffalo mozzarella and San Daniele prosciutto. There'll also be rotating pizza specials, with two new toppings coming along every week.
While simplicity and authenticity are key—D.O.C is also keen to ensure its quality remains consistent across state borders. "To ensure D.O.C translates to Sydney, we have relocated our long-standing Lygon Street Carlton restaurant manager Andrea Colosimo along with our Melbourne based pizzaiolo to run Sydney," explains Michael Costanzo, co-founder of D.O.C Group.
And while pizza is definitely the main attraction at D.O.C, you'll also be able to sample a special antipasti menu packed with creamy buffalo mozzarella, salumi, vegetarian snacks and of course, D.O.C's iconic lasagne with layers on layers of cheese and meat.
On the vino side of things, you'll find a whole selection of Italian and local wines, including D.O.C's house prosecco which is made in Northern Italy.
Image credit: D.O.C
---