Sydney's vegan restaurant options are plentiful and growing in number, with a ton of new and classic options to satisfy your plant-based hankerings.
Italian, Mexican, Thai, Chinese, Indian, Vietnamese, greasy American-style burgers, vegan croissants—name your poison, and your chances of finding a high-quality plant-based version in our city are high.
These are some of our favourite vegan restaurants in Sydney right now.
Alibi
Woolloomooloo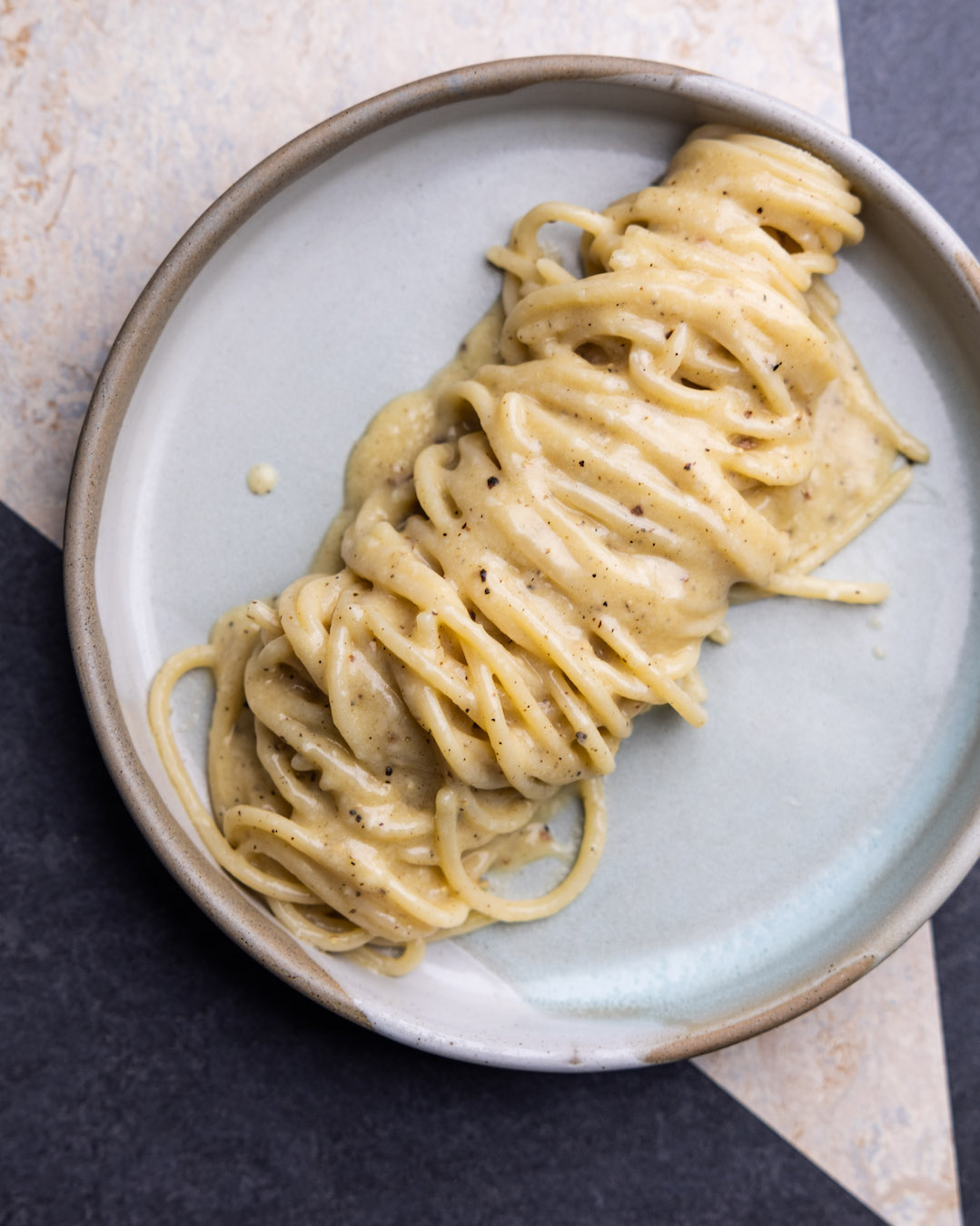 This stunning bar and restaurant along the Woolloomooloo wharf had a design and culinary refresh in early 2023, with lauded plant-based chef Shannon Martinez now behind the 100% plant-based menu. As Alibi lies within an Ovolo hotel, the restaurant and bar reps the hotel group's Plant'd initiative, with the new Mediterranean-inspired menu leaning heavily on Martinez's Spanish heritage.
Highlights include a defiant Spanish tortilla with aioli that's completely egg-free, a cheese-less cacio e pepe pasta, summer paella with salsa verde, and Martinez's Smith & Daughters tiramisu. The "indoor al fresco" space offers the a la carte dinner menu, a shared menu at $95pp, and even a plant-based high tea for $70pp with optional two-hour drinks packages from $60pp.
Bad Hombres
Surry Hills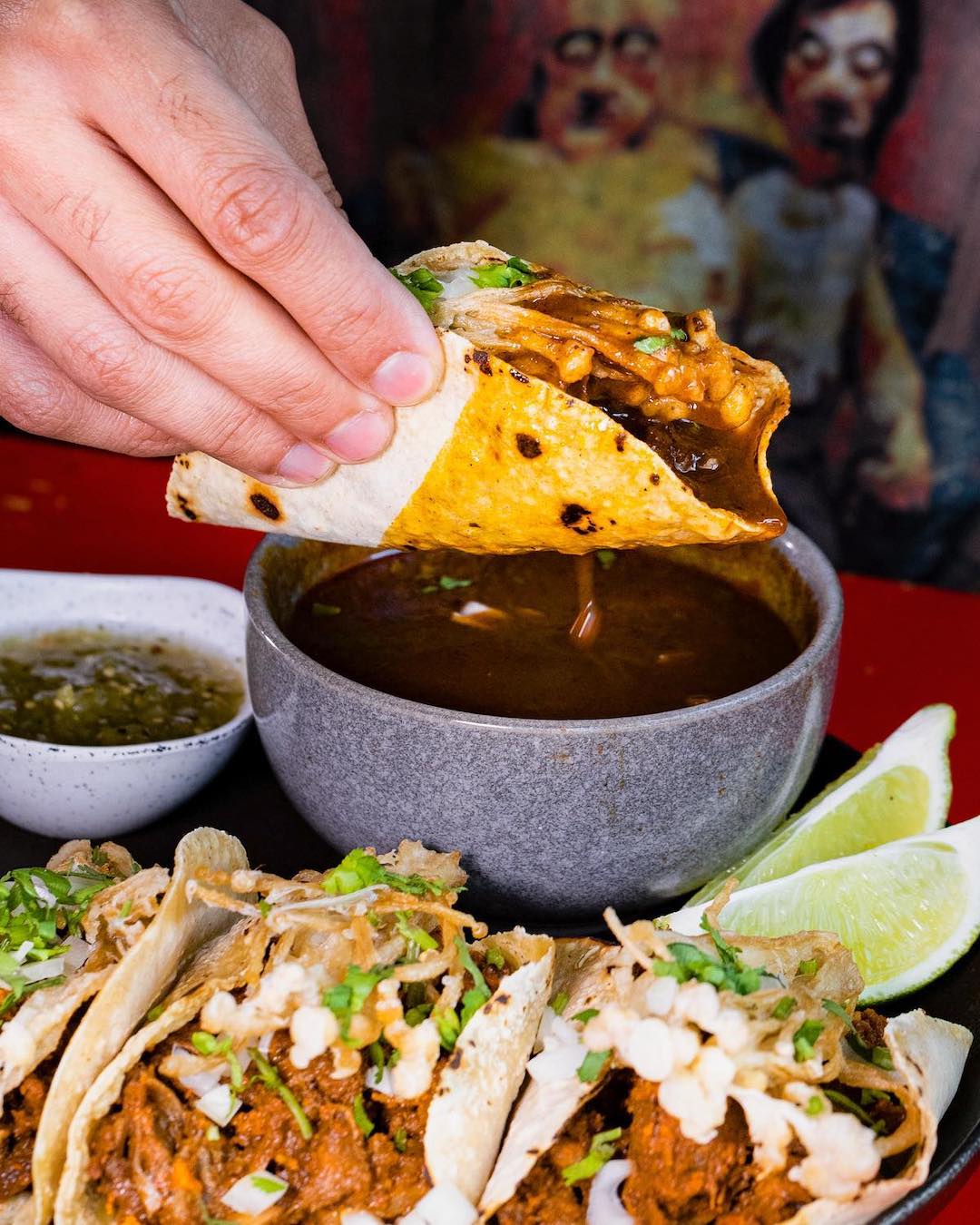 Bad Hombres is a hoot and, despite being totally vegan (and gluten-free, bonus!), it offers Mexican fare that feels super authentic. With loaded mushroom pastor fries, the beloved cauliflower in oregano and paprika salt with cashew crema, salsa verde, coriander and onion, and even insanely savoury birria tacos (Thursdays–Saturdays only), the menu can easily be shared but there are also tacos and tostadas that work as a bar snack or solo meal. This spot's great for a plant-based group visit, just be sure to book in advance.
Golden Lotus
Newtown
Another staple for lovers of a plant-based diet is Golden Lotus on King Street. Just across the road from Newtown train station, this convenient and inexpensive Vietnamese BYO restaurant is a classic for dinner with mates or even a first date. The menu is hefty, with plenty of options that make it difficult to choose. The vegan duck and salt and chilli "calamari" is always fun (there is also plenty of tofu and veg options for people who don't like mock meats), but our favourite has to be the crispy faux chicken pho. Can't go wrong!
Mary's Circular Quay
Circular Quay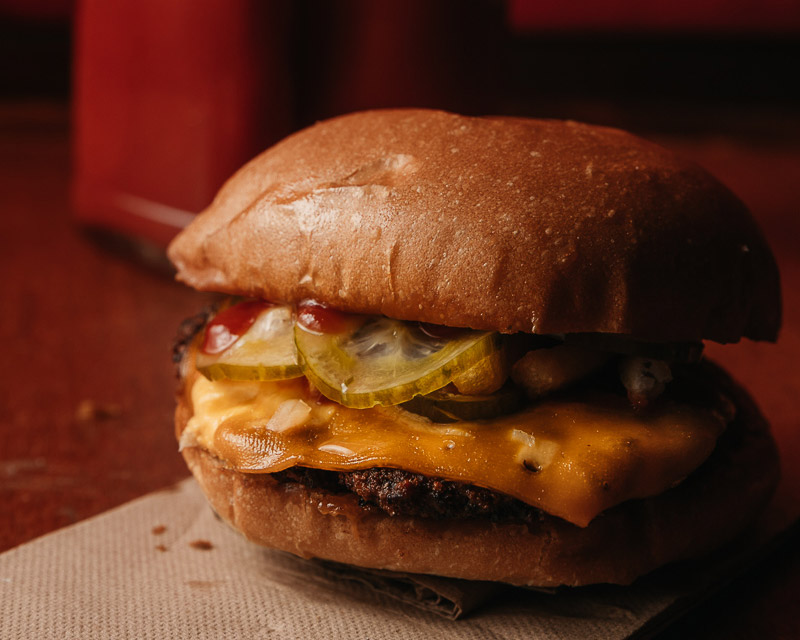 Mary's Circular Quay is the above-ground element of Mary's Underground, and part of the burger joint's takeover of the iconic basement music venue. Here you'll find all of your favourite Mary's burgers, but with a vital twist: the option to make them all vegan (and taste just as good).
You'll find plant-based beef patties, egg-free sauce and cauliflower in place of Mary's famous fried chicken, all cooked on separate grills and fryers. "It allows our animal-friendly friends to choose ethics without sacrificing flavour," says Mary's co-founder Jake Smyth. "This ain't Mary's health food and salad bar, it's fucking delicious plant-based food, designed to make your carnivorous mates jealous. And for our meat-eating pals, it's business as fucking usual."
The Sunshine Inn
Redfern
This Redfern Street bar and restaurant offers one of the most effortless mostly meat-free menus in Sydney. Other than one or two menu ingredients clearly marked as dairy, everything is vegan and definitely delicious. Alongside local craft beer on tap, natty wines, and a killer list of cocktails, The Sunshine Inn offers dishes like fried pickles, house-made smoked garlic hummus, and the crowd-favourite eggplant schnitzel. We also recommend getting around the weekly $10 pasta dishes on Tuesdays.
Gigi Pizzeria
Newtown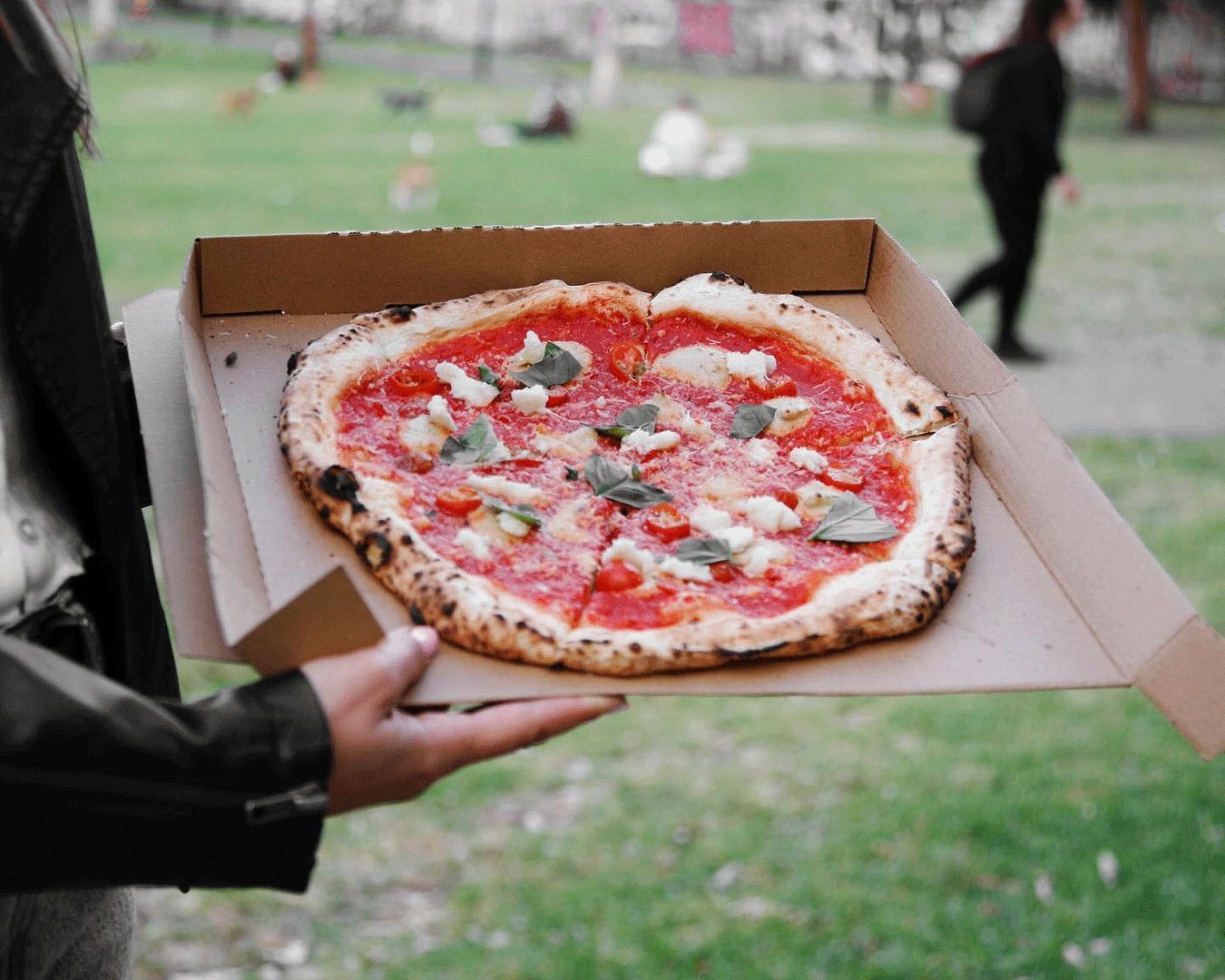 Gigi Pizzeria is easily one of the best vegan hangouts in Sydney, and, given how brilliant these guys are at creating seriously delicious vegan pizza, it's a perfect introduction to plant-based dining for those who are a little hesitant. Gigi went vegan in 2015 as owner Marco Matino wanted to create a menu that reflected his own food ethics. However, what makes Gigi extra unique is that it remains a member of the Associazione Verace Pizza Napoletana, which verifies authentic Napoletana-style, woodfired pizza. So, it's vegan, but it's also legit—easily some of the best pizza in Sydney right now.
Yulli's
Surry Hills
Crown Street's vegan go-to has been around for more than a decade, and while it started out as a vegetarian restaurant, Yulli's has transitioned to full-blown veganism. The share-style menu takes cues from South East Asian and Mediterranean cuisines—we're particular fans of the edamame and coconut moneybags, beetroot and truffle-stuffed zucchini flowers, roasted peppers, super-sticky Korean fried broccolini, and crispy tofu with green papaya salad. Just make sure you leave room for the sticky date and banana pudding, which has been a crowd-favourite for years. Their sibling venue Yulli's Brews in Alexandria brewery is founded on the same vegan principles—and it makes some pretty top brews, too.
Flyover Fritterie And Chai Bar
Redfern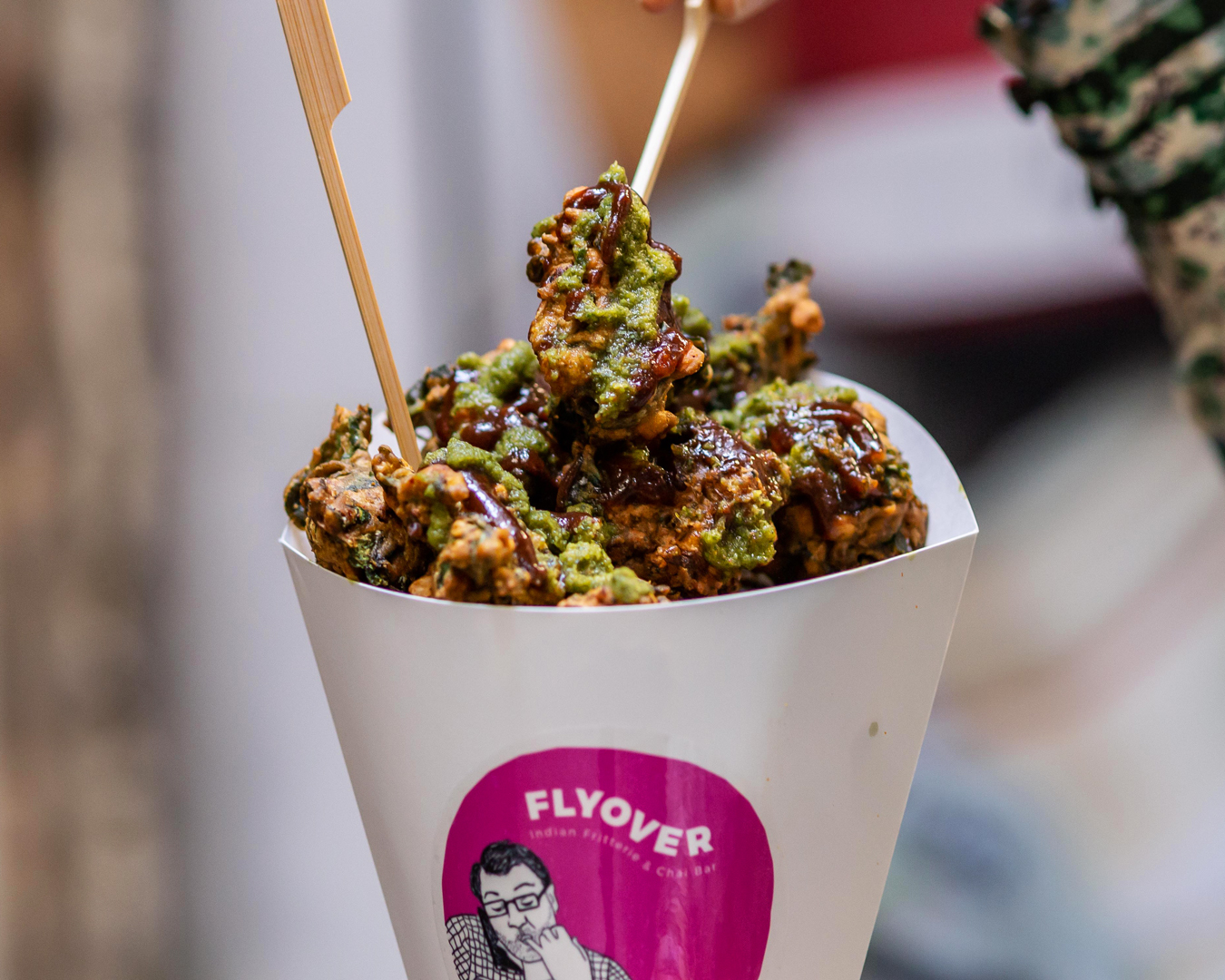 Flyover Fritterie is is bringing no-frills Indian street stall culture to Redfern, with everything available vegetarian, and 95% of the menu is (or can be made) vegan. Freshness is key, of course, so expect the best veggies of the day on the rotating menu which includes tasty snacks, salads, a quinoa khichri and vegan burgers catering to those with a larger appetite. Another speciality is chai, which is made in a variety of blends (from traditional ginger masala to cardamom, clove or liquorice blends).
The Green Lion
Marrickville
At the end of 2020, The Green Lion left the Rozelle pub it once called home—moving on to greener pastures (pun intended) and its very own bricks-and-mortar shop (doing dine-in and takeaway) in Marrickville. What was once Australia's only 100% plant-based pub bistro has become a full-blown vegan enterprise, serving traditional Aussie comfort food—schnitty, burgers, pizza, and more—sans animal products. The Green Lion also produces frozen vegan meals, which they deliver across Sydney, the Blue Mountains, Central Coast, Newcastle, and Canberra.
La Petite Fauxmagerie
Newtown
Not only is La Petite Fauxmagerie rocking one of our favourite pun-tastic names, but the King Street artisanal shop's cheeses are entirely plant-based, dairy-free, and gluten-free. So, while it's not technically a restaurant, we think it is worthy of your attention. If you head into the vegan cheesemonger, you can pick up every style of cheesy goodness without being relegated to the top shelf of the back aisle. Blue, brie, fetta, halloumi, mozzarella, ricotta and even butter. You'll also find vegan-friendly wines, chocolates, brownies, and "cheese" toasties.
I Should Be Souvlaki
Newtown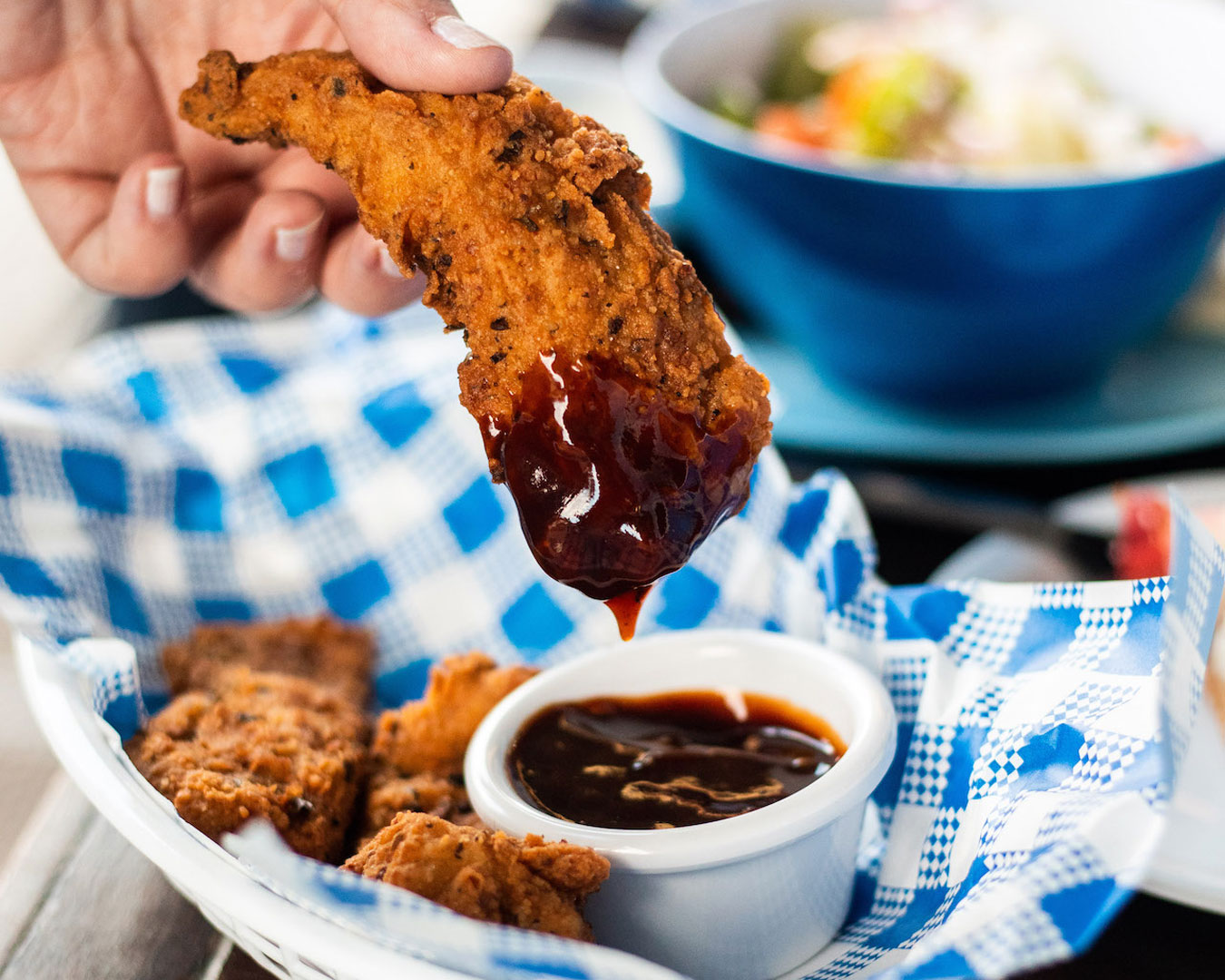 As we said, we like puns. The couple behind I Should Be Souvlaki—Emma and Adam—started out by selling their chick'n souvlaki at the Sydney Vegan Markets and the demand grew from there, with the duo going on to open their dine-in restaurant on King Street. The concise menu features salt and pepper "calamari", chips, wraps, salads, cakes, and the namesake souvlaki with proteins such as its soy-based "lamb", wheat-based chick'n, and marinated cauliflower.
Oh My Days
Glebe and Castle Towers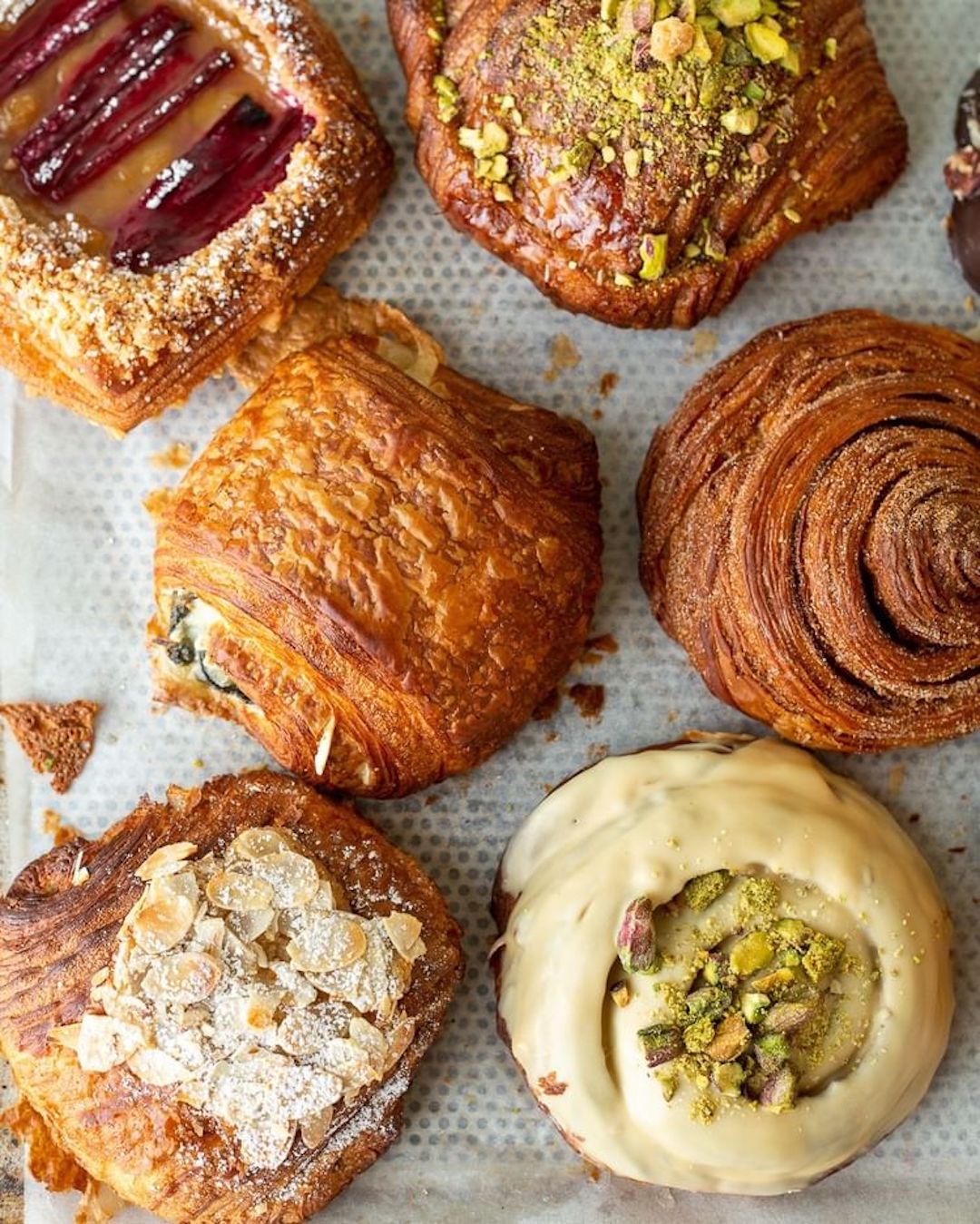 There's no doubt that the Australian cafe scene is one of the best in the world. Well, head chef and owner David Rigby (Bentley, Est.) and his cafe Oh My Days strongly carry on that tradition whilst carrying the plant-based torch. The diverse menu is chock-full of sustainably sourced ingredients, playing with breakfast classics and Mexican favourites, from burgers to jackfruit nachos and from the OG tempeh burrito to the "bacon" brekky roll. There are even zero butter croissants—that's right, vegan croissants—made with whole-wheat stone-ground flours bound to challenge any pastry purists.
Funky Pies
Bondi
Funky Pies goes beyond offering plant-based delights in a quest to be eco-friendly. Alongside incredible and flavoursome pies, the Bondi shop sits inside a recycled interior fit-out, with organic and biodegradable packaging and fair-trade coffee. As for their menu, that's pretty damn good too. Made fresh daily, try the organic lentil, chickpea and coconut curry sauce pie, the "chilli-non-carne", the rustic bolognese, or the spicy Thai pie. There's also a full gluten-free range, including an apple pie sure to please any sweet tooth.
Eden
Bondi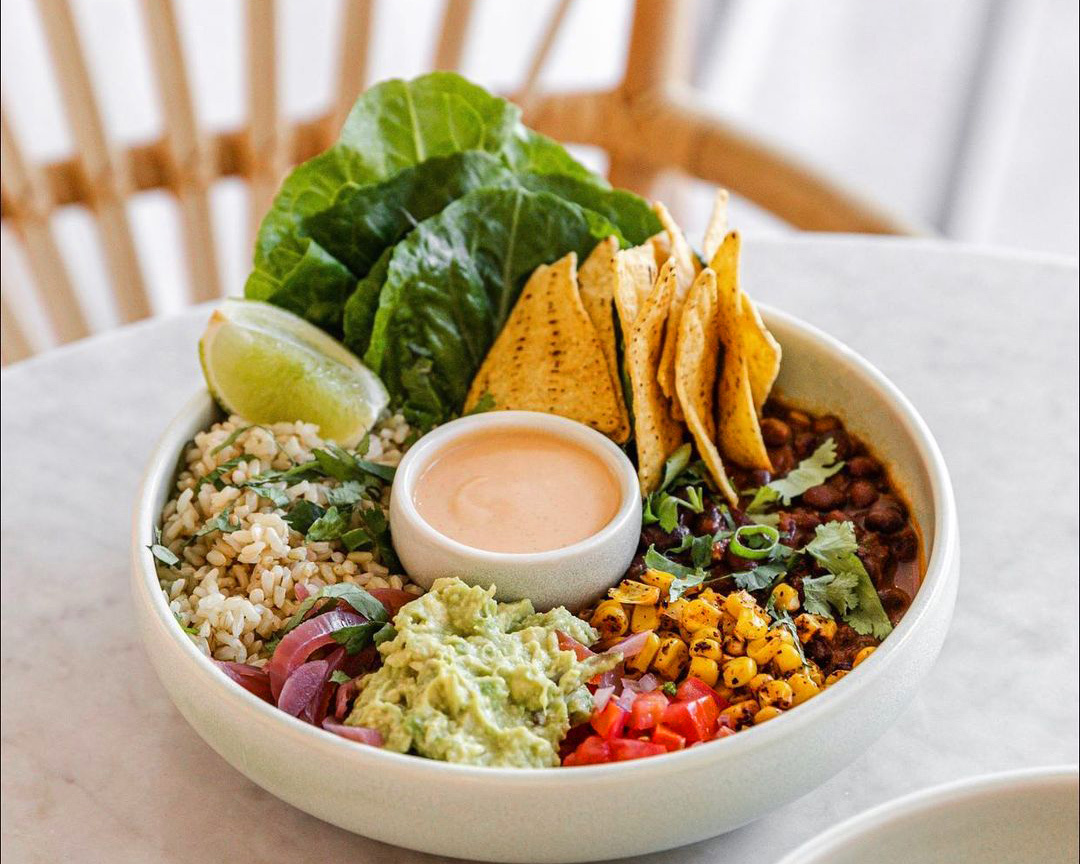 Located on level one of Bondi's Pacific Building Eden is a perfect spot for an all-out vegan feast. With a former Alibi chef at the helm, the food here is as good-looking as it is packed with flavour. The menu spans everything from share plates (featuring a selection of plant-based cheeses and house ferments) and pizzas to starters like salt and pepper "kalamari" and heartier feeds like hemp mac 'n' cheese, or vegan chilli.
Little Turtle
Enmore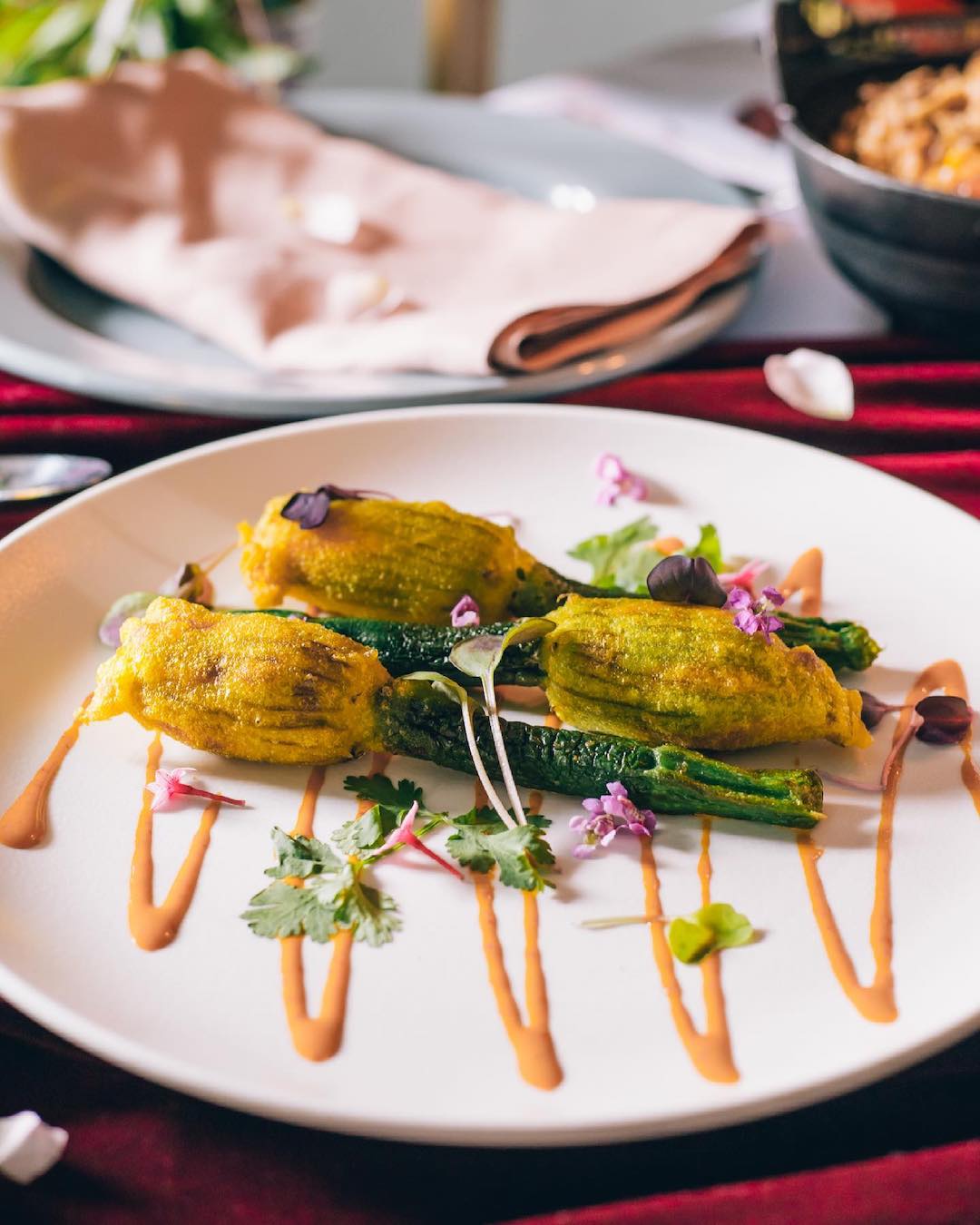 A passion project for its owner, Vinita, Little Turtle does a colourful all-vegan menu that takes its cues from Thai cuisine. Your feast might include the zucchini flower pops filled with whipped truffle vegan cheese and potatoes, mung bean and coconut meat served with sriracha mayo, sticky sesame "wings" made from cauliflower coated with sweet homemade soy sauce, or a wholesome hor mok curry served in a whole coconut.
Soul Burger
Various Locations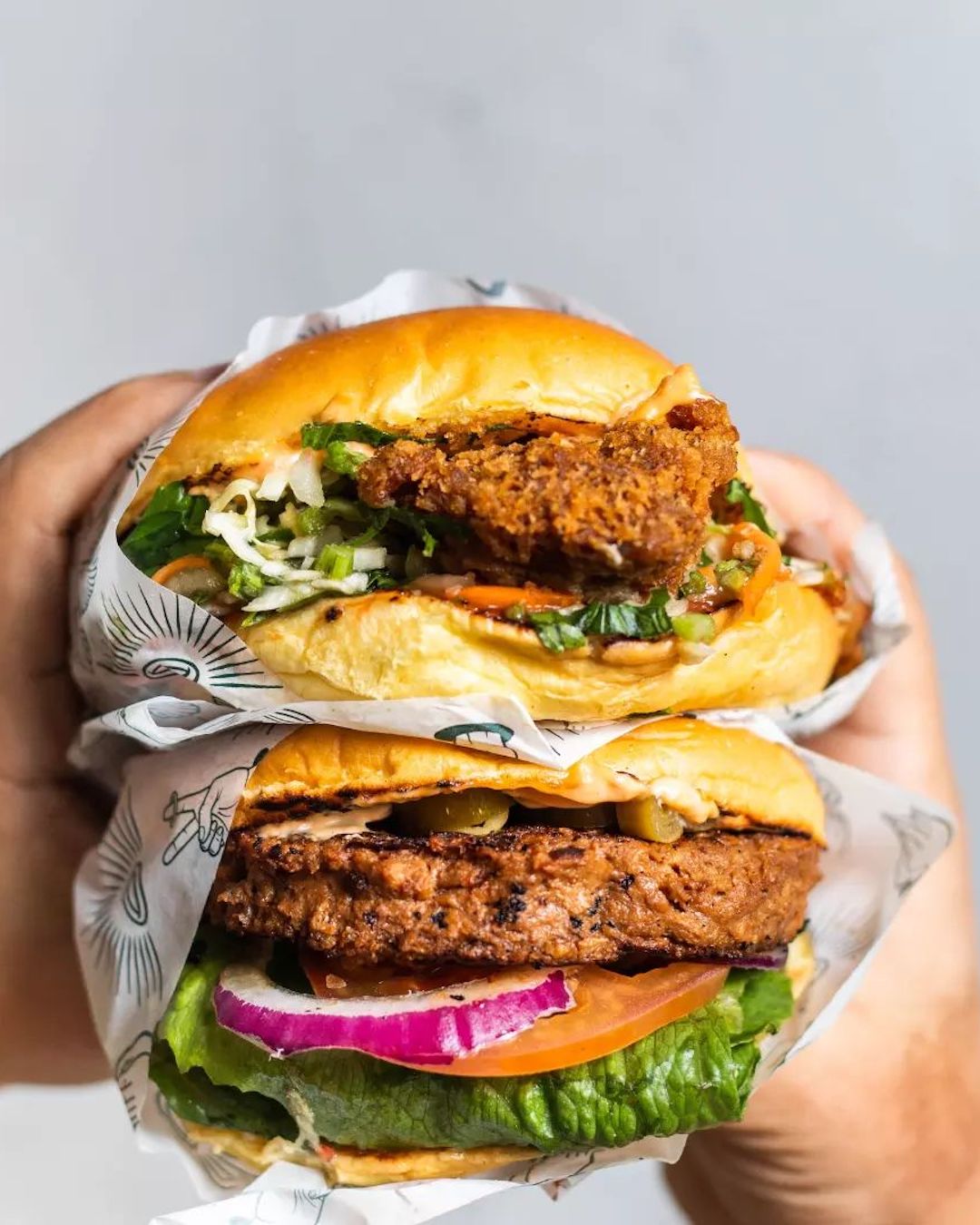 Let's not beat around the bush. The "pulled pork" jackfruit burger from Soul Burger is legendary. It's no wonder that within a few years, Soul Burger went from its single Randwick headquarters to multiple venues in the Inner West plus Parramatta. Burger lovers have no shortage of options thanks to a menu that covers everything from "fish" to falafel to Beyond Meats and Portuguese fried "chicken".
Untied Rooftop Bar
Barangaroo
Okay, Barangaroo's Untied Rooftop Bar is not actually a vegan venue. But if we're talking about amazing plant-based feeds, there's no going past the picturesque bar's boozy bottomless vegan brunch option. The sky-high oasis overlooking Daring Harbour offers a Sunday brunch for $69pp for a two-hour sitting, with dishes like sundried tomato and basil hummus schiacciata, BBQ pulled shiitake mushroom with chilli beans, friend tortilla chips, jalapeno and slaw, and maple-covered French toast—which you'll wash down a range of wines, prosecco and refreshing cocktails that keep on coming.
Vandal Taqueria
Newtown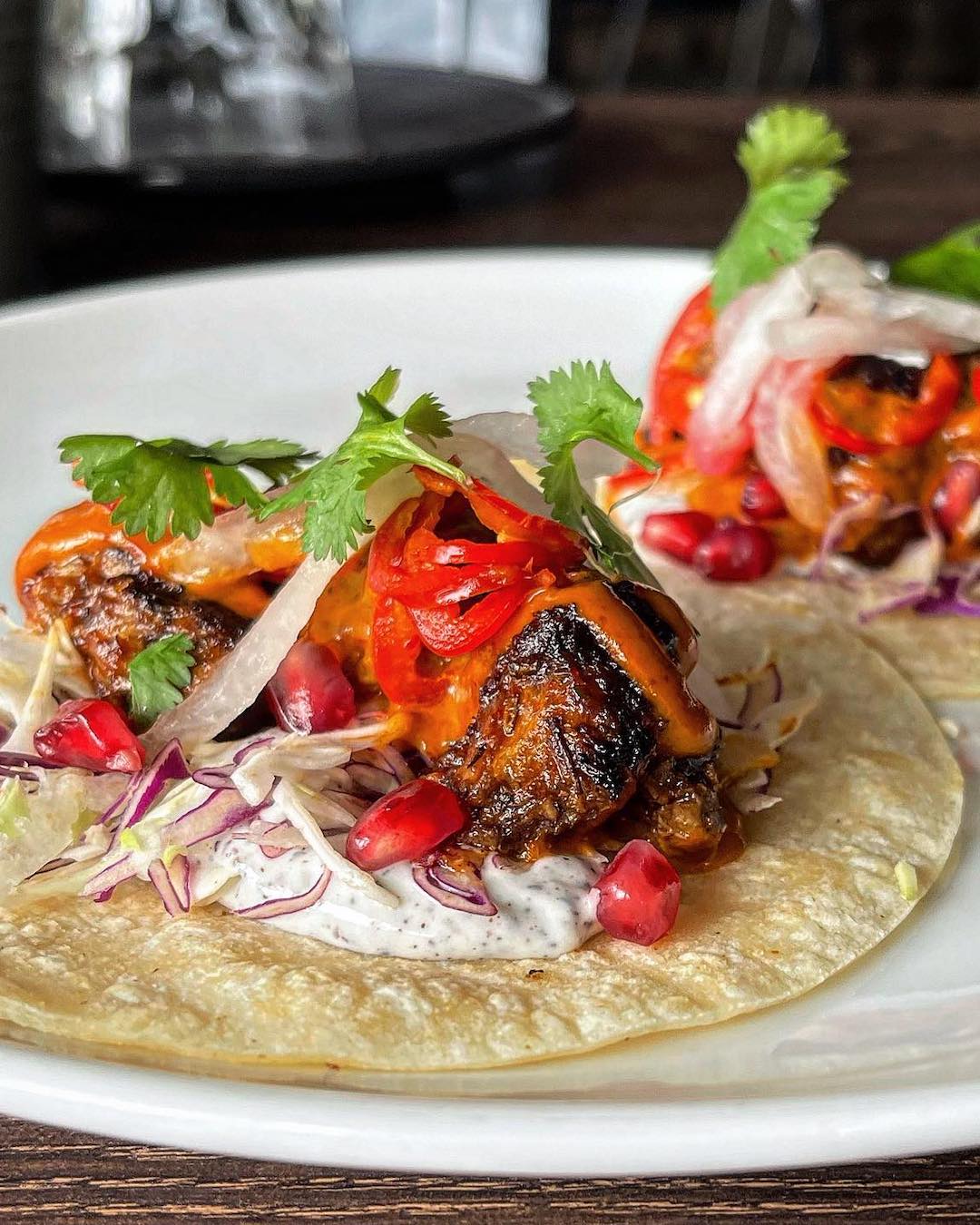 Vegan or not, Vandal recently landed on our list of Sydney's best Mexican restaurants. An homage to the Latino food trucks of Los Angeles, the eatery walls are covered in street art, and the flavours coming out of the kitchen are mouth-watering. Serving "inauthentic Mexican", you can order jackfruit nachos, "cheese"burger spring rolls with house-made "beef patty", wild mushroom quesadillas and all the vegan tacos your heart desires. Be sure to leave room for the range of frozen margaritas to cool down the spice.
Green Mushroom
Newtown
Billing itself as "Australia's first Indian vegan restaurant", Green Mushroom is your next plant-based destination if you're a fan of big flavours and spices. The King Street spot is all about family, ambience and hand-picked, organic vegetables from local vendors. Think tandoori tofu, veggie lamb rogan josh, and navratan korma.
Khamsa Cafe
Erskineville
Inspired by owner Sarah Shaweesh's Palestinian heritage and the many countries she lived in before moving to Australia, Khamsa Cafe strives to progressively showcase Middle Eastern culture and share a plant-based philosophy. You'll find Turkish coffee, vegan shawarma, plenty of vegan sweet treats and the crowd-favourite Jerusalem bowl, with cauliflower, quinoa, baba ghanoush and fattoush salad.
Nutie
Balmain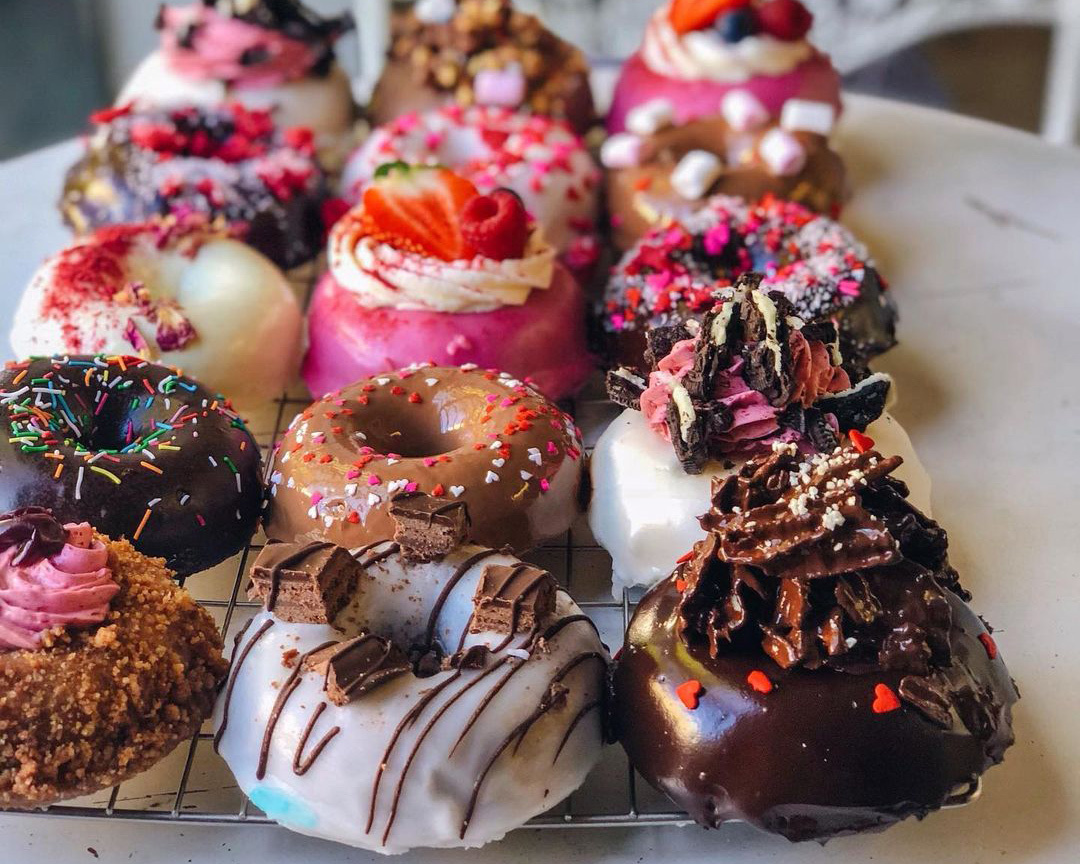 We know, we know—we're sneaking a few non-restaurants in here. But Nutie is worth it! After building a pretty darn good reputation for slinging vegan and gluten-free sweets around Sydney markets for a few years, Nutie Donuts finally found a home on Balmain's Beattie Street. Amongst the dietary-friendly offerings are plenty of sweet-tooth-pleasing vegan options, from outrageous cakes to doughnuts, muffins and rocky road.
Green Gourmet
St Leonards
We love a bit of yum cha, and as this list shows, we also love good vegan options. Located in St Leonards with a vision for responsibly and compassionately looking to the future, family-owned Green Gourmet has been a Sydney favourite and a vegan haven since 1998. Pop in for the Asian banquets, BBQ "Not Pork" Love Buns, shantung "Not Chicken", spinach and chia dumplings, or vegan cakes and pastries all made in-house.
Bootleg Italian
Paddington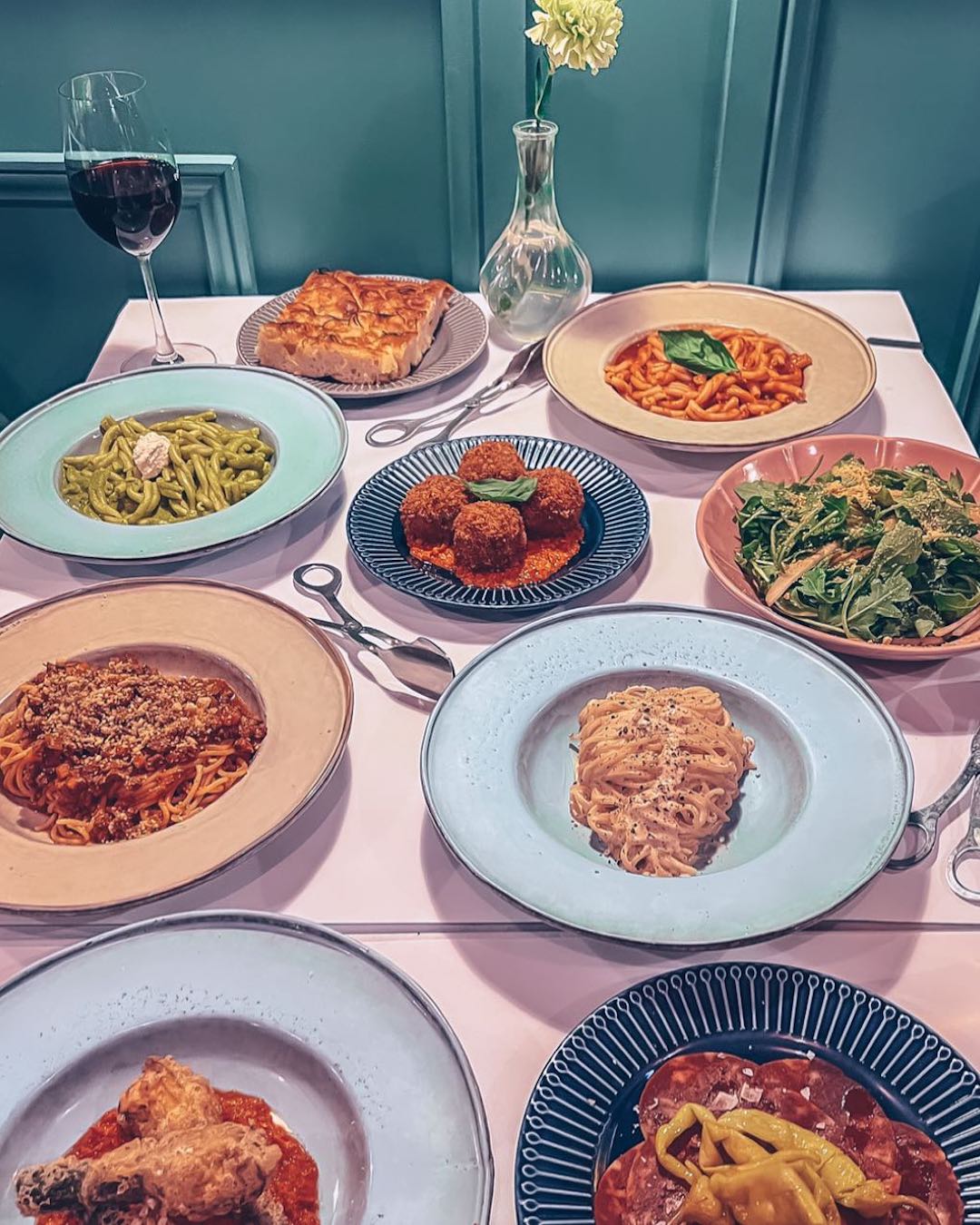 If you're desperate for an arancini, cacio e pepe bucatini and tiramisu fix (but in plant-based form), look no further. Bootleg Italian is an indulgent vegan spot that offers a classic Italian menu sans the cheese, salami and mascarpone—and their garlicky dough balls are the stuff of sweet dreams. Pair your meal with a house cocktail or natural wine, and head out to the sunny courtyard for some big Italian summer vibes.
Coming Soon: Greens Super Market
Newtown
Greens Super Market is a massive new vegan complex opening in Sydney soon. Dreamt up by the team behind Vandal Taqueria, Greens will be located not far from the Inner West's now-famous "Vegan Mile", and the new hot spot will feature a few vegan firsts for Australia. Inside will be Australia's first fully-fledged plant-based supermarket, Australia's first plant-based sushi train, and Australia's first plant-based speakeasy teppanyaki bar. Rounding it all out will be a New York-style plant-based pasta bar. Yep, that's four vegan venues in one. Read more here.
While you're here, check out our favourite vegetarian restaurants in Sydney.
Image credit: Alibi, Bad Hombres, Mary's, Gigi Pizzeria, Lonely Mouth, Flyover Fritterie, I Should Be Souvlaki, Oh My Days, Eden, Little Turtle, Soul Burger, Vandal Taqueria, Nutie, Bootleg Italian