Sydney's vegan restaurant options are plentiful and growing in number, with a tonne of new and classic options to satisfy your plant-based hankerings.
Italian, Mexican, Thai, Chinese, Indian, Vietnamese, greasy American-style burgers, vegan croissants—name your poison, and your chances of finding a high-quality plant-based version in our city are high.
These are some of our favourite vegan restaurants in Sydney right now.
Gigi Pizzeria
Newtown
Gigi Pizzeria is easily one of the best vegan hangouts in Sydney, and, given how brilliant these guys are at creating seriously delicious vegan pizza—it's a perfect introduction to plant-based dining for those who are a little hesitant.
Gigi went vegan in 2015 as owner Marco Matino wanted to create a menu that reflected his own food ethics. However, what makes Gigi extra unique is that it remains a member of the Associazione Verace Pizza Napoletana, which verifies authentic Napoletana-style, woodfired pizza. So, it's vegan, but it's also legit—easily some of the best pizza in Sydney right now. Keep in mind that Gigi doesn't split bills and it's common to find a line out the door because you can't make bookings (except for lunch on weekends). Better get in early!
Flyover Fritterie And Chai Bar
CBD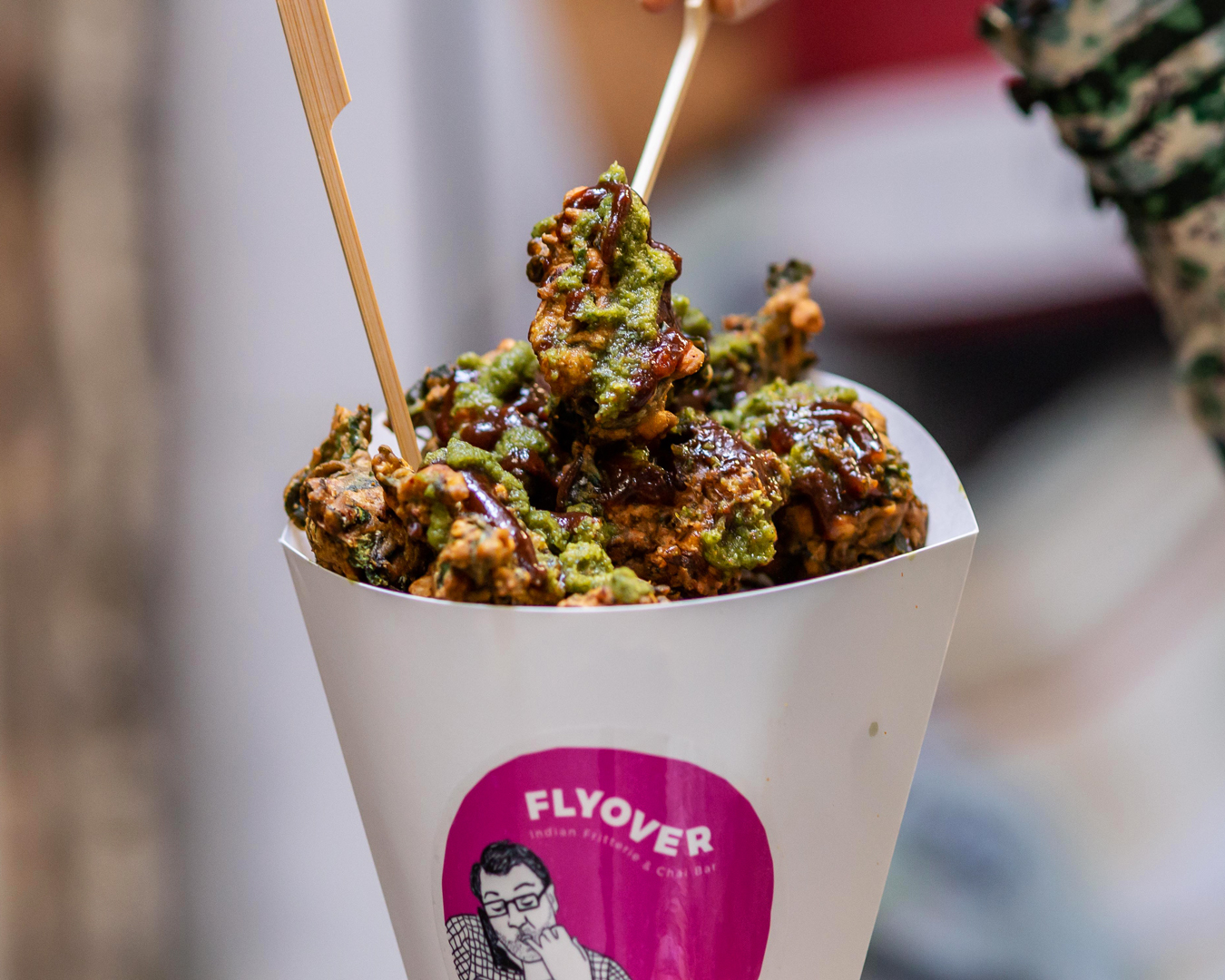 Flyover Fritterie is the kind of no-frills, taste-packed lunch spot that makes you seriously question why and how it didn't exist in your life sooner. The hole-in-the-wall takeaway joint, located in Temperance Lane next to Sneakerboy, is bringing Indian street stall culture to Sydney CBD. According to co-owner Gunjan Aylawadi, Flyover Fritterie's goal is to serve up more tasty, healthy and easy vegan snack options to Sydney.
The main item on the menu is pakora—a crunchy Indian snack made from fried vegetables coated in a spiced chickpea flour batter. Freshness is key, of course, so expect the best veggies of the day on the rotating menu. "[Serving pakora] allows us to work with a whole variety of seasonal vegetables, herbs, nuts and seeds—ingredients that we want to eat every day but packed in a tasty, fun little fritter, served with our fresh house chutneys," Gunjan says. "At Flyover Fritterie we make our fritters hot for everyone for that freshness that we so miss about Indian street food."
Salads are also on the menu, alongside a quinoa khichri and vegan burgers, catering to those with a larger appetite. The other speciality is chai, which is made in a variety of blends (from traditional ginger masala to cardamom, clove or liquorice blends).
Golden Lotus
Newtown
Another staple for lovers of a plant-based diet is Golden Lotus on King Street. Just across the road from Newtown train station, this convenient and inexpensive, BYO restaurant is a classic for dinner with mates or even a first date.
The menu is hefty, with plenty of options that make it difficult to choose. The vegan duck and salt and chilli "calamari" is always fun (there is also plenty of tofu and veg options for people who don't like mock meats), but our favourite has to be the crispy vegan chicken pho. Can't go wrong!
Lonely Mouth
Newtown
It's pretty simple in Sydney—if it's ramen from the folks at RaRa, we trust it. You can then imagine the collective cheer from Sydneysiders when the ramen experts opened a vegan-only venture on Newtown's Australia Street.
Lonely Mouth is a 100% plant-based ramen bar that offers all the usually bold and slurp-tastic flavours of RaRa's restaurants, with a small menu you'll still agonise choosing between. The fan favourite has to be the tatanmen ramen, with a spicy Sichuan-based nutty broth topped with house-made plant-based mince, black fungus, bok choy, Sichuan pepper and chilli oil. Pair that with the house-made vegan kimchi and a tinnie of the Yullis x RaRa collaboration lager for a proper, hearty feed.
Mary's Circular Quay
Circular Quay
Mary's Circular Quay is the above-ground element of Mary's Underground, and part of the burger joint's takeover of the iconic Basement music venue. Here you'll find all of your favourite Mary's burgers, but with a vital twist: the option to make them all vegan (and taste just as good).
You'll find plant-based beef patties, egg-free sauce and cauliflower in place of Mary's famous fried chicken. The items are also cooked on separate grills and fryers. "It allows our animal-friendly friends to choose ethics without sacrificing flavour," Mary's co-founder Jake Smyth said of the inclusive menu. "This ain't Mary's health food and salad bar, it's fucking delicious plant-based food, designed to make your carnivorous mates jealous. And for our meat-eating pals, it's business as fucking usual."
The Green Lion
Marrickville
At the end of 2020, The Green Lion left the Rozelle pub it once called home—moving on to greener pastures (pun intended) and its very own bricks and mortar shop in Marrickville. What was once Australia's only 100% plant-based pub bistro has become a full-blown vegan enterprise, serving traditional Aussie comfort food—schnitty, burgers, pizza, and more—but all sans animal products. From the shop, you can dine in (outside of lockdown times) or takeaway. The Green Lion also produces frozen vegan meals, which they deliver across Sydney, the Blue Mountains, Central Coast, Newcastle, and Canberra.
Bad Hombres
Surry Hills
Bad Hombres is a hoot and, despite being totally vegan, it offers a very close-to authentic Mexican flavour. The most popular dish is the big plate of cauliflower with seaweed salt, cashew cream and salsa, which is served with the tortillas to make your own tiny tacos. The menu can easily be shared but there are also tacos and tostadas that work as a bar snack or solo meal. Great for a group visit, just be sure to book in advance.
The Sunshine Inn & DD's
Redfern
This Redfern Street bar and hidden restaurant run by the legends who gave us The Little Guy and Golden Gully offers one of the most effortless meat-free menus in Sydney. Other than one or two menu ingredients clearly marked as dairy, everything is vegan and definitely delicious.
Alongside local craft beer on tap, natty wines, and a killer list of cocktails, The Sunshine Inn front bar offers a small menu with dishes like jalapenos poppers, house-made smoked garlic hummus and the crowd-favourite "meatball" sub (order without cheese to make vegan). We also recommend getting around the weekly $10 pasta dishes on Tuesdays. In DD's, the hidden restaurant out the back, head chef Emma Evans (Alibi, Golden Gully) puts on a rotating tasting menu showcasing local and seasonal produce bought directly from Sydney markets.
La Petite Fauxmagerie
Newtown
Not only is La Petite Fauxmagerie rocking one of our favourite pun-tastic names, but the King Street artisanal shop's cheeses are entirely plant-based, dairy-free, and gluten-free. If you head into the vegan cheesemonger, you can pick up every style of cheesy goodness without being relegated to the top shelf of the back aisle. Blue, brie, fetta, halloumi, mozzarella, ricotta and even butter–owners Michelle van Rensburg and Carl Coyle have got it all waiting for you. You'll also find vegan-friendly wines, chocolates, brownies and cheese toasties.
Oh My Days
Glebe
There's no doubt that the Australian cafe scene is one of the best in the world. Well, head chef and owner David Rigby (Bentley, Est.) and his cafe Oh My Days strongly carry on that tradition whilst carrying the plant-based torch. The diverse menu is chock-full of sustainably sourced ingredients, playing with breakfast classics and Mexican favourites, from burgers to jackfruit nachos and from the OG tempeh burrito to the "bacon" brekky roll. There are even zero butter croissants—that's right, vegan croissants—made with whole-wheat stone-ground flours bound to challenge any pastry purists.
Alibi
Woolloomooloo
This stunning bar and restaurant along the Woolloomooloo wharf is a fun "special occasion" kind of restaurant. The high tea is perfect for a day out to treat your vegan mate, where you can sample a range of sweet and savoury vegan bites, plus bottomless sparkling for $75. The eight-course tasting menu at dinner is also reasonably priced at $75pp, plus there's a bar menu with tacos and their famous "Beyond Burger". Save your money for cocktails because that's where your budget will blow out, but these beautiful concoctions are well worth the extra dollars.
Funky Pies
Bondi
Funky Pies goes beyond offering plant-based delights in a quest to be eco-friendly. Alongside incredible and flavoursome pies, the Bondi shop sits inside a recycled interior fit-out, organic and biodegradable packaging and fair-trade coffee. As for their menu–that's pretty damn good too. Made fresh daily, try the organic lentil, chickpea and coconut curry sauce pie, the "chilli-non-carne", the rustic bolognaise, or the spicy Thai pie. There's also a full gluten-free range, including a GF apple pie sure to please any sweet tooth.
Eden
Bondi
Located on level one of Bondi's Pacific Building beside the entrance to QT hotel, Eden is a perfect spot for an all-out vegan feast. With a former Alibi chef at the helm, the food here is as good-looking as it is packed with flavour. The menu spans everything from share plates (featuring a selection of plant-based cheeses and house ferments) and pizzas, to starters like salt n pepper "kalamari" and heartier feeds like "hemp mac n' cheese", or vegan chilli mex.
Bodhi
CBD
Bodhi near Hyde Park is an icon of vegan dining in Sydney! While the a la carte dinner is lovely, Bodhi is renowned for its vegan yum cha served from 11am to 3pm every day (4pm on weekends).
Expect tasty things like sweet Japanese pumpkin dumplings, Australian field mushroom dumplings, green tea and choysum dumplings, as well as sweets like mango pudding, custard lava buns and steamed black bean sesame hedgehogs. Lots of items on the menu are available gluten-free upon request too.
Little Turtle
Enmore
While some might argue we barely needed another Thai restaurant in the Inner West, Little Turtle does have a unique proposition with its colourful all-vegan menu.
It's not just the odd mock duck curry or faux chicken stir fry (not that there's anything wrong with that). This is a restaurant for people who really love vegetables. The sticky sesame wings (made with cauliflower) are a must-try.
Soul Burger
Various Locations
Let's not beat around the bush. The "pulled pork" jackfruit burger from Soul Burger is legendary. It's no wonder that within a few years, Soul Burger went from its single Randwick headquarters to multiple venues in the Inner West and Paramatta. Burger-lovers have no shortage of options thanks to a menu that covers everything from "fish" to falafel to Beyond Meats and Portuguese fried "chicken".
Untied Rooftop Bar
Barangaroo
Okay, we'll admit that Barangaroo's Untied Rooftop Bar is not actually a vegan-only venue. But if we're talking about amazing plant-based feeds, there's no going past the picturesque bar's boozy bottomless vegan brunch option.
The Darling Harbour-overlooking, sky-high oasis offers a Sunday brunch like no other for $69pp for a two-hour sitting. Food involves dishes like scrambled tofu with a potato and chickpea hash, charred asparagus and roasted cherry tomatoes or polenta crisps with pulled shiitake mushrooms and chilli beans. Which you'll wash down a range of wines, prosecco and refreshing cocktails, which keep on coming.
Vandal Taqueria
Newtown
Vegan or not, Vandal recently landed on our list of Sydney's best Mexican restaurants. An homage to the Latino food trucks of Los Angeles, the eatery walls are covered in street art, and the smells and flavours coming out of the kitchen are mouth-watering. Serving "inauthentic Mexican", you can order jackfruit nachos, cheeseburger spring rolls with house-made "beef patty", wild mushroom quesadillas and all the vegan tacos your heart desires. Be sure to leave room for the range of frozen margaritas to cool down the spices.
Green Mushroom
Glebe
Billing itself as "Australia's first Indian vegan restaurant", Green Mushroom is your next plant-based destination if you're a fan of big flavours and spices. The Glebe Point Road spot is all about authenticity, family, ambience and hand-picked, organic vegetables from local vendors. Think tandoori tofu, veggie lamb Rogan josh, and navratan korma.
Khamsa Cafe
Erskineville
Inspired by owner Sarah Shaweesh's Palestinian heritage and the many countries she lived in before moving to Australia, Khamsa Cafe strives to progressively showcase Middle Eastern culture and share a plant-based philosophy. Originally running a catering company that sold vegan cakes, Shaweesh opened her vegan cafe in 2019. There you'll find Turkish coffee, vegan shawarma, plenty of vegan sweet treats and the crowd favourite Jerusalem bowl, with cauliflower, quinoa, baba ghanoush and Fattoush salad.
Nutie
Balmain and Surry Hills
After building a pretty darn good reputation for slinging vegan and gluten-free sweets around Sydney markets for a few years, Nutie Donuts finally found a home on Balmain's Beattie Street. Since then, they've opened up a second location in Surry Hills to deliver dietary-friendly goods to more of us. Amongst the dietary-friendly and naturally GF offerings are plenty of sweet-tooth pleasing vegan options, from outrageous cakes to doughnuts, muffins and rocky road. The Surry Hills store also offers a full brunch menu, including options like 'the big vegan brekky' and 'superfood' vegan smoothies.
Vegan Lebanese Bondi Beach
Bondi
Sometimes, all the information we need is right there in the title. As you'd expect from Vegan Lebanese, the takeaway eatery redefines traditional Lebanese cuisine and "fast food" with a plant-based, enviro-friendly twist. And no complaints if that happens to be a stone's throw from Bondi Beach. Plant-based mince kafta skewers, falafel wraps, pea protein kafta shawarma wraps and house-made baklava—to name a few healthy offerings sure to fill any hungry void.
Vegan Lebanese is currently offering takeaway and delivery from its vegan Lebanese online supermarket. Head here for details.
Green Gourmet
St Leonards
We love a bit of yum cha-style eating around here, and as this list shows, we also love good vegan options. Located in St Leonards with a vision for responsibly and compassionately looking to the future, family-owned Green Gourmet has been a Sydney favourite and a vegan haven since 1998. Pop in for the Asian banquets, BBQ "Not Pork" Love Buns, Shantung "Not Chicken", spinach and chia dumplings, or vegan cakes and pastries made in-house.
Coming Soon: Greens Super Market
Newtown
Greens Super Market is a massive new vegan complex opening in Sydney soon—is here to fill this vegan void in Sydney. Dreamt up by the team behind Vandal Taqueria, Greens will be located in Newtown, not far from the Inner West's now-famous "Vegan Mile", and the new hot-spot will feature a few vegan firsts for Australia. Inside will be Australia's first fully-fledged plant-based supermarket, Australia's first plant-based sushi train, and Australia's first plant-based speakeasy teppanyaki bar. Rounding it all out will be a New York-style plant-based pasta bar. Yep, that's four vegan venues in one. Read more here.
While you're here, check out our favourite vegetarian restaurants in Sydney.
Image credit: Lonely Mouth, Flyover Fritterie, Kitti Gould, Mary's, Bad Hombres, Maclay Heriot, Oh My Days, Alibi, Eden, Bodhi, Soul Burger, Nutie