As you can probably tell, we love creating a good list up in here. We love it so much that we just can't stop rattling off line-ups of Sydney's best restaurants.
This time around, it's all about the best restaurants in Sydney's inner west, where every cuisine under the sun has something to offer your appetite. Vietnamese, Italian, Turkish and every damn thing in between—the inner west has got your back (belly?)
Here are 50 of the best restaurants in Sydney's inner west to wet your whistle.
1. Stanbuli, Enmore: The Chef's menu is only $65 and you'll be feasting on fine dining Turkish food—enough said.
2. Cairo Takeaway, Newtown: The falafel rolls are good, but have you tried the seasoned fries?
3. Manoosh, Enmore: You haven't lived until you've scoffed three serves of their vegan garlic bread. No, really.
4. Kokoro Japanese, Concord: One of THE best spots for sushi in Concord, so basically we want all the katsu, all the gyoza and allll the sushi.
5. Butcher & The Farmer: To cure every single steak craving you've ever had.
6. Queens Hotel, Enmore: This one is a two-for-one with two distinct areas, Queen Chow and The Smelly Goat and between them; you and your belly will be well looked after.
7. Chinese Dumpling Master, Newtown: Order the noodles or pan-fried eggplant dumplings. Actually, both.
8. Stinking Bishops, Newtown: This is a restaurant dedicated to cheese and we know you don't need any more information than that.
9. Al Aseel, Alexandria: We're yet to find a problem that hummus and lemon garlic chicken from this place couldn't fix.
10. One Ford Street, Balmain: Fresh pasta, veal Cipriani and all kinds of rustic Italian dishes are on the menu here.
11. Calaveras, Newtown: Cue marinated chicken strips drizzled with salsa verde and chorizo chunks cooked in tomato chipotle jam.
12. Cornersmith, Marrickville: We know what you're thinking and no, this place isn't just a café anymore, it's a wine bar too. We know.
13. Salmon & Bear: The fish and chips. Honestly, just get the fish and chips.
14. Sherpa Kitchen: This is about to become the place you compare every single other Nepalese place to for the rest of your life.
15. Jasmin1, Leichhardt: Everything you see on the menu here is made in-house, and by golly gosh does it show. We've been known to go in and simply feast on bread and dips.
16. Efendy, Balmain: Top up on borek and baklava at one of Sydney's best Turkish restaurants, and don't skimp on the house cocktails.
17. Badde Manors Café, Glebe: Carnivores will be none the wiser at this vegetarian eatery, where the falafels are fresh and the eggplant and the tofu and pinenut rissole is hearty.
18. Aperitivo, Leichhardt: Oh, delicious Napoli-style pizza in Sydney, how you take our week from good to great at the mere whiff of mozzarella.
19. Happy Ending, Concord: When Mister Gee Burger Truck opens a burger joint, we listen and you should too. Bring. On. The Truffe.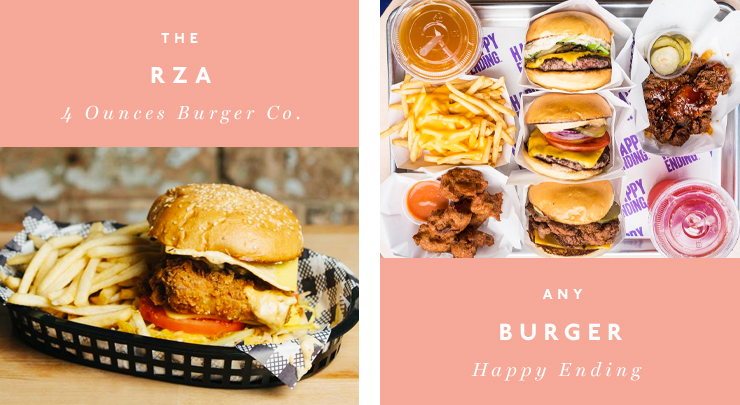 20. 4 Ounces Burger Co, Alexandria & Leichhardt: come for the big fat burgers with mac 'n' cheese on them but stay for The RZA (it's vegan, okay).
21. The Henson, Marrickville: You say pub, I say restaurant. The karaage chicken burger is the stuff of dreams. Sweet, artery-clogging dreams.
22. Bloodwood, Newtown: Head in with a group and tackle the banquet menu while sipping on a barrel-aged Martinez and forgetting about everything else in the world.
23. Oscillate Wildly, Newtown: Be prepared for a sensory journey at this institutional restaurant in Newtown, where decades of experience between the team are put to great use.
24. Shanghai Night, Ashfield: Nothing hits the spot better than damn good Chinese, and you better believe that's what you're getting at Shanghai Night. The seafood combo in XO sauce is a must.
25. Thai Pothong, Newtown: Without question some of the best Thai food in Sydney. The betel leaf prawns and Chinese broccoli crispy pork are non-negotiable.
26. Great Aunty Three, Enmore: We love this spot, where the pork belly banh mi is crispy, and the rice paper rolls are moreish. Tally ho!
27. Seed Greek, Petersham: No amount of piping hot halloumi will cause us to grow tired of this Petersham restaurant. Go all out and order the papia (twice cooked duck) and thank us later.
28. 21 Thai, Rozelle: Talk about a warming winter feast; the lamb shank massaman, or salt and pepper tofu will hit the spot every time.
29. Frangos, Petersham: is Frangos really considered a restaurant. As if you care, when the Portuguese chicken is this good.
30. Lentil as Anything, Newtown: Pay what you feel, and you'll no doubt be feeling damn fine after this delicious meal that is guaranteed to give you the warm and fuzzies.
31. Filicudi, Five Dock: When it comes to comfort food, these guys know how to do it right. Hoe into their penne Siciliana for all the carby feels.
32. More Rice, Dulwich Hill: Nothing makes us happier than a restaurant that knows exactly what we want. Grab a red duck curry as well, just for good measure.
33. Red Pepper, Strathfield: Yes, you'll have to head to Strathfield Sports Club to find this place, but you'll end up with some of the best Korean fried chicken you've ever tasted.
34. Sud, Concord: From the guys behind Gatto Matto, it is carb city up in Sud Italian street food, so don't feel guilty about an extra helping of Italian doughnuts.
35. Flying Tong, Enmore: The only place to eat your weight in fried chicken judgement free.
36. Ecco, Drummoyne: Go for the views and stay for the food at Ecco. A bottle of wine or a beer wouldn't go astray, either.
37. Cremeria De Luca, Five Dock: Okay, so technically this is a gelateria, but they serve gelato burgers, so obviously we can justify dinner there.
38. One Penny Red, Summer Hill: There are far too many things on the menu to choose between: plum and molasses beef short rib or Gooralie pork neck being a few. Go with the 'trust the chef' menu to cover all bases.
39. Hartsyard, Newtown: We wish you all the luck in the world choosing between all of the delicious dishes on the menu; although we wholeheartedly encourage you to try the cheddar puffs.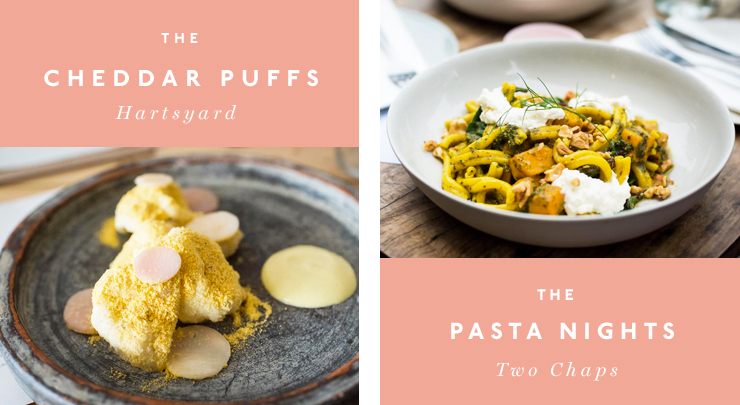 40. Two Chaps, Marrickville: Two words: Pasta nights Be there or be square.
41. Delhi 'O' Delhi, Newtown: Start with the stupidly addictive Khasta Raj Kachori and be sure to include the saag paneer.
42. Continental Deli Bar & Bistro, Newtown: If cold meats are considered a meal in your books, you'll never regretting overdosing at Continental Deli.
43. Abhi's Indian Restaurant, Strathfield: Cover all your bases with the banquet menu at this famous Sydney Indian restaurant, the flavoursome Goa fish curry is the stuff of dreams.
44. La Disfida, Haberfield: Nothing hits the spot quite like the woodfired pizza here, the diavola is a hit for all the spicy lovers out there.
45. Golden Times, Ashfield: The times will indeed be golden at this Chinese restaurant at West Ashfield Leagues Club, where the banquets will guarantee a food coma.
46. New Shanghai, Ashfield: Dumplings, dumplings, and more dumplings are on offer to keep you satisfied here; although the hot, spicy and sour noodle soup is similarly off the charts.
47. Yume Sushi, Drummoyne: Locals rave about this hole-in-the-wall Japanese restaurant in Drummoyne where you can always count on fresh, healthy, and satisfying cuisine.
48. Surjit's, Annandale: Challenge yourself to what is known to be one of the hottest curries in Sydney while spotting your favourite cricketers on the wall of fame.
49. Acre, Camperdown: Nailing the farm to table concept, there's no other place you'd rather be stuffing yourself silly on a sunny day.
50. Emma's Snack Bar, Enmore: Homestyle kebabs made to order have never been classier.
Next, tackle all the best new Asian restaurants in Sydney.
Image credit: Al Aseel, Happy Ending, Frangos, Hartsyard & Two Chaps | Caitlin Hicks, 4 Ounces Burger Co | Supplied