No doubt about it: ramen is probably the most popular export from the land of the rising sun behind sushi, Pokémon, and giant radioactive monsters. Like most things, it's usually better enjoyed piping hot at the source, but takeaway and home-delivered pots of noodles are also possible if that's your current vibe.
There's nothing better than warming up with a bowl of noodles. Here are 20 of Sydney's absolute best spots for ramen.
Gogyo
SURRY HILLS
From the team of culinary geniuses behind Ippudo, Gogyo is the Albion Street ramen restaurant at least one of your pushy foodie friends has excitedly told you to hurry up and check out. Bringing the bold flavours of Tokyo, the Surry Hills eatery specialises in burnt miso ramen. The feature dish has to be the kogashi or "black" ramen, with medium-thin noodles, a charred miso base, chicken broth, bean sprouts, a half umami egg, and pork belly chashu.
Other must-try options include a charred shoyu base, tonkotsu classic and modern, a chilli shoyu, or a veggie soba with a shoyu porcini base, vegetable bouillon, chilli garlic oil, portobello tempura, tomato, and kale. Alongside the main card is a solid a la carte menu that includes plenty of tantalising sides like wagyu sukiyaki spring rolls, twice-cooked pork belly "piggy bao", and "nasu dengaku" deep-fried eggplant with a sweet red miso glaze.
Gaku Robata Grill
Darlinghurst
If you're a Darlo local, you're probably very well versed in the delicious ramen offerings of Gaku Robata Grill, or you've often wondered to yourself why there's always a line of hungry-looking people gathered on Darlinghurst Road.
When everything is open as usual, Gaku offers one of the most exclusive ramen lunch menus in town. Only 40 portions are made each day available to the lucky few who arrive first, including some incredible specials like lobster ramen—drool. Their regular ramen offerings include Gaku Ramen 2.0 with light pork tonkotsu stock, umami konbu stock, pork cha-shu and a half umami egg, also available in spicy or supersized with five pieces of pork cha-shu. Or step up your game with Japanese wagyu ramen served with wagyu consommé, Japanese A5 wagyu, and citrus black pepper sauce. Otherwise, you can opt for the duck "yuzu" or veggie options.
Tenkomori Ramen
CBD
If you haven't yet discovered the Asian restaurant hotspot that is Regent Place on George Street in the CBD, you've been sorely missing out. The shopping centre brings together every sweet and savoury treat and dish your hungry heart could desire—including the almighty ramen. For our pick, head straight upstairs to Tenkomori Ramen, grab a tray, and hop in line. The food court restaurant lets you order your meal with unique efficiency and walk around to grab it as you watch it being made.
Here, you can also build your own ramen, starting with an extensive range of broths, then choosing a type of noodle, main protein, and toppings. Or you can order from the menu and relinquish control to the experts. If you want the classic option, choose number one, the tenkomori ramen with stewed pork loin, pickled takana green, fish cake, dried seaweed, roasted sesame, shallot, a seasoned boiled egg, and bamboo shoots.
Manpuku
Chatswood and Kingsford
Manpuku is a local favourite and stand-out in the crowded Chatswood market. They opened their second location up here in 2016 after the success of their original venture in Kingsford. Chef Hideto Suzuki currently has a 15-strong range of dishes to choose from and they rotate options all the time so make sure to return frequently in case they disappear. The signature dish, "Number Seven", is made using a secret pork-and-chicken broth blend unlike anything else you'll find in the Southern Hemisphere. Good thing the dishes are numbered too because the proper name of that one is 15 words long and good luck ordering it over the phone.
Ramen Goku
Glebe
Ramen Goku is an unassuming place located in amongst the action at the south end of Glebe Point Road. Their huge portion sizes and the authentically flavoured broth has earned them a loyal following amongst those who know a thing or two about ramen. The broth is tailored to each dish and usually consists of a speciality blend of tonkotsu, salt, miso and soy.
The standouts here amongst the extensive menu are the classic Sapporo miso ramen in a pork and chicken soup, the black garlic ramen with caramelised garlic oil, and, of course, their signature Goku ramen, which is a supremely well-done, straight-up traditional bowl. That last one also comes in a double portion, which is wild considering a single is enough to lay you out for a week. You can get veggie ramen here on request too and it's pretty good—although you'll probably want to throw an egg in there for a bit of protein.
Ajisen Ramen
CBD
Ajisen Ramen means "world ramen" and this place is part of a chain that originated in Japan in 1968. It's home to original tonkotsu ramen served with a thinner Kyushu noodle. For this price range, you can't do much better than Ajisen. Their classic ramen is properly filling with an incredible depth of flavour, while the "volcano ramen" is pretty much what you would expect; a firey chilli broth bowl slathered in black "volcano sauce".
For the plant-based people out there, all the non-meat dishes can be made vegetarian or vegan by choosing miso broth at checkout. Go for the vegetable ramen and chuck some fried silken tofu on there for good measure and don't forget the egg as it's packed with smokey flavour. If you order edamame, prepare to be munching on them for a long time after the meal as the portions are huge.
Kuroneko Ramen
Sutherland
Yeng and Allan serve up four kinds of ramen away from the action of central Sydney; tonkotsu, spicy tonkotsu, miso, and prawn and chicken. Given that the best ramen is usually cooked up in the city, Kuroneko Ramen is a great choice for people down south. The spicy broth is rich in umami flavour which is built by the crispy seaweed garnish and loaded up with springy noodles. The side dishes here are worth splashing out on too. Grab some fresh avo sushi rolls and a side of tempura cheese which sounds odd but trust us, it delivers. Veggies should grab the udon kakiage which sits in a clear soup topped with crispy vegetable tempura.
Gumshara
Haymarket
Ask any real ramen aficionado for their top ramen spots in the city and Gumshara will usually take the top spot. This place is legendary for its broth, which is so thick and heavily textured that they actually have a sign up offering to water it down if it's too much. The flavour can, unfortunately, be a little lacking so we recommend spicing it up with a chilli bomb for an extra two bucks. Add that and you may just have the city's best ramen. For a tiny, hole-in-the-wall restaurant tucked away in a Haymarket food court, Gumshara has amassed a serious following that any ramen newcomer would do well to get involved with. Vegetarians will have to look elsewhere, however.
Ramen Zundo
CBD and Chatswood
Ramen Zundo is dedicated to the cause of getting good ramen into your belly. The ramen here is freshly made every day from an eight-hour pork bone simmer, and it's packed with collagen and rich in texture and flavour. The specialty is Tsukemen, a style of ramen where your noodles are served separately to the broth, designed to dip and slurp to your heart's content.
Hakata Maru
Chatswood, North Sydney and Darling Square
This is another key spot on the ramen map that has to be sipped to be believed. Hakata Maru specialises in Hakata ramen which consists of silky tonkotsu broth, extra thin noodles, and minimal toppings to allow the simple ingredients to do the talking. They do shoyu, tonkotsu, and miso tonkotsu, which are relatively cheap and allow you to stack on the extras should you wish. It's simple, no-fuss food and the team here really pay attention to detail. They even have their logo printed onto the sheets of nori that garnish their dishes.
RaRa Ramen And Lonely Mouth
Newtown, Redfern and Randwick
RaRa Ramen is a little oasis in a sea of pork broth for vegans and veggies who still want a slurp of the soupy action. Their soy-based miso tonkotsu broth is simmered in a pressure cooker and packed with the creamy goodness that most other meat-free options lack. But this doesn't make them lightweights in the carnivorous section. Their pork tonkotsu is the stuff of legend and frequently has patrons blocking up the pavement at their Redfern and Randwick joints just to get a taste.
RaRa's vegan-only venture, Lonely Mouth, serves up hot noods in either a sunflower-and-hempseed broth or a spicy Szechuan soup topped with nuggets of seitan. They also offer the classic vegan miso made famous at RaRa here too.
RaRa Chan
South Eveleigh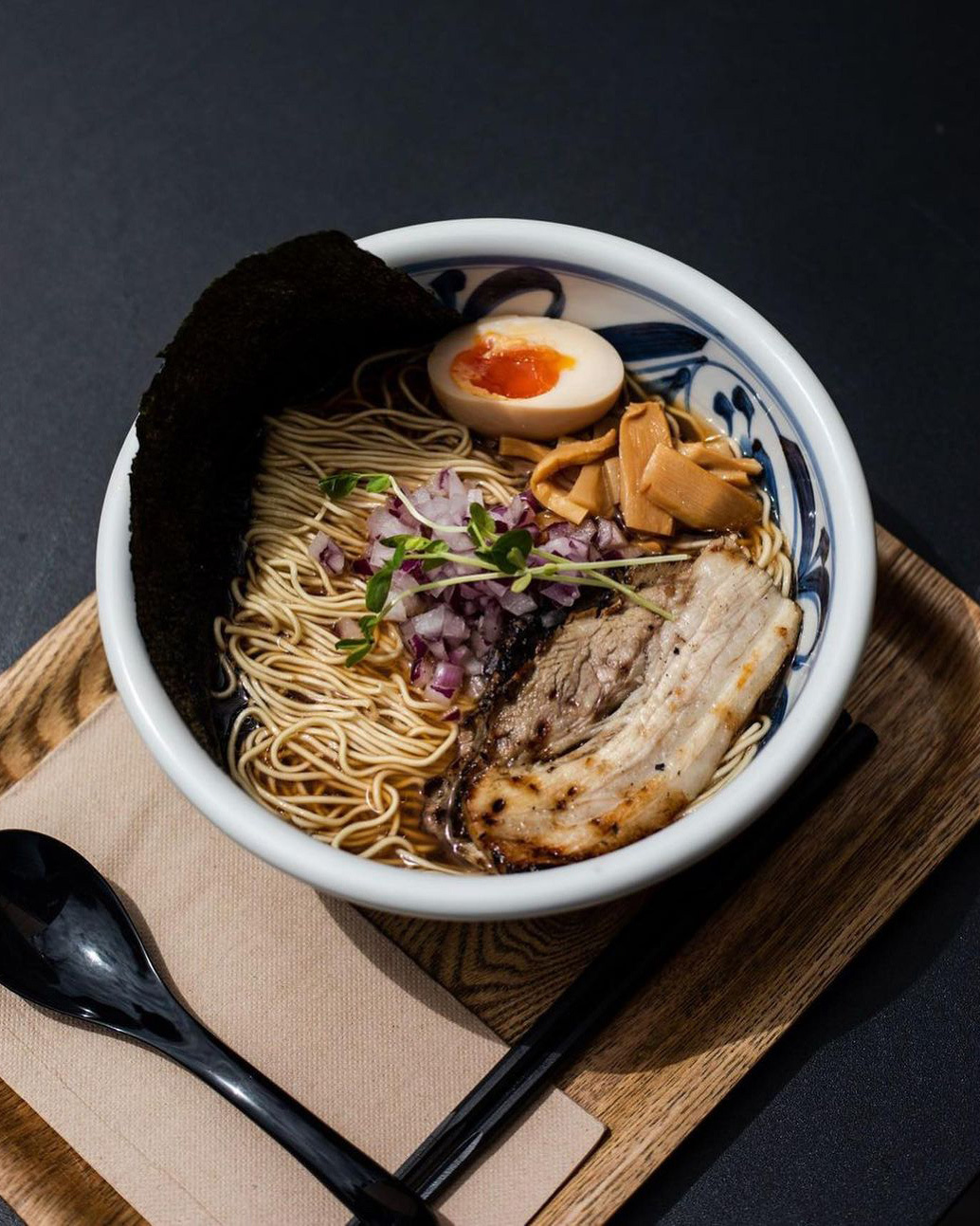 Let's be honest; there can never be too much RaRa in this world. Which explains why we were beyond stoked when the expert purveyors of ramen decided to open yet another posting at the new South Eveleigh dining precinct. The newest pint-sized eatery named RaRa Chan (the latter meaning little sister in Japanese) specialises in Tsekemen–a deconstructed ramen with thick noodles which you dip into broth and toppings, available with ebi (prawn) or gyokai (fish). There you'll also find Chintan, a clear soup, thin noodle Tokyo style ramen with chashu (seasoned pork belly), or chicken katsu curry and all the pork gyoza you can stuff in.
Butter
Surry Hills, Chatswood and Parramatta
They might be known for fried chicken, Hennessey cocktails, and collectable sneakers—but during the winter months, Butter is also a major player in the ramen game. If you aren't yet an honorary member of the "Butter Ramen Club", it's time to fix that, like, yesterday. If you need catching up, Butter's chef-owner Julian Cincotta regularly buddies up with a whole bunch of Sydney's hospo legends to create different ramen specials every month. As you can probably guess, these ramen dishes are not your traditional bowls and very heavily feature fried chicken. Hit up Butter's socials to find out when their new ramen menu drops.
Yasaka
CBD and Bondi Junction
Yasaka Ramen is now into its sixth year of serving up the noodly goodness. Their shop front is normally lit up with a neon sign which reads "no ramen, no life", a message we can fully get behind. They offer four tonkotsu-based broths which are super thick and have just added a light chicken and fish soup to the mix to balance things out.
The charred pork here is given an extra crispy layer with a blowtorch which really takes it up a notch, while the extra-fatty pork rib is definitely worth splashing out on if you need something more substantial to chew. They also do a great miso-based veggie ramen with crispy tofu and crunchy corn which you don't often get elsewhere—and that's a damn shame because it really works.
Rising Sun Workshop
Newtown
You wouldn't expect a working motorbike shop to serve up some of the best ramen in the area but, well, we are in Newtown where that combination actually makes total sense. Housed within an old Mitre 10 store off King Street, the team at Rising Sun have become known for their three superstar ramens, "The Dark", which is made with a free-range pork broth, "The Light", which is a concoction of Southern highlands free-range chicken and kongobushi dashi, and, for vegetarians, "The Monk", which is shiitake mushroom and sea kelp dashi with roast garlic, pepper, and miso. Open from 8am every day (outside of lockdown), Rising Sun is also famous for its breakfast ramen, which is made with buttered-toast broth, bacon, egg, and tomato.
Ichiban Boshi
CBD and Bondi Junction
The team at Ichiban Boshi first opened their doors in Bondi Junction in 1998 back when people had barely even heard of ramen. They're pioneers of the Japanese food scene and made a bit of a splash by selling fresh, handmade ramen and gyoza to the Eastern Suburbs. They still take their craft incredibly seriously, to the point of only making 30 bowls of their signature tonkotsu per day, and people generally queue around the block for it. If you are around the eastern beaches, grab a bowl of their ninniku ramen which is loaded up with garlic and soy sauce for a firey immune-boosting kick.
Ryo's Noodles
Crows Nest and Bondi Junction
Chef Ryosuki was born in Fukuoka, Japan, the birthplace of tonkotsu ramen which, given the number of times we've mentioned it, it seems fair to say that Sydney has a bit of an obsession. Ryo is another pioneer in this fair city and has been doing it for close to 20 years in North Sydney. It's a cash-only, no bookings kind of place with limited—if any—veggie options but what you do get is some of the best damn ramen you can find. Tonkotsu broth, grilled pork slices, egg, spring onions, and, of course, perfectly firm noodles. Although the Bondi store has temporarily closed, they have started doing takeaway, which means you won't have to fight so hard to get a taste.
Chaco Ramen
Darlinghurst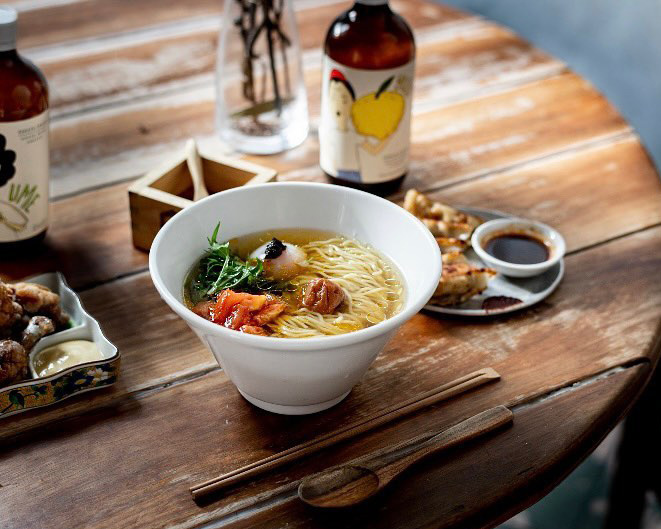 Chaco Ramen in Darlinghurst is a tiny ramen-ya down the quiet end of Crown Street with a big reputation. From the Chaco Bar and Haco family of Japanese restaurants in Sydney, the ramen here comes in three styles: fat soy, chilli coriander pork, or tomato tantan for the veggies. The pork broth here is shoyu but the added pork fat gives it a tonkotsu-like consistency which is supremely buttery. They'll even box it all up so you can prepare it at home for when you're ready to eat too!
IIKO Mazesoba
Darling square
We hope that if this list has taught you anything, it's that there are many wonderful varieties of ramen available right here in Sydney. IIKO Mazesoba specialises in mazesoba, a brothless ramen invented in Tokyo in the 1950s which replaces soup or broth with an umami soy-based sauce. You may have less need for a napkin, but this delicious dish still involves plenty of slurping. Head in and pick from wagyu, unagi, cheese, pork belly chashu, wagyu steak, chicken karaage, "XO piggy", vegan and truffle options (during the winter months)—to go alongside house-made thick noodles and a range of matching sides. If you think you still have room, get around some cauliflower karaage, ebi croquettes, or a truffle cheesecake for dessert.
Matsusaka Backstreet
Haymarket
Finally, we arrive at Matsusaka Backstreet. This is the type of place you'd probably walk straight past if you weren't actively looking for it but now we've told you, you won't miss out for much longer. They've pared down their menu to accommodate the crisis but will still deliver you their wonderful tonkotsu with an understated broth that won't dry your mouth out. The only vegetarian option is the veggie ramen that comes loaded up with crunchy stewed cabbage and a handful of green and orange scattered on top. Take your isolation game to the next level by settling in with a few bowls of the good stuff from Matsusaka. You won't regret it.
Now, keep the vibes high with Sydney's best fried chicken.
Image credit: RaRa Ramen, Butter, Gogyo, Tenkomori Ramen, Ajisen Ramen, Gumshara, Kitti Gould, RaRa Ramen, Chaco Ramen, IIKO Mazesoba