There is nothing better when you need a little soul food than a big steamy bowl of pho. This hot, soupy dish made with a rich herbal broth, noodles, and either chicken (pho ga) or beef (pho bo) is what we all need in our lives. And for the veggies and vegans out there, Sydney does some killer tofu pho (pho chay), too.
It's a Vietnamese dish popularised around the world by Vietnamese refugees and comes in northern and southern styles. And we'd go as far to say as it's one of the most popular dishes in Sydney come the winter months.
Craving a steaming-hot noodle soup? Here are the best pho restaurants in Sydney right now.
Pho Tau Bay
Cabramatta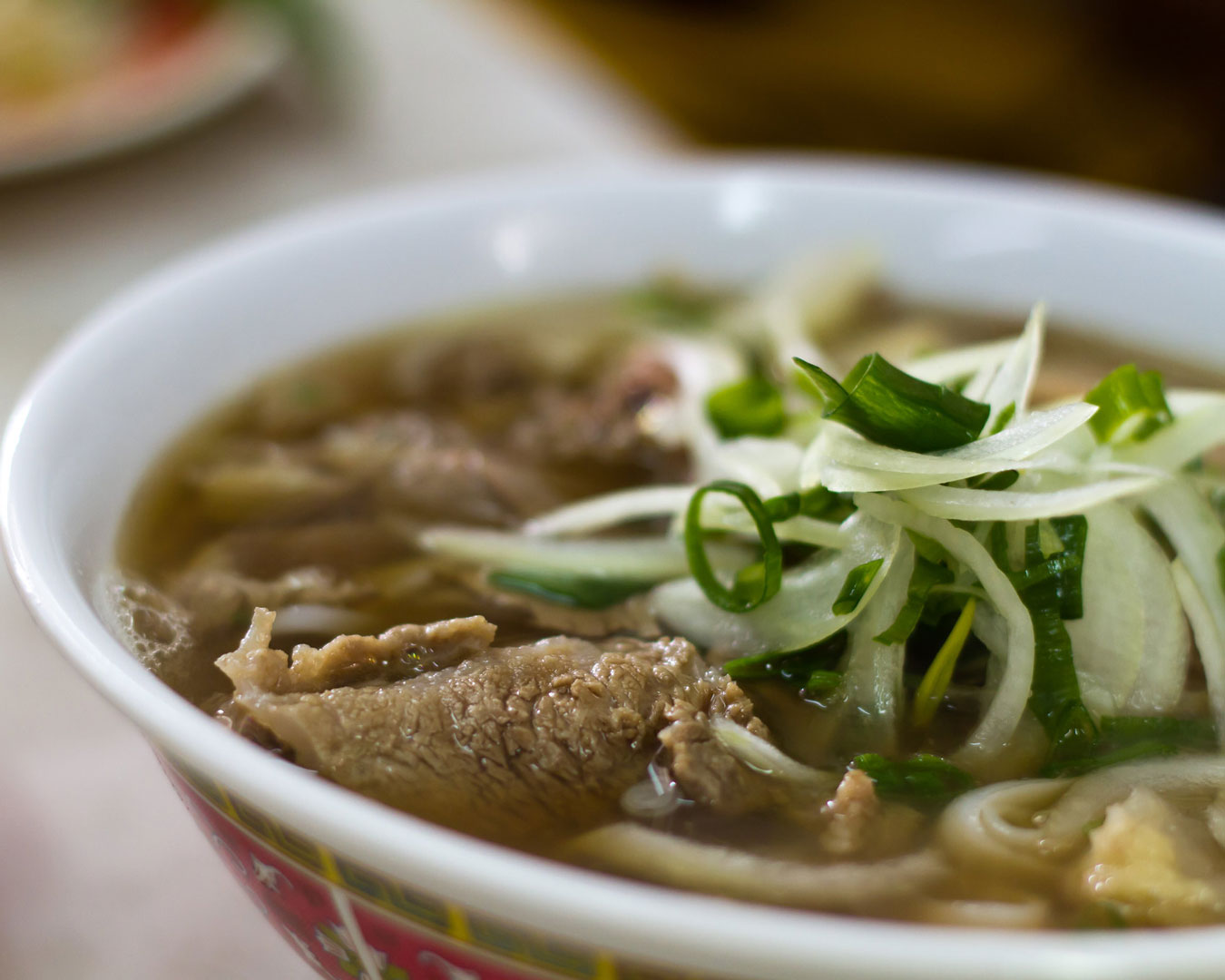 Everyone has their go-to pho place. But we're not talking about any ol' steaming-hot bowl of noodles here. We're talking about elite-level pho, and Pho Tau Bay is where it's at. Opening way back in 1980, Pho Tau Bay was the first Vietnamese restaurant in Cabramatta—a suburb that's now synonymous with Sydney's best Vietnamese food. And now that the temperature has dropped, it's a timely reminder to get a giant bowl of pho from the no-frills hole-in-the-wall where it all began. The beef noodle soup here is widely regarded as the best in Sydney packed with silky noodles, aromatic broth, and tender beef. What can top that? Pho Tau Bay's pho dac biet (AKA the works) that's packed out with sliced beef, brisket, tripe, and Vietnamese meatballs.
An Restaurant
Bankstown
For traditional Northern-style pho, make a beeline to Bankstown's popular An Restaurant. Here in Sydney, we usually slurp down Southern-style soups—making An a treat. What's the difference? Northern Vietnamese pho comes with wider noodles and simpler, clearer broth than its Southern counterparts. An Restaurant is open seven days a week from 6.30am (breakfast pho, anyone?), and is well regarded as one of the top Vietnamese soup spots in town. The slippery, soft rice noodles come topped with beef or chicken, fresh-picked herbs, and bean sprouts and come served in a steaming-hot secret broth.
Pho Toan Thang
Homebush West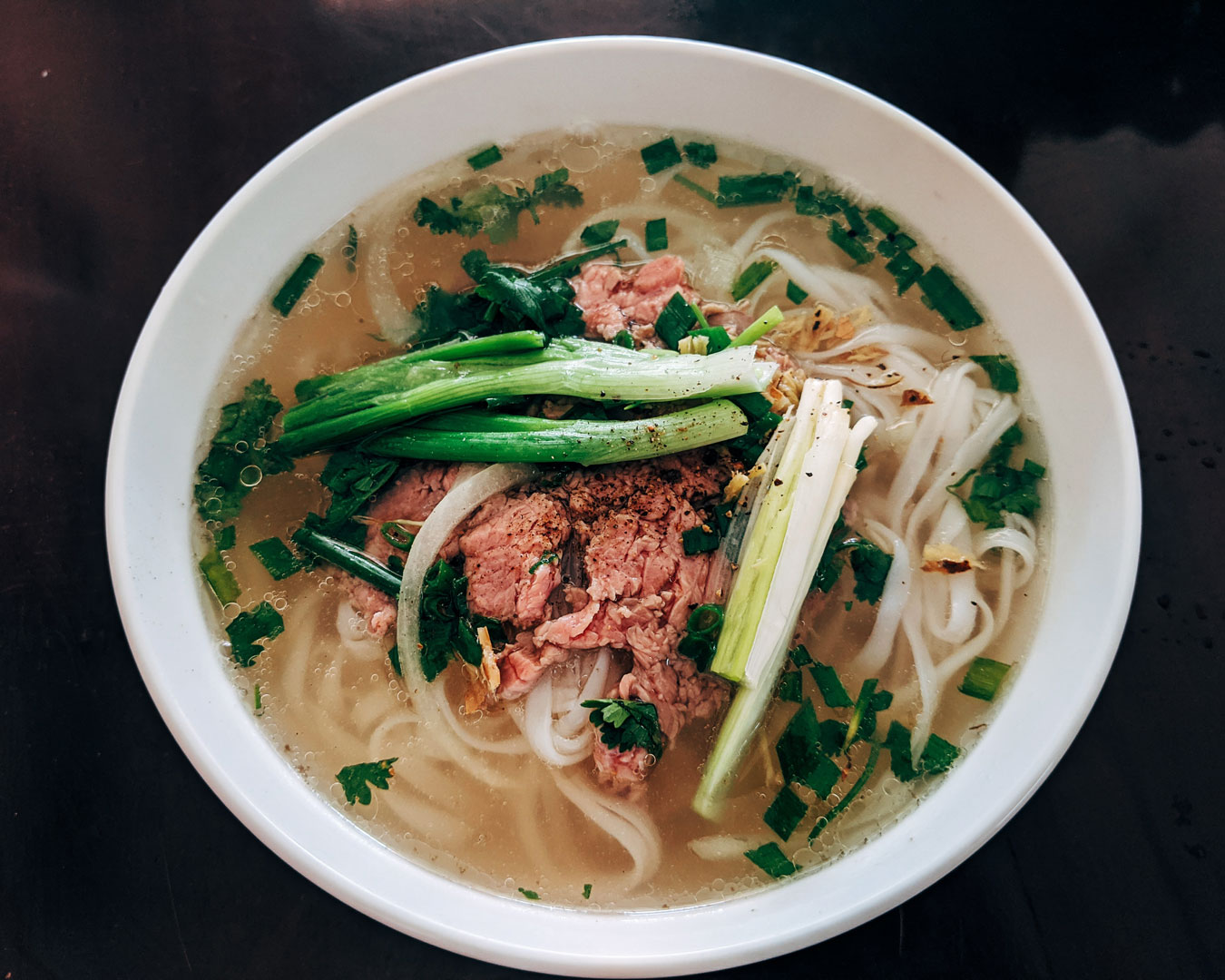 Pho Toan Thang has stood in the same spot for well over 20 years and has changed very little in that time. When you serve up rare beef pho this good though, it's easy to see why. This understated little nook is a family-owned establishment that deals in authentic dishes of both Northern and Southern Vietnamese tradition with a bit of a Chinese lean as well. The noodles here are thin and cooked on the firmer side and the broth is light but full of flavour. Get the seafood rice noodle soup for a good mix of veggies, prawns, and cuttlefish or indulge in a few wontons if you're feeling hungry.
Pho PHD
Marrickville
Marrickville has a wealth of tasty pho joints but Pho PHD is a real stand out. Opened in 2014, it's the successor to the original Pho PHD restaurant, which started just around the corner from here in 2006. They serve up hot bowls of Southern Vietnamese pho with thick noodles in a sweeter, aniseed-flavoured broth. Go for the rare beef pho and chuck a little fresh chilli on top for that extra spicy kick. You won't be disappointed with the salt and pepper tofu either!
VN Street Foods
Wolli Creek and Marrickville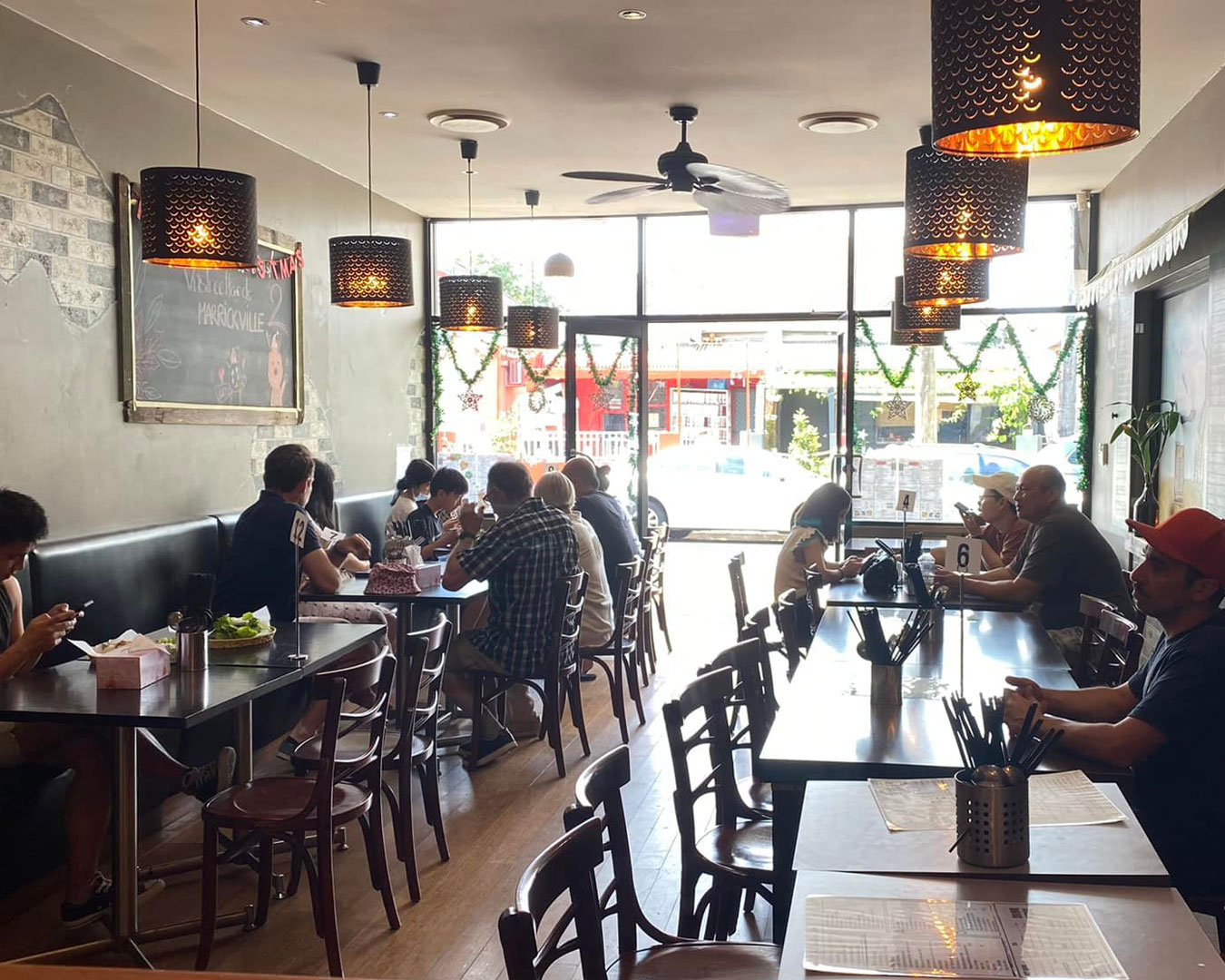 Thang Nyugen was born in Hanoi and came to Sydney to spread the joy of Northern Vietnamese food with VN Street Foods. Located right outside the Wolli Creek station as well as on Marrickville's bustling Illawara Road, VN Street Foods serves up Northern Vietnamese-style soups—something you don't often find in Sydney. So, expect the flavours to be a little different to what you normally slurp. They serve pho tai lan which incorporates stir-fry beef typical of the North alongside sticky rice with pork belly and an excellent coconut jelly to finish. If you're after something different, you cannot go wrong here with the bun cha!
Pho Pasteur
Haymarket
Located in Sydney's Chinatown, this frantic dining hall serves up next-level pho. Sure, it might not be ideal for a romantic date night, but if you're looking for a lunchtime feed or quick bite before catching a movie, this spot is great for a cheap and cheerful meal. Pho is the house specialty and comes in either beef or chicken varieties, with almost ten variations to pick from—all loaded with silky noodles and a side of bean sprouts, fresh lemon and basil.
Madame Nhu
Surry Hills, Enmore, Chatswood and Hornsby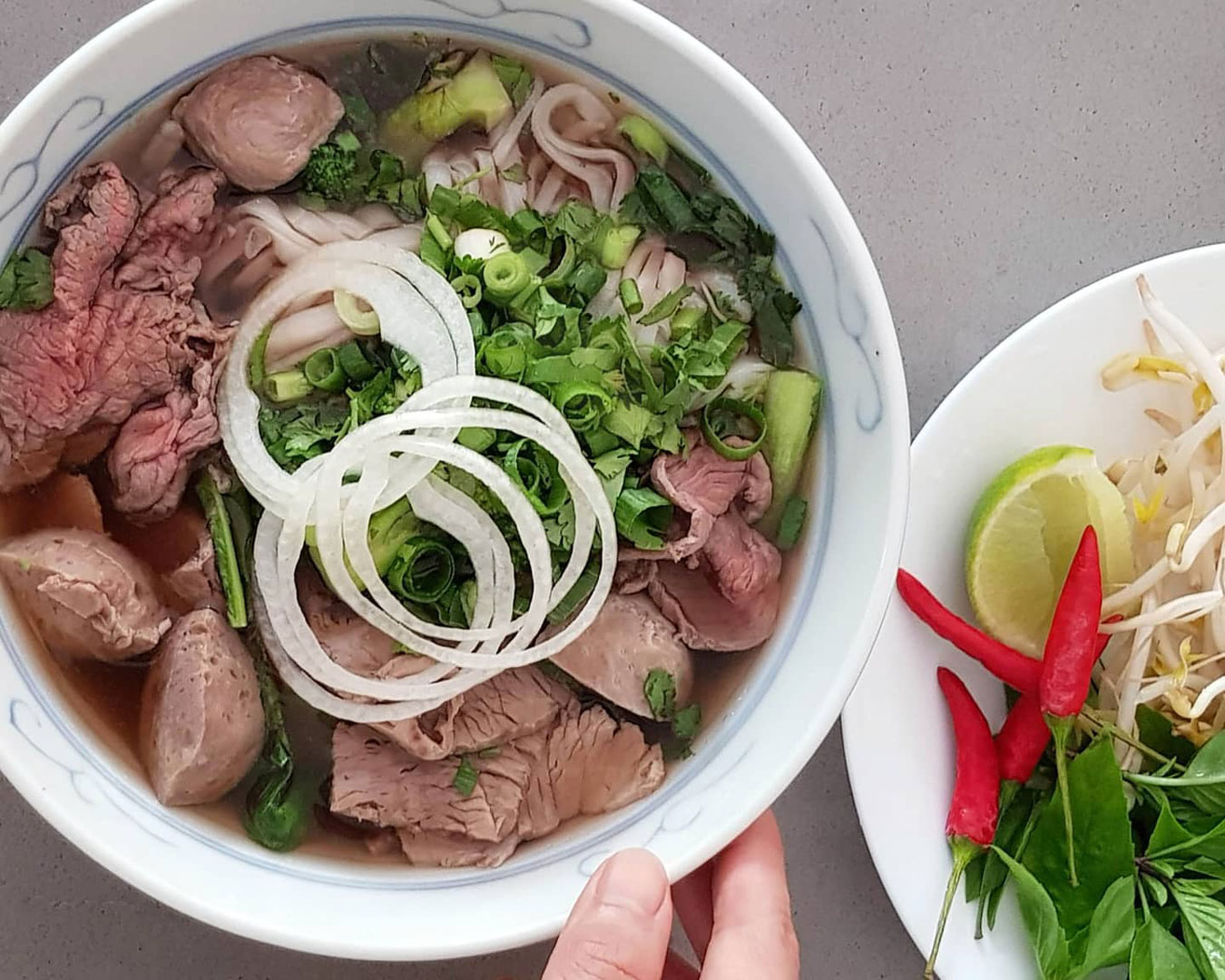 Madame Nhu has garnered a bit of a reputation. Whether you visit the inner-city outposts or head to the northern Sydney spots, you'll be hard-pressed to find a table—but it's worth waiting for one, trust us. The pho here is an 8-hour bone broth deal that comes piled with grass-fed Hunter Valley beef. You can get soups with the lot, spicy soups, ones with sliced beef, and even ones with sesame prawns. For the veggies out there, the tofu green papaya salad with a five-spice soy dressing is a treat.
Pho Mom
Canterbury
Pho Mom offers a fairly narrow selection—but everything it does, it does well. Opt for the Pho Bo Dac Biet (need noodle soup with brisket, flank, tendon, tripe and beef balls) or the Pho Ga (chicken noodle soup) made with free-range chook. There are also crispy egg noodles, rice dishes, and a couple of veggie choices if you're looking for something other than pho. Here, they always use fresh ingredients and pack the flavour into huge portions for a reasonable price. No fuss, just good eating.
Yen's Vietnamese Restaurant
Waterloo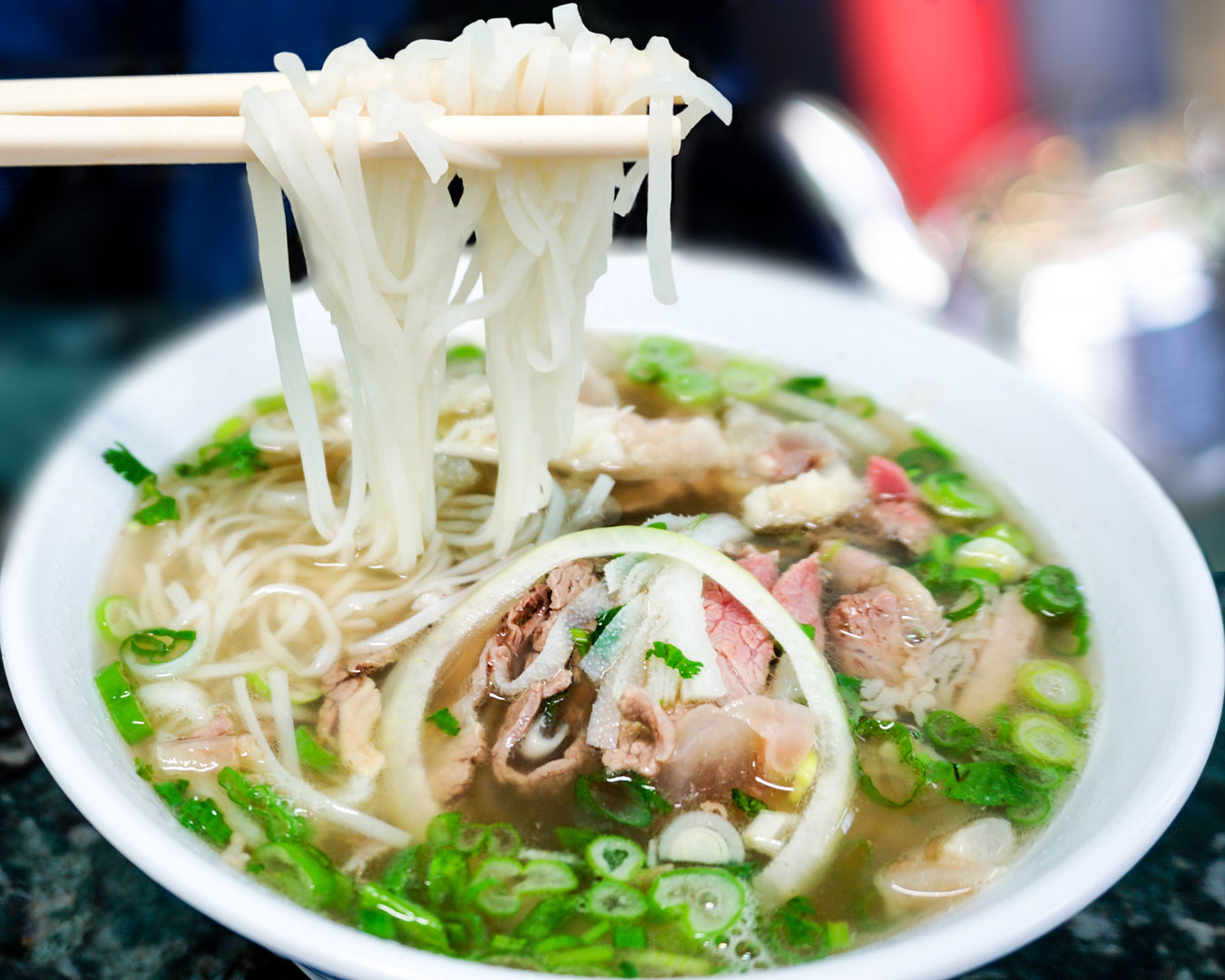 Yen's is exactly the kind of no-nonsense place you can put your trust in when it comes to pho. It's a bit of a hidden gem and easy to miss, tucked away under an awning on the busy Botany Road though if you're paying attention you can smell the star-anise-scented broth from a few doors down. Their menu features close to sixty dishes with a key focus on pho, fried noodles, and meat dishes like crispy chicken but there are veggie and vegan options too and even low-carb pho without noodles! This is pure nostalgia-based comfort food and we're here for it.
Pho Viet
Cabramatta
It shouldn't come as a surprise that another Cabramatta hole-in-the-wall has made its way onto this list. Pho Viet serves up more than five beef pho variations as well as a chicken pho. You can also get egg noodle soups with deep-fried chicken, seafood noodle soups, congees, and its signature dishes: handmade yellow noodles with chicken and handmade noodles with prawn, crab, and pork. Wash any of these down with a jackfruit shake and call it a day.
Hello Auntie
Marrickville and Darling Square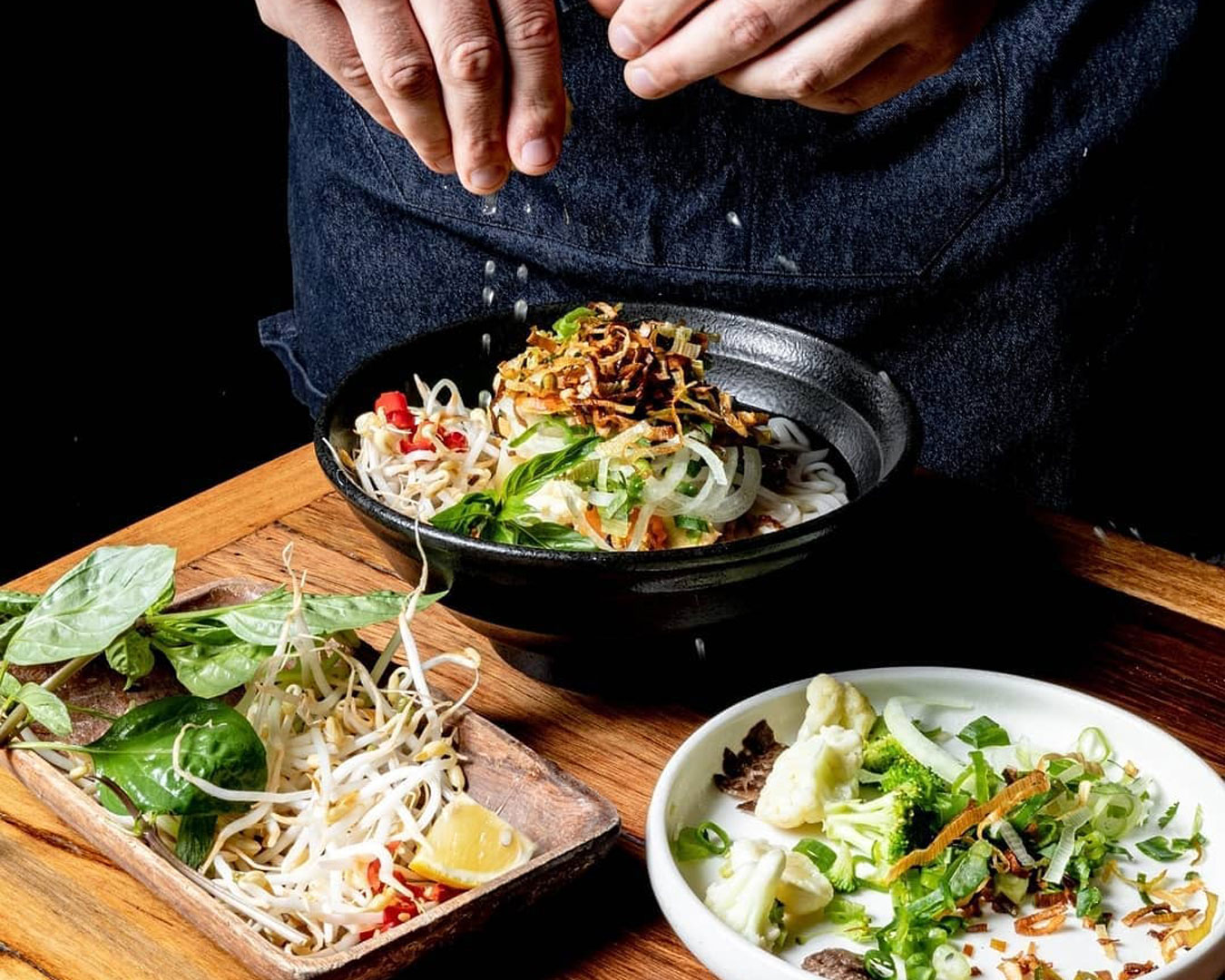 Run by chef Cuong Nguyen, Hello Auntie is the perfect mix between authentic Vietnamese cooking and modern Australian fare. With pared-back industrial interiors, the food shines at this Sydney Vietnamese restaurant. Start your meal with the refreshing bo la lot (ground wagyu wrapped in betel leaf) or get addicted to the fried school prawns. You pho-sure need to get your hands on the pho at this joint too with the broth packing a flavour punch having been stewing for no less than 16 hours.
2 Foodies
Mount Pritchard
This unassuming spot next to a car wash might not look like much, but the food speaks for itself. Over the years, it's brought in a loyal fanbase of hungry Sydneysiders from both near and far with its rich home-style pho loaded with generous servings of beef, noodles, and herbs. It also slings stuffed banh mi, stews, and South Viet-style curries. Make the trip here, get your car looking spiffy, order a steaming-hot bowl of noodz, and thank us later.
Black Ginger
Newtown
Good pho needs a nice and light, aromatic broth loaded with beefy flavour that is well balanced by the spices. It takes a long time to get right and Black Ginger in Newtown is a good example of how to do that. Their 12-hour bone broth has an excellent depth of flavour and creates a solid foundation for all their pho dishes. Thankfully they also do a great vegan broth too so everyone can share the joy. Splash out on some tamarind chicken or the exquisite fried stuffed eggplant. You won't be disappointed.
Great Aunty Three
Enmore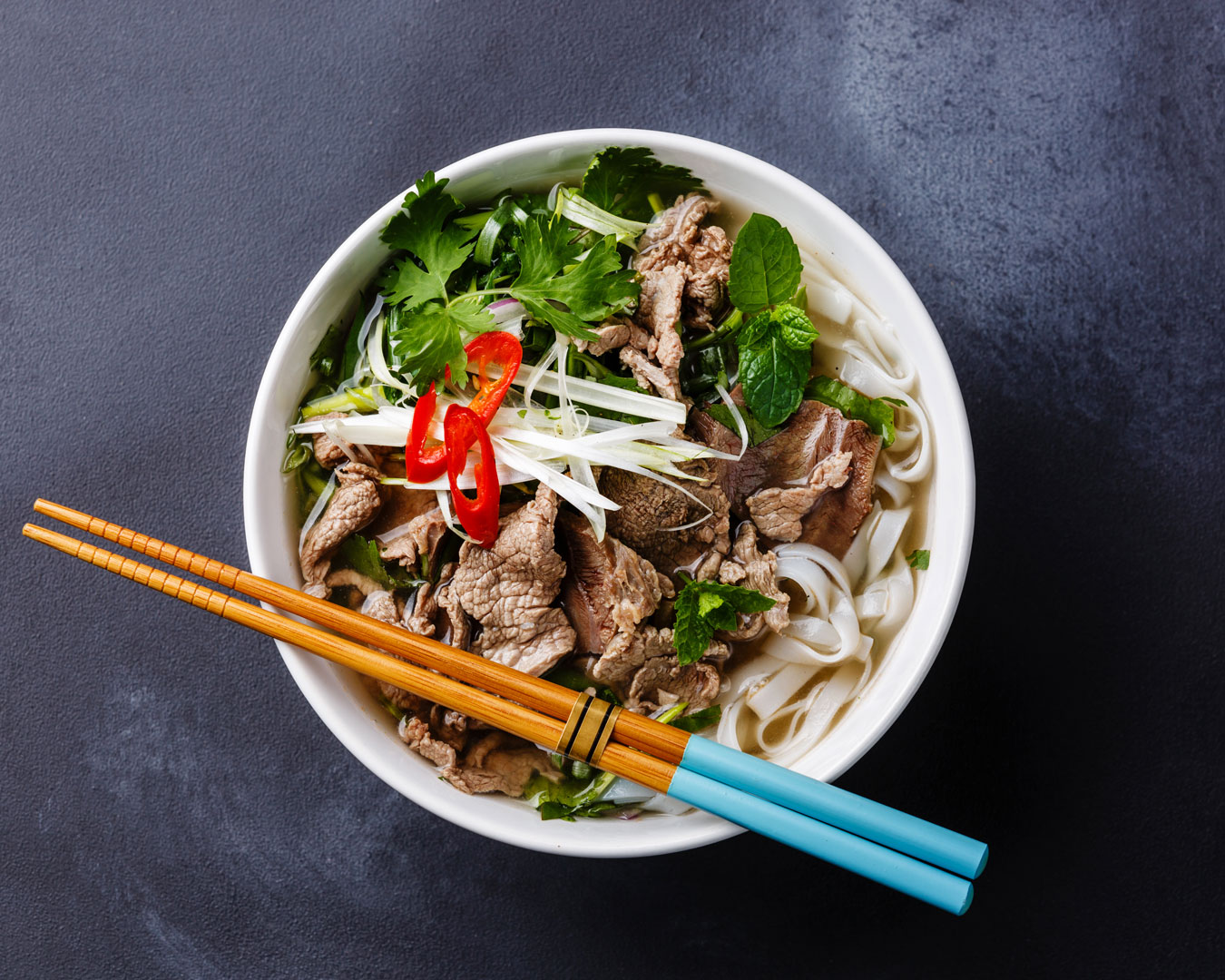 Great Aunty Three is a great little family-run venture just across from the Enmore Theatre, where the ever-smiling staff do traditional Vietnamese street food with road-tested modern adaptations. The banh mi is some of the best in Sydney and filling while the rice paper rolls are succulent and bursting with flavour. To get the best idea of what this place is all about you have to go in for the pho, which is slow-cooked to perfection from an old family recipe reportedly going back over a century that comes in veggie, chicken and beef styles. The veggie noodle salad has a fresh crunchy apple side and is also worth a go. Just remember they're closed on Tuesdays.
Mai Vang Vietnamese Cuisine
Fairfield West
For a food court Vietnamese joint in Fairfield, Mai Vang packs a real punch. Soft, slippery noodles swimming about in a richly flavoured broth coming in pork, chicken, or beef varieties. The chicken is crispy, the beef is tender, and a heartier dish you never did see before the pork combination bowl with prawns. It's exactly what you want—and it's an easy $9.50.
Golden Lotus
Newtown
Vegan mecca Golden Lotus is popular for a reason, folks. Situated in heart of vegan town on South King Street, the plant-based diner offers up plant-based takes on all your Vietnamese favourites. Think crispy mushroom or eggplant fritters, vegan salt fish, and sizzling plates of vegan chicken. The pho here comes with a southern-style herbal broth and rice noodles served with either tofu and veggies or vegan chicken. It may not be traditional pho, but they sure are flavourful soups. Just be sure to leave room for the fried soy ice cream.
Pho & Go
Randwick
This smart and simple pho takeaway joint, located on Belmore Street in the heart of Randwick, specialises in pho-to-go. It's owned and run by Johnny Nguyen whose family have been making pho for generations. It's a perfect little spot for generously portioned authentic Vietnamese pho with good flavoursome broth that they simmer for an extensive 48-hours. The vegan pho here comes with crispy tofu chunks and they also whip up a mean durian smoothie.
Speaking of soul-warming noodle soup, here's a list of Sydney's best ramen.
Image credit: VN Street Foods, Anthony via Flickr, Markus Winkler, VN Street Foods, Madame Nhu, Ronnie Chua, Hello Auntie, Lisovskaya