Sydney's Japanese food scene has always been alive and well, but these days it is absolutely thriving. A neat collection of omakase-style chef's table experiences have opened in Sydney throughout 2022, adding to the city's already impressive lineup of Japanese fine dining and authentic-style restaurants.
Whether you're salivating over sashimi, searching for saké or needing nigiri, Sydney's inner-city suburbs are peppered with new world and fusion-style Japanese restaurants to satiate your taste buds. From Surry Hills to Potts Point and down the pebbled alleyways of The Rocks, here are 16 of the best Japanese restaurants in Sydney.
Now Open: Nomidokoro Indigo
Darlinghurst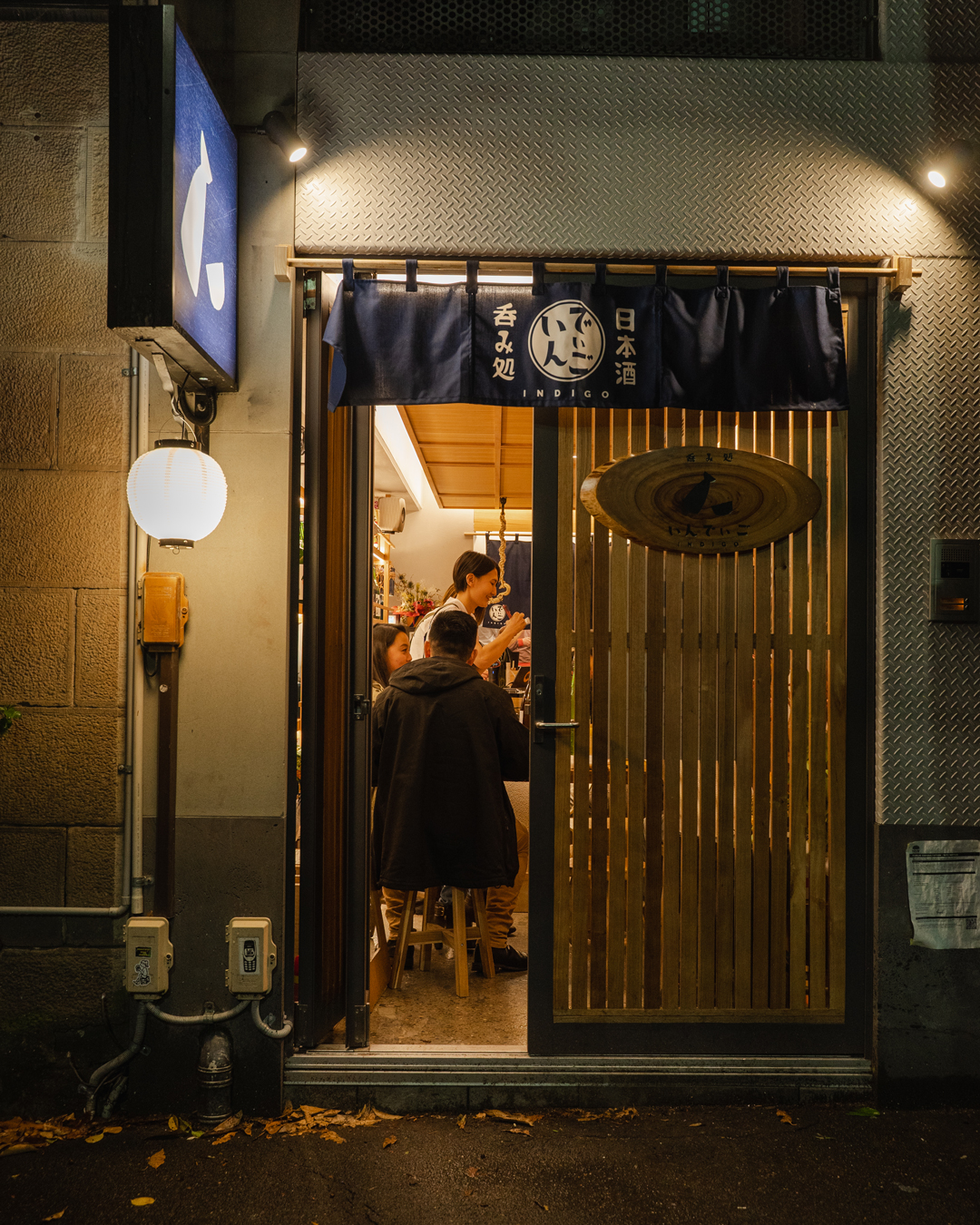 Nomidokoro Indigo might be Sydney's smallest Japanese eatery, but it is definitely bringing some serious A-game to the fore. From the team behind Darling Square's buzzy Nakano Darling, Indigo is a teeny saké bar and izakaya that'll transport you directly to the backstreets of Tokyo. Behind deep blue noren (short Japanese curtains) is a wall of saké and an 11-seat counter. Co-owners Tin Jung Shea, Mitomo Somehara, and Chris Wu have designed a menu of simple snacks, side dishes, and heartier items, each made from scratch from the dashi to the miso. While you sip saké from traditional tokkuri bottles, you can sample ika shiokara (fermented squid), miso-marinated cream cheese, wagyu tongue, or beef brisket, karaage school prawns, and deep-fried scallops. Book here.
Oborozuki
Circular Quay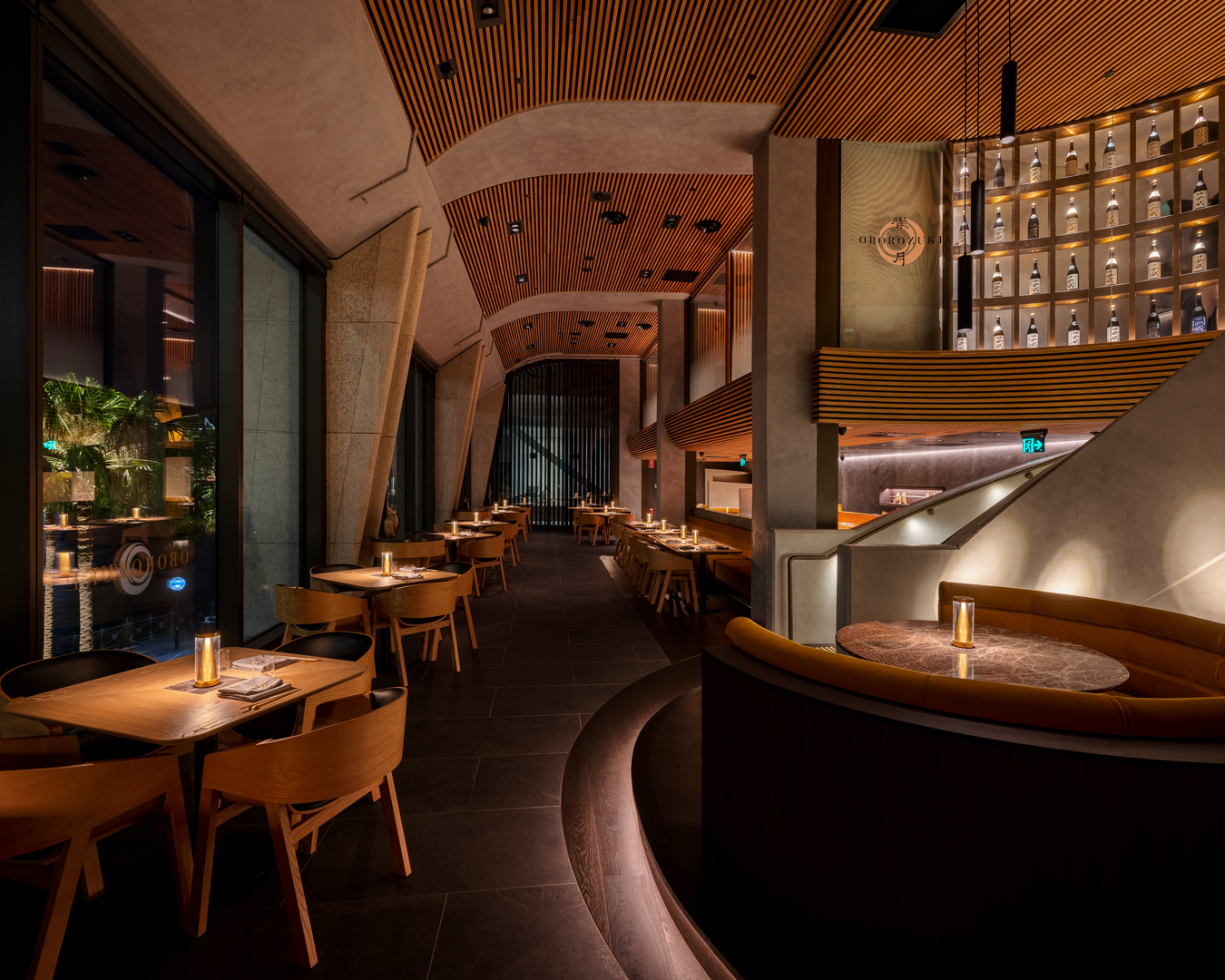 Oborozuki is housed within one of Sydney's most luxurious apartment buildings—Opera Residences at Bennelong Point. The concept for Oborozuki is as fancy as its address: a high-end teppanyaki and kaiseki-style restaurant and bar, complete with floor-to-ceiling glass windows, private teppanyaki rooms, and the largest kaiseki dining room in Australia.
Oborozuki's take on kaiseki (a chef's table degustation experience, akin to omakase, though more formal) is fusion-style. It follows a sequence of cold to hot dishes over 10 courses, each one a precise work of art created by head chef Kei Takamatsu. Highlights include blacklip abalone, Tasmanian lobster, and grilled Ozaki A5 ribeye. Heading up the luxe teppanyaki is head chef Felix Zheng. Here, 10 immersive courses are fired up and dished out in your own private room.
The multi-storey venue also features a separate bar, beneath a clear glass ceiling and twinkling moon-inspired lighting (Oborozuki translates to "hazy moon"). Here you can sip on signatures like the "Smoked Oborozuki", which is a smoky mix of Japanese green tea-infused whisky, cherry herring, PX, and cherry puree. The "Matcha Tea Grasshopper", made with match ice cream, Daiginjo sake, Roku gin, and creme de menthe comes served on a block of ice. Naturally, there's also a large edit of saké, Japanese whisky, and rare Japanese spirits. Book here.
To celebrate the opening of Oborozuki, celebrated sushi master Takayoshi Watanabe will be taking over the kitchens for seven days from Wednesday 2 of November to Tuesday 8 November. Book here.
Kisuke
Potts Point
After decades of training and working in kitchens around the world, from Tokyo and Amsterdam to London and Sydney, chef Yusuke Morita finally settled in Potts Points to open up Kisuke in 2020. Teaming up with his wife, Mirota's restaurant offers just six seats for a genuinely intimate sit-down omakase dining experience ($200), showcasing a lifetime of passion for and experience with traditional Japanese cuisine. Expect soups, sashimi, grilled and steamed dishes, as well as plenty of sushi to pair with saké and whisky. Keep an eye on their Instagram and book online here.
TOKO
CBD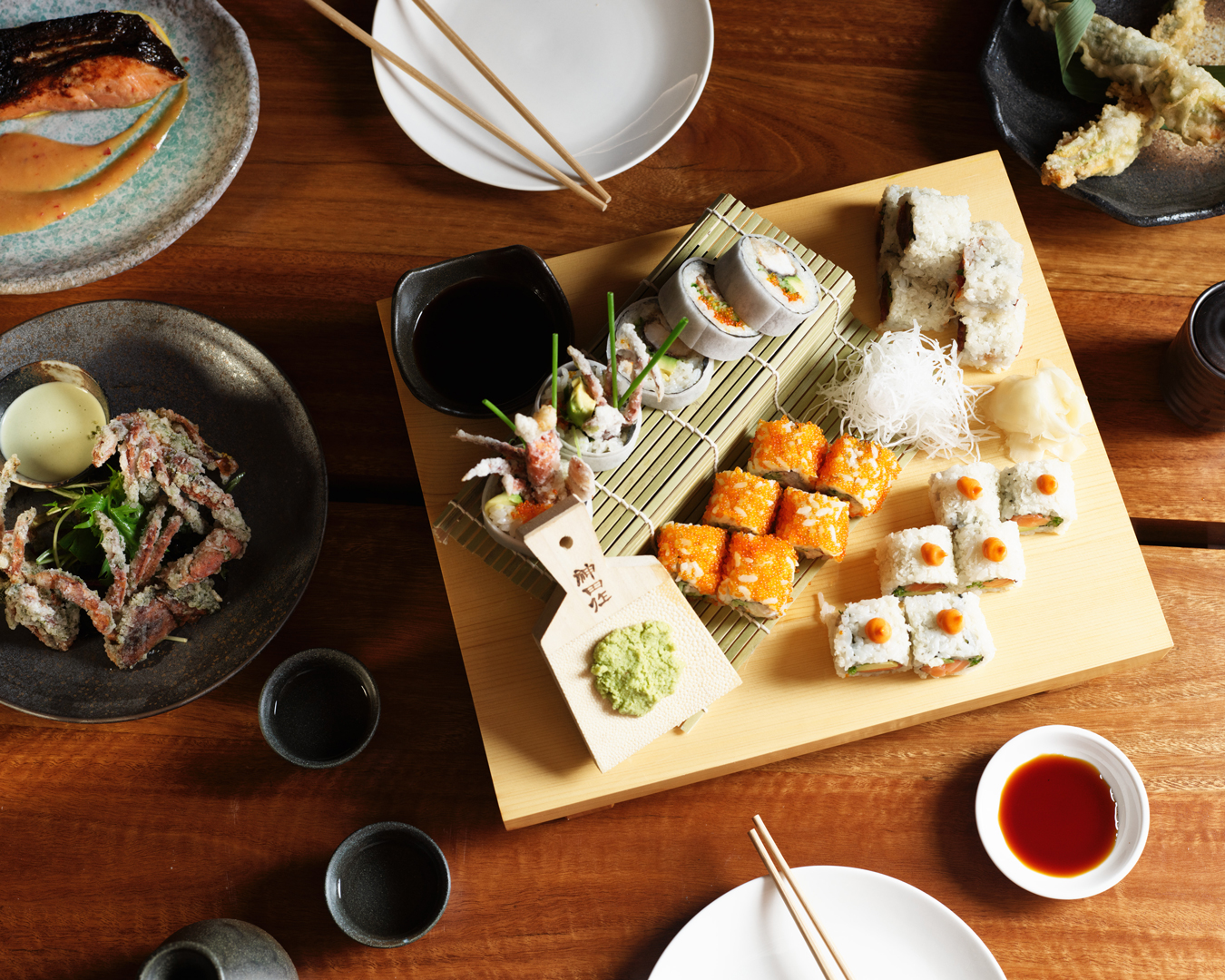 TOKO was one of a handful of restaurants that really set the pace in Surry Hills way back when. After 15 years in their iconic Crown Street digs, TOKO is moving on—to a new location, that is. Now, you'll find the TOKO team in the heart of the city, delivering a new but familiar TOKO experience.
The new menu, created by owner Matt Yazbek and head chef Sunil Shrestha, will feature smash hits from the last 10 years, like their stunning sashimi platters, signature nigiri, smoked miso king salmon, and yuzu meringue cheesecake. There will also be some new dishes too. Like, TOKO tartare and caviar, Murray cod, and tempura zucchini flowers. Other new additions include an ultra-comprehensive Japanese drinks offering—and Australia's first saké sommelier. Book here.
Edition Izakaya
Darling Square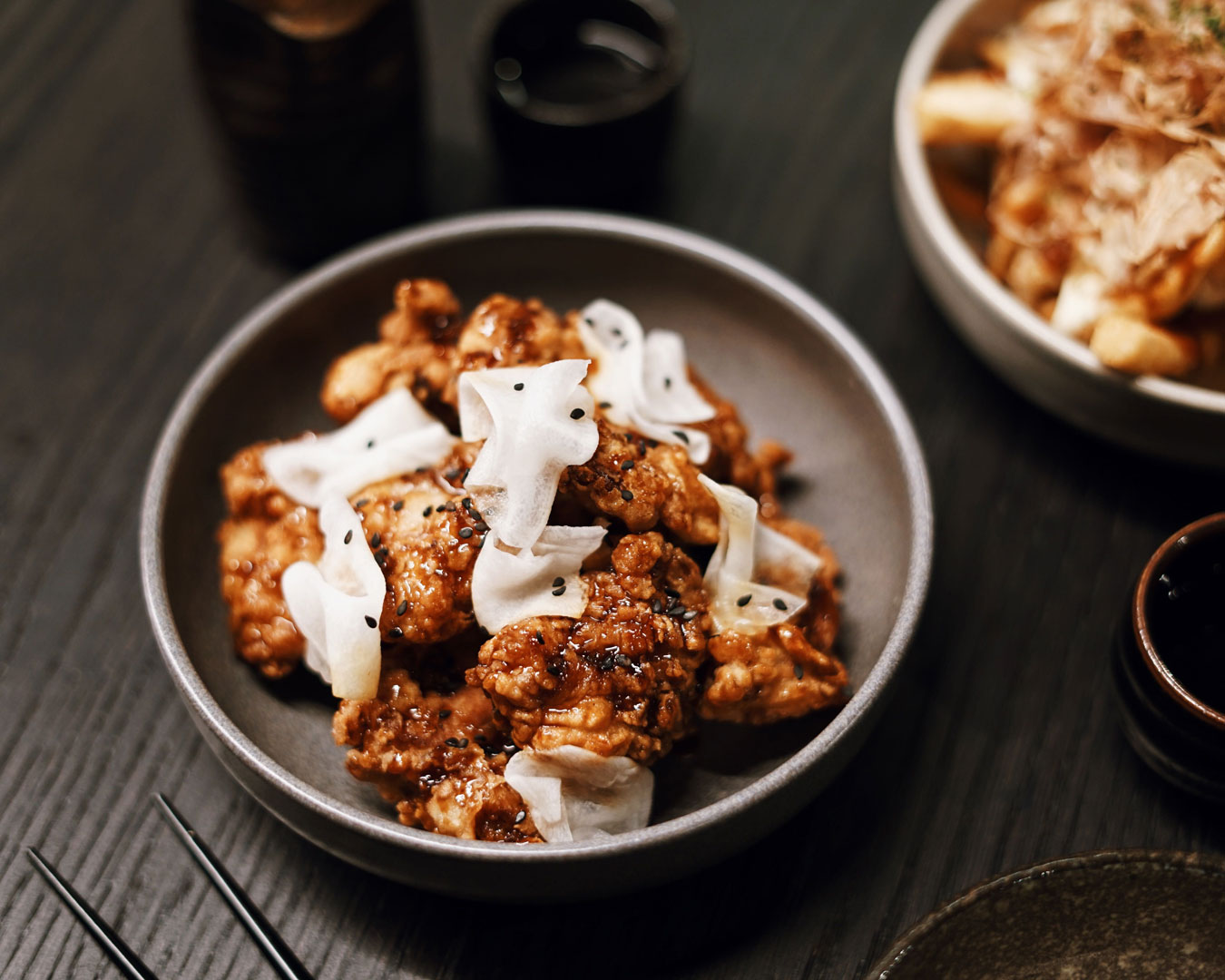 As one of Sydney's best specialty roasters, coffee is second-to-none at Edition. But top-quality coffee and quick lunch fixes aren't the only things on the menu at the sleek Scandi-Japanese venue these days. Once the sun goes down, Edition transforms from bustling cafe to moody izakaya—and it's one of the best in Sydney. Fittingly named Edition Izakaya, the cafe's nighttime twin ditches coffee for sake and fluffy pancakes for mochi croquettes swimming in Japanese curry. Also on the menu, you'll find teriyaki-glazed fried chicken, kingfish sashimi, and skewered charcoal meats. Plus, the two must-try dishes: miso salmon ochazuke and the soy butter clams with crispy potato in a broth that's so good you'll want to slurp straight from the bowl.
There's also a handful of desserts that tie in Edition's cross-continental fusion, from miso chocolate tiramisu to yuzu Basque cheesecake. And, of course, it wouldn't be an izakaya without some bevs. Manager Taku Kimura has pulled together an exceptional sake list, from entry-level plum umeshu and yuzu-infused sakes to nigori styles and a red rice one. Oh, and you'll want to order the aged Ogasawara mirin (yes, really) to end. Walk-in only.
Ora
Waterloo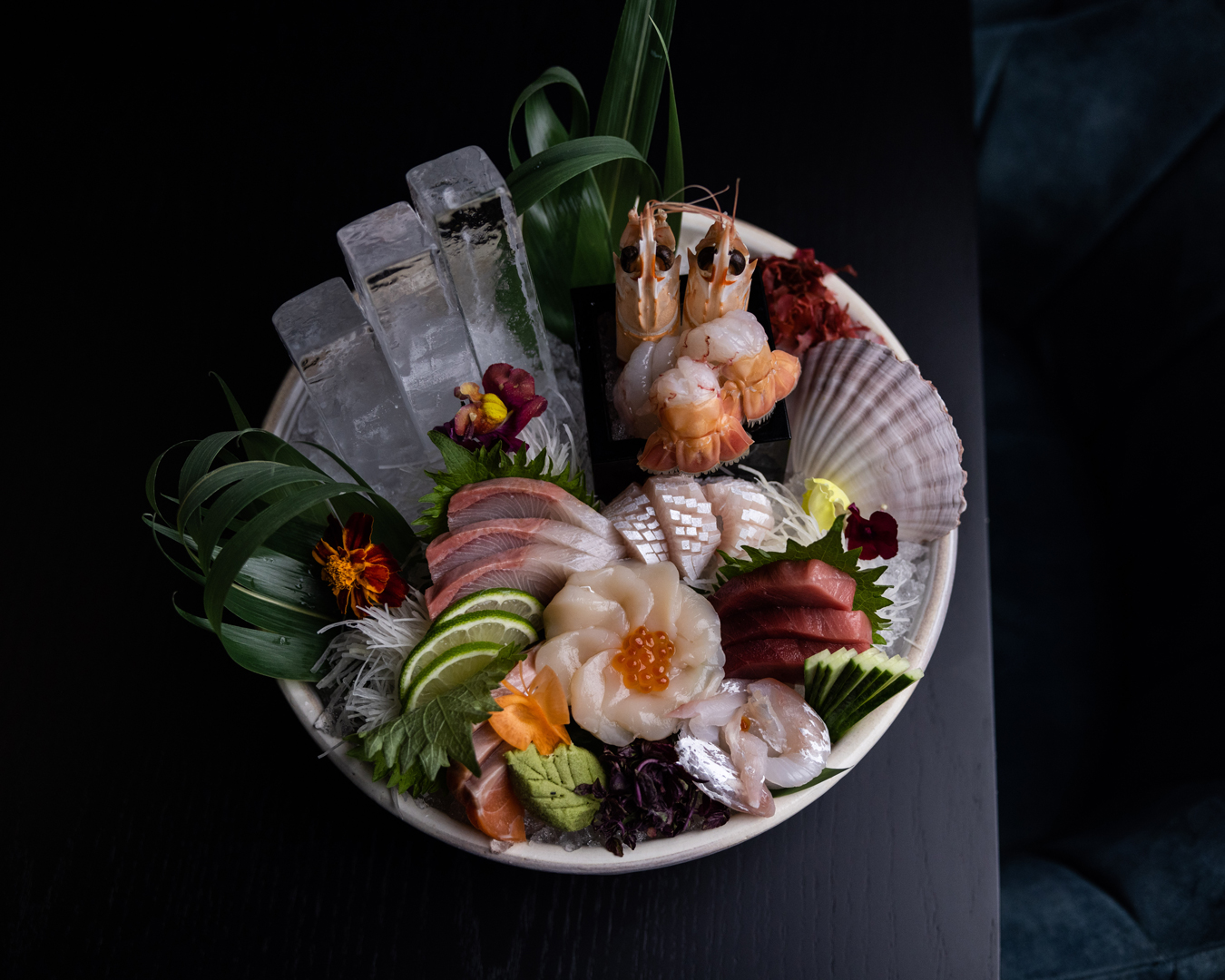 Behind a revolving door on Danks Street in Waterloo, Ora is three venues in one, housed within an enormous warehouse space. In the centre, a long stretch of marble makes up the sushi and raw bar; towards the back, a Japanese cocktail bar with velvet lounges and a canopy of twinkling lights; and to the right, a 10-seater kaiseki omakase helmed by former Sushi E chef, Nobuyuki Ura.
The set menu-style omakase has been designed by Ura himself and is a multi-course spectacular, beginning with "zensai"—a Japanese-style tapas that features delicate snacks like foie gras chawan mushi and charcoal grilled taro with Kinome miso. Over at the sushi bar, you're able to order a la carte—but the finesse in each dish is just as good. Begin with starters like Balmain bug tempura san choi bao and Wagyu beef tataki before you go deep on sashimi, sushi, and nigiri prepared by Ora's team of talented sushi chefs. There's also yakitori prepared on the charcoal grill. For dessert? Matcha tiramisu and cherry blossom ice cream both make an appearance.
Nobu Sydney
Barangaroo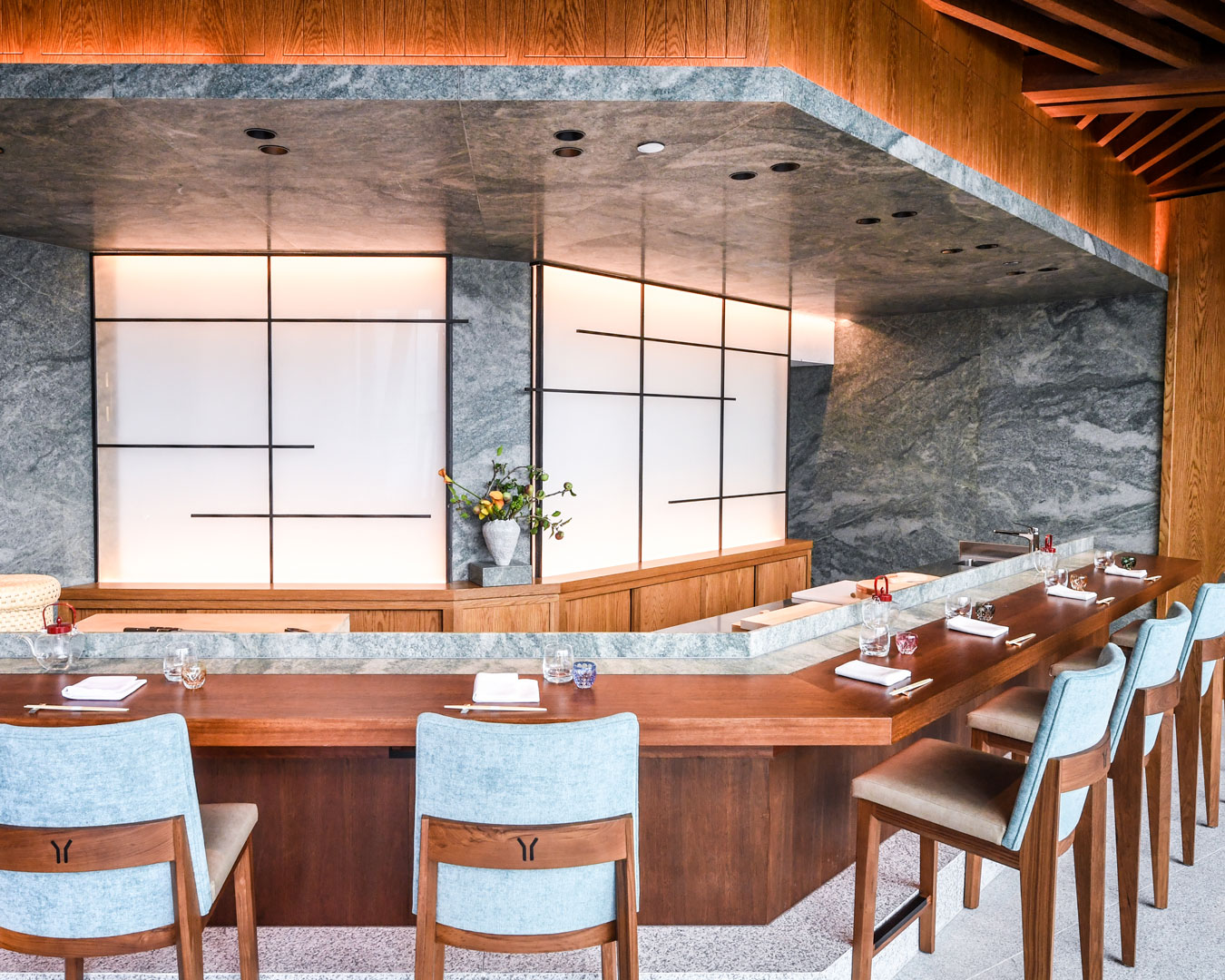 Hidden within the glittering Crown Sydney tower at Barangaroo, Sydney's very own Nobu is a spot to sample the famous fine-dining Japanese dreamt up by legendary chef Nobu Matsuhisa. For the unacquainted, the world-renowned chef kicked off his career studying Japanese cuisine at Matsuei before shifting to Peru to open his own sushi bar. Here, he found inspiration in the local culture and native Peruvian ingredients, developing an entirely new spectrum, which is now called "Nobu style".
There are now 42 Nobu restaurants around the world, and Sydney is the third Aussie iteration (Melbourne and Perth beat us to it). At Nobu Sydney, you'll get to try iconic dishes like black cod miso and yellowtail jalapeño, alongside some fresh ideas like pan-fried scallops with yuzu truffle and lobster tempura with tamari honey, with the menu divided into "Nobu Classic" and "Nobu Now". Running the show in Sydney is head chef Harold Hurtada and head sushi chef Sanghhyeop Kim, and, if you're keen to get the full Nobu experience, we highly recommend going all-in with the Omakase menu, a seven-course experience you'll savour for weeks, and months, and years to come.
Pro tip? You'll want to plan your Nobu night well in advance—the restaurant has been booked out for months. Oh! And make sure you order the "whisky cappuccino" for dessert. Book here.
Chaco Ramen
Darlinghurst and Bondi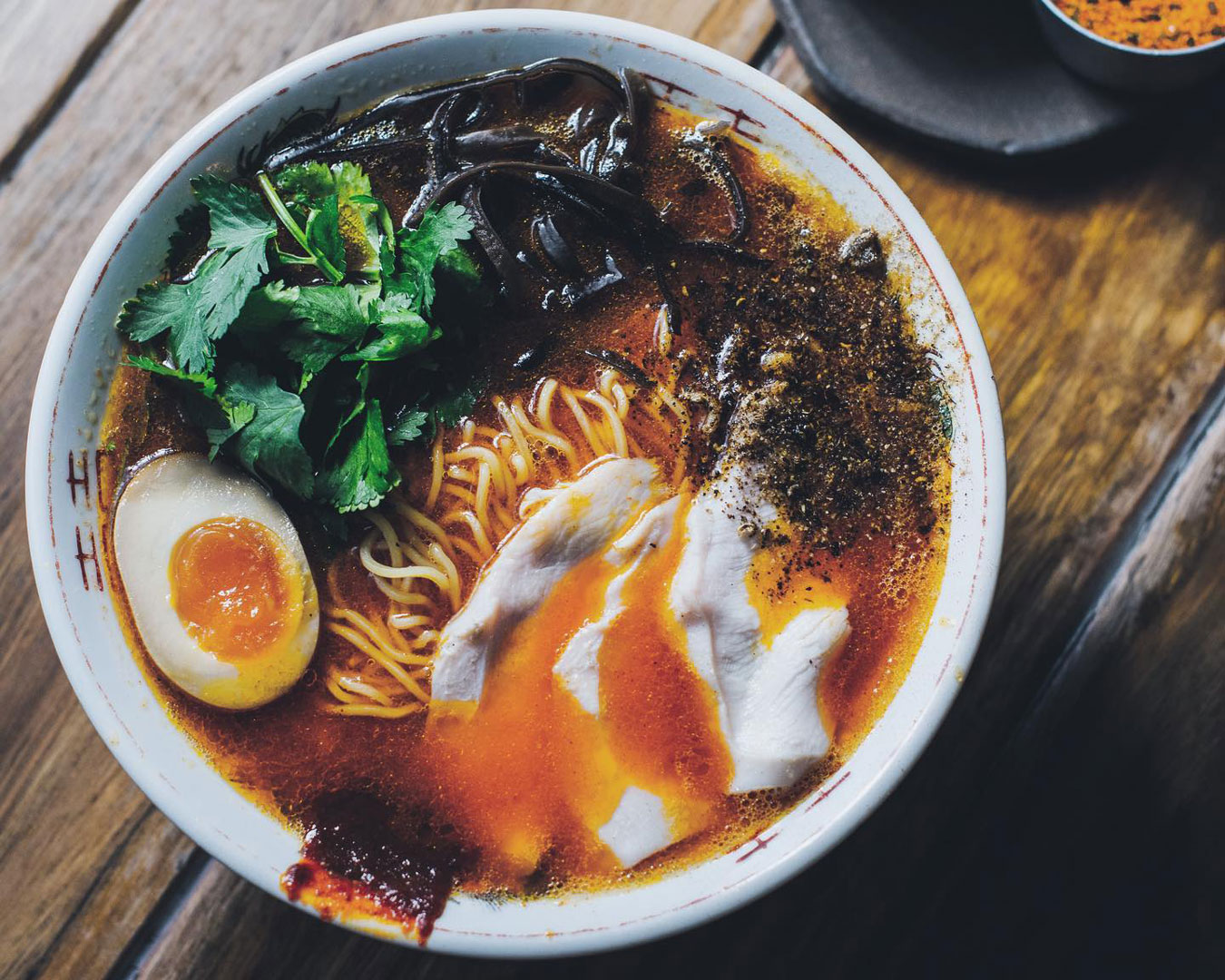 Chaco Ramen in Darlinghurst is home to some of Sydney's best ramen. That might sound like a strong claim, but ask around, and the consensus is that this Darlinghurst den is serving up the best in the biz. And, good news to Bondi residents, it's open another ramen joint on O'Brien Street. As for what makes Chaco such a unique place to dine, director Keita Abe says it's "because of the amount of thought and care we put into everything we do. From the menu to décor—Chaco represents Japanese culture in a way that is true to itself and doesn't try to be anything else." Chaco Ramen Darlinghurst is walk-in only, but you can book for the Bondi venue here.
Chaco Bar
Potts Point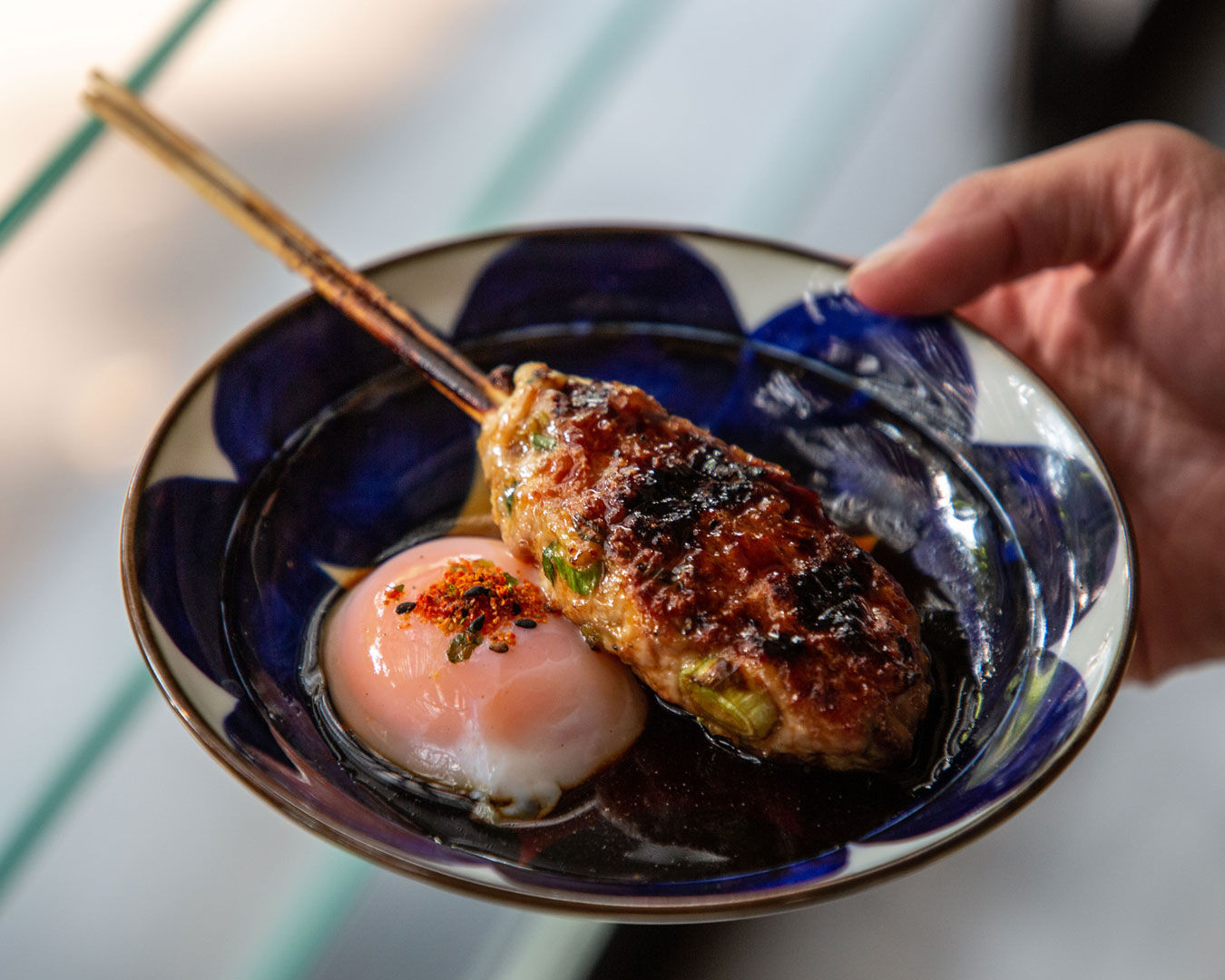 A little further east, sister venue Chaco Bar Potts Point doesn't serve broth. Instead, the Potts Point outpost specialises in Yakitori dining, meaning chargrilled skewers are the main event. On the sticks, you'll find everything from chicken, lamb, and pork, to ox tongue, hearts, and gizzards meaning nothing is wasted and everything is put to good use. Dishes are cooked over cherry blossom charcoal and basted in Japanese seasonings giving them a rich, smoky flavour. The sake here is bought from an endless rotation of small, family-run makers in Japan, packing out their extensive drinks list of shochu and whisky. Excellent stuff all 'round. Book here.
Haco
CBD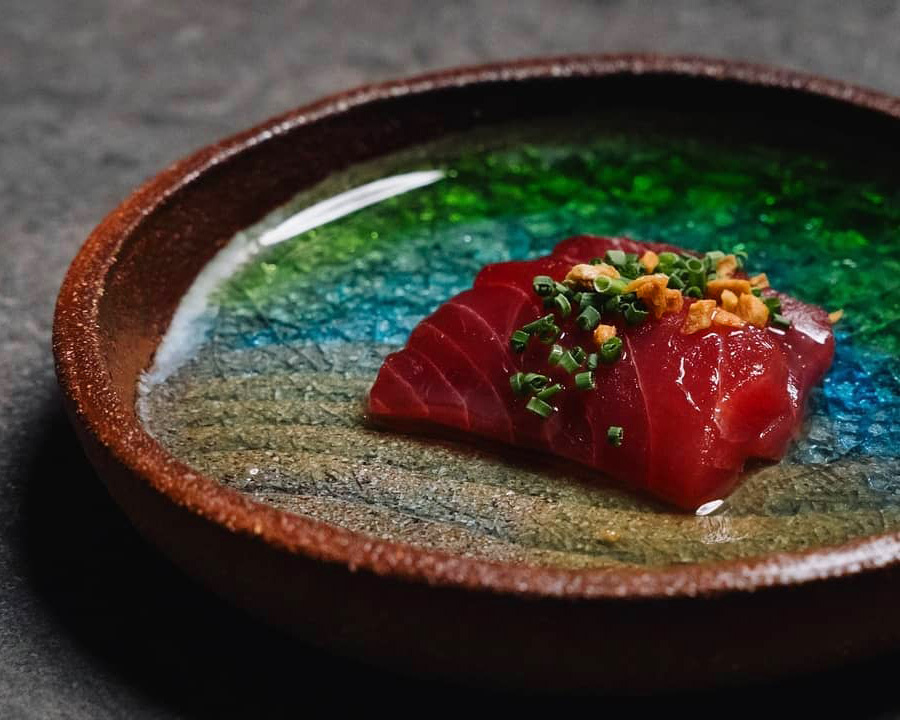 Fresh from the same team that brought Sydney Chaco Bar and Chaco Ramen above (chef Keita Abe and ex-Sasaki head chef Kensuke Yada), Haco is a pint-sized 12-seat omakase dedicated almost entirely to tempura. Housed within a concrete cube at the Surry Hills end of the CBD, it's a first of its kind in Sydney where the sheer theatre of deep-dried deliciousness takes centre stage ("haco" translates to "theatre").
At Haco, you're in for a relatively vague set menu of 20 bite-sized dishes—kept vague because chef Yada likes to really move with what's in season. Expect to sample lightly battered king prawn, lotus root, and—for dessert—banana, alongside braised pork belly, kombu-cured lobster, and bonito sashimi, while you sip sake, Japanese beer, and house-made umeshu and yuzushu. Haco is a super special experience—though you'll want to plan your trip. Being a super small spot, it books out months in advance! Book here.
Kaiza Izakaya
Enmore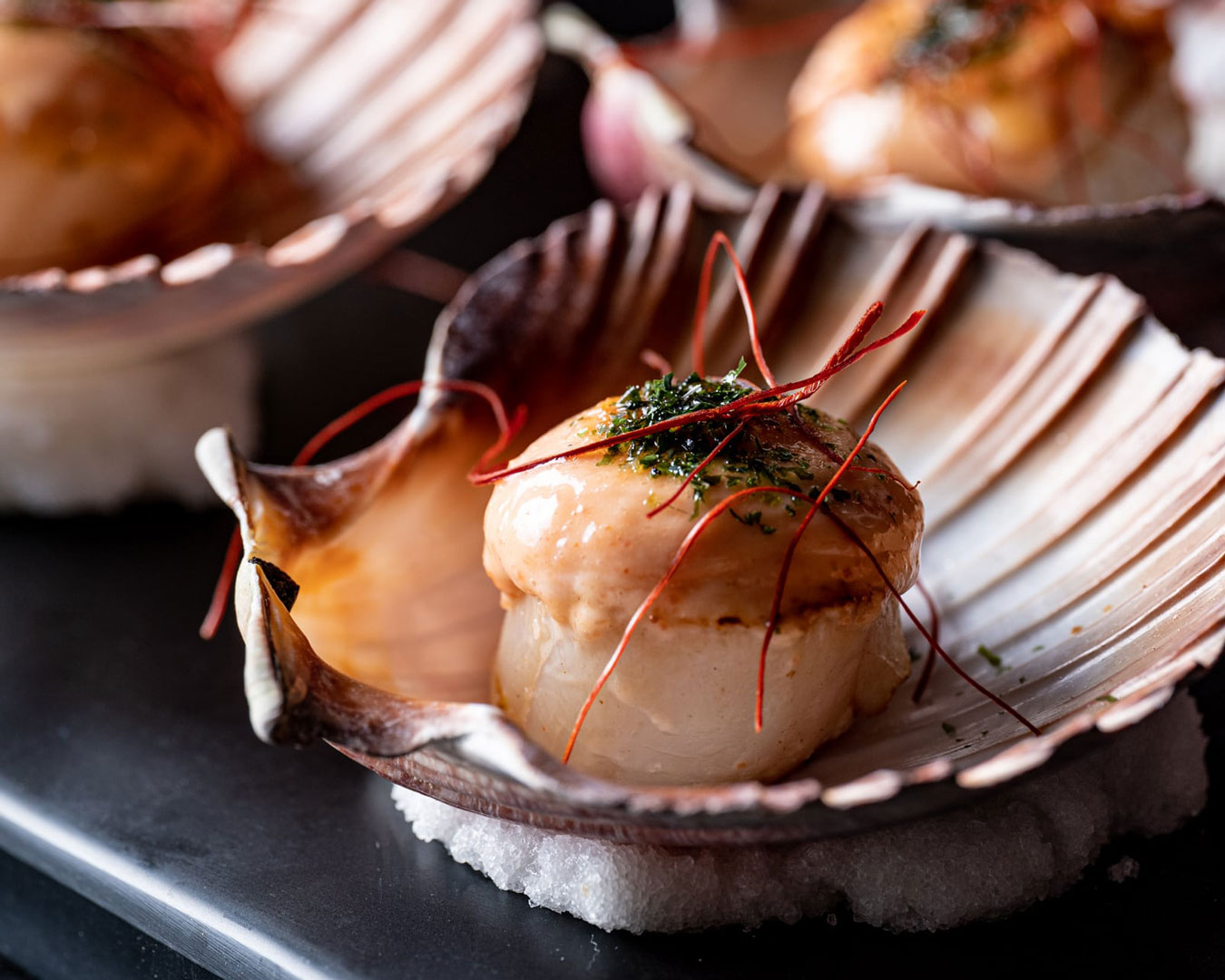 From former Chuuka chef Jason Nguyen, Kaiza Izakaya fits in with its Enmore Road neighbours with a relaxed, casual fit-out and a BYO license. Though Kaiza Izakaya might look the part, the menu really does set it apart from your run-of-the-mill Newtown Japanese joint. Dip into Nguyen's polished take on izakaya favourites like silken tofu in ankake broth, a colourful sashimi platter, spicy pork udon, and gyu don with kombu dashi and teriyaki.
But it'd be a crime to leave without trying Nguyen's more experimental fusion dishes. Like the wagyu nigiri with crispy rice, kizami wasabi, and cured egg yolk. It's a brilliant balance of flavours and surprising textures wrapped into one surprising parcel. The crispy deep-fried eggplant is another of our favourites, with a light crunch, oozing centre and dressed in sweet black miso, chives, and furikake. The blue swimmer crab fried rice with prawn floss is hearty and filling; as is the grilled broccolini with truffle miso and roasted almonds, and the rich lamb cutlets with garlic yuzu kosho and yuzu miso. Book here.
Kuro
CBD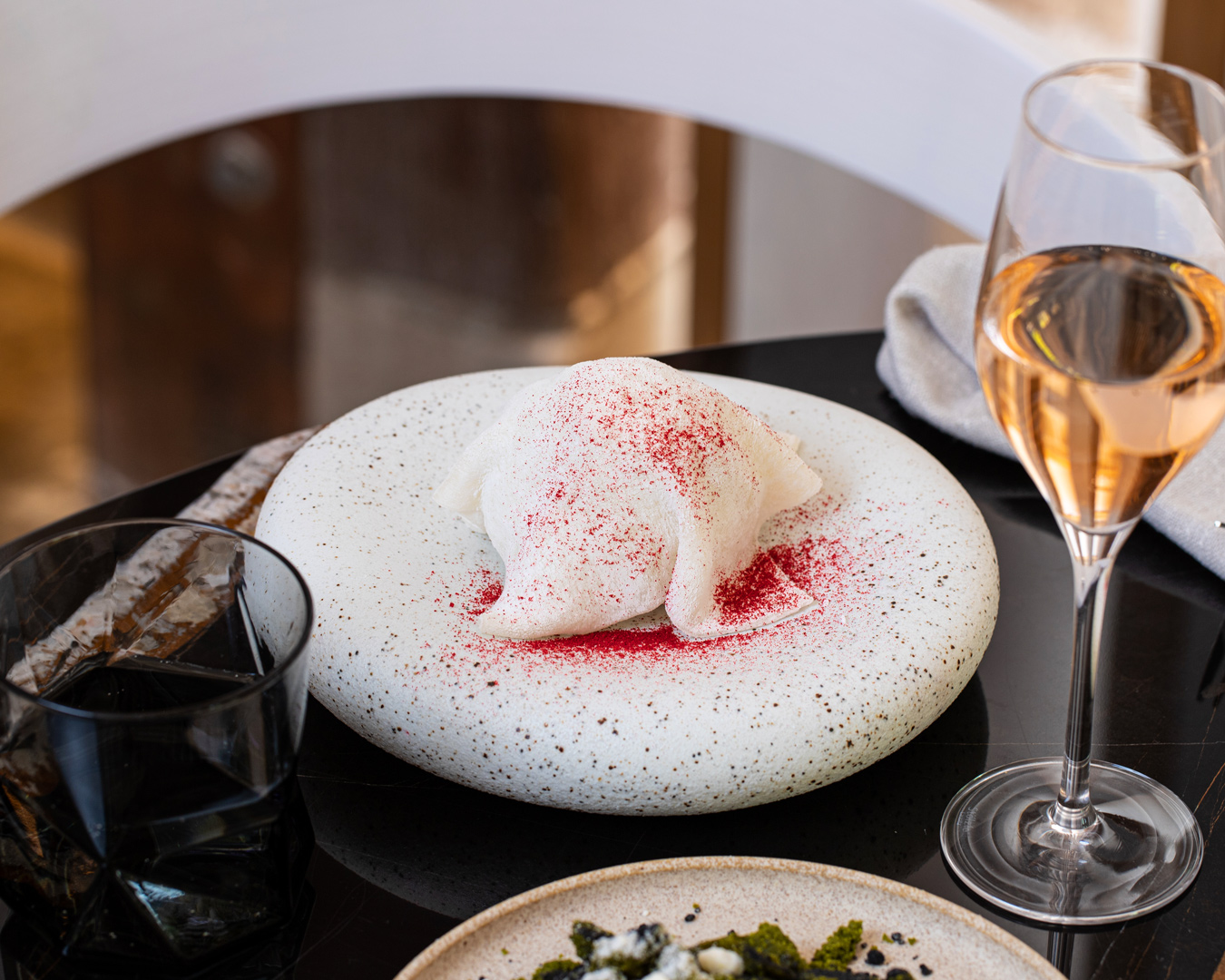 According to co-owner Alan Wong, "Every element of Kuro is driven by innovation and precision, from the seemingly understated interiors layered with intricate detail and ambience through to the menu uniting familiar Japanese flavours with stellar Australian produce. It's one of those venues that continues to surprise and delight with every dining experience", and anyone who's been would agree. In the morning, Kent Street's Kuro offers house-roasted coffee and baked treats, before fusing
Australian ingredients and Japanese techniques for their delicious dinner service. It's also impossible to not mention the incredible architecture and design of the space, with 56 illuminated oak beams framing the room from floor to ceiling. Pretty impressive stuff. Book here.
Tetsuya's
CBD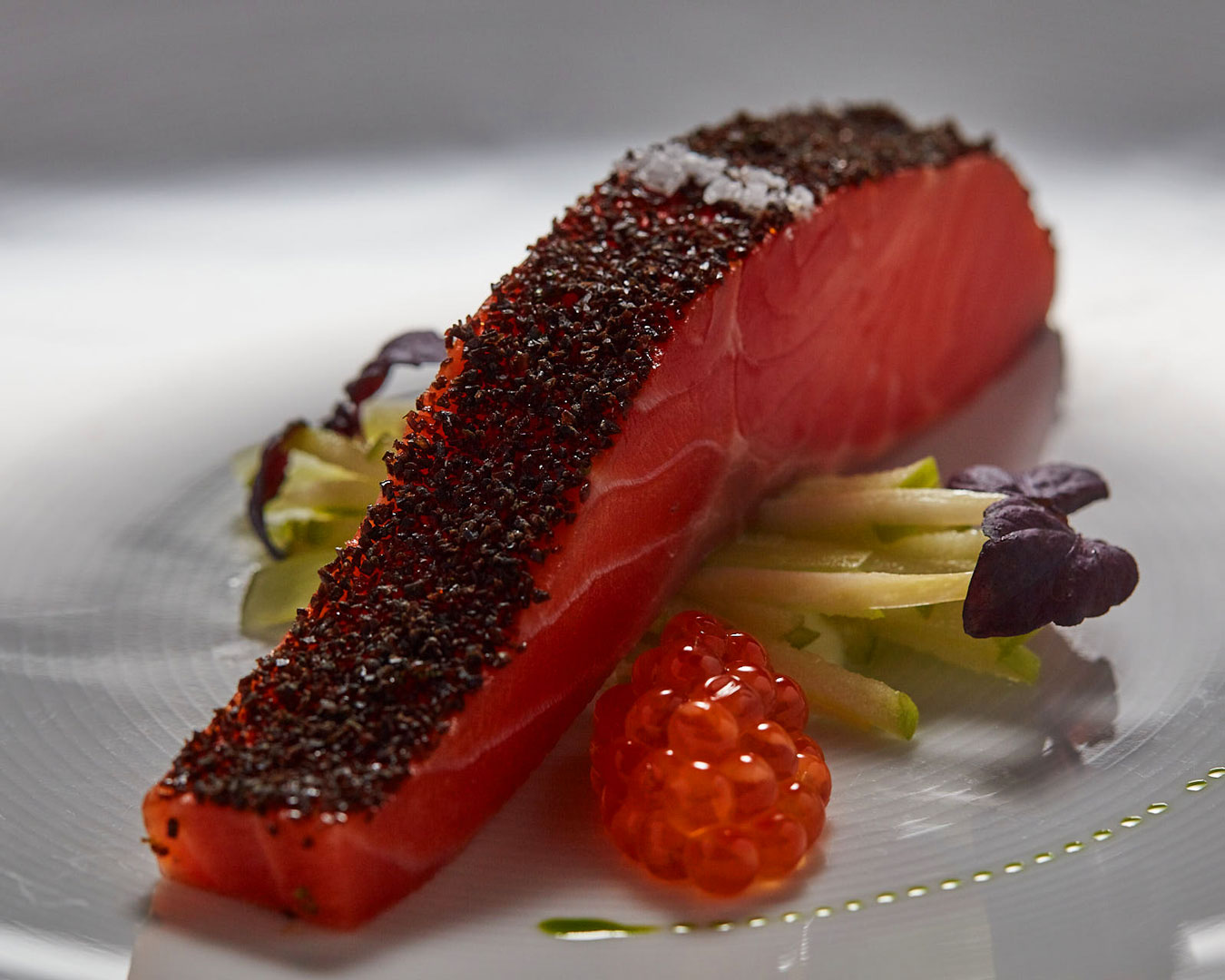 There are no two ways about it: Tetsuya's is a Sydney institution. It's been offering high-end Japanese food with a French twist to locals and tourists for thirty years, and it'll likely continue to do so for another thirty. For the last 19 of those years, Tetsuya's kitchen has sat in a refurbished heritage-listed site on Kent St, serving a unique degustation menu based around natural seasonal flavours for $240 per person. And once that famous confit of ocean trout hits your buds, you'll understand why it's worth every penny. Book here.
Sokyo
Pyrmont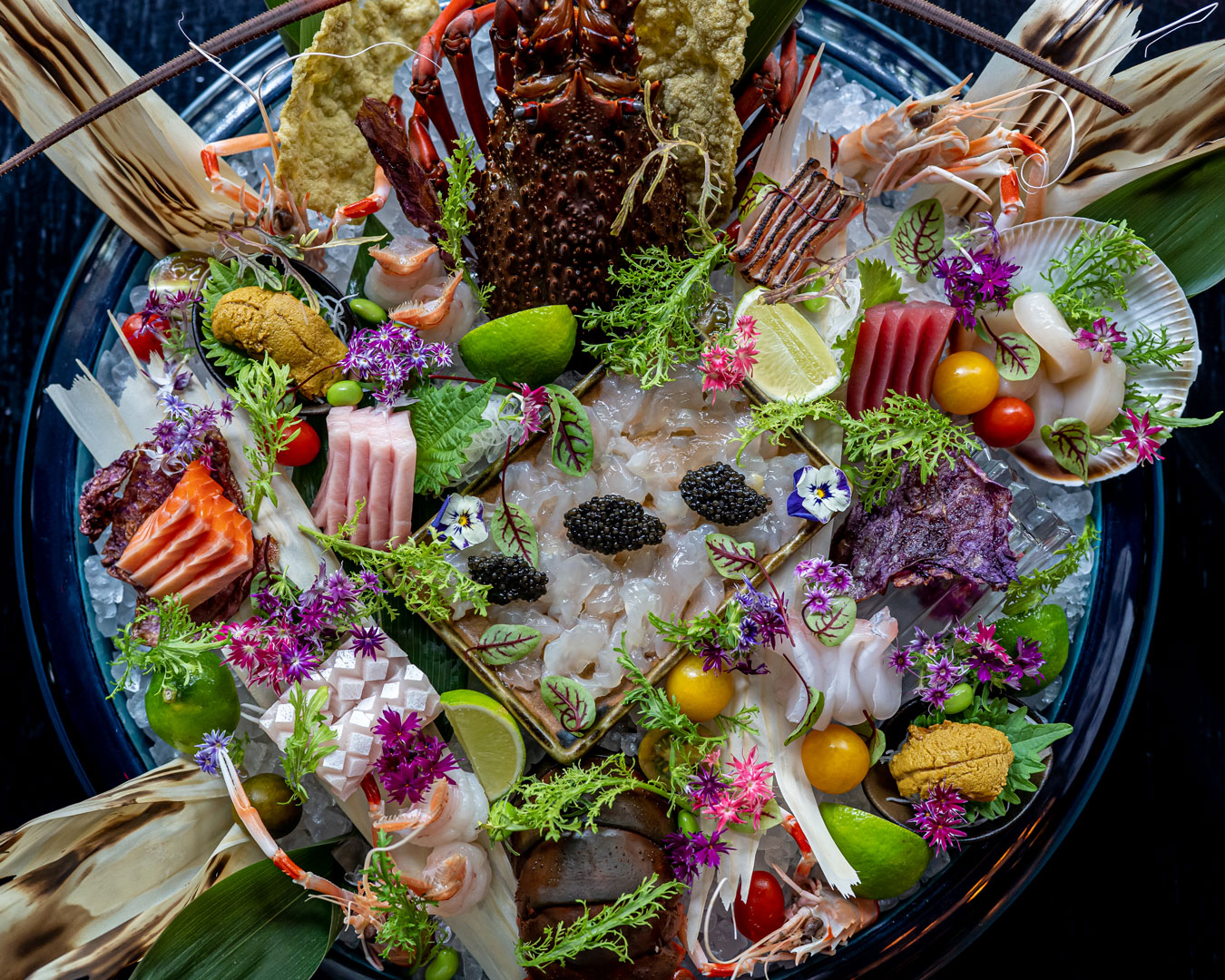 Once you enter this shiny-black-fish-scale-walled Japanese-inspired-restaurant, (say that three times) the only thing you're going to worry about is whether you ordered enough sashimi. Add some tempura and high-quality meats cooked over the robata grill, and you've got yourself a feast fit for Tokyo. Book here.
Cho Cho San
Potts Point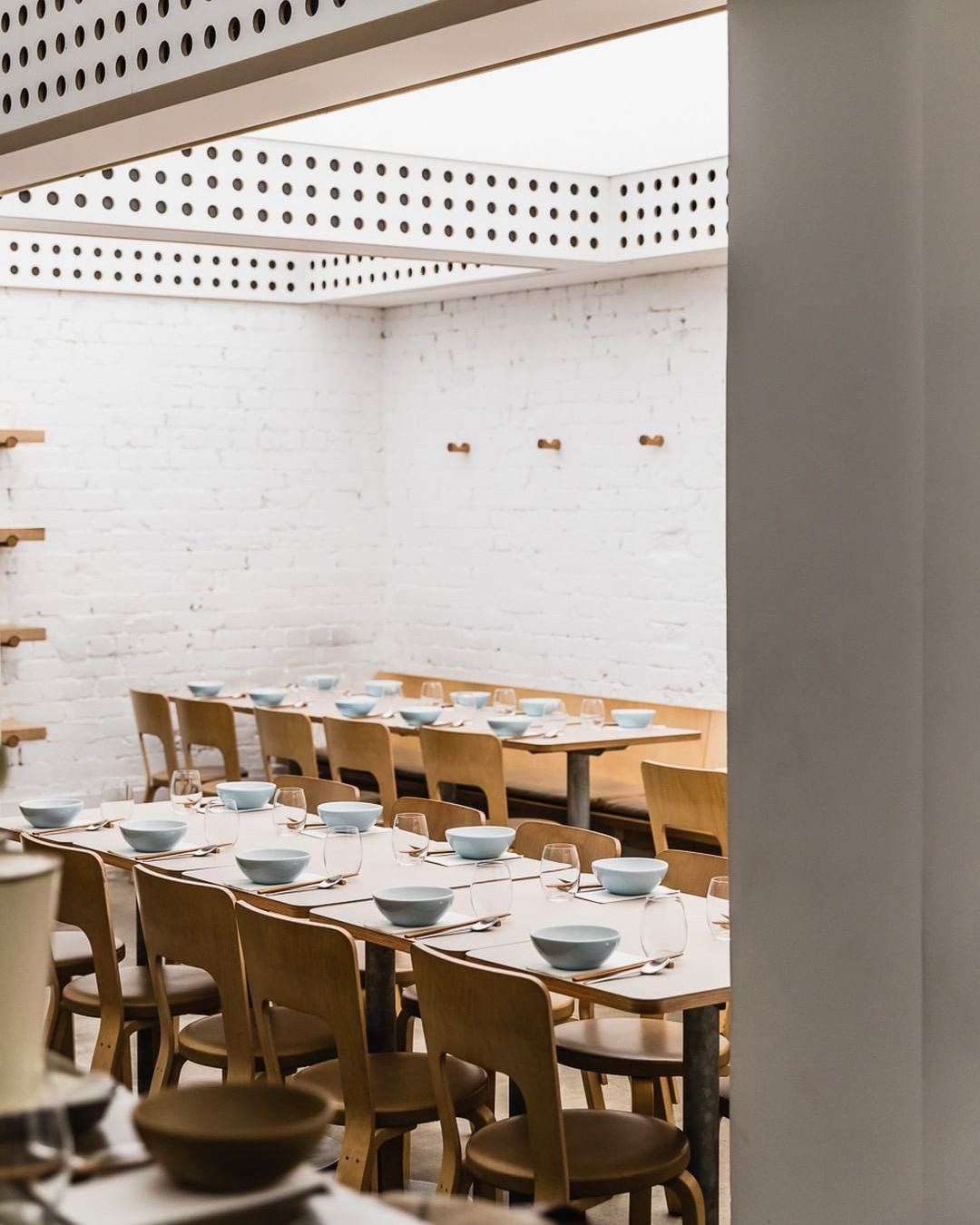 Inspired by the lively drinking culture they witnessed while visiting japan, owners Jonathan Barthelmes and Sam Christie sought to bring the izakaya style of dining to Macleay Street in Potts Point. At Cho Cho San, the colour palette is neutral and considered, with a long stone dining table beckoning you to take a seat. The menu is as intriguing as it is mouth-watering, and though everything is worth trying, you shouldn't leave without sampling the wagyu sirloin with mustard and wasabi. Or the charcoal chicken with sansho pepper. Or the prawns with kombu butter. Or the now-iconic matcha soft serve. Actually, we could be here for a while. Book here.
Izakaya Fujiyama
Surry Hills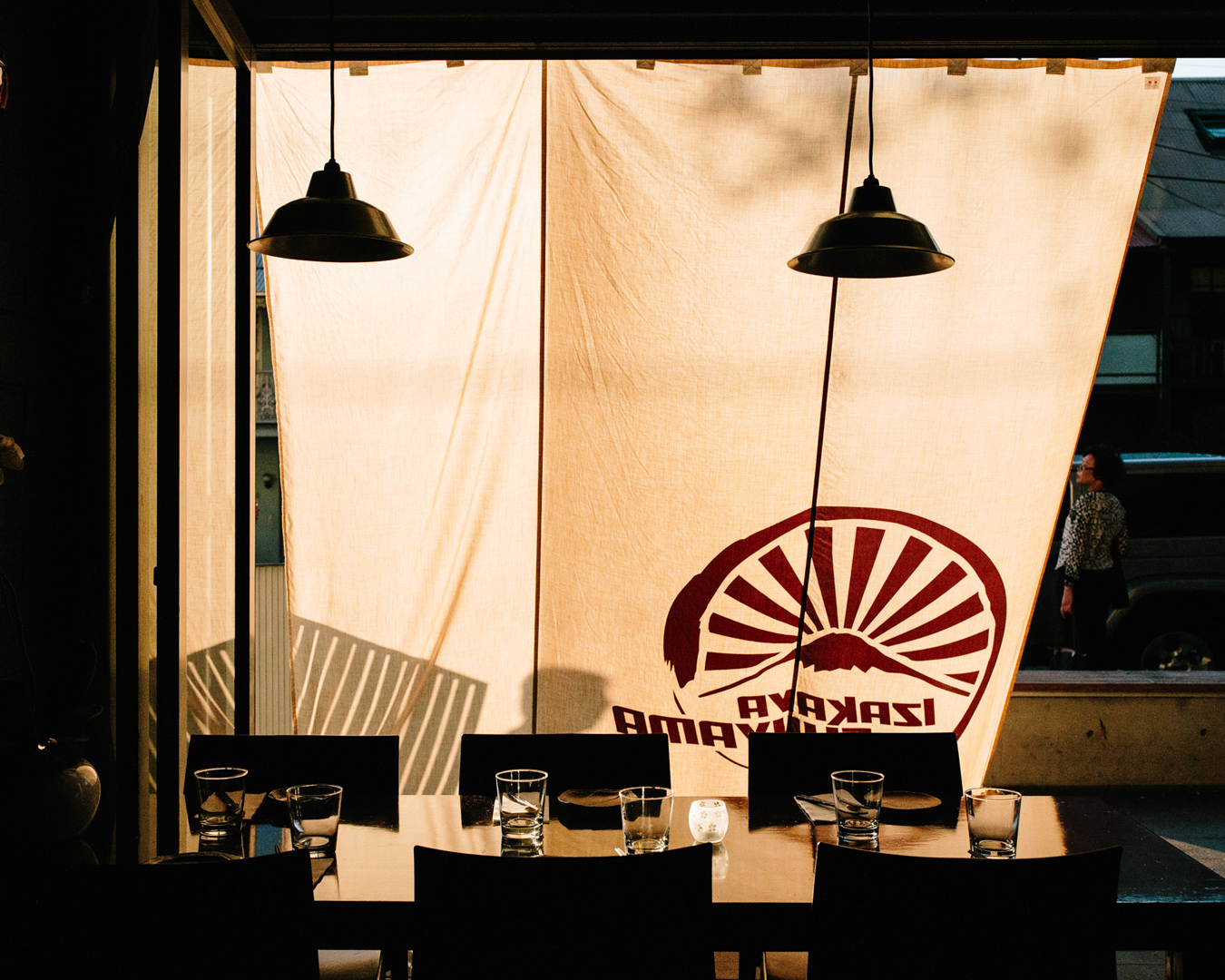 If you're looking for a cool, calm and collected spot to snack on sushi and sake, head to Waterloo Street in Surry Hills. This hatted Japanese restaurant changed ownership earlier this year, with Kenji Maenaka selling it to Koji Shibata—but rest assured, it's still in good hands. Dimly lit with sake-lined walls, Izakaya Fujiyama exudes an authentic Japanese Izakaya vibe while boasting a warm and inviting atmosphere. Menu must-haves include the wagyu cheek buns and tsukune skewers, and if sake isn't your thing, ask to see the Japanese whiskey list. Book here.
Nikkei Bar And Restaurant
Surry Hills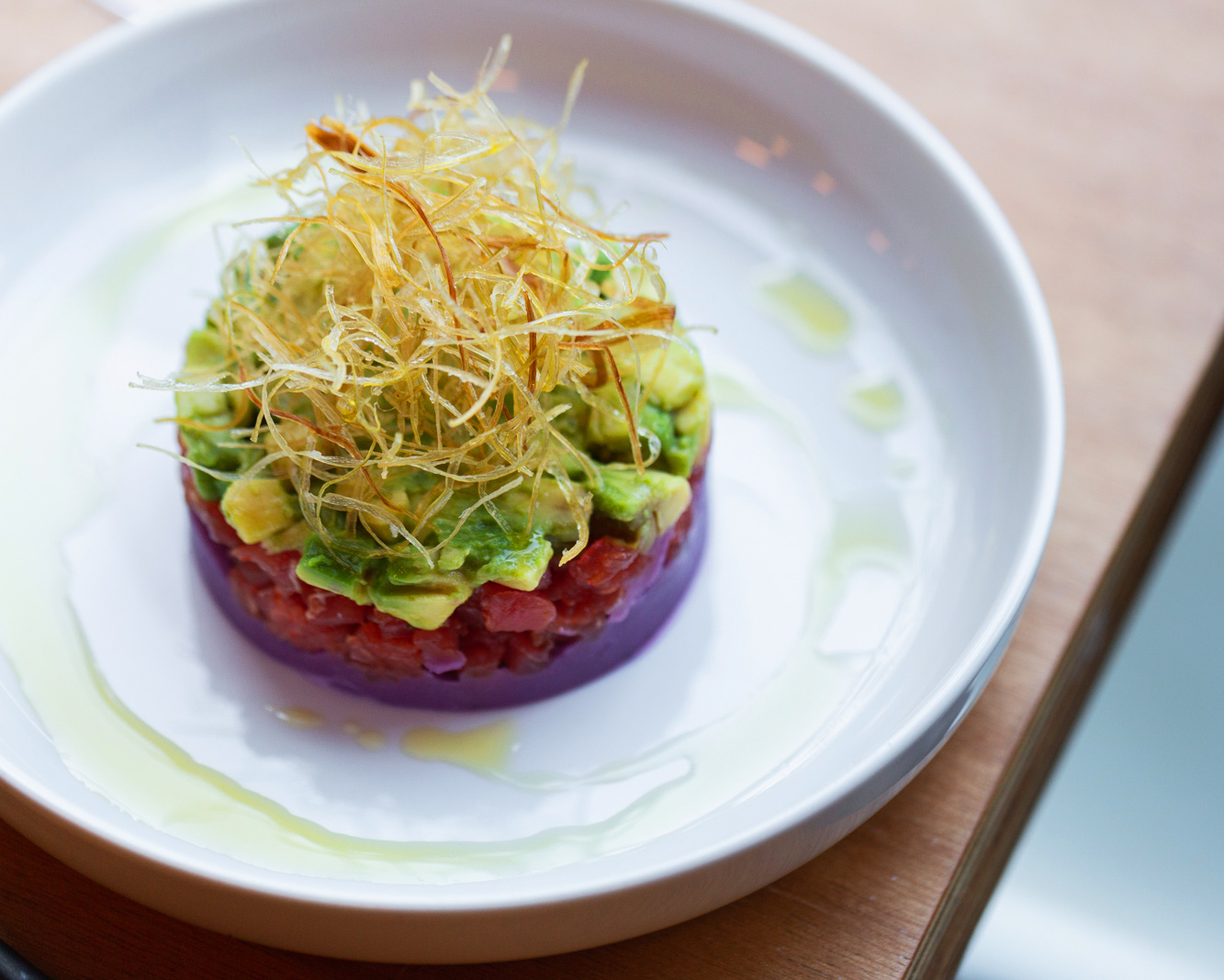 Without wanting to give too much away, Nikkei Bar and Restaurant is all about Nikkei food. Nikkei is the cuisine of the Japanese-Peruvians that dates back to the late 1890s. At this comfy and cosy spot on Commonwealth St, everything is made to be shared—which could be problematic once you taste the beef short rib with miso and garlic corn puree or the southern calamari with salsa criolla and roasted banana. Yep, you're definitely going to want to keep those to yourself. Book here.
Saké Restaurant And Bar
The Rocks, Double Bay and Manly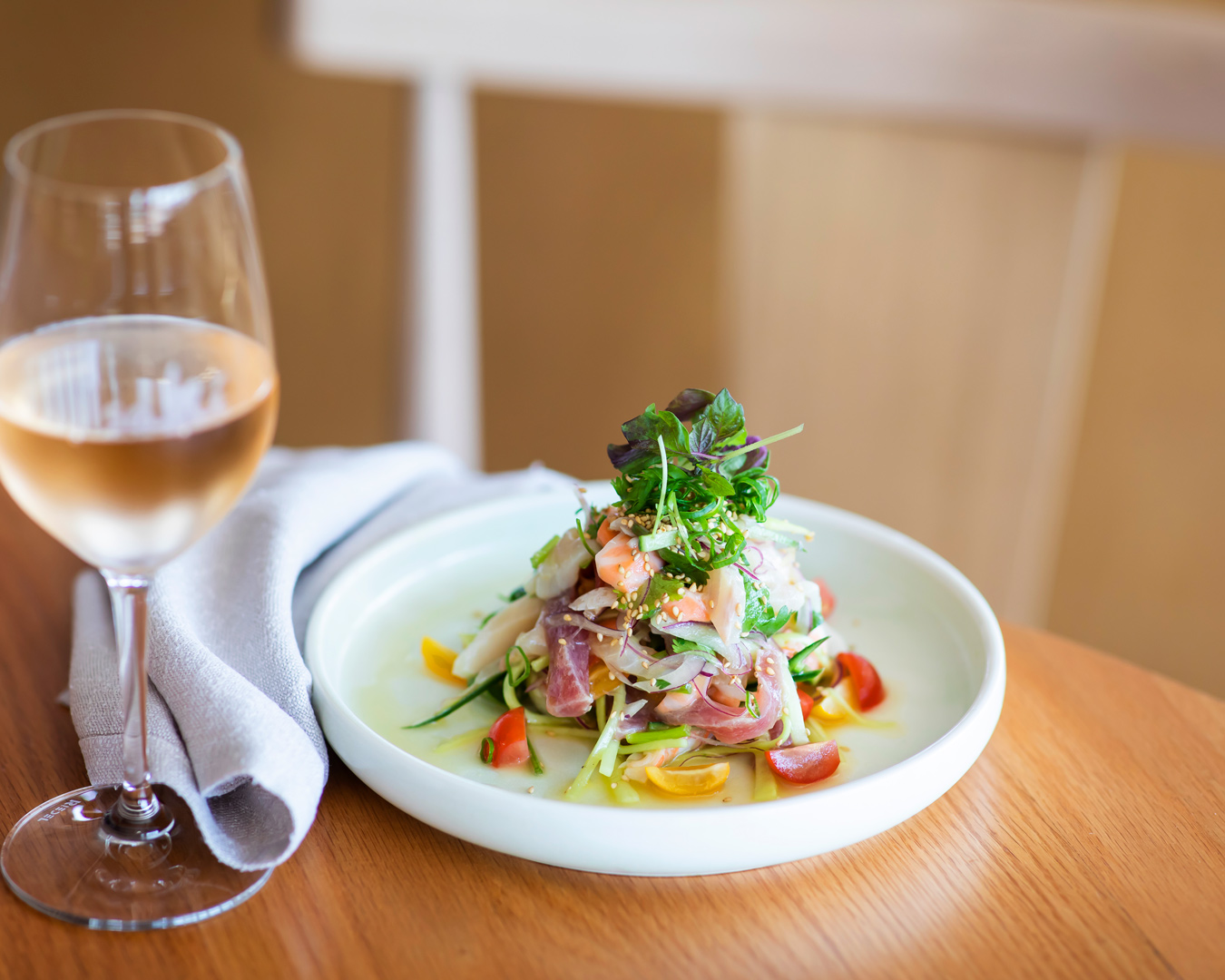 Down the pebbled laneways of The Rocks, on the wharf at Manly and at Double Bay's impressive Intercontinental Hotel, you'll find Saké Restaurant and Bar, a fine dining option known for its unique spin on traditional Japanese flavours. Loud, bustling and always busy, Saké offers incredible sushi and nigiri, made with seafood so fresh it's almost flipping on the plate. But it's Saké's spectacular desserts that really have people talking, most notably—a coconut cream "dragon egg" and miso caramel chocolate fondant that once tasted, can never be forgotten. Book here.
Bay Nine Omakase
The Rocks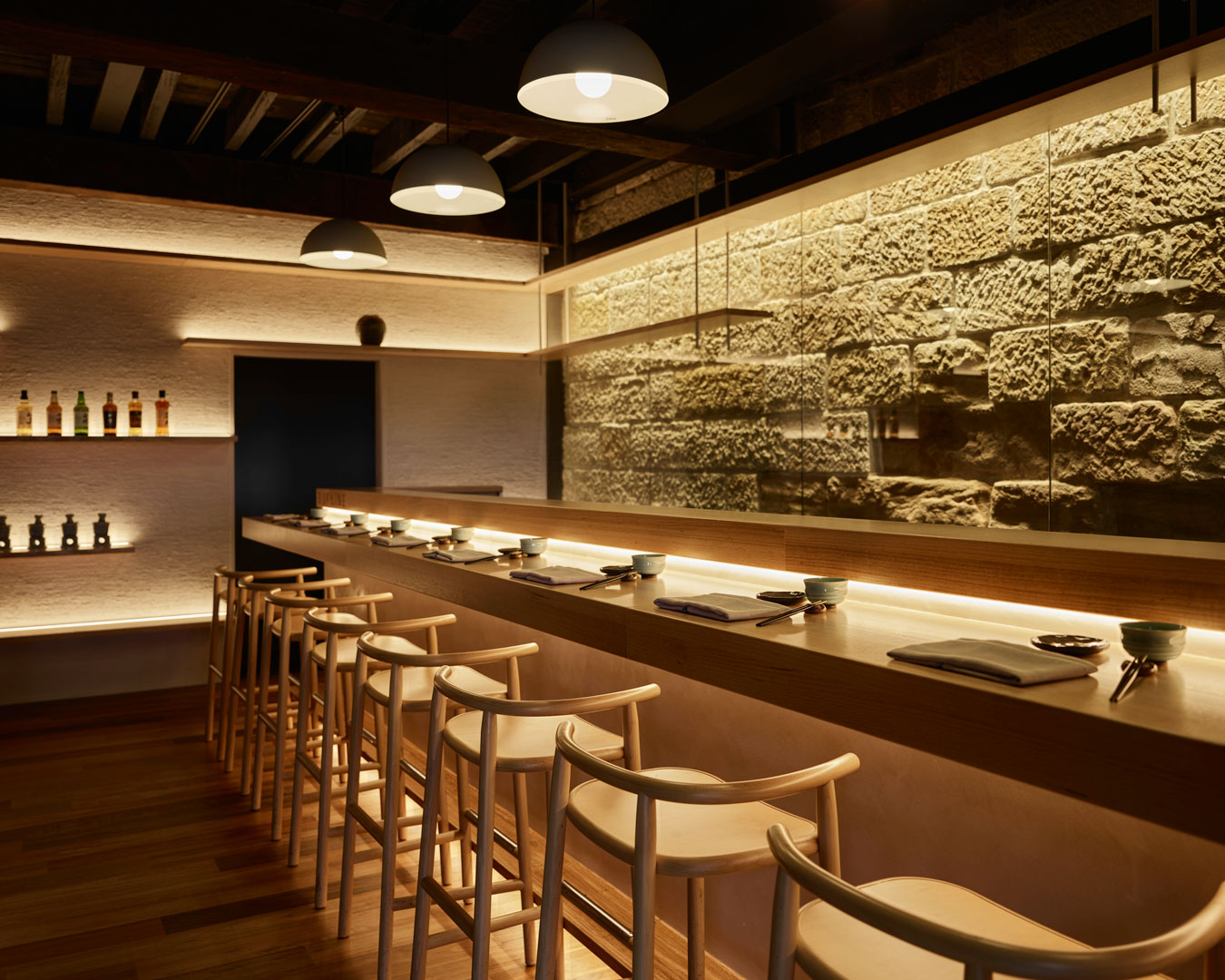 At the Campbells Cove waterfront dining precinct in The Rocks, Bay Nine features an ultra-intimate 10-seater omakase dining experience at the bar, led by one of Sydney's youngest omakase head chefs, Tomohiro Marshall Oguro. Dishes in the personalised omakase experience will be adapted to the customer as well as what's in season. You might sample things like cured and cold smoked Victorian high country king trout sushi, Wagyu sukiyaki with sea urchin, and Tokoroten—a Kansai-style dessert, made with hand-pressed agar-based jelly noodles with dark sugar syrup. Book here.
For more incredible Japanese cuisine, check out Sydney's best omakase dining experiences.
Image credit: Nomidokoro Indigo, Nomidokoro Indigo, Oborozuki, Steven Woodburn, Edition, Crown Sydney, Chaco Ramen, Chaco Bar, Jude Cohen, Haco, Leigh Griffiths, Bar Ume, Megann Evans, Tetsuya's, Sokyo, Toko, Cho Cho San, Daryl Kong, Nikkei, Saké, Bay Nine