Nakano Darling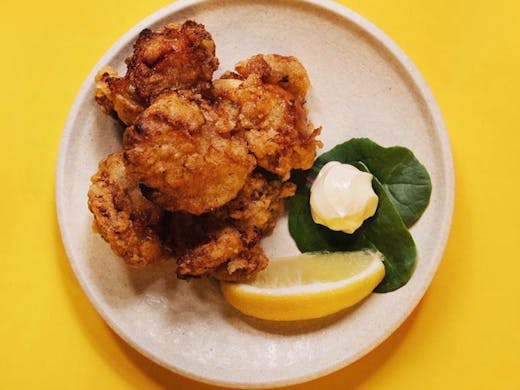 Sydney's Japanese renaissance is alive and thriving—and among the growing list of exciting new venues dishing out supremely tasty Japanese delights is Nakano Darling.
She's the latest venue to join the sprawling Darling Square foodie precinct. Dreamt up by Tin Jung Shea, Chris Wu and Mitomo Somehara, who Crows Nest locals will know from Yakitori Yurippi and Tachinomi YP, karaage fried chicken, gyoza and specialty highball cocktails are the MVPs here. The concept borrows from the Japanese idea of haikara: highballs and karaage.
"In Japan, it's common for restaurants to specialise in one dish, or for bars to specialise in one drink," explains Somehara. "That's how they deliver such high-quality experiences every time, and this is what we're aiming for with Nakano Darling."
Karaage is made fresh daily and comes in serves of one, two or three, plated up with sauces like salt, garlic and vinegar or mentaiko mayo.
And one of Nakano Darling's big-time highlights has to be their free karaage happy hour. No, not a drill—we're talking free serves of karaage dished out when you order any tap beer, Monday through Thursday, from 5 - 6pm, and from 4 - 6pm on Fridays. Tap beers include Japanese staples like Orion, Asahi Super Dry, Asahi Black and Suntory Premium Malt.
Like karaage, gyoza comes freshly fried and in three serving sizes. Sides include snacks like classic edamame, lotus root chips, octopus karaage, corn butter cheese and fried udon with pork slices. To quench your thirst, the specialty highball bar pours refreshing mixers like Suntory and soda, as well as sake.
You'll find Nakano Darling behind a bright yellow banner on Steam Mill Lane. Inside is all warm timbers, lemon-yellow crates and low-light lanterns, which makes it closer to the sort of izakaya you might actually stumble across in a Tokyo backstreet. The two tatami rooms have been kept—so if you're after shoes off, sit on the floor type authenticity, you'll definitely find it at Nakano Darling.
If you're feeling adventurous, there's a karaoke box and a super-special secret menu too (it's written in Japanese).
Image credit: Jess Vuong care of Nakano Darling
---