If you've never sat down for omakase with a handful of guests and a chef preparing 20-odd courses in front of you—it's time you got in the know. The Japanese word omakase roughly translates to "I'll leave it to you", where patrons leave the rotating menu entirely in the hands of a trained omakase chef. Think sushi, tempura, sashimi, or yakitori, for example, dependent on the season and best produce available.
Sydney's omakase scene has remained both underground and yet risen to the mainstream. Its immense popularity for those who know where to find it is evidenced by the day, week, and even month-long waiting lists. The prices, which can range anywhere between $100 - $350 for a sitting, may seem steep but accurately reflect the seasonal produce used and the talent that make omakase so uniquely special. The small number of patrons who sit down for a service—often in the low teens or as low as six—is more about intimacy and shared experience than about exclusivity.
One man who knows the value of the product used for omakase better than most is Pyrmont fishmonger and supplier to some of the best omakase chefs in town, Narito Ishii. "The fish decides the quality of the restaurant," he tells us about the competitive nature of his daily auctions. "It's quite hard to get some products—that's why some fish prices have gone crazy."
According to the Kagoshima-born fishmonger, profit is hard to come by for omakase-specific restaurants. They not only battle for the freshest, best quality produce and pay prices like $200/kg for Toro Tuna, aka "the king of sushi", but they only serve the very best part of each fish.
Omakase is a coveted dining experience like none other, and to catch you up, we've rounded up 14 of the best places in Sydney to find it.
Ora
Waterloo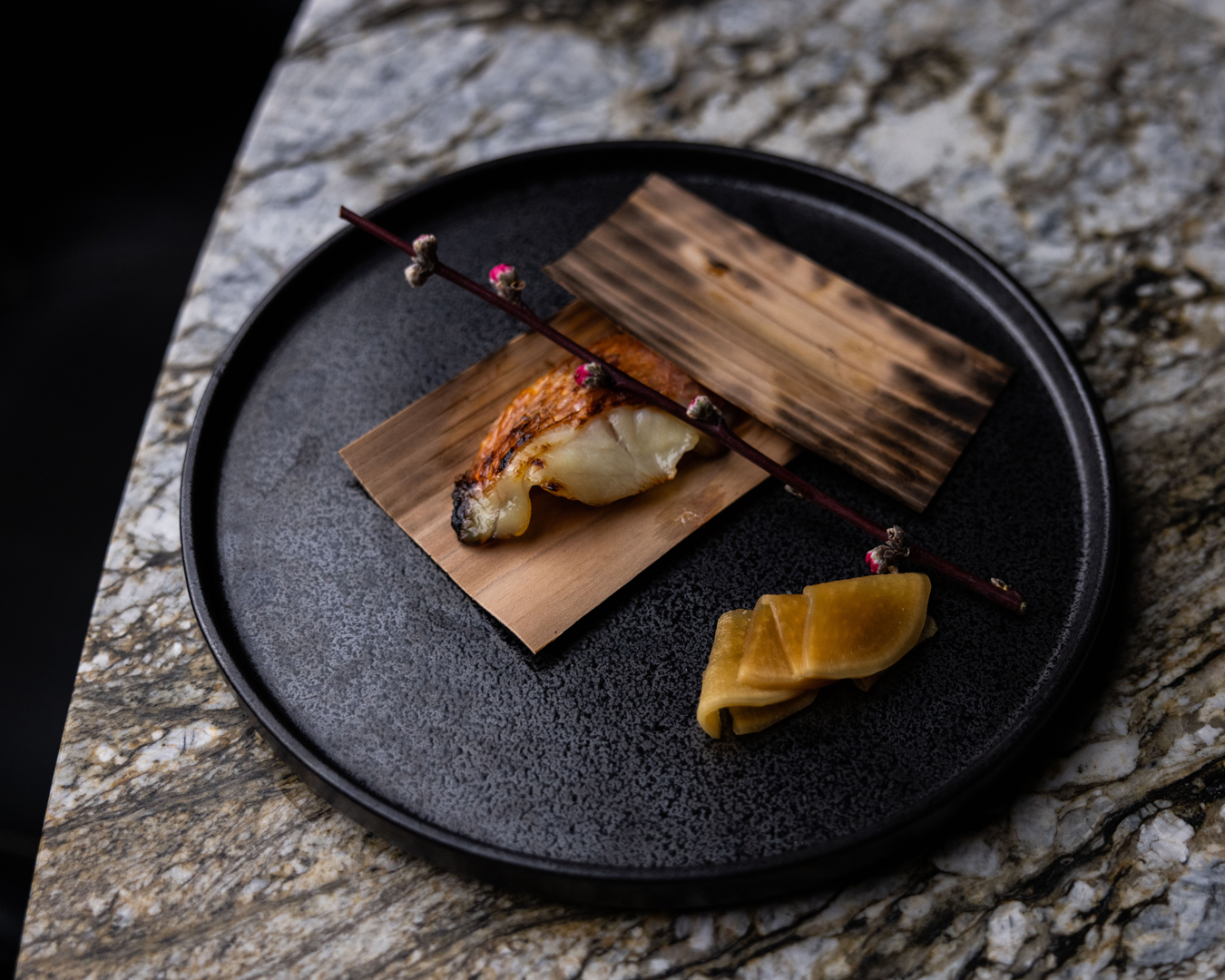 Behind a revolving door on Danks Street in Waterloo, Ora is three venues in one, housed within an enormous warehouse space. In the centre, a long stretch of marble makes up the sushi and raw bar; towards the back, a Japanese cocktail bar with velvet lounges and a canopy of twinkling lights; and to the right, a 10-seater kaiseki omakase helmed by former Sushi E chef, Nobuyuki Ura.
The omakase has been designed by Ura himself and is a multi-course spectacular, beginning with "zensai"—a Japanese-style tapas that features delicate snacks like foie gras chawan mushi and charcoal grilled taro with Kinome miso. From there, you'll be treated to dishes like a snapper-wrapped prawn dumping, plates and plates of sashimi and nigiri diced and prepped before your eyes, Imperadore fish smoked in cedar paper, and a particularly special lobster red miso soup. Pair it all with matching saké, and it doesn't get much better than this.
Sokyo
Pyrmont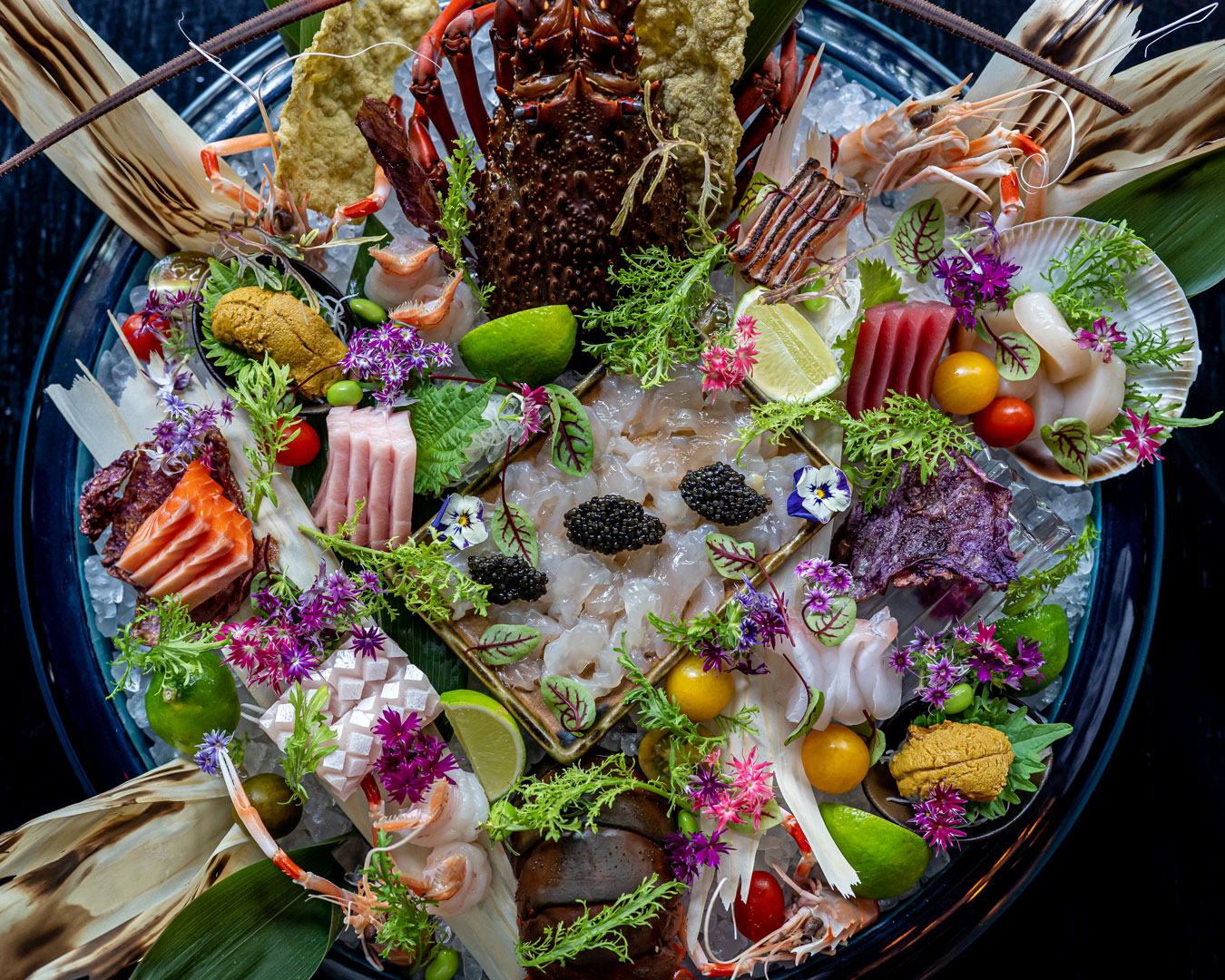 Already renowned as one of Sydney's best Japanese restaurants, a seat at Sokyo's omakase counter, served by chef Takashi Sano isn't easy to come by. The sought-after 19 - 21-course menu's ($185) waitlist is usually a few months long but booking well in advance is undoubtedly worth it.
According to Sokyo executive chef Chase Kojima, it all starts with working with the right people and getting the best fish for the Pyrmont restaurant. "We go to the fish markets and have close relationships with all of them. It's the only way to ensure the guaranteed best of what's in the market daily," he says. "Sokyo omakase is purely Takashi Sano's menu. We've worked together for over nine years now. I trust him and his menu design, taste, and texture."
Besuto
CBD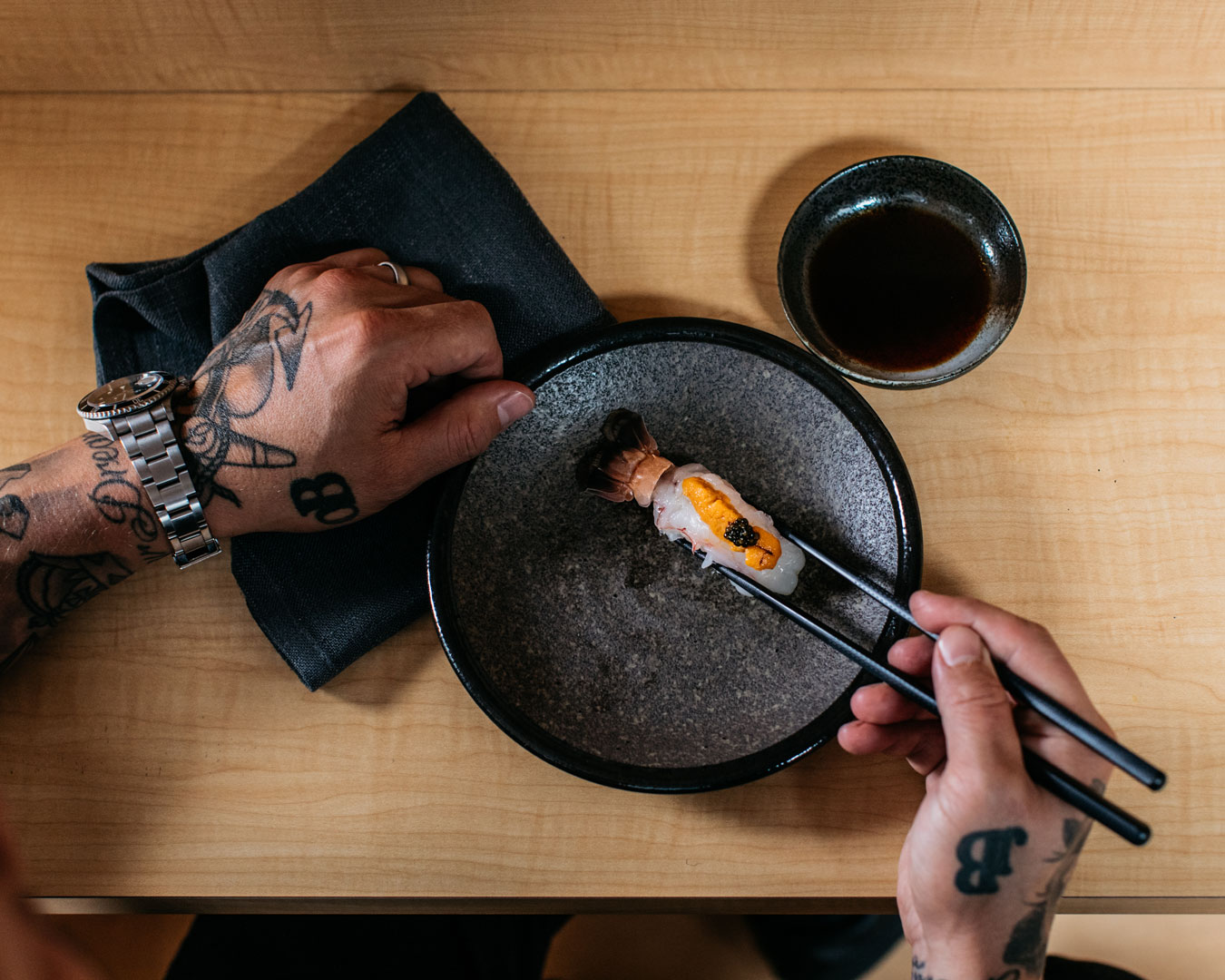 Besuto is among Sydney's new crop of omakase—and it's one of the best too (fittingly, its name translates to "best"). Hidden above the new Quay Quarter Lanes foodie precinct at Circular Quay, enter Besuto via the glowing red foyer, decorated with a Kuniyoshi-inspired mural by Australian artist Lisa King.
Here, you're in for an intimate 20-course experience, designed by chef Hirofumi Fujita (Hiro). As with any omakase, the menu changes based on the best produce available—but regular highlights at Besuto include miso-marinated Glacier 51 toothfish, toro with N25 Caviar, and a particularly impressive steamed egg custard served with uni (sea urchin). The sushi and sashimi course is just as divine, ticking off Hokkaido scallops, Anago eels, and heaps more. We were also very fond of the palate-cleansing yuzu sake sorbet.
Bay Nine Omakase
The Rocks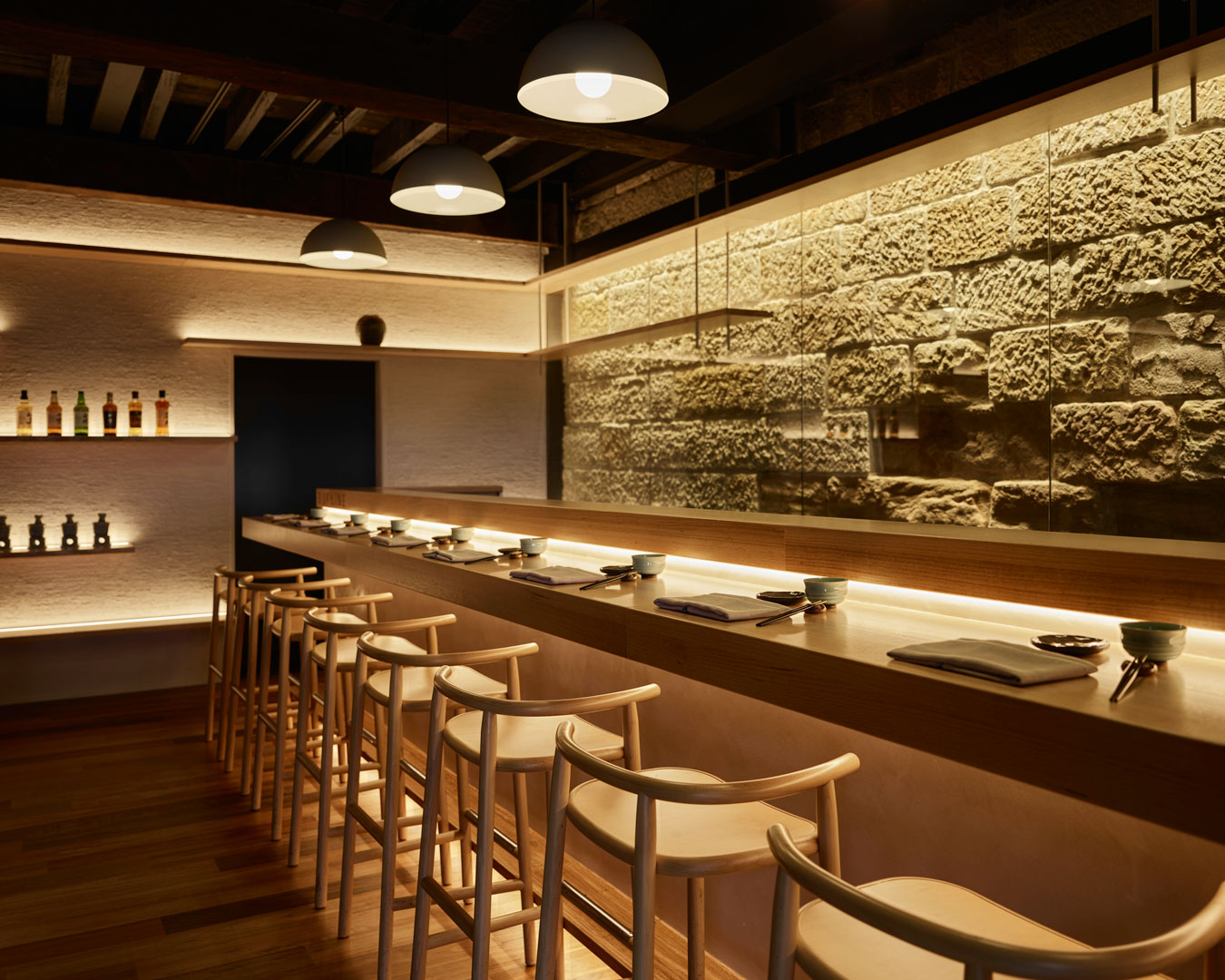 Bay Nine is an ultra-intimate 10-seater dining experience at the bar, led by one of Sydney's youngest omakase head chefs, Tomohiro Marshall Oguro. Dishes in the personalised omakase experience are adapted to the customer as well as what's in season. You might sample things like cured and cold smoked Victorian high country king trout sushi, Wagyu sukiyaki with sea urchin, and Tokoroten—a Kansai-style dessert, made with hand-pressed agar-based jelly noodles with dark sugar syrup.
Kisuke
Potts Point
After decades of training and working in kitchens around the world, from Tokyo and Amsterdam to London and Sydney, chef Yusuke Morita finally settled in Potts Points to open up Kisuke in 2020. Teaming up with his wife, Mirota's restaurant offers just six seats for a genuinely intimate sit down ($200), showcasing a lifetime of passion for and experience with traditional Japanese cuisine. Expect soups, sashimi, grilled and steamed dishes, as well as plenty of sushi to pair with sake and whisky. Keep an eye on their Instagram and book online here.
Sushi Oe
Cammeray
Look no further than Sushi Oe if you're looking for the ultimate experience of incredible food and intimate dining. Under the craft of chef Toshihiko Oe, the small Cammeray restaurant only sits six people. You can expect a 30+ course degustation ($180), heavily featuring carefully crafted sushi. To avoid long waitlists and keep a level playing field, Sushi Oe takes monthly bookings via text message (0451970984), announced on their Instagram. Make sure you check regularly and be quick with a text to secure a spot.
Sushi E
CBD
Overseen by executive chef and Sydney hospo legend Dan Hong, Sushi E's omakase menu is offered Tuesday through Thursday at 6.30pm, where you can reserve a place for up to six people. Get comfortable, because the sitting lasts between two and three hours. Again, book this Merivale spot in advance and place your culinary fate in the creative hands of chefs Ha Chuen Wai and Michael Fox. Just make sure you come hungry for the 20+ course menu ($170). Book online here or over the phone at 9114 7314.
Chaco Bar
Potts Point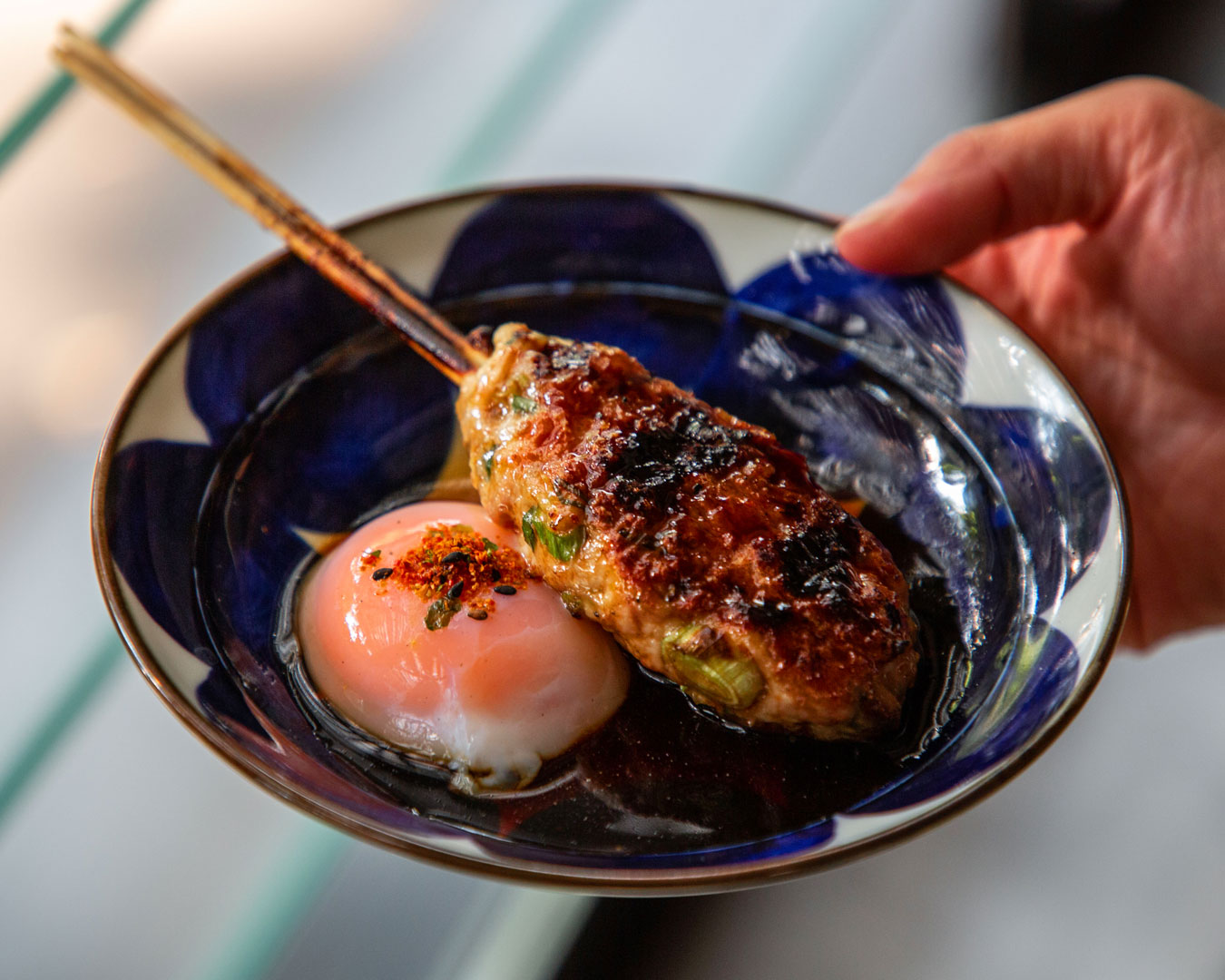 For something a little different, head to Potts Point's Chaco Bar, sister restaurant to Darlinghurst's Chaco Ramen. In this omakase menu ($160), you can expect a heavy rotation of Yakitori dishes—chef Keita Abe's specialty. Sit at the chef's counter near the hot coals and get ready for charred, melt-in-your-mouth flavours. Keep an eye out for Chaco's omakase bookings—when available, you can book online here.
Haco
CBD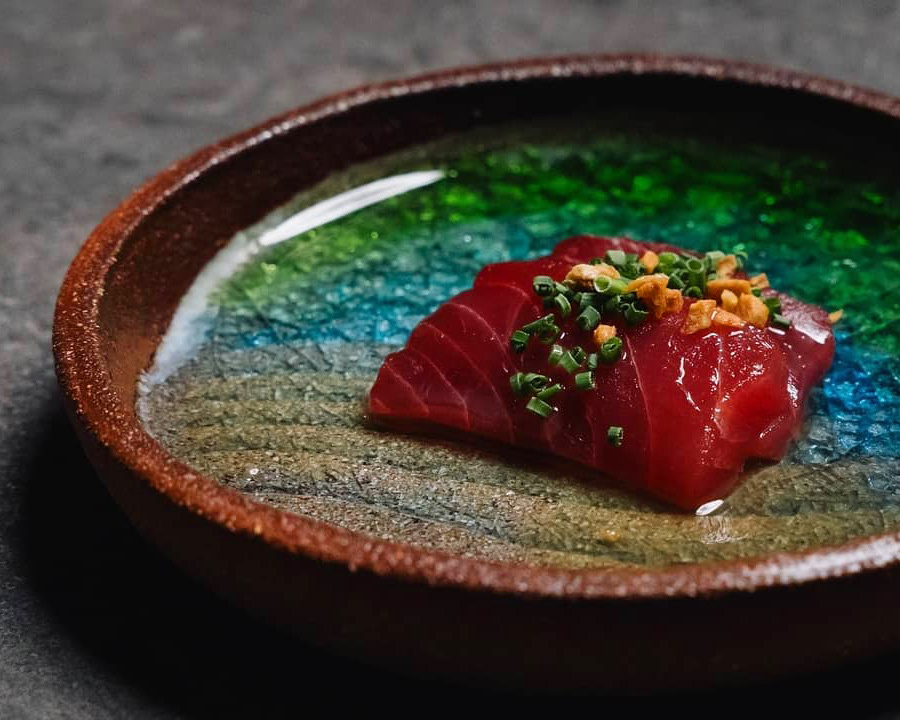 Housed within a concrete cube at the Surry Hills end of the CBD, Haco is a first of its kind in Sydney where the sheer theatre of deep-dried deliciousness takes centre stage ("haco" translates to "theatre"). Fresh from the same team that brought us Chaco Bar above (chef Keita Abe and ex-Sasaki head chef Kensuke Yada), Haco is a pint-sized 12-seat omakase dedicated almost entirely to tempura.
Expect to sample lightly battered king prawn, lotus root, and, for dessert, banana, alongside braised pork belly, kombu-cured lobster, and bonito sashimi, while you sip sake, Japanese beer, and house-made umeshu and yuzushu. The classic tempura omakase is hosted on Fridays and Saturdays and comes in at $120 per person. For dinner, the signature Haco omakase is available Tuesday through Saturday for $185 per person. Book here.
Kuon Omakase
Haymarket
Darling Square's Kuon Omakase is an absolute must-try. Behind its giant sliding entrance door, the small restaurant's sleek and modern wooden design revolves entirely around the chef's station. Executive chef Kideaki Fukada offers an ever-changing menu of 20+ courses ($200) to the small number of lucky guests that features an eclectic assortment of dishes. Keep an eye on their socials, with reservations made available the first Tuesday of each month for the one following. Once available, you can book online here. After you've done that, make sure to check out Fukada's Tempura Kuon omakase, which is a menu dedicated to—you guessed it—tempura.
Raita Noda Chef's Kitchen
Surry Hills
With only a long white bench separating eight seats and chef Raita Noda's culinary magic, this celebrated Surry Hills omakase outpost has fast become a fan favourite since opening six years ago. The menu aims to re-create traditional Japanese cuisine for the modern dining experience and depends entirely on the best fish available that day down at the markets. Settle in for up to three hours, where chef Noda offers 10 courses ($190). You can book online here.
Yoshii's Omakase
Barangaroo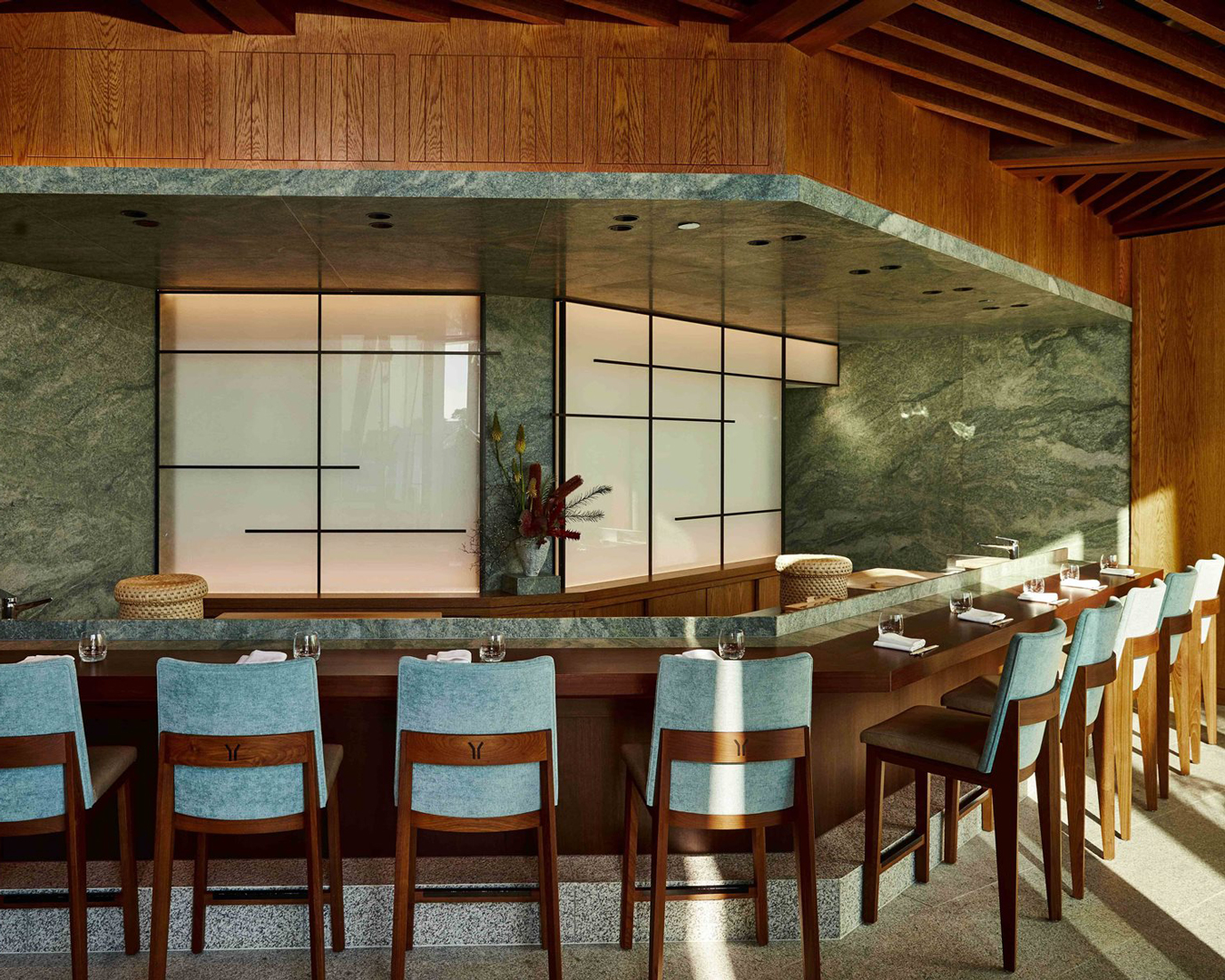 With a $350 price tag, we're definitely talking about the more boujee end of the scale here. But the 10-seater dining experience inside Crown Sydney's Nobu is worth every cent. With 38 years of experience, chef Ryuichi Yoshii is at the top of his game as a master of sushi, showcasing the best seafood. The elegant and intimate dining space places you right in front of Yoshii as you pair bite-sized delights with wine and sake. Keep an eye out for Yoshii's signature saikyo miso-marinated toothfish, and shiitake mushrooms smoked in cedar. Bookings are released monthly at the start of each month. Make one here.
Harada
Glebe
Owner and chef Yoshinobu Harada has set up a little slice of modern-style authentic Japanese cuisine on the edge of Glebe. At 29, Harada opened his first Izakaya restaurant in Sydney—a dining style that pairs alcohol with small dishes—where he further developed the ability to creatively improvise menus. Now, he's perfected it with his innovative omakase menu ($160), a lot of which is paired with Japanese whiskey, sake, and wine. You can book online right here.
Hachioji
Willoughby
North of the bridge lies Hachioji, a small Japanese restaurant run by sushi master Benson Pang. With just eight seats offered per sitting, the Taiwanese chef creatively uses rare ingredients like sea grape, uni, and truffle to bring his dishes alive. You can opt for the $180 omakase "chef's selection" or the "diamond omakase" for $250. Hachioji offers lunch and dinner sittings. Book yourself in here.
Woo Wol Black
Chippendale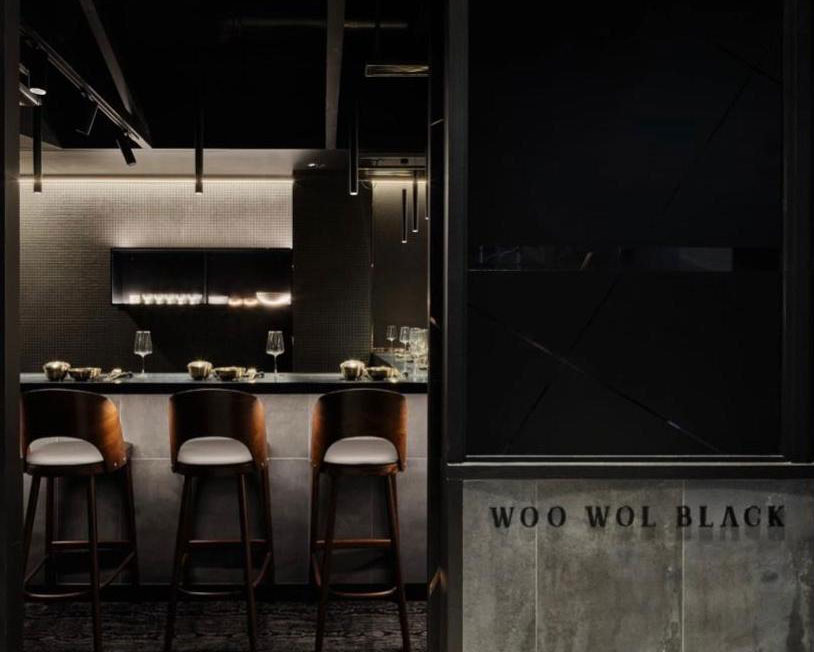 You'll find Woo Wol Black in a private dining space within Chippendale's fancy Korean BBQ spot, Woo Wol. From the owners of Korean fine diner Jung Sung, here you're in for a one-of-a-kind Korean-style Wagyu omakase. Across 15-courses you'll be treated to delicacies like tartare with caviar, a spanner crab and saffron custard, Wagyu fat sliders, and—the pièce de résistance—a chef performance BBQ where select cuts of Wagyu are cooked over charcoal grills and plated up in front of you. A word of advice: come hungry—this is a fast-paced degustation with plenty to fill up on. Book here.
For more amazing Japanese cuisine in Sydney, head over here.
Image credit: Jude Cohen, Jude Cohen, Sokyo, Jude Cohen, Haco, Steven Woodburn, Crown Sydney, Woo Wol Black