Sydney has really upped its small bar game in the past few years. We've embraced creativity, luxury and the best ideas from abroad to create a cosmopolitan scene that feels a bit more mature than the days of yore. We're now home to some of the most exciting hospitality staff and venues in the entire world.
So, without further ado, here's our pick for the best bars in Sydney and what to drink when you're there.
Maybe Sammy
The Rocks
Maybe Sammy draws inspiration from the glamour of a 1950s, Rat Pack-era hotel bar. Thanks to its green and marble counter and stylish brass and gold accents, the setting does feel quite lush. However, Maybe Sammy's greatest claims to fame are the award-winning cocktail makers behind the bar: Andrea Gualdi and Martin Hudak. While you can expect the same killer drinks you've seen at sibling venue, Maybe Frank, try one of Maybe Sammy's coffee cocktails made from the team's own house blend.
If you needed any further reason to visit, in 2019 Maybe Sammy was named on the World's 50 Best Bars list (the only bar in Australia to earn the title).
Signature drink: Irish coffee cocktail. "It's a cold version of an Irish coffee—an Australian version!" co-owner Stefano Catino says. Ingredients include Redbreast 12 Irish whisky, house-made cold brew, and cream to finish.
Little Felix
CBD
Little Felix is the moody cocktail bar bringing a sophisticated flair to your evening.
"Our aim at Little Felix was to take the opulent hotel bars of early 20th century Paris and bring them into the modern-day," Bar Manager Joseph Stephens explains. "We've based our cocktails, food and spirit offering on what would not feel out of place if served at the Ritz bar during that legendary era."
As the little sister of Felix restaurant, you'll recognise that elegance runs in the genes.
Signature drink: Paris Meridian. "With its roots in the Paris cocktail scene circa 1915, this champagne cocktail with gin, lemon, and a hint of French thyme liqueur makes for a great start to the evening," Stephens says.
Old Mate's Place
CBD
This Clarence Street establishment puts hospitality first, and the result is a friendly vibe that welcomes anyone and everyone.
"Our philosophy is pretty much making sure that the person in front of us, and anyone that comes in, feels welcome and has a great time," co-owner Dre Walters says. "Bars are meant to be fun and a place to go to relax so if we can facilitate that then we go home at the end of the day happy."
However, for an establishment that lacks pretention, it boasts a pretty impressive pedigree, with Dre hailing from Kittyhawk and Lobo Plantation, and fellow cocktail connoisseur Daniel Noble grooving in from Ramblin' Rascal. These guys also do a mean Mi Goreng Bloody Mary, if it's a hangover cure you're after.
Oh, and did we mention it has a rooftop?
Signature drink: Future Thinking. Green Ant Gin, Lillet, snow peas, shiso, green apple, verjuice, bitters and whites.
PS40
CBD
PS40 is a remarkably niche idea that somehow works, most likely due to the quality and creativity of what is being served. If you haven't yet heard of it, this is a bar that's dedicated to bottling, selling and serving a variety of homemade sodas.
"PS40 is dedicated to just being a good bar at its core, offering the best hospitality every day while also pushing the boundaries of contemporary drinks and experience," Bar Manager Peter Seabrook said.
The team has a soda bottling area on site, and is focused on concoctions crafted from Australian native ingredients. They're also free of preservatives and refined sugars!
Signature drink: Burning Man—a concoction of gin, Seedlip garden, rosemary smoked pea and citrus.
Employees Only
CBD
Employees Only will reopen on Wednesday 24 June with a new dinner and a show experience on Fridays and Saturdays.
This New York City icon was originally intended as a bar for those with a vested interest in the hospitality industry.
"Employees Only was founded on the philosophy that there's no better clientele for your bar than those who work in service in the hospitality industry," Bar Manager Robert Kreuger says. "So, our hours of operation and offerings have reflected that from the start."
As it turns out, it's not just hospo folks that appreciate quality food and drinks. Those who stay long enough will witness the casual evolution of the venue throughout the evening: the after-work crowd will drop in for a Manhattan, then maybe a dinner with a bottle (or three) of wine, followed by more fun and festive drinks well into the night.
"We want to be constantly in the top of your mind as one of the best options in Sydney to spend your time any night, any time," Krueger adds.
Signature drink: Amelía. Made with vodka, St. Germain, blackberry purée and fresh lemon juice, garnished with a sprig of mint. Fresh!
Cantina OK!
CBD
In the year Sydney discovered mezcal, tequila's smokier, sexier sibling, Cantina OK! led the charge. The self-described "micro mezcal mecca" is tucked away at the end of an otherwise suspicious looking laneway—as many good bars are these days! And, while it used to be a standing room only type affair, in the post-lockdown half of 2020 Cantina OK! has intro'd laneway seating.
If you're not into mezcal yet, go to Cantina Ok! with a goal to learn from the highly knowledgeable staff. This is a space for drinking and learning about a spirit that is still fairly underappreciated in this country.
Signature drink: Mezcal! If it's your first foray into the spirit, chat to the staff who can help you figure out the right flavour profile. It should be enjoyed straight and sipped slowly but if it's too strong for your taste, the Margarita Ok! with pink salt is a great entry point and, just quietly, is one of Sydney's best margaritas by a long shot.
The Swinging Cat
CBD
The Swinging Cat draws inspiration from the nightlife of New Orleans to create a bar one is obliged to describe as a bit "swanky". The venue is decked out with lounges and armchairs, and lots of live jazz, while table service takes away the whole shouty counter shuffle.
"We made the choice to eliminate what is usually the worst part of a bar experience, and people love it," The Swinging Cat's bar manager Giulia confesses.
Signature drink: Hurricane. "A combination of Rum, Passionfruit and Lemon, this drink is favourite in the steamy streets of New Orleans, which makes it a perfect Summer banger if you want to be refreshed, but also make a statement."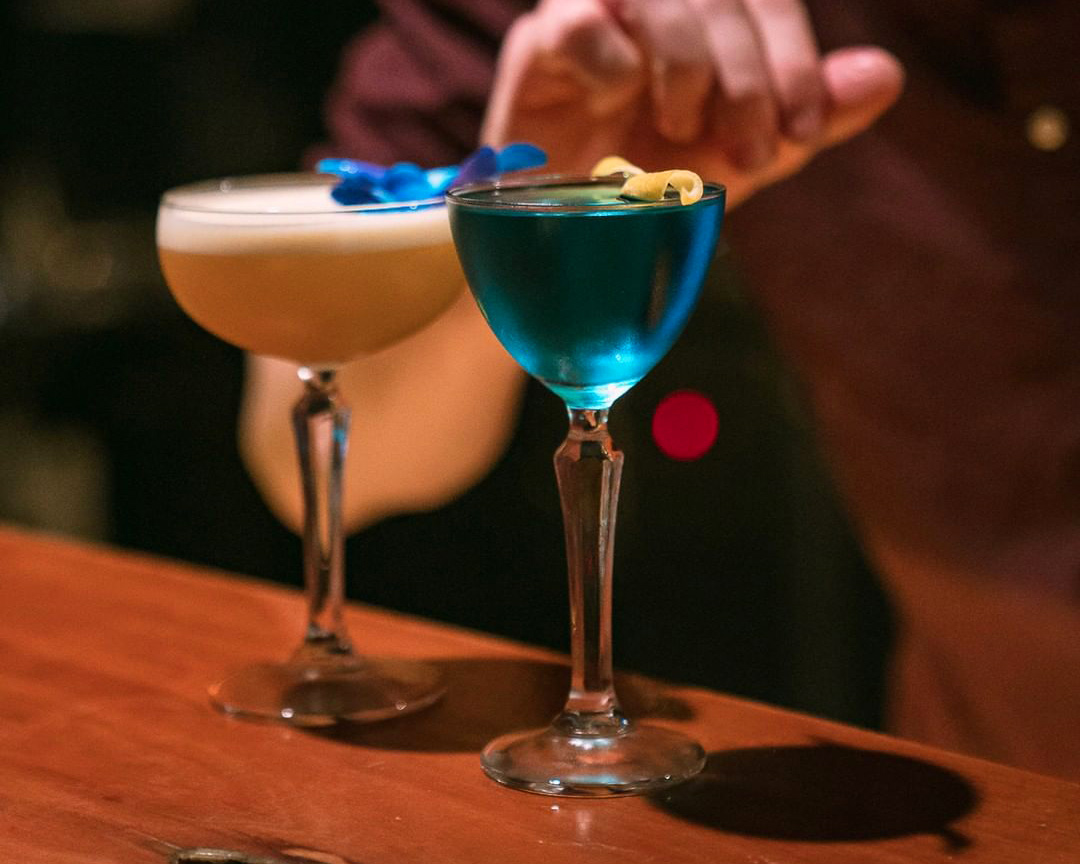 Jacoby's Tiki Bar
Newtown
An urban paradise of sorts, this Enmore Road establishment delivers fun vibes and funky cocktails. Guests will find the warmth and joy (with a dash of rum and lime) that fits right into this corner of the city.
"We are most proud of how we've become a part of this wonderful and eclectic community," Director Adrian Sanchez says of Jacoby's.
"I love walking around the suburb and seeing all of our regulars going about their lives and then seeing them later in the evening for their nightcap. The best compliment we can ever hear is the one where people think we've been here longer than we actually have."
Signature drink: a Pina Colada, of course! "I chose this drink as it's our most popular but also because it captures what we do best here. Whether rain or shine, you can come to our bar and escape from the city slog and enjoy a bit of paradise or at the very least, dream of one," Sanchez says.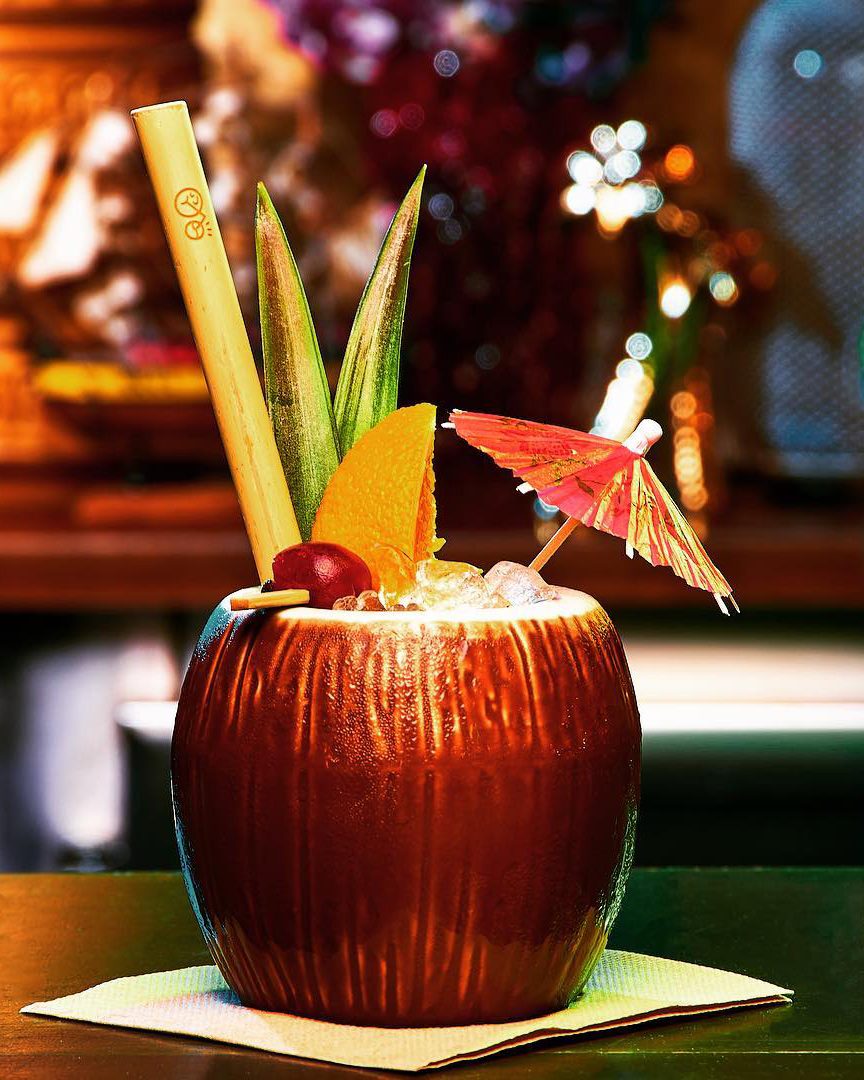 Double Deuce Lounge
CBD
Double Deuce is yet to reopen due to COVID-19 restrictions. Stay up to date with the team here.
Double Deuce Lounge is the retro-themed watering hole that is self-declared "70s porno chic". The décor alone is worth a visit. With timber-panelled walls and bulb-framed mirrors, elements of the design are destined to return to homes in no time.
Double Deuce also has a great cocktail menu to back it up, serving modern-Australian spins on the classics.
Signature drink: the Cozmo. Double Deuce's take on the classic Cosmopolitan has vodka, Rosella, fresh citrus and apricot.
The Doss House
The Rocks
Sydney has its share of fabulous whisky bars and The Doss House brings this suave drink to its natural home in the city: The Rocks. Hidden in a sandstone basement (and former opium den) within Sydney's historic dockside settlement, The Doss House is ideal for a cosy evening underground or a sunset chat on the patio.
Signature drink: A whisky flight hailing from Scotland, Ireland or Japan.
Feel like wine? You'll want to run through our edit of the best wine bars in Sydney. And if whisky is more your jam, head over here.
Image credit: Nikki To, Rocket Weijers, Nikki To, Old Mate's Place, PS40, Dominique Berns-Blackwell, Jude Cohen, The Swinging Cat, Jacoby's Tiki Bar, Caitlin Hicks