Sydney has really upped its small bar game in the past few years. We've embraced creativity, luxury, and the best ideas from abroad to create a cosmopolitan scene that feels a bit more mature than the days of yore. We're now home to some of the most exciting hospitality staff and venues in the entire world—with a few placements on the World's 50 Best list to prove it. And with Freedom Day finally here, we're so excited to experience them all.
From garage bars dedicated to ancient spirits, to hidden wine bars with Midnight in Paris vibes, and hotel lobby bars guaranteed to take your breath away at sunset—if you're thirsty, Sydney's bar scene is here for you.
Without further ado, here's our pick of the best bars in Sydney right now—and what to drink when you're there.
Cantina OK!
CBD
In the year Sydney discovered mezcal, tequila's smokier, sexier sibling, Cantina OK! led the charge. The self-described "micro mezcal mecca" is tucked away at the end of an otherwise suspicious-looking laneway—as many good bars are these days. And, while it used to be a standing-room-only type affair, in the post-lockdown half of 2020 Cantina OK! intro'd laneway seating. Cantina OK! is one of only two Sydney bars currently on the World's 50 Best Bars list—so yeah, you need to visit.
If you're not into mezcal yet, go to Cantina Ok! with a goal to learn from the highly knowledgeable staff. This is a space for drinking and learning about a spirit that is still fairly underappreciated in this country.
Signature drink: Mezcal! If it's your first foray into the spirit, chat to the staff who can help you figure out the right flavour profile. It should be enjoyed straight and sipped slowly but if it's too strong for your taste, the Margarita Ok! with pink salt is a great entry point and, just quietly, is absolutely one of Sydney's best margaritas.
Maybe Sammy
The Rocks
If you've done some research about bars in Sydney—chances are you've heard about Maybe Sammy. Well, before you turn up your nose, let's just say this bar deserves all the hype. Inspired by the glamour of a 1950s Rat Pack-era hotel bar, arguably the best era of cocktails, Maybe Sammy's greatest claims to fame are the award-winning cocktail shakers behind the bar: Andrea Gualdi and Martin Hudak. These guys whip up a string of signature cocktails that are a little left of centre (in the best way possible), so expect things like a Thunderbird with Aperol, Americano Cocchi wine, Becherovka, jasmine kombucha, and grape rocks. Or if your taste steers more towards the sweeter side, head towards the Flamingo Capri, mixed with Barsol Pisco, aquavit, rhubarb, citrus, and bitters.
If you needed any further reason to visit, Maybe Sammy holds the number 11 spot on the World's 50 Best Bars list, and, in 2020, took home the World's 50 Best Michter's Art of Hospitality award, which is handed down for—you guessed it—hospitality, guest service, and general good vibes in any bar experience. Maybe Sammy has proved so popular with Sydneysiders, the team has since opened Sammy Junior and Dean and Nancy on 22.
Signature drink: Irish coffee cocktail. "It's a cold version of an Irish coffee—an Australian version!" co-owner Stefano Catino says. Ingredients include Redbreast 12 Irish whisky, house-made cold brew, and cream to finish.
Bar 83
CBD
Ready for a drink at Sydney's highest bar? Housed within the iconic Sydney Tower, Bar 83 feels like a lavish spaceship—a sort of Star Wars, Jetsons vibe, without at all being kitsch. With award-winning bartender Jenna Hemsworth behind the bar, Bar 83 isn't just a stylish spot to take in the city skyline. Hemsworth was Bartender of the Year in 2018 and has spent three years curating cocktail lists at Swillhouse staples The Baxter Inn and Restaurant Hubert. Cocktails hero Australian native ingredients in a modern, minimalistic format, and your drinks will be matched with a neat bar food menu by chef Mike Dierlinger (The Bridge Room).
Signature drink: Long day at work? Go for Hemsworth's Second Wind. Made with bourbon, cassis, coffee amaro, and bitter orange, its tagline reads, "Most people never run far enough on their first wind to find out they've got a second." Cocktail truths.
Little Felix
CBD
Little Felix is the moody cocktail bar bringing a sophisticated flair to your evening. "Our aim at Little Felix was to take the opulent hotel bars of early 20th century Paris and bring them into the modern-day," Bar Manager Joseph Stephens explains. "We've based our cocktails, food, and spirit offering on what would not feel out of place if served at the Ritz bar during that legendary era." As the little sister of Felix restaurant, you'll recognise that elegance runs in the genes.
Signature drink: Paris Meridian. "With its roots in the Paris cocktail scene circa 1915, this champagne cocktail with gin, lemon, and a hint of French thyme liqueur makes for a great start to the evening," Stephens says.
Old Mate's Place
CBD
This Clarence Street establishment puts hospitality first, and the result is a friendly vibe that welcomes anyone and everyone. "Our philosophy is pretty much making sure that the person in front of us, and anyone that comes in, feels welcome and has a great time," co-owner Dre Walters says. "Bars are meant to be fun and a place to go to relax so if we can facilitate that then we go home at the end of the day happy."
However, for an establishment that lacks pretension, it boasts a pretty impressive pedigree, with Dre hailing from Kittyhawk and Lobo Plantation, and fellow cocktail connoisseur Daniel Noble grooving in from Ramblin' Rascal. These guys also do a mean Mi Goreng Bloody Mary, if it's a hangover cure you're after. Oh, and did we mention it has a rooftop?
Signature drink: Future Thinking. Green Ant Gin, Lillet, snow peas, shiso, green apple, verjuice, bitters, and whites.
PS40
CBD
PS40 is a remarkably niche idea that somehow works, most likely due to the quality and creativity of what is being served. If you haven't yet heard of it, this is a bar that's dedicated to bottling, selling, and serving a variety of homemade sodas.
"PS40 is dedicated to just being a good bar at its core, offering the best hospitality every day while also pushing the boundaries of contemporary drinks and experience," Bar Manager Peter Seabrook said. The team has a soda bottling area on-site and is focused on concoctions crafted from Australian native ingredients. They're also free of preservatives and refined sugars!
Signature drink: Burning Man—a concoction of gin, Seedlip garden, rosemary smoked pea, and citrus.
Employees Only
CBD
This New York City icon was originally intended as a bar for those with a vested interest in the hospitality industry. "Employees Only was founded on the philosophy that there's no better clientele for your bar than those who work in service in the hospitality industry," Bar Manager Robert Kreuger says. "So, our hours of operation and offerings have reflected that from the start."
As it turns out, it's not just hospo folks that appreciate quality food and drinks. Those who stay long enough will witness the casual evolution of the venue throughout the evening: the after-work crowd will drop in for a Manhattan, then maybe a dinner with a bottle (or three) of wine, followed by more fun and festive drinks well into the night. "We want to be constantly at the top of your mind as one of the best options in Sydney to spend your time any night, any time," Krueger adds.
Signature drink: Amelía. Made with vodka, St. Germain, blackberry purée, and fresh lemon juice, garnished with a sprig of mint. Fresh!
Where's Nick
MARRICKVILLE
While we can't always tell you where Nick is, we definitely know where to find one of Sydney's best wine bars. Opening in 2017 on Marrickville's main strip, Where's Nick is run by brothers Julian and Dominic Abouzeid, who named the joint after third brother, Nick. Before opening the natural wine bar, Julian was the buyer of fine drops at one of Sydney's most acclaimed bottle shops: The Oak Barrel (so, we trust his tastes). After gaining popularity for their offerings over the past couple of years, the Abouzeid bros decided to open a takeaway wine shop next door. Pop in for a glass accompanied by a light tasting menu or a cheeseboard. This year, the Where's Nick crew also opened a wine shop, meaning you can take the experience (and the wine) home with you too.
Signature drink: Wine, obviously. Just place your trust in the hands of experts here.
Shady Pines Saloon
SURRY HILLS
Shady Pines a bar that doesn't need to do much in terms of self-promotion. Just off Oxford Street, you'll have to search for a door with no sign. But once you've found it, you'll descend into a wonderful whirlwind of country music, antique furniture, peanut bowls, and taxidermy animals. The subterranean joint doesn't concern itself with time; it's always packed and vibing. Make sure you get around one of Sydney's best happy hours with $4.50 house spirits, house lager tinnies and house wines.
Signature drink: House-spiced whisky and fresh apple. Don't go asking for Fireball because you won't find it here. But the signature spiced whisky is infinitely better anyhow and a delight with fresh juice or as a shot.
Dean And Nancy On 22
CBD
From the award-winning Maybe Sammy team, Dean and Nancy is a sleek hotel lobby bar in the heart of the city. From the upstairs lobby of the new luxury apartment hotel on Hunter Street in the CBD, a gleaming brass staircase ascends to the 120-seater bar, which has been designed by George Livissianis (Sammy Junior, Chin Chin, The Apollo). Expect a black and gold palette, a baby grand piano, low leather banquettes, intimate lamplit tables for two, and a view of the twinkling city skyline that, come nighttime, feels a little Lost in Translation.
To drink, it's the same fun-meets-polished antics we've come to expect from Maybe Sammy's creative director Andrea Gualdi. There are 15 signature concoctions written into a journey of a menu, including some high roller cocktails made with super-premium spirits and non-alcoholic cocktails too. To eat, a menu of divine bar snacks has been pieced together by chef Jane Strode.
Signature drink: Try the Coffee Champagne cocktail, where—magically—your hands become the garnish. The cocktail comes with a personal pot of house-made vanilla and coffee-infused hand cream. "Apply the cream to your hands and every time you sip the cocktail, you'll be treated to a waft of the scent," says Gualdi. "After we take the glass away the essence will remain and every time you use the cream, we hope you'll remember your time at Dean & Nancy and smile."
Nick And Nora's
PARRAMATTA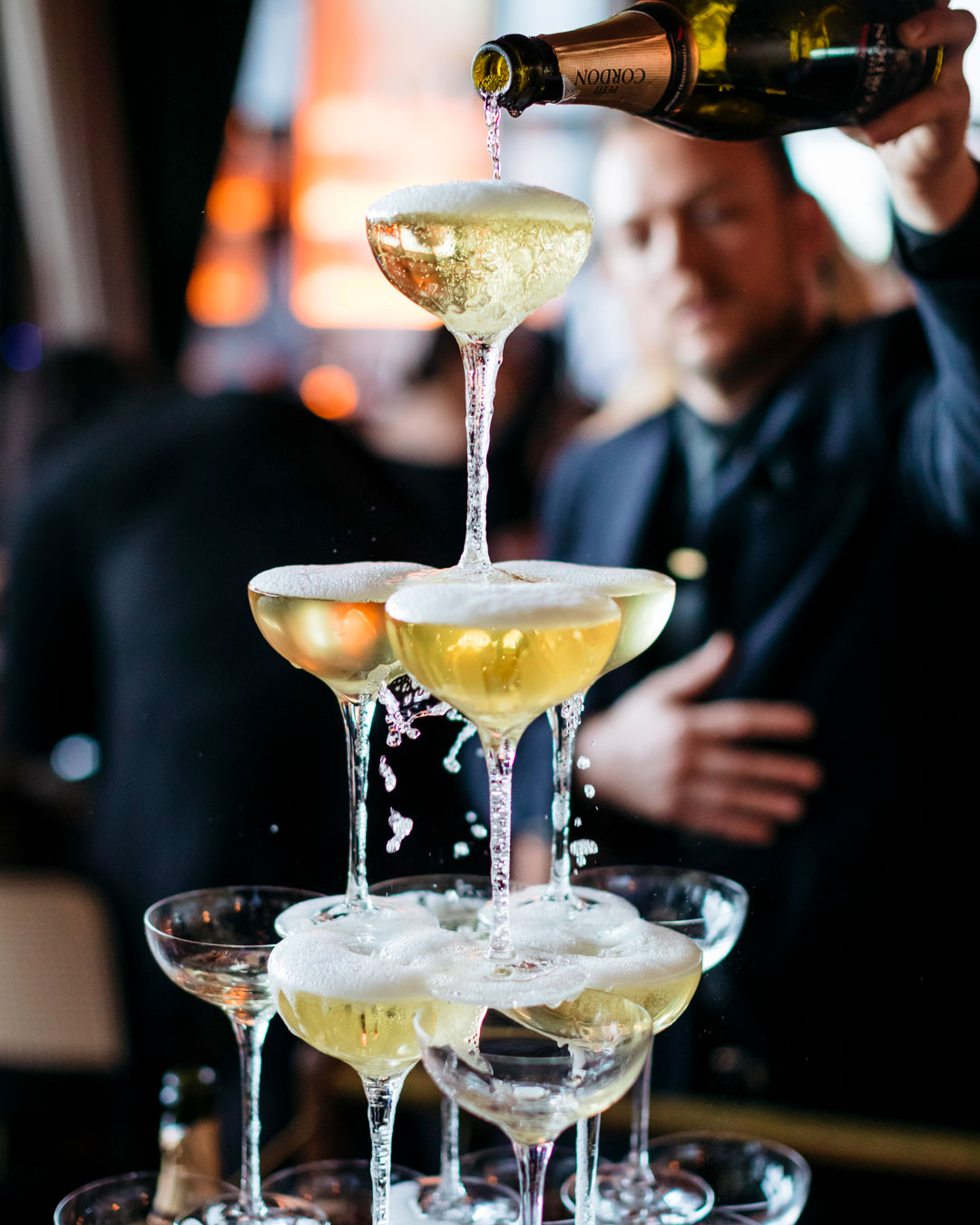 Nick and Nora's takes you 26 floors up for a rooftop bar experience flowing with champagne and the decadent post-prohibition era. The glitzy joint's name and menus are inspired by Nick and Nora Charles, a fictional murder-solving duo from the novel The Thin Man. But the only mystery you'll have to solve is what cocktail to order first while looking over Sydney's West CBD. And believe us, there are some choices–from twists on classics to a range of shared punch options that'll really get the party started.
Signature drink: You really can't go past Nick and Nora's dedicated champagne menu here, with some of the finest drops from France's famously exclusive winemaking region. Go on—treat yourself and order a bottle.
The Little Guy
GLEBE
If we were making a list of Sydney's cosiest and friendliest bars, The Little Guy would be right at the top. Whether you're perched at the bar, upstairs on a couch, out the back for a game of pool or hanging over the giant window looking out to Glebe Point Road–there's no bad seat in the house. There's always a good chance of a yarn in the main bar with bartenders shaking cocktails or with other patrons. Live music, free popcorn and bingo night–The Little Guy squeezes it all in.
Signature drink: Tommy's Margarita. Especially when they only cost $10 on Tuesdays.
The Little Guy is currently offering takeaway and delivery. Check out what's on offer here.
The Swinging Cat
CBD
The Swinging Cat draws inspiration from the nightlife of New Orleans to create a bar one is obliged to describe as a bit "swanky". The venue is decked out with lounges and armchairs, and lots of live jazz, while table service takes away the whole shouty counter shuffle. "We made the choice to eliminate what is usually the worst part of a bar experience, and people love it," The Swinging Cat's bar manager Giulia confesses.
Signature drink: Hurricane. "A combination of Rum, passionfruit, and lemon, this drink is favourite in the steamy streets of New Orleans, which makes it a perfect Summer banger if you want to be refreshed, but also make a statement."
Jacoby's Tiki Bar
Newtown
A bar inspired by David Lynch's iconic and mysterious Twin Peaks? Sign us up. An urban oasis of sorts, this Enmore Road establishment delivers fun vibes and funky cocktails often served out of coconuts and retro fish vases with proper cocktail umbrellas. Guests will find the warmth and joy (with a dash of rum and lime) that fits right into this corner of the city. "We are most proud of how we've become a part of this wonderful and eclectic community," Director Adrian Sanchez says of Jacoby's. "I love walking around the suburb and seeing all of our regulars going about their lives and then seeing them later in the evening for their nightcap. The best compliment we can ever hear is the one where people think we've been here longer than we actually have."
Signature drink: a Pina Colada, of course! "I chose this drink as it's our most popular but also because it captures what we do best here. Whether rain or shine, you can come to our bar and escape from the city slog and enjoy a bit of paradise or at the very least, dream of one," Sanchez says.
Double Deuce Lounge
CBD
Double Deuce Lounge is the retro-themed watering hole that is self-declared "70s porno chic". The décor alone is worth a visit. With timber-panelled walls and bulb-framed mirrors, elements of the design are destined to return to homes in no time. Double Deuce also has a great cocktail menu to back it up, serving modern-Australian spins on the classics.
Signature drink: the Cozmo. Double Deuce's take on the classic Cosmopolitan has vodka, Rosella, fresh citrus, and apricot.
Earl's Juke Joint
NEWTOWN
If you walk past what looks on the outside to be a closed butcher shop, but you hear a roaring good time inside, you're probably on South King Street, strolling past one of the Inner West's most beloved bars. Since 2013, New Orleans-inspired Earl's Juke Joint has been offering Newtown locals a seat at the bar and a bloody good cocktail for their troubles. Here, it's all about candlelight, a beautiful wooden bar nearly stretching the length of the places, a spirit-stacked back bar, and old school photos framed on the wall. Drinks range from Resch's on tap and natty wines to some out-of-this-world cocktail concoctions. Just remember, walk-ins only.
Signature drink: These legends love a good Negroni, and so do we. Sometimes it's best not to overthink the classics.
The Cumberland
MANLY
The Cumberland ticks a few boxes when it comes to our favourite bars in Sydney. It's underground, has plenty of vintage furniture, it's prohibition-themed, its named nods to the area's history, and its entrance is actually concealed behind a fridge door in a small Manly deli. Descend the stone spiral staircase into the 75-seat venue for craft beers, natural wines, cocktails made from local Manly botanicals, and over 250 whiskeys behind the bar. For food, a custom dumbwaiter will drop down a range of plates from the Mediterranean-inspired menu–think Spanish-cured meats and cheeses.
Signature drink: "Lilly Pilly Sour", made with lilly pilly, lemon myrtle tea, gin, lemon, and aquafaba.
The Sunshine Inn
REDFERN
When co-owners Dynn Szmulewicz and Dan McBride (both of Glebe's Little Guy and Leichhardt's Golden Gully) took over the old Redfern Continental and GDR space in 2020, we had big expectations. It's safe to say the neighbourhood cocktail bar, and NYC prohibition-era hidden restaurant out the back, has been a huge success. The Sunshine Inn is the perfect spot to sip classic cocktails infused with native Australian flavours, while people watching the foot traffic on Redfern Street. Out the back is DD's, a must-see-to-believe dining spot adorned with red velvet, chandeliers and candlelight, serving up head chef Emma Evans' rotating vegetarian (mostly vegan) tasting menus.
Signature drink: Ask your bartender to make you a "Designer Spritz", with whatever flavour you fancy.
The Blind Bear
CRONULLA
Opening in 2013, The Blind Bear is a speakeasy bar that transports you away from nearby Cronulla Beach and into an American-style whisky saloon. The atmosphere is set with dim lighting, the sound of a shaking Boston glass, the smell of pouring craft beer taps and the feel of bespoke antique wooden furniture. For food, order up some classic American eats from hot wings to t-shirt ruining burgers.
Signature drink: It's a bit of a "pick your poison" situation here, but why go past the list of 100+ whiskeys for a nip from around the globe.
The Blind Bear is currently offering a range of takeaway and delivery drinks. Head here to order.
The Doss House
The Rocks
Sydney has its share of fabulous whisky bars and The Doss House brings this suave drink to its natural home in the city: The Rocks. Hidden in a sandstone basement (and former opium den) within Sydney's historic dockside settlement, The Doss House is ideal for a cosy evening underground or a sunset chat on the patio.
Signature drink: A whisky flight hailing from Scotland, Ireland, or Japan.
Heritage Lounge
PARRAMATTA
At the heart of Parramatta sits Heritage Lounge, a 1920's inspired cocktail bar offering some pretty unique menus setting it apart. You'll find plenty of food-sharing options from gourmet pizzas to cheese boards, matching nicely with an extensive list of signature cocktails inspired by the golden years of the 20s. But if you have a taste for the finer things–there's a couple of other menus you must check out. 'The Vault' offers patrons a range of high-end international spirits, ready with full tasting notes for experts and novices alike. Try a 50-year-old Glenfiddich or a Glen Grant 1953 vintage. And what better way to pair a fancy late-night tipple than with an extensive cigar menu.
Signature drink: If you need a middle-of-the-night pick-me-up, try the "Counterfeit Espresso", with Ratu Signature rum, cold brew coffee, and a nitro-charged spiced pineapple and almond foam.
The Botanist
KIRRIBILLI
Just across the bridge, The Botanist is a prime spot for any time of day and absolutely any occasion. The Kirribilli bar pays homage to English botanist Gerard Fothergill, who travelled the world to study plants and spices and spent his finals days where the venue currently sits. You can then imagine some amazing native ingredients gracing the cocktail menu. Lemon myrtle verjus with Anejo rum and lime, Davidson plum aperitivo in a gin and whisky concoction or wattleseed in "Wattle It Be", a twist on the classic Campari found on the late-night menu. Elsewhere are takeaway picnic boxes to enjoy with harbour views, sharing banquets, and head chef Scott Mills' Sunday roast.
Signature drink: Rose Sangria. With rose, mixed berry Amaro Montenegro, grapefruit, lemon, strawberry, rhubarb bitters, and soda—there's nothing better for a sunny Saturday brunch.
New Sydney Bars Opening Soon
Image credit: Steven Woodburn, Cantina OK!, Rocket Weijers, Bar 83, Nikki To, Rocket Weijers, Dominique Berns-Blackwell, Swillhouse, Steven Woodburn, Destination NSW, Jacoby's Tiki Bar, Earl's Juke Joint, Maclay Heriot, The Doss House