Bar Planet
CONTACT
16 Enmore Road
Newtown, 2042 NSW
Show on map
open
---
Opening Hours
| | |
| --- | --- |
| SUN | 4:00pm - 12:00am |
| MON | 4:00pm - 12:00am |
| TUE | 4:00pm - 12:00am |
| WED | 4:00pm - 12:00am |
| THU | 4:00pm - 12:00am |
| FRI | 4:00pm - 12:00am |
| SAT | 4:00pm - 12:00am |
---
The Details
Serving
In the mood for
---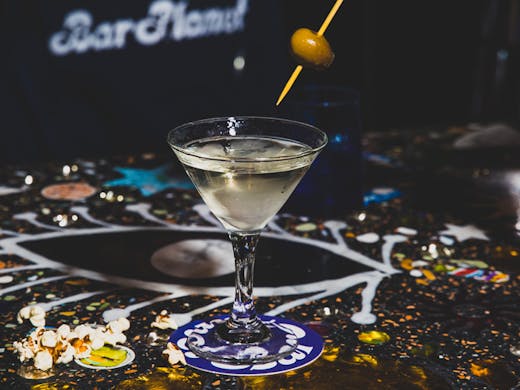 If you thought martinis were having a little renaissance in Sydney post lockdown, you'd be absolutely right.
Proving the point is a brand-new dedicated martini bar from the Mucho Aloha hospitality group, the award-winning team behind Cantina OK!, Tio's, The Cliff Dive, and the delicious Sparkling Margarita Seltzer we've been sipping all summer long.
Called Bar Planet, here the team is shifting its focus from margaritas to martinis, expanding out from their original city and Surry Hills haunts into the beating heart of the Inner West. Behind the new bar is Jeremy Blackmore and Alex Dowd, along with the group's marketing director Daisy Tulley.
All three are Inner West locals: "We've wanted to add to this amazing strip for years," Tulley says of the Enmore Road location. "Really, we just opened the bar we wanted to see in the area. We hope it brings joy to the Inner West."
At Bar Planet, you can expect your martinis to be nothing short of intergalactic. To craft their signature concoction, the team collaborated with Marrickville distillery Poor Tom's to create an ever-evolving "living" base spirit that Blackmore has called "Infinite Spirit".
Flavoured with local, seasonal produce, once the first few litres run out, Blackmore and Bar Planet general manager Harrison Kenney will work on a new flavour to add to the existing batch. "It's the mother stock of martinis', says Kenney. The first flavour includes heritage apples from "Borry" Gattrell of Borrodell Winery fame.
The resulting Bar Planet house martini is smooth, theatrical, and stylish—served with lemon and olive, giving this timeless cocktail the sort of ethereal treatment it deserves.
Elsewhere on the menu, you can order your martini how you like it—served with fizzy water to take the edge off, and a half pour martini if you want to ease in.
If you can't do the martini's ultimate booze-on-booze combo, Bar Planet has a neat edit of other cocktails to try: a Bee Sting made with Archie Rose Honey Spirit, mead, and Palo Santo; and the ultra-fresh "Scorpino" made with sparkling, vodka, and market-fresh fruit.
As for the bar's look and feel, the brief was "twisted bistro"—combining the mood of classic bistros and psychedelics. On the design, Tulley explains, "we wanted to tweak and twist every little bit of the venue to have that transportive power—to flip reality a little bit and really give people the chance to have that once in a lifetime experience."
The bar top is the centrepiece—a striking brass-edged terrazzo piece made by Australian artist David Humphries. Featuring jade, marble, and rare French glass, it resembles the Hubble Telescope's most famous image, "Pillars of Creation", scattered with nebulae, planets, and stardust.
Image credit: Nikki To
---
You May Also Like
Bars & Pubs
Newtown, NSW
Joining Newtown's collective of specialised bars (like Ante, SPON, and Bar…
Bars & Pubs
Newtown, NSW
A reimagining of Odd Culture's boundary-pushing King Street bottle shop, SPON…