Cantina OK!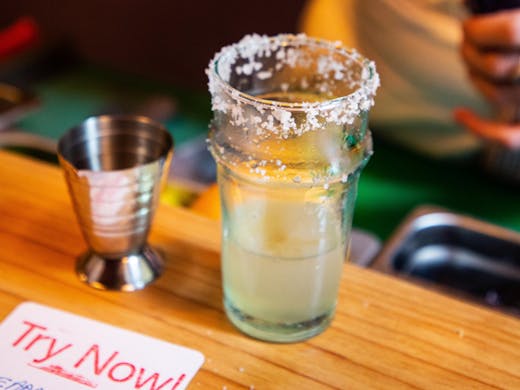 From the crew that gave us Tio's Cerveceria almost a decade ago, Cantina OK! is a pink-hued pint-sized tribute to one of the world's last ancient spirits and tequila's smokier sibling: mezcal.
The bar was born out of Alex "Happy" Gilmour, Jeremy Blackmore and Alex Dowd's love of Mexico, mezcal—and all agave spirits, their makers and the history and culture in every drop. Set up in a garage space that's been painted shades of lemonade pink, mauve, gold and emerald, you'll feel a bit transported—there aren't many spots in Sydney as authentic and spirited as this joint.
"We've spent a bit of time in Mexico drinking tequila and mezcal, documenting our travels and collecting experiences," says Dowd.
"We fell in love with tasting rooms in Oaxaca and would fantasise about having one back home. Through Happy, we also got some amazing access to unique producers and, when we were there last, we found some of the most amazing mezcals we'd ever come across. We already had the space leased, but Cantina OK! really took shape once we started to collect some of these mezcals."
If you're unsure about mezcal and generally not a fan of shooting Jose Cuervo, don't worry—you can expect to learn a lot when you head into Cantina OK!. Gilmour is undertaking a Master's in the spirit, and the bar is as much about enjoying a drink as it is about appreciating Mexico's mind-blowing diversity "in culture, topography, cuisine, weather, flora and fauna," adds Dowd.
Get ready to sample some seriously unique and rare spirits (there are about 100 mezcal and tequila expressions on show).
While Cantina OK! was originally a standing room only spot, in 2020 the team has intro'd some laneway seating for all you mezcal enthusiasts out there keen to hang out and stay a while.
We recommend you order outside your comfort zone, grab a slice of complimentary watermelon and listen to the trio's epic travel stories (like their trip to Santa Maria Ixactlan, a spot that harbours the last 15 or so native speakers of a pre-Hispanic indigenous language called Ixcateco and some centuries-old mezcal making traditions incorporating cowhides and clay pots).
Image credit: Jude Cohen
---