Wine, glorious wine. We crave a glass after a tough week (day) at work, we slurp its deliciousness down with (almost) every meal and we dream about it on most weekends (before bathing in it on a Saturday night). While there's nothing wrong with opening a bottle with your bestie on a Sunday arvo, it's still kinda nice to swap your comfy onesie for the dimly-lit sultriness of a wine bar IRL.
Here are our favourite wine bars in Sydney.
Dear Sainte Eloise
Potts Point
Named after the saint of money, Dear Sainte Eloise pays tribute to George Orwell's famous quote where he basically prayed for money to buy bread and wine—sounds like our standard Saturday night if we're being honest. This place focuses on the simple pleasures in life, including solitary glasses of wine to light up your life. With a large menu of wines from the classic to the innovative, there are flavours suited to every palate—including the broke and desperate ones in the group (#sorrynotsorry).
The Dolphin Hotel
Surry Hills
The Dolphin Hotel is one of our favourites for a night of great food and great vibes, but did we mention they've also got a great wine room? Okay, we'll stop saying great. But seriously head on down to their wine room, decked with rustic dark wooden floors and bright whitewashed booths and bar area. The wine list is packed with delish wines from across the globe—inlcuding goodies from France and home-grown talents alike. This international alcohol exploration doesn't end at wine though. Take a look at their saké list for a taste of Tokyo too.
Where's Nick
Marrickville
fiYou know you're at the right venue when the walls are packed with bottles upon bottles of our one true love—wine. Specialising in natural wines, Where's Nick in Marrickville is a true contender in the Sydney wine scene. With the owners formerly buying for Oak Barrel wines, you can be sure they know their stuff. So sit back and relax and let them make all the hard choices #phew.
The Lane Wine Bar
Castle Hill
The Lane Wine Bar in Castle Hill know wine, and they ain't afraid to show it. With a menu of carefully picked speciality wines, you can be sure that you'll be in grapey heaven in no time. Oh, and if you've dragged along a friend who's a wine #hater, they also like to mix it up with a wide range of cocktails and pre-dinner aperitifs that will satisfy any craving (but maybe you should re-think your friendships—wine is life). This is the best wine bar in The Hills and we do not say that lightly.
Beyond The Label
Miranda
Beyond The Label is a true contender in the land of grape. With wine classes, a huge menu of reds, whites, rosé and sparkling, these guys are the true connoisseurs of classy alcoholic goodness. Sit down for lunch or dinner and indulge or have a chat to one of their employees in their store to get a true winerific education. Oh, and we forgot to mention it's also open for breakfast, not that you'll be seeing us there (you'll so see us there).
The Winery
Surry Hills
OK, so with this one we simply couldn't leave it off the list—I mean look at the name. But yep, The Winery is the perfect destination for a night filled with food, fun and of course, wine. They like to keep you guessing with a menu filled with goodies from grapes you probably haven't heard of, mixed with the ol' classics in case you're feeling a little confused. Oh BTW, don't forget the menu that perfectly pairs with that wine you're sipping on. You can thank us later.
The Treehouse Hotel
North Sydney
Nestled in the canopy of leafy North Sydney, The Treehouse Hotel provides the perfect venue to escape the busy and bustling businessy streets outside. And the wine? Feast your eyes on a huuuuge menu packed with all kinds of tastes and all kinds of vibes (depending on how your feeling on the day). Decked out with uber cool vibes, you can be sure that the work week will speed by faster than you know—thank god.
In Situ
Manly
For all the nighthawks out there, Manly's In Situ provides a dark and cosy venue perfect for every wine lover. With plants decorating the walls and ceiling, and rustic décor, it's impossible to resist the calls of a dark red when you walk in. The menu is packed with Australian grapes that aid you in licking all your battle wounds from a week of #adulting—so get there ASAP.
Black Bottle
Darlinghurst
Tucked away on the quieter end of Darlinghurst Road, you'll find the unassuming Black Bottle. Described by the owners as a cave á manger (French for a wine shop that doubles as a restaurant), this slick tapas style bar is everything Sydney has been waiting for. The best bit? They're now open for Sunday dranks with cheap AF oysters.
Mille Vini
Surry Hills
This is legit the place of a thousand wines (yep, the actual Italian translation is just that). One of Sydney's most-loved wine bars is here to celebrate all things wine/that compliment wine/that is wine, making it the numero uno spot for an aperitif, a quick bite or a full-blown meal perfectly paired with the sweetest of drops.
10 William Street
Paddington
You could easily visit 10 William Street each and every day, and never get bored thanks to an extensive, ever-evolving wine list full of red, whites, orange and natural wines scrawled across a giant blackboard. The service is impeccable, with each and every 10 William-worker a food/wine enthusiast (which makes for the perfect-pairing suggestion when devouring pasta at the bar). There's no guessing why this is one is Sydney's best wine bars.
WyNo
Surry Hills
When the door says 'open till late' you know you're in true wine business. WyNo in Surry Hills soooooo gets us, showing that a good wine takes a long time to drink and enjoy. So sit back and relax in this authentic atmos. Hidden away in a cosy hidey-hole behind Porteno (it's owned by the same people), WyNo provides the perfect venue for #nojudgement after a long working week/day/morning (ha ha just kidding?).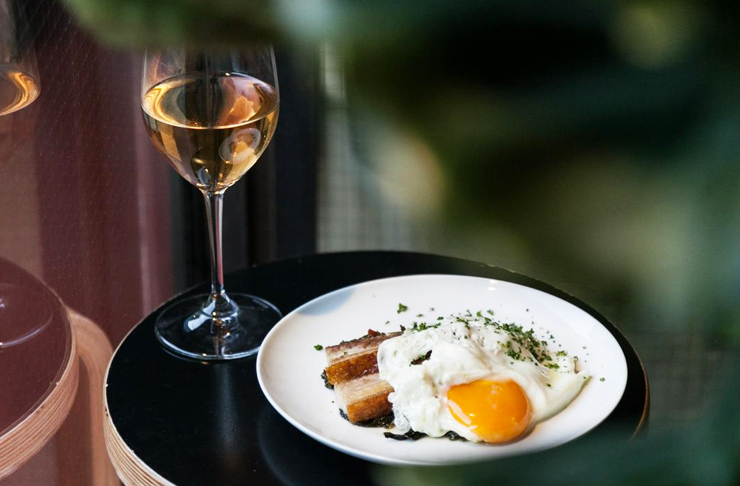 The Wine Library
Woollahra
If libraries are filled with hundreds and thousands of books, one can only guess what The Wine Library is comprised of… (vino, for those playing at home #duh). Okay, so there's 350 handpicked drops which make up the 15-page wine menu and an awesome courtyard which provides the perfect place to share a bottle of red or white (or both?).
deVine Food and Wine
CBD
Here's a place that knows how to satisfy the 'ol palate. Whether you're a wine expert or a total novice, deVine caters to all erm, drinkers. Based in the CBD, it's all the perfect spot for an after-work de-stress (with its top tipple, of course) while working through the gourmet creations served up by the kitchen.
Monopole
Potts Point
When Chef Brent Savage and Sommelier Nick Hildebrandt join forces to open a wine bar and eatery, we know it's going to be the ultimate #foodandwineporn. Experimenting with a more casual offering, best to create your own tasting menu and choose from Nick's wine list (which features over 500 wines from around the world), with many exclusive to Monopole. Note: the wines are offered by glass or carafe for something a little different.
Love, Tilly Devine
Darlinghurst
Love, Tilly Devine: the place you go to drink well as opposed to just getting drunk. The perfect spot to take a good friend of a prospective lover (ohhhh, hai), each and every one of the 300 wines tastes like fruit and herbs and flowers and minerals (not oak or alcohol).
GPO Cheese And Wine Room
CBD
Cheese + wine = ABSOLUTE AND UTTER PERFECTION. Affectionately named the "Temple of Cheese", the a la carte Cheese and Wine Room menu changes every season to offer up the best Australian and European cheese fondue and antipasti, gourmet accompaniments and over 250 international and Australian boutique wines.
Fix Wine Bar + Restaurant
CBD
One way to describe this mammoth wine menu? Eclectic. Fix Wine Bar + Restaurant, one of our fave inner-city haunts, has a mega 200+ wines for you to dabble with. And while you're intention might be purely to pop in for a vino, you might be tempted to stick around for a deliciously exxy main (which is worth every. single. penny).
Ash Street Cellar
CBD
A modern Euro-style bistro tucked behind the Ivy, Ash St Cellar's plentiful of European tapas with French, Italian and Spanish influences… which make us salivate a little more than we probably should at this time of the day. Franck Moreau, Merivale's Master Sommelier, has your vino needs covered, presiding over a world-class wine list that doesn't disappoint.
Hungry? Here's our list of Sydney's best Vietnamese restaurants.
Image credit: Love Tilly Divine | Lisa Brookes, Where's Nick | Caitlin Hicks, WyNo | Federica Portentoso,