We're blessed in Sydney—our streets are packed with wine bars to stop by for a glass (before inevitably staying for a bottle). Some offer nibbles to enjoy alongside your tipple of choice, while others sway into restaurant territory with multi-course menus for you to pair with personalised picks.
Whether you're pining for a pinot or in need of a natty, Sydney's best wine bars have got you covered. These are Sydney's best wine bars right now.
SPON
Newtown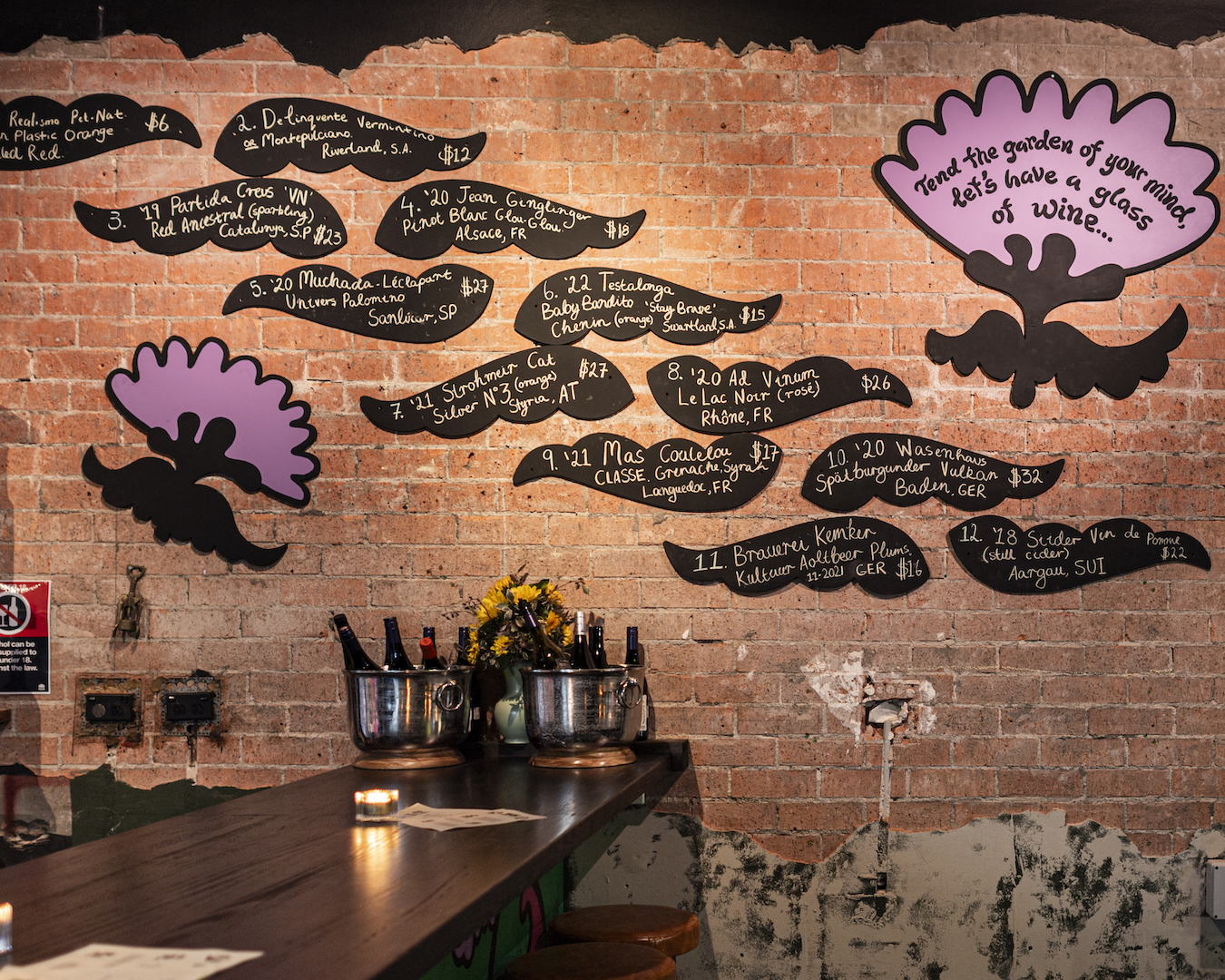 SPON is a Newtown wine bar and retail space that shakes up the traditional format of perusing and purchasing wine to encourage discovery.
Rather than offering a fixed by-the-glass list, SPON's list is decided by consumers, with any bottle in the store available to be selected to be opened and served over the course of the day.
The unique system fosters an exploratory environment, with plenty of new, rare, or hard-to-come-by products that you'd rarely see on by-the-glass lists. In addition to the unique by-the-glass concept, everything in store is available by the bottle (with corkage diplomatically priced according to variety and bottle size), to take away, or purchase online.
Lil Sis
Chippendale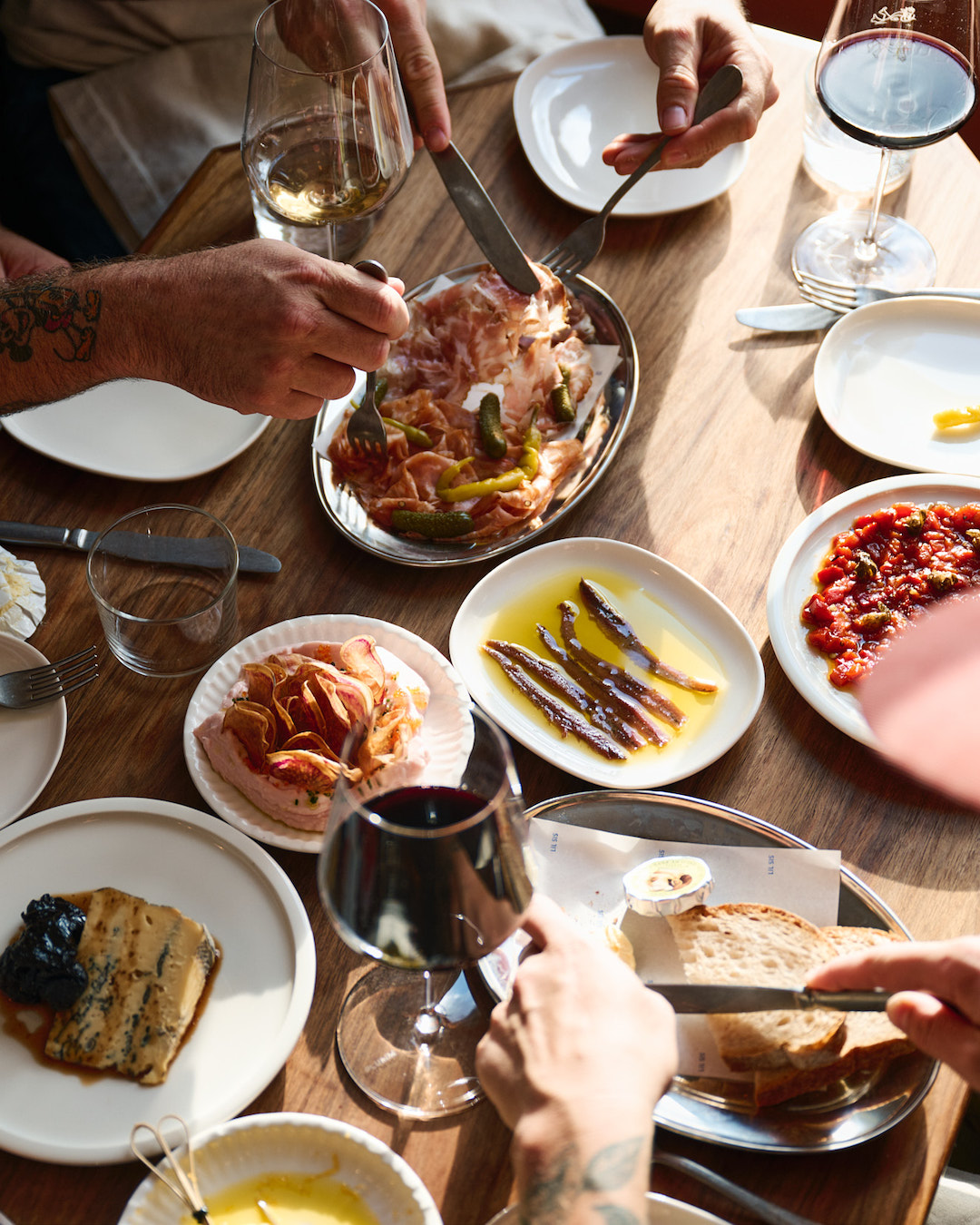 You mightn't expect a wine bar attached to notorious late-night venue The Abercrombie, but Lil Sis is exactly that—and well worth a visit for any wine lover.
Functioning as both a wine shop for cheeky takeaway bottles and a cosy wine bar in its upstairs space, Lil Sis spotlights minimal-intervention producers from around the world, with a menu of cheese and charcuterie, and bar snacks like tuna crudo, taramasalata, and cheesy jaffles. Best of all: she stays open until 3am on weekends.
Paski Vineria Popolare
Darlinghurst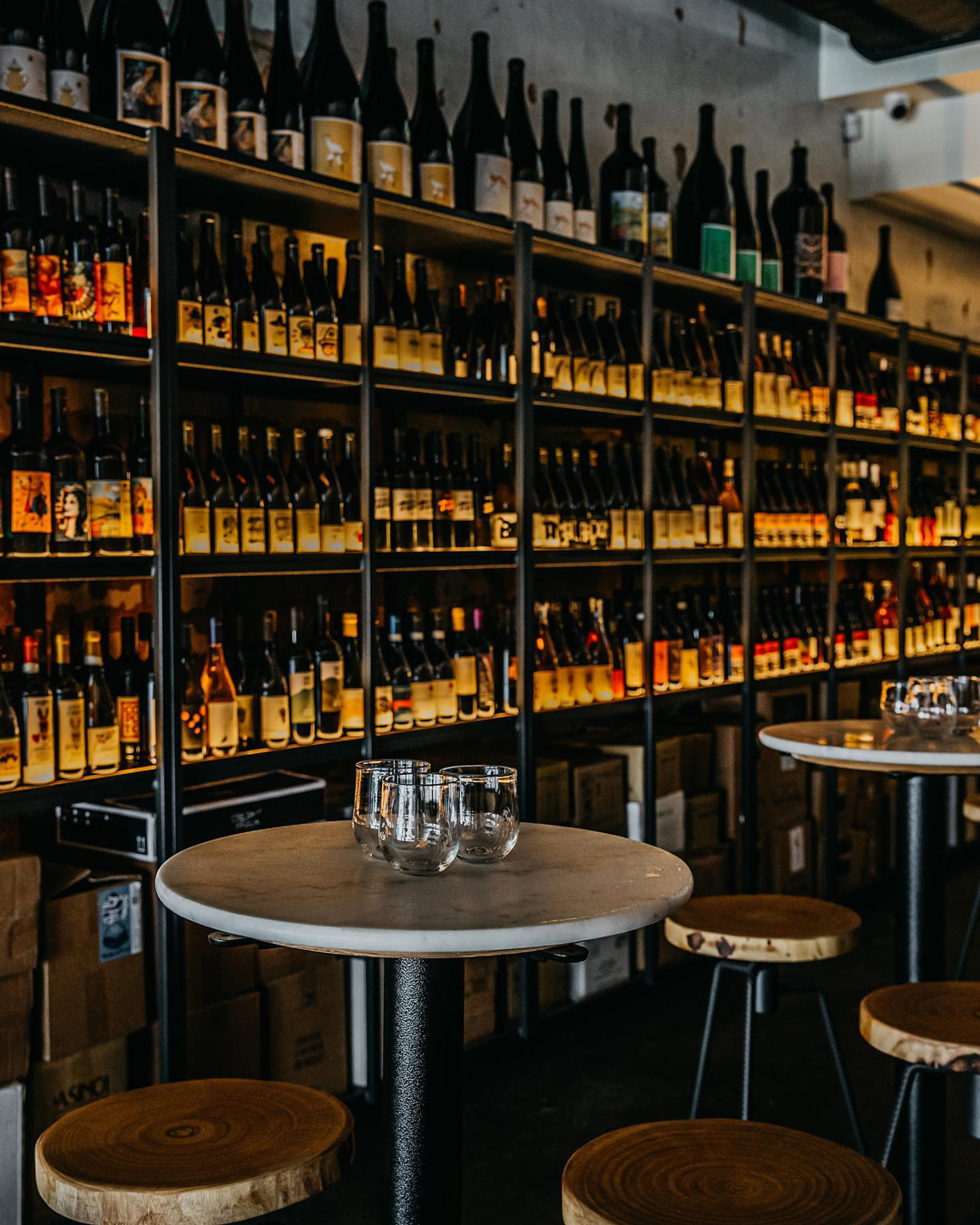 From one of Australia's most innovative voices in wine, Giorgio De Maria, Paski Vineria Popolare is a two-storey wine bar, restaurant, and bottleshop. De Maria dreamt up the concept in partnership with Mattia Dicati (Vino Mito Wine Imports) and chef Enrico Tomelleri (Ragazzi, Alberto's Lounge, 10 William Street).
At the ground-level wine bar, about 400 bottles are displayed; pick a bottle and stay in with a small corkage fee and a little charcuterie or cheese, or grab one to go.
Upstairs, you'll find Paski Sopra where Tomelleri weaves a little a la carte magic in the form of handmade pasta and Mediterranean seafood. As well as the selection of vino downstairs, you'll also find rare and special wines.
La Salut
Redfern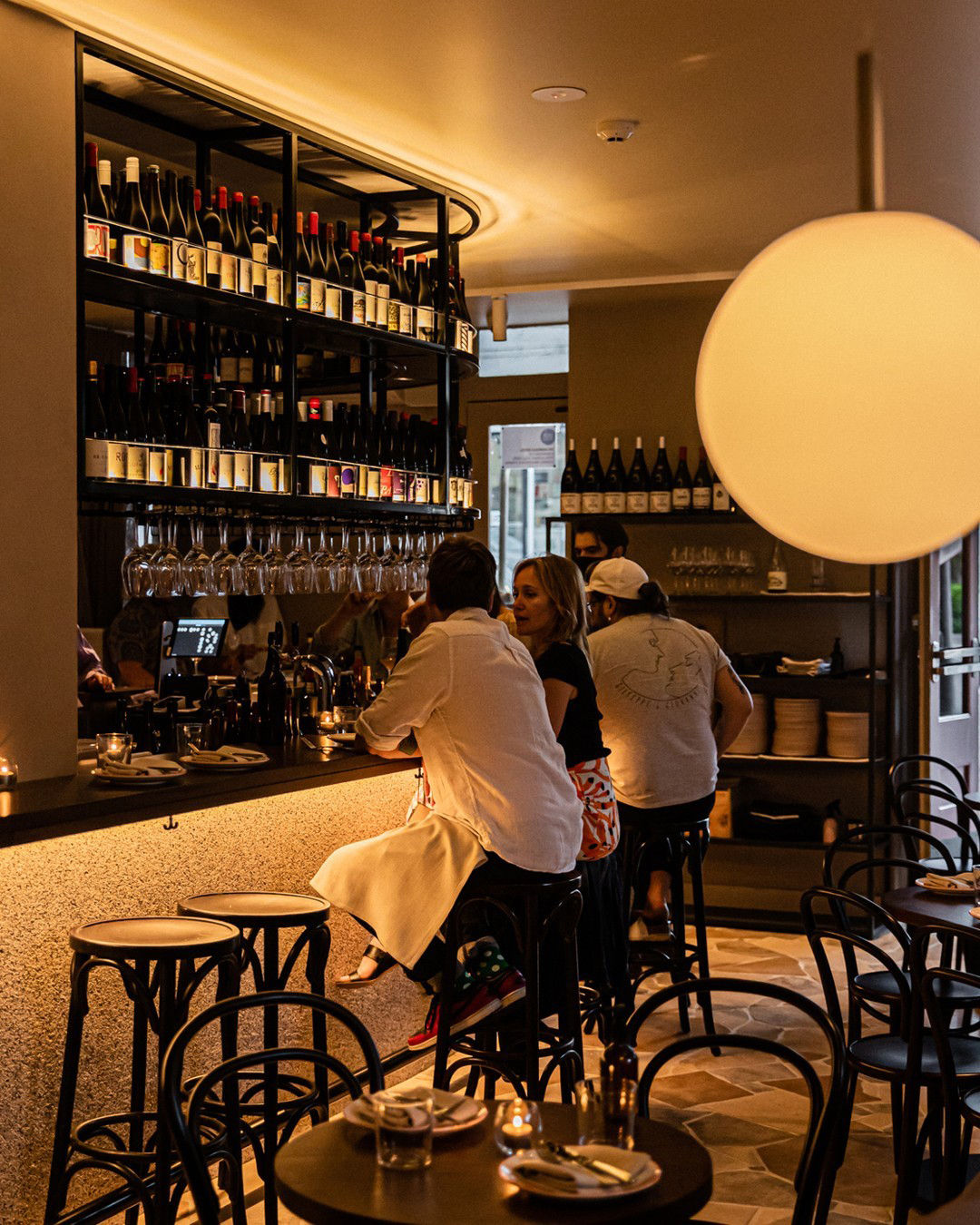 From the dream team behind Dear Sainte Éloise, Ragazzi and Fabbrica, La Salut is a Catalan-inspired wine bar housed within the recently revived Norfolk Hotel (now called Norfolk House). Like all of the Love Tilly venues (more of which feature on this list), you'll be in for a knock-out wine list, with this one throwing the spotlight on often underappreciated next-gen Spanish drops.
For food, expect snacks like charcuterie, tinned fish, fried quail with morcilla spice, and various grilled pinchos.
Vini Divini
CBD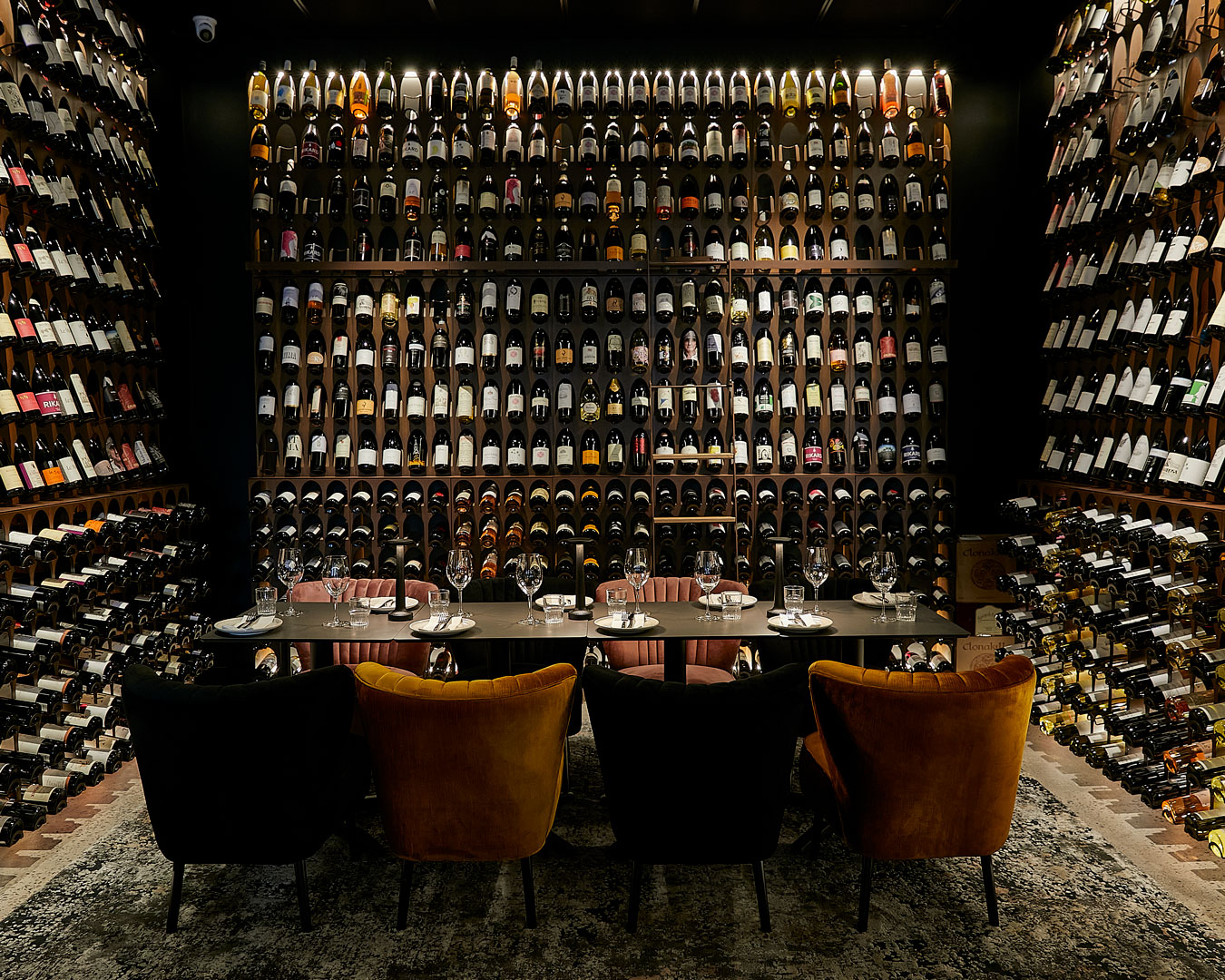 Vini Divini is an old-school wine bar space inspired by la dolce vita and bringing people together.
The list features plenty of small, independent winemakers and distributors, with a broad by-the-glass selection making it the perfect spot to sip your way around a few different countries—from well-known regions of France, Italy, and Spain, and then over to Greece, Armenia, Georgia, and Turkey too—with the option to explore specific regions with wine flights.
Lokal
Surry Hills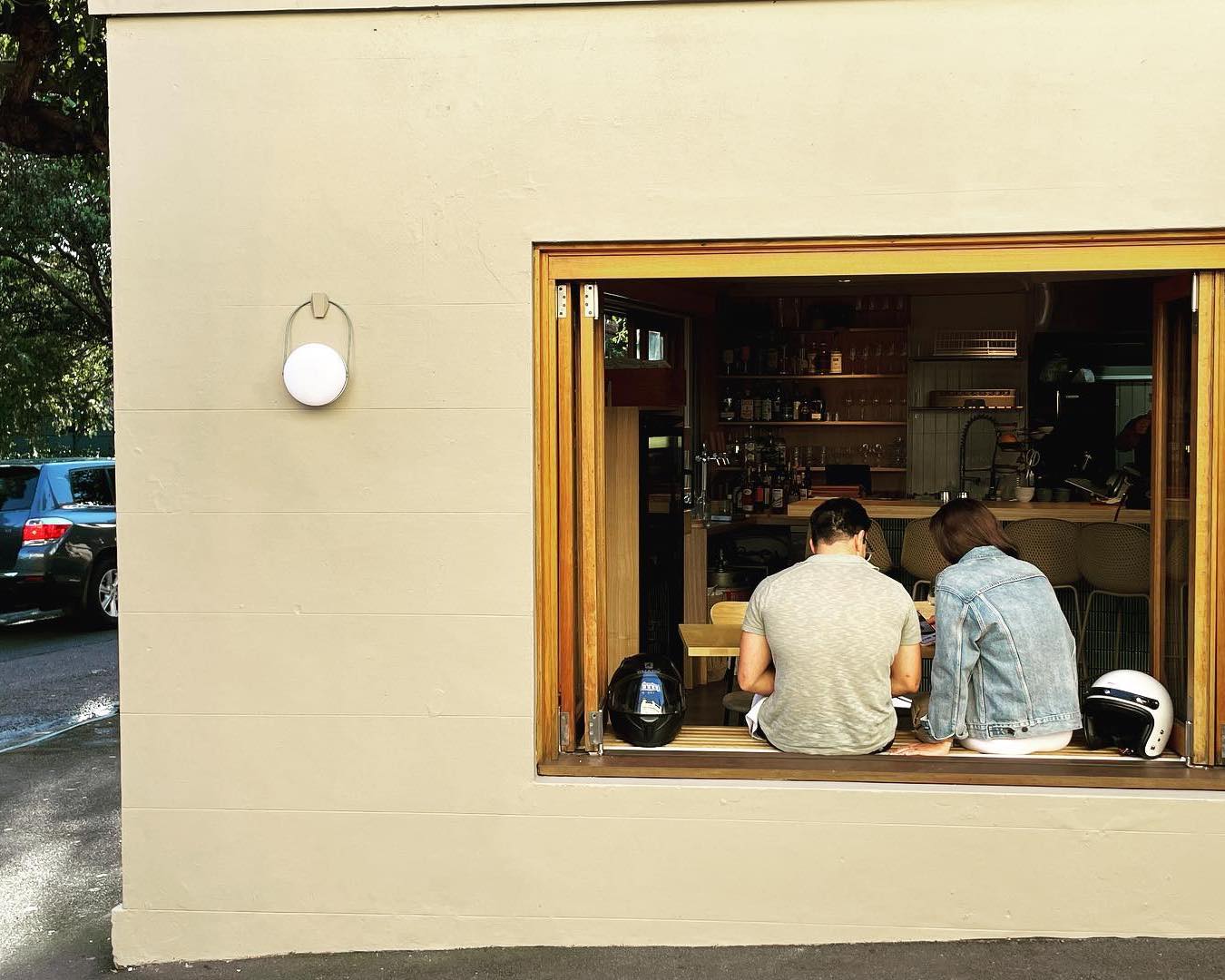 A neighbourhood wine bar with a big focus on community, Lokal is the passion project of two mates with some serious cred in the wine and food space. Expect a 55-bottle list (with 11 options by the glass) accompanied by coal-grilled plates and smaller snacks to enjoy in a breezy space that opens out to the street.
Feel like moving on to something a little harder? Try a cocktail using ingredients foraged from the surrounding streets, like bottle brush-infused tequila.
Famelia
Newtown
Joining Newtown's collective of specialised bars, Famelia is an Enmore Road wine bar and bottle shop that highlights female winemakers and wines that tell a story of place and producer.
With up to 12 wines open for trying by the glass and wine flights from $27, Famelia is a wine bar that encourages discovery; if you find a favourite on the shelves of the bottle shop, you can also open it to enjoy in store with $15 corkage, alongside a selection of cheese, charcuterie, and snacks.
De Vine Food & Wine
CBD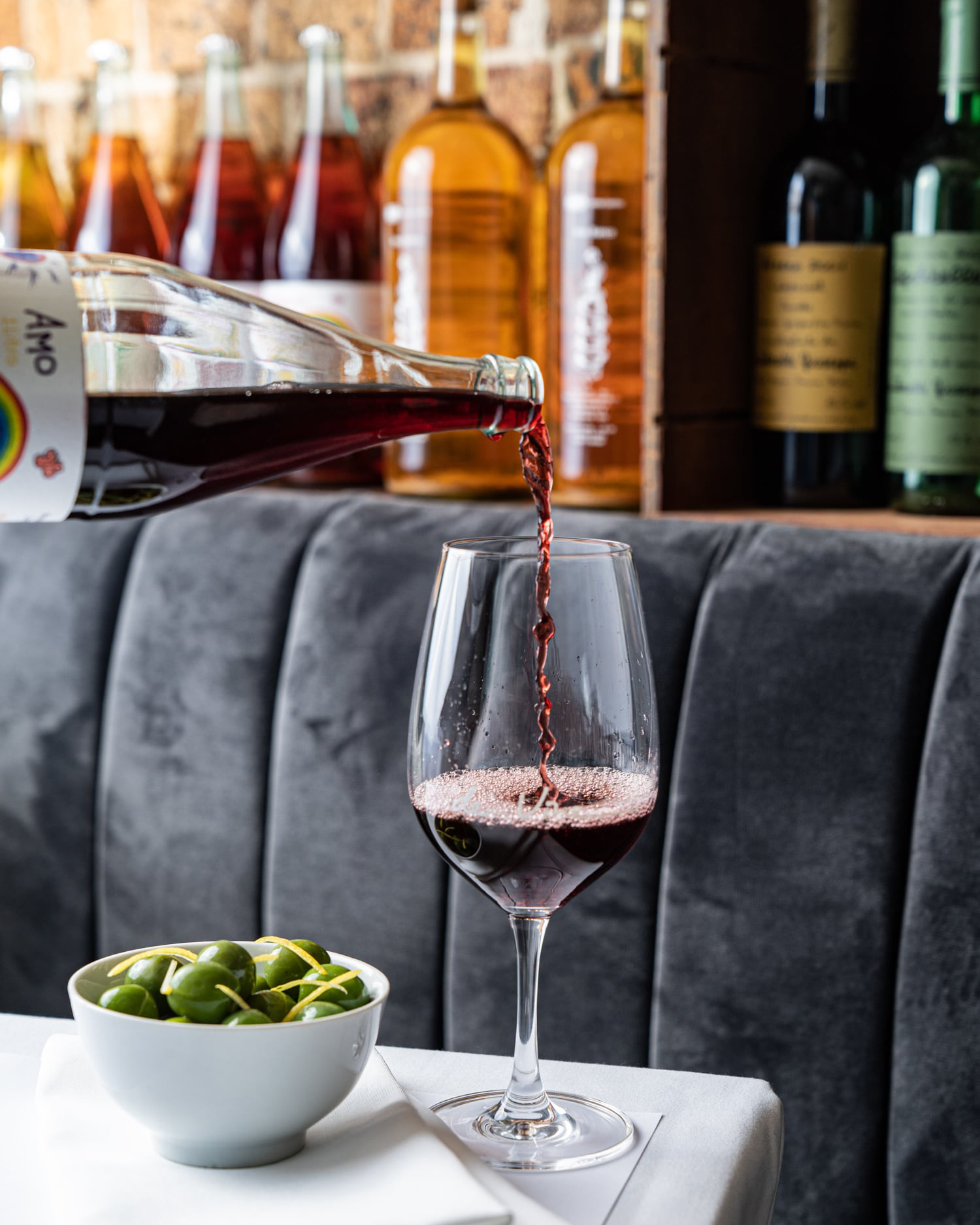 If you like your wine bars cosy and brimming with charm, De Vine Food & Wine on the corner of Clarence and Market streets in the CBD hits all the right notes. De Vine has held the corner spot since way back in 2003, and packs an impressive collection of 400+ wines and, as a bit of a passion project, the largest collection of amaro in the Southern Hemisphere.
90% of this Sydney wine bar's list is natural, organic, and biodynamic with a strong focus on Italian varieties. You can perch in the front wine bar, or head deeper into the unique space to dine on fresh pasta, heaped antipasti boards, and tiramisu for dessert.
Bar Messenger
Phillip Street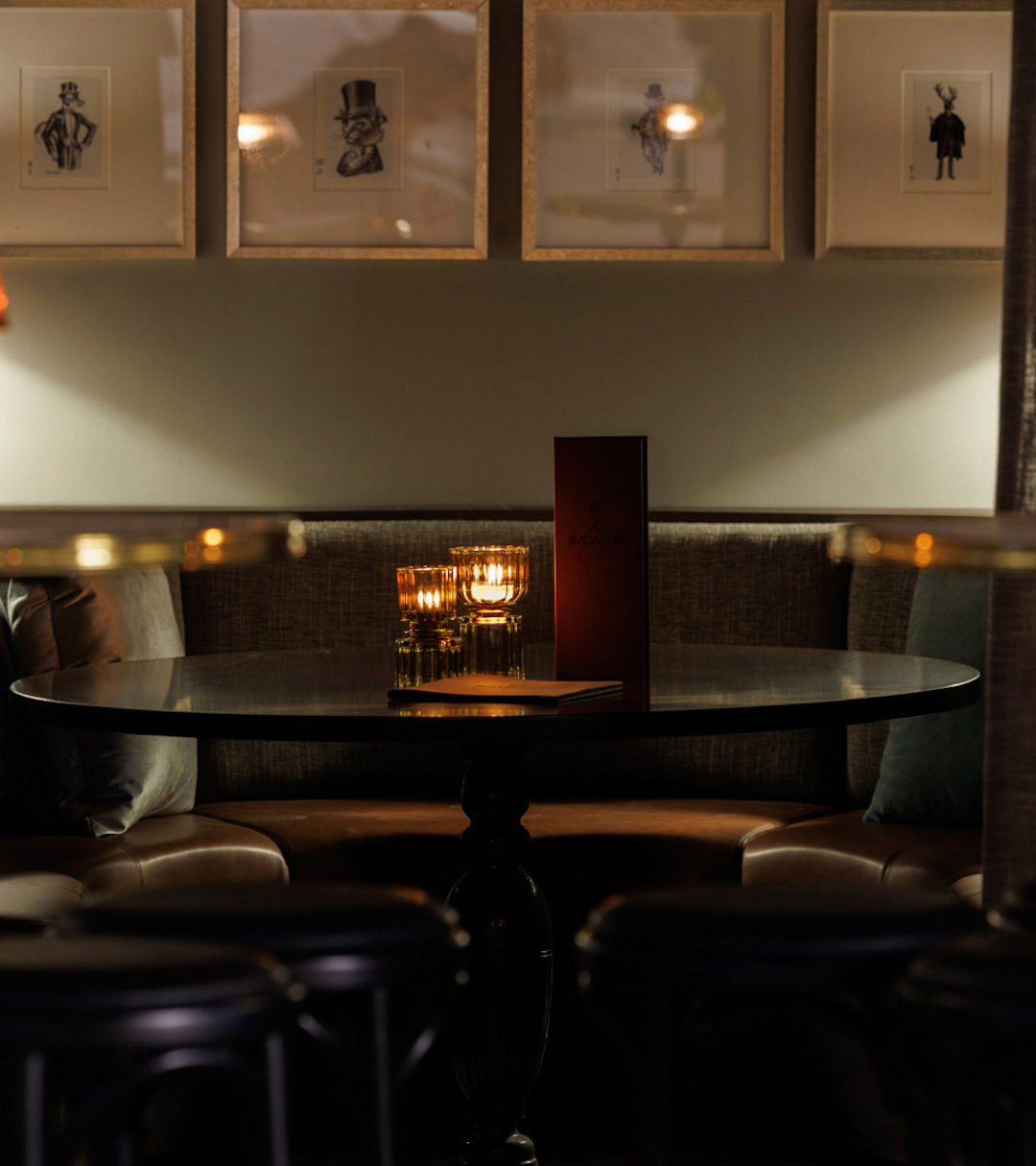 A sophisticated Circular Quay wine bar tucked below Transport House behind a secret door, Bar Messenger celebrates the fascinating history of Australian wine, including the first cuttings that were (unsuccessfully) planted in Australia in the neighbouring Botanic Gardens.
Spend an evening working through the 95% Aussie wine list (with a secondary focus on champagne), throw in a classic cocktail or premium spirit, and pair it all with simple share plates, charcuterie, or cheesy toasties.
Poly
Surry Hills
At the front of the stunningly designed Paramount House Hotel you'll find Poly, a walk-in wine bar owned by the crew behind Chippo's Ester. No matter what night of the week, Poly is always pumping, and for good reason.
As General Manager Adam Hall explains, it's "a one-hundred-and-something strong list of natural wines from the best producers in Australia and around the world. A constantly rotating selection of almost 20 wines by the glass. Bar snacks by Mat Lindsay. And the best bit? Over half the seats saved for walk-ins every night!"
The Wine Library
Woollahra
Since opening its doors in 2010, The Wine Library has become somewhat of an institution for the wine buffs of Woollahra. Despite its lofty Eastern Suburbs location, it's a welcoming Sydney wine bar with surprisingly decent prices.
If you consider yourself a serious wine drinker, order a blind pour at the bar and put your tastebuds to the test. If you can name the grape and its origin, the glass is on the bartender. If you miss, you enjoy a delicious new wine for $14.
Little Felix
CBD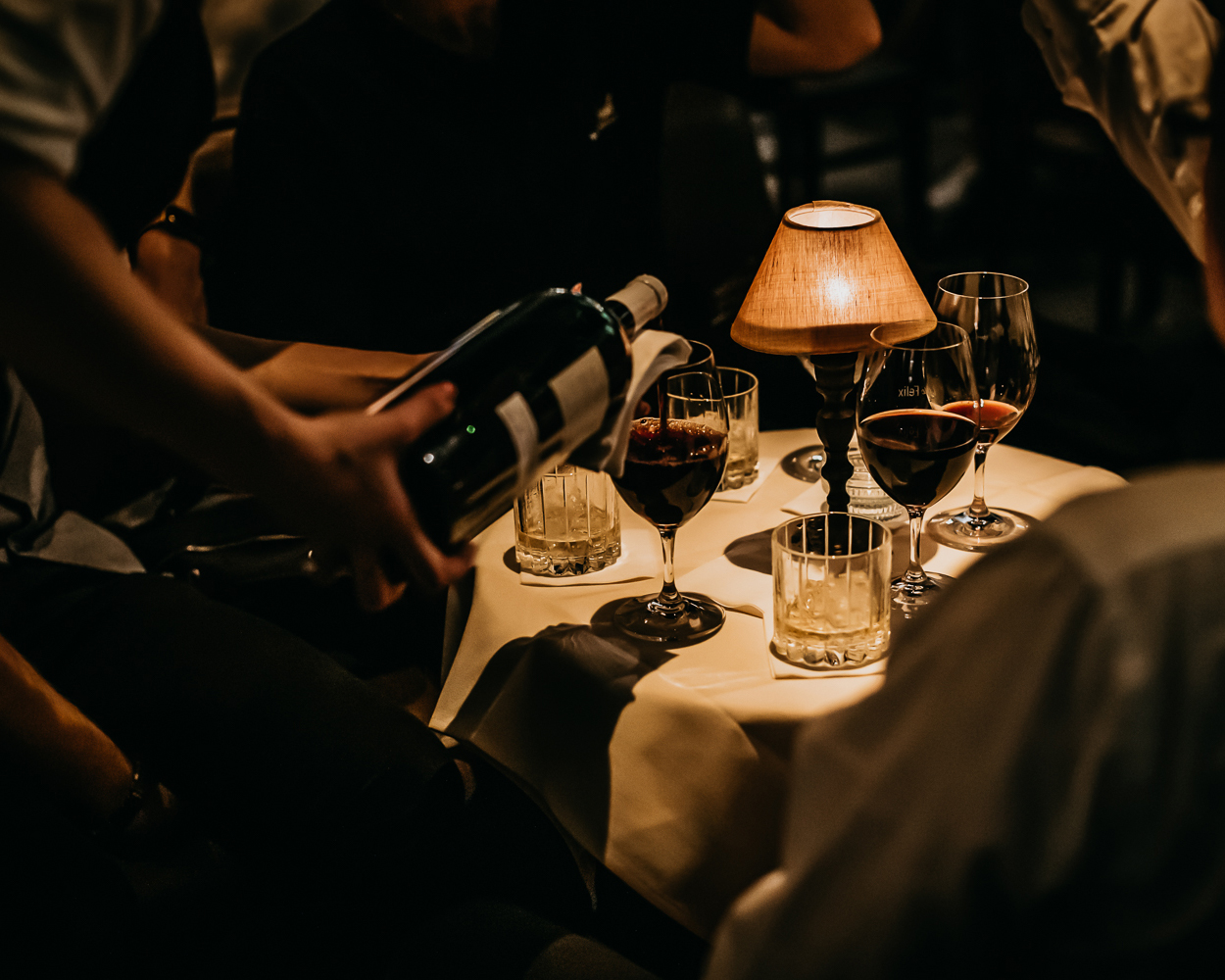 Ever taken a sip from a glass of wine and thought, "this would taste better if it was poured from a Magnum"? If you just answered yes, Little Felix turns the midweek wine or date night drink up a notch with its magnum-only pour policy.
This elegant, French bistro-inspired wine bar in the Sydney CBD is swathed in emerald and gold, and does tasty snacks and charcuterie to pair with your glass or bottle—no matter how big.
Sella Vinoteca
Randwick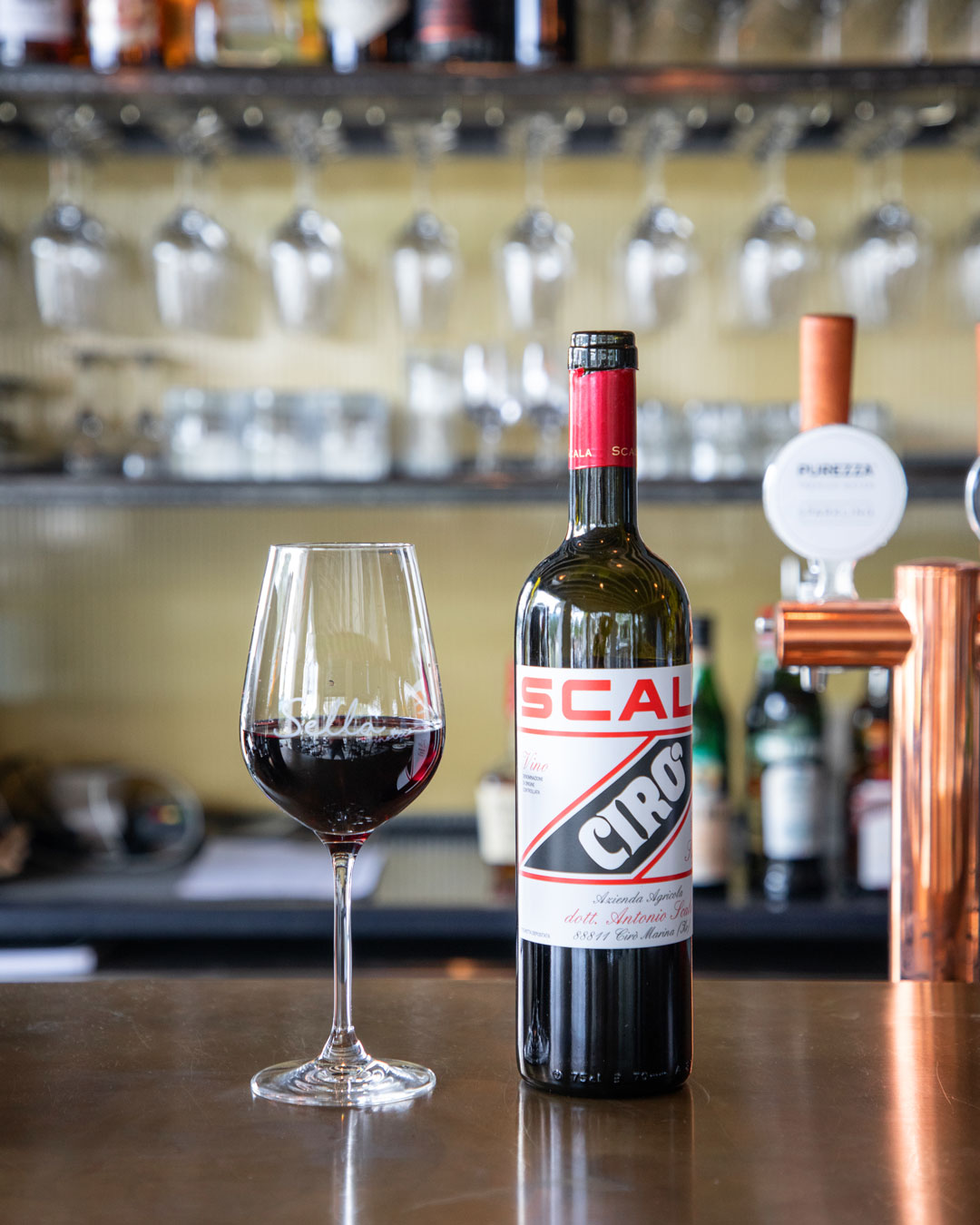 You'll find Sella Vinoteca at Randwick's humming Newmarket dining precinct. It feels a bit like a suburban secret, stacked with around 350 bottles of hard-to-find Italian, local, and international wines—and an eclectic, but total standout menu to match.
Sella Vinoteca is inspired by the dine-in cellar doors and "old family vineyards" of Europe, says owner Fabio Dore. "I wanted to re-create that special experience of being invited into a home and experiencing a tasting with the owner. You taste and learn so much about the land, the family, and the passion that went into producing that glass of wine."
While Sella Vinoteca's cellar leans into a lot of Italian varieties, you'll also find Aussie natural and organic wines, and off-the-beaten-path French and Spanish drops.
There's also a bottle shop attached to the wine bar where you can pick up your favourite from the wine list to take home.
Coogee Wine Room
Coogee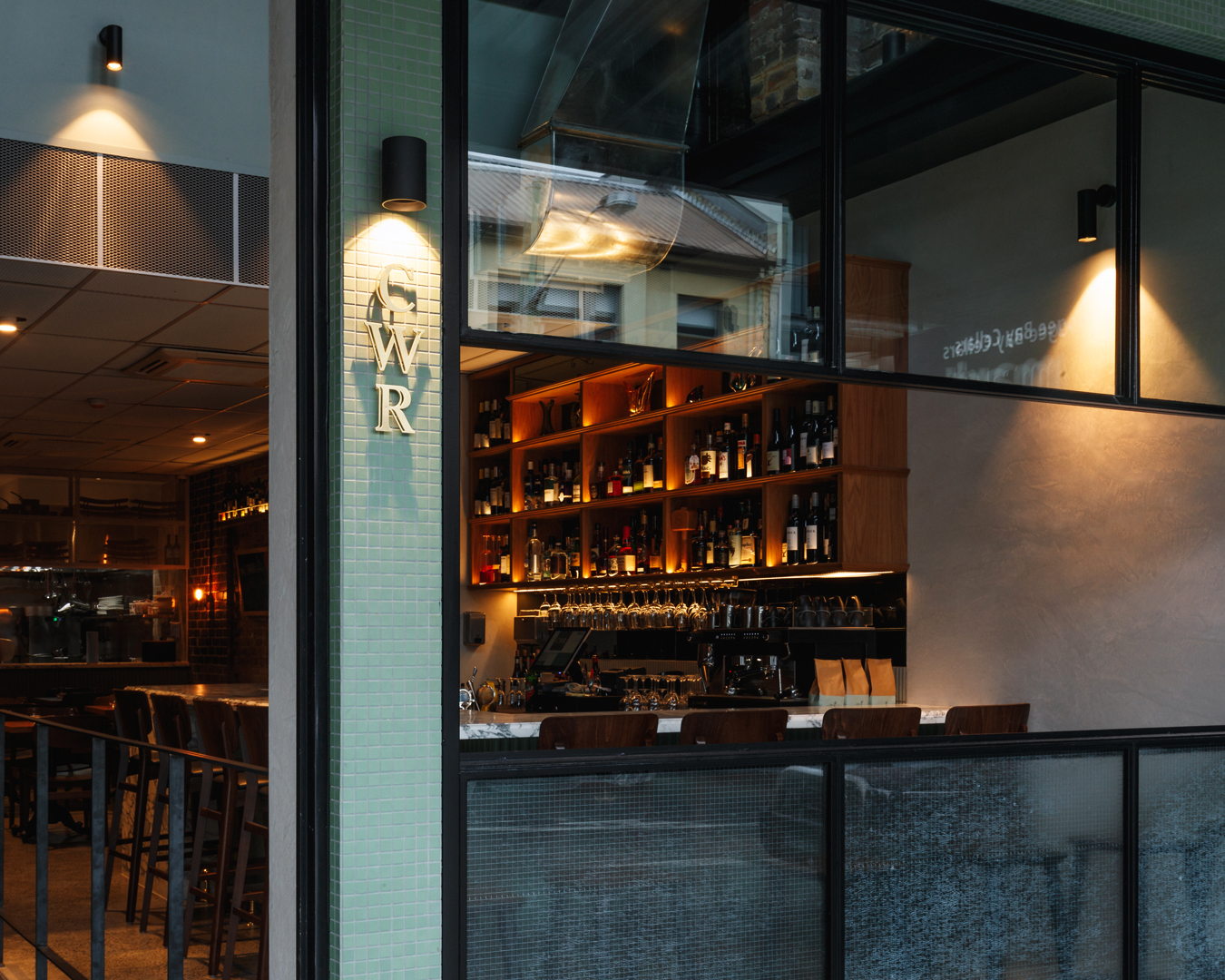 Coogee Wine Room seized the opportunity to become the seaside suburb's first designated vino venue. Founded by locals Tom Hardwick and Michelle Morales, this Sydney wine bar is just a block from the beach, mixing Euro-chic with salty suburbia.
Over a 30-page menu, you'll find over 500 wines, including 25 by the glass. Paired with a Mediterranean-style menu and a breezy space that opens out to the street, this two-level wine bar offers something for any occasion that calls for a glass.
10 William St
Paddington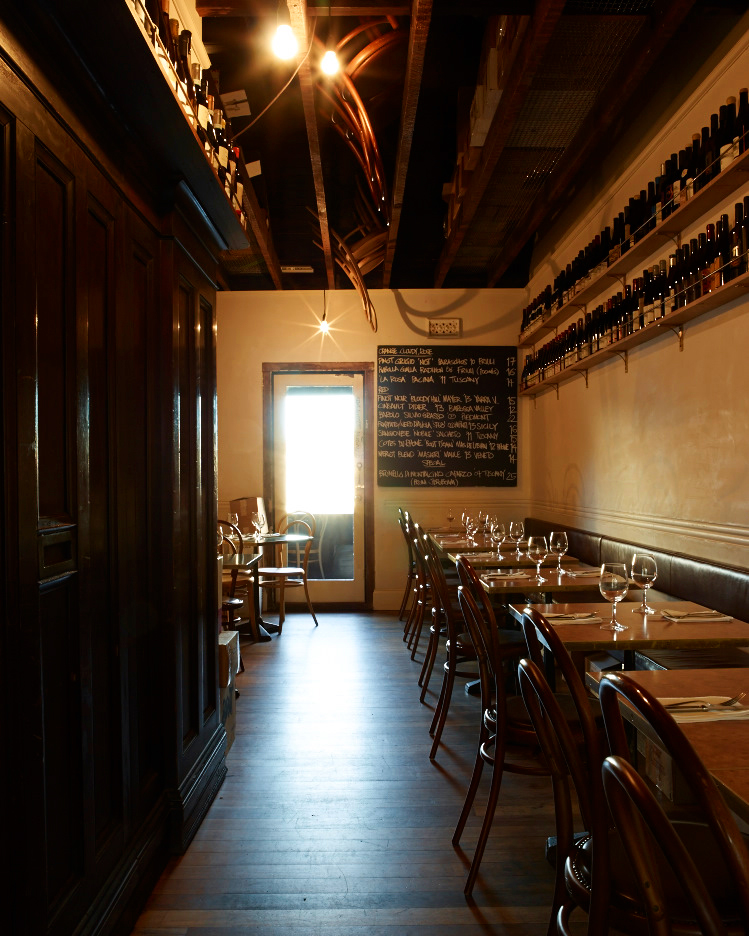 This much-loved Sydney wine bar and restaurant might seem quaint on the outside, but don't let the façade fool you. The second you step foot inside this spot off Oxford Street, prepare for a sensory overload, as if you've been transported directly to a local favourite in a European city.
The always-bustling 10 William St has become a classic for wine buffs and foodies alike. With an ever-evolving wine list, many bottles come and go, but one thing stays: the famous pretzel with whipped bottarga. Perfect salty wine food.
Love, Tilly Devine
Darlinghurst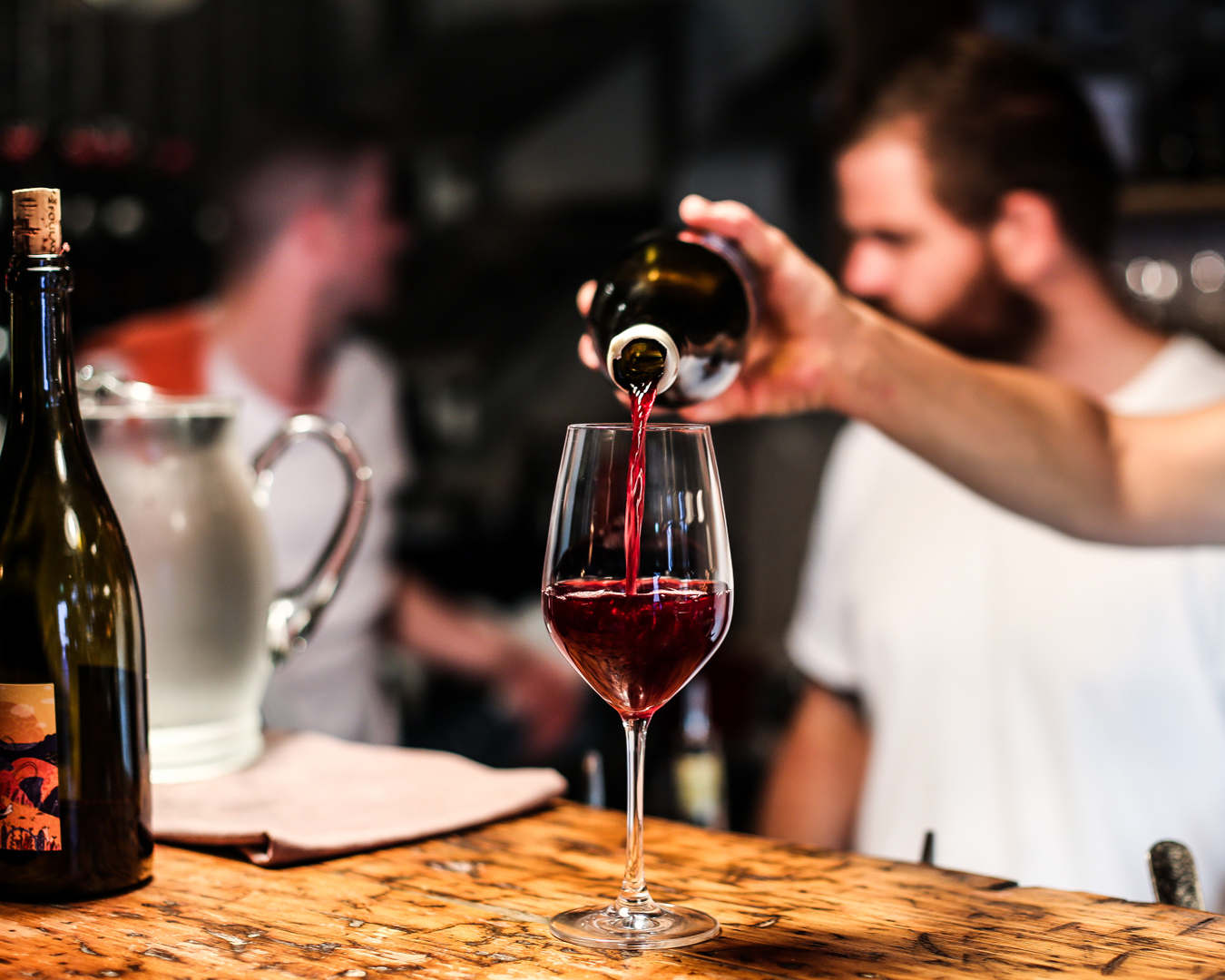 What Love, Tilly Devine might lack in space, it sure as hell makes up for in wine selection. This back-alley wine bar in Darlinghurst is a natural vino vulture's dream. "The wine served at Tilly is minimal intervention wine, or what people call 'natural wine'", explains Love, Tilly Devine's Samuel Woods.
"For us, this is just wine that is free of chemicals and preservatives and wine that is fermented without the addition of yeasts. This results in wines with flavour more unique to the region, since the yeast is found naturally occurring on the skin of the grape and results in a wine which is better for you."
Dear Sainte Eloise
Potts Point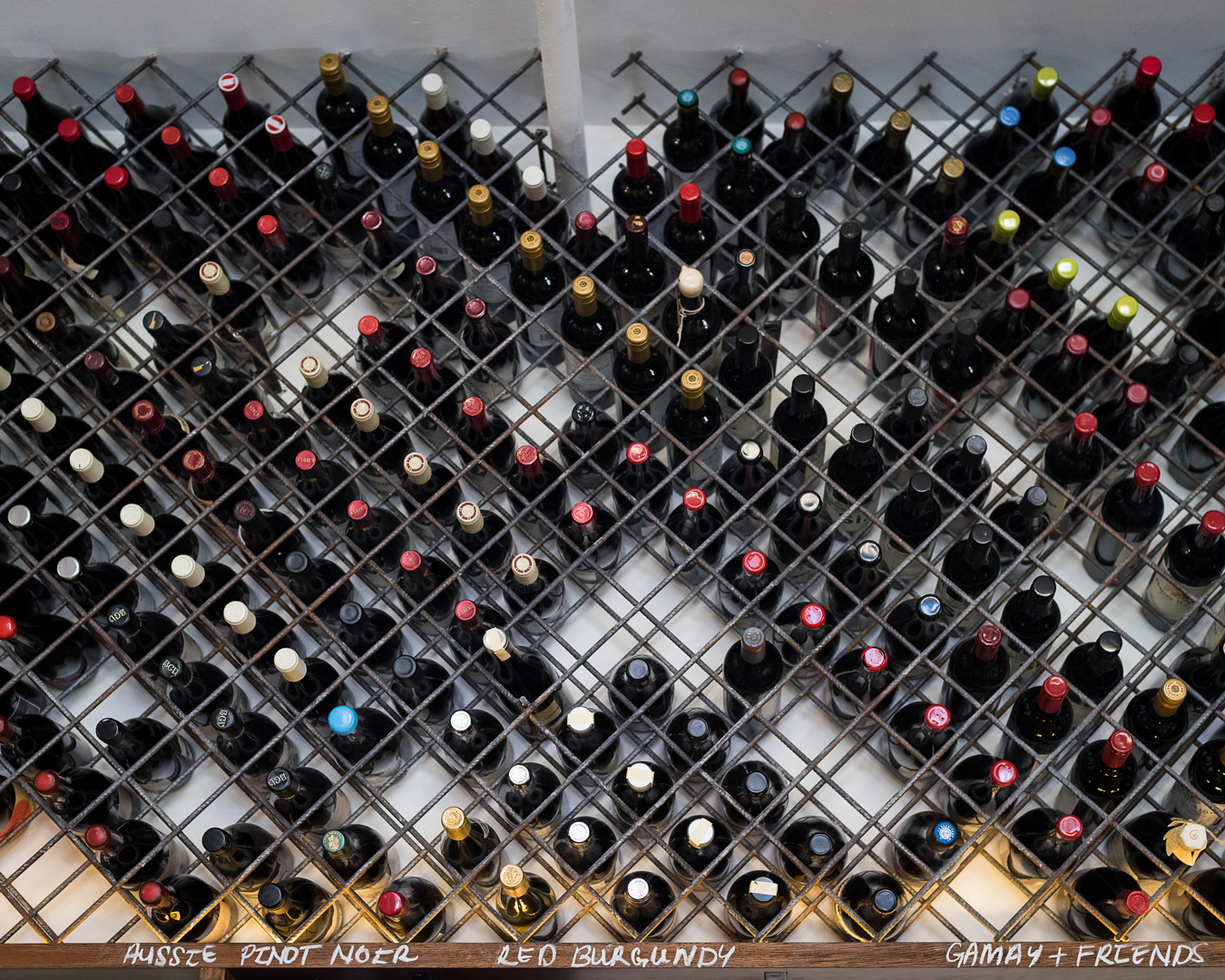 Matt Swieboda and Nathanial Hatwell must be doing something right because this is their third wine bar-slash-eatery that's made this list. As with their other successful ventures, Dear Sainte Eloise devotes much of its focus to minimal intervention wines.
"The list at Dear Sainte Éloise celebrates some of the great winemakers who have defined what wine can and should be", says Swieboda.
"It's also a list that gives a voice to the young and experimental winemakers of the present who will help define wine's future. We believe that wine is an interconnected community full of sharing and learning, creating and drinking. The beautiful thing about drinking the wines of the world is that you become a part of that community simply by lifting a glass", he says.
Bar Copains
Surry Hills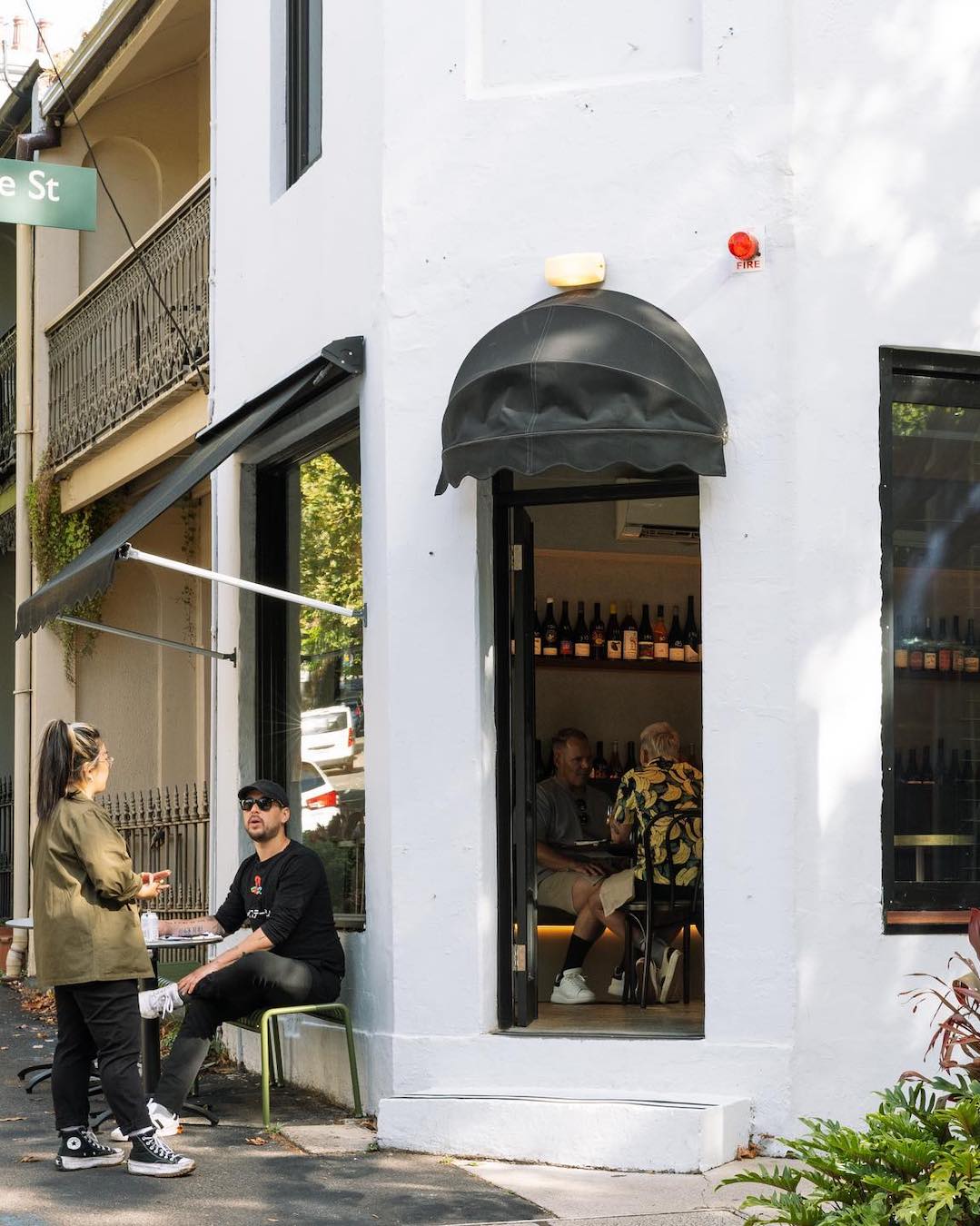 While Bar Copains is all about celebrating friendship and locals, there's nothing low-key about it; this is the classy and cool cousin of your run-of-the-mill neighbourhood wine bar.
Pair glasses of natural wines with the likes of whiting sandos, crispy eggplant showered with ricotta salata and tomato jam, and an amaro creme caramel (yep, that one you've seen on Instagram).
This one definitely strays into restaurant territory, but with owners Nathan Sasi and Morgan McGlone boasting experience in venues including NOMAD, Belle's Hot Chicken and Adelaide's Leigh Street Wine Room, you can bet the food and wine at Bar Copains is a good time.
Bibo Wine Bar
Double Bay
Though the leafy suburb of Double Bay isn't exactly synonymous with the vibrant streets of Portugal, Bibo Wine Bar presents a pretty convincing argument.
Dimly lit with dark wood interiors and European bistro chairs, Bibo "is a great opportunity for diners looking for refined food in an elegant and casual atmosphere at the same time", says manager Jonathan Mallet.
"You can share a full tasting menu with matching wine with your loved one for hours, or simply enjoy a glass of wine and Portuguese-style snacks with a group of friends", he says.
The Winery
Surry Hills
Illuminated by the glow of a thousand (totally random guess for poetic licence) fairy lights, The Winery is the perfect place to share a bottle with friends in a whimsical garden atmosphere.
The wine list is meticulously curated, offering over 30 varieties by the glass, and the accompanying food menu offers everything from delectable charcuterie boards to good old-fashioned hamburgers. This is a quintessential Crown Street experience.
For more bar-hopping inspo, check out Sydney's best cocktail bars.
Image credit: Lil Sis (Steven Woodburn), SPON (Oba Yusuke), Nikki To, Paski Vineria Popolare, Nikki To, Vini Divini, Leigh Griffiths, Little Felix, Jude Cohen, Coogee Wine Room, 10 William St, Love Tilly Devine, Dear Sainte Eloise, Bar Copains,