Paramount House Hotel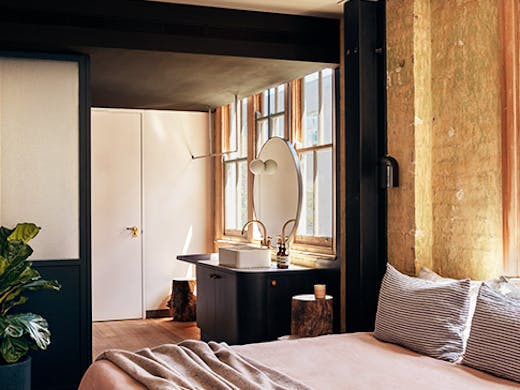 The Verdict
There's a lot happening at Surry Hills' Paramount Building.
The stunning Art Deco building was once the offices of Paramount Picture Studios, and the home of Hollywood in Sydney. These days it's home to a few of our city's most exciting hangouts: a basement cinema and underground bar (Golden Age Cinema), chef Mat Lindsay's wine bar (Poly), a rooftop health club (Paramount Recreation Club), Sydney's most beautiful co-working space (The Office Space), and some of our very best coffee (Paramount Coffee Project by Reuben Hills).
The final piece of the puzzle in the restoration of the building was a boutique hotel. If you've ever stayed at any one of the Ace Hotels (in Palm Springs, London, L.A. or New York, for example), that's the style to expect here—but better.
Paramount House Hotel was dreamt up by Reuben Hills' Russel Beard, property investor Ping Jing Ng and Seven Seeds co-founder Mark Dundon. Designed by Melbourne-based Breathe Architecture, you'll find check-in at the back of the Paramount Coffee Project cafe, where you'll be served sparkling water while you wait. A pint-sized souvenir shop features hotel merch slashed in the hotel's slogan, "Permanent Vacation" as well as local labels we love like Double Rainbouu and (for all your nostalgic vacation vibes) Emma Mulholland.
The elevator to your room is dressed in flamingo pink Wes Anderson-style hibiscus wallpaper, in order to (we think) teleport you directly into a strong holiday mood. Hotel rooms are a lot less colour-saturated—think Japanese timber, poured concrete and silvery terrazzo, matched with muted emerald carpets, caramel leather couches and peach and In Bed linen in peach and tobacco.
There are five room types to choose from—Nook, Everyday, Sunny, Loft and, for all you ballers out there, the Mack Daddy. Whether your ideal staycation or Sydney layover features a sunny breakfast balcony, a separate lounging space or a huge square-shaped tub made of honey-coloured timber, Paramount House Hotel totally has your back.
As for the amenities, you'll get Aesop everything as well as Seljak wool blankets and a cool select of contemporary art care of nearby China Heights gallery.
When it comes to your mini-bar and room service—well, this is where Paramount House Hotel really, really stands out.
Forget cans of Coke and half-size bottles of average cab-sav, in your room, you'll find Barossa natural wines by Tom Shobbrook, snacks from LP's Quality Meats and wild-fermented beer from Marrickville brew heroes, Wildflower.
And for all the reasons you might want to hide away from the world or eat dinner in the bath—Paramount House Hotel has upped the ante on room service, offering wines and bar food from Poly for dinner, and breakfast and lunch from Paramount Coffee Project.
Image credit: Tom Ross.
---