Sydney is a city drenched with stunning views—making it the perfect spot for a sky-high bar and an open-air cocktail. While rooftop bars used to be few and far between in Sydney, these days there are almost enough to visit a new bar every weekend in spring and summer.
From a Palm Springs-inspired rooftop spot at a favourite Inner West brewery, to a famous rooftop pool club, a secret rooftop in the heart of the city, and a swanky hotel bar with second-to-none views of the harbour, Sydney's rooftop bar game is strong.
Here are 23 of the best rooftop bars in Sydney right now.
Kiln At Ace Hotel Sydney
CBD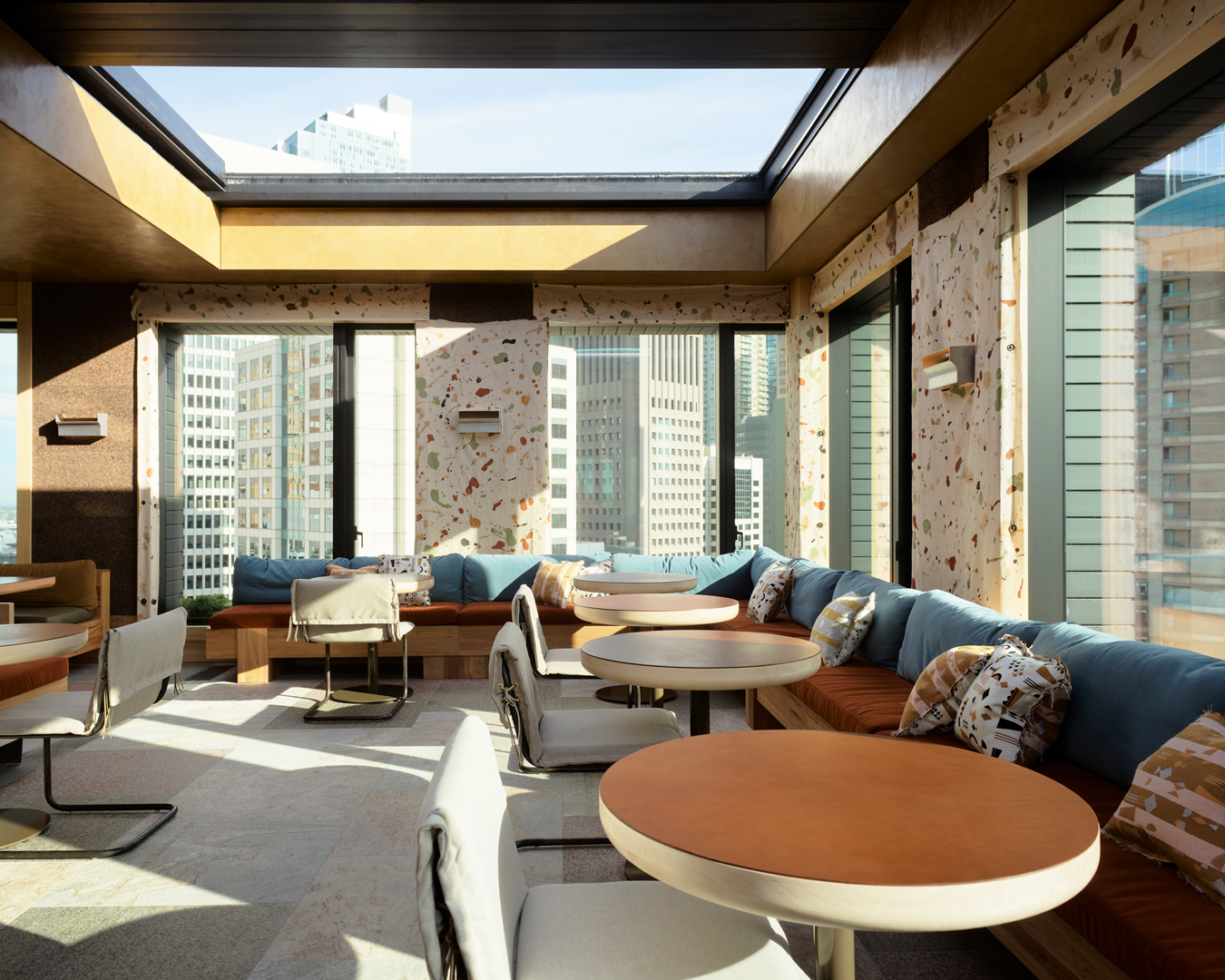 Sitting 18 storeys up with a spectacular and rare view across Surry Hills, Central Station, and the city—Kiln is Ace Hotel Sydney's rooftop dining destination. It's the hotel's crowning jewel, complete with retractable ceilings, glass walls, and chef Mitch Orr at the helm. Enter via a back laneway, where hotel lobby elevators will teleport you to two spacious terraces, with the kitchen and glowing woodfired hearth as the centrepiece.
Here, Orr is flexing his genre-bending skills with fiery native ironbark and assorted fruitwoods to flame and smoke a neat list of fun but inventive dishes. On the menu are snacks like Jatz with smoked butter and anchovy and larger plates like grilled Abrolhos Island scallops with preserved lemon butter, and Marron with desert lime and long pepper. For dessert, there's corn ice cream with popcorn and salted caramel and a steamed chocolate cake with poor man's orange sorbet.
The Strand Hotel Rooftop
Darlinghurst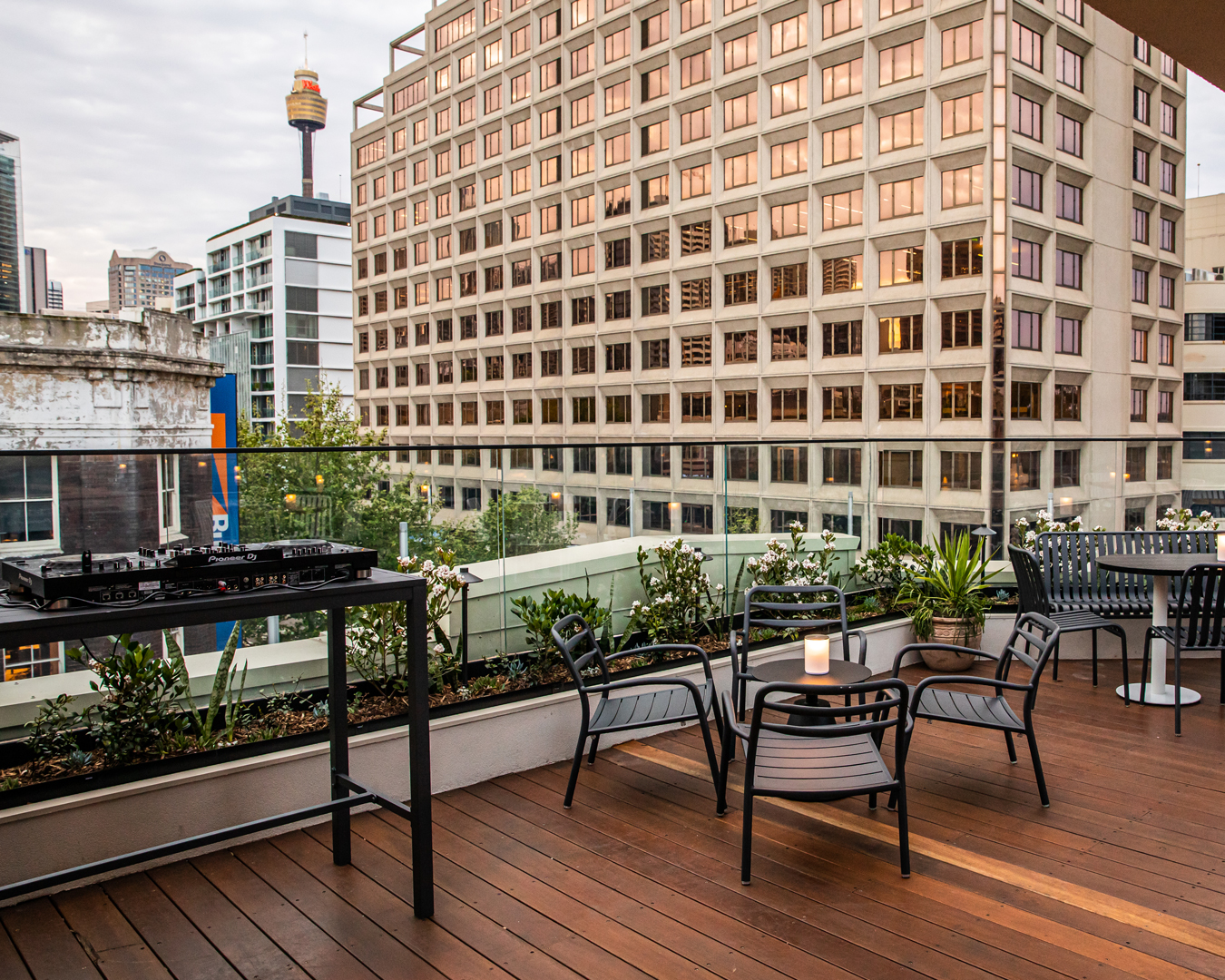 The rooftop bar at The Strand Hotel is the final piece of the puzzle and the crowning jewel of the 99-year-old pub's recent renovation. Reimagined as a multi-storey dining precinct, the ground floor is home to a Parisian-inspired bistro serving spoons of caviar, classic steak frites, a duck leg pie, and baguettes with lashings of cultured butter. Now, you can also head upstairs for signature cocktails, like a French ginger Mule or thyme and basil Daiquiri, light snacks like corn and gruyere croquettes and fried chicken with pickles, and of course, an incredible view of the spectacular sunset over the city. You'll also see live entertainment and DJs from Friday through Sunday.
Aster Bar At The InterContinental Sydney
CBD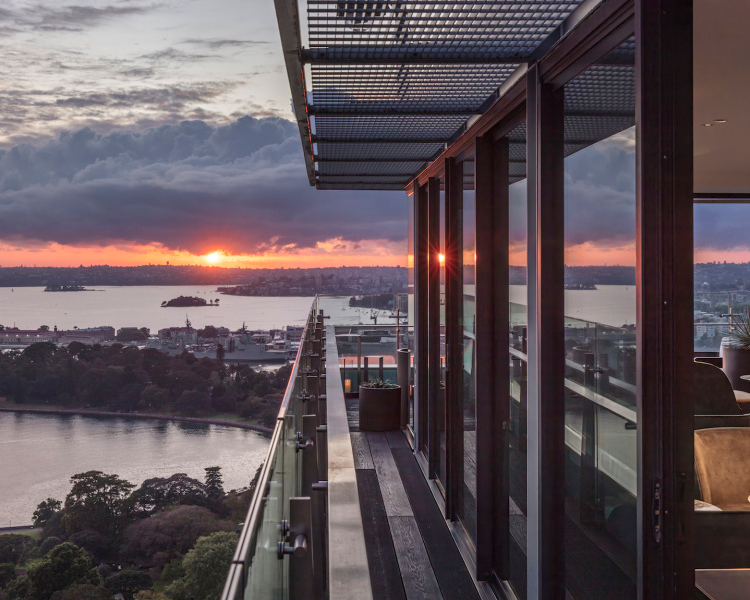 There's always something special about sipping cocktails at a fancy hotel bar. Even more so when the bar features spectacular views of one of the prettiest harbours in the world. Typically reserved for guests only, the stunning InterContinental Sydney is now open to the public. Called Aster Bar, it's a part of the hotel's $110 million renovation. The space has been redesigned by the team at Woods Bagot—with plush lounges in the hotel's signature blue and green and an opulent marble centre bar. Here, you can expect breathtaking scenery 32 floors up, including the Sydney Harbour Bridge, Sydney Opera House, the Royal Botanic Gardens, and beyond.
Sky Bar At Shell House
CBD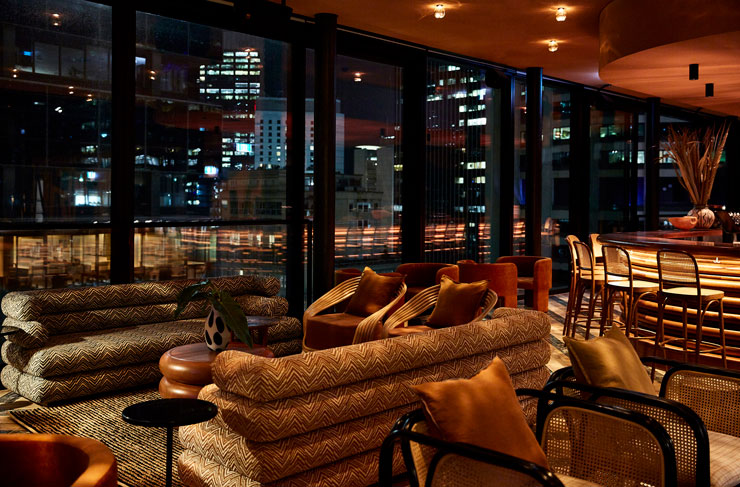 Perched on top of a stunning heritage building at Wynyard, Sky Bar is one part of the three-part dining experience on the top floor at Shell House. Floor-to-ceiling glass doors surround the sprawling rooftop bar and open-air terrace, giving it a very inside-outside feeling. A stunning polished timber bar is the centrepiece, encircled by plush lounges in sleek caramel hues and rattan loungers. To drink, choose from tongue-in-cheek investment banker-inspired cocktails like the "Negative Gearing", made with clarified ice cream bourbon, amaro, hazelnut, and smoked coconut. There are also Champagnes, progressive and classic wines, or a breezy list of spritzes too.
Marrickville Springs At Philter Brewery
Marrickville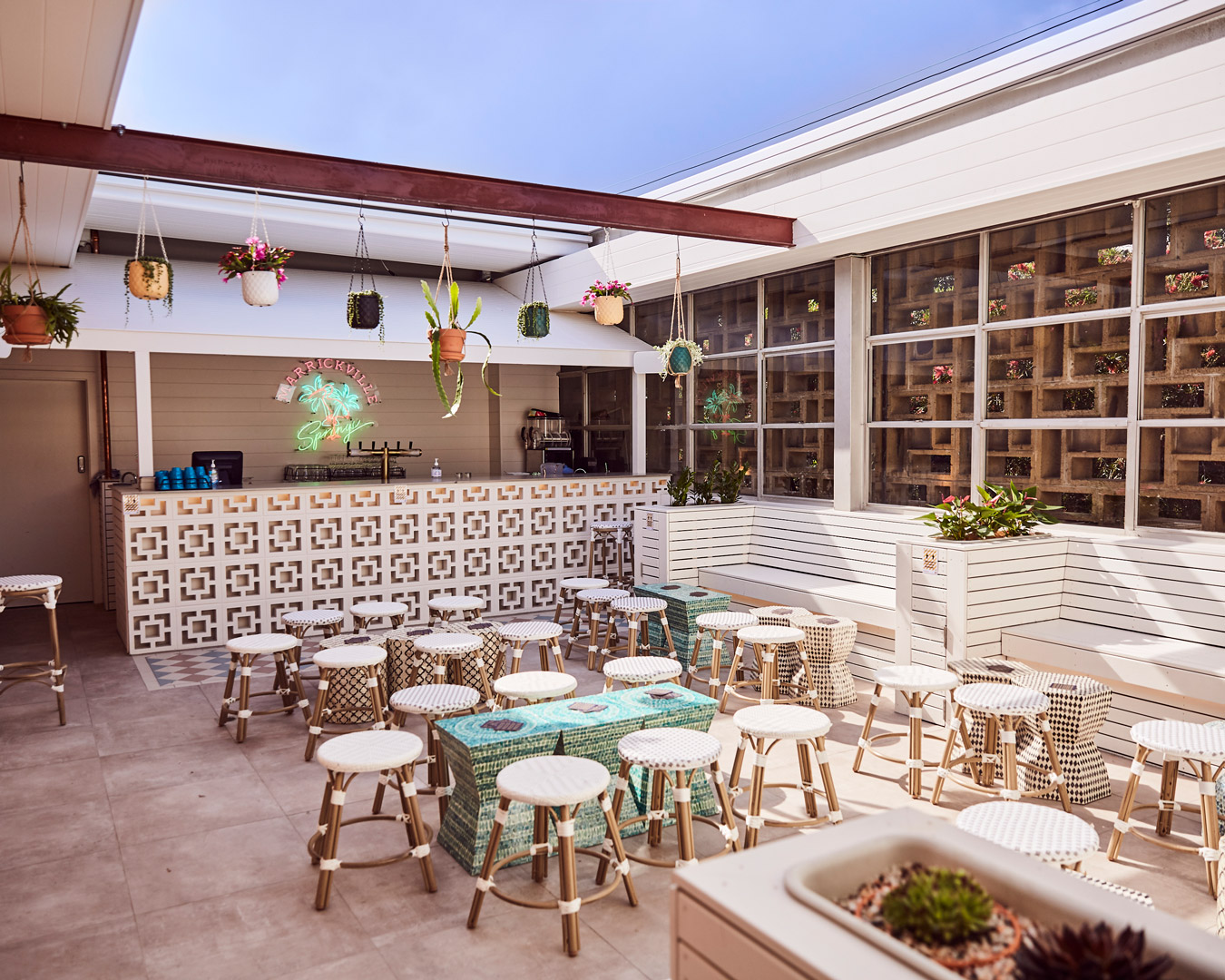 While most rooftop haunts seem to centre around the CBD where the buildings are a little taller and the views a bit more glam, the Inner West has scored a brand new rooftop spot (and it's on top of a warehouse brewery, naturally).
Following the opening of their taproom in 2020, Philter Brewing has opened Marrickville Springs—a sunny rooftop bar that channels 80s-era Palm Springs resort vibes. Here, you can sip frozen cocktails crafted by the team at Jacoby's, as well as Philter's top-notch ales and lagers. To eat, the 80s theme runs strong with prawn cocktails and fancy Aussie cheese platters. As well as potted palm trees and a cute mural by local artist Mielo, there's also a retractable roof so Marrickville Springs can be weatherproof all year round.
Old Mate's Place
CBD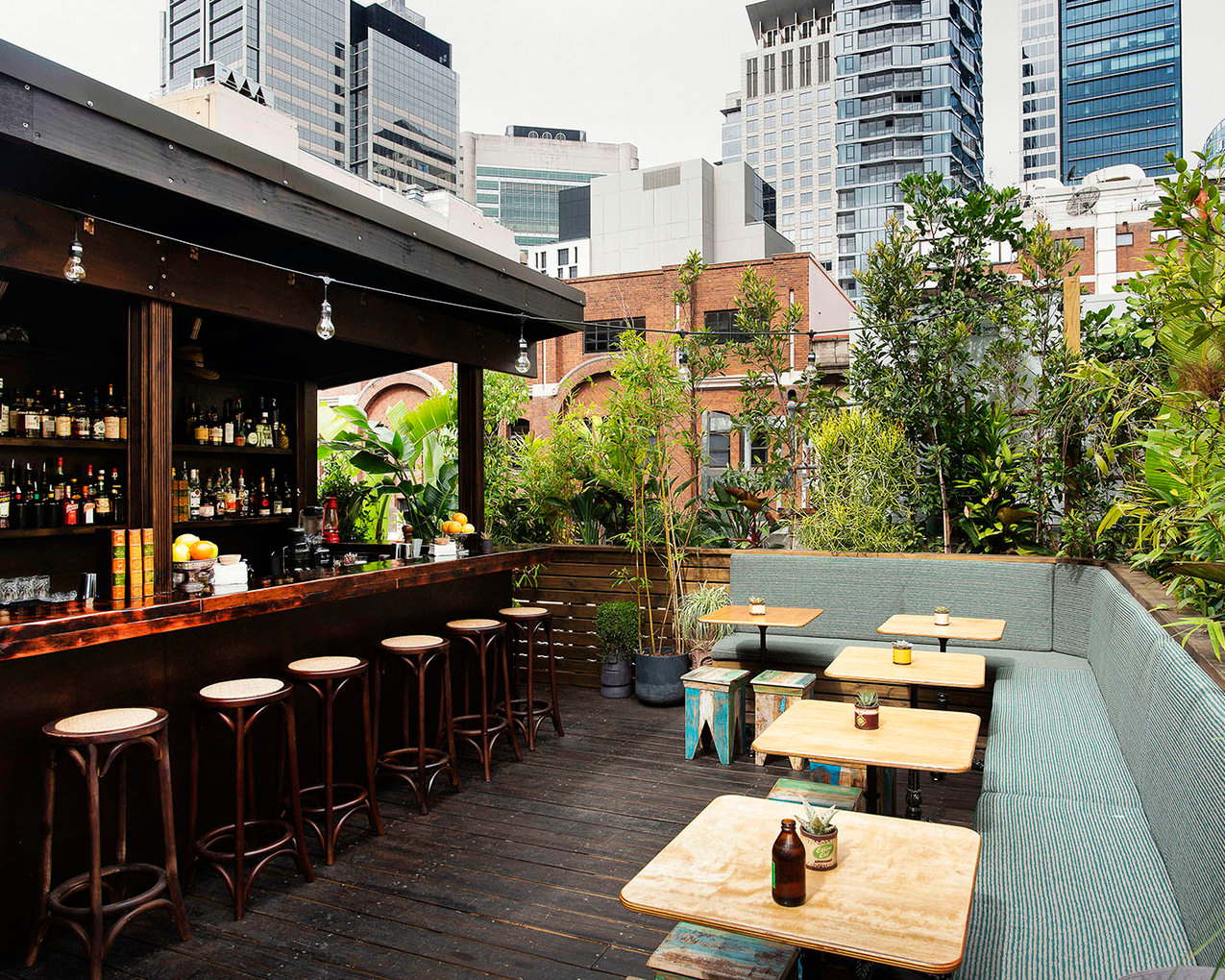 Half the fun of this CBD bar is actually finding it (cue a couple of flights of stairs and an unmarked door). Old Mate's Place bears shelves upon shelves of old-school books and lush plants and is brought to you by the same crew that gave us Kittyhawk and Lobo Plantation, so yeah, the drinks menu is actually off the tap. You'll be in for some pretty stellar views of the city plus a rotating menu offering up one hell of a Philly cheesesteak.
Lady Banks Rooftop Bar
Bankstown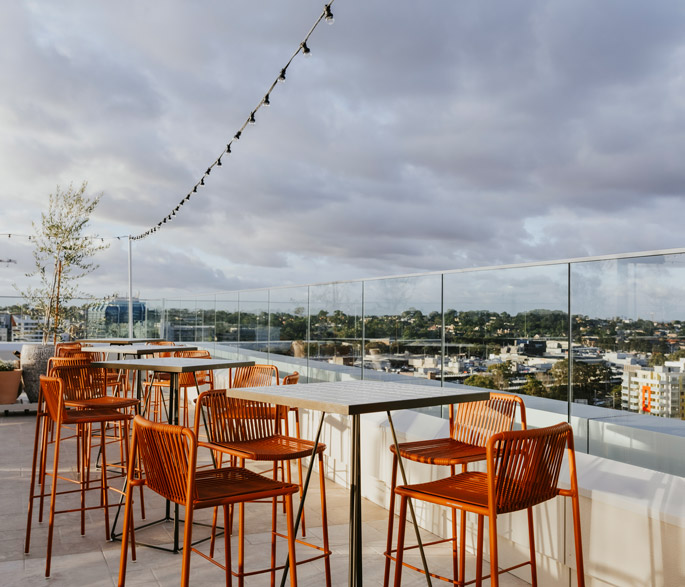 This rooftop bar is Sydney's largest and it takes up some serious skyline, 10 floors high to be exact, right in the heart of Bankstown. Inspired by the likes of the Lady Banks rose, every knick-knack and crevice oozes romance—like festoon lights, plush lounges, a freestanding fireplace and views of the Blue Mountains.
The cocktail menu is where you're going to want to spend most of your time, with mega share concoctions made to share with four to seven people. "The Usual Suspects" has you and your mate's names written all over it. It's made with vodka, watermelon, and basil, and is served in a three-litre crystal dispenser, naturally.
Pool Club At The Ivy
CBD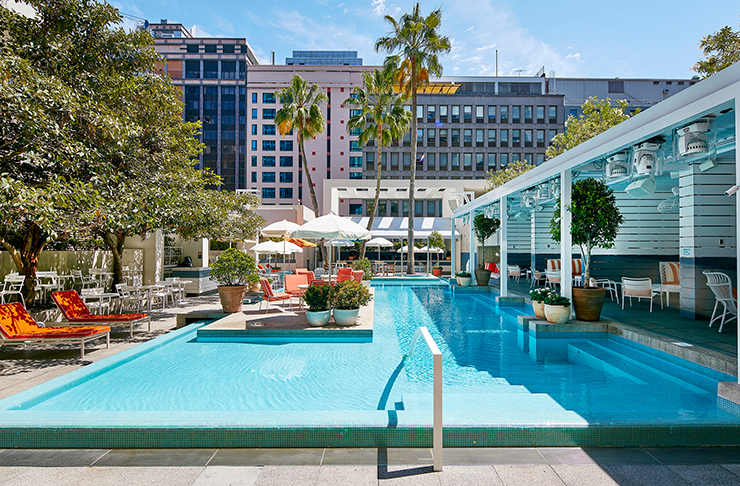 If a rooftop pool party is what you're searching for—Pool Club at the ivy precinct is for you. Smack bang in the middle of the city, Pool Club is brought to you by the Merivale crew, who have a rep for creating some of Sydney's best hospitality experiences. When it comes to good times in the sun, these guys know what they're doing. The Pool Club underwent a bit of a refresh in 2020 and now features more cabanas and a Santorini aesthetic with chic striped loungers. On the weekends, you can expect to find drag brunch in the morning and, come sunset, DJs spinning house and disco beats for you to dance the night away.
To drink, our pick of the signature cocktails is the Frank Ocean-inspired "Swim Good", which is a concoction of Absolut Elyx, Americano Bianco, fruit salad wine cordial, grapefruit, and soda. Naturally, there's a dedicated spritz menu too, because what else do you drink in Santorini? If you're hungry, there's Mediterranean-style antipasti and pizza, and yes, the cabanas come complete with table service. Or, hit up Ucello, the stunning Italian-inspired restaurant that overlooks the pool.
Henry Deane
The Rocks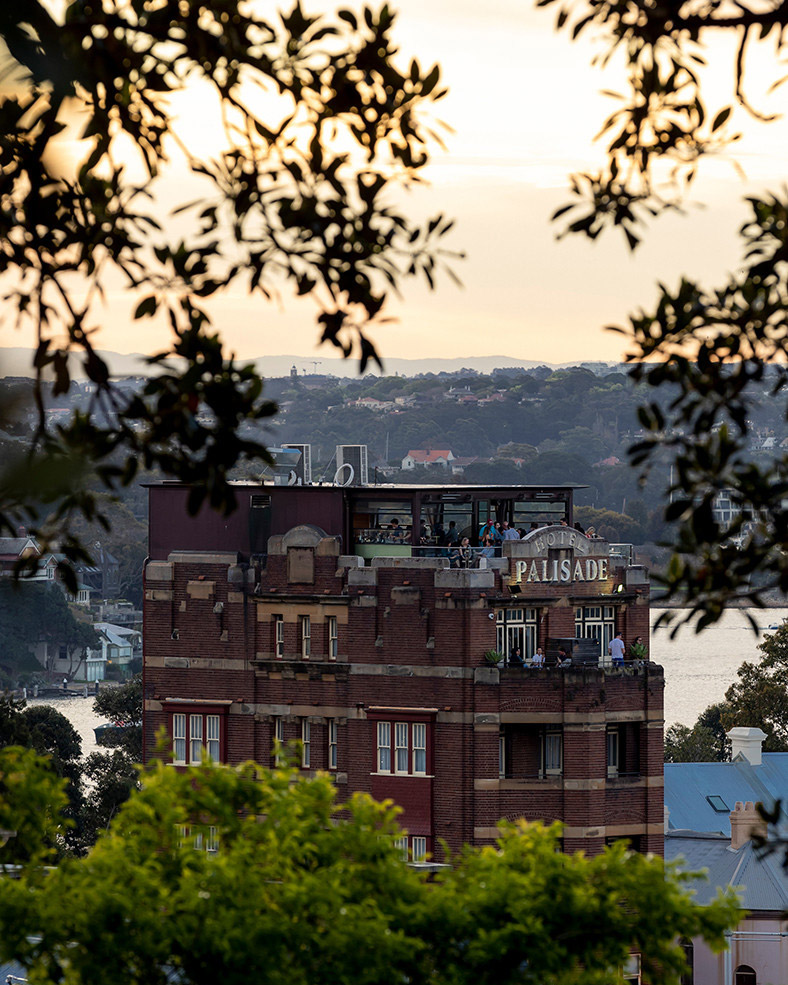 It's pretty hard to miss Hotel Palisade in The Rocks. The grand heritage-listed pub peers over Barangaroo Reserve, Millers Point, and Sydney Harbour and is an absolute gem if you want to soak up uninterrupted Sydney Harbour views. Henry Deane is the pub's rooftop cocktail lounge. Spread across two floors, it's tricky to score a spot on the pint-sized sun-drenched balcony—but when you do, there are few nicer spots in Sydney to be. Signature cocktails include the Agave Love, with Olmeca Altos tequila and Vida mezcal, and the Go Slow Man, with Appleton signature rum, JM Agricole, curacao, orgeat, lime, and honey. Spiked kombucha is also on the menu, as well as a neat edit of local and international vino. To eat, head chef Cian Mulholland has a short but sweet menu of delicious bar snacks designed to be shared.
Taylor's Rooftop
CBD
The top floor of the Republique Hotel is Taylor's Rooftop—a casual city rooftop bar with a vertical garden and great vibes on a Saturday night. Taylor's retractable roof means the party is on even when it's raining. For the most part, this rooftop spot is an open-air bar and dancefloor charged up with house beats spun by local and international DJs. If you're after something sweet, you need to try the salted caramel Espresso Martini or the ultra-fresh spicy Margarita, but we won't judge if you opt for the frozen marg instead. To eat, it's a pub food vibe with chicken schnitzel, beef brisket nachos, Chiko spring rolls, and sweet potato chips fueling your big night on the DF.
Nick & Nora's
Parramatta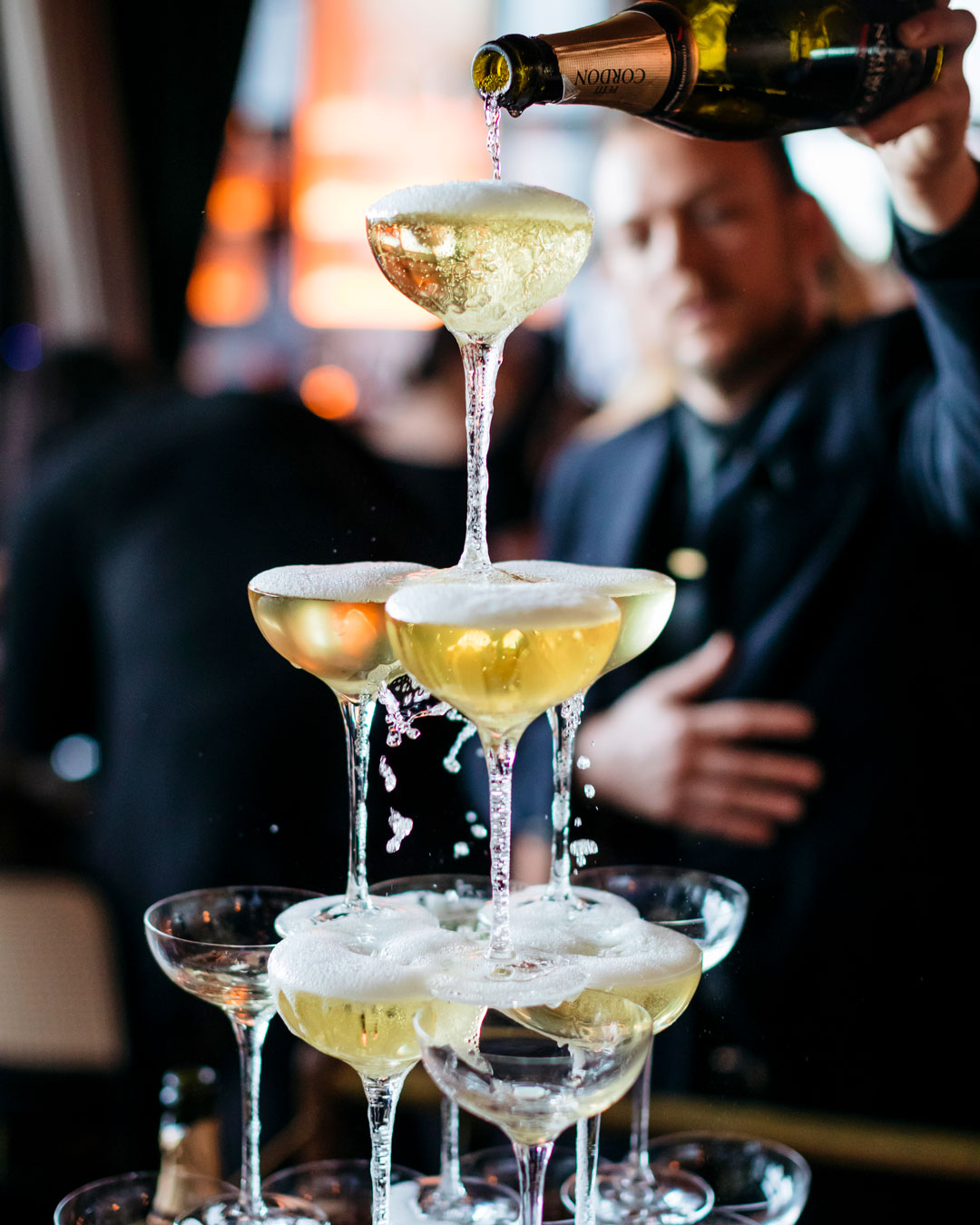 Champagne, cocktails, and canapes. Nothing quite beats the glamorous and decadent post-prohibition atmosphere you'll find at Nick & Nora's. Located in V By Crown and on the 26th floor, this rooftop bar has been inspired by the fictional murder-solving duo (unsurprisingly) known as Nick and Nora Charles from the 1930s detective story The Thin Man. Your feasting escapade here will be filled with all sorts of fancy—from oysters, gin-infused olives, tequila-compressed watermelon, imported cheese, and cured meats.
As for the cocktail menu, it reads like a novel with various cocktails taking inspiration from stock characters like The Femme Fatal and The Snitch. If champagne is your jam, and it damn well should be, there's a bubbles bible with more than 50 different drops to choose from. Finally, if you want to channel your best Tony Montana, there's also a cigar menu filled with Cuban cigars.
Elm Rooftop Bar
Darlinghurst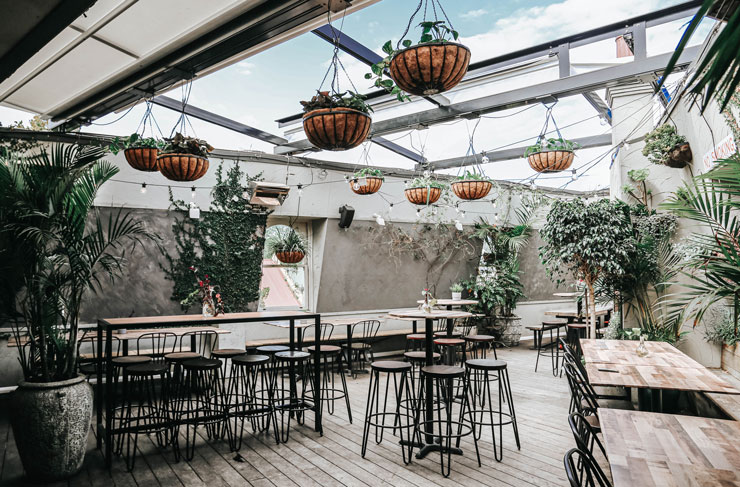 You'll find this leafy haven perched on top of Surry Hills craft beer institution, The Taphouse. Whether you're catching up with mates, winding down after work, or closing out the weekend with a stellar Sunday session, Elm Rooftop Bar packs a whole lot of punch. Decorated with festoon lights and leafy palms, this rooftop never fails to disappoint on all fronts. In the realm of delicious drinks, the BlackJack Fizz is a huge win for anyone with a whisky palate. For something sweeter, get around the passionfruit Pornstar Martini. You'll also be able to try juiced mixers for $10 (including fresh apple or pear).
Slims Rooftop
Darlinghurst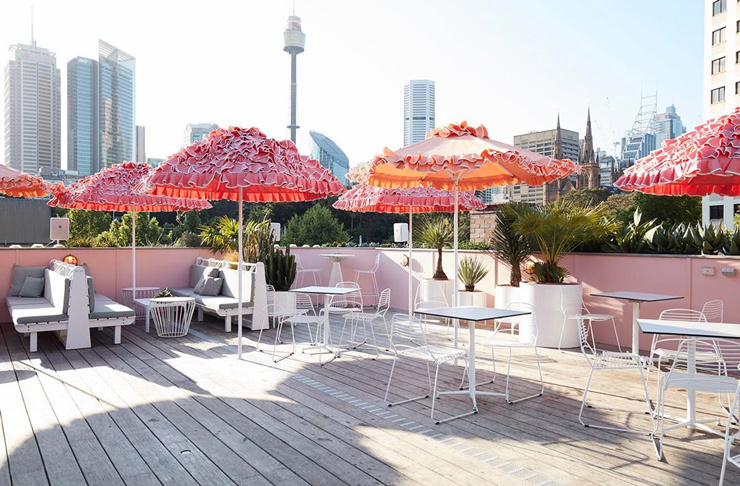 This beauty is the cherry on top of Hyde Park House and overlooks Sydney's Hyde Park with uninterrupted views of the CBD and westerly sun (which means it's the perfect place to clock off on a Friday afternoon). The menu is an Asian fusion served izakaya-style, so you're in for a whole lot of share plates alongside a slew of glorious cocktails. You can dig into dishes like vegetable tacos pumped with green chilli and nori, crispy pork belly boa buns, spiced fried chicken, and pork gyoza served up with a soy vinegar sauce for absolute salty goodness.
The cocktails here are pretty major and there is a lot to choose from, with all your staple Espresso Martinis, Aperol spritz, Margaritas, and Bloody Marys in the mix. But the real stand-out is the Million Dollar Mermaid—a mix of Ketel One Vodka, lychee liqueur, Blue Curacao, lychee juice, and lime.
Imperial UP
Erskineville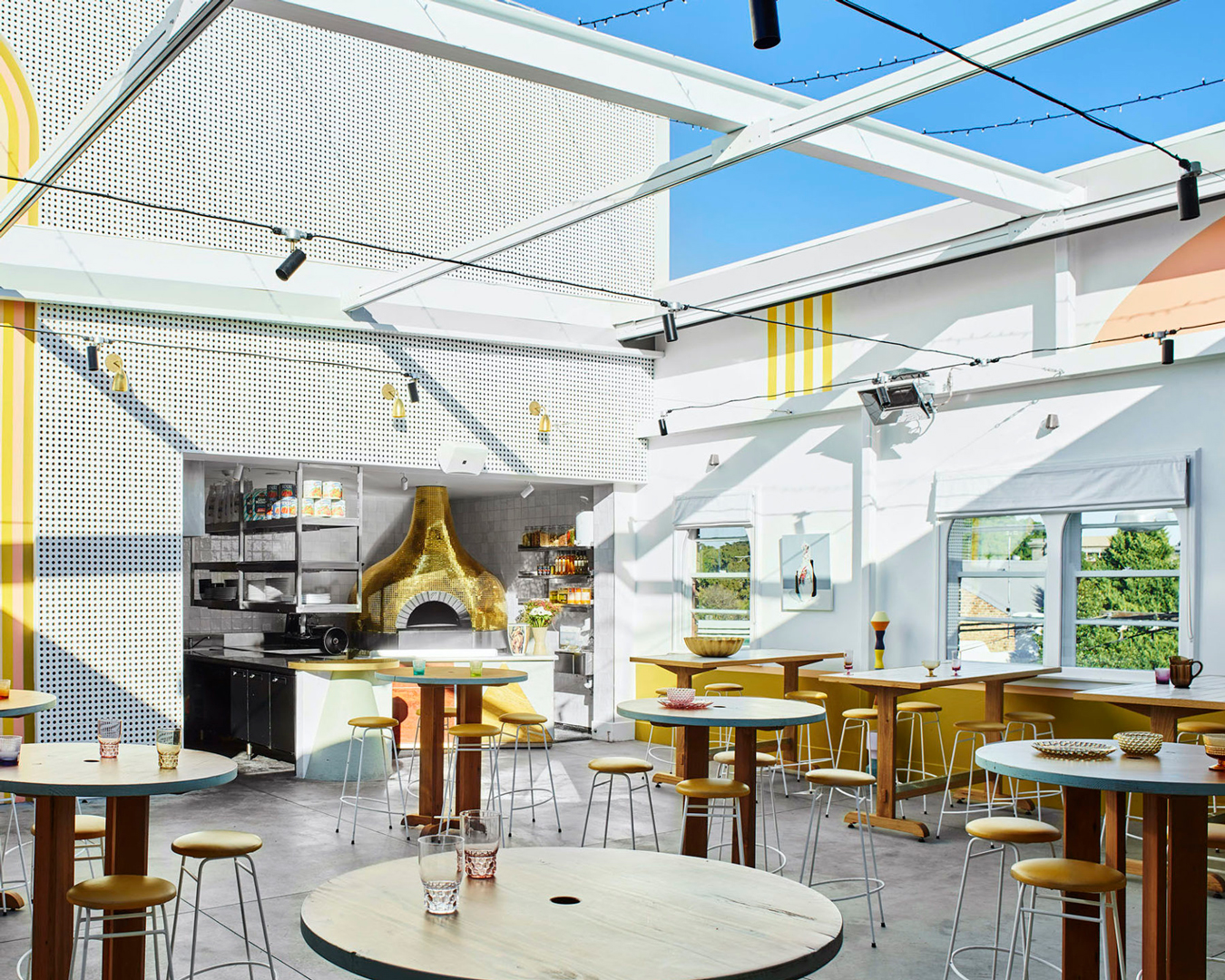 If you're in need of a great night out—The Imperial in Erskineville is always a great option. According to the Imperial team, "there's plenty of room at the top"—and the sprawling pub's rooftop bar, dubbed Imperial UP, is a big vibe. Menu-wise, Imperial UP has all the goods—including a golden pizza oven. We're talking all your fave Italian dishes like pizza, pasta delivered with a flamboyant twist, and a selection of vegan, gluten-free and dairy-free dishes for those peeps with special dietary requirements. There's also an extensive booze menu that offers an array of jugs and delish cocktails that'll remind you of the good times and have you dancing well into the night.
East Village Hotel
Darlinghurst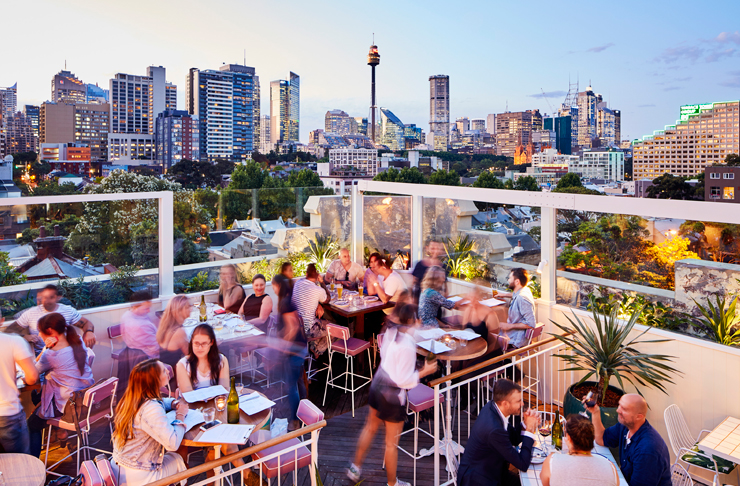 The rooftop terrace at East Village changes with the seasons—dishing out bright, summery cocktails during the warmer months and a light, fresh menu to match the unbeatable views. Don't worry if you get too hot up there, East Village has installed cooling mist jets and big umbrellas for shade. Come winter, East Village transforms the terrace into a winter wonderland garden complete with a canopy of fairy lights, luxury lambswool throws and even a fireplace to keep you cosy.
Babylon Rooftop And Garden Bar
CBD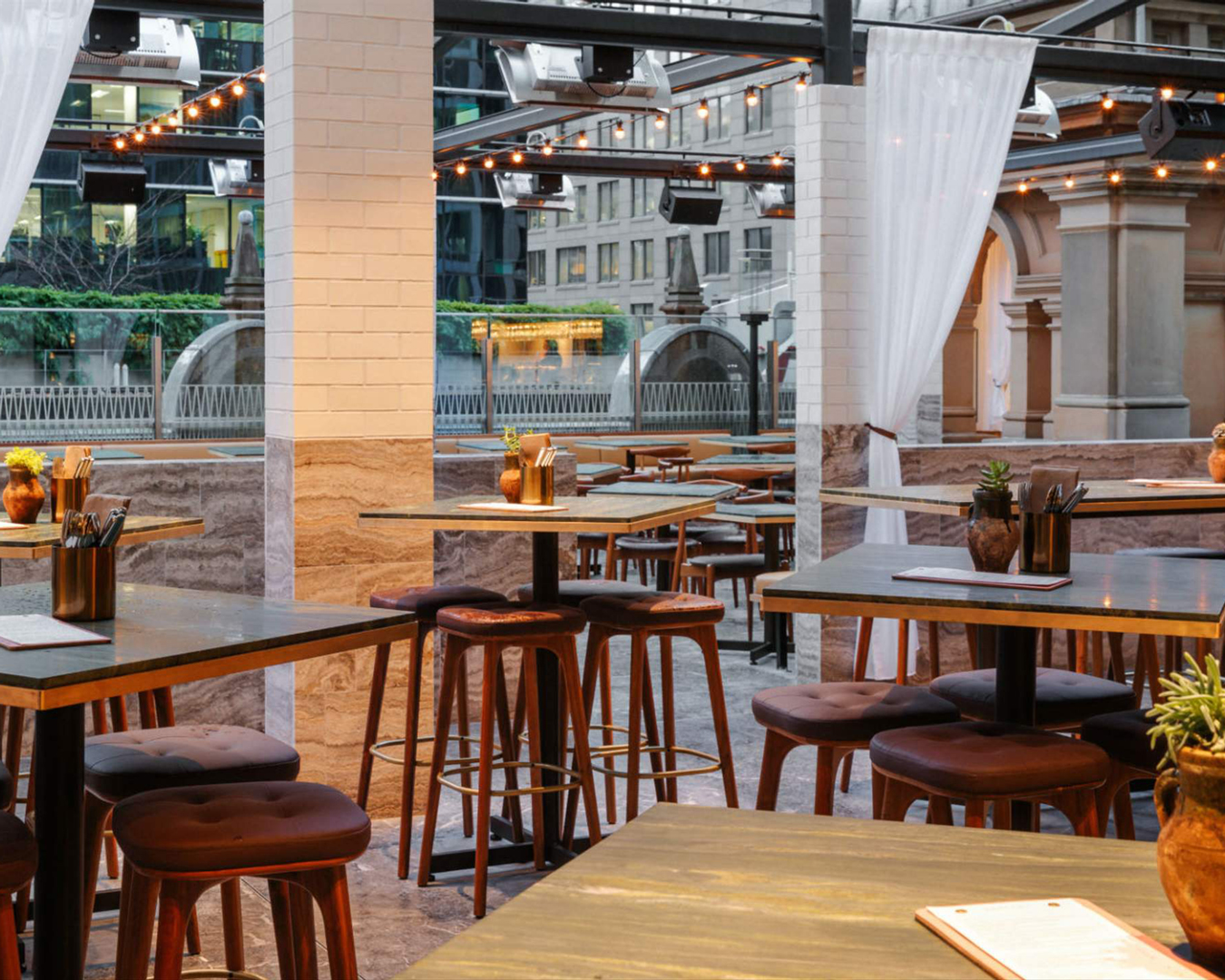 One of the best additions to Westfield Pitt Street's dining scene in recent years was Babylon. This enormous 800-seat rooftop bar and restaurant is perfectly styled to feel like an ancient dining metropolis—complete with views of the city skyline. Boasting a huge booze menu with over 250 whiskeys, 400 Aussie spirits, and 300 bottles of wine, you're going to need a moment to take your pick. Food-wise, Babylon's head chef Rob Taylor is slinging out meze, gozleme, and pide that will have you salivating. Chicken wings with harissa marinade, Turkish tabbouleh, and mint yoghurt are a favourite among the crowd.
Green Moustache
North Sydney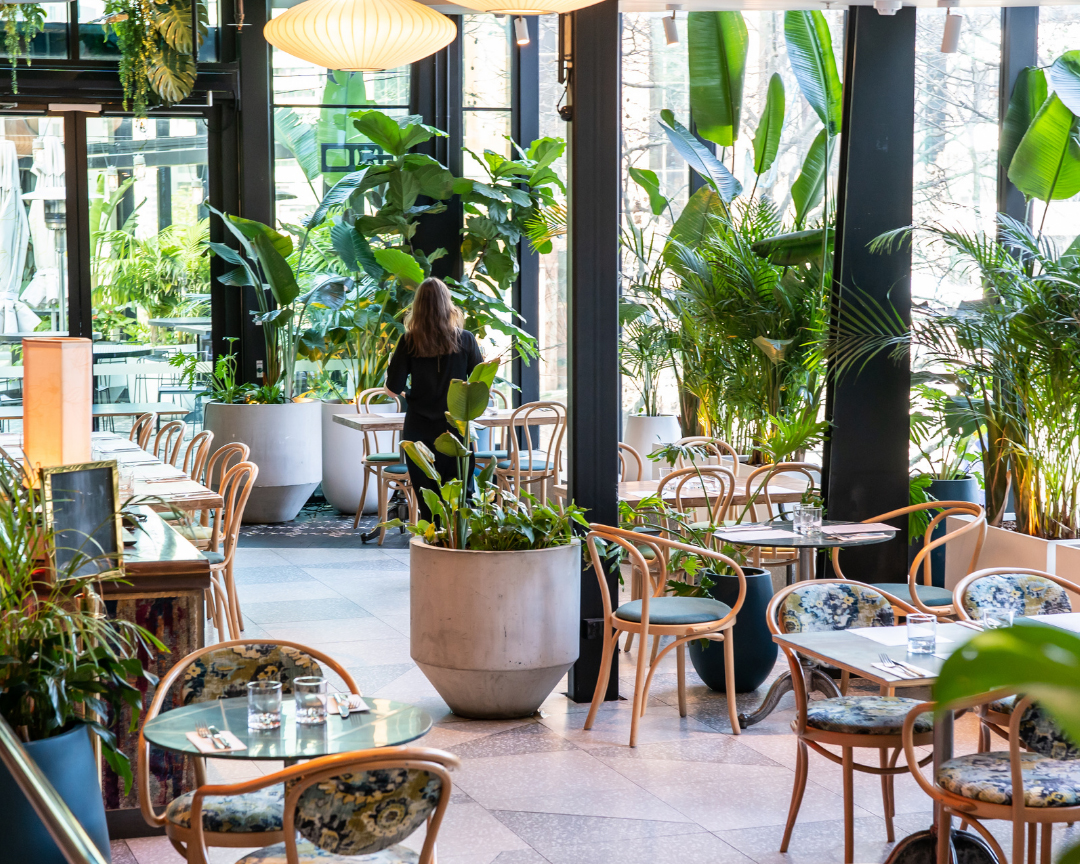 This greenhouse-style rooftop restaurant and bar sits smack-dab in the middle of North Sydney providing patrons with drop-dead stunning views. Green Moustache is filled with lush palms, ceiling plants, wicker chairs and tiled tabletops. Head over for dinner and order up a plate of fresh blue-swimmer crab pasta with chilli, lemon, and parmesan.
Bar Ombré
Circular Quay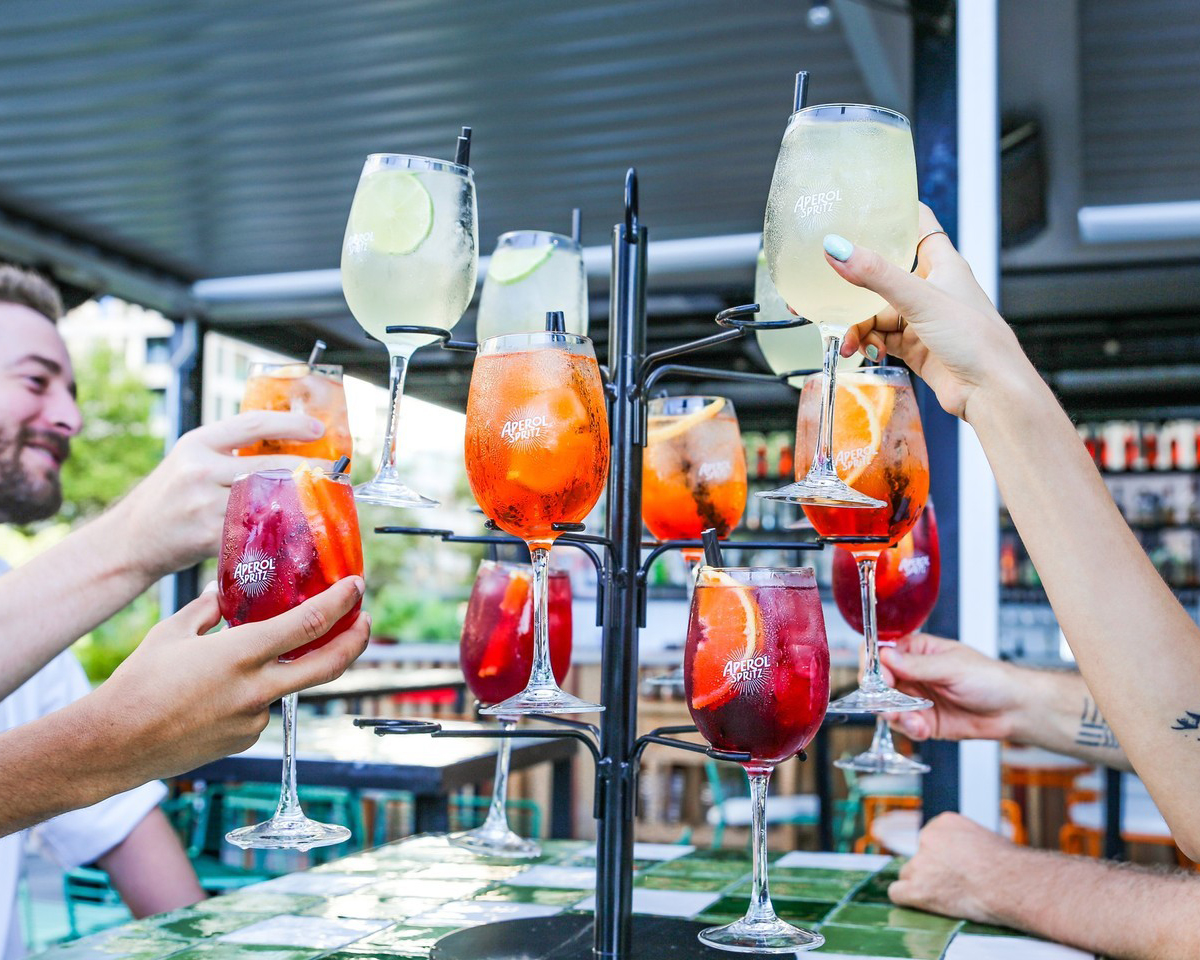 Get ready to rejoice because the folks from Salt Meats Cheese have opened up a rooftop bar in the heart of the city and donned it Bar Ombré. Located on the top of The Gateway in Circular Quay, expect charcuterie boards with house-stretched cheeses and plates of fried calamari and grilled eggplant. But most importantly, grab yourself an Aperol spritz in carafe form—or a literal Aperol spritz tree (pictured above)—for a wild night ahead.
The Rooftop
Pyrmont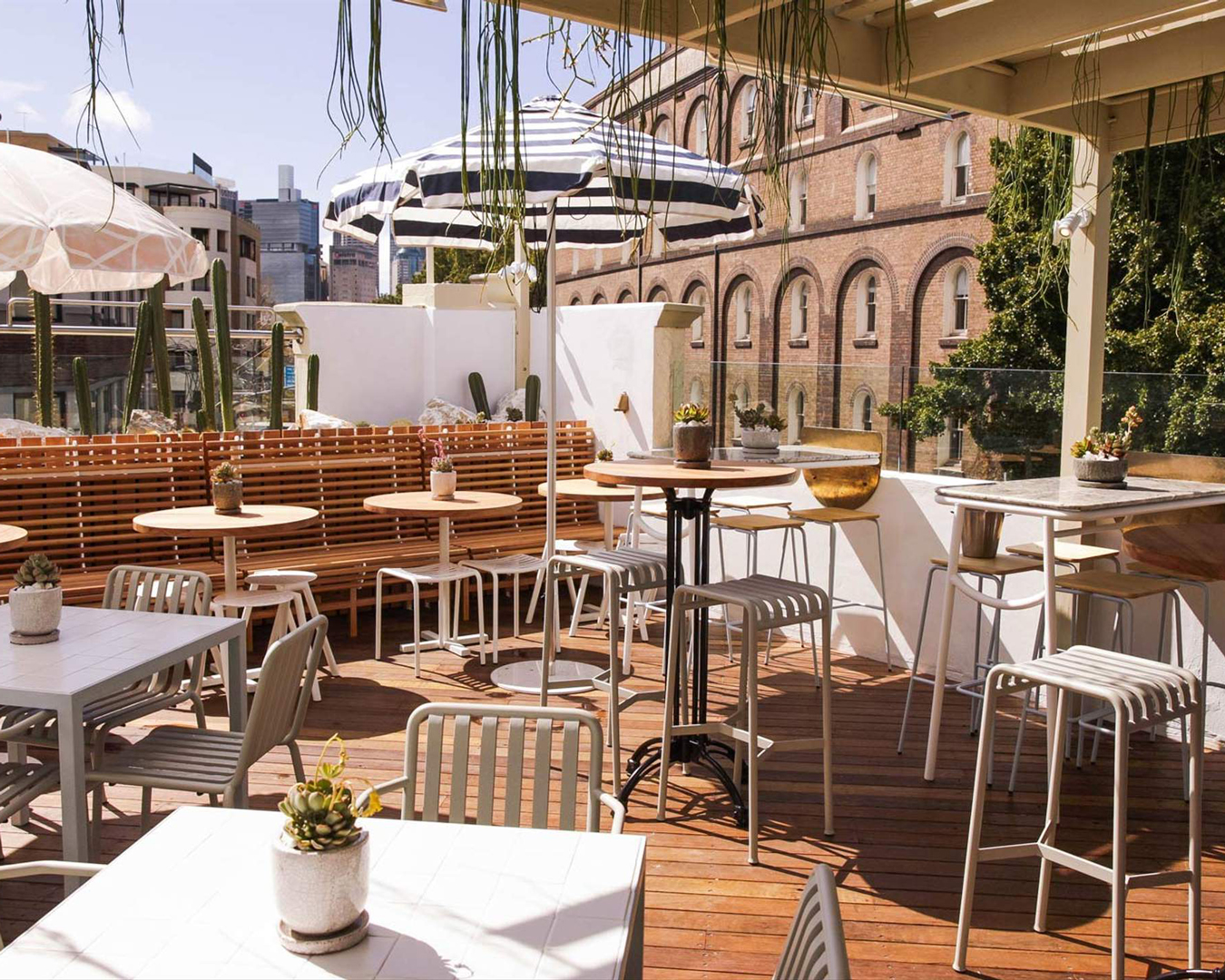 This open-air terrace is forging all the blush-pink vibes, cacti and a bangin' cocktail menu to boot. Interiors-wise, you're in for a solid treat with the make-up of this newbie all down to design guru Matt Woods (Bloodwood, Devon). You should also know these kids rock an apple cider slushie (yes hello, new fave drink, is that you?) packed with all the cracked ice and a special housemade syrup to give it another punch. So yeah, doubt we need to convince you any more to hit this one up.
The Rooftop At Manly Greenhouse
Manly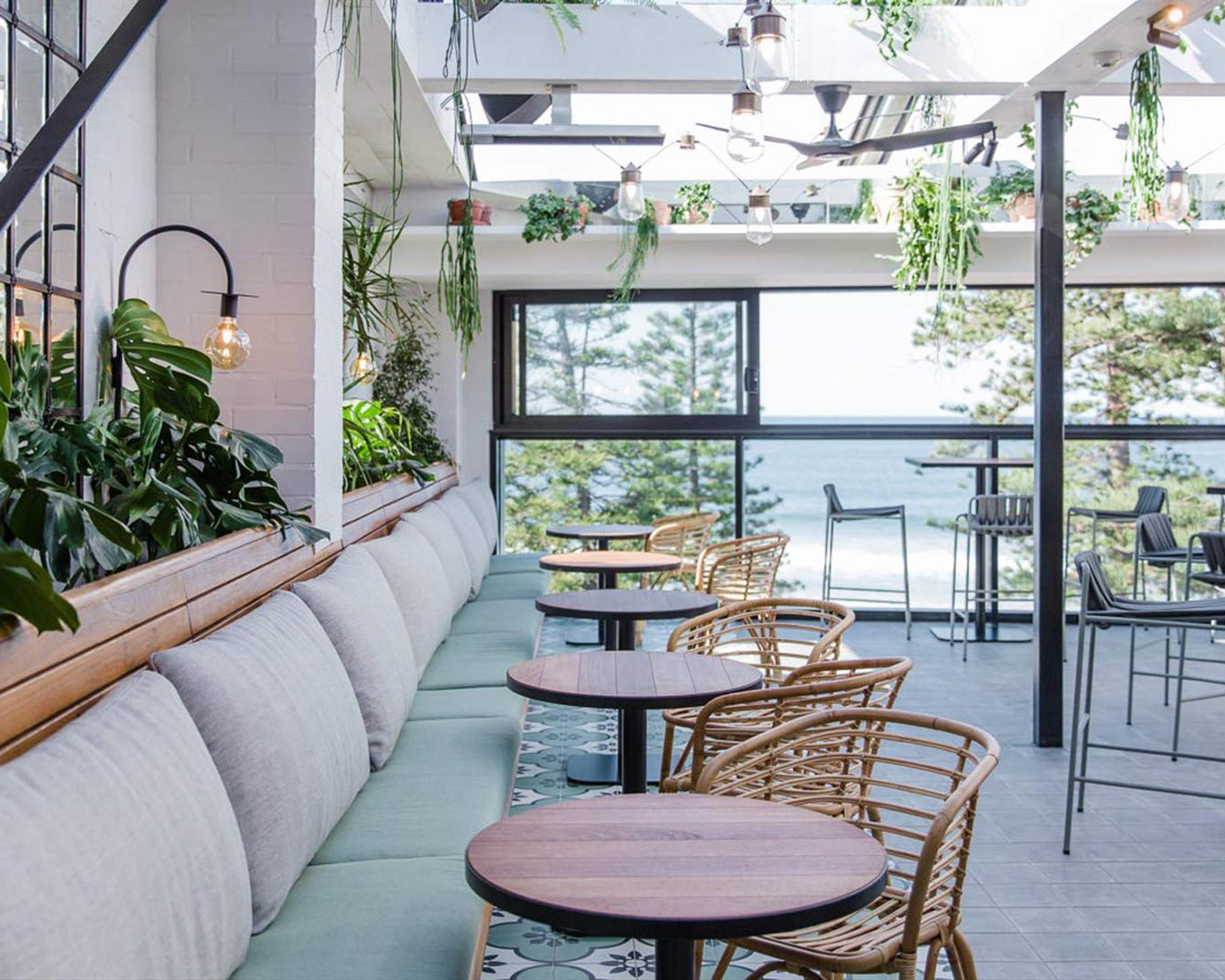 Make your way up to The Rooftop at Manly Greenhouse, which preaches everything to do with hanging plants, panoramic views, and an indoor cloud tree. Here you'll find bespoke cocktails and a bar menu with a selection of cured meats including LP's mortadella and Blackmore Wagyu beef bresaola and a heap of toasted sandwiches.
Smoke Bar
Barangaroo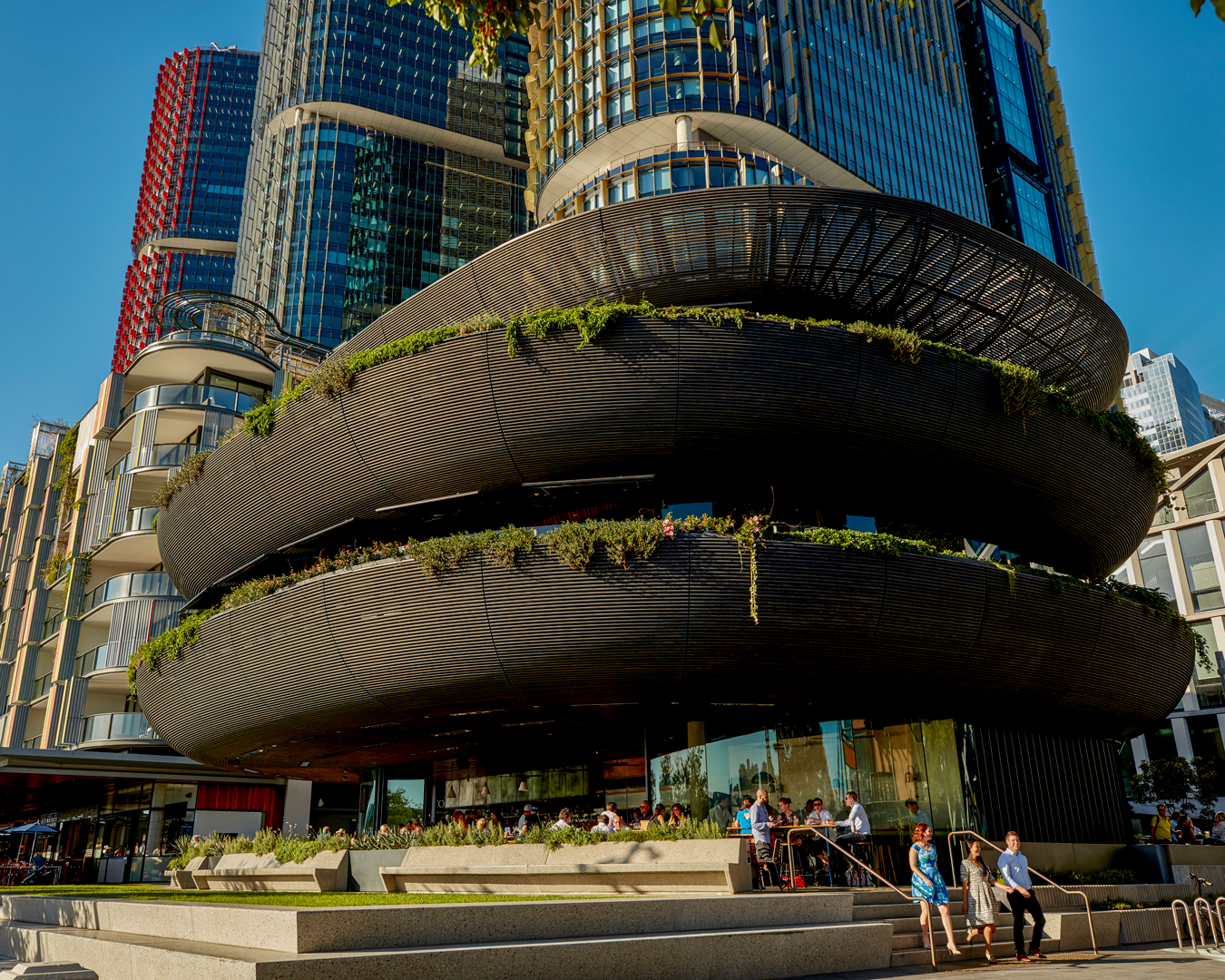 Designed to resemble a stack of bowls, Barangaroo House is one of a few seriously striking buildings perched by the harbour at Barangaroo. Its top floor is Smoke Bar—a sophisticated rooftop terrace that peers over to Sydney's west, making it one of the best places to catch a sunset in Sydney. As the name suggests, food and drink are smoke-inspired. Cocktails get adventurous with liquids, ice, and ingredients like rosemary and cinnamon all getting the smoke treatment—but you can still order a classic Negroni or vino from the 400-strong wine list. Executive Chef Tom Hayne's crab sambo, wagyu slider, and fried smoked brisket doughnuts are both the stuff of legend.
Keg & Brew
Surry Hills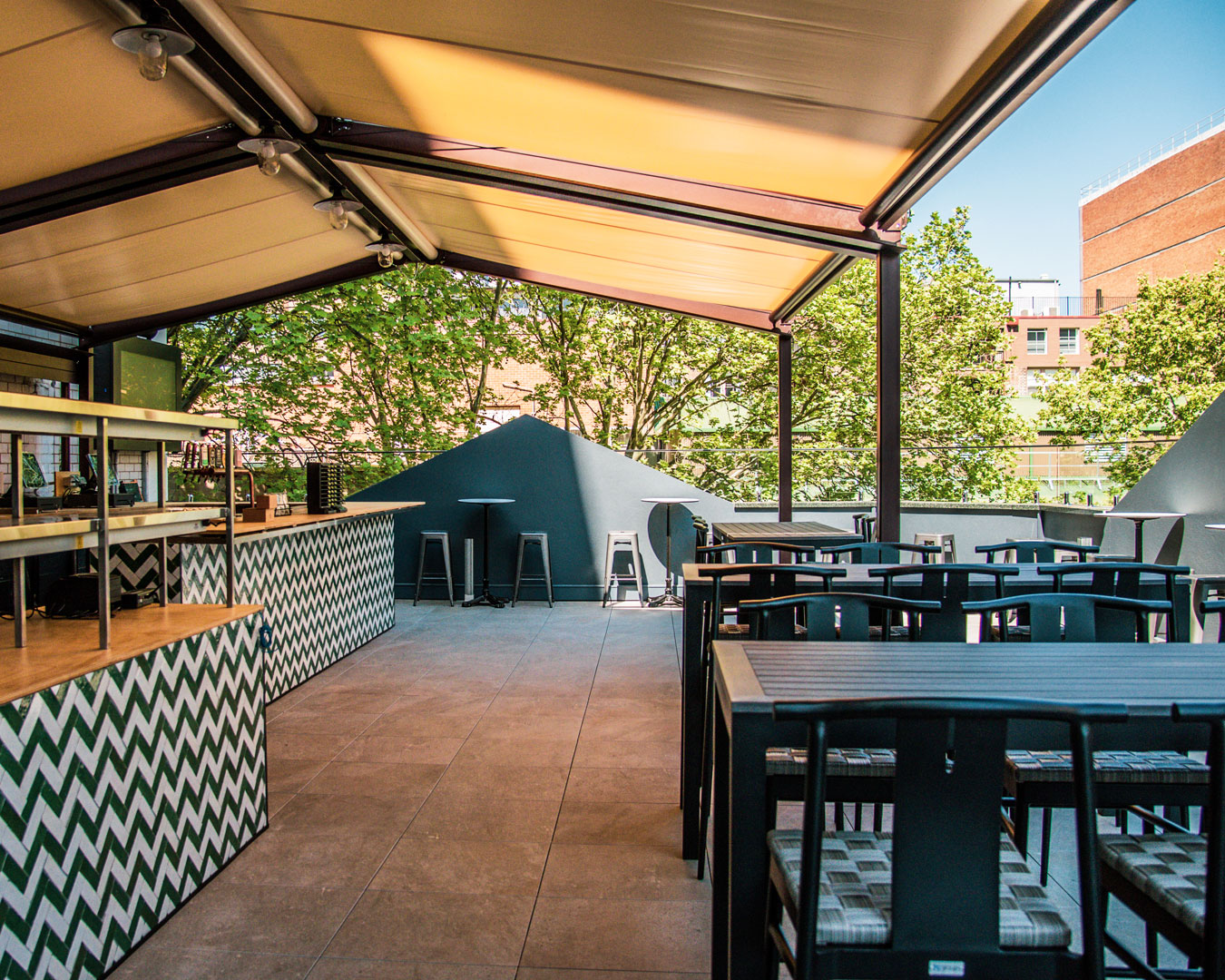 This heritage-listed Surry Hills hotel now features four levels spanning a ground floor, restaurant, function room floor, and—the pièce de résistance—an open plan rooftop bar. The open-air rooftop offers sweeping views of the city and is complete with a bar, pizza oven, and one of Australia's largest TV screens so you can round up the crew and watch all the big games.
Sweethearts Rooftop
Potts Point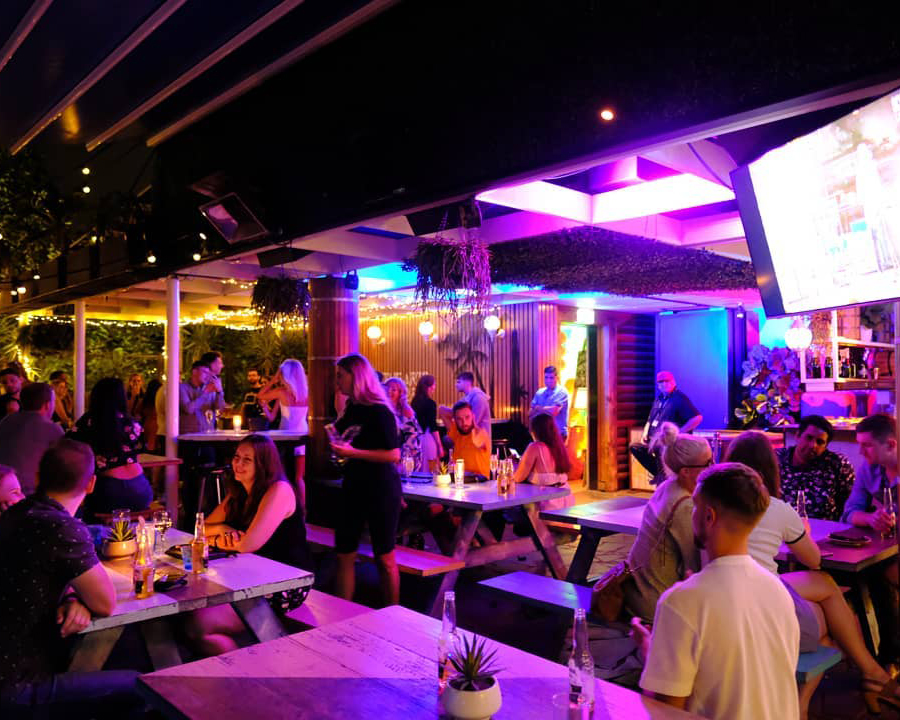 Sweethearts Rooftop at the Potts Point Hotel is still killing it in every way. A world above the bustle of the inner city, this chilled-out joint has delicious cocktails, craft beers, and a tempting Mexican menu. Be sure to tuck into the torta, it's a real slice (or slab) of Mexico City.
For even more great bars in Sydney—head over here.
Image credit: Intercontinental Sydney, Anson Smart, The Strand Hotel, Intercontinental Sydney, Old Mate's Place, Lady Banks Rooftop Bar, Destination NSW, Destination NSW, Elm's Rooftop, Slims Rooftop, Imperial UP, East Village Hotel, Babylon, Green Moustache, Bar Ombre, The Rooftop, The Rooftop At Manly Greenhouse, Smoke, Keg & Brew, Sweethearts Rooftop