Let's just say, back in the day, a bottomless brunch was truly unheard of. Fast forward to the here and now, and Sydney is a sprawling metropolis of free-flowing mimosas, bottomless margaritas, endless sangria and unlimited bubbles.
Yep, the bottomless brunch train isn't about to stop any time soon so grab a ticket and get ready to ride out this glorious Sydney rite-of-passage to the best damn feast of your life (and the best way to start out any big weekend, in our opinion).
Here are all the best places to indulge in a bottomless brunch in Sydney.
Restaurant opening hours and menu offerings may be different due to current COVID-19 restrictions. We recommend calling ahead for details and making a booking.
La Farmacia
Darlinghurst
Tucked behind Mrs Palmers Sandwich on Stanley Street in Darlinghurst, La Farmacia is a mezcal and tequila den heroing proper Guadalajara-style feeds. The joint has already worked up a rep of churning out some of the best margaritas in Sydney (about 20 variations to be exact) and it's a pretty solid place to hit with your mates, especially if you're keen to work your way through an impressive menu of boutique Mexican spirits while listening to some bangin' Mexican hip hop.
La Farmacia has announced a brand new weekend bottomless special—and it's a doozy. Basically, the team is offering free-flowing margaritas (classic or Tommy's), Mexican beer, or rosé every Saturday, for 90-minutes. With this, you'll also get a set brunch menu packed with freshly fried corn chips, salsa, flamed-grilled corn, seasonal fish ceviche, tacos and, to close it all off, churros served with dulce-de-leche.
Cost: $85 per person
What you get: Free flowing margaritas, beer and rosé and a brunch set menu
When: Every Saturday, 11am-2pm
Hello Auntie
Darling Square
Every Saturday, the team at Hello Auntie in Darling Square is plating up a mix of Vietnamese brunch dishes with a twist. You'll be able to order up bo tai (similar to Italian carpaccio) with aged beef tartare, truffle, capers and shallots; ca hoi tai with cured salmon, creme fraiche, tamarind gel and Jerusalem artichoke, XO prawn dumplings, and even Goi Cuon, a baller DIY rice paper roll kit.
To wash everything down there are bottomless glasses of fruity spritz which look like passionfruit grape, strawberry lime, or lychee ginger. You can also get super fancy with Polanco Baerii sturgeon caviar, Yarra Valley brook trout gold caviar, Vietnamese flatbread, and egg salad, and creme fraiche, for an extra $20 per person.
Cost: $70 per person, $20 extra per person for "baller" additions
What you get: Bottomless spritz and a mix of Vietnamese brunch dishes with a twist (and dogs welcome)
When: Every Saturday, 12pm-2pm
Surly's
Surry Hills
This Surry Hills American-style tavern slash sports bar (and one of our fave burger joints) is hosting two-hour feasting sessions on Fridays, Saturdays, and Sundays that involves a bunch of smoked meats and a whole lot of beer.
From the Ole Hickory smoker you'll be treated to 8-hour dry-rubbed beef brisket, 12-hour pulled pork, smoked chicken thigh, Texas hot link sausage, smoked chicken wings, pickles, onion, and cornbread. Wash it all down with ice-cold beer, or choose from a selection of wine instead.
Cost: $85 per person
What you get: Bottomless beer and BBQ feeds for two hours
When: Every Friday, Saturday and Sunday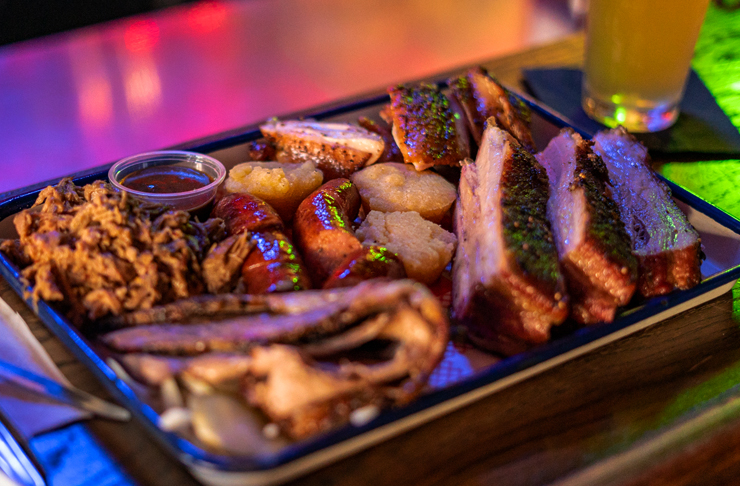 Rocker Bondi
Bondi
Bondi's casual neighbourhood haunt, Rocker Bondi, has just kicked off a brand new bottomless brunch. If you've never been here, the feeds pay homage to all the best things about living on the coast, so you're in for a European menu with local ingredients from the land and sea.
The big standouts on this bottomless brunch feast are without a doubt the local burrata served with pumpkin, pepitas and pumpkin seed oil. After this, it has to be the slow roast lamb shoulder paired with honey puree and fermented chilli dressing. You'll also get Iggy's sourdough with roast onion butter and to top it all off, Rocker's signature orange and almond polenta cake (orange mascarpone included).
The seating requires a minimum of four people and your bottomless booze package includes the likes of mimosas, reds, whites or rosé. You can also upgrade so your brunch can have an arrival spritz ($10 extra), bottomless beer ($10 extra), bottomless margaritas ($45 extra) and even an espresso martini to finish ($10 extra).
Cost: $85 per person
What you get: A number of Euro-inspired share plates, bottomless mimosas, reds, whites and rosé (option to upgrade for bottomless beer and margaritas)
When: Thursday - Sunday
Sonora Mexican
Potts Point
Nestled inside the streets of Potts Point and from the same team that brought you Bondi Taqiza, Carbon and La Palma, is the Mexican restaurant and mezcal bar—Sonora Mexican. The feeds here are a nod towards the cuisine of Sonora, a coastal state in Mexico's north-west famous for its "tacos chingones", which quite literally translates to "badass tacos".
Sonora is a frontrunner on Sydney's bottomless brunch scene on account of its all-encompassing menu which means unlimited tacos, unlimited margaritas, unlimited rosé and unlimited Tecate beer. The session spans two-hours and in that space of time, you'll get to gorge yourself on grass-fed lamb tacos, roasted cauliflower tacos, marinated chicken tacos, grilled barramundi tacos and wild mushroom tacos (and the flour tortillas here are made in-house and fresh to order).
There are also five margarita varieties to choose from to take your mezcal-fuelled antics to a whole new level, with the top-shelf mezcal sourced from boutique Mexican distilleries.
Cost: $79 per person
What you get: Unlimited tacos and unlimited margaritas, beer or rosé for two hours.
When: Saturday and Sunday, 12pm - 5pm
Babylon
CBD
The huge 1200sqm space features a live hanging garden terrace and outdoor bar, lots of greenery and multiple private and semi-private dining rooms. Marble plays a big role here too, with stone quarried from all around the world: there's a luxurious nine-metre bar crafted from Emperador dark gold Spanish marble, tabletops are made with Veria Green marble from Greece and glossy black Nero Marquina marble flooring from Northern Spain.
On the food front, it's the biggest expression of the best of Middle Eastern fare and the bottomless mezze and mimosas brunch pays huge homage here. You'll get to knock back everything on Babylon's mezze menu which includes flatbread and za'atar butter, hummus with wattle seed dukkah, olive oil and leblei, pan-fried haloumi, traditional lentil kofte, broad bean falafel and lamb kofte with iskender sauce and herb yoghurt.
Cost: $50 per person
What you get: Bottomless mimosas and Babylon's entire mezze menu
When: Saturday and Sunday, 10.30am - 12pm
Nour
Surry Hills
Dressed in dusty pink tones, Nour is probably one of Sydney's prettiest restaurants (care of the interior architects at DS17), but it is more than just a pretty face thanks to its very special Middle Eastern-inspired bottomless brunch. Alongside free-pour rose, Espresso Martinis and Aperol or Persian spritz, you're in for dishes like the "Al-Muhuffini", which is Nour's spin on the classic Maccas McMuffin, made with spiced lamb merguez sausage topped with a fried egg and batata harra hash brown.
There's also executive chef Ben Williamson's signature sticky Bekaa chicken wings with harissa emulsion and rose petals from Gerard's Bistro in Queensland, halva hotcakes with cardamom ice cream, and a pressed watermelon and barberry served with pistachio friand, berry salad and set cream. Divine.
Cost: $45 - $84
What you get: 90 minutes of bottomless spritz, rose, Espresso Martinis, spritz, beer with set menu or a la carte brunch
When: Saturday 12pm - 2.30pm, and Sunday 10am - 2.30pm
Thievery
Glebe
Thievery kicked-off the new decade with a fresh new Lebanese-influenced food and drink offering—but rest assured this bustling Glebe institution is keeping its ever-famous brunch session with bottomless booze antics. Spanning 90-minutes, you can order free-flowing Lebanese sangria and bellinis to pair with a seven-course banquet menu featuring Thievery's burnt butter hummus and Lebanese fried chicken, or opt for a la carte ordering (because, choice).
Cost: $32 - $45 per person
What you get: Bottomless Lebanese sangria and bellini package added to an a la carte feast or seven-course brunch package
When: Saturday and Sunday, 11.30am – 3pm
Dead Ringer
Surry Hills
At Surry Hills' Dead Ringer, you can opt-in for 90-minutes of bottomless mimosas as part of their a la carte selection (the tomato, ricotta and caramelised onion tart is the bomb and 90 per cent of the menu is gluten-free), or tack it onto their set brunch menu (for two hours of mimosa or prosecco goodness). Dead Ringer's brunch session is decked out with cured salmon, miso mushroom bruschetta, spiced rhubarb pavlova and sticky date puddings.
Cost: $30 per person
What you get: Mimosas for 90 minutes with the a la carte menu, or 2 hours with the set menu
When: Saturdays and Sundays from 11am
Chula
Potts Point
Chula's bottomless deal covers off margaritas on tap, Mexican beers, sparkling wine and rosé—but their menu is equally as thrilling. The line-up is studded with goodies like braised chicken and queso, charcoal corn, Baja fish tacos and warm cinnamon doughnut balls and Mexican chocolate to finish it all off. If you're vego, fear not, there's an entire set menu for you too and it's packed with things like zucchini taquitos and salsa and avocado Baja tacos.
Cost: $85 per person
What you get: A set menu, seasonal margaritas on tap, Tecate beers, sparkling wine and rosé
When: Saturday and Sunday from 12pm
The Winery
Surry Hills
The Winery has its own champagne room—so you know these guys take their bellinis seriously. As well as the classic peach bellini, you can sip delicious spin-offs with lychee and raspberry. For two hours you'll get endless sparkling paired with three courses of grazing goodness. Think cheese and salumi boards, arancini with dips and breads, and mini wine burgers with sweet potato fries and to finish—a gelato champagne spider.
And if you're more of a groover, you can also hit the "Disco Bellinis" package which locks in a whole heap of live entertainment and music to soundtrack your feasting.
Cost: $79 per person
What you get: A three-course lunch and two hours of bellinis
When: Saturdays and Sundays, 11am
SoCal
Neutral Bay
SoCal is all about sun, surf and southern California, and the menu channels all those sweet summertime vibes. Here, you're in for one hell of a bottomless rosé feast with the option to amp your brunch with a little rosé sangria. You'll need a minimum of four mates to play, but for 65 beans, you score chickpea and mushroom fritters, trout ceviche, shoestring fries and of course, a whole heap of tacos. Tip: when making your booking, opt for their terrace seating. Sunny rays and rosé, hooray!
Cost: $65 per person
What you get: Banquet and two hours of rosé or rosé sangria
When: Wednesday through to Sunday, 12pm - 3pm
Carbòn
Bondi
Bondi's Mexican joint Carbòn takes free-flowing brunch to a whole new level: bottomless margaritas and bottomless tacos. You'll have a sitting of two hours to down all the tequila and tacos you can handle. Carbòn's tacos are packed with the likes of Barramundi, chicken, pork, lamb and mushroom. There are even cactus tacos, for real Mexican fiends.
Cost: $79 per person
What you get: Bottomless tacos and margaritas
When: Saturday and Sunday, 12pm - 5pm
Butter
Parramatta, Surry Hills
Butter churns out brunch banquets every Saturday and Sunday that include fried chicken wings (or mushroom pieces), fried aphrodite halloumi, a bunch of sides and sauces including the iconic ramen gravy and of course, the infamous hot cinnamon doughnut for dessert, all at $38 per person.
On the bottomless side of things, you have a choice of NV Chandon Blanc De Blanc ($39), NV Veuve Clicquot ($80) or Hennessy VS Lemon Ice Tea Punch ($50), which will be free-flowing for 90 minutes during your brunch.
Cost: $39 - $50 per person
What you get: Bottomless Chandon, Clicquot or Hennessy ice tea with a fried chicken banquet
When: Saturday and Sunday
Social Brew Cafe
Pyrmont
Bottomless mimosas, every day of the week. If that headline doesn't trigger all you brunch fiends out there, we don't know what will. To really amp up your brunch game, draw your attention to Pyrmont staple Social Brew Cafe.
Basically, if you order up any main (we suggest hitting the mushroom and parmesan bruschetta or try your hand at the hefty stack of ricotta hotcakes loaded with syrup and pistachio butter), you'll also be able to add on a two-hour session of free-flowing mimosas for just $25.
Cost: $25 per person
What you get: Bottomless mimosas on top of any meal you choose, every day of the week
When: Every day
Luke's Kitchen
WATERLOO
Opening hours at Luke's Kitchen have changed due to COVID-19 restrictions. We hope they'll be bringing back their bottomless brunch soon. Stay up to date here.
Tucked into a sweetly renovated warehouse on Danks Street in Waterloo, Luke's Kitchen offers a pretty emerald green and ochre backdrop for your brunch, complete with hanging ferns. Every Saturday and Sunday, you can hit the five-course tasting menu for poached peaches on crumpet pummelled with dukka, eggs benedict or roast spatchcock with fennel. On the a la carte menu are serious standouts like the crab omelette served in a miso and mustard broth with enoki salad, and—a contender for Sydney's best toastie—a confit duck truffle toastie, with layers of truffle pecorino, organic fried duck egg and chives.
From there, you've got the option of two hours of bottomless booze. You can pick and choose between free-flowing Madame Coco sparkling wine, mimosas and bellinis or endless cups of Bertaine rosé. And, if you're the type of person who's always got a little extra room, keep an eye out for the rolling cocktail cart that dishes out Bloody Marys table-side.
Cost: $75 per person (bottomless cocktails), $80 per person (bottomless rosé)
What you get: Five-course tasting menu plus two hours of free-flowing sparkling wine, mimosas, bellinis, or rosé
When: Saturday and Sunday, 11am -1pmBartolo
SURRY HILLS
Bartolo is currently closed due to COVID-19 restrictions but will be reopening soon. Check here for updates.
If you, like much of Sydney, love to brunch your way through the weekend—Bartolo's bottomless brunch deal is well worth adding to your list. For $45 per person, you'll be treated to an Italian feast with warm housemade focaccia, Sicilian olives, cured meats and stracciatella, before moving on to pasta (a busiate, with cacioricotta, basil and tomato to be precise). You'll also get pan-roasted free-range chicken and crispy potatoes. Then, for an extra $30 each, you can add bottomless mimosas, spritzes and prosecco, or upgrade to a $45 package with the option of bottomless rosé and an additional Espresso Martini at the end (to wrap your brunch up the right way).
Bartolo also has an epic line-up of low-ABV cocktails, seasonal and signature cocktails, and then, of course, sophisticated spins on classics, like this Bloody Mary with tomato and carrot.
Cost:$75 - $85 per person
What you get: An Italian feast with your choice of free-flowing mimosas, spritz, prosecco or rosé
When: Saturday and Sunday
Still hungry? These are the best places to eat fried chicken in Sydney.
Image credit: Luke's Kitchen, La Farmacia, Hello Auntie, Surly's, Sonora, Babylon, Nour, Thievery, Daryl Kong, Caitlin Hicks, SoCal, Butter, Luke's Kitchen, Bartolo