There's more to wining and dining than just food and booze. Sure, what's on the menu is a big drawcard, but, if you're looking to celebrate in style, you'll no doubt want to pick a spot that's downright gorgeous, too.
Thankfully, our fair city is home to a heap of stunning restaurants, meaning you're spoiled for choice. From lavish fine diners overlooking the ocean and others tucked away in terraces to minimalistic warehouses and a glacier-inspired restaurant with its own waterfall, these are the places to go when you want to be dazzled. Be warned, though, you'll splash some serious cash.
Feeling baller? Here are 11 of Sydney's most beautiful restaurants to book for your next high-flying feed.
Shell House Dining Room
CBD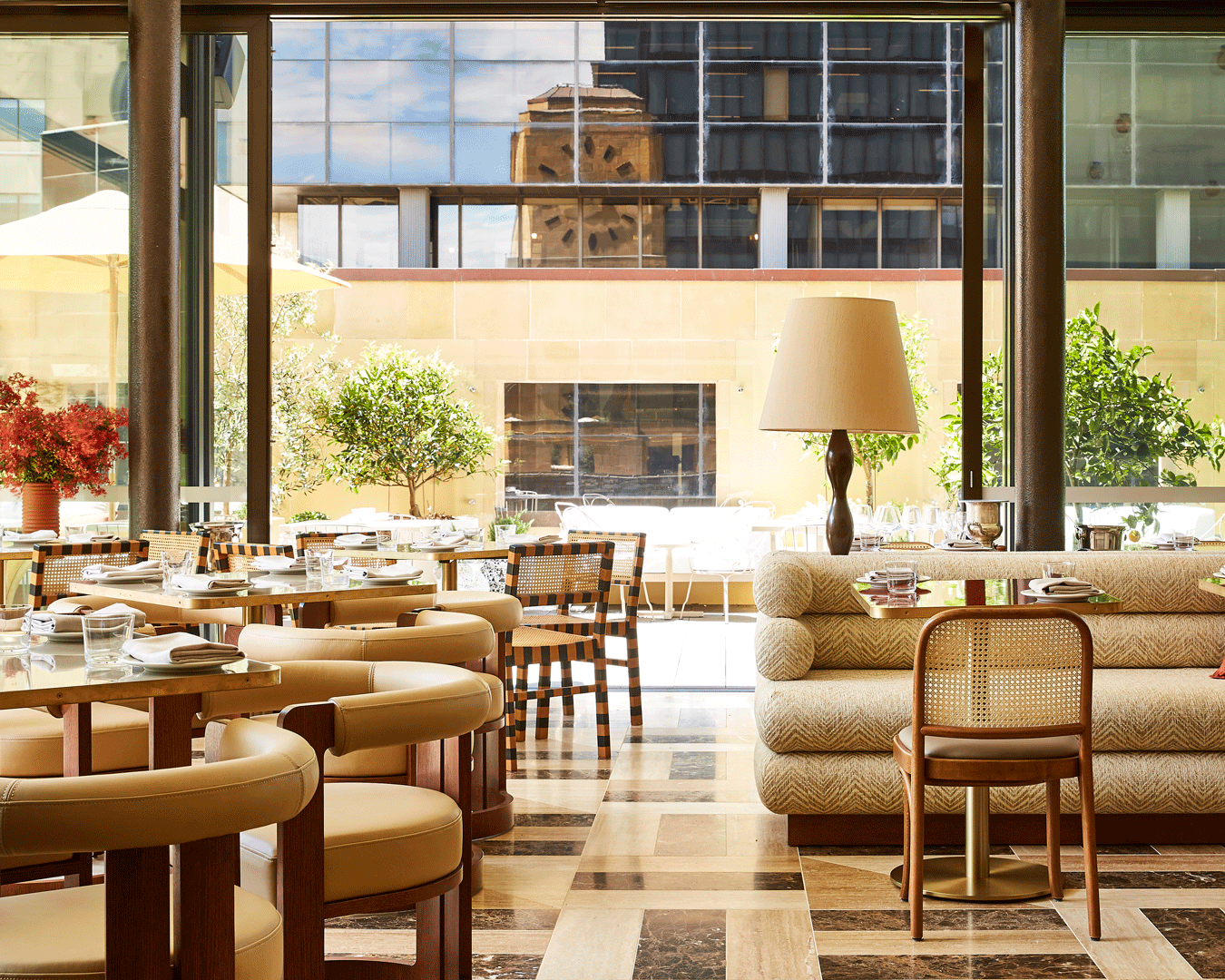 The historic Shell House at Wynyard was one of the biggest openings of 2021. The multi-storey establishment now boasts two epic bars, a dining room and a rooftop terrace. The restoration of the venue leans into the stunning building's Interwar commercial palazzo-style architecture with indoor and outdoor settings over 1,600 sqm of space—a design collaboration between interior stylist Anna Hewett and Woods Bagot Architects. On the ground floor, you'll find the glamorous bar-cum-bistro, Menzies Bar, which feels very Wall Street. Meanwhile, on the top floor, you'll find the aptly named Sky Bar, which is an opulent hideaway with unparalleled views across the twinkling city skyline.
Then, sandwiched between the two, is Shell House Dining Room and Terrace—and it's flawless. Celebrating Shell House's art deco heritage, the dining room is fitted out with curved material booths, cane chairs, rich timbers, an amber light-flecked ceiling, and beautifully tiled flooring. It's like stepping into your Grandma's house (in an excellent way). With floor-to-ceiling glass doors, the dining room flows out onto the sandstone terrace, which offers views across the CBD to boot.
Mimi's
Coogee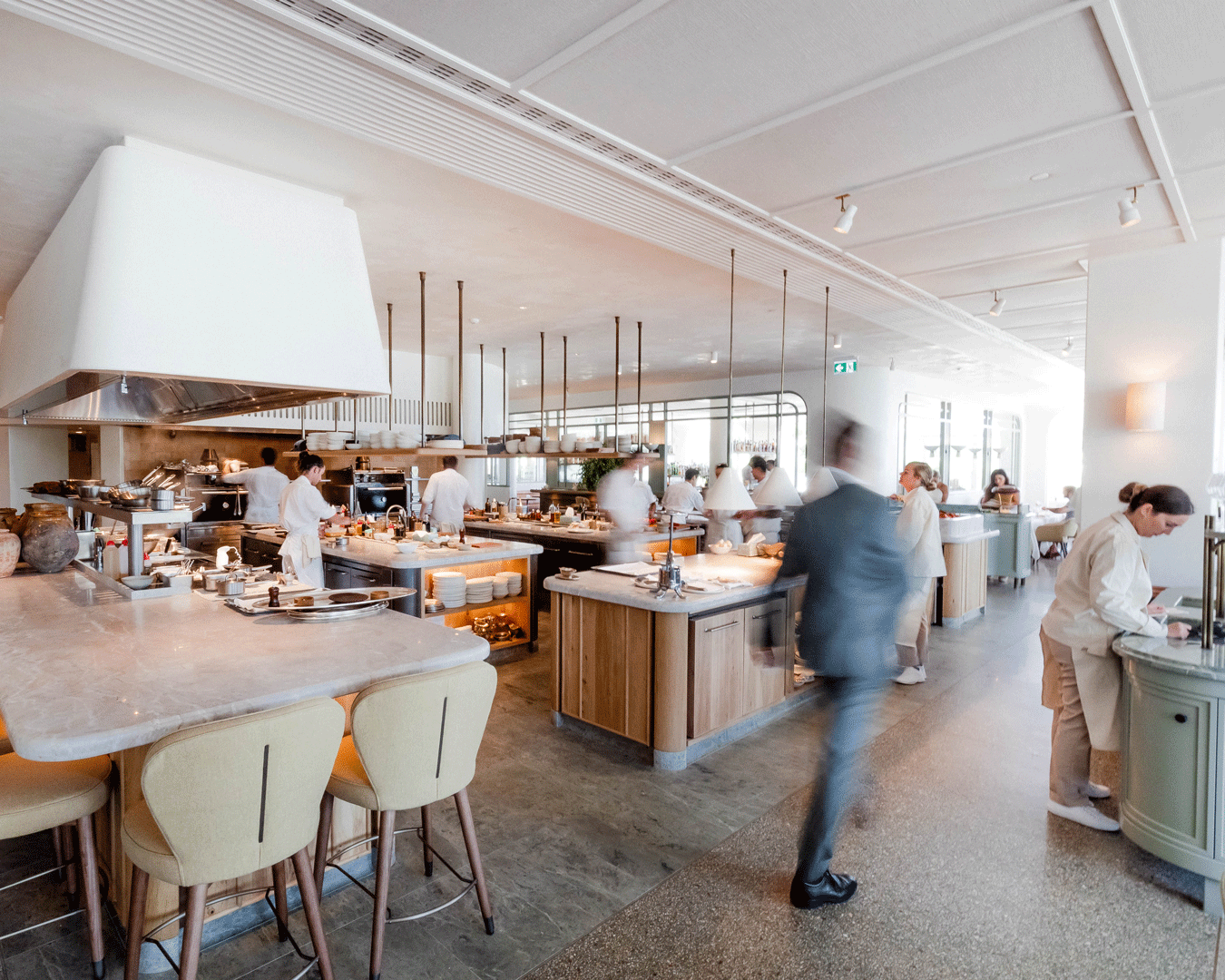 Located in Merivale's beachside behemoth, Coogee Pavilion, Mimi's doesn't shy away from spectacle. From the pastel-hued interior and luxe coastal aesthetic to the theatrical open kitchen and the large arched windows looking out over the cerulean sea, the huge dining room is sure to impress.
Beyond the good looks, Mimi's also puts on a show with its culinary offering. As you walk in, you'll likely spot fresh seafood, such as oysters and lobster, beautifully presented on an ice bar. If you order caviar, it'll be rolled over to you on a trolley and served with ice-cold, top-shelf vodka. Meanwhile, the handpicked spanner crab will be mixed with various condiments at your table, before you stuff it into a mini brioche bun to make yourself a very fancy slider.
Hot tip: book a lunchtime sitting to soak in those unparalleled ocean views.
Ursula's
Paddington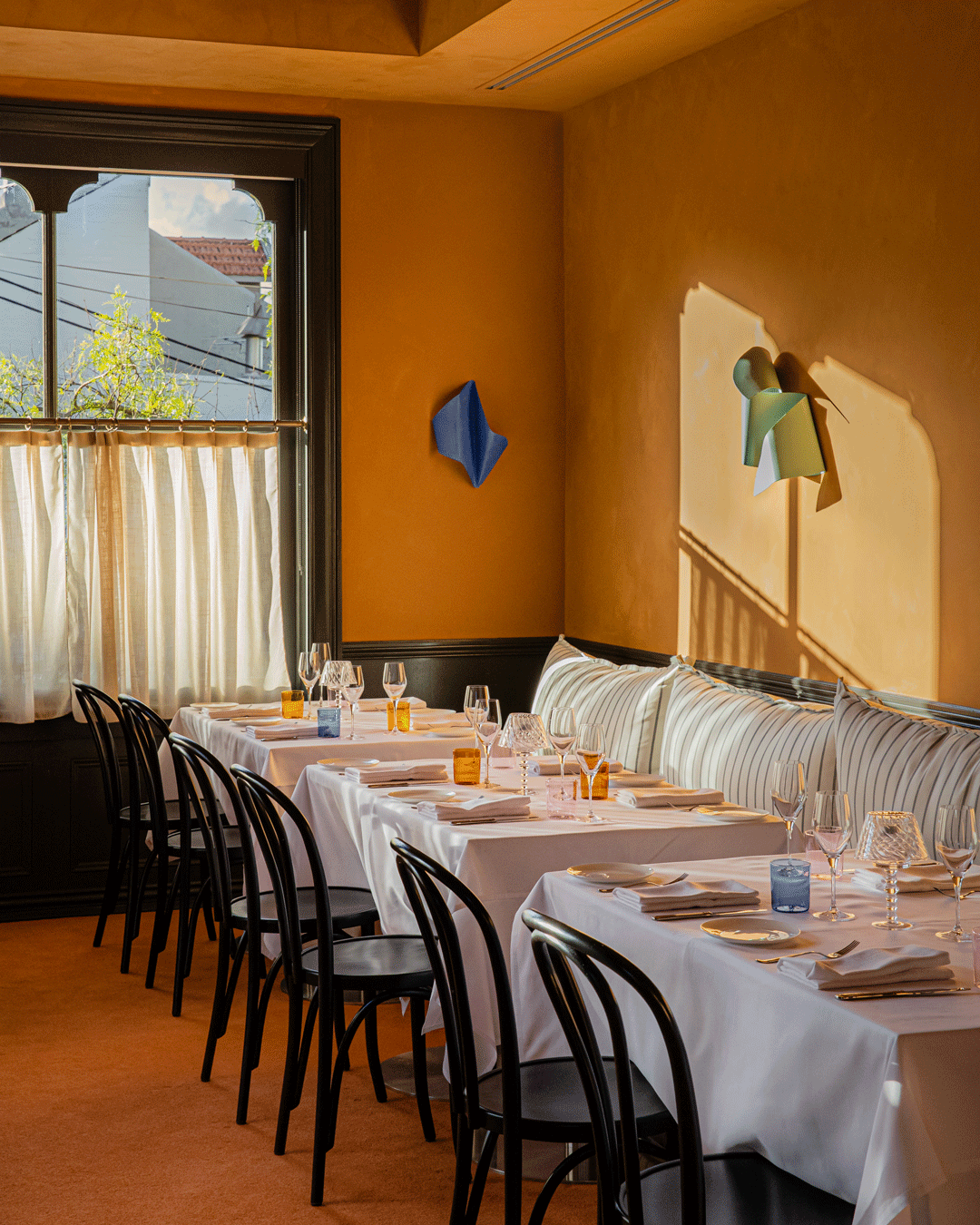 Ursula's opening didn't come about quietly. Taking over the former Darcy's digs and with ex-Rockpool chef Phil Wood at the helm, Ursula's is a welcome gem in Paddington's backstreets—and exceedingly popular, too. The charming interiors come by way of Melbourne-based designer Brahman Perera, and feature rich caramel hues and bright Yves Klein blue accents. On the walls are sculptural folded metal lamps by Clementine Maconachie, while all the timber furniture is custom, created by Livio Tobler. And the design aspects don't stop there, with tables topped with crisp linen cloths juxtaposed with colourful Maison Balzac tumblers and one of the prettiest menus we've ever seen.
Here, Wood has created a storybook of Australian cuisine, drawing on ideas and influences old and new, retro, modern, native, and nostalgic. There's a local lobster salad with mango and XO; snapper seasoned with Keen's Curry; and a reimagined peach melba all on the menu. It's a time warp without leaving behind the flavours and feels of Sydney in 2022.
Restaurant Hubert
CBD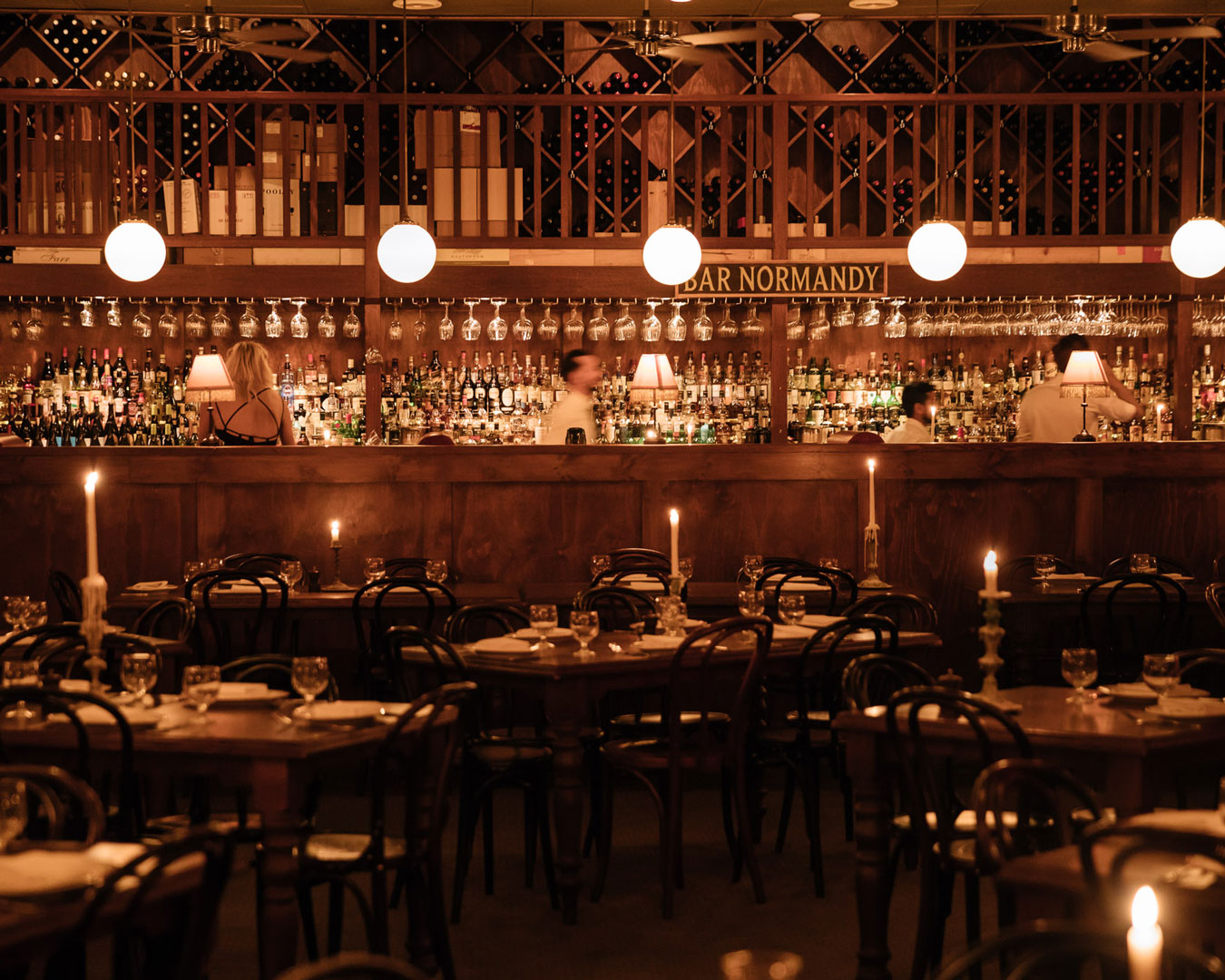 Fancy descending into the belly of a 1920s Parisian bolthole? Restaurant Hubert is where you can escape the grind of the city above and enter into a world of martinis, oysters, and jazz. It's practically a bougie wonderland for boozy nights out, with the underground space's considered decor a big player. The cavernous interiors feature old-school liquor poster art, moody lighting, red velvet accents, and warm timber galore.
You'll want to start your night at one of the three bars and order a negroni, some olives and the duck parfait. Play your cards right, and you could time your pre-dinner affair with Hubert's daily happy hour. Then, indulge in a French feast of steak tartare, chicken fricassee, and creme caramels in the expansive central dining room.
Oh, and did we mention the on-site cinema? Yep, it's got that, too. Aptly named the Theatre Royale, the space hosts live performances and Hubert's super-popular Magnums and Movies sessions. Plus, you can go all out and hire the theatre for a private and exceedingly lavish soiree.
Bert's Bar & Brassserie
Newport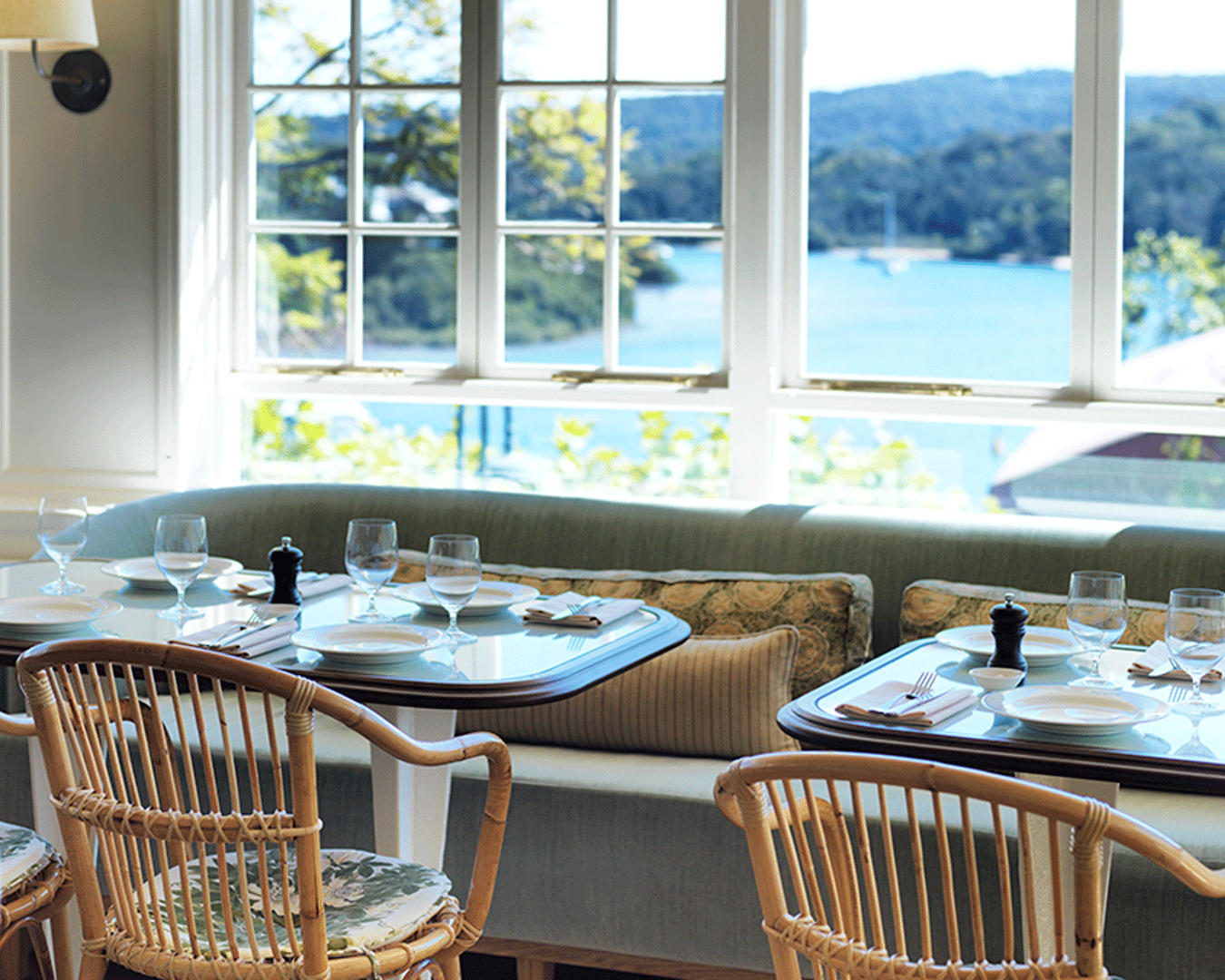 While you may have gone to The Newport for a Sunday arvo in the sun, you may want to drop into Bert's for your next fancy feast. The Northern Beaches pub's fine diner is ideal for a long, leisurely lunch—and you can always move the party out to the sprawling courtyard afterwards.
Bert's atrium is decked out with foliage, which leads into the seriously lush dining room that gives a not-so-subtle nod to the 1930s (cue hours spent here drinking delicious tipple and top-notch nosh). It's got a bit of a French Riviera feel to it thanks to the colour palette of salmon pinks and olive greens, as well as the large windows that look out over Pittwater.
Bennelong
CBD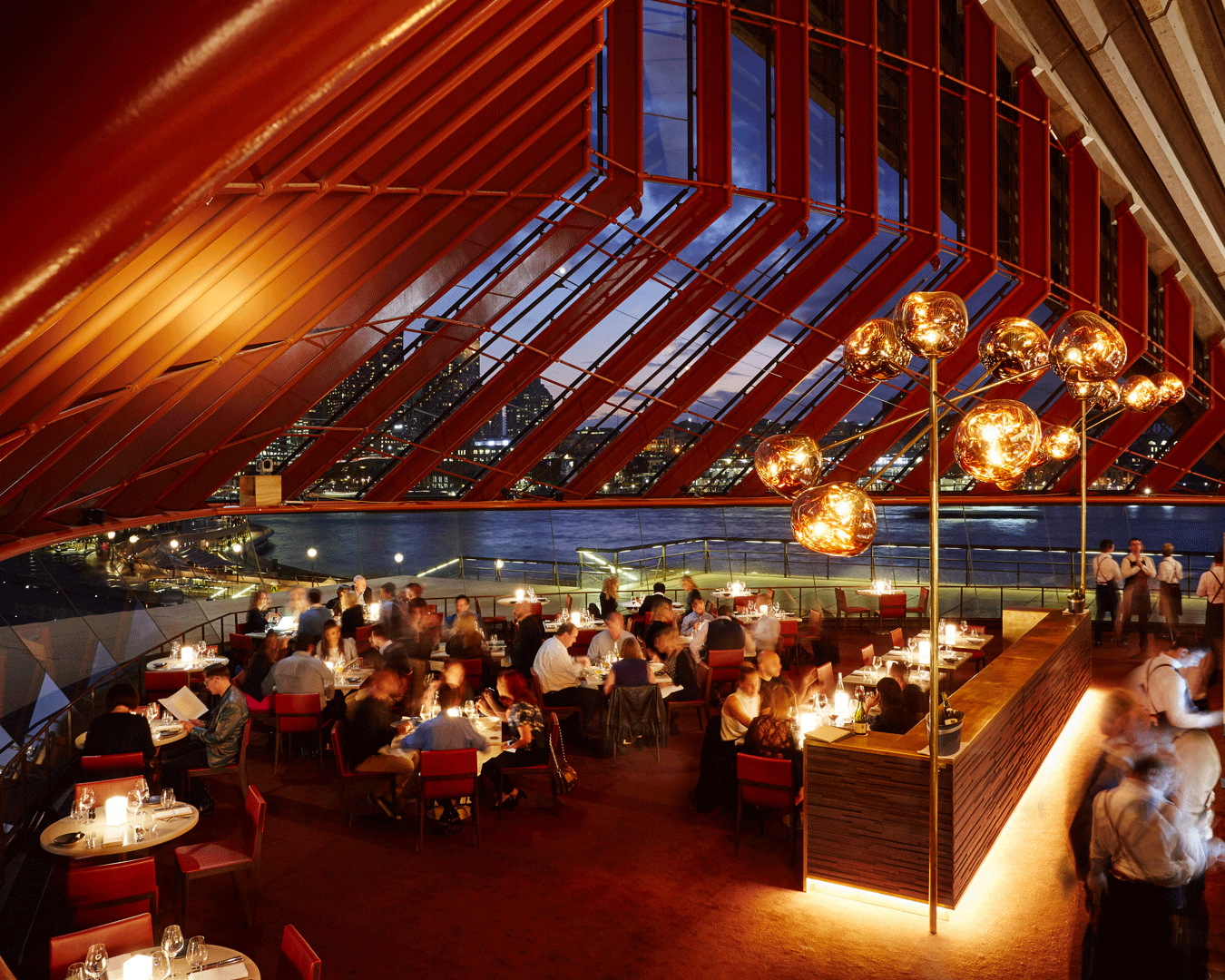 Can it get any grander than dining inside an Australian icon? Bennelong, situated within the Sydney Opera House's sails, is big on wow-factor, to say the least. The multi-level space utilises the unique interior structure of the Opera House's sails as a central design element for obvious reasons, complemented by the restaurant's brass accents. Not to mention, the cathedral-esque interior is perfect for worshipping some of Australia's best food, like the beautiful Opera House pavlova.
But Bennelong's most impressive feature is its location, with floor-to-ceiling glass panels overlooking the House, harbour and sprawling lawns of the Royal Botanic Garden. You really can't beat those winning vistas.
Meu Jardim
CBD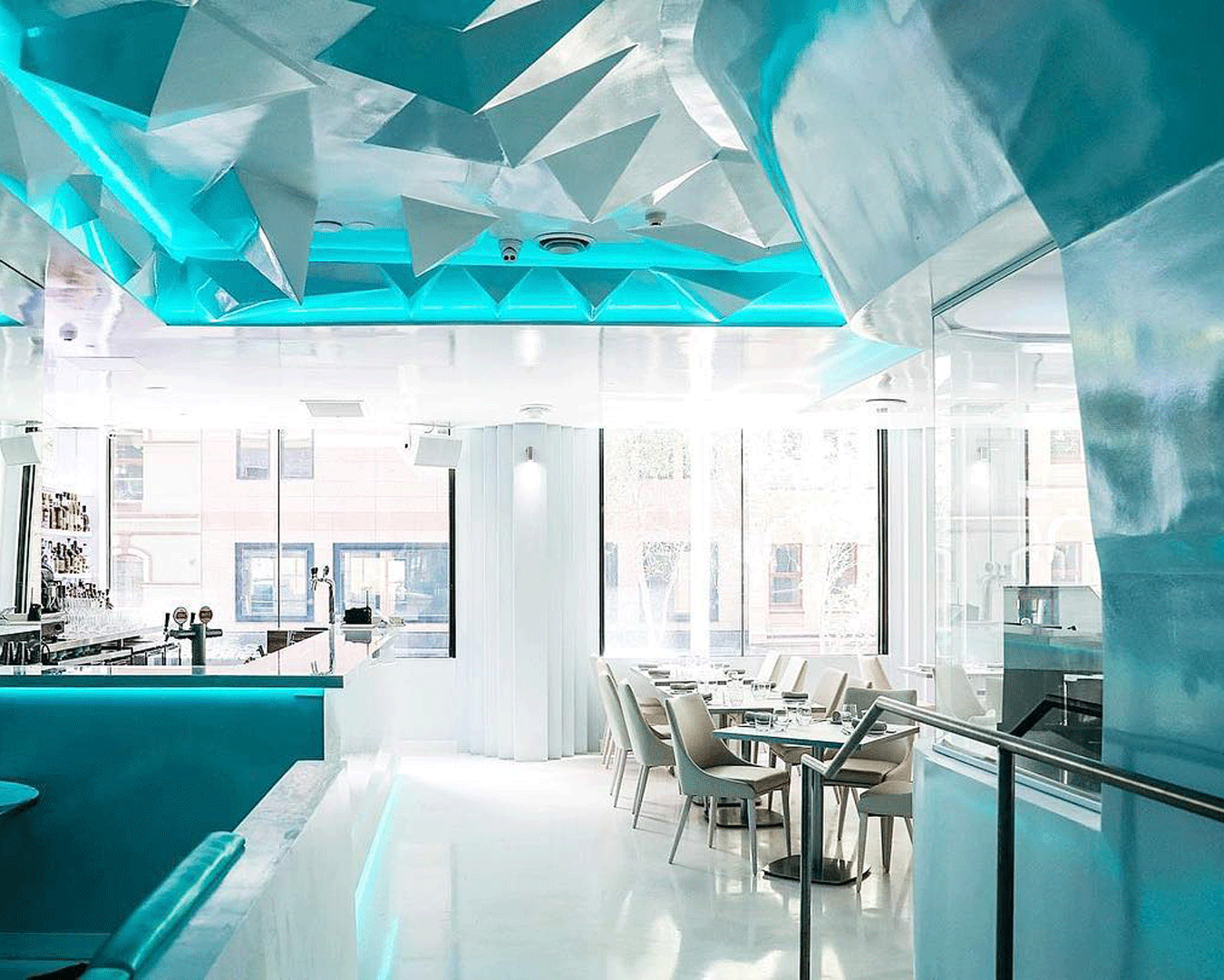 When Meu Jardim opened on Skittle Lane, it made quite the splash—quite literally, it boasts its very own waterfall. How many restaurants have that? In stark contrast to its brown-brick exterior, the two-level restaurant sports an equally 80s and futuristic vibe, awash with plenty of bright whites, icy blues and marble.
While the bold aesthetic may resemble a glacier cave (even the ceiling looks to be inspired by stalactites), the kitchen—led by chef Murat Ekinci—dishes up familiar Euro-centric dishes such as honey-covered saganaki, chargrilled octopus with romanesco sauce, and lamb ragu pappardelle. Downstairs, you can drink cocktails while sitting by slick firepits that look as if they belong in a villain's lair. In short, Meu Jardim is not the spot for minimalists.
Automata
Chippendale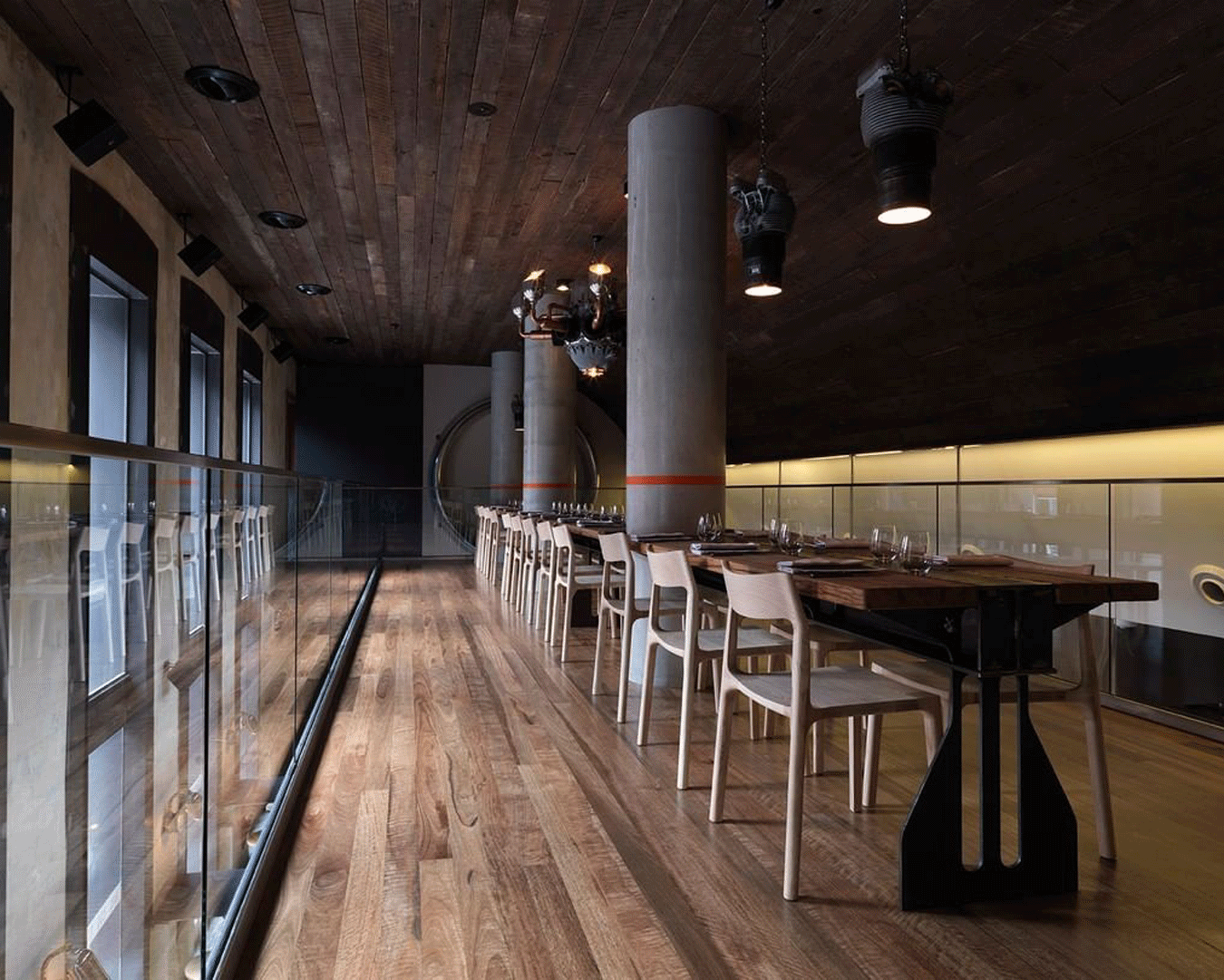 If you are more about those sleek lines, exposed fixtures and polished surfaces, head to Chippendale's Automata. The 60-seat, warehouse-style space on Kensington Street is industrial minimalism to a tee, creating the perfect canvas for Clayton Well's innovative dishes.
Downstairs, the fit-out is predominantly polished concrete and dark steel balanced out by the long communal wooden table and textured ceramic plates. While upstairs on the mezzanine, there's a bit more warmth thanks to the concave timber-panelled ceiling and timber flooring.
​​Pilu At Freshwater
Freshwater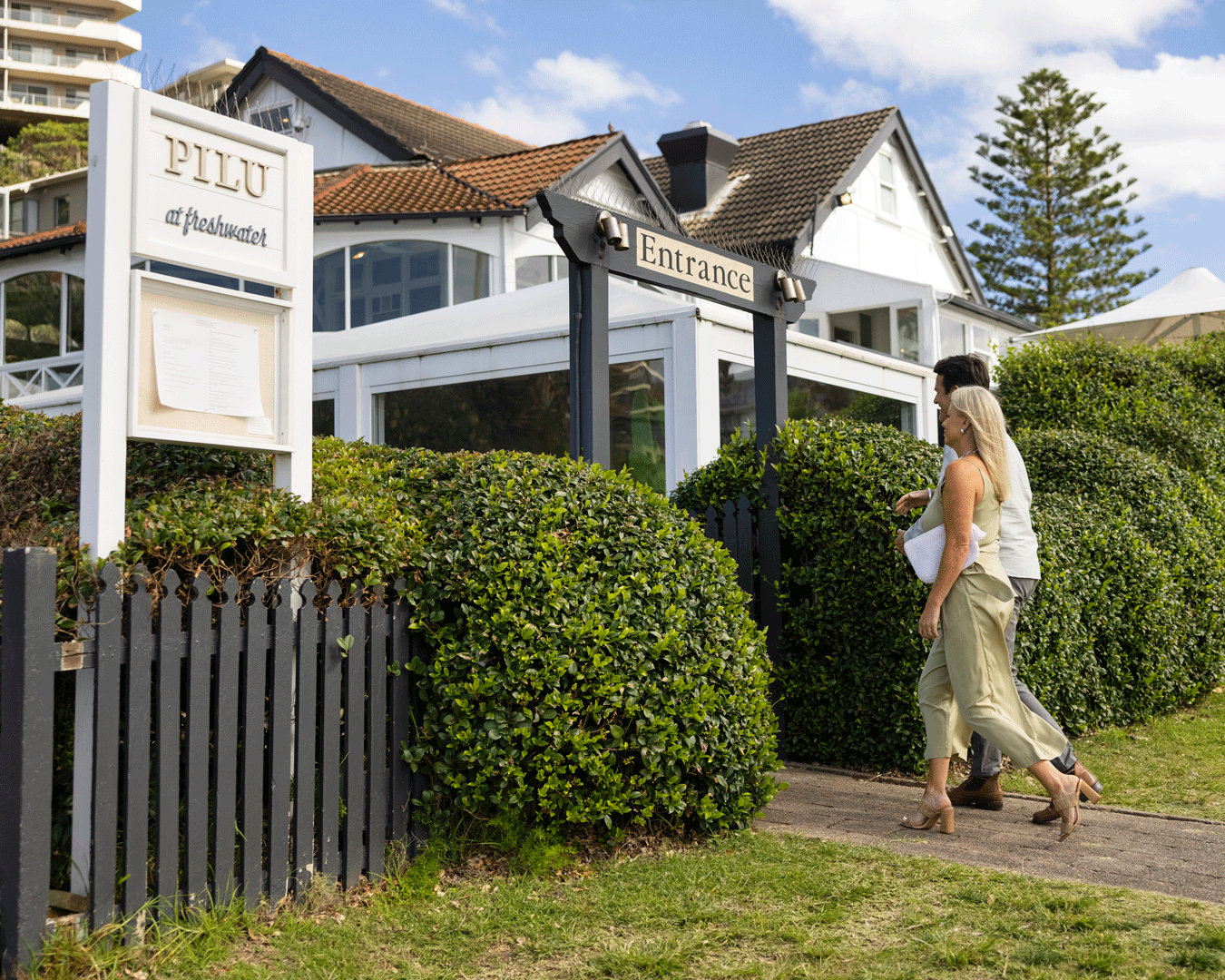 Pilu is one of those rare gems that boasts a unique combination of spectacular views, easy, effortless service, and seriously fresh food. The secret of Pilu lies in Sardinian chef Giovanni Pilu's menu with dishes that are innovative takes on traditional favourites.
From the outside, you'd be forgiven for thinking Pilu eas a luxe beach house, set above Freshwater Beach. Yep, it has one of the top views in town, with the interior to match and its very coastal, timeless feel, and large arched windows that bring the ocean into the diner.
Tetsuya's
CBD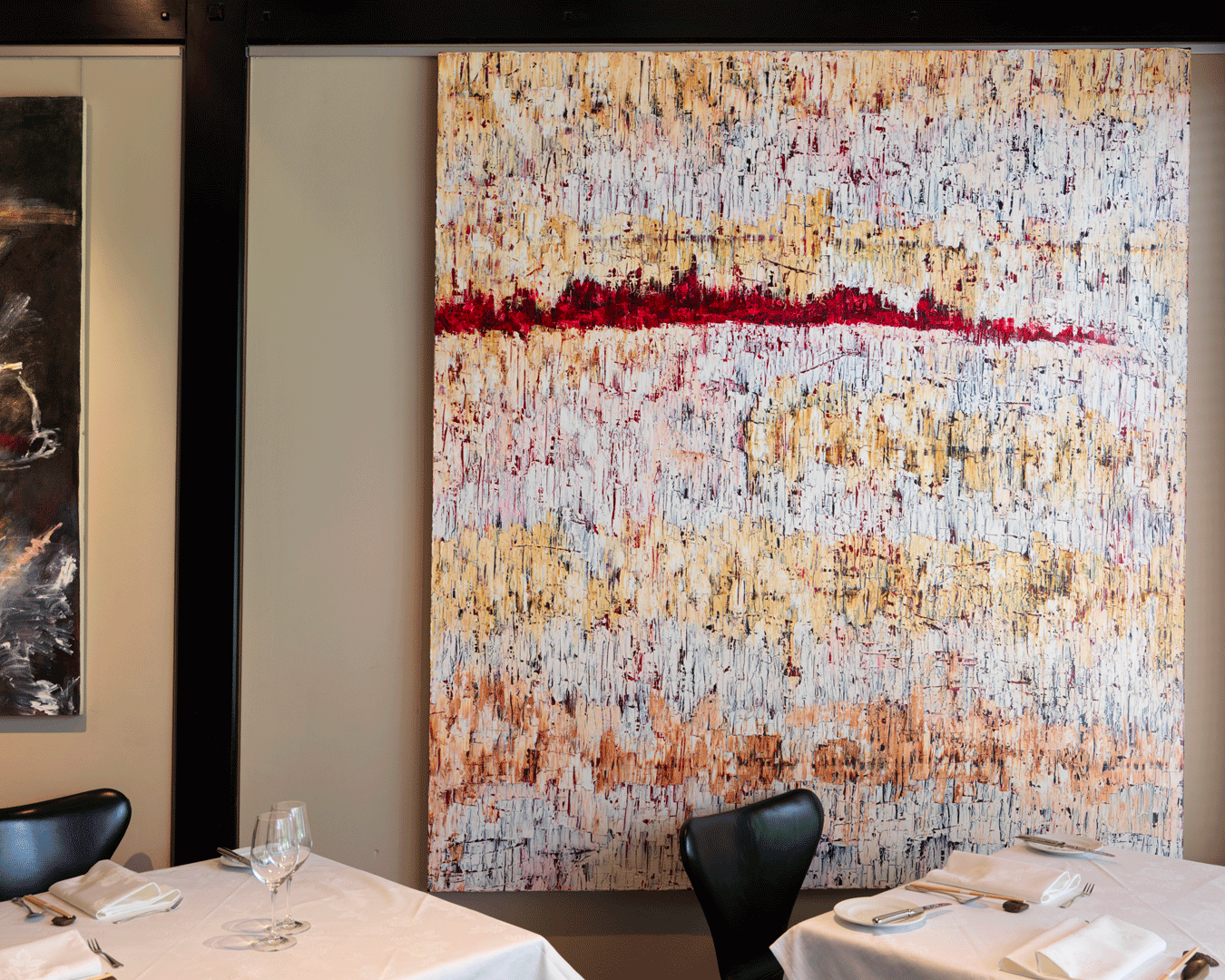 Headed up by internationally famed chef Tetsuya Wakuda, Tetsuya's is consistently listed as one of Australia's most renowned restaurants. Fusing Japanese and classical French cuisine, Tetsuya's offers a fine-dining experience worth the waiting list.
The ten-course degustation menu is remarkable, yes, but its decor is worth a nod, too. Set in a refurbished heritage-listed site on Kent Street, the art-filled restaurant exudes serenity— mostly due to the fact that the dining rooms overlook a tranquil Japanese garden. Dreamy.
Mr Wong
CBD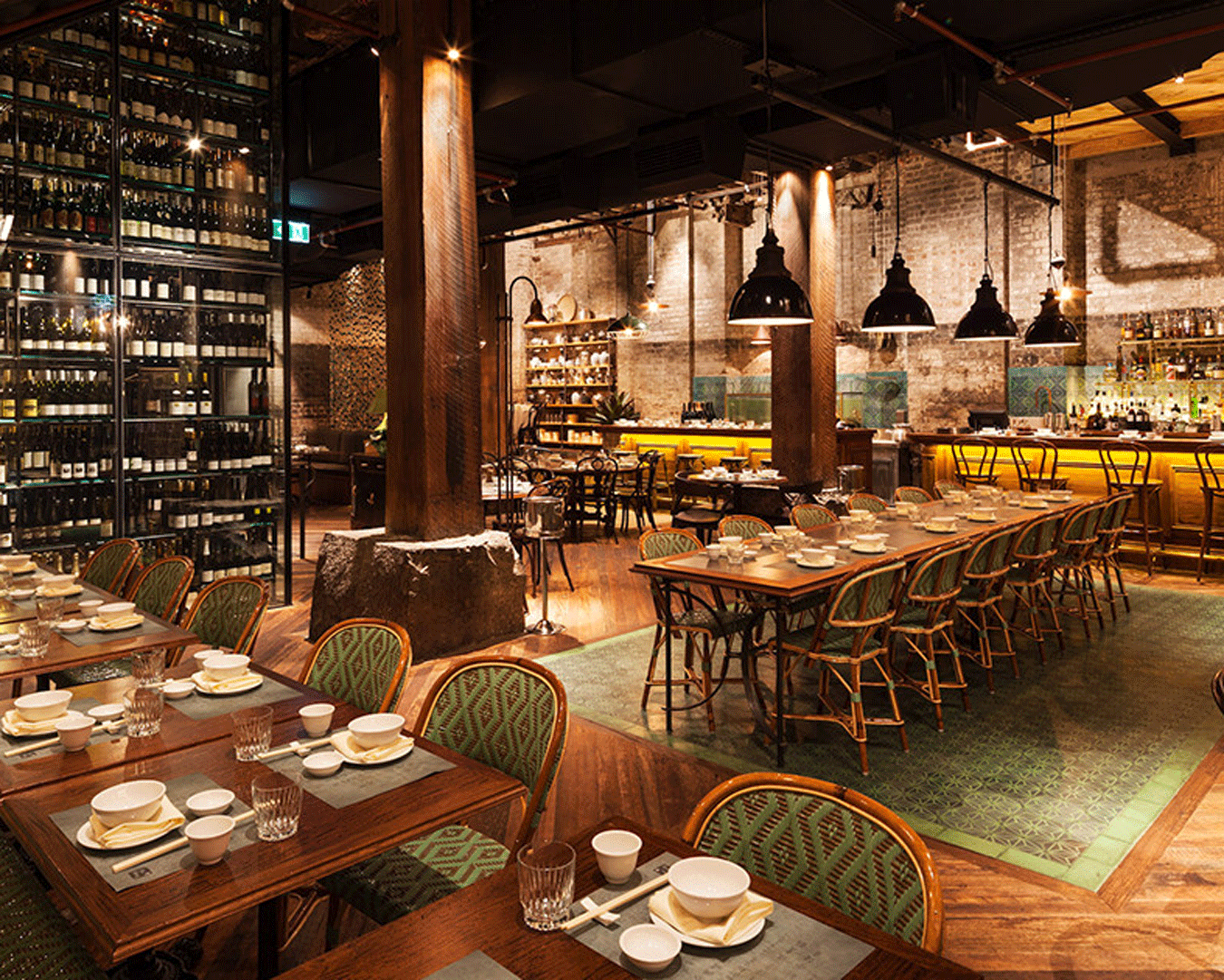 Another Merivale venue making its way onto this list is Mr Wong. When the 240-seat mega restaurant opened in 2012, the Hemmes family reportedly invested around $4m to totally erase any hint of the building's former life as Tank nightclub (remember that place?!).
Now, the space resembles a colonial-era Shanghai teahouse with a slight industrial edge. Think graphic plates on the walls, eclectic teapots on floating shelves and exposed brick aplenty. There's also a dim sum kitchen, a roast meats counter and a drying room—all of which contribute to the overall spectacle. The place is modern, trendy even—and hasn't lost its charm over the years.
Need more dining recommendations? Check out our list of the best restaurants in Sydney right now.
Image credit: Brett Stevens, Maclay Heriot, Rocket Weijers, Nikki To, Restaurant Hubert/Federica Portentoso, Bert's, Meu Jardim, Destination NSW, Tetsuya's, Mr Wong