Ursula's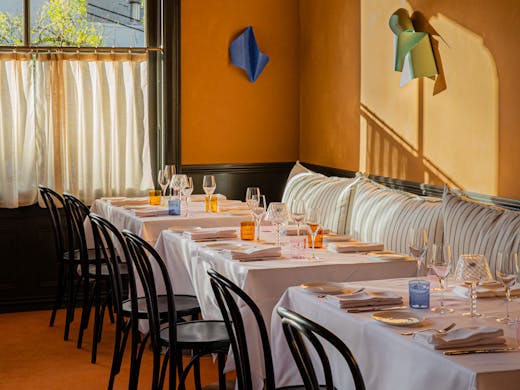 From former Rockpool and Eleven Bridge chef Phil Wood, Ursula's was one of 2021's many new restaurants—and easily one of the best too. Here, Wood has created a storybook of Australian cuisine, drawing on ideas and influences old and new, retro, modern, native, and nostalgic.
Begin with champagne mignonette oysters, mussel schnitzel, and local lobster salad with mango and XO. Then, move on to pork chop with nashi, shiso and gochujang, or Margra lamb with brussels sprouts and mint sauce.
For dessert, Ursula's peach melba and CWA-inspired golden syrup dumplings have become a smash hit. It's a time warp without leaving behind the flavours and feels of Sydney in the 21st century.
Master sommelier Sebastian Crowther is behind the wine list and, as for Ursula's totally charming interiors—we have Melbourne-based designer Brahman Perera to thank for our newfound appreciation of rich caramel hues paired with bright Yves Klein blue. The Sculptural folded metal lamps are the work of artist Clementine Maconachie and the timber furniture is custom, created by Livio Tobler.
For special occasions, be sure to book "The Blue Room", Ursula's private dining room on the second floor that's painted a soft blue and filled with natural light and views over to the city.
Image credit: Nikki To
---