Sydney is blessed with a reputation for world-class dining, and it's backed up with a neat history of culinary ingenuity, complete with stunning surroundings. From trendsetting pioneers to grand old establishments still at the top of their game, there are more than enough excellent eateries to keep you busy.
Here we're looking at the best of the best. Must-gos, have-to-trys, places you would ensure a guest on a quick weekend trip dined at, or bucket-list special treats when you want to splash out on sheer quality. Whether that comes down to the atmosphere, the service, a stunning view, or simply the quality of the food on your plate, the best restaurants in a city are often difficult to define but you know when you're in one.
Our fair harbour metropolis has a tonne of excellent venues spread across its sprawling landscape, which makes picking out a handful and holding them up as the pinnacle of dining fraught with pitfalls. Not everyone will agree. Some will get angry. Nevertheless, the list below contains some of the greatest to ever do it in our home town and you'd be hard-pressed to find better than what's on offer here.
Here are the best restaurants in Sydney right now.
Ursula's
Paddington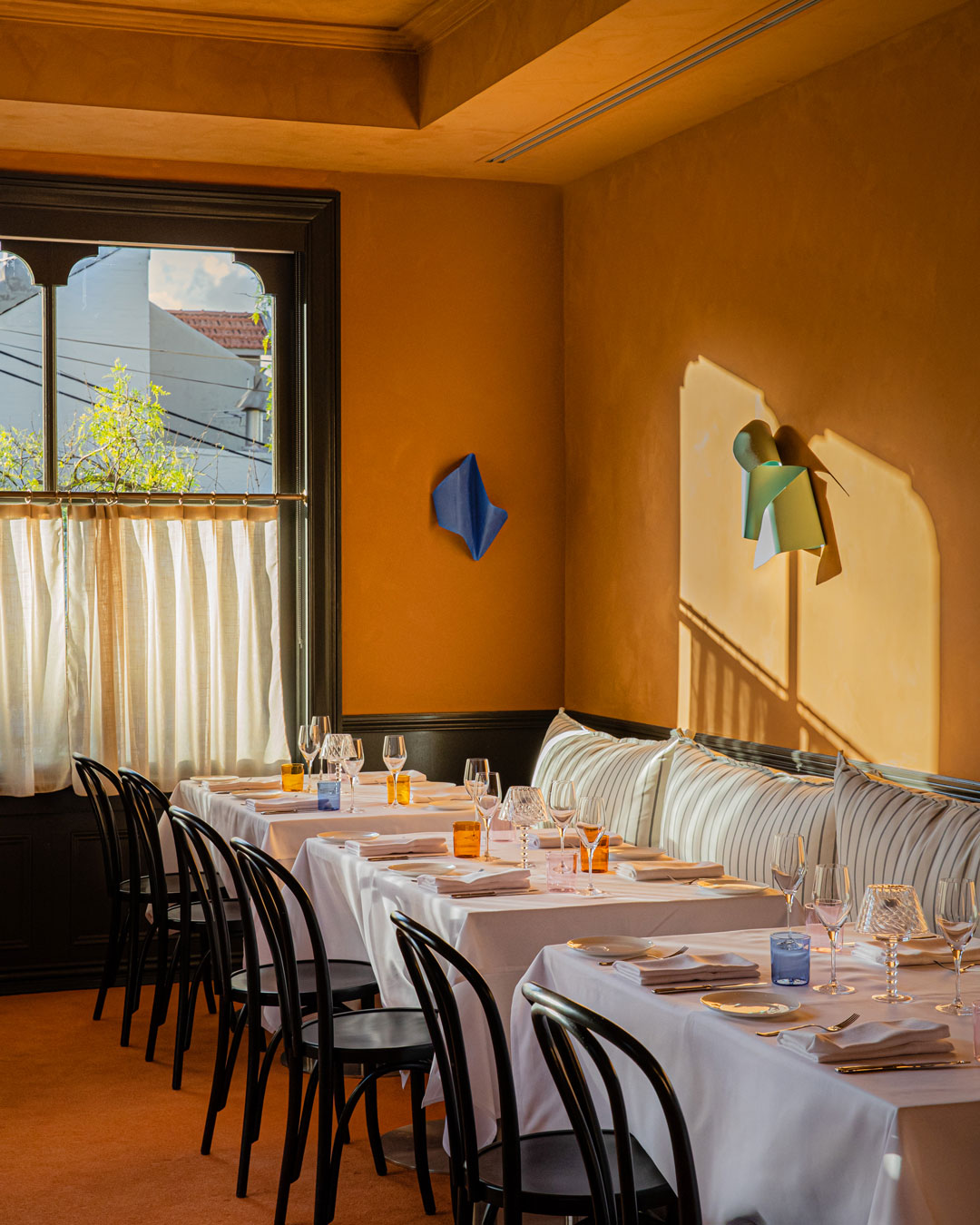 In between lockdowns, 2021 was jammed with new restaurant openings. From former Rockpool and Eleven Bridge chef Phil Wood, Ursula's was one of the year's many newbies—and easily one of the best too. Here, Wood has created a storybook of Australian cuisine, drawing on ideas and influences old and new, retro, modern, native, and nostalgic. Begin with champagne mignonette oysters, mussel schnitzel, and local lobster salad with mango and XO. Then, move on to pork chop with nashi, shiso and gochujang, or Margra lamb with brussels sprouts and mint sauce. For dessert, Ursula's peach melba and CWA-inspired golden syrup dumplings are already trending. It's a time warp without leaving behind the flavours and feels of Sydney in 2022.
Master sommelier Sebastian Crowther is behind the wine list and, as for Ursula's totally charming interiors—we have Melbourne-based designer Brahman Perera to thank for our newfound appreciation of rich caramel hues paired with bright Yves Klein blue.
Saint Peter
Paddington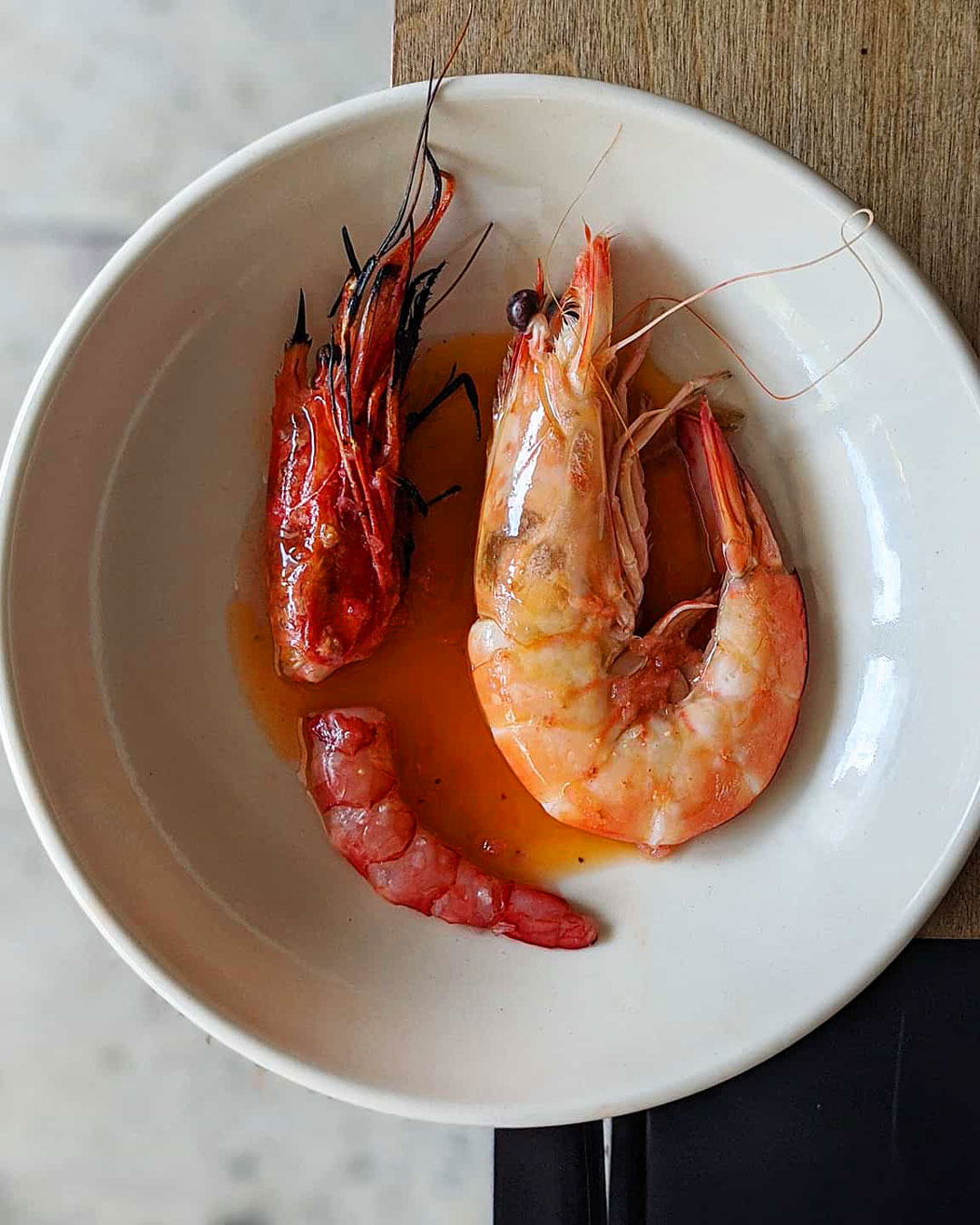 In 2016, Chef Josh Niland caused quite a stir when he opened his first solo restaurant at the age of 27 with a mission to re-invent seafood. The whole approach at Saint Peter, which has since earned Niland some serious international culinary cred, is designed to make you think differently about what fish can be and uses every conceivable part of the Aussie-only raw materials to achieve it. The current lead actor on the menu is a whole John Dory cooked in bull's kelp and served in a sauce made of its own bones and roe. That's the kind of inventiveness you can expect to sample when you visit.
a'Mare
Barangaroo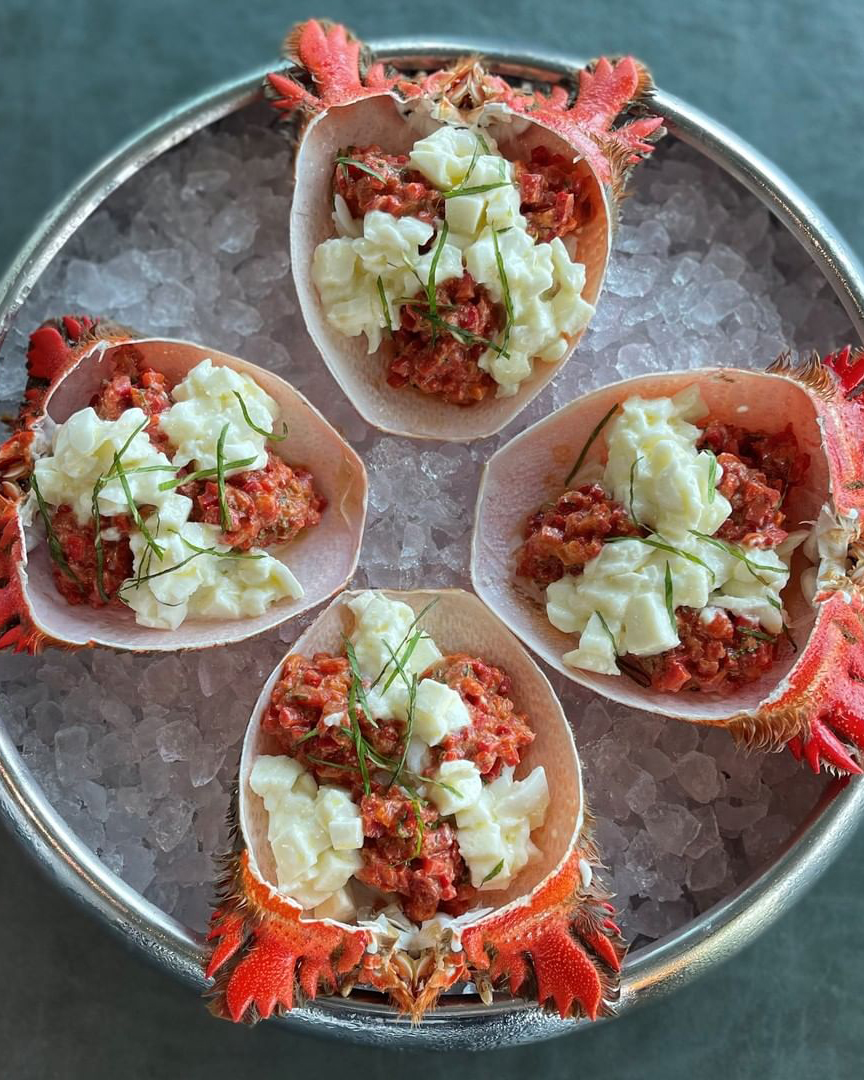 Pasta master Alessandro Pavoni has installed a refined, classically themed eatery in the newly built Crown Sydney tower. With serious polish and impeccable service, a'Mare caters to the luxury sensibilities of the Crown's intended high roller audience. As such, only the best of the best is plated up here. Pavoni steps away from the seafood focus of Ormeggio at The Spit to offer rustic dishes inspired by the Italian countryside. You can expect beef carpaccio and fresh burrata but with a name like a'Mare, fresh fish and rock lobster are also given a solid showing.
10 William Street
Paddington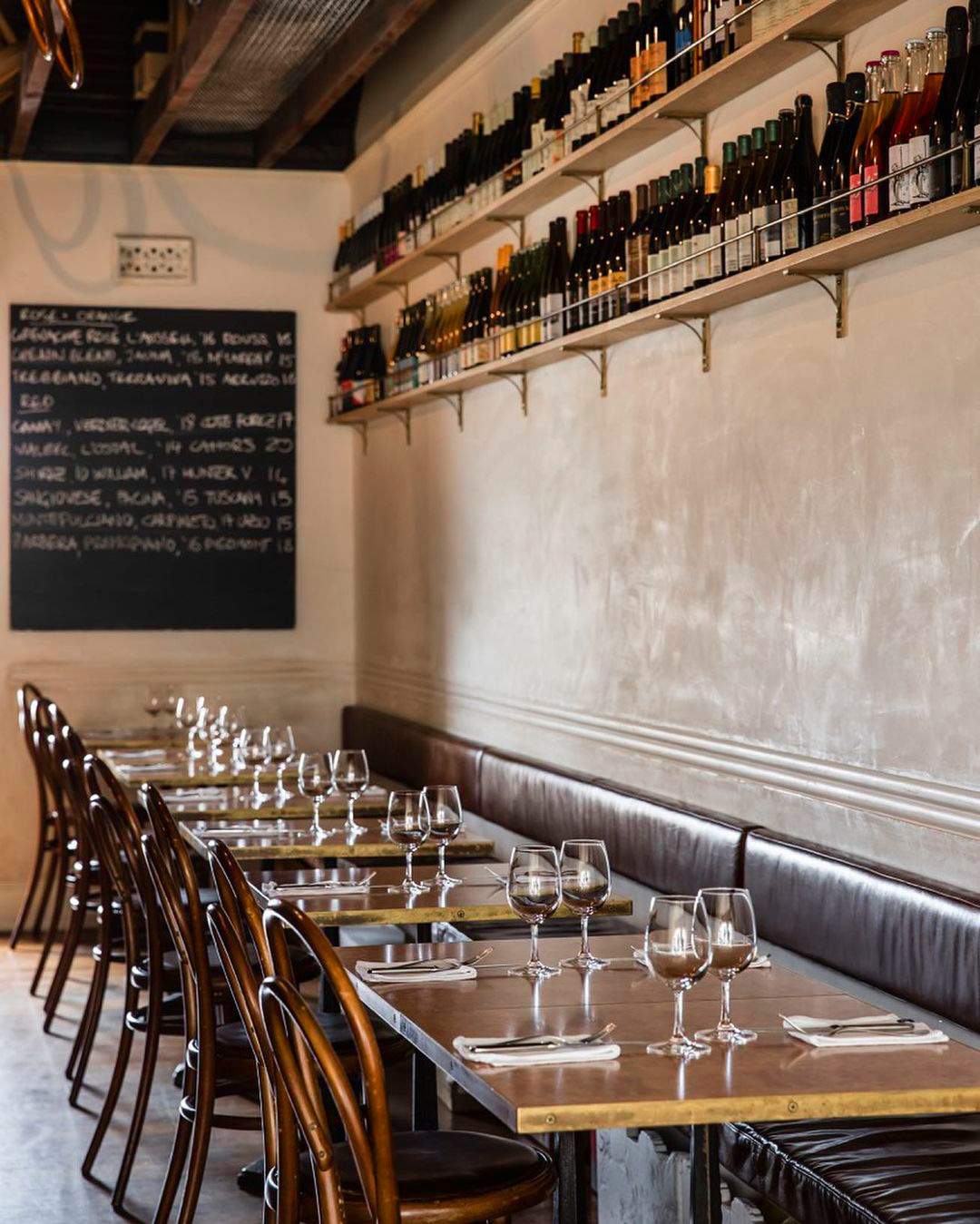 Ostensibly a wine bar, this iconic Paddo hole-in-the-wall focuses on good times and good food from a broadly Italian-Aussie lean. As you would expect, the drinks list here is the star of the show with a range of quality bottles sourced from around the globe. Think Japanese Sake, Guatemalan Rum, and Wildflower table beers as well as natural, skin-contact orange wines, South Australian reds and Italian whites. Food-wise the menu is short, sharp, and punchy and makes for ideal long-form grazing. It's here you'll find the legendary pretzel and whipped bottarga, arguably Sydney's greatest wine bar snack.
Firedoor
Surry Hills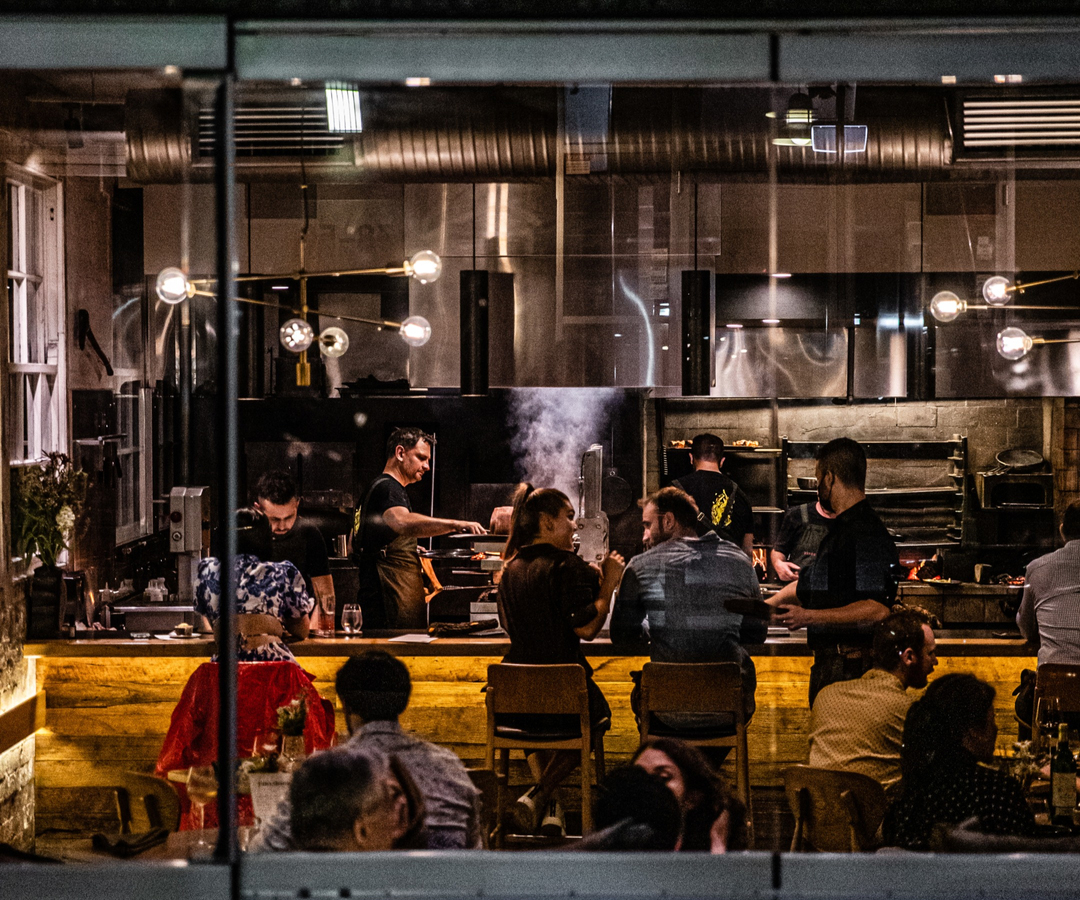 With no gas and no electricity in the kitchen, Firedoor prepares every dish with, you guessed it, fire. With two wood-fired ovens, three grills, and a wood-burning hearth at their disposal, the team, headed by chef Lennox Hastie, cook up a menu of delectable smoky goods that change daily. Oyster mushrooms, bread, cod, and lamb are all regulars in the heat and Hastie draws on the Spanish astador tradition for his cooking. Having worked in Michelin Star restaurants across Europe, he learned to wield the flame in the Basque country and is a wizard with the heat. Your taste buds will certainly concur. Can't get a booking? Try Gildas, Hastie's Basque-inspired wine bar just across the street.
Lankan Filling Station
Darlinghurst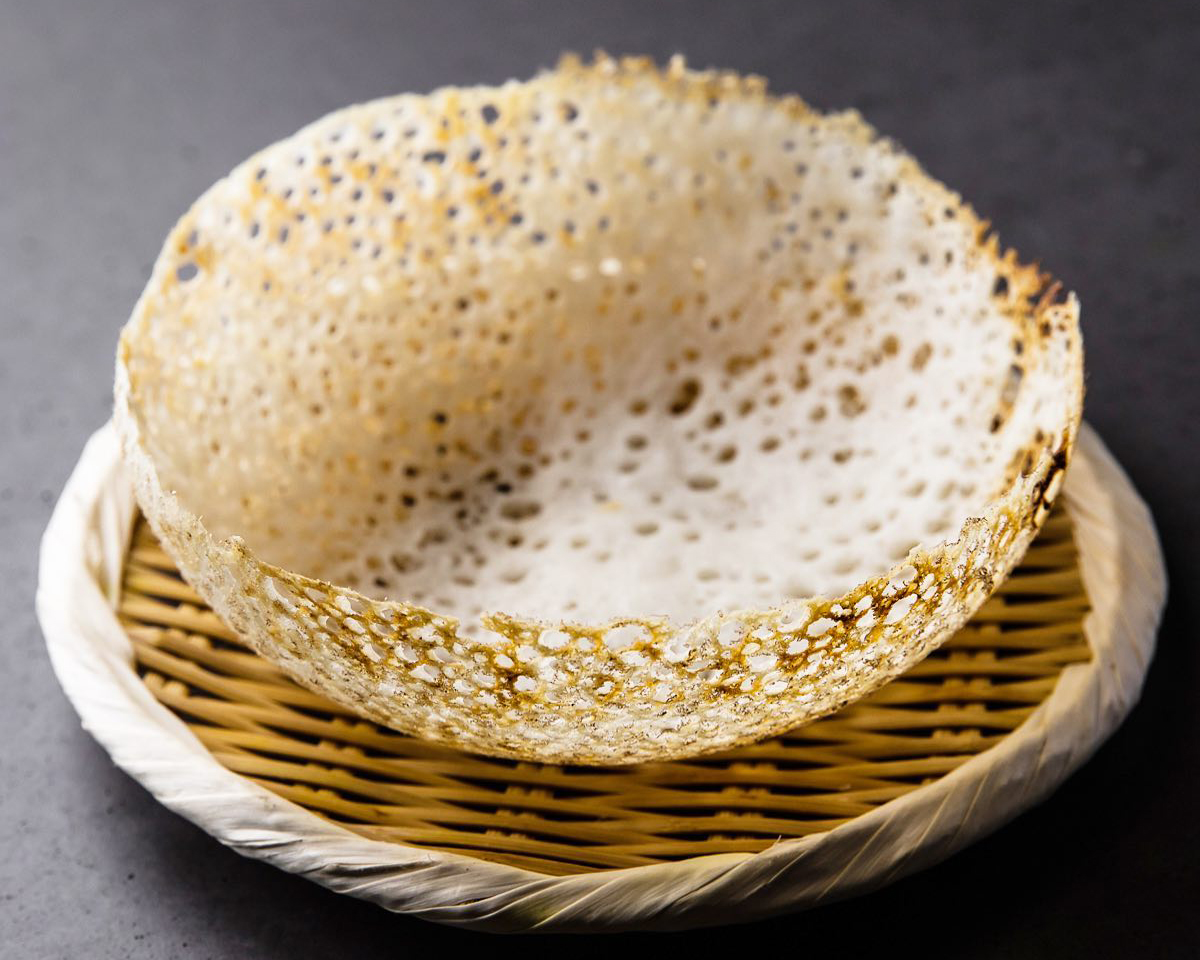 Sri Lankan restaurants are few and far between in Sydney—especially those with the edge and warmth and inventiveness of chef O Tama Carey. Lankan Filling Station has a cult status in Sydney and once you visit, you'll see why. The egg hoppers are an unmissable feature on the menu. For $6 a piece, these little pancake bowls made of fermented rice batter will blow your mind if you've never eaten them before. Traditionally, you tear off bits of the pancake to scoop or soak up your curry, although you'd be forgiven for heading straight for the cutlery!
You'll also want to try traditional pan rolls, sambol, fish curry, string hoppers, teas, and the gelato. Lankan Filling Station is serving up some one-of-a-kind flavours, including ginger and turmeric or spiced jaggery (Sri Lankan palm sugar). The coconut and coffee slushie is a top-tier caffeine hit in the summer.
S'more
Castlecrag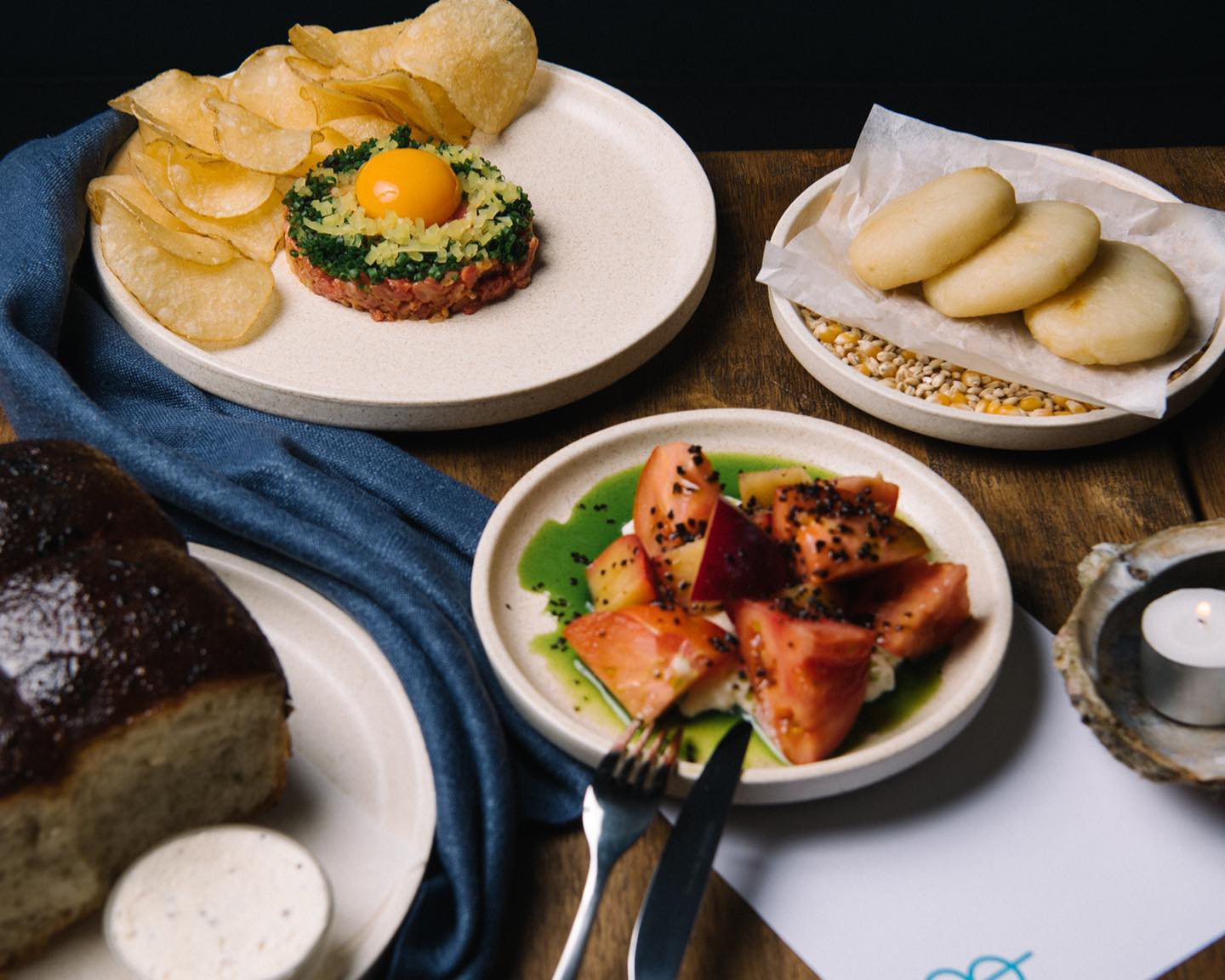 Sydney has definitely been waiting with bated breath for this one. "Big" Sam Young, along with his partner Grace Chen, AKA Super Banana, opened their very own brick-and-mortar venue, S'more in 2022. If you're not familiar, the ex-Merivale duo has clocked up time at Mr Wong, Totti's, Lotus 2.0, and Est. and Queen Chow respectively. Most recently Young has been wooing Sydneysiders with his next-level private dining experience (the #BSYExperience), which included things like caviar bumps and lobster pasta. S'more is an Asian-leaning bistro that showcases the pair's signature brand of cool, fun high roller cooking. The first item on the menu? A glass of Dom Pérignon with a caviar bump. Then, housemade shallot bread with miso butter, full-blood Wagyu MB9+ tarare, and a signature BSY lobster pasta.
Arthur
Surry Hills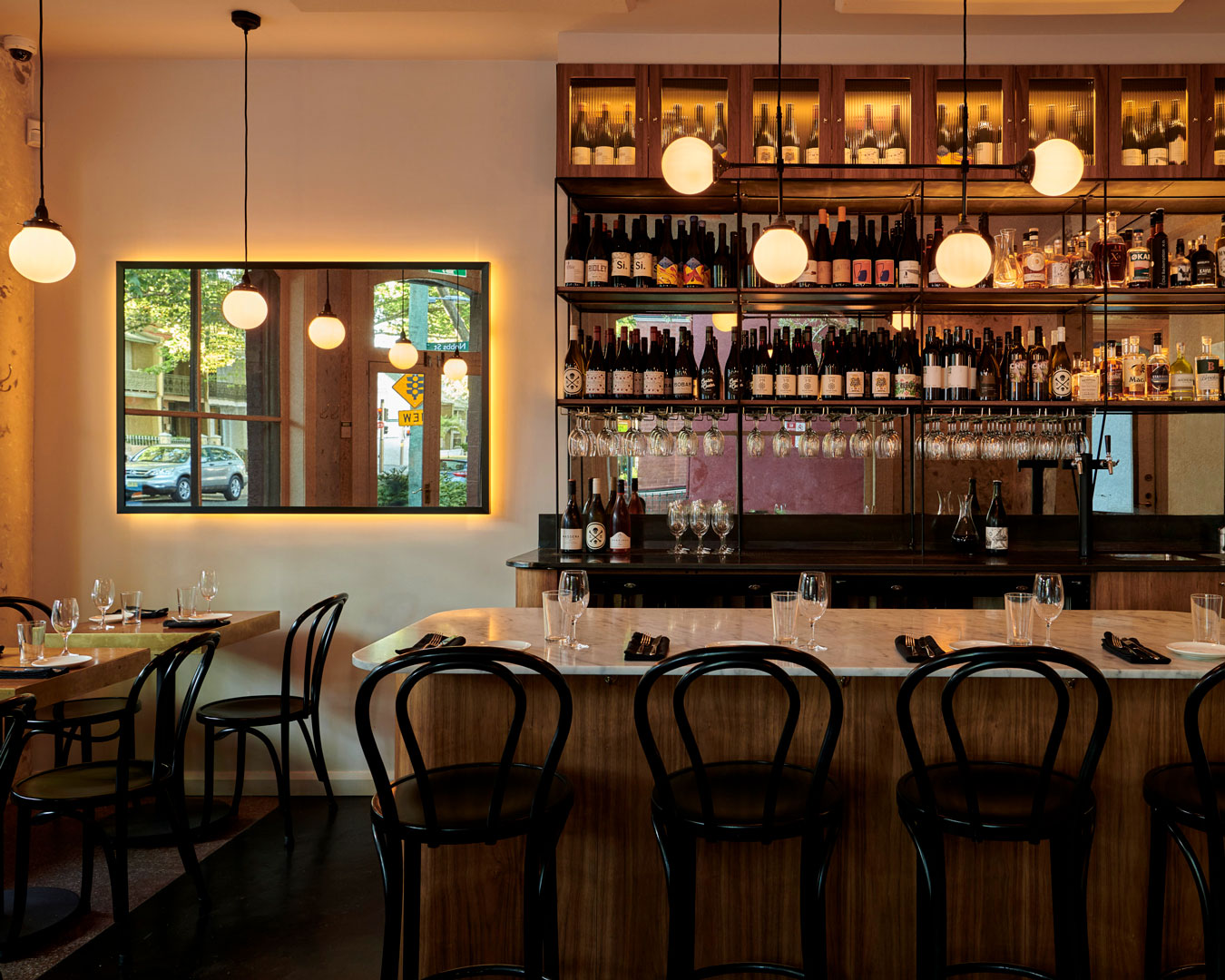 Set menus are a wonderful thing. Forget food envy and choice paralysis—relax and let the chef take you and your date or fellow diners on a little culinary trip. Such is the vibe at Arthur, a polished, warmly-lit restaurant tucked into the quiet and leafy end of Bourke Street. Chef Tristan Rosier spent time in the kitchen at Est., Biota and Dead Ringer, and his strictly seasonal menu consists of 10 courses across two nightly set seatings ($90 per person, additional $69 for matching wines). In 2020, the team earned themselves a hat too.
You'll begin with Arthur's superstar sourdough and cultured butter, before moving on to things like scallop with finger lime and roe, Spangled Emperor fish with chestnut, shiitake and sorrel, or wagyu beef, carrot and bone marrow. Dessert might be a layered chocolate and passion fruit cake. Wines are all from Australian minimal intervention, organic or organic-practicing winemakers. The Arthur team also make their own house spritz, and like the menu—it changes with the seasons, being made from repurposed ingredients from the kitchen as part of the restaurant's goal to move towards zero waste. If it's an impressive, quiet date spot you're after—Arthur should be top of your list.
And a little further up Bourke Street, you'll find Arthur's sibling restaurant—Jane. She is more casual with an emphasis on smaller dishes served a la carte, but well worth a look-in too.
Beckett's
Glebe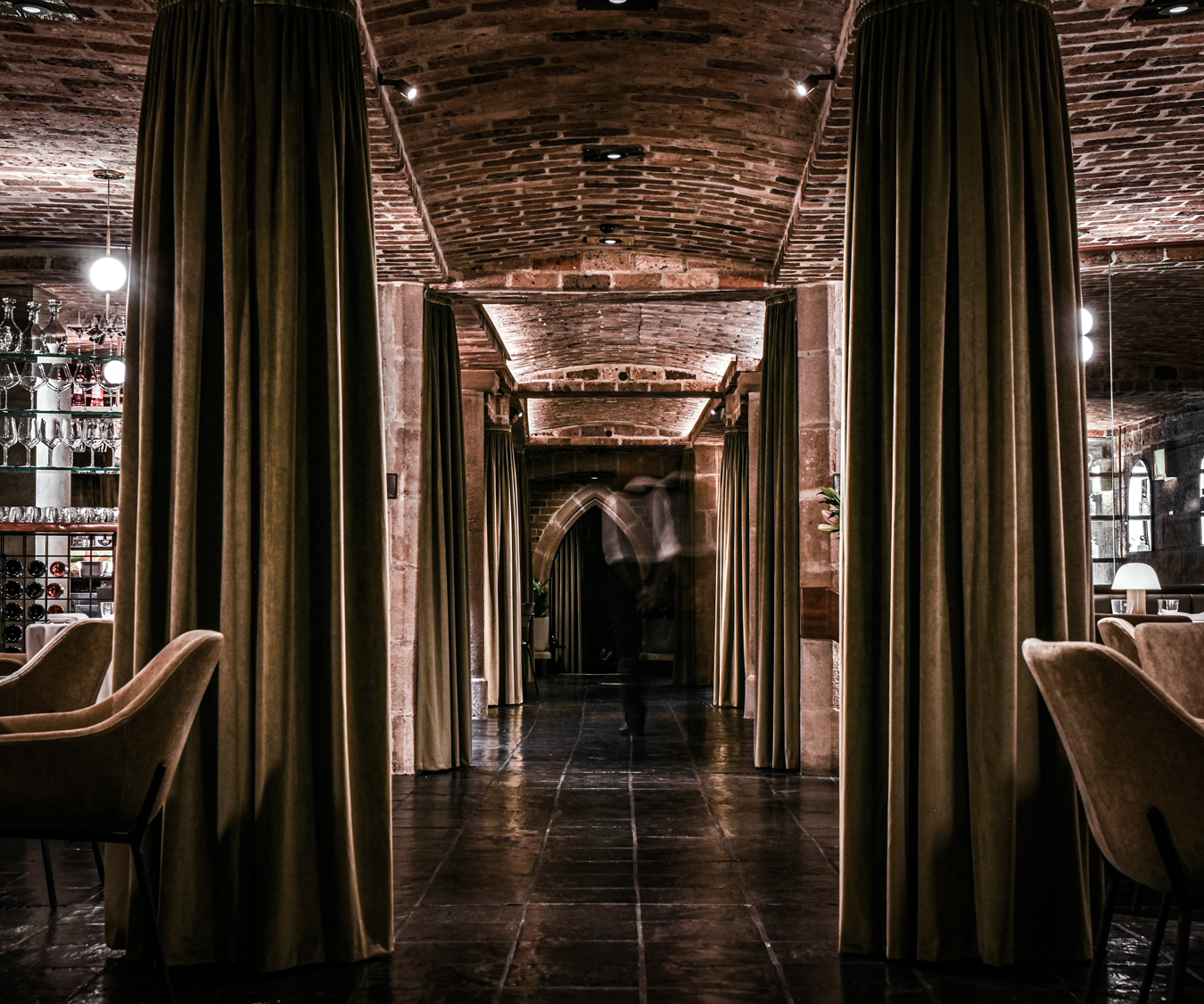 Dreamt up by chef Jeff Schroeter (Bistro Moncur, Bayswater Brasserie) and playwright-director Wendy Beckett, Beckett's is a moody semi-subterranean sandstone venue on Glebe Point Road. Think lamplit tables, green leather banquettes, plush cocktail chairs, velvet-lined colonnades, and a baby grand piano (which is played nightly). In short, it's a perfect date night spot.
Schroeter's seasonal bistro menu does not disappoint with a selection of bespoke dishes like the chef's signature vanilla lobster and a seared strawberry foie gras stealing the show, alongside some seriously good gin-cured salmon with Yarra Valley salmon pearls. The Beckett's martini, made with Widges gin and Scarpa Vermouth di Torino Superiore, is a must. Wine is also extra special at Beckett's, thanks to sommelier Sasha Siljanovic (NOMAD, Spice Temple, St Isidore).
Oncore By Clare Smyth
Barangaroo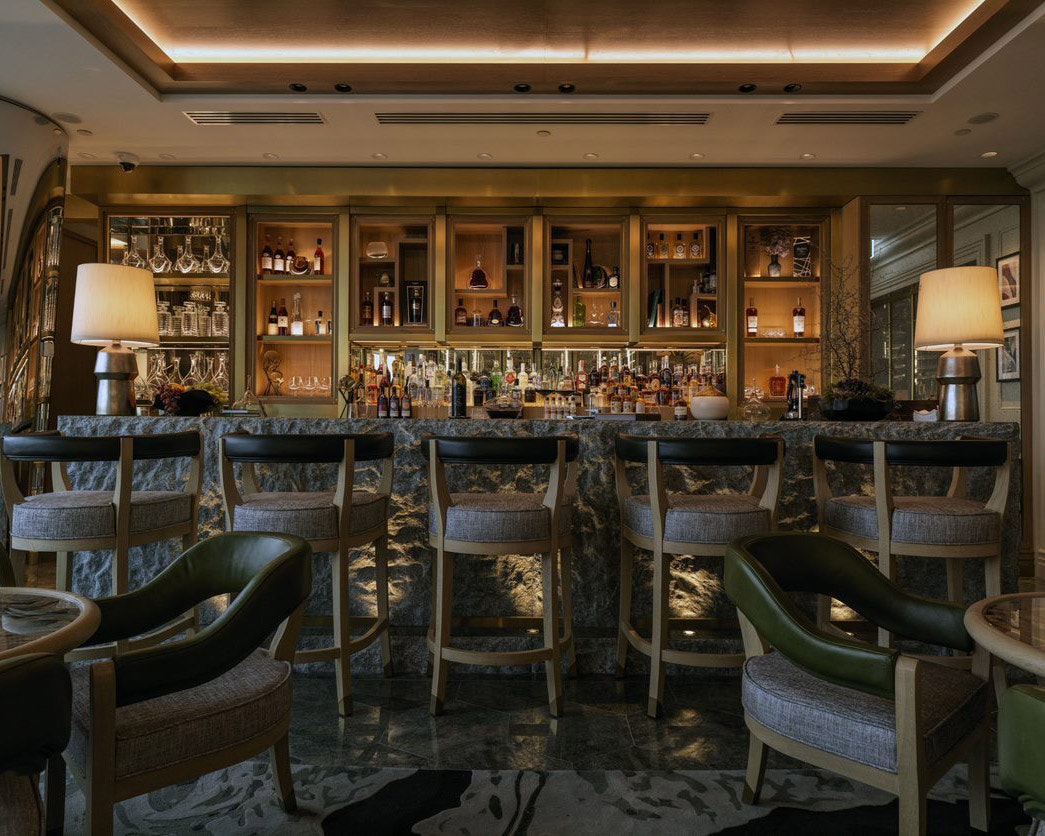 Recently awarded three Michelin stars for her Notting Hill restaurant Core, Clare Smyth is the only British woman to ever gain the prestigious honour. Sydneysiders can experience the London chef's top-tier gastronomical style on the 26th floor of the Crown Tower at Oncore by Clare Smyth, alongside some totally breathtaking views across the city. Here, Smyth blends her heritage with unique Sydney flavours and sustainable produce drawn from the country's best farmers and producers.
Famous for her dishes that balance the tension between simplicity and sophistication, Smyth's Sydney menu includes the now-famous "Potato and Roe" dish. Imported from Core, it involves a slow-cooked Charlotte potato topped with smoked trout and herring roe, and served with beurre blanc. The Sydney version features potatoes produced by fourth-generation family farmers from the Southern Highlands. There's also "Beef and Oyster", a plate inspired by the Victorian-era beef, oyster, and Irish stout pie. It'll hero oysters from the Wapengo and Wagonga estuaries from the South Coast of NSW and Shiro Kin Fullblood Wagyu beef sourced from NSW and South East Queensland.
For something extra-special, book a seat at the bar for Oncore's Chef's Table experience. Or, arrive early to enjoy the view and one or two of Oncore's innovative cocktails.
Métisse
Potts Point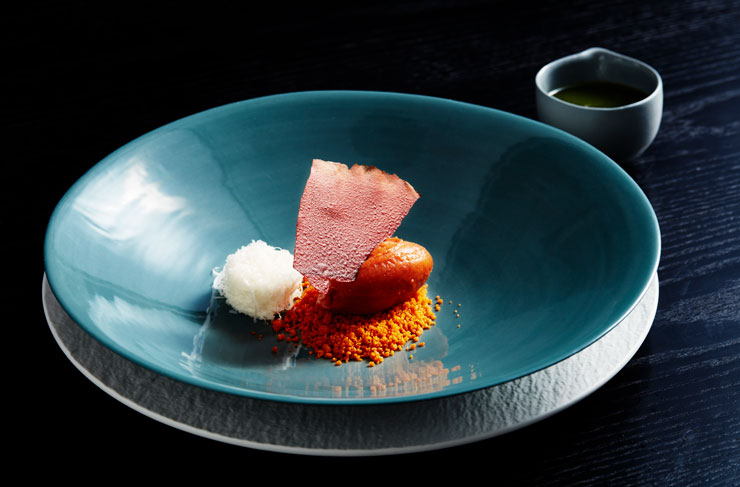 Veteran chef Opel Khan, along with his daughter Lucinda as head chef, quietly opened the doors of their Potts Point fine diner Métisse back in mid-2019. Built into a beautiful oval-shaped dining room in the Durbach Block Jaggers Barcelona building, Métisse is a true hidden gem. Here, Khan's French-inspired degustation menu changes seasonally and is the result of the sort of fine-tuned gastronomy you'd expect to see at a Michelin Star venue. With every new iteration, it is one of the more impressive degustations being plated up in Sydney.
Bangladeshi-born Opel has a passion for sustainable cooking and a zero-waste kitchen; precisely the sort of cooking and culinary creativity we should be celebrating right now. A regular feature and the star of the Métisse menu is the "Texture of Tomato". This wildly impressive dish is made entirely of tomato (no waste) and takes a painstaking three days to create. "The Texture of Tomato is the flagship of the sustainable luxury concept at Métisse," Opel explains. "Every single part of the tomato is transformed into a beautiful and unique shape, flavour, and gastronomic experience."
Ester
Chippendale
A perfect little 45-seater that serves up your favourite chef's favourite food. Ester has been a staple on the fine dining scene since 2013 and they maintain a strong reputation for mind-blowing fresh cuisine. Every dish you get here manages to surprise and delight with its intricacy and care in preparation. Mastermind Mat Lindsay always manages to construct something truly unexpected from firm favourites and familiar flavours that make you question why it has ever been done any other way. For something more casual—you can't go past Lindsay's slick spin on the kebab shop, Shwarmama.
Restaurant Hubert
CBD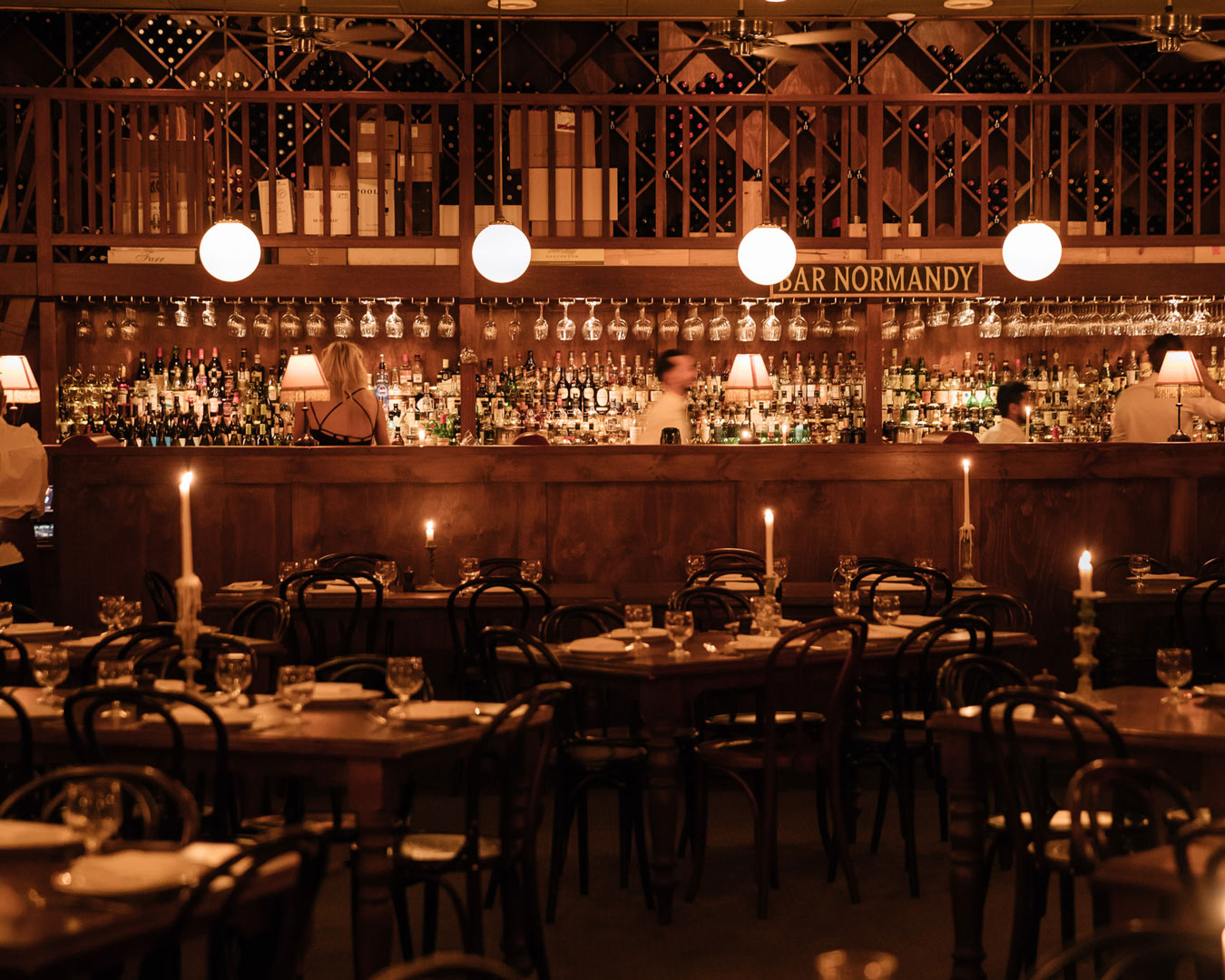 A sumptuous French Brasserie in dark, wood-furnished basement settings, Hubert is the place to go for a lavish night on the town when you're feeling all 1920s. It serves classic indulgences like duck liver pate, beef tartare, and cheese soufflé to the soothing sounds of live jazz (Monday through Thursday) and popping champagne corks which makes it the perfect place for getting your Gatsby on. It's the exact level of hedonistic indulgence you would expect from the crew behind Baxter's and Frankie's but in a more refined setting.
Long Chim
CBD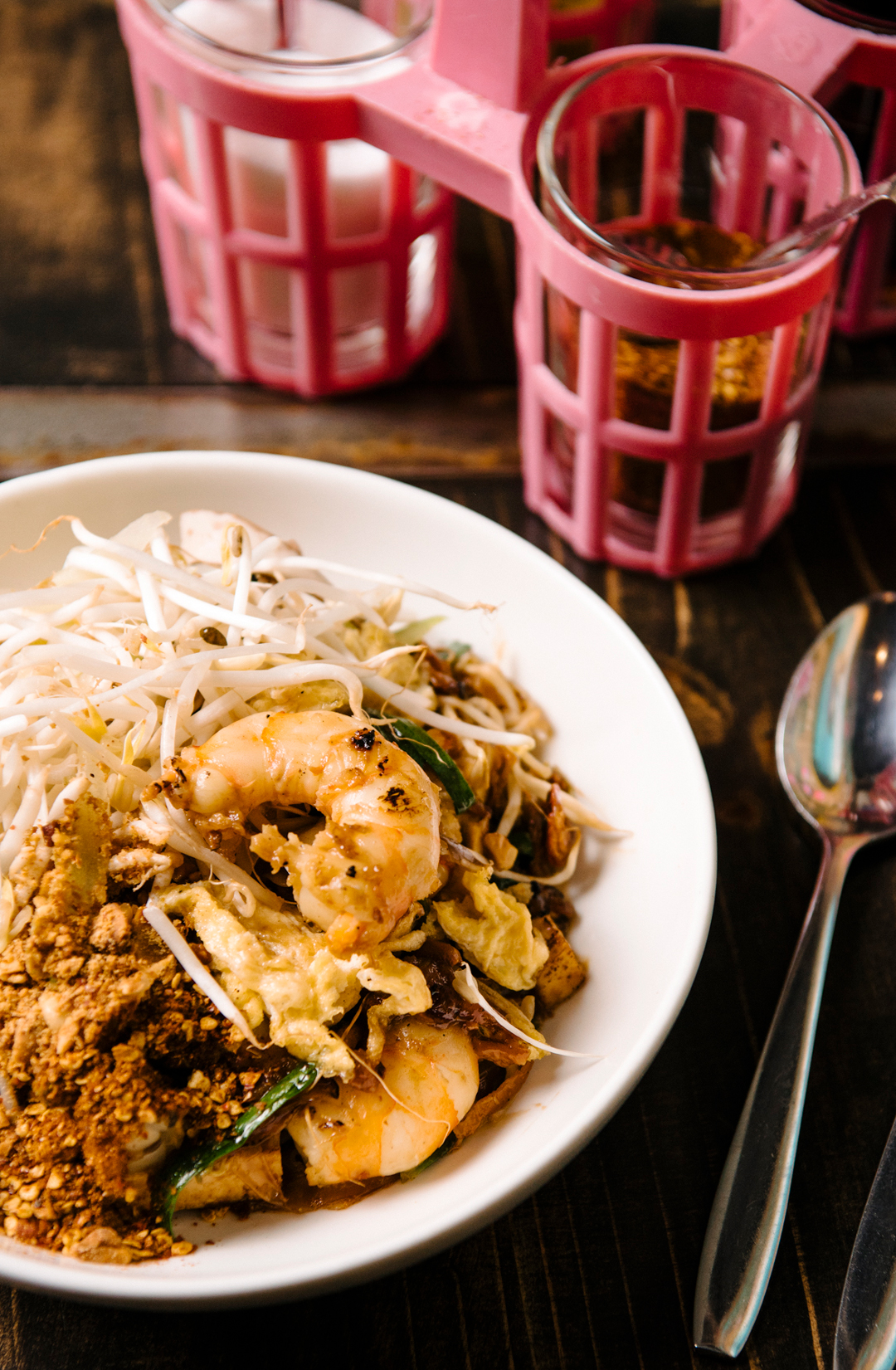 "Best Thai in Sydney" is a huge claim given the stiff competition in this city, but Long Chim has managed to hold on to that title for the past five years since restauranteur David Thompson returned to the city from managing Michelin-starred joints in Singapore, Melbourne, and Perth. It's Thai with street-food roots that bring a heat and flavour intensity unlike anywhere else in the city. The bustling CBD eatery combines the best of both worlds in its push for quality, spice, and cultural authenticity.
Keen to visit Long Chim in the future? Purchase a gift voucher here.
Cafe Paci
Newtown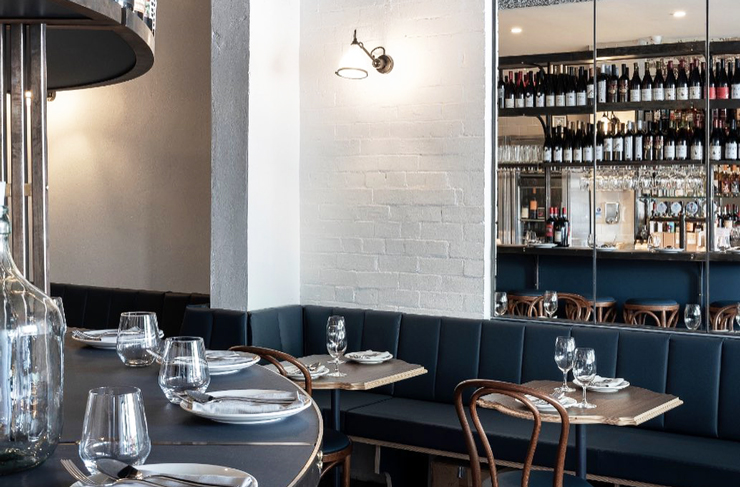 Chef Pasi Petänen moved to Sydney in 1998 and worked in some of the city's most impressive kitchens (Quay, Four In Hand, and Marque), before authoring a cookbook called Marque alongside chef Marc Best. From there, he set up the OG Cafe Paci—a pop-up restaurant set up in a former Mexican restaurant on Riley Street. It lived for just two years, but sent shock waves through Sydney's dining scene, won awards and our hearts. Petänen finally found a permanent spot for Cafe Paci back in 2019, and ever since the restaurant has been a firm favourite for Sydney diners.
With interiors by George Livissianis, here you'll find a friendy a la carte set up, filled with dishes that follow Petänen's signature European sensibilities. Head in for a cocktail and a snack, or stick around for a full night of feasting—Petänen wants to meet Sydney diners wherever they're at. There's even a lunch service on Saturdays if you're after a spot for a dreamy long lunch.
Besuto
CBD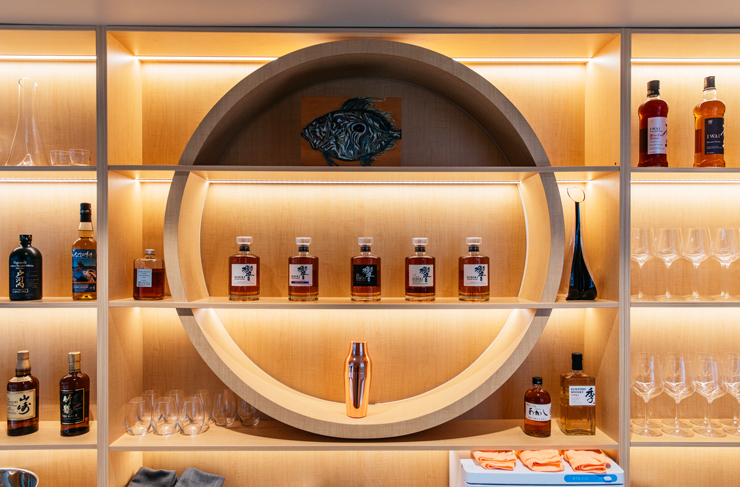 In 2022, Sydney was blessed with a raft of new omakase-style eateries. The Japanese word omakase roughly translates to "I'll leave it to you", where patrons leave the rotating menu entirely in the hands of a trained omakase chef. Think multiple courses of sushi, tempura, sashimi, or yakitori, for example, dependent on the season and best produce available. Besuto is among this new crop of omakase—and it's one of the best too (fittingly, its name translates to "best").
Hidden above the new Quay Quarter Lanes foodie precinct at Circular Quay, enter Besuto via the glowing red foyer, decorated with a Kuniyoshi-inspired mural by Australian artist Lisa King. Upstairs, you'll find a traditional-style 12-seat omakase. Here, you're in for an intimate 20-course experience, designed by chef Hirofumi Fujita (Hiro). As with any omakase, the menu changes based on the best produce available—but regular highlights at Besuto include miso-marinated Glacier 51 toothfish, toro with N25 Caviar, and a particularly impressive steamed egg custard served with uni (sea urchin). The sushi and sashimi course is just as divine, ticking off Hokkaido scallops, Anago eel, and heaps more. We were also very fond of the palate-cleansing yuzu sake sorbet.
Sean's Panorama
Bondi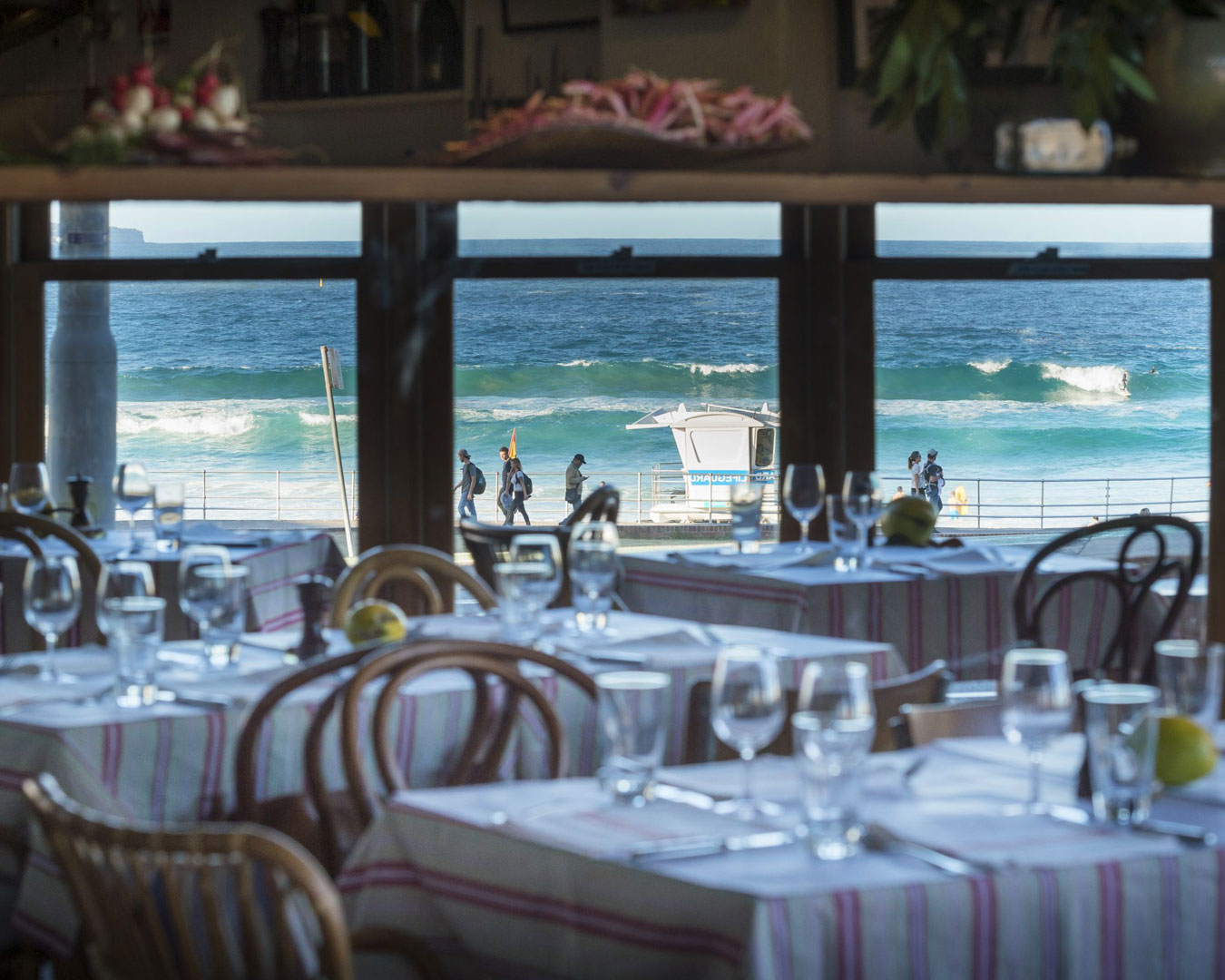 Head chef and owner Sean Moran has been shifting his own farm-reared goods from his 20-acre rural hideaway in the Blue Mountains to the plates of his Bondi diners since 1993. Combining the best of the country with the best of the ocean, Sean's offers daily specials in three-course menus with two options per course. The farm plate offers the best of the harvest and features fresh veggies, eggs, and whatever else is in season. His signature white chocolate and rosemary nougat is available on request for those who ask nicely.
Mr. Wong
CBD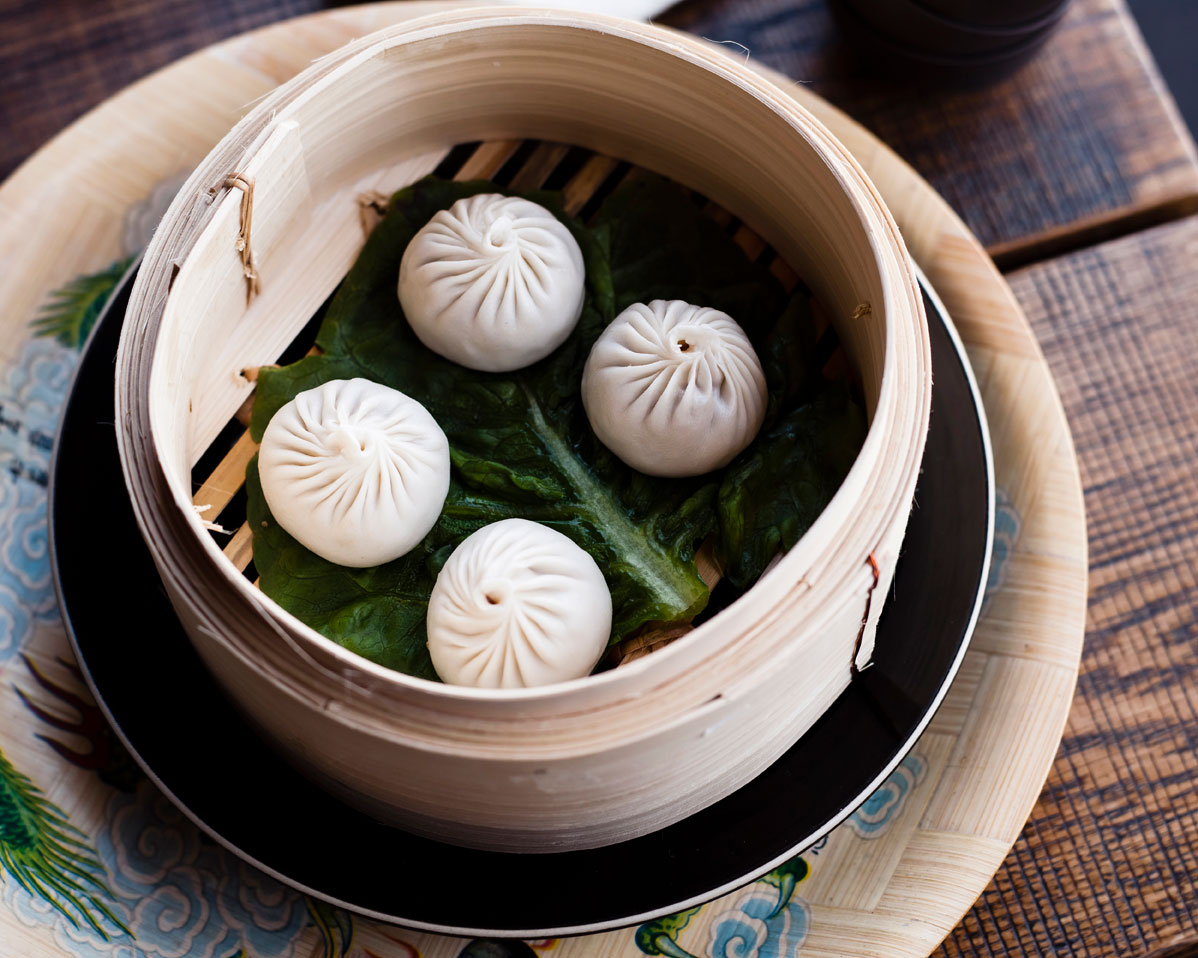 The jewel in the crown of the Merivale empire, Mr Wong is a dimly-lit, intimate establishment with serious credentials to justify the long queues. Chefs Dan Hong and Jowett Yu expertly prep the Cantonese favourites you would find on any menu in Chinatown but with an attention to detail you won't find elsewhere. It's Westernised, sure, but the flavours and the quality are exquisite. Soupy dumplings and crispy fried mushrooms galore, the place sets the food in a smoky 1920s opulence that transports you to another time of exotic finery.
Sáng By Mabasa
Surry Hills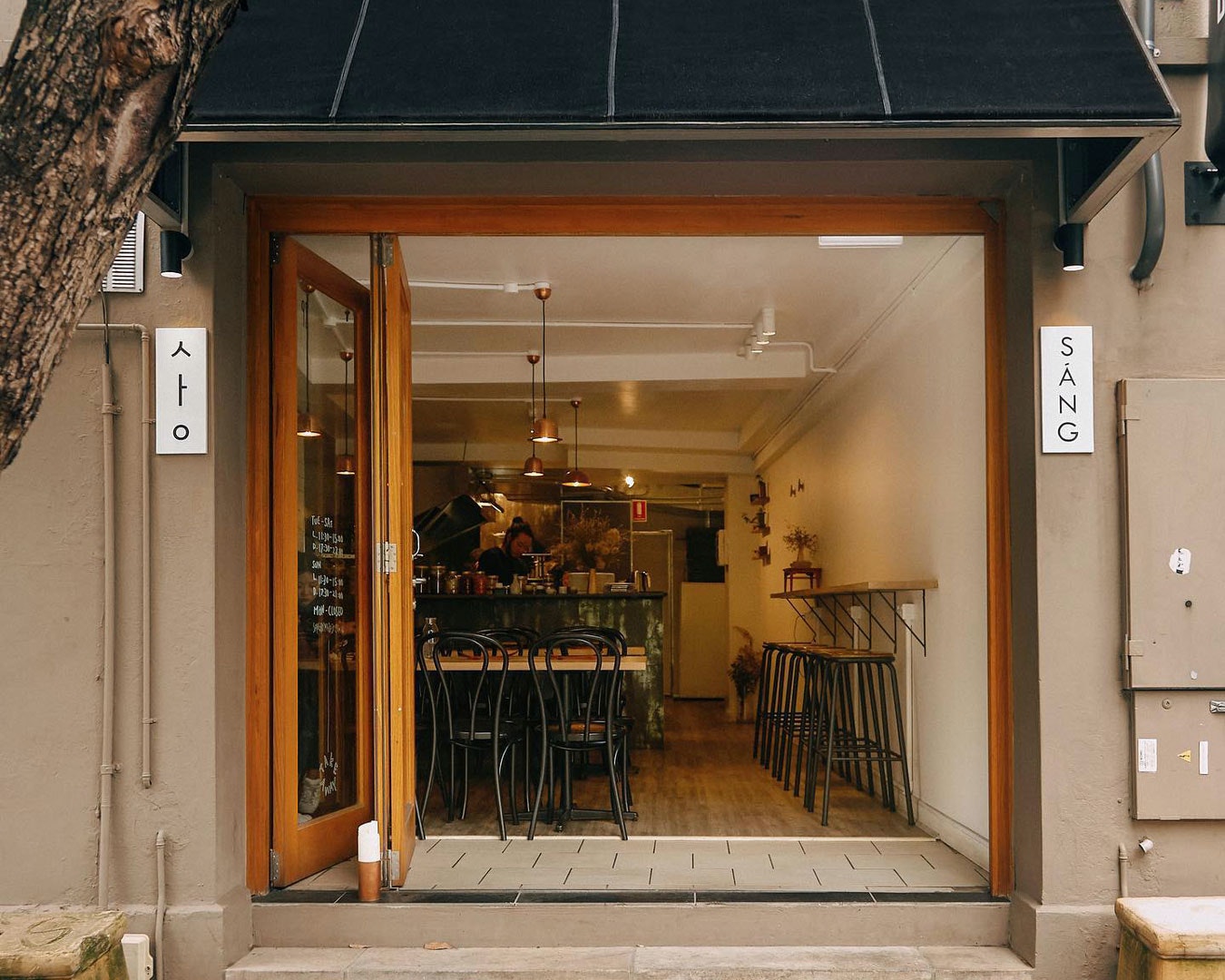 Sáng By Mabasa has been winning the hearts of Sydneysiders since it opened back in 2018. The pint-sized, stylish contemporary diner is run by one family, with the kitchen helmed by husband and wife Seung-kee Son and Jin-sun Son, and the front of house run by their son Kenny Yong-soo Son and his wife Youmee Jeon. And what this tiny restaurant lacks in size it delivers in charm, authentic Korean food, and stunning presentation.
Sáng serves up Korean fare centred on son-mat cooking, which translates to "hand taste"—so expect handmade, wholesome dishes here. Popular plates include yookhwe, a raw wagyu tartare-like dish with Asian pear, cucumber, perilla leaves and egg yolk; jjim mandu (steamed dumplings); bossam, which is pork belly with seasoned radish and salted shrimp; and jogae tang, a clam soup with salted cod roe, tofu, and radish.
Botswana Butchery
CBD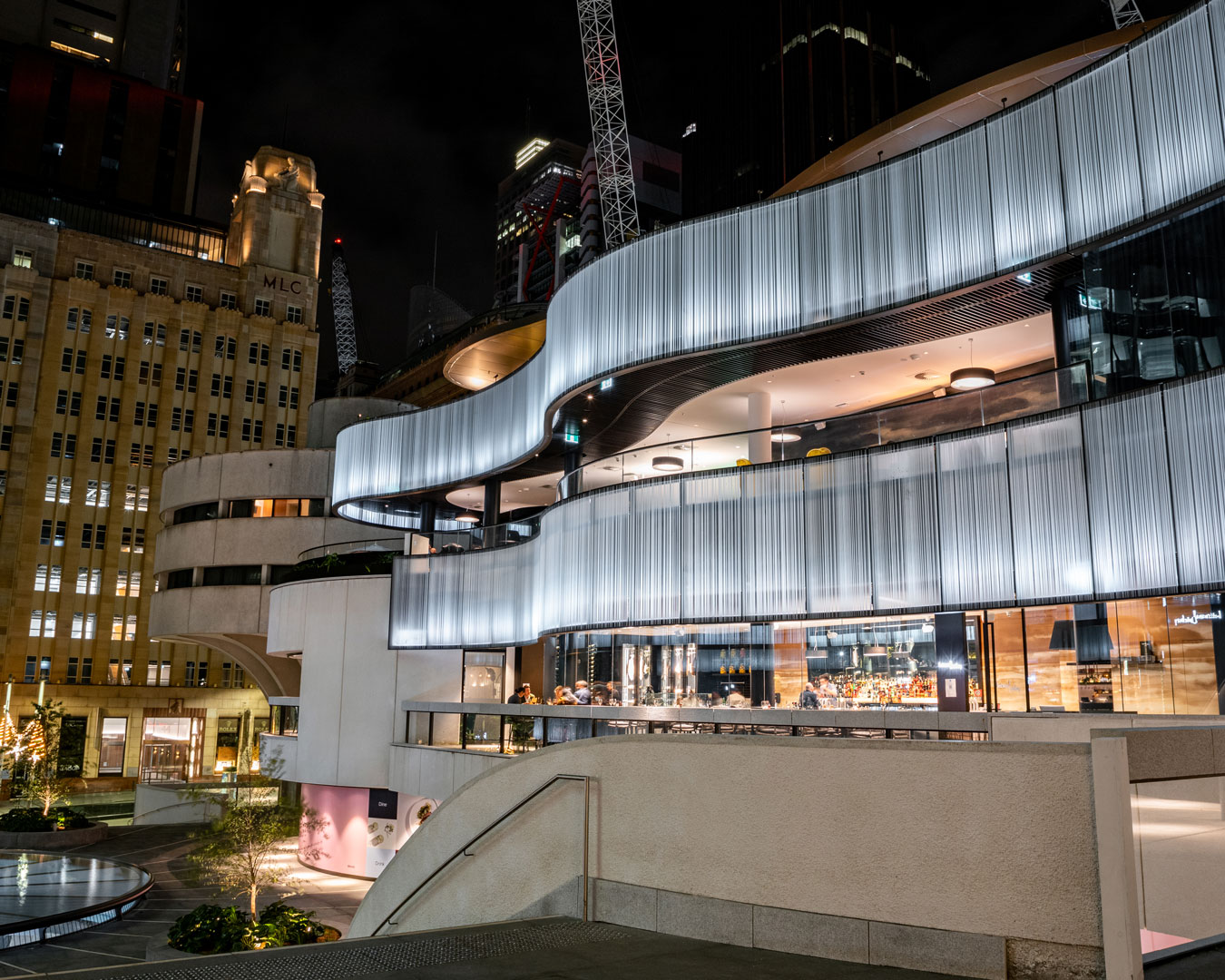 The freshest addition to Sydney's steak scene at the close of 2021 was Botswana Butchery. The sprawling 300-seat restaurant is an import from New Zealand and Good Group hospitality—one of the leading hospo groups from across the ditch. It's also the crowning jewel in Martin Place's insane multi-million dollar transformation. Complete with a rooftop space for 350, plush interiors, an enormous menu, and a relaxed indoor-outdoor atmosphere—it's already a bit of a game-changer in the Sydney CBD.
Botswana Butchery's signature dish is a lamb shoulder so perfectly tender it is actually served with a spoon. The restaurant is home to an impressive range of Australian steak and lamb cuts from a Black Opal Wagyu sirloin to Rangers Valley Tomahawk MB3, and a lamb rack too. Pair that with a wine list of over 1,000 wines, focussing on Australian and New Zealand varietals, and one of the most delightful katsu Wagyu sandos we've ever tried—and you've got yourself a very delicious night out.
Keen to visit Botswana Butchery in the future? Purchase a gift voucher here.
Woodcut
Barangaroo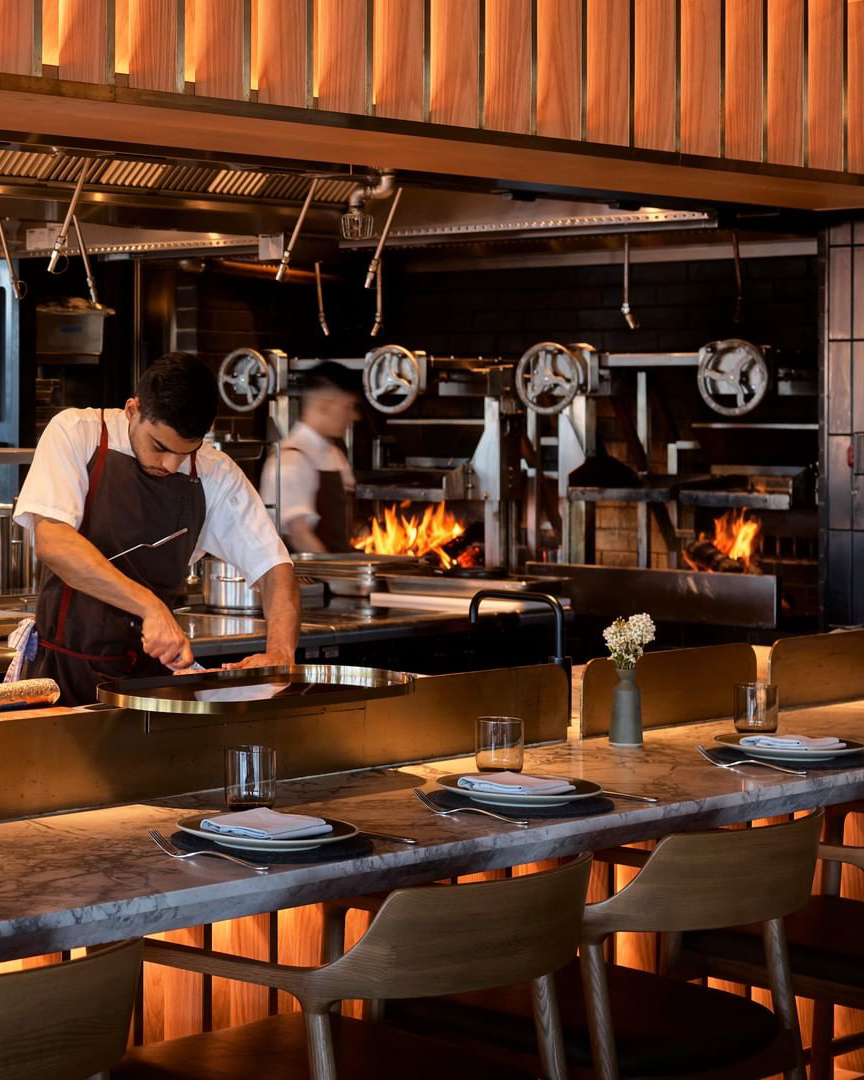 Also hidden within the sparkly Crown Sydney complex, Woodcut is the dreamscape restaurant of Ross and Sunny Lusted. Previously operating The Bridge Room, the Lusteds know a thing or two about producing a one-of-a-kind fine dining experience. Thanks to the work of willing architects, the restaurant's four sprawling open kitchens feature wood ovens, slow-burning Japanese charcoal grills, steam kettles, and even a vertically mounted garden for fresh herbs. "It's all about the cooking methods," explains Sunny. "It's all about fire, steam, smoke, and ice."
Diners will be privy to the overwhelming sensory experience and the theatre of these methods with the restaurant's four open kitchens. And don't expect the food to be traditionally plated up behind the scenes. "One of the things we're wanting to share with our guests is that feeling of anticipation in theatre," says Sunny. "We'll be bringing a lot of the food to the table in its cooking vessel."
Fratelli Paradiso
Potts Point
Another heavy hitter from the team behind 10 William Street, Fratelli Paradiso gives the Paradiso brothers the space to show off their skills and showcase the breadth of Italian cuisine that isn't possible at the sister venue. It's a slick, vibey affair with the ubiquitous coffee bar for slamming down espresso and outdoor street seating prime for people watching. Food is served from morning to late here with fresh produce being whipped up into appropriate delicacies throughout. That means breakfast pastries, midday pastas, and opulent roast half-chicken to finish.
Bennelong
CBD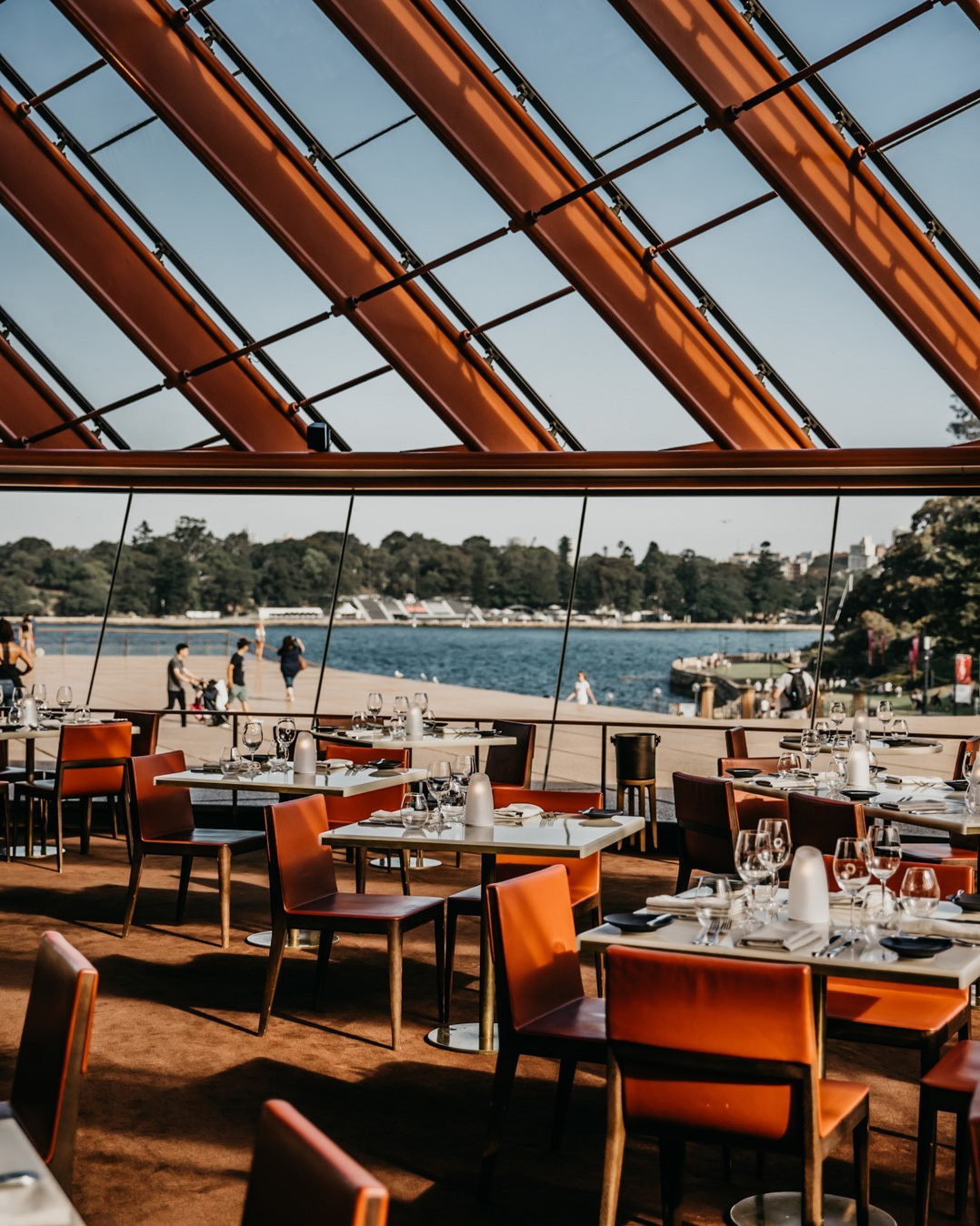 Arguably the most famous of the city's fine dining establishments, Bennelong is the restaurant seated within the hallowed shells of the Opera House and serves dishes fitting of its stature. It makes sense that this place showcases the best of Aussie cooking with inspiration taken from this wide brown land and the waves of migrants that make up its culture. The current menu features Murray cod, pork belly koji, and three-curd ravioli. It's a dining experience savoured only on the grandest of occasions and it knows it. There's little wonder The New York Times called this place the "Holy Grail of Australian Restaurants."
Quay
CBD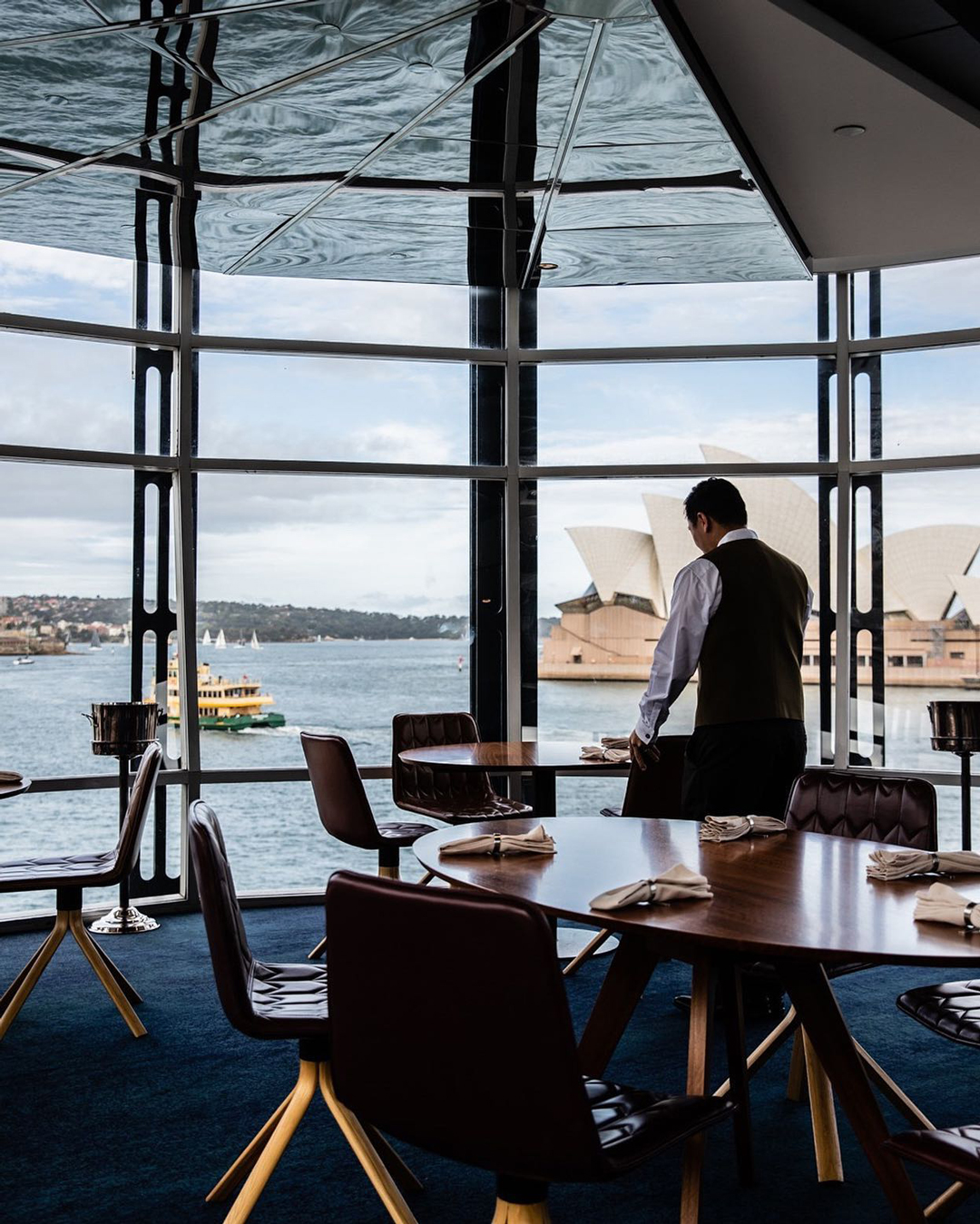 Just down around the corner from Bennelong is Quay, another titan in the Aussie foodie scene and headed by the same chef, Peter Gilmore. Gilmore is a pioneer of artisan-sourced ingredients and the oddities of nature, giving heirloom varieties their time in the spotlight. If Bennelong celebrates Australian culture, Quay is a party thrown for Australia's natural beauty and makes a point of showcasing the connection with the plate and the ingredients pulled from the ground, the rivers, and the sea. That's not to mention the expertly crafted wine list that features some of the country's best alongside world leaders.
Ragazzi
CBD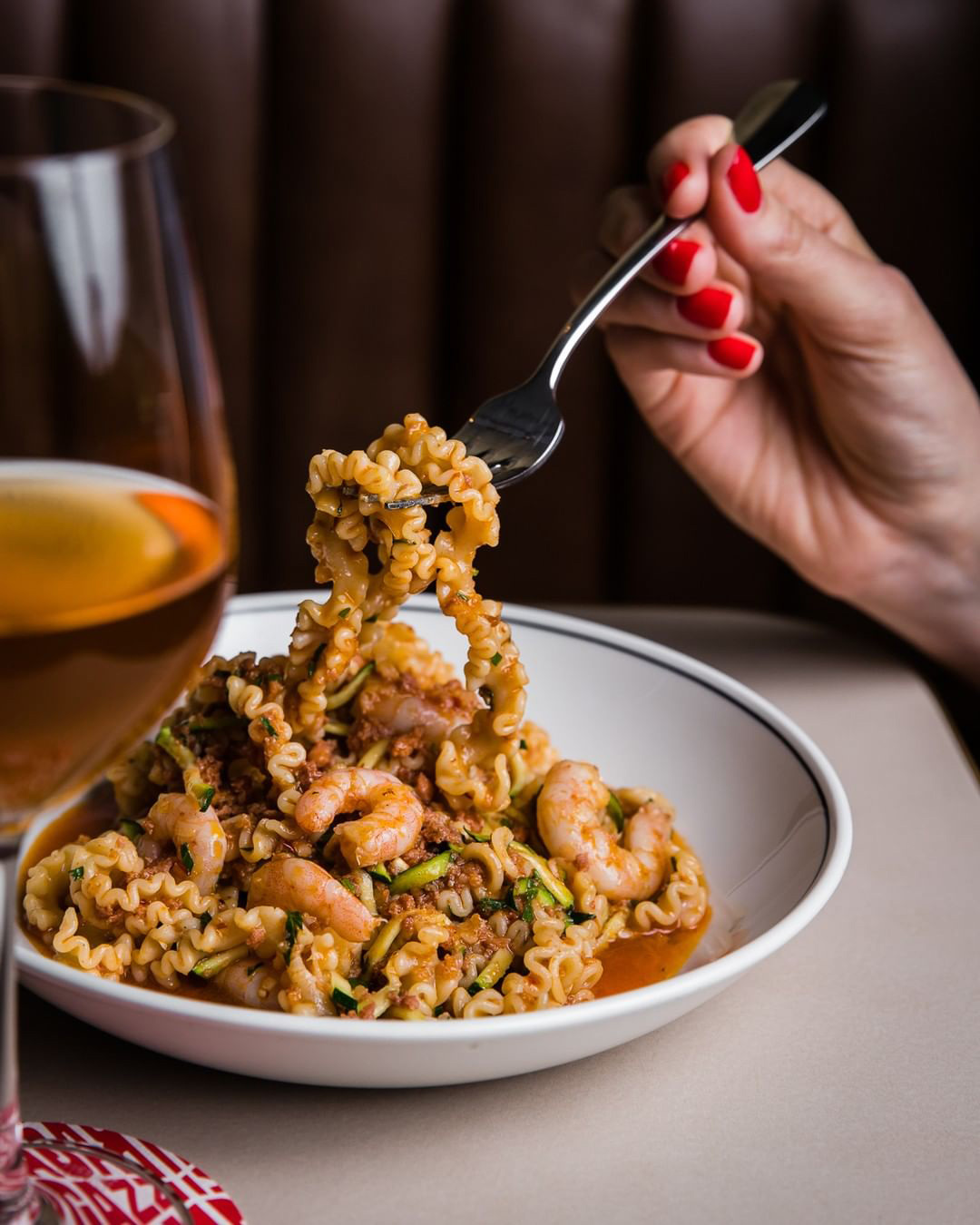 Ragazzi is a fresh Italian experience that proves Sydney simply can't get enough of the European wine bar experience, but also that we're keen to try something new in the genre too. Featuring a 300-strong bottle list and a simple menu centred on quick bites and pasta, it's the perfect place for after-work relaxation—if you can get in. The 40-seater gets busy on a weekday and is a good spot for soaking up the vibrant energy of the CBD over a sharp bowl of pasta or herby pork cutlet. Co-owners Matthew Swieboda​, Nathanial Hatwell, and Scott McComas-Williams have long perfected their skills in this genre at Love Tilly Devine and Dear Saint Eloise but Ragazzi might be their pinnacle.
"We believe that pasta is so much more than just a vehicle for its sauce—it's the textural heart of the dish, giving texture and mouthfeel while the sauce brings the flavour," Swieboda tells us. "Handmade pasta when it's done properly gives so much happiness and satisfaction while remaining so simple."
Staying in? Check out the Ragazzi boys' city pasta shop and deli Fabbrica and have a crack at making their standout pasta at home.
Fred's
Paddington
Fred's is Merivale's breezy Oxford Street outpost that crafts white-linen Mediterranean simplicity in the heart of the city. Head chef Danielle Alvarez's famed farm-to-table cooking set the pace for Fred's—and while she has since moved on—the essence of Alvarez remains. Fred's silences the chaos of the outside world with a focus on old-school country house cuisine that is simultaneously simple and standout. Things like grass-fed t-bone steak and farmhouse lamb are both comforting and invigorating at the same time. This is good-time eating at its best. Fred's also hides beneath its floorboards a 100-cap speakeasy where you can descend into a world of whisky for a digestif after you're done with your dinner.
Yellow
Potts Point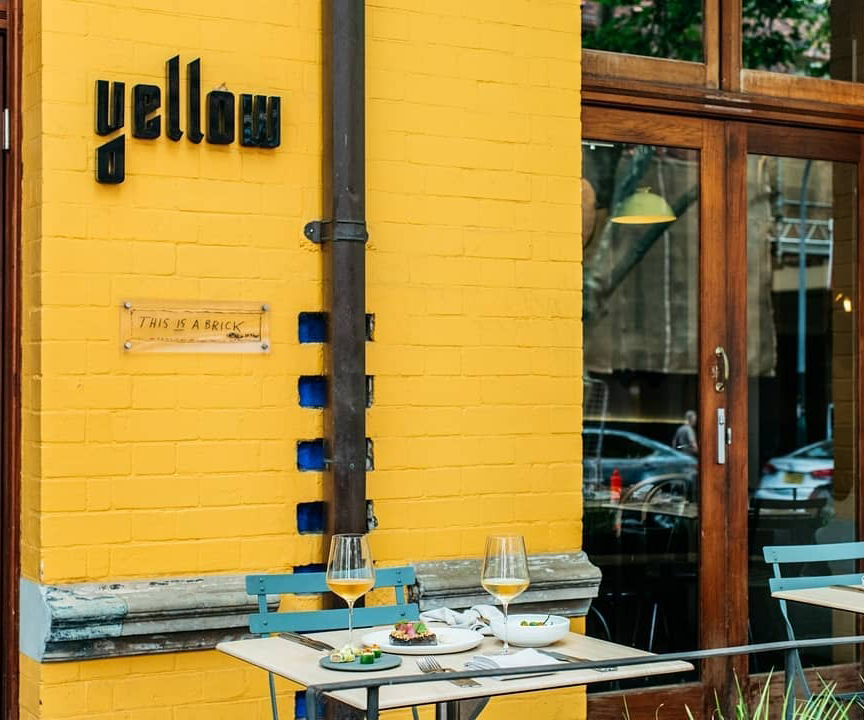 An icon of the Sydney fine dining scene, Brent Savage's Yellow made the bold move in 2016 to go purely vegetarian. While it seemed like a shocking decision at the time, Yellow quickly proved that you don't need protein to have an unbelievable meal. In fact, when the veggies are this good, you won't even miss it. The set menu changes regularly and with the seasons but always features intriguing plant-based concoctions cooked up beyond recognition and with incredible flavours you didn't even know existed.
6Head
The Rocks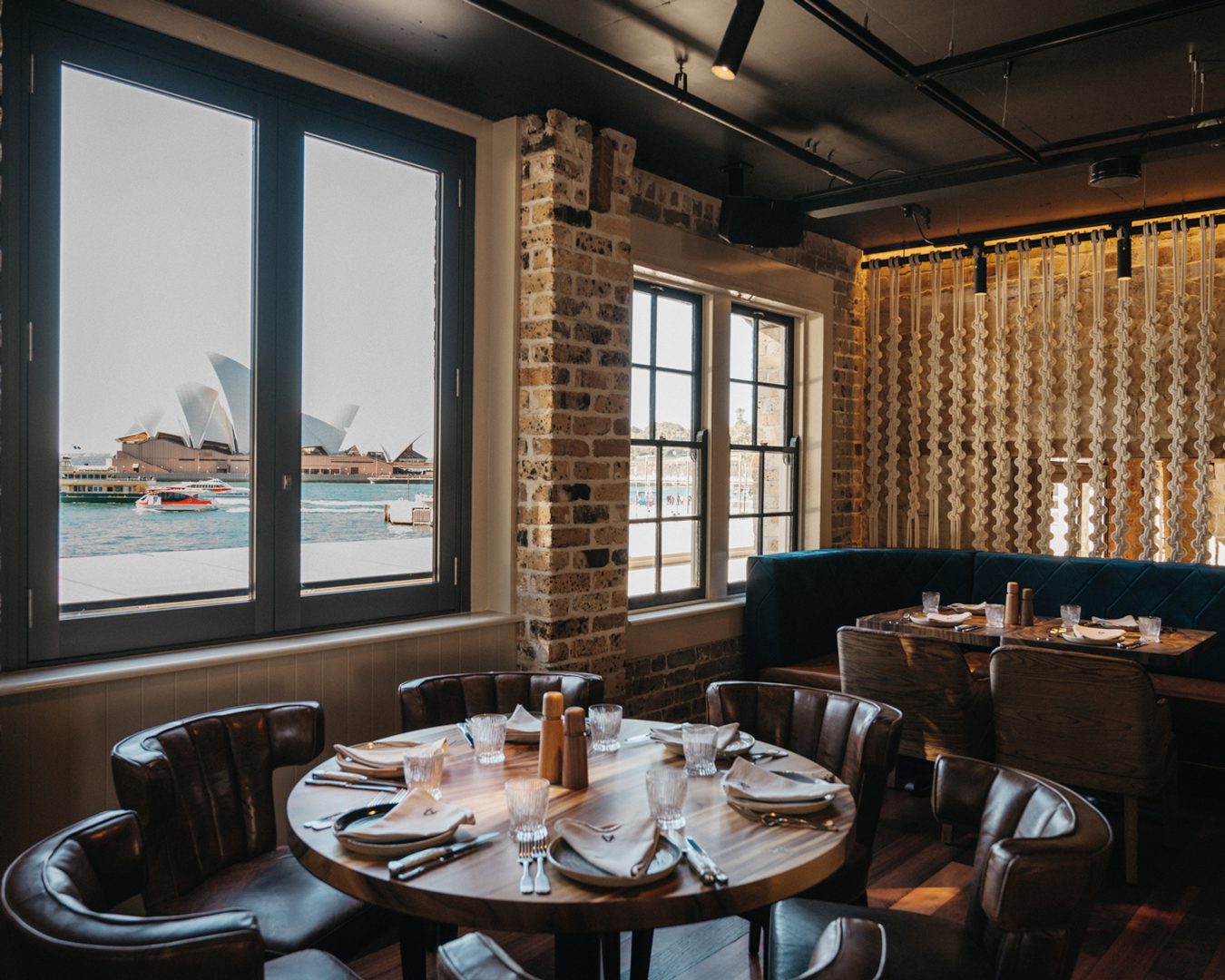 We finish with the meatiest claim to fame at 6Head. Carved from the sandstone of an ancient shipping storehouse, 6Head takes its name and inspiration from the six head of cattle that came with the First Fleet and proved that Australia could be a great cattle country. With this legacy to live up to, head chef Sean Hall brings his farming heritage and Jamie Oliver-influenced skills to bear on the nine premium cuts he serves up.
For Hall, the farmers and farming style are the heroes of his menu. "Our favourite producers at this time are Collinson's and Co as the quality of the meat we have been receiving for a marble score 3+ has been out of this world," he tells us. "We also like Mayura Station; we have been using a lot of their Signature and Platinum range Tomahawks and T-bones, which hold a marble score 9+. Personally, this is probably some of the best quality beef on the market in Australia that I have cooked with since arriving to Sydney." The simplicity and quality of the produce does the talking here, alongside some very (very) impressive dry-ageing processes. If you're after the perfect steak in Sydney, 6Head is the place for you.
Want to grab a pre-dinner cocktail? These are Sydney's best bars right now.
Image credit: Nikki To, Nikki To, Saint Peter, Crown Sydney, 10 William Street, Firedoor, Lankan Filling Station, S'more, Arthur, Beckett's, Restaurant Hubert, Long Chim, Cafe Paci, Besuto, Sean's Panorama, Merivale, Sáng By Mabasa, Botswana Butchery, Crown Sydney, Métisse, Bennelong, Quay, Ragazzi, Yellow, 6Head
Editor's note: Urban List editors independently select and write about stuff we love and think you'll like too. Urban List has affiliate partnerships, so we get revenue from your purchase.