Move over espresso martinis—your classier, boozier cousin, the martini, is having a comeback.
Whether you like your martini with a twist, with gin or vodka (or both!), or filthier than a Kings Cross club floor circa 2008, the classic martini is a choice cocktail in any bartender's arsenal for a reason. And in Sydney, we're spoilt for choice when it comes to epic martinis that aren't just a bit of cold gin or vodka and an olive. Yep, Sydney has well and truly jumped on the Martinaissance. And we're 100% here for it.
There's a new bar dedicated to the stiff drink, mini martini happy hours, sake-fuelled martinis served tableside, smoky The Godfather-inspired variations, and a much-loved deli canning the cocktail and rebranding it as a Mar-tinny. We're practically living in a martini mecca—and we've done the "research" to track down the best our fair city has to offer.
Here are the bars shaking and stirring the best martinis in Sydney.
Bar Planet
Newtown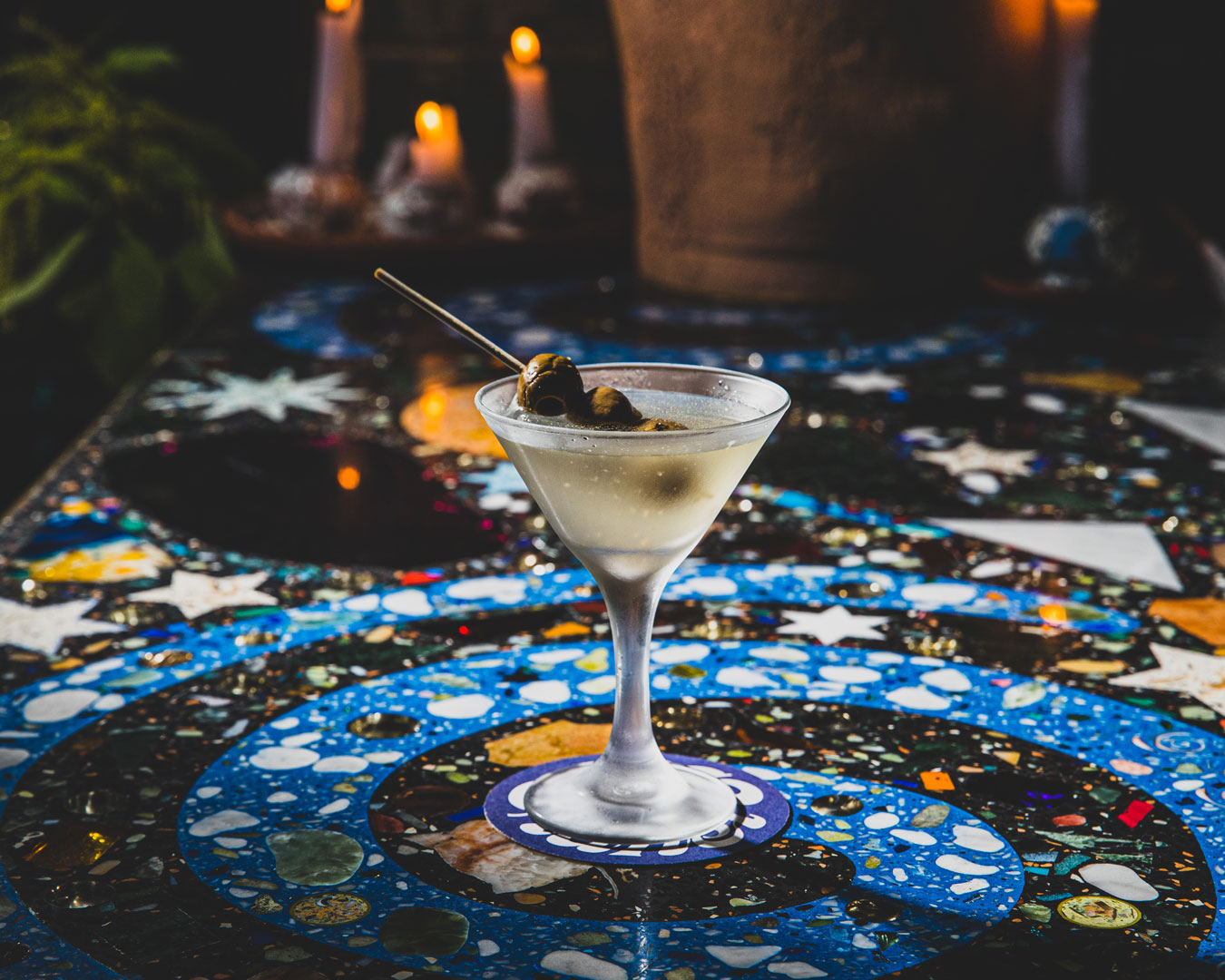 Owned by the same team behind award-winning mezcal bar Cantina OK!, Bar Planet is a new intergalactic bar in the Inner West swapping margaritas for martinis. In fact, it's dedicated to the martini. And, my god, it's good.
Behind the new bar are Jeremy Blackmore and Alex Dowd, along with the group's marketing director Daisy Tulley, who have collaborated with Marrickville distillery Poor Tom's to create an ever-evolving "living" base spirit that Blackmore has called "Infinite Spirit". Flavoured with local, seasonal produce, once the first few litres run out, Blackmore and Bar Planet general manager Harrison Kenney will work on a new flavour to add to the existing batch. The resulting Bar Planet house martini is smooth, theatrical, and stylish—served with lemon and olive, giving this timeless cocktail the sort of ethereal treatment it deserves. Elsewhere on the menu, you can order your martini how you like it—served with fizzy water to take the edge off, and a half-pour martini if you want to ease in.
Menzies Bar
CBD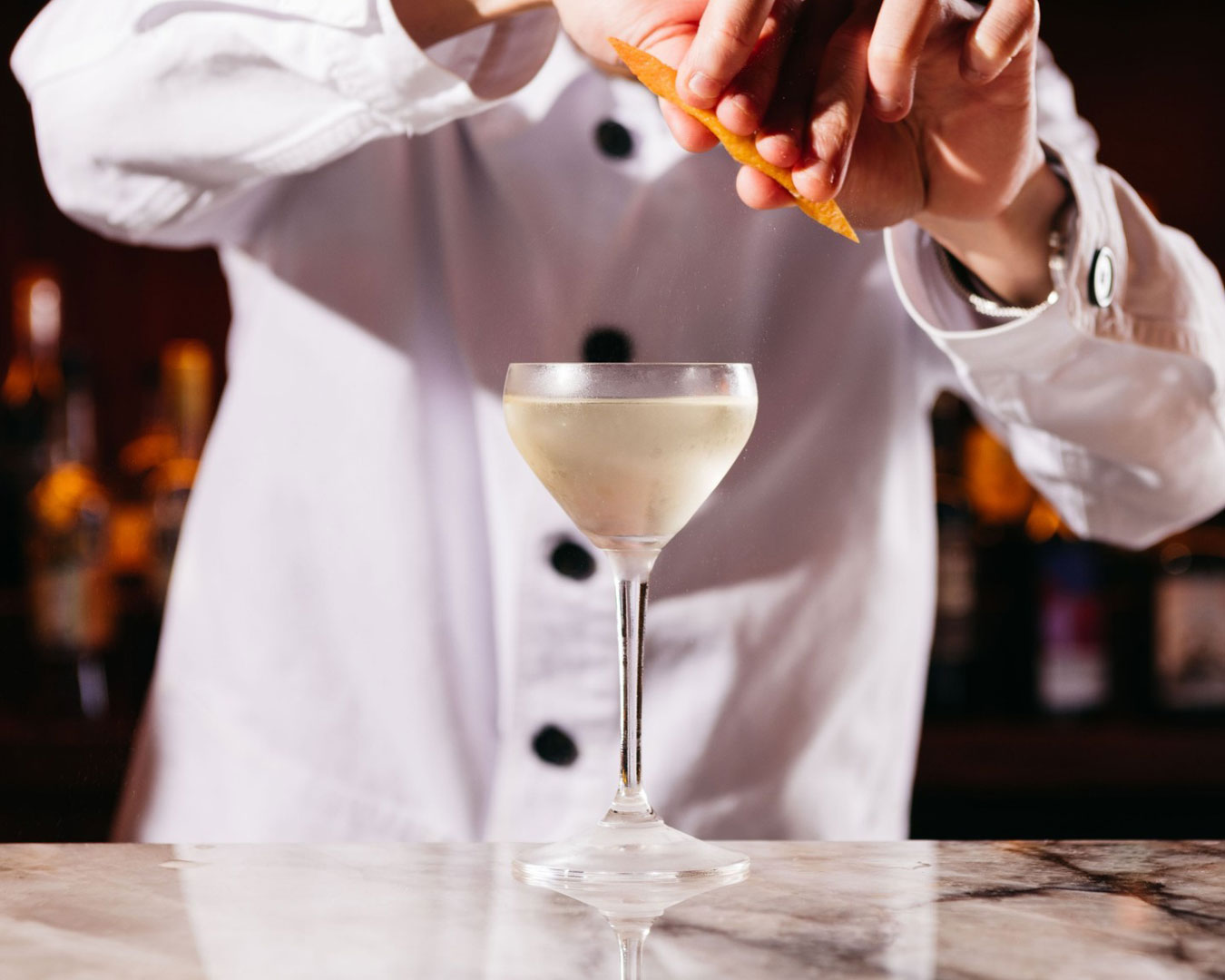 Clock off work and head to Menzies Bar, located on the ground floor of the stunningly revamped Shell House, to take advantage of its Martini Hour (4–6pm), stat. Offered every Tuesday to Saturday, Martini Hour sees $10 mini martinis paired with a limited run of lobster rolls, which will also set you back a tenner. Then, work your way up to the Clocktower bar and take your pick of either a Vesper Martini (gin, vodka and Lillet Blanc) or Janus' Martini, a concoction of olive oil-washed rosemary gin, white vermouth, and yellow plum eau de vie.
Or, take yourself straight up to the sky-high open-air terrace that is Sky Bar. The opulent but relaxed hideaway offers unparalleled views. Floor-to-ceiling glass doors surround the sprawling rooftop bar giving it a very inside-outside feeling. A stunning polished timber bar is the centrepiece, encircled by plush lounges in sleek caramel hues and rattan loungers. There isn't a martini on the official drinks list, but we reckon the bartenders will sling you one so you can sip and stare out at the twinkling city skyline.
Archie Rose Distillery
Rosebery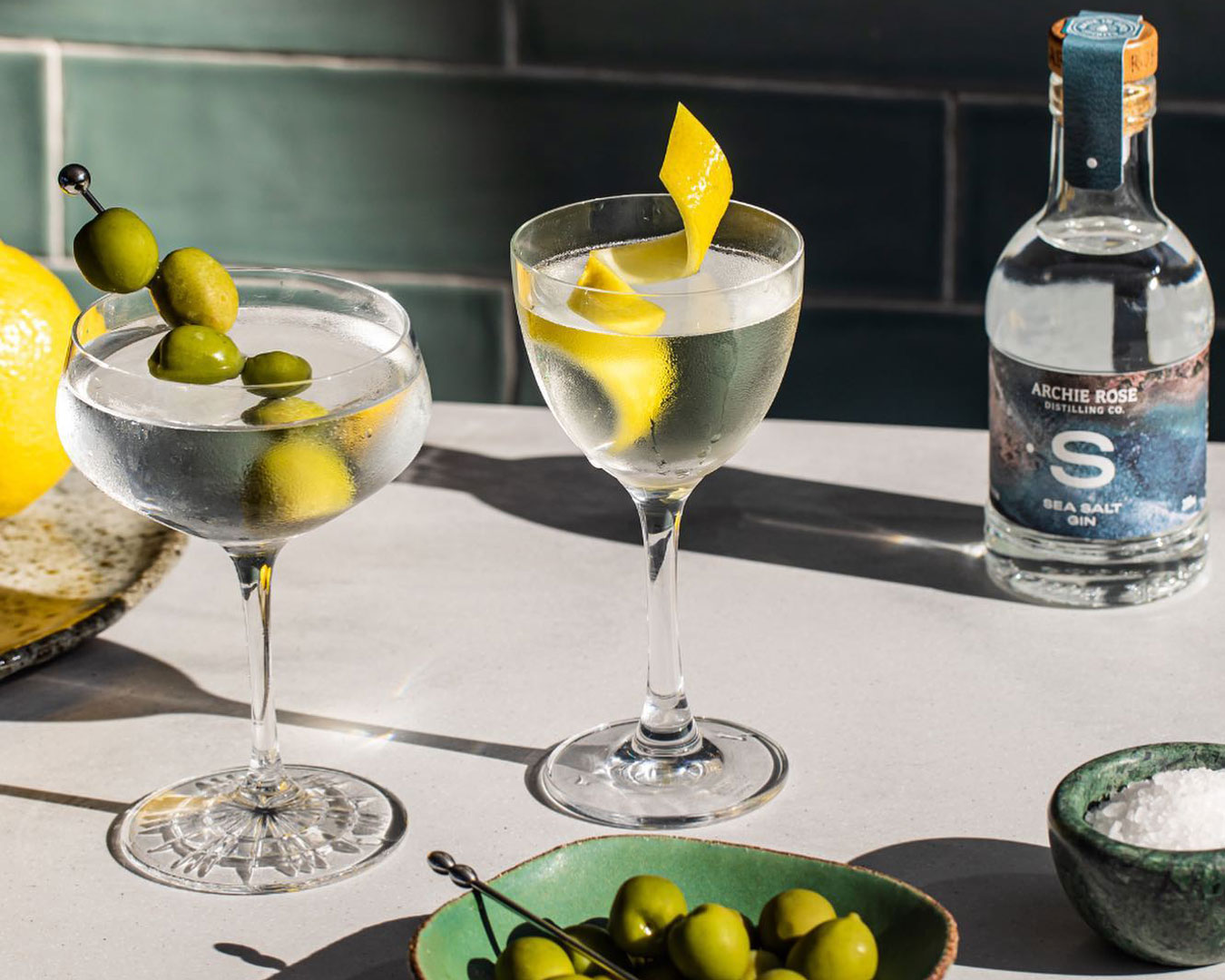 I mean, is there a better place to indulge in a martini than a bar that legitimately distills its own gin? The team at Archie Rose are serving you their booze baby, so it's a good place to brush up on your gin knowledge and use it to impress your friends after you've had your third. If you've got the time, be sure to do a distillery tour pre-tini; it tastes that much better when you've learnt a thing or two about how it got into your glass.
Maybe Sammy
CBD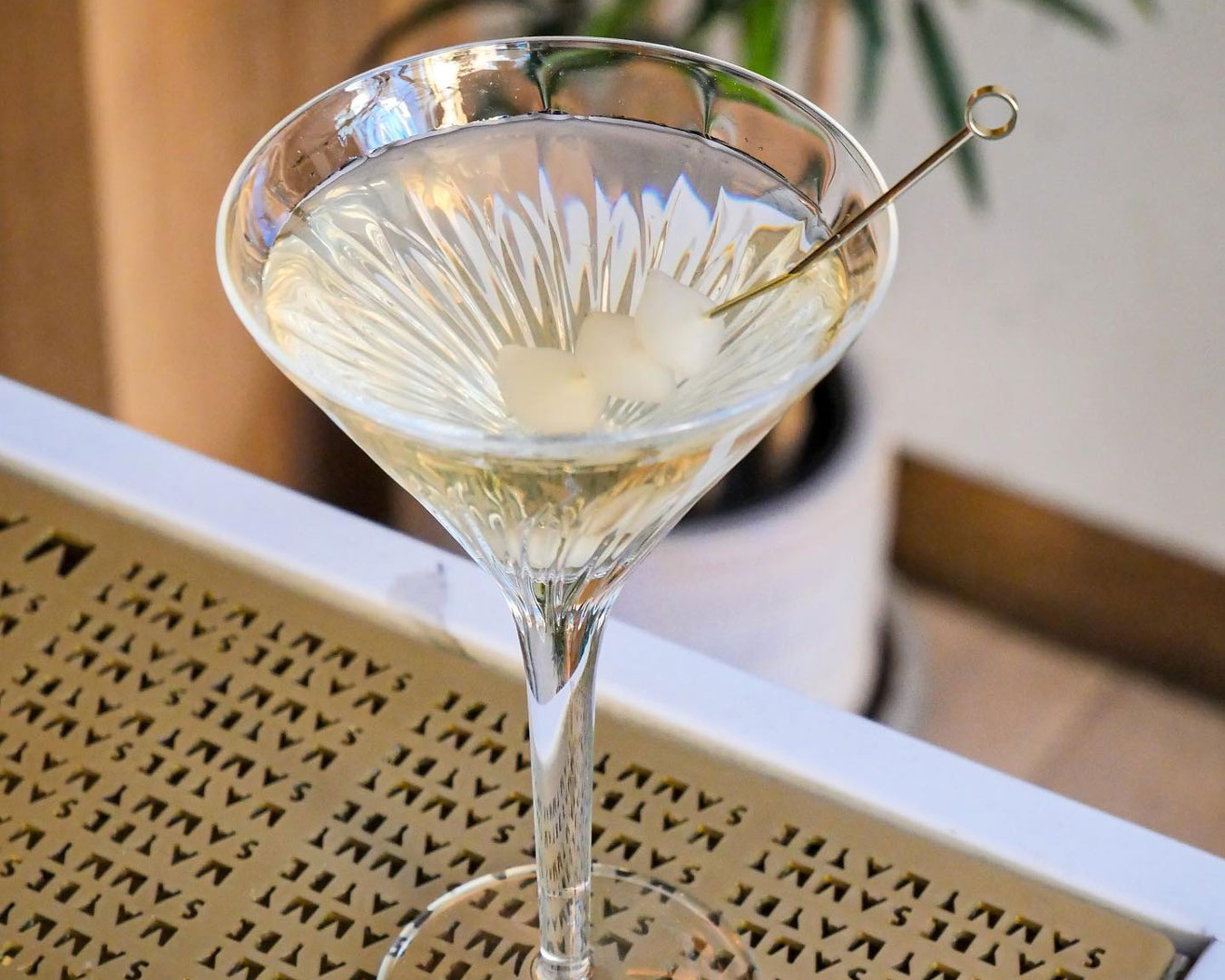 Yes, Maybe Sammy is still worth all the hype. It's currently the 22nd best bar in the world, and the top contender in the Australasia region. And even with all the accolades, the guys here still know how to have a good time. The interiors are inspired by the glamour of a Rat Pack-era hotel bar, arguably the best era of cocktails. So, naturally, they do a winning martini.
First up, there's a $150 Vesper Martini which comes with 1960s Smirnoff vodka, 1960s Plymouth gin and Lillet Blanc. If that's a bit of a stretch for your budget (we hear you), you can also get a more reasonably priced martini ($38) as part of its Martini Trolley collab with Sipsmith London Dry. There are four versions available—a classic with orange bitters and green olive, the dirty served with a feta-stuffed olive, a Gibson with fino sherry, mignonette and pickled onion, and the Australian with lemon myrtle and mango. Better yet, order yourself a $13 mini martini or mini chamomile martini—which you can also score for $7 between 4.30pm and 5.30pm daily.
Alternatively, head to sister venue Sammy Junior which has four martini variations, plus two available in mini form. Or, visit its sky-high sibling Dean & Nancy On 22, which has a $50 caviar martini offer as well as a Sakura Martini, with gin or vodka, Junmai sake, shiso, shiitake, nori and sesame, served tableside.
Gildas
Surry Hills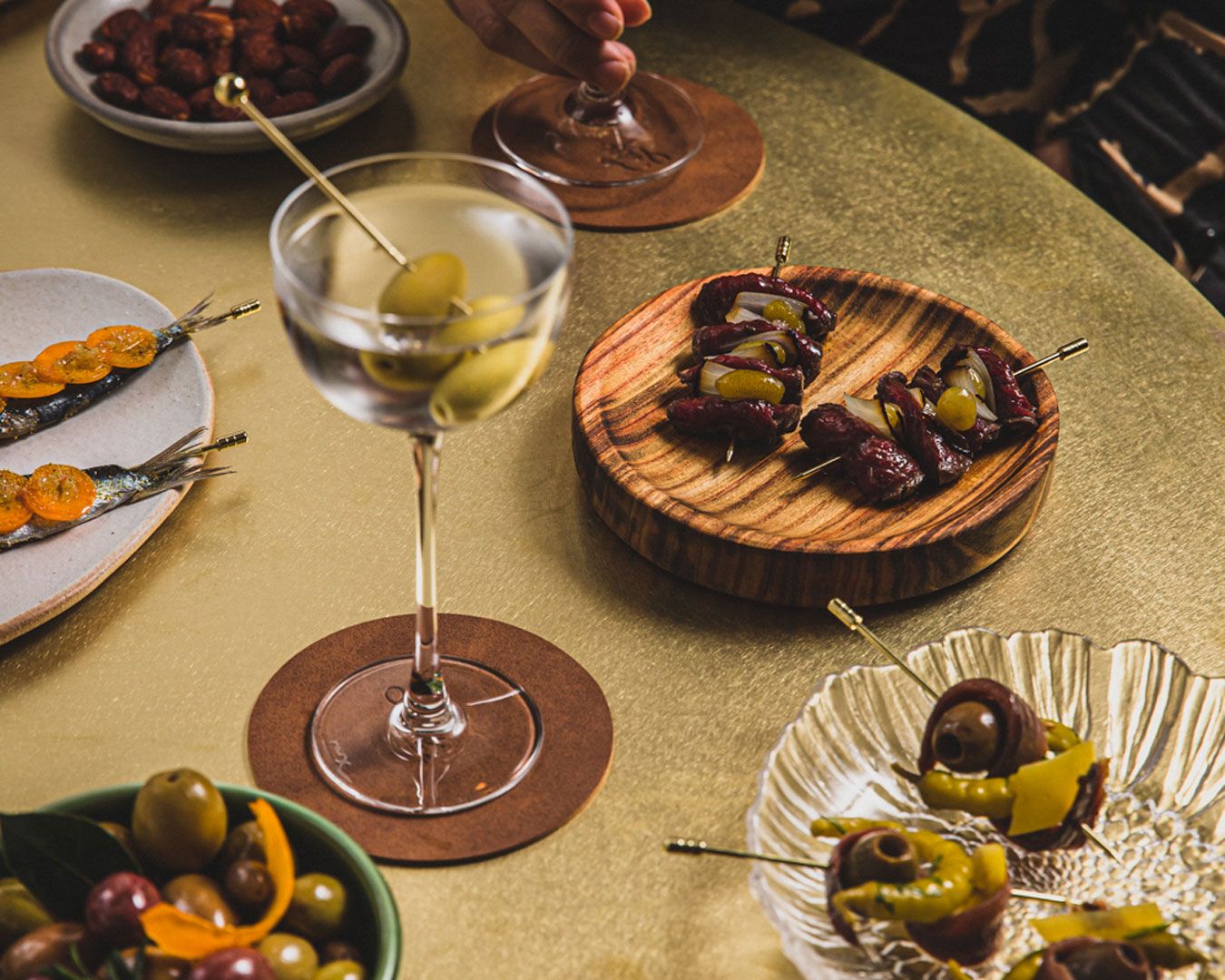 Celebrated chef Lennox Hastie's newest venture is a Basque-themed wine bar located a stone's throw from Firedoor. And while the focus at Gildas is on the Spanish wine, jerez (Spanish sherry), and a smart list of pintxos—including the eponymous "gilda"—the martini is worth your attention, too. We recommend ordering one to kick off your evening, then settle in with a bottle of Albariño and order some tapas, from spanner crab churros to plates of Jamon Iberico. Just make sure you save room for the smoked buffalo milk soft serve with dulce de leche (and another martini, of course).
Nick & Nora's
Parramatta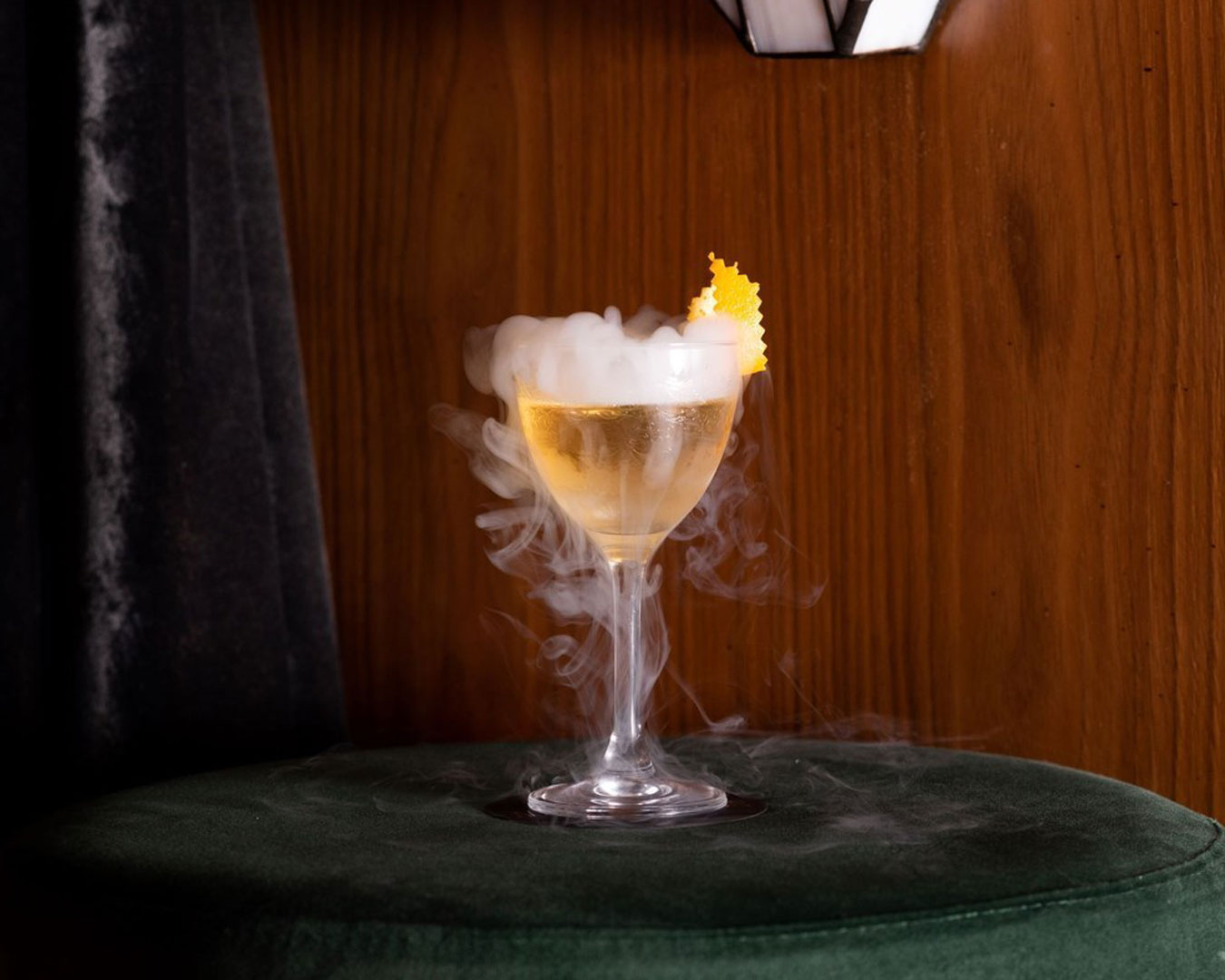 Nick and Nora's takes you 26 floors up for a rooftop bar experience flowing with champagne and the decadent post-prohibition era. The glitzy joint's name and menus are inspired by Nick and Nora Charles, a fictional murder-solving duo from the novel The Thin Man. But the only mystery you'll have to solve is what cocktail to order first while looking over Sydney's West CBD. And believe us, there are some choices, from twists on classics to a range of shared punch options that'll really get the party started. But, you're here for a martini, duh, so order one of its innovative twists on the classic cocktail—from the umami-driven Mista Asta to The Godfather-inspired one with bitter and fine botanical undertones.
LOAM
Surry Hills
Earlier this year, the highly anticipated Ace Hotel landed in Surry Hills. The US-born hotel brand is the epitome of cool and its first Aussie hotel is no exception. Boasting 264 rooms, a gym, rooftop restaurant, and lobby bar, Ace is worth checking out—even if for just a drink. And for that, you'll want to head to LOAM—an all-day restaurant and a sister venue to the restaurant at the Ace in Downtown LA. The hotel's drinks program has been put together by P&V's Mike Bennie and LOAM serves up everything from Mecca Coffee to wines by the glass, craft beer, and cocktails. As for the martini on the menu, it's a lil dirty and made with olive leaf gin, dry vermouth, and topped with olive oil drops.
Continental Deli & Bar
Newtown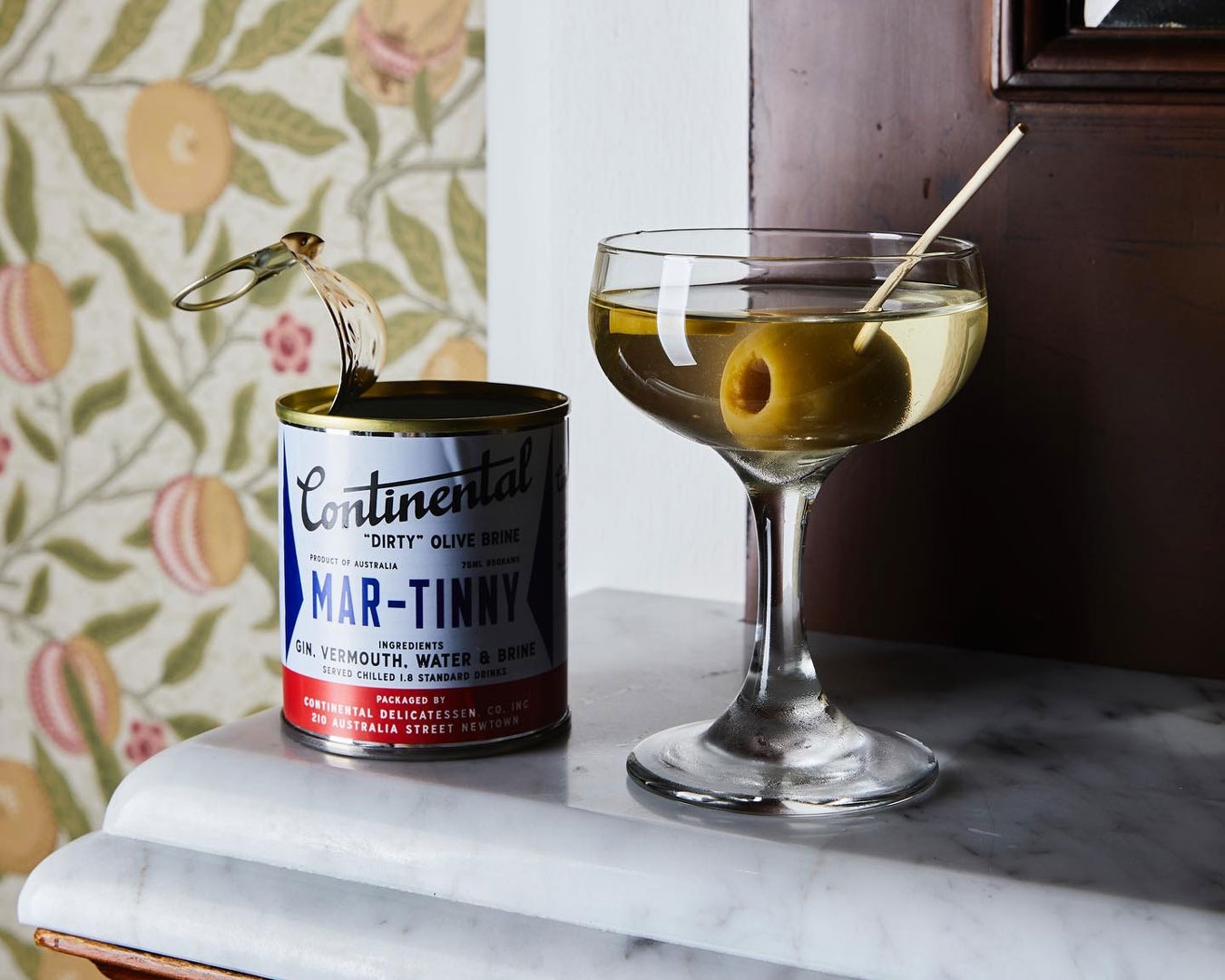 In a blend of classic cocktail finery, ingenuity and a touch of bogan, the martinis at Continental Deli & Bar are served in cans and aptly named Mar-Tinnys (geddit?). And they're bloody delicious; exactly what you'd expect from the guys behind Porteño. Each perfectly citrusy tipple is tinned in-house, has a few olives on the side if you want some filth in your life, and they're the perfect addition to your charcuterie plate or mortadella sandwich.
Now check out the best bars in Sydney right now.
Image credit: Nikki To, Nikki To, Shell House, Archie Rose Distilling Co., Maybe Sammy, Nikki To, Nick & Nora's Parramatta, LOAM, Continental Deli