Start planning your summertime feasts, Sydney—because there's plenty of newness on the horizon for you to get excited about as lockdown restrictions continue to ease. After months of takeaway, it's time to hit restaurants again and reservations are the hottest ticket as we move into November.
This month, get ready for a brand-new CBD Mezcal bar, a wine shop, bar, and restaurant from the owner of Surry Hills institution 121BC, and a fresh addition to Sydney's expanding omakase scene.
Ready? Here's our list of the best new and upcoming restaurant openings in Sydney right now.
Upcoming Restaurant Openings In Sydney
Get excited about these soon-to-open restaurants, bars, bakeries, and more.
Santa Catarina
CBD
The Milpa Collective is responsible for some of Sydney's best Mexican-inspired eateries (and some of our best margaritas too). In July, they announced they would be opening not one, but three new venues across the city. We're most excited about Santa Catarina, an all-in mezcal bar where you can go deep on the smokey sibling to tequila.
The Clarence Street bar will be paying homage to the Mexican city of Oaxaca, where the majority of the world's mezcal is sourced. You can expect a showcase of rare and authentic varieties, showing off Milpa's connection to Oaxacan producers, some of which still use ancestral techniques like distilling in clay pots.
The 100-seat venue will also put a modern touch on traditional Mexican dishes with a signature Mole Madre, made using more than fifty original ingredients and ancient techniques passed down from indigenous communities in Oaxaca. Also on the menu is Memelitas De Chapulin (gold crickets on a thin dry roasted masa bed, with queso salado and pork rind spread); and Tlayuda Con Tasajo, which involves handmade 30cm crispy toasted tortilla with pork rind spread, Oaxaca cheese, beans puree, and wagyu flank steak.
Santa Catarina also features a large wine cellar and an intimate private dining room—making it yet another top-notch drinking and dining spot for the CBD.
Santa Catarina will open Tuesday 2 November.
Paski Vineria Popolare
Darlinghurst
Owner of Surry Hills institution121BC and co-founder of Rootstock, Giorgio De Maria is one of Sydney's most innovative voices in wine. You could call him the godfather of natural wine—he was one of the first to really hero the category in Sydney long before it earned a spot on most wine lists across the city. Ever the innovator, De Maria has a fresh wine concept for Sydney, opening in November. Called Paski Vineria Popolare, it'll be a two-storey restaurant, bar, and bottleshop, created in partnership with Mattia Dicati (Vino Mito Wine Imports) and chef Enrico Tomelleri (Ragazzi, Alberto's Lounge, 10 William Street), just casually.
Housed within the former This Must Be The Place cocktail bar, which has been reimagined by Jad Silvester of Silvester Fuller architects, downstairs will be a small bar and a whole lot of artisanal small-scale Italian wine (about 400 bottles imported by De Maria and Dicati). Pick a bottle and sip it at the bar for a small corkage fee with a little charcuterie or cheese, or grab one to go. Upstairs, you'll find a pint-sized restaurant—Paski Sopra or Paski "above"—where Tomelleri will be weaving a little a la carte magic in the form of handmade pasta and Mediterranean seafood. As well as the selection of vino downstairs, you'll also find rare and special wines.
Paski will open on Monday 22 November.
La Salut
Redfern
Fresh from the dream team behind Dear Sainte Éloise, Ragazzi, and Fabbrica, La Salut is a Catalan-inspired wine bar housed within the recently revived Norfolk Hotel (now called Norfolk House). The 40-seat wine bar is a joint venture between the Love Tilly Group and _people. Like all of the Love Tilly venues, you'll be in for a knock-out wine list, though this time the Barcelona-themed venue will be throwing the spotlight on often underappreciated next-gen Spanish drops.
As for food, Ragazzi executive chef Scott McComas-Williams will be reminding us all of his skill with Spanish and Catalan fare (his resume ticks off Els Tres Porquets, the Michelin-starred Els Casals in Catalonia, and MoVida in Melbourne and Sydney). Expect snacks like mussels, hot sauce, and chips (an homage to a vermouth bar in Barcelona called Morro Fi); various jamon, manchego, and anchovies, and fried quail with morcilla spice. There'll also be larger plates to share with plenty of fresh seafood in the mix too. La Salut will also have a bottleshop so you can take your Spanish vino home, and, best part, outdoor seating for max Euro summer vibes too.
La Salut is slated to open in spring 2021.
Bay Nine Omakase
THE ROCKS
Sydney's expanding omakase scene will score a new player in November: Bay Nine Omakase. Taking up a spot within the Campbell's Cove waterfront dining precinct in The Rocks, Bay Nine will feature an ultra-intimate 10-seater dining experience at the bar, led by one of Sydney's youngest omakase head chefs, Tomohiro Marshall Oguro. Having spent time in the kitchen with acclaimed sushi chef Naoki Fukazawa (Yoshii, Sushi-E, Ocean Room) and executive chef and founder of Manmaruya, Hideki Goto, we're expecting very good things at Bay Nine.
Dishes in the personalised omakase experience will be adapted to the customer as well as what's in season. You might sample things like cured and cold smoked Victorian high country king trout sushi, Wagyu sukiyaki with sea urchin, and Tokoroten—a Kansai-style dessert, made with hand-pressed agar-based jelly noodles with dark sugar syrup. Beyond the bar, there'll also be a handful of tables where you can sample some of the omakase dishes with a set menu.
Bay Nine is slated to open in November.
Backyard at the Alex
ALEXANDRIA
The Alexandria Hotel, affectionately known as The Alex and loved for its big, leafy beer garden, will reopen in part very soon. The boozer was snapped up by Merivale back in 2015 but has been left dormant ever since. Now, Merivale has revealed plans to open up the beer garden while renovations of the greater pub kick-off.
Dubbed "Backyard at The Alex", it's inspired by the backyard—which is arguably the pinnacle of Aussie culture in the summertime. The new outdoor venue will feature resident food trucks (with the Wholly Schnit schnitzel truck on the lineup first), as well as a pop-up Merivale kitchen serving pub classics, beer on tap, classic cocktails, and a selection of wine. Bring your crew and you're four-legged pals (The Alex is dog-friendly), pull up a spot on the long communal tables or bleachers around the basketball court, and soak up the summer vibes with live music and DJs on the tunes.
Backyard at The Alex is slated to open soon.
Hickson House
THE ROCKS
Sydneysiders are already spoilt for choice when it comes to inner-city distilleries that double as great bars, and now there's a new spot on the horizon from a couple of local bar and spirit-making legends. Hickson House Distilling Co. is the brainchild of Mikey Enright and Julian Train (of The Duke of Clarence and The Barber Shop fame) plus Tim Stones (distilling whiz formerly of Manly Spirits), and their new venture promises to shake up The Rocks' booze scene in a big way.
Housed in the old Saatchi & Saatchi garage, Hickson House will breathe new life into the former warehouse party pad with an active distillery pumping out an interesting mix of gin, aperitifs, whisky, and specialty spirits alongside an enormous, multi-storey bar serving up daring cocktails and a botanical-inspired menu to match. First on the trio's agenda is a range of "Hickson Road" gins (if The Barber Shop's "Gin Bar Of The Year" reputation is anything to go by, you know it's going to be epic), featuring a gin designed to pair with a special kangaroo dish.
Back in February, the Hickson House team hinted at a late 2021 opening date—so we're expecting this one to open up very soon. Stay tuned here.
New Restaurant Openings In Sydney
From hidden gin bars to stylish CBD bistros, here are Sydney's most exciting new restaurant openings.
IL PONTILE
Woolloomooloo
Woolloomooloo's famous wharf has a new addition. Say ciao to IL PONTILE—a sleek Italian restaurant that feels very at home at this sparkly harbourside spot. From Audacia Enterprise in consultation with fourth-generation Italian restaurateur and chef, Naples-born Mario Percuoco, IL PONTILE is refined but relaxed, the sort of breezy waterfront fine dining that feels very Sydney. Unlike its neighbours on the Finger Wharf, IL PONTILE is dog-friendly, making it the perfect spot for a long lunch after a morning stroll around the harbour.
Kick off with jumbo scampi or house-cured ocean trout, before moving onto some of Sydney's creamiest burrata served with battered zucchini flowers. Housemade pasta includes Percuoco's signature seafood linguine—a spaghetti-in-a-bag creation that is baked in paper and served wrapped and drenched in sauce. To drink, go for the Sicilian Negroni—like the original but with the addition of fresh blood orange.
Casa Merida
Potts Point
Another newbie from the Milpa Collective crew, Casa Merida is a cocktail bar inspired by the opulent Belle Epoque-style Coqui Coqui hotel in Merida, on Mexico's Yucatán Peninsula. It looks the part, built into a grand old terrace on Kellet Street with chandeliers, draped curtains, and an antique mirrored ceiling. The 70-seater focuses on traditional Mexican cocktails and Mayan cuisine. To eat, it's Mayan octopus, chicken, and jackfruit tacos; spatchcock recado negro; and a signature Cochinita Pibil, which is basically suckling pig cooked al pib with frijol colado and fermented onions.
And for drinks, you'll be able to select from Mexican spirits, rare mezcals, and cocktails inspired by the Merida region—including an extensive list of margaritas and Latin American classic cocktails. If you're really into the finer things, top-tier selections of tequila exclusive to Casa Merida, like Clase Azul Ultra, 3-4-5, and Casa Dragonesare, are on offer for $300 - $400 a nip.
Lola's Level 1
Bondi Beach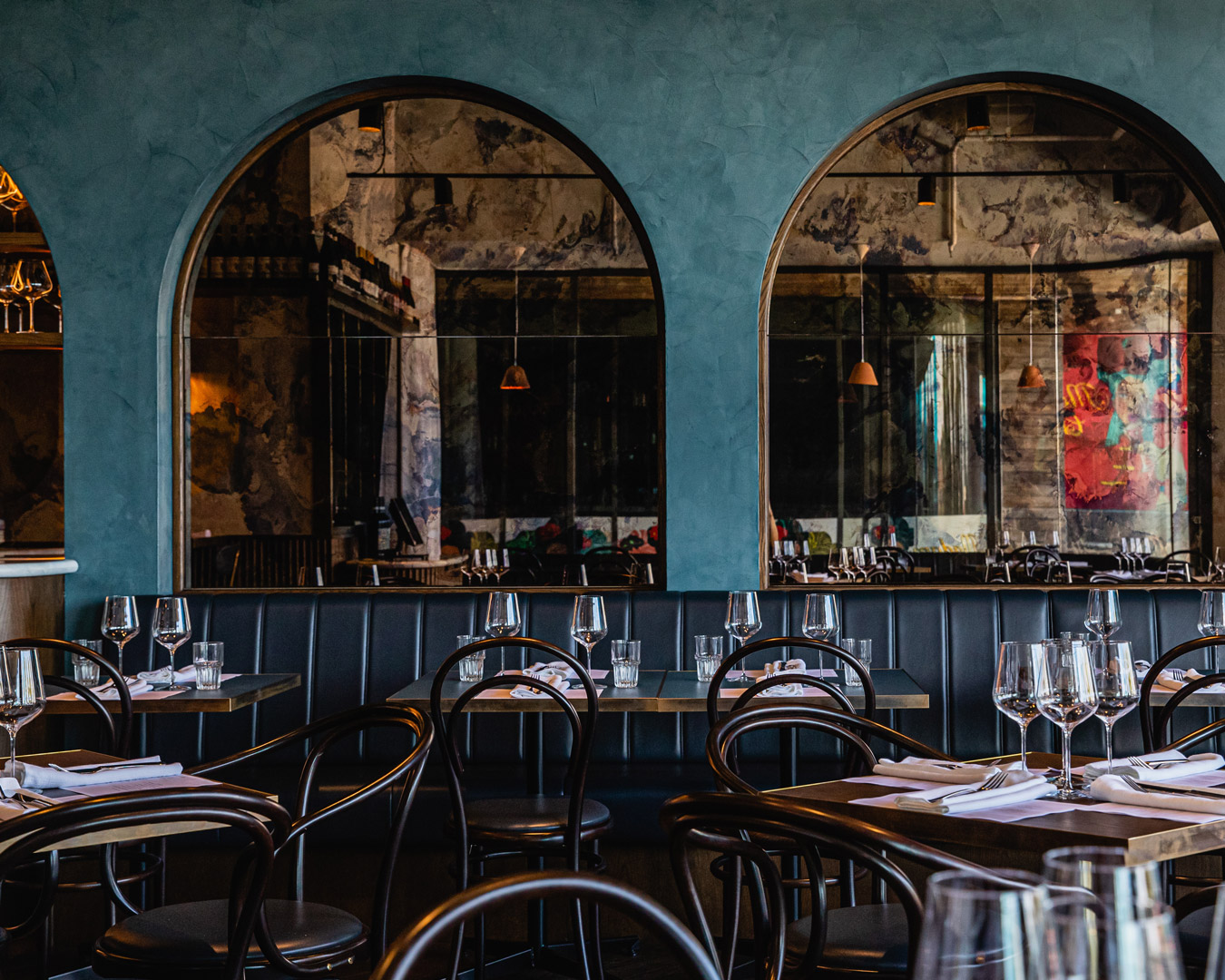 The newest member on the Bondi restaurant scene—and one of the hottest new restaurant openings of 2021—is Lola's Level 1. It's the latest venue from co-owners Marco Ambrosino (Fratelli Paradiso, 10 William Street) and Manny Spinola (Pacific Hospitality Group), so you know you're in for a real treat. The venue has introduced itself with a Mediterranean-inspired menu that offers flavours from Italy, Spain, and Greece. Not bad when you're also a stone's throw from sparkly Bondi Beach.
Kick off with oysters shucked at the bar served natural or with vermouth granita. Then pick from small plates like Pioik sourdough and PX Balsamic 25yo, creamy burrata with citrus and basil, or "Cantabric" anchovies with piquillo peppers, before moving onto Angus hanger steak with chimichurri and bullhorn pepper and a lasagnetta with white osso bucco ragu and gremolata. For dessert, it's wattleseed ricotta cannoli or a divine safron mascarpone semifreddo served in the shape of an ice cream.
As for the drinks, Lola's is a spot to sip your way through a slick edit of cocktails that showcase Australian craft spirits. Try the Rosita, which is a tribute to Gary Regan's Bartender's Bible, and is a sort of tequila Negroni with tequila, Campari, extra dry vermouth, sweet vermouth.
Odd Culture
Newtown
Odd Culture is an all-day eatery and bar dedicated to all things fermented, complete with an adjoining bottlo. Dreamt up by the Odd Culture Group, which also owns The Oxford Tavern in Petersham, The Duke of Enmore, and Woolloomooloo's Old Fitzroy Hotel, this unique but cool and casual King Street establishment is the first in the area allowed to trade from 7am until 2am.
In the kitchen, a pair of former Continental Deli chefs are heading up the menu with the help of James MacDonald, former head chef at Restaurant Hubert, and now executive chef for the Odd Culture Group. Under a broad fermentation theme, the team is "cooking from all inspirations—from European to Asian and beyond," MacDonald explains. Meanwhile, the bar and cocktail program is led by Sam Paech (ex-Baxter Inn). Also following the wild fermentation concept, Paech has created a "sour" Negroni with an oude kriek (Belgian sour cherry lambic) vermouth, as well as a lacto-fermented strawberry daiquiri, a burnt butter Espresso Martini, and pineapple tepache made in-house.
Frank Mac's
The Rocks
From the crew behind Sydney's opium den-inspired whisky bar, The Doss House comes an all-new gin bar for The Rocks. Slated to open Friday 22 October, Frank Mac's won't be an average gin bar either—with 100+ gins sourced from all around the world, it'll have one of the biggest botanical collections in Sydney, and one of our most expensive martinis too.
Inspired by village bars in Ireland, Frank Mac's is set across two storeys and a courtyard in one of The Rocks' extra-charming sandstone buildings. The facade gives Diagon Alley vibes and we love the cosy fireplaces and private lamplit nooks. Standout drinks include signature G&T's (naturally) and a Vesper-style "Mac Martini" made with Bombay Dry gin, Eristoff vodka, Lillet, Antica Formula vermouth, and house-made olive brine, and infused with lemon myrtle, kaffir lime, and bay leaves. High rollers will love the $100 "Frank's Last Drink" concoction—a theatrical mix of Monkey 47 Distiller's Cut and vintage 1970s Carpano Dry Vermouth, served in a crystal glass and paired with a 10g serve of Ossetra caviar.
To eat, it's a short menu of snacks like burrata with sourdough, heirloom tomatoes, and frutta di mostardo; smoked mozzarella and basil arancini; 24-hour gin-cured salmon with Yarra Valley shiraz gin caviar; and meat and cheese boards. With sister venue The Doss House not far away, as well as Maybe Sammy, and some new spots on the way like Hickson House Distilling Co., The Rocks is shaping up to be one of Sydney's best bar-hopping suburbs.
The Blue Door
Surry Hills
It's not often that Surry Hills comes second to the Gold Coast, but we're absolutely willing to make an exception in this case. Award-winning chef Dylan Cashman is opening a Sydney outpost of his standout GC restaurant The Blue Door down South this month. Cashman's resume lists a few pretty heavy-weight players, like Sean's Panorama, Cottage Point Inn, and Paper Daisy. He's also got some Michelin star experience under his belt and was also head chef at Fin's where he earned his first hat—so yes, we are more than a little excited to see his bright Yves Klein blue-coloured door on Waterloo Street.
As for what's in store, expect an intimate space dedicated to produce, ethical and sustainable practices, and real connection. An impressive 95% of The Blue Door's produce is sourced from NSW farmers, with a rotating weekly menu that ensures the restaurant's suppliers and farmers are never under pressure. Bread is made in-house and The Blue Door is home to two Airgardens—Australia's first locally manufactured aeroponic 100% natural gardening system. The wine list champions wine from NSW too, and a "secret sips" menu will showcase hidden vintage champagnes, a small edit of international wines, and cocktail specials too.
Lunch is a la carte with two and three courses available, while dinner is a six-course tasting menu, with the option to pair wines too.
Hank's
Darlinghurst
Are you ready for a lil' Oxford Street revival? Before the lockout laws, so much of Sydney's nightlife revolved around this once-vibrant strip that connects the city to the east. Now, the City of Sydney is working hard to bring it all back to life and we reckon a brand new bar called Hank's is the first sign of life. It's led by Aaron Edwards of award-winning craft beer bar Bitter Phew, and you'll find it just beneath the genre-bending beer spot on Oxford Street. Hank's will be a no-fuss neighbourhood bar pouring minimal intervention wines, cocktails infused with Australian native ingredients, and own-label pale ales alongside house-made pizzas.
It's a bit of an all-star lineup with Lou Dare managing the bar (Charlie Parkers, Employees Only, Burrow Bar) and Anthony Lot (Alberto's, 10 William St) in the kitchen. Dare has a perfect martini made with 23rd St Distillery gin from South Australia and Adelaide Hills vermouth, as well as a Sydney Spritz, which features a "driveway vermouth" made with weeds foraged from the Inner West suburbs of Sydney. Lot's pizza menu includes a classic Margherita, a Soppressa with mushroom as a riff on the American-style Pepperoni, and some new-style pizzas such as the Nduja, ricotta, kale, and honey. You can also fill up on bar snacks like deep-fried pickled artichokes and Venetian-style meatballs. As for the beers, the house-brewed First Round Pale Ale and the Shotgun Lager will both be available on tap and in cans.
The Menzies Bar
CBD
Earlier this year (pre lockdown 2.0), we learned that the crew behind The Dolphin, Harpoon Harry's, The Bucket List, and Bondi Beach Public Bar was set to take on historic Shell House at Wynyard in the CBD. The restoration of the multi-storey venue would lean into the stunning building's Interwar commercial palazzo-style architecture with indoor and outdoor settings over 1,600 sqm of space complete with a jawdropping rooftop bar too—a design collaboration between interior stylist Anna Hewett and Woods Bagot Architects.
After that lockdown pause, we'll finally be able to get a taste of Shell House's new era with The Menzies Bar, a glamorous groundfloor cocktail bar slash bistro which, in spite of the very European brief, feels very Wall Street NYC—and we dig it. The cocktail program has been dreamt up by Josh Reynolds (Dolphin Hotel, Scout), and we can't wait to try the "In-Cider Trading", made with scotch, coffee, fig, cider caramel, and smoked honey. The Dolphin's crowd-fave Sicilian margarita, made with tequila, limoncello, Sichuan, and fresh lemon will also feature. Wines lean in the organic, biodynamic, sustainable, and minimal intervention direction. To eat there are small plates (spanner crab crumpets and a slow-fermented sourdough toastie with fontina, black pig ham, and pickles) and large plates (a Bistecchina and coral trout with Tropea onion, caponata, and olive mascarpone). Along with the marble fireplace and mosaic tumbled marble floors, this is precisely the glamour we need after months of living in our sweats and activewear.
FSH MKT
BONDI BEACH
Just in time for summer and eased lockdown restrictions, Bondi has a brand-new fish and chip shop on the way. We've seen a couple of modern reinventions of this iconic Aussie takeaway concept in recent years, like FICH in Petersham and more recently Josh Niland's Charcoal Fish (see below) and FISH SHOP in Bondi. Well, FSH MKT is the newest in this sub-genre of beachside takeaway, and it's actually an extension of FISH SHOP, filling up the spot next door on Glenayr Ave.
At FSH MKT it's a takeaway only affair, you can shop fresh sustainable seafood by the kilo, or pick up a perfect beach lunch like prawn katsu burgers, flathead "zinger" burgers, a yellowfin tuna cheeseburger, and build-your-own-picnic boxes too, which you can fill up with shucked-to-order oysters, prawns, and house-made condiments like tartar sauce, ketchup, fermented chilli, chilli jam, and more.
Tiny's
CBD
If there's one drink that really symbolises the last two years of our lives—it has to be the tiny bottled cocktail, right? Tiny's is named after this pandemic-era beverage, but there's a whole lot more to this brand-new CBD venue than those cute Alice in Wonderland-style tonics. For one thing, it ain't literally tiny. It's a sprawling indoor-outdoor 170-seat space drawing together the all-day vibes of a bartender, barista, baker, chef, and in-house DJ.
By day, head to Tiny's for Single O coffee and sandwiches made on signature Vietnamese-style bread (perfectly crusty on the outside and delightfully fluffy on the inside). Sydney's sandwich scene is already impressive, but we reckon Tiny's "Huge Sandwich"—a customisable monster designed to be shared with friends—is bringing the party to the humble sambo like never before. At night, it's time to tuck into Tiny's namesake. A feature wall stacked with bottled cocktails and a neon sign that reads, "save water, drink cocktails" sets the tone. Your classics are covered off (Espresso Martini, Old Fashioned), as well as some tweaks (a rum Negroni), and signatures (a vodka-based "Molotov" cocktail).
As well as sandwiches, the day-to-night menu features sharable plates like steak tartare, kingfish crudo, charcuterie, cheeseboards, and oysters served rockstar-style in a cloud of dry ice.
Acqua E Farina
POTTS POINT
Acqua E Farina is a brand new artisan pasta spot from the team behind Sydney's rule-breaking degustation restaurant, Métisse. Head chef Lucinda Khan is whipping up fresh handmade pasta and housemade sauces. During lockdown, pastas were made to order and available for takeaway. Now though, Acqua E Farina is open as an intimate 12-seat BYO pasta bar. Inspired by the Med with fresh pasta being served out of 80kg Parmigiana cheese wheels, we're predicting this one will be a major summertime vibe and perfect for date night.
Charcoal Fish
ROSE BAY
Charcoal Fish is the latest from award-winning, trailblazing sustainable seafood chef, Josh Niland. Very basically, it's a fish and chip shop concept that pairs the nostalgia and simplicity of a charcoal chicken shop with his new school approach to seafood. "Charcoal Fish has been an ambition of mine for the past 12 months," Niland told us back in May when the new venture was announced. "I feel it is absolutely essential to Sydney's dining footprint that we have a charcoal chicken equivalent available for fish."
Charcoal Fish sevres mostly just one fish—Aquna Murray Cod from Griffith in NSW. It's an interesting move for a chef who's known to hero diversity when it comes to seafood, but as with anything Niland does, there's plenty of thought behind it. Read more about Charcoal Fish here.
Wings 'N Burgers
Waverley
The iconic Robin Hood Hotel has had a bit of a glow-up this year. First was Lorraine's, an Art Deco-style wine bar, led by Michelin-trained chef Clement Marchais. The newest addition to the Eastern Suburbs boozer is Wings 'N Burgers. Also headed up by Marchais, this is all-American comfort food meets top-notch pub fare with a little Michelin star polish. The very good-looking "Triple Double" burger is a stack of Jack's Creek Wagyu smash patties, double hi-melt cheese, double maple bacon, American mustard, tomato sauce, pickles, and onions, finished with Wings 'N Burgers' signature sauce and served on pillowy-soft, freshly baked potato buns. A contender for one of Sydney's best burgers? We'd back that. There's also a spicy twist on buffalo fried chicken, three variations of poutine, and cheesy fries that you should absolutely top with tequila jalapenos. Amazing.
Chez Dominique
NAROOMA
Ok, this one's a little further afield—but hands up if you're keen for some restaurant-inspired road trips once lockdown wraps up? Yeah, same. Down in pretty Narooma in NSW's Eurobodalla Shire, Merivale has continued its pub acquisition spree, picking up The Whale Inn in June, a restaurant, motel, and bar perched on the coast. And it's here that Chez Dominique has popped up, offering an intimate farm-to-table bistro experience.
Led by French-Australian couple Elsa Marie and Julian May, who draw experience from kitchens across Europe and Australia (Septime, Saint-Europe, Brawn, 10 William Street, and their own Parisian restaurant, La Vierge), Chez Dominique champions Narooma's local farms. Veggies from Borrowed Ground growers, Queen Street growers, Old Mill Road farm, and Stepping Stone farm, for example, will be served alongside grass-fed pork and beef raised and butchered by local father and son duo, Ian and Rhys Martin of free-range Martin's Ridge Farm. This one is a super special, limited-run experience—so here's hoping we can travel down south again soon.
Where's Nick Wine Shop & Bar
Marrickville
Where's Nick feels like one of Sydney's best-kept bar secrets—a long-standing Marrickville small bar loved for its unique curation of booze. But then, Where's Nick has won plenty of awards and appeared on plenty of "best bars" lists—so the secret's definitely out. In May this year, much to our delight, Where's Nick expanded, opening up its very own bottle shop in the former Flight Centre spot next door.
Owners Julian and Dominic Abouzied have buddied up with Bridget Raffle (Sixpenny) to create the Where's Nick wine shop—and here you will find the same mix of unique nattie wines, spirits, and beers that the Nick crew have become known for. "We want to move the conversation in natural wine beyond trendy juice," Julian said in a statement. As well as the downstairs retail space, you'll also find an upstairs function room built for tastings, movie nights, Dungeons and Dragons events (!), and more.
Pub Life Kitchen
Ultimo
After a four-year hiatus, Pub Life Kitchen is another blast from the past on this list, returning to the Lord Wolseley Hotel in Ultimo. PLK fans will be happy to learn that other superstars from the original menu are making a comeback. As well as the OG Burger (a stack made up of dry-aged grass-fed beef patty, cheese, pickles, tomato, lettuce, and roasted garlic and lime mayo), you'll also find the TLC (fried chicken, double cheese, pickles, green sriracha mayo), founder Jovan Curic's beloved thick-cut chips, and hot n sticky chicken wings.
When it comes to what's new, Curic says, "this time it's a family affair, with my wife Dee and I creating a menu that pays homage to both our love of the classic Aussie pub, great quality Australian produce, and also our Serbian heritage."
Kick-off with an Adriatic-style octopus salad, or Balkan staples like dry-aged cevapi, sarma (stuffed pickled cabbage rolls), and a Serbian-style pork schnitzel called karadjordjeva snitzla. And, alongside even more weekly specials, you'll also find Aussie pub classics like schnitty and parmi; a pasta alla norma with eggplant, tomato, basil, and Reggiano; and a dry-aged grass-fed rump steak served with chips and burnt onion butter.
The Barrie
Chippendale
If you've been wondering what would become of the old Freda's site in Chippendale—we finally have an answer. Picking up where the legendary late-night spot left off is The Barrie, a no-fuss cocktail lounge and live music spot from Chris Garner, Chris Turvey, and Liam Stanwell. While the trio counts Employees Only, Rockpool, and Restaurant Hubert in their bar experience, the vibe at The Barrie will be much more low-key.
Serving only Australian wine and beers alongside a neat edit of signature cocktails, cheeses, and charcuterie from LP's Quality Meats, The Barrie isn't trying to be anything but a good time—which is totally the sort of unpretentious vibe we can get behind in a post-2020 world. Kick-off your night with the fruity and refreshing "Cash on Delivery" cocktail, made with cognac, Brookie's macadamia and wattleseed, passionfruit, citrus, and peach bitters, before moving on to something delicate and smoky like the "Finger in the Ocean" with Vida mezcal, Amaro Montenegro, Espolon blanco tequila, grapefruit and rosemary, topped with sparkling wine.
The Barrie also has live music most nights of the week ticking off everything from blues to reggae and disco.
Rice Pantry
Marrickville
Rice Pantry is a part of Marrickville Metro's amazing (and very welcome) new glow-up. On the new Smidmore Street dining precinct, the all-day diner is a follow-up to St Peters' super popular Rice Pantry outpost, only this time, former Masterchef contestant Bryan Zhu has joined the kitchen as head chef, whipping up even more friendly Aussie-inspired Vietnamese treats.
As the name suggests, rice is the hero of the menu, and alongside a daily selection of rice paper rolls, bao, signature bowls and pho, are things like okonomiyaki loaded tots, made with nori salt, furikake, Japanese BBQ sauce, kewpie mayo, shichimi togarashi, bonito, and lime, as well as spring onion roti, and sriracha loaded fries. There are a bunch of signature cocktails to sip (our pick is the "Lychee Umeshu") and, for dessert, Zhu is serving his famous yuzu ice cream, made with layers of lime meringue, citrus, and saffron pineapple combined with sago and mint. There's also a Vietnamese coffee lamington that needs to be on your sweet treat hit list.
Still To Come
Image credit: Trent van der Jagt, Trent van der Jagt, Nikki To, Nikki To, Steven Woodburn, Il Pontile, Milpa Collective, Trent van der Jagt, Steven Woodburn, Hank's, Shell House, FSH MKT, Tiny's, Acqua E Farina, Wings 'N Burgers, Where's Nick, Alpha, Nikki To, The Barrie, Leigh Griffiths
Please do not share this content with anyone under the age of 18.
#drinkresponsibly #dontforgetyourlocal