We're flying into December with gusto because if you haven't heard, Sydney has spurted another round of delicious new openings so you'll naturally just have to work your way down this list. It'd be rude not to.
Sorry, but your is definitely not coming out this month. Here are all the new Sydney openings we're loving this December.
The Lucky Cat
Coogee
The Lucky Cat is the Eastern Suburbs' newest dumpling joint right on the beach packing all the mouth-watering dumplings, buns, wraps and veggies. To wash down the fare here, you'll find a sling of craft beers and cocktails like frozen negroni's, gin tea and cherry blossom martinis, all backed by the smooth sounds of jazz. On the food side of things, you can pump your bellies full of BBQ pork, duck, lamb gyoza and red spicy prawns which basically translates to a big, fat and glorious food coma.
Terra
Canberra
Terra, the canteen-style, produce-driven foodie destination should be on anyone's bucket list. Expect an ever-changing breakfast and lunch menu that features straight-off-the-spit smoked and charcoal meats, gourmet lunch roll, seasonal roasted veggies, fresh salads and juices. And don't get us started on the coffee here. You'll find this one in the heart of No Name Lane in Canberra, churning out a bunch of epic proteins, all slow-cooked on the rotisserie and smoker so think 100-day grain fed Black Angus beef short rib smoked for six hours, charcoal chicken with house-made hot sauce, spit roasted 'Hilltops' pork belly with house-made sauerkraut and miso gravy, and smoked Cowra lamb ribs with sweet BBQ sauce.
The Vicar
Dural
Recently demolished and renovated, The Vicar is made up of three separate bars and two districts. Hit up the Sports Bar for all the game antics, burger stacks, schnitzels and wine on tap. If you're into that fresh farm-to-table lifestyle, then you'll want to pop over to Wakefield's for your chance to check out a whole menu based on shared-plates made from locally sourced produce. The Northside Brisket Bar is where you'll want to head for solid smoked meats and all the free-range produce. From beef brisket to pork shoulder and some sweet corn, you're on set on the protein-front here. To top it all off, Mrs. Goldsmith is the wine-bar influenced by Europe you never knew you needed.
Social Hideout
Waterloo
Sydney's famous Social Hideout, otherwise known as the Willy Wonka of all cafes, has opened its colourful doors in Waterloo and cue the all the next level feeds. If you haven't been across the hype, this gem is basically where any good foodie would go for their last meal. The menu here is a psychedelic take on all your breakfast favourites including pancakes, eggs benedict, French toast and loaded croissants.
Saké
Manly
The Saké family has travelled across the harbour to the new rooftop of Manly Wharf, where you can indulge all your summer vibe needs. Boasting a variety of dining spaces, you can choose your fortune at Saké. Take in the sea air and ocean views on the terrace, sit kitchen-side at the sushi counter, get the crew around for a more intimate experience in one of the private dining rooms or sip on gin bowls in the bar area. Speaking of gin, lucky for us, they really like it there. With bespoke creations featuring local gin hero Manly Spirits Co, your standard arvo G&T is left for dead.
Tandem
Newtown
The newest addition to Newtown's iconic bar scene is Tandem, a rooftop bar in the hub of King Street. Grab a drink at their main bar or head upstairs to the loft area and take some further steps up to the courtyard and knock 'em back while watching the sunset. And if you're hungry for the goods, these guys have partnered with our fave burger buds, Loaded by BL, to bring us top-notch stacks on the menu.
Goodfields Eatery
Lindfield
We're a fan of the feel-good vibes and even better feel-good eats at this joint. Located in the heart of Lindfield, Goodfields Eatery is already a local staple. Behind this leafy nook, you'll find a little escape from the bustle of Sydney. On the caffeine-front you'll find Five Senses Coffee to load yourself up on the energy train but if you've got time to settle in, it'll be well worth your time. Your go-to for breakfast has to be the butter roasted lobster tail on a seeded bagel, topped with poached eggs and house-made crustacean hollandaise.
El Camino Cantina
Manly
El Camino Cantina is moving its fine-arse cocktails and 'Taco Tuesdays' to Sydney's North Shore. The sombrero-splashed party vibes have shuffled over to these parts for good which basically means one thing. You'll be living it up on the rooftop, downing salsas, soft shell tacos and washing it all back with two-litre margaritas like you were born to do in no time. The crew here also plates up a 'fajita fiesta' weekly which means you're in for bottomless tacos ever. And dare we mention the 10-cent chicken wings every Thursday.
Continental Deli & Bistro
CBD
From the owners of beloved Sydney faves, Bodega and Porteño, comes the newest edition to the Continental Deli Bar Bistro family. A CBD location opened up right in the heart of central Sydney. Bringing us all our faves from their Newtown joint, like the meatball and parmesan sandwich along with cheese and cold meats galore. For the CBD workers, we've got the chance to take some long liquid lunches, sipping down Mar-tinnies (tinned Martini) all arvo long.
Saint George
Chippendale
Walk straight on by your beloved Kensington Street and once you've hit the corner of Little Regent, you'll be faced with Chippendale's latest establishment, Saint George. From the former head chef of the Bellevue, James Metcalf, comes this new restaurant that serves breakfast and then transforms into a wine bar in the eve. If the giant print on the window that says 'Coffee and booze for the working class' isn't enough to get you hooked, then maybe their 70-plus wine menu will do the trick.
Tayim
The Rocks
Tayim is our latest obsession, with the legend behind it, Chef Ran Kimelfeld bringing a Middle Eastern flare to The Rocks. Grab a spot on their outdoor dining balcony and take in the breathtaking harbour views. The menu, with all the fixings of a classic ethnic meal, has a slight twist to all your faves. Using only locally sourced produce and importing authentic herbs and spices, you'll feel a bit of a kick.
The Butcher's Block
Barangaroo
The stars over at Wahroonga are bringing us a Barangaroo-based Butcher's Block. They're plating up all the best from their original menu like the pork katsu burger and iconic banoffee waffles. This area is pretty scarce in regards to brekkie places. So, this place is offering a light for all those commuting each morning. If you're in search for bomb corn fritters, then look no further for your newest breakfast hot spot. As for their crack pie, oh yeah, it's out of this world.
Spago
Chatswood
We're all about that pasta life and Spago is serving up next level plates of whatever pasta you can imagine. We're talking gnocchi, risotto and the staple spaghetti. Moving up from the south-west to our northern suburbs, these guys called Beverly Hills home, up until now. We suggest you order up the alla chittara with guanciale and smoked egg yolk and to top it all off, get her done with a house-made tiramisu and cannoli.
---
Every New Opening We're Excited About This November
Jack & Knife
Darlinghurst
If you haven't hit up Jack & Knife yet well, here's your friendly nudge to jump on that bandwagon stat. The actual vibe of this place is similar to if you're just hanging out with a bunch of mates and we're here for it. Not only will you be in the presence of probably one of the best no-frill beef tartares in Sydney (we're coming back especially for this) but the team here also serves up killer whisky espresso martinis plus a whisky chocolate mousse and yes, you'll be ordering both because… all the bourbon.
Don't Tell Aunty
Surry Hills
These guys wanted to recreate the loving, fun vibe of their aunt's place with a modern twist. We're talking a playfully kitsch dining space complete with brightly painted walls, velvet banquettes and mismatched cutlery with a retro Bollywood soundtrack and classic flicks playing in the background. Menu-wise, there is mega tasty street food, cross-regional curries and tandoori specialities on offer with a modern twist. Expect chow that does away with tradition, like their signature dishes 'Nachos of the Motherland' aka papri chaat (a sweet, tangy, sour and spicy traditional street food meal using crisp fried dough wafers).
Bopp & Tone
CBD
The latest instalment from the hospitality group Applejack (who brought us The Botanist, SoCal, Della Hyde and oh so many more) is called Bopp & Tone and its opening up in our own CBD this month. The whole design is paying homage to the post-WWII era and the menu is full of fresh seafood and epic cuts of meat.
Nutie
Surry Hills
The legends at Nutie, who masterminded Sydney's best GF doughnuts, are opening up shop in Surry Hills. Previously only serving desserts and other baked goods, they plan to serve up a brekkie and lunch menu to die for. All food will be GF and we can guarantee you won't be able to tell a difference. You'll still be able to grab s'more cookie sandwiches here as well so we know what we'll be ordering up.
Yomies
Haymarket
If you're a Yakult lover, then you're gonna want to check out Sydney's newest yoghurt drink haven. Yomie's Rice x Yogurt is located in Haymarket so we give a big fat tick for general convenience. If you're feeling the need for a quick drink on your way home from work this place for your fix. We suggest you down the purple rice yoghurt concoction.
Salt And Palm
Glebe
The newest addition to the foodie suburb Glebe is Salt and Palm. This Indonesian-inspired restaurant is giving us all these desert vibes, with their Instagrammable décor. The meals are equally as good looking, having a twist on the classic bar foods. This new joint has a bunch of vegan and vegetarian feeds so and we're frothing over their grilled corn with Sambal mayo.
Pasture Of Balmoral
Mosman
You'll want to do yourself a solid and bring some mates so you can tick off as many plates as possible but the take on the staple avo on toast packed with smoked labneh, radish, olive oil and citrus on sourdough is a must.
Kingdom Of Rice
Mascot
Merivale's brand-new restaurant is a Cambodian street food inspired hotspot. If you've been lucky enough to stroll through the markets of Phnom Penh, then this place will bring you back to the yummiest time in your life. Start off your meal with caramelised pork skewers or even blue swimmer crab with salted egg or even BBQ chicken with fried rice and dried shrimp. They'll also be serving up Cambodian beers along with cocktails inspired from Southeast Asia.
Employees Only
CBD
To give you an idea of how next-level this place is, the NYC hot-spot is a regular feature on the 'World's Best Bars' list. Word is Employees Only Sydney will be heading to a heritage-listed basement on Barrack Street in the city. Their flawlessly-executed cocktails are to die for—and are all due to make an appearance. Keep your eye out for the Provençal, mixed with lavender-infused gin, Herbs de Provence, vermouth and Cointreau. And don't get me started on the food, because their New-York styled bistro is going to bring you creations you never knew you needed. Fan-faves from the NYC will include steak tartare and a house-made cavatelli pasta.
Saint George
Chippendale
Walk past Kensington Street and go right up to Little Regent, because on the corner is Chippendale's latest establishment, Saint George. You'll see a giant print on the window that says 'Coffee and booze for the working class', I honestly think that's our mantra. If you look past their 70+ wine menu (I know it's tough but try), you'll see their dishes are that of heaven. We've never heard of wagyu beef hash but we know it'll definitely knock your socks off.
Bella Brutta
Newtown
If you're walking down Newtown's famous King Street and feeling a bit peckish, check out Bella Brutta for some damn good pizza and vibes. Literally translating to beautiful ugly pizza, we're honestly getting some mixed feelings. But after trying their pizzas, you'll be hooked. They've got a wood-fired oven so everything is fresh AF so you'll definitely have to try their signature pepperoni pizza for a good time. But if you forget about the pizza for a second, you'll need to try their delish cannolis for that awesome post-dinner snack.
---
Every New Opening We're Excited About This October
Matteo Downtown
CBD
The Adored Group, who also run popular drinking holes The Lobo Plantation and Kittyhawk, have worked up a thirst for opening venues in the Sydney CBD. While Matteo Double Bay is pizzas and seafood, the Downtown counterpart features earthier, richer dishes from northern Italy. We're giving a massive shout out to the mozzarella bar here but like always, all the Matteo feeds are hard to fault.
Huxtaburger
Redfern
Melbourne-born burger joint Huxtaburger is finally opening up its doors in Sydney's Redfern. When they first opening in 2011 they had a line of people out the door, so if that's any indication on the food there, I think we're in for a treat. Chow down on the iconic Cheesus burger or even their Vege Denise burg. If you've been down to Melbourne and tried these bad boys you know that they are definitely worth the hype. We're all just so giddy with excitement!
Bellagio Brew Bar
Surry Hills
The masterminds behind the Bellagio Café and Tuckshop have opened their newest location, a Brew Bar in Surry Hills. Offering service from a small window in the wall of a local Surry Hills barber shop. Serving specialty coffee from the roasters at Pablo and Rustys along with pastries from their own Tuckshop and Bakery, this place is a must try. I recommend one of their mouth-watering savoury brekky toasties to go nicely along with your rich cappuccino. And if sweet treats are your thing, try any one of their freshly made assorted cakes and pastries that'll definitely make you drool.
Chargrill Charlies
Frenchs Forest
The chicken kings of Sydney are opening up a new location in Frenchs Forest. Chargrill Charlies has become such a staple for Sydneysiders that we're so giddy for their newest addition. Located on the edge of Forestway Shopping Centre, they have seating for up to 80 people indoors and 20 outdoors. Just think chargrilled chickens, creamed potato and salads (um yes please!). And you know their crunchy hot chips are the best in the game, what are you waiting for? Bust out your chicken dance and head up north for a tummy delight.
Mrs Jones
The Rocks
Meet Mrs Jones. She' nestled on top of one of the city's oldest pubs. Not the most obvious find so you'll want to take the first doorway on the right in Sydney's historic Kendall Lane and follow the stairs all the way to her entrance. These legends are keeping the paddock-to-plate tradition alive with hearty classics like crispy pork belly and fried potatoes, lamb croquettes with truffle honey, and share plates for the squad such as Peking duck spring rolls and cured meat plates with prosciutto, sharp cheddar and charred grissini. The carefully curated list of cocktails is very much reflective of the venue, a mixture of traditional and contemporary. The team here offers all the classics featuring OG's like negroni's, sidecars and martini's as well as apple and cinnamon sours (featuring fireballs, yes please), oh-so-Aussie espresso martinis, and a gin, basil and passionfruit concoction called the 'Chelsea smile'.
The Rooftop
Pyrmont
The Rooftop on top of Quarrymans Hotel is giving us serious Coachella desert vibes (with an emphasis on all the vinyl tunes). We kid you not, you'll actually feel like you've shot over to Palm Springs and ended up living your best holiday life. This latest open-air terrace is forging all the blush-pink vibes, cacti and a bangin' cocktail menu to boot. As for the menu. it's a homely ode to pub classics with lots of south-of-the-border influences including taco feeds, guac and buffalo wings for days. There's also a pickle fried chicken burger with your name on it. Craft beers are big here with Young Henry's, Balter and Stone & Wood all chillin' like a villain and ready to wash down any mad feast you dig into. So yeah, doubt we need to convince you anymore to hit this one up stat.
Barzarri
Chippendale
This restaurant is all about the feeds originating from regions such as Cyprus, Syria, Lebanon and Egypt and will be opening up within The Old Clare. In true form, the dishes here are meant to be shared among the people but big plates are still a thing. You'll also find a bunch of small sweet options including orange blossom marshmallows, loukoumi and soujouko from Athienou, Cyprus.
Salt Meats Cheese
Cronulla
Here, you'll find big open windows, aperitivo culture at its best and some of the best spritz around. You'll also find a tiramisu martini made with vodka, Frangelico, Mr Black coffee liqueur, espresso and vanilla sugar so yeah, that's your summer refreshment totally taken care of.
---
Every New Opening We're Excited About This September
Redfern Surf Club
Redfern
This fresh gem is a local club with the feels of a backyard Barbie at your mate's place. Redfern Surf Club is clad with a pool table, an old-school TV set playing cult surf flicks, a taxidermied ibis watching over the bar (just casually) and a shrine to the likes of Prince, Phil Collins, and the great fictional surf god himself Bodhi. Check out the Passiona Can Cocktail which is a concoction of vodka, Passiona and lime served up in our fave childhood soda can. There are also wines by the carafe and rotating taps of Aussie cold ones, such as The Grifter Brewing Co's Pale Ale, Batch, Wayward and Akasha. Surf's up peeps.
Manly Greenhouse
Manly
Team, the Ground Floor and Rooftop at Manly Greenhouse is finally open (as of this Friday). The Ground Floor will be serving up the likes of crab bruschetta, grass-fed Riverina sirloin, pastas of pappardelle with slow-cooked brisket and seafood squid ink spaghetti. To top it off, there will be tipple on tap as well as pre-batched classics such as a Negroni or cafe Frizzante made with Vermouth. The Rooftop preaches everything to do with hanging plants, panoramic views and an indoor cloud tree. Here you'll find bespoke cocktails and a bar menu with a selection of cured meats including LP's mortadella and Blackmore Wagyu beef bresaola and a heap of toasted sandwiches.
PG's
Newtown
Okay, this is not a drill, there is a new speakeasy bar nestled behind some bookshelves on Newtown's King Street and it's time for you get stuck into the books this weekend. PG's boasts curated cocktails, natural wine and darn fine bar snacks. The interior is decked out with leather couches, a few NSFW neon installations, curtains and candles so it's got those cosy vibes to a tee. In terms of chow, we're talking fried chicken wings, cheeseburger jaffles, fried pickles, paté and tasty platters of cured meats. To wash all that goodness down, you'll find that organic and natural wine is a staple here plus a number of remixes all around the cocktails you live for. It's official, we're bookworms.
Sydney Brewery
Surry Hills
Grab the tribe and head down to Sydney Brewery which is all for celebrating what makes Sydney unique, it's bold, arrogant, beautiful, loud, proud and unapologetic personality. The beer labels are totally Sydney-centric, aka the Glamarama Summer Ale (thanks Tamarama), The Pittwater Bitter in celebration of the northern folk and the Darlo Dark to celebrate the once oh-so-debaucherous Kings Cross and Darlinghurst. This joint has a large, spacious, industrial feel complete with large silver barrels and large windows. Think of the cuisine as a more refined pub grub with big, doughy pretzels, metre-long pizzas, chorizo dogs, cheese plates, homey braised lamb and a bombe Alaska for those with a sweet tooth. Drinks-wise, there is a full suite of drinks on top of its own brand of beer and cider. In terms of beats, there will be no shortage of DJ line-ups and local bands weekly so your ears can be as thankful as your bellies.
Easy Lane
Windsor
Windsor's Easy Lane features a rustic laneway which opens to a roomy restaurant filled with ferns in baskets with spacious communal tables and an airy outdoor area of picnic tables perfect for those long summer lunches. The restaurant gives off a rustic vibe with rooms filled with communal tables and dozens of ferns hanging from the ceiling (indoor jungle, anyone?). The best part? This little gem is tucked inside Windsor RSL and we're absolutely here for it. Their menu is filled with all the classic pub staples and on the dranks-front, you're in for quite a show so we suggest you get comfy. These guys have a solid tap list (one of the biggest craft beer ranges in sydney) and a tipple hoard with all the staples but it's the cocktail line-up that'll reallyyyy have you frothing like a kid in a candy shop. We're talking bubblegum and passionfruit sours, a caramelised pineapple margarita and share-jugs literally served up in a fishbowl.
Poly
Surry Hills
It's been two years of build-up and building delays, but Poly, the sibling to Chippendale's two-star restaurant Ester, has arrived. This baby isn't quite as serious as it's sister, with most of the ridiculously delicious menu items aimed to be devoured with your hands. We're talking salt and vinegar onion rings, jerky, octopus skewers and honey bugs with shellfish aioli. You won't be thirsty with twenty wines by the glass, ten sakes and eight cocktails, among them the restaurant's signature drink: a riff on a Negroni that brings tequila and Dolin bitters into the mix. This large, light-filled the open-plan room is what we'd like to call 'ultra-warm industrial' (we should consider a career in interior design, right?) with touches of concrete and oak tables. In case you were wondering, yes, these dishes are as grammable as they are delish. We welcome this little gem with open arms to Paramount House Hotel.
Lankan Filling Station
East Sydney
This ultra-good-looking Sri Lankan restaurant on Sydney's fringe is finally here so get ready for some serious dressed up curry shop vibes. Similar to how we eat Thai food, (and let's be honest, us Sydneysiders have that down to a fine art) Lankan Filling Station will be about ordering a heap of dishes and it will always stocked with the same, traditional food so you can trot on down to this hotspot and know your fave dish will always be there. We suggest ordering a banquet here and leaving the thinking to the pro's because they seriously know how to get the job done. The star of the menu is the hopper though (a bowl-shaped savoury pancake with crispy edges and a soft doughy crumpet-like centre), you're going to want to grab a whole lot of these and dip, fold and tear these babies til you hit curry food coma status… is there anything better? Grab a tea, coffee slushie or just head straight to the hard liquor with some traditional Lankan arrack.
The Pacific Club
Bondi Beach
All of you Bondi trendsetters need to listen up because The Pacific Club is here and you're going to want to head there, like, now. The all-day venue has us excited for lazy Summer arvo's by the beach, with an indoor-outdoor flow and ocean views. A woodfire grill and raw bar are the heroes of the kitchen, with a local seafood-heavy menu (which is pretty darn appropriate considering those waterfront vibes on Campbell Parade). Kick the day off with a coffee and wood-fired jaffle filled with spicy beans, fried egg and manchego or Burnt orange and wattleseed porridge with grilled banana, pecans and maple. Lunch-wise, get around the natural oysters, steamed pipis or charred octopus. If you're hangin' around for dinner you need to do yourself a favour and get around the pork chop or grilled flame tail snapper and thank us later. There are also a bunch of wines and fresh, oh-so-yum cocktails. Your new local haunt is sorted.
Tap & Bottle
Potts Point
There is a pop-up cellar door hitting inner-city Sydney which involves obnoxiously long lunches, an Asian fusion spread, Aussie fine wines and endless cocktails on tap. Yep. The folks behind The Fizz Fellas and Mad Hatter Wine Co are bringing y'all a weekend haunt inspired by those epic boozy long lunches in Mykonos. It was once the ultra-popular Village, and now it's yet again a spot for the squad to get together for good times and an array of set menus to suit all your consumption needs with a side of house, soul, funk and jazz beats. Food-wise, think fried school prawn sliders, cured salmon rice paper rolls and no shortage of delicious dumplings (FYI, these are just one buckaroo each on Sundays). The real heroes here are the bevvies though, with Pablo and Rusty's coffee nitro martini's, Four Pines Pale Ale and of course, a helluva' wine list. Now, that's a 'wine down' sesh if we've ever heard one. For more deets, head here.
Fich at Petersham
Petersham
Think the local fish and chip shop, but, well, better. There will be a takeaway side complete with all the classic fish and chippy options, as well as poke bowls, fish toast, polenta chips with anchovy may and an epic crumbed bacalhau burger (aka delish dried, salted cod). If you want something a touch more elaborate than the takeaway options or you're just seeking the full dine-in vibes, head to the restaurant on the other side. Fich is clad with light timber furniture, hanging plants, a fish mural and copper piping. Menu-wise think Filipino-inspired ceviche with kingfish, cucumber, pomelo and coconut and skate schnitzel that you can wash down with some reasonably priced local, natural and foreign wines or a Grifter beer on tap. We're thinking this may just be the catch of the day.
---
Every New Opening We're Excited About This August
Etelek
Potts Point
Meaning food in Hungarian, Ételek is back again for its newest installation. This time taking over the now-closed Antipodean site (RIP) in Potts Point for 3 months. Showcasing a blend of Hungarian, Middle Eastern and North African cuisine, this version of Ételek is alll about the veggies. Adam Wolfers (from Yellow) will be bringing back favourites like the parsnip schnitzel and lángos. Newbies? Added to the menu you'll find nokedli (Hungarian dumplings) with sea urchin and walnut. While Wolfers focuses on the food, Marc Dempsey (from Cornersmith Marrickville) will focusing on dranks. The drinks list will focus on small producers and organic offerings. Technically, this one's a pop-up so it's only hanging round until mid-October (ie. go now).
Imperial UP
Erskineville
Introducing Imperial UP, the latest Italian restaurant and bar to join the Sydney food scene and FYI you can go there right now! This place is tipped to be the next big thing. Yep, with a huge courtyard (it fits 200 people), this rooftop bar ain't no ordinary affair. Cue gold mirror-clad pizza ovens, stone mosaic bar countertops and a plethora of pop art and sculptures, this place is post-modern glamour to a tee. Menu-wise, the legends here have all the goods. We're talking all your fave Italian dishes like pizza, pasta, delivered with a flamboyant twist, and a selection of vegan, gluten-free and dairy-free dishes for those peeps with special dietary requirements (you know who you are). There's also an extensive alcohol menu that offers an array of jugs and delish cocktails that'll remind you of the good times and have you dancing well into the night.
The Alcott
Lane Cove
What was once a humble RSL club in Sydney's north shore has been revamped into a stylish restaurant and Spritz bar. Head chef Richard Slarp has created a delish modern-Mediterranean inspired menu. Think saltbush lamb ribs with almond, sumac and coriander. Oh and Spritz? There's an Elderflower lychee spritz on offer (read: St Germain elderflower liqueur, lychee, mint, cucumber and prosecco).
Bang Bang Izakaya
Darling Square
Part izakaya, part street eatery, Bang Bang brings Tokyo's alleyways to Steam Mill Lane. Head chef Kokubo Yuji brings an array of Japanese favourites to the casual lunch menu. Think omelettes, udon, curries and 'The Bang Bang Tebasaki' (a tower of double-fried chicken wings doused a pepper soy glaze. The dinner menu adds edamame and gyoza, sushi, tempura and noodles. The eatery also features a glass karaoke box so you can sing your heart out.
Brix Distillery
Surry Hills
Calling all rum aficionados, we've got the place for you. Brix Distillers is the first traditional rum distiller in Sydney in over 200 years. Overseen by experienced distiller Shane Casey, Brix Distillers has a core range of Brix White, Gold and Spiced. The bar shelves are stocked with more than 150 rums from around the world and a selection of locally sourced beers and wines. The casual dining menu designed to highlight the character of the rum, draws on South American flavours. A rum trolley roams the bar on the hour every night offering an intimate sampling experience with a rum guru.
Usfin Atelier
St Peters
Usfin Atelier is housed within Precinct 75—the same spot you'll find Willie the Boatman Brewery and Sample Coffee and a bunch of other cool artisans, artists, and designers. Enter through the back, up a fire escape, through a corridor or two, and up a set of brilliant white stairs flooded with sunny daylight. The top floor salon is distinctly monochrome—everything is white and silver with accents of black and clear plastic. Cutting stations are, well, pretty damn cutting edge. They're custom-made, giant-sized aluminium beauty cases, which are totally mobile and can be closed up and packed away to make way for hair events, seminars, and artist collabs. Each glossy styling pod offers a more intimate experience too, so you can sit back and enjoy your styling time in peace, or share your juiciest gossip and life woes with your stylist in seclusion.
Rollers Bakehouse
Manly
There are no rules when it comes to the croissants at Rollers Bakehouse. Be brave and take your taste buds on an adventure with the Sushi Roll; smoked salmon with black sesame, pickled ginger, nori, wasabi and yuzu. There will also be other sweet and savory items on offer, think cookies and a hamburger roll. For coffee expect batch brew, cold drip and the classics. Only a few steps away from the beach, it's the perfect way to start your day.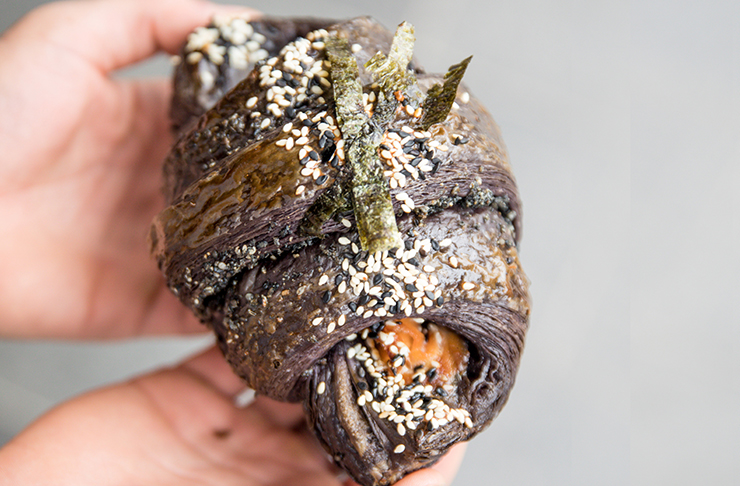 Queen Chow
Manly
Not your average suburban Chinese eatery. Queen Chow combines traditional street food with westernised Chinese, with a focus on seafood. There is a dedicated oyster bar and live-seafood tank. Alongside the seafood offering, you'll find Chinese-Australian classics. Think Mongolian lamb, crispy roast duck and deep-fried ice cream. You won't be short of drink choices here. You'll find a staggering list of 200 wines and cocktails such as Chow Dynasty (wyborowa vodka, lychee, yuzu, passionfruit and sake).
Down N' Out
CBD
Here's to another secret bar Sydneysiders (and you know we can't get enough of them). Oh yes, the burger juggernauts have dived head first into a hidden watering hole decked out with old comics, hip-hop memorabilia and pretty much all the nostalgic, good stuff we absolutely loved growing up. And before you ask, of course they're still serving up a killer burg menu. If you're keen to jump on the booze-train here, you're in luck 'coz these legends have literally poured their heart and soul into the drinks menu. Cue craft beers which are actually paired perfectly with burgers (you know, to reallyyyyy up your bun-and-booze game) and insane cocktails like fireball espresso martinis and jalapeño Margaritas.
Gami Chicken & Beer
Chippendale
Gami Chicken & Beer has finally arrived in Sydney (yay). What is Gami you ask? Exactly what the name suggests, a pit stop for chicken and beer. Ordering fried chicken is easy. Choose whether you want it with or with bones, and with sauce or without sauce. Aside from chicken there is also a small selection of Korean side dishes like dumplings and pan-fried pancakes. As for beer, Gun Bae Pale Ale is brewed by Thunder Road especially for Gami so you know it'll go down a treat. You can choose to get your Gun Bae on tap, in jug or in a mini keg that sits on the edge of your table (hard choice really).
Yulli's Brews
Alexandria
Hiding out in a warehouse in Alexandria is where you'll find 100% vegan taphouse; Yulli's Brews. Filled with vintage finds and tables made of repurposed boat decking the space is split into two sections. An area for big tables and stand-up beers and a mezzanine for sit down eats. The food is a blend of Vietnamese, Korean and Greek. Expect gyros with Vietnamese ingredients and handmade dumplings. Quench your thirst with Yulli's beers, ciders and locally sourced wines.
Queenside Cafe
Dulwich Hill
Queenside Cafe combines good coffee and chess. Menu items here are all named after chess masters, strategies and inside jokes. Try Smurfo's Scandi Porridge (named after Grandmaster David Smerdon)- warm chai spiced rolled oats porridge with quince and rhubarb topped with granola. When it comes to coffee owner Jim Papadakis roasts his own blend especially for Queenside.
Pepita's
Northern Beaches
Pepita's is bringing vegan ice-cream to the Northern Beaches. Made from a cashew and coconut milk base Pepita's offers seven different flavours of ice-cream, including hazelnut and mocha. Plus fruity sorbets like Lemon Kalamansi. All sold out of a mint-green Volkswagen kombi. Yes a kombi. Check the Facebook page to find them. https://www.facebook.com/IceCreamPepitas/
Sugar Rays Bar
Surry Hills
Sugar Rays Bar is Sydney's new American style bar. The intimate venue offers an unconventional take on mixology and American style tapas. Try the Woodstock (house rum with pineapple, lemon, vanilla and cinnamon) or the Le Clou (cognac, apple brandy, lemon and spices). Sink your teeth into the wagyu sliders and barramundi tortillas.
Chachi's
Woolloomooloo
Packed full of 80s nostalgia, Chachi's is Sydney's newest dive bar. The colourful neon-lit bar is packed with 80's references, think band posters, polaroid cameras, arcade games and Rubik's cubes. The retro theme carries over into the food and drinks, with offerings including the Kevin with Bacon burger and Blue lagoon cocktail- blue curacao, vodka and lemonade.
---
Every New Opening We're Excited About In July
Mister Percy
Pyrmont
Did someone say wine bar? Opening in late July in front of Ovolo 1888 Darling Harbour hotel, Mister Percy offers an expertly curated wine list and pintxos menu influenced by the Mediterranean. Drink 'Dry Red' Touriga-Shiraz, Jamsheed Rousanne and snack on burrata teamed with prosciutto, pea shoots and fried potato skins.
Boronia Kitchen
Hunter Hill
Boronia Kitchen is an all-day eatery serving home style food made from the best of Australia's produce. Different menus for breakfast, lunch and dinner make this the perfect place to eat no matter the occasion. For those of you too busy to have a sit-down meal, Boronia offers a takeaway menu of daily pies, soups, and house smoked salmon.
Frank's Original Philly Cheesesteak and Dogs
Frank's is bringing American style cheesesteaks and hot-diggity dogs to Sydney. They have a permanent shop in Wetherill park, but Frank's has gone mobile in a bus (yes, a bus) which is on the move around Sydney. On the menu, you'll find the pizza cheesesteak, which combines rib-eye steak, American cheese, mushroom, peppers and Bolognese sauce; other menu items include loaded fries and deep fried oreos. Keep an eye on their Insta and Facebook to find out where the bus will be next, or visit the OG shop in Wetherill Park.
Oh My Pie
This is basically a new pie subscription for all you pie lovers. Basically, sign up and you'll get a box of seriously tasty Oh My Pie goods delivered to your door at the end of each month and FYI, these aren't your typical pies either (sorry traditionalists), we're talking butter chicken pie and a spag bol pie because hey, it's winter and we're all about a solid comfort feed.
The Governor
Macquarie Park
Who doesn't love a good 3-in-1 combo. Set to open early in July, The Governor is Sydney's new multi-level pub, bistro and rooftop bar. Seating around 160 the main bar and bistro is styled in dark timber, lush greenery and is equipped with an open fireplace and garden terrace. Take things up a level to the rooftop bar, Ess, which boasts 360-degree views of the local area.
Ortzi
Surry Hills
Ortzi is the latest venture between Michael Otto and Edward Saxton from the award-winning restaurant Sagra. With a simple rustic theme, this eatery is focusing of the French-Spanish flavours of Basque country. Expect share-friendly pintxos, large smoked meats and of course wine (sourced from Northern Spain and Southern France).
Matcha Ya
Haymarket
Steam Mill Lane is becoming our favourite spot for great eats and great drinks and now, green tea specialist Matcha-Ya has moved in. The menu ranges from traditional tea to more experimental drinks like the ripe avocado matcha, we recommend starting with the matcha latte. There are also curries and desserts on offer. Oh, and FYI go between 11:30am-10pm and get a free soft serve with any drink purchase #winning.
Rosie's
Coogee
You won't find refined sugar and processed ingredients here, Rosie's is all about the healthy balance. Every menu option is a healthy choice designed so you don't have to choose between fun and healthy. Try the lamb fillet with green-pea tzatziki or the cheese platter that comes with liquorice and pear (to aid with alcohol absorption and prevent dehydration). The wine and cocktails have also undergone the preservative and sugar free treatment, try the Green-Tini a blend of dry gin and green juice.
A1 Canteen
Chippendale
Lead by Clayton Wells (owner of Automata) and Chef Scott Eddington, A1 Canteen presents a modern adult twist to the classic school canteen menu. For breakfast, you'll find grilled mortadella and fried egg
sandwich with fermented chilli and fried shallots. For lunch have your choice of grown up sandwich or make your own dish at the old school salad bar. In the evening, A1 becomes a bistro all about bold cuts of meat, we're talking a delicious spiced half chicken with fermented chickpeas.
Ron's Upstairs
Redfern
Ron's Upstairs is bringing classic Mediterranean cuisine to Redfern, think Greek, Spanish and Italian. The menu will feature a selection of rotisserie meats and fish and with the focus on catering to large crews, we think that means you're in for one helluva feast. On the tipple side, you'll find staple cocktails, a no-frills wine list and some Greek bottles too.
Ona Coffee
Marrickville
Canberra's favourite specialty coffee roaster has come to Marrickville. Ona Coffee offers a rotation of top-quality and sustainably sourced blends, espresso, filter and milk based coffees (served cappuccino style minus the chocolate). The bright minimalist café features a central coffee bar allowing you to watch your cuppa be made.
---
Every New Opening We Were Excited About In June
The Collaroy
Collaroy
The Collaroy is the latest makeover project from the peeps at Merivale (they're getting good at this). The beachfront hotel is spread over two levels: the ground floor serves up breakfast pizza, healthy bowls for lunch, and home-style dinners once the sun goes down. Meanwhile, upstairs it's seafood galore, and you'll also have your choice between two bars. It's the perfect place to chill out after a dip at the beach and also perfect for settling in this winter (because carbs).
Fratelli Fresh
Darling Harbour
Fratelli Fresh has just opened its eighth venue in Sydney and FYI, it's by far the biggest yet. We're talking about a chill 550 seats over a mammoth 1,100 square meters for max pasta and pizza times. If that's not enough, there's also got a Campari bar (helllooooo negronis!) and a games corner for your inner kidult (or, you know, actual children). They're open for breakfast, lunch and dinner, seven days a week.
Ona Coffee
Marrickville
Award-winning Canberra roaster Ona Coffee has just opened a specialty coffee house on Marrickville Road, just a few doors down from ricotta-heaven Paesanella. It's founded by a World Barista Champion, so they take their coffee super seriously and for that we're thankful. There's a lot of sleek, blonde-wood goodness going on at this joint and the space has been designed to optimise interactions between the customer (that's you!) and the baristas. They know their stuff, so feel free to pick their brains about their house-roasted single origin beans and blended roasts before knocking back a few.
The Stables
Paddington
Paddington, you've got a new restaurant and bar in the hood. It's called The Stables, and it's got an ex-Bentley chef heading up the kitchen. Food-wise, they do modern takes on classic bistro dishes: see the Black Angus flank steak with radicchio and red wine jus, or the John Dory in a smoked eel and carrot broth, plus the cocktail list changes weekly. If you're into food and drink that's innovative, well-balanced and flavoursome, check this place out.
Bellucci Cucina
CBD
On Level 5 of Australia Square, in a space that's a cross between a bungalow and a UFO, lies Bellucci Cucina. The contemporary Italian menu is courtesy of Teofilo Nobrega, formerly of Fratelli Paradiso, so you can be sure that the pasta will be top-notch. It's open for breakfast and lunch Monday to Friday and for dinner Wednesday to Friday.
Apera
Castlecrag
Castlecrag's Quadrangle Shopping Village is getting a serious foodie injection, thanks to a multi-million investment from property developer Dr. Stanley Quek (the man responsible for Kensington Street's makeover). After Holy Duck! and Bistro Mekong, Apera bar and restaurant is the latest foodie addition to the complex. Most of the mod-Australian dishes come from the wood-fired oven, and the cocktail list is big on native ingredients. We've got our eye on the pasture-fed lamb shoulder, slow-cooked in the wood oven, and served with chimichurri and warrigal greens.
Black Label Burger Project
CBD
We can't keep up with Rockpool Dining Group. They've just opened the mammoth Fratelli Fresh at Darling Harbour (see above), Bar Patrón at Circular Quay, and announced a new The Bavarian outpost at Castle Hill. Now, they've got Black Label Burger Project, a swanky restaurant that's halfway between their premium Rockpool Bar & Grill burgers and the everyday Burger Project offerings. The vibe is "special casual", meaning table service, real cutlery and glassware instead of disposal takeaway vessels. Plus, they've got "adult shakes"—milkshakes spiked with your choice of whisky, vodka or rum.
Side Room
Bondi Beach
When Potts Points' Room Ten and Fishbowl Sashimi start a café collab, expect good things. Side Room has opened on Bondi's Campbell Parade, on the site of the OG Fishbowl. The menu will be a sure-fire hit with the Bondi lunch crowd, with a solid mix of healthy salad bowls, sandwiches and smoothies, and a decent sprinkling of trending plant-based ingredients (blue algae, charcoal, you get the drift). Get ready to spot the beautiful people.
---
Every New Opening We Were Excited About In May
Staple Bread & Necessities
Seaforth
Staple Bread & Necessities is a tiny bakery tucked in Seaforth focusing purely on loaves of bread and croissant-style pastries. The dream, no? Staple's award-winning loaf (AKA the country sourdough) will take you to literal bread heaven (trust us, that is an actual place), and after you discover their croissants, and for those a little more extra, chocolate croissants, you won't want to leave. This bakery is only open Friday to Sunday, so get there quickly because this one's the real MVP.
KOGI Korean BBQ
Sydney
Three things: BBQ, Wagyu and soju (unintentional rhyme, intentional tease). Market City's brand new KOGI Korean BBQ blends these all together in one big bundle of Korean goodness so you'll be in for their signature marinated beef spare ribs and classic Bibimbap and that's just for starters. Because it's a Korean BBQ (did we mention that already) they've also got a bunch of premium cuts that are perfect for you to grill up on your personal BBQ. 'Nuff said.
LAB: The Bakery Café Experiment
Strathfield
If a Korean and European bakery had a baby, LAB would be it. This cultural fusion offers Pablo & Rusty's coffee plus fresh fruit juices, alongside an Asian bakery that's cooking fresh sweet and savoury rice cakes every day. We guarantee you right now that this is the only eatery that sells a huge selection of things filled with red-bean paste (the real stuff imported straight from Korea) and "fusion cakes" (taro or green tea flavoured European cakes, go see for yourself).
Ketchup Canteen
Kings Park
Originally selling famously delicious burgers out of a food truck, Ketchup Canteen has evolved into a chicken and burger brick and mortar—yes, we're excited about it. KC's addictive OG Southern-style fried chicken and thickshakes (so thic) will make you see Ketchup Canteen as a whole lot more than your average burger joint. If you've been letting your burger credentials slide lately, get yo'self to Kings Park ASAP.
Gaku Robata Grill
Darlinghurst
What if we told you a ramen chef fused his Japanese recipes with French flavours? Well, we have real-life proof exactly that can happen and it has, right here in Sydney. Shimon Hanakura has opened a ramen restaurant infused with French influence which means our much-loved Japanese classics like karaage chicken, edamame and agedashi tofu are paired with ingredients like truffle and caviar because they're #classy.
Matinee
Marrickville
Complemented by its groovy retro design, Matinee's menu boasts buttermilk fried chicken burgers and chocolate hazelnut brioche French toast with caramelised banana and buttermilk ricotta, and yessss. And If you're down to spice up the flavour of your coffee, Matinee's house-blend is brewed to taste like Neapolitan ice-cream and FYI, it's aaaaamazing.
Fish Butchery
Paddington
Have you ever heard of a fish butchery? If not, listen closely because Sydney now has one all of its very own. This is not just a fancy fish and chip shop (although they do serve up a mean version of one), it's a seafood-styled butcher with a range of fish we've certainly never heard of. Owner, Josh Niland, cuts the seafood to order so it's fresh AF and the fridge is filled with an abundance of Niland's freshly smoked and cured produce such as octopus ham and swordfish bacon.
Turka
Crows Nest
Turka's fusion of Middle Eastern and western foods is legit—so legit, in fact, the menu is packed with dishes by Head Chef Alex Buharali via his mum's recipes, straight from Turkey. You get it? It's goooood. The restaurant's stone floors and Turkish-styled coloured glass light fixtures complement Turka's twist on its classical menu. Basically, that means you'll be feasting on things like tahini hummus, enginar (i.e. artichoke hearts) and izgara köfte (homemade and authentic meatballs). We're still drooling over Turka's homemade baklava, so do yourself a favour and order one of everything.
Four Brave Women
Summer Hill
Aptly named Four Brave Women, after the four nuns that founded the organsation after arriving in Australia by boat 155 years ago, this new Summer Hill locale is bringing a culture shock in the most delicious way to the Inner West's already pumping restaurant scene. With Ethiopian breakfast and Iranian lunch and dinner, the rotating menu is delivering all of the choice you so rightly deserve. The eats will depend on who is behind the pans, with refugees from different cultures bringing their unique flavours to your plate.
Wish Bone
Enmore
Husband and wife duo, Gregory Llewellyn and Naomi Hart (also known as the legends behind Hartsyard) have opened Wish Bone and fried chicken as the headline act. This Enmore eatery is serving quality and quick-service food, making it the perfect destination for a meal and a yarn. On the menu, you can find Llewellyn's famous smoky fried chicken in its natural (perfect, may we add) form or as a Birdy Sando—a burger with guts. Chicken is not all you can expect, with poutine, and sides like mac 'n' cheese and creamed corn also making an appearance. Side note: slushies and thickshakes come virgin, with bourbon or tequila… we know which option we'd choose.
---
Every New Opening We Were Excited About In April
Alibi
Woolloomooloo
Woolloomooloo's latest addition, Alibi, is an entirely plant-based restaurant and when carb-tastic offerings like burgers, tacos and lasagne are on the menu, how can you say no? That's right, you can't. On top of this, the tipple menu is all about indulging in guilty pleasures so get ready for an epic gin and tonic range, a beetroot mixture featuring chocolate and a ridiculously good concoction by the name of the Enchanted Forest. And yes, you'll want to order up a dozen.
Mark+Vinny's
Surry Hills
This brand new neighbourhood gem, Mark + Vinny's will be a little treasure trove for when you're craving old-school pasta classics or some experimental takes for when you're feeling more adventurous. We're talking about vegan carbonara and all of the health-promoting ingredients thrown into (yep) pasta. And just so you know, the menu will feature a hefty and glorious list of over 50 spritz.
Bar Tapa
Darlinghurst
Sydney, you just scored a fresh Spanish tapas (AKA paella) bar you need to get there stat. Eating at Bar Tapa will basically feel like taking an exotic holiday where you can indulge in banderillas, patatas bravas, tostadas and embutidos (FYI these dishes haven't been subjected to the mighty Aussie-touch #authentic). Plus, jamon hangs from the ceiling. Just 'cause.
Nighthawk Diner
Chippendale
You know it as the American food diner on wheels and #woohoo this gem has just parked shop in Chippendale, home of all the best grubby and delicious feeds ever. Keeping with tradition, the menu here is short n' sweet with nachos, sambos (the Cuban and fried chicken kind) and yah-huh, dessert too.
Redline Taphouse And Kitchen
Forest Lodge
You'll definitely want to hang around here for breakfast, lunch and dinner but let's just say that after the sun goes down, this place really comes alive. You're in for local craft brews and classic cocktails, Americana feeds and just some damn solid and glorious service. All dishes are cooked from scratch including (and yes, we're hinting you should try) the cider-braised pork cheeks. Just do it.
Barbetta
Paddington
This Paddington newbie is serving up everything from lasagne (that's actually worth ordering) to a Sicilian-style breakfast that's more than a couple of pastries and a poorly made coffee. This place has a deli too and that's where you'll find hearty take-home meals, the requisite cold cuts, cheeses and pasta sauces. Basically, everything you need to cook up a Barbetta-quality meal at home.
Aloha Mate
Manly
As the name so perfectly suggests, Aloha Mate brings the tropical flavours of Hawaii straight to Aussie shores and just quietly (although it's already been a hit over the summer) the power couple here have completely nailed it. The bowls (yes, we mean poké), juices and smoothies here are a complete kaleidoscope of deliciousness.
Pizza De Alfredo
Glebe
The legends at Pizzeria De Alfredo really do make the real deal when it comes to cooking up a mean Neapolitan feed. Expect the famous thin, springy base and puffy crust mastered to a tee. Pizzas here are simple but you'll also find metre-long beauties, a so-called 'mystery pizza' which is different every night and some extra menu options for anyone rolling into this joint who isn't craving a doughy and delicious pizza feed (cue the moreish seafood linguini and the truffle polenta chips served with a four cheese sauce).
Manly Greenhouse | Now Opening In June 2018
Manly
Well Sydney, you're getting another rooftop-beachfront bar and restaurant. Manly Greenhouse is squeezing into the place of the old Shore Club Hotel and FYI it's going to take up three whole entire levels. The ground floor calls for coffee and pizza (just 'coz), the second level means business for some serious charcoal grilled goodies and a cocktail bar featuring the ocean air and all the greenery will quite literally be the cherry on top. How's that for some good karma?
Ready to hit the markets next? These are our top picks in Sydney.
Image credit: Ortzi | Supplied, The Stables, Barbetta & Ketchup Canteen | Caitlin Hicks