We're flying into February with gusto because if you haven't heard, Sydney has spurted another round of delicious new openings so you'll naturally just have to work your way down this list. It'd be rude not to.
Here are all the new Sydney openings worth your time this February.
The Gardens
Darling Harbour
The dumpling legends from Lotus are opening up shop in The Chinese Garden of Friendship. Officially opening on February 1, they have revamped the traditional tea house to create their modern interpretation of Chinese high tea in the space. You'll also find a weekend Yum Cha menu and a localised spicy Sichuan food line-up at night.
Sunset Diner
Avalon
It's a burger restaurant with sweet summer vibes providing Avalon locals and beach dreamers alike with the perfect spot to kick back and indulge in home-style American-inspired burgers and shakes. Chef Ben Varela, who has worked in iconic Sydney venues such as The Collaroy, Bistro Moncur and Paddington's Four in Hand has drawn on his extensive experience to create his own Miami-inspired venue.
General Chao
Chatswood
It's all modern Australian-Asian dining at General Chao. They've got all the fixings for a mouth-watering seating, from prawn laksa to a 24-hour braised pork belly and of course, their namesake dish, 'The General's fried chicken'. And just so you know, there's a super next level XO sauce made with abalone, truffle and gold leaf.
Field Blend
Balmain
Ever heard of wine club? The latest craze that we hope stays has popped up in Balmain. The Field Blend Wine & Cheese Store is everything we need in life. If you have a passion for all things wine and cheese, then this needs to be on the top of your list. With grazing tables filled with fresh Australian cheeses and cold cuts, we'll be drooling in our dreams.
Valet
Cabramatta
Brought to you by the guys that brought us matcha brick toast (thanks V Lounge), Valet is Cabramatta's latest addition bearing liquid nitrogen infused ice-cream and mochi doughnut beach balls made from sweet potato, edible 'sand' and flower custard. In other words, you'll want to pop this on your to-do list stat.​
---
January
SoBar
Potts Point
The newest addition to Sydney's fusion scene, SoBar is serving up wood-fired pizza, pasta, arancini — layered with Japanese-style trimmings. It has all the sex appeal of a 90s era European nightclub, with a fiery pizza oven and an unapologetic Campari candy red glow. With a menu led by chef Matteo Corno, there's green tea spaghetti and (our favourite) Tako-yaki arancini – made with squid ink octopus.
MAYBE SAMMY
The Rocks
Maybe Sammy is the newest brain baby behind the team that brought us Maybe Frank. The venue has a capacity of 70 with seating split between pink velvet banquets and leather-clad stools and seats, but you'll find the Hollywood Regency cross Palm Spring vibes really come to life with the huge marble bar topped with gold lamps. The bar team here whip up a string of signature cocktails a little left of centre (in the best way possible) so expect a Thunderbird with Aperol, Americano Cocchi wine, Becherovka, jasmine kombucha and grape rocks. Or if your taste steers more towards the sweeter side, head towards the Flamingo Capri, mixed with Barsol pisco, aquavit, rhubarb, citrus and bitters.
4 PINES
Surry Hills
This Surry Hills burger bar is the fourth establishment for the 4 Pines Brewing Company. They're plating up snacks, sides and the full range of 4 Pines (as expected) and a small selection of wines, cocktails and spirits. Expect the vibes to be chilled and laid back, so you can grab their cornflake-crunch buttermilk chicken burger, sip on a summer ale and let the good times roll in.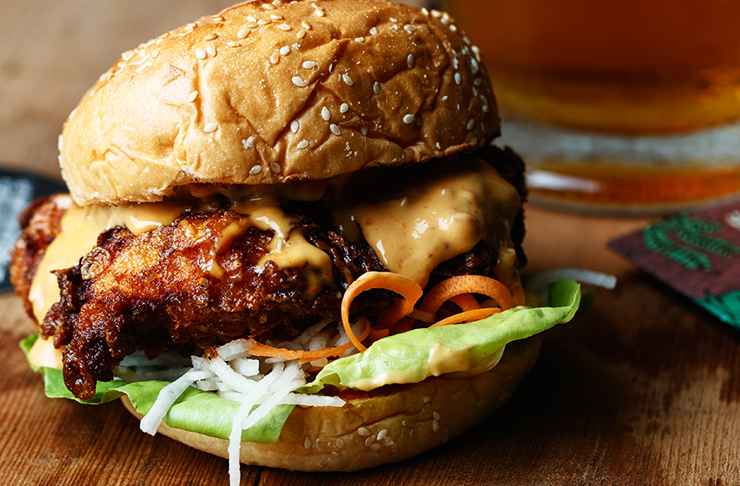 TOTTI'S
Bondi
Merivale's latest venture, Totti's is coming in to rival Sydney's best Italian joints. Mike Eggert and Khan Danis have set us up for some of the best woodfire meals around. The charcuterie board of your dreams with prosciutto, salami and creamy burrata resides here as does a retro Neopolitan ice-cream sandwich. Located within The Royal on Bondi Road, this place has been revamped to become surrounded by tall olive trees in the courtyard.
SHUK
Elizabeth Bay
Bondi's Israeli/Middle Eastern institution known as SHUK is expanding again (having already jumped the pond to kickstart its Chatswood cafe) which means more shakshuka, hummus and freshly baked Challah for the folks of Sydney. The relaxed vibes will remain but unlike its Bondi venue, dinner here will be a major focus and you can expect some wholesome family recipes from the team behind this Sydney favourite.
June's Shoppe
CBD
If you caught wind of the 1940s-inspired haunt that opened in the CBD last year called Bopp & Tone, there's good news ahead. Applejack Hospitality (the crew behind said new restaurant) have kicked off another city stop worthy of your time. June's Shoppe is small nook all about coffee and toast (or a maple bacon and egg roll) which means your pre-work food antics are sorted.
Altum
Milson's Point
Previously known as The Deck, Sydney's newest harbourside venue Altum has solid views of the city from just about every aspect. The food here boasts Mediterranean flavours and focuses on keeping things simple and tasty. Dishes here look like Moreton Bay bugs with grilled citrus and chargrilled beef packed with sheep's cheese and black garlic.
The Daring Squire
Wollongong
Taking up residence next to the iconic North Wollongong Hotel, James Squire's The Daring Squire (and 10th brewhouse) preaches everything contemporary with a beer hall stripped back to original brickwork and donned with copper, timber and black metal. You'll find a heap of gourmet share plates (shout out to the hefty lamb rump and duck fate potatoes) and pizza here plus a bunch of ales like One Fifty Lashes and Close Shave.
And here's where to find Sydney's most over the top burgers.
Image credit: Valet