New restaurants. Yes, after some of the shakiest months in recent history for the hospitality industry, new restaurants are opening their doors in Sydney. Call it brave, call it courageous, call it a welcome vote of confidence in the future of our city's food culture, call it all three—we're so stoked to be back here sharing this sort of news with you.
From a fancy charcoal chicken set-up in Surry Hills, to a new era for Saint Peter, a new city Italian with some serious clout in the kitchen, rooftop digs for the Mary's crew and a beautiful café in Bowral worth the road trip—we hope you are excited as we are to welcome these newcomers into the fold.
Here we go guys—five new restaurant openings we are hungry for this month.
Saint Peter 2.0
Paddington
We'll admit, we have been waiting with bated breath (not a fish pun, not even close) for this Sydney standout to fire up the kitchen and start schooling us on sustainable fish again. Award-winning restaurateur and chef duo Josh and Julie Niland used the lockdown period as a chance to reimagine their dream restaurant for a new era—and so, Saint Peter will come back in a refreshed, slightly more casual format.
"For us, the best seat in any restaurant is at the counter or by the kitchen, watching the night unfold," the Nilands wrote in a statement. "And we've found a way to offer the best seat in the house for as many of our customers as possible."
The Saint Peter layout has been redesigned to house a long counter lined with plush stools. There'll be space for up to 20, and it'll be the ideal setting for solo diners, couples and groups of up to four.
New menus have been created too—a casual lunch menu is on the cards, though "casual" at Saint Peter isn't exactly your run of the mill fish and chips. Expect to see a coral trout sandwich with tarragon mayonnaise, and Moonlight Kiss, Tathra and organic Wapengo oysters and a live purple sea urchin in the mix.
Dinner will be an a la carte affair, covering off oysters, fish charcuterie from Niland's adjoining Fish Butchery and a selection of the very best local and sustainable fresh fish, prepared in Niland's innovative whole-fish style.
Saint Peter will reopen on Friday 17 July. Bookings are available now.
Josh Niland also scored not one, but two James Beard awards during iso for his brilliant and beautiful book, The Whole Fish Cookbook. While you wait for the return of Saint Peter, we highly recommend checking it out.
Henrietta
Surry Hills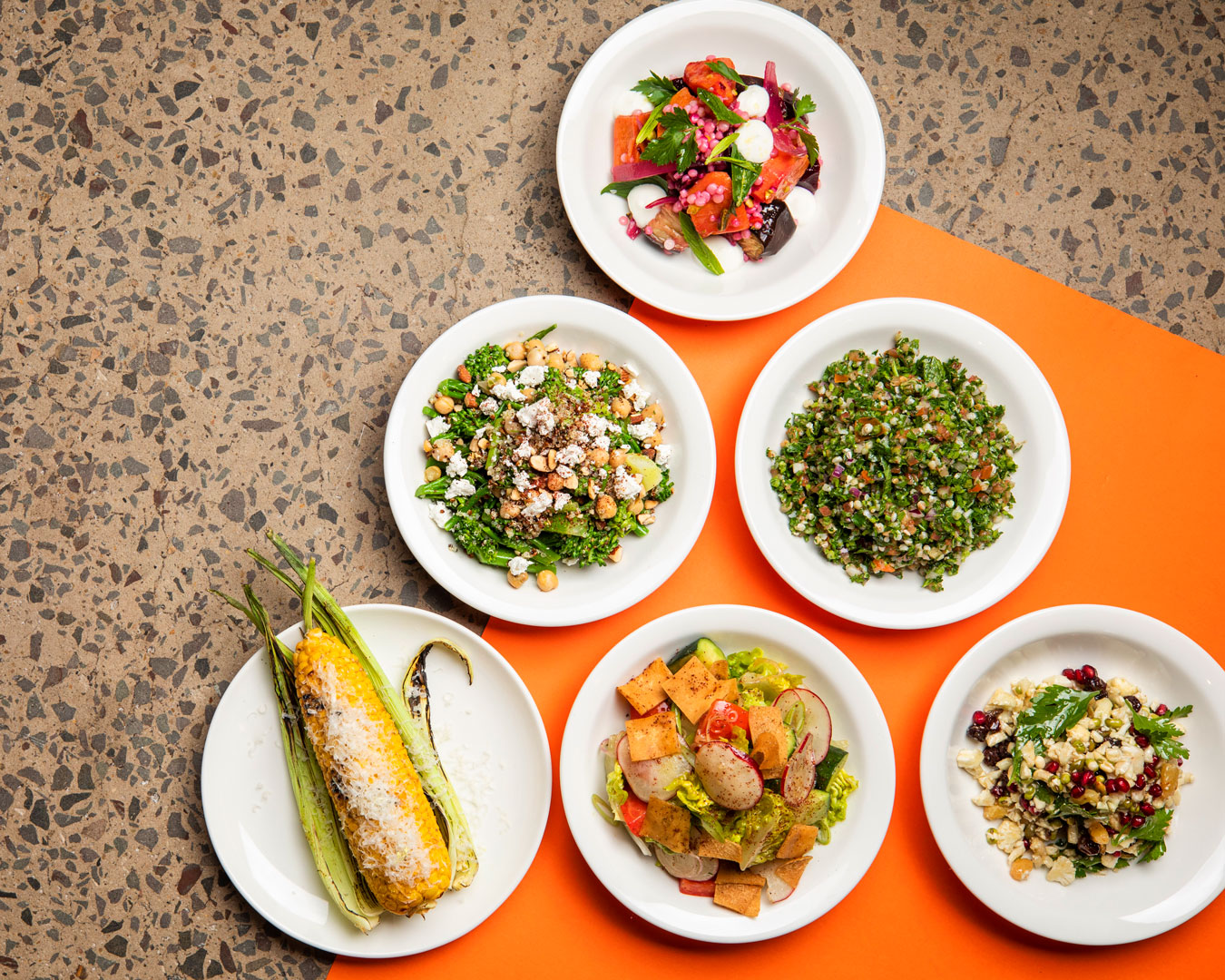 Fresh from the Nour crew comes a brand new Middle Eastern-style charcoal chicken concept with lashings of pink neon and all the polish, flavour and style we love its older sibling for.
Henrietta has popped up a few metres down the road from Nour on Crown Street, in the spot that housed Pizza E Birra for years. "I really wanted to elevate the beloved charcoal chicken that brings such a nostalgic comfort," co-owner Ibby Moubadder said. "I grew up in Lebanon and family feasting was such a large part of my culture. We'd have the hero chicken, cooked over hot charcoal and accompanied with all the share plates—breads, dips, pickles and salads."
And it is this style of feast you can expect at Henrietta—albeit with a modern feel that's driven home by some slick interior design by DS17 (who are also responsible for the dreamy look of Nour). Dine-in or take away via a cute takeout window, you can tuck into juicy whole or half charcoal chickens with traditional sides like tabouleh, fattoush salads, and creamy housemade hummus, smoked labneh and some of the tastiest burnt babaganoush we've had in a while.
You'll almost need a second visit (or a second stomach) to sample Henrietta's many must-try mezze highlights—like chicken tawouk spring rolls with toum, piping hot haloumi served swith sweet honey, zataar and grapes and beef brisket shawarma tacos.
Middle Eastern-inspired cocktails are a big highlight at Henrietta too—we absolutely loved the spicy passionfruit margarita, made with Maguey Mezcal, passionfruit, chilli-infused tequila, orange blossom honey, and a sumac-chilli-salt spiced rim. The house Negroni features a subtle hint of rose and hibiscus, and there's also a pornstar slushie martini with passionfruit, vanilla and pineapple if the mood swings you that way.
Henrietta is open for walk-ins and takeaway only. Details on opening hours are here.
Middle Ground
Bowral
We know you guys have been living for local escapes—and all the bushwalks, country bakeries and cosy cabins required to cure the current 2020 hangover. On your next venture down south, if it's a little grounding you're after, we highly recommend a visit to Middle Ground.
This beautiful, sunny cafe and creative studio is new to Bowral, serving up a menu of Southern Highlands-made Bae Gal bagels, Single O coffee, house-made turmeric, beetroot and mushroom tonics, smoothies and chill vibes. The prosciutto, soft boiled egg, provolone and chilli jam bagel is a standout, but we also love the ham off the bone, swiss cheese, pickles and honey mustard mayo bagel, and the classic smoked salmon with cream cheese and capers. Gluten-free bagels are also available (win).
Owner Rhyanana Been says the focus at Middle Ground is "sustainable choices, sourcing back to the origin, seasonal authentic food, community and a whole lot of love".
We love the dreamy green and white interiors and, word on the street is, the Hohl GF salted caramel cake, with buttercream, roasted paleo granola and freeze-dried berries is one of the "best in the highlands".
Middle Ground is open now for dine-in and takeaway. More info is here.
Restaurant Leo
CBD
Beneath the birdcages of Angel Place is Leo. The infamous chirping installation Forgotten Songs is dedicated to Sydney birds lost in the tide of the modern world—and thankfully, despite first opening its doors in March 2020 and being forced to close them meer days later, Restaurant Leo is not one of those birds.
The restaurant comes to us from a pair of hospitality heavyweights: Frederico Zanellato, chef-owner at Lumi, whose kitchen resume also includes Noma, Attica and Ormeggio at the Spit, and Karl Firla, former chef-owner at Newtown finer diner Oscillate Wildly, who also worked at Marque and Est.
Leo is an exciting collaboration between Zanellato and Firla—and while the original pre-COVID plan was to have a sort of all-day Italo diner, serving coffee in the morning and polished pasta at night—for now, Leo is a spot for classic long lunches and stylish city dinners filled with seasonal flair (think maccheroncini with lobster, strozzapreti with pork and fennel, and a Japanese koshihikari rice risotto with cuttlefish and peas).
Restaurant Leo is open now and taking bookings.
Mary's On Top
Chippendale
Ok technically this opened in June, but when Sydney gets a new rooftop venue, and it opens in the throes of a global pandemic, well, we reckon it deserves an extra shout out (or four).
Ever the heroes of Sydney city culture, greasy American fare, heavy metal and a delicious nattie wine, Mary's rushed through the launch of "Mary's On Top", a rooftop burger bar at The Lansdowne, we think, to lift our isolated, COVID-heavy spirits.
"Mary's On Top is literally our shining light," Mary's co-owner Kenny Graham told us back in June on the decision to open sooner than planned.
"Like a solar panel that pumps life into the Lansdowne whilst its rooms remain empty. Without live music, The Lansdowne's energy is arrested. Mary's On Top allows us to slowly start the blood pumping again, and really send that message home that the Lansdowne is well and truly part of the Mary's family."
Climb the stairs to find all your tried and true Mary's faves, plus their vegan counterparts (the Mary's Burger, Cheeseburger, Cauliflower burger, half chook, mash and gravy—the works). Beers and wine will follow Mary's typical natural and local bent.
Mary's On Top is open now, though the venue is weather dependent. More info is here.
Coming Soon
And while you're here, check out this Disney-inspired degustation from Sydney restaurant nel.
Image credit: Henrietta, Saint Peter, Henrietta, Middle Ground, Mary's