Prep for winter the right way because Sydney has just dropped a tonne of new openings for you to sink your teeth into. And you'll just have to naturally work your way through this entire list. It'd be rude not to.
Here are all the new Sydney openings to pop into this May.
Page Two
Randwick
This cosy café in Randwick is giving us all kinds of sunny vibes. Page Two is Sydney's latest addition to the Instagram foodie scene. With all the décor inspired by the streets of old town San Juan Puerto Rico, these folks are serving up all our favourite dishes from acai bowls to dukkah eggs, and their aromatic espresso definitely won't help with kicking that coffee addiction.
Forty Licks
CBD
Deep down underground is Forty Licks, a Vietnamese bar and eatery that is soon to become your latest obsession. Moving away from the classic pho and rice paper rolls, they're heading into a traditional menu serving up braised eggplant and tofu with turmeric, sizzling kingfish and noodles and steaming bowls of bún bò huế. Or even hit up their cocktail list for the Hanoi Sour, stacked with bourbon, ginger liqueur, Chichi Morada, lemon and pecan bitters.
Spritz Bar
Chippendale
In a takeover of Olio Terrace comes the Spritz Bar, created by Grant Collins. You know, that genius behind Gin Lane? On the food front, the bites menu looks divine with arancini stuffed with pecorino cheese and saffron or hit up their Italian cheese board. And of course, the spritz is not to be passed up with 22 handcrafted cocktails that have been carefully devised to match their menu.
Ambarvale Hotel
Ambarvale
Fresh off of a 12-month renovation, the Ambarvale Hotel is reopening its dining areas to the public and is quickly becoming the South-West Sydney hot-spot destination. The main areas have all been upgraded massively, which means you'll be walking into the Greenhouse's beautiful oasis to grab an afternoon aperitif, heading into the Bistro for their extensive menu of classic pub eats and a whole lot more.
Industry Beans
CBD
Industry Beans is your number one go-to for all things caffeinated. Bringing you an awesome cup of java straight from state-of-the-art machines along with an all-day brunch session, grab the cinnamon dusted brioche, pumped with tonka bean ice-cream, blackberry coulis, raspberry dust and their iconic coffee caviar.
B. Lucky And Sons
Moore Park
The latest addition to the hidden adults-only arcade bar scene is B Lucky and Sons. Hailing from Brisbane and central Melbourne, Sydney is blessed to have these folks open their doors in Moore Park's Entertainment Quarter. Hit up the Mario Kart and Walking Dead Zombie machines while sipping on some boozy bubble cups and munching on a stone baked pizza. This one officially opens May 17.
Mary's Circular Quay
Circular Quay
Our beloved grungy, rock-style burger joint Mary's has opened up yet another city location located in Circular Quay. Hosting a venue full of eclectic live music and late-night party vibes, their classic menu is back on board, but this time offering up plant-based options for everything, and the team can guarantee that they'll still taste damn good.
JOUNIEH
Walsh Bay
This Lebanese eatery is located right across from the Harbour Bridge along Dawes Point. Jounieh brings Sydney-siders classic Middle Eastern dishes with a modern flair—the Old Souk vibes come off strong with all the dishes covered in rare spices. Grab a bespoke cocktail from their extensive menu, as the Spicy Sunset is a crowd pleaser, mixed with za'atar infused gin, cinnamon and chilli. Looking over at the foodie side, the fresh local produce is the highlight, from their house-made traditional dips of hummus, baba ganoush and labne to their kibbi nayeh and their signature shawarma.
WILDE & CO
Darlinghurst
The latest addition to the health scene in Sydney is Wild & Co. A nutritious, urban spot for the inner CBD local. This place is a sanctuary away from the bustling streets, for patrons to retreat to for their daily recharge. An all-day brekkie menu is on the cards, along with Allpress organic coffee beans to satisfy your pre-work pit-stop. Order up the pea and ricotta fritter with pistachio nuts, pickled beetroots, purple kale salad and red wine dressing, this baby is the talk of the menu.
---
April
The Glebe Hotel
Glebe
Following an extensive refurbishment, this heritage listed public bar is set to be your new watering hole. The Glebe Hotel now hosts a striking mezzanine loft, a gaming room named after its former brothel life and a gastro-pub menu with all the trimmings. Small plates look like Cloudy Bay clams and seared scallops while hearty mains include lamb rump, pork shoulder ragu, Guinness pie and a traditional Sunday roast.
Green Moustache
North Sydney
This greenhouse-style rooftop restaurant and bar sits smack-dab in the middle of North Sydney providing patrons with drop-dead stunning views. Green Moustache is filled with lush palms, ceiling plants, wicker chairs and tiled tabletops. Head over for dinner and order up a plate of fresh blue-swimmer crab pasta with chilli lemon and parmesan.
QVB Reign
CBD
This champagne bar has settled itself within the Queen Victoria Building and brings all sorts of regal feels. While perusing the nibbles menu, you'll find duck liver mousse, steak tartar and even spicy wagyu pot stickers. Wash it all down with a glass of Laurent-Perrier La Cuvée bubbly to be even more extra.
QVB Esquire
CBD
Esquire is one level up from Reign and is here for our late night eats and drinks with the gang. From wagyu cheeseburgers to squid ink maccheroni, these dishes are the definition of fancy comfort food. This newbie is open until 2am so you've got the whole night to stuff your face full of gruyere de comté jaffles fries.
Betty's Burgers And Concrete Co.
Bondi Junction
This Aussie-famed 1950s burger joint is opening up on Sydney's eastern shores. Offering their signature concrete old school ice-cream made from frozen custard and a mixture of sweet ingredients (hint, M&Ms and Nutella), Betty's has all the standard burgers to get your mouth salivating.
Chica Bonita
CBD
Sydney's brand-new Mexican restaurant is Chica Bonita. Serving up chilli fries and chimichangas with an insane amount of guacamole, you'll be lining up for gem's signature tacos, burritos and the iconic jalapeno and orange margarita.
Mapo Gelato
Newtown
Mapo Gelato is like no other. Serving staple flavours, this one also goes that extra mile and churns out a delicious range of seasonal fruit gelato. That means you can expect icy towers of nectarine, red plum and honeydew
Industry Beans
CBD
These guys are bringing the java with an all-day brunch menu straight into the heart of the Sydney CBD. Industry Beans is located right along the bustling highway of York Street, this should be a regular stop for any office-worker on the grind. Snatch up the chilli jam pumped breakfast roll (with bacon and fried egg) or hit the cinnamon dusted brioche loaded with tonka bean ice-cream, blackberry coulis, raspberry dust and coffee caviar for a 3pm pick-me-up.
Cottonmouth Records
Enmore
Vinyl have made a huge comeback recently and if you're all about turning back time, Cottonmouth Records is the place to be on a Friday night. Record store by day, dive bar by night, for those epic throwback tunes, grab a whisky sour and settle in for all the local DJs.
---
March
Scout Sydney
Surry Hills
It seems Sydney has become a magnet for specialised spinoffs of bars from the coveted World's 50 Best list. First, we got our very own version of Employees Only. This month, Scout, which placed 28th on the list in 2018, has appeared in Surry Hills. Led by Matt Whiley (The Talented Mr Fox, European Mixologist of the Year, and the brains behind Scout), Scout Sydney is a cocktail experience like no other.
Housed in a hidden room above The Dolphin Hotel (kind of like a very cool, stylish attic), the menu includes 10 original cocktails made from only native and local ingredients and Whiley's special ferments too (banana wine, for example). You'll also find classics like a vodka soda and an espresso martini, all with an elegant Scout-style twist.
Cantina OK!
CBD
We did say that 2019 would be a big year for mezcal. It seems the cool people at Tio's Cervecerua are also onto a good thing, as they have very quietly opened a hole-in-the-wall style bar dedicated to tequila's smokier sibling: mezcal. With room for just 20, Cantina OK! is tiny, but really packs a punch with mezcal sours, margaritas and a lot of good vibes.
Salt meats cheese
Dee Why
The Salts Meats Cheese legends have opened yet another venue and this time around, it's Sydney's North Shore that has been blessed with the best. The latest venture is the Italian chain's seventh installment, reiterating their credibility for serving up some of Sydney's best pizza, pasta and antipasti. The iconic wood-fired pizzas are of course a standout. Signatures include the slow-cooked lamb calzone stuffed with buffalo ricotta, spinach and chilli. Pair it with a wild-berry spritz for maximum vibes.
Golden Grapes
Glebe
Golden Grapes is a new vegan restaurant with iconic wood-fired pizzas providing Glebe locals and plant-based diners the perfect spot to indulge in all of the cruelty-free treats. Tuck into pulled shroom burgers, falafel wraps and some of the best vegan pizzas around–without the guilt.
4 Pines
Manly
A microbrewery on Manly's iconic wharf? Doesn't get much better. Sip on a few craft ales and tuck into juicy burgers at this waterfront beer and burger bar. Wrap your hands around a classic chook burger with corn-flake crunch, buttermilk fried chicken, chilli and peanut butter, pickled cabbage, carrot, sriracha and naturally wash it all down with one of 4 Pine's signature brews.
Portal Cafe
Martin Place
Sister venue to Folonomo and Grazia, Portal Cafe is a not-for-profit eatery dedicated to raising money for charity and providing training and employment to refugees. Dine in the knowledge that you've done your bit for the greater good as 100 per cent of profits are donated to your choice of either Rural Aid, Blue Dragon and Eat Up. Philanthropy aside, food is seasonal and sourced from local suppliers. Donate to the cause by tucking into a sago coconut pudding with kafir lime and caramelised pineapple for breakfast or brisket pastrami loaded Reuben on your lunch break.
WENT TO SEE GYPSY
Alexandria
A new local favourite, Went to See Gypsy is a coffee-addict's dream. With a state of the art coffee brew bar in full view, customers can get a glimpse of the brewing process – seeing the progression of single origins from start to finish. Play it safe and sip on your usual flat-white or opt for The Bob Dylan – a speciality brew with salted pistachio, caramelised nuts and expresso. Menu curated by ex-Cho Cho San head chef Bryan Loong means a chicken katsu sandwich with shaved cabbage, mint slaw, fried shallots, tonkatsu and kimchi mayo.
Canton! CANTON!
Sydney CBD
Landing in the sight of the world's cheapest Michelin star restaurant, Tim Ho Wan, is the new Hong Kong inspired diner, Canton! Canton!. Diner's need not despair at the loss of a legend as Canton! Canton! has managed to pilfer themselves Tim Ho San's head chef, Jacky Chan – popularly known as the Dim Sum master. You'll be able to load up on their signature BBQ Pork Buns, Dumplings (naturally), premium congee or choose from a range of BBQ roast meats from the roast station.
SASH
Surry Hills
One of Melbourne's most popular Japanese-fusion restaurants has set up shop on Sydney shores and cue the taste bud excitement. On the SASH menu, these legends are whipping up wagyu truffle tacos, sake buttermilk Japanese nuggets and sashimi pizzas. To wash it all down, hit the yuzu cheesecake concoction or the ever-so-classic Japanese plum wine.
---
February
The Gardens
Darling Harbour
The dumpling legends from Lotus are opening up shop in The Chinese Garden of Friendship. Officially opening on February 1, they have revamped the traditional tea house to create their modern interpretation of Chinese high tea in the space. You'll also find a weekend Yum Cha menu and a localised spicy Sichuan food line-up at night.
Sunset Diner
Avalon
It's a burger restaurant with sweet summer vibes providing Avalon locals and beach dreamers alike with the perfect spot to kick back and indulge in home-style American-inspired burgers and shakes. Chef Ben Varela, who has worked in iconic Sydney venues such as The Collaroy, Bistro Moncur and Paddington's Four in Hand has drawn on his extensive experience to create his own Miami-inspired venue.
General Chao
Chatswood
It's all modern Australian-Asian dining at General Chao. They've got all the fixings for a mouth-watering seating, from prawn laksa to a 24-hour braised pork belly and of course, their namesake dish, 'The General's fried chicken'. And just so you know, there's a super next level XO sauce made with abalone, truffle and gold leaf.
Field Blend
Balmain
Ever heard of wine club? The latest craze that we hope stays has popped up in Balmain. The Field Blend Wine & Cheese Store is everything we need in life. If you have a passion for all things wine and cheese, then this needs to be on the top of your list. With grazing tables filled with fresh Australian cheeses and cold cuts, we'll be drooling in our dreams.
Valet
Cabramatta
Brought to you by the guys that brought us matcha brick toast (thanks V Lounge), Valet is Cabramatta's latest addition bearing liquid nitrogen infused ice-cream and mochi doughnut beach balls made from sweet potato, edible 'sand' and flower custard. In other words, you'll want to pop this on your to-do list stat.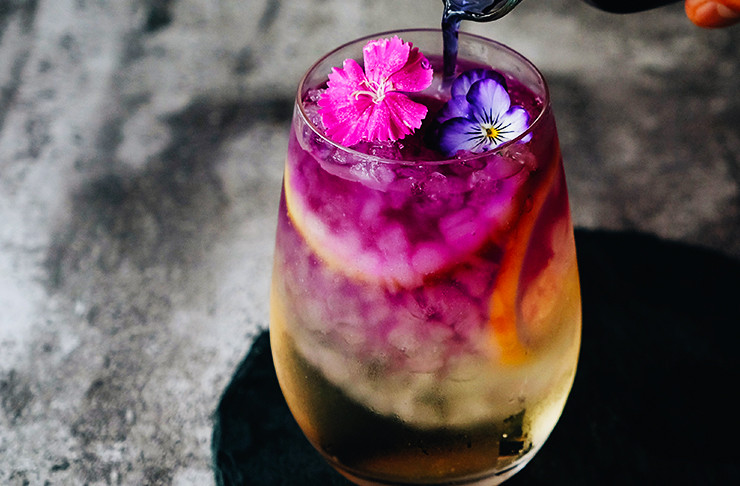 ---
January
SoBar
Potts Point
The newest addition to Sydney's fusion scene, SoBar is serving up wood-fired pizza, pasta, arancini — layered with Japanese-style trimmings. It has all the sex appeal of a 90s era European nightclub, with a fiery pizza oven and an unapologetic Campari candy red glow. With a menu led by chef Matteo Corno, there's green tea spaghetti and (our favourite) Tako-yaki arancini – made with squid ink octopus.
MAYBE SAMMY
The Rocks
Maybe Sammy is the newest brain baby behind the team that brought us Maybe Frank. The venue has a capacity of 70 with seating split between pink velvet banquets and leather-clad stools and seats, but you'll find the Hollywood Regency cross Palm Spring vibes really come to life with the huge marble bar topped with gold lamps. The bar team here whip up a string of signature cocktails a little left of centre (in the best way possible) so expect a Thunderbird with Aperol, Americano Cocchi wine, Becherovka, jasmine kombucha and grape rocks. Or if your taste steers more towards the sweeter side, head towards the Flamingo Capri, mixed with Barsol pisco, aquavit, rhubarb, citrus and bitters.
4 PINES
Surry Hills
This Surry Hills burger bar is the fourth establishment for the 4 Pines Brewing Company. They're plating up snacks, sides and the full range of 4 Pines (as expected) and a small selection of wines, cocktails and spirits. Expect the vibes to be chilled and laid back, so you can grab their cornflake-crunch buttermilk chicken burger, sip on a summer ale and let the good times roll in.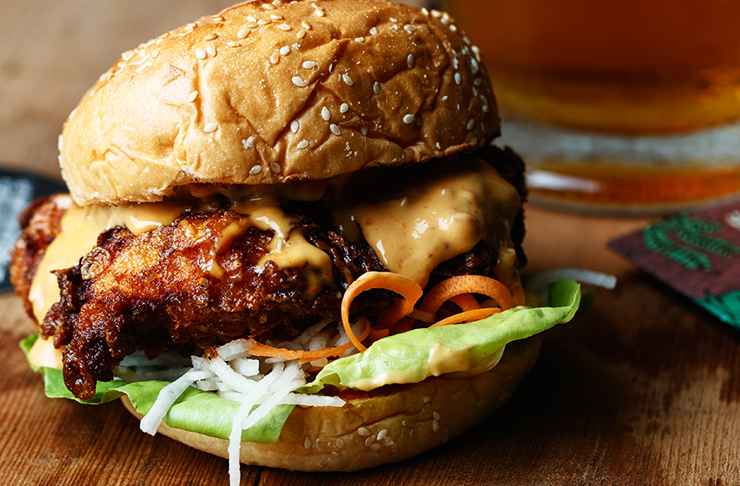 TOTTI'S
Bondi
Merivale's latest venture, Totti's is coming in to rival Sydney's best Italian joints. Mike Eggert and Khan Danis have set us up for some of the best woodfire meals around. The charcuterie board of your dreams with prosciutto, salami and creamy burrata resides here as does a retro Neopolitan ice-cream sandwich. Located within The Royal on Bondi Road, this place has been revamped to become surrounded by tall olive trees in the courtyard.
SHUK
Elizabeth Bay
Bondi's Israeli/Middle Eastern institution known as SHUK is expanding again (having already jumped the pond to kickstart its Chatswood cafe) which means more shakshuka, hummus and freshly baked Challah for the folks of Sydney. The relaxed vibes will remain but unlike its Bondi venue, dinner here will be a major focus and you can expect some wholesome family recipes from the team behind this Sydney favourite.
June's Shoppe
CBD
If you caught wind of the 1940s-inspired haunt that opened in the CBD last year called Bopp & Tone, there's good news ahead. Applejack Hospitality (the crew behind said new restaurant) have kicked off another city stop worthy of your time. June's Shoppe is small nook all about coffee and toast (or a maple bacon and egg roll) which means your pre-work food antics are sorted.
Altum
Milson's Point
Previously known as The Deck, Sydney's newest harbourside venue Altum has solid views of the city from just about every aspect. The food here boasts Mediterranean flavours and focuses on keeping things simple and tasty. Dishes here look like Moreton Bay bugs with grilled citrus and chargrilled beef packed with sheep's cheese and black garlic.
The Daring Squire
Wollongong
Taking up residence next to the iconic North Wollongong Hotel, James Squire's The Daring Squire (and 10th brewhouse) preaches everything contemporary with a beer hall stripped back to original brickwork and donned with copper, timber and black metal. You'll find a heap of gourmet share plates (shout out to the hefty lamb rump and duck fate potatoes) and pizza here plus a bunch of ales like One Fifty Lashes and Close Shave.
And here's where to find Sydney's most over the top burgers.
Image credit: Supplied