For a good while now, Surry Hills has been one of Sydney's most popular dining suburbs—and it's not too hard to see why. Over the last few decades, top-tier chefs have flocked to this inner-city borough to flex their vision for what's new and next, and what happens in Surry Hills tends to set the tone for the rest of Sydney too.
From the fiery coals of now Netflix-famous Firedoor to the meaty love we still have for Porteño, and the forever-vibing pink neon glow of Chin Chin, Surry Hills is home to a collection of some of Sydney's best restaurants. You'll also uncover some of our most exciting new restaurants too, like PELLEGRINO 2000, Jane, and Gildas.
Here are 24 of the best restaurants in Surry Hills right now.
Firedoor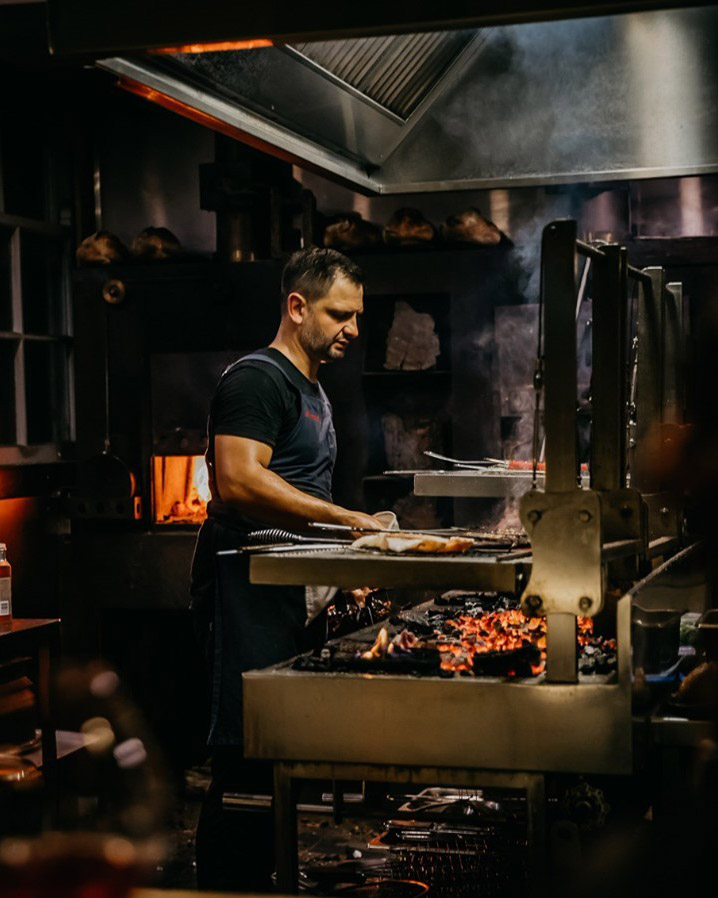 Sat inside a rustic heritage venue on Mary St, Firedoor is, as the name suggests, all about its wood-fired grills. "At Firedoor, we work instinctively with the fire and the ingredients", says Lennox Hastie, head chef and co-owner. "Our menu is entirely powered by wood fire and everything is cooked to order. We collaborate with our producers and suppliers to bring you the best produce available each day. Experience, patience and instinct are the values we cook by, and we do it all for the beauty of the ingredients", he says.
Hastie's approach is so unique that the restaurant was featured on Netflix's Emmy Award-winning series Chef's Table: BBQ, and it's well worth a watch before you visit.
Arthur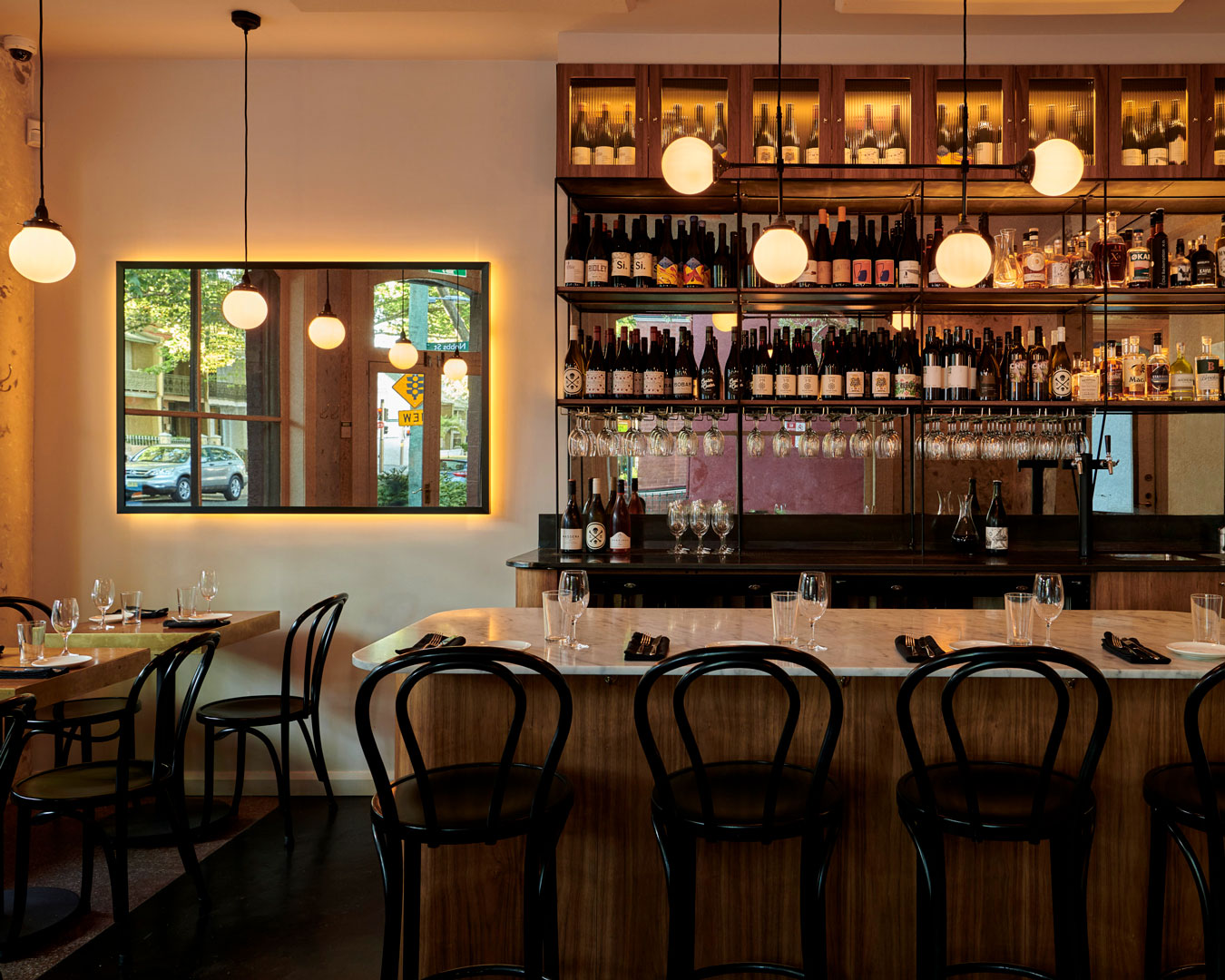 Set menus are a wonderful thing. Forget food envy and choice paralysis—relax and let the chef take you and your date or fellow diners on a little culinary trip. Such is the vibe at Arthur, a polished, warmly-lit restaurant tucked into the quiet and leafy end of Bourke Street, where a five-course Australian degustation is what's on offer.
Wines are all Australian, with a focus on minimal intervention producers and those doing things a litte differently. The Arthur bar team also makes its own house spritz and, like the menu, it changes with the seasons. Did we mention the sourdough bread has somewhat of a cult following?
PELLEGRINO 2000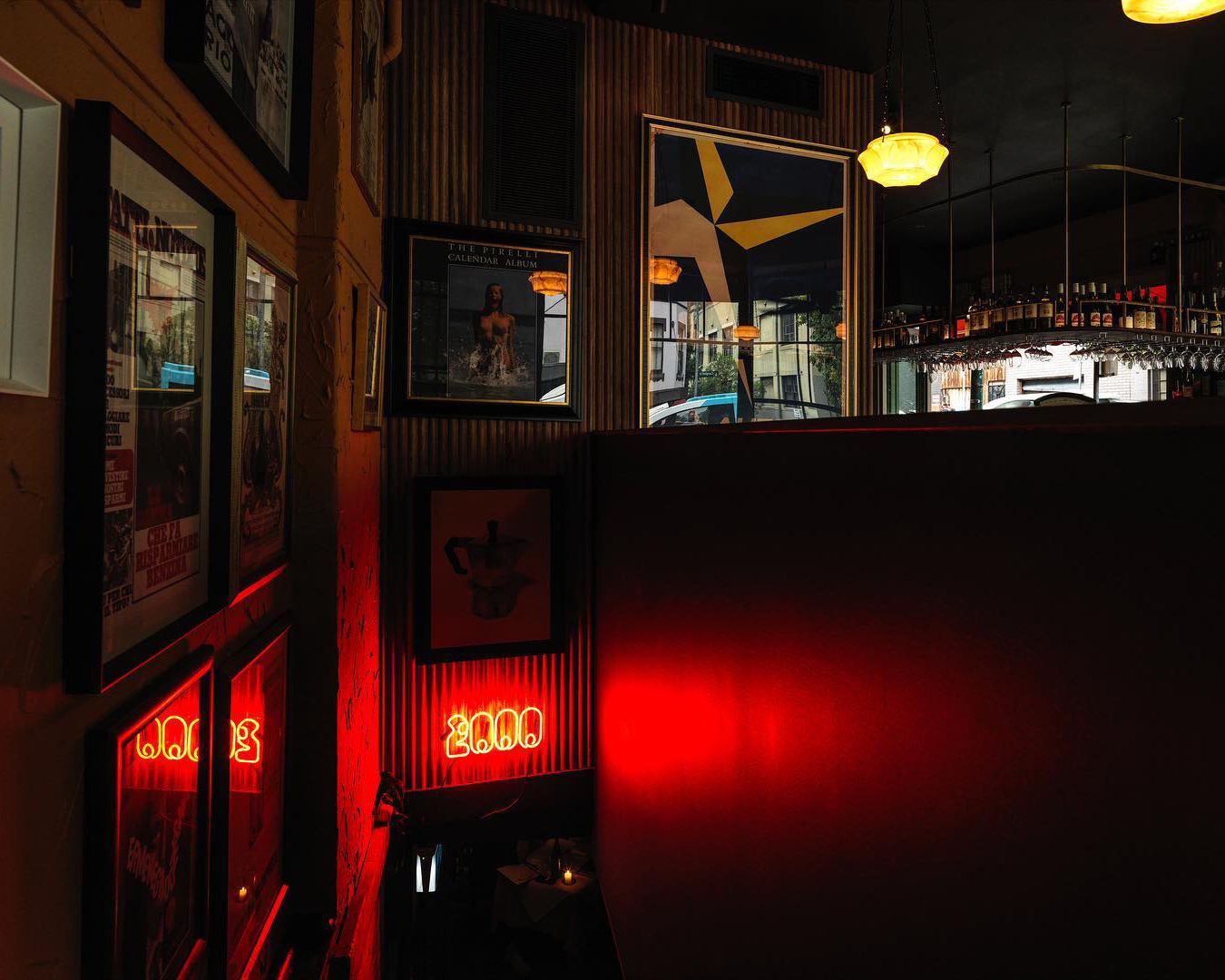 PELLEGRINO 2000 is the venue from the all-star team behind Bistrot 916—that's Dan Pepperell, Mikey Clift, and Andy Tyson. While the mood is new world Parisian at Bistrot 916, this time the trio is wielding their combined creative flair for a neighbourhood restaurant inspired by the trattorias of Rome and Florence. "The menu [consists] of the Italian staples we love, handmade tortellini, pappardelle bolognese, fritto misto, and tripe in all shapes and sizes," says Pepperell.
The ground floor features the main dining room, shelves stacked with anchovies and tomatoes, and a double-sided espresso bar. The basement level will ooze character with bottle-lined walls, white tablecloths, and a candlelit thousand-bottle wine cellar too. "The wine list [is] a grand selection of the Italian classics, mostly old Barolo, old Chianti, and a few prized bottles of the greats like Soldera and Valentini," says Tyson. "Cocktails follow suit; a Harry's Bar style bellini, caffe shakerato, negroni, and lovely little selection of amari."
Jane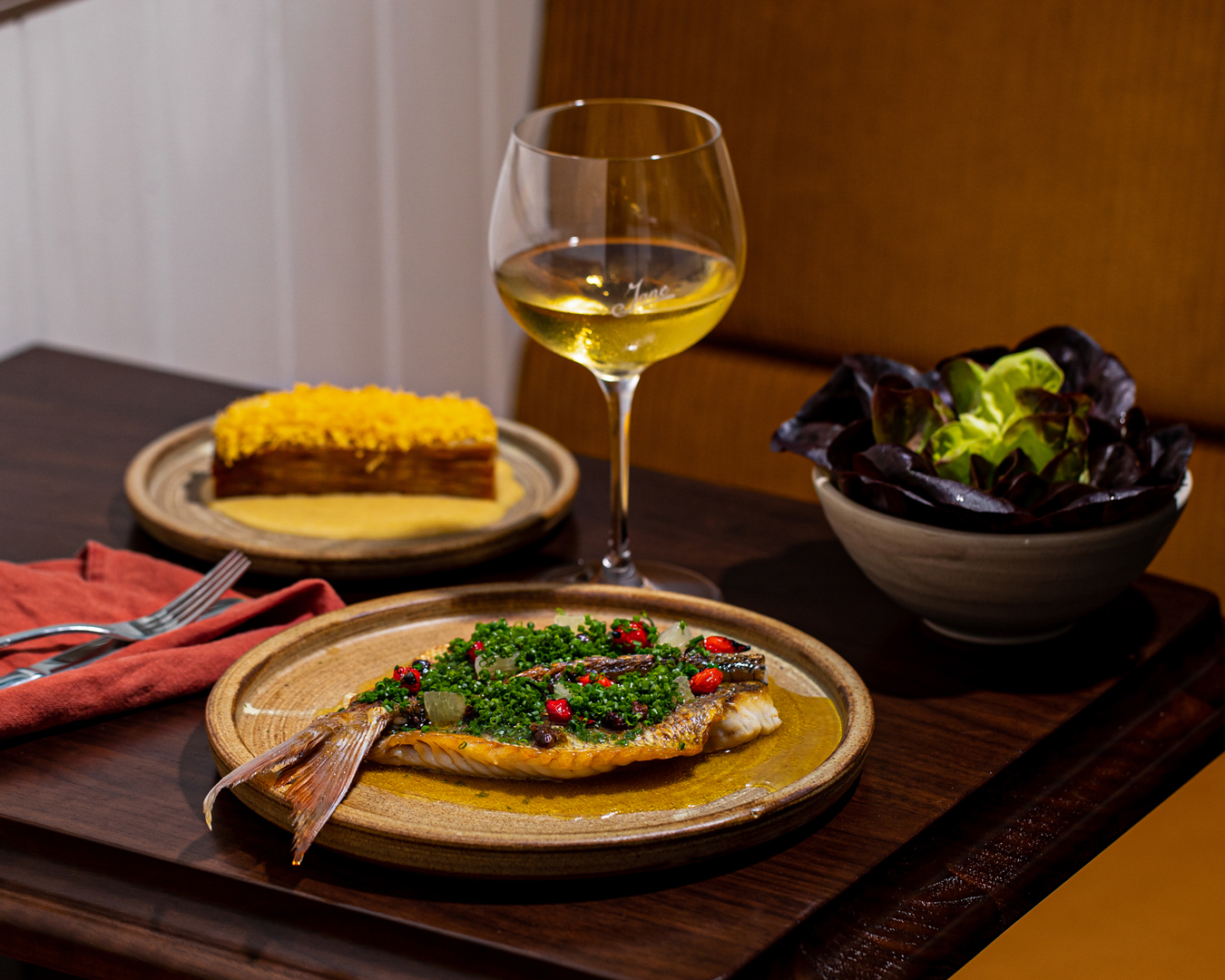 From Tristan Rosier and the Arthur team, Jane is a few blocks up on Bourke Street, in the former Ume Burger spot. Inspired by an informal 70s-era brasserie, designers at Luchetti Krelle have transformed the space using a palette of warm brass, red marble, and vegan tan leather. As for how Rosier's produce-driven kitchen ethos will translate, Jane is more casual with an emphasis on smaller dishes served a la carte, created by head chef Victoria Scriven (Arthur, Ester). There's room at the marble bar for solo diners grabbing a bite and a well-earned glass of wine after work, cosy booths for date night, and a large custom eight-seater red marble table complete with lazy Susan for groups of eight.
Gildas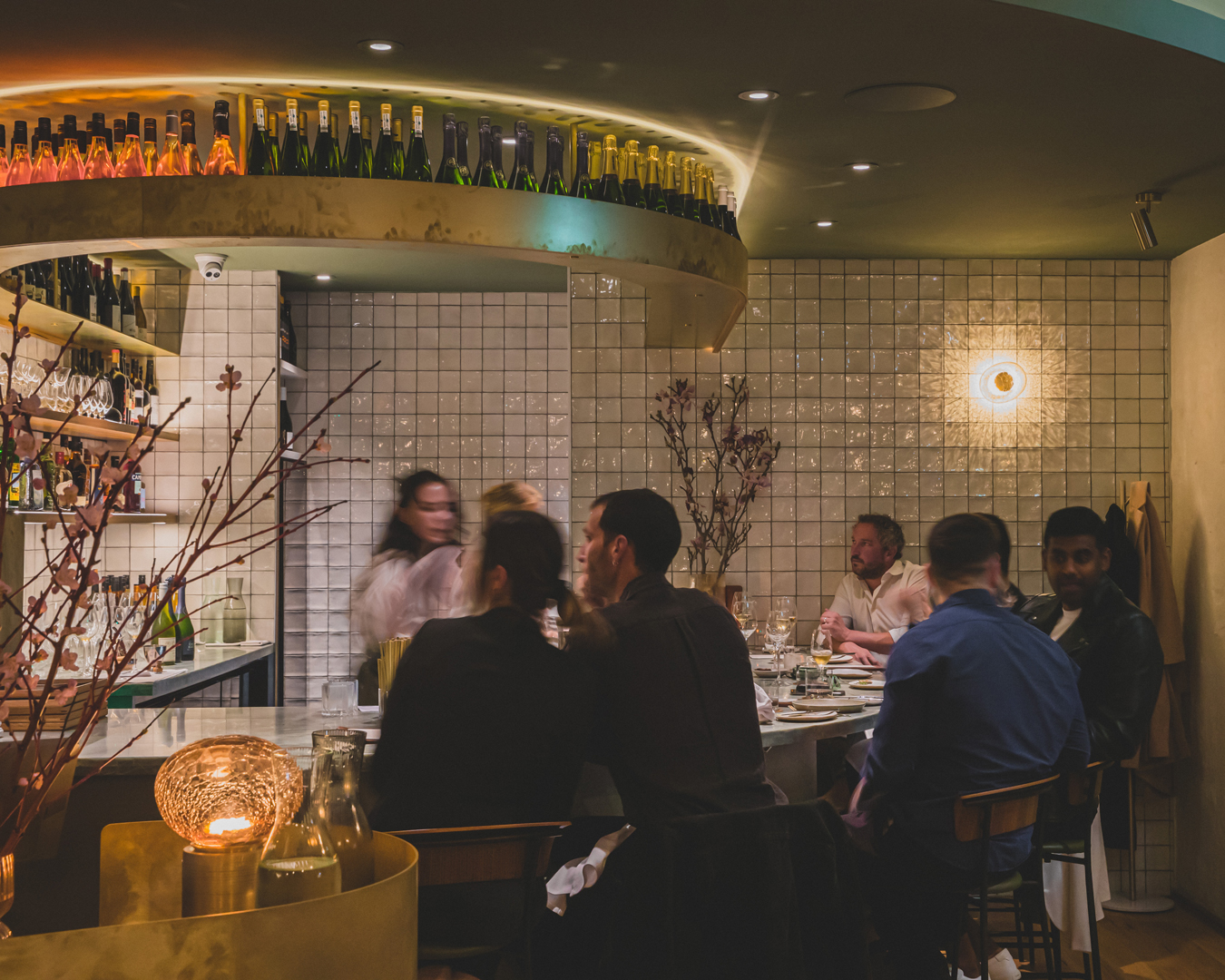 Also from Lennox Hastie, Gildas is a Firedoor spinoff in the form of a Spanish wine bar, following a neat collection of other Spanish-influenced openings in the last 12 months (Parlar and La Salut among them). Gildas is a stone's throw from Firedoor, opening within the former Chur Burger site.
Inspired by Hastie's time spent in the Basque country, dishes include the likes of tartare with rock oyster cream and sorrel, spanner crab churros, charred leeks with lado, traditional Jamon Iberico from Spain, and ham made in NSW from Bundarra Berkshires but in a Spanish style. There's also a trio of the bar's namesake, gildas—a classic Basque pintxos (skewered snack) of white anchovy, guindilla pepper, and olive— with two twists cheekily called the "Grillda" as well as the "Matilda". For dessert, the highlights are tocino de cielo (egg and syrup flan) and smoked buffalo milk soft serve with dulce de leche.
Giuls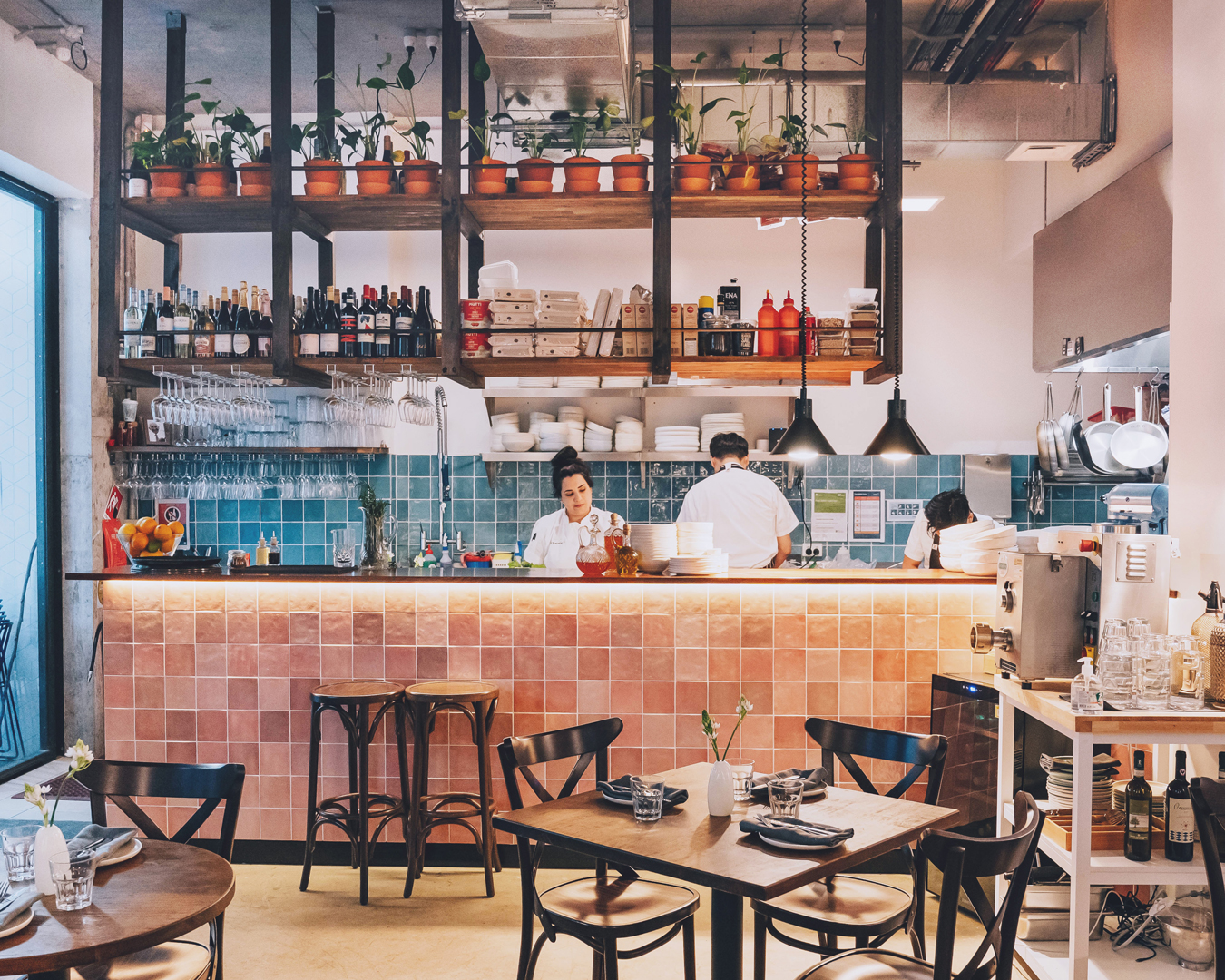 Beneath some bright pink and white striped umbrellas on Crown Street, Giuls is a neighbourhood pasta bar with an edge: behind this Surry Hills newbie is Rockpool alumni, Giulia Treuner—so you know it's going to be good. The menu was dreamt up by Michelin-trained Alessio Rago alongside head chef Esmeralda Perez, and it takes its cues from Tuscan cuisine, using seasonal produce, fresh-as seafood, and, of course, handmade pasta.
The arancini here is some of the best in town; you need to try the gold leaf burrata with burnt fig and the grilled Tassie octopus with Nduja dressing—and we haven't even told you about the handmade pasta yet. Think squid ink fettuccine with crab, cherry tomatoes, and chilli; vodka conchiglie, pancetta, and taleggio cheese; and rigatoni with lamb ragu.
Cicerone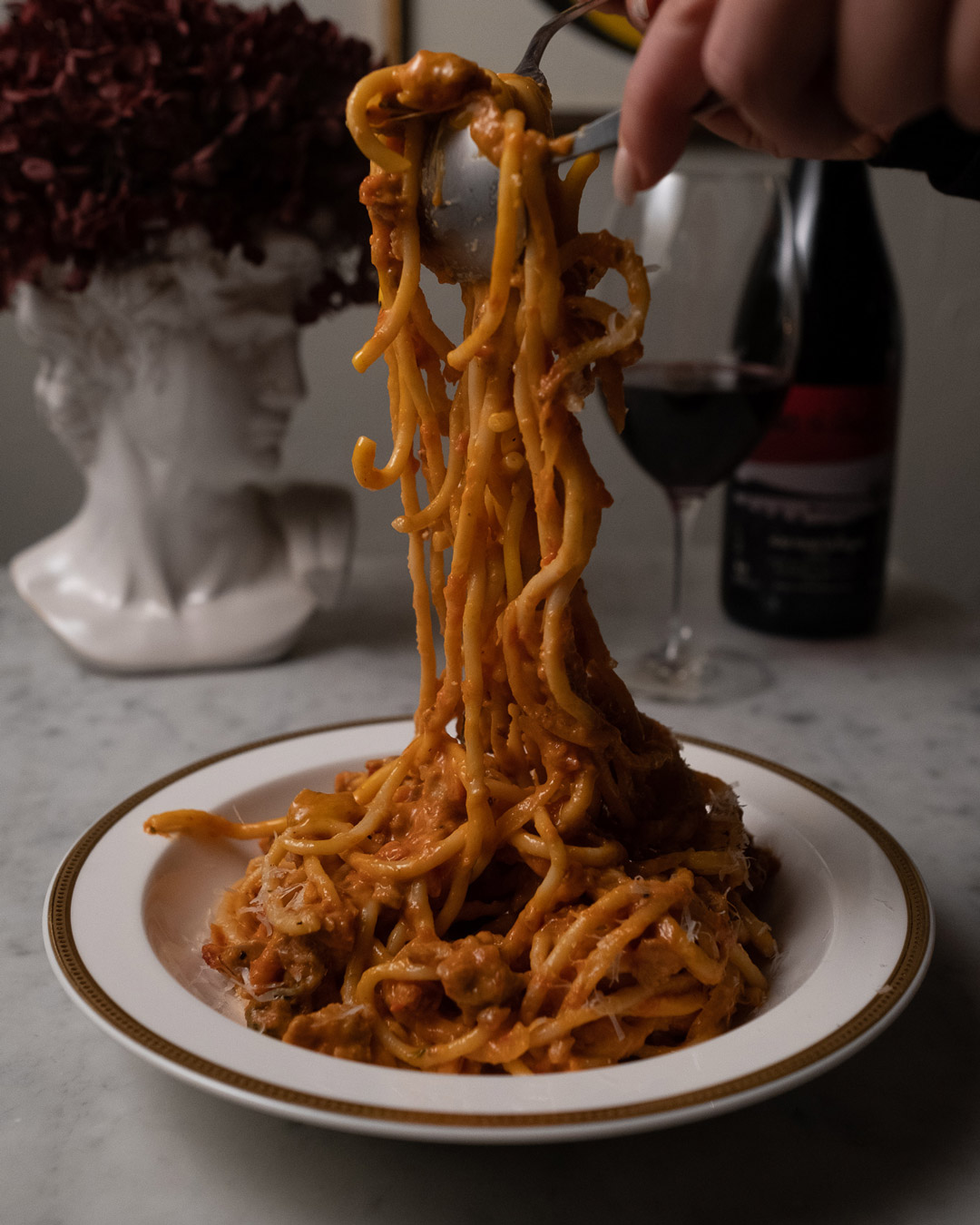 Tucked into a courtyard on Bourke Street in the former Maybe Frank spot, Cicerone Cucina Romana is the little slice of Roman culture Sydney has been missing. Though, don't expect to encounter the gaudy touristy face of the Eternal City. Instead, co-owner Isabella and head chef and Rome-native Stefano have taken inspiration from the city's inimitable street culture. Its neighbourhood restaurants, street art, underground music scene, and vibrant food and drink culture are all the muse for Cicerone.
Kick-off with an enormous knot of locally-made burrata, or crispy fried calamari and Mazzancolle prawns served with espresso mayo for dipping. Fresh pasta is a highlight at Cicerone, so you need to follow with the classic tonnarelli carbonara—one of the famous four pastas of Rome—topped with fresh truffle, of course. Pizzas follow the lighter Roman style, made with 100% semolina flour, meaning you can absolutely fit in an extra slice (or three). For dessert, it's tiramisu with salted caramel and chocolate chunks, ricotta and chocolate gelato, or a mini crème brûlée topped with pistachio.
Porteño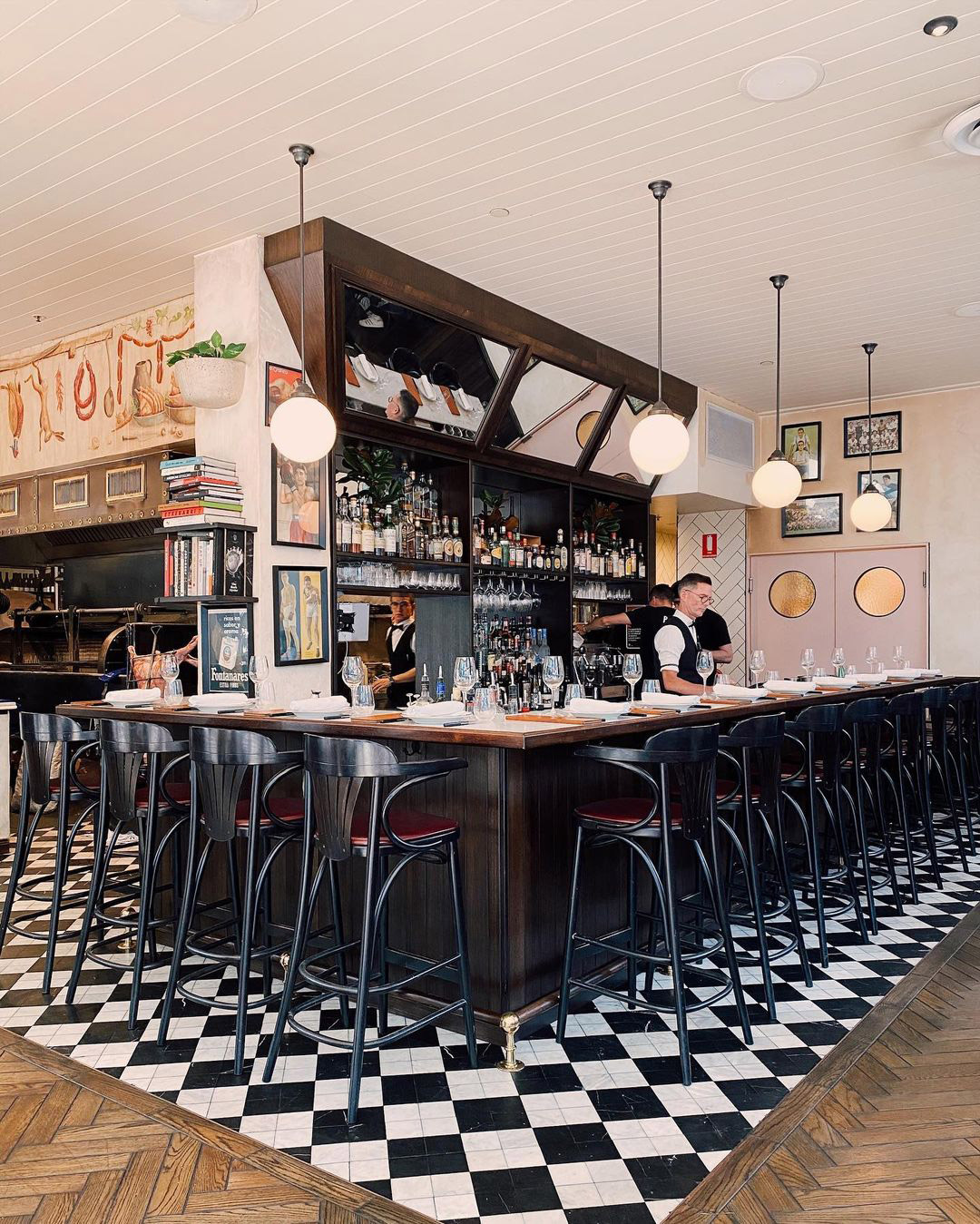 Vegetarians, look away. Purveyors of juicy, delicious, and premium meats, Porteño serves up tantalising feasts for the carnivorous among us. At the helm, you'll find chefs and owners Ben Milgate and Elvis Abrahanowicz, who are passionate about preparing Argentinian food openly on a traditional Parilla (barbecue) and Asado (pit of fire). There's a lot you're going to want to sink your teeth into here, but if we may suggest just one thing we'd say the grilled rangers valley beef short rib with hand-cut chimichurri. Or the 42-day dry-aged riverine rib eye on the Bone. Okay fine, two things.
Bastardo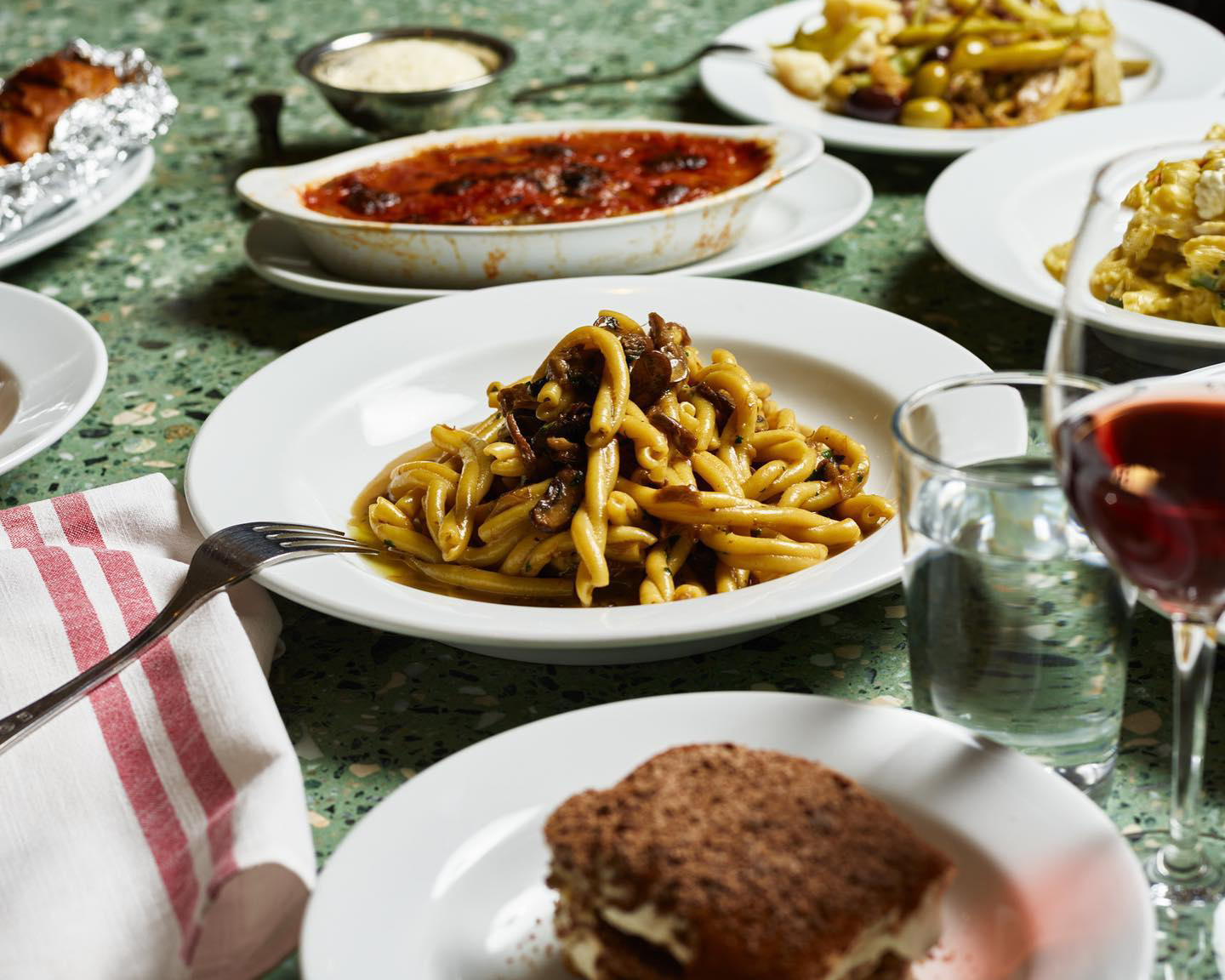 Bastardo has had quite an impact on the Sydney dining scene. It's no wonder, as the deli-style Italian eatery is made up of a team of legends who brought you the aforementioned Porteño. Drawing on their shared Argentinian and Sicilian heritage, they serve up an extensive list of fresh pasta made in the open-plan kitchen that spans the length of the restaurant. The pasta is stretchy, with a firm texture while having that melt-in-your-mouth quality that exudes craftsmanship. The spaghetti dotted with juicy clams and bursting pockets of 'nduja in a white wine sauce is a definite go-to. The 150-strong wine list of Italian heavy bottles is the icing on the cake.
Chin Chin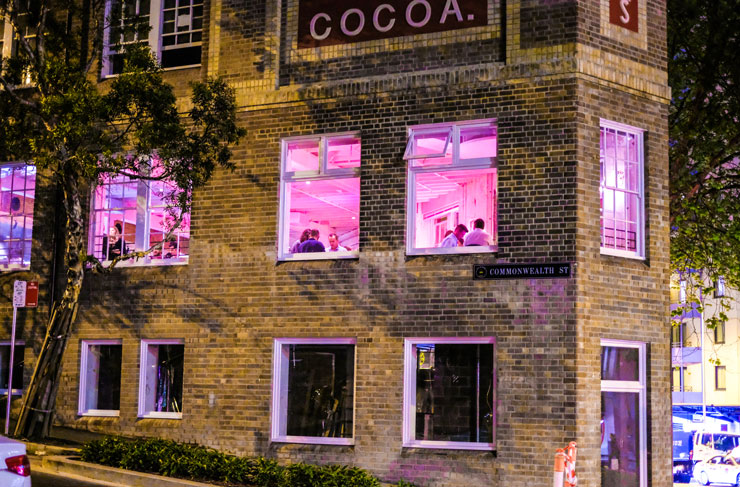 Just reading the menu at Chin Chin is enough to make you salivate. Isaan-style spicy hot BBQ chicken, Balinese roast duck, crispy soft-shell crab…please, pass us a napkin. Two years ago, Melbourne's favourite Asian restaurant opened its Sydney location in a converted warehouse space on Commonwealth St, and we've been all the better for it. Loud, lively and always delicious, with a pink neon glow, Chin Chin in Surry Hills has a menu bigger than any appetite. Can't decide? Opt for the "Feed Me" tasting menu options and enjoy a selection of the restaurant's favourite dishes.
Poly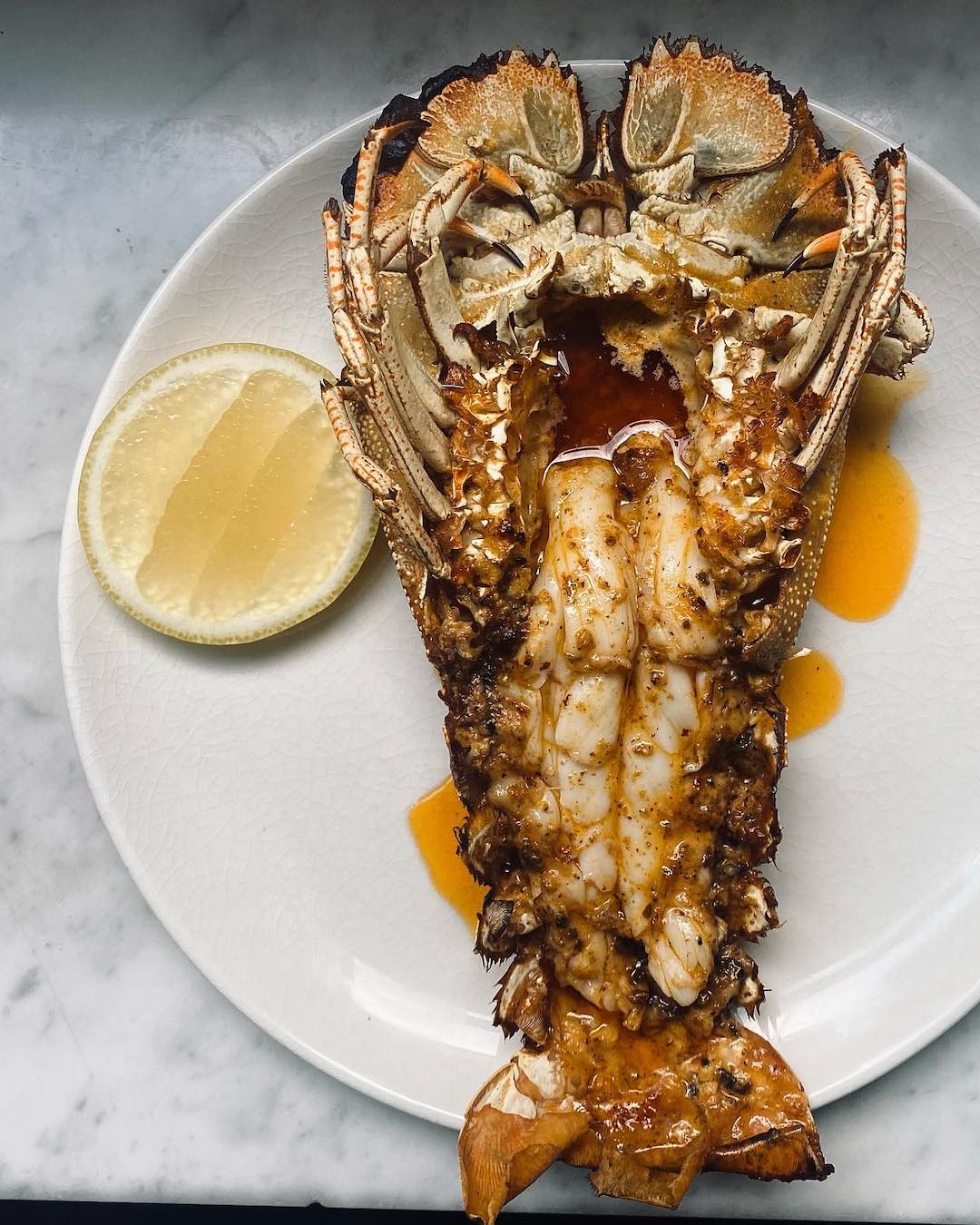 It started with Ester in Chippendale, and then Mat Lindsay caught the restaurant bug. His second venture, Poly, is a more casual take on dining—kind of like that cool second cousin who's into natural wine and rare jazz B-sides that you only see at Christmas. While it might be pitched as a wine bar with snacks, Lindsay's a la carte and set menus will leave no one hungry and this is absolutely a dinner spot in its own right. His "lockdown" burger is now a sometimes feature on the menu, alongside things like fermented potato bread with sesame whip, and a crab, potato chip, corn and smoked chicken butter sauce omelette. Stick around for dessert too, these days there's a saucy sticky date doughnut on the menu and an insane mille-feuille ice cream sandwich too.
If you're in the mood for some mind-blowing takeaway, be sure to check out Lindsay's slick kebab shop, Shwarmama. The merch alone is worth a visit, but the shawarma will keep you coming back for more.
NOMAD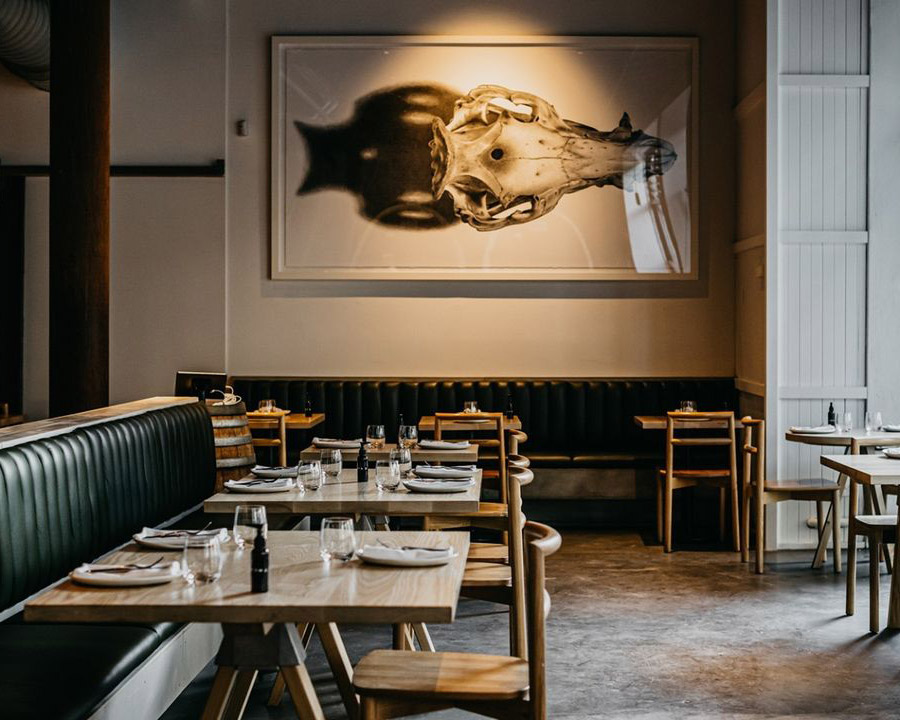 Led by head chef Jacqui Challinor, Foster Street's NOMAD has become a cornerstone of the Surry Hills restaurant scene—even despite enduring a fire in 2019 and the pandemic across 2020 and 2021. Since reopening, the menu has evolved and the open kitchen has been extended, but the house-cured charcuterie, signature Mediterranean flavours, and lengthy wine list that heroes Australian wine-making talent all remain. Equally perfect for an intimate night out with your special someone or a bigger get-together with your crew, you can make a booking for date night and grab a seat at the bar to watch Challinor and her talented team work their magic, or snap up one of NOMAD'S large group settings and settle in for a long lunch or late dinner.
Keep an eye out for Beau too—NOMAD's soon-to-open laneway wine bar.
The Rover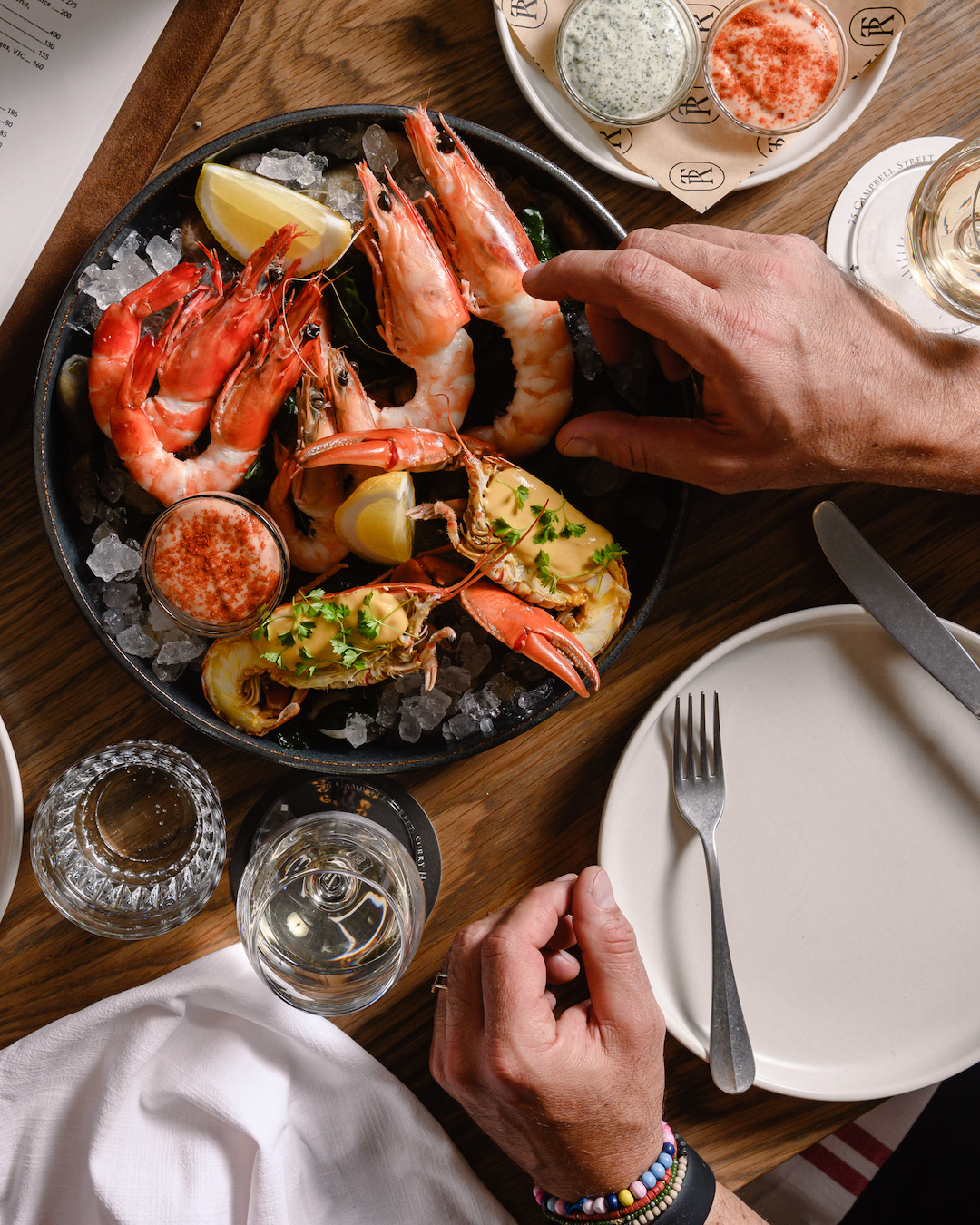 Downstairs is a New York-style cocktail bar vibe, but you'll want to head upstairs to the restaurant at The Rover to sample the British-inspired seafood menu on offer. Think fuss-free deliciousness including a daily haul of market-fresh crustaceans like scampi, yabby and prawns, gently poached and served cold on a platter with seaweed mayo, Marie Rose and hot butter sauce, hearty fish pies, and chunks of turbot dressed in pil pil. Of course, oysters are also on the cards, with the market's best available both up and downstairs.
The Blue Door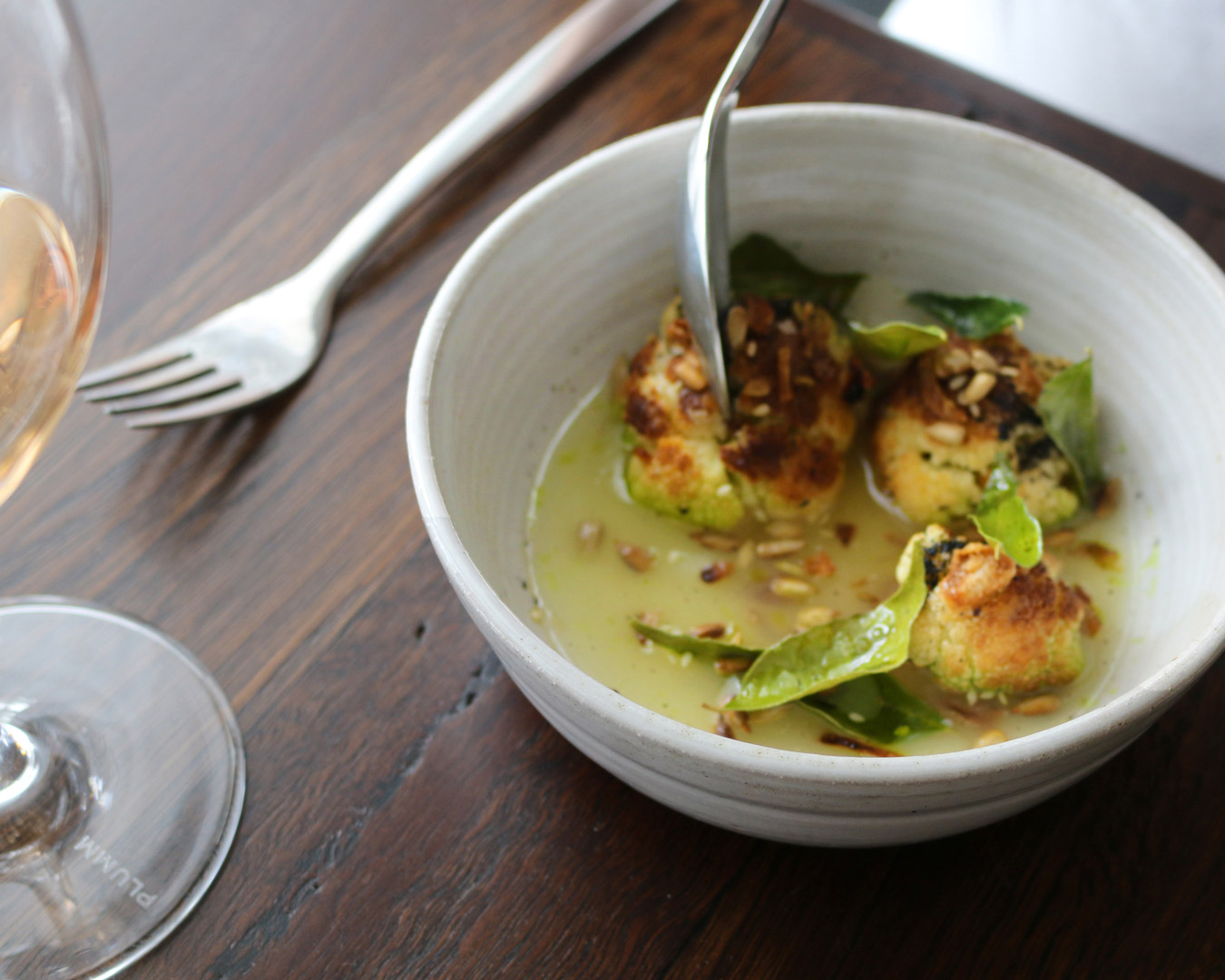 In 2021, award-winning chef Dylan Cashman Sydney opened a new outpost of his standout Gold Coast restaurant The Blue Door in the heart of Surry Hills. As for what's in store, expect an intimate space dedicated to produce, ethical and sustainable food practices, and real connection over food. An impressive 95% of The Blue Door's produce is sourced from NSW farmers, with a rotating weekly menu that ensures the restaurant's suppliers and farmers are never under pressure.
Bread is made in-house and The Blue Door is home to two Airgardens—Australia's first locally manufactured aeroponic 100% natural gardening system. The wine list champions only wine from NSW too—which is really special—while a "secret sips" menu showcases hidden vintage champagnes, a small edit of international wines, and cocktail specials too. A beautiful date night spot with a low impact on the environment around us.
Beast&Co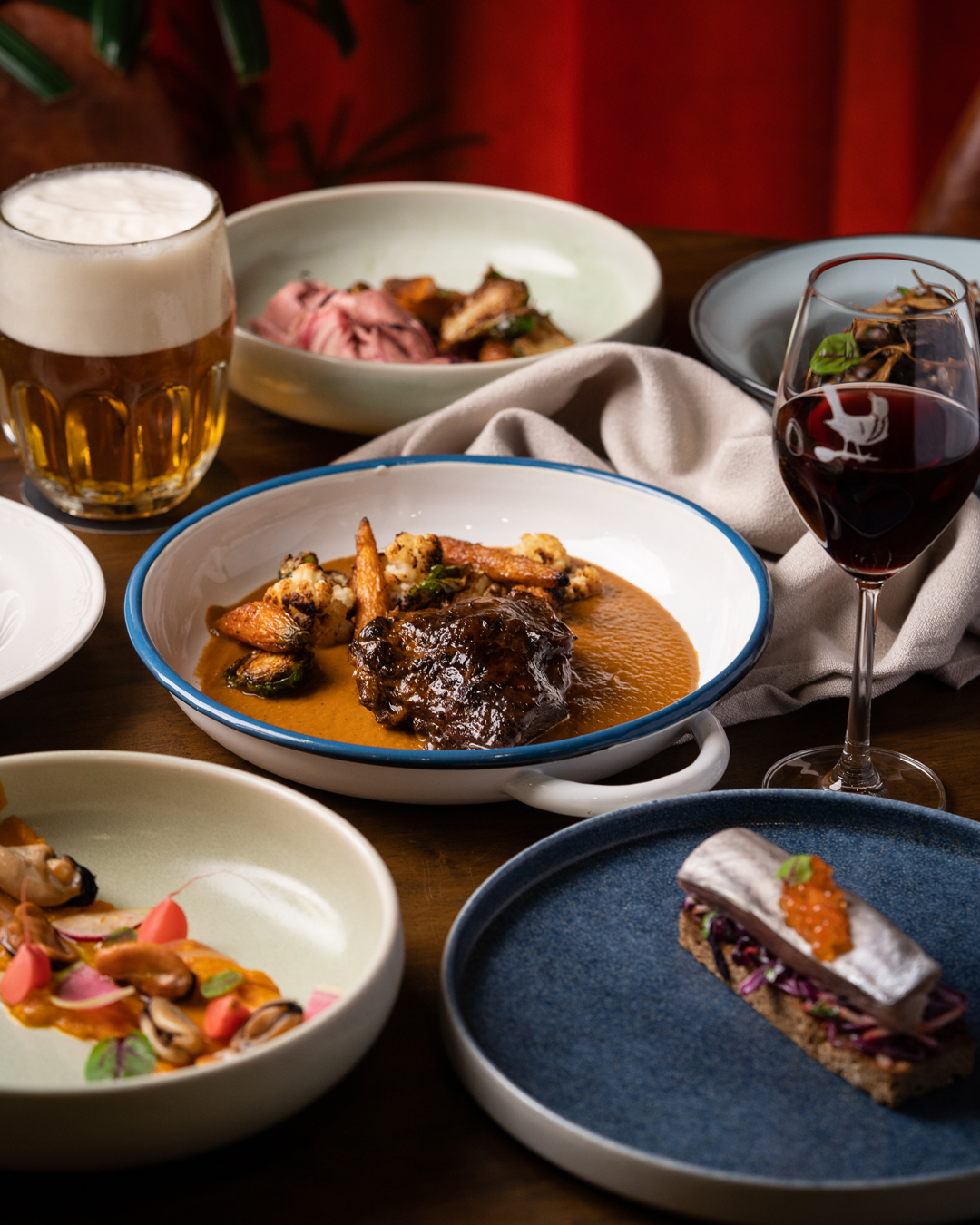 Over on leafy Bourke Street, Beast&Co serves up Czech comfort food with a modern twist—a little trip to Prague, minus the airfare. Fronted by Petra Kanalosova and Jakub Kosik, who share a decade's worth of experience working with Rockpool Dining Group, the vibe is friendly and inviting and the food is polished, thanks to head chef Jozef Kysel's Michelin experience. The protein-rich menu is hearty but packed with flavour, using traditional Czech recipes as inspiration—think chicken aspic, grilled sausage, and marinated camembert. These are served alongside more familiar plates like beef tartare and chicken schnitzel and a neat collection of Czech beer and signature cocktails and spritz. Bottomless brunch is available on Saturdays and Sundays from 11am - 5pm. Oh, and don't leave without trying the Czech doughnut.
Foreign Return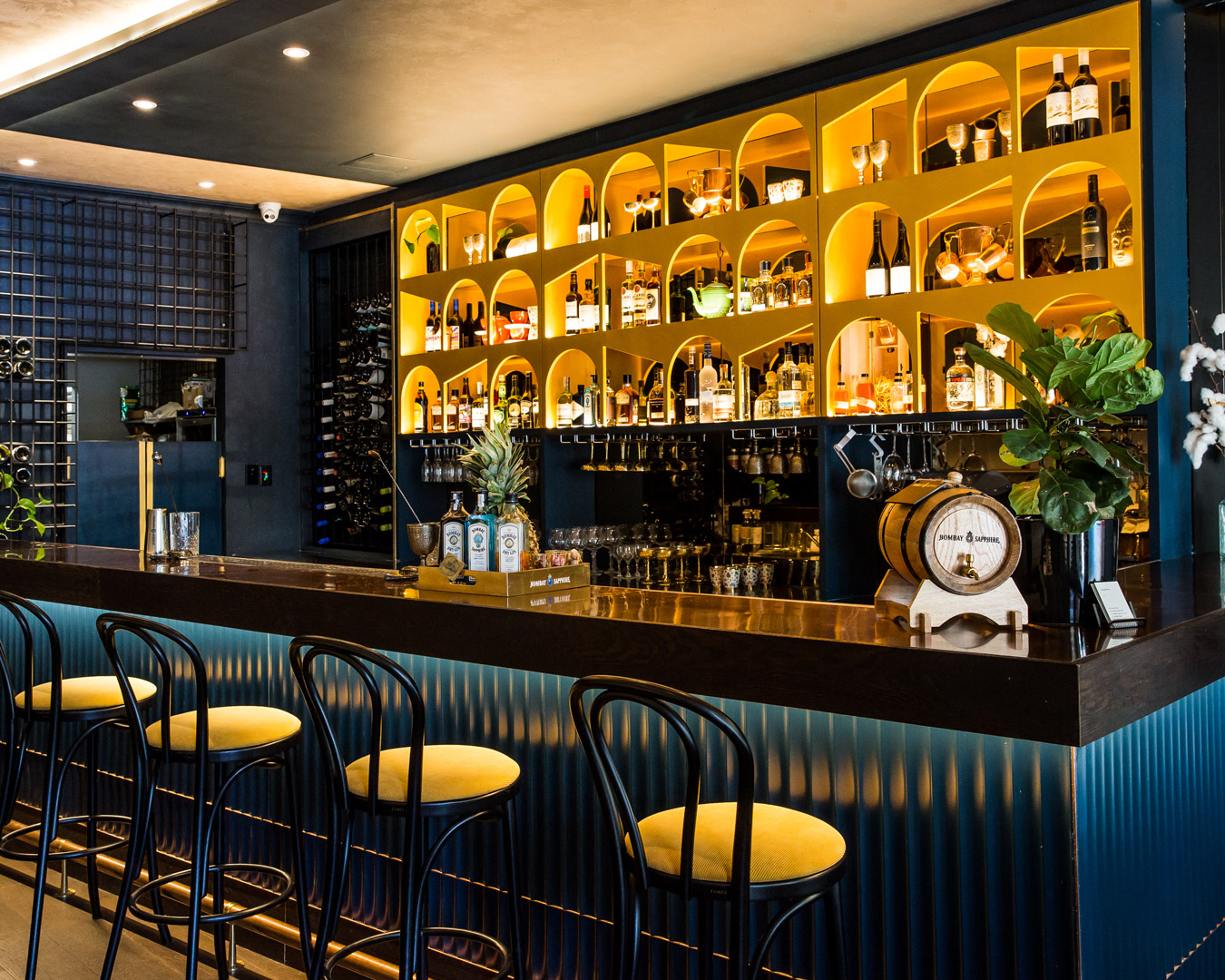 If you thought Indian cuisine started and ended with curry, rice, and naan—Foreign Return has arrived to expand your horizons. Co-owners Gaurang Gahoi, Kunal Patel, and Javed Khan (behind the acclaimed Delhi 'O' Delhi in Newtown) have set themselves the task of authenticity and integrity of classic dishes from their mothers' kitchens while levelling up with seasonal Australian ingredients and playful twists, brought to life by legendary head chef Siddharth Kalyanaraman (the official touring chef of the Australian Cricket Team).
A dedicated bar and snacks (or "chakhna") menu gives Foreign Return serious cocktail bar cred. Hungry? Dive into the menu of "lost" recipes, which stars far-reaching regional specialities handed down through the generations that you'd be hard-pressed to find anywhere else in Sydney. At lunchtime, Foreign Return is dishing out an authentic Mumbai Dabba service dished out in proper tiffin lunch boxes. There's also a must-try blue cheese naan in the mix.
Keen to visit Foreign Return soon? Purchase a gift voucher here.
Nour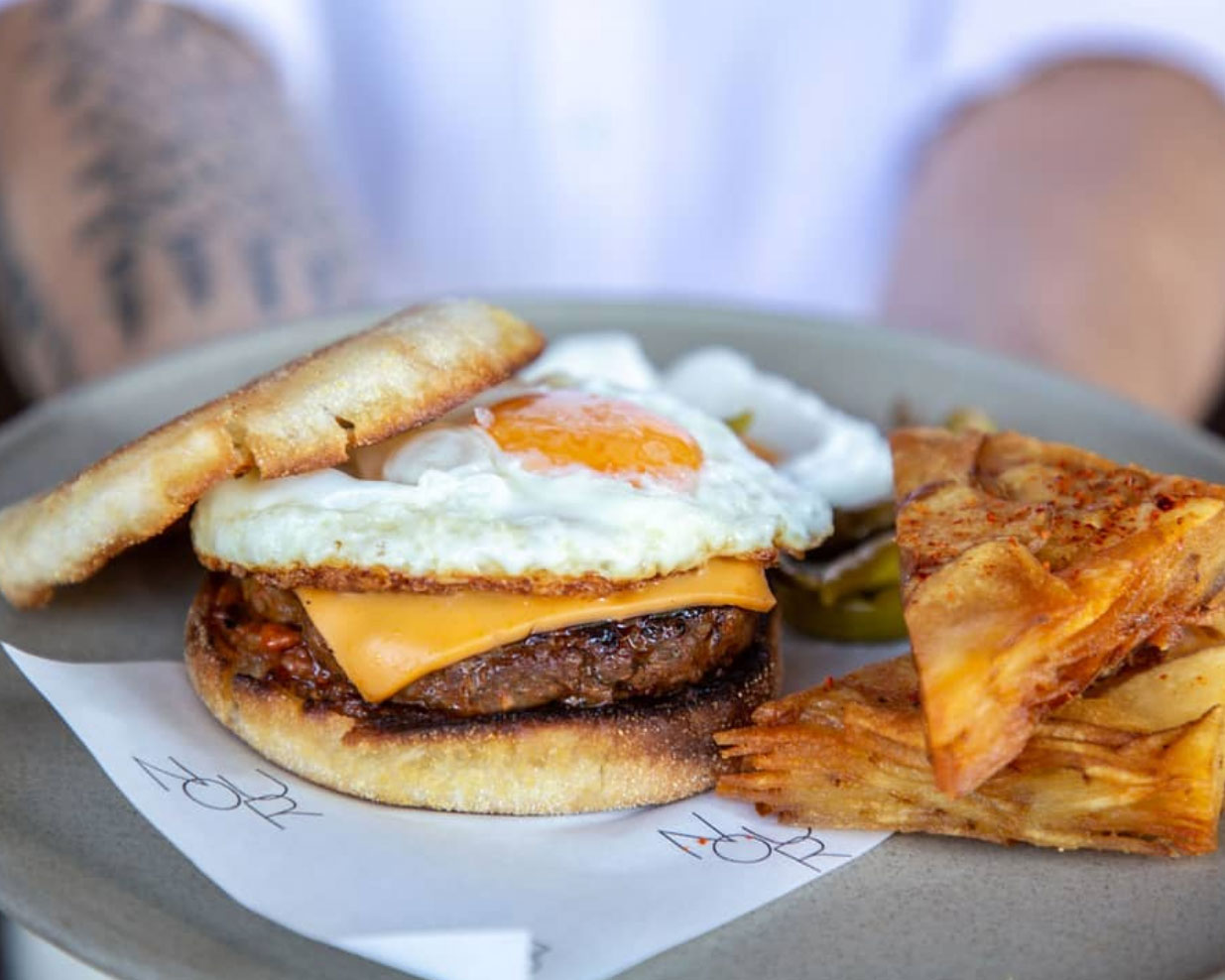 If you're in the mood for Levantine food (the geographical region that includes Lebanon, Jordan, Syria, Turkey, and Greece, to name but a few) then Nour on Crown St is where you shall dine tonight. Amongst a pastel palette of peaches and purples care of the design magic crafted by SJB Architects, devour a host of Middle Eastern delicacies roasted by woodfire. Large arched windows flood the space with light in the daytime, and their long list of dips, breads, and yoghurts are all made fresh and in-house, so prepare to share plate your way into heaven.
Nour also does a very special bottomless brunch if that's your vibe, with free-pour rose, espresso martinis, or spritz, and dishes like the "Al-Muhuffini", which is Nour's spin on the classic Maccas McMuffin.
Bad Hombres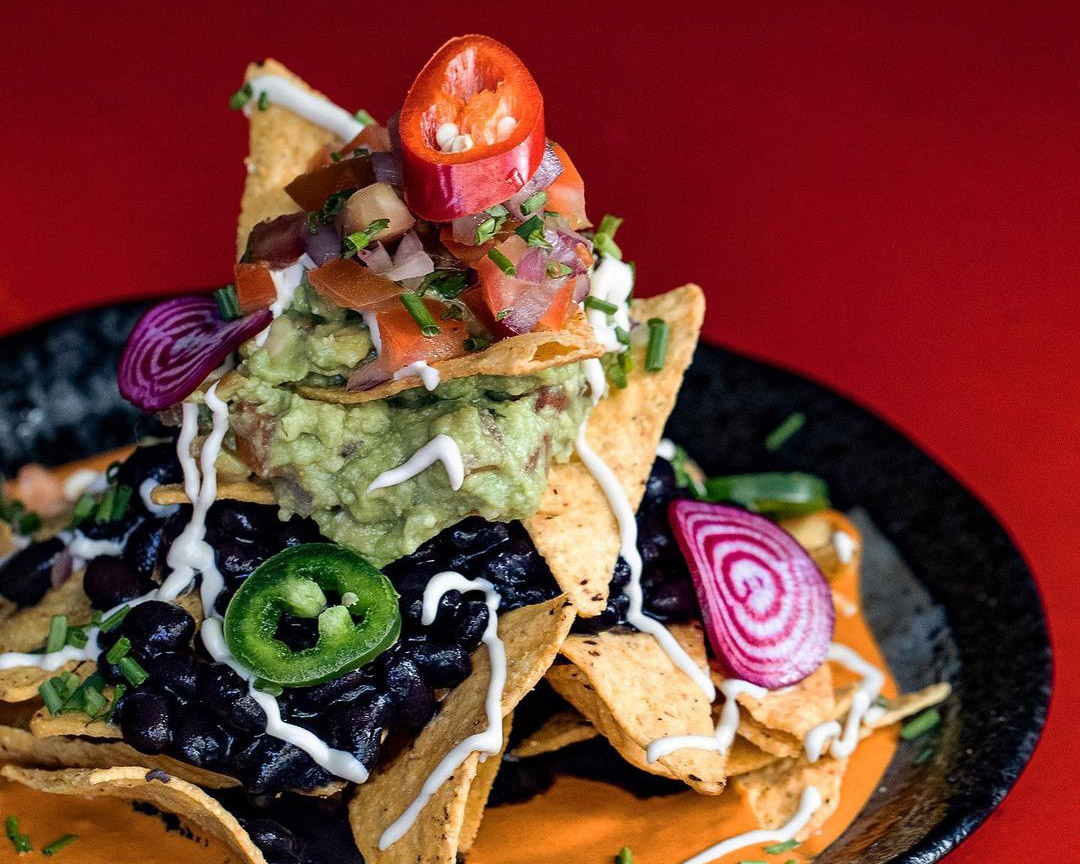 Upon entering this warm, welcoming (and bright red) neighbourhood joint, the first thing you'll notice is that the owners are, in fact, very good men. Namesake aside, Bad Hombres serves some of the most intriguing and innovative all-vegan Mexican-inspired concoctions your buds will ever taste. Mushroom Peruvian ceviche, anyone?
According to general manager Jose Artidiello, although they're plant-based, they still maintain the core ingredients found in Mexican food. "In fact, you could say that a great number of things that give Mexican food its flavour come from vegetables; corn, beans, rice, chillies and spices are already essential elements in the Latin-American diet, therefore we can maintain authenticity without compromising flavour by the lack of animal products in our kitchen", says Artidiello. Consider us convinced.
Don't Tell Aunty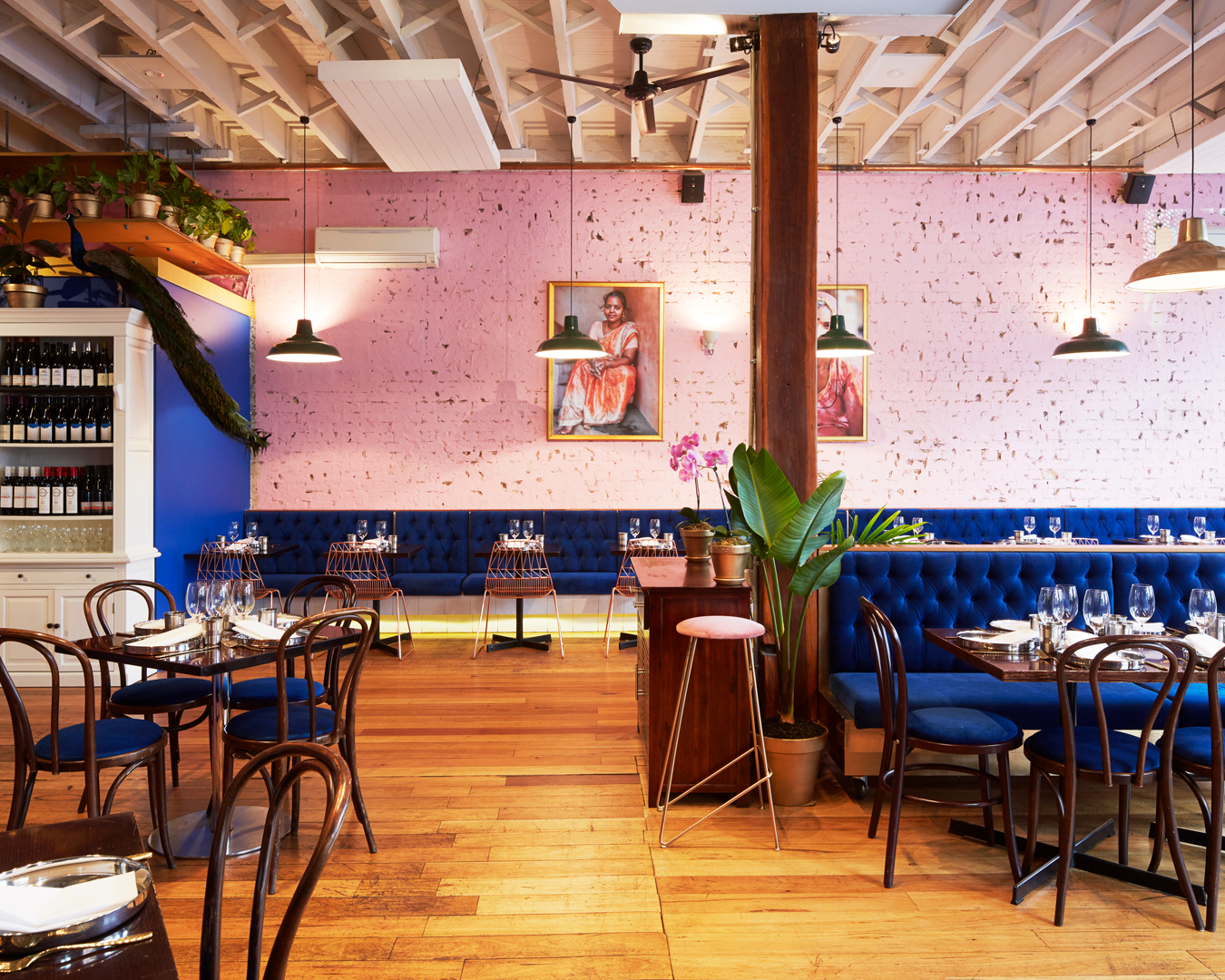 The first time you might have heard the phrase "don't tell aunty" might have been when you were 12-years-old and juggling with a moral dilemma involving siblings, a wallet and a $20 note. When it comes to this Indian-inspired eatery in the old home of 4Fourteen on Bourke St, though, the answer's a no-brainer: eat here, and eat here now. Why? Because butter chicken and naan pizza, that's why. Wash it down with a cold beer from the fridge or a bottle from the impressive wine list, and you'll be telling everyone in your entire extended family about this place.
The Dolphin Hotel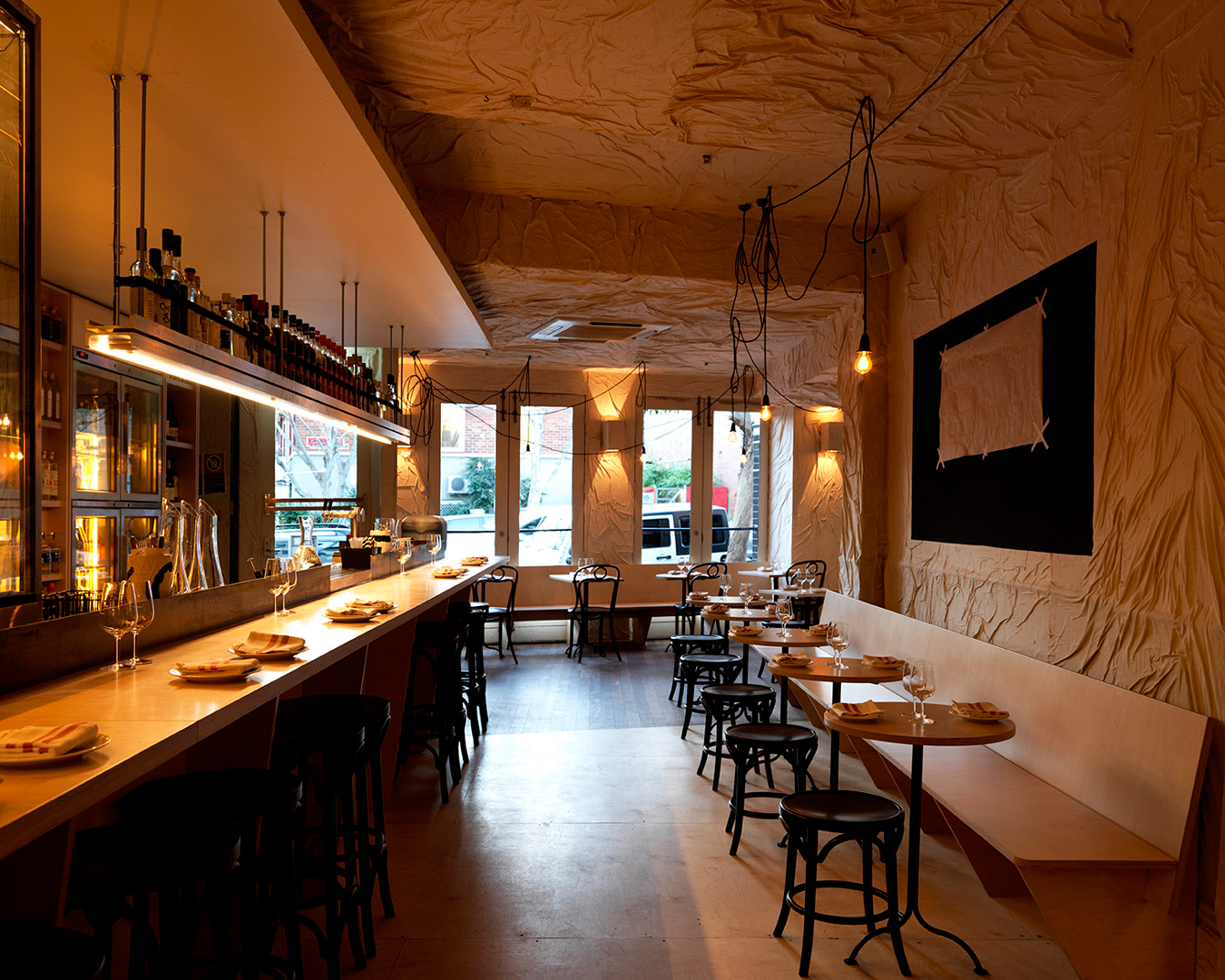 Crown Street's Dolphin Hotel is kind of the show-off of Surry Hills. Its location is perfect, its wine selection is superb, and it offers no less than three completely different dining options. First, there's the restaurant that boasts a modern Italo-Australian menu with seafood pasta and pork belly. Then there's the much-loved public bar, serving everything from delicious chicken burgers to gourmet northern-style pizzas. Finally, there's the wine bar with its own carefully curated offerings including oysters and octopus salad. Basically, eat wherever you want—it all tastes good.
Spice I Am
Spice I Am is a Sydney Institution, and if Surry Hills had a walk of fame, this beloved Thai restaurant would have a star on it. Since opening its Wentworth Avenue location a decade ago, there have always been two things you can count on: amazing authentic Thai food and a line out the door. If you're into spicy, this one also features on our list of the spiciest food in Sydney too.
Though Co-owner and Executive slash Head Chef Sujet Saenkham says that everyone has their favourite dishes, there are two orders that stand out night after night. "It's both the Massaman duck and basil crispy pork belly that continue to be amazingly popular", he says.
Butter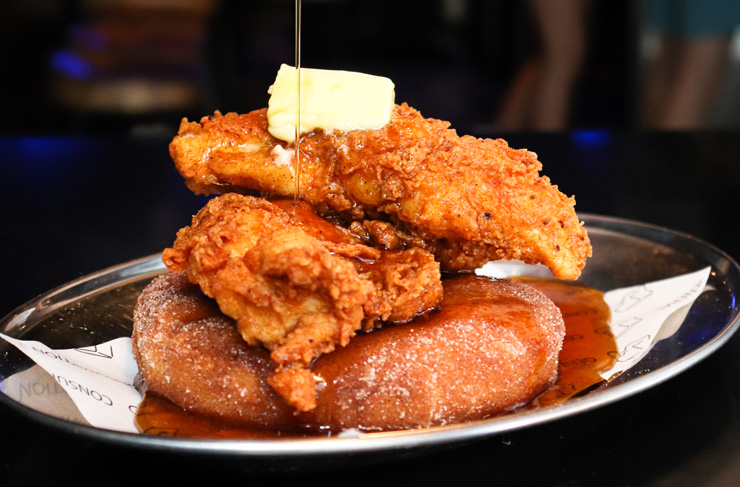 Ever imagined a hybrid sneaker, fried chicken and champagne bar altogether in one place? Yeah, me either. But thankfully someone did—and the result is Butter, a vibey space to down some wings while picking out some fresh kicks and sipping on some bubbly. Does it sound insane? Sure, but who cares if it works? And their fried chicken sandwich with pickles, dashi butter and a side of slaw works. Butter also creates some of Sydney's best ramen, an actual fried chicken doughnut, and they do a mean bottomless brunch too.
Pasta Emilia
Set alongside their certified organic pasta laboratorio, Pasta Emilia, you'll find Osteria Emilia, a warm and friendly local restaurant that looks like it was ripped straight from the streets of Italy and relocated right here in Surry Hills. We're sure they offer other things on the menu, but let's be real: if you come here, you must try the pasta. Beef ragu, spinach linguini, duck and truffle tortelli—it doesn't matter which you choose, they are all a gift from the flour gods.
Izakaya Fujiyama
If you're looking for a cool, calm and collected spot to snack on sushi and sake, head to Waterloo Street in Surry Hills. This Japanese restaurant is helmed by Koji Shibata. Dimly lit with sake-lined walls, Izakaya Fujiyama exudes an authentic Japanese Izakaya vibe while boasting a warm and inviting atmosphere. Menu must-haves include the wagyu cheek buns and tsukune skewers, and if sake isn't your thing, ask to see the Japanese whiskey list.
In the mood for wine? Check out this list of Sydney's very best wine bars.
Image credit: Jane, Firedoor, Arthur, PELLEGRINO 2000, Jane, Nikki To, Nikki To, Giuls, The Blue Door, Cicerone, Porteño, Bastardo, Chin Chin, Poly, NOMAD, Sofia, Beast&Co, Foreign Return, Nikki To, Nour, Bad Hombres, Don't Tell Aunty, The Dolphin Hotel, Butter, Izakaya Fujiyama