Some people like to view food as little more than necessary fuel. We are not those people. Maybe you have friends that are, and if so, maybe it's time for some new friends. Food is a universal language, a source of celebration, the thing that binds us.
And when it's good, it's really, really good. In Surry Hills, there's no shortage of fantastic restaurants serving up the very best of the good stuff.
Here are 14 of the hands-down best restaurants in Surry Hills right now.
Restaurant opening hours and menu offerings may be different due to COVID-19 restrictions. We recommend calling ahead for details and making a booking.
Arthur
Set menus are a wonderful thing. Forget food envy and choice paralysis—relax and let the chef take you and your date or fellow diners on a little culinary trip. Such is the vibe at Arthur, a polished, warmly-lit restaurant tucked into the quiet and leafy end of Bourke Street. Chef Tristan Rosier spent time in the kitchen at Est., Biota and Dead Ringer, and his strictly seasonal menu consists of 10 courses across two nightly set seatings ($90 per person, additional $69 for matching wines).
You'll begin with Arthur's superstar sourdough and cultured butter, before moving on to things like scallop with finger lime and roe, Spangled Emperor fish with chestnut, shiitake and sorrel, or wagyu beef, carrot and bone marrow. Dessert might be a layered chocolate and passion fruit cake. Wines are all from Australian minimal intervention, organic or organic-practicing winemakers. The Arthur team also make their own house spritz, and like the menu—it changes with the seasons, being made from repurposed ingredients from the kitchen as part of the restaurant's goal to move towards zero waste.
If it's an impressive, quiet date spot you're after—Arthur should be top of your list.
Bartolo
Bartolo is currently closed due to COVID-19 restrictions, but will be reopening soon. Check here for updates.
In November 2019, Bartolo celebrated its one-year anniversary since first firing up the kitchen in what was formerly Bills cafe on Crown St. In some respects, it feels like it's been there much longer, already a beloved go-to amongst locals and travelers alike. The all-day eatery is open for every meal you need, serving up an Italian-inspired menu that pays homage to owner Justin Merlino's Italian heritage. But the best time to dine, if you had to pick? "It's perfect for a long lunch with a great bottle of wine or come night time, when the blinds are down and the candles are out for a more cosy and intimate experience", says Merlino. Best bet is just to book in for both.
Chin Chin
Just reading the menu at Chin Chin is enough to make you salivate. Isaan style spicy hot BBQ chicken, Balinese roast duck, crispy soft-shell crab…please, pass us a napkin. Two years ago, Melbourne's favourite Asian restaurant opened its Sydney location in a converted warehouse space on Commonwealth St, and we've been all the better for it. Loud, lively and always delicious, with a pink neon glow, Chin Chin in Surry Hills has a menu bigger than any appetite. Can't decide? Opt for the "Feed Me" tasting menu options and enjoy a selection of the restaurant's favourite dishes.
Poly
It started with Ester in Chippendale, and then Mat Lindsay caught the restaurant bug. His second venture, Poly, is a more casual take on dining—kind of like that cool second cousin who's into natural wine and rare jazz B-sides that you only see at Christmas. Everything on their menu is delicious, but according to restaurant manager Adam Hall, it's all about the scallops right now. "We've just brought in a new snack of Abrolhos scallop and kombu sandwiched between two baked salt-and-vinegar potato crisps. So, potato scallop, but not as you know it!"
If you're in the mood for mind-blowing takeaway, be sure to check out Lindsay's slick kebab shop, Shwarmama. The merch alone is worth a visit.
Nour
If you're in the mood for Levantine food (no, not a typo, but a geographical region that includes Lebanon, Jordan, Syria, Turkey, Greece, to name but a few) then Nour on Crown St is where you shall dine tonight. Amongst a pastel palette of peaches and purples care of the design magic crafted by SJB Architects, devour a host of Middle Eastern delicacies roasted by woodfire. Large arched windows flood the space with light in the daytime, and their long list of dips, breads and yoghurts are all made fresh and in-house, so prepare to share plate your way into heaven.
Nour also does a very special bottomless brunch if that's your vibe, with free-pour rose, espresso martinis, or spritz, and dishes like the "Al-Muhuffini", which is Nour's spin on the classic Maccas McMuffin.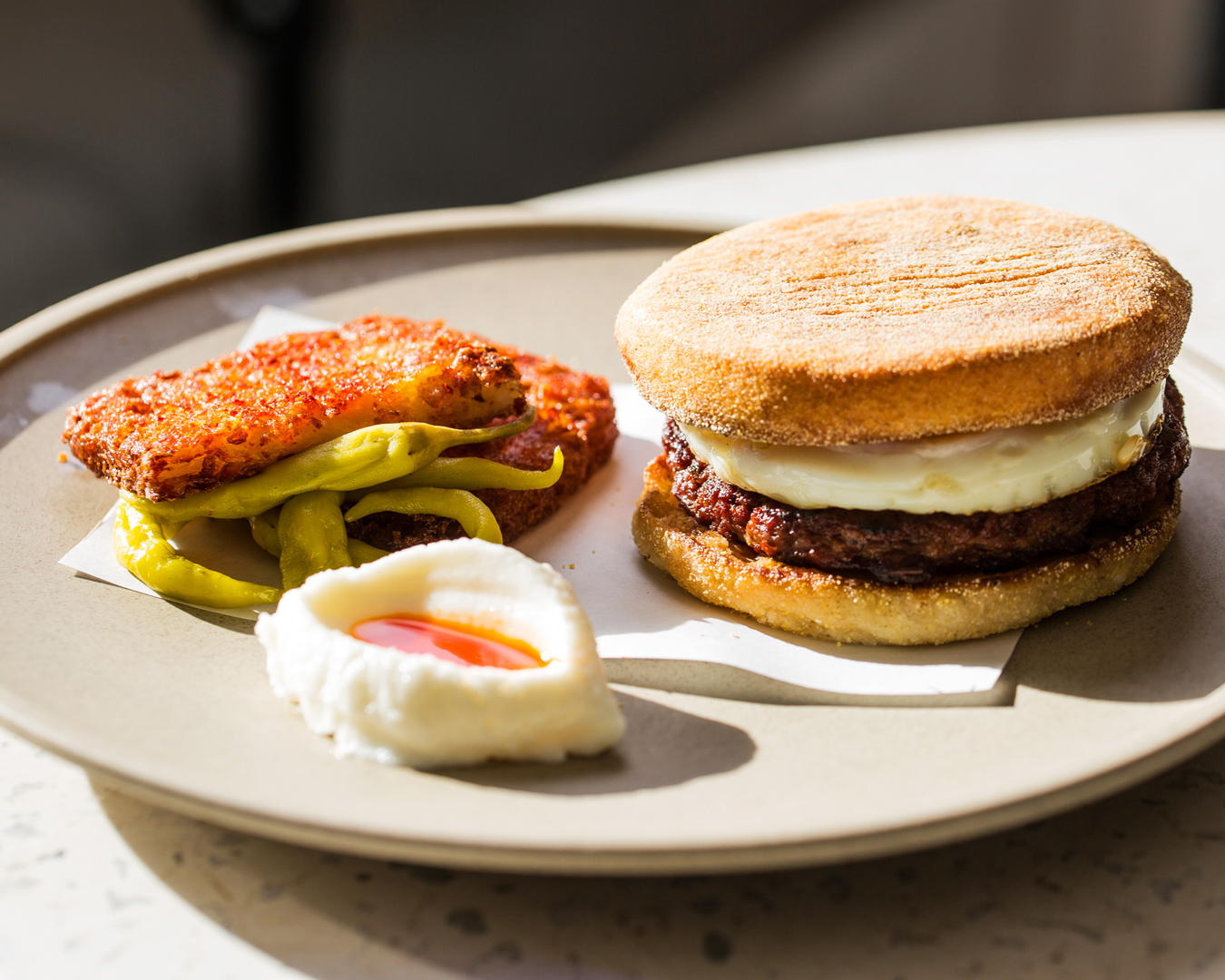 Bad Hombres
Upon entering this warm, welcoming (and bright red) neighbourhood joint, the first thing you'll notice is that the owners are, in fact, very good men. Namesake aside, Bad Hombres serves some of the most intriguing and innovative all-vegan Mexican inspired concoctions your buds will ever taste. Mushroom Peruvian ceviche, anyone?
According to general manager Jose Artidiello, although they're plant-based, they still maintain the core ingredients found in Mexican food. "In fact, you could say that a great number of things that give Mexican food its flavour come from vegetables; corn, beans, rice, chillies and spices are already essential elements in the Latin-American diet, therefore we can maintain authenticity without compromising flavour by the lack of animal products in our kitchen", says Artidiello. Consider us convinced.
Don't Tell Aunty
The first time you might have heard the phrase "don't tell aunty" might have been when you were 12-years-old and juggling with a moral dilemma involving siblings, a wallet and a $20 note. When it comes to this Indian-inspired eatery in the old home of 4Fourteen on Bourke St, though, the answer's a no-brainer: eat here, and eat here now. Why? Because butter chicken and naan pizza, that's why. Wash it down with a cold beer from the fridge or a bottle from the impressive wine list, and you'll be telling everyone in your entire extended family about this place.
Firedoor
The coolest (or hottest, technically) thing about Surry Hill's Firedoor is that it's the only fully wood-fueled restaurant in Australia. Sat inside the rustic heritage venue on Mary St, you feel like you should be eating the food of the people, but the menu tastes like it's fit for a king. "At Firedoor, we work instinctively with the fire and the ingredients", says Lennox Hastie, Head Chef and Co-owner. "Our menu is entirely powered by wood fire and everything is cooked to order. We collaborate with our producers and suppliers to bring you the best produce available each day. Experience, patience and instinct are the values we cook by, and we do it all for the beauty of the ingredients", he says.
The Dolphin Hotel
Crown St's Dolphin Hotel is kind of the show-off of Surry Hills. Its location is perfect, its wine selection is superb, and it offers no less than three completely different dining options. First, there's the restaurant that boasts a modern Italo-Australian menu with seafood pasta and pork belly. Then there's the much-loved public bar, serving everything from delicious chicken burgers to gourmet northern-style pizzas. Finally, there's the wine bar with its own carefully curated offerings including oysters and octopus salad. Basically, eat wherever you want—it all tastes good.
Spice I Am
Spice I Am is a Sydney Institution, and if Surry Hills had a walk of fame, this beloved Thai restaurant would have a star on it. Since opening its Wentworth Avenue location a decade ago, there have always been two things you can count on: amazing authentic Thai food and a line out the door. If you're into spicy, this one also features on our list of the spiciest food in Sydney too.
Though Co-owner and Executive slash Head Chef Sujet Saenkham says that everyone has their favourite dishes, there are two orders that stand out night after night. "It's the Massaman duck and basil crispy pork belly that continue to be amazingly popular", he says.
Porteno
Vegetarians, look away. Purveyors of juicy, delicious, and premium meats, Porteno serve up tantalising feasts for the carnivorous among us. At the helm, you'll find chefs and owners Ben Milgate and Elvis Abrahanowicz, who are passionate about preparing Argentinian food openly on a traditional Parilla (barbecue) and Asado (pit of fire). There's a lot you're going to want to sink your teeth into here, but if we may suggest just one thing we'd say the grilled rangers valley beef short rib with hand-cut chimichurri. Or the 42-day dry-aged riverine rib eye on the Bone. Okay fine, two things.
Butter
Ever imagined a hybrid sneaker, fried chicken and champagne bar altogether in one place? Yeah, me either. But thankfully someone did—and the result is Butter, a vibey space to down some wings while picking out some fresh kicks and sipping on some bubbly. Does it sound insane? Sure, but who cares if it works? And their fried chicken sandwich with pickles, dashi butter and a side of slaw WORKS.
Pasta Emilia
Set alongside their certified organic pasta laboratorio, Pasta Emilia, you'll find Osteria Emilia, a warm and friendly local restaurant that looks like it was ripped straight from the streets of Italy and relocated right here in Surry Hills. We're sure they offer other things on the menu, but let's be real: if you come here, you must try the pasta. Beef ragu, spinach linguini, duck and truffle tortelli—it doesn't matter which you choose, they are all a gift from the flour gods.
Loluk Bistro
Just a hop, skip and jump away from Southern France you'll find Loluk Bistro, nestled between a Greek Orthodox church and a row of sandstone terraces on Bourke St. Serving classic French cuisine, Owners Luc La Joye and his brother Loïc have created a menu that would make their homeland proud. Escargot, pork rillettes, hand-cut beef tartare, Niçoise ratatouille, chocolate fondant, seasonal soufflés… it's all there. Hang out for wine specials, and bottomless mussels and raclette when the season calls for it. Oui, please.
In the mood for wine? Check out this list of Sydney's very best wine bars.
Image credit: Jackielyn Powell, Porteno | Mitchell Fong, Arthur | Bartolo | Nour | Don't Tell Aunty | Jason Loucus, The Dolphin Hotel