Kiln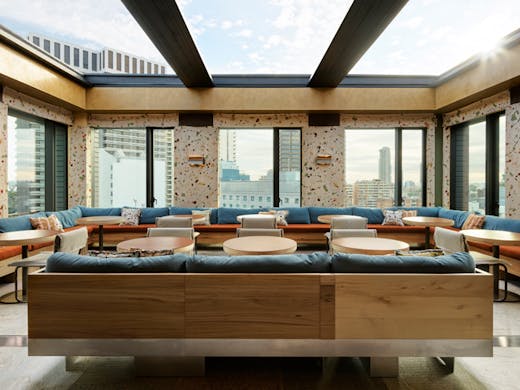 Sitting 18 storeys up with a spectacular and rare view across Surry Hills, Central Station, and the city—Kiln is Ace Hotel Sydney's rooftop dining destination. It's the hotel's crowning jewel, complete with retractable ceilings, glass walls, and chef Mitch Orr at the helm.
Enter via a back laneway, where hotel lobby elevators will teleport you to two spacious terraces, with the kitchen and glowing woodfired hearth as the centrepiece.
Here, Orr is flexing his genre-bending skills with fiery native ironbark and assorted fruitwoods to flame and smoke a neat list of fun but inventive dishes. On the menu are snacks like Jatz with smoked butter and anchovy and larger plates like grilled Abrolhos Island scallops with preserved lemon butter, and Marron with desert lime and long pepper.
For dessert, there's corn ice cream with popcorn and salted caramel and a steamed chocolate cake with poor man's orange sorbet.
"Our aim at Kiln is to be exceptional with everything we do, but to also keep things relaxed and unpretentious," Orr explains. "We're solely focused on serving the best of each season, making sure it's tasty and keeping everyone's spirits high."
On drinks across all of Ace Hotel Sydney is Mike Bennie, a pioneer in Australia's natural wine scene. The co-founder P&V Wine + Liquor Merchants has created a wide-ranging list of mostly Australian wines for Kiln, with some available by the glass and carafe, and a selection on tap too.
Designed by Melbourne's Fiona Lynch Office, earthy tones, paired with accents of natural brass and sky blue fill the space. Fiona was inspired by Italian architect Enrico Taglietti when imagining the space—and like so much of Ace Hotel Sydney—the design details are half the fun of visiting.
Like the bar, which has been crafted from Australian stone chrome and aluminum, and is inspired by the work of prolific American artist Isamu Noguchi. Custom hand-painted linen has been created using pigment from salvaged waste materials foraged from the property's build site.
Kiln joins Ace Hotel Sydney's other venues—Loam, an all-day cafe and diner, and Good Chemistry, a lobby bar that serves a mean martini.
Kiln's bar service begins at 5.30pm, with the kitchen opening at 6pm.
Image credit: Anson Smart
---