Lucky for you, Sydney is one of the ultimate cities to host the ultimate staycation on account of all the epic hotels it's home to. Cue indoor pools, rooftop pools, dog friendly stays, beach escapes, 24-hour room service, Japanese baths… You name it, Sydney's got it. Visiting Sydney? May we suggest a hotel-hop? Because like we said, you're spoilt for choice.
Whether you're looking for a romantic getaway, want to drop off the radar for a bit, need some extra sleep, or just flat out can't afford a trip to Maldives (we feel ya), Sydney's hotel scene no doubt has a little something for you.
Here is the definitive list of Sydney's best hotels.
Pier One
Walsh Bay
Warning guys, Pier One is boasting major, and we mean MAJOR bath goals (cue all the bubbles ever since you're classy like that). And this is probably the only place where you'll truly think the Harbour Bridge is underrated because around this hotel, it's gorge from all angles. And to top it off, this gem is doggo-friendly which turns out to be a win-win situation whether you have a furry companion or not (because no one ever said they saw too many pups).
Shangri-La Hotel, Sydney
The Rocks
Lord have mercy on your soul, in true form, the Shangri-La Hotel, Sydney is flexing the big guns. That means an indoor swimming pool, a jacuzzi, a sundeck and rose-scented milk baths so you can literally just die and go to heaven.
Harbour Rocks Hotel
The Rocks
The Harbour Rocks Hotel really does throw up a fab city staycation. With a killer bar, epic reading room (think hidden library feels for days) and a lush garden terrace. Plus this bad boy is within walking distance from old historic pubs, the MCA, Walsh Bay (for all the theatre kids) and Barangaroo.
The William Inglis Hotel
Warwick Farm
Before you say anything, yes, The William Inglis Hotel is worth the trip over the bridge (and then some). It's probably about to become your favourite staycay spot because you'll feel like you've left Sydney for a weekend in the country at this one. There are a few things we love about this place, from the seriously beautiful fit out to the Big Barn (book this spot for a wedding or we will) and even the coffee machine in the breakfast room which is cooler than it sounds. Our tips? Spend the morning roaming the grounds with a coffee in hand, say hi to the beautiful horses, then spend the arvo on the rooftop pool bar.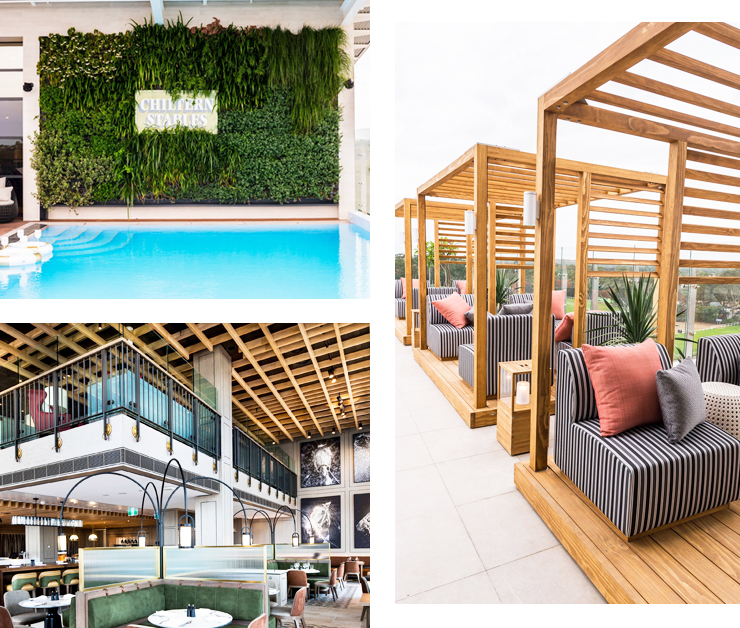 Spicers Potts Point
Potts Point
We'll be honest, Spicers Potts Point is throwing up all the goods. Housing 20 rooms that are basically just Sydney heritage feels to a tee, this boutique baby gives you complete seclusion from the hustle of the city and feels like your home away from home. It's total luxe and simplicity here, and look, you may or may not want to extend your stay every time.
Skye Hotel Suites
Parramatta
Man, oh man. Have we hit the staycay goldmine here, or what? And we're just going to come out and say it, the outdoor pool is boasting Bali vibes to a tee. Think wooden decks, palms and gigantic sunbeds good enough to sleep in. Skye Hotel Suites is located right in the heart of the Parramatta CBD and is super close to Parramatta Park if a spot of cycling or a morning walk sounds like your jam. And we also just think you really need to add a little extra spark to your life with the Husk and Vine Kitchen's rosemary and sesame flatbread with warm hummus. Do it.
Primus Hotel
CBD
For a glam stay and a rooftop pool all your mates will definitely be jelly of, Primus Hotel should be on your Sydney hotel bucket list. Apart from being right in the midst of a tonne of city bars, pubs, shops, theatres and the luxe rooms (we could harp on all day about them) you'll also be in the firing line of Level Seven, the super schmancy New-York inspired cocktail bar with a pool. No biggie. And their signature drop is a rosé spritz. Coincidence? We think not.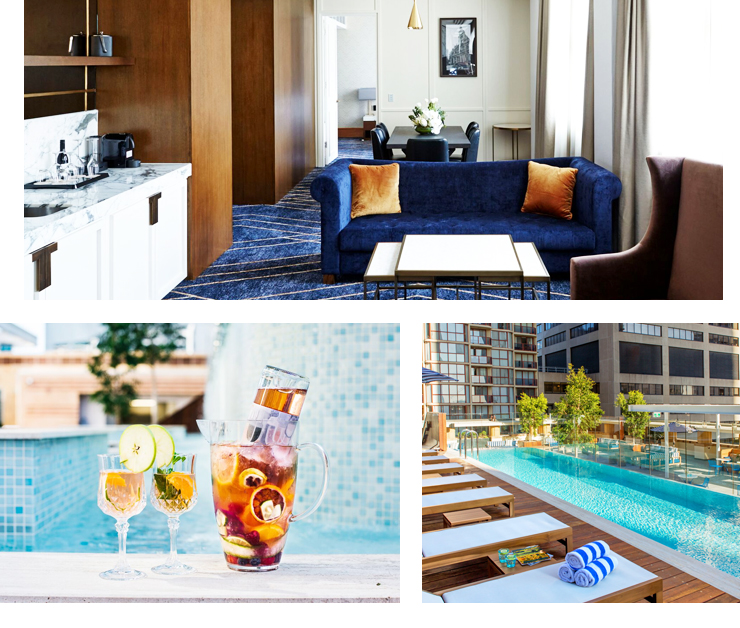 Ryokan Gojyuan
Balmain
This one's for all the people who could spend a weekend sleeping, relaxing, sleeping, rela- you get the picture. Literally a Japanese inspired haven, Ryokan Gojyuan is the secluded sanctuary you need to get yourself to for some well-earned R&R. With only two rooms here, you'll be totally surrounded by courtyard gardens and flute music. Full body massages and facials are up for grabs, as is origami and calligraphy workshops plus a Kaiseki-style breakfast (a massive spread of miso-deliciousness). And if you're really wanting to step up your relaxation game, you'll want to soak in the Hinoki bath with a glass of sake.
Jonah's Boutique Hotel
Whale Beach
Apart from Jonah's undeniably flawless repertoire for good amazing AF food, you should also know it houses the world's comfiest beds. Period. And yes, of course you'll score beach views, can confirm the Ocean Retreat rooms boast all kinds of dreamy vistas. Also we just feel like an infinity pool overlooking the Pacific Ocean is always a yes, right?
The Langham
CBD
Because pretty indoor pools with star lights are just a downright bloody go. And to make things even better, this city palace fit enough for the gods is also fit enough for the dogs. Yep, you read that right, your furry companion is more than welcome to join you on your room-service fuelled city staycay.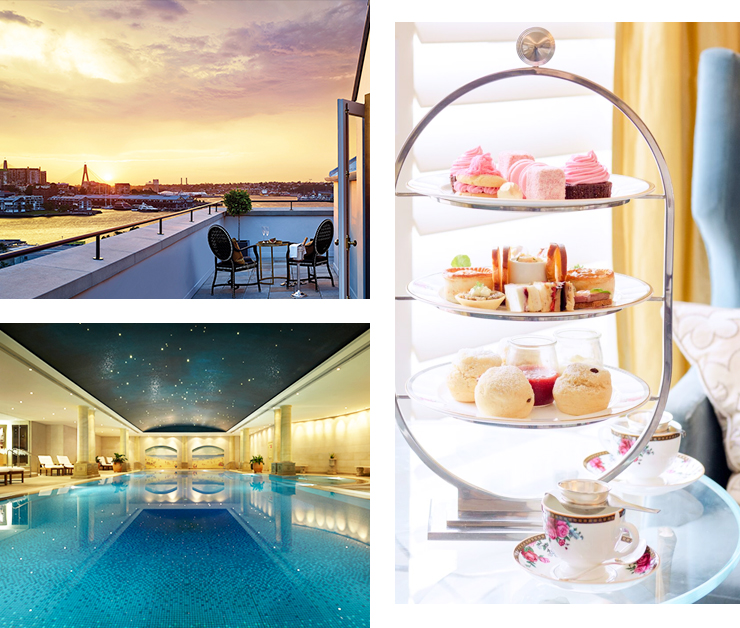 Larmont Boutique Hotel
Potts Point
The Larmont knows how to hotel. Seriously, these guys are giving you access to fitness (if you're that type of holiday person), morning yoga (because why not?) at one of Sydney's most iconic yoga and pilates studios, and not to mention, they're totally pet-friendly around these parts. You will no doubt have absolutely everything you need at your fingertips like when you order up feeds on the in-room iPad or completely demolish the hotcakes with chocolate crumbs and maple syrup.
Hotel Palisade
Millers Point
Standing tall on Bettington Street, this iconic Millers Point gem has eight super sleek boutique rooms to stay in and trust us, you'll want to hit these up for or all kinds of modern and classic portside feels. Hotel Palisade is the ultimate romantic staycay or even a solid go-to for you and your BFF. You'll feel pretty damn self-contained with the hotel's multi-level cocktail lounge, serving up one of the best vantage points of the Anzac and Harbour Bridge, plus there's a seafood menu boasting a mussel and prawn spread from the gods. For more laidback neighbourhood eats head to Public House with burgers and beer up for grabs.
Eventhouse
Cronulla
Your next staycay should definitely be taking place in the Shire. Eventhouse is home to some mean views of Cronulla Beach and 24-hour room service, which means if you're keen to stay tucked in bed for a few days, your dream are totally livable here. For those that like a bit of a splash, you'll also find an outdoor pool, or opt for a half hour drive to the Royal National Park (here's to you Wattomala and South West Arms pool) for cliff jumps, rope swings and paddleboarding antics. No biggie but you might want to set your alarm to watch the sunrise here too.
Image credit: Pier One | Angie Silvy, The William Inglis Hotel, Primus Hotel | Mark Roper, The Langham Hotel