Sydney is undoubtedly the most beautiful city in Australia. Period. So, when the mercury starts rising, and the days start feeling a little bit longer (thank you daylight savings), we're all about lapping up that sunshine in style and knocking back cold ones until the sun goes down.
Whether that be in a European-inspired laneway, a rooftop patio, a waterfront restaurant, or a leafy courtyard in one of Sydney's oldest pubs—it doesn't matter where—just bring on the antipasto and al fresco vibes.
These are the best outdoor dining spots in Sydney.
Opens This Week: Rafi
North Sydney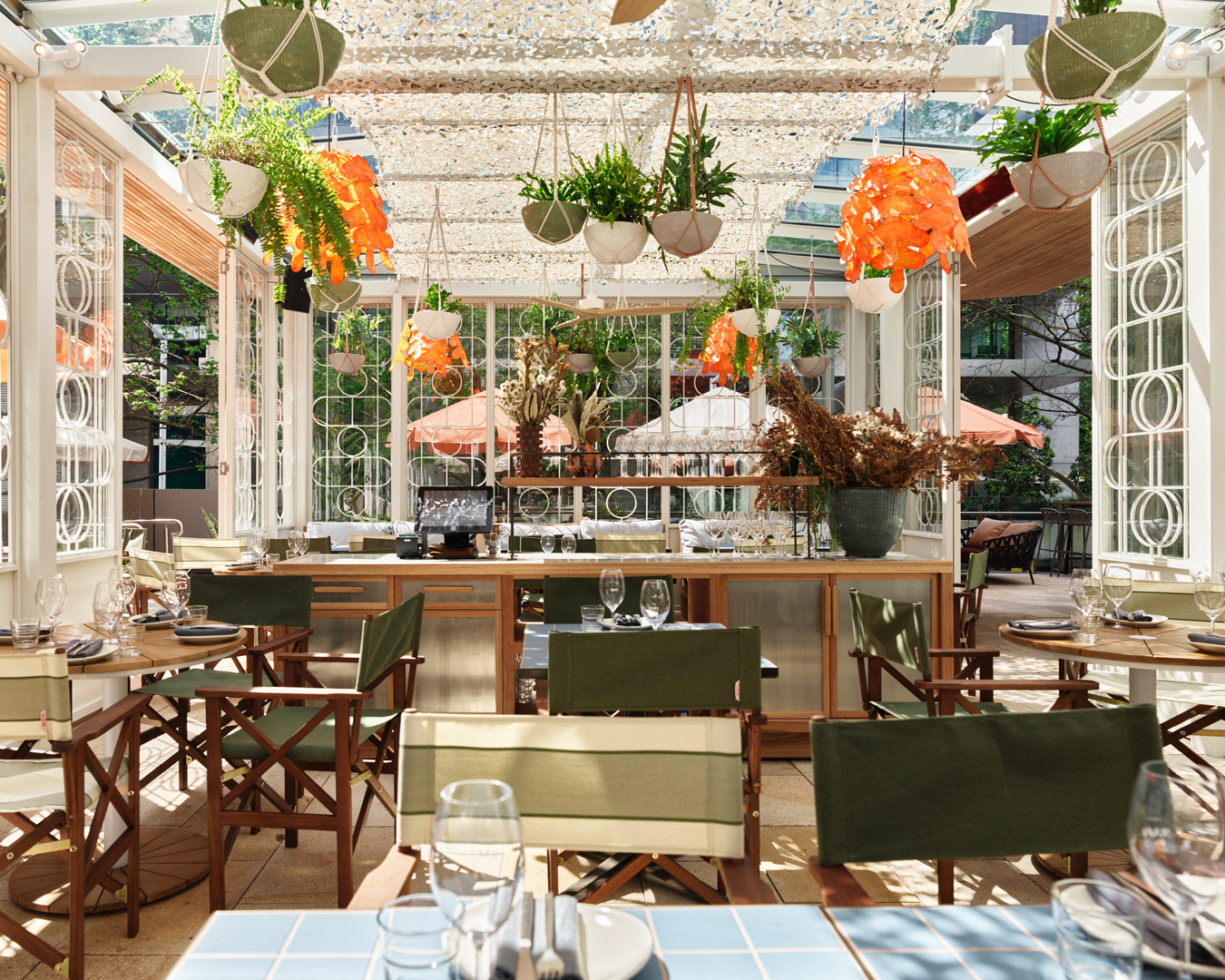 A 300-person drinking and dining behemoth from the Applejack crew is due to open in North Sydney this week—so get ready to sip a spritz on a sunny rooftop, stat. Rafi is decked out with sunny terraces, a cocktail bar, a restaurant, a private dining room, a chef's table experience, and a central glasshouse structure called The Abor. Yes, it's big—and where you'll want to spend many summer arvos. On the outside on the terrace, the vibe is more Euro summer thanks to the bright striped fabric banquettes, custom tiled tables, colourful umbrellas, festoon lighting, lush greenery, and daydream-worthy lounges.
For those seeking to bask in the sun come spring, settle down by the bright central glasshouse, The Arbor, or hide out in your own private outdoor gazebos decorated with lush greenery. Stunning.
As for the menu, think fresh, seasonal dishes like glacier 51 toothfish with chickpea miso, fresh chickpeas and chilli; raw south coast tuna with cucumber, avocado and fresh yuzu; and dry-aged duck crowned with fresh plum and mustard leaves. Feeling adventurous? Better order the crispy potatoes with cultured cream, chives and sea urchin then (yes, really). Book here.
Rafi opens this Thursday 29 September.
Shell House Dining Room & Terrace
CBD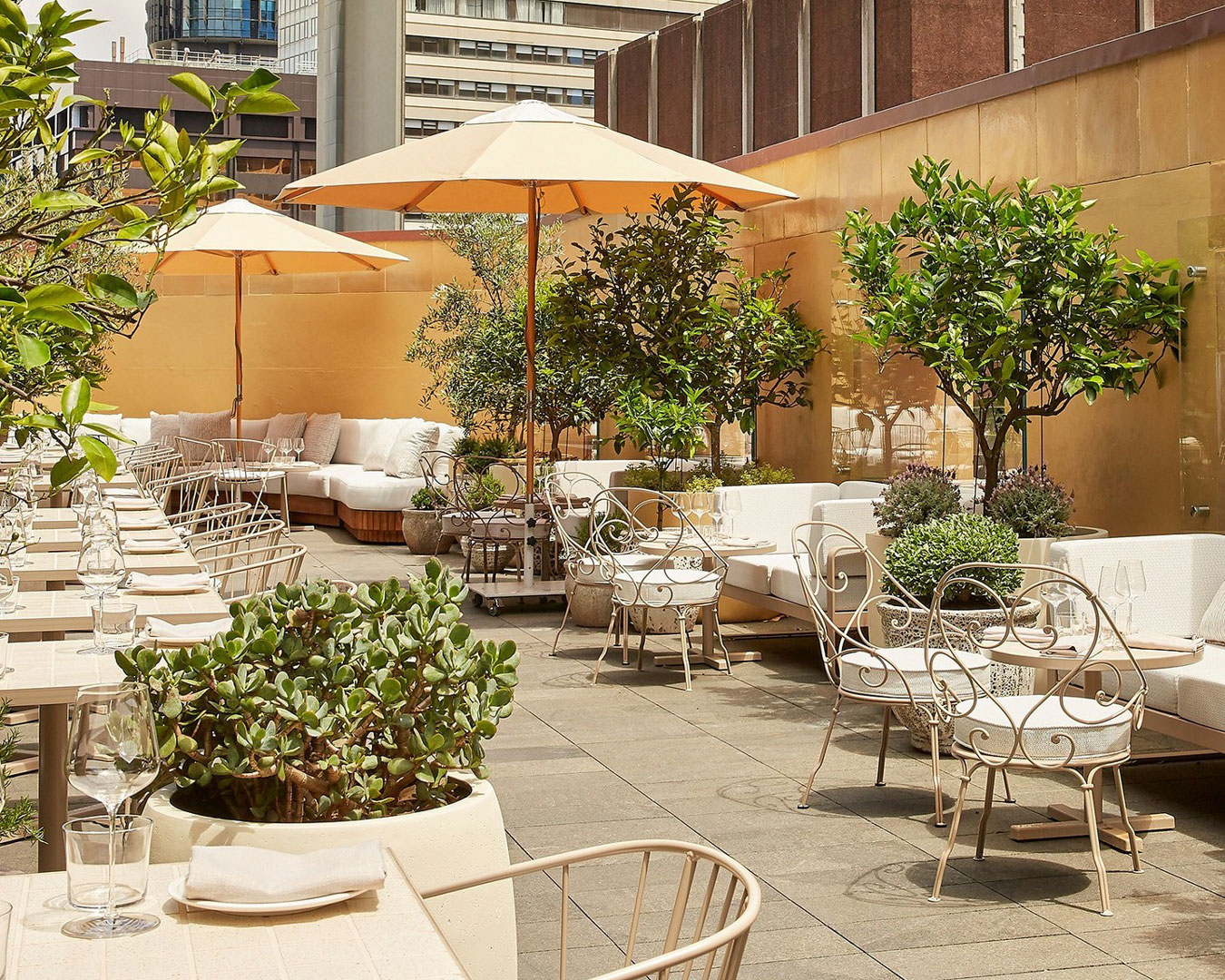 The historic Shell House at Wynyard has been one of the biggest openings the CBD has seen in a while. The multi-storey establishment now boasts epic bars, a rooftop, and a stunning dining room and adjoining terrace. The restoration of the venue leans into the stunning building's Interwar commercial palazzo-style architecture with indoor and outdoor settings over 1,600 sqm of space—a design collaboration between interior stylist Anna Hewett and Woods Bagot Architects.
The Shell House Dining Room & Terrace celebrates the building's art deco heritage, the dining room is fitted out with curved material booths, cane chairs, rich timbers, and beautifully tiled flooring. It's like stepping into your Grandma's house (in an excellent way). With floor-to-ceiling glass doors, the dining room flows out onto the sandstone terrace, which is the perfect spot to wine and dine while soaking up the sunshine. Book here.
Whalebridge
Circular Quay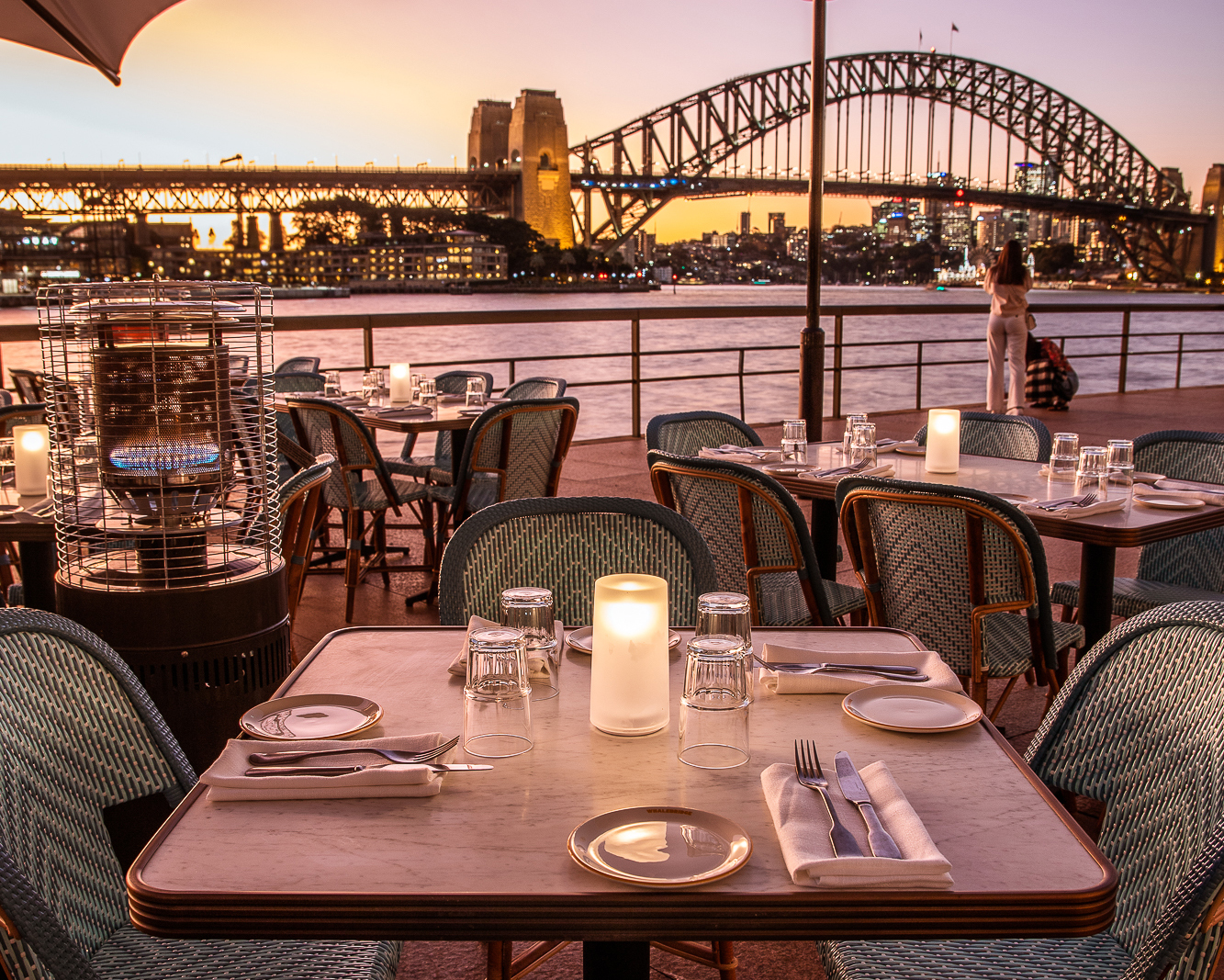 Perched right on the harbour, Whalebridge is where you want to be for oysters, fresh French fare and unbeatable views of the Harbour Bridge and surrounding harbour. In other words, it's your next bucket-list destination. A lot of the seating is outside, making it perfect for sunny afternoons when you feel like being a tourist in your own city or you're trying to impress out-of-towners. Either way, expect unpretentious charm at Whalebridge.
The food follows a similar fuss-free ethos, with Executive Chef Will Elliott serving up playful French dishes and plenty of seafood—an intersection of Paris and the Pacific Ocean, if you will. Sydney Rock oysters, market fish, and caviar are all on the menu. However, the real show-stoppers are Whalebridge's house specialties. Order the Bouillabaisse de Marseille for an indulgent meal of scampi, prawn, fish and lobster in a saffron broth. There's also the Lobster Thermidor, which is a whole lobster served with mustard, gruyere cheese and shoestring fries. Book here.
Totti's
Bondi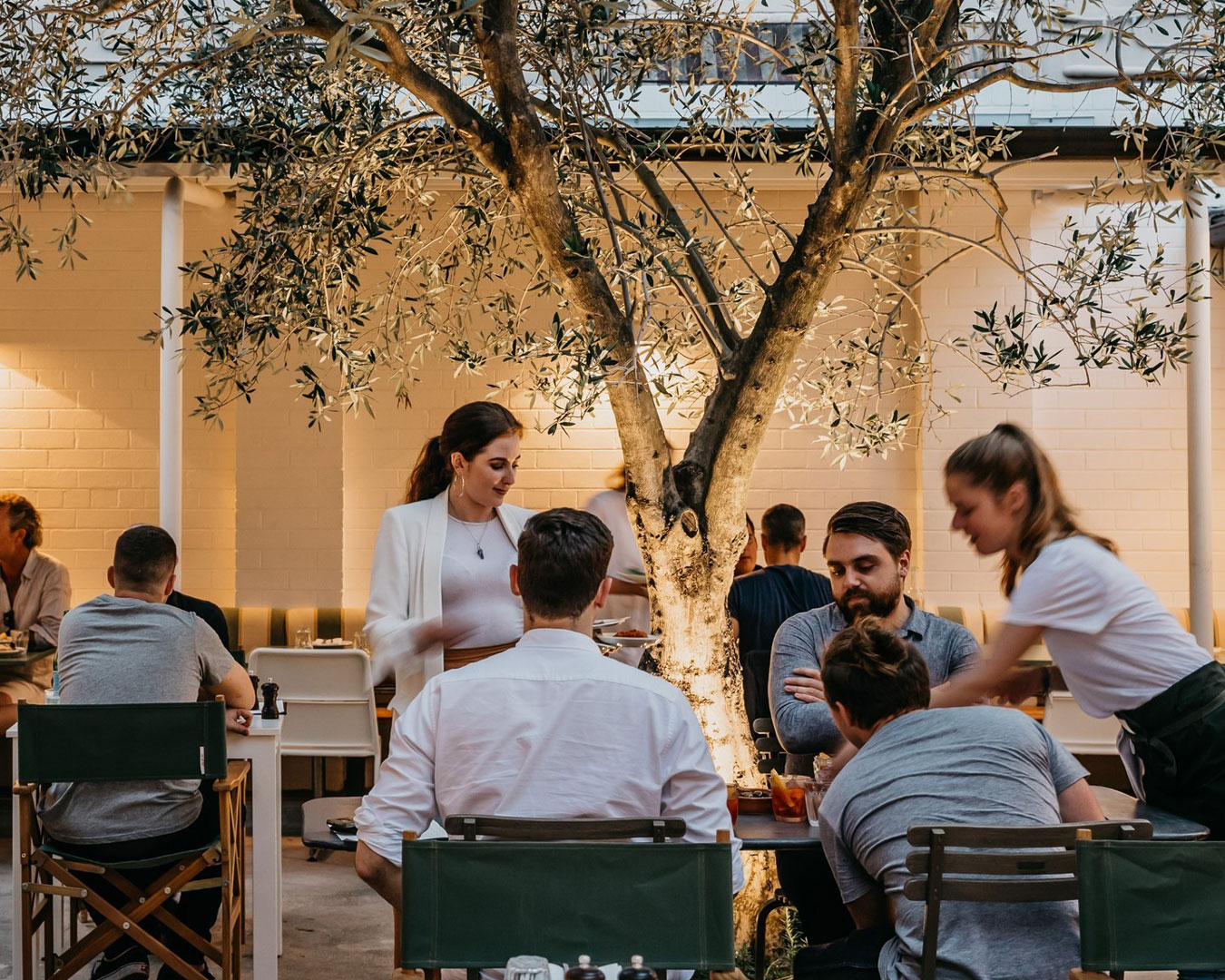 Scoffing down mortadella, salami, prosciutto, creamy burrata and woodfired bread in a casual Italian-style courtyard just makes a whole lot of sense to us. So it's no surprise that Totti's takes the cake when it comes to bearing an outdoor space that's too good to pass up. Headed up by Mike Eggert, Totti's shines in many departments, from the antipasto spreads and the charcoal fish to the organic wines and Riot Spritz (it's aperitivo hours at all hours of the day here). The courtyard sports extended patio vibes and is filled with olive trees, director's chairs, and dappled sunlight. Book here.
The Boathouse
Palm Beach, Patonga, Rose Bay and Balmoral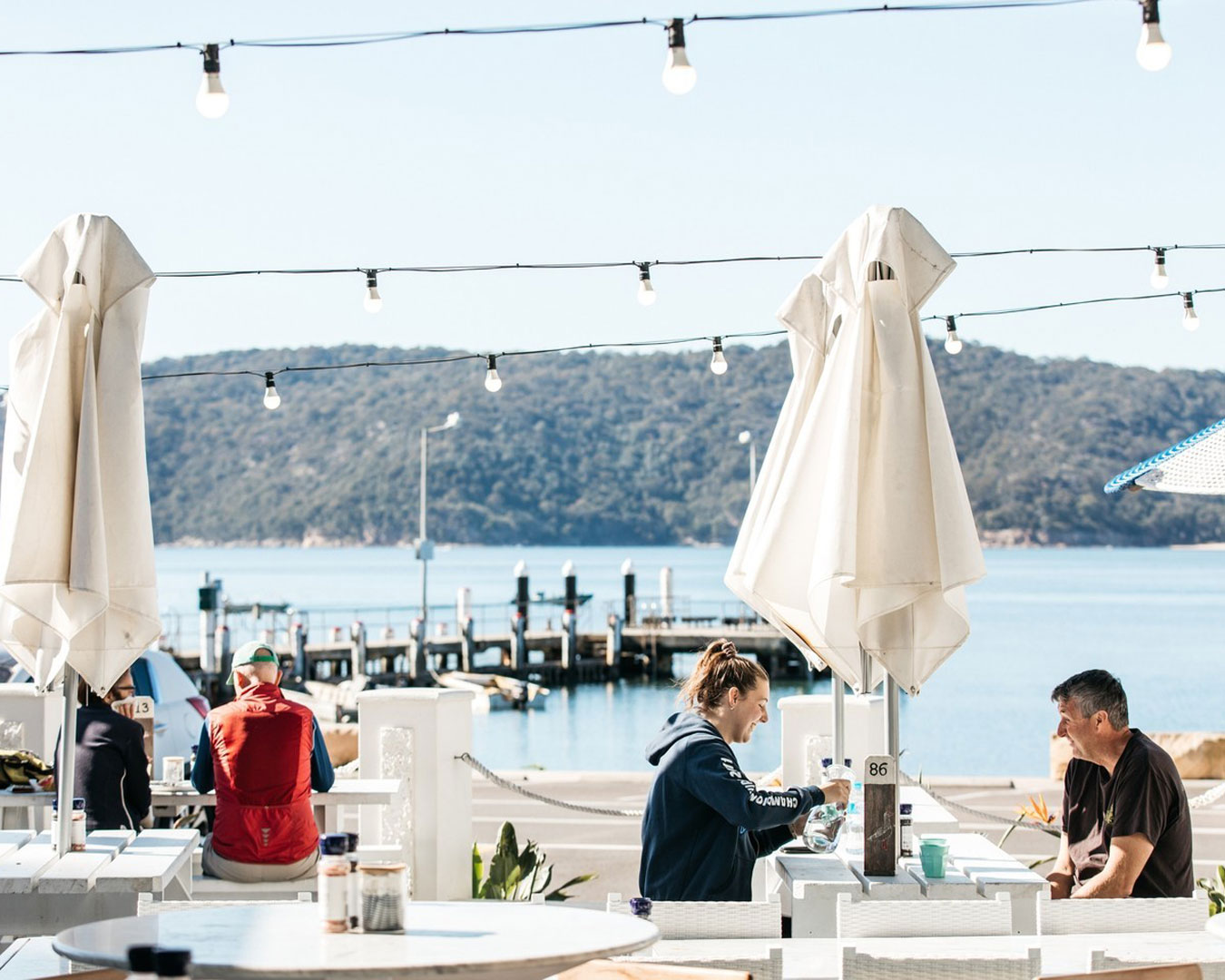 If there's one hospitality group that rules the outdoor dining scene in Sydney, it's gotta be The Boathouse Group. With venues dotted around the harbour, stretching from Rose Bay all the way to the Northern Beaches, The Boathouse venues are made for easy, breezy weekend lunches over summer. All up, they own ten waterfront eateries, six of which fall under The Boathouse moniker—all serving fresh-as seafood and elevated pub meals. Our pick? The Boathouse Patonga. Surrounded by national parkland and with stunning boutique accommodation, this spot feels worlds away from the hustle and bustle of the city. Catch the ferry over, drive down or stop in while on a scenic hike—no matter how you get here, trust us, you won't want to leave. Walk-in only.
SoCal
Neutral Bay
It doesn't get any closer to an actual trip to California than Neutral Bay's sunny haven SoCal. Bright, buzzing and bang-on with the decor, the rooftop terrace here is a vortex of good times. On the menu is fresh and modern Southern Californian share-style street food, packed with Latin American spices alongside low 'n' slow-smoked meats, house-made sauces and freshly indulgent sides—which is just about as perfect as it gets. The lush garden and retractable roof mean the alfresco vibes are amped at all times. Order up as many tasty tacos as you can handle, fried smoked wings, tuna tostada, ceviche, a serving of tater tots and wash everything down with SoCal's famed Tommy's Margarita. Book here.
Bopp & Tone
CBD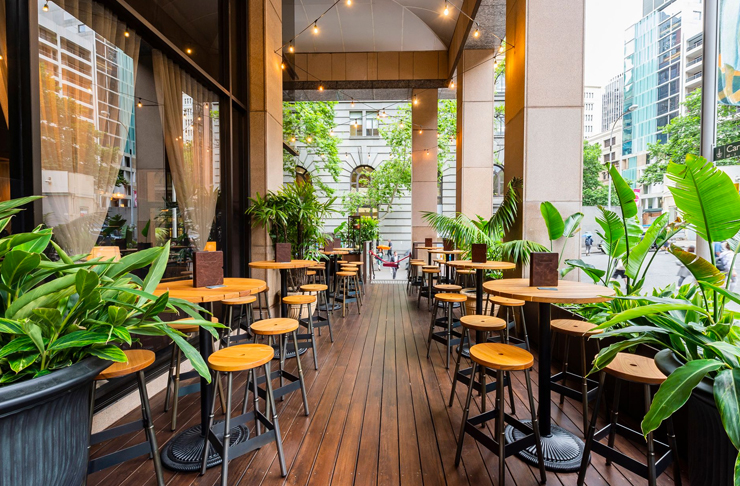 Bopp & Tone is another stellar outdoor dining affair from the legends at Applejack (also responsible for plating up the tasty tacos at SoCal above). A tribute to Applejack founders' grandfathers, Keith "Bopp" Evans and Anthony "Tone" Adams, Bopp & Tone oozes a nostalgic and post-World War II aesthetic, incorporating a whole lot of greenery, darkness, and moody timber furnishings, complete with an alfresco dining terrace you need to hit this summer.
The Australian menu centres around honest and generous share food with Mediterranean influences, featuring dishes such as Australian king prawns, Wagyu flank steak, and slow-cooked lamb shoulder. If you're out for drinks and nibbles, it's also worth getting your outdoor dining on with the East 33 Sydney rock oysters (with verjus mignonette), salt cod fritters, and trust us when we say the lemon tart, with lavender ice cream, can't be skipped. Book here.
St George Sailing Club
Sans Souci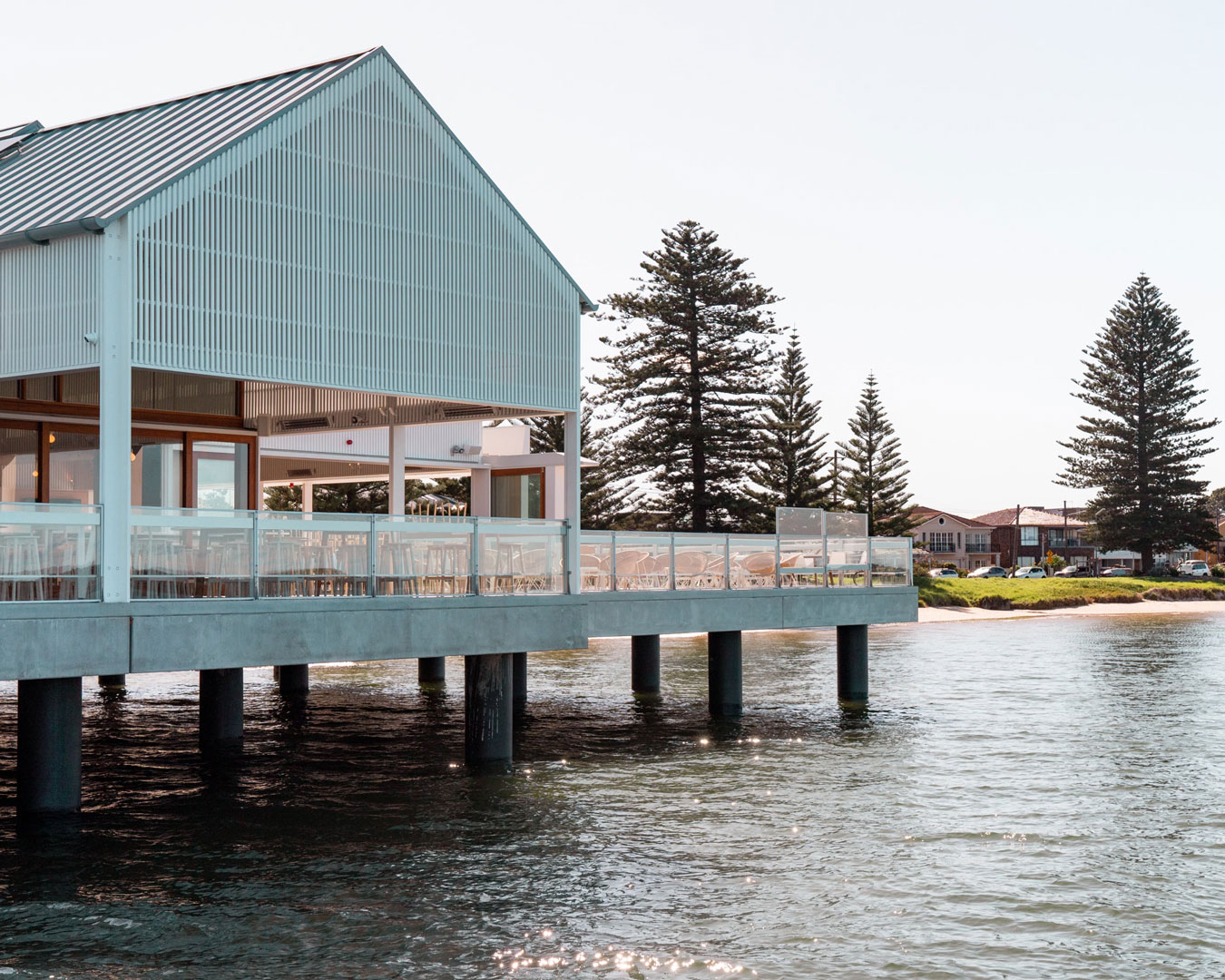 Thanks to a huge $15M renovation, St George Sailing Club has quickly become one of the top al fresco dining spots in our sparkling city. Under the guise of the team behind the Manly Skiff Club in the north, the sprawling St George Sailing Club has a revamped bistro, lounging spaces, and breezy open-air decks. The redesign is the work of architect Jon Jacka, who has created a crisp coastal aesthetic with warm timber accents and outdoor space for days. Just remember your SPF.
Behind the seafood-rich menu is group executive chef Justin Wong—and all your seaside favourites and then some are there for the taking. Think freshly shucked oysters, chilled prawns with wasabi mayo, and beer battered fish and chips, alongside a little Mediterranean influence with woodfired pizzas, prawn linguini, and osso buco rigatoni. Book here.
Cafe Freda's
Darlinghurst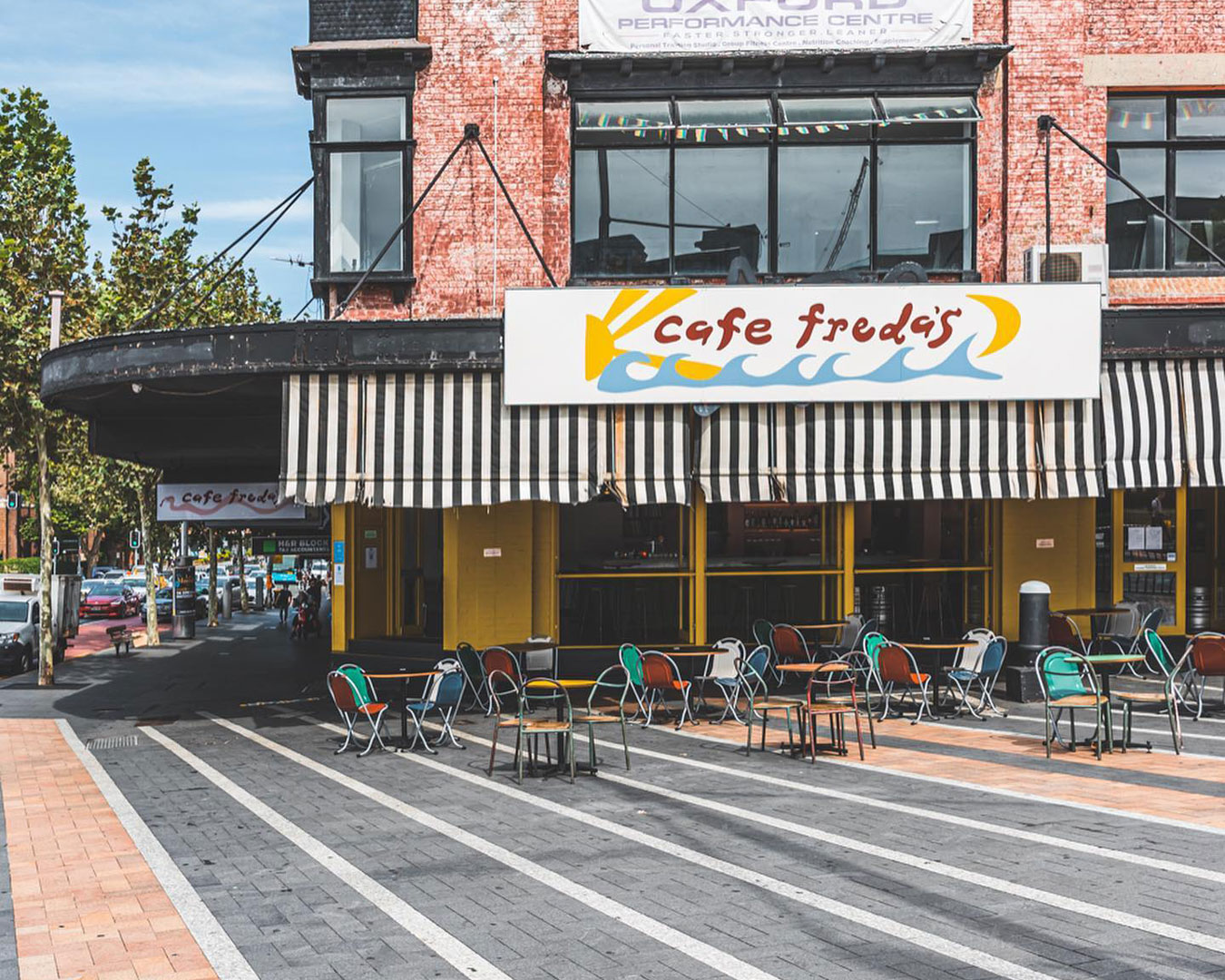 While it might not be on the peaceful corner of Sydney, Cafe Freda's is primed for after-work arvo drinks and next-level snacks. Located on Oxford Street's Taylor Square, it's the more food-focused second iteration of the former late-night Chippendae haunt—and it's still a huge vibe. Sit out on the street, knock back a minimal-intervention vino, and watch the busy world go by as you tuck into the likes of smoked mussel tostadas, fish finger sambos, zippy ceviche, and slow-roasted brisket empanadas. Later on, DJs get behind the decks to take things up a notch, too. Book here.
The Newport
Newport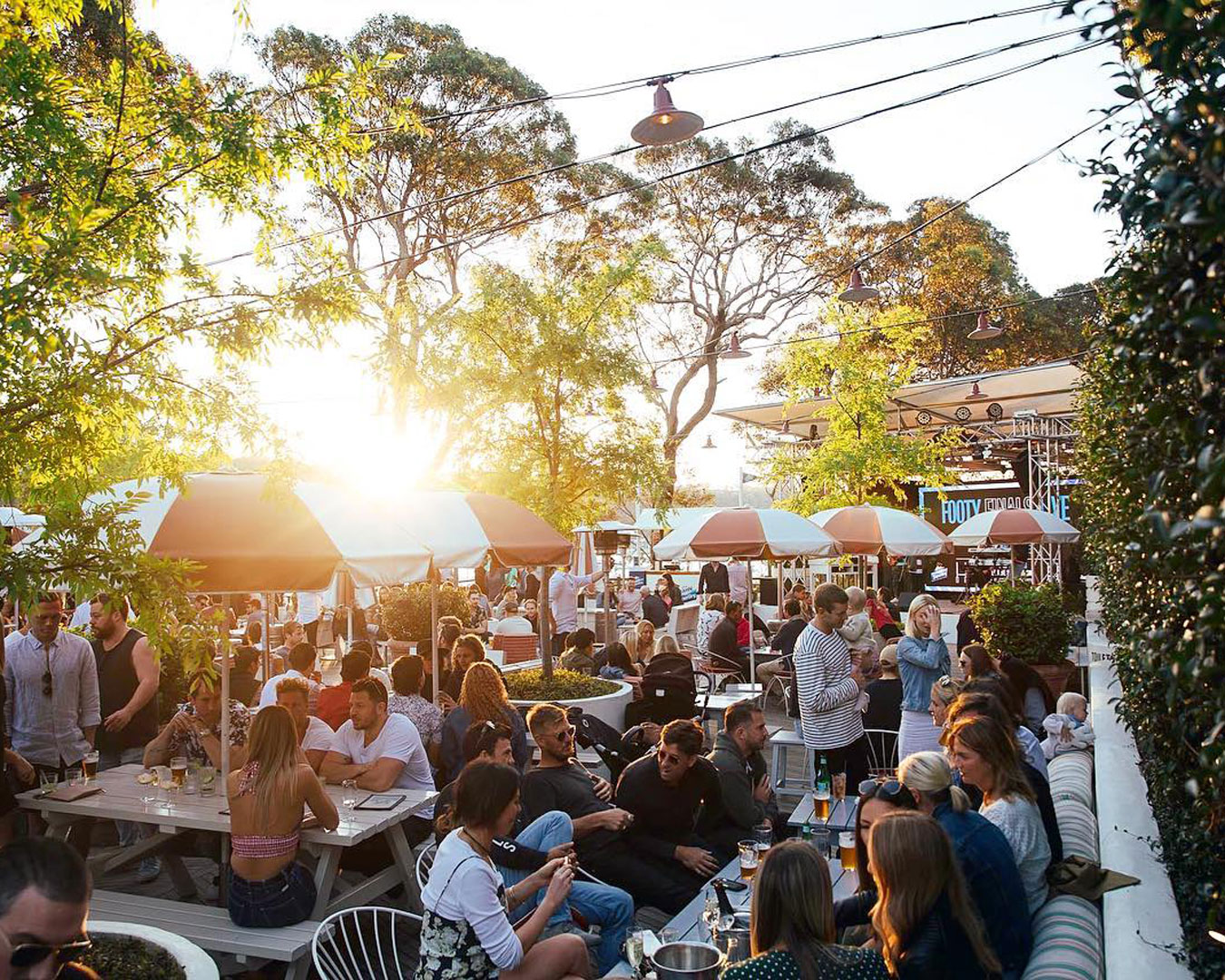 The Newport is a pretty flawless venue when it comes to its outdoor multi-dining spread, overlooking pretty Pittwater. There are several outdoor dining options to get around here, all equally amazing and delicious. The garden is fitted out with fire pits in winter, tables with views over the water and cabanas for the squad, you're only mission is to decide on what your vibe is. The Arms Bar is your go-to for an alfresco Happy Hour, there's also a Kiosk Cafe with breakfast goods and smoothies, Vinnie's Pizza is pretty much the beating heart of the entire joint, and The Shack whips up greasy burgers, fish and chips, and salt and pepper calamari. Book here.
Bellevue Cottage By Antoine
Glebe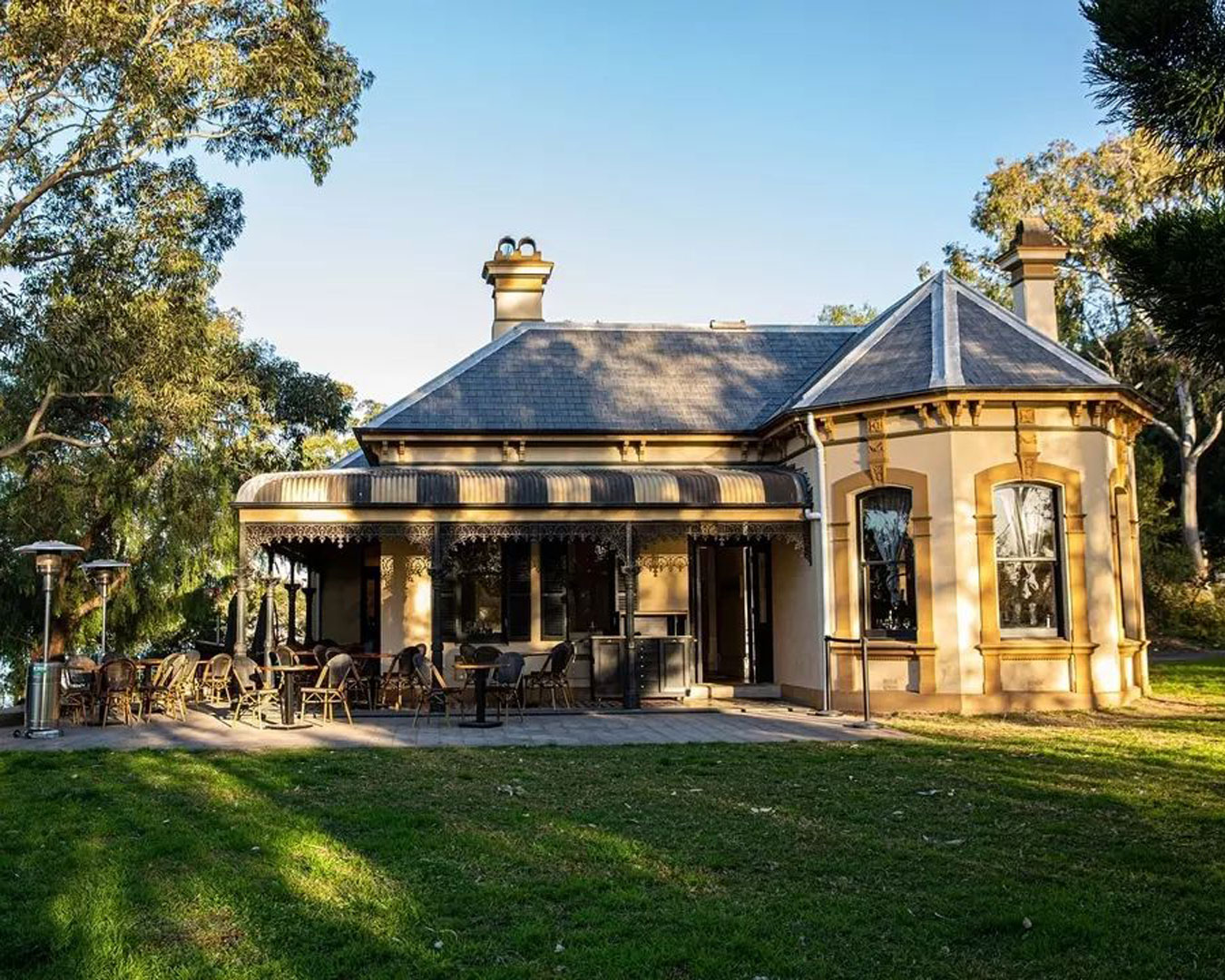 Some food was just meant to be consumed outside and, when it comes to French fare, nothing beats crunching your way through a croque madam at brunch or spooning down coq a vin at dinner in a leafy courtyard somewhat reminiscent of the French countryside. Bellevue Cottage By Antoine builds from Antoine Moscovitz's French culinary heritage in a stunning heritage-listed building with almost as much charm as the Loire Valley itself. Moscovitz hails from Paris and his mega culinary background not only includes cooking under world-renowned chef Alain Ducasse but also being appointed private chef to the House of Roederer Cristal Champagne. This means you're in for a pretty incredible menu. The kitchen is stocked with seasonal goods, an array of proteins are cured in-house, and dishes are made from scratch, which include the pork and chicken liver terrine, the confit smoked pork belly, and the succulent braised beef cheeks. Book here.
The Balmain Hotel
Balmain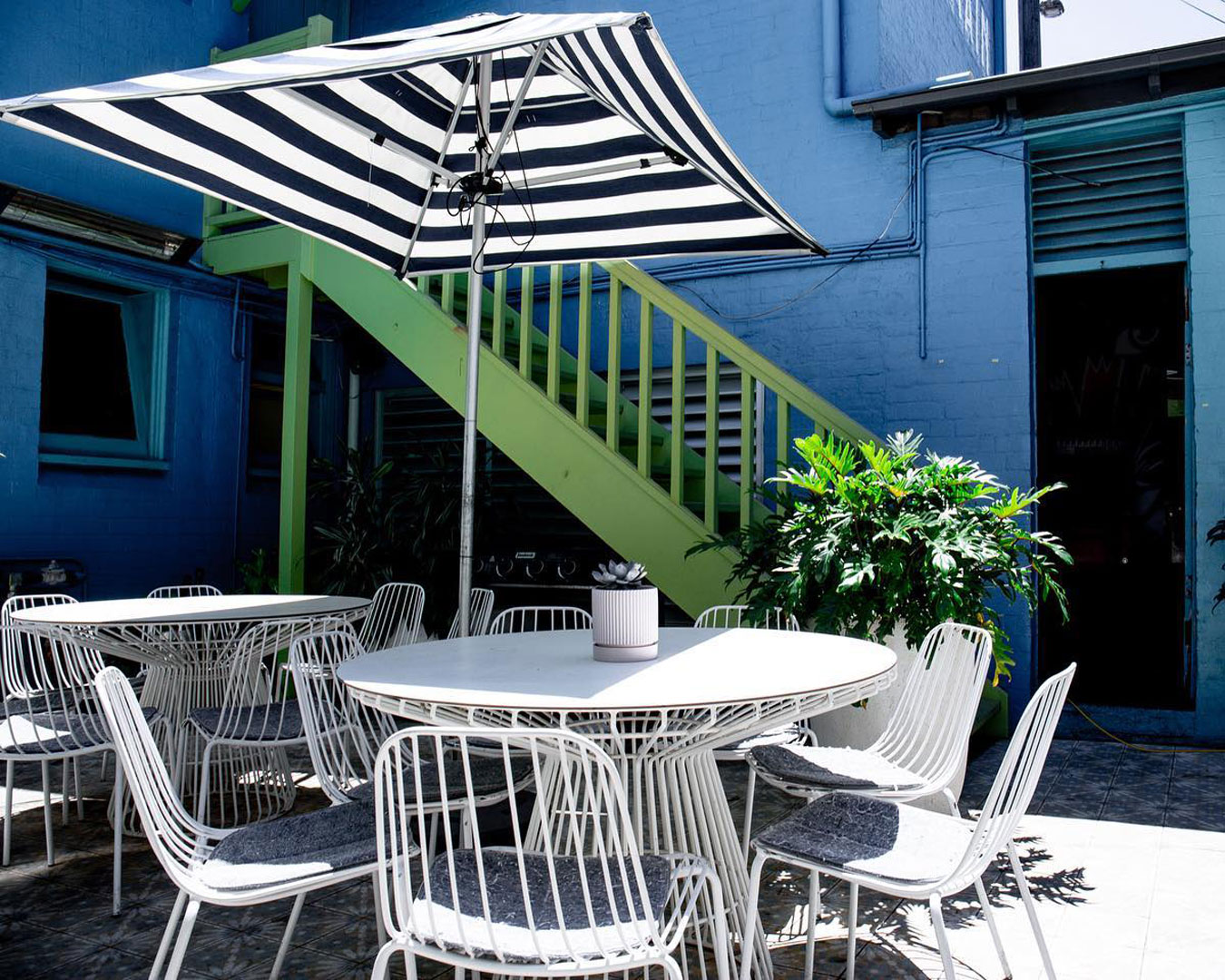 The Balmain Hotel might be Balmain's second oldest pub (dating all the way back to before the turn of the 20th Century), but there's nothing old or aged about this joint. In what is no exaggeration at all, walking through this venue feels like the first time Dorothy stepped into Oz, you couldn't make the walls, floors, and decor more kaleidoscopic if you tried. In terms of outdoor dining, there are three main spaces you can get around. The first is the mezzanine area, located just out the back of the hotel and it fits around 10 - 40 people and sports a big Palm Springs vibe. The second is the garden wall courtyard, just a few steps away from the Bora Bora bar. Finally, the Tiki Huts area goes off the rear of the property and is loaded with picnic tables, turf, brollies, and festoon lights. Book here.
Hello Auntie
Darling Square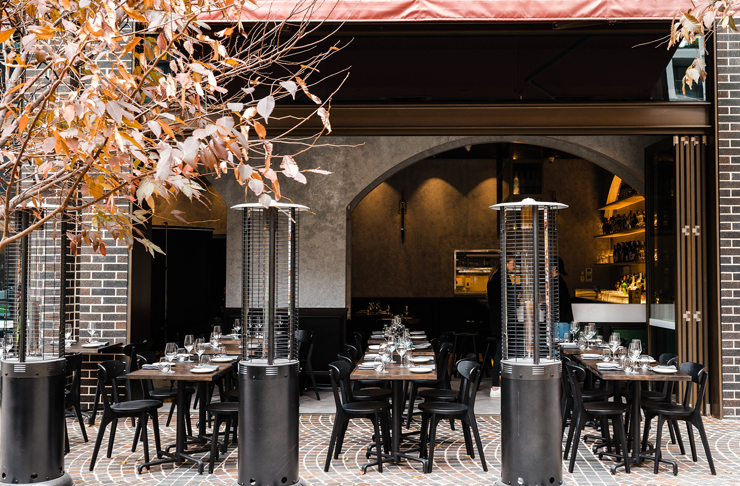 Compared to its sister venue, Hello Auntie 2.0 preaches a more bar-heavy vibe. Bringing a new-school vision of Vietnamese eats to the Haymarket hotspot, this beauty is not a copy-and-paste version of its Inner West original. Instead, you'll find a sleeker look, that features a monochrome colour palette, mood lighting and wooden accents as dining tables pour out onto the footpath. All this makes for one hell of a place to shack up for a casual and cool date night or late-night cocktails. Centred right in the heart of Haymarket, there's a sprawl of outdoor tables perfect for Hello Auntie's bottomless brunch offering or date night during the warmer months. The venue is also dog-friendly so you can bring your four-legged furry friend along, too. Book here.
The Rocks
The Rocks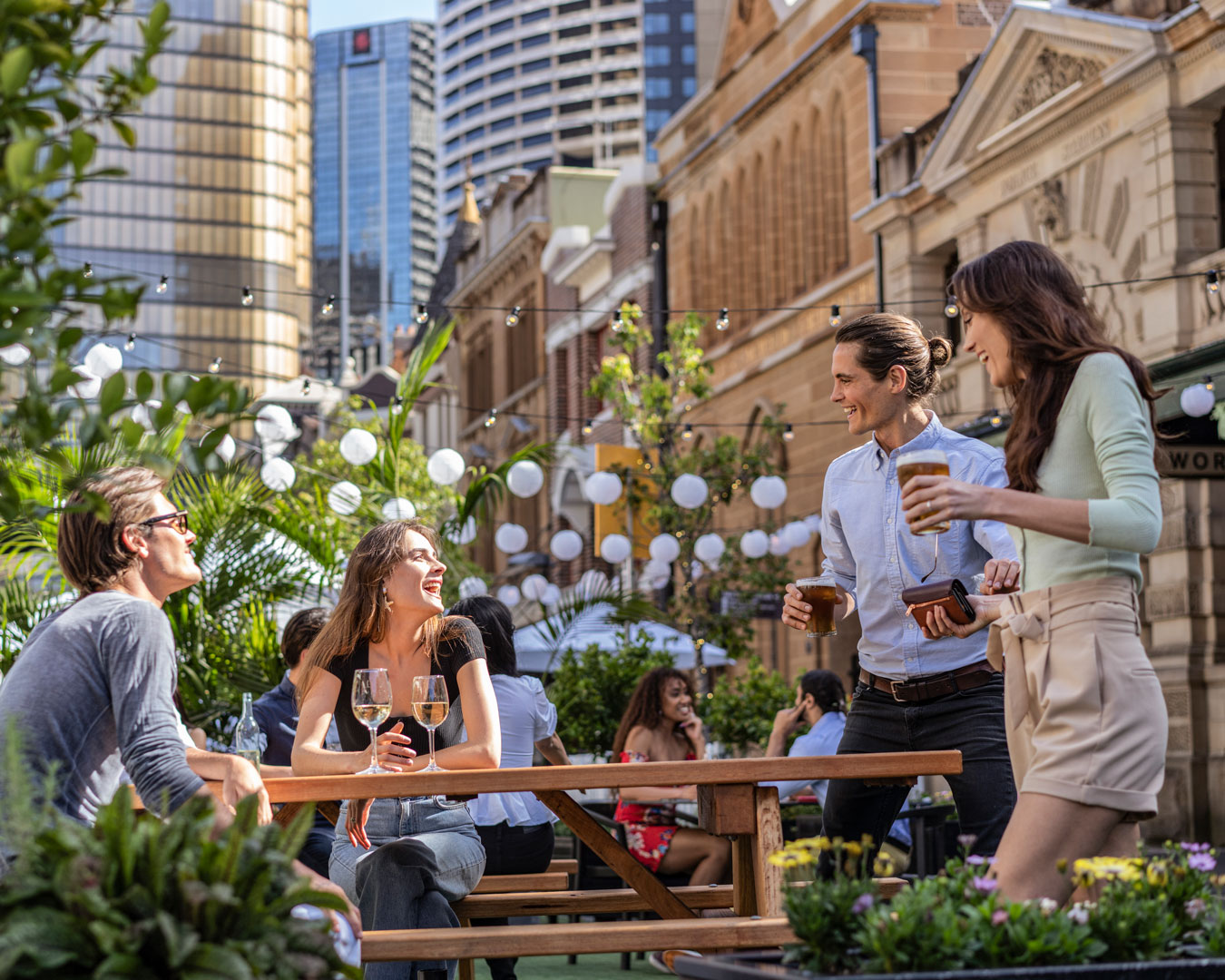 The Rocks was the first area in Sydney to trial new alfresco dining spaces off the back of COVID-19—and you'll now also find live music throughout George Street, First Fleet Park, Jack Mundey Place, Unwin's Courtyard and Nurses Walk every Thursday through Sundays between 11am and 9pm. There are a plethora of venues down this way that now have extended outdoor spaces and if you haven't been here since BC (before COVID-19), you're in for a mega surprise. For laneway dining, hit up The Orient, Sergeant Lok, and The Mercantile. For epic beer gardens, rooftops and courtyards, head to The Doss House, Tap Rooms, The Australian Heritage Hotel, Fortune of War, and The Glenmore.
Watsons Bay Boutique Hotel
Watsons Bay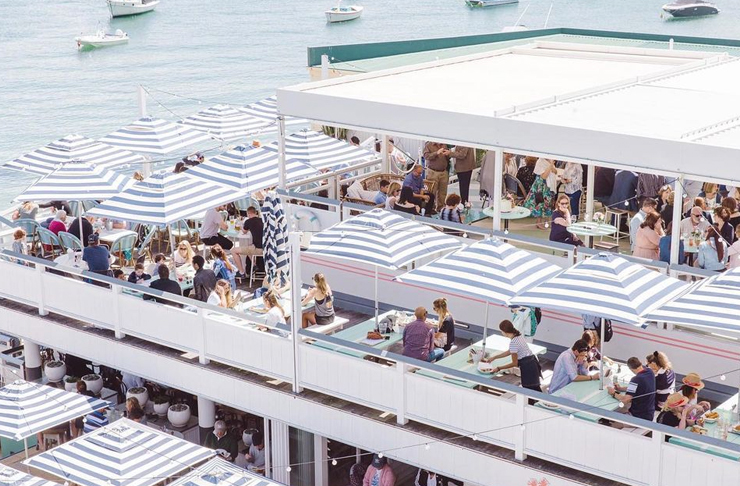 The next best thing to climbing the Sydney Harbour Bridge itself is setting yourself up at Watson's Bay Boutique Hotel at sunset and slinging back crisp glasses of rosé. Not much beats the blue and white parasols of this very iconic venue which bears a whole lot of morning mimosas, seafood platters and smashable breakfasts with a view. The Beach Club should be your place of calling, perfect for lazy lunches, afternoon cocktails, and after-dark parties. Book here.
Opera Bar
Circular Quay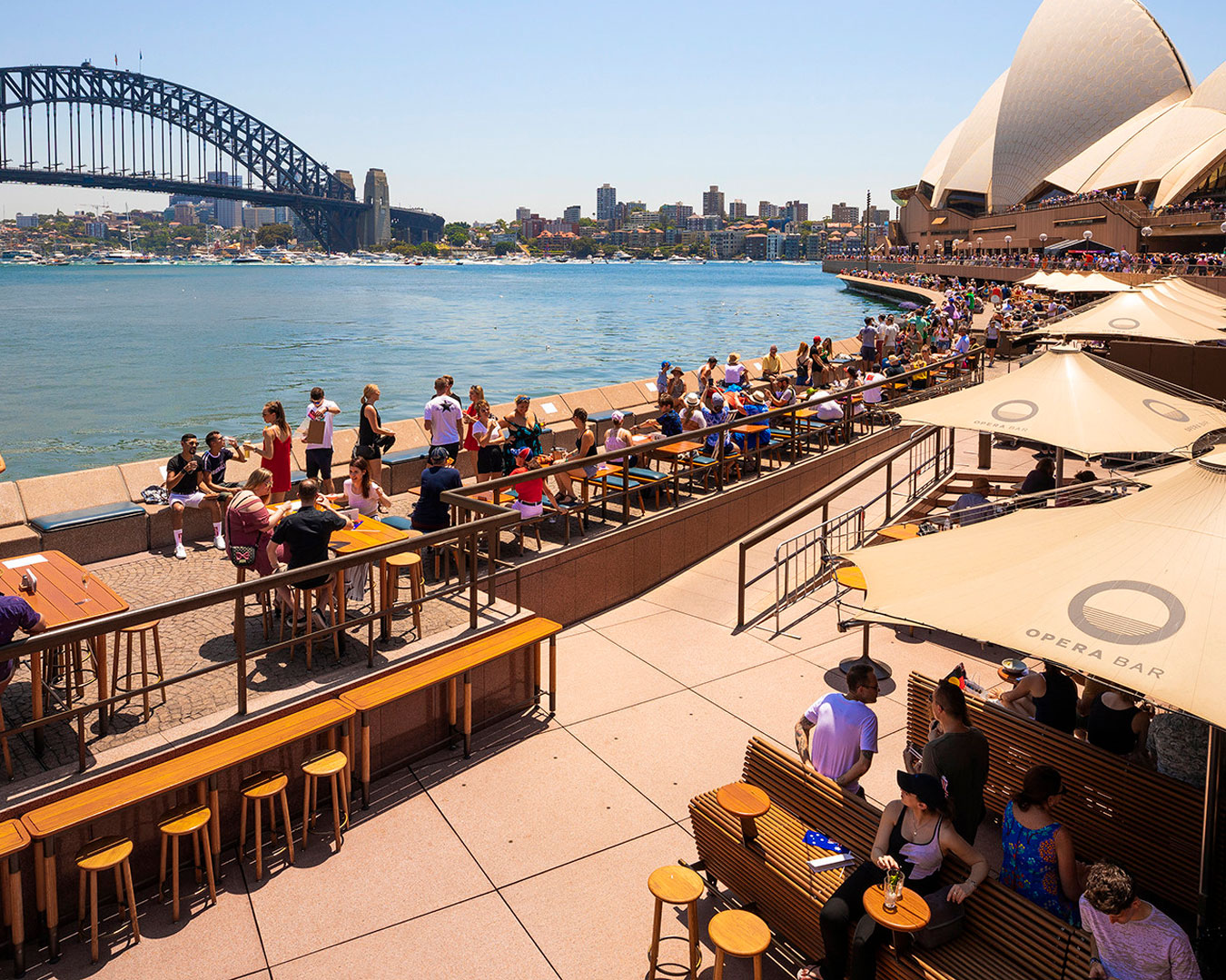 Opera Bar undoubtedly props itself up in Sydney's prime location—right in front of the Harbour Bridge and Sydney Opera House. At any time of day, you'll be soaking up the sunshine, watching ferries glide in and out of the terminal, and even get to scope some cheeky scenes of North Sydney's Luna Park. Everywhere you look is a photo opp. Real estate aside, here it's all about freshness and seasonality, from Opera Bar's spritz cocktails and crisp pale ales to its all-encompassing seafood menu. There's an all-day menu with snack-sized dishes (because sometimes you just feel like a bowl of sweet potato wedges), pizza, sashimi plates and mains. While you can't go wrong with pretty much anything on the menu, if you're here with a group, go for the cold or hot seafood platters. Book here.
Now, check out the best rooftop bars in Sydney right now.
Image credit: Steven Woodburn, Steven Woodburn, Shell House, Whalebridge, Totti's, The Boathouse, SoCal, Bopp & Tone, Leigh Griffiths, Cafe Freda's, The Newport, Bellevue Cottage By Antoine, The Balmain Hotel, Hello Auntie, Destination NSW, Watsons Bay Boutique Hotel, Destination NSW