With its 1km long stretch of world-renowned white sand, Bondi is one of Sydney's most iconic suburbs. But alongside picturesque Bondi Beach, these days the area is also full of top-notch dining spots with plenty of culinary draw cards to bring you east for something other than a swim or a sunbake.
From Italian fine dining to modern Cantonese, unbeatable waterfront views, and pint-sized gems—the 2026 postcode has dinner and a drink well and truly sorted (it's no wonder locals stick to the "Bondi bubble").
Here are 17 of the best restaurants in Bondi right now.
Opens Tomorrow: Promenade Bondi Beach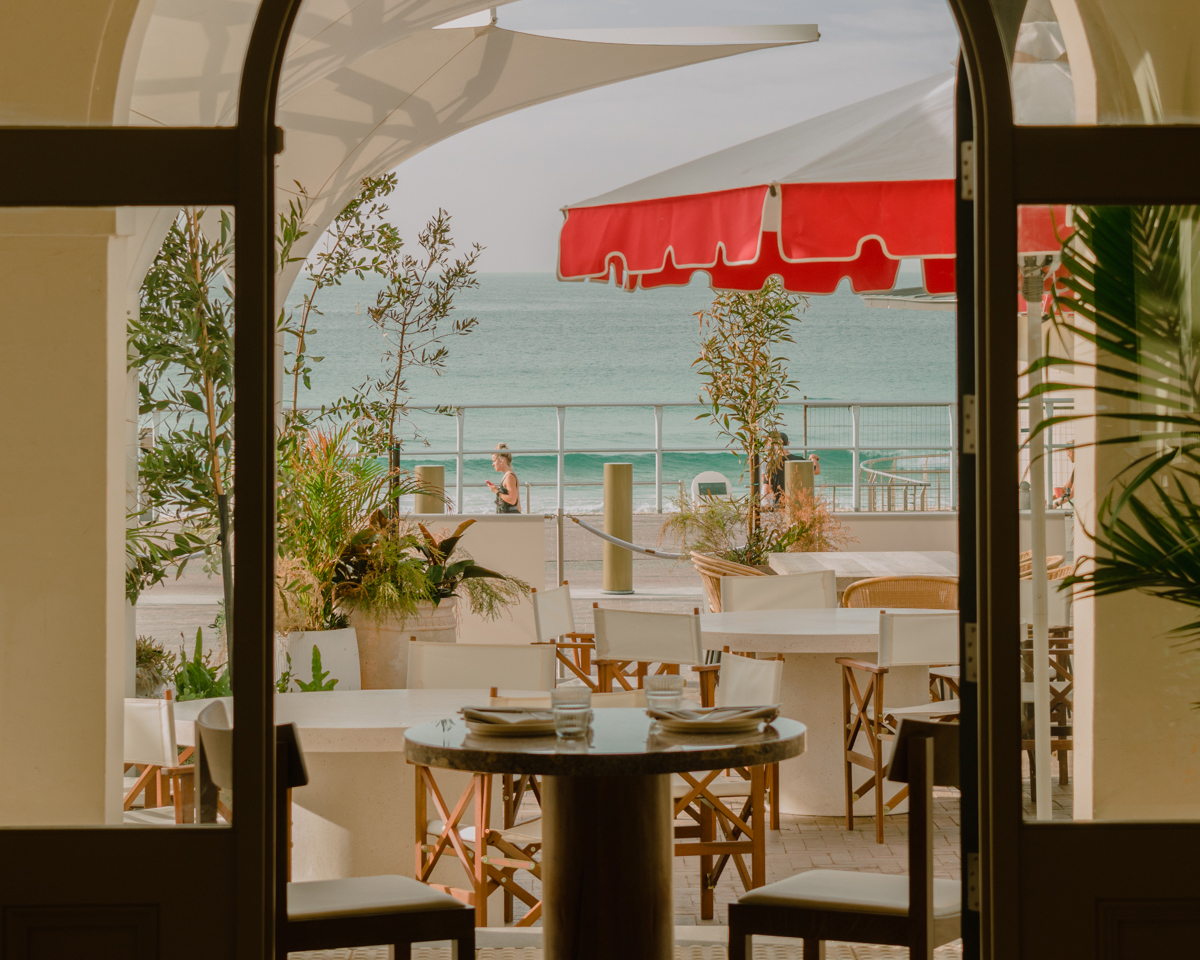 From House Made Hospitality (Apollonia, Grana, Lana, Bar Mammoni), Promenade is a sprawling beachfront spot built into the historic Bondi Pavilion. Complete with an ocean-facing verandah, a private dining "Grotto", and a sunny terrace bar called "The Front Yard", the menu has been dreamt up to compliment the location. "You'll pick up influences from coastal regions across the globe, says culinary director Stephen Seckold. "The key element that ties this menu together is that they're the kind of dishes you want to eat next to a beach."
Think toothfish skewers with sambal, coral trout crudo, and a plate of Akoya, littleneck, and diamond clams served with three sauces. There's also squid ink calamarata with pippies and jamon XO and a snapper curry with date, tamarind, and basmati rice. To drink, go for the Sunnyboy Spritz for a smack of summertime nostalgia laced with strawberry, ginger, Aperol, and white wine.
Promenade Bondi Beach will open on Wednesday 8 March.
Lola's Level 1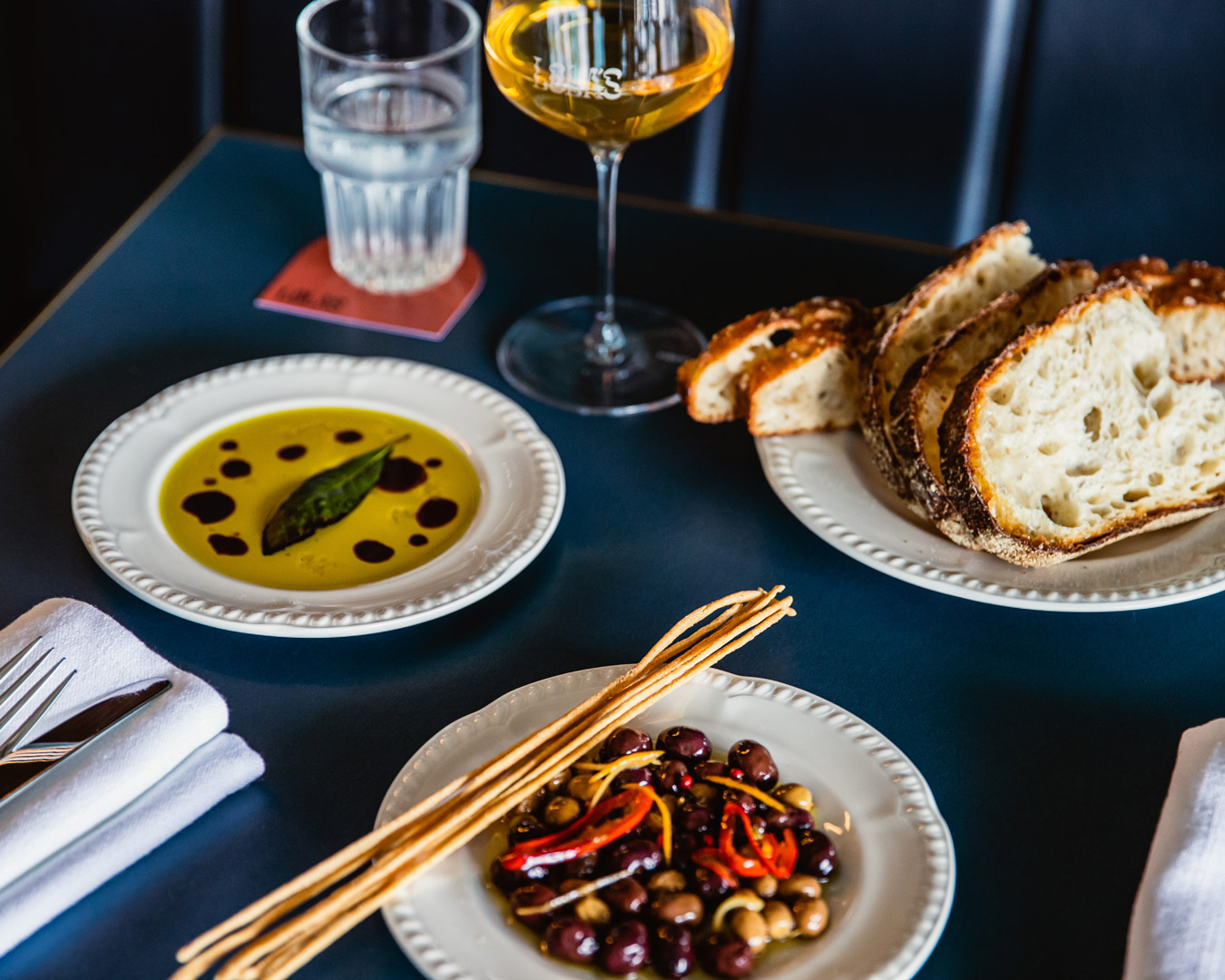 Lola's Level 1 is the latest venue from co-owners Marco Ambrosino (Fratelli Paradiso, 10 William Street) and Manny Spinola (Pacific Hospitality Group). Here you can expect flavours from Italy, Spain, and Greece. Not bad when you're also a stone's throw from sparkly Bondi Beach. The menu is designed to share and divided by oysters, small plates, off-the-plancha, larger plates, and desserts. So naturally, you should kick off with oysters served with vermouth granita. Then pick from small plates like burrata with citrus and basil or "Cantabric" anchovies with piquillo peppers before moving onto Angus hanger steak with chimichurri and bullhorn pepper and a lasagnetta with white osso bucco ragu and gremolata. For dessert, it's wattleseed ricotta cannoli or a divine safron marscapone semifreddo.
As for the drinks, Lola's is a spot to sip your way through a slick edit of cocktails that showcase Australian craft spirits. Try the Rosita, which is a tribute to Gary Regan's Bartender's Bible, and is a sort of tequila Negroni with tequila, Campari, extra dry vermouth, and sweet vermouth. Wines focus on artisanal producers from the Mediterranean—or you can get in a Barcelona mood with crisp Estrella Damm on tap.
Totti's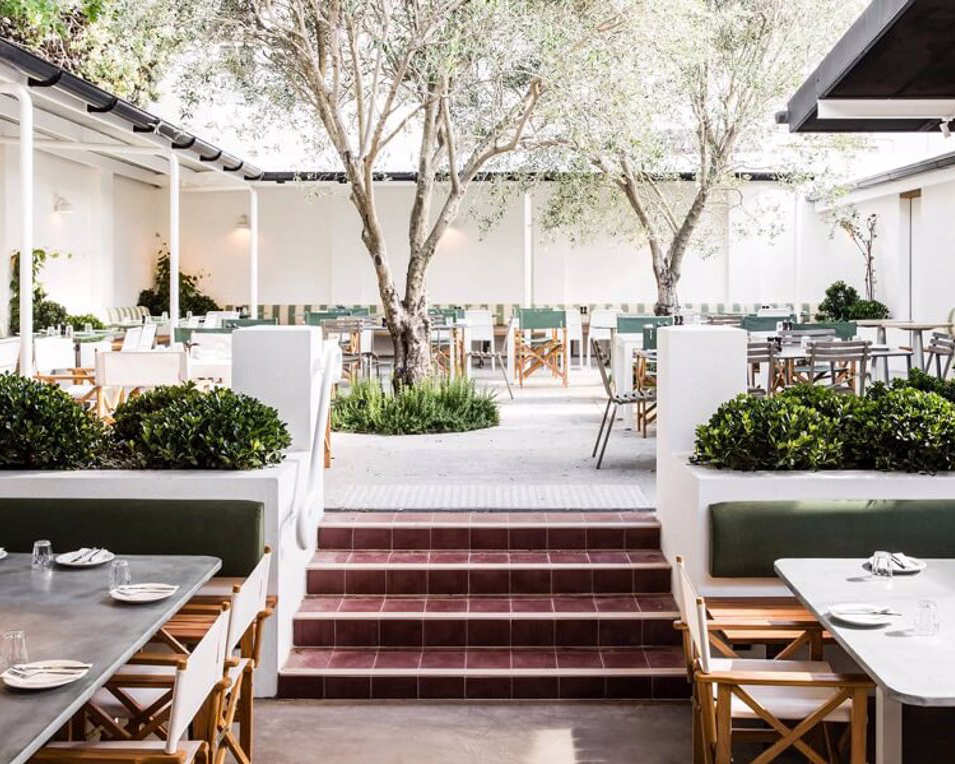 Operating out the back of The Royal on Bondi Road since 2019, Totti's is a casual Italian eatery all about classic food, sharing, and having a good time. It's also one of the most popular restaurants in the Eastern Suburbs—even becoming a meme on TikTok as locals pined to get back to long lunches in Totti's leafy courtyard. Tuck into antipasti galore, fish cooked in a Josper charcoal grill, hand-made pasta from executive chef Mike Eggert, and a Neapolitan ice cream sandwich filled with delicious nostalgia.
You may have also heard about Totti's famous bread, which we assure you definitely lives up to the hype. The dough is cooked over woodfire and comes hot to give it unique woody and smoky flavours, making a great starter to be ripped and shared around the table. According to Eggert, the bread and the experience around eating and sharing it is where the initial concept for Totti's began.
Icebergs Dining Room And Bar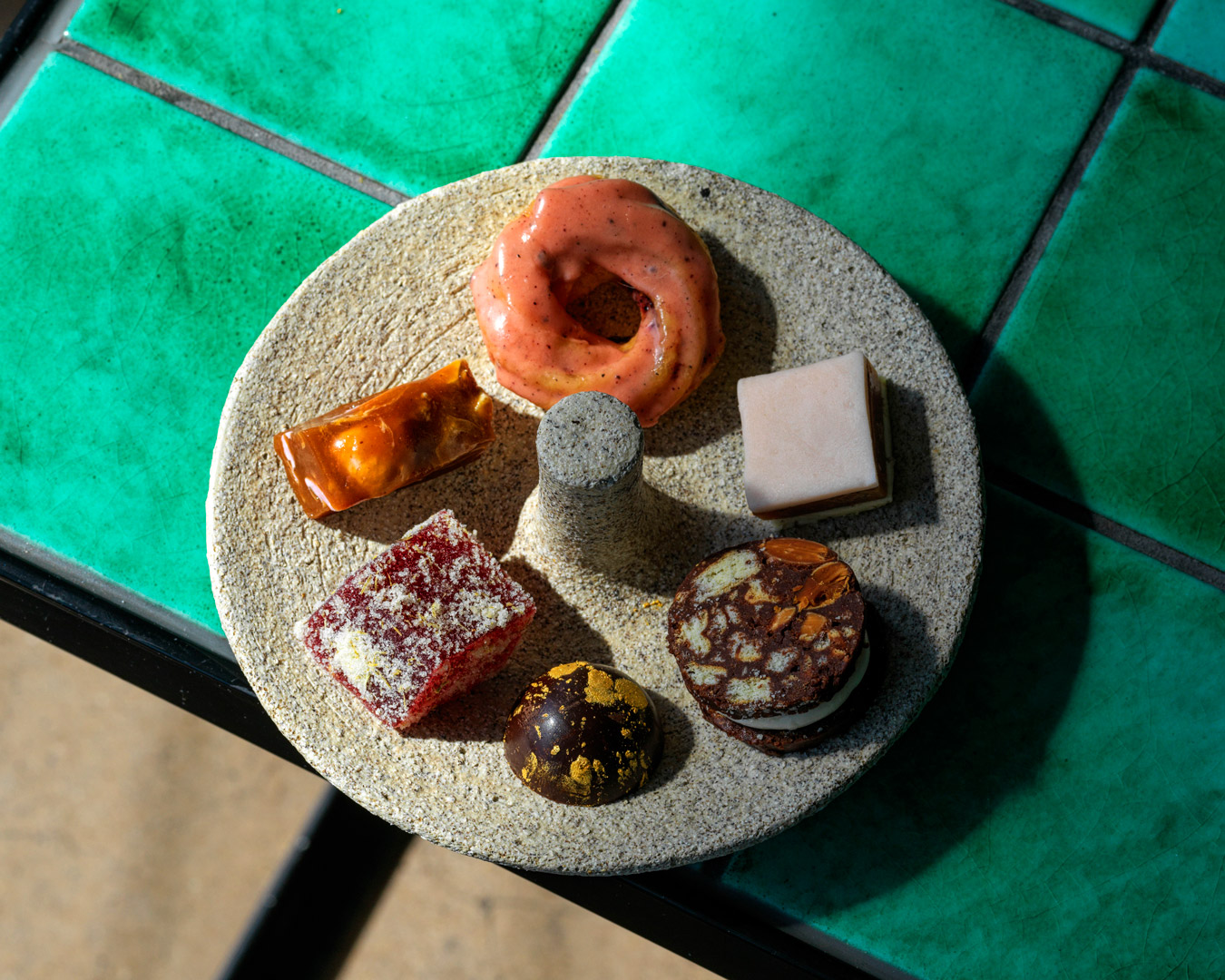 Perhaps no restaurant is more closely associated with or representative of Bondi than the one proudly overlooking its waters sat on the southern end's cliffside. Opening in 2002, Icebergs Dining Room and Bar is overseen by co-owner and Aussie hospo legend Maurice Terzini and has since become a bucket list spot and easily one of Sydney's best waterfront venues too. It serves up a killer Italian menu that pairs perfectly with one of Sydney's best views. The high-end, modern, and seasonal menu is offered as two or three courses, featuring plenty of fine dining delights like Iceberg's signature salt-crusted 150-day grain-fed boneless rib eye, Koshihikari risotto, lobster spaghetti, and tiramisu opera cake for dessert. Or you can opt for the whole table tasting menu ($250pp).
Sean's Panorama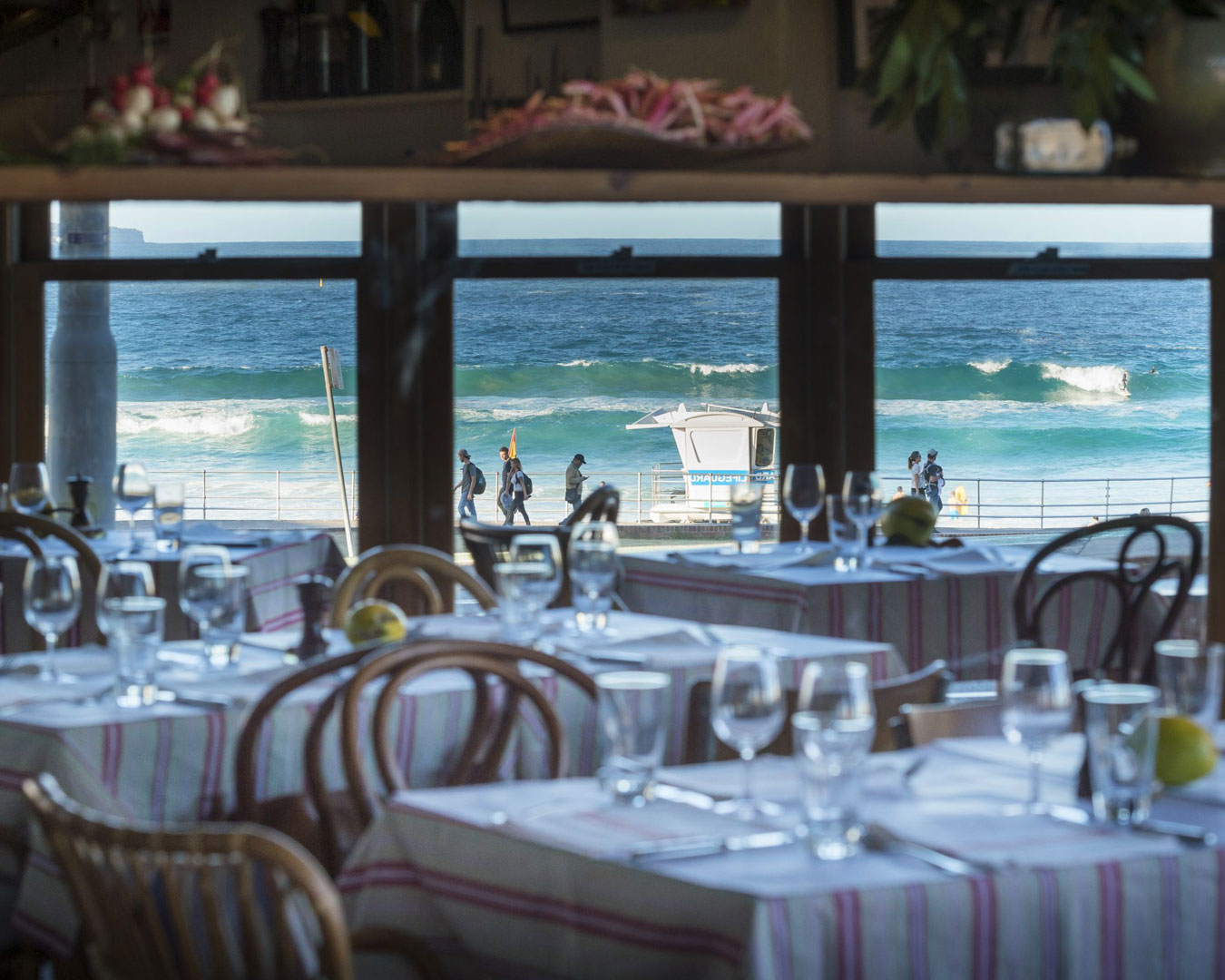 We couldn't well put this list together without shouting out this beloved Sydney foodie institution. Since 1993, award-winning chef Sean Moran's Sean's has boasted a hard-to-beat seasonal fine-dining menu that changes each day depending on the best produce available. Aided by one of the area's prime beachside views, across the road from the North Bondi Surf Life Saving Club. The 45-seater restaurant's produce comes either from Moran's own farm in Bilpin or from other ethical farmers.
Topikós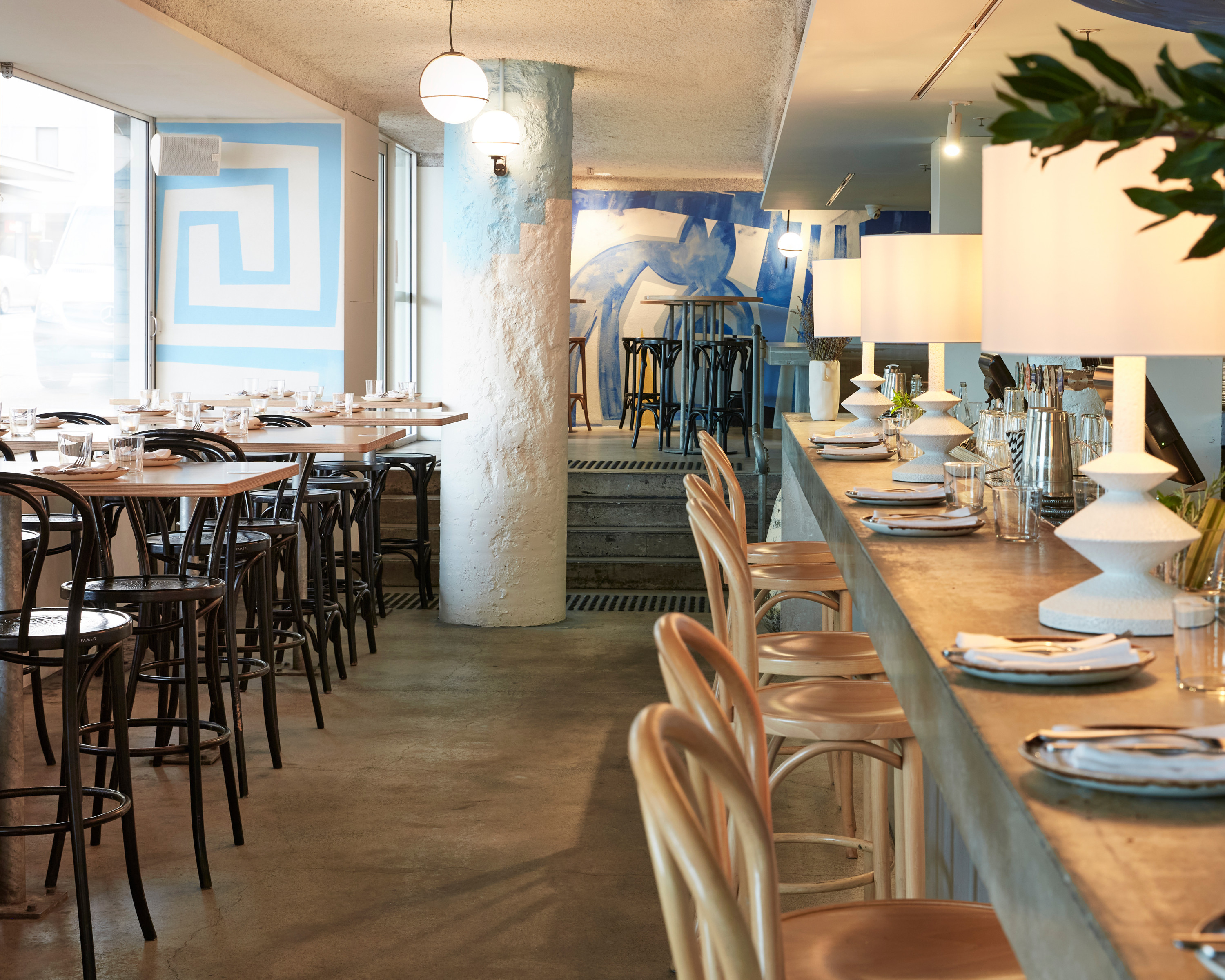 Translating to "local", Topikós is a modern, relaxed take on traditional Greek, complete with a roomy 100-seat bar, separate dining room, and outdoor terrace (perfect for that Bondi Beach location). To bring their vision to life, the team appointed Charles Woodward as head chef (ex Pilu, Bathers Pavilion, Cottage Point Inn) and Nick Ingall (Apollo, Greca) as a restaurant manager. Expect an all-day dining menu designed for sharing, inspired by the many islands of Greece. Think saganaki split king prawns on the grill, and woodfired octopus with fried whitebait, feta, and filo pastry. And, of course, it's not a true Greek experience without some classic mezze boards and gyros that will send you back to that Euro summer you had all those years ago (but better).
Da Orazio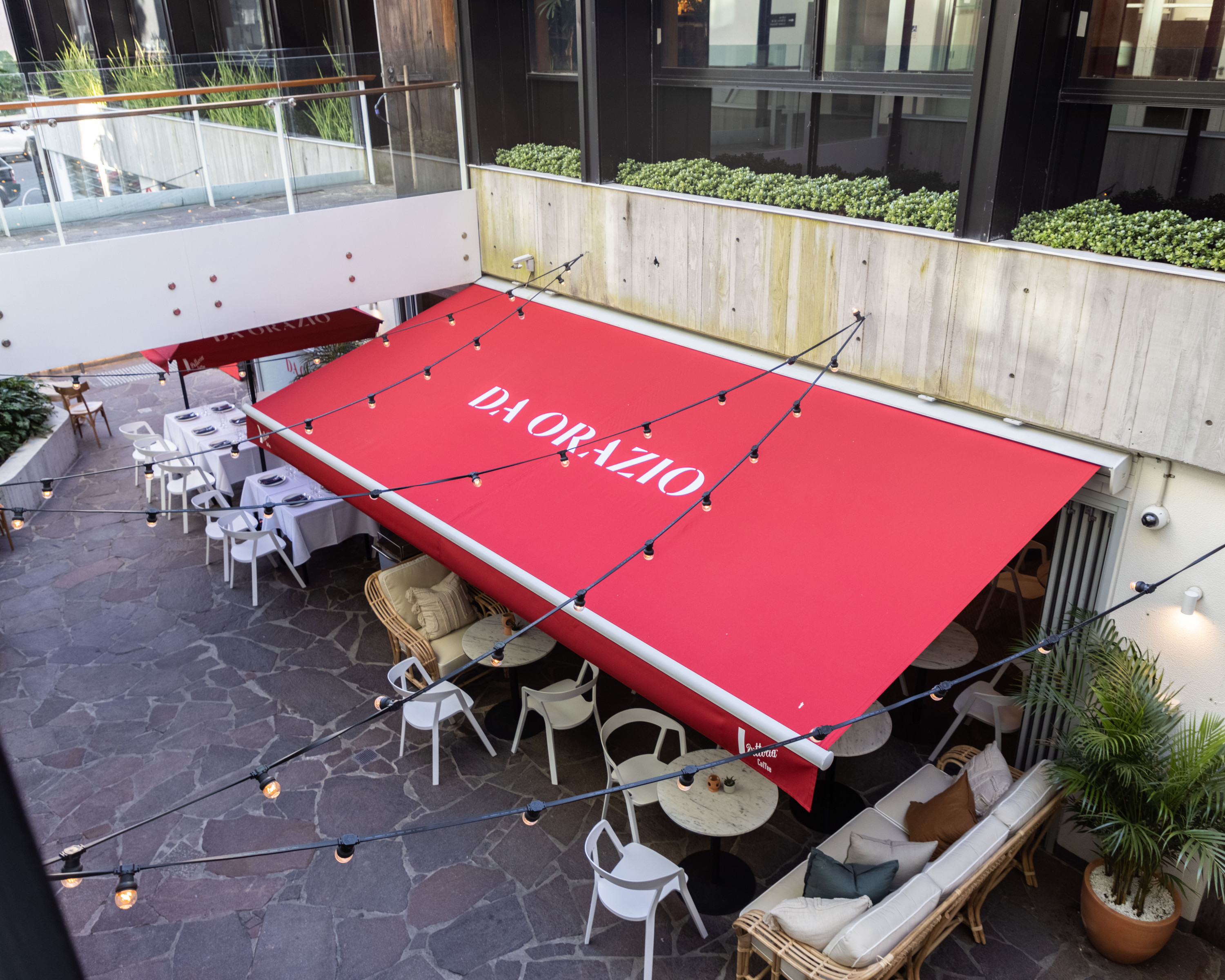 A Hall Street favourite that disappeared briefly before making a triumphant comeback in 2022, Da Orazio from the celebrated chef, Orazio D'Elia, is a Bondi essential. Here, it's fresh vibey Italian perfect for long lunches and breezy dinners with family and friends. Pizza chef Matteo Ernandes has created a contemporary pizza dough recipe that produces lighter, more fragrant bases—which means you can enjoy more of your Margherita. As well as pizza, Da Orazio delivers antipasti Italiano plates for two and four, fregola fruit di mare, and rotisserie porchetta with foccacia. Grab a spritz at Orazietto next door before your booking and settle in for the afternoon or night.
Calita
Opened in 2020 by the Milpa Collective hospitality group (responsible for venues like Carbon, Sonora, and brand-new Clarence Street Mezcal bar Santa Catarina), Calita is a pint-sized "marisqueria" or Mexican seafood restaurant. Like other Milpa venues, the North Bondi eatery is inspired by a specific part of Mexico, in this case, the Northwest Baja Peninsula.
The 26-seater Calita (which translates to "tiny beach") serves up a simple, seasonal menu where tacos reign supreme alongside botanas (snacks) like soft shell crab salad, tuna ceviche, and blue swimmer crab tostadas. Come thirsty because most Calita drinks revolve around sustainably sourced mezcal and tequila. And if you're still feeling a little dusty from the day before—make sure you order the signature "Vuelve a la Vida" ("return to life"), a Mexican hangover cure that marries seafood with a spicy Bloody Mary.
For similar vibes, try Milpa's other Bondi venues: La Palma and Carbon.
Macelleria
Like having a sandwich from a bakery, sitting down and eating a cooked steak from the butcher is always a comforting feeling. Because you know the process was handled in-house by experts. If you're after a good cut of meat in the east, head to Macelleria. The Italian-leaning restaurant's name translates to "butcher shop", and the menu certainly reflects that. Ordering is simple: choose your cut of meat and all the sides to perfectly compliment it. But don't worry if steak isn't your thing, because you can also get burgers, chicken schnittys, skewers, sausages, salads and more.
Mikeys Pizza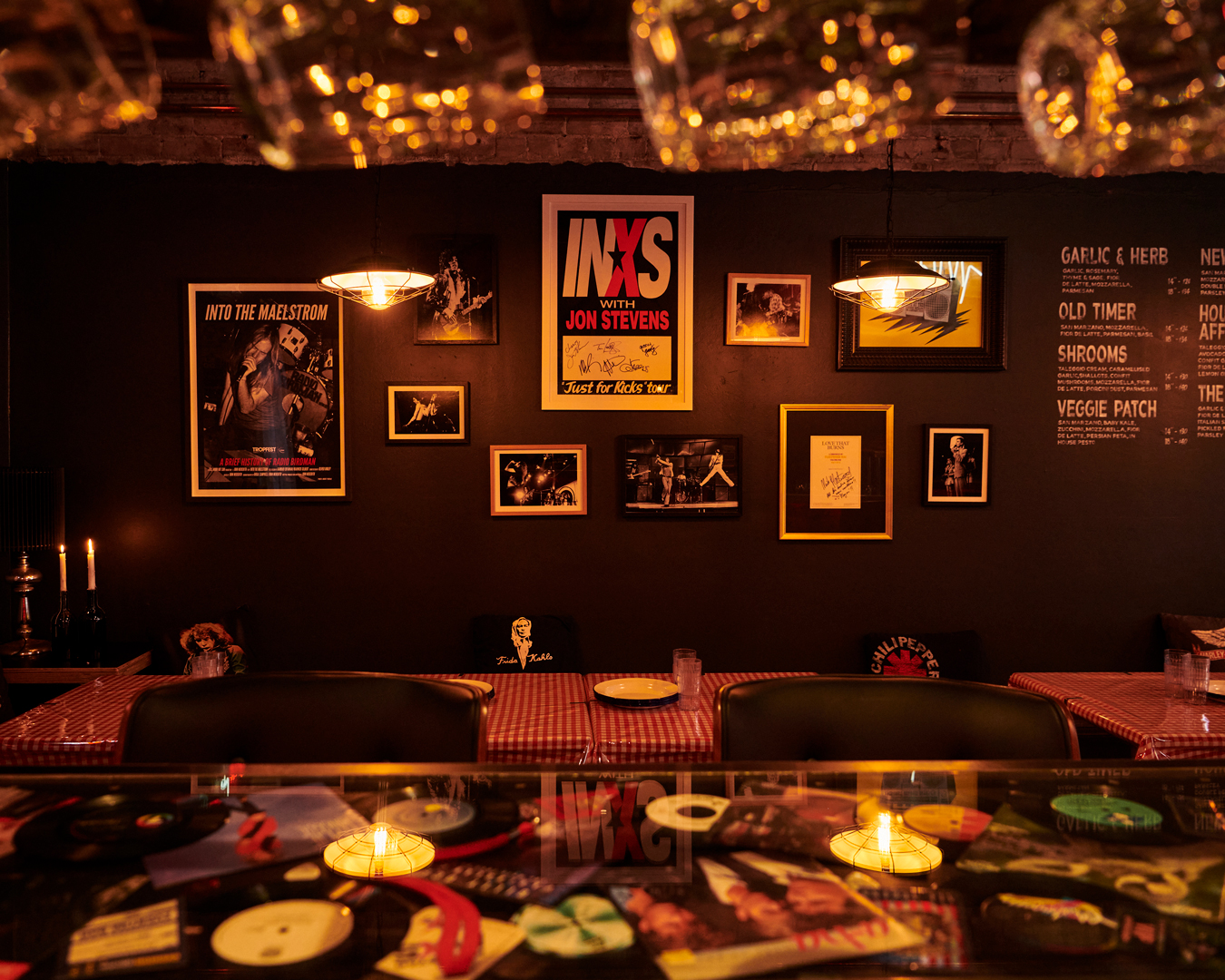 NYC-inspired pizza joint Mikey's Pizza dishes out laid-back rock n roll nostalgia and red and white checked tablecloths. It's the second outpost for Mikey's, with their first pizza shop opening in Killarney Heights on the Northern Beaches back in 2017. Here, you're in for pizza by the slice at the bar, pizza bases stone-baked on Sicilian clay stone, proper American-style pizzas (like the "Grandma Square" with a focaccia base, cheese topping first, then tomato and oregano), and fancy pizza toppings from local producers like Vic's Meats and Forage Gourmet Edibles.
The Corner House
First arriving in 2010, The Corner House was re-opened in 2017 by new owner Ben Siderowitz, keeping many of the restaurant's local favourites but giving the joint a bit of a needed re-vamp at the same time. The food menu offers a welcome range of Italian eats made for sharing, like spiced arancini, kingfish bruschetta, ricotta gnocchi or anything from the woodfired pizza menu. Upstairs is a cosy bar vibe where you can sit down for a Fragola Spritz (with strawberry-infused gin, elderflower cordial, lemon, prosecco and soda) and listen to some live music. Keep your eye on the daily happy hours like $5 G&Ts on Tuesdays, $12 Negronis on Thursdays and $12 Margaritas on Sunday arvos.
Bills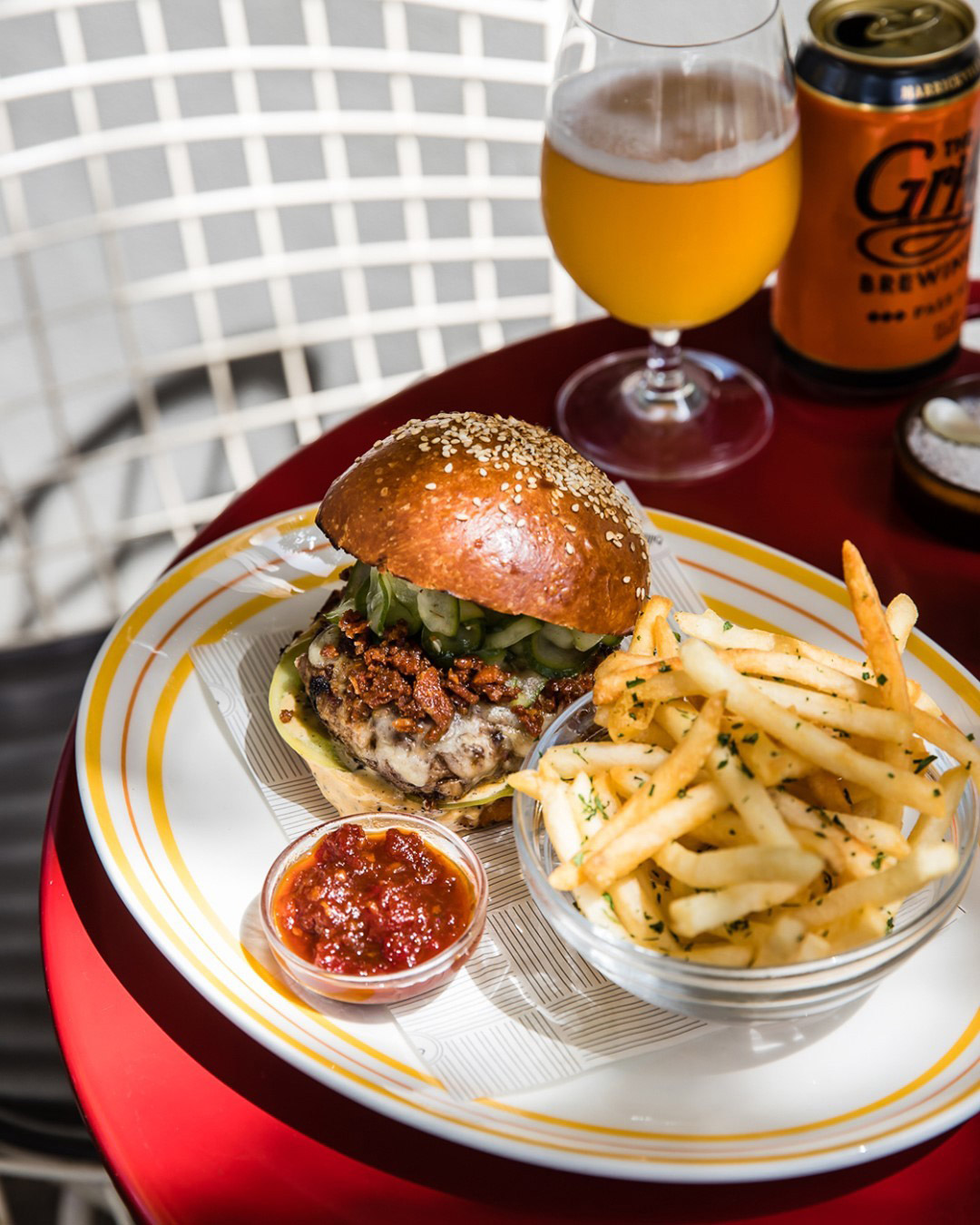 To call bills a Sydney breakfast and brunch institution is putting it mildly. Owner Bill Granger has been defining the classic Aussie brekkie menu with now-iconic dishes like his silky scrambled eggs, crispy corn fritters, and fluffy ricotta pancakes since opening his first outpost in 1993. So, when Bills opened a Bondi location, it brought its iconic breakfast, lunch, and dinner menus to delighted beachside locals. Alongside beers, wines, and smoothies, there's the bills Spiced Bloody Mary and a white peach Bellini when the sun is rising over the water, and passionfruit Caiproska for sundowner drinks too.
Elva
Paying homage to where it stands, Bondi's Elva restaurant and wine bar is named after local Elva Tesoriero, who ran a fruit shop with her family at the site during the 1950s. The menu is heavily inspired by traditional Italian cooking techniques and driven by using fresh, local produce alongside a solid list of Italian vino. With few offerings, Elva showcases hand-made pasta with dishes like goat cheese, black truffle and wild mushroom ravioli, and grilled U6 prawn spaghettini alla putanesca. Make sure you take advantage of the "pasta e vino" Mondays with a pasta special and a glass of wine for just $25.
North Bondi Fish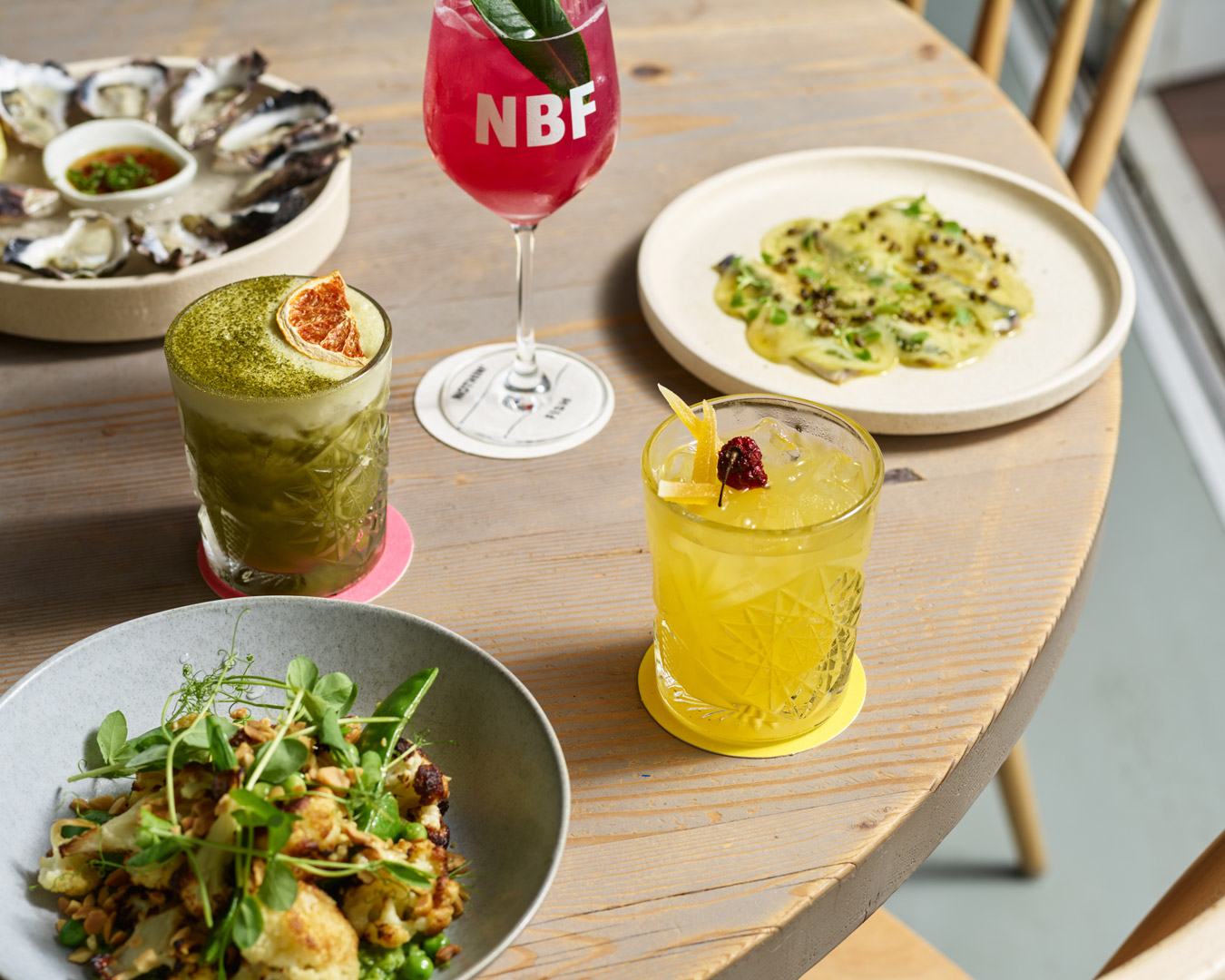 Any venue fortunate enough to be in sight of Bondi Beach has an immediate leg up on the aesthetic of its dining experience. Being basically on the sand of North Bondi and in perfect view of the crashing waves, North Bondi Fish is always a good option for lunch, dinner, or a few waterfront cocktails. As you'd expect, seafood is the name of the game here with the Matt Moran-created menu. From Sydney rock oysters to kingfish ceviche and from fish tacos to barramundi fillets from the grill, order up and pair your meal with one of NBF's signature cocktails. For something fresh, try the limoncello and yuzu spritz with lemon myrtle-infused gin.
China Diner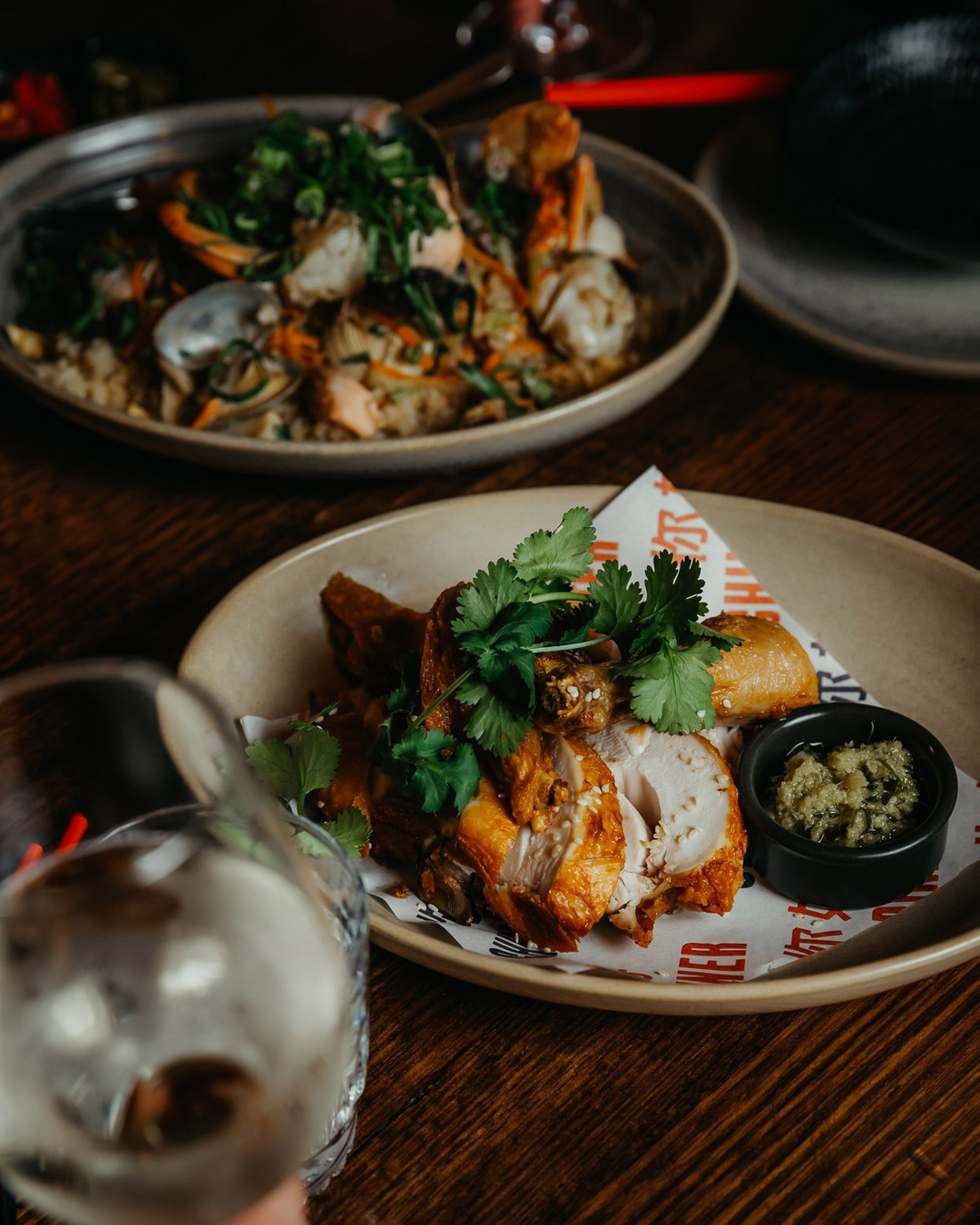 As a larger sister venue to the inner-city outposts, Bondi's China Diner brings some serious modern Cantonese eats and bold flavours in a big, vibing setting. Take a moment to peruse the extensive menu before diving into your many options. Go for the dedicated dim sum menu or look to meat classics like stir-fried king prawn, kung pao chicken, or chilli caramel pork belly (must-try), with plenty of plant-based options too. If you're undecided, you can't go wrong with China Diner's three different banquet options (ranging from $45 – 65pp) with the choice to add a bev pack as well.
Bondi Trattoria
Opened more than three decades ago, Bondi Trattoria was sold back in 2017. The restaurant is now owned and operated by self-proclaimed "two fat guys", chef Joe Pavlovich and manager Alasdair France, who share over 50 years of hospo experience from around the world between them. Their Italian menu is as extensive as it is mouth-watering, with antipasti like battered zucchini flowers stuffed with goat's feta, lemon, truffled honey, and pecorino, classic seafood like beer-battered snapper and chips, and pasta like the historical crowd favourite angel hair with rare yellowfin tuna, zucchini, rocket, chilli, lemon, capers, and parmesan. Throw in a panna cotta or zeppole (ricotta doughnuts) for dessert, and you're destined for a full, happy belly.
FISH SHOP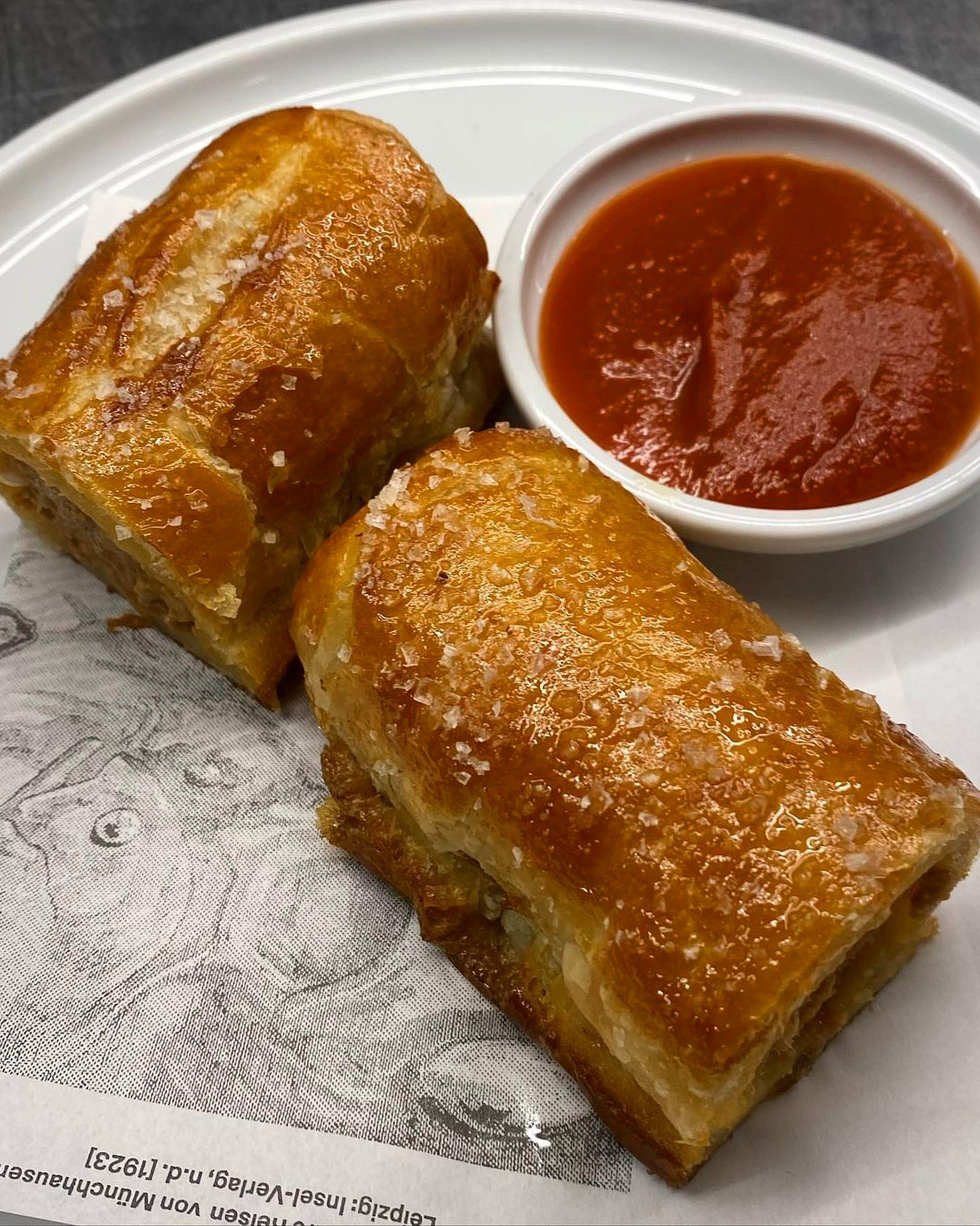 FISH SHOP is a "fine-casual" riff on the classic fish and chip shop, with the same sea breeze vibe but slightly more polished offerings on the menu. Led by head chef Joel Bennett, who you'll know from Peppe's, Bistrode, and Three Blue Ducks, the fish is sustainable and the menu is seasonal, healthier than your typical beer-battered flathead wrapped in newspaper, and with a Mediterranean mood. At FISH SHOP the menu has been crafted for dine-in, takeaway, or order fish to cook at home. Choose from ocean trout, salmon, swordfish, ora king salmon, and market specials, and pair it with FISH SHOP's housemade sauces and condiments. There's also a menu of salads and vegetable dishes like charred cabbage with ginger, shallot, and nori, or carrots with salsa verde, spices, and yoghurt.
For more great dining options by the water, check out Sydney's best waterfront restaurants.
Image credit: Jiwon Kim, Jiwon Kim, Nikki To, Merivale, Nikki To, Sean's Panorama, Topikós, Jude Cohen, Kitti Gould, Mikey's Pizza, bills, Steven Woodburn, China Diner, FISH SHOP