Big bowls of pasta, flavourful seafood dishes, salty anchovies, hearty culatello dishes, and tiramisu—Italian cuisine really has it all. If you, like us, love Italian food, you'll know that Sydney has its fair share of restaurants and bars dishing up spectacular Italo fare. You can tuck into a carb-fuelled feast with mates at a local trattoria, get cosy in a wine bar on date night, or celebrate a big win at work with a high-flying feed at a beachside fine diner.
With so many amazing Italian spots in Sydney, the pasta-bilities are endless (yes, we went there). So let us tell you, picking just 19 was tough. Really tough. But we've come up with a list we reckon will satisfy any pasta aficionado. Whether you're after vibey neighbourhood go-tos or want to settle in at Sydney's oldest Italian restaurant, we've got you.
Here are 19 of the best Italian restaurants in Sydney right now—from buzzing bars to fine diners with stunning water views.
Wine Bars
Paski Vineria Popolare
Darlinghurst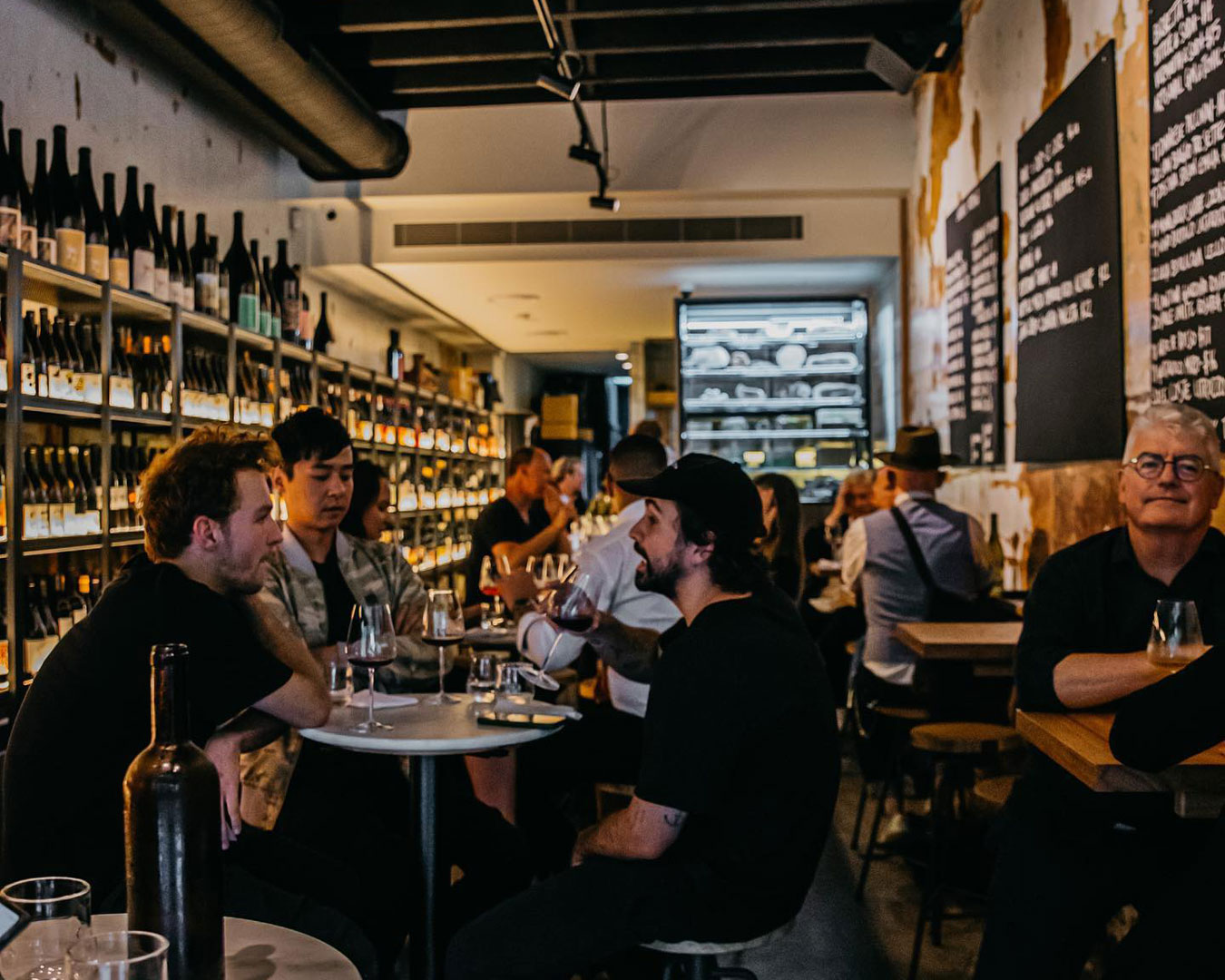 Set between some bordered-up shopfronts and convenience stores on Oxford Street, you'll find Paski Vineria Popolare. Paski is the brainchild of former Italian go-to 121BC and co-founder of Rootstock, Giorgio De Maria, alongside Mattia Dicati (Vino Mito Wine Imports) and chef Enrico Tomelleri (Ragazzi, Alberto's Lounge, 10 William Street), just casually. You could call De Maria the godfather of natural wine, so it makes sense that his newest venture has a lot of it—and we mean a lot.
The two-storey restaurant, bar, and bottleshop features a small bar and a whole lot of artisanal small-scale Italian wine. Downstairs, the walk-in-only wine bar is where you can order by the glass—or pick a bottle off the shelf and drink it for a small corkage fee—and order dishes such as cheese, charcuterie and pasta. Upstairs, you'll find a pint-sized restaurant—Paski Sopra or Paski 'above'—where Tomelleri dishes up a regularly changing menu of handmade pasta and Mediterranean dishes. Basically, whatever the occasion, you can't go wrong with Paski. Book Paski Sopra here.
Must try: All the wine.
10 William St
Paddington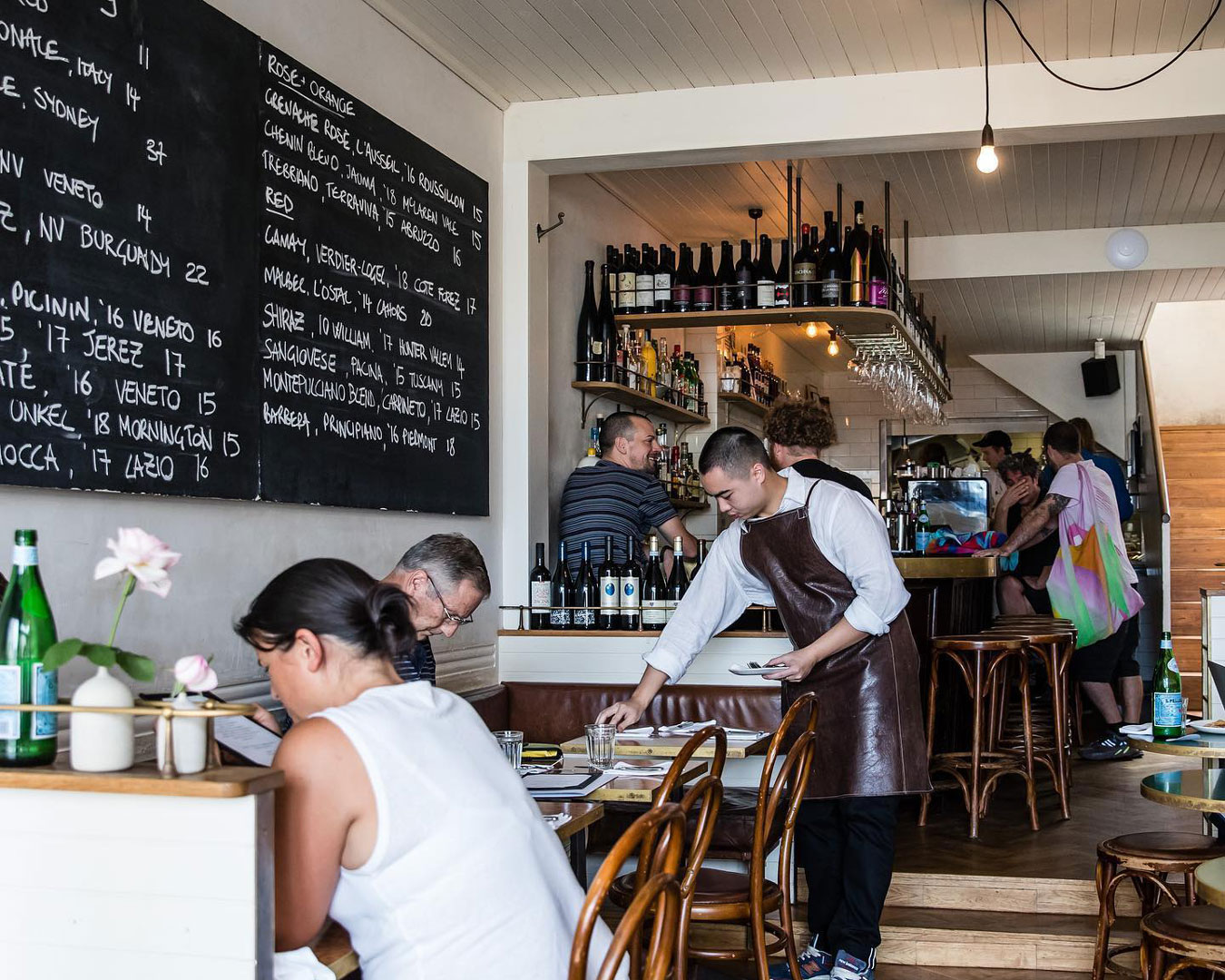 Deemed a vino bar first and a restaurant second, whatever you want to call it, one thing's for sure: 10 William St is one of the most vibey Italian spots in all of Sydney. Always bustling, this hole-in-the-wall is the perfect place to bring a date or a handful of thirsty mates. The concise menu changes regularly, but you'll always find some variation of antipasti, pasta, mains, veggies, and its famed tiramisu. 10 William St takes bookings, but there's always room for walk-ins, too. Book here.
Must try: Pretzel with whipped bottarga.
Ragazzi
CBD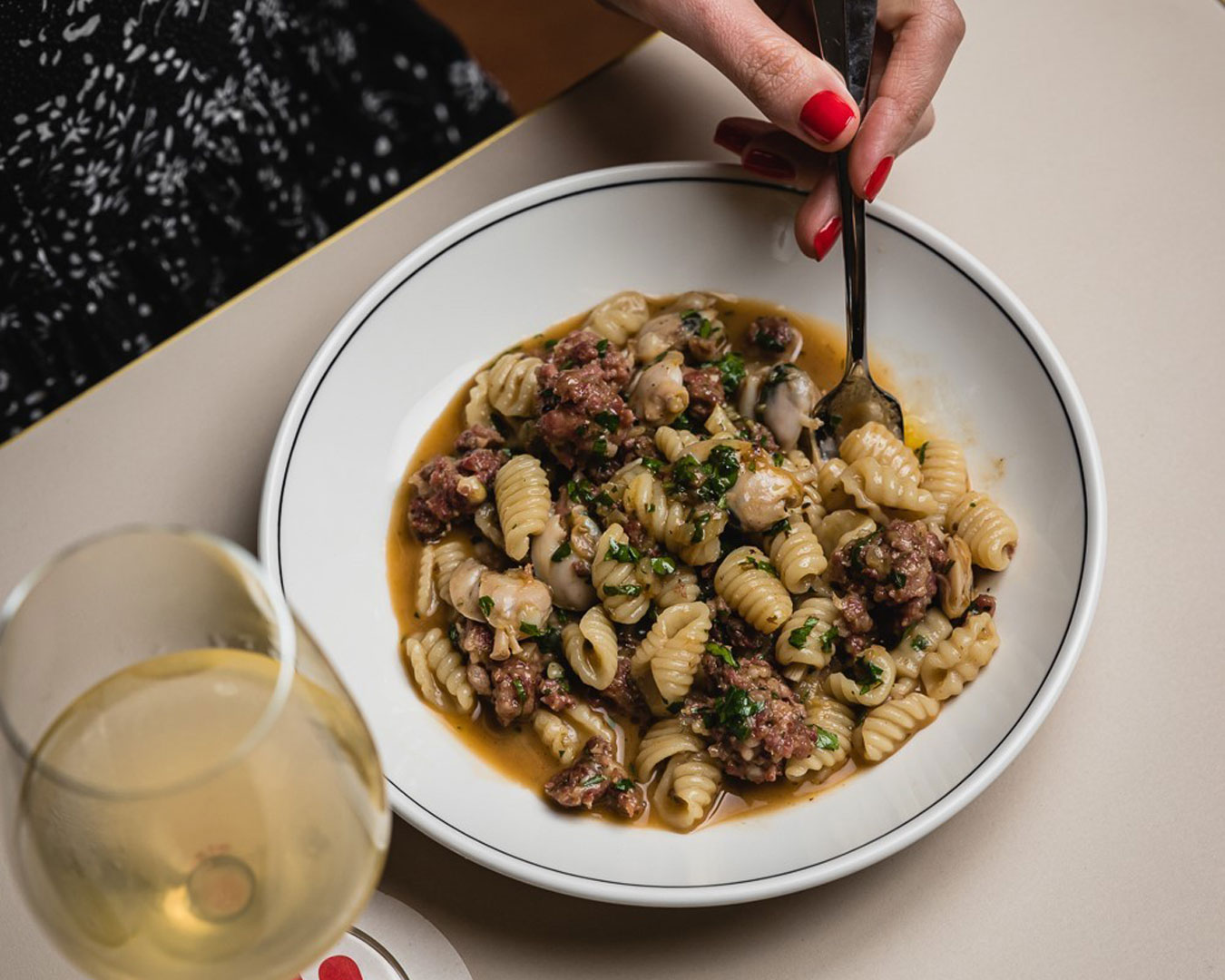 Ragazzi proves Sydney simply can't get enough of the European wine bar experience, but also that we're keen to try something new in the genre, too. Featuring a lengthy bottle list and a simple menu centred on quick bites and pasta, it's the perfect place for after-work relaxation—if you can get in. The 40-seater in Angel Place gets busy on a weekday and is a good spot for soaking up the vibrant energy of the CBD over a sharp bowl of pasta. Co-owners Matthew Swieboda​, Nathanial Hatwell, and Scott McComas-Williams have long perfected their skills in this genre at Love Tilly Devine and Dear Sainte Eloise, but Ragazzi might be their pinnacle. Book here.
Must try: Cantabrian anchovy with butter on sourdough.
Trattorias
PELLEGRINO 2000
Surry Hills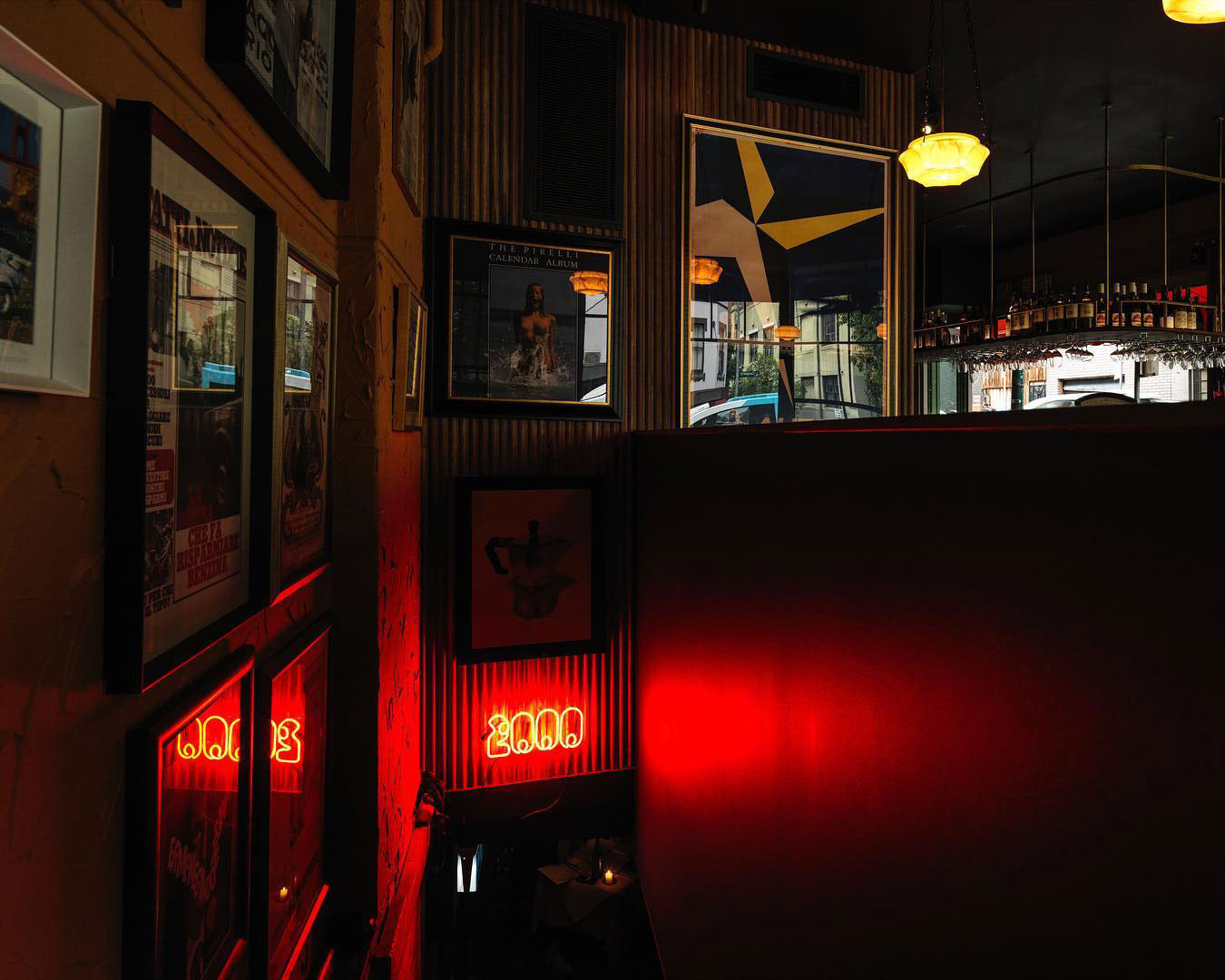 This brand-new Surry Hills venue from the all-star team behind Bistrot 916— Dan Pepperell, Mikey Clift, and Andy Tyson—has been one of Sydney's most anticipated openings of the year. The corner terrace is inspired by the trattorias of Rome and Florence, so expect neighbourhood vibes and charm aplenty. The ground floor features the main dining room, shelves stacked with anchovies and tomatoes, and a double-sided espresso bar. The basement level oozes character with bottle-lined walls, white table cloths, and a candlelit thousand-bottle wine cellar, too.
But, really, you're here for the food. And, boy, does PELLEGRINO 2000 deliver with its menu of much-loved Italian staples, handmade tortellini, fritto misto, pappardelle bolognese, and plenty of tripe if you're into it. It's got a banging wine list, too—think Italian classics like Barolo and Chianti—as well as negronis, bellinis, and a great selection of Amari. Book here.
Must try: Prawn ravioli.
Fratelli Paradiso
Potts Point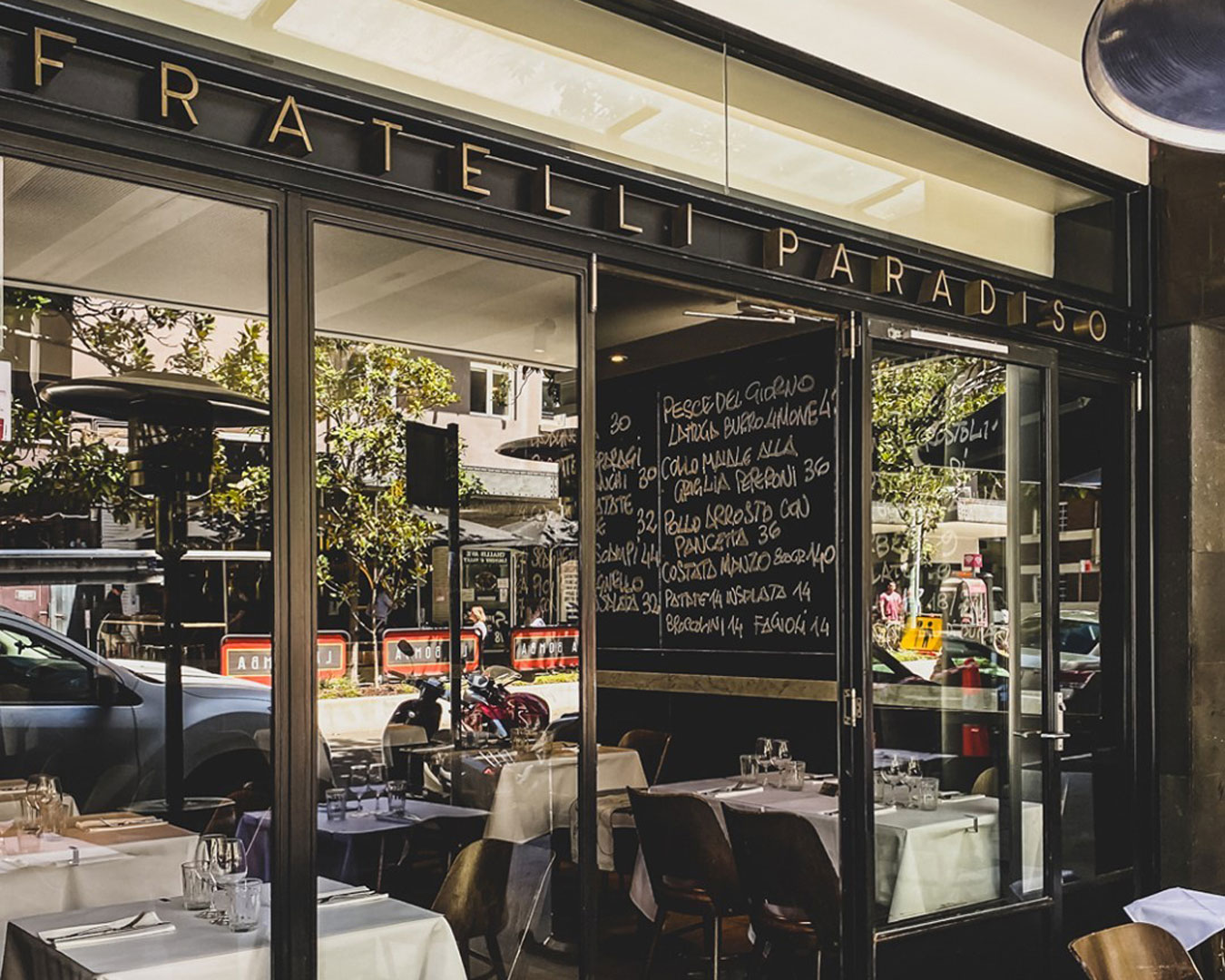 If you want easygoing neighbourhood vibes paired with some of the finest pasta in the city, then make tracks to Fratelli Paradiso. The Challis Avenue venue has been around for more than 20 years, solidifying itself as one of Sydney's most loved institutions. The food is exquisite and the service passionately European, as you'd expect with three Italians—Marco Ambrosino and brothers Giovanni and Enrico Paradiso—behind it. It's always bustling with an interesting mix of patrons feasting, celebrating, and drinking be it midweek or the weekend. There are chalkboards instead of menus, ample outdoor seating, and a wine list boasting many minimal intervention, skin contact, and organic vinos. Really, if you haven't been here yet, can you even call yourself a pasta lover? Walk-ins only.
Must try: Spaghettini with scampi, cherry tomato, and bisque.
Alberto's Lounge
Surry Hills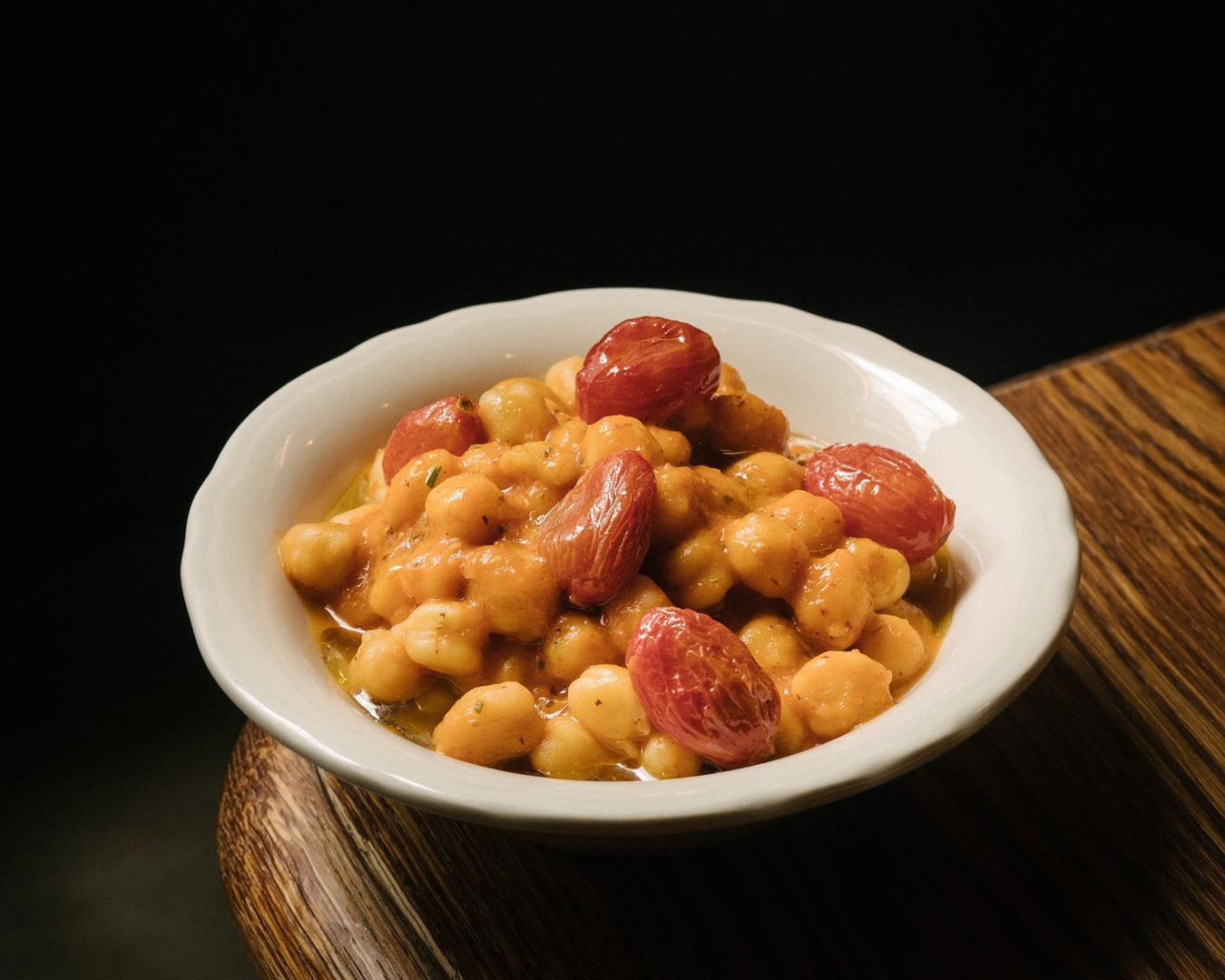 Alberto's Lounge is aptly named for its laidback, cosy vibe, delicious plates, and extensive wine list. For those who have graced its small, wooden interior, it's a favourite and somewhere to have in the back pocket for date night. The Surry Hills venue exudes cool in the truest sense of the word, with plenty of old-school movie posters and retro art and an always-excellent playlist levelling up the mood. Alberto's serves innovative and modern Italian cuisine that changes regularly, paired with an extensive wine and cocktail list. Busy every minute they're open, it's best to book ahead, though walk-ins are welcome if you don't mind a well-worth-it wait. Book here.
Must try: The pasta, duh.
CicciaBella
Parramatta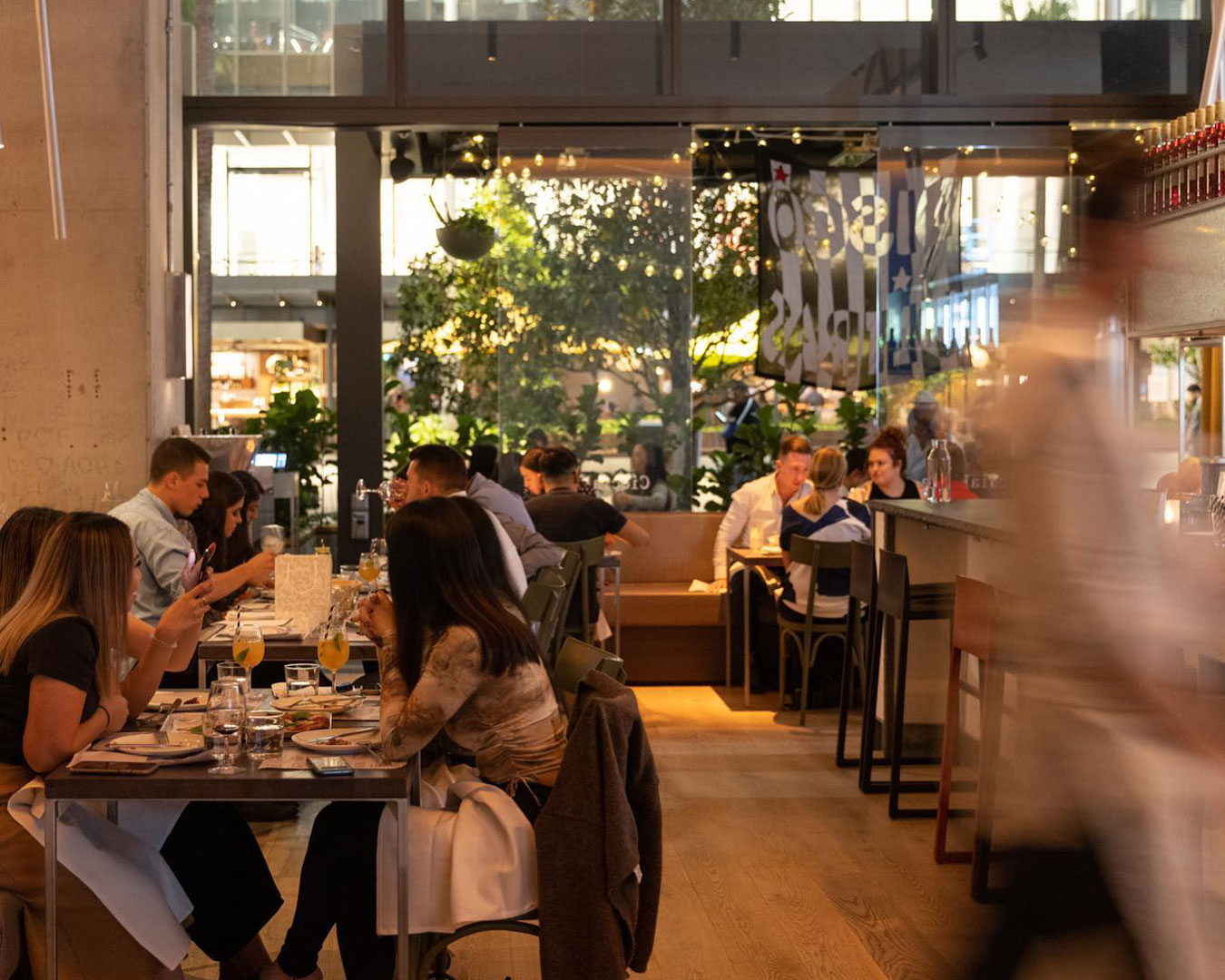 Handmade pasta is the main event at Maurice Terzini's CicciaBella. Located in Parramatta Square, the trattoria is inspired by cucina povera (poor people's cooking), where simplicity and quality are the focus. The self-proclaimed "celebration of Italo-Australian culture, food, wine, art and music", CicciaBella is an ideal spot for an after-work aperitivo, a date-night dinner or long, leisurely lunch with the crew—it even offers a three-course Italian feast with two hours of bottomless wine on weekends. Try the cacio e pepe, Roman-style pizza by the slice, or pork cotoletta with parmigiana crumb, prosciutto and sage and you won't be disappointed. Book here.
Must try: Woodfired barramundi fillet with eggplant caponata.
Kindred
Darlington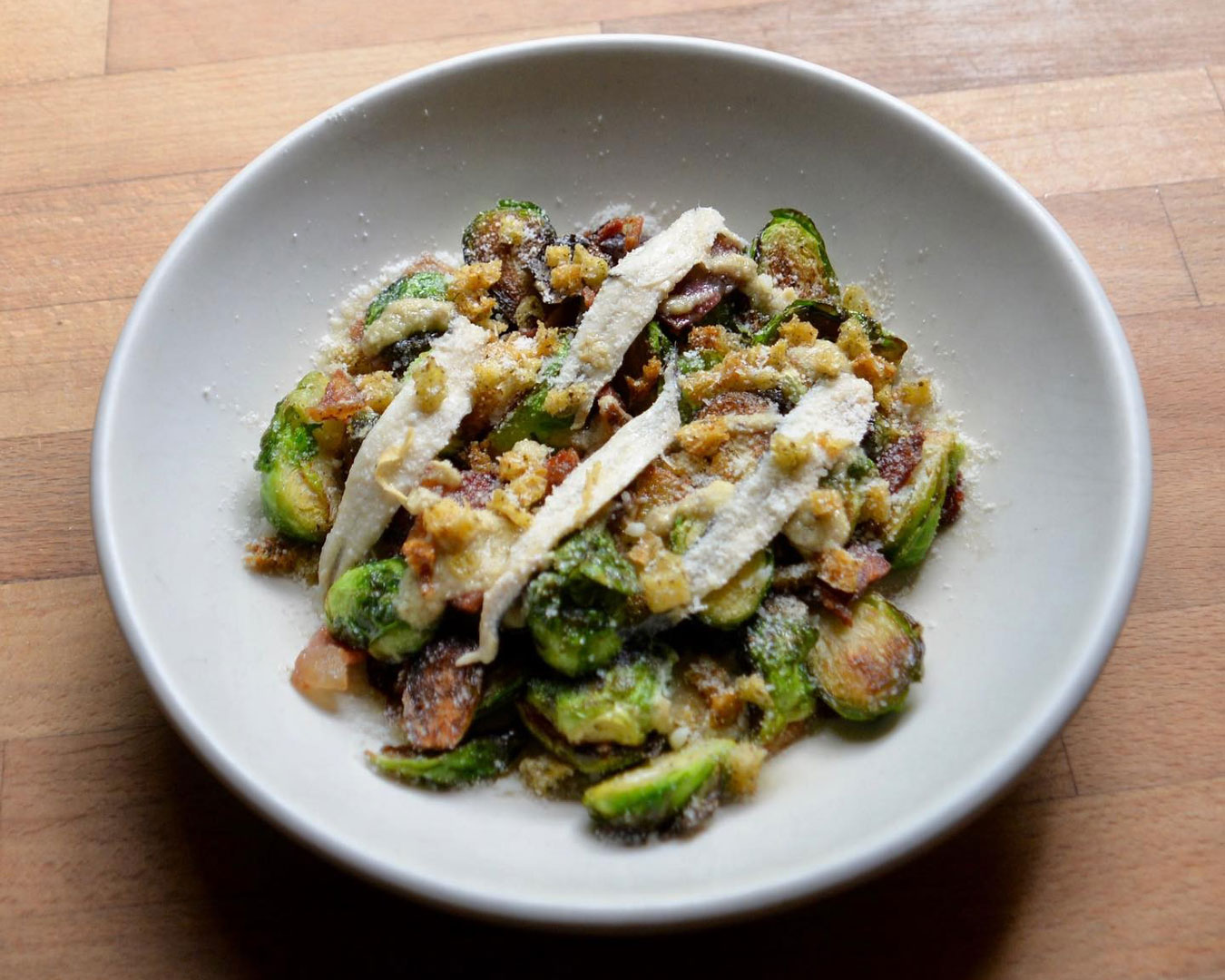 Kindred is the type of place you'll go past a hundred times along the artery of Cleveland Street and never know what wonders lay inside until someone tells you it's a must-try. First up, it's cosy AF. The 40-seater restaurant takes up two storeys of the Darlington terrace, with both levels giving off the sort of homey charm you'd expect at someone's nonna's. If you like to leave it up to the experts, we recommend the seven-dish tasting menu for $65 (or $60 for vegetarians). But, really, you can't go wrong with any of the home-style pasta dishes—think enormous bowls of handmade bucatini topped with generous helpings of pork and rich tomato sauce, rigatoni bolognese, and mushroom and ricotta agnolotti. Kindred is Italian comfort food at its finest in an unpretentious, warm setting. It's also one of the more reasonably priced spots on this list, so punch another hole in those belts. Book here.
Must try: Carrot triangoli with goat's cheese, pistachios and brown butter.
Bastardo
Surry Hills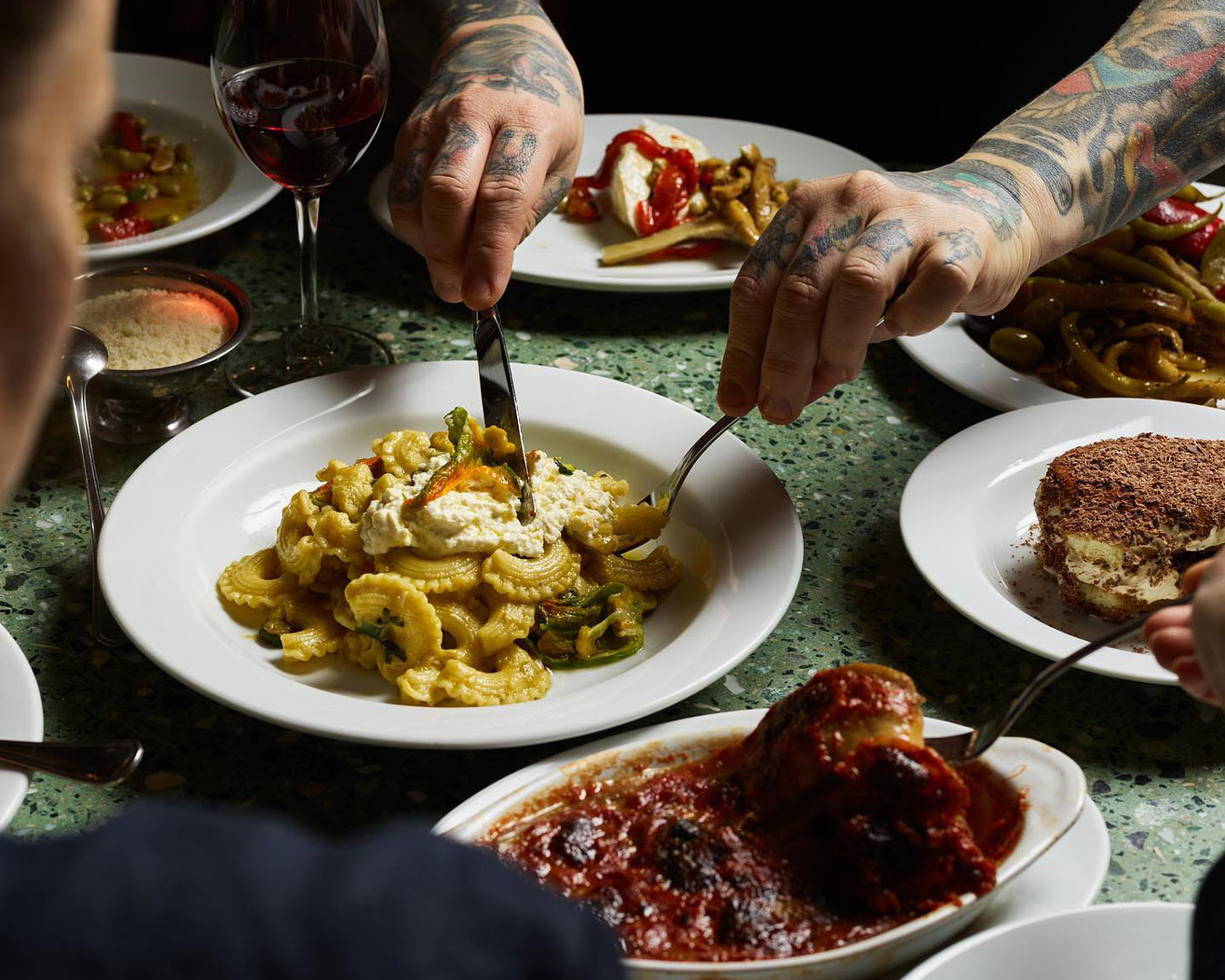 Bastardo has had quite an impact on the Sydney dining scene. It's no wonder, as the deli-style Italian eatery is made up of a team of legends who brought you Porteño and Wyno x Bodega. Drawing on their shared Argentinian and Sicilian heritage, they serve up an extensive list of fresh pasta made in the open-plan kitchen that spans the length of the restaurant. The pasta is stretchy, with a firm texture while having that melt-in-your-mouth quality that exudes craftsmanship. The spaghetti dotted with juicy clams and bursting pockets of 'nduja in a white wine sauce is a definite go-to. The 150-strong wine list of Italian heavy bottles is the icing on the cake. Book here.
Must try: Corn agnolotti with brown butter, capers, and sage.
I Maccheroni
Woollahra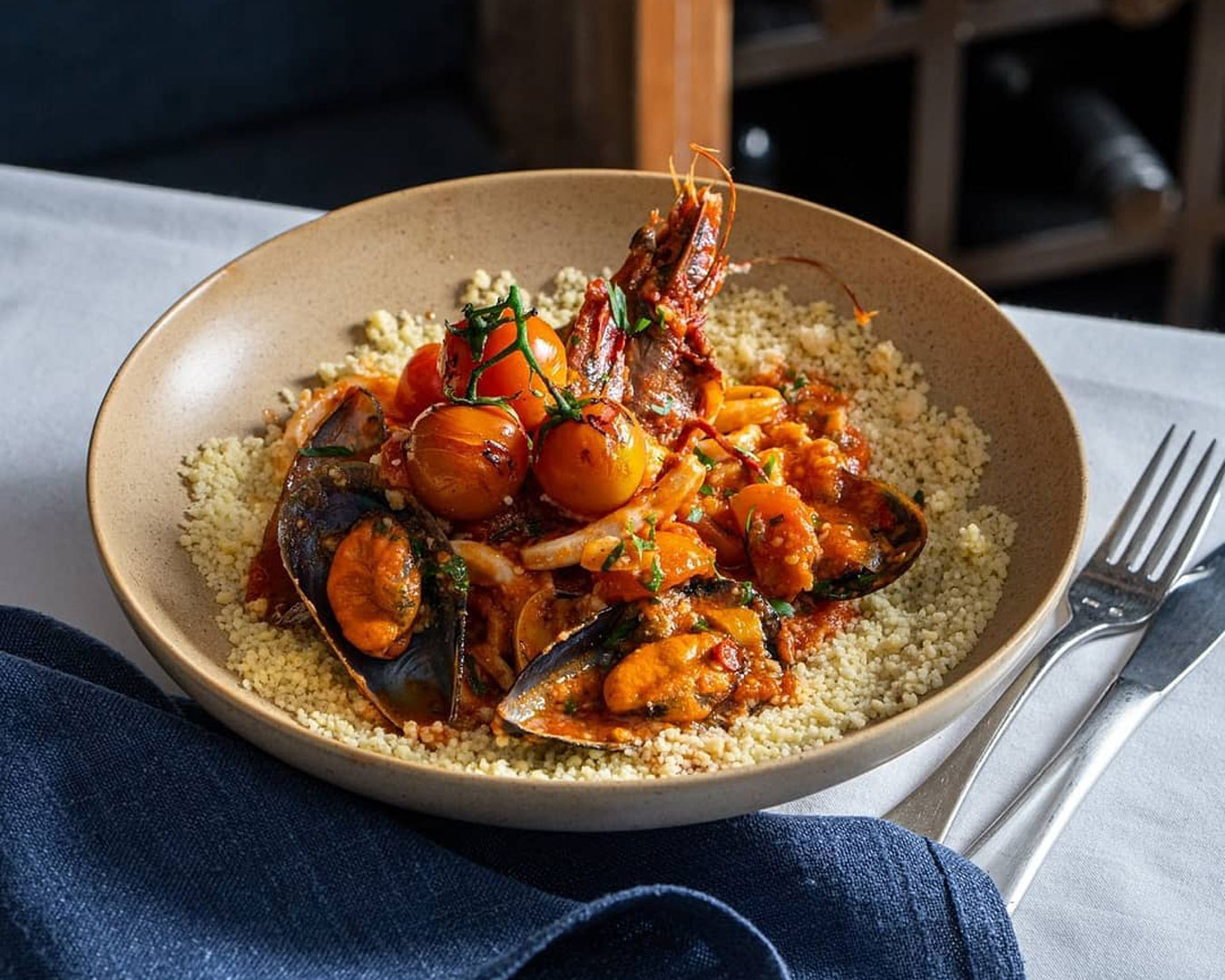 Humble and Woollahra might not be an obvious word pairing, but at neighbourhood favourite I Maccheroni, you'll find it works. Hailing from the Emilia Romagna region of Italy, widely regarded as the heart of Italian cuisine, chef-owner Marcello Farioli serves little parcels of fresh tortellini stuffed with spinach and parmesan, macaroni with beef cheek ragu, and a never-ending rotation of specials in this Jersey Road gem. The pasta is designed to "enrich your palate and make you want more" and if you're keen to learn the sacred art of the craft, it offers masterclasses in pasta making, too. Book here.
Must try: The namesake macaroni with beef cheek ragu and cavolo nero.
Keen to visit I Maccheroni soon? Purchase a gift voucher here.
Osterias
Marta
Rushcutters Bay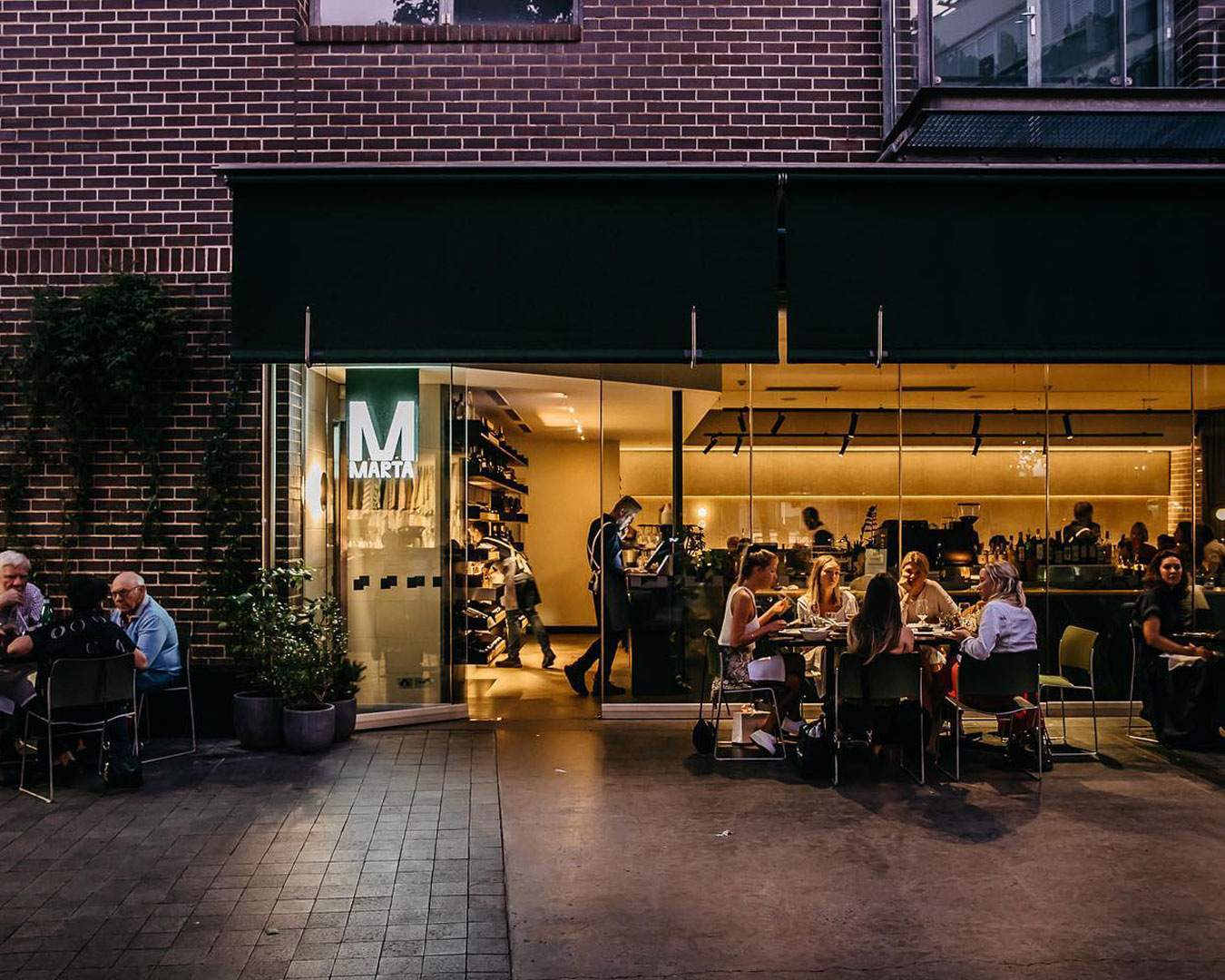 This refined Roman restaurant has a seamless indoor-outdoor design, making it ideal for warm summer evenings spent in its communal yet intimate dining space. Owner Flavio Carnevale has created a space that exudes the energy and theatre of the famous drinking holes in Rome. On the menu, you'll find fried gnocchi, burrata, veal meatballs, pasta, pizza Romana, veal cutlets, chilli spatchcock, sides, and desserts among other dishes. Marta also has spritz bar-inspired drinks and wines poured from Flavio's handmade terracotta decanters, which are pretty slick. Heading there early? Marta transforms from an osteria to a locally loved bakery during the day—and you'll definitely want to pick up a cannoli (or few). Book here.
Must try: Any of the Roman-style pizzas.
Pasta Emilia
Surry Hills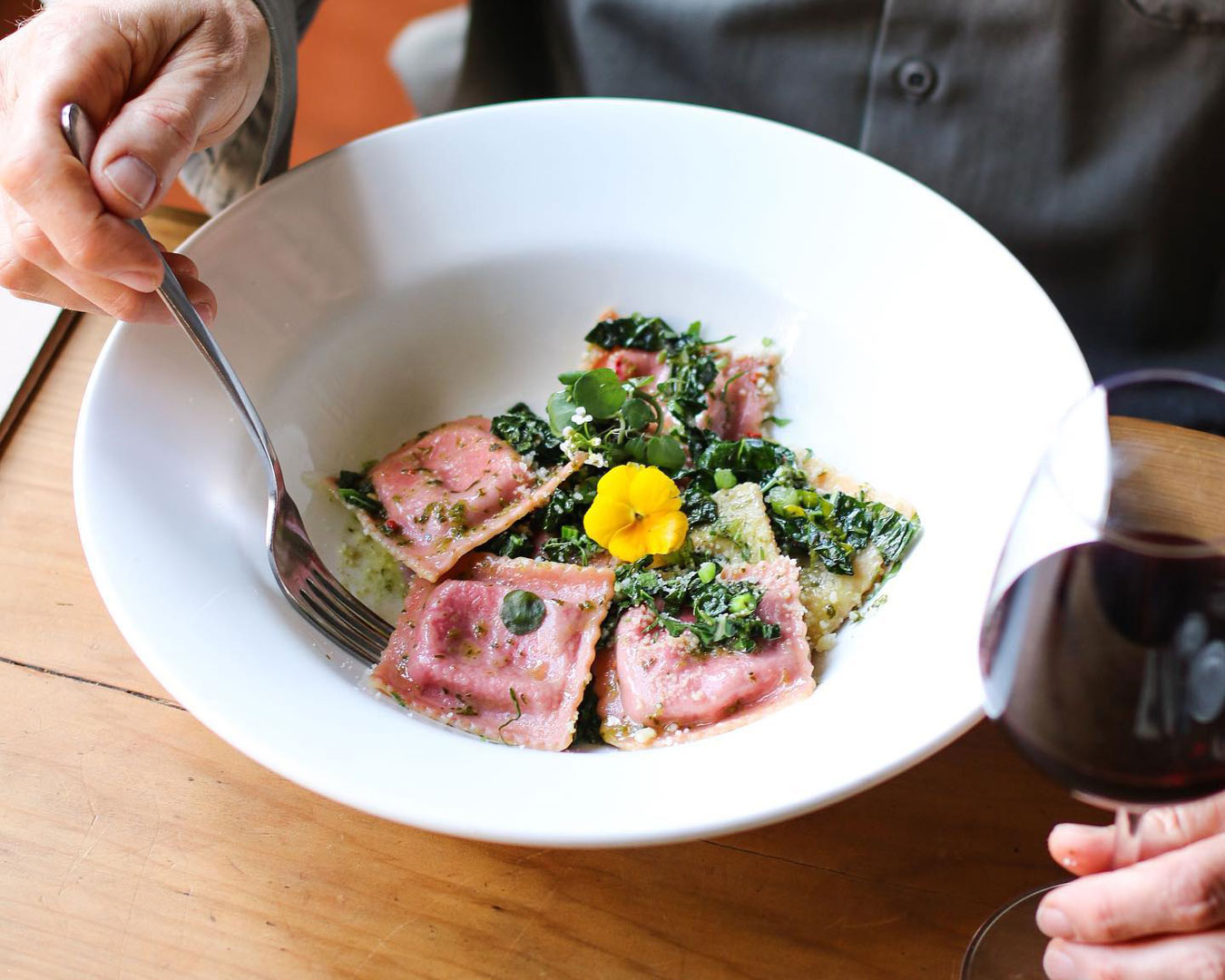 Set alongside its certified organic pasta laboratorio, Pasta Emilia, you'll find Osteria Emilia, a warm and friendly local restaurant that looks like it was ripped straight from the streets of Italy and relocated right here in Surry Hills. We're sure they offer other things on the menu, but let's be real: if you come here, you must try the pasta. Beef ragu, spinach linguini, duck and truffle tortelli—it doesn't matter which you choose, they are all a gift from the flour gods. The guys here also host cooking classes and offer items you can take home (and cook up a storm). Book here.
Must try: Duck and truffle tortelli.
Osteria Di Russo & Russo
Enmore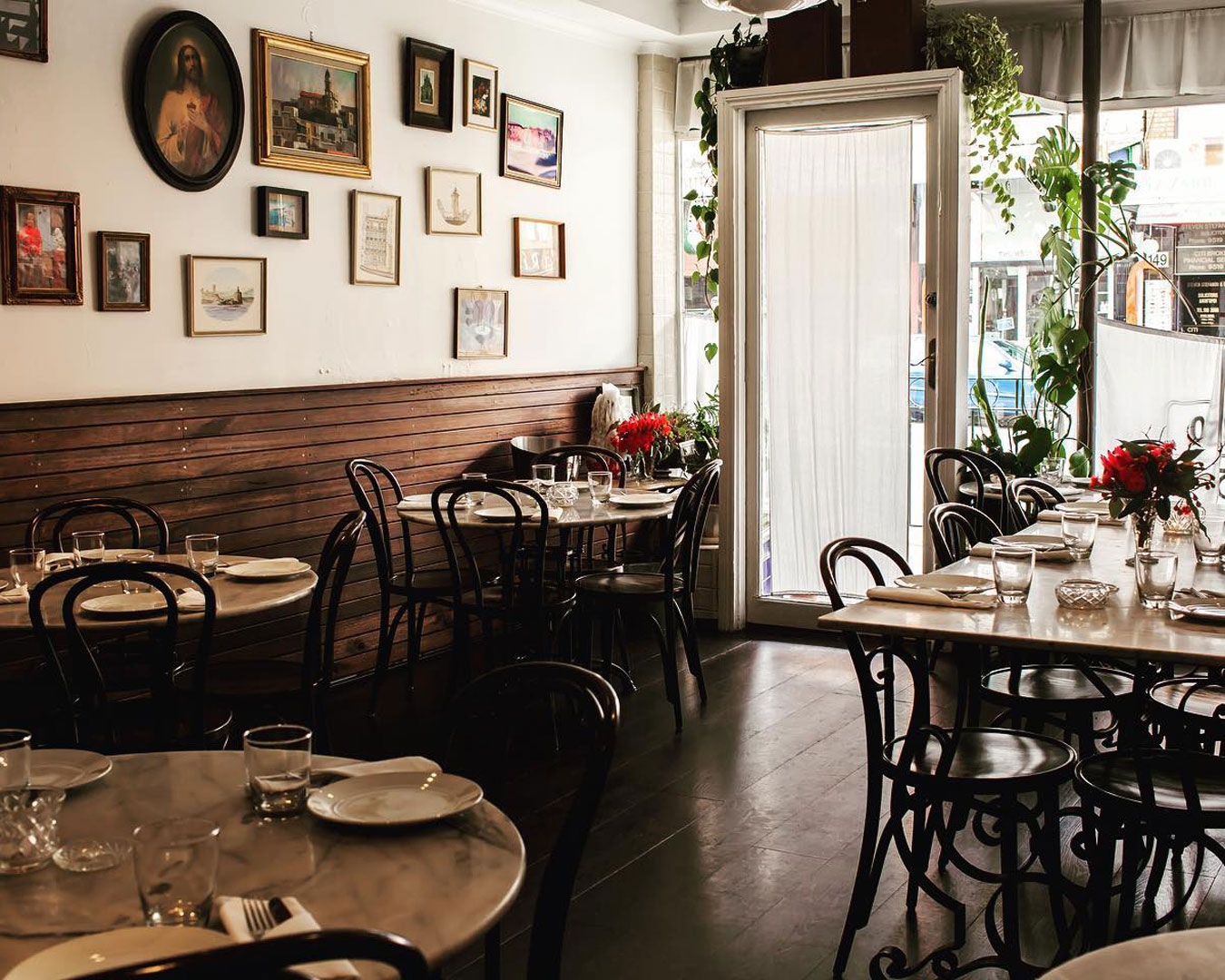 Whether you're an Inner West local dropping in for a midweek bite or an out-of-towner looking for the perfect weekend dining experience, Enmore's Osteria di Russo & Russo is your answer. Here, you'll find authentic Italian fare with an Australian twist on an innovative menu. Owned by father-and-son duo, Pino and Marc Russo, the eponymous restaurant honours the hundreds of thousands of Italian immigrants and their influence on Australia. The two-storey digs are modelled off the classic 70s trattoria with dark timbers, marble accents, and framed art arranged salon-style. Here, food is meant to be shared (as it should be), so gather the crew for an Italian feast. Or, you could opt for the Tutto Bene menu for $70 per person. Book here.
Must try: Bone marrow garlic bread with anchovy butter and pickle.
Italian Fine Diners
Beppi's
Darlinghurst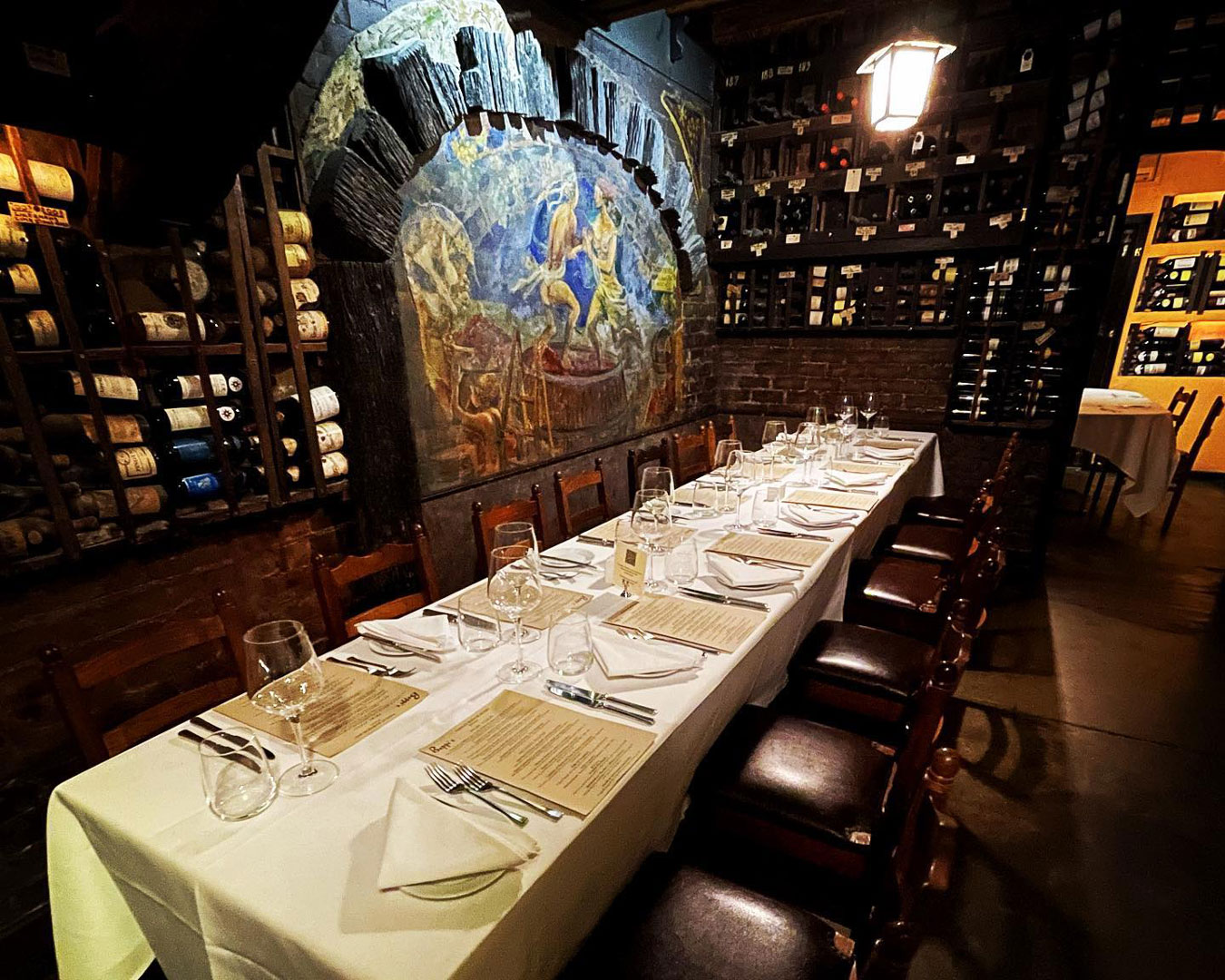 If you're looking for old-school Italian vibes, there's only one place you should hit: Beppi's. The Darlinghurst restaurant is the definition of a dining institution, having been around since June 1956. To give you context, back then Elvis was topping the charts, Menzies was PM, and TVs didn't exist in Australia yet. Yep, a lot has changed—except for Beppi's, which is still dishing up simple, beautiful Italian fare in Yurong Street. The eponymous restaurant—after the late Beppi Polese—can be thanked for Sydney's now thriving Italo dining scene, and it still is well regarded as one of the best.
Expect white tablecloths and timber chairs set among warm interiors of yellow-licked walls and plenty of art. There are also a few cellar rooms for more private dining, with shelves stacked with wine bottles. As for the food, it's as authentic as it gets—think freshly caught seafood, homemade pasta, and hearty meat dishes. Book here.
Must try: Beppi's Saltimbocca di Vitello—milk-fed veal scaloppine, folded with prosciutto, asiago cheese, sage and white wine sauce, and served with broccolini.
a'Mare
Barangaroo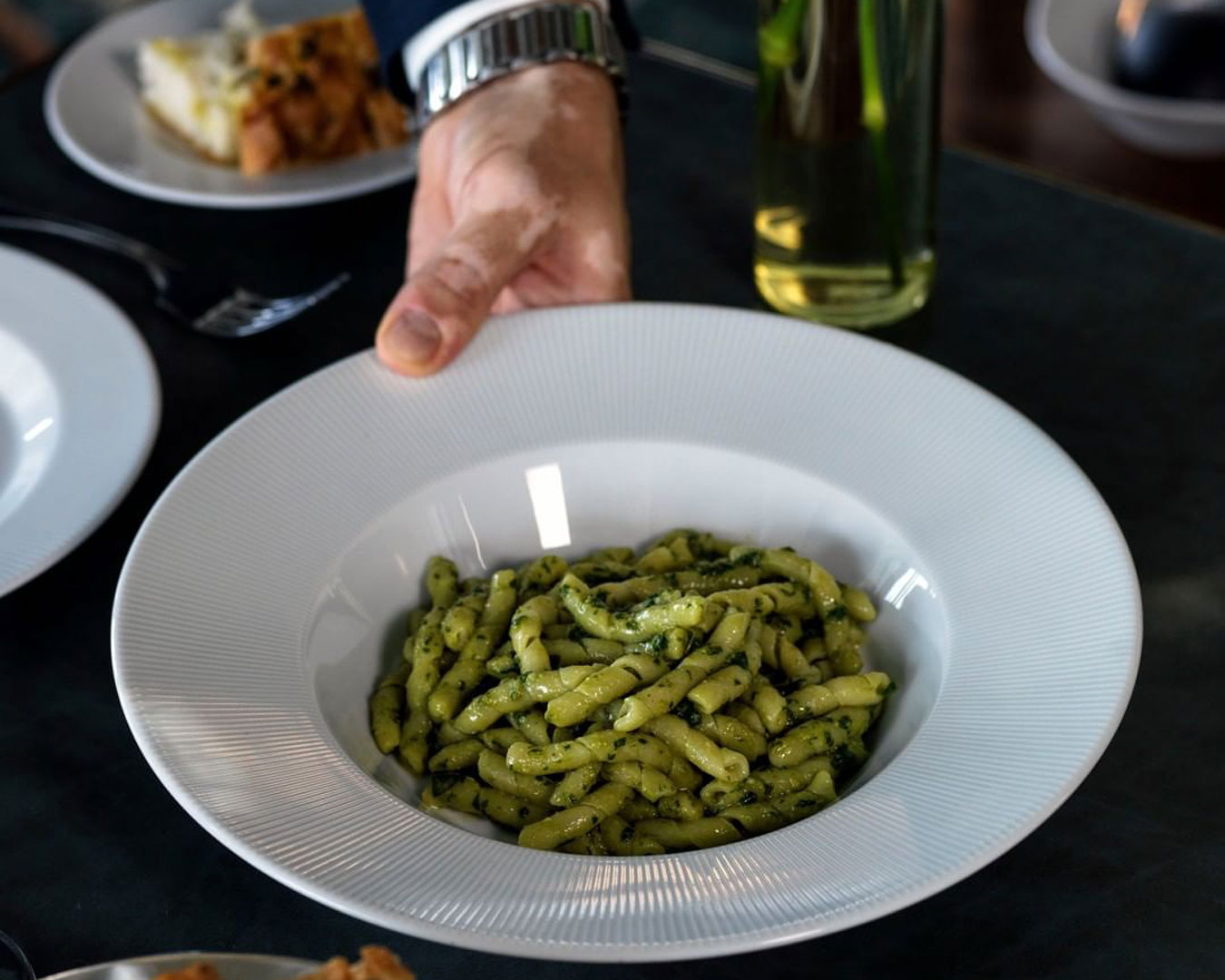 Pasta master Alessandro Pavoni is behind this refined, classically themed eatery, a'Mare, set in the Crown Sydney tower. With serious polish and impeccable service, a'Mare caters to the luxury sensibilities of the Crown's intended high roller audience. As such, only the best of the best is plated up here. Pavoni offers rustic dishes inspired by the Italian countryside. You can expect beef carpaccio and fresh burrata, but, with a name like a'Mare, fresh fish and rock lobster are also given a solid showing. If you'd rather leave your decision making at the door, a'Mare offers two set menus for $145 and $230 per person. Like we said—high roller. Book here.
Must try: Linguine with yellowfin tuna, bottarga, and orange—finished tableside.
Icebergs Bar & Dining Room
Bondi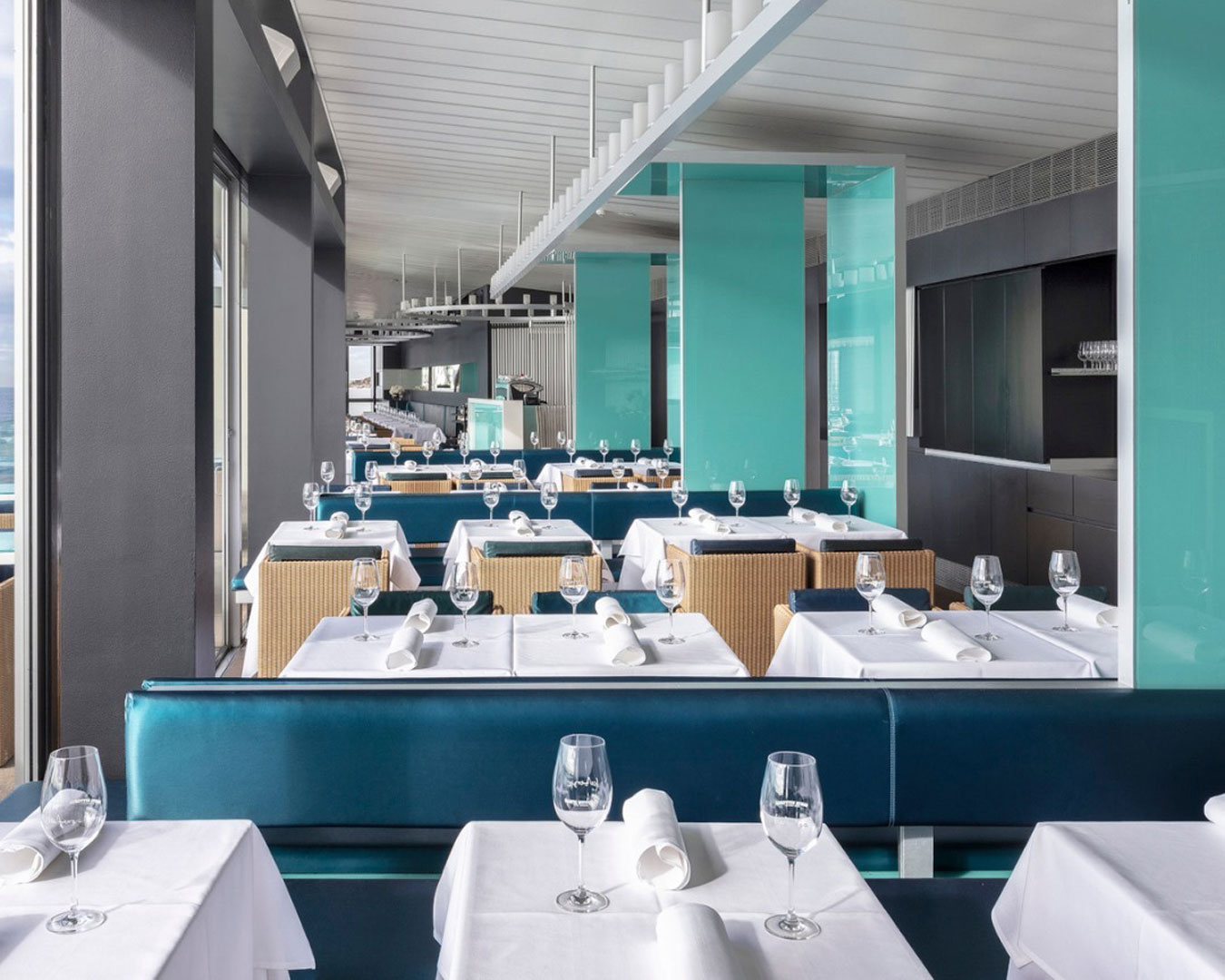 An iconic Sydney destination, Icebergs boasts one of the most incredible views in all of Sydney. But beyond the epic backdrop, Icebergs delivers flawless Italian fare, a sleek modern interior designed to match the turquoise ocean, polished, cool service, and just the right amount of Bondi glamour. Since 2002, restaurateur Maurice Terzini has nurtured what has now become quite the Australian institution. The ever-evolving menu focuses on Modern Italian dishes like fresh-as oysters, coral trout crudo with Davidson plum, spanner crab spaghetti, and market fish with turnips. Book here.
Must try: Hand-rolled spaghetti with local lobster and vin jaune.
Buon Ricordo
Paddington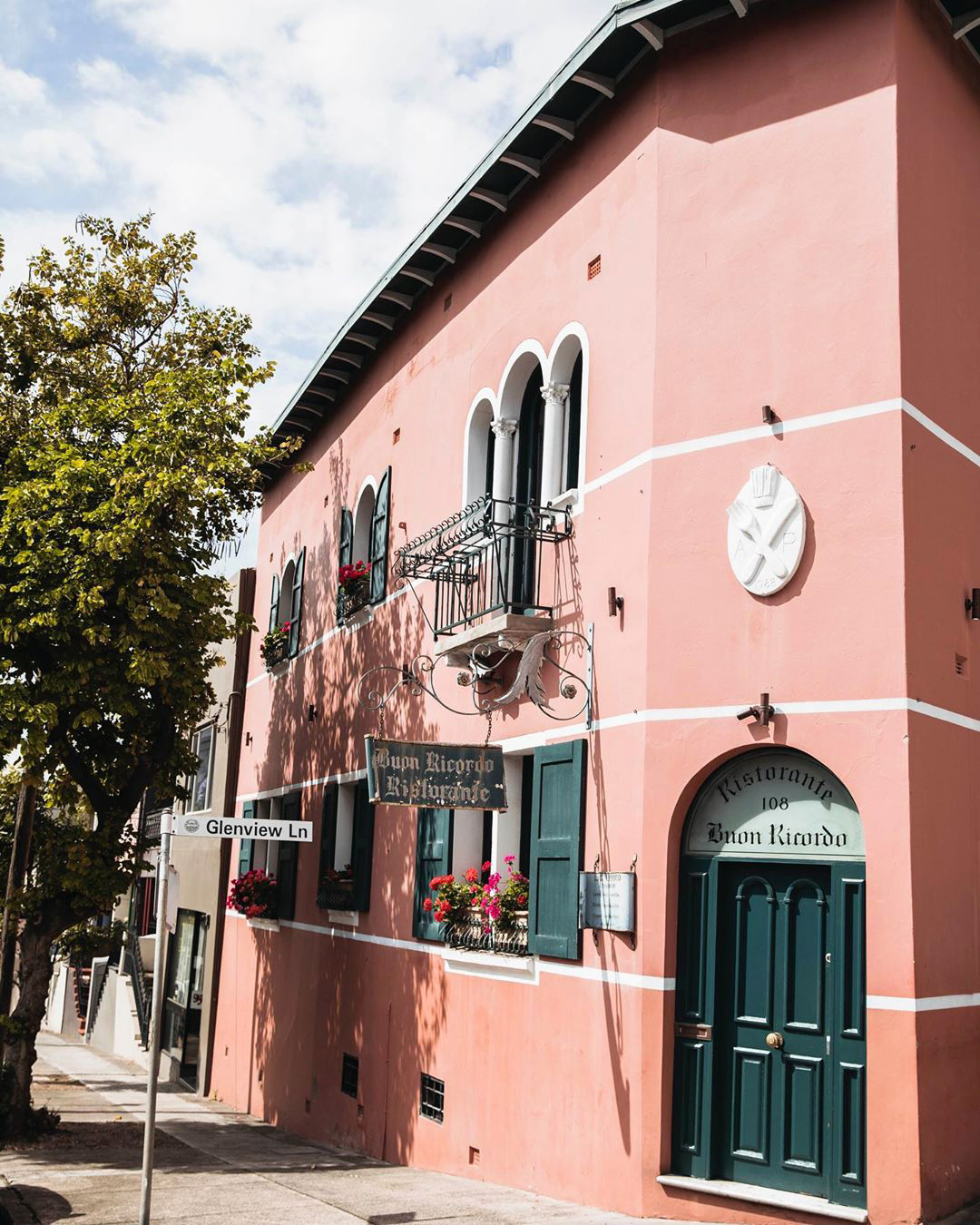 A couple of years ago, this old-school Italian fine diner, located in the backstreets of Paddington, changed hands and head chefs after 34 years in the biz. Owner Armando Percuoco sold Buon Ricordo to his protege, head chef David Wright and his wife Rosalba Bertocci, and, thankfully, it's landed in four very capable hands. From entrees of kingfish crudo with crystallised Campari to rich pastas and incredible mains, the fare here is second to none. Book here.
Must try: Fettuccine al tartufovo—AKA truffled egg pasta—which has been on the menu for decades.
Ormeggio At The Spit
Mosman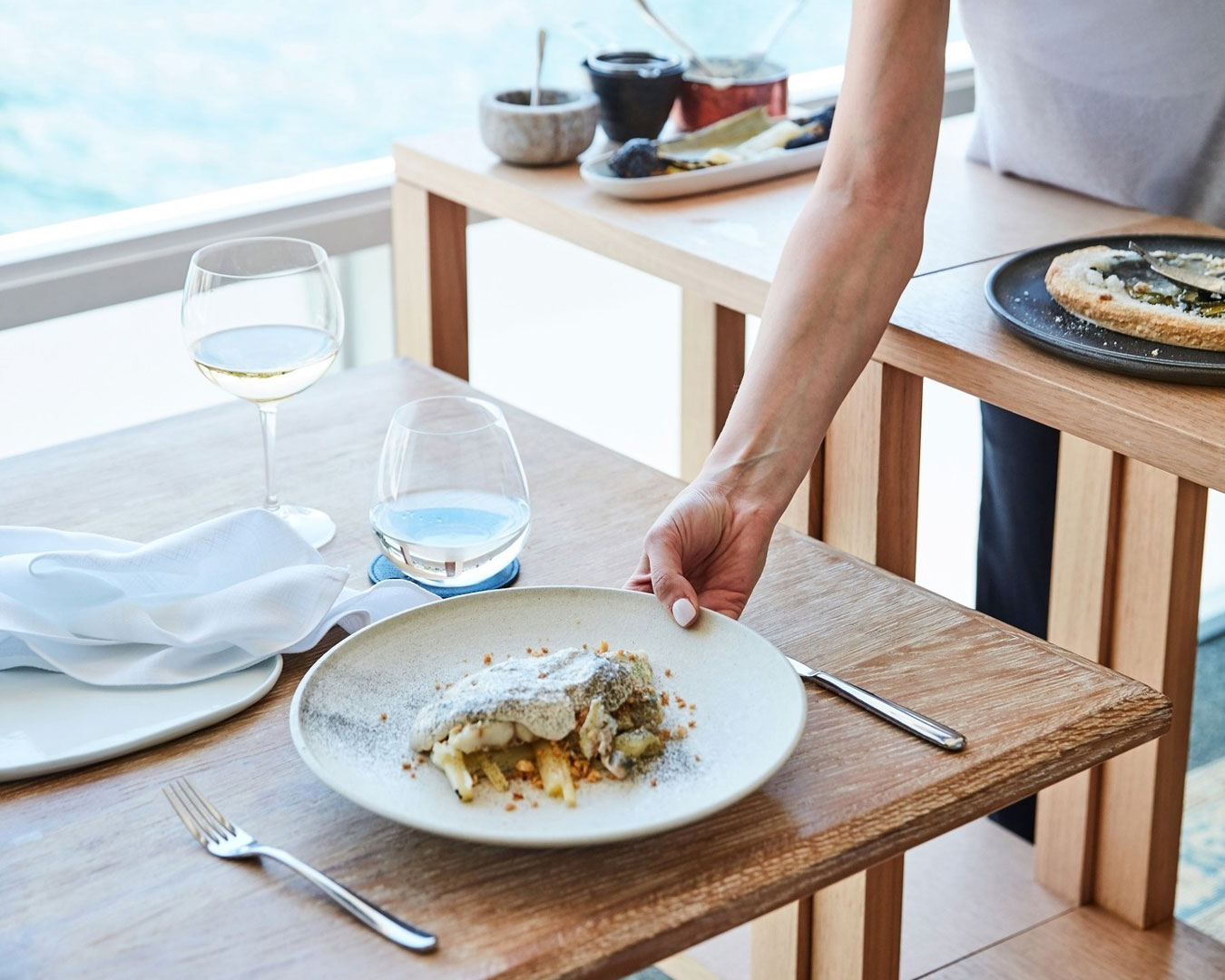 Overlooking the water, Ormeggio At The Spit treats diners to superb contemporary Italian food and some of the finest Sydney views. The awarded restaurant uses the highest-quality produce, along with new and traditional cooking techniques to create the superb Ormeggio experience. Recently, the restaurant underwent a revamp, making its waterfront digs more casual and shifting to a more sustainable and entirely meat-free menu. It might not be the finest of fine diners on the list, sure, but it does upscale casual dining very, very well. Naturally, seafood is the main focus here; however, many of the vegetarian dishes are also worth ordering. Book here.
Must try: WA black marron cooked two ways—with cocktail sauce and cos lettuce and with risotto, lemon, and mascarpone.
LuMi Dining
Pyrmont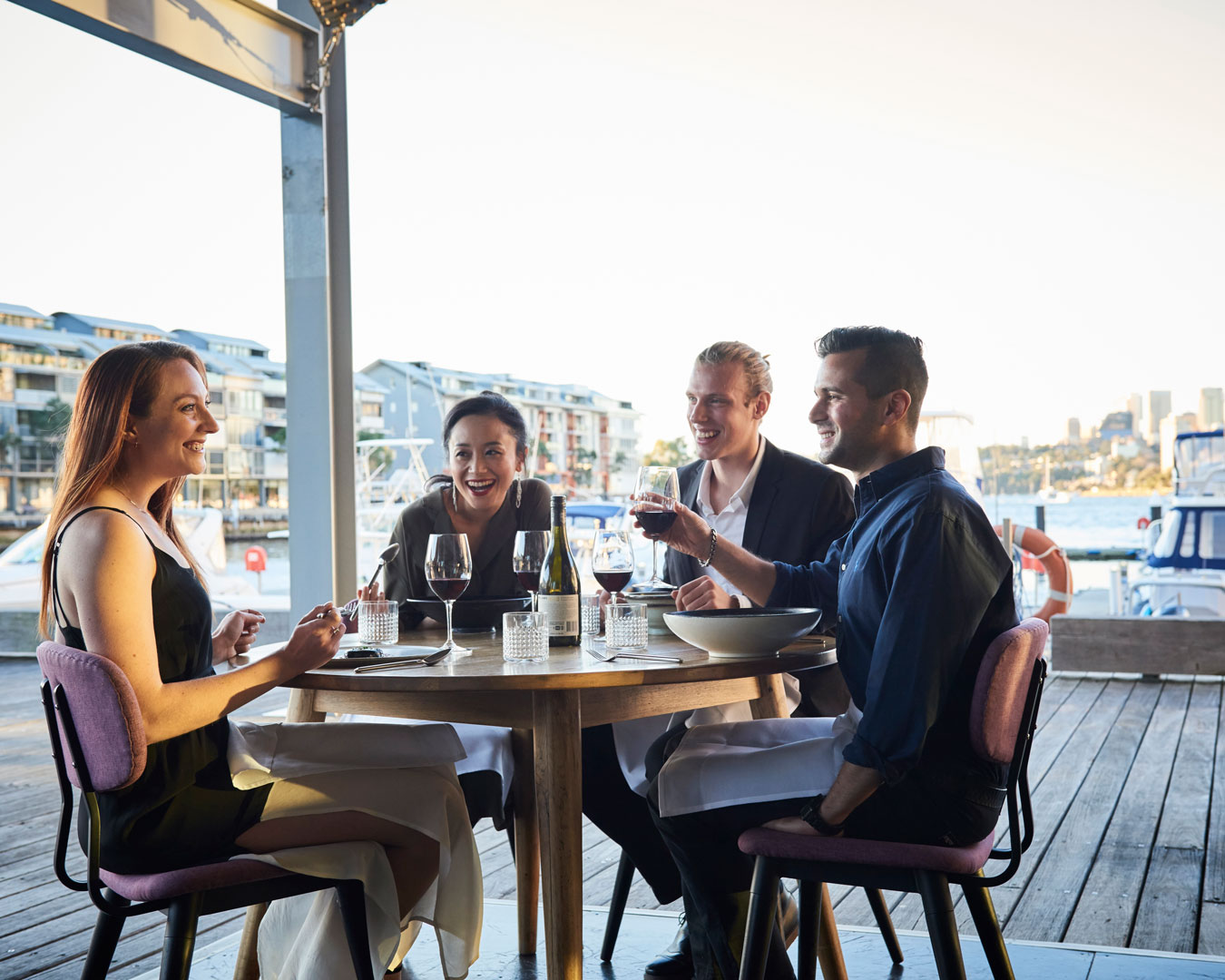 Located at Wharf 10 in Pyrmont, LuMi Dining shines under a ceiling of hanging pendant lights. The stunning interior design decision makes all the more sense when you're told that LuMi translates to 'small lights'. Here, you're in for a truly unique and luxurious dining experience—the view of the harbour is incredible, the service is flawless, and the calibre of the food is truly next level. If you're after truly authentic Italian cuisine, LuMi is not for you. The fine diner is Italian, yes, but serves up plates with a Japanese twist. And it's degustation only, so be prepared to spend $255 per person (plus $115–215 for wine pairing). Sound right up your alley? We recommend coming here for a long lunch to make the most of those stunning water views. Book here.
Must try: Lumi's Tasting Menu (it may be your only option, but it's defintiely worth trying).
Still hungry? Check out Sydney's best pizza joints, as voted by you.
Image credit: Nikki To, Paski Vineria Poplare, PELLEGRINO 2000, Fratelli Paradiso, Alberto's Lounge, CicciaBella, Kindred, Bastardo, I Maccheroni, Marta, Pasta Emilia, Osteria Di Russo & Russo, Beppi's, a'Mare, Icebergs Bar & Dining Room, Buon Ricordo, Ormeggio At The Spit, Destination NSW