Looking for the best Italian restaurants in Sydney? The pasta-bilities are endless.
Whether you're craving a cheesy homemade lasagne or in the mood for tagliolini with scallops, this city offers a delicious and dynamic range of authentic Italian dining experiences, from bustling bars to more relaxed family-style feels.
From Bondi Beach to the city shores of Stanley St, here's where to find the best Italian in Sydney.
Fratelli Paradiso
Potts Point
Next year, Fratelli Paradiso will celebrate its 20th anniversary in Potts Point's esteemed Paris quarter, solidifying itself as one of Sydney's most beloved inner-city institutions. When you've been at it this long, each dish practically comes with its own mouth-watering guarantee. Serving authentic Italian food from breakfast through dinner, Marco Ambrosino and brothers Giovanni and Enrico Paradiso have really nurtured this upscale home-style restaurant favoured by locals and visitors alike.
Must try: It would be a sin not to suggest their renowned Lasagnetta Bolognese, made with sheets of green spinach pasta and served bubbling hot in all its cheesy glory.
10 William St
Paddington
The Paradiso brothers strike again, this time bringing their specific brand of Sydney-inspired Italian to the side streets of Paddington. Deemed a vino bar first and a restaurant second, whatever you want to call it, one thing's for sure: 10 William St is the most vibey Italian spot in all of Sydney. Always bustling, this hole-in-the-wall style eatery is the perfect place to bring a date or a handful of thirsty mates.
Must try: A staple since the beginning and conceived by ex-Chef Dan Pepperell (now at Alberto's), you absolutely cannot visit 10 William without devouring a pretzel with whipped bottarga.
Ragazzi
CBD
Right next to the City Recital Hall in Angel Place, you'll find Ragazzi. The newish kids on the block opened their wine and dine bar back in November of 2019, but this is far from co-owners Matthew Swieboda, Scott Williams and Nathanial Hatwell's first rodeo. The dynamic trio already has two popular local eateries under their belt—Darlinghurst's Love Tilly Devine, and Dear Saint Eloise in Kings Cross. Translated from Italian, "Ragazzi" means "Lads" and these ones are all about handmade pasta and wine.
Must try: According to Swieboda, their pasta dishes are where it's at. "We believe that pasta is so much more than just a vehicle for its sauce—it's the textural heart of the dish, giving texture and mouthfeel while the sauce brings the flavour. Handmade pasta when it's done properly gives so much happiness and satisfaction while remaining so simple."
Bar M
Rushcutters Bay
Formerly Bar Machiavelli, the first thing you'll notice about Bar M is how jaw-droppingly massive it is. Housed within the historic exposed brick warehouse space at 10 Neild Avenue on the border of Paddington and Rushcutters Bay, Bar M serves antipasto and homemade pasta in a truly unique setting. Whilst pastas can set you back anywhere from $39 to $59 (and the same for mains) the servings are as generous as they are tasty. A scene for those looking to be seen, this Eastern Suburbs hotspot is big, bougie and always in the mood to party.
Must try: Though all their seafood options are worth a try, it's their spaghetti with prawns, mushroom, garlic, chilli and basil that really sings.
Alberto's Lounge
CBD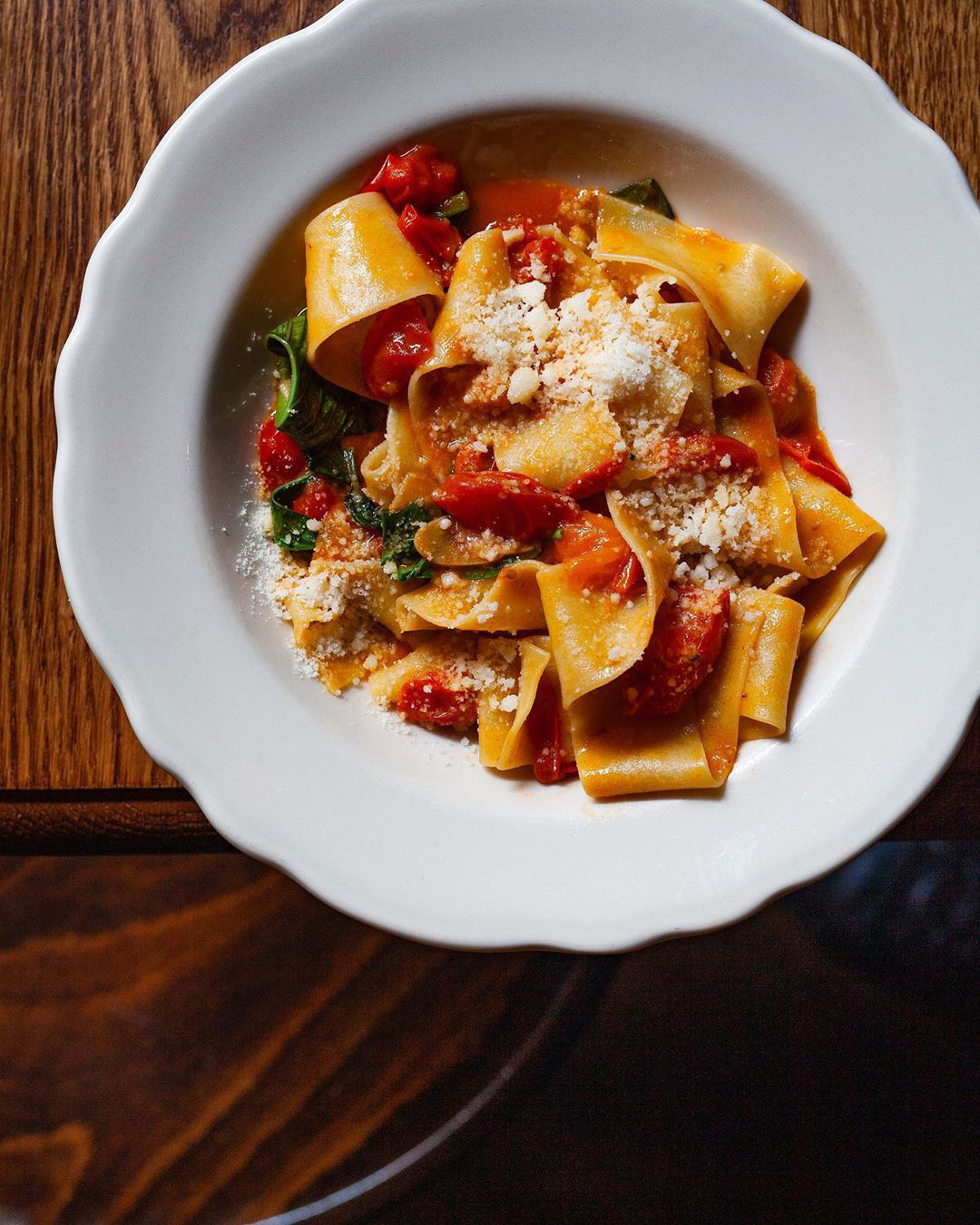 Everything Sydney chef Dan Pepperell touches seems to turn to gold. First, he invented 10 William's signature pretzel, then he went on to win Restaurant Hubert two hats in its first year, and now he's making pasta-based dreams come true at the effortlessly cool Alberto's Lounge in the city. Yet another win for the Swillhouse Group, Alberto's serves innovative and modern Italian cuisine paired with an extensive wine and cocktail list. Busy every minute they're open, it's best to call ahead to book, though walk-ins are welcome if you don't mind a well-worth-it wait.
Must try: According to Pepperell, "Right now tomatoes are singing and in season, so I like the spaghetti al Pomodoro. Also, being summer, the hazelnut gelato!"
CicciaBella
Bondi And Parramatta
Maurice Terzini's Bondi hotspot is completely devoid of FOMO. The minute you take the stairs down to the bustling Italian food and wine bar, you get the feeling that you're exactly where you're meant to be. Once helmed my rebel chef Mitch Orr, in 2020 Nic Wong has taken over, landed squarely on his feet in CicciaBella's kitchen bringing experience from Cho Cho San and Orana to the fold. And heads up, CicciaBella has just opened a new Parramatta outpost.
Must try: Pasta fiends will love the bucatini ossobuco ragu or, for a seafood edge, the crab malloreddus.
Osteria Di Russo & Russo
Enmore
Whether you're an Inner West local dropping in for a midweek bite or an out-of-towner looking for the perfect weekend dining experience, Enmore's Osteria di Russo & Russo is your answer. Here, you'll find authentic Italian with an Australian twist on an innovative, always-changing menu designed by head Chef Alex Wong.
Must try: According to co-owner Marc Russo, the smoked swordfish (sustainably sourced for Ulladulla), served with peaches, mascarpone and horseradish is a must. "Basically, this dish is awesome because it takes the classic beef carpaccio and makes it summery and fresh. Raw swordfish is incredible, and the sweetness from peaches in their peak is a perfect balance to the smoke. Far and away the most popular answer when I ask guests "what was your favourite dish?", he says.
Buon Ricordo
Paddington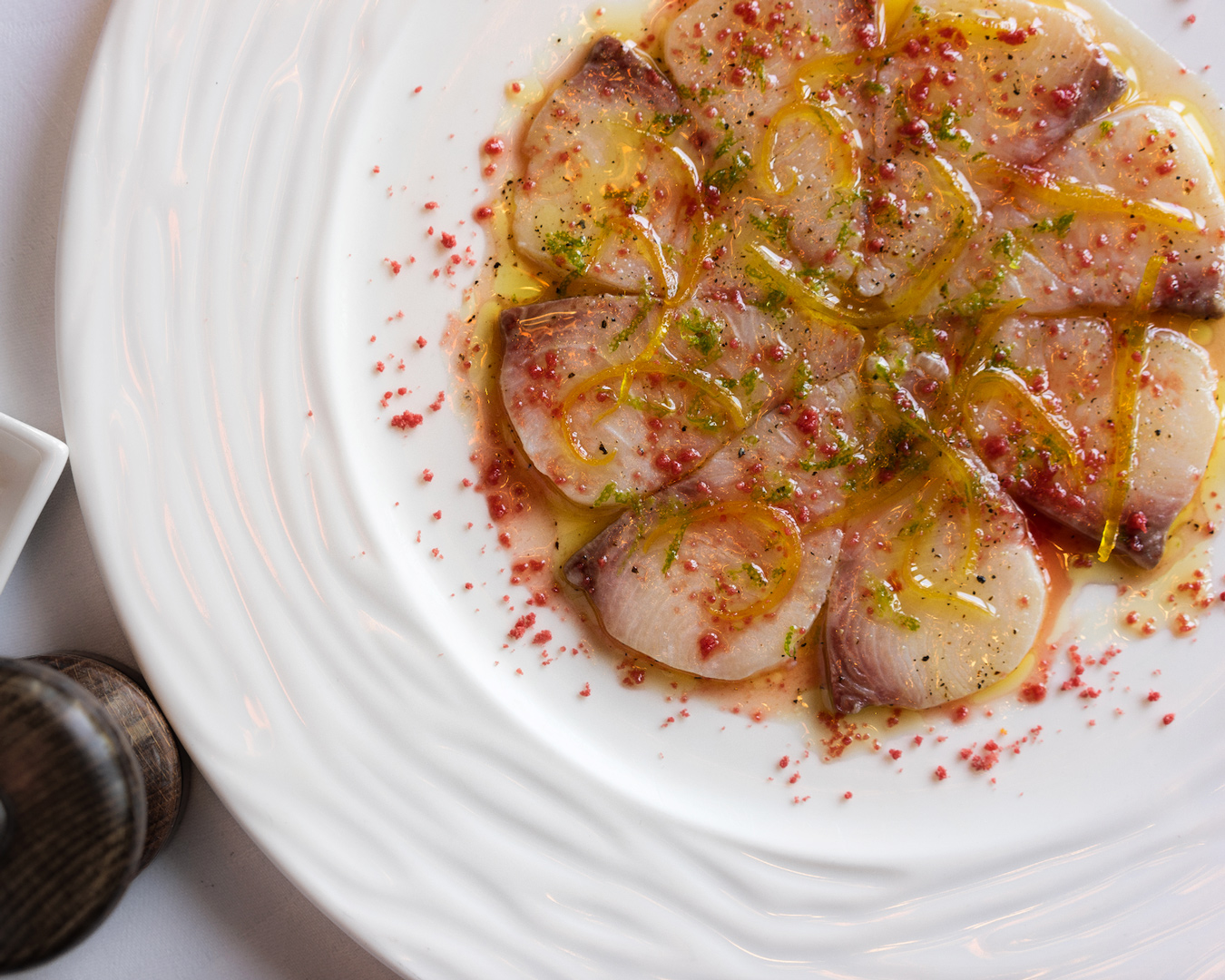 Just shy of two years ago, this old school high-end Italian restaurant in the backstreets of Paddington changed hands and head chefs after 34 years in the biz. Owner Armando Percuoco sold Buon Ricordo to his protege, head chef David Wright and his wife Rosalba Bertocci, and thankfully, it's landed in four very capable hands.
Must try: Restaurant manager Luke Wright instructs you to start with Crudo alla Negroni, "the chef's salute to the infamous Negroni cocktail where kingfish is marinated in gin and vermouth, finished with candied orange and a sprinkling of crystalized Campari." Next, devour the braised Milly Hill lamb shoulder with balsamic glaze, braised witlof, black olives and finished with roast almond and orange zest. "It's the kind of main that has ensured Buon Ricordo 34 years of loyal customers", he says. Pasta-wise, you can't ignore Buon Ricordo's iconic truffled egg pasta.
Totti's And Bar Totti's
Bondi AND CBD
After first turning the local Bondi Italian dining scene on its head in 2018, Totti's is branching out. Much like their signature woodfired flatbread, the Merivale eatery is expanding, opening a second iteration of its modern Italian restaurant on George Street in the CBD. Regardless of which Totti's you taste (the Bondi original or the new CBD spot), their use of premium produce and innovative ingredients remains unmatched. Chic, delicious, and always a vibe.
Must try: With a menu made to share, you can't go past their small plates of local house-made antipasto including kingfish sashimi, burrata, prosciutto and baked tomino. Oh, and that flatbread.
LuMi Dining
Pyrmont
Atop Wharf 10 in Pyrmont, LuMi Dining shines under a ceiling of hanging pendant lights. The stunning interior design decision makes all the more sense when you're told that in Italian, LuMi means "small lights". Here, you're in for a truly unique and luxurious dining experience—the view of the harbour is incredible, the service is flawless, and the calibre of the food is truly next level.
Must try: LuMi serves a set degustation menu at $185 per head, so you won't have to worry about missing out on anything. If you end up ordering off the bar menu, though, be sure to sample the tagliolini scampi served with sunflower seeds and white truffle ($18) .
Icebergs Dining Room And Bar
Bondi
An iconic Sydney destination, Icebergs boasts one of the most incredible views in all of Sydney. But beyond the epic views, Icebergs also offers a delicious Italian dining experience perched upon the cliffs of South Bondi. Since 2002, restaurateur Maurice Terzini has nurtured what has now become quite the Australian institution, renowned for its showstopping decor and unbeatably fresh seafood.
Must try: You'll be hard-pressed to find plumper oysters this side of the Pacific, and the fish of the day is always light, fresh, and cooked to perfection.
Bar Reggio
Darlinghurst
By this point, it's safe to assume that every person in Sydney has now enjoyed this cheap and cheerful family-style pizzeria on the corner of Stanley St in Darlinghurst. Located minutes from the local bottle shop, you can bring your own beer, wine and spirits for only $3 corkage per person, making it a popular weekend dinner option, especially for groups. Loud, busy, and charmingly no-frills, Bar Reggio is as classic as Italian joints come.
Must try: The pepperoni pizza, but add gorgonzola. Don't ask—just eat.
Looking for pizza specifically? Here are 11 of our favourite Sydney pizza joints.
Image credit: Rocket K Weijers, 10 William St, Ragazzi, Alberto's, CicciaBella, Buon Ricordo, Nikki To