Bar Mammoni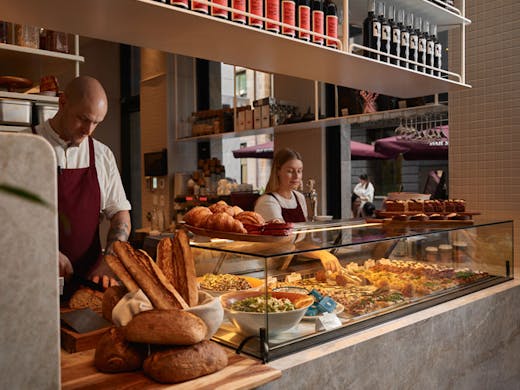 Want a bar that does it all? Bar Mammoni is a jack of all trades when it comes to dining and drinking in the CBD—but that's not to say it's a master of none.
Located on Loftus Lane in the Quay Quarter precinct, the pint-sized all-day bar is where you can pick up a coffee and a brekkie sandwich on your way to work, sit down for a quick lunch, pop in for a croissant cannoli when the afternoon slump hits, and kick back with a negroni as you unwind with work mates after a long, hard day.
The all-day bar is from House Made Hospitality, the same team behind neighbouring Hinchcliff House venues Apollonia, Grana, Grana Bakery, and Lana. In essence, Mammoni is a representation of its siblings—its oh-so-flaky pastries are very much in step with Grana while its Italo-inspired cocktail offering is similar to Apollonia. And hats off, because it works.
"We wanted to create a venue where the quality of snacks and drinks is just as good at 7am as it is at 7pm. That reliability of service and quality ingredients is at the heart of everything we do," says House Made Hospitality Creative Director Scott Brown.
We have Jonny Pisanelli to thank for the next-level pastries like the Gelato Millegolie, Sugar Lips croissant cannoli, and the Croissant Cube, all of which are baked overnight at Grana Bakery before making their way to Mammoni. Pair one of these decadent sweet treats with a $2 espresso (yes, really) and you can't have a bad morning.
Come lunchtime, Head Chef Jason Duncan has a line-up of pizza slices filling the heated countertop. These are far from your late-night slices of pie, though, with the dough fermented over 72 hours and loaded with toppings such as 'nduja and caramelised onion; prosciutto, blue cheese, and boozy figs; and confit garlic, fennel, and gooey stracciatella. The lamb meatball spiedini, scallops, fresh salads, cheese, and charcuterie make for perfect after-work snacks, too.
For drinks, expect Italian classics like aromatic spritz, negronis, amari, beer, and vinos from both Italy and Australia (we're particular fans of the Aussie trebbiano by the glass).
Just don't bring a crowd with you—the 100sqm space seats just 30 punters, with six high stools inside along the window counter and the remaining seating outdoors. Burgundy umbrellas, a few lush plants, and simple white furniture line the laneway and complement the laidback and transient nature of Bar Mammoni.
As for the name? Well, "mammoni" is the plural for "mama's boy" and, considering this all-day bar does it all, you're pretty well looked after here—from cappuccino to cocktail.
Image credit: Steven Woodburn
---