Cafe culture in Sydney has totally changed and evolved over the last decade or so. In some pockets of the city, we've moved on from milky lattes and avocado on toast to sipping frothy nitro brews and indulging in breakfasts that draw on flavours from some of the most intriguing far-flung corners of the world. Elsewhere, we've finessed espresso and scrambled eggs to a point where we can easily claim to have one of the best cafe scenes in the world (no bias here, whatsoever).
Because there's really no better way to start your day than with a stop-over at a cafe, and because cafes, like pubs, add so much to our day-to-day grind, here we've written up a map of the best of the best cafes in Sydney in 2023.
Sydney's CBD used to be pretty devoid of cool cafes, bars, and restaurants. These days, there are that many epic venues to try, with newbies opening all the time too, we reckon you'd be hard-pressed to tick them all off in a year. Here are the top spots to get your morning fix when you're in the thick of Sydney's central business district.
Edition Coffee Roasters
What looked like just another sunlit Darlinghurst corner cafe, quickly become something of a hallmark for Sydney's new era of cafes. With a Scandi-Japanese fusion breakfast menu, heads definitely turned. Nowadays, the Darlinghurst outpost is closed and Edition has settled at Haymarket's Darling Square dining precinct. The sleek charcoal-black interior, designed by Sydney-based YSG architects, is inspired by an old Japanese farmhouse. Pop in for Nordic open sandwiches (smorrebrod) alongside bento boxes, katsu burgers, and jiggly soufflé pancakes. As one of Sydney's best specialty roasters, coffee is second-to-none here. Edition uses the best brewing techniques, including batch brew, pour-over, aero-press, Japanese drip, and cold brew.
Boon Cafe
Also pushing Sydney to see beyond avo on toast in the AM is Boon Cafe. Operating as an all-day cafe, restaurant, and Thai grocer, for breakfast (8am - 12pm), you'll find Single O coffee served alongside chicken or crab congee, omurice with jalapeno sriracha sauce, and pork skewers with sticky rice. There are also croissants smothered in lime-green pandan custard, a Thai-style fried chicken burger, brown rice bowls, and more. As well as its long and adventurous menu, everything is made in-house from scratch, making Boon a super special cafe in Sydney.
Industry Beans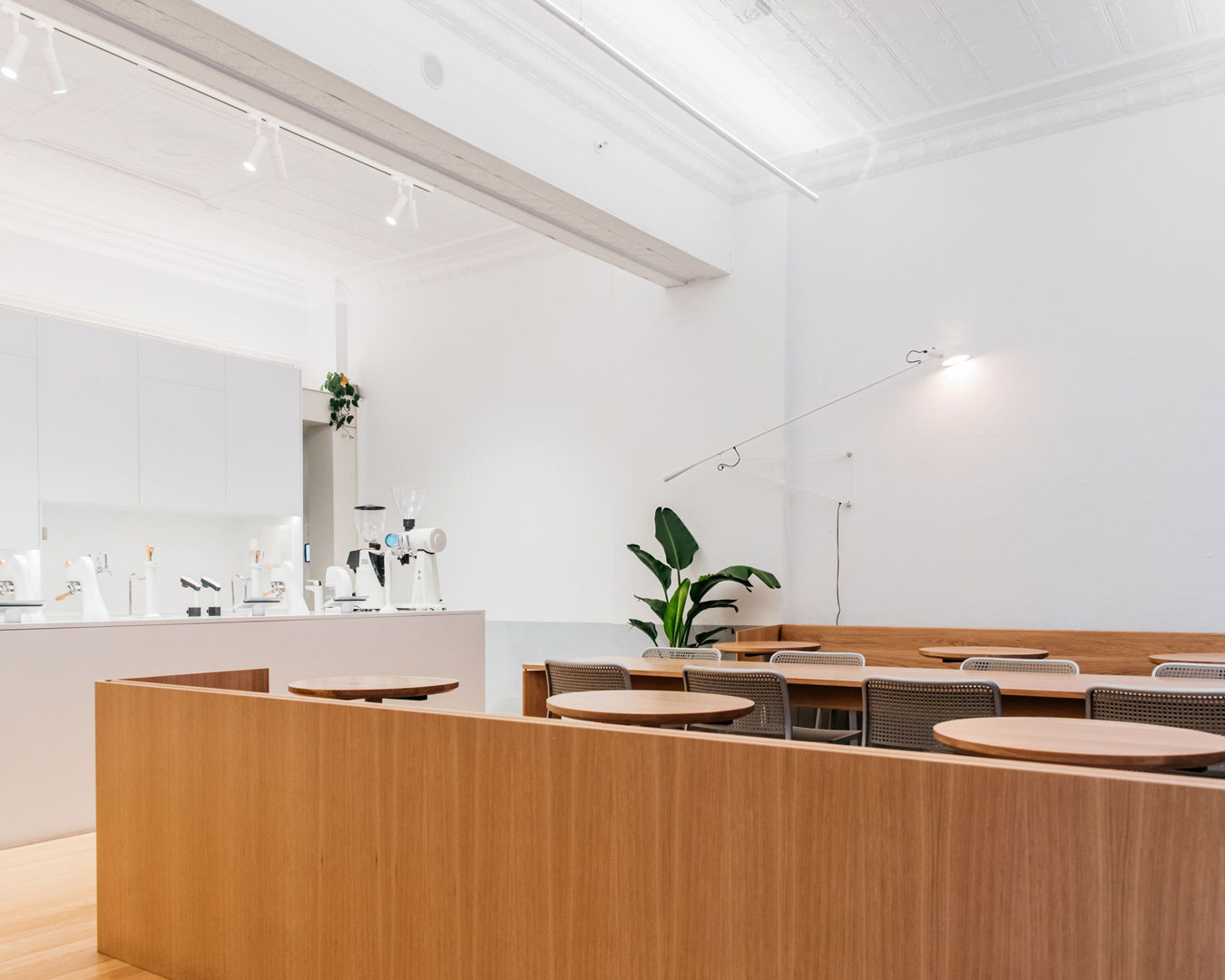 Melbourne-based Industry Beans set up shop on York Street in the Sydney CBD back in 2019. Called a "concept cafe" it's sleek and minimalist inside, but still warm and inviting with timber booths to seat up to 20. As well as lattes and cappuccinos to fuel your morning commute, you'll find Industry Beans famous "Bubble Cup"—essentially a caffeinated bubble tea made with cold brew, tapioca pearls, and house-blended condensed-soy milk. Order yours in the OG flavour, salted caramel, or a vegan spin too. The food menu is laced with coffee (in a refined way)—think coffee caviar that sits atop fruit sashimi, and a coffee-rubbed Wagyu burger.
St Dreux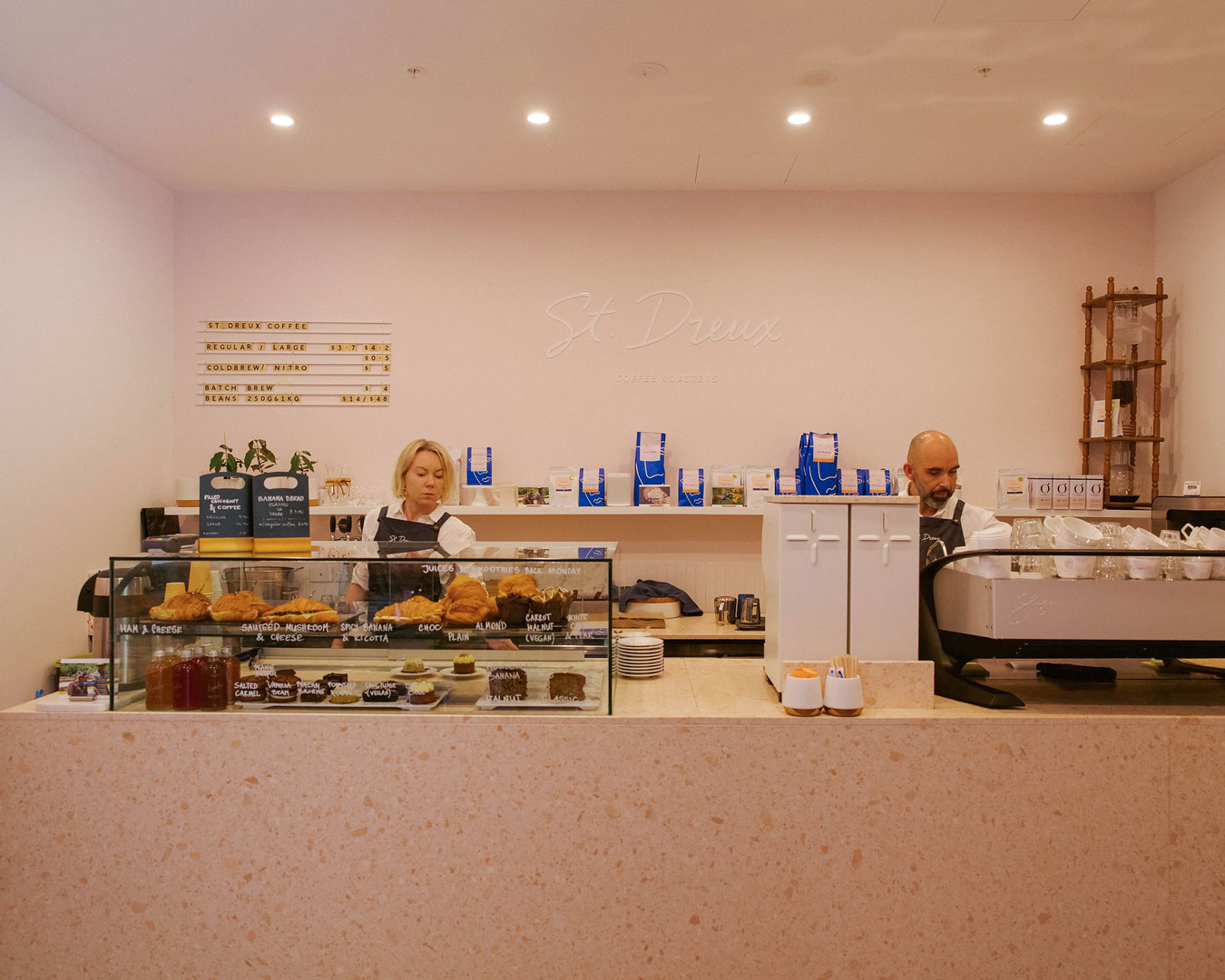 Named after the patron saint for coffee, this pale pink-hued city espresso bar is housed within the recently finished Barrack Place mini dining precinct. Here, it's all about coffee with a cabinet of delicious pastries to match. As for the coffee, St Dreux creates three signature styles served in bright Yves Klein blue packets: The Shepard is a light roast, The Silver Bullet is a medium roast, and The Rainmaker is dark. For your morning caffeine hit, we recommend indulging in the nitro, which is cold brewed for up to 16 hours before it's infused with nitrogen. Pair that with a stuffed mushroom and cheese croissant and your day just got a whole lot better.
Whether you want to pair your espresso with salt spray and sparkly ocean views, or you're looking for the hot spots in Sydney's eternally cool city fringe suburbs like Surry Hills, Darlinghurst, and Potts Point, we've got you covered right here.
Single O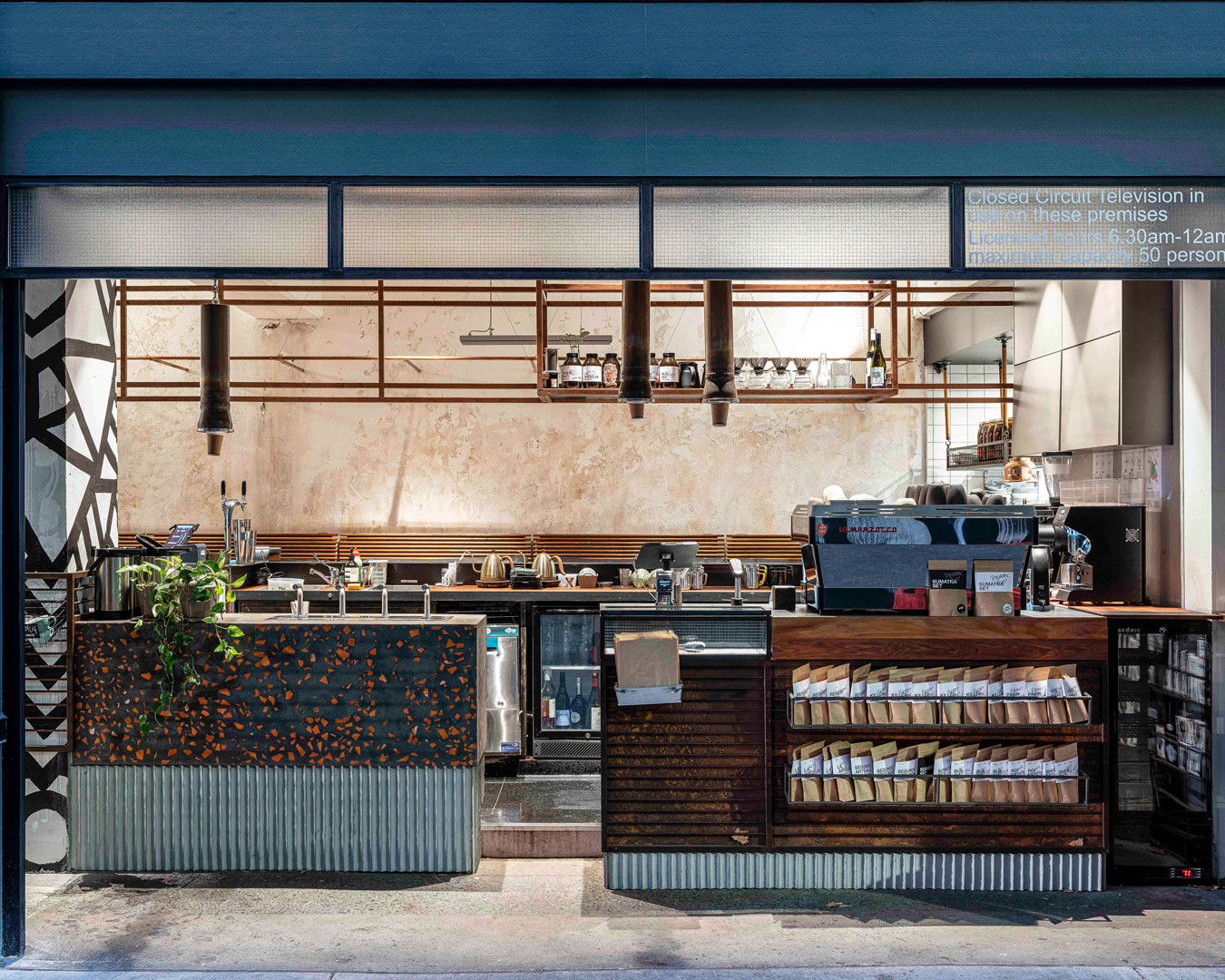 Sydney's cafe scene today would hardly exist were it not for the pioneers at Single O and all their Reservoir Street hijinks. Indeed, these guys have been championing caffeine in all its finer formats since 2003. Their pint-sized Surry Hills cafe was one of the spots where Sydney's coffee culture really kicked off. These days, the cafe has undergone a full design refurb by Luchetti Krelle, and Single O, true to the coffee business's pioneering nature, has made a series of major commitments towards sustainability (read more here). As well as a self-service batch brew bar, the menu at their Surry Hills cafe is 50% plant-predominant. Legends.
Paramount Coffee Project
You'll find Paramount Coffee Project in one of Surry Hills' most beautiful buildings. As well as PCP, the stunning Art Deco Paramount House building, houses a boutique hotel, underground cinema, stylish rooftop fitness centre, and one of the most beautiful co-working spaces we've ever laid eyes on. Once you've taken all of that in and found a table—it won't take you too long to see why this spot is one of Sydney's most popular cafes. There's more than just coffee on the menu (crumbed eggs on sourdough, anyone?), maintaining the integrity of the humble bean is priority numero uno. Here, exceptional local and international roasters are celebrated, with new beans and roasters from all over the world regularly on rotation.
Room 10
Over in Potts Point, Room 10 is another big-time hero on the map of Sydney's best cafes. You'll find this pint-sized spot down Llankelly Place—the end of laneway marked by a crowd of locals waiting for coffee or catching up with mates. A favourite with chefs and in-the-know foodies, Room 10 is uncomplicated and casual, serving Mecca coffee and an all-day breakfast and lunch menu. The breakfast rice with black quinoa and stewed rhubarb is a standout and their bacon and egg roll is one of the best.
In early 2021, the Room 10 crew extended their offering across the laneway with Pina, a fresh space with a similar philosophy to the OG, but a bigger kitchen to add extra flourishes to existing Room 10 favourites.
Porch & Parlour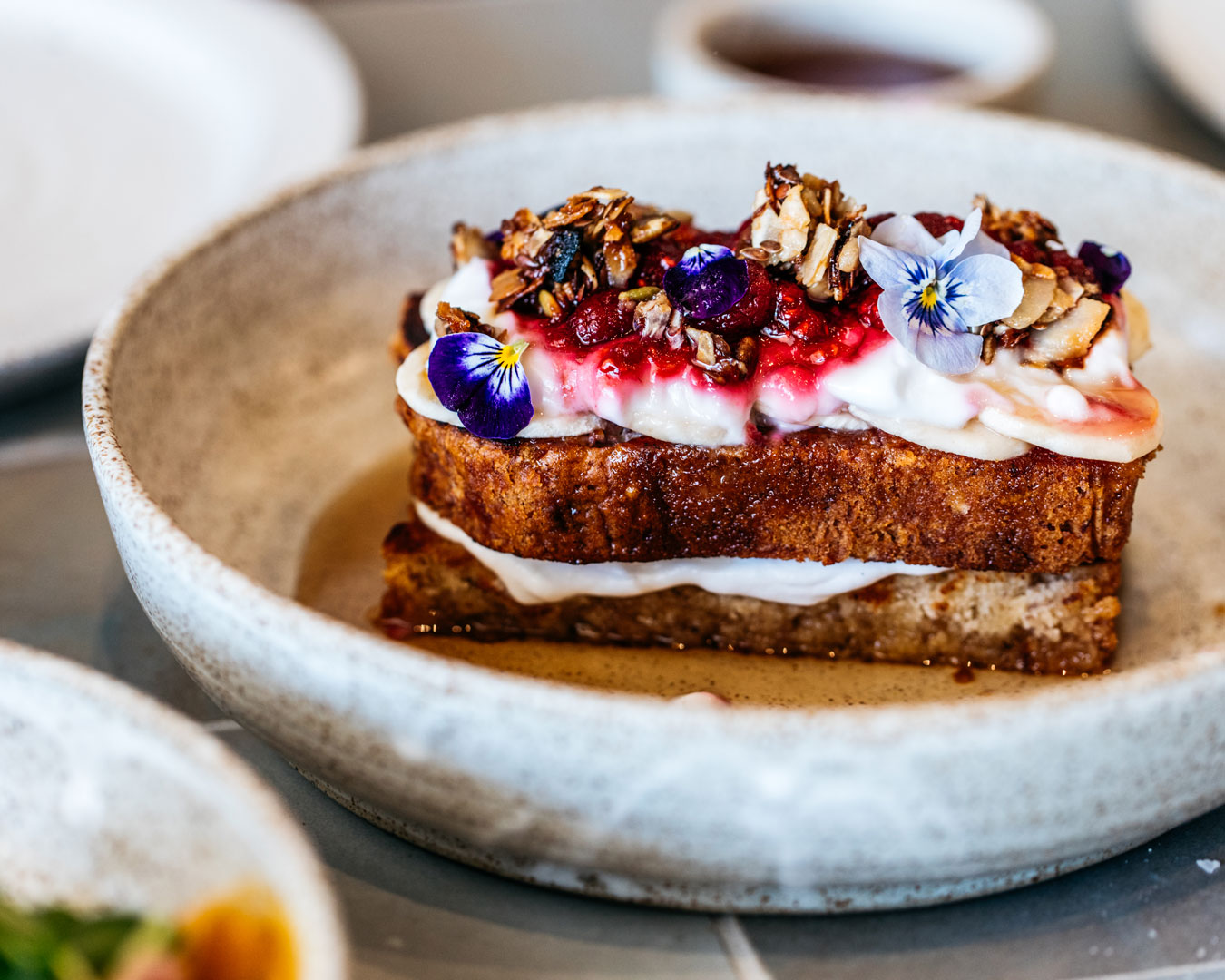 There's no denying Porch and Parlour is a North Bondi icon. Led by locals Sammy Smith, Sarah Hendriks Smith, Ljuobo Milicevic, and Patrick Coleman, this beachside institution has stood proud on the sunny strip of Ramsgate Avenue for over a decade now. Here, the focus is on wholesome, wellness-centred food—but with far more authenticity and bite than most other Bondi cafes can claim. Served on the cafe's own brand of ceramics (Porch Ceramics) you can tuck into a turmeric folded omellete, a bright green pea pancake, a kimchi toastie, an ocean trout burger, or scrambled egg with falafel, hummus, and pickled veg. If you're hanging about in the late afternoon (after a swim), we highly recommend checking out Porch & Parlour's sundowner sessions. Hosted from 4pm - 8pm, Friday through Sunday, you can pull up for mezze-style snacks, cocktails, wine, and beer.
Glory Days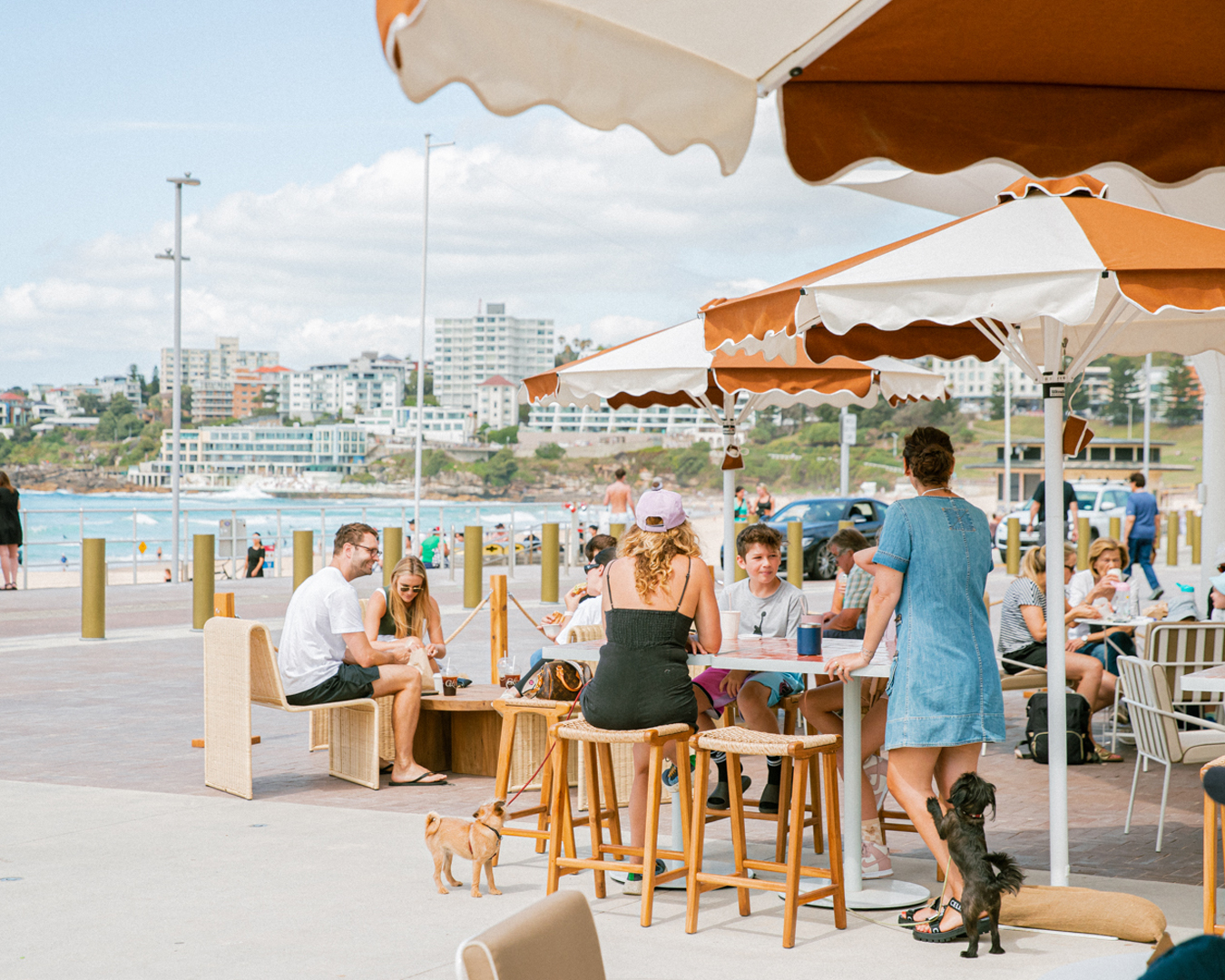 Housed within the refurbished Bondi Pavilion, Glory Days is an all-day diner dishing out sunny breakfast and lunch complete with uninterrupted views of the one and only Bondi Beach. Behind the cafe is The Good Atelier, whose roster of Sydney venues also includes Glorietta in North Sydney and The Woolpack in Redfern. Here, Damien Hyde is heading up the kitchen, dishing out light and bright staples like Acai bowls, breakfast burritos, club sandwiches, and scrambled eggs with all the trimmings. Grab yours to go and nab a spot on the sand, pull up on the Pavilion terrace under toffee and cream-coloured umbrellas, or head inside to soak up the John Utzon-inspired interiors by COX Architecture.
Beau & Dough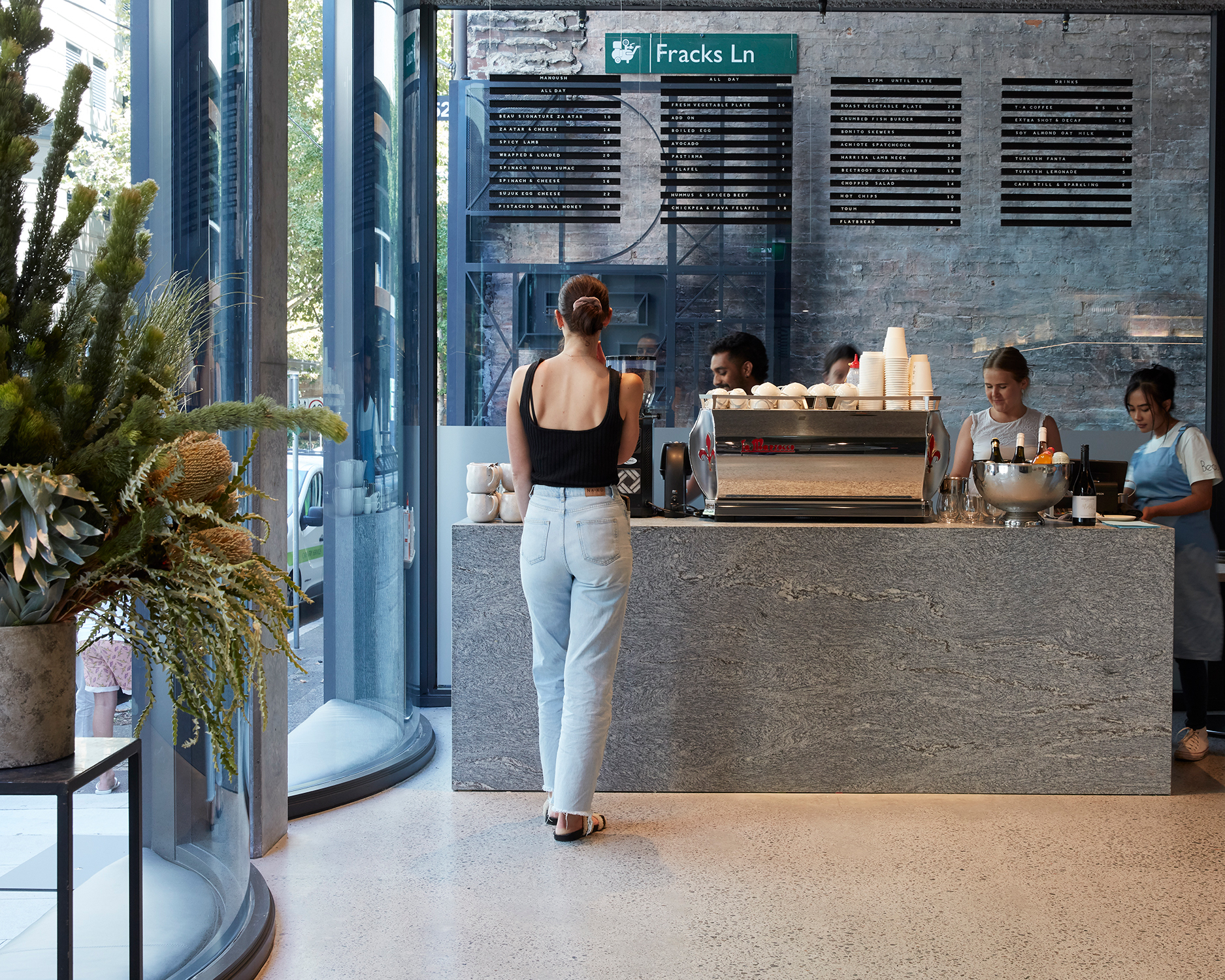 From the NOMAD Group, Beau is a sleek two-part venue in Surry Hills. Hidden down a laneway, Beau & Dough is the bakery-cafe side of the venue, serving coffee and oiled-up za'atar-sprinkled manoush alongside abundant breakfast boards topped with tomato, cucumber, pickles, labneh, sheep's milk feta, olives, and broken eggs. Come midday, the lunch menu includes kofta wraps, spiced chicken shawarma, and a vegetable plate of fried cauliflower with zhug and tahini, roast pumpkin and baba, silverbeet, and muhammara.
Bar Lucio
Did someone say coffee, cannoli, and fresh AF focaccia? Bar Lucio is a go-to for Italian daytime treats and top-quality Italo-style coffee. As you enter through the cobalt-painted door, you step into a small slice of Naples. Owned and run by celebrated chef and award-winning pizza maker, Lucio Del Falco, you'll find the counter stacked high with Nutella bomboloni, pistachio cannoli, and code d'aragosto, all of which are made in-house. The menu also features savoury treats like eggplant parmigiana, porchetta panino, and focaccia stuffed with ricotta, pistachio and mortadella. You can also just swing by just to pick up some of its bread that's baked in the on-site woodfire oven. What really sets Bar Lucio above the rest, though, is its specialty Caffe del Nonno—AKA grandpa's coffee—which is a dessert-y, sweet and creamy cold coffee originating from 1800s summertime Naples.
Cuckoo Callay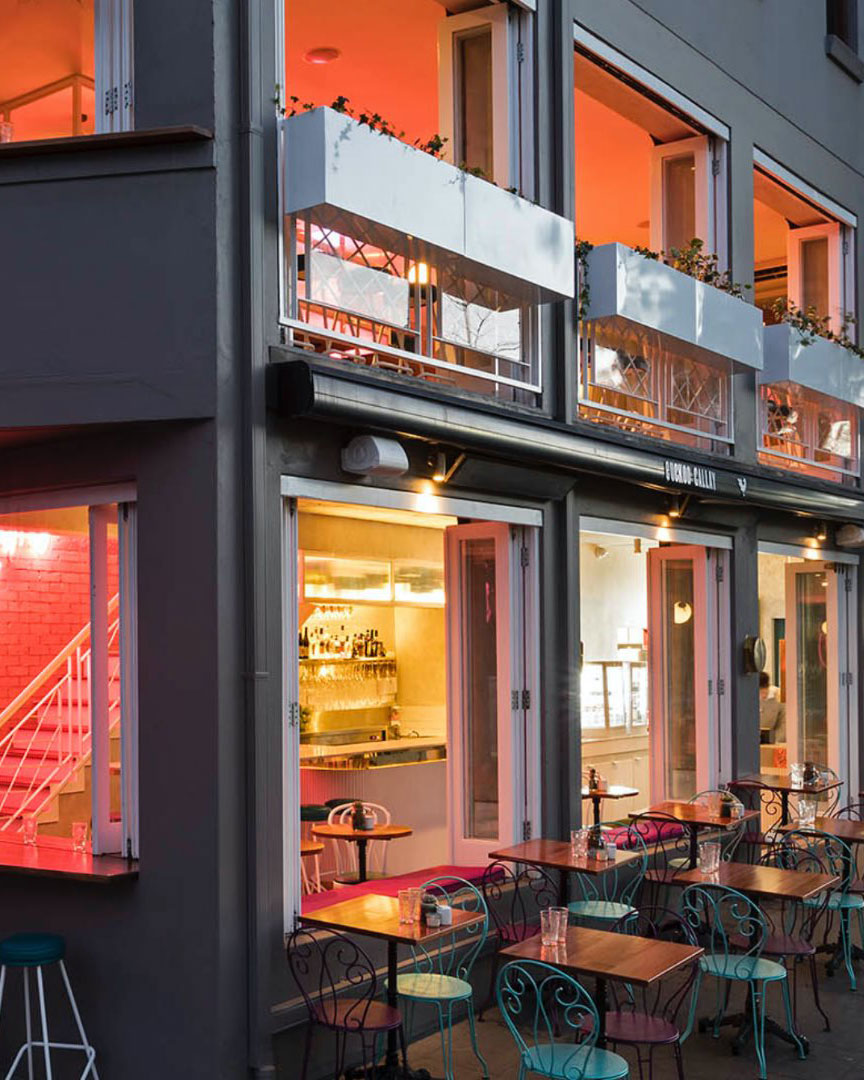 With a name inspired by a Lewis Carrol nonsense poem, Cuckoo Callay hits all the right kitsch notes with pink neon, velvet curtains, and brilliant white marble. But unlike other Insta-friendly venues, the menu holds up, marrying up fun puns and good vibes with legitimately delicious brunch dishes. Like the "Return of the Macdaddy", which is a croissant loaded up with triple smoked bacon, bacon mac n' cheese, 63° egg, tomato relish, and fried shallots. Or, the "I'm So Bondi It Hurts" soba noodle salad with coconut poached chicken or confit salmon. There are two Cuckoo Callay outposts in Sydney, one at Newtown Station and one on Crown Street in Surry Hills, but if we had to choose, we'd pick the Surry Hills spot for its sunny upstairs dining room—perfect for people watching on a Saturday morning.
Bills
On any list of Sydney's best cafes, you can't really skip Bill Granger's bills. A staple on the Sydney brunch scene, from the chef that basically invented brunch in Sydney, bills' ricotta hotcakes are the stuff of legend and, to this day, they are some of the best pancakes in Sydney. These days there are four bills locations—in Darlinghurst, Bondi, Double Bay, and Surry Hills. The original Crown Street outpost has shuffled down the street and has a refreshed look and feel that involves honey-coloured walls, jewel tones, and rattan chairs, but the hotcakes are still there, as are the sweet corn fritters, and silky scrambled eggs. Trends come and go, but bills is forever.
Three Blue Ducks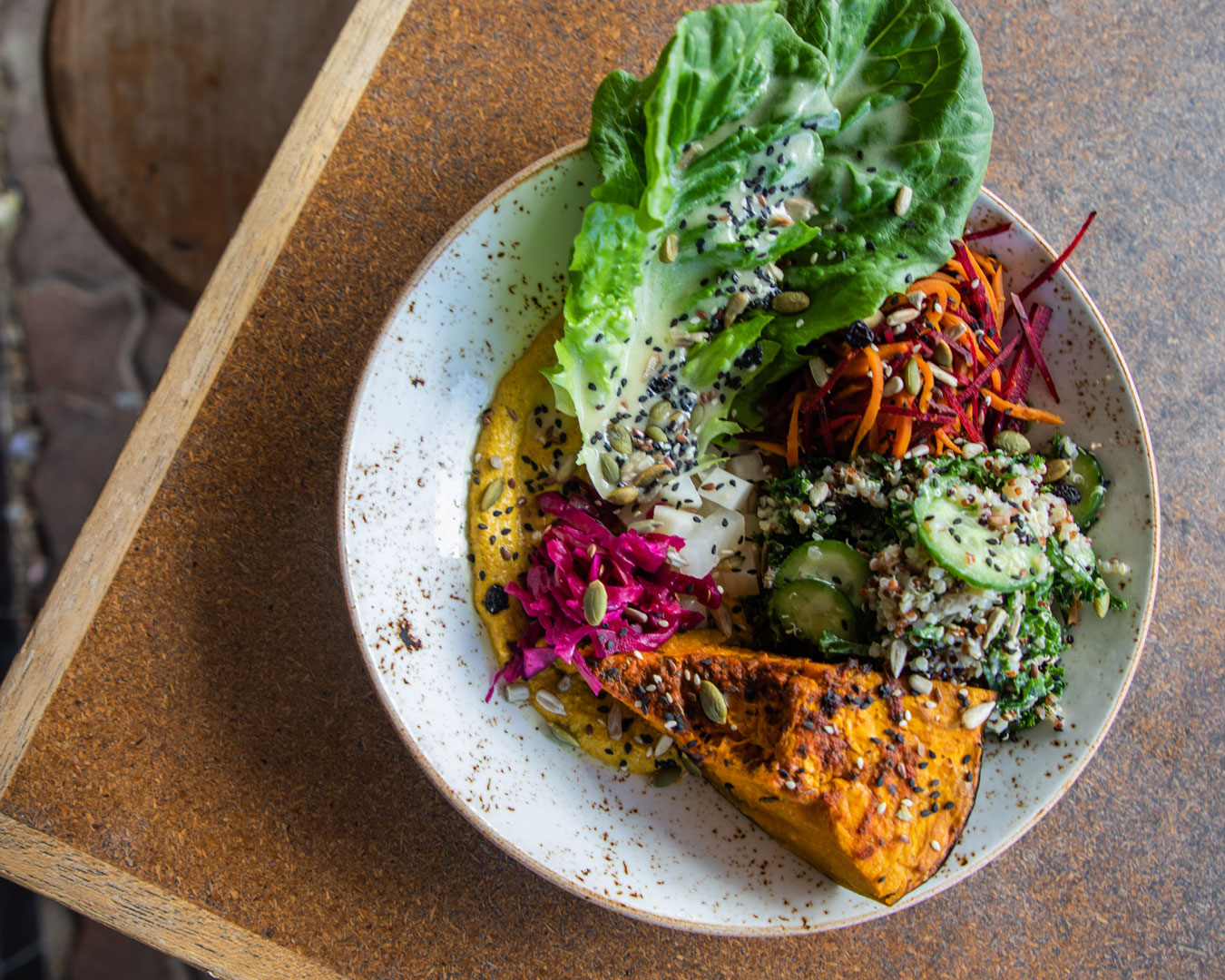 Another superstar within the Sydney brunch universe, Three Blue Ducks' influence has exploded over the last decade since a trio of surfy dudes from Bronte set up shop back in 2010. These days, The Ducks is a full-blown lifestyle, spread across the East Coast of Australia and centred squarely on a more sustainable approach to life and food. From their on-site cafe vegetable garden (featuring bees) in Bronte to their picturesque 80-acre working farm in Byron Bay, Three Blue Ducks have proved produce-driven, sustainable breaky is tastier. In Sydney, you can get your fix in Rosebery with now-famous dishes like scrambled eggs with black sausage.
Artificer
Specialty coffee bar and roastery Artificer is what you get when two coffee kings work together to pay homage to their royal bean. Dan Yee (of Salvage) and Shoji Sasa (ex Single Origin and Mecca) opened the clean and minimal space on Bourke St in Surry Hills back in 2015, amassing a devout following of coffee crusaders ever since. It's pretty serious business here—so if you're looking to dilly-dally with friends whilst sipping on a skim vanilla latte and a heap of avo on toast, head elsewhere (if we're being honest here, with an order like that, Yee and Sasa would probably personally see to it that you did). As the name suggests—an artificer is a skilled craftsman—this unassuming corner spot has perfected the art of espresso. Come and taste the fruits of their hard labour.
If Sydney's splashy Eastern Suburbs aren't you're vibe today, you'll be pleased to know a number of Sydney's best cafes can be found in the Inner West, where things are a little more laidback, occasionally grungey, adventurous, and above all—delicious.
Valentina's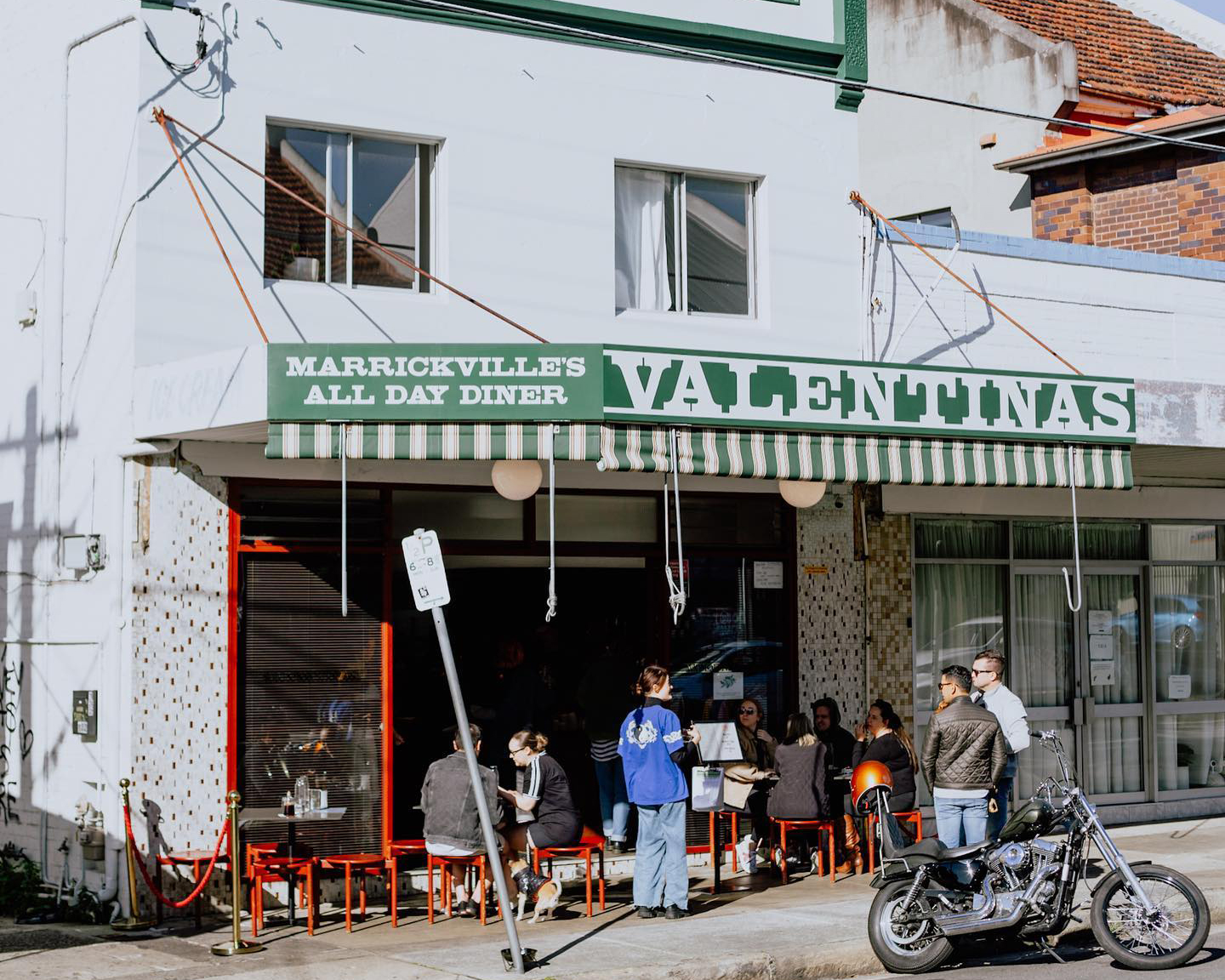 On Livingstone Road in Marrickville, Valentina's is an emerald green all-day cafe serving American diner classics like bottomless filter coffee, cornflakes with milk, warm Snickerdoodle cookies, and hefty club sandwiches. If the ultra-cool old school diner aesthetic doesn't bring you oodles of joy, the lengthy menu surely will—ticking off sweets and savouries from peanut butter and jelly, to cheesy omelettes, patty melts, and fried chicken. The coffee here is Artificer coffee, and if you're so inclined, you can also sip Grifter beers, natural wines, and Bloody Marys.
Ashfield Apothecary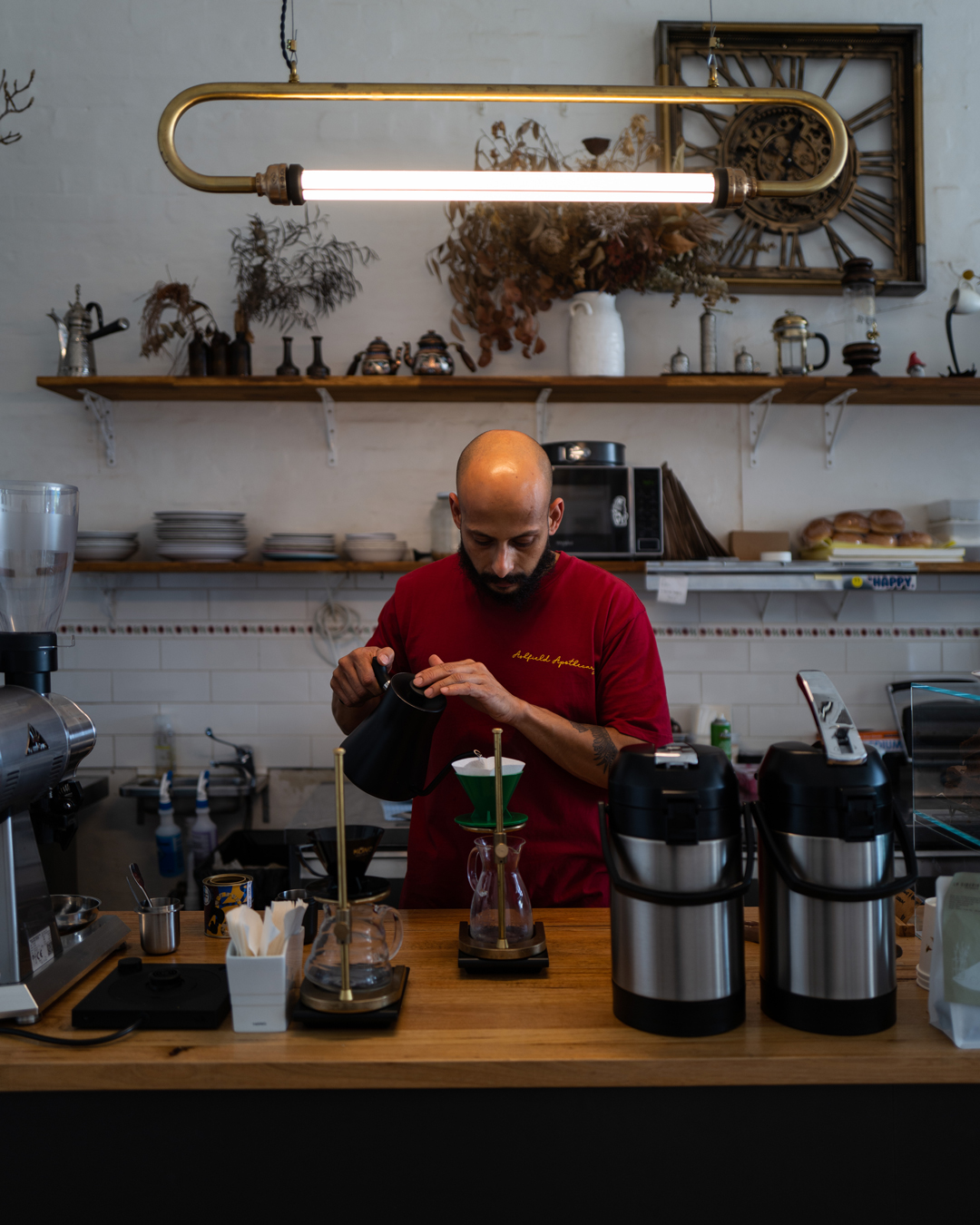 This charming spot opened over the road from Ashfield train station back in 2020—and it has won many Inner West hearts since. Led by owner Mandeep Bhusal, everything is lovingly made in-house, from the Persian love cake and pumpkin toast, to the top-tier pastrami sandwich, layered with overnight cured pastrami, sauerkraut, sriracha mustard mayo, and swiss cheese. While the seasonal menu at Ashfield Apothecary is a dream, specialty coffee is the main event here, with a rotation of local and international ethical roasters on show.
HEARTHE
Black Star Pastry founder, Christopher Thé, chose the name of the bakery-cafe as a portmanteau of the words heart, earth, art, and Thé. At HEARTHE you'll see the legendary pastry chef get back to his roots: soul-warming and spectacularly creative cakes, viennoiserie, and patisserie. Sample cakes with Indigenous Australian ingredients, alongside Little Marionette coffee, fresh baguette-style sandwiches, breakfast tarts, pies, and more. There's also congee with smoked barramundi dumplings, oysters, and a hot meal of the day.
The Bearded Baristaa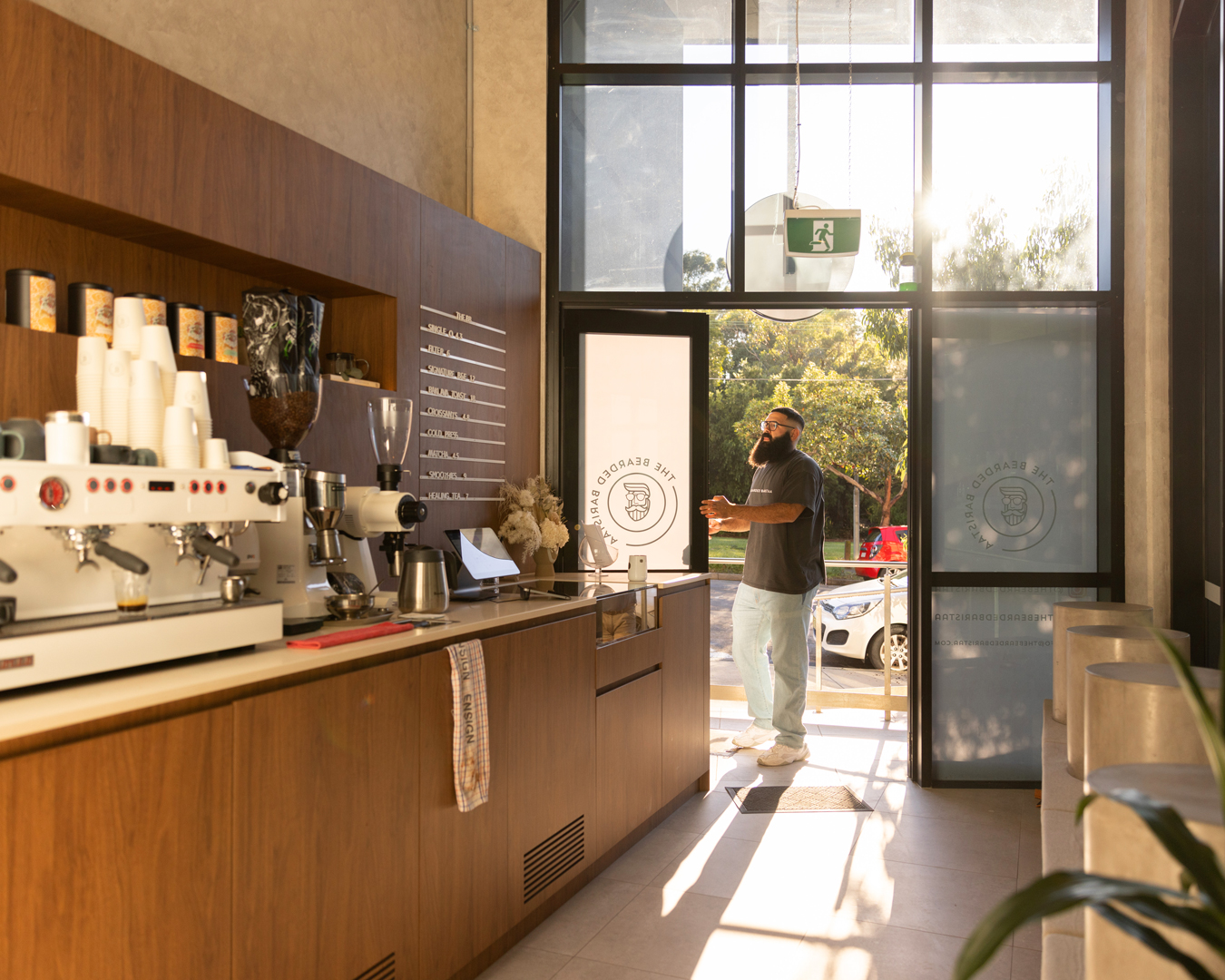 Opened in late 2021, The Bearded Baristaa is Sydney Park's new favourite coffee and brunch spot. Built into a new apartment block on the western side of the park, it's the perfect spot for a park pit stop. Roll up to the cafe's front espresso bar for takeaway, which is where you'll typically find co-owner Khaled Alfas—and his epic beard. If you're keen to stay a while, head out the back to chill in the leafy courtyard. Here, you'll find cafe staples with a Middle Eastern twist—think loaded baklava toast, a spicy basturma Reuben sando, and sujuk hummus on toast. Coffee is a highlight too. "When choosing Reformatory Caffeine Lab, we really took the time to narrow it down to what and who we felt was the most consistent," says Alfas.
One Another
This cruisey corner cafe in Newtown isn't trying to reinvent the wheel or be the most hyped-up brunch destination on TikTok. Instead, One Another is doing the simple things quietly—but very well. Like a bacon and egg roll topped with house-made aioli and tomato-bbq sauce served on a milk bun, and a standout creamed cavolo nero toastie with pecorino and provolone. There's also char-grilled focaccia sandwiches, Sample coffee, fresh and frosty strawberry, lychee and mint frappés, and plenty of sunshine pouring in through wide windows. Best part? Nothing on the menu is more than $20. This is the good old days of neighborhood cafes, in the best way possible.
Lunas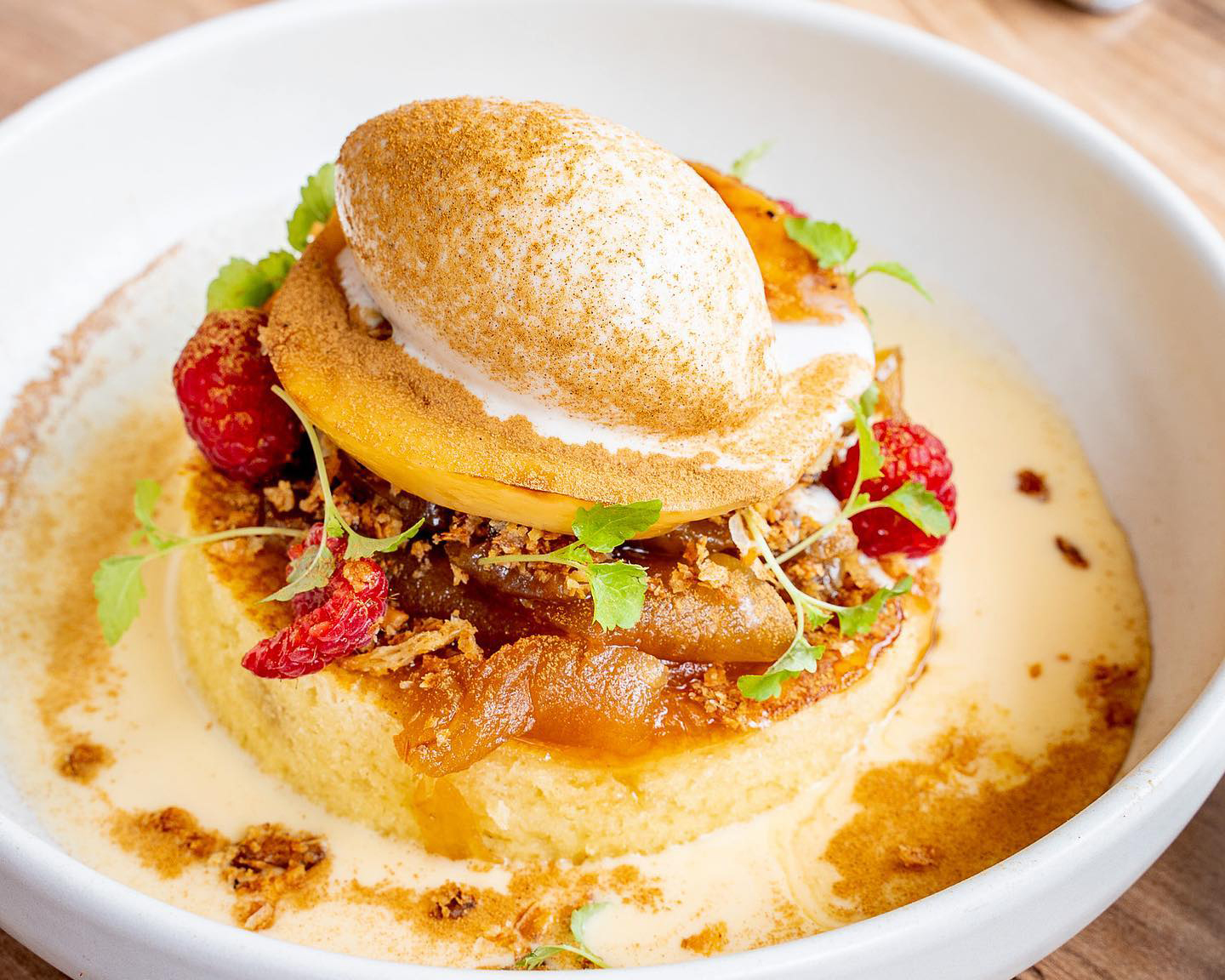 From the team behind Sweet Belem Cake Boutique and Fich, Lunas in Petersham is an all-day diner paying homage to its owners' Portuguese heritage and family focus. Owners Jose and Basia Silva and chef Jacqueline Ektoros are Bennelong alums, delivering Lunas to be an ode to the community that is integral to Portuguese Sydneysiders. On the breakfast menu expect a twist on their iconic pastel de Nata from Sweet Belem, and bread using a recipe from Jose's mother, while lunch looks like beef espetadas (skewers) or piri piri chicken for sharing, all to be enjoyed in the modern dining hall space that will eventually welcome guests for dinner as well.
Kurumac
Proving the Inner West is the cooler older sibling of all Sydney suburbs, Kurumac ("Cool Mac" in Japanese) serves Japanese comfort food in the AM to the sound of breezy hip-hop beats and moody jazz. Inside, you'll find a pop-bright mural on the wall by Ar-chive and a menu that might feel off-beat for anyone searching for avo on toast—but in this instance, it's well worth embracing the new. Try the spicy cod roe melt—made with thick-cut Japanese milk bread (shokupan), roe, and tasty cheese, it's a contender for one of Sydney's best toasties. There's French toast with Okinawa black sugar and roasted soy gelato, grilled salmon congee, and, for lunch, eggplant katsu and cold maze udon. Alongside all your coffee staples, you can cool off with an iced mugicha tea or green tea gelato milkshake.
Rolling Penny
Rolling Penny might seem like just another Newtown cafe, slotted in between the bric-a-brac shops and vintage stores that line South King Street. But this super special spot packs some seriously refined flavours into its menu—like toasted Brickfields rye and caraway bread topped with Portobello, king brown, and enoki mushrooms, garlic confit cream, mushroom jerkey, and stracciatella with garden herb gremolata. Or, white miso-glazed eggplant, house pickles, turmeric spiced cashew cream, and salsa verde on a blue corn tortilla. All that, but with the sort of friendly, chilled vibe you'd expect from any good King Street establishment.
Mecca
True to its name, Alexandria's Mecca is a central hub for coffee connoisseurs in Sydney. Whether you grab a piccolo from their Alexandria HQ or a flat white at their coffee bar on King St in the CBD, all of Mecca's coffee is roasted using vintage Probat roasters retrofitted with modern technology to ensure consistency and taste. "Since our inception, we've been obsessive about the quality of the coffee we use", explains General Manager Mitch Hayes. "We pride ourselves on seeking out unique and refreshing coffees from growers all over the world, then trying to bring out the unique characteristics of the coffee itself. We work really hard to not be noticed."
Cherry Moon General Store
Part bakery, part artisan grocer, part cafe, Cherry Moon in leafy Annandale feels like the sort of country treasure you might stumble across on a road trip far away from the hustle and bustle of Sydney. At the heart of it all is a hand-built wood fire oven named Apollonia and, if you go for the woodfired sourdough, you won't be disappointed. The depth of flavour infused in their signature fig-leaf sourdough is a revelation. From burnt butter, choc chip, and sea salt cookies to doughnuts topped with glacé cherries, if you're looking for baked goodies you'll be spoilt for choice. The grocery is like no other, with almost all goods made in-house you'll find everything from magnesium oil to homemade butter.
Happyfield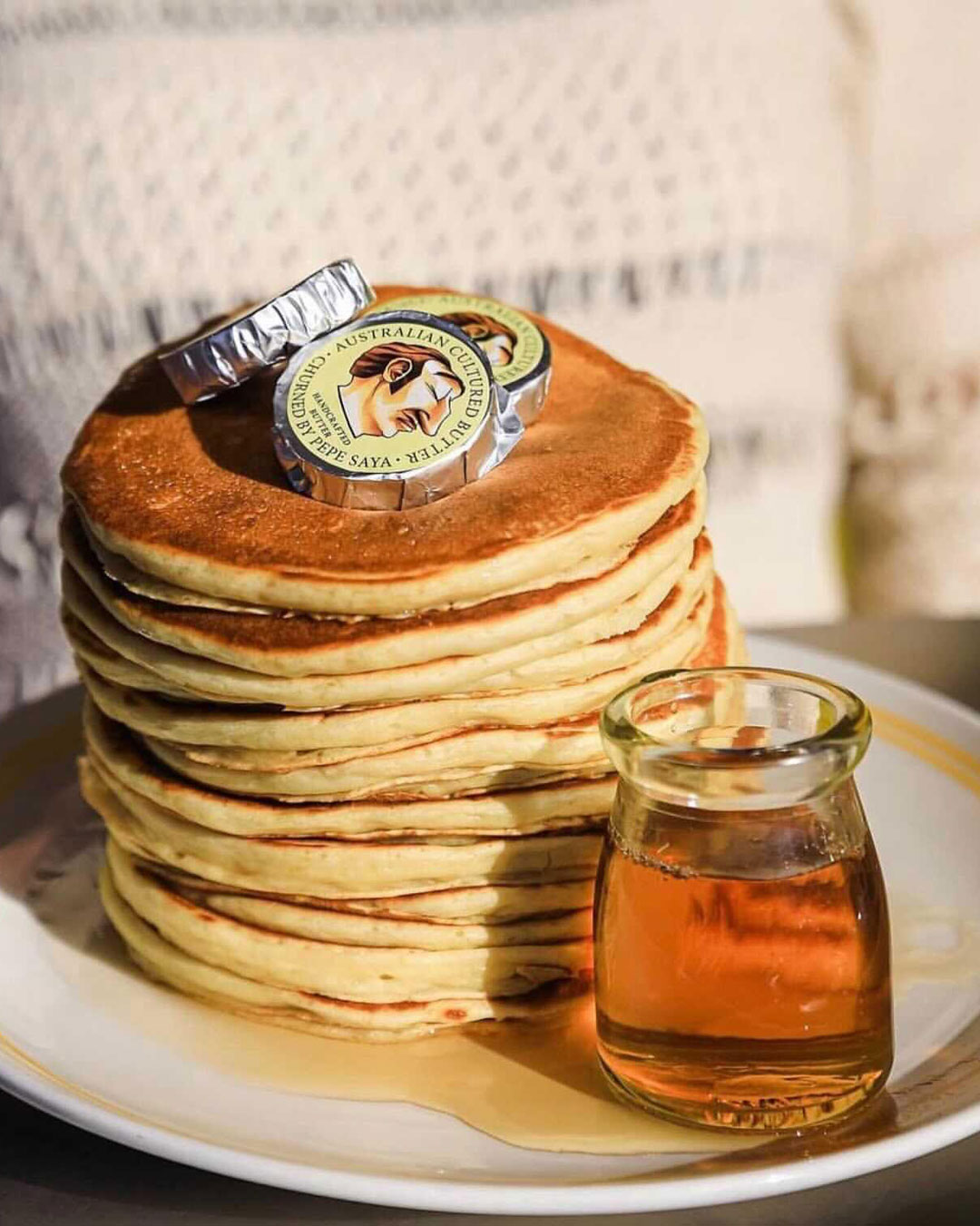 Opened in 2020 by Jesse Orleans and Chris Theodosi, Happyfield is a bright yellow corner cafe serving up amazing food and a genuinely (as the name suggests) cheery vibe. Alongside friendly service and menu items like the "McLovin Muffin", a brekky burger that will put your weekend Maccas order to shame, and an "NYC Reuben" with grilled New York-style pastrami, Happyfield is known best for its pancake stacks. If you fancy yourself a big eater, take on their unofficial "pancake challenge" by demolishing 15 pancakes (or more, if you want to beat the current Olympic-level record of 50) in 45 minutes for a spot on the wall of pancake fame.
Circa Espresso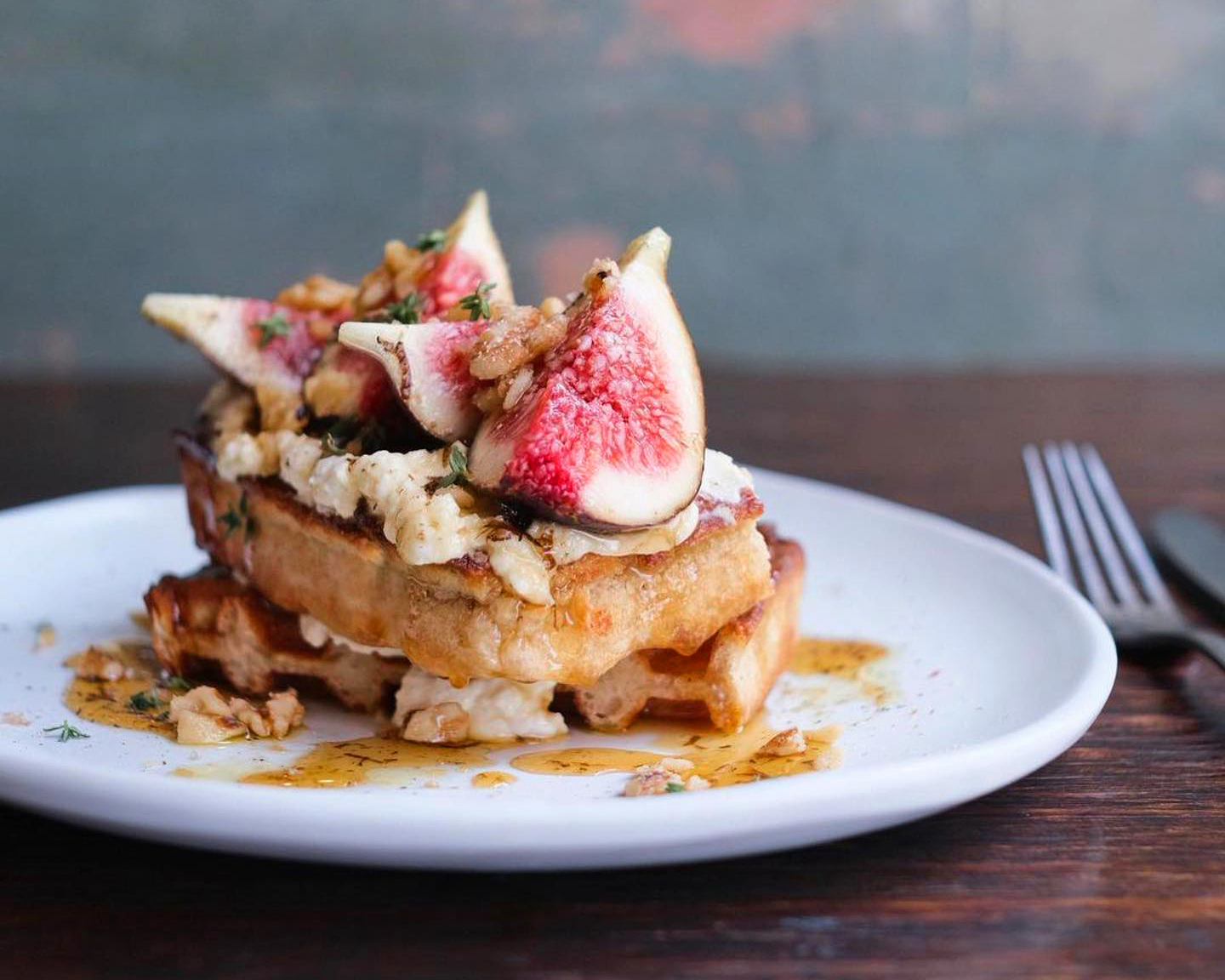 Circa Espresso is a Parramatta staple. Nestled in a little nook on Wentworth Street, this iconic spot has gained a reputation for offering one of Western Sydney's best breakfasts. Expect to sip Circa's signature specialty coffee and fill up on delicious comfort food from the all-day brekky menu—like crispy sourdough waffles, baked eggs, and vegan pumpkin ricotta served with freshly baked salt bush focaccia. Circa Espresso's seating spills out onto the footpath offering alfresco dining too. A true gem in Sydney's cafe scene.
Moore Coffee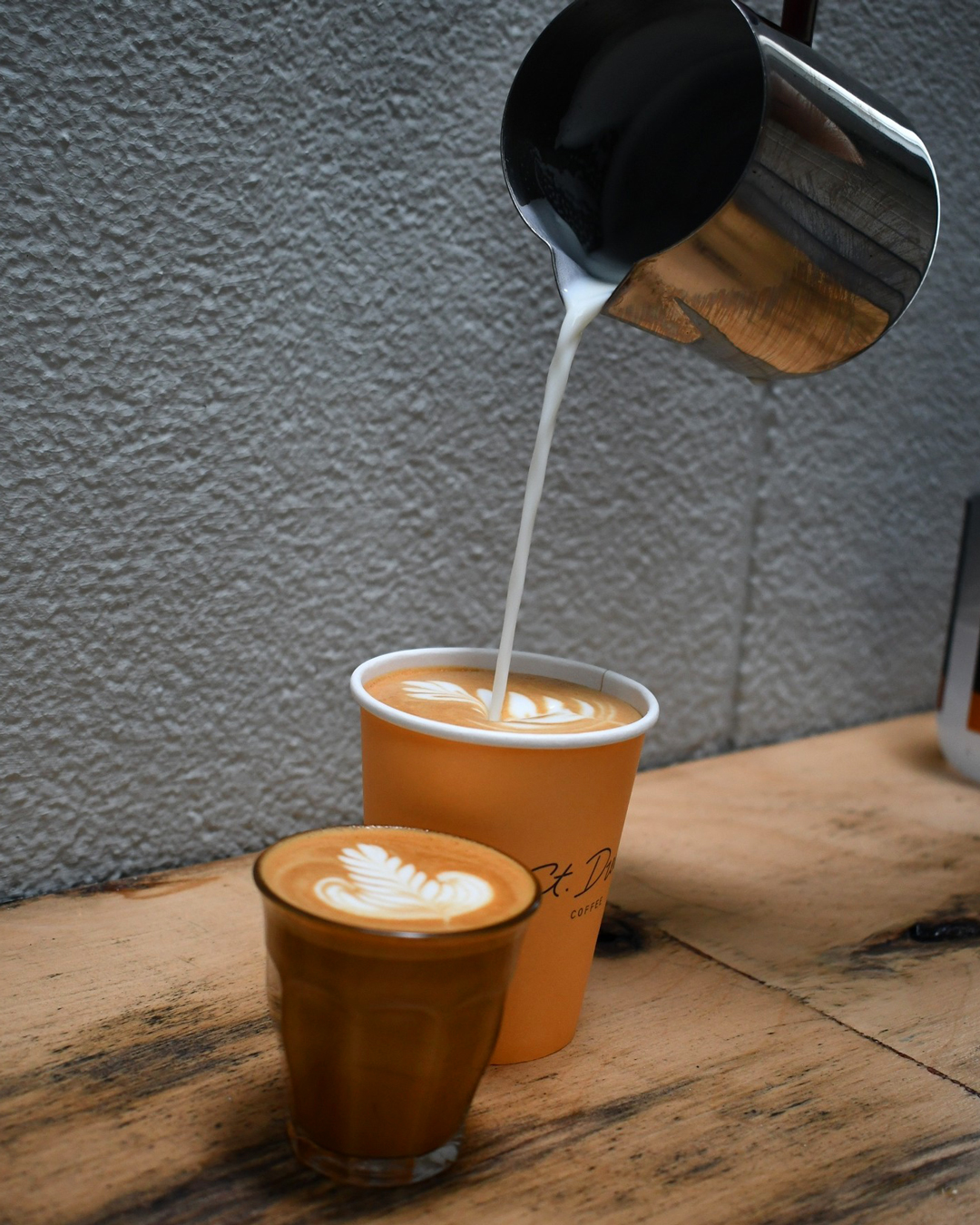 Over in Liverpool, Moore Coffee is part coffee cart, part cafe, tucked into a slither of Moore Street near Liverpool station. Here, you're in for perfect St Dreux coffee, which you can grab to go or sip at your own pace while perched on Moore Coffee's laneway seating. To eat, grab a sausage roll, pink iced doughnuts from The Doughnut Mum, or signature toasties like the eggplant parmi jaffle.
Coffee Supreme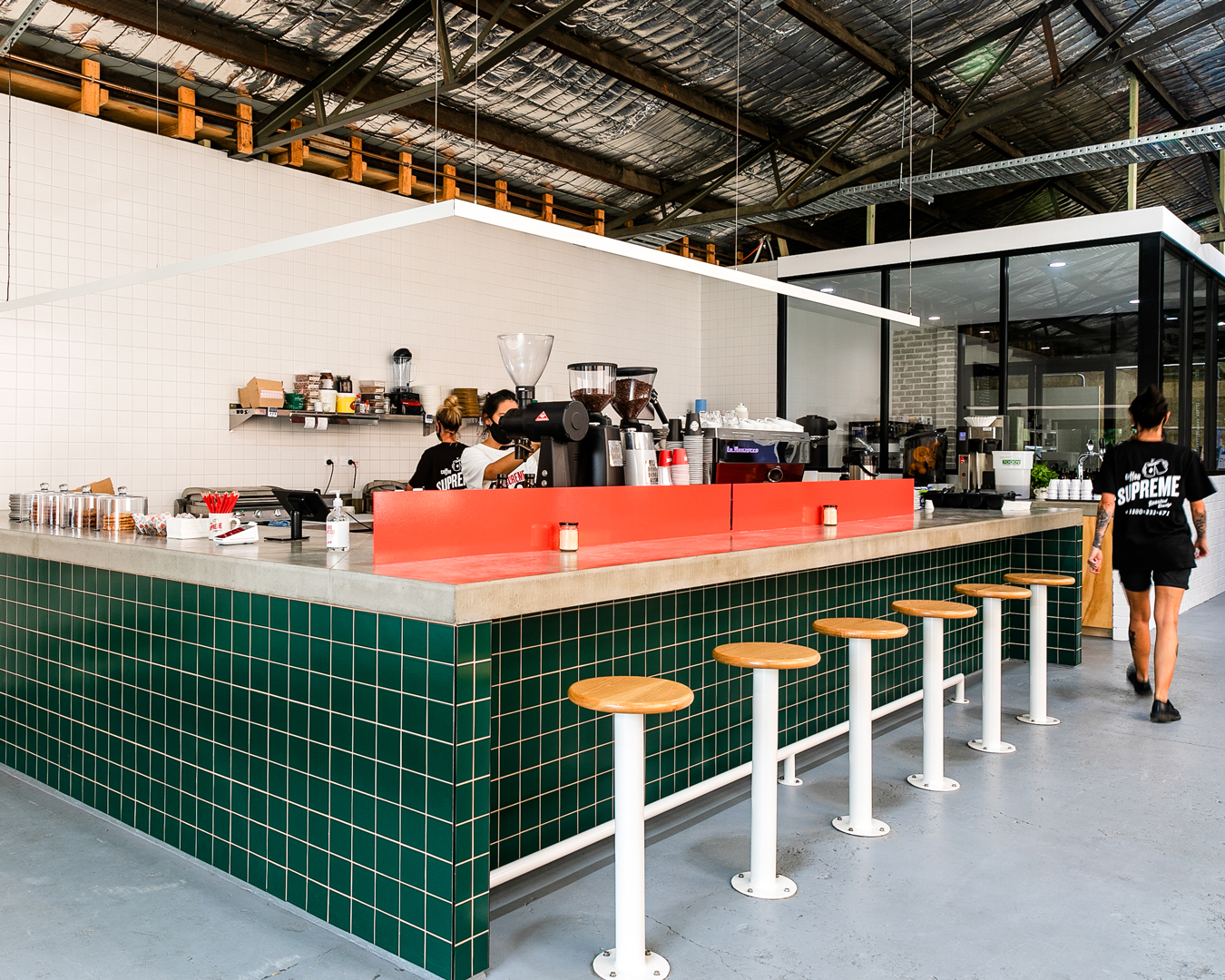 Caffeine fiends on the Northern Beaches haven't had the best options in past. But now the Beaches is home to some top-notch coffee spots, including uber-cool roastery Coffee Supreme. You'll find its Sydney cafe and roastery in a former Brookvale warehouse, concealed behind a leafy facade and bright red roller doors. The space has plenty of natural light (with the rollers up, of course) and has a fit-out that feels much like cafes found along the US West Coast. As you'd imagine, the coffee menu is extensive, with espresso, batch, cold brew, seasonal blends, and rotating single origins all on the cards. And, if you're peckish, you can tuck into the likes of bagels and avo on toast for brekkie, plus burgers, sangas, and a drool-worthy bolognese toastie come lunchtime.
Oceans
Oceans is a spot where you can really feel the magic of the Northern Beaches—and you can see why locals tend to stay put and never leave. A stone's throw from Narrabeen Beach, pick a spot in the morning sunshine and soak up the salt air and laidback atmosphere, while you tuck into classic breaky staples like eggs benedict on corn and sweet potato fritters, ricotta pancakes, or Oceans' take on the big breakfast, the "Oceans Lot", which features streaky bacon and Spanish chorizo, two crunchy golden hash browns, house-baked beans, and more. Afterwards, walk it off with a stroll along the beach—we honestly couldn't think of a better way to start the day.
Self Raised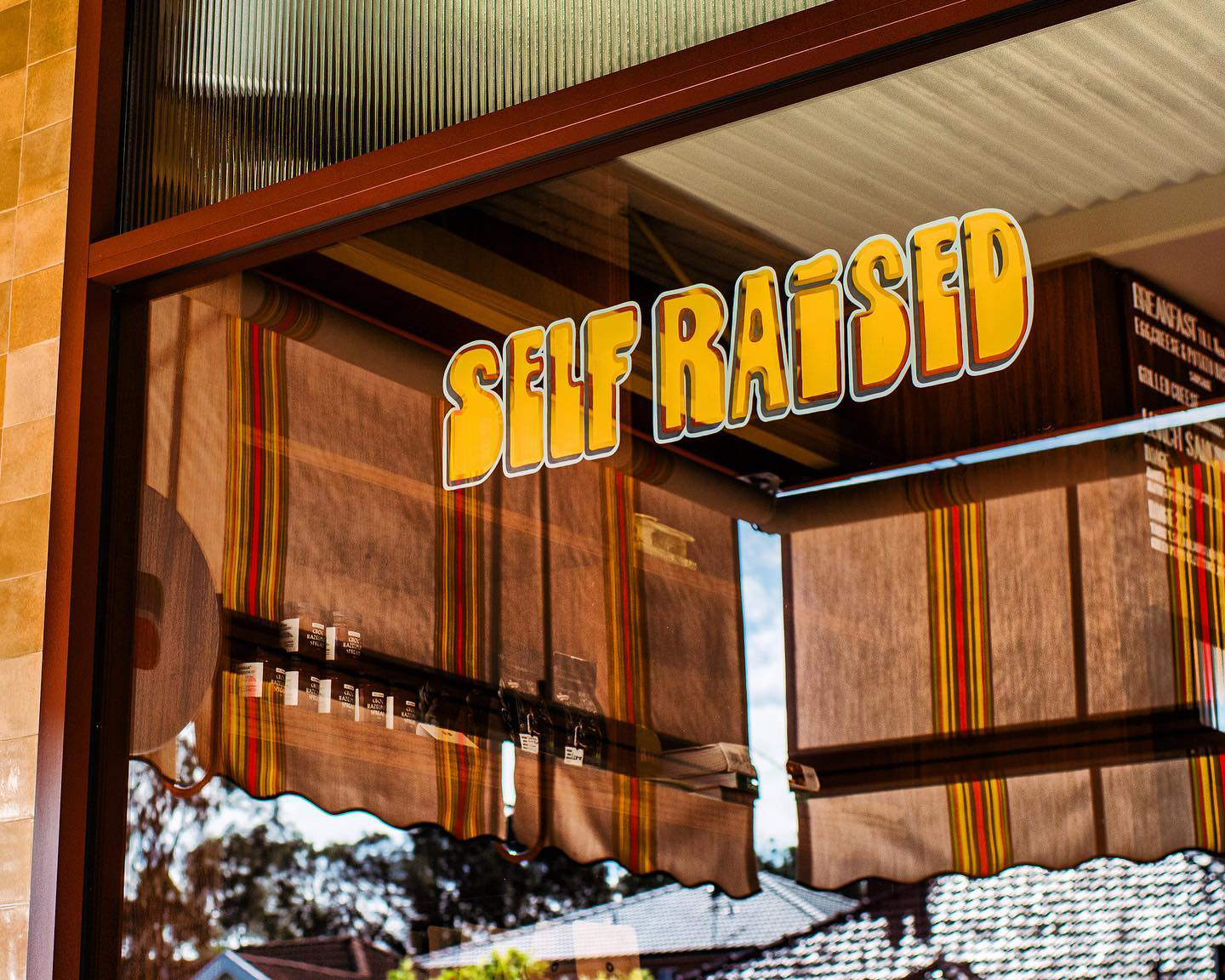 Opened in February 2023, Self Raised has already scored itself a cult following with queues out the door and down the street. From the team behind NYC-inspired pizza joint My Mother's Cousin in Bexley North, Self Raised has a similar retro aesthetic, while pumping out delicious bread (sourdough, baguettes, ciabattas, and take-home focaccias) and pastries like enormous pistachio croissants, plum danishes, and cinnamon scrolls.
St Kai
St Kai is a Japanese-inspired cafe and coffee house, the venue brings together our two biggest guilty pleasures—ramen and caffeine. Owners Lachy and Lexy Allouche are self-proclaimed misfits seeking to share their love for Japanese food culture. The sibling duo have successfully brought a slice of Sydney's inner-city cafe scene and a dose of Japanese dining culture to their own "backyard". If you're looking for the perfect haunt for a slurp-worthy bowl of noodles and your morning coffee fix in South Sydney, this is heaven.
Blackwood Pantry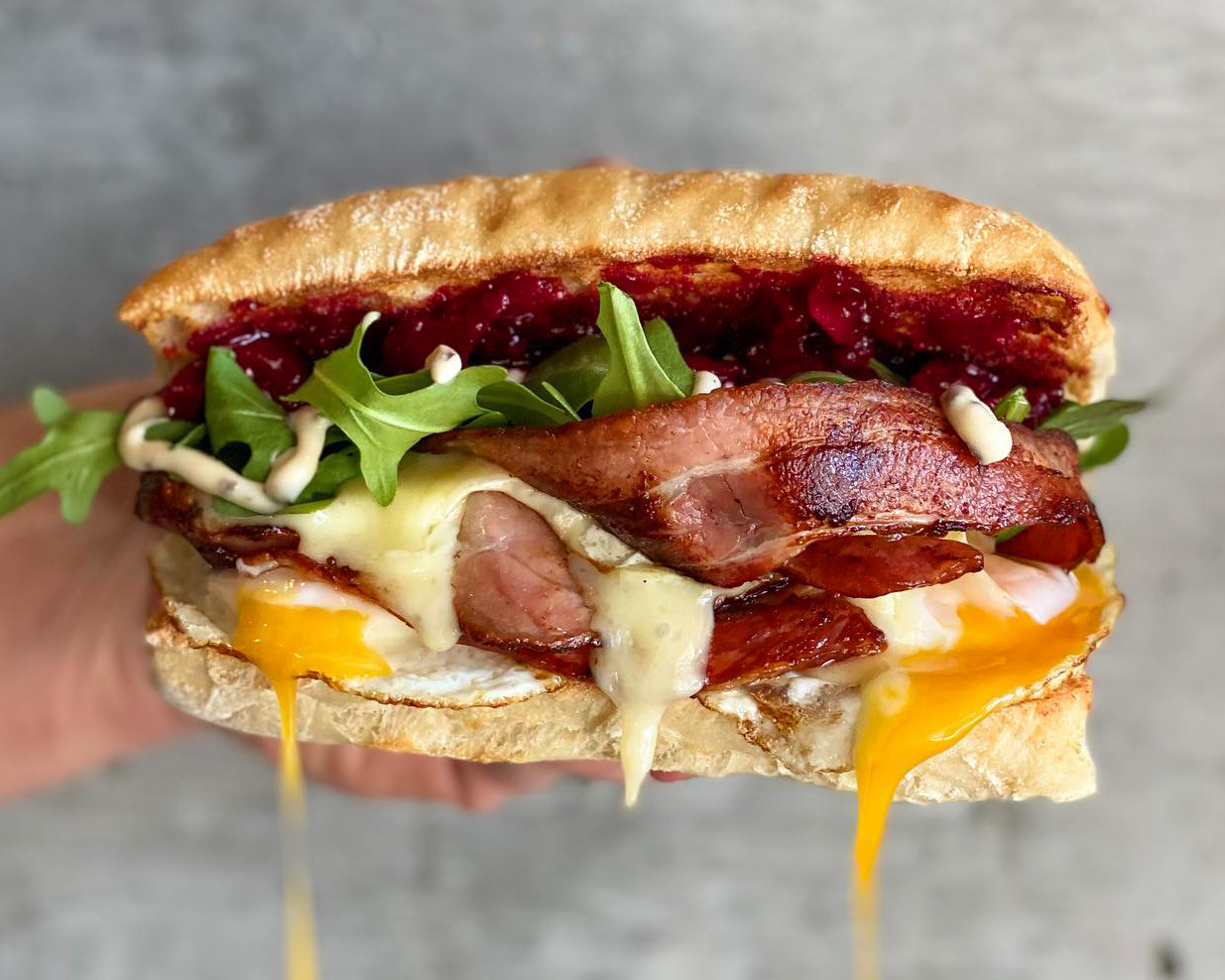 Blackwood Pantry is the food baby of three mates from the Shire, inspired by some of the world's best kitchens. Blackwood is another star on the Sydney cafe scene, wooing Cronulla locals with its fresh, wholesome menu. Favourites include the "Schnitty Schnitty Bang Bang", Insta-friendly nourish bowls, spicy BAE roll, and the much-loved miso avo, Blackwood's healthy spin on the classic avo on toast. If it's beachy, weekend vibes you're after—Blackwood is the spot. They've also just opened a new cafe in Bondi—check it out here.
Keen for more of the city's best? Check these out:
Image credit: Valentina's, Industry Beans, St Dreux, Single O, Kitti Gould, Nikki To, Beau & Dough, Cuckoo Callay, Three Blue Ducks, Valentina's, Ashfield Apothecary, The Bearded Baristaa, Lunas, Happyfield, Phoenix Naman @phoenix.naman, Circa Espresso, Moore Coffee, Coffee Supreme, Self Raised, Blackwood Pantry