The "Bondi bubble" exists for good reason. Sitting on Sydney's picturesque Eastern suburbs coastline, it offers plenty, from a 1km stretch of world-renowned white sand to an outstanding drinking and dining scene.
And it's no surprise that drawing people in to eat, drink or live in Bondi is easy, with everything either in view of the beach or close enough to feel its effects. This is likely why postcode 2026 has an abundance of outstanding cafes–serving up everything from boozy brunches to bottomless lunches and healthy breakfasts to greasy hangover cures.
So, if you're looking for an eggs benny, a tower of pancakes, a glorious sandwich, an early arvo Negroni, or a post-swim smoothie, we've rounded up 10 of our favourite cafes in Bondi.
Now Open: Glory Days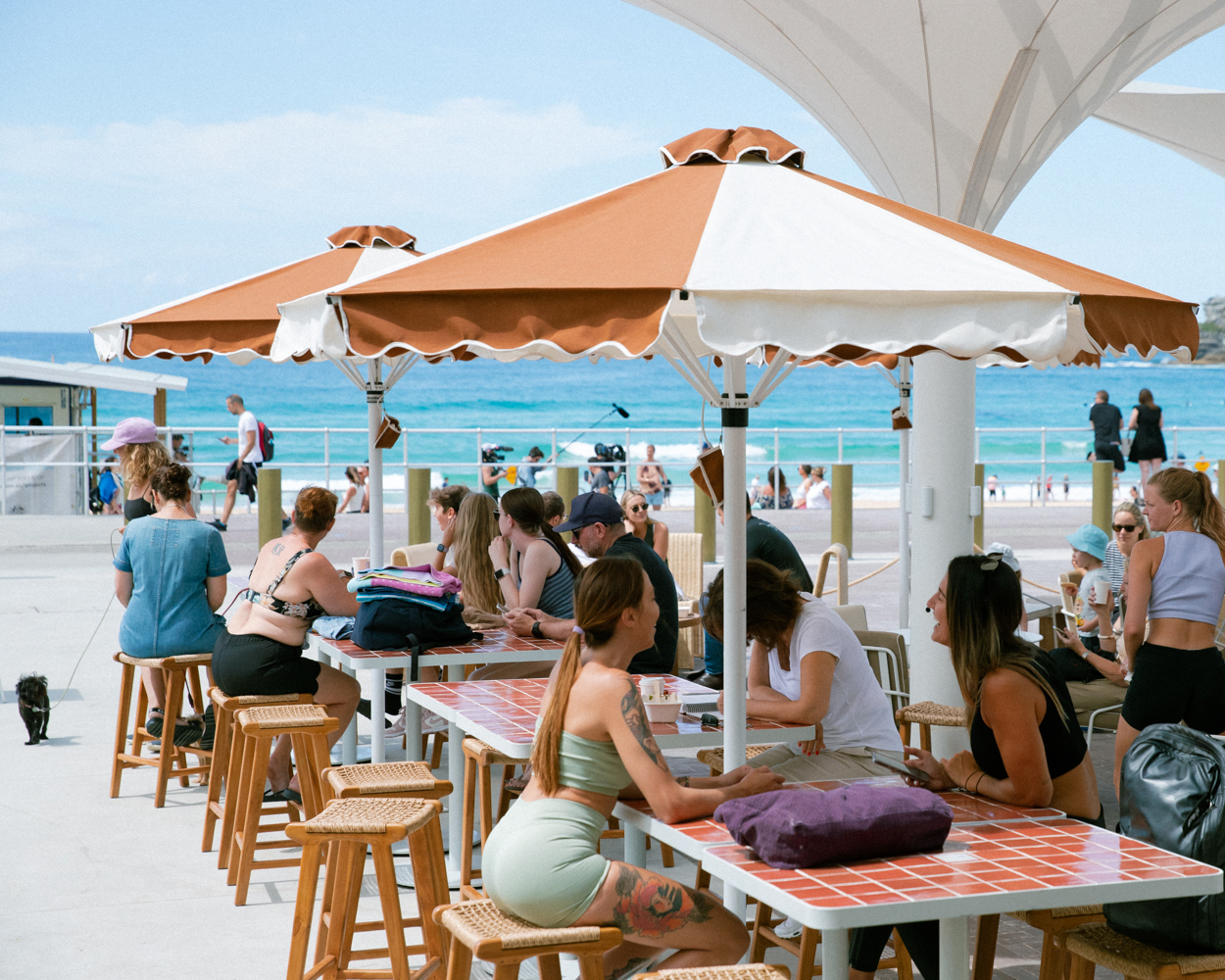 Housed within the freshly refurbished Bondi Pavilion, Glory Days is an all-day diner dishing out sunny breakfast and lunch complete with uninterrupted views of the one and only Bondi Beach. Behind the cafe is The Good Atelier, whose roster of Sydney venues also includes Glorietta in North Sydney and The Woolpack in Redfern. Here, Damien Hyde is heading up the kitchen dishing out light and bright all-day menu. Expect staples like Acai bowls, breakfast burritos, scrambled eggs with all the trimmings, club sandwiches, prawn linguine, and a salmon coconut curry bowl. Grab yours to go and nab a spot on the sand, pull up on the Pavilion terrace under toffee and cream-coloured umbrellas, or head inside to soak up the stunning John Utzon-inspired interiors by Samantha Ellinson of COX Architecture.
Porch And Parlour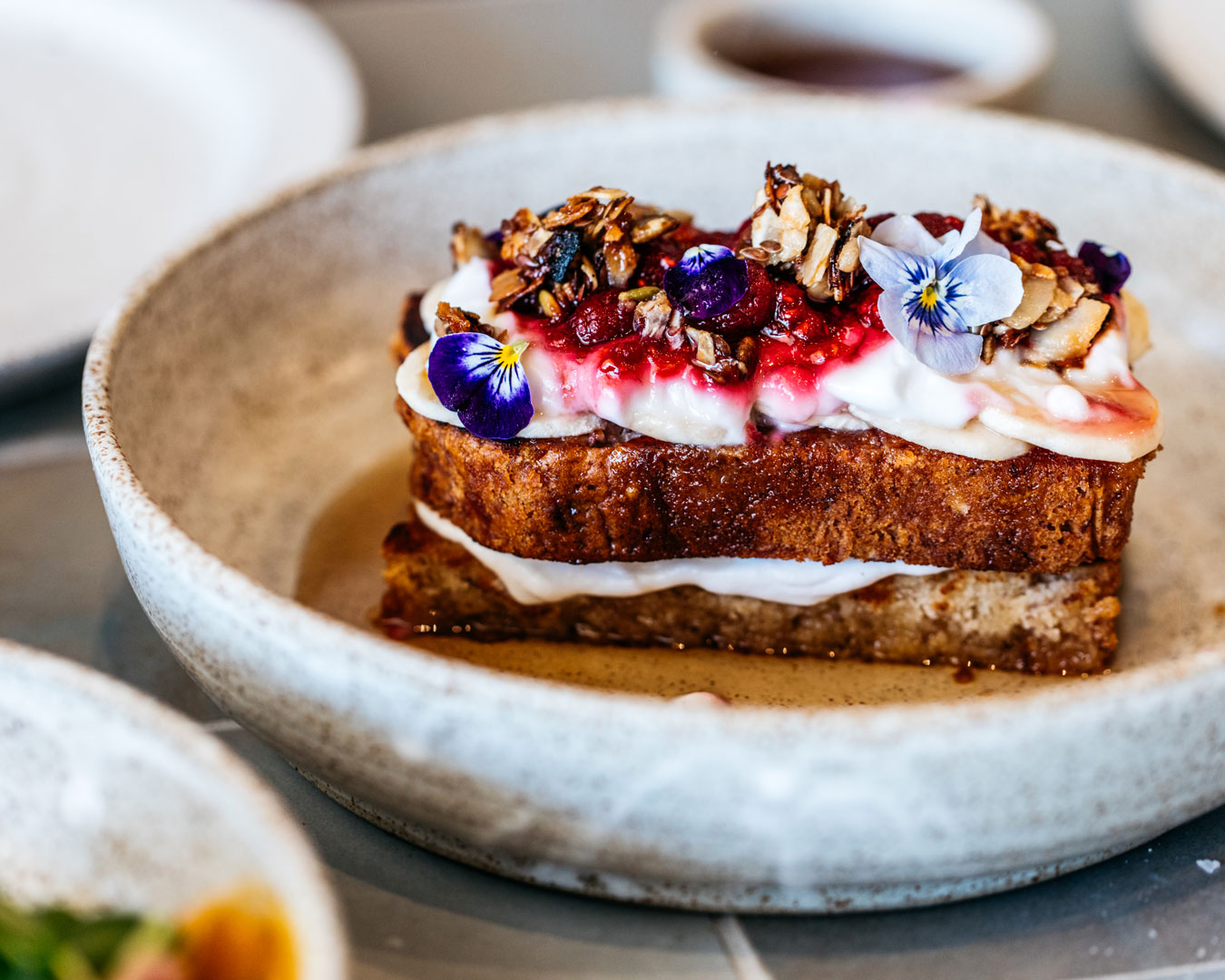 North Bondi's Porch and Parlour has earned itself a well-deserved reputation as one of the best cafes in Sydney's Eastern Suburbs. Facing the northern end of Bondi Beach, the beloved eatery serves up a daily full brekky and lunch menu. Be sure to try the cult favourite "Pea Pancake", a green breakfast treat served with avocado, feta, relish, a poached egg, zucchini, herb salad, and lemon oil. Roll through on weekends for extended trade when tables stay out until 9pm, and you can order "sundowners" snacks like sardines on toast or cured meats to pair with a Tommy's Margarita or a bottle of rosé.
Lox In A Box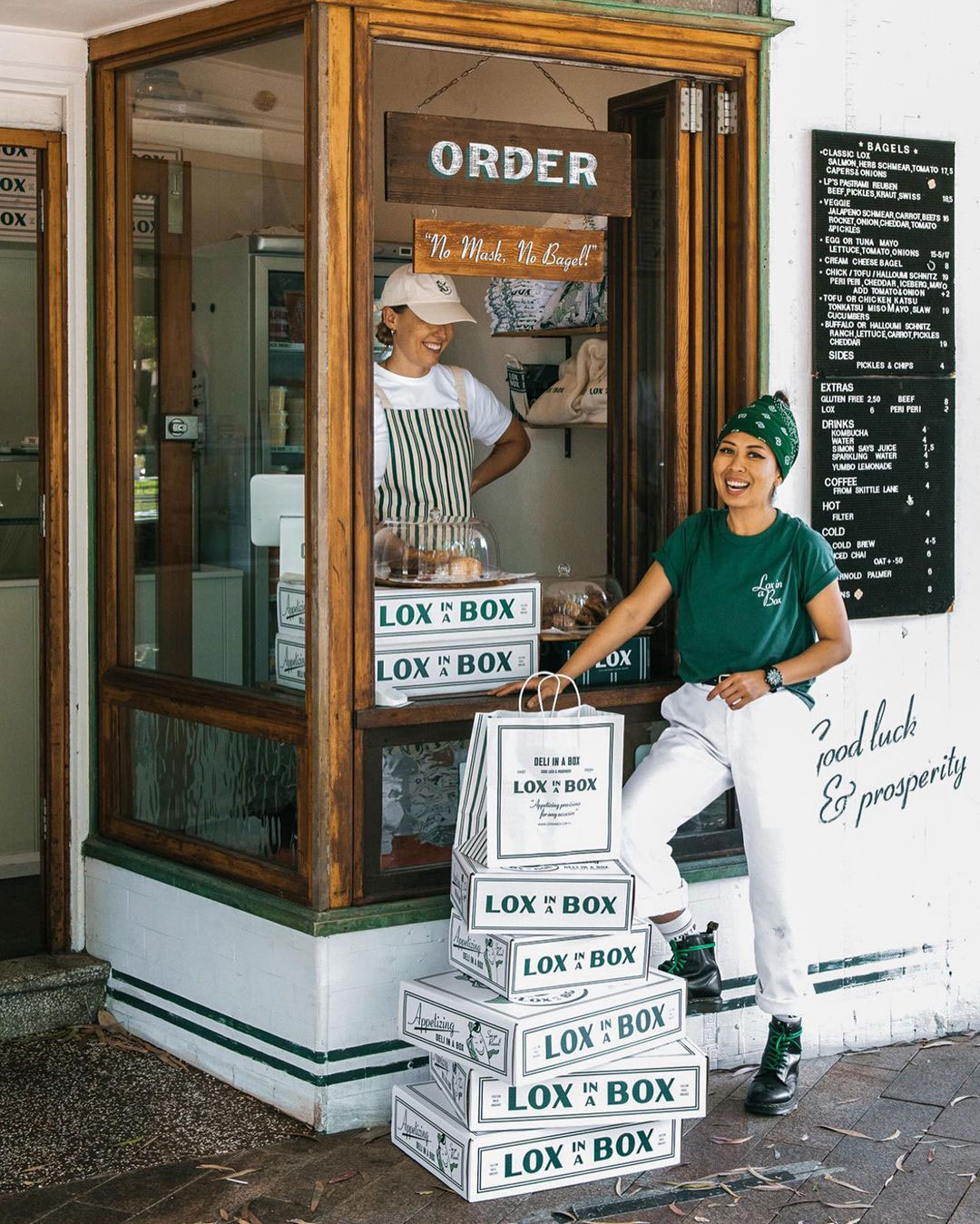 Much like its name suggests, Lox In A Box marries up two winning concepts—bagels and deli feeds and the perfect convenience of takeaway. Inspired by traditional Jewish delis, its retro shopfront features a deli menu scribbled on butcher's paper taped to the window. On the no-frills menu, there are fine standouts like a salt-beef bagel (loaded with mustard and pickles) and a vegetarian stack pumped with actual jalapeno schmear. You can also expect the staple lox affair with one of the best herb cream-cheeses Sydney has ever been privy to. And to build on your bagel, you'll also be able to pick from more than 20 sides to throw into your takeaway lox box including "Nanna's smashed avo" and an extra creamy potato salad. Pair that with coffee by Skittle Lane, and we can't think of a better way to kick off your day.
Rocker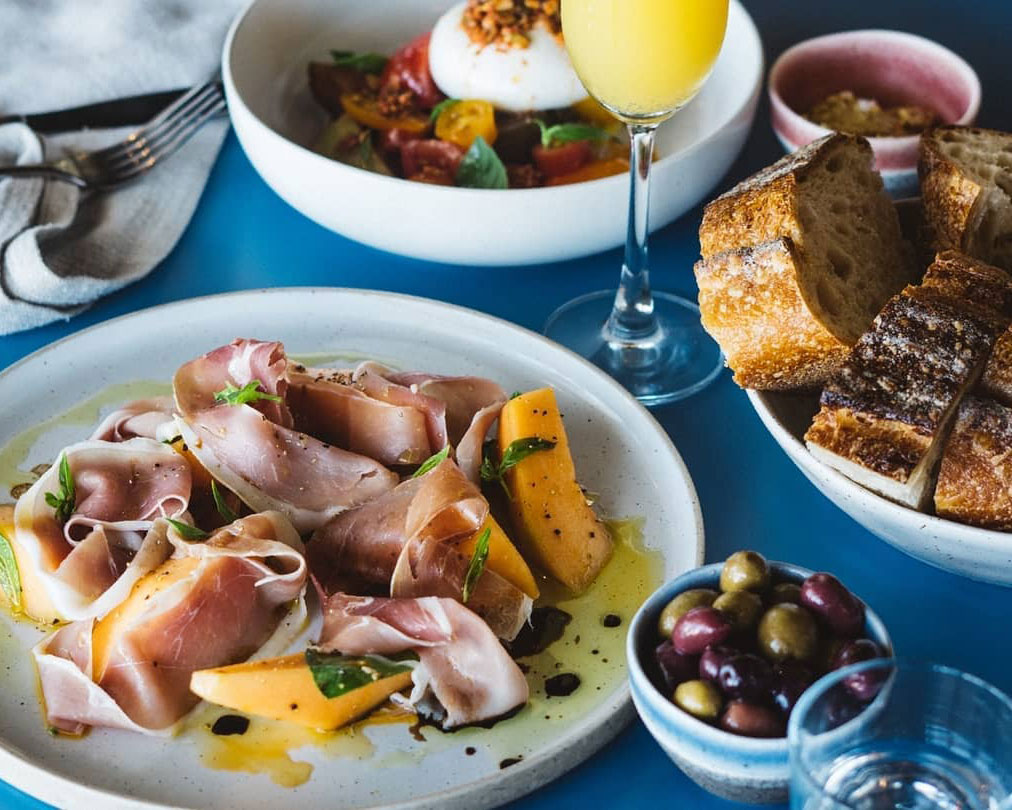 Sitting pretty on the hill at North Bondi, Rocker preaches coastal vibes with a breezy but wholesome European-leaning menu to match. Founded by Sydney cafe royalty Darren Robertson of Three Blue Ducks, and Cameron Northway of Cocktail Porter, Rocker focuses on local ingredients and regularly switches up the menu. Right now, Rocker is offering up a bottomless brunch menu designed to share, which features roast onion butter and bread, creamy burrata, a summer melon salad, free-range roast chicken with celeriac puree and salsa verde, and heaps more alongside free-flowing mimosas, bubbles or wine. On Wednesdays, it's all-you-can-eat mussels and fries, and Tuesdays are (naturally) for tacos and frozen margs.
Lox Stock & Barrel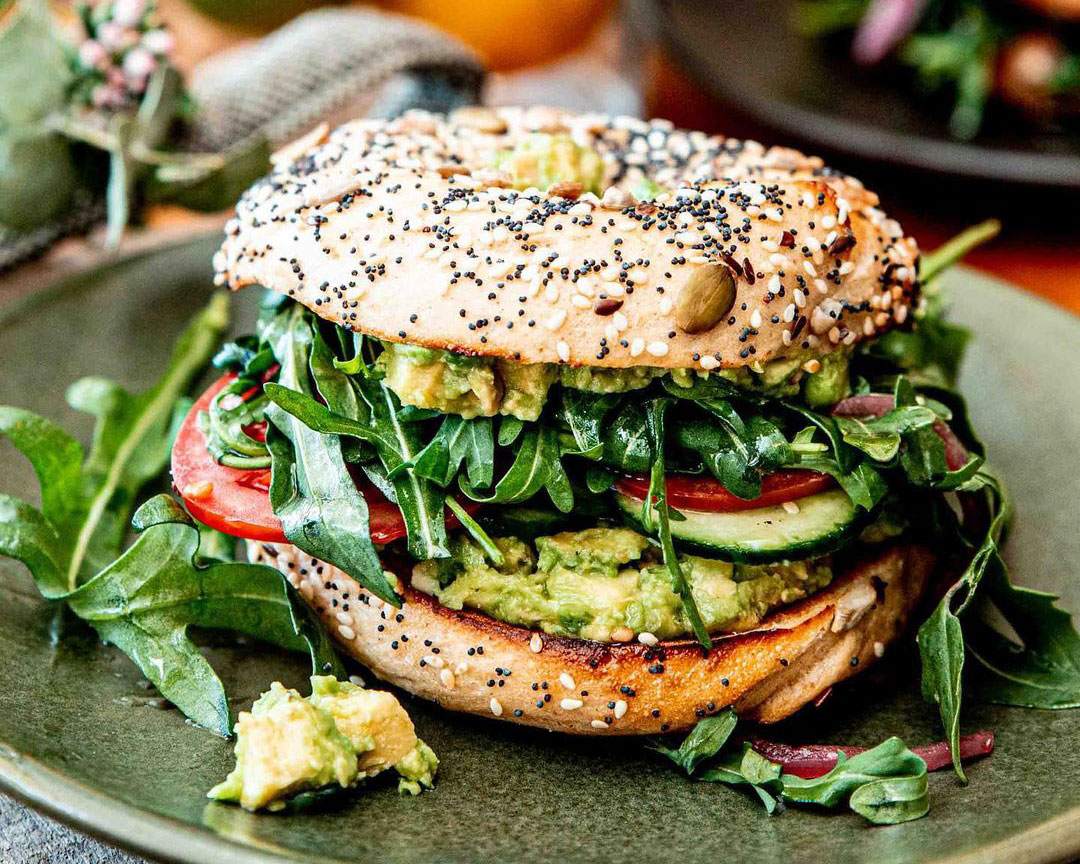 Opening in 2013, Lox Stock and Barrel brings the classic European-style deli vibes and Jewish comfort food to Glenayr Avenue. Here, everything that can be is done on-site. From baking bread every morning and pickling in-house to smoking the fish and meat. And for any joint with the word 'lox' in its name (a fillet of brined salmon), you can probably expect a serious bagel game. Well, the Bondi cafe doesn't disappoint. The small day menu offers just a few bagel options (which you can also have on bread) like Reuben, smoked lox, chopped liver, or egg and herb mayo. There's also a more substantial dinner menu after 5.30pm Wednesday through Saturday, with cocktails like the Jalapeno Margarita and dishes like kingfish ceviche, pan-fried mulloway, and a Basque cheesecake.
Bills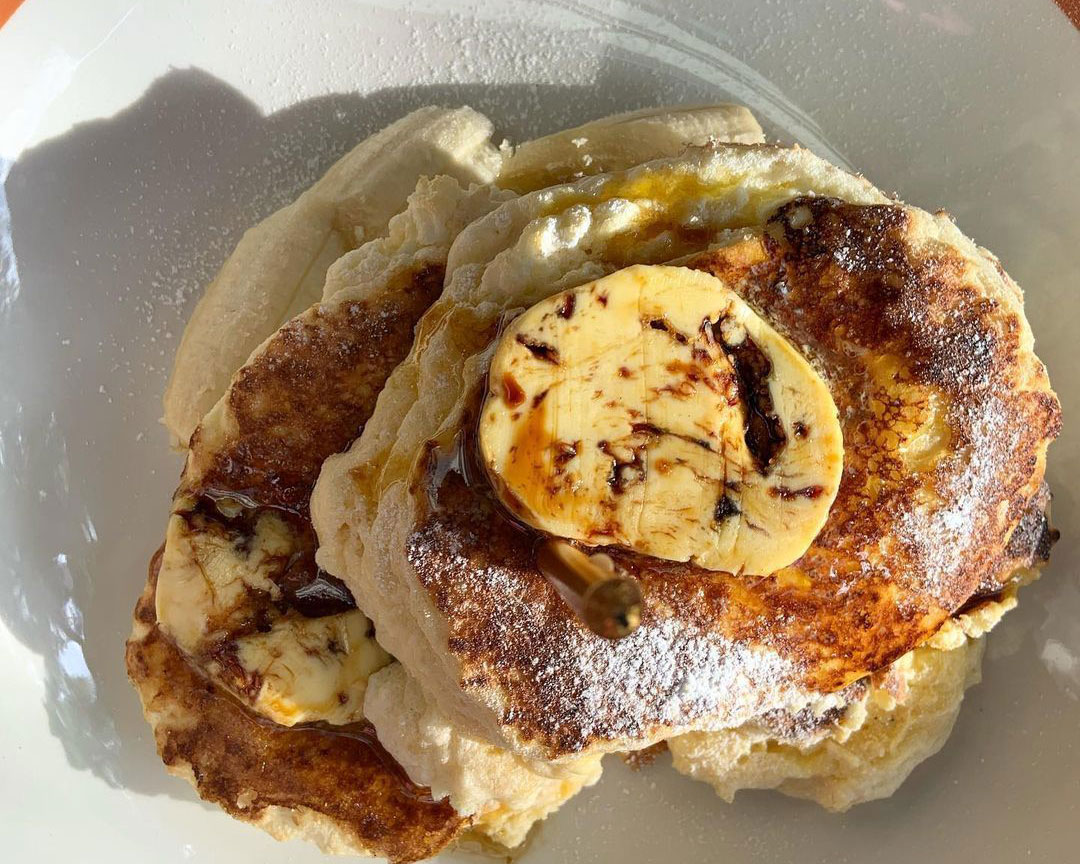 Opening its original Darlinghurst outpost in 1993, Bill Granger's Bills is an absolute icon of the Sydney breakfast and brunch scene. So, you can bet the Eastern suburbs were jumping for joy when Granger decided to take his fluffy AF scrambled eggs and delicious sweet corn fritters over to Bondi Beach back in 2014. But if you've ever had the pleasure, you know the well-deserved star of the show has to be the ricotta hotcakes, served with banana, maple syrup, and honeycomb butter—a bona fide Sydney staple. But if brekky food isn't appropriate (who are we kidding, it always is), the Bills dinner menu offers plenty, from a prawn burger and crab toast to flat iron chicken and cocktails like the pet nat spritz.
Heart Cafe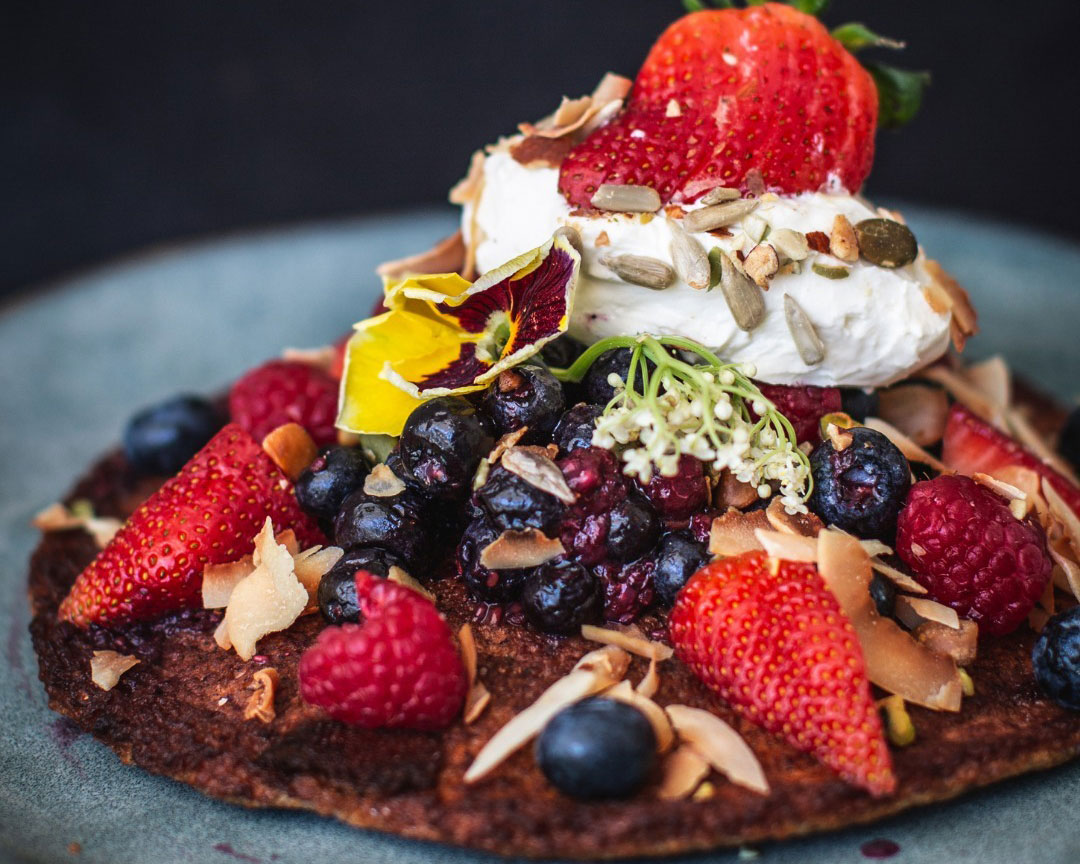 If you like drinking a morning coffee but knowing your money goes a little further—make Bondi's first social enterprise cafe your new regular spot. Roscoe Street's Heart Cafe is owned by local not-for-profit Wayside Chapel, integrated with a disadvantaged youth unemployment program. Don't get us wrong, the food here is outstanding on its own merit. But there's something extra comforting about enjoying dukkah scrambled eggs, a bacon and egg detox roll, or fish tacos and knowing it's doing some good for something other than your tastebuds.
Harry's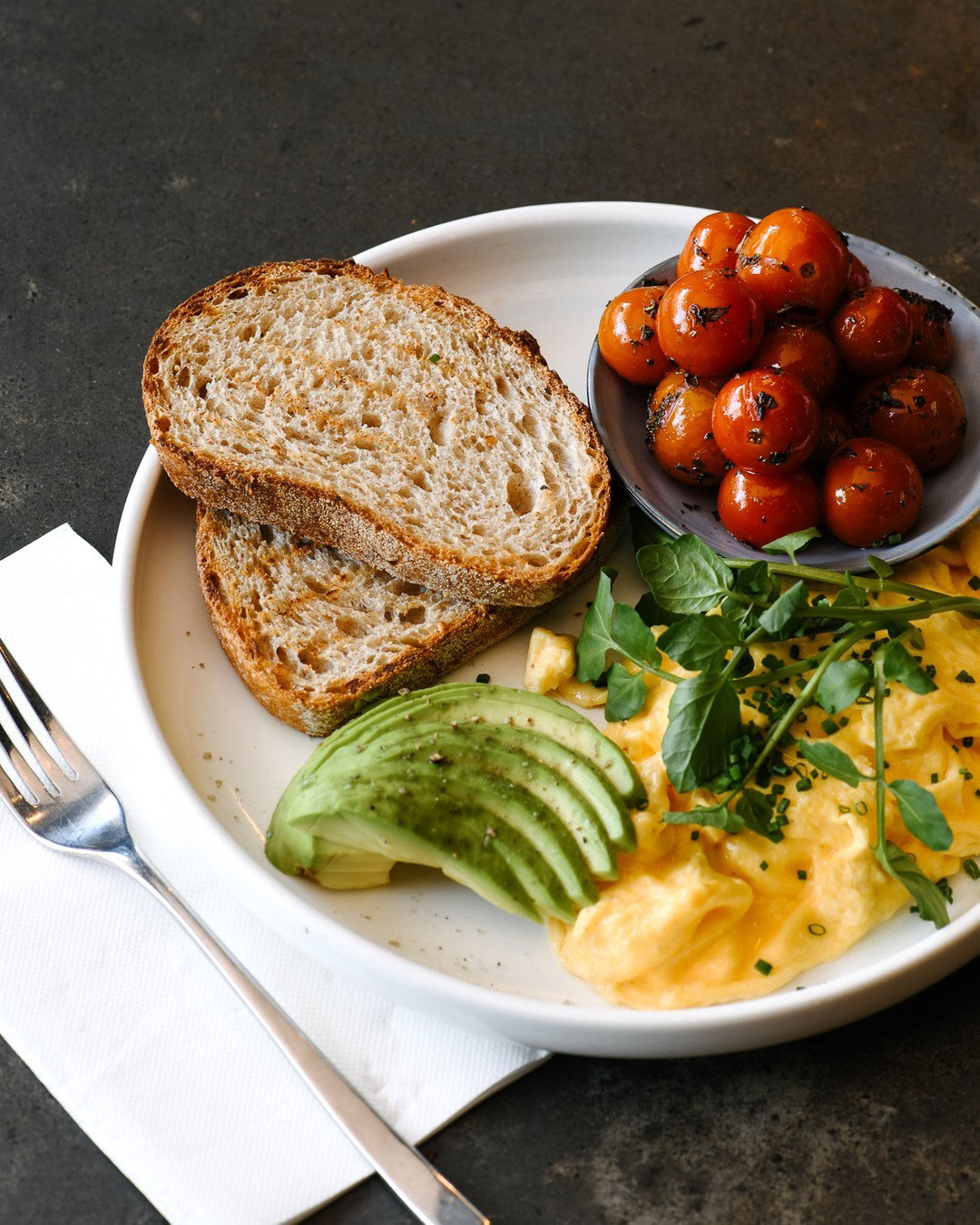 Harry's Bondi is the ultimate story of delicious evolution. Once a hole-in-the-wall coffee shop serving up regulars, Harry's underwent a massive renovation a few years back to go from espresso bar into one of the best cafe spots for a bite in Bondi. For food, you'll find plenty of classics with a twist like eggs benedict served with roasted green beans, asparagus and tomato salsa, and the blueberry and ricotta hotcakes (which take 20 minutes to prepare). Or the pastrami cured salmon served with cos lettuce, sauerkraut, and lemon caper mayo on sourdough. And for drinks, choose between anything from a Bloody Harry cocktail, a Bloody Mary served with smoked sea salt, and chilli olives to dairy-free smoothies like the PB & J made with a chia berry jam.
Speedos Cafe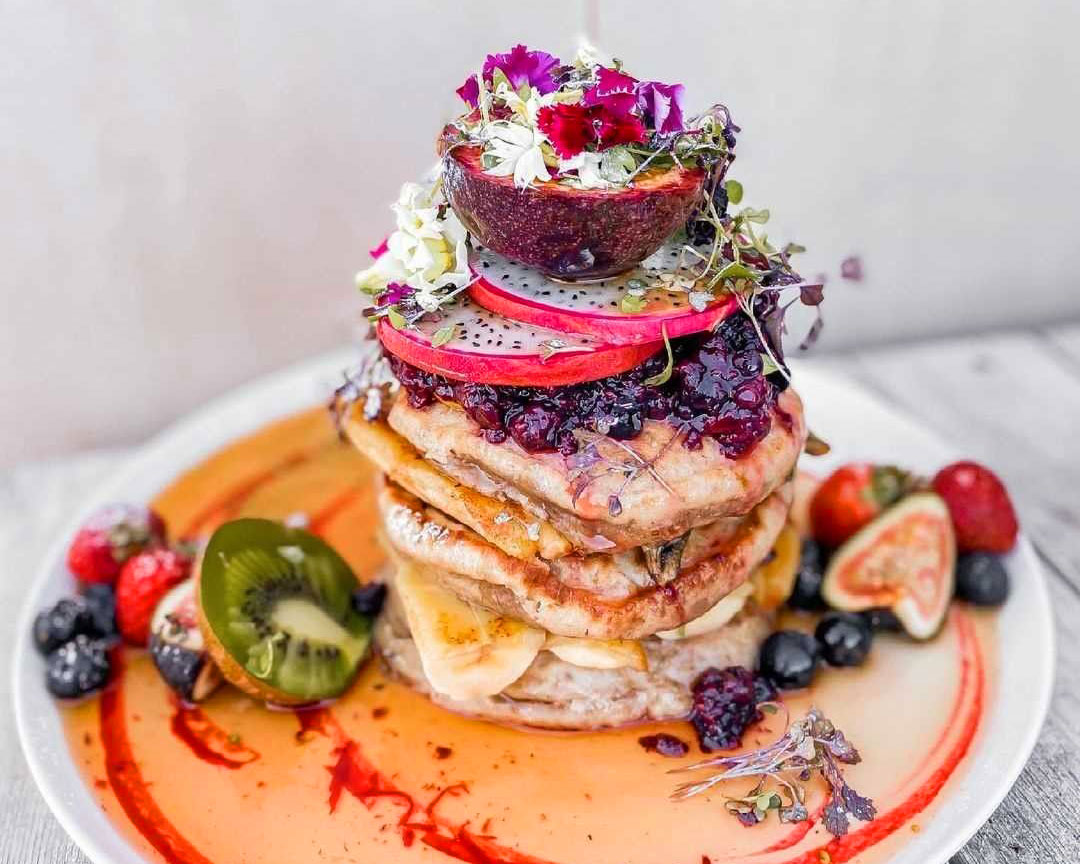 Billing yourself as "the world's most Instagrammable cafe" is a pretty big call. While we don't have the latest metrics lying around to fact-check that claim, the food at North Bondi's Speedos Cafe certainly looks the part. Across the road from another visual pearler, Bondi Beach, Speedos serves up some absolutely gorgeous looking and colourful pancakes towers, burger stacks, smoothies, and giant salad bowls. Luckily, they taste as good as they look–with plenty of clean, healthy options to keep that summer Bondi bod as well.
The Shop And Wine Bar
Opened in 2004 by local husband and wife duo Lucy and Mike Haskas, The Shop and Wine Bar (or "The Shop") is a quirky establishment nestled on the corner of Curlewis Street and Glenayr Avenue. Open until mid-arvo Sunday through Tuesday and into the night the rest of the week, try a Japanese-influenced big brekky for breakfast, the crowd favourite Italian meatball sub for lunch and a cheese plate and grilled halloumi for dinner. As you probably guessed, you can pair your meal with a glass from the substantial wine list, alongside cold-pressed juices, all your early morning pick-me-ups, and classic cocktails.
Bennett St Dairy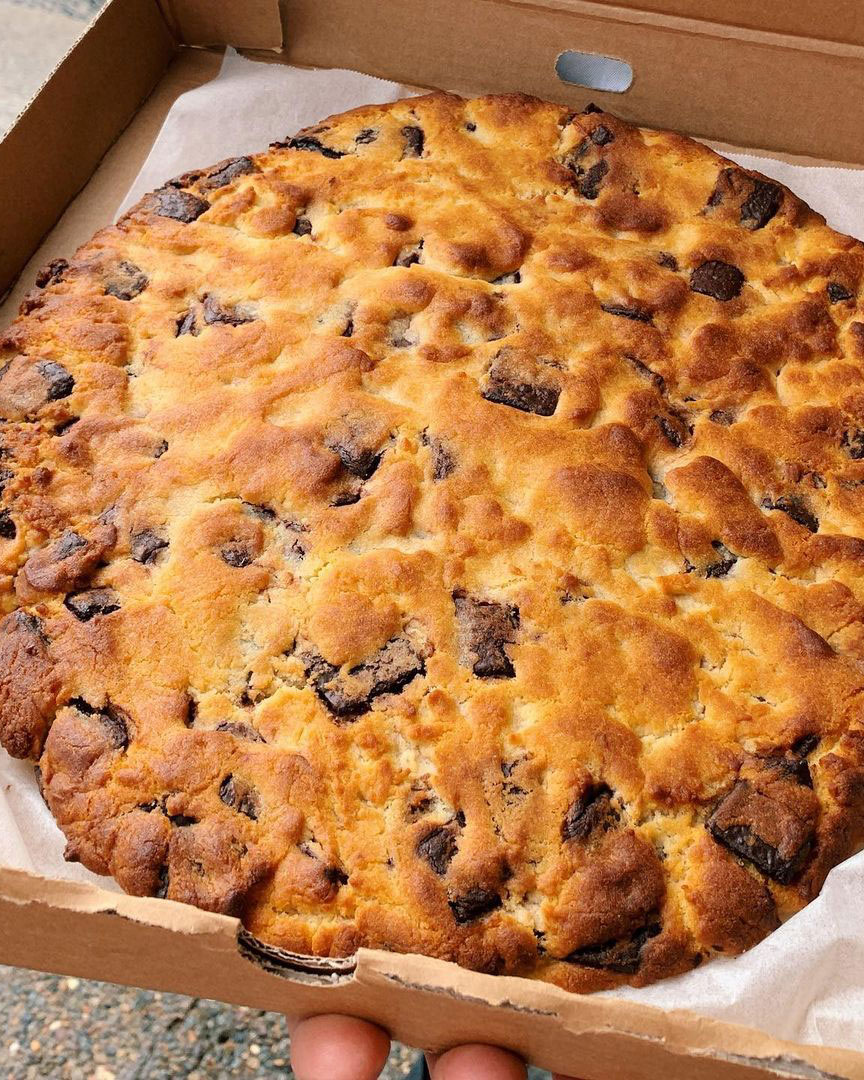 While display sweet treats can sometimes be an afterthought at cafes, in-house baked goods are the name of the game at Bondi's Bennett St Dairy. Specifically, the Bondi Road Café is known far and wide for its cookies. You can order the cult favourite cookie dough online to bake at home or even find it on the shelves at Harry Farm if you're lucky. Outside of gigantic, belly-warming cookies, Bennett Street Dairy offers classic brekky and lunch options like a bacon and egg roll and a hot corn beef and rye sandwich. You'll find a more substantial menu offering down the road at the second venue, Blair St Dairy.
Still hungry? Check out the best restaurants in Bondi for dinner dates and feasts with friends.
Image credit: Glory Days, Glory Days, Porch and Parlour, Lox in a Box, Rocker, Lox Stock & Barrel, Bills, Heart Cafe, Harry's, Speedo's Cafe, Bennet St Dairy