The art of "brunching" itself is a rite of passage in Sydney. From poached eggs to waffles, loaded croissants and brekkie burgers, the people of Sydney are a sucker for a good mid-morning foodie session to satisfy any craving.
Here are all the greatest places to brunch in Sydney.
Three Blue Ducks
Bronte and Rosebery
An easy pick for the top spot on this list, The Ducks have a strong reputation for dishing out some of Sydney's best brunch. An icon on their all-day breakfast menu has to be the corn fritters, served with guacamole, fermented cabbage, jalapeño, herb salad, labneh and poached eggs. Throw in a lychee mimosa or a spicy Bloody Mary, and trust us, you're in heaven.
Platform 82
Concord
Through the wonders of the internet, Platform 82 pretty much became a viral sensation overnight with all the pictures of towering brunch meals. Their breakfast platters are filled with sweet and savoury dishes that'll have you needing a small army to finish up. Pancakes with icecream and eggs, halloumi, avo and bacon are all on the docket for this one, but make sure to book because there's normally a line around the block.
The Grounds Of Alexandria
Alexandria
The Grounds of Alexandria is a must-do Sydney experience. Expect beautiful flower stalls, epic coffee and a menagerie of farm animals including mascot, Mr Harry Trotter the pig. The breakfast dishes change seasonally but a regular on the menu is a steak and eggs creation that'll have any human weak at the knees.
Blackwood Pantry
Cronulla
Sydney's brunch game turned up ten-fold when Blackwood Pantry landed on the scene not too long ago. Go for the Turkish poached eggs with yoghurt, chimichurri, paprika, oil and mixed mushrooms, or the sweet potato and carrot fritters.
Reuben Hills
Surry Hills
For a perfect pit stop on the way to work, Surry Hills veterans always choose Reuben Hills. The boutique coffee roaster turned café has strong industrial vibes, a mezzanine roastery, and a gentle stream of sunlight pouring in from the back lane. Order up the broken omelette roll with fried shrimp, rocket, bacon jam, chipotle aioli on a milk bun. Wash it down with Reuben's espresso of the day for a next level kickstart.
Bills
Darlinghurst, Surry Hills and Bondi Beach
Bills might as well be responsible for kicking off the brunch trend in Sydney. It is a place where everyone finds it acceptable to indulge in a spiced Bloody Mary at 10am, meaning it should be on the top of everyone's list. Here, all you need to know about is Bills' famous ricotta hotcakes topped with banana and honeycomb butter. It doesn't get any better than this.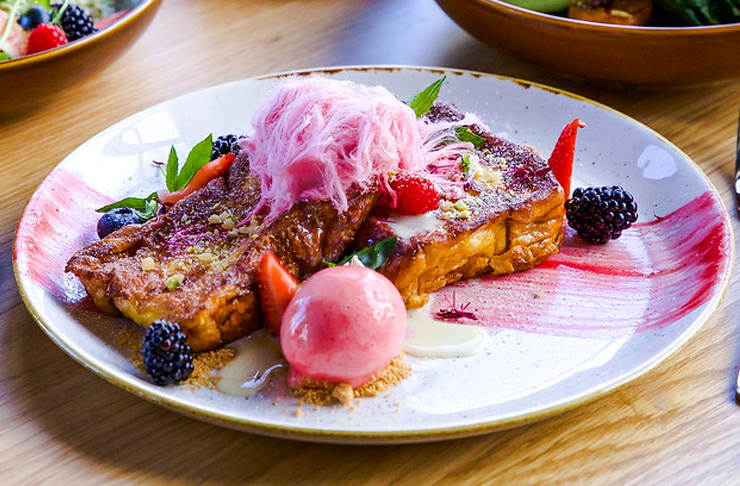 Went To See The Gypsy
Alexandria and Potts Point
From the masterminds behind Gypsy Espresso comes Went to See the Gypsy—an eatery that's popped up in both Alexandria and Potts Point, serving up classic dishes with a slight twist. Step in as your nose fills up with the aroma of freshly brewed espresso and spices. The scrambled egg and bacon baguette with jalapeno mayo will send your taste buds shooting through the roof.
Social Hideout
Waterloo and Parramatta
Sydney's famous Social Hideout, otherwise known as the Willy Wonka of all cafes, is known for all the over the top feeds (and the Instagram opportunities). Here, you'll find an all-day brunch which includes the likes of matcha green tea French toast with red velvet mascarpone, berries and caramelised banana. Bonus points for their flower walls so you can get the most aesthetically-pleasing picture to grace everyone's Instagram feed.
The Rusty Rabbit
Burwood and Darlinghurst
The team over at The Rusty Rabbit have a way of making you drool before they've even set your plate down. The corny melon fritter is that special something you can't pass up. A corn fritter with fresh watermelon, feta, avo smash, poached egg, veggie crisps, cucumber mint and aloe vera dressing, it definitely tickles the tastebuds.
The Rook
CBD
Celebrating the brand-new Sipsmith winter cocktail menu, The Rook has revised its opening hours on Saturdays to host a bottomless G&T teapot party. You get unlimited pours for two-hours as you feast on a whole bunch of goodies. Chicken katsu sandwiches, wagyu beef sliders, chocolate brownies and mini sweet potato pie are all part of this delectable menu.
Green Moustache
North Sydney
Known for its famous bottomless brunches, the Green Moustache is a venue filled with every plant imaginable and a view of the North Sydney skyline. The dishes here are plated up by ex-Chin Chin chef Pete Fitzsimmons and are filled with all the classic brunch players to fill you up. The Japanese pancakes with maple bananas and vanilla floss will soon become your go-to weekend meal.
Trio
Bondi Beach
With a menu full of mixed cultures and some all-time traditional options for brunch, Trio is full of surprises. Located right on the popular Campbell Parade at Bondi Beach, you've got a view that comes straight from a postcard. The "Boss Eggs" will have you feeling a little bit fancy: scrambled eggs with avocado and prosciutto served on sourdough with fetta and truffle oil. Pair it with a Nutella and banana milkshake for optimal brunch vibes. And for the gluten-intolerant folk, almost every item has a separate option for you.
Efendy
Balmain
Efendy is the hero of Sydney's most authentic Turkish fare (they literally air-freight baklava from Turkey each Wednesday). Their $35 brunch deal is inspired by the Turkish breakfast houses in Van, Turkey, and features plates (and plates) of pastries, Anatolian cheeses, olives, spreads, house-made jams, seasonal vegetables and fruits, pastirma and other hot dishes served in a board to share together with Turkish tea, apple tea or Turkish coffee. Some sage advice too: come hungry.
Untied Rooftop Bar
Barangaroo
Untied holds a place on this list for two very legendary brunch sessions—their Vegan Bottomless Brunch and Brunch with Soul. If you live that plant-based life, these vegan brunches will 100% become your weakness including corn fritters, mushroom tacos and silk tofu shakshuka. Get bottomless top-ups of their Lychee Snap cocktail for those summertime vibes.
As for the brunch with soul, it's a glorious tribute to New Orleans, whipping up nduja eggs benedict with fried chicken and butter biscuits. Definitely a game-changer. Pair this on with flowing Aperol Spritzes and Elderflower Bisous for ultimate bliss.
Love fried chicken? Here's a list of Sydney's very best.
Image credit: Social Hideout.