Here in Sydney, brunch is one of our ultimate pastimes. It's a weekend sport, an excuse to catch up with mates, and one of life's best hangover cures all rolled into one delicious sitting.
Whether you prefer to kick things into gear with top-quality espresso, a soul-restoring green juice, or a round of mimosas, Sydney has heaps of brunch options to pack out your weekends. Head to the coast for a side of sparkly ocean views with your mid-morning feast, or into the Inner West for brunches inspired by far-flung cities from around the world.
Ready? These are the best spots in Sydney for brunch.
La Salut
Redfern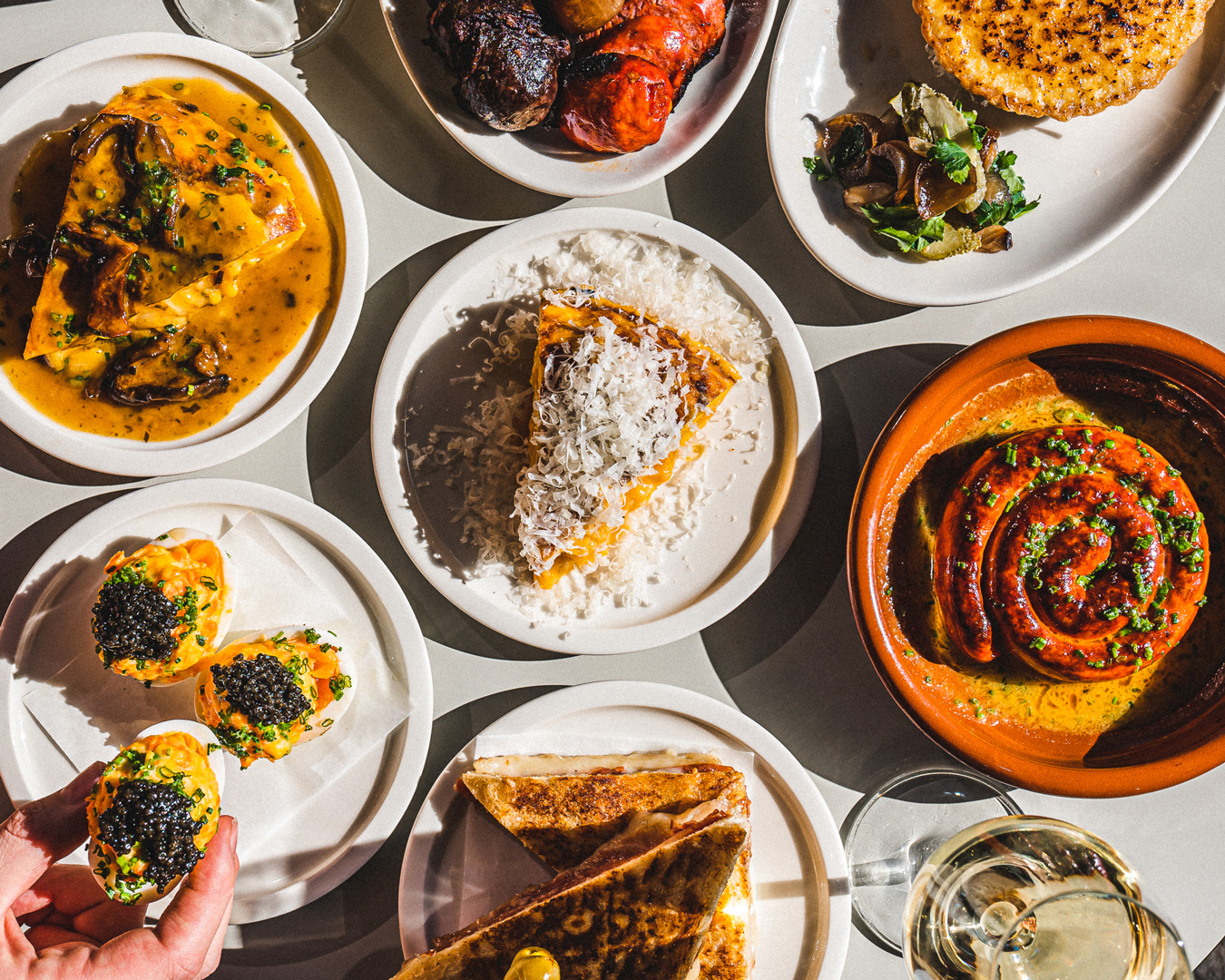 This Catalan-inspired wine bar might not be your first pick for Sunday brunch, but as of Sunday 3 July 2022, La Salut will be dishing out breakfast, Barcelona-style. Inspired by executive chef Scott McComas-Williams' time spent brunching in the Spanish city, the menu includes jamon, tetilla cheese and truffle toasties (or, "bikinis") and tortilla three ways, topped with a heap of manchego cheese, lobster salad, or mushroom sauce. There are also devilled eggs stuffed with potato salad and topped with Prunier caviar—a common Spanish bar snack, made fancy just because.
Proper Barcelona locals get their drink on early in the day and at La Sault, you can too, with a classic cava and OJ (move over, mimosa!). Or go for the sherry-spiked Bloody Marys, an Agua de Seville (whiskey, cava, and house-made pineapple tepache), Tinto Invierno (red wine and spiced ginger beer), or, for an added kick, an iced filter coffee spiked with Licor 43 horchata. Yum.
Brunch at La Salut is available on Sundays only, from 11am - 3pm.
bills
Bondi, Surry Hills, Darlinghurst, and Double Bay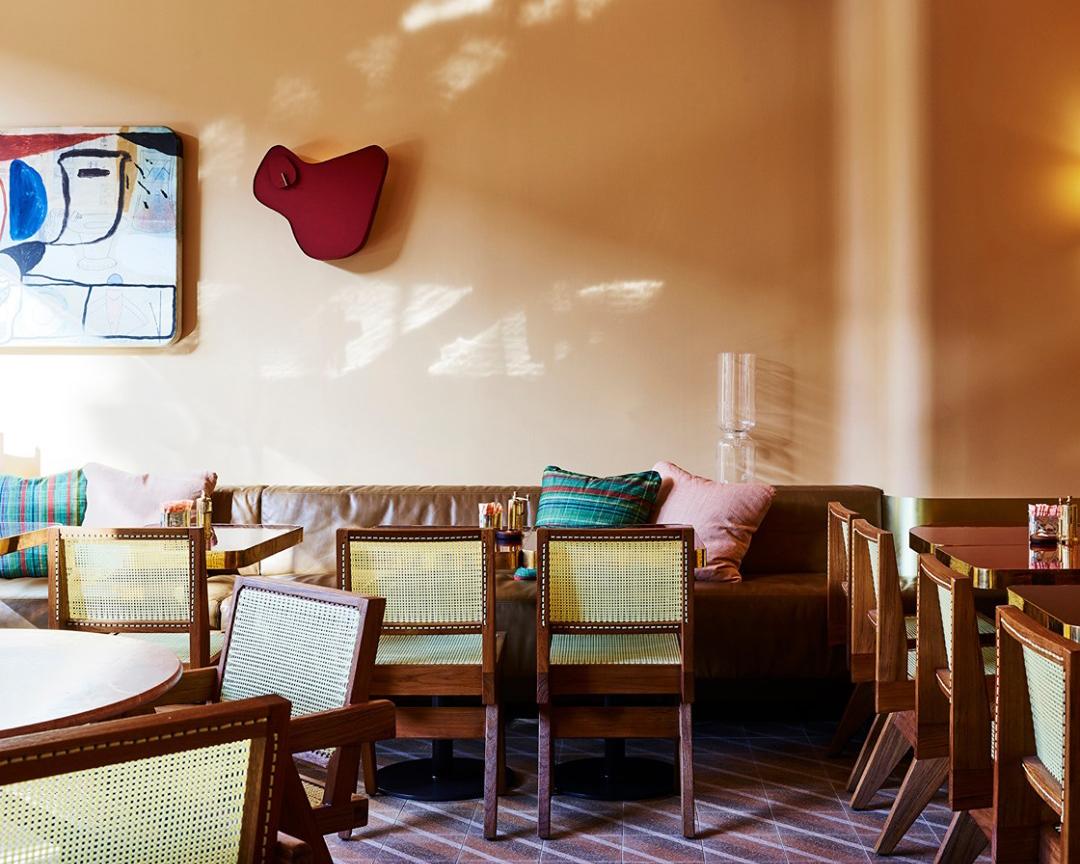 To put it simply, bills is a staple on the Sydney brunch scene, created by the chef that basically invented brunch in Sydney, Bill Granger. Bills' ricotta hotcakes and silky scrambled eggs are the stuff of legend. These days there are four bills locations—in Darlinghurst, Bondi, Double Bay, and Surry Hills. The original Crown Street outpost has shuffled down the street and has a refreshed aesthetic that involves honey-coloured walls, jewel tones, and rattan chairs. But the hotcakes are still there, as are the sweet corn fritters, and those perfect scrambled eggs. Trends come and go, but bills is forever.
Kurumac
Marrickville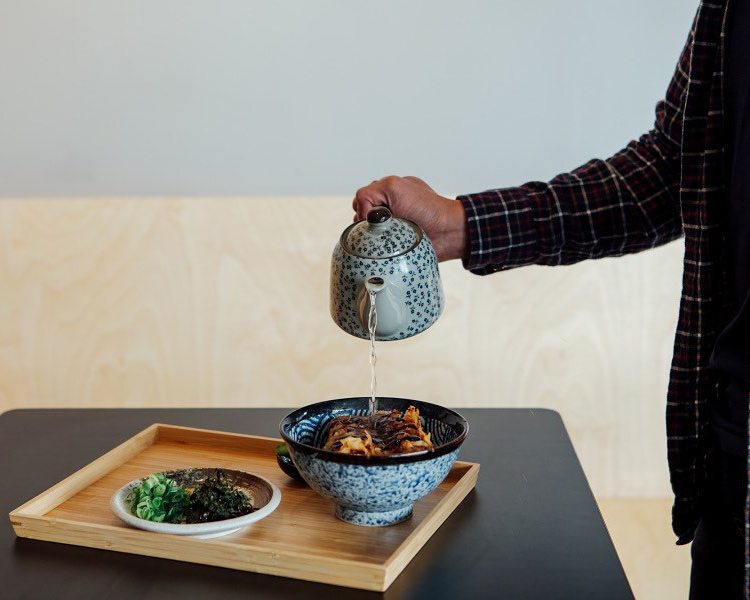 Kurumac ("Cool Mac" in Japanese) serves Japanese comfort food in the AM to the sound of breezy hip-hop beats and moody jazz. Inside, you'll find a pop-bright mural on the wall by Ar-chive and a menu that might feel off-beat for anyone searching for avo on toast—but in this instance, it's well worth embracing the new. Try the spicy cod roe melt—made with thick-cut Japanese milk bread (shokupan), roe, and tasty cheese, it's a contender for one of Sydney's best toasties. There's French toast with Okinawa black sugar and roasted soy gelato, grilled salmon congee, and, for lunch, eggplant katsu and cold maze udon. Alongside all your coffee staples, you can cool off with an iced mugicha tea or green tea gelato milkshake.
Maiz
Newtown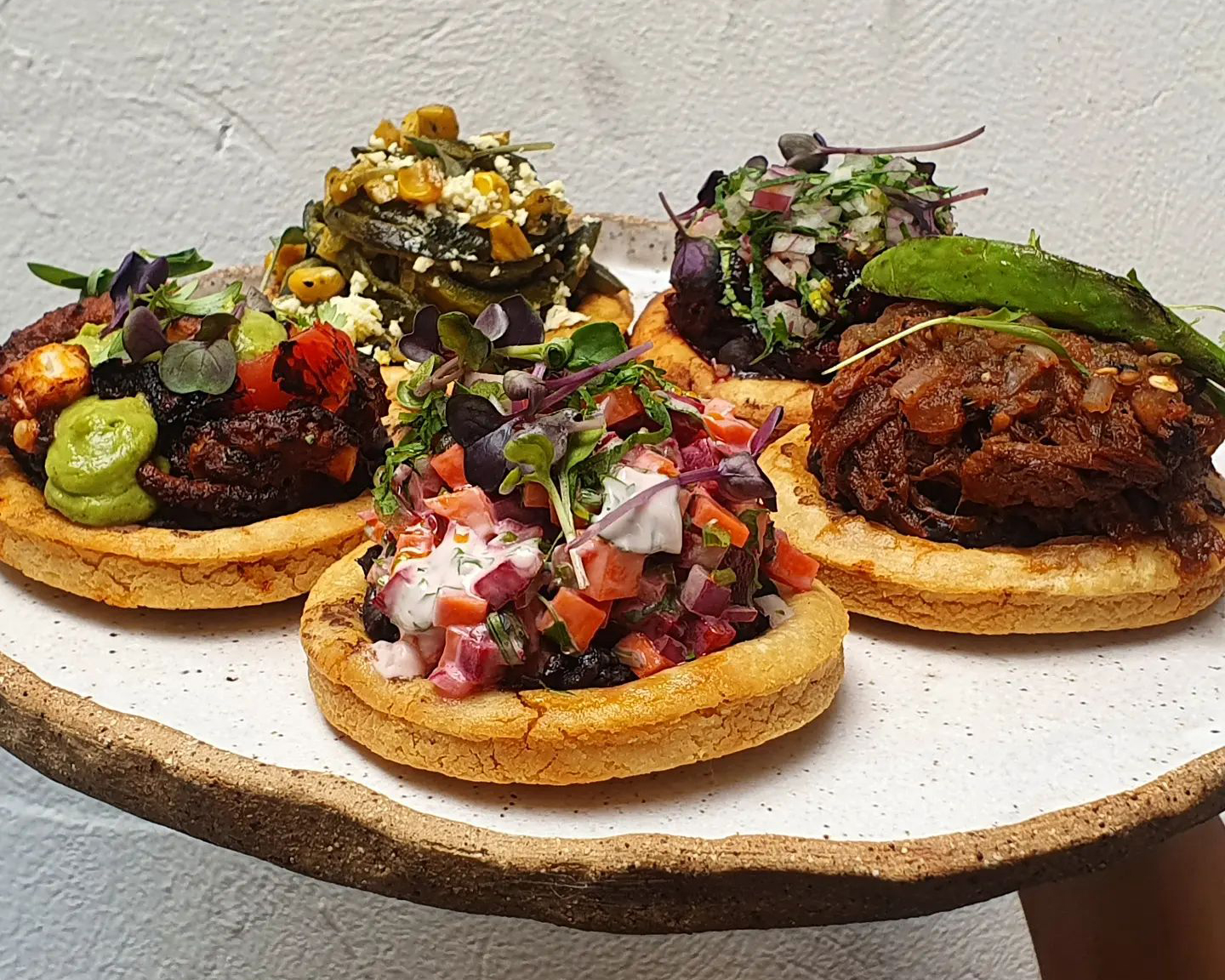 Maiz has currently paused its brunch service due to staff shortages. We've left it on our list in the hopes that it comes back soon. For now, you can visit Maiz for dinner—more info is here.
If you're yet to delve into the deliciousness that is a Mexican brunch, Maiz is here to enlighten you. Headed up by Juan Carlos Negrete (ex Three Blue Ducks), Maiz is an ode to the best of Mexican street fare, minus the Westernised taco and margarita. Housed within a quirky former backpackers on south King Street in Newtown, the star of the menu is the sopes—a thick corn tortilla-like masa cake usually loaded with a variety of savoury toppings. The menu is mostly gluten-free, except for the Mexican tortas, which are basically loaded sandwiches with taco-like fillings. For a boozy brunch, we recommend trying Maiz's mezcal cocktails.
Circa Espresso
Parramatta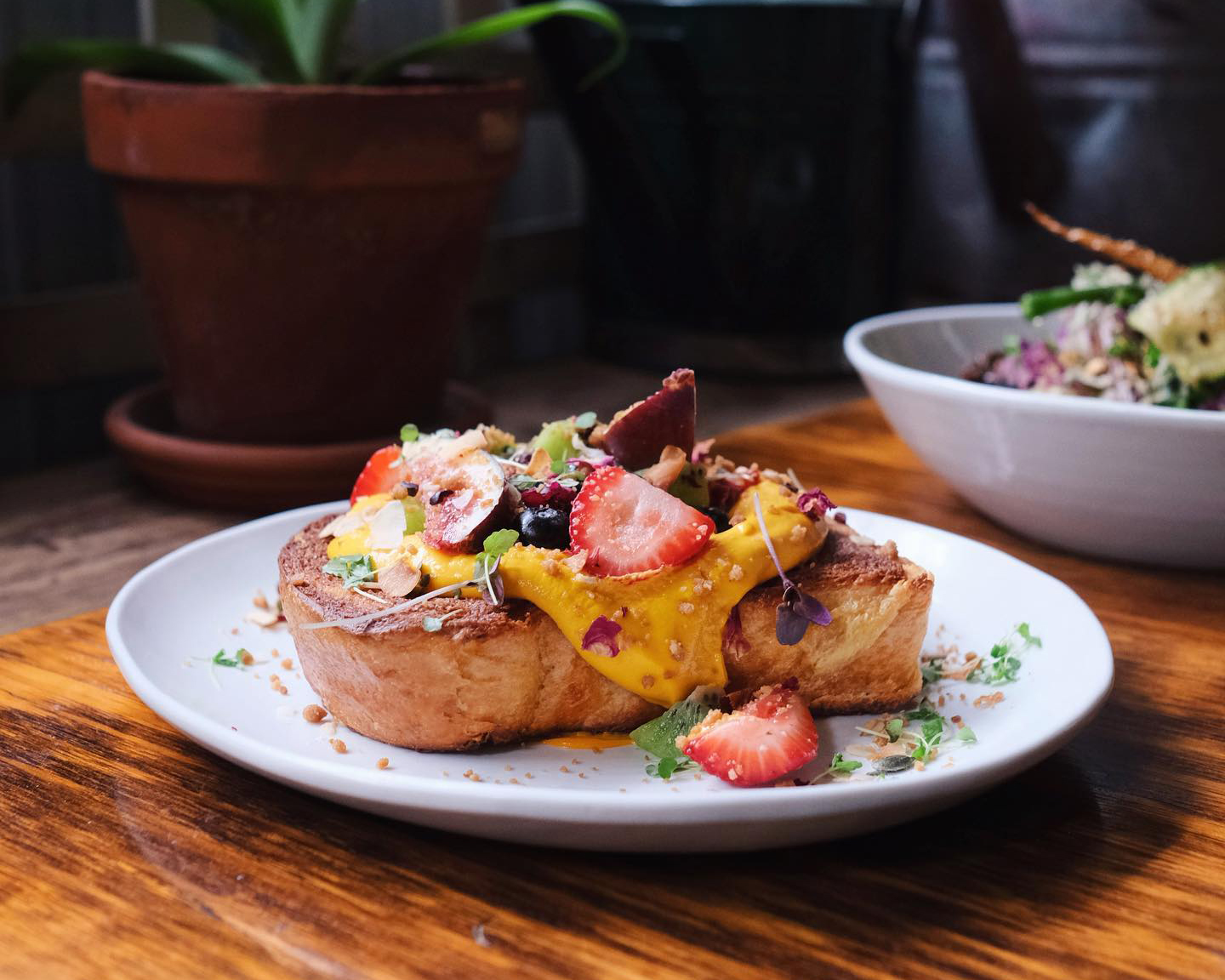 Circa Espresso is a Parramatta staple. Nestled in a little nook on Wentworth Street, this iconic spot has gained a reputation for offering one of Western Sydney's best breakfasts. Expect to sip Circa's signature specialty coffee and fill up on delicious comfort food from the all-day brekky menu—like crispy sourdough waffles, baked eggs, and vegan pumpkin ricotta served with freshly baked salt bush focaccia. Circa Espresso's seating spills out onto the footpath offering alfresco dining too. A true gem in Sydney's cafe scene.
Happyfield
Habberfield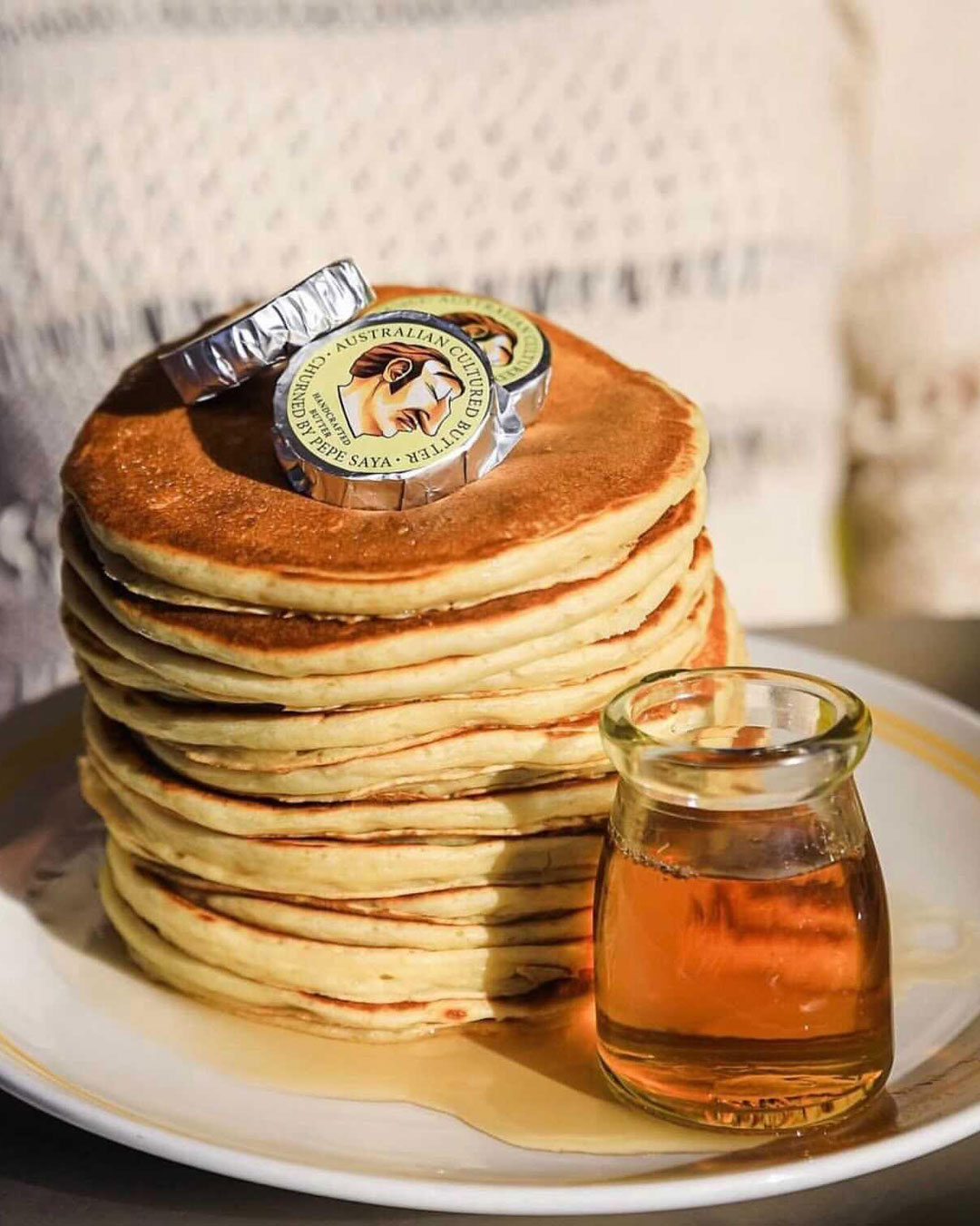 Opened in 2020 by Jesse Orleans and Chris Theodosi, Happyfield is a bright yellow corner cafe serving up amazing food and a genuinely (as the name suggests) cheery vibe. Alongside friendly service and menu items like the "McLovin Muffin", a brekky burger that will put your weekend Maccas order to shame, and an "NYC Reuben" with grilled New York-style pastrami, Happyfield is known best for its pancake stacks. If you fancy yourself a big eater, take on their unofficial "pancake challenge" by demolishing 15 pancakes (or more, if you want to beat the current Olympic-level record of 50) in 45 minutes for a spot on the wall of pancake fame.
Room 10
Pyrmont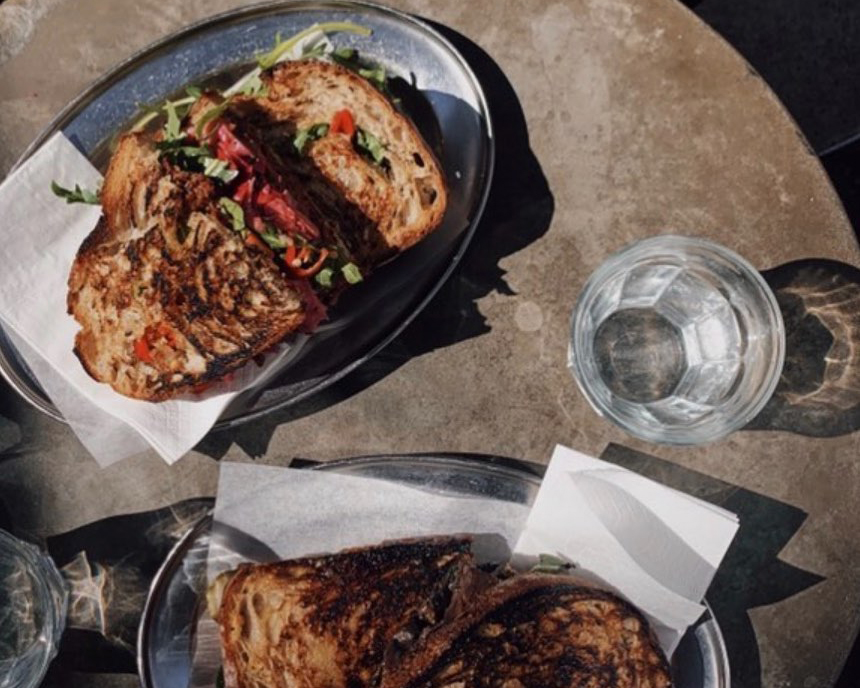 Over in Potts Point, Room 10 is a long-time hero on the map of Sydney's best brunch. You'll find this pint-sized spot down Llankelly Place, at the end of the laneway marked by a crowd of locals waiting for coffee or catching up with mates. A favourite with chefs and in-the-know foodies, Room 10 is uncomplicated and casual, serving Mecca coffee and an all-day breakfast menu. The breakfast rice with black quinoa and stewed rhubarb is a standout and their bacon and egg roll is one of the best. In early 2021, the Room 10 crew extended their offering across the laneway with Pina, a fresh space with a similar philosophy to the OG, but a bigger kitchen to add extra flourishes to existing Room 10 favourites.
SOUL Deli
Surry Hills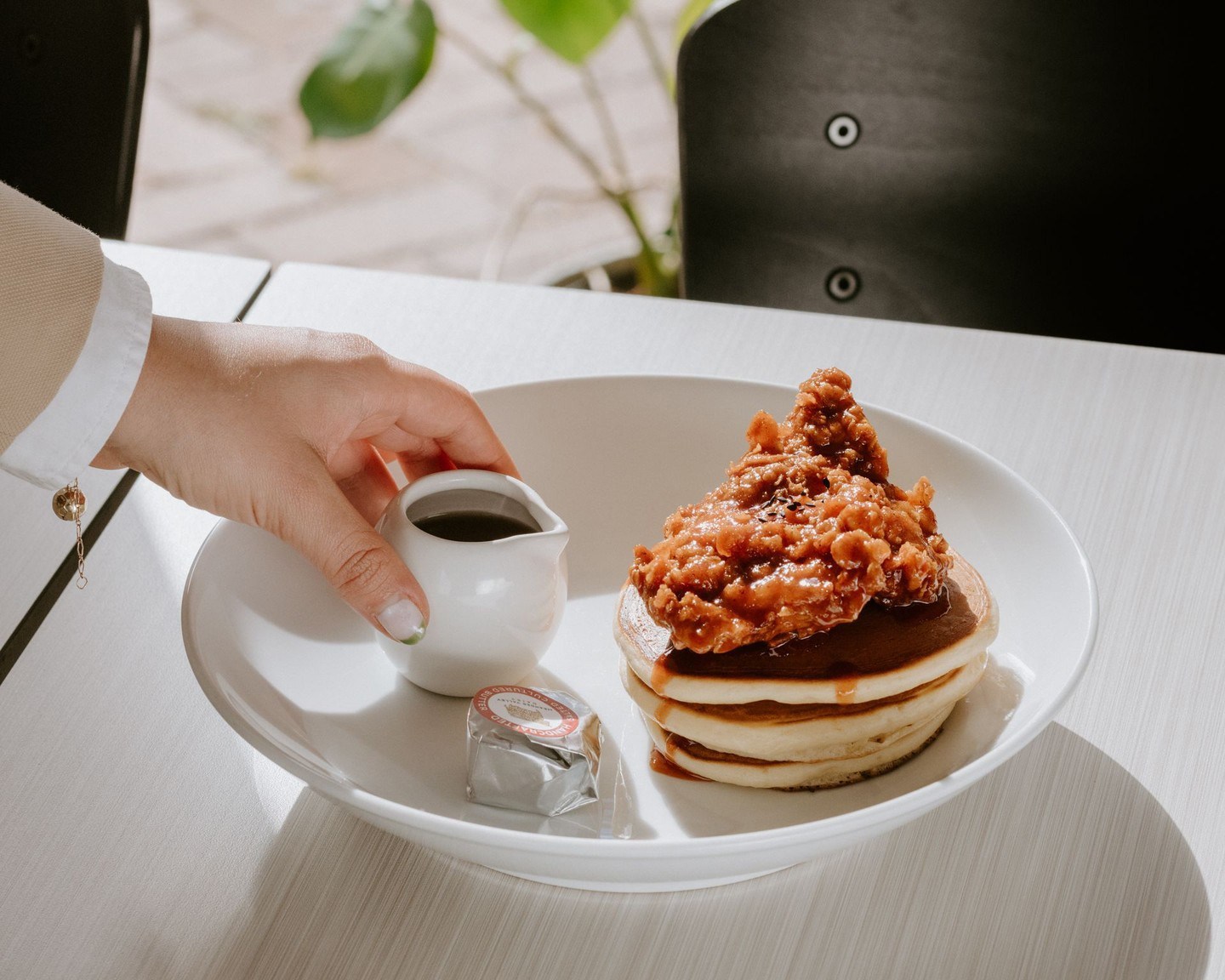 SOUL Deli is the sibling restaurant to Surry Hills' contemporary Korean restaurant SOUL Dining. Led by partners Illa Kim and Daero Lee, the space is part-deli and part-cafe, paying homage to the local Korean community with an intriguing edit of shoppable gourmet small goods and artwork by Korean-Australian artisans. Since opening in early 2021, SOUL Deli has become a brunch favourite thanks to its menu of breakfast classics served up with a Korean edge. The house hot cakes come topped with Korean fried chicken (KFC) and the cheesy omelette is served with Korean "caviar" (salty cod roe) and your choice of rice or sourdough. Seriously good stuff.
Quick Brown Fox
Pyrmont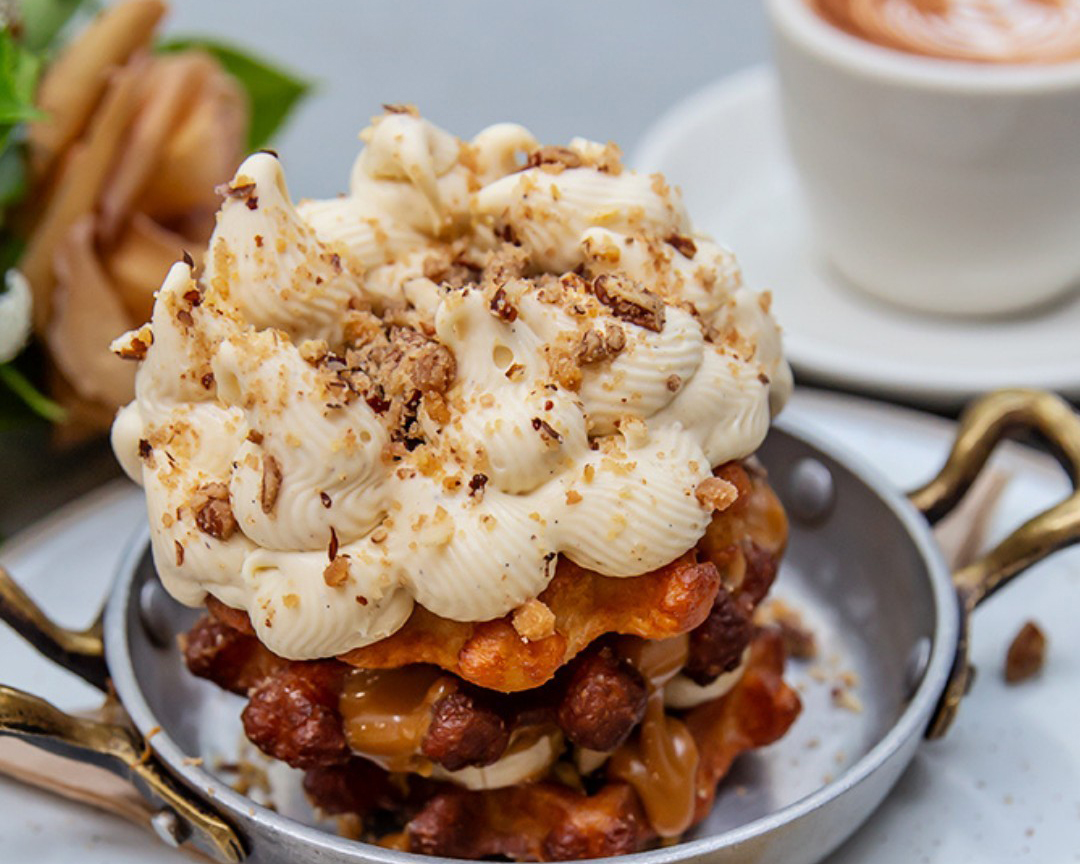 You'll find Quick Brown Fox in a bright, breezy sandstone cottage on a quiet corner in Pyrmont. Led by brother and sister duo, Ben and Emily Calabro—the food and coffee game here is polished and really (really) tasty. The heavy hitter? The ultra-hyped sweet stack banoffee pie waffle. Yep, a banoffee pie waffle. It's sandwiched with mascarpone cream, fresh bananas, caramel, and chocolate ganache, topped with biscuit crumbs and, wait for it, served with golden syrup ice cream. You also can't go past the buttermilk pancakes loaded with toffee, blackberries, salted pecan crumble, and passionfruit ice cream. For more of a dinner-for-breakfast vibe, the Koshihikari rice congee with chilli fried egg, enoki mushrooms, chunks of maple-glazed bacon, grilled cabbage and chilli relish is all kinds of umami deliciousness.
The Mayflower
Darlinghurst and St Leonards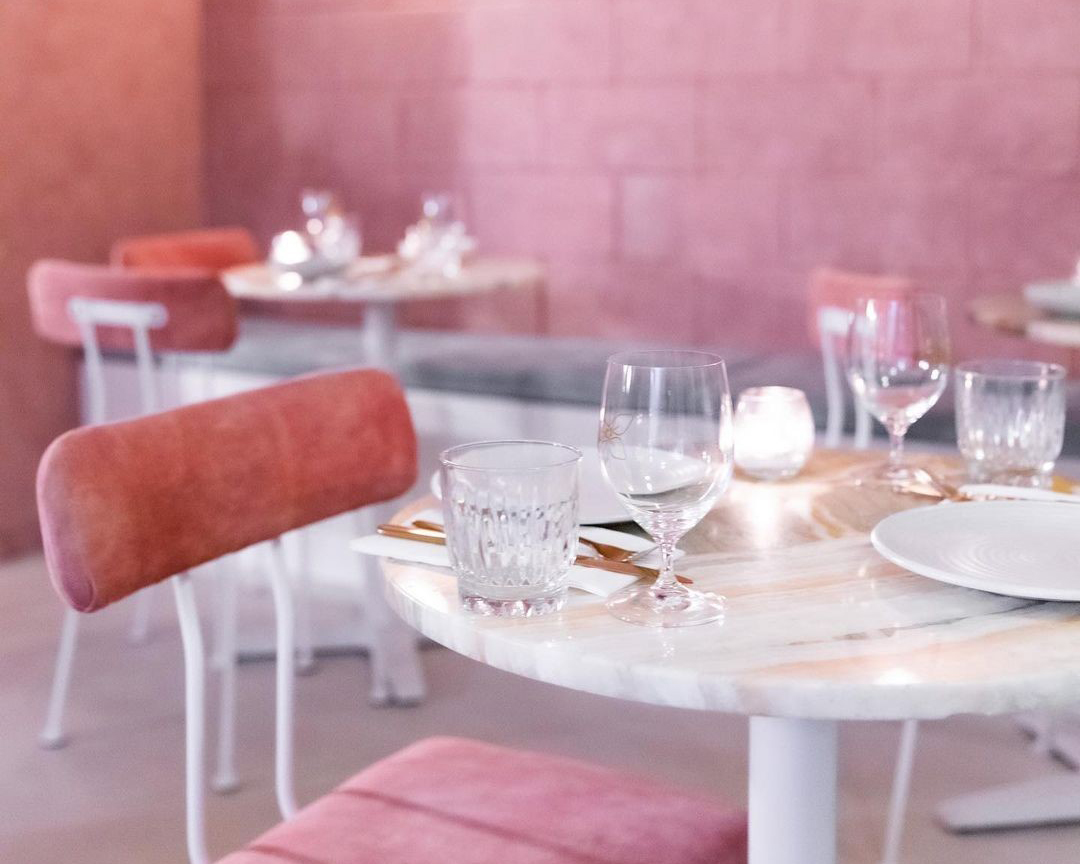 The Mayflower is all soft peach hues and decadent, refined dishes. This Darlinghurst cafe is built into an art deco-style shop front that was once a florist, and everything, from the sweet interior to the menu laced with fancy delicacies (like caviar and truffle), is a nod to the building's floral past. They've recently expanded to St Leonards too, with breakfast available on the weekends. For breakfast, order a croque monsieur with prosciutto de Parma, gruyere and béchamel and truffle shavings, or ocean trout gravlax with ricotta, beetroot and salmon caviar. For sweet tooths we'd recommend the French toast brule with rhubarb compote, blueberry and sour cream, and for savoury fiends, the quinoa congee with slow-cooked egg and shiitake mushrooms.
Single O
Surry Hills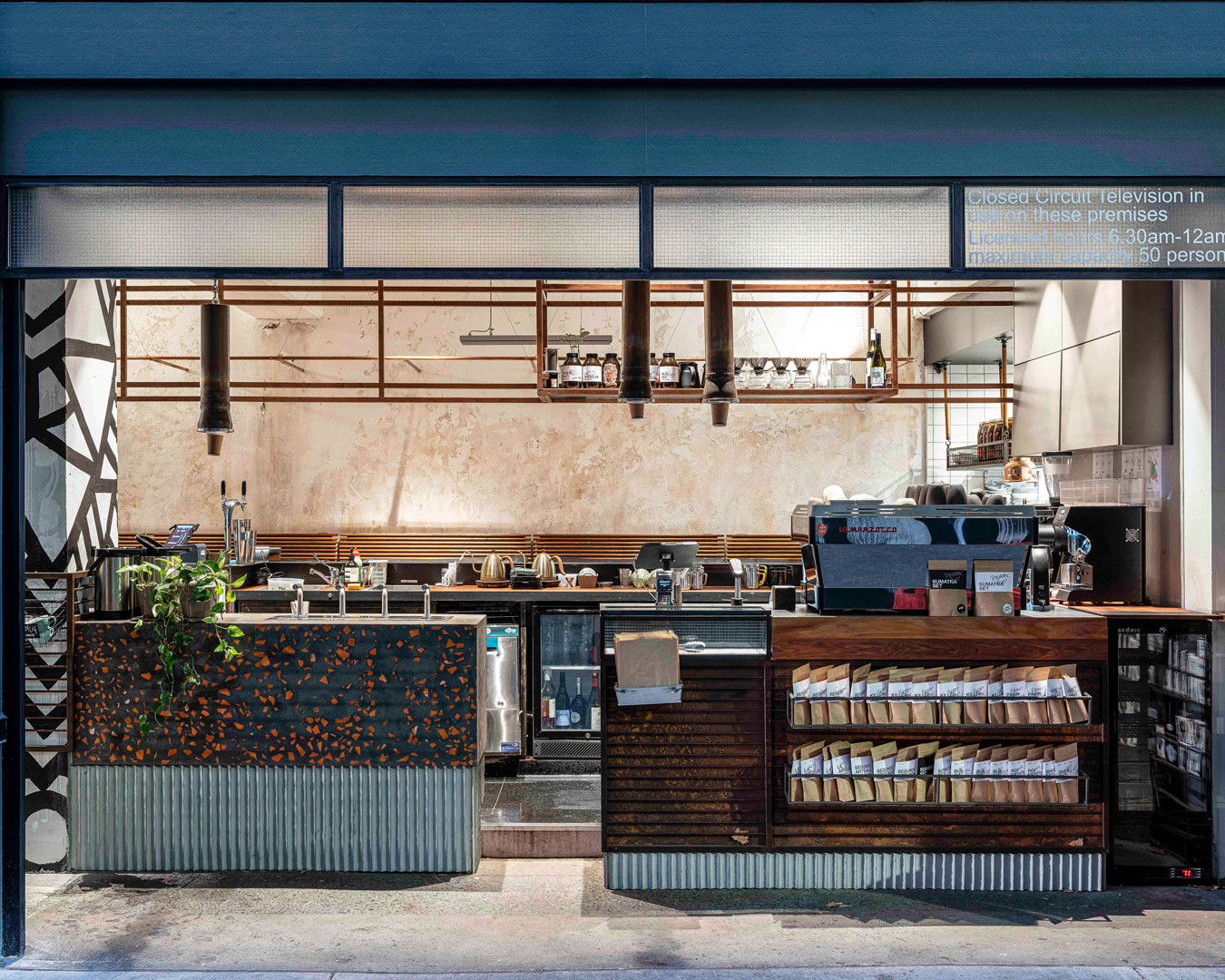 Sydney's cafe scene today would hardly exist were it not for the pioneers at Single O and all their Reservoir Street hijinks. Indeed, these guys have been championing caffeine in all its finer formats since 2003. Their pint-sized Surry Hills cafe was one of the spots where Sydney's coffee culture really kicked off. These days, the cafe has undergone a full design refurb by Luchetti Krelle, and Single O, true to the coffee business's pioneering nature, has made a series of major commitments towards sustainability (read more here). As well as a self-service batch brew bar, the menu at their Surry Hills cafe is 50% plant-predominant. Legends.
Porch And Parlour
North Bondi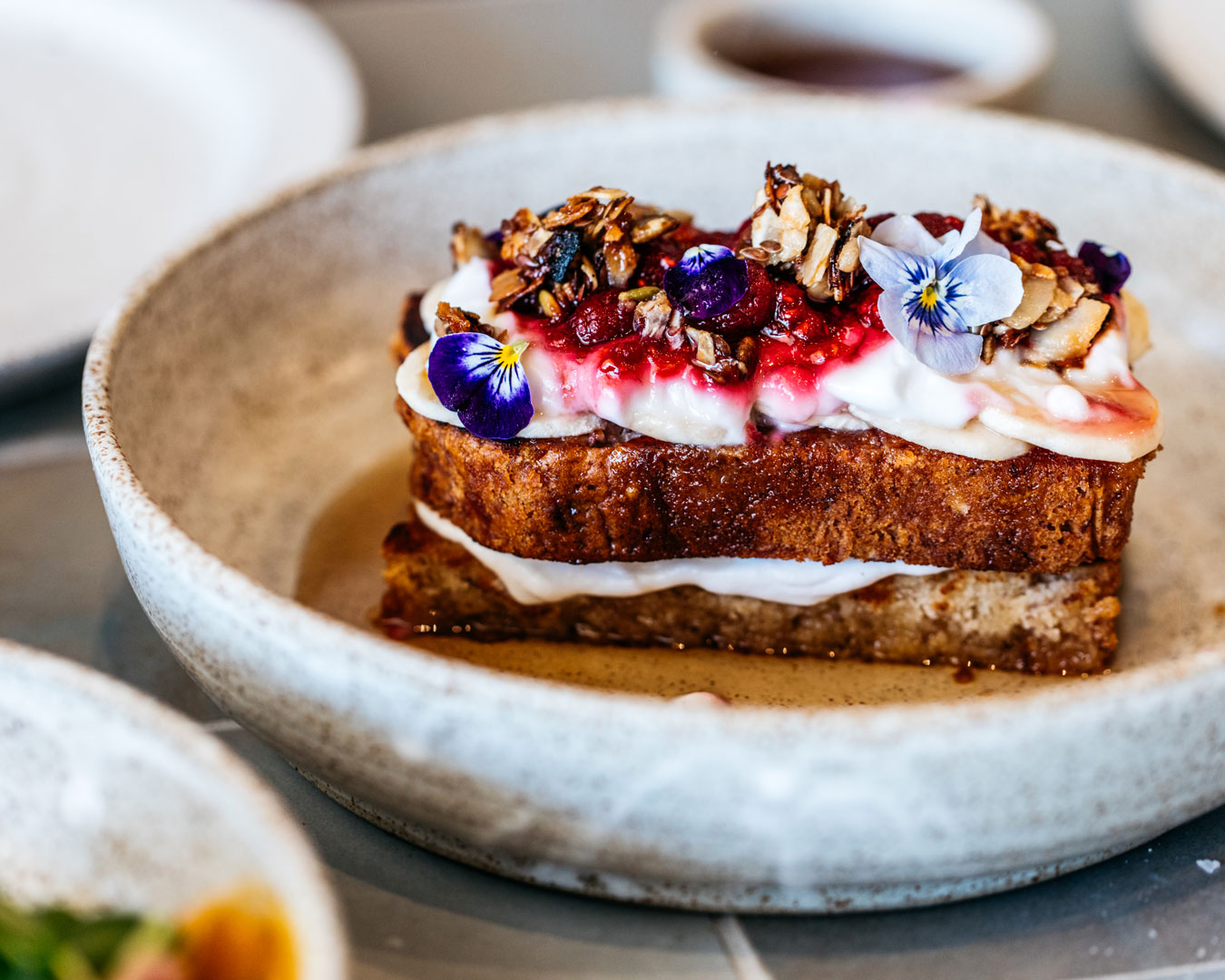 There's no denying Porch and Parlour is a North Bondi brunch icon. Led by locals Sammy Smith, Sarah Hendriks Smith, Ljuobo Milicevic, and Patrick Coleman, this beachside institution has stood proud on the sunny strip of Ramsgate Avenue for over a decade now. Here, the focus is on wholesome, wellness-centred food—but with far more authenticity and bite than most other Bondi cafes can claim. Served on the cafe's own brand of ceramics (Porch Ceramics) you can tuck into a turmeric folded omelette, a bright green pea pancake, a kimchi toastie, an ocean trout burger, or scrambled egg with falafel, hummus, and pickled veg.
Cuckoo Callay
Surry Hills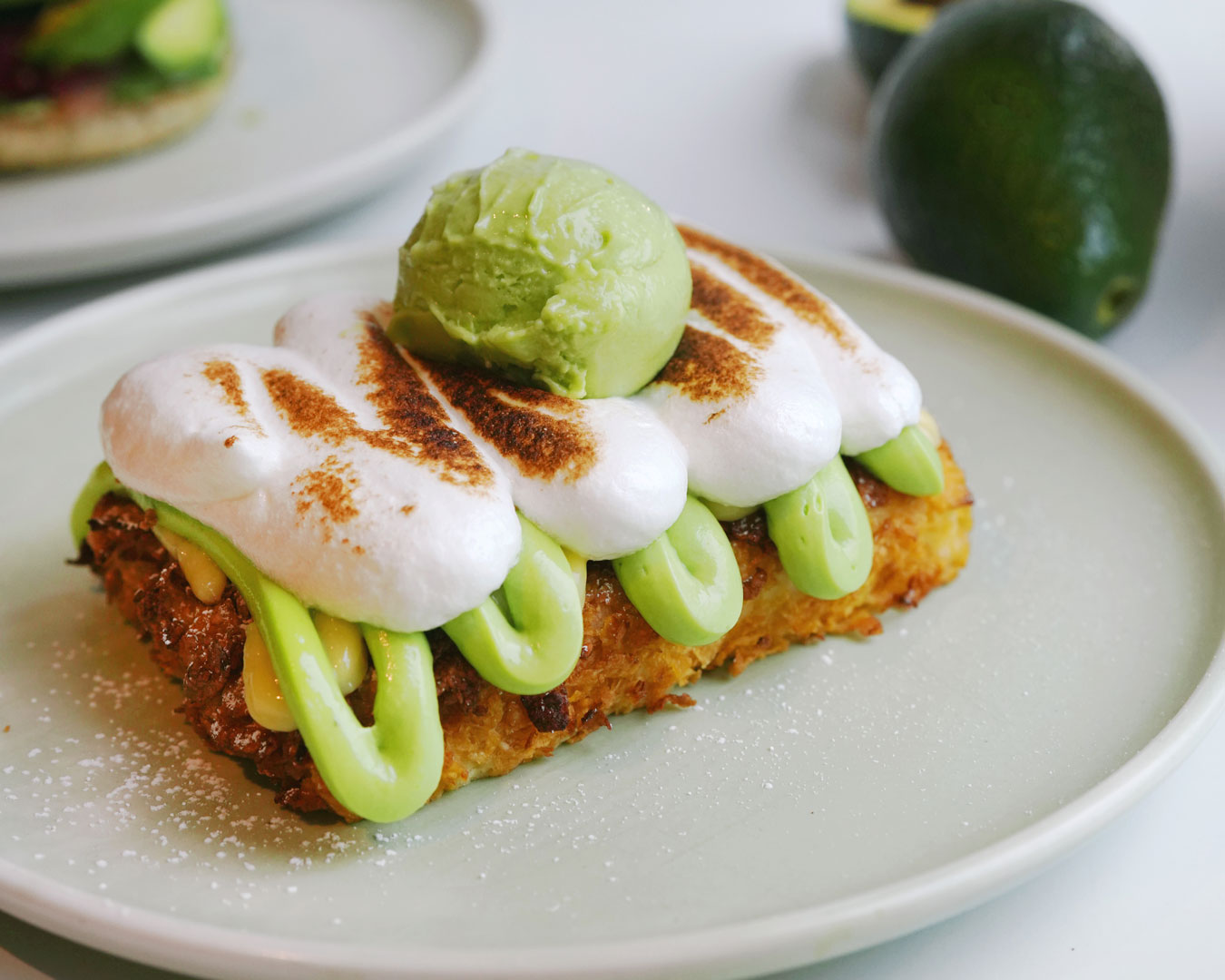 With a name inspired by a Lewis Carrol nonsense poem, Cuckoo Callay hits all the right kitsch notes with pink neon, velvet curtains, and brilliant white marble. But unlike other Insta-friendly venues, the menu holds up, marrying up fun puns and good vibes with legitimately delicious brunch dishes. Like the "Return of the Macdaddy", which is a croissant loaded up with triple smoked bacon, bacon mac n' cheese, 63° egg, tomato relish, and fried shallots. Or, the "I'm So Bondi It Hurts" soba noodle salad with coconut poached chicken or confit salmon. There are two Cuckoo Callay outposts in Sydney, one at Newtown Station and one on Crown Street in Surry Hills, but if we had to choose, we'd pick the Surry Hills spot for its sunny upstairs dining room—perfect for people watching on a Saturday morning.
Blackwood
Cronulla and Bondi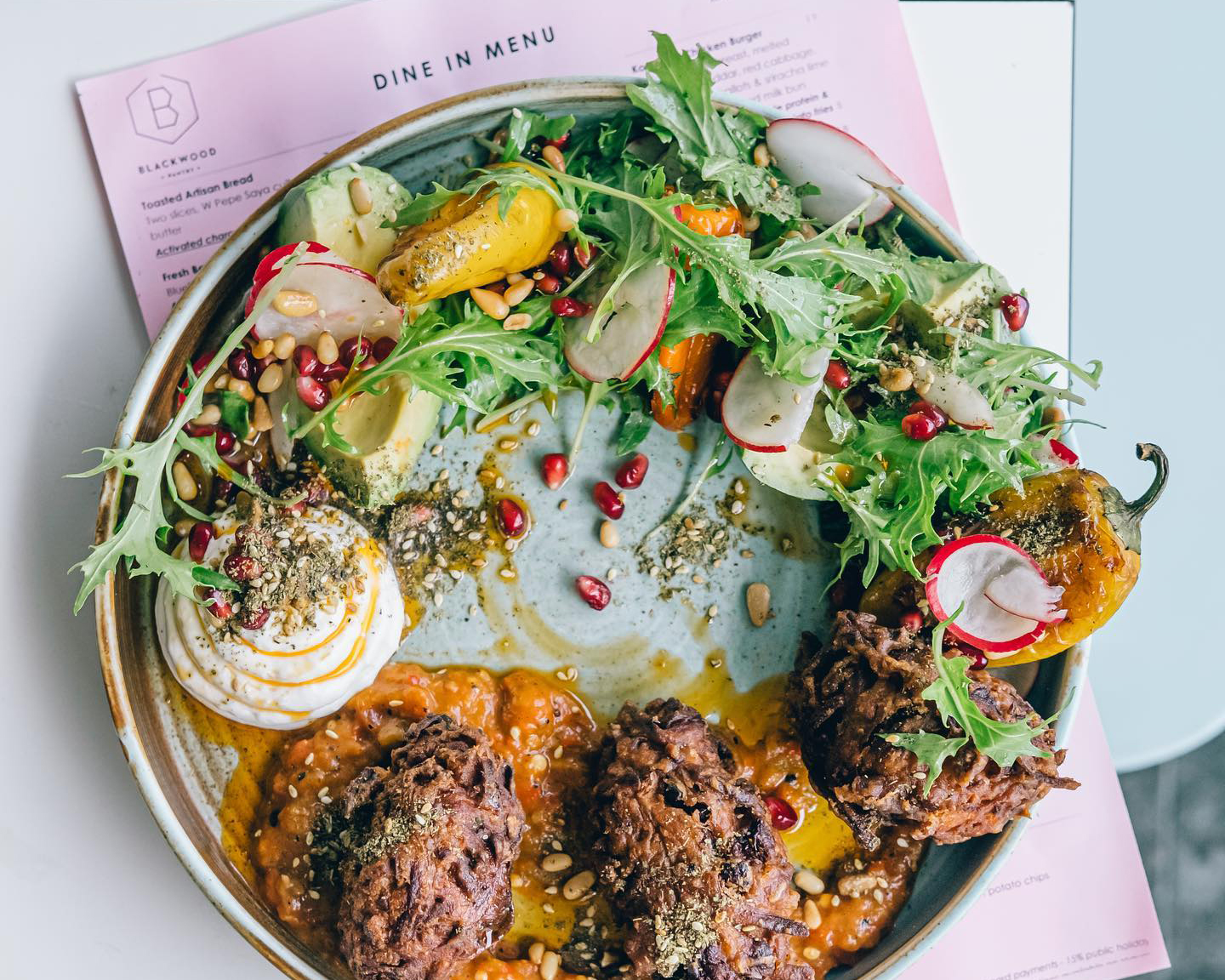 Blackwood Pantry is the food baby of three mates from the Shire, inspired by some of the world's best kitchens. Blackwood is another star on the Sydney cafe scene, wooing Cronulla locals with its fresh, wholesome menu. Favourites include the "Schnitty Schnitty Bang Bang", Insta-friendly nourish bowls, spicy BAE roll, and the much-loved miso avo, Blackwood's healthy spin on the classic avo on toast. If it's beachy, weekend vibes you're after—Blackwood is the spot. They've also just opened a new cafe in Bondi—check it out here.
Oceans
Narrabeen
Oceans is a spot where you can really feel the magic of the Northern Beaches—and you can see why locals tend to stay put and never leave. A stone's throw from Narrabeen Beach, pick a spot in the morning sunshine and soak up the salt air and laidback atmosphere, while you tuck into classic breaky staples like eggs benedict on corn and sweet potato fritters, ricotta pancakes, or Oceans' take on the big breakfast, the "Oceans Lot", which features streaky bacon and Spanish chorizo, two crunchy golden hash browns, house-baked beans, and more. Afterwards, walk it off with a stroll along the beach—we honestly couldn't think of a better way to start the day.
Three Blue Ducks
Rosebery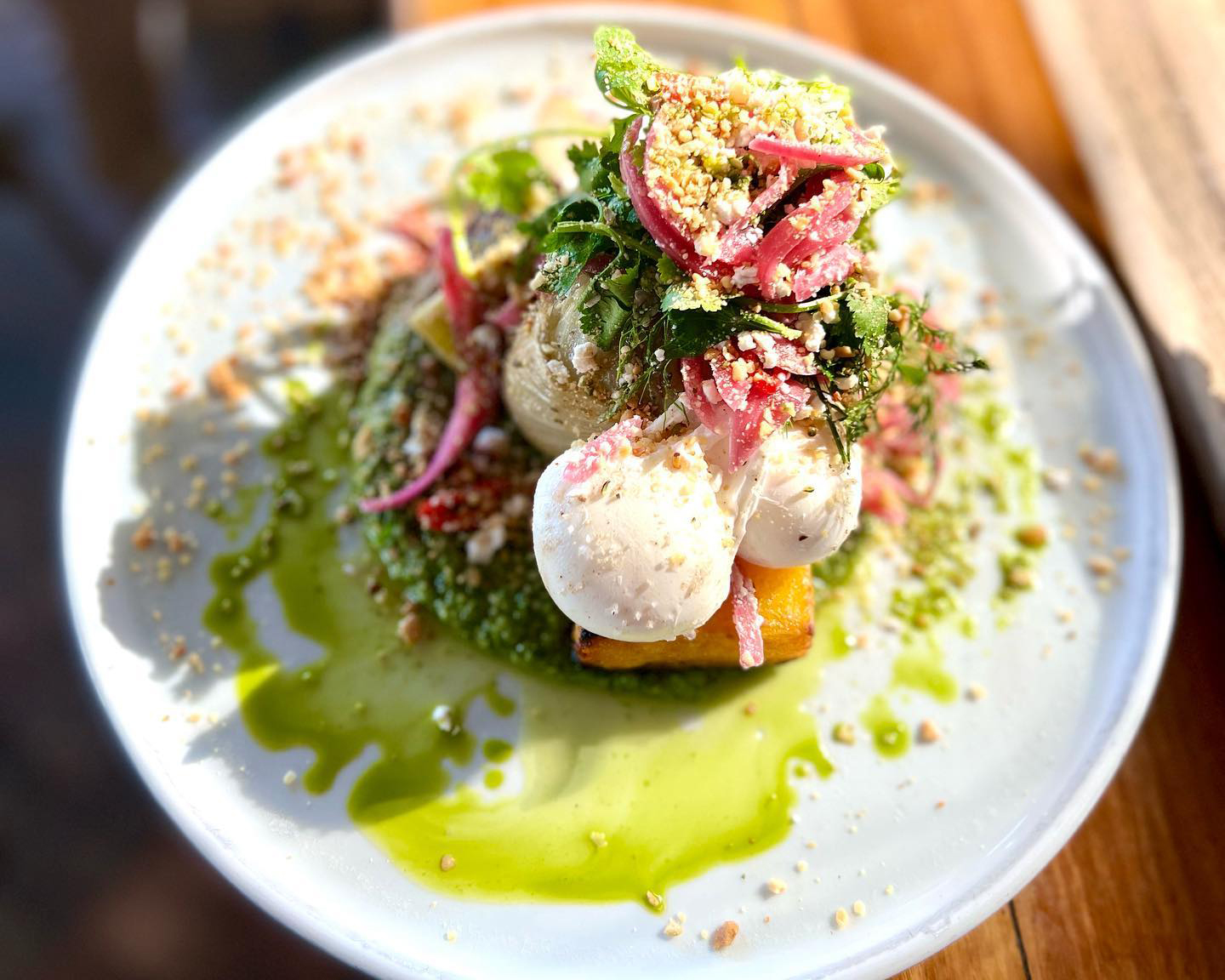 Another superstar within the Sydney brunch universe, Three Blue Ducks' influence has exploded over the last decade since a trio of surfy dudes from Bronte set up shop back in 2010. These days, The Ducks is a full-blown lifestyle, spread across the East Coast of Australia and centred squarely on a more sustainable approach to life and food. From their on-site cafe vegetable garden (featuring bees) in Bronte to their picturesque 80-acre working farm in Byron Bay, Three Blue Ducks have proved produce-driven, sustainable breaky is tastier. In Sydney, you can get your fix at Bronte and in Rosebery with now-famous dishes like scrambled eggs with black sausage.
Urban Jungle
Rooty Hill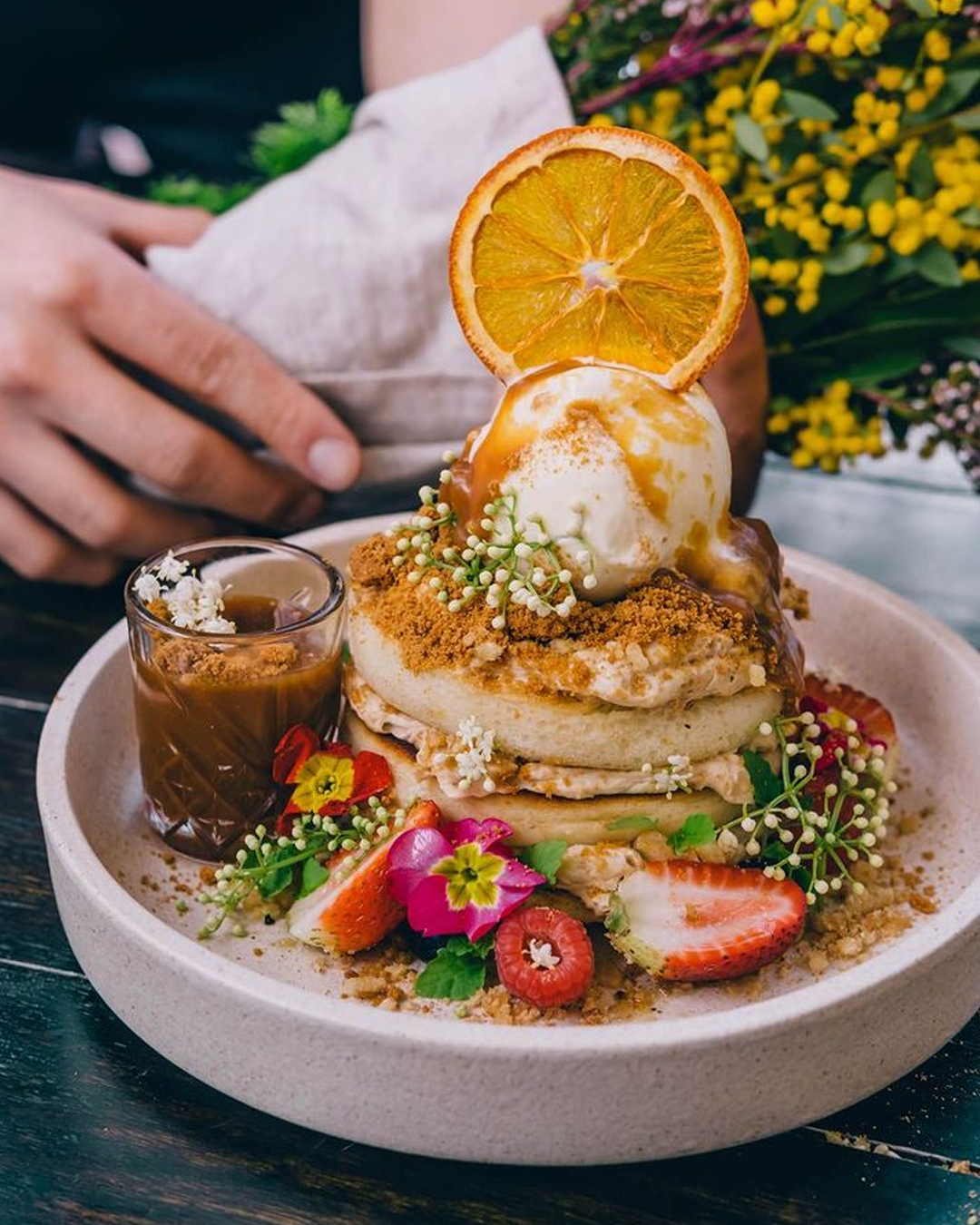 Neon lights, hanging plants, and dessert tacos—a brunch trifecta if we ever did see one. Urban Jungle feels half middle-of-the-Amazon and half cool co-working space and we absolutely dig it. The brunch line-up here is just as bright with everything from Lotus Biscoff pancakes and yuzu eggs benedict to fried chicken sandwiches and kofta plates. Brunch here also calls for some pretty tropical concoctions including watermelon margaritas, blueberry sours, and cloud apple martinis. Elsewhere you'll find all sorts of wine, beers, and spirits plus a pretty nifty suite of bubbles.
Want a mimosa with that? Check out Sydney's best bottomless brunches.
Image credit: SOUL Deli, Dexter Kim for Buffet Digital, bills, Kurumac, Maiz, Circa Espresso, Happyfield, Room 10, SOUL Deli, Quick Brown Fox, The Mayflower, Single O, Porch and Parlour, Cuckoo Callay, Blackwood, Three Blue Ducks, Urban Jungle