Is there anything better than a warm scone slathered with jam and cream, a crustless cucumber and egg sandwich or a perfect, bite-sized chocolate eclair? Combine that with a fancy cup of chamomile and mint tea or a cheeky glass of French champagne and you've found yourself the perfect afternoon.
Sydney-siders seem to be obsessed with high tea, a British tradition culminating in bottomless hot tea and a three-tiered stand adorned with decadent pastries and treats. No matter if you're celebrating a special occasion, catching up with an old friend or having a mother-daughter date, there's always time to indulge in this delightful tradition.
And whether served in front of stunning harbour views or in picturesque heritage gardens, Sydney has some pretty spectacular places to enjoy high tea. Each is sure to deliver a mouth-watering experience that will make you feel like a king or queen for the day.
Here are nine of our favourite high teas in Sydney.
Loftus Lane
Circular Quay
Located on the corner of Bridge Street and Loftus Street, this swanky cafe by day and elegant bar by night oozes jazz and melodic Bossa music all day long. Decked out with glamorous furniture, classic French crockery, and green marble accents, Loftus Lane Cafe is the kind of place you'll find rose pancakes, duck waffles, and King prawn pasta offered up on the daily. But, if it's high tea you're after, this offering is even more next-level and if you ask us, actually has to be seen to be believed.
Unlike anywhere else in Sydney, Loftus Lane Cafe whips up one of the best high teas in Sydney which gets served in a dreamy array of white drawers and glass jewellery boxes. The arrangement is like something straight out of Alice In Wonderland with the likes of smoked salmon and cream cheese waffles, strawberry and cream cheese tarts, macarons, cake slices, finger sandwiches, quiches, brownies, butter scones with jam and cream and then, to wash it all back—coffee, tea, or champagne.
Where: Loftus Lane Cafe, Circular Quay
When: Monday to Saturday, 10am to 2pm
Cost: $59 per person, $69 per person with a glass of champagne
The Langham
The Rocks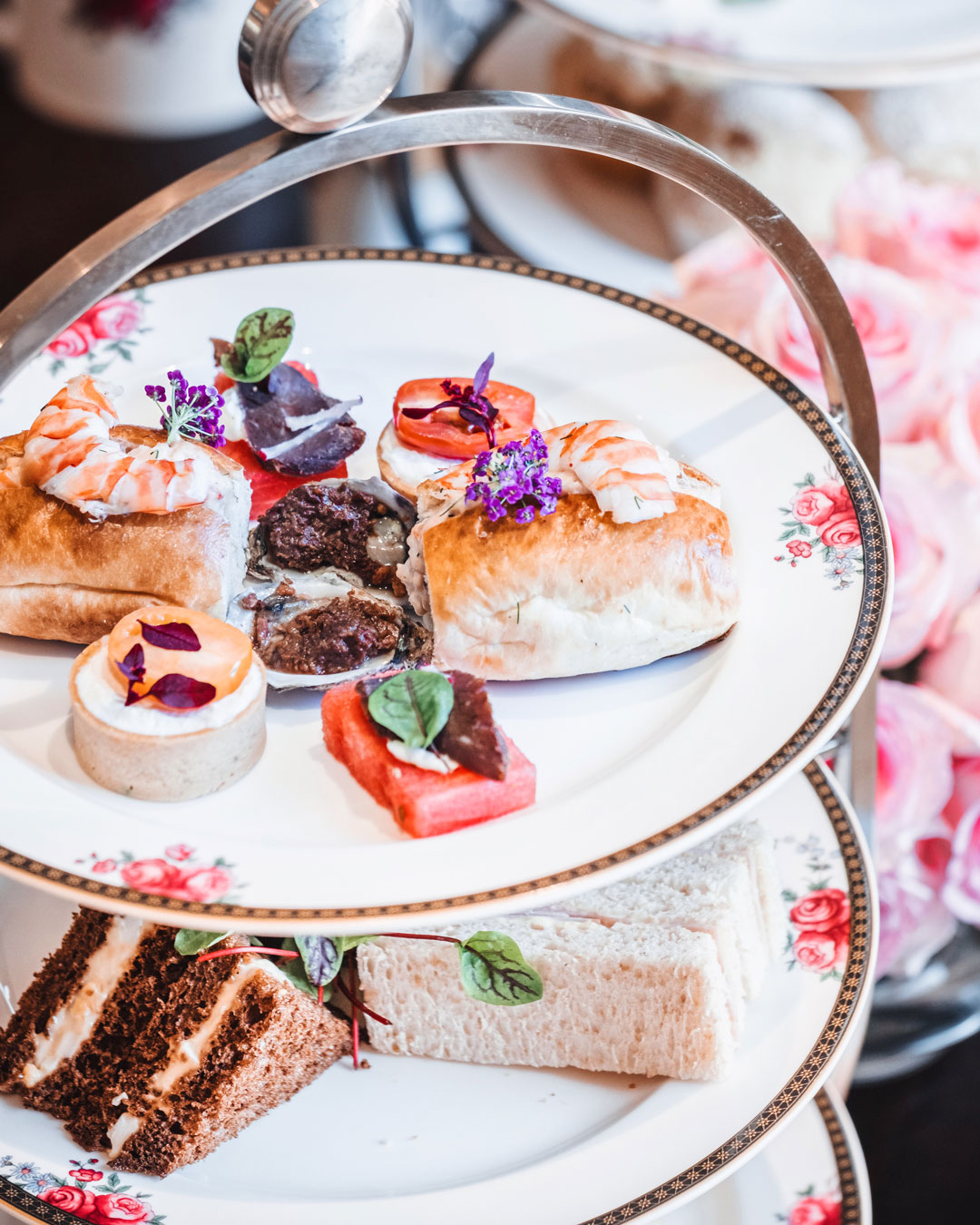 The beautiful Langham hotel is one of Sydney's most luxurious hotels—and it is also famed as the birthplace of the traditional afternoon tea. Take your high tea to new heights at their exclusive afternoon tea with Wedgwood, direct from their flagship London hotel, where it was born over 150 years ago.
Wedgwood is currently partnering with Valrhona to serve up a decadent and indulgent afternoon tea dedicated to chocolate. The homemade pastries and tea cakes all feature Valrhona's finest cacao varieties including dark chocolate flourless cake, hazelnut praline chocolate tart and double chocolate cheesecake! It's every chocolate lover's dream. View the full menu here.
Where: Kitchens on Kent, The Langham
When: Every day, from 11am
Cost: $98 - $209pp
The InterContinental Hotel
CBD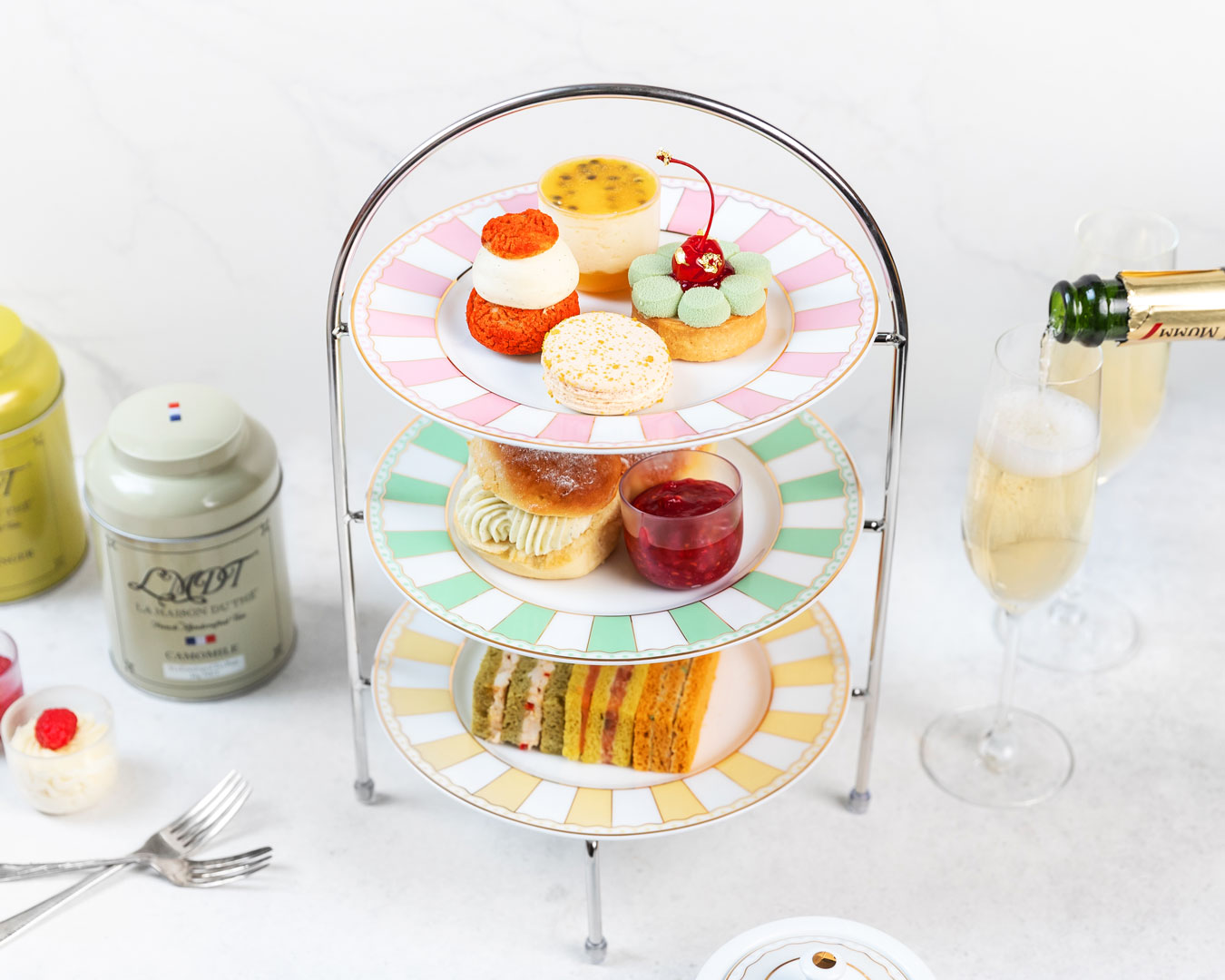 If you're visiting Sydney and are looking for an iconic dining experience, look no further than The InterContinental's renowned high tea. Set in The Cortile's charming historic lounge, you'll be made to feel like royalty with the hotel's exquisite high tea menus that are fused with traditional teas and experimental sweets and savouries for you to devour.
Guests can select from The Treasury High Tea that pays homage to longstanding traditions, the Vegan High Tea that is equally as divine, or the Children's Tea Party filled with quintessential Australian delights. Accompany your high tea with a grand selection of artisan loose leaf La Maison Du Thé teas, a glass of sparkling wine or even an alcohol-free cocktail. View the menu here.
When: Every day, 11am - 5pm
Where: The Cortile, The InterContinental Hotel, Sydney
Cost: $35pp - $80pp
Reign At The QVB
CBD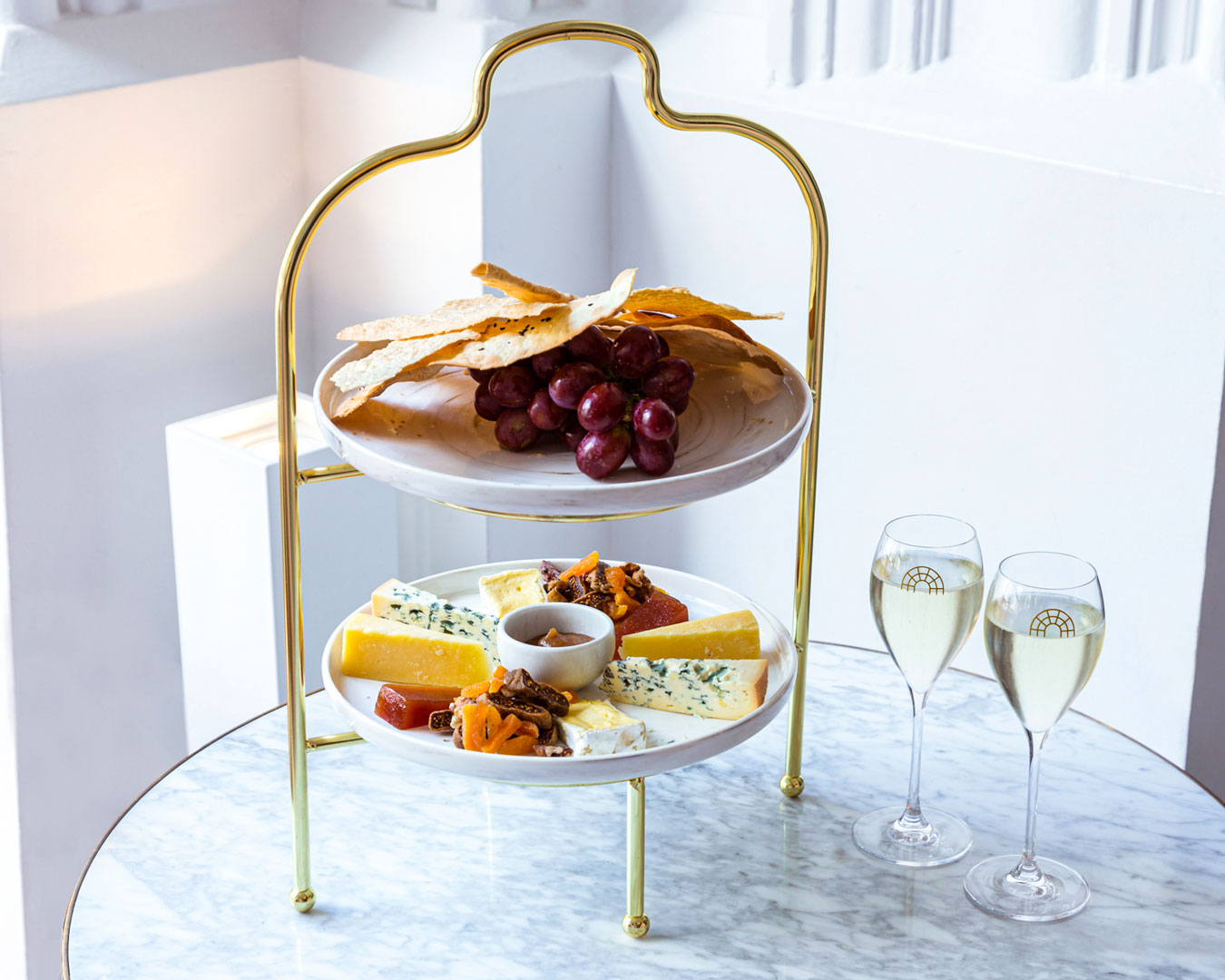 If you're a big-time fan of all things cheese then be sure to get yourself down to Reign at the QVB to try their dedicated cheese high tea! You heard that right – a high tea dedicated to cheese.
This savoury spin on afternoon tea lets you select three types of cheese to be enjoyed with lavosh, oat crackers, grapes, quince, chutney, dried fruits and nuts. If you're feeling a bit fancy, add a bottle of G.H. Mumm Grandon Cordon Brut Champagne for $99.
This High Cheese will be sure to take your cheese addiction to the next level. You can hit Reign up every day of the week until 10pm. Cheese to that! More info is here.
When: Every day until 10pm
Where: Reign at the QVB, CBD
Cost: $50 for two
The Tea Room
CBD
If there was ever a place made for the perfect high tea experience then it would be the QVB's majestic Tea Room. Rich in architectural history and European majesty, this grand building is a destination like no other. And they definitely know how to pay respect to the time-honoured ritual of high tea.
Indulge in a delectable selection of petits fours and extensive loose leaf teas poured from Royal Albert fine china and set with British silverware. There's an array of high tea menus to choose from including Devonshire tea, sandwich plates or light teas on weekdays, plus traditional, gluten-free or children's high tea any day of the week. Make your afternoon a bit fancier by upgrading your high tea to include sparkling wine, a cocktail or a glass of French champagne. There's something for everyone at this luxurious spot. View the different options here.
When: Every day, 10am - 5pm
Where: The Tea Room, QVB
Cost: $40 - $80pp
Alibi
Woolloomooloo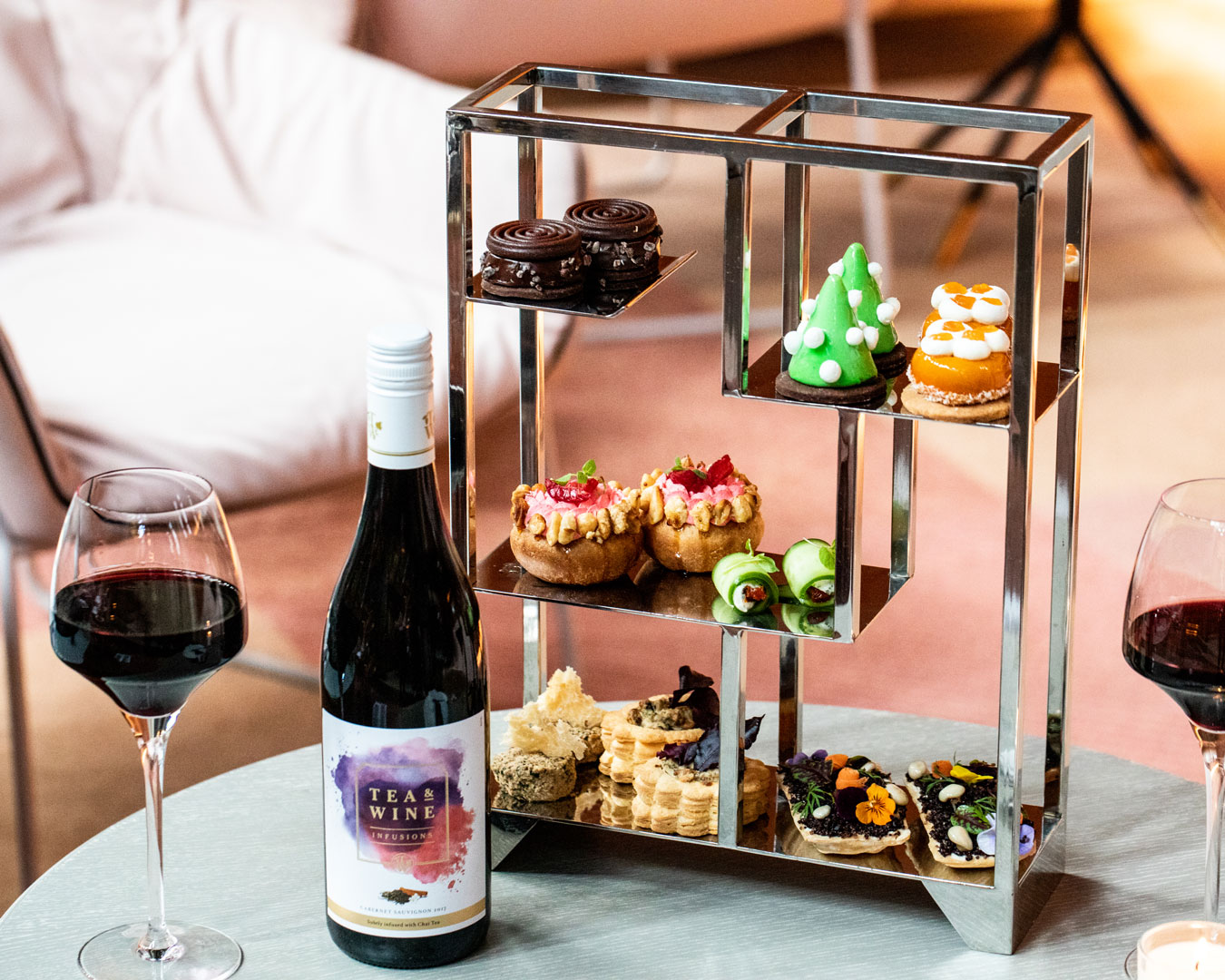 If you're looking to shake up your typical high tea date then head to plant-based icon Alibi and take their 100% vegan high tea for a spin. Using locally sourced ingredients and innovative cooking techniques, Alibi's original high tea menu gives this British custom a little creative makeover without forgetting its essence.
The menu includes a chocolate dome with cacao nibs and hazelnut cream, and a "chick'n" and mushroom vol au vent walnut terrine, plus free-flowing tea and coffee. There's also the option to get a little fancy by adding some rosé, prosecco or grand brut. This is one unique plant-based experience you don't want to miss. To book, head here.
When: Friday through Sunday, 12pm - 3.30pm
Where: Alibi, Woolloomooloo
Cost: $55pp - $250pp
The Gunners' Barracks
Mosman
Nestled in the picturesque bushlands of Georges Head with 180-degree views of Sydney Harbour, the Gunners' Barracks is definitely a top place for high tea in Sydney. This heritage-listed venue honours the timeless tradition of high tea and is the perfect place for those looking to dine in style.
Their delectable menu features freshly baked scones with clotted cream and preserves, finely cut sandwiches, savoury pastries, petit cakes, and Asia's largest selection of Ronnefeldt teas. You also have the option to add on a piccolo of French champagne, a glass of Australian sparkling wine or your choice of a cocktail. Indulge in this delicate affair by booking here.
When: Every day, 10am to close
Where: Gunners' Barracks, Mosman
Cost: $40 - $80pp
The Burnt Orange
Mosman
For those searching for a more casual high tea that still offers sparkling views of Sydney Harbour, be sure to visit the Burnt Orange. You'll be able to soak up the incredible views while indulging on a charming assortment of savoury and sweet delicacies.
The menu, crafted by head pastry chef, Chris Razenbacher, features all your afternoon favourites including choux buns, macaroons, scones and quiches, plus their signature Burnt Orange Tart with blood orange curd and Swiss meringue. Guests will also be treated to their own large tea pot or can upgrade to a sparkling high tea for an extra $10pp. This is one high tea that's perfect for every occasion. Find out more here.
When: Monday to Friday from 12pm, Saturday and Sunday from 3.30pm
Where: The Burnt Orange, Mosman
Cost: $50 - $60pp
Sofitel Sydney Wentworth
CBD
For those in search of a strictly traditional high tea experience, add the Sofitel's Wentworth High Tea to the top of your list. Located in the heart of Sydney's CBD, this venue is renowned for their themed high teas, such as their recent Claris the Mouse inspired event. However, after high demand, they're inviting guests to take a step back in time with the return of their classic high tea experience.
Indulge in their glorious savoury samplers including home-cured salmon on brioche buns and truffled egg with chicken sandwiches. Then follow it up with their exquisite selection of French delights and signature treats including the traditional Wentworth Cheesecake, passionfruit macaroon and chocolate hazelnut chou. Guests can even make a fully vegan high tea experience for those who give advance notice. More info is here.
When: Every day, multiple seating times available
Where: Sofitel Sydney Wentworth, CBD
Cost: $65pp
Altitude At The Shangri-La Hotel
The Rocks
Take afternoon tea to new levels with Sydney's highest tea at Altitude. Indulge in three tiers of sweet creations and savoury treats crafted by executive chef Michael Elfwing while enjoying some of the most breathtaking views of Sydney harbour.
The modern Australian menu celebrates Australia's distinct native ingredients and flavours, using handpicked seasonally grown domestic produce. Savour on the truffle brie éclair, the wattleseed pavlova, or the classic fluffy scones with lemon myrtle, berry jam and cream. There's even an equally impressive vegetarian menu on offer and you can choose to pair either feast with tea, coffee or a glass of NV Veuve Clicquot Champagne. Sign us up. Find out more here.
When: Monday to Sunday, 3.30pm - 5.30pm
Where: Altitude, The Shangri-La Hotel, The Rocks
Cost: $55pp
For more sweet indulgence, check out this list of our favourite doughnuts in Sydney.
Image credit: The Langham, Loftus Lane Cafe, The Langham, The InterContinental, Reign at the QVB, Alibi