Warning, the following article contains details of chewy, chunky, and deliciously thick cookies.
While cookies are never a bad idea, the best cookies in Sydney are in a league of their own. Homemade, freshly baked in small batches, and with infinite attention to detail in the flavour creation process, these bad boys truly leave nothing to be desired.
Check out the absolute best cookies in Sydney.
La Maison Cookies
Delivery ONLY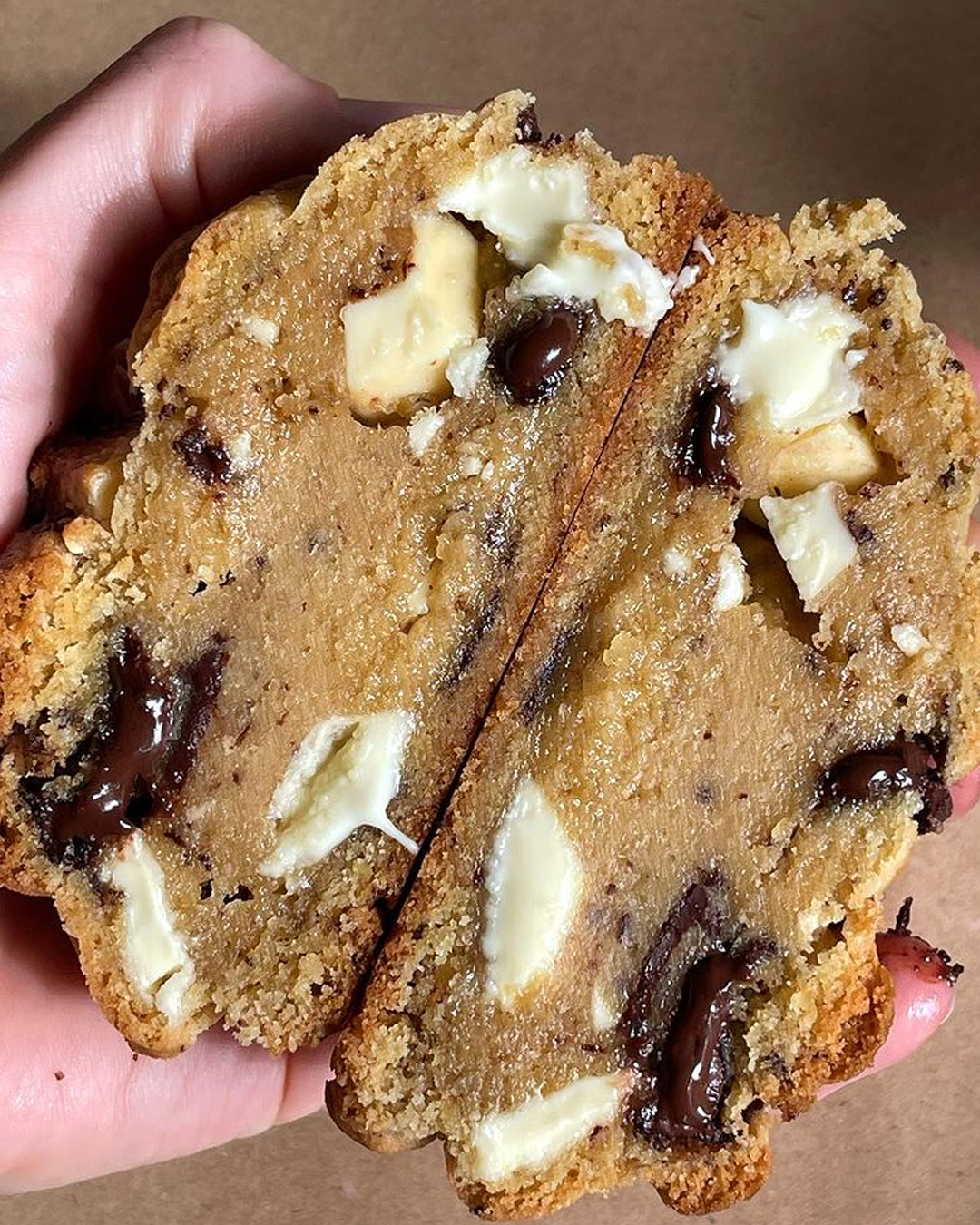 Seeing as there is no better time for a virtual bakery to thrive—let us introduce you to La Maison Cookies. This homemade cookie delivery service has been a saviour through times of lockdowns past, curing our 3pm sugar cravings and delivering choc-chip cookie goodness to the people of Sydney. Baking up a storm with her decadent and gooey choc-chip cookies, all of which are handmade fresh to deliver over the weekends (just make sure you give 48-hours notice).
These babies are no usual cookie affair too, they're big creations, chunky, packed with bits of melted choc goodness and go perfect with a big scoop of good old-fashioned vanilla ice cream and chocolate sauce if you want to go all the way. For now, deliveries can only be taken via email (lamaisoncookies@gmail.com) and only span Sydney's Eastern Suburbs.
Shwarmama
Surry Hills
While Shwarmama is known for its next-level falafel pita and dreamy marinated chicken shawarma, its neat six-piece menu also includes one of the best cookies in Sydney. It may seem like an odd treat to have sandwiched between spiced chickpeas, slow roast chicken, and pickled chillies, but chef Mat Lindsay's cookie creation does not disappoint in the slightest. It's a twist on the classic choc chip beauty, drenched in tahini, and yes, you should be ordering more than one.
Master Baker
VILLAWOOD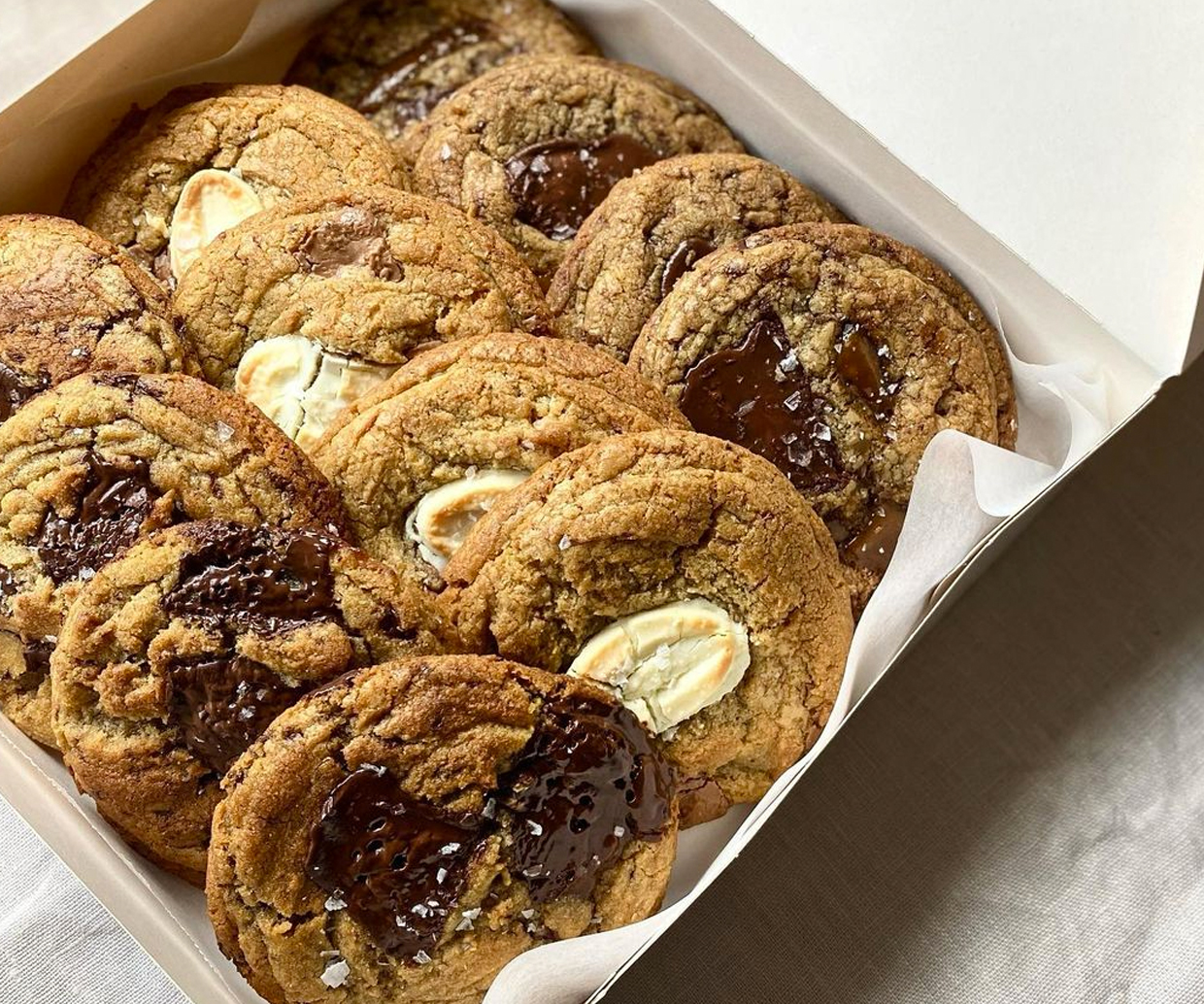 If you've got a knack for the saltier things in life then you need to get onto the cookie affairs at Master Baker. A bit of a cookie enigma, to manifest these perfectly pancaked bundles of joy you'll need to slide into the mysterious master baker Maria's DMs. Keep an eye out on her Instagram for pre-orders and dedicated pick-up dates from Maria's HQ in Villawood.
Your flavours here span the likes of Maria's uber-famous miso choc chunk cookie, a Valrhona chocolate, toasty nut cookie with a sprinkle of sea salt in the glorious macadamia cookie and finally, the dark chocolate and toffee macadamia cookie. As if that wasn't enough, Maria also makes a standout truffle burnt basque cheesecake that needs to be seen to be believed.
Bennet Street Dairy
Bondi
Is this Sydney's most famous cookie? We'd back that. Bondi's Bennett St Dairy, home of the enormous, unbeatable pizza cookie, has been slinging rolls of its famous choc chip cookie dough (for your baking at home pleasure) since dare we say it, COVID-19 hooked its teeth into life as we knew it back in 2020. Now, this famed cookie is even more of a cult hit. Now, Bennet Street Dairy has a dedicated virtual cookie dough store, where you can easily order 500g of cookie dough goodness so you can recreate Bennet's signature gooey, chewy cookies at home. Flavours look like choc chip and white chocolate macadamia.
Pioik
Pyrmont
Named in honour of the owners' Egyptian heritage (Pioik meaning "bread" in an ancient Egyptian language called Coptic), this family-run bakery also low-key churns out some of Sydney's tastiest cookies. It's headed up by former fine-dining chef Shady Wasef, and the pastries, bread, and croissants are favourites with other chefs throughout the city. Alongside the bakery's signature focaccia and simit, Pioik is also king of the gluten-free cookie, with a flourless chocolate biscuit that's chewy and packed with melting chocolate bits. Heaven.
Butter Boy
Manly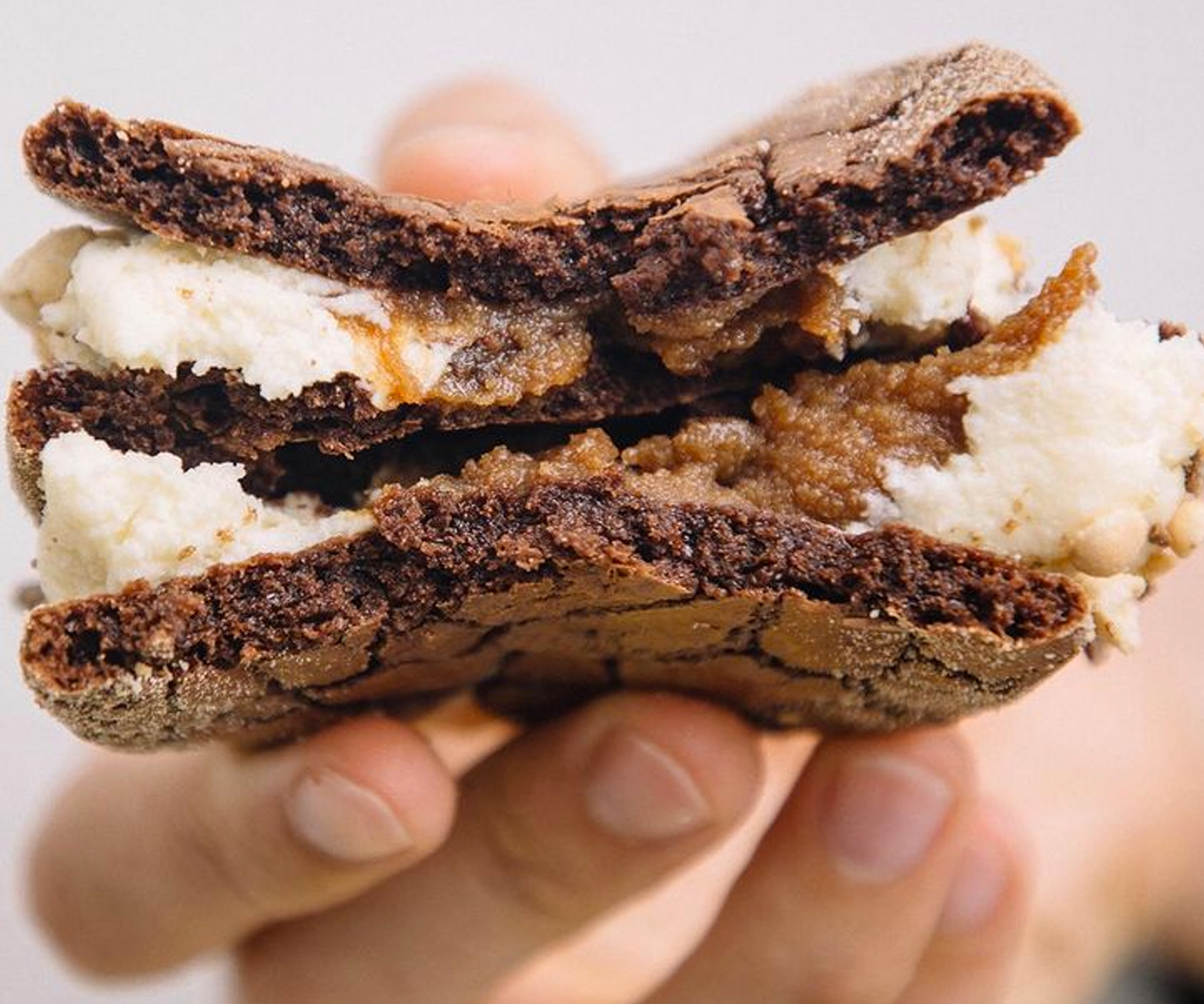 Over the bridge, the crew at Butter Boy keep the Northern Beaches cookie count high with chewy, delicious biscuits in sizes as big as your face. The hero on the menu is the peanut butter and jelly cookie, filled with peanut butter and topped with jam, cinnamon, and more peanut butter. They've also recently intro'd a red velvet cookie with a—wait for it—whipped cheesecake centre, and we are big fans of the "Brownie Sandwich" cookies, which are basically brownie cookies with cream cheese and white chocolate centres. Butter Boy also does dietary requirements a solid too with a GF triple choc cookie and a vegan chocolate cookie. Comfort food, sorted.
Stuffed Cookie Co
Merrylands
The first thing you need to know about Stuffed Cookie Co is that the team here legitimately whips a "Mumma's Knafeh" cookie creation that comes with its own sugar syrup ready for all the drizzling. As you might have guessed by its name, Stuffed Cookie Co specialises in cookies of a very special calibre, the kind packed to the absolute rafters with melted, oozy and chewy goodness. In other words, no part of the cookie goes to waste.
As well as the knafeh cookie stand out, you'll also find an Oreo B'day cake cookie stuffed with Lotus spread, Oreos and dark chocolate chip cookie chips, along with hot fudge Sunday, Nutella, Kinderella, PB and choc, Lotus Biscoff, S'mores, and Twix. A box of six cookies here will only set you back $35 a pop.
Cookie Boy's Big Cookies
CABRAMATTA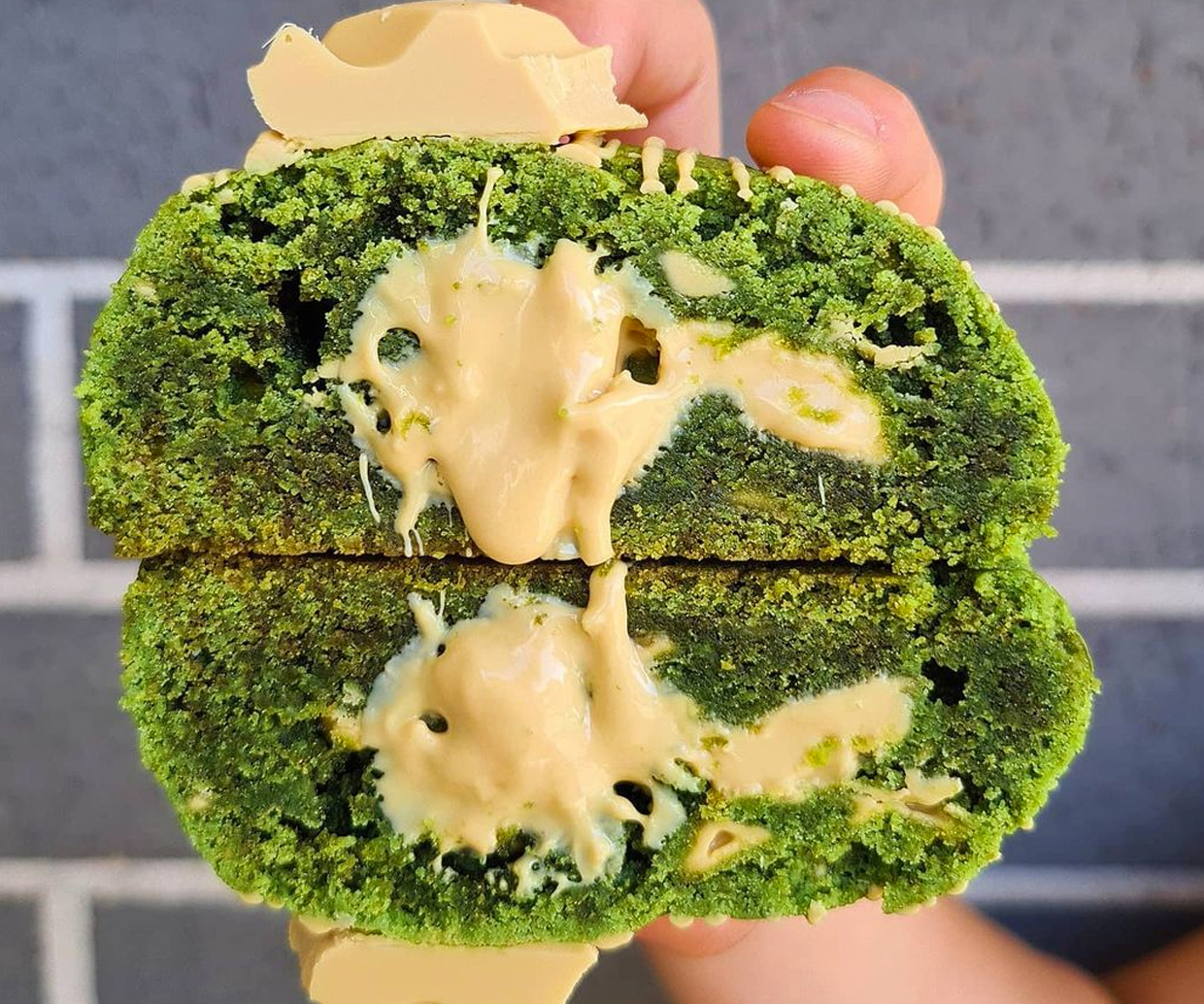 Cookie Boy is closed during lockdown, but you can DM them for enquiries here.
Here's the deal, Cookieboy's cookies are a bit of a sexual affair in the best way possible. Famed for being "big, thick, and moist" (their words, not ours), these handmade cookies carry a bucketload of toppings and extra bits and bobs for a real chunky good time. By the same token, while these cookies carry a lot of grunt, they're super soft as well and basically melt in your mouth with each bite.
Flavour-wise, you need to draw your attention to the maple waffle—a maple syrup-infused cookie dough with a Belgian waffle centre dipped in a housemade caramel glaze and waffle topping. There's also peanut butter brownie, cookies n cream, matcha, and Caramilk and red velvet. From time to time, Cookieboy also drops limited-edition cookies, and, in the past, this has looked like an ube and Belgian white chocolate cookie dough with a "funfetti" cream cheese centre.
Sweet Splits
North Kellyville
There's a lot happening at Sweet Splits so buckle in for some big cookie news. Started by three sisters (Anna, Teresa, and Daniella), this cookie shop, like any good Italian recipe, sources only the finest ingredients for its cookies. They're also made in small batches and are made from scratch on the daily.
You've got the option to takeaway or get these silky creations delivered straight to your door. On the cookie line-up, treat your tastebuds to the flavours like OG milk and choc chip, M&Ms, peanut butter, crushed Oreos and Caramilk, Tim Tam, Lotus Biscoff, and rainbow sprinkles with a Nutella centre. On top of this, you can also live your best cookie life by ordering up an extra-large cookie cake (for $50) in any of these flavours. This guy serves anywhere between eight to 10 people but hey, we won't judge if you do a sneaky order just for yourself.
Thicc Cookies
DELIVERY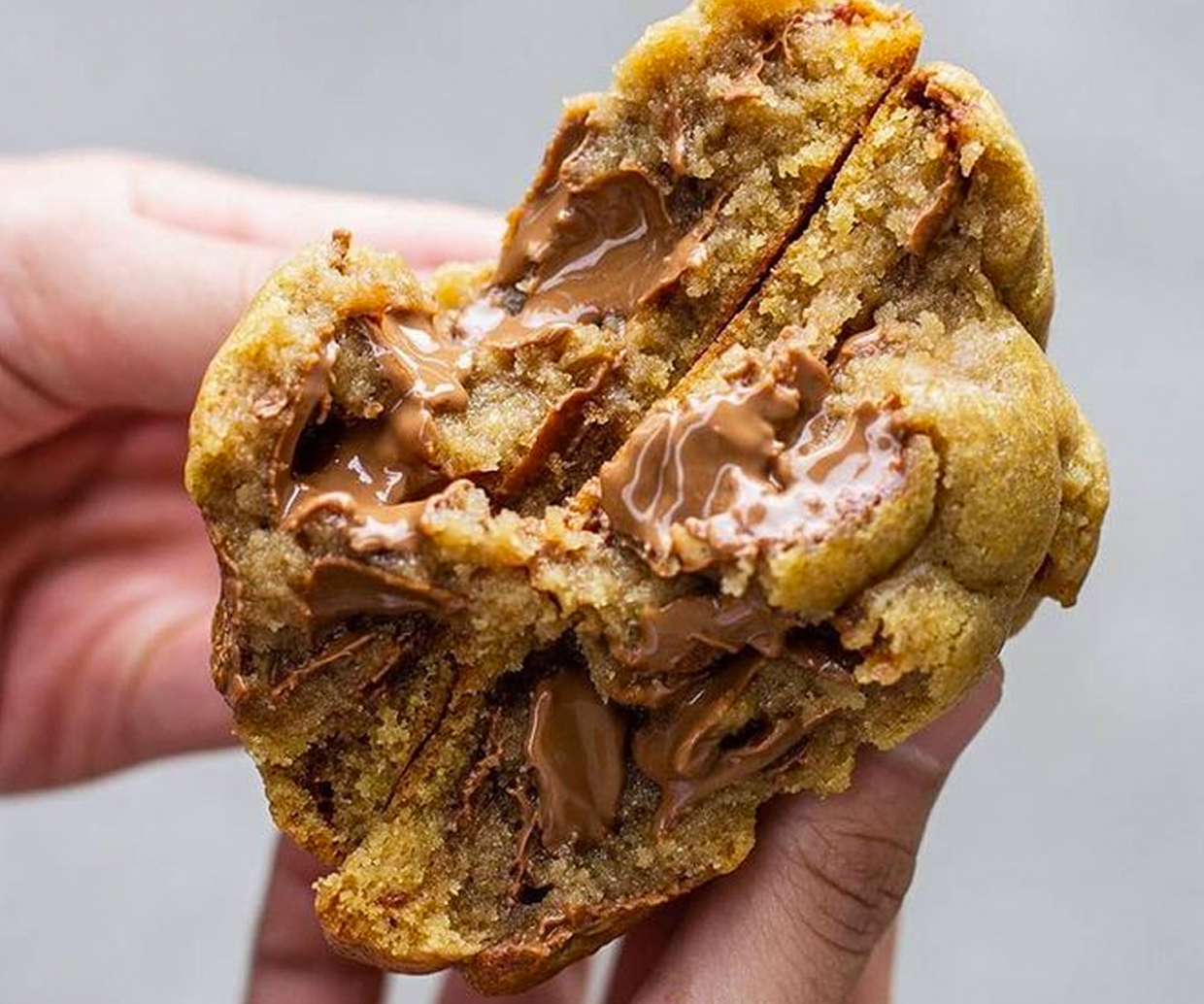 Chris Sheldrick is a man of many talents. As well as being one of the co-founders of new Sydney bakery, Banksia Bakehouse, he's also the genius that has brought thick, New York-style cookies back on our radar. What started as a weekend market staple, has now turned into a delicious online bakehouse, and one that has already stirred up a cult following. It's known as Thicc Cookies and, as the name suggests, you'll find nothing less than perfectly chewy dough creations here, all of which can be ordered straight to your door Australia-wide. Flavours range from Biscoff Lotus and red velvet, all the way to Caramilk and a loaded peanut butter-style cookie.
In general, these bad boys can barely be held in one hand, but if size is no issue and you're keen to go hard on that sugar hit, there's a classic choc chip cookie that clocks in at a whopping 1kg. The beast gets delivered to your door in a foil tray and instructions on how you can reheat it in your oven.
Baked Box Cookies
Paddington
Look, you don't know cookie greatness until you order up a fresh batch of the good stuff from Baked Box Cookies. The sling of flavours here will no doubt get you drooling (think birthday cake, Cara-mak milk, Cinnabon, pretzel, Nutella), so it's best you order by the box and get an assortment. As it's best to always judge a cookie factory on its OG, you should also know that the classic choc chip honours a crispy edge, chewy inner ring, and seriously soft centre. It's then loaded with a mix of dark and milk chocolate chips with a sprinkle of sea salt.
The Baked Box also lets you turn any of your favourite chocolate bars into a one-kilogram cookie. We'll just let that sink in for a hot minute. That means you can basically request a monster cookie with the likes of Kit Kat, Mars, Snickers, Twix, Milky Way, Turkish Delight, Caramilk —you name it.
Now, check out all the delicious desserts you can get home-delivered in Sydney.
Image credit: Cookie Boy's Big Cookies, La Maison Cookies, Master Baker, Butter Boy, Cookie Boy's Big Cookies, Thicc Cookies