Whether you're a freelancer, running your own business, or just looking for a change of workplace scenery, Sydney's best co-working spaces offer a creative atmosphere surrounded by like-minded individuals who will motivate you to get the job done. Or at least inspire you to break the 5pm drinks rule over lunch at the on-site bar. Either way, it's a win-win situation for you.
Social perks aside, Sydney's best co-working spaces also provide you with access to luxurious facilities and benefits you mightn't otherwise be privy to at home. Like, for instance, a piping hot cup of coffee that doesn't have to be reheated in the microwave because your machine's heat element is bogus. Nope, totally not speaking from personal experience.
From awe-inspiring aesthetics to community-minded collectives to sweeping harbour views, here are the best spots in Sydney to share a desk.
Paramount By The Office Space
Surry Hills
First of all, wow. Second of all—wow. This 22-suite boutique serviced office space in Sydney's historic restored Paramount building is architecturally and aesthetically spectacular. Renowned builder and art collector Boris Tosic and his wife Naomi teamed up with global architectural firm
 Woods Bagot to create a one-of-a-kind workspace in the heart of Surry Hills. Boasting sleek curved wood walls and furniture by design icons Ray and Charles Eames, The Office Space at Paramount combines modern contemporary design with mid-century modern accents.
If beautiful surroundings improve your productivity, this is the place for you. Featuring concierge services, meeting rooms, a fully equipped boardroom, luxurious kitchen and bar facilities and one of the most impressive office art collections we've ever come across, we guarantee you'll never be this stoked about going to work.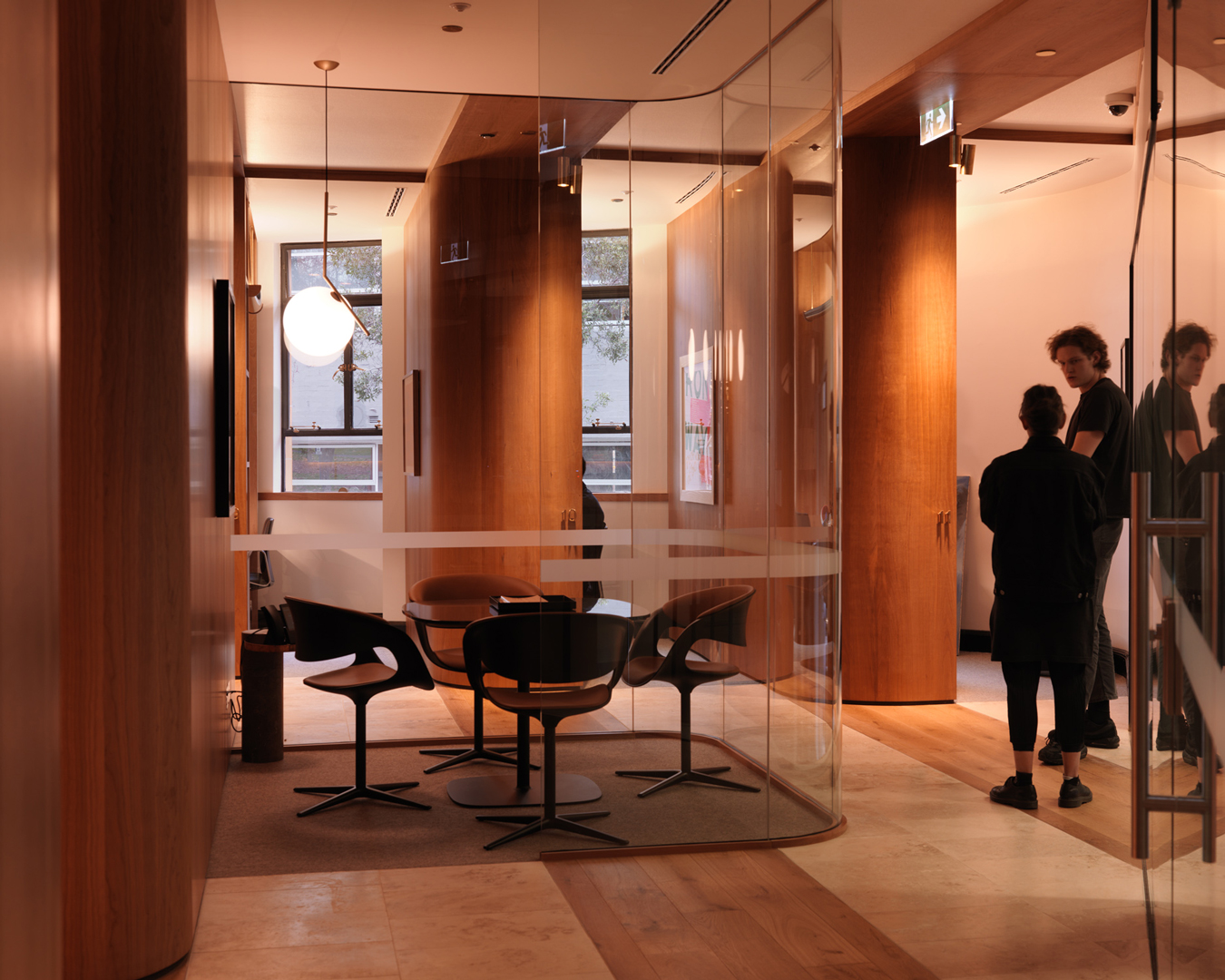 WOTSO
Various Locations
Sick of gazing out the window to a view of your neighbours damp socks hanging from a wire coat hanger repurposed as a clothesline? Head to WOTSO WorkSpace in Neutral Bay, just over the bridge from the CBD, and take in the expansive harbour views from your desk or the epic balcony. Here, you can sign up for a monthly membership or just hotdesk for a day or two. The perks of a membership seem more than worth it though—we've spied with our little eyes more than a few delicious catered member breakfasts. If you're looking for a relaxed, suburban-feeling office environment soaked in natural light, park your laptop here. The only pre-requisite is that you love dogs.
Your Desk
Surry Hills
Your Desk offers the kind of workplace experience and atmosphere you daydream about from the confines of your artificially lit grey cubicle in Hellsville (population: 1). Converted from an old wool factory, the vibe is rustic barn meets urban warehouse, peppered with greenery throughout.
"Founded in 2011, Your Desk is one of Australia's first co-working spaces, with a focus on a diverse mix of local businesses and international businesses who want to expand their spaces into Sydney," says founder Carl Sullivan, who runs the family business with his father, Neil. As for what makes the space unique? "Your Desk has no hidden charges and includes unmetered meeting room use, included in the price, as well as private offices, open plan desks and hot desks with included 27in monitors to amp up your productivity", he says.
The Commons
Chippendale
If you're looking to hang with the cool kids, The Commons is the workplace equivalent of the coveted back seat of the school bus. Surround yourself with other passionate creatives who love what they do, and love to do it well. On top of modern desk spaces and offices, it features an in-house photography studio, a podcast studio, and a collaborative "Makerspace". But the ultimate addition to this co-working haven would have to be the outdoor basketball court, where you can literally bounce your ideas off the backboard. Redefining workplace culture and what a day in the office should look like, The Commons nurtures creative thinkers and pushes them to thrive.
Level One
Marrickville
Operating on—yep, you guessed it—level one of custom furniture brand Timbermill's Marrickville warehouse, this curated co-working space is run by creatives, for creatives. Level One's space is beautiful, boasting large handmade mirrors, bespoke wooden shelving, vibrant indoor greenery and a handcrafted rope swing hanging from the ceiling.
"Level One was founded in 2018 by the duo behind Timbermill, Sally and Tom Coles", explains Alanna Foo of Level One. "The space was transformed from a dark and stale office area to a fresh and inviting space, filled with many Timbermill signature custom pieces and accents." Over roughly 900 SQM you'll find private offices, dedicated desks, and a communal hangout zone. The space also often hosts community-minded events, which is reflective of the spirit of its inner west neighbourhood.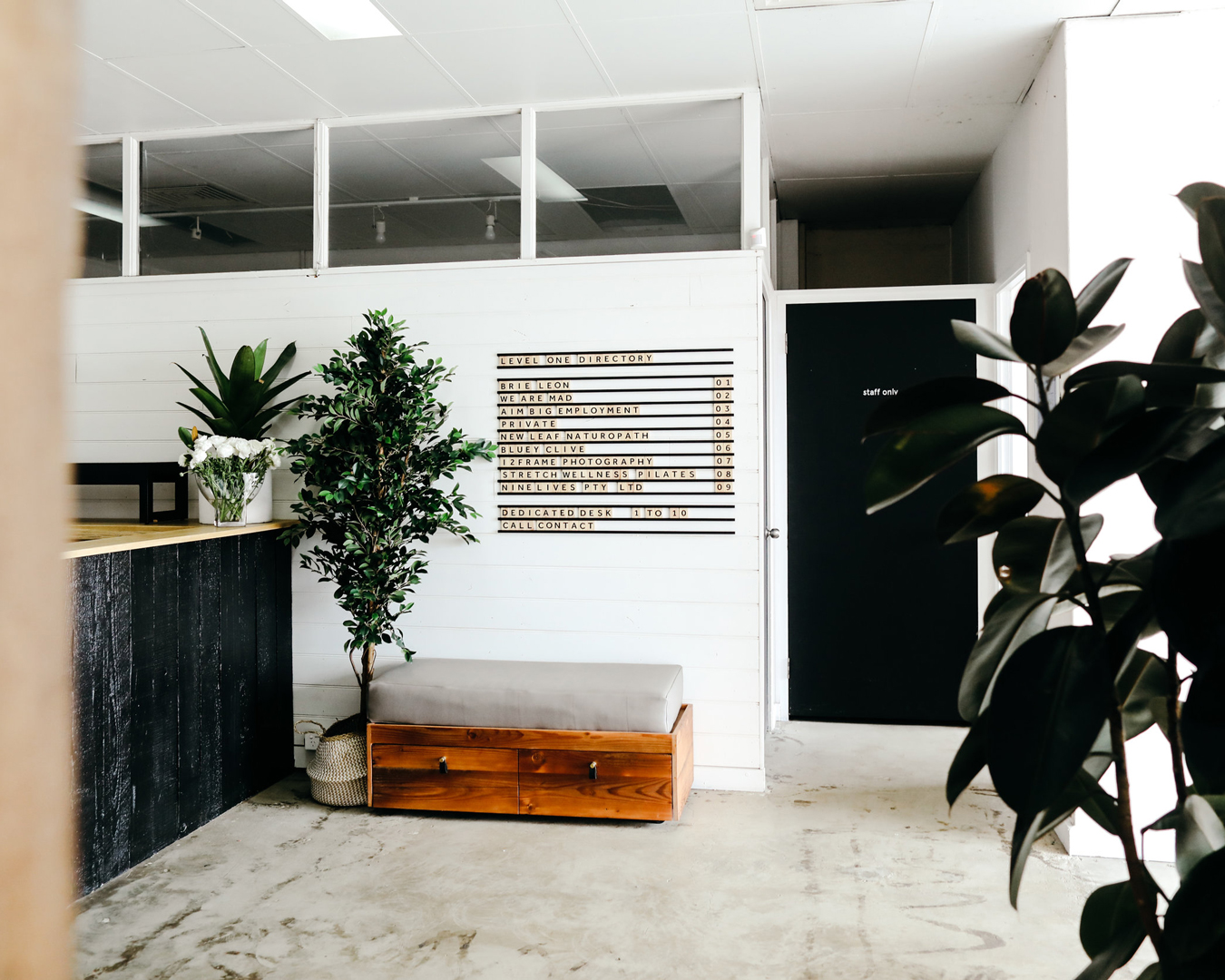 Spaces
Surry Hills
If you look up Spaces on a map, the first thing you might notice is how many of Sydney's best pubs are in its immediate radius. But that'll have to wait till lunch—you're here to work, remember? Spaces' roots trace back to Amsterdam, as does its modern design aesthetic and relaxed yet professional work atmosphere. This co-working space also stocks a full calendar of events, industry speakers and networking opportunities, so if you're looking for a place to hear about inspiring ideas and projects, flock to Flinders St.
La Porte
Rosebery
Have you ever wondered where all of your favourite local boutique brands work? The answer is most likely La Porte, Sydney's most stylish luxury serviced office spaces. Aside from boasting 30 serene private offices and a first-class co-working facility, there's also event spaces, a photography studio, a café, a luxury concept retail space called La Porte Marché, and a wellness centre complete with a pilates studio, sauna and Rationale clinic. So, yeah, guess you could say there's a bit going on over at La Porte.
From the moment you walk up the stairs, you'll feel like an extra in an Elle Décor shoot, and the fashion-forward clientele adds to the glossy feel of the place. If you're ready to swap your house-slippers from some designer heels, head to the hub that is La Porte. Just remember to bring your table manners.
Once you've found your perfect workspace, check out these six ideas to banish career burnout for good.
Image credit: Paramount by The Office Space | Trevor Mein